If you haven't made vegan matcha cake you are in for a real treat!
To make things easier, this is a vegan matcha pound cake so there is really no fuss when making this tasty dessert. Eat it with a side of Vegan Matcha Ice Cream!
This recipe uses only 7 ingredients for the matcha cake and only 3 ingredients for the glaze and you don't even have to glaze the cake if you don't want to!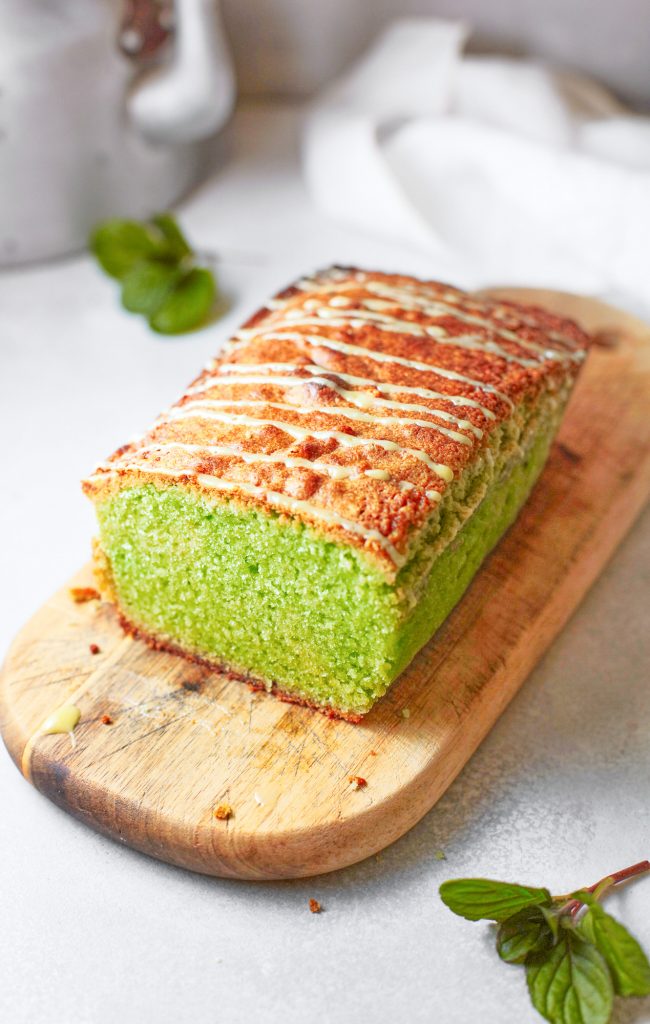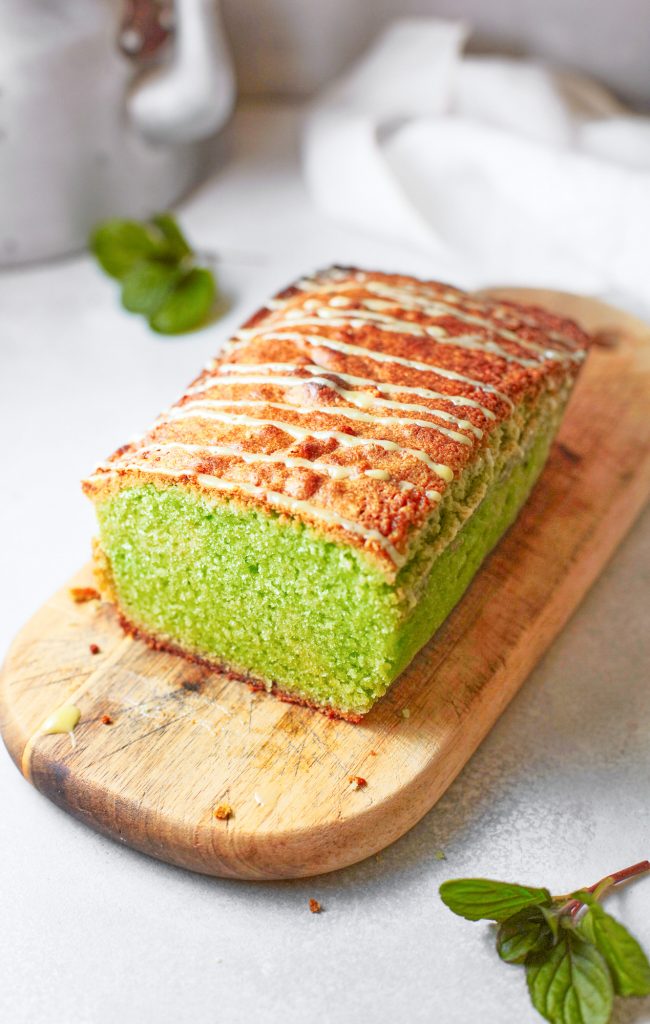 Matcha actually has a variety of health benefits and it is rich in antioxidants, but let's be real, most people love it for the addicting flavor and interesting twist that it adds to usually "normal" recipes.
I know that people are obsessed with matcha and my Vegan Whipped Matcha drink is well-loved by Wow It's Veggie Readers.
It was time to come up with a vegan matcha cake that was easy yet flavorful, had a rich green color, and a yummy glaze.
The thing I love about this matcha baking recipe is that it is quick to make.
All you have to do is mix everything together and add the ingredients to a loaf pan. Then bake for 45-50 minutes until done and a toothpick comes out clean.
Seriously so easy and the result is an impressive, warming, and delicious finished product.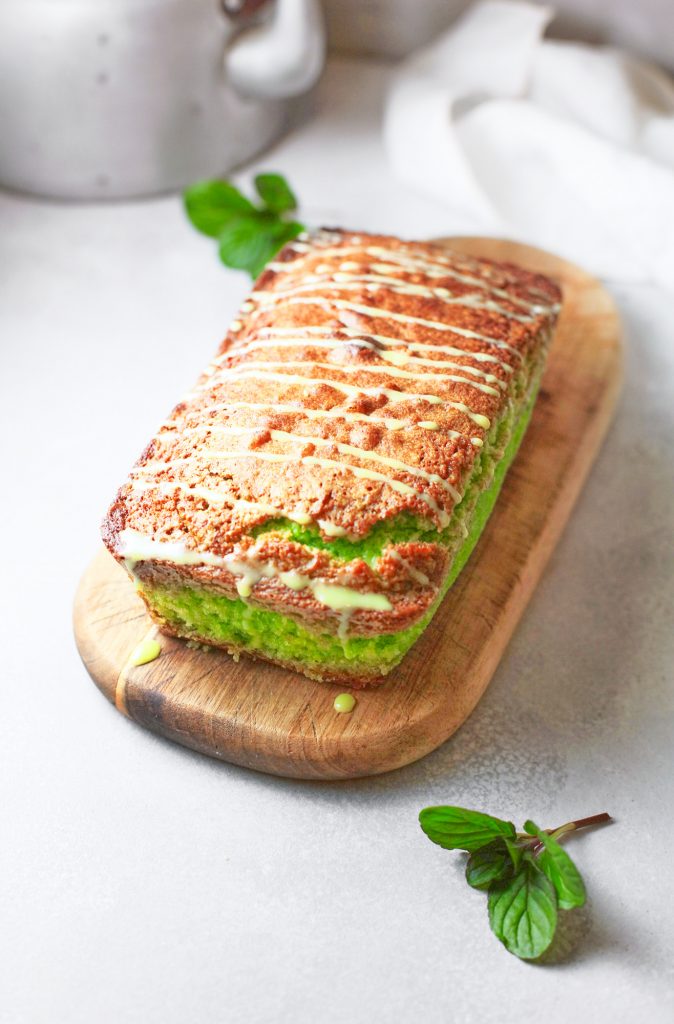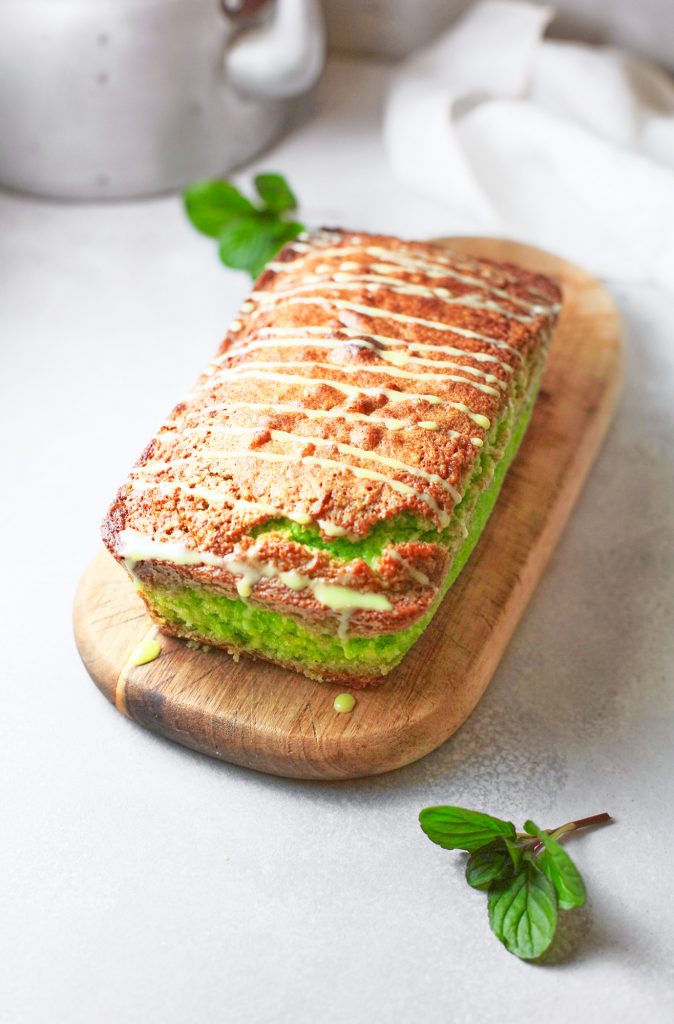 This is also one of my favorite Vegan Recipes For Kids because kids love the taste and think the green color is fun and festive.
You can even make this matcha pound cake for the holidays if you really wanted to such as Christmas, Saint Patrick's Day or even a Vegan Mother's Day Brunch. Although matcha isn't the traditional food served, it is green and colorful and the flavor is addicting!
Another thing that you may love about this recipe is the fact that it is oil-free. I know that a lot of people try and stay away from oil. Not only is this a vegan matcha cake, it is also oil-free so it is pretty healthy for you!
I hope that you enjoy this delicious and super simple vegan matcha pound cake as much as I do! It is certainly a fan-favorite and I know that you are going to love it!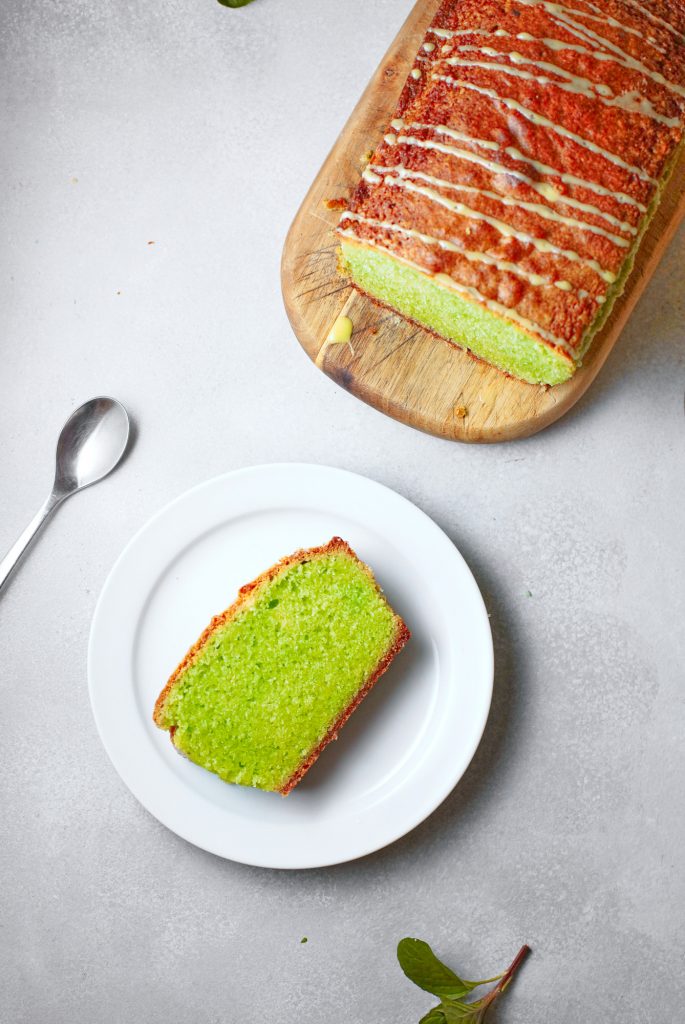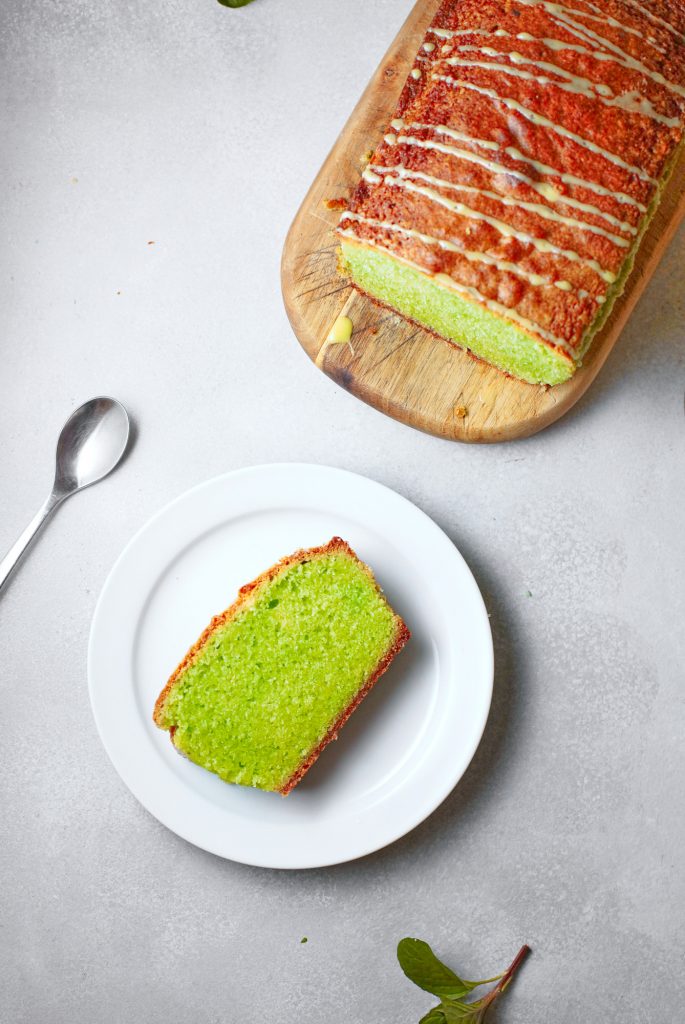 Where To Buy Your Matcha
In case you didn't know, matcha is kind of expensive, so just a warning so you know what you are getting into!
That is okay though, you will want good quality matcha in order to make this vegan matcha cake healthy and delicious.
When choosing your matcha powder, you want to make sure that you are buying culinary-grade powder and not the kind meant for other uses.
You may be able to find matcha at your local grocery store and certainly at your local health food store. If you have an Asian market nearby, you can find good quality matcha there too.
My local Walmart Supercenter actually carries some pretty decent matcha so you may want to look at yours!
If you can't find any locally, you can easily order it online! Two brands I love are Organic Jade Leaf Matcha Powder and Kiss Me Organics Matcha Green Tea Powder.
Both of these are organic and culinary-grade and perfect for baking this tasty vegan matcha cake.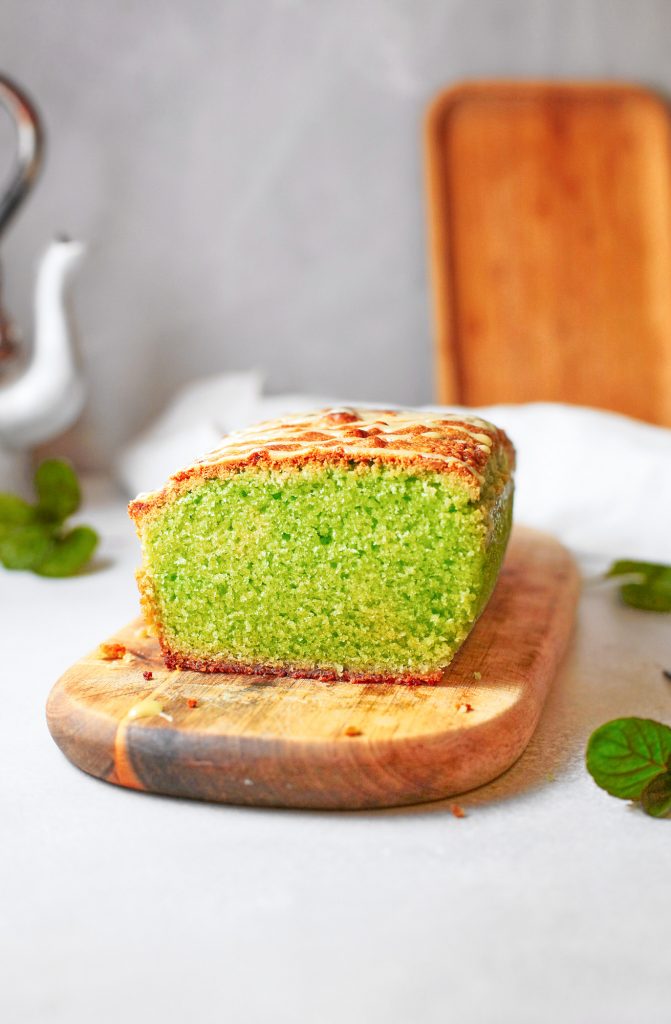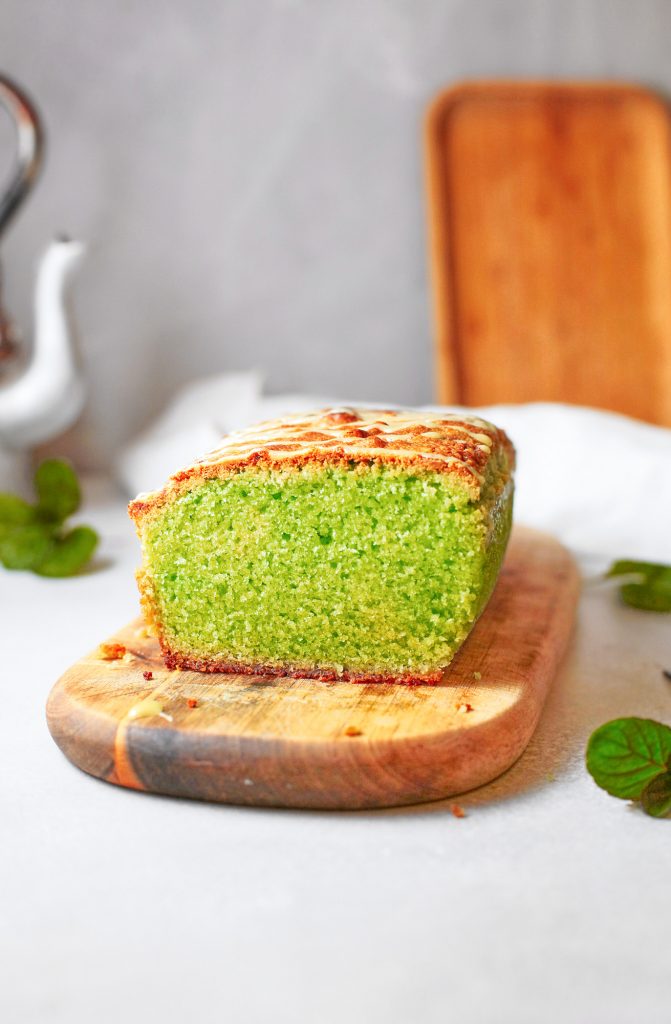 Tips For Working With Matcha
If you are new to baking with matcha, that is okay! It is pretty easy and fairly simple.
One thing to keep in mind is that matcha is actually fairly bitter on its own and of course, you don't want a bitter cake [unless you do!]
Personally, I wanted my vegan matcha cake to have bright green color because the green color is one of the best parts along with a stronger taste.
As a result, I made a few loaves of the matcha pound cake that were actually quite bitter and blah.
But this final recipe balances the matcha flavor with a bit more sugar so that we don't have a cake that is too bitter.
If you want to add even more matcha or use less matcha, make sure to remove or add some of the sugar so that your flavors are an even match and a light and pleasing flavor instead of something overwhelmingly bitter or sweet.
It is also important to straing your matcha when you get the powder! Use a fine mesh strainer or sieve and use your spoon or shake the strainer so that all the clumps are out.
If you bake with clumps of matcha, you will bite into a bitter chunk and the cake also won't be too smooth.
Since matcha is expensive, you want to make sure to store it properly.
Store it in an airtight container in a cool dark place. You can store it in the fridge if you don't use it all that often, but if you are going to use it daily or make drinks out of it often, you can store it in a cool dark cabinet.
Humidity will make your matcha clumpy, and I would know as I live in Florida and it is about as humid a place as they come!
For the safest storing options, store the matcha in your fridge.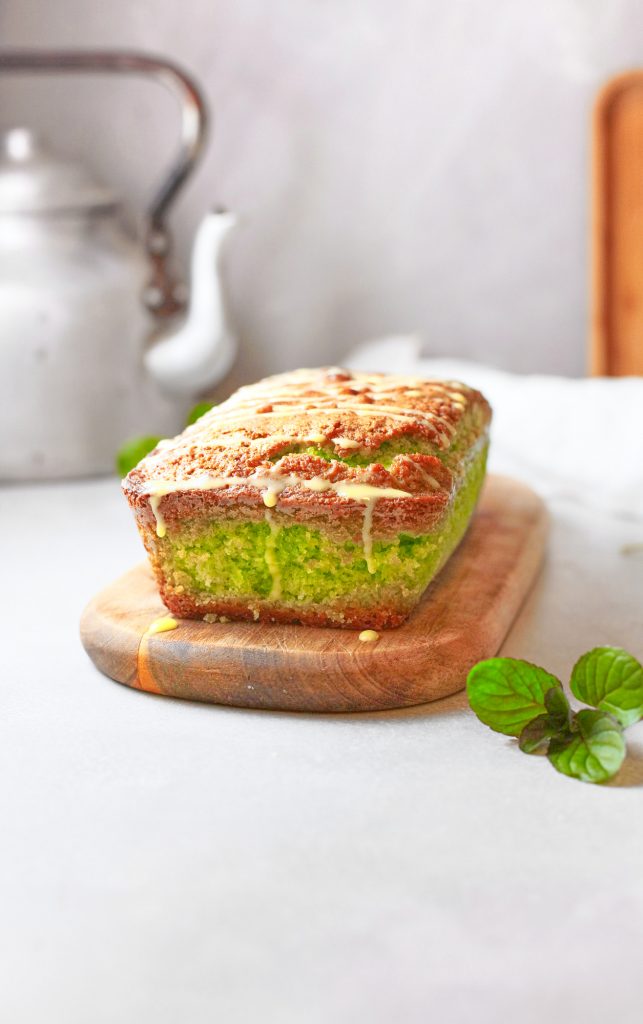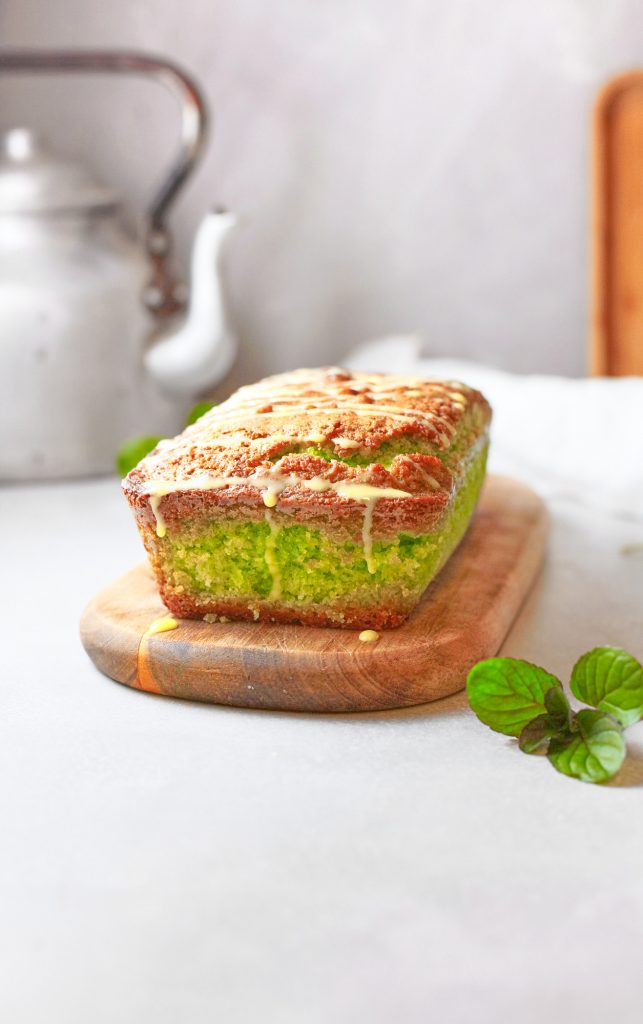 How To Make Vegan Matcha Cake
Making this vegan matcha pound cake is truly so easy!
I use all non-dairy ingredients to get a light and fluffy cake with a lovely matcha flavor.
First, you are going to want to use a hand mixer to beat sugar and Vegan Butter until light and fluffy. This usually comes together fairly quickly and you want the finished result to be airy.
Next, you are going to add in thick non-dairy yogurt. I like using a vegan Greek yogurt as it is the thickest, but you can use whatever vegan yogurt you have on hand!
Combine and whisk/beat until mixed throughout.
Now you are going to add your matcha, vanilla extract, and baking powder. Slowly whisk until this is combined throughout.
Now you are going to slowly add your flour to your mixing bowl until just incorporated. Make sure that you don't overmix or else the dough for the vegan matcha pound cake will be tough and won't come out well.
Grease a loaf pan and pour your matcha cake batter into the prepared pan.
Bake it in the oven on 350F for about 50 minutes until golden brown and done. You want to make sure that a toothpick comes out clean when poked in the center of the cake.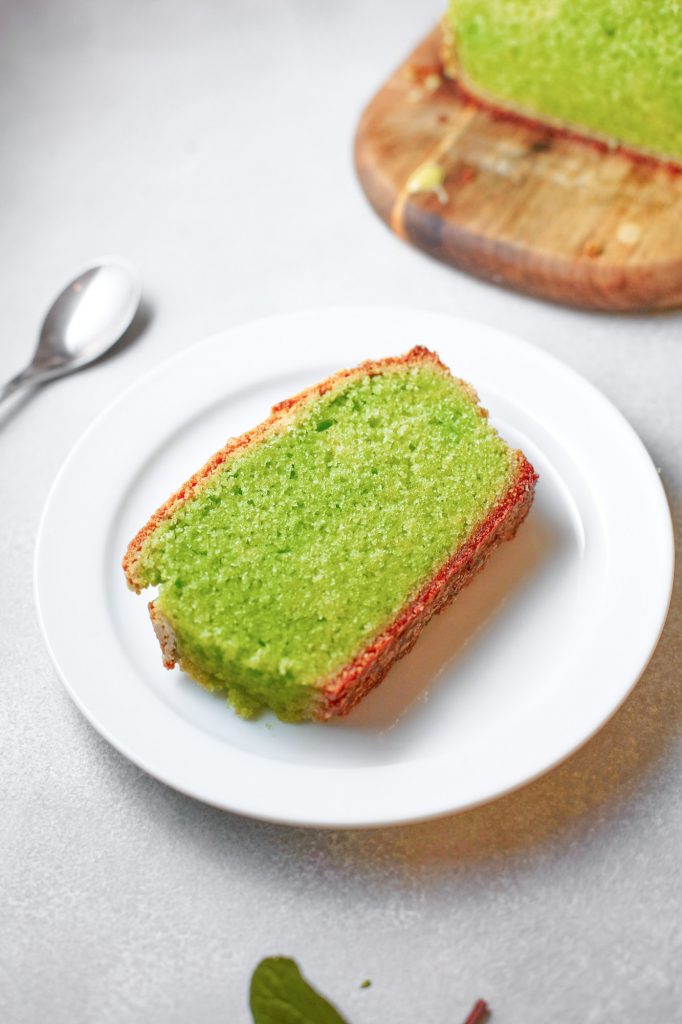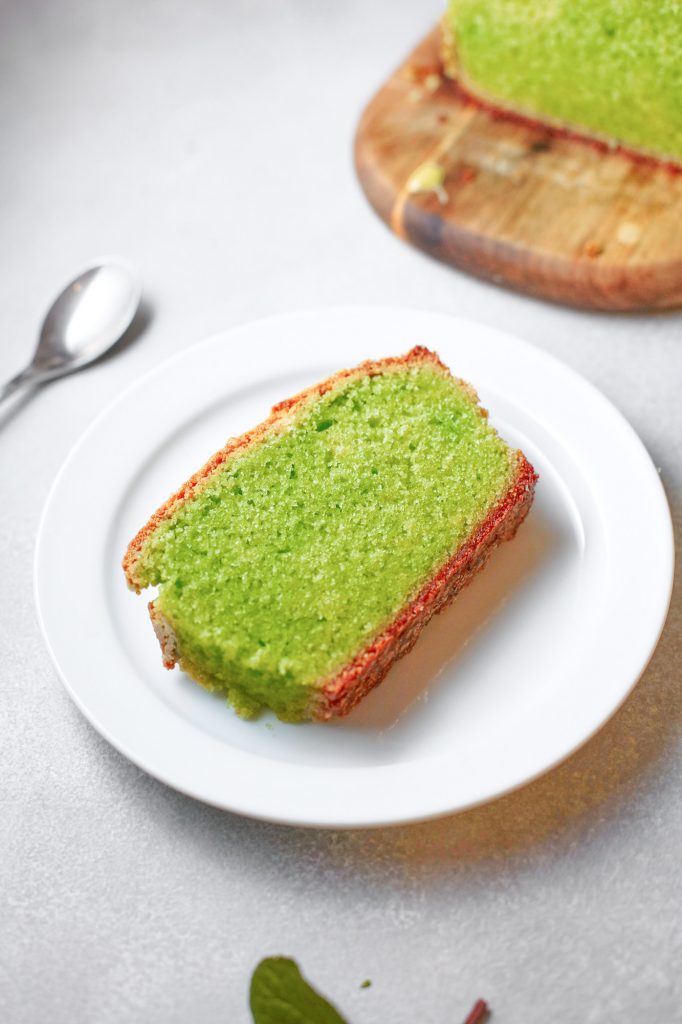 How To Glaze The Vegan Matcha Cake
First you want the matcha pound cake to cool completely. If you do not let it cool completely, the glaze will melt into the warm cake and you won't see it at all.
Of course, you can skip the matcha glaze all together, but I think it is the best part!
This is a variation of the simple glaze I use in other recipes such as my Vegan Apple Fritters and Vegan Cinnamon Rolls because we add matcha.
All you want to do is add milk, powdered sugar, and matcha in a bowl and mix together until incorporated.
If the glaze is too thick, add a little more non-dairy milk 1 TSP at a time. If the glaze is too thin, add more powdered sugar 1 tablespoon at a time.
Then drizzle the finished glaze over your cooled vegan matcha cake and you are ready to enjoy!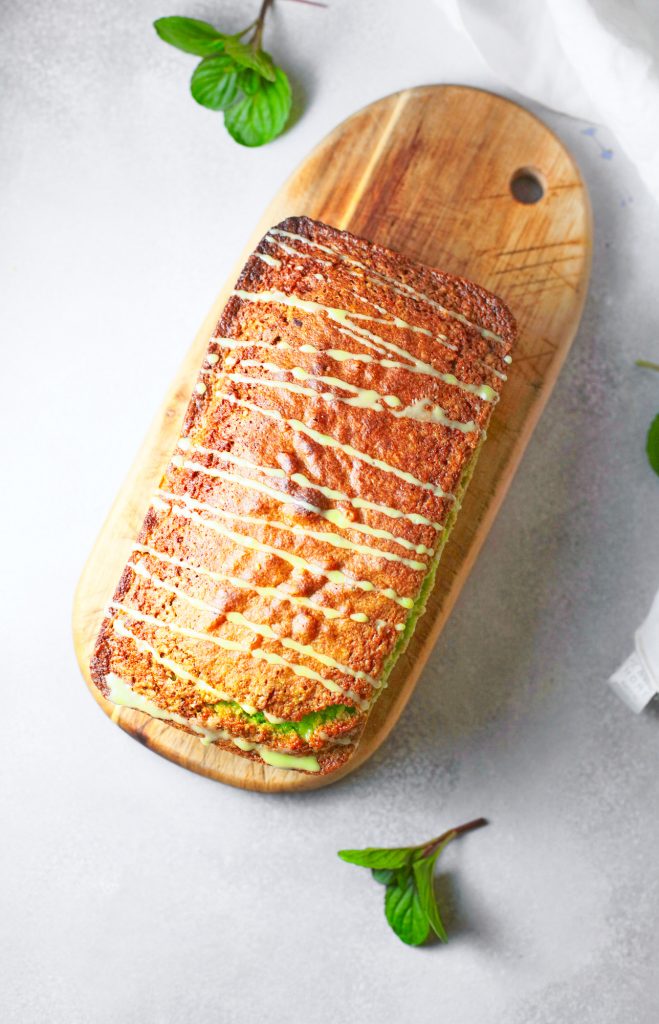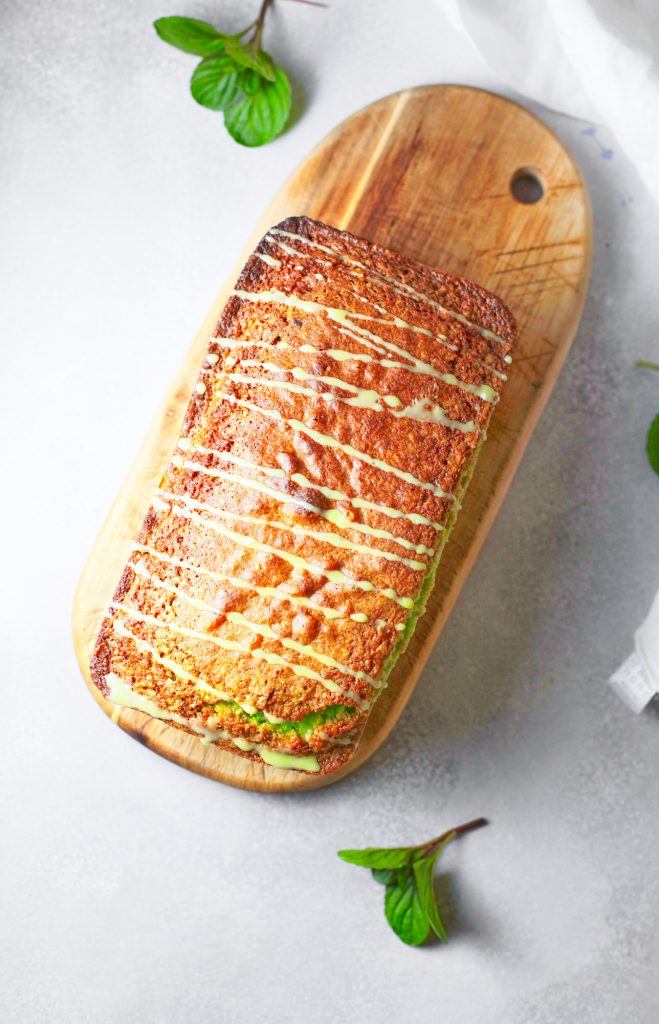 Storing The Matcha Pound Cake
The good thing about making this cake is that it stores wonderfully!
Personally, I wouldn't store the matcha cake on the counter more than one night. Even then, it should be stored in an air-tight container.
You can store it in the fridge for up to 5 days and it keeps very well.
You can also freeze individual slices of the vegan matcha cake and then store then in a freezer safe container. This way, you can take out the slice and let it thaw on the counter when you are ready. The cake can keep in the freezer for up to 1 month.
Did You Try This Recipe?
If so, I would love to keep in touch! I enjoy seeing photos and comments about the recipes that you make! You can follow me on Instagram and I will repost your goodies in my stories and comment on it too! Just tag me at @wowitsveggie and hashtag #wowitsveggie. I can't wait to see what you make!
Yield: 8 slices
Easy Vegan Matcha Cake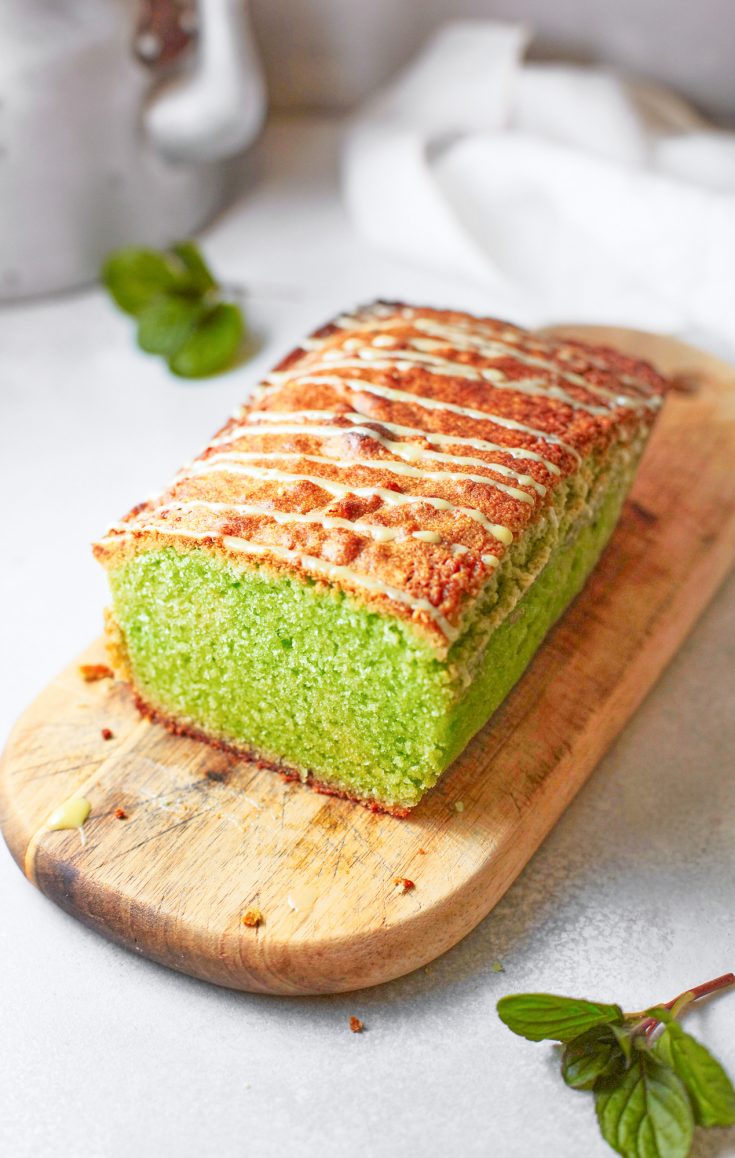 This vegan matcha cake is so easy and delicious! It only uses 7 ingredients and is super simple and a great introductory matcha pound cake to try. The matcha glaze on top adds a splash of sweet to this unique and tasty cake.
Ingredients
1 Cup sugar
1/2 Cup vegan butter spread
1 Cup vegan Greek yogurt (or any other plant-based thick yogurt)
2 Cups flour
2 Tsp baking powder
1 Tsp vanilla extract
5 Tbsp matcha
For the glaze:
1 Cup powdered sugar
3 Tbsp milk
1 Tbsp matcha
Instructions
Preheat the oven to 350 degrees. Grease and flour a bread pan and set aside.
In a large bowl, use a hand mixer to beat the sugar and vegan butter until light and fluffy. Add the vegan yogurt and continue beating until incorporated.
Add the matcha, vanilla extract and baking powder.
Slowly add in the flour and mix until just incorporated. Be careful not to overmix or else the vegan matcha cake batter will get tough and it won't come out good.
Pour the batter into the prepared pan and take to the oven. Bake for 50 minutes or until golden brown. The cake is done when a toothpick comes out of the center clean.
Remove from oven and let it cool down completely before glazing. If you don't let the matcha cake cool down completely, the glaze will melt into it!
While the cake is cooling, prepare the matcha glaze. In a small bowl combine the powdered sugar with the matcha and non-dairy milk. Stir until incorporated and shiny. Drizzle the glaze over the matcha cake and enjoy!
Nutrition Information
Yield
8
Serving Size
1
Amount Per Serving
Calories

389
Total Fat

12g
Saturated Fat

2g
Trans Fat

2g
Unsaturated Fat

8g
Cholesterol

4mg
Sodium

238mg
Carbohydrates

64g
Fiber

1g
Sugar

39g
Protein

6g