If you have never had vegan pumpkin pasta, you are in for a real treat! In reality, anyone can make this pumpkin pasta, even non-vegans, because it is that tasty and delicious!
If you are falling [heehee] for pumpkins this autumn, this is the perfect recipe for you. This is truly one of my favorite Cozy Vegan Fall Recipes and I know you are going to love it!
The vegan pumpkin pasta sauce is super easy to make and lends a unique and interesting flavor that will warm you to your core!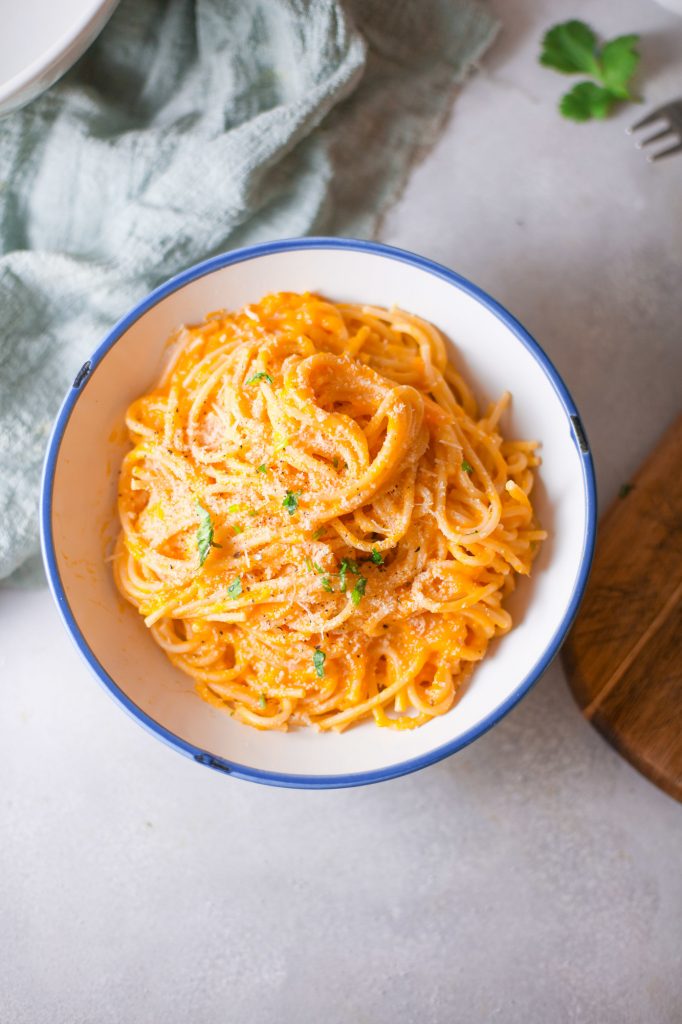 This is also a good way to put hidden veggies in a Vegan Meal For Kids because the pumpkin makes the pasta orange so you can sneak them in under the guise of "mac and cheese" due to the color.
This sauce is creamy and delicious, due to the canned pumpkin.
My favorite part about making vegan pumpkin pasta is the fact that you can add as many extra veggies that you want to mix in.
This recipe just includes the pumpkin pasta sauce, which is what makes this so fun! You can customize it to you!
I recommend saute mushrooms and broccoli or some spinach and swiss chard.
Adding veggies to the vegan pumpkin pasta allows you to get even more health benefits from this tasty and easy autumn dish.
This recipe makes a great side or main for your Vegan Thanksgiving Dinner!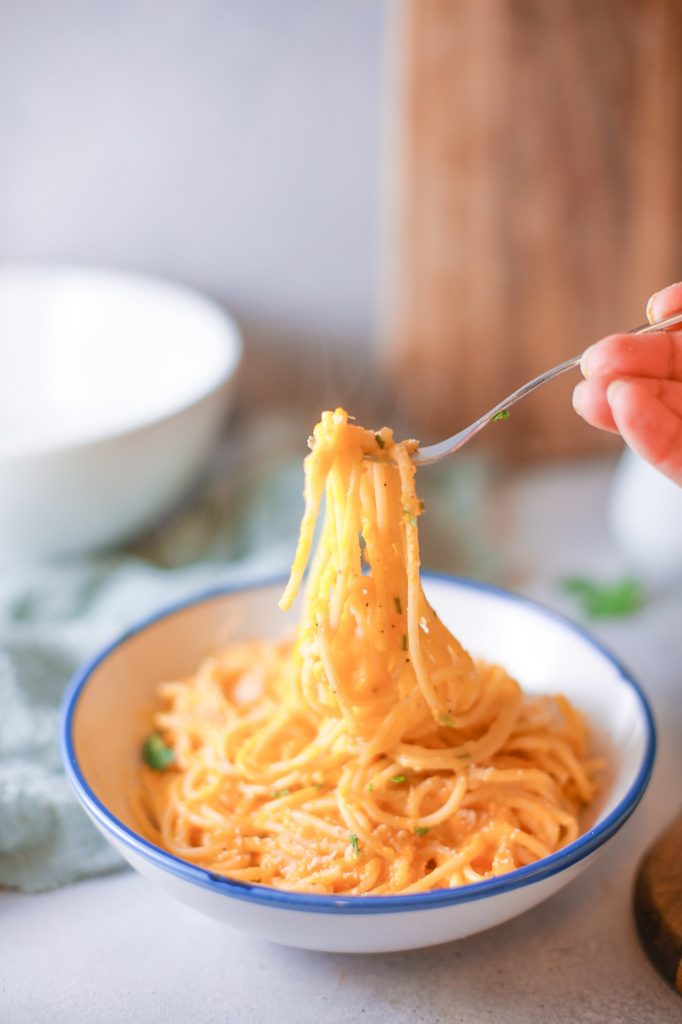 Does This Recipe Use Cream Or Milk?
Nope! This vegan pumpkin pasta sauce recipe does not use cream OR milk.
And yes, that means not even vegan cream or milk is used!
So what do we use instead?
First, the pumpkin puree is naturally creamy which is the perfect replacement for cream.
Second, instead of milk or plant milk, we use the pasta water that the pasta had cooked in which makes for a starchy and delicious addition.
You can use vegetable stock or water in addition to your pasta water, or you can use an entire 1/2 cup of pasta water, it is up to you!
So this is how I easily make this pumpkin pasta sauce without any cream or milk!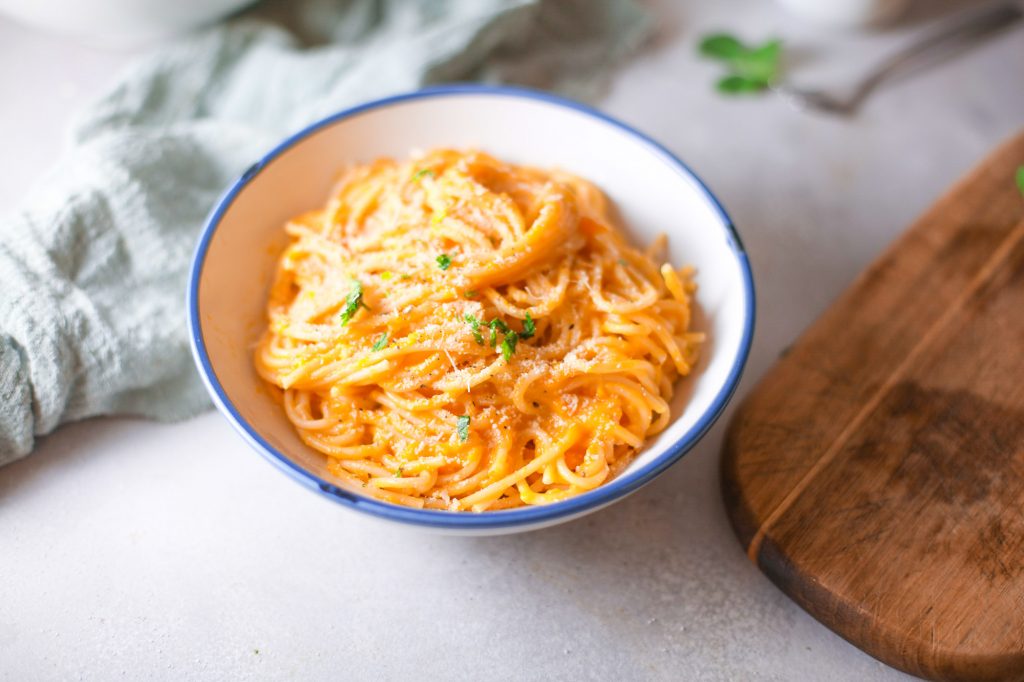 How To Make Vegan Pumpkin Pasta
You can make this lovely vegan pumpkin pasta sauce in just 10 minutes, faster if you have a better stove than I do 😉
Pasta with pumpkin sauce is so hearty and delicious and good for you too.
First, you are going to want about 2/3 a box of pasta or 8 ounces [a normal box of pasta is about 12 ounces] and you will cook this or have this already on hand while you make the pumpkin sauce.
Next, you are going to heat a little oil in a pan and saute your onion and garlic until fragrant.
This is the longest part as it may take about 5-7 minutes for your onion to become translucent and fragrant, but it could be even faster if you have a better stove!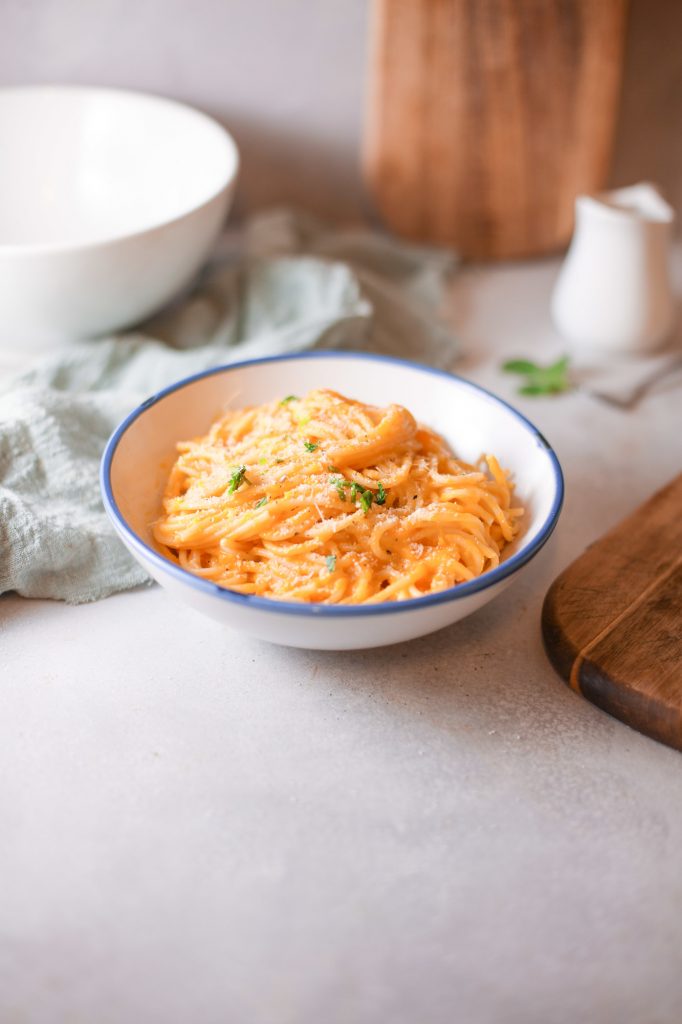 In the same pan, add flour and stir for 30 seconds. You want to combine the flour and the onion/garlic until it is crumbly.
Next, pour in the reserved pasta water, vegetable stock/water, and pumpkin puree and stir to combine.
Bring this mixture to a simmer and cook until the pumpkin sauce is thickened, around 3 minutes.
Finally, transfer this mixture to a blender and pulse until creamy. You may have a immersion blender and if you do, you can blend it right in the pan.
Once you return the blended pumpkin pasta sauce to the pan, add your spices such as the salt, pepper, nutmeg, and cinnamon and stir.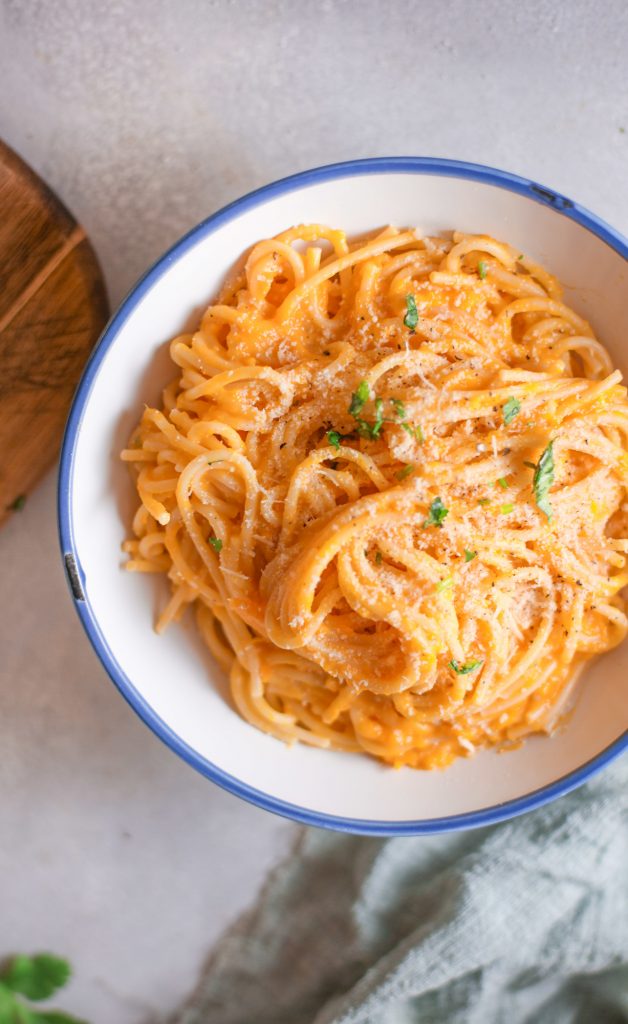 Combine with your cooked pasta and coat until everything is covered in sauce.
I love making this vegan pumpkin pasta using long pasta noodles, fettuccine noodles, or bow tie pasta noodles! Anything works, but these are my favorites!
And that is it! That is how you easily make vegan pumpkin pasta.
I highly recommend sauteing some veggies on the side such as mushrooms or spinach to incorporate with this tasty and hearty pasta!
Please don't be afraid to salt generously as the pumpkin needs a "bite" of salt to counteract the sweet flavor! You won't regret it.
If you want to get really fancy, you make make this pumpkin sauce and toss it over my Vegan Gnocchi Recipe for pumpkin gnocchi which is so decadent and delicious!
Storing The Vegan Pumpkin Pasta Sauce
Storing the pumpkin pasta sauce is really easy!
I recommend storing the pumpkin pasta sauce apart from the pasta as the pasta noodles will absorb the sauce.
Store the sauce in an air-tight container in the fridge for 3-5 days.
To reheat, pop it in a small saucepan on the stove and stir until warm.
If the pumpkin sauce is too thick, reconstitute with a little bit of water until your desired thickness is acheived.
If you do end up storing the pasta sauce and noodles already combined in the fridge, you will want to heat them on the stove and add a little bit of water as the sauce may be too thick on the noodles!
Did You Try This Recipe?
If so, I would love to keep in touch! I enjoy seeing photos and comments about the recipes that you make! You can follow me on Instagram and I will repost your goodies in my stories and comment on it too! Just tag me at @wowitsveggie and hashtag #wowitsveggie. I can't wait to see what you make!
Yield: 3-4 Servings
10-Minute Vegan Pumpkin Pasta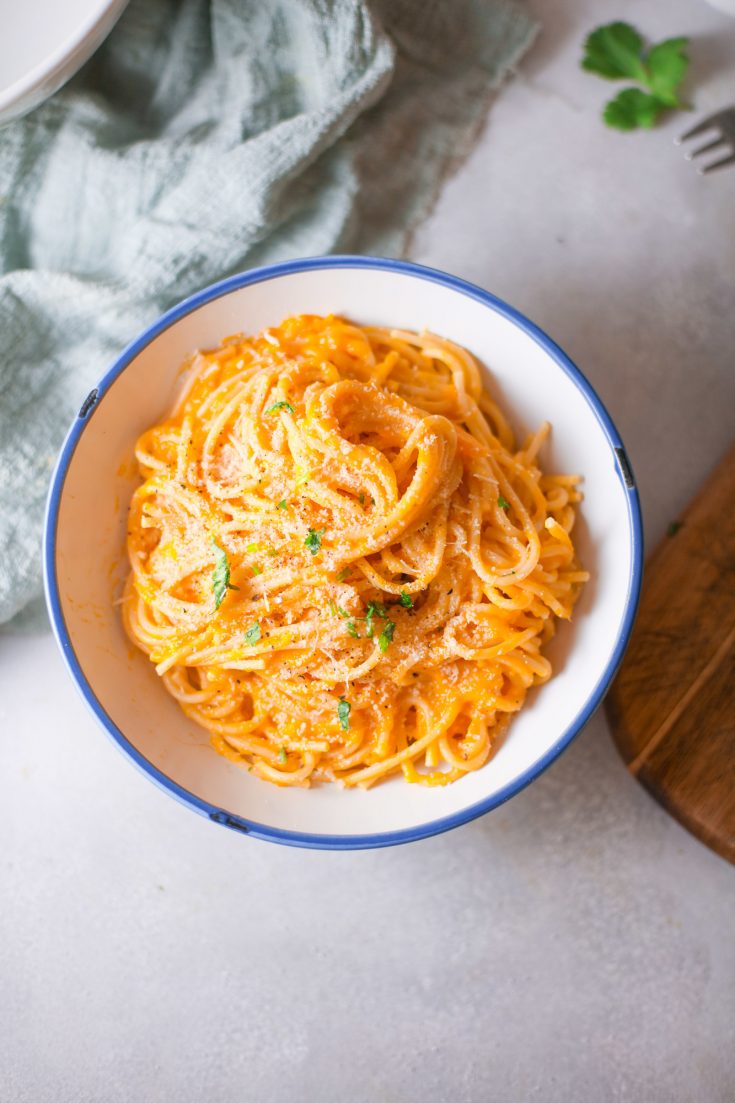 This vegan pumpkin pasta is creamy and delicious! There is no cream or milk in this recipe, yet the pumpkin pasta sauce is impossibly creamy. This is the perfect recipe to make when you are feeling like celebrating fall.
Ingredients
8 oz or 2/3 box of pasta, cooked
3 TBS oil
1/2 onion, chopped
3 garlic cloves, chopped
2 TBS flour
1 1/2 cup pumpkin puree
1/4 cup cooking pasta water (reserved from when you drain the pasta)
1/4 cup of stock/water
1 teaspoon salt
1 teaspoon pepper
1/4 teaspoon nutmeg
1/4 teaspoon cinnamon
1/2 teaspoon dried thyme
Instructions
Heat oil in a large pan over medium heat and add the onion and garlic and saute until transparent and fragrant, around 5 minutes.
Add flour to the pan and stir to combine. The flour should be clumpy around the onion and garlic. Cook for 30 seconds and pour in pasta water, stock/water, and pumpkin puree. Bring mixture to a simmer for 3 minutes.
Transfer pumpkin sauce to a blender and puree until smooth. Return the sauce to the pot and add in all of the spices and stir to combine. Incorporate the pasta noodles and toss until they are coated with sauce.
Serve topped with veggies such as sauteed spinach, mushrooms, and swiss chard. Top with vegan parmesan if desired!
Nutrition Information
Yield
4
Serving Size
1
Amount Per Serving
Calories

200
Total Fat

11g
Saturated Fat

1g
Trans Fat

0g
Unsaturated Fat

10g
Cholesterol

0mg
Sodium

561mg
Carbohydrates

22g
Fiber

4g
Sugar

4g
Protein

4g