When I say that this vegan stuffed peppers recipe is the "best ever," I 100% mean it.
I have fed this recipe to MANY meat-eaters and although they are typically carnivores, they LOVED it and always request that I make it.
The best part about this recipe is it is so easy to make these stuffed peppers with rice vegan. The preparation time is quick and you can clean up and relax while they cook.
The filling may sound like a random assortment of ingredients, but trust me, you won't regret it and the flavors blend together expertly!
Make sure to check out our post on the Best Sides To Eat With Stuffed Peppers for more inspiration!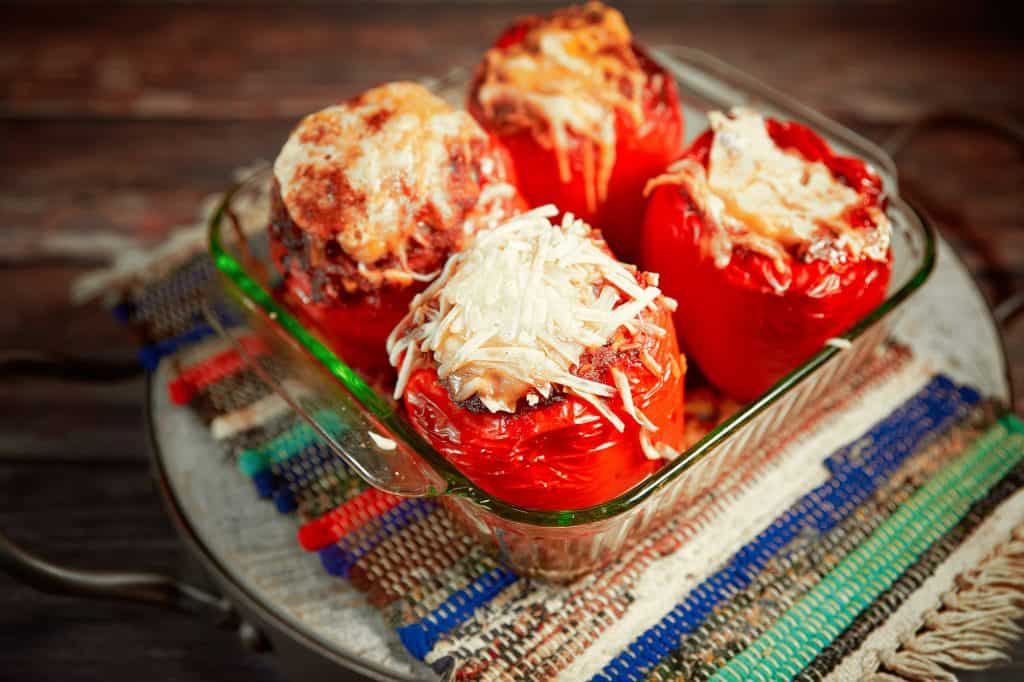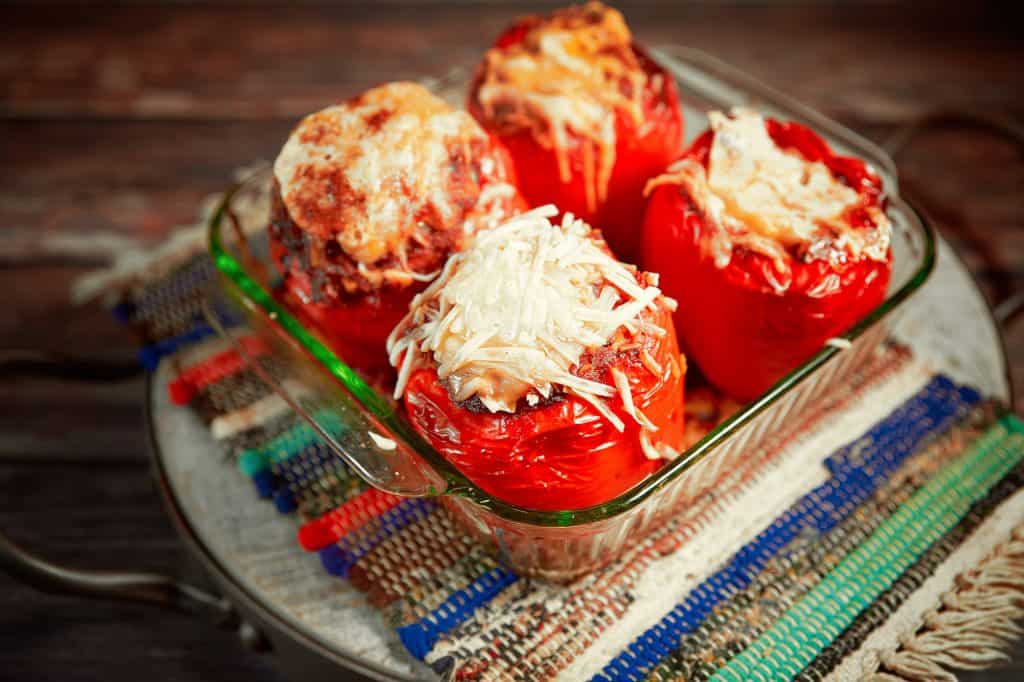 If you are looking for healthy vegetarian stuffed peppers, feel free to substitute vegan cheese for regular cheese. This is a popular and easy modification I make often for these vegan stuffed peppers.
The best part about this modification is that it is easy to feed a picky crowd.
If you have someone who wants cheese in their stuffed peppers you can simply add that to their single pepper, while you make the rest of the stuffed peppers vegan for the remaining diners!
Keep reading to learn how to make the recipe for vegan stuffed peppers!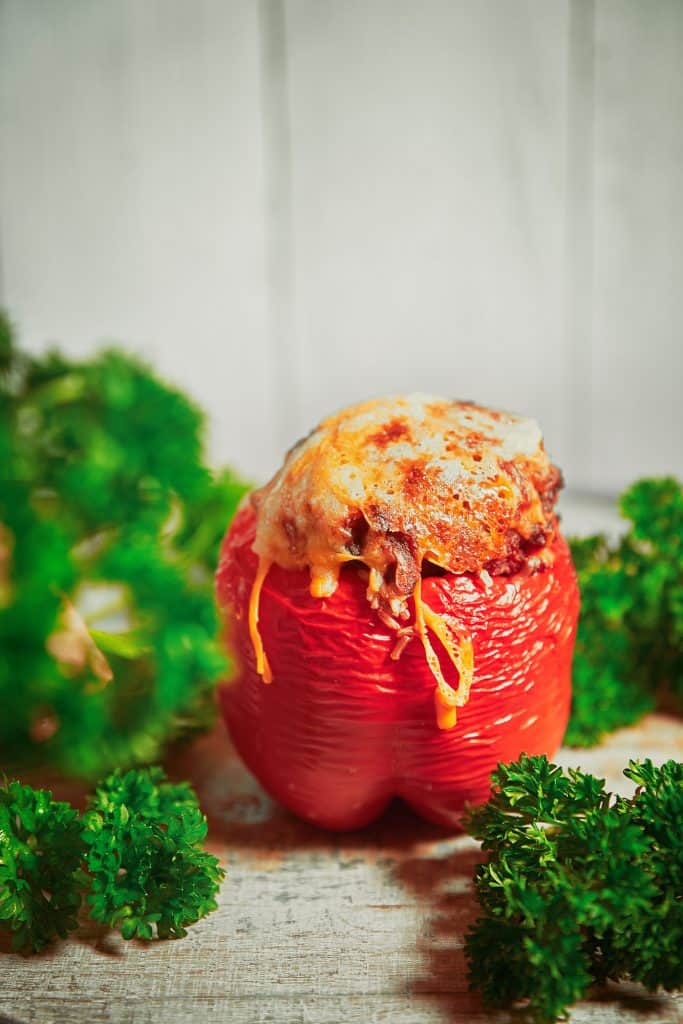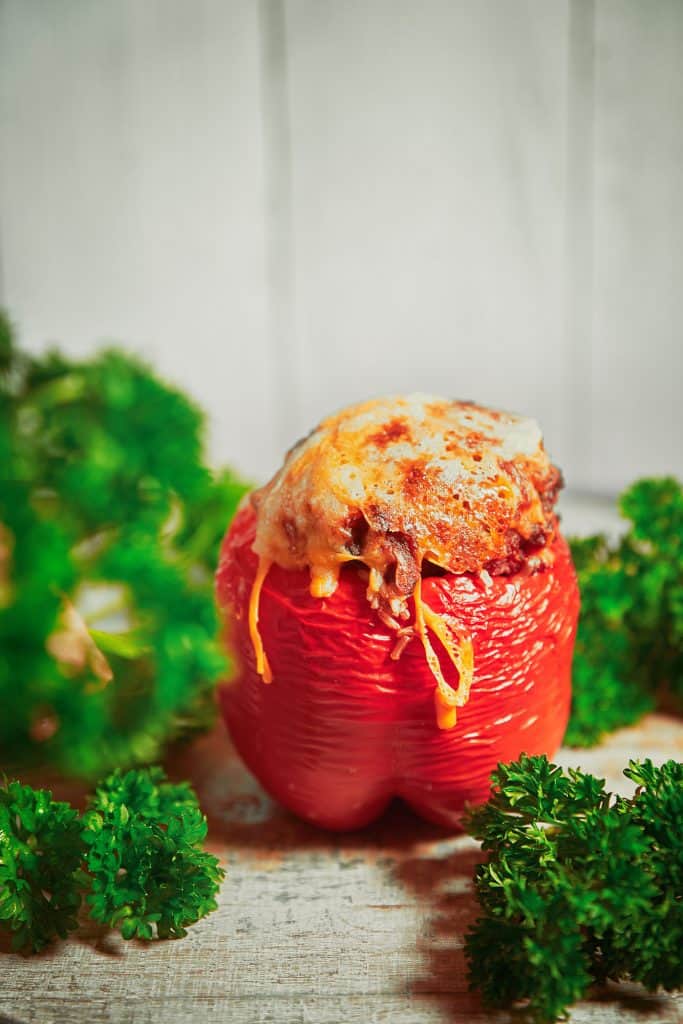 Why You Will Love This Recipe
It has a short prep time and is really easy. It only takes 20 minutes to prep this vegetarian stuffed bell pepper recipe. You need no cooking experience to whip this up. It is a very easy recipe perfect for beginners. After stuffing the peppers, you just stick them in the oven for an hour.
It is really healthy. This recipe is packed with vegetables. Bell peppers especially are super healthy with antioxidants and lots of vitamin C.
It can be adjusted for non-vegans. While this is a vegan recipe, you can easily use real cheese on some peppers to accommodate non-vegans. Everyone can enjoy this tasty recipe!
It is great for a gathering. These meatless stuffed peppers are perfect for a potluck or family gathering. Each person can have their own pepper. They can be eaten as a main or side dish.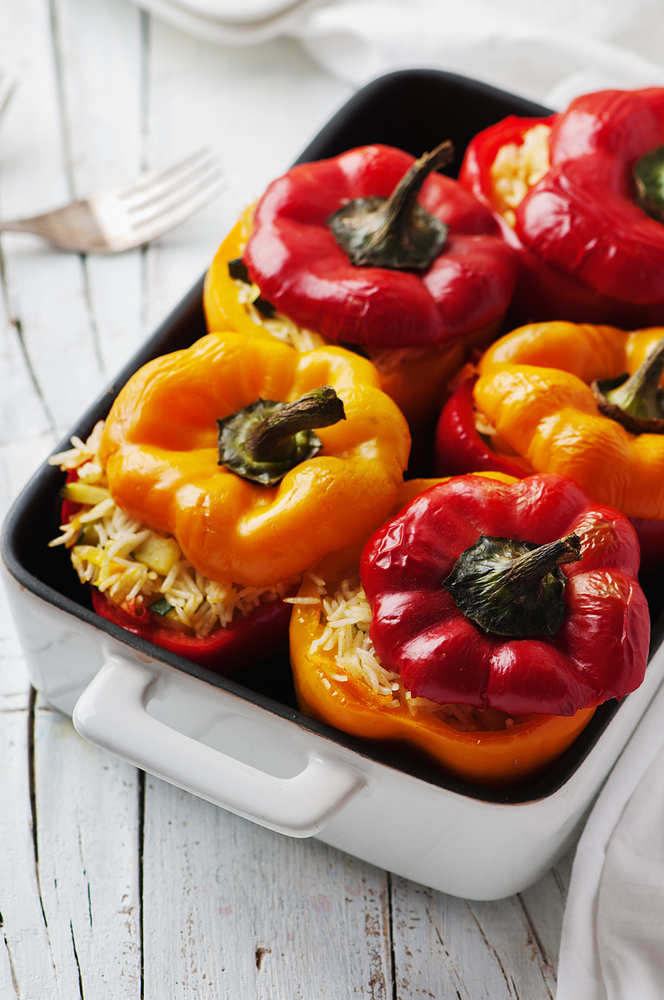 Preparing The Bell Peppers
When you are shopping for the peppers that will make up the base of this recipe, I recommend buying organic bell peppers if you can.
If not, find the largest peppers that you can find and try to ensure that they have a flat bottom so that they are able to stand up in the baking dish.
Once you are home, wash and dry the peppers. Then you will get a sharp knife and cut around the top, being careful to not puncture the bottom or sides of the peppers.
Please do this with care, it is difficult to make Italian stuffed peppers vegan if some of the ingredients are falling out the side or bottom. I know, because I have made this mistake before!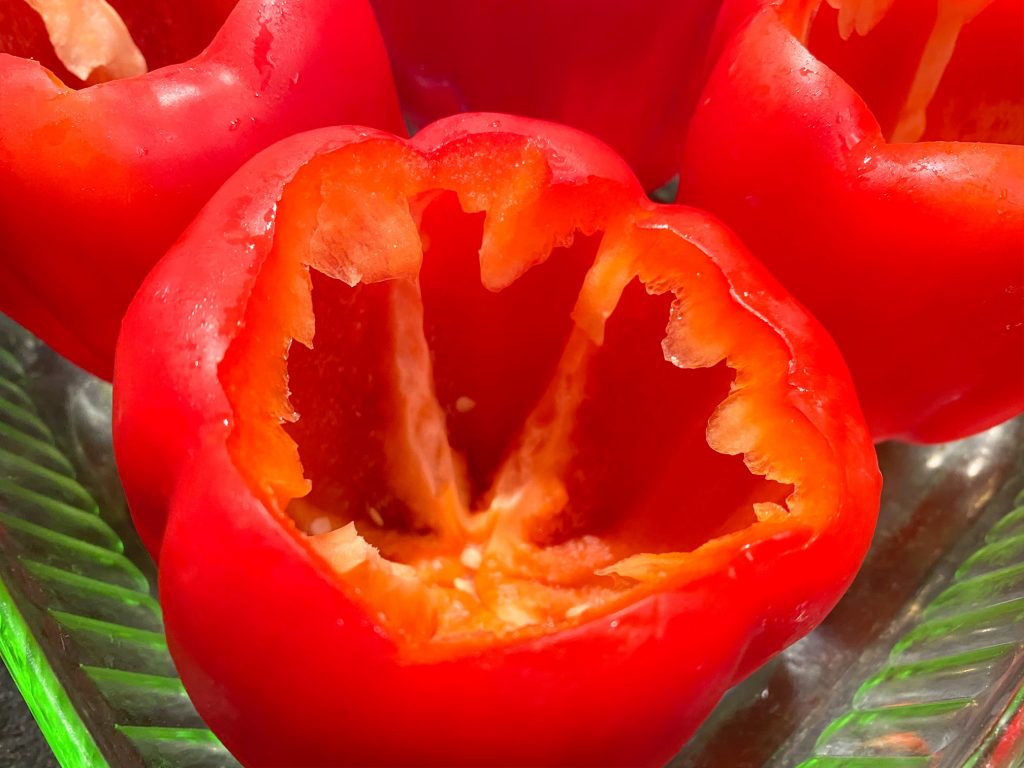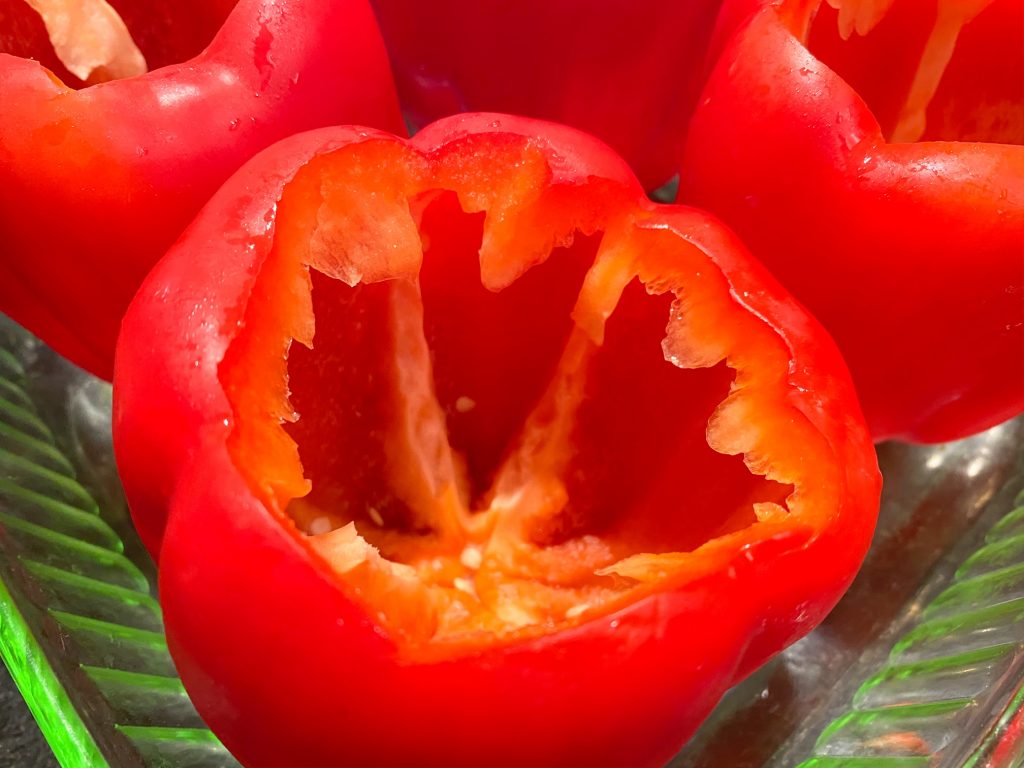 Once you cut around the top of the pepper, simply twist and take out the stem and core.
You will then use your hands to remove the seeds. If you can't get all the seeds out, don't worry. They won't hurt you and you won't notice the flavor when eating these easy dairy-free stuffed peppers.
Finally, you will want to find a baking dish that is exactly the size of your peppers.
I use a 12×12 dish for 4 peppers. Size up or down accordingly. You will want your vegan stuffed bell peppers to nearly be touching each other so they can support each other while baking.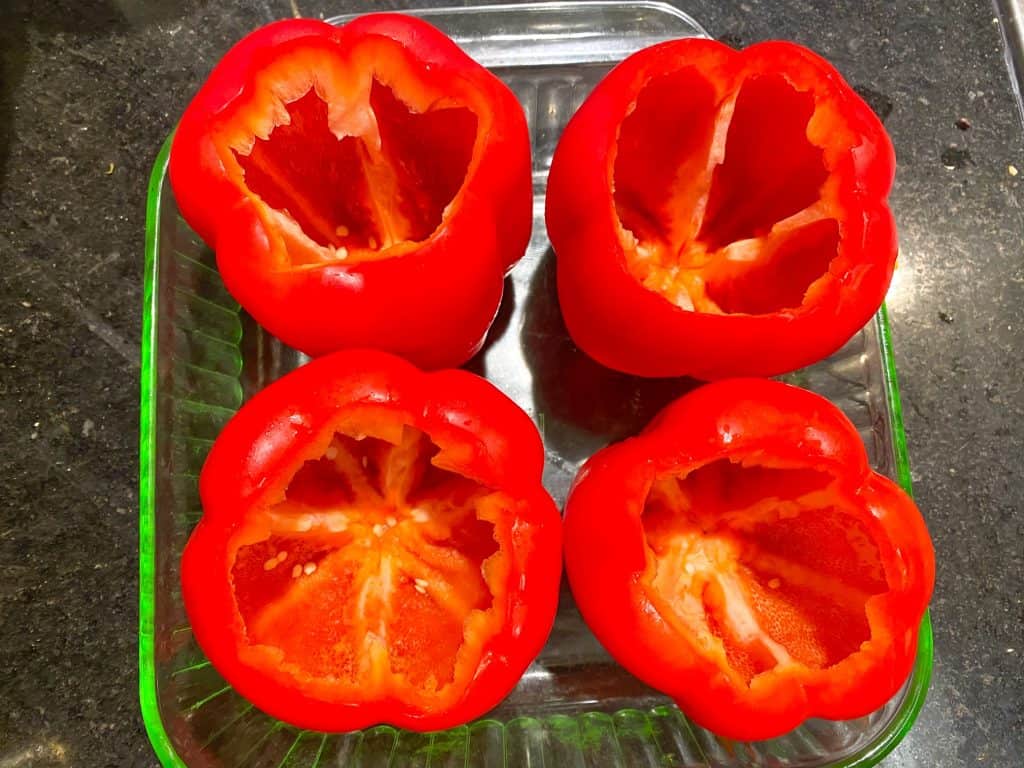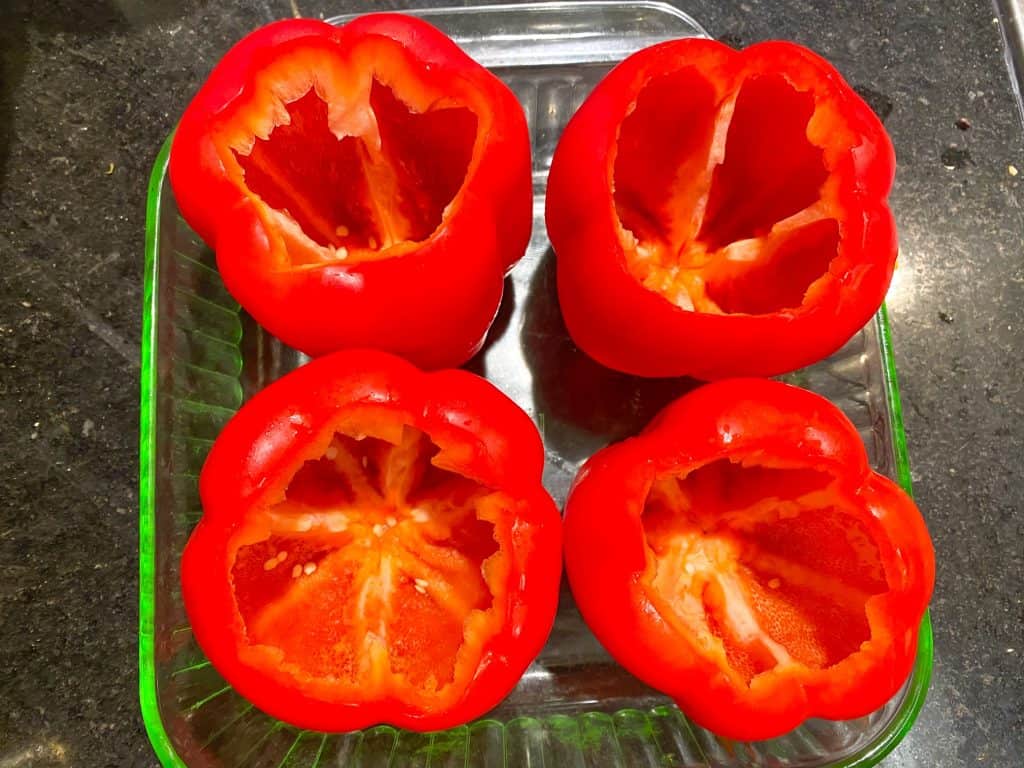 Making The Vegan Stuffed Pepper Filling
Making the stuffing for the peppers is quite easy.
I do these vegan stuffed peppers with rice, so be sure to have some on hand before you get ready to stuff!
If I know that I want rice-stuffed vegan peppers for dinner, I put my rice in a slow cooker earlier in the day so that it is ready when I need it!
If not, you can simply boil one part rice to two parts water. Put the stove on as high as you can and let the pot get to a rolling boil.
As soon as all the water is boiled away and the rice is cooked, you are done. I can cook rice in this method in under 10 minutes. If you forget to cook your rice in advance, do not worry, this is a quick fix!
The next large "filler" for these healthy stuffed peppers is beans.
You can choose ANY kind of beans you want! I use whichever beans are on hand, but usually black beans or kidney beans. I have easily used 5 or more types of beans to stuff the peppers throughout all my years of making them!
Since these are EASY vegan stuffed peppers, I simply used canned beans. If you want, you can soak your own beans, but I don't do that often.
One can of beans is generally enough, but you can add more depending on the number of people you need to feed.
Finally, you will add the remaining ingredients and mix them all together.
It is VERY IMPORTANT to add salt. Not just a little bit, a lot of salt. This adds flavor and helps accent the taste of the veggies that make up the base of these vegan stuffed bell peppers.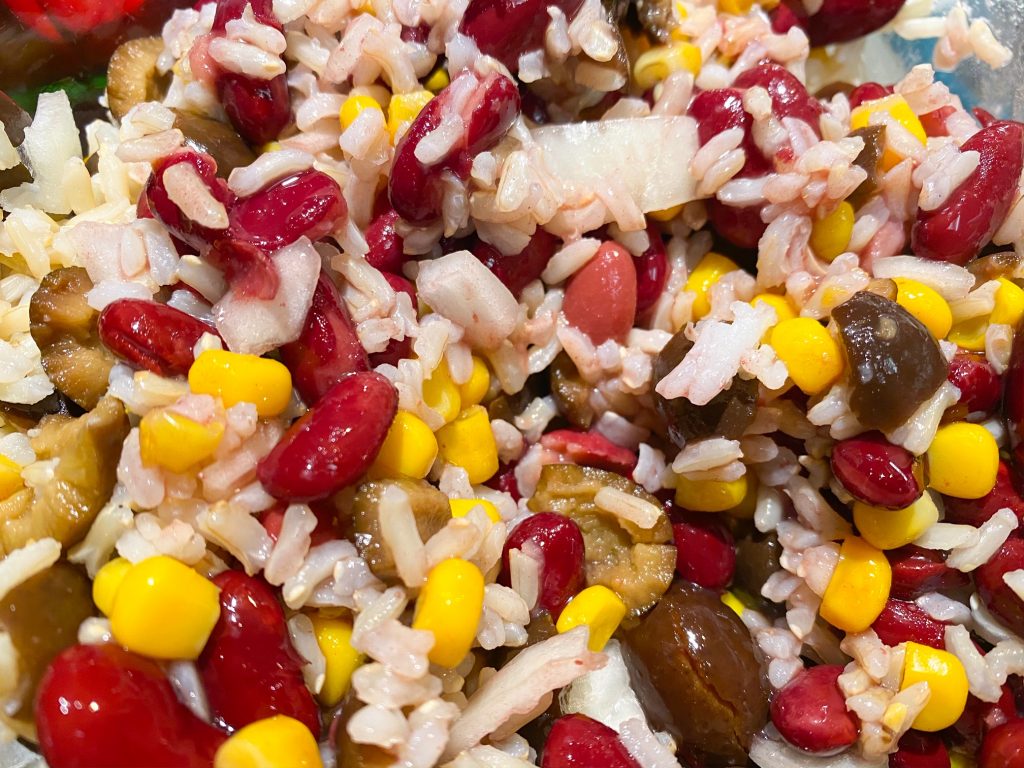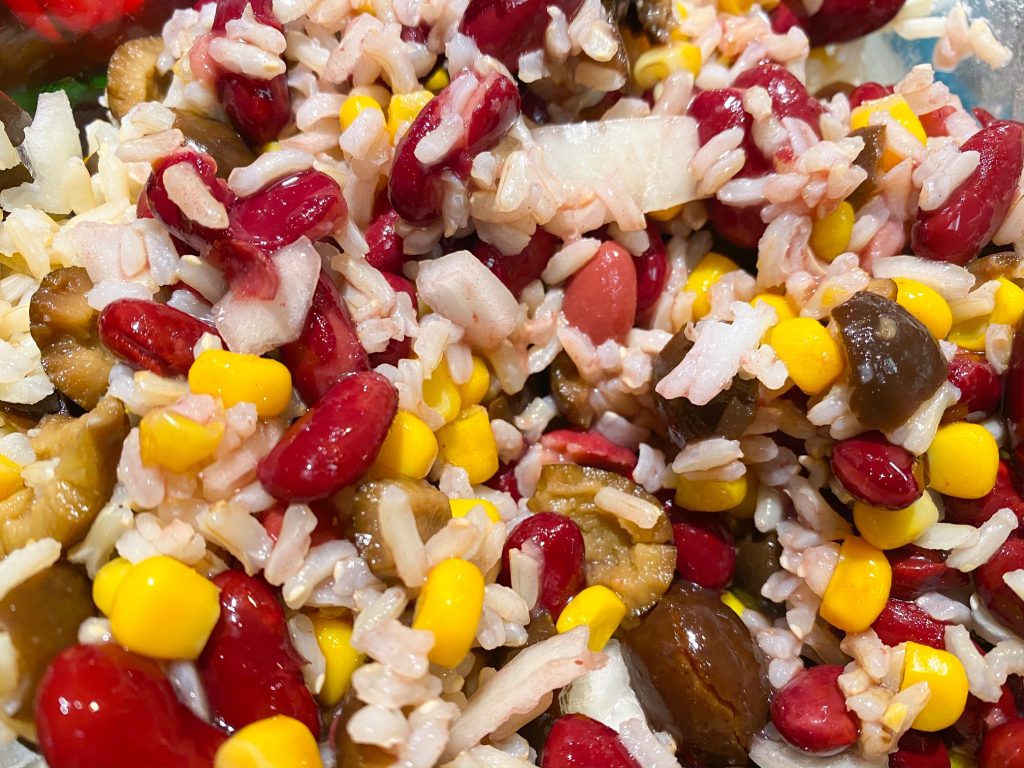 How To Stuff The Bell Peppers
Once your mixture is made, you will begin stuffing the peppers using a spoon.
Stand the peppers up in your baking dish and ensure that they are sturdy. Some of the peppers may be wobbly so try and wedge them against the baking dish and another pepper.
If you are adding regular cheese to make these healthy vegetarian stuffed peppers as opposed to just vegan cheese, now is the time to do it.
If you are only using one type of cheese for the whole recipe, you can mix the cheese in during the step above.
When customizing the peppers based on cheese, you will simply sprinkle some cheese in the base of the individual pepper, then spoon in the filling, then add a little more cheese, then spoon in the filling, and so on.
Make sure to use your spoon to smoosh down the filling so it is very compact!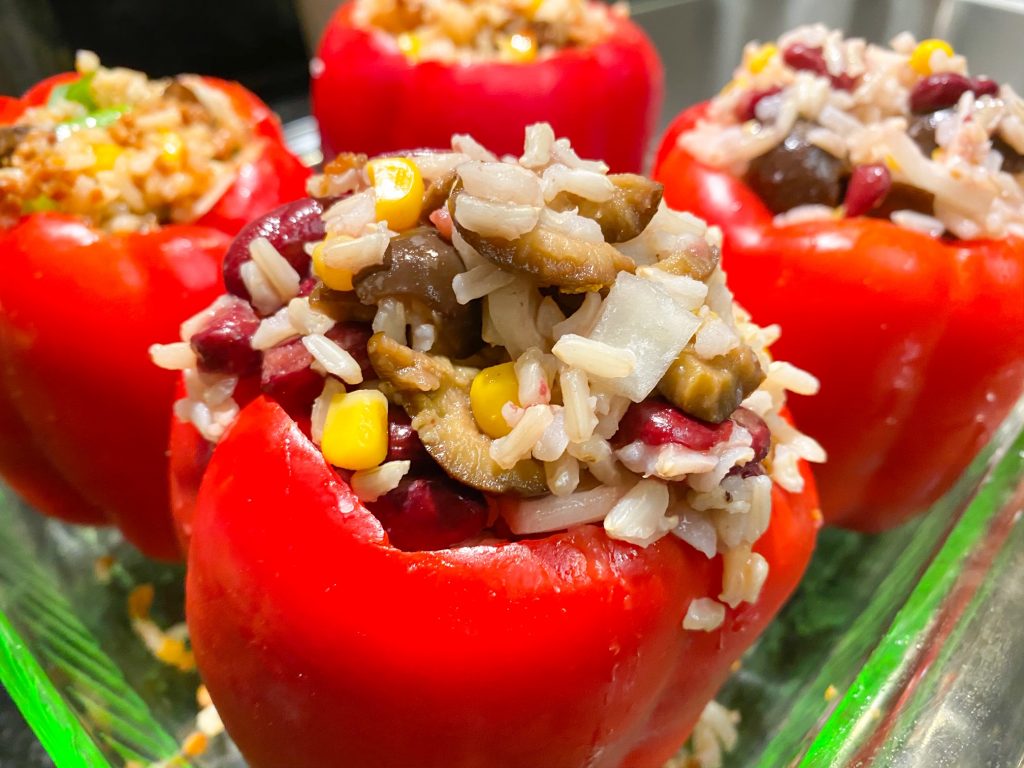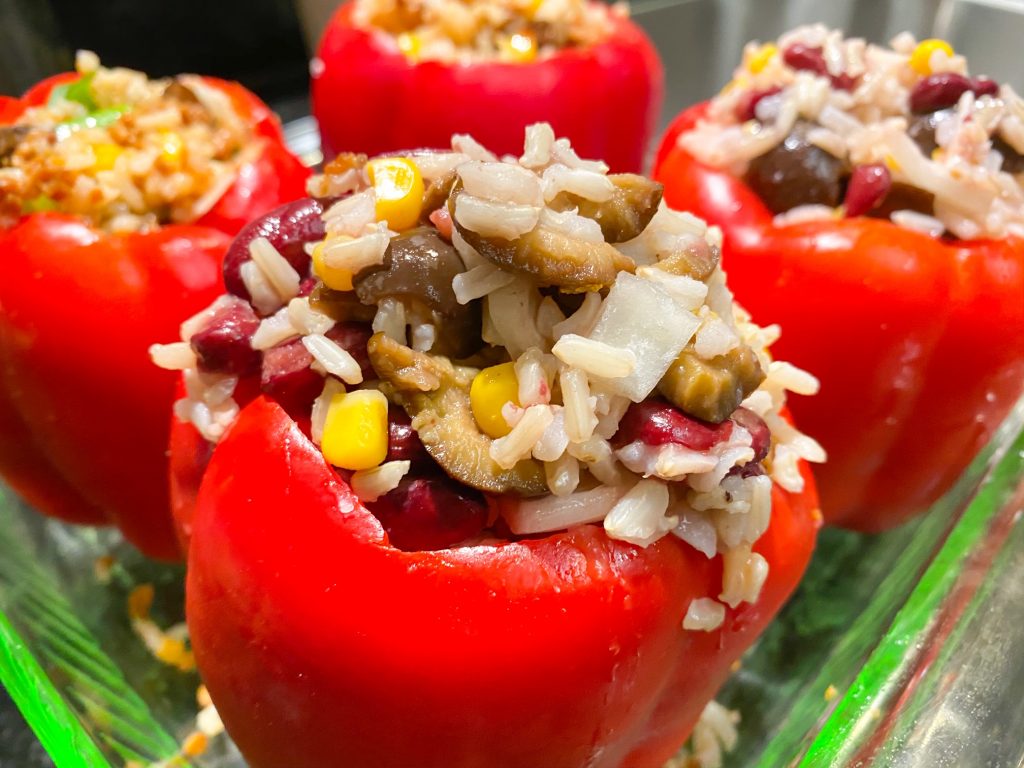 IMPORTANT: Finishing The Vegan Stuffed Peppers
This is a VERY IMPORTANT STEP!
Once you have finished stuffing the peppers, you will NOT add cheese to the top. Instead, you will pour some jarred or fresh tomato sauce over the top of all the peppers and down into the dish.
I always use homemade tomato sauce and it is pretty easy, but I have used it from a jar too! I even have a Vegan Tomato Sauce Recipe that is super simple!
You don't need a lot of sauce in the bottom of the pan, just a little to keep it wet. I will often mix my tomato sauce with a little water to thin it out.
Then I will pour the mixture over the Italian vegan stuffed peppers. As long as the top of the pepper is coated, you should be fine.
After you pour the tomato sauce on your peppers, only then should you add the cheese. It is essential that you do NOT add the cheese before you add the final layer of sauce.
You want the cheese to crisp up while baking and it can't do that if there is a layer of sauce over the top!
Do NOT skip this step if you want a wonderful baked layer of cheese on top of your vegan stuffed peppers!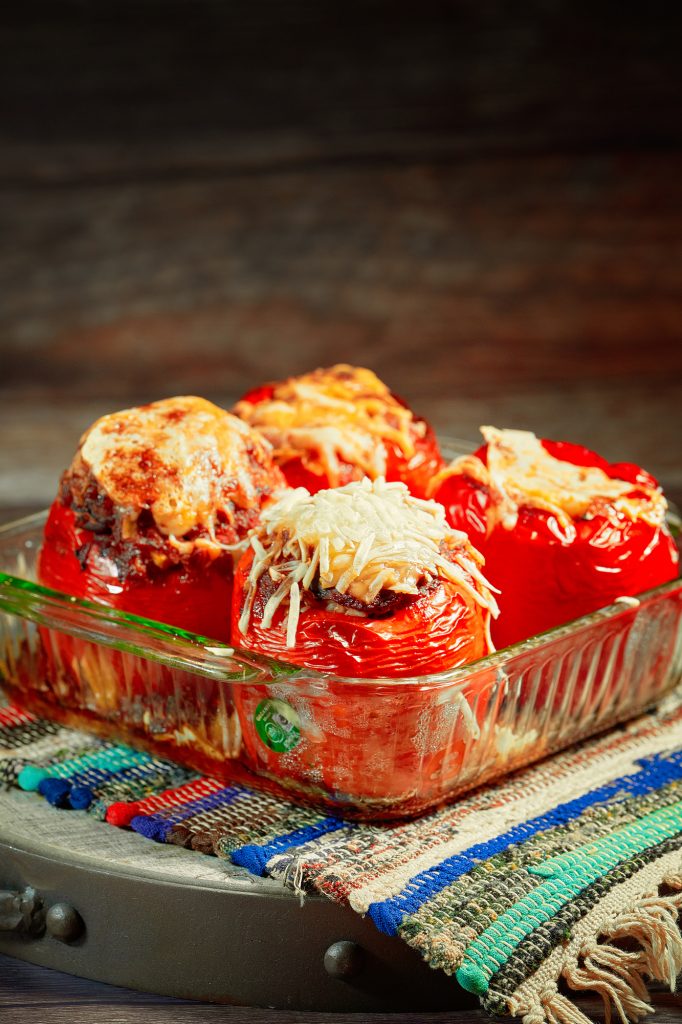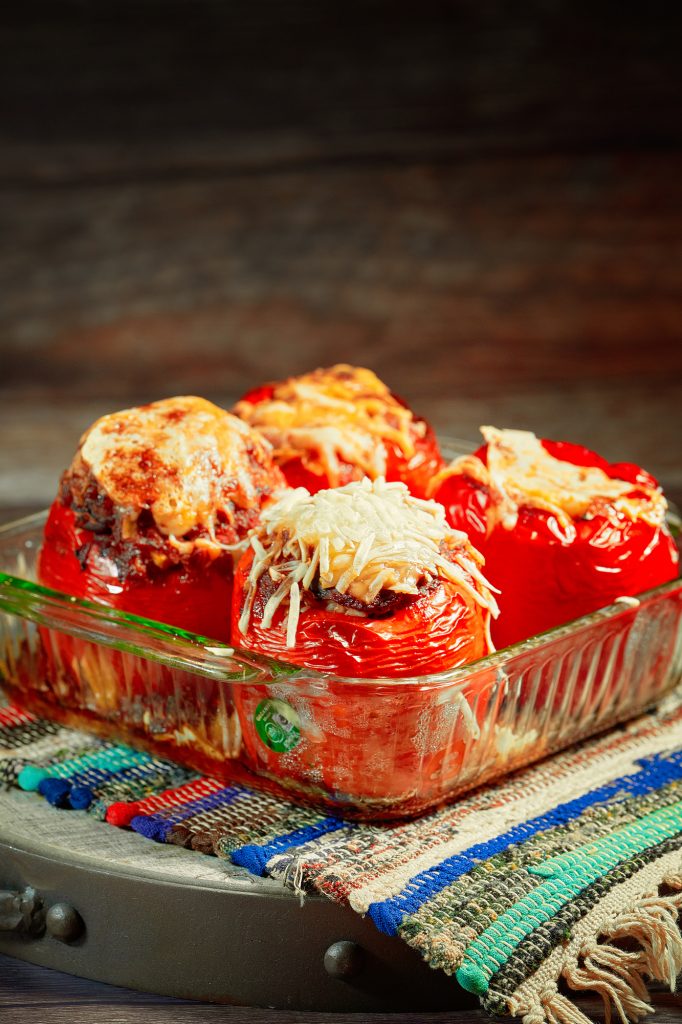 Eating Your Easy Vegan Stuffed Peppers
I recommend letting this vegan stuffed pepper recipe cool for a few minutes after baking to let the cheese crips up a bit.
To eat, I recommend taking the pepper and putting it on your plate, and then cutting it in half, starting from the cheese and going to the bottom of the pepper.
Once you put the pepper in half lengthwise, you will take the first half and cut it up into small bite-sized pieces. While you are eating one half, the second half stays warm as it is still intact.
I do recommend having a sharp knife to make cutting and eating these delightful vegan stuffed peppers easier and more enjoyable!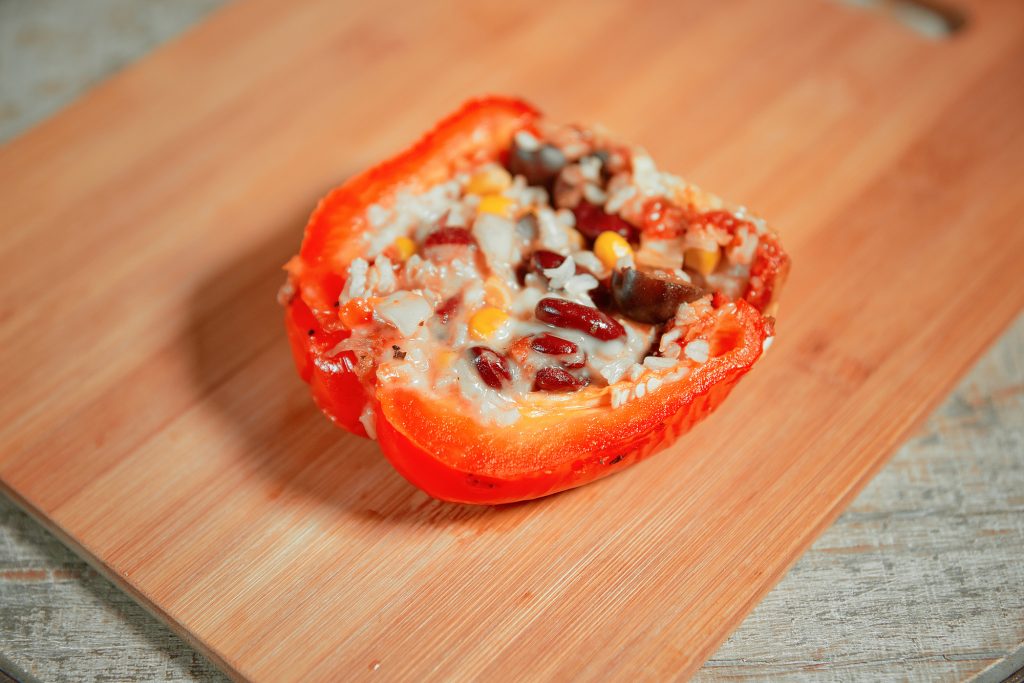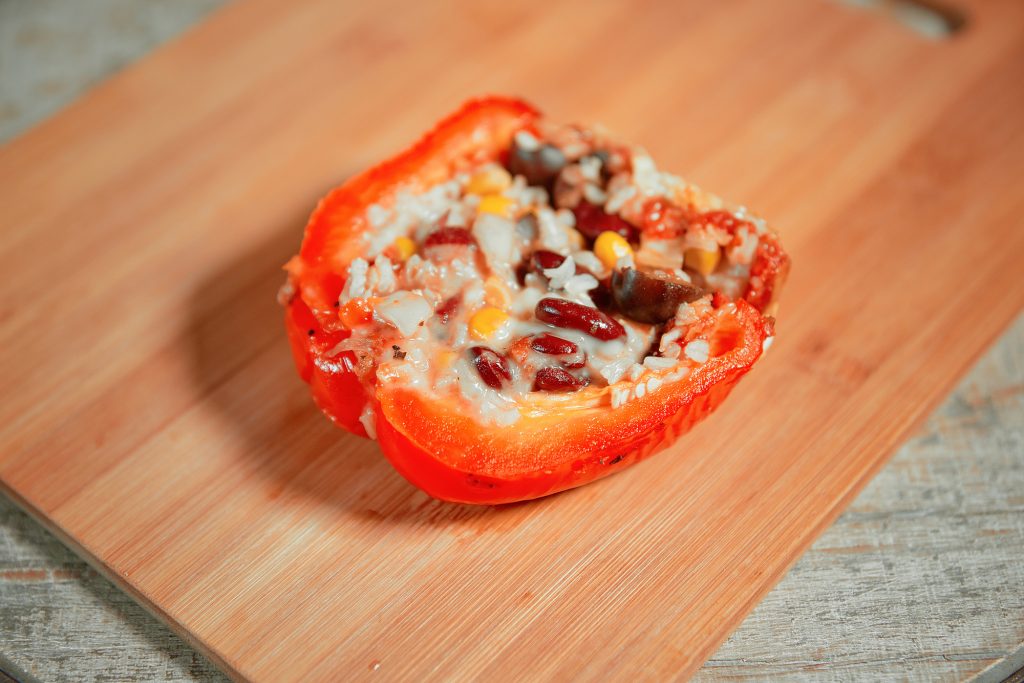 Storing and Reheating the Stuffed Peppers
It is very easy to store these plant-based stuffed peppers!
You can keep them in the fridge in an airtight container for 4 to 5 days. If freezing them, they are good for up to 3 months in an airtight container.
There are a few different ways to reheat the peppers depending on how much time you have. The microwave is the fastest and easiest way. I suggest cutting them up first to make sure they reheat evenly.
You can also saute the rice and vegetable stuffed peppers in a pan or pop them in the oven or toaster oven.
Yield: 4 Stuffed Peppers
Vegan Stuffed Peppers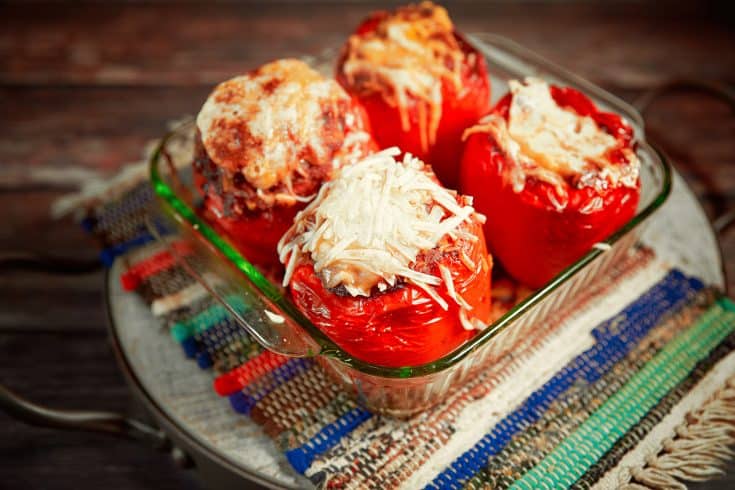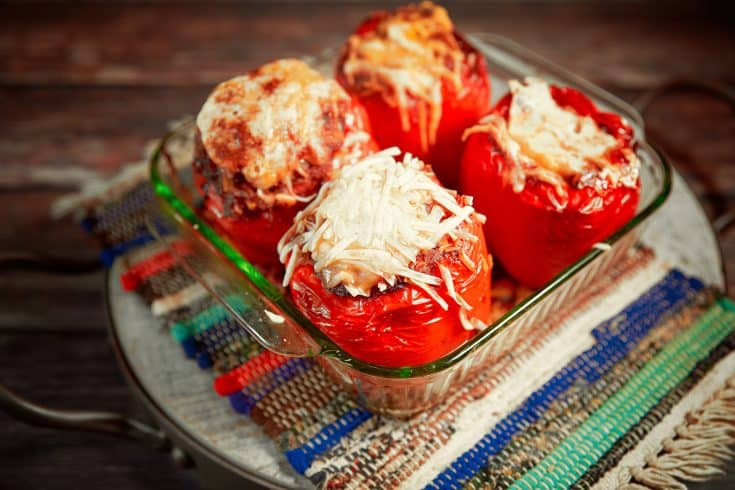 These best-ever vegan stuffed peppers will delight anyone who tries them! They whip up quickly and are easily customizable so you can modify depending on the crowd you are feeding. These peppers use simple staple ingredients yet are packed full of flavor!
Total Time
1 hour
21 minutes
Ingredients
1 1/2 Cup Of Cooked Rice [more as needed]
1 Cup Of Beans [recommend black beans or kidney beans]
1 Medium Onion
3/4 Can Of Olives
3/4 Can Of Whole-Kernal Corn
1 Teaspoon Salt
1 Cup Of Tomato Sauce [more to taste]
Vegan Cheese To Taste [I use Violife but Daiya works]
Instructions
Preheat oven to 425 degrees
Wash and dry peppers. With a sharp knife, cut in a circle around the stem, twist and remove core and seeds.
Place cored peppers up-right in a 12x12 baking dish.
In a large mixing bowl, add rice, beans, onion, corn, olives, cheese, and salt. Stir until combined. Feel free to add more or less of any ingredient depending on personal tastes and the number of people you are looking to feed. It is okay to eyeball these ingredients.
Using a small spoon, stuff peppers by scooping the mixture and pushing down as you stuff. This is to ensure the peppers are properly stuffed and the filling is compact. It is okay to continue to fill the peppers until the top forms a large mound.
Once peppers are stuffed, pour tomato sauce over the tops of the peppers and slightly into the bottom of the pan. The peppers do not have to be completed covered, just the tops.
Add cheese of your choice to the top of the peppers after the sauce has been added. This will allow the cheese to crisp up while baking.
Bake covered on 425 degrees for 45 minutes and uncovered for the remaining 15 minutes. Peppers are "done" when you can easily pierce the side with a knife and the skin is starting to wrinkle.
Let cool for a few minutes before eating!
Notes
Feel free to modify based on your tastes! If you don't like olives, feel free to substitute with mushrooms. If you can't eat onions, feel free to remove and add in green onion tops or nothing at all. If you can't eat beans, you can add "fake" ground meat that is vegan and the taste remains the same!
Nutrition Information
Yield
4
Serving Size
1
Amount Per Serving
Calories

262
Total Fat

2g
Saturated Fat

1g
Trans Fat

0g
Unsaturated Fat

1g
Cholesterol

0mg
Sodium

1093mg
Carbohydrates

53g
Fiber

8g
Sugar

11g
Protein

11g