This vegan corn chowder is a delight to make and eat!
It is hearty and filling while being healthy and light at the same time.
This vegan corn chowder makes a wonderful comfort food recipe and there are a few reasons that I love it.
First, I create all of my recipes to be as quick and easy as much as possible! This vegan corn soup is no different.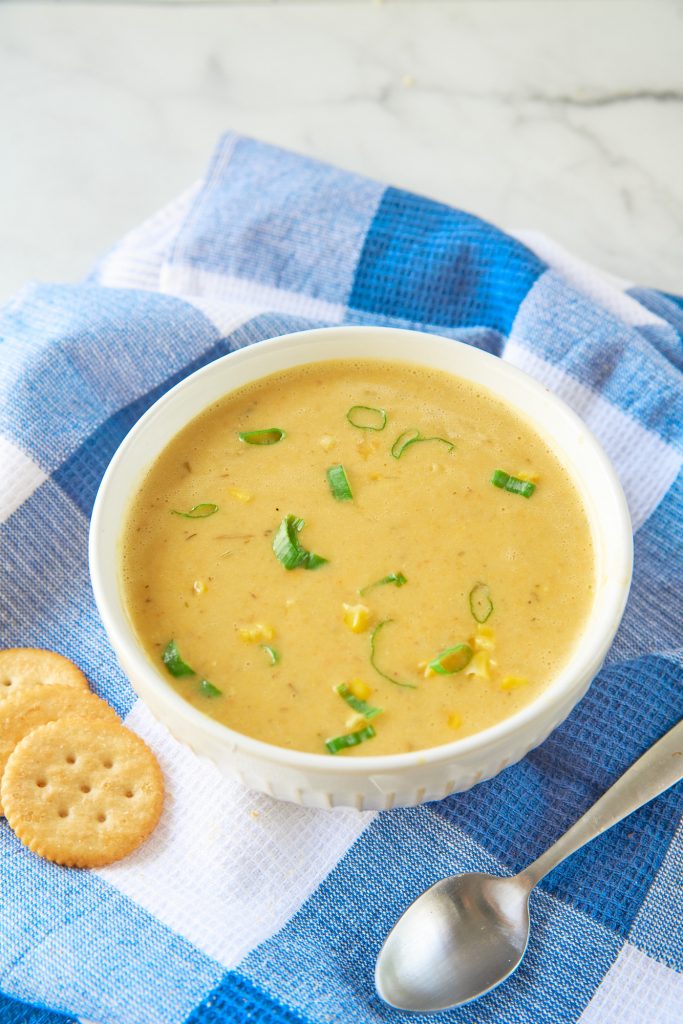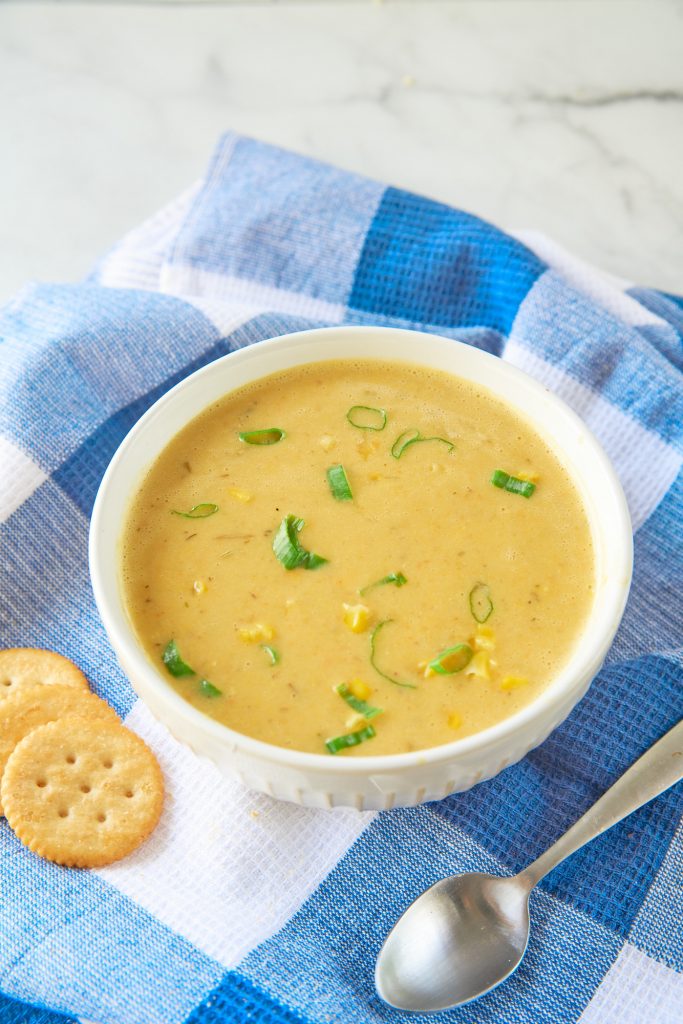 Instead of letting it cook or simmer for 30-40 minutes, we parboil the potatoes [yes there are potatoes in this!] and saute the rest of the ingredients before adding liquid to speed up the process.
This is my favorite way to make soup and it means that you have make this whole recipe from start to finish in around 15 minutes!
Next, this vegan corn chowder is filled with tons of hidden veggies including carrots and celery!
This is one of the best vegan recipes for kids as kids only see the corn and yellow color and don't know that you added a bunch of extra veggies that are hidden.
Finally, this vegan corn chowder recipe keeps wonderfully in the fridge or freezer so if you want to make a big batch to meal prep or save it for a day when you want some comfort food, this is your recipe!
No matter what, this is one of my favorite Vegan Soup Recipes and I hope you enjoy the vegan corn chowder as much as I do.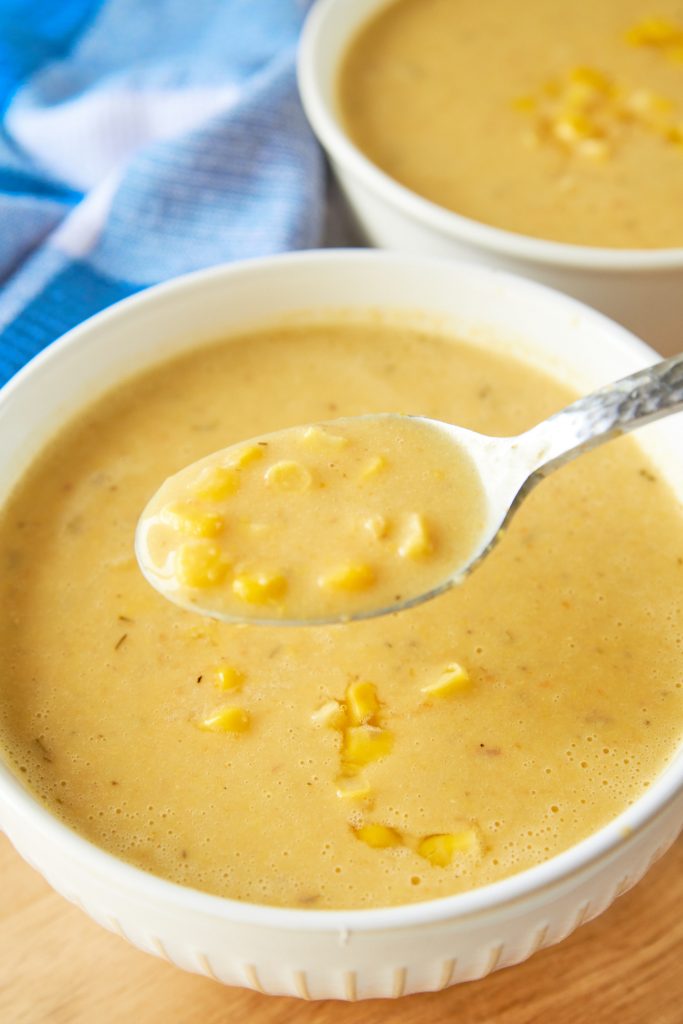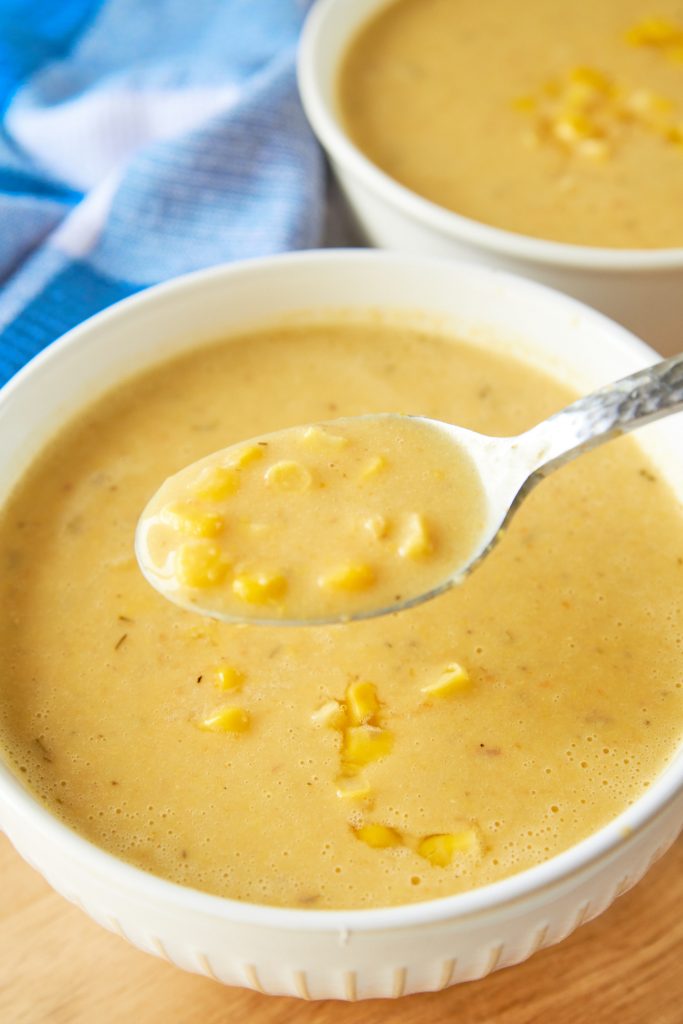 How To Make The Vegan Corn Chowder Thick And Creamy
This vegan corn chowder shines for how thick and creamy it is!
A lot of recipes call for using cashew puree or coconut milk, neither of which I am a fan of!
Remember, I like to make things incredibly quick and easy so that you will most likely have it on hand.
You can use any non-dairy milk of your choice, but what really ups the ante is the flour!
I use flour to thicken my Vegan Clam Chowder recipe as well and it works wonders in vegan cooking.
I am not a fan of using coconut milk if I can avoid it, so this is the perfect remedy!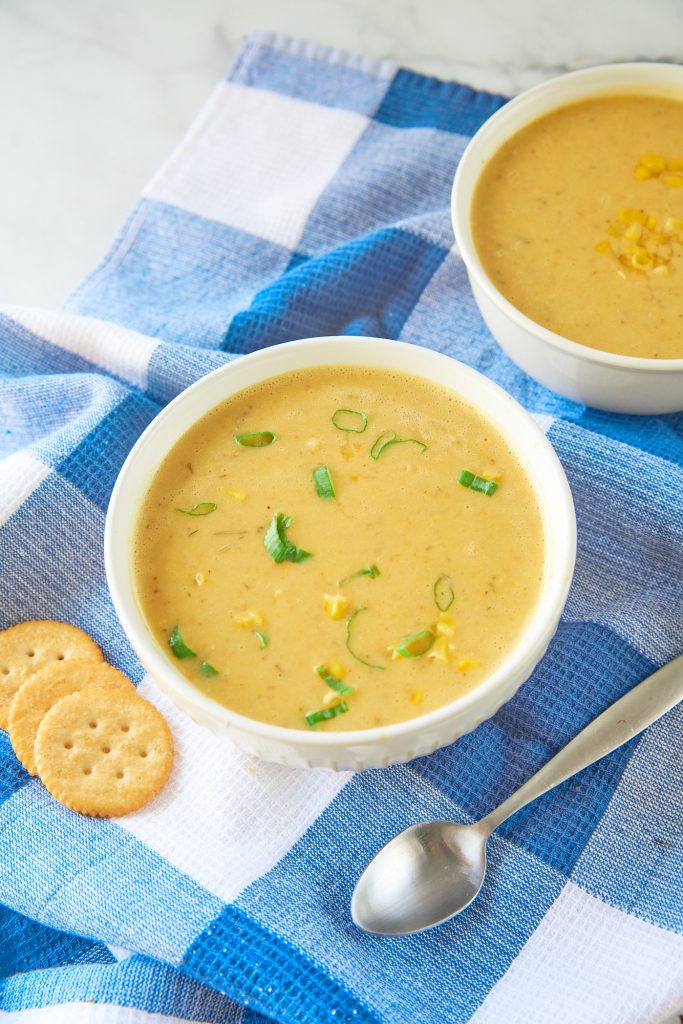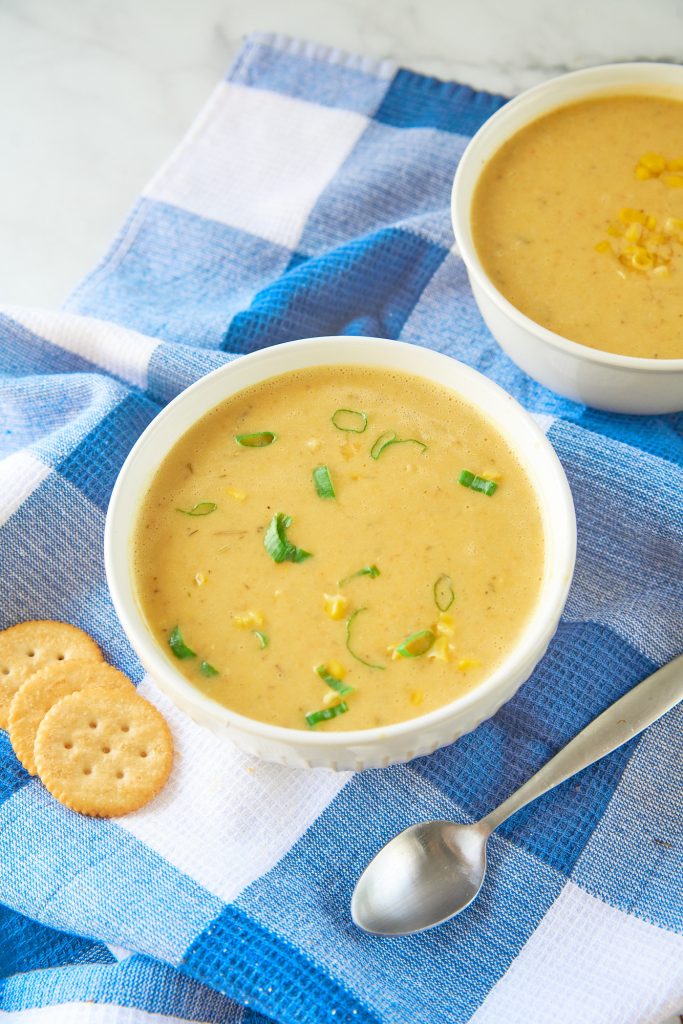 Of course you can use gluten-free flour as well, any kind works.
Just make sure to put the flour over the veggies before you add the liquid!
The other thing that thickens this recipe wonderfully are the potatoes! When they are pureed, they add a delightful thickness all while being neutral in color!
A combination between a little flour, some non-dairy milk, and some potatoes all work together to create an incredibly creamy vegan corn chowder!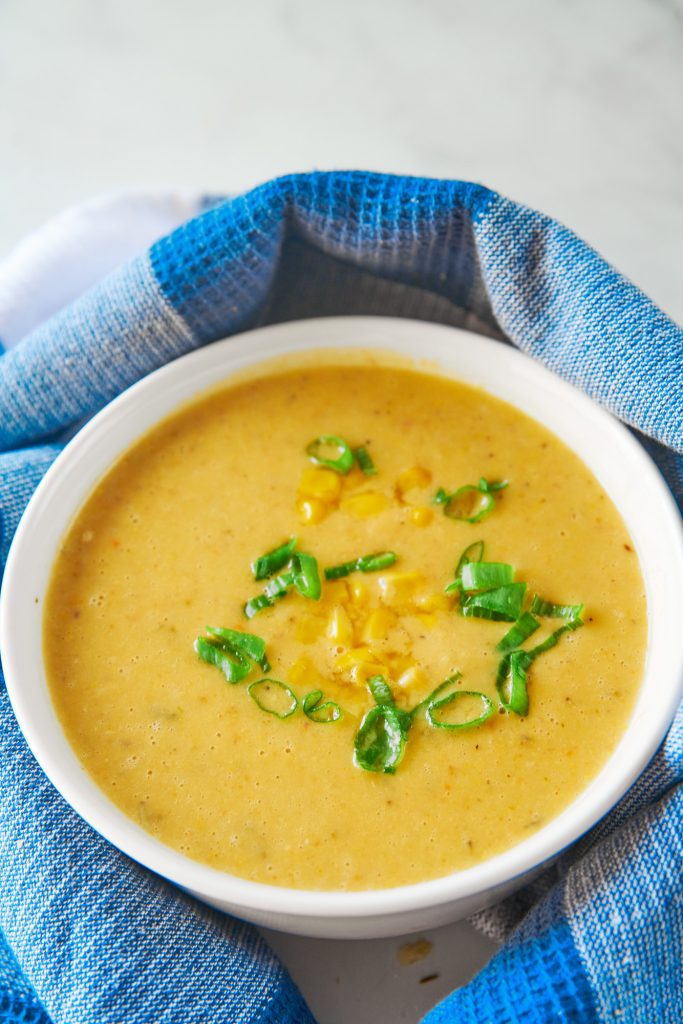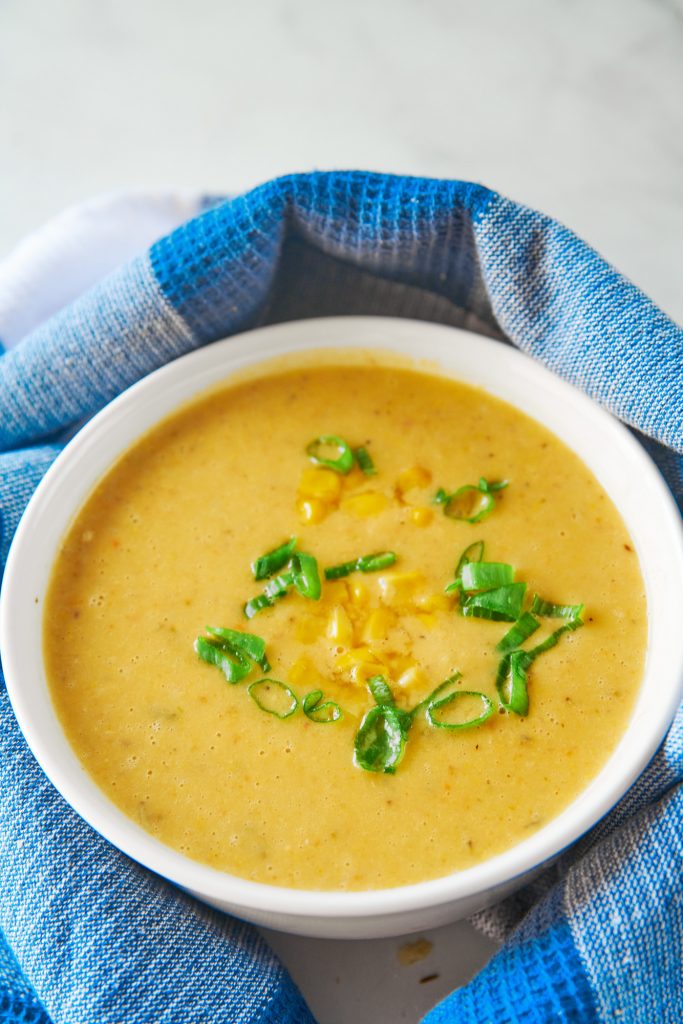 How To Make Vegan Corn Chowder
Making this vegan corn chowder is so easy and delicious!
First, you are going to chop and parboil potatoes. This means you will cook your potatoes in a different pot.
They will cook at the same time you will be working on the other veggies for the vegan corn soup and this really speeds up the process!
You will saute onion, chopped celery, carrot, and garlic in the bottom of a stock pot until soft.
Then, you will add your pre-boiled potatoes and all of the spices.
Stir to combine.
Now add your 1 Tablespoon of flour and sprinkle it all over the sauted veggies.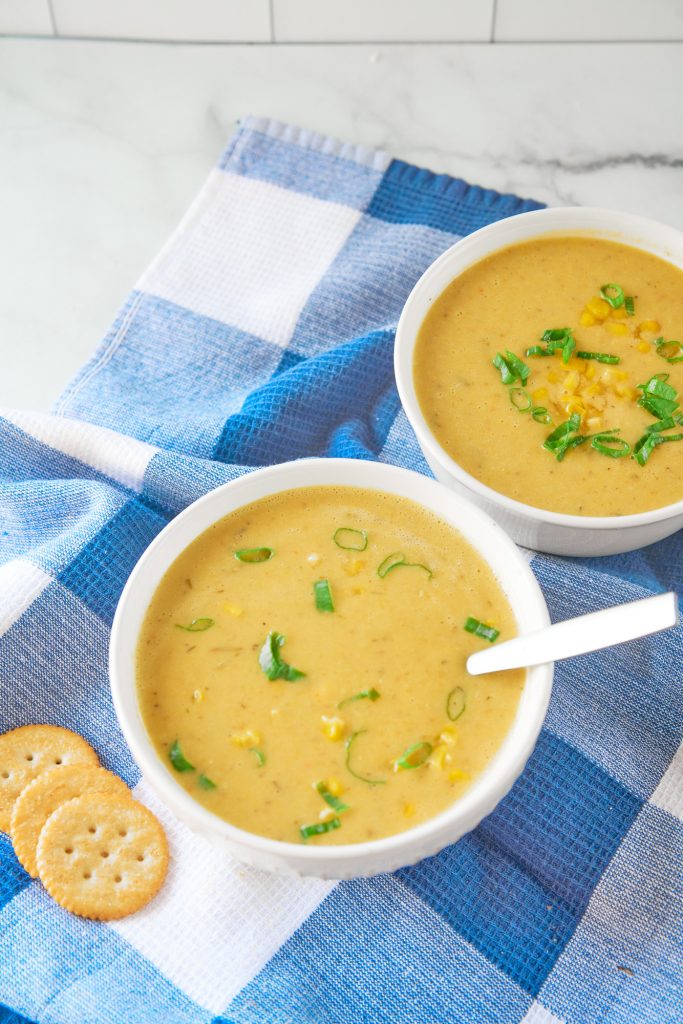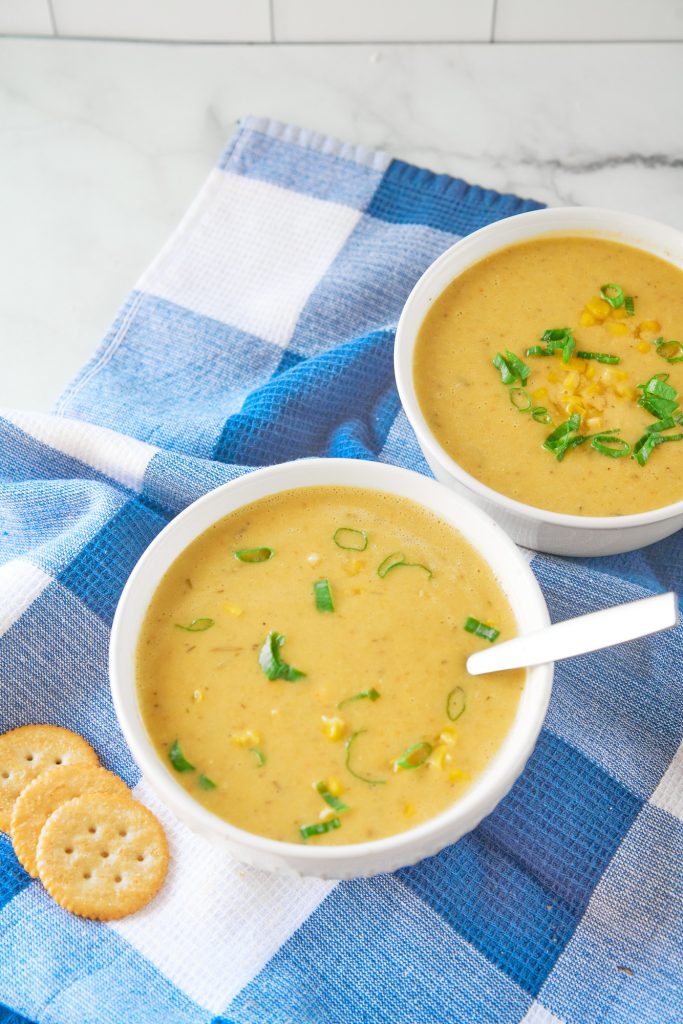 Now add your water. You can also use vegetable stock but I am a huge fan of cooking soups with water as it is quicker and tastes pretty much exactly the same.
Add your corn and simmer for 5 minutes until flavors are well combined.
If you want a chunky soup, remove half of the vegan corn chowder and puree in a strong blender. Then return it to the pot.
This way you will have half smooth and half chunky corn soup.
If you want your soup to be smooth, puree the whole thing in a blender before returning it to your pot.
Once you have pureed the vegan corn chowder, you will add 1 cup of non-dairy milk and stir until combined.
Adjust your seasoning to taste and serve with chopped green onions sprinkled on top!
Making this vegan corn chowder is truly super quick and easy. I recommend serving with a crusty piece of bread or vegan crackers of your choice!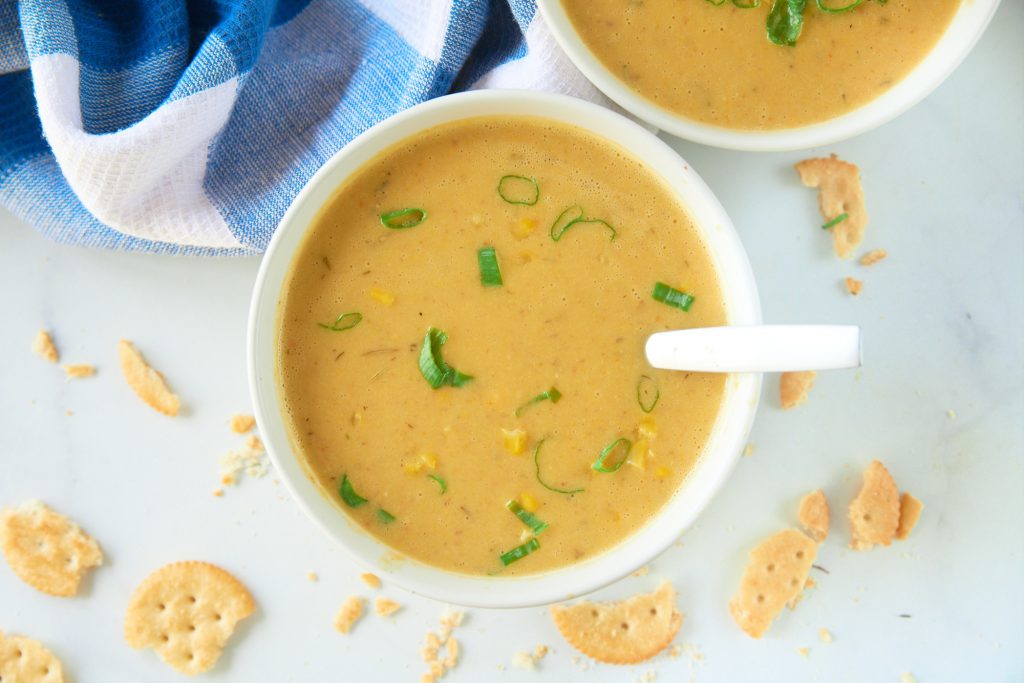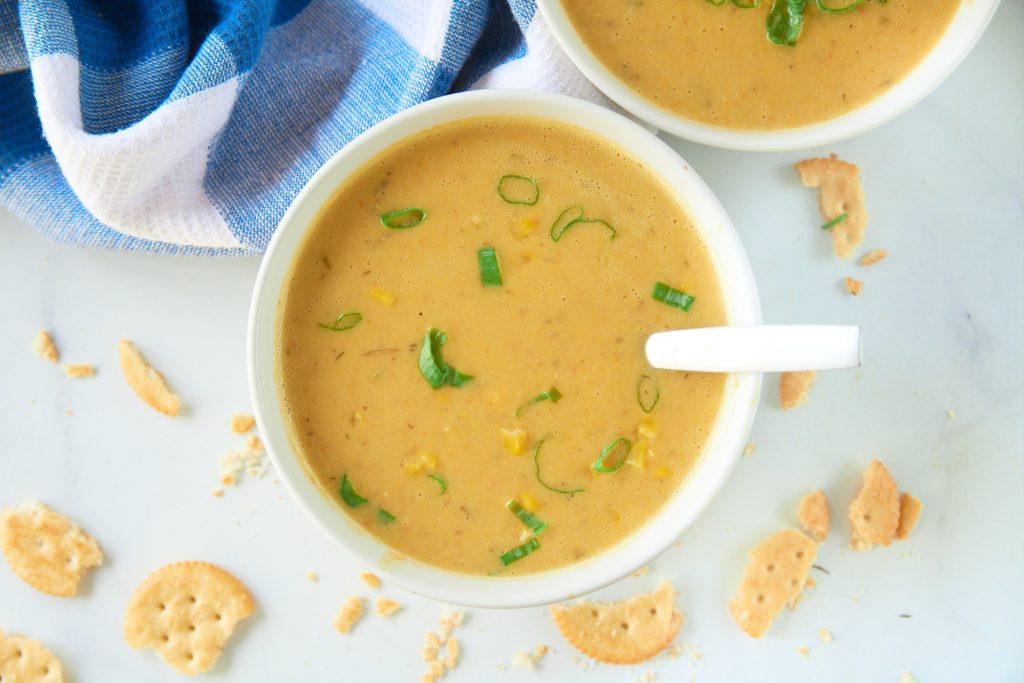 How To Store The Vegan Corn Chowder
This vegan corn soup stores incredibly well! It is perfect to make in advance so that you can eat it whenever you need something comforting and warm.
You can store this soup in the fridge in an air-tight container for 3-5 days.
You can also freeze this soup in a glass container for up to 1-2 months!
To reheat, simply remove the vegan corn chowder from the freezer the night before and place in the fridge to thaw.
Alternatively, you can thaw in warm water right before you are ready to reheat it.
To reheat, simply add soup to a pot and warm on medium heat until your desired temperature is reached.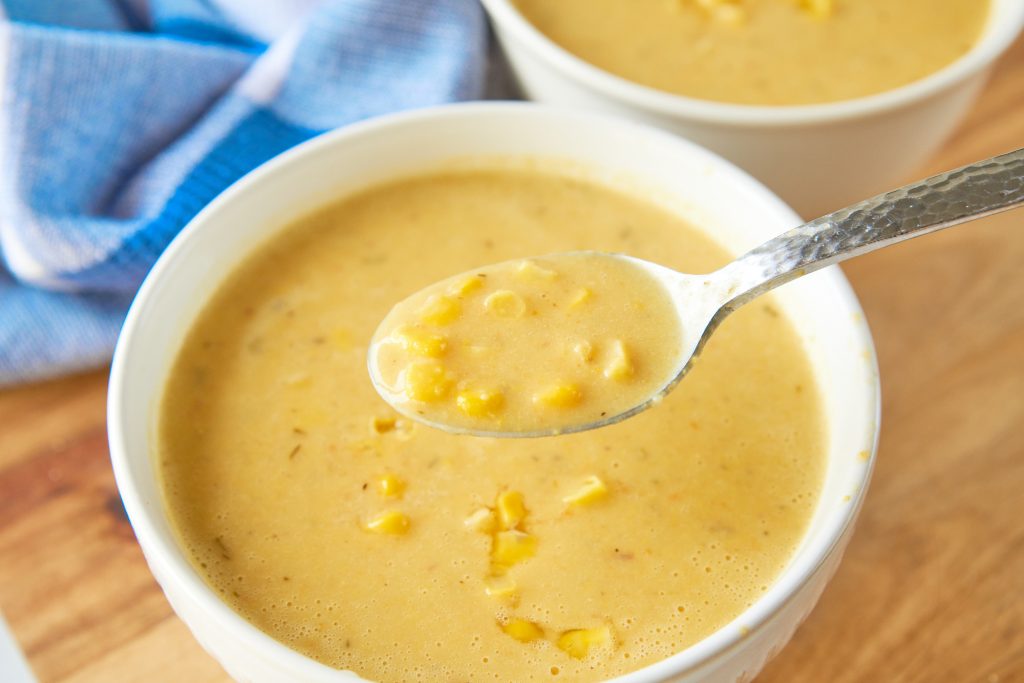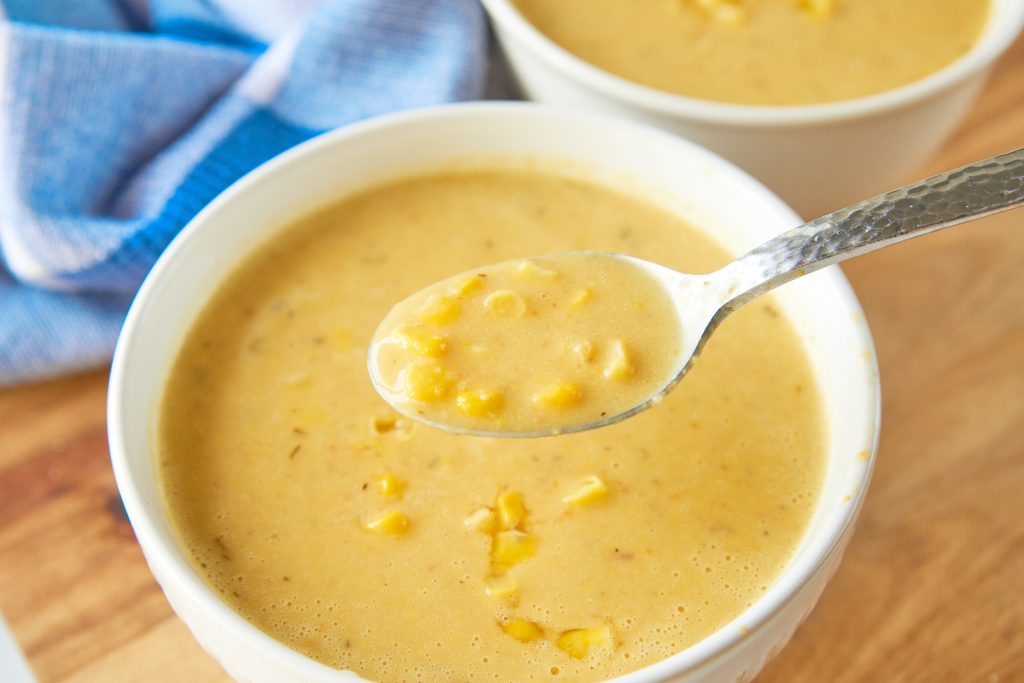 Did You Try This Recipe?
If so, I would love to keep in touch! I enjoy seeing photos and comments about the recipes that you make! You can follow me on Instagram and I will repost your goodies in my stories and comment on it too! Just tag me at @wowitsveggie and hashtag #wowitsveggie. I can't wait to see what you make!
Yield: 2 large bowls or 4 small bowls
Easy Vegan Corn Chowder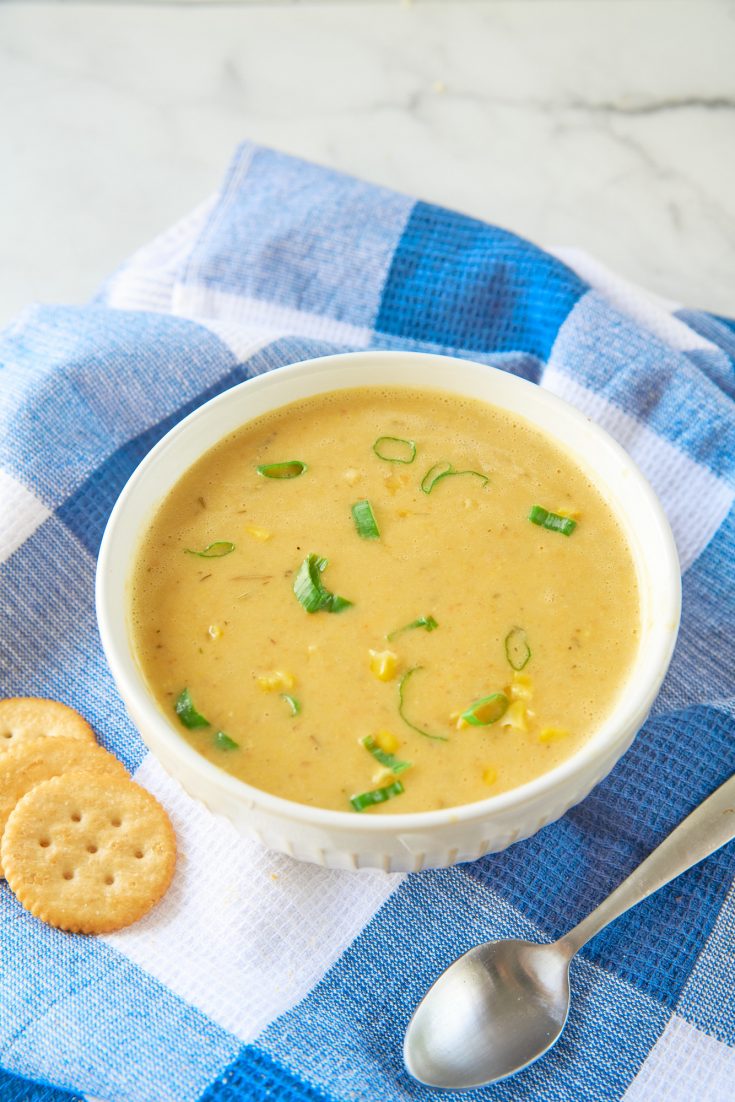 This vegan corn chowder is the ultimate comfort food! You can whip it up in just 15 minutes and it is super creamy and delicious.
Ingredients
2 medium potatoes, chopped and pre-boiled
1 large celery stalk, chopped
1 small onion, chopped
3 cloves of garlic, chopped
1 large carrot, chopped
1 1/2 cup corn [fresh or frozen]
1 tsp salt
1/2 tsp pepper
1 tsp thyme
1 tsp rosemary
1 cup non-dairy milk
3 cups water or broth
1 TBS flour [gluten-free works]
Instructions
Parboil potatoes in a pot until soft.
Meanwhile, in another pot, saute onion, garlic, carrot and celery in a little bit of oil until soft. Add in all of your spices and stir to combine.
Add potatoes and corn to the veggie mixture and sprinkle on 1TBS of flour. Stir to combine and all the veggies are coated.
Deglaze pot with the water and let simmer for 5 minutes.
For a chunky soup, remove half of the mixture and puree in a high powered blender before returning to pot. For a smooth soup, puree the entire mixture in a blender and return to pot.
Once the vegan corn chowder is back in the pot, stir in 1 cup of non-dairy milk and adjust seasoning to taste.
Serve with chopped green onions and crackers for dipping.
Nutrition Information
Yield
4
Serving Size
1
Amount Per Serving
Calories

212
Total Fat

3g
Saturated Fat

1g
Trans Fat

0g
Unsaturated Fat

2g
Cholesterol

7mg
Sodium

732mg
Carbohydrates

41g
Fiber

5g
Sugar

9g
Protein

8g