If you are looking for an easy vegan mushroom risotto, you have come to the right place!
This is the perfect vegan risotto recipe for newbie risotto makers or those who may be scared of making this delicious dish!
I will confess, I am obsessed with risotto and always try and order it when out at restaurants. That being said, lots of restaurants don't even serve vegan risotto unless you are "that one restaurant in Paris" we did find it at "that one time."
For the longest time, I was scared to make it at home because I knew it was a more labor-intensive dish!
Enter my easy vegan mushroom risotto recipe! It isn't as labor intensive as other recipes and allows you to make a more simple yet tasty risotto recipe on your first try!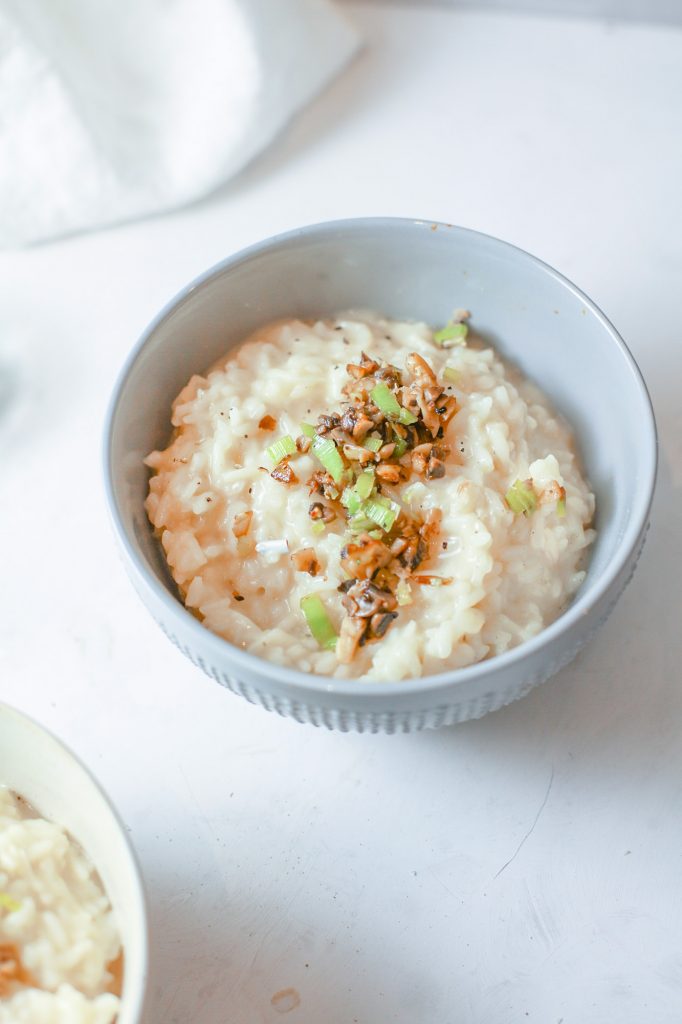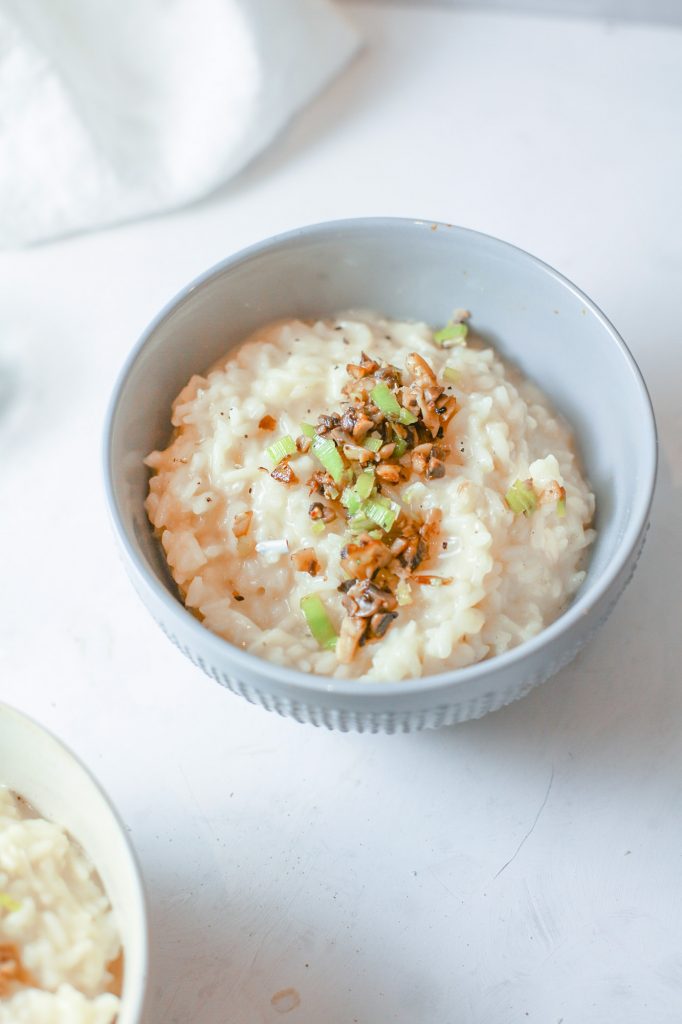 It tastes creamy and savory and the ingredients and steps are so simple.
The best part about this recipe are the caramelized leeks that it is topped with!
Leeks really elevate a dish and just their name will make you feel like you are eating in a fancy restaurant.
If you can't find leeks you can also use green onions which are a great substitute and can be found at most stores. I use green onions a lot in my vegan cooking as an easy substitute that is also affordable!
I also recommend using walnuts to top your vegan risotto!
I know that sounds REALLY weird but trust me! A little bit of walnuts goes a long way!
Toasted walnuts are a great topping as they have a very nutty and slightly cheesy flavor to the risotto.
If you aren't a huge nut fan, just go a few! For this whole recipe, I only require 1/4 a cup of walnuts to 1 cup of mushrooms, so they are not meant to be the main star, just a delightful accompaniment!
Of course, if you aren't a walnut fan, you can always leave them off! The vegan mushroom risotto recipe still tastes wonderful without them!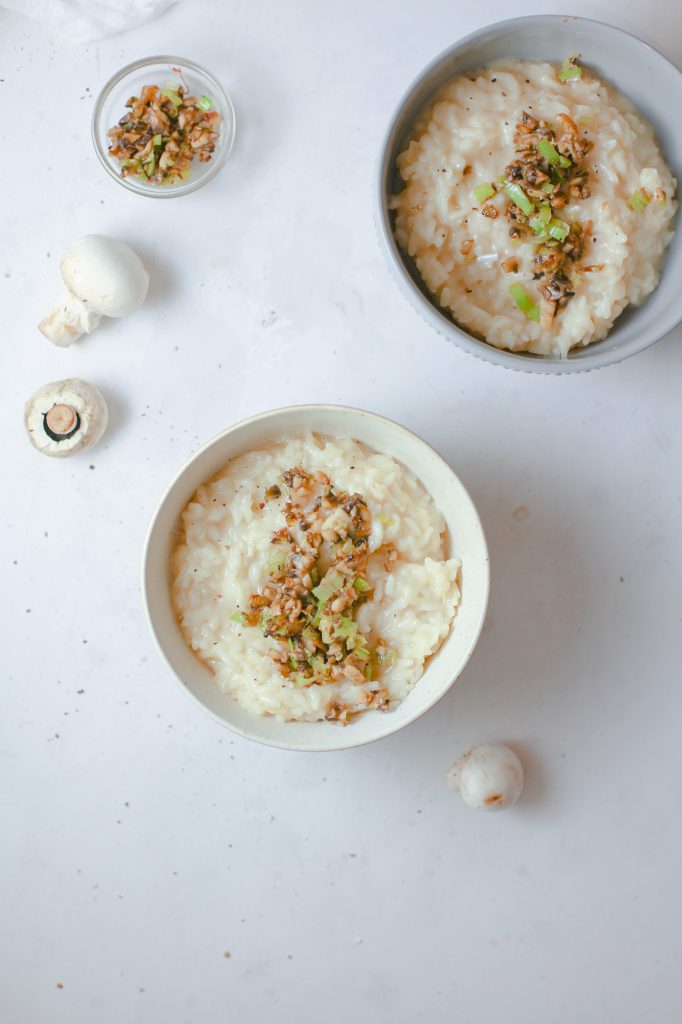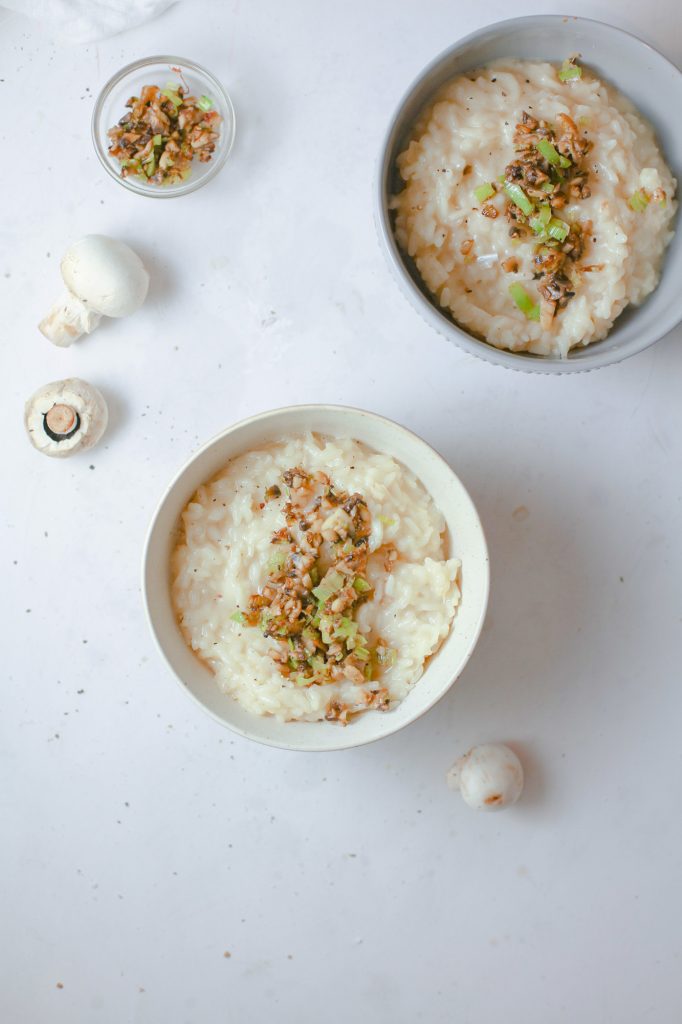 How To Make The Creamy Vegan Mushroom Risotto
The first thing you are going to need when making this vegan risotto recipe is simply a little bit of time.
If you follow my site, you know that I love dishes that are fast and easy to make!
While this is easier than many vegan mushroom risotto recipes you may find, it does still take time and tending to create the perfectly creamy finished product.
All of this to say, unless you are really craving, you may not want to make this dish at the end of a busy day as you should put a little TLC into it coming out right!
The next thing to know is that you are going to want to use risotto rice, not just any old rice!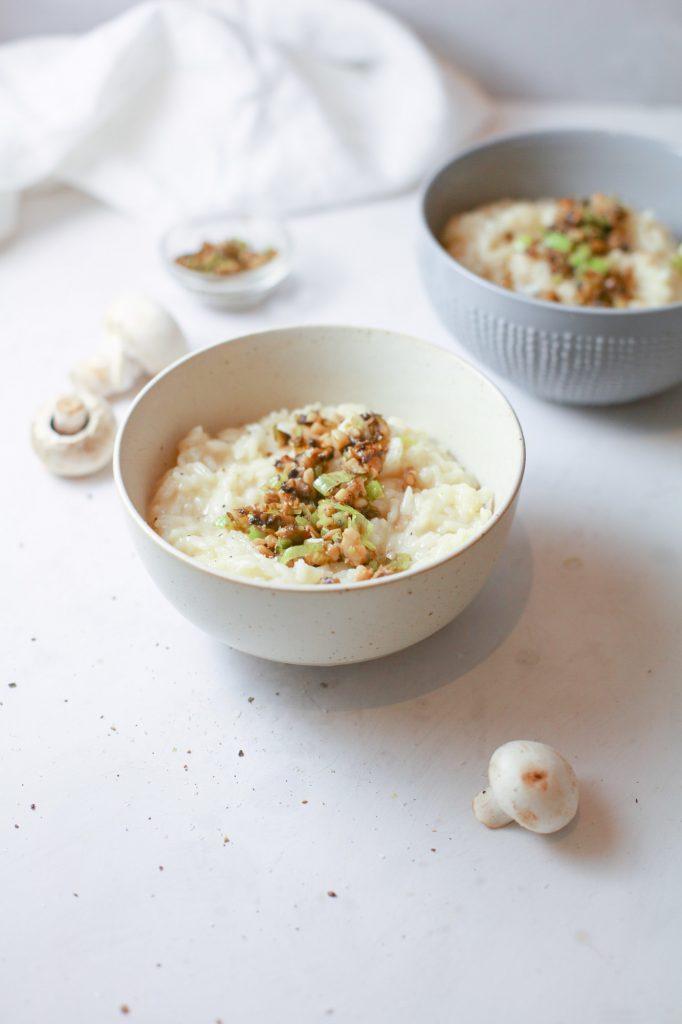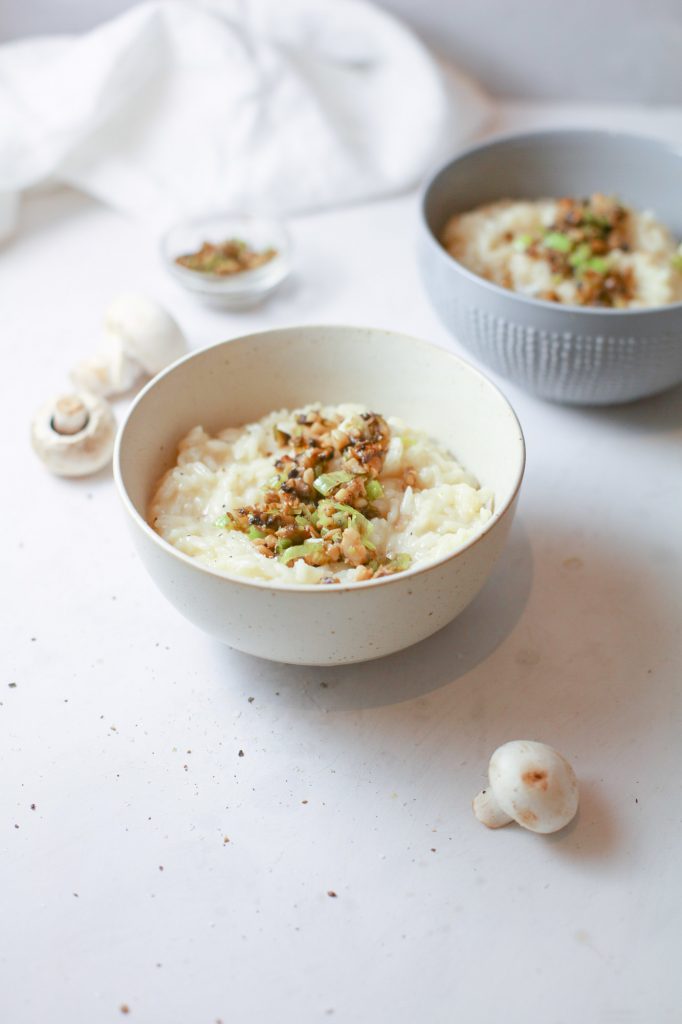 The best kind of rice to use for risotto is arborio rice which you can usually find at your local grocery store. Do not use plain white rice for this recipe.
I am also usually a fan of subbing water for vegetable broth in a pinch, but this is NOT the recipe for that!
The vegetable broth is what will infuse the rice with flavor when making this vegan mushroom risotto.
Do not skip out on using vegetable broth when making this!
First, you are going to want to saute your onion on medium heat until fragrant and translucent, about 5 minutes.
Then you will add the rice and fry until slightly transparent.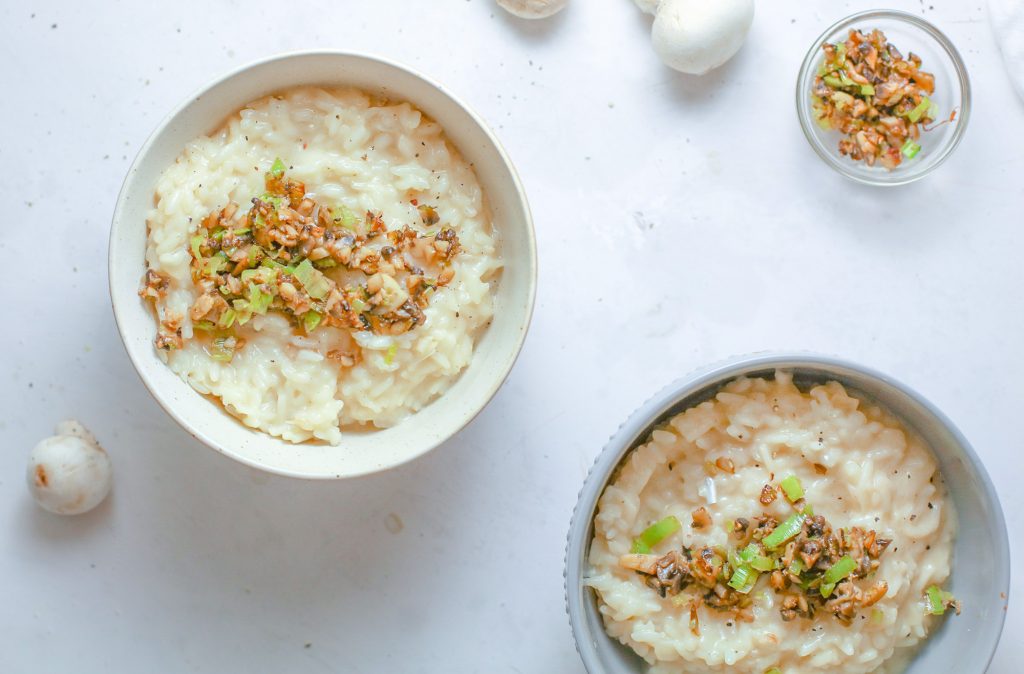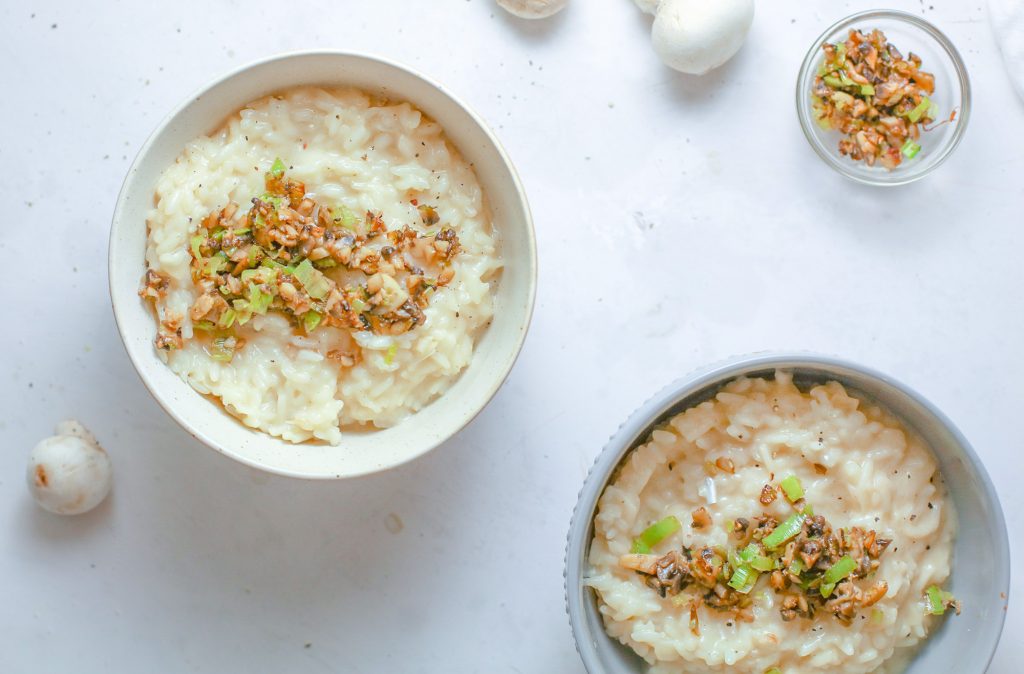 Next, pour your white wine and cook until the wine reduces, about 5 minutes.
Next, pour 1/2 cup of your vegetable stock.
You are going to be constantly stirring over the next 20-30 minutes. This is how risotto is made!
Add in the 1/2 cup of stock and let it reduce, stirring constantly so the rice can release the starch. If this happens faster than about 2-3 minutes, reduce the heat as the vegan risotto won't cook properly!
Then, add another 1/2 cup of stock and repeat until the rice is fully cooked and you have used all 5 cups of vegetable broth.
This whole process usually takes between 20-30 minutes. If should not be any faster than that and if it is, the vegan mushroom risotto may not come out right!
If you have a trusted older child, you can have them help with the stirring. As a tween and teen, I would help my mom by stirring her vegan recipes such as the Vegan Chocolate Pudding that requires hands-on stirring!
Continue to add broth and stir until the risotto is creamy. Remove from heat and cover the risotto with a lid.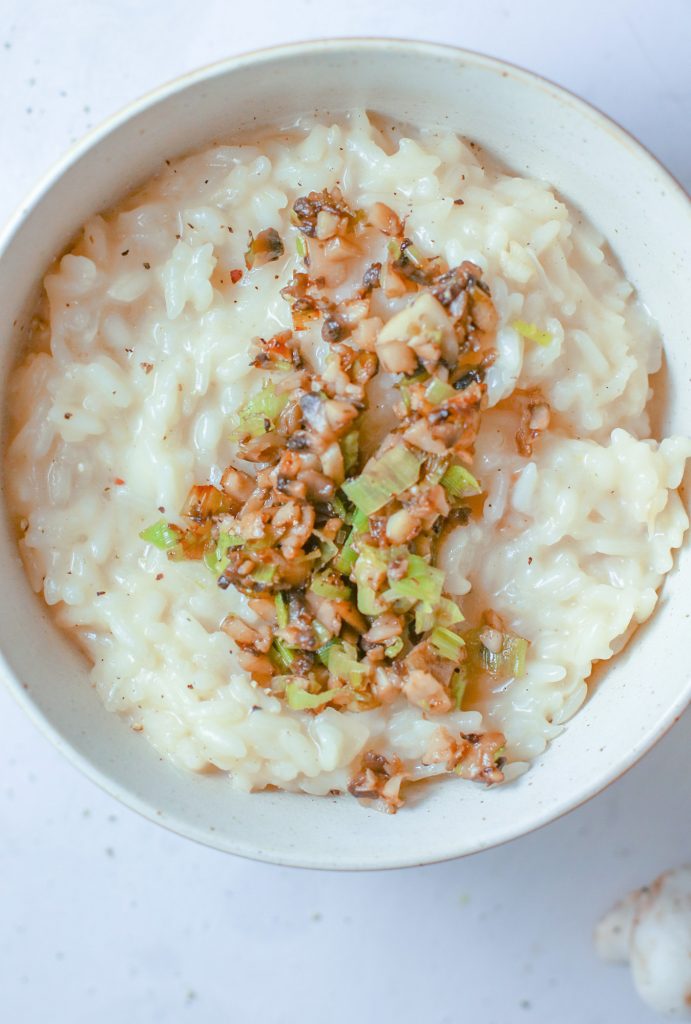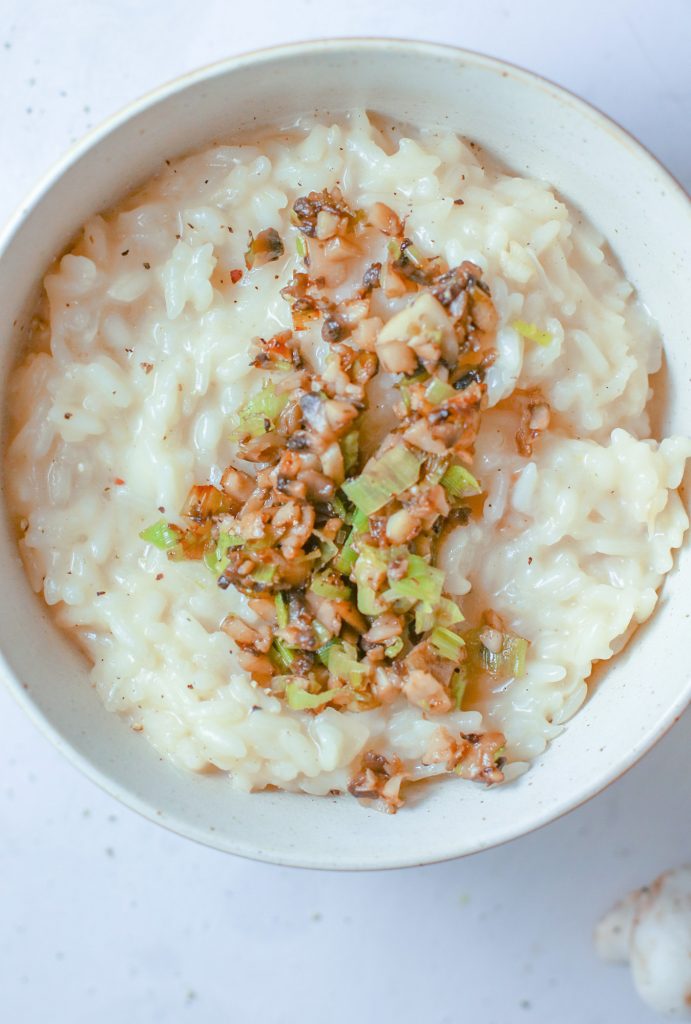 In a pan on medium heat, saute mushrooms, leeks, and walnuts until cooked and flavorful.
Stir in the cooked mushroom mixture with the risotto and season with salt and pepper to taste.
Usually, this vegan mushroom risotto recipe needs a LOT of salt as it is not seasoned during the cooking process.
If you want to season ahead of time, go ahead and add the salt just after you add the mushrooms but before serving!
Otherwise, strongly urge whoever is eating it to season generously with salt and pepper! If not, the vegan mushroom risotto won't taste as flavorful without proper seasoning!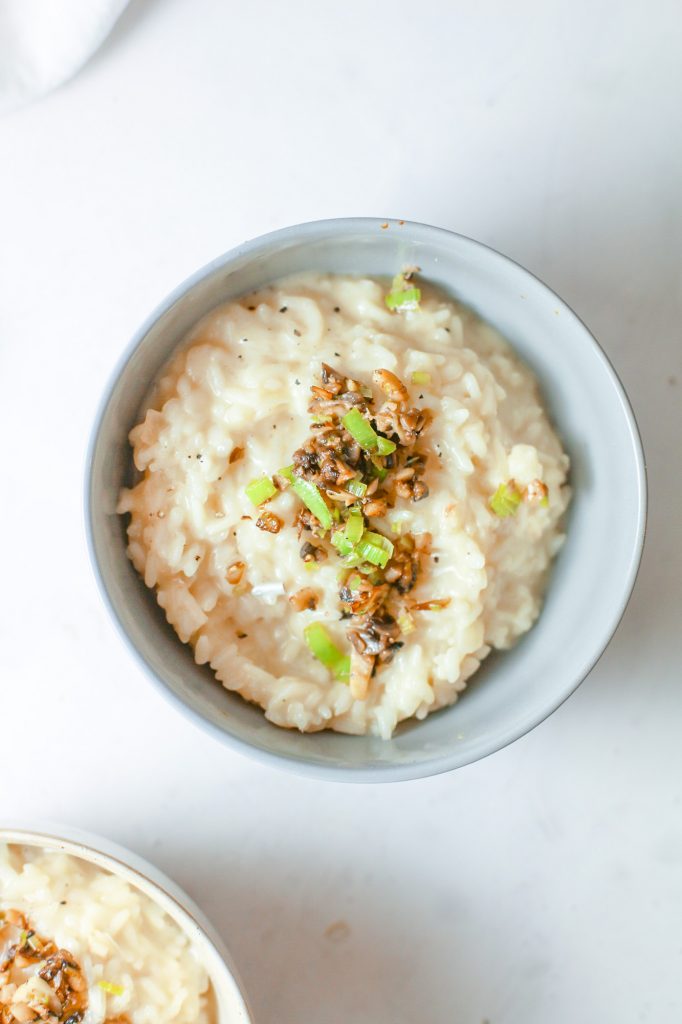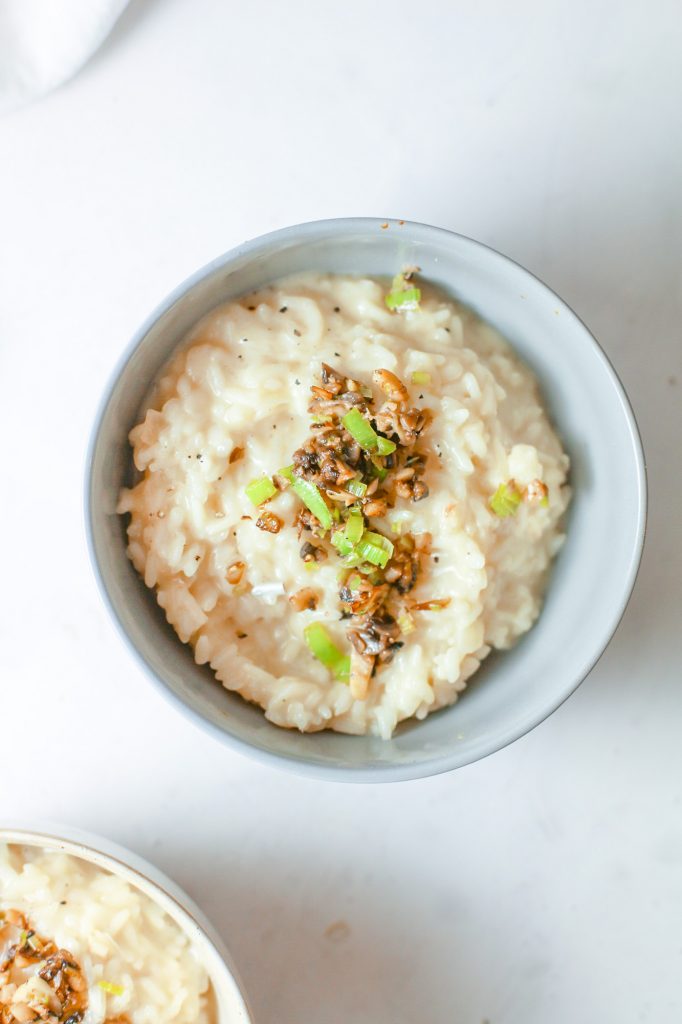 Storing The Vegan Risotto
You can store this vegan mushroom risotto in an air-tight container in the fridge for 4-5 days.
Now, reheating the risotto requires a little effort, you don't just pop it in the microwave!
For every 1 cup of risotto that you have, add in 1/4 cup of vegetable broth or water to reconstitute it.
If you find that the risotto is still thick, go ahead and add even more water, one tablespoon at a time, until it thins out a little.
I do not recommend freezing the vegan mushroom risotto as risotto does not freeze well and won't come out well when defrosting!
Did You Try This Recipe?
If so, I would love to keep in touch! I enjoy seeing photos and comments about the recipes that you make! You can follow me on Instagram and I will repost your goodies in my stories and comment on it too! Just tag me at @wowitsveggie and hashtag #wowitsveggie. I can't wait to see what you make!
Yield: 2 Servings
Easy Vegan Mushroom Risotto (Gluten-Free)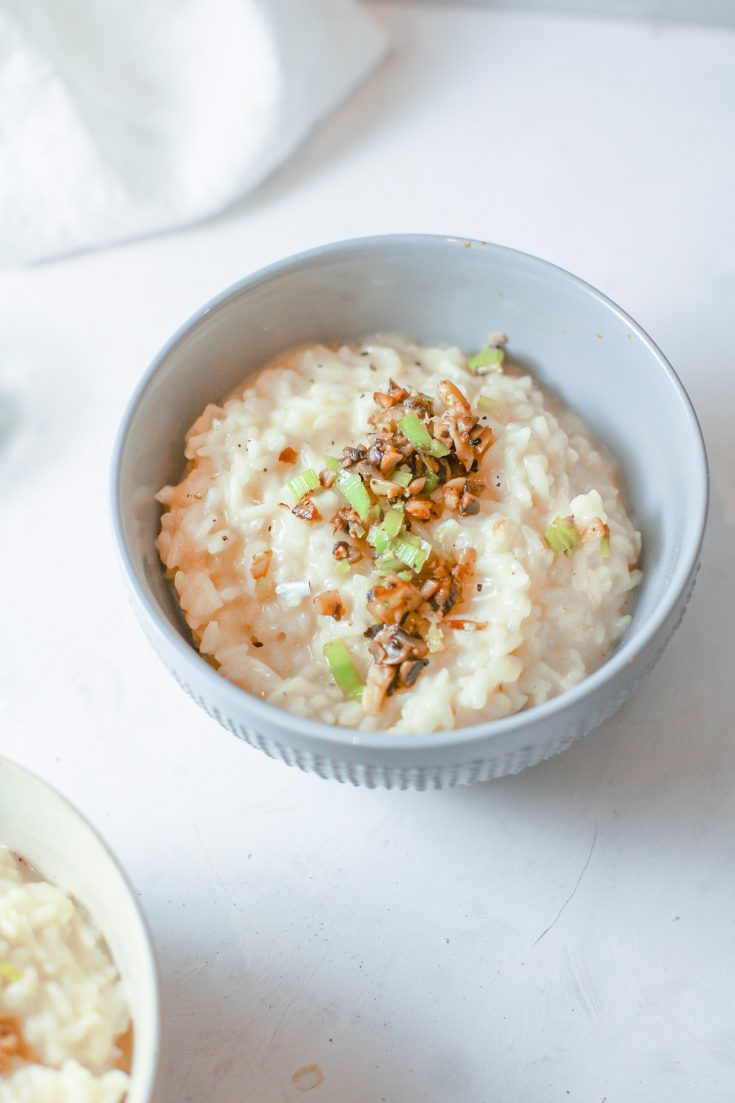 This creamy vegan mushroom risotto is so easy and perfect for newbie risotto makers! Don't let risotto scare you! Yes it takes a little bit of time, but the end result is so worth it!
The caramelized leeks and toasted walnuts really add depth and flavor to this hearty vegan risotto recipe!
Ingredients
5 Cups vegetable broth (do not sub with water!)
3 Tbsp oil (I use avocado but any oil works for frying!)
1/2 Onion, thinly chopped
1 Cup risotto rice
1/2 Cup white wine
For the topping:
3 Tbsp olive oil
1 Cup mushrooms, chopped
1/4 Cup leeks, chopped (sub in green onions if you don't have leeks)
1/4 Cup walnuts, toasted and roughly chopped (optional but provides a slightly cheesy flavor)
Salt and pepper to taste
Instructions
Heat the oil in a large pot over medium heat. Add the onion and cook until soft and fragrant, about 5-6 minutes.
Add the risotto rice and fry, stirring constantly until slightly transparent and glass-like. This should only take a few minutes!
Pour the white wine and cook until the wine reduces.
Pour in 1/2 cup stock to the rice/onion mixture. Let it reduce, stirring constantly so the rice can release the starch. It should take around 2-3 minutes. If it's faster, reduce the heat.
Add remaining vegetable stock in 1/2 cup increments and repeat the process until the rice is cooked and all of the vegetable stock is gone, around 20-30 minutes. It should be creamy.
Remove from heat, cover with a lid and set aside.
In a pan over medium heat saute leeks in oil and cook for about 3 minutes. Next add mushrooms and cook until fragrant, around 3-5 minutes. Finally, add in the walnuts and stir to combine to lightly toast them.
Generously season this recipe with salt and pepper as none are used in the cooking process! This is essential!
Stir in the mushrooms and leeks with the risotto and stir to combine or let each person top their bowl of risotto with their desired amount of mushrooms.
Notes
Do NOT freeze this vegan mushroom risotto as risotto does not freeze well!
To reheat, add 1/4 cup of broth for every 1 cup of risotto and reconstitute by slowly stirring over the stove!