If you are looking for an easy and authentic Gluhwein recipe, you have come to the right place!
Gluhwein is also known as mulled wine for Americans or non-Germans, so it is pretty much the same thing or very similar!
Gluhwein is a very popular holiday and Christmas drink that is all over Europe, but particularly in Austria and Germany!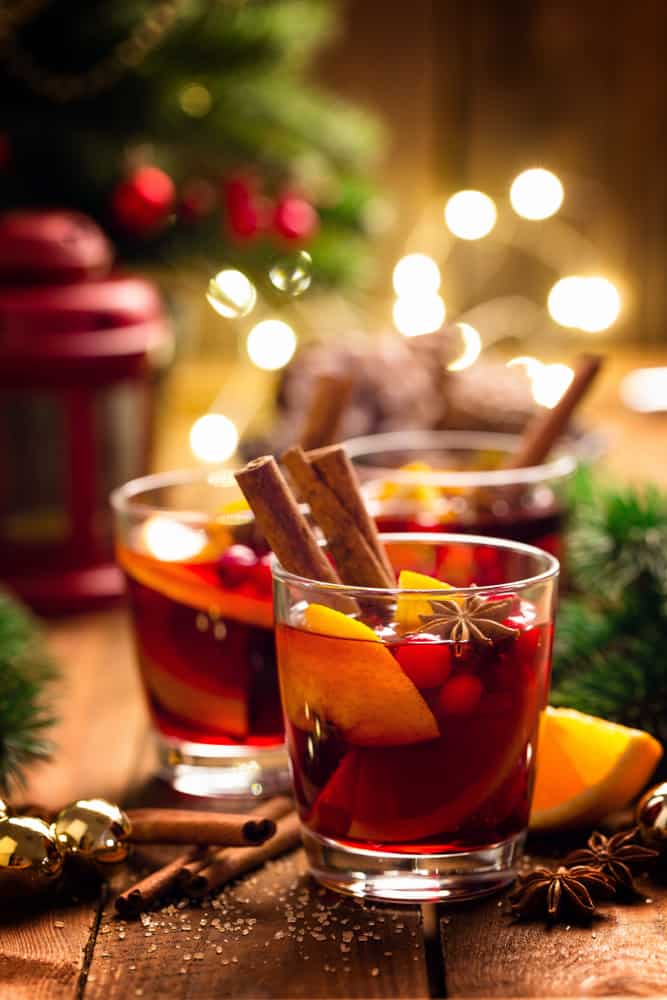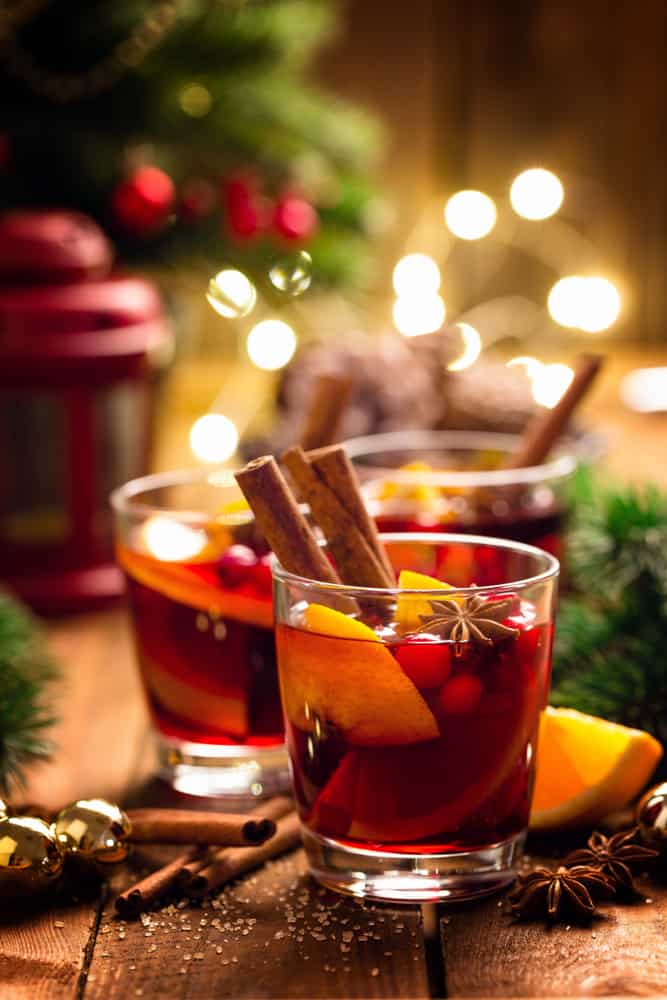 When I go to Christmas markets in Europe, we always get a hot cup to enjoy while we stroll the markets. Just writing this makes me miss this aspect of European culture!
That being said, you can make this easy Gluhwein recipe right in your own home! It is super simple and pretty close to being an authentic German mulled wine recipe.
Of course, I like to play up the flavors and add different things to change up the taste depending on how I feel!
When you make mulled wine, you want to keep an open mind. Make it the authentic or traditional way first, and then play it up with flavors and spices to suit your own tastes.
The best part? You can put this Gluhwein recipe over ice for those who don't like hot beverages. It is so simple and easy and everyone loves it!
I hope you enjoy making this easy mulled wine recipe as much as I do and that it brings much holiday cheer to your party!
Keep reading to learn how to make Gluhwein!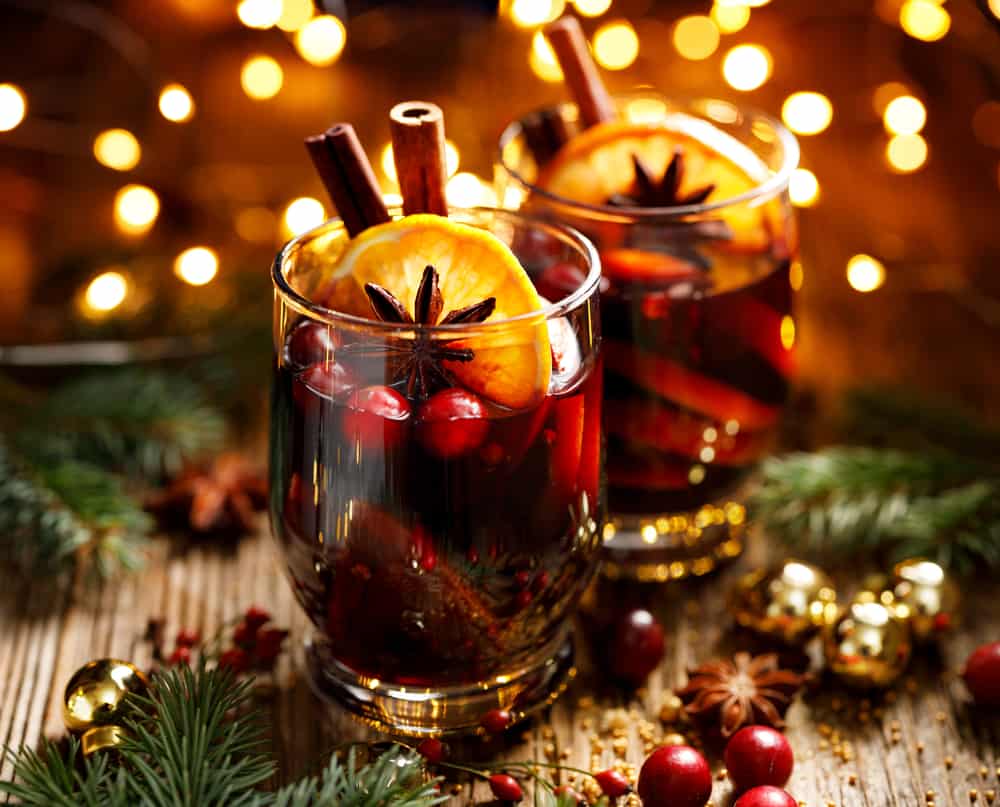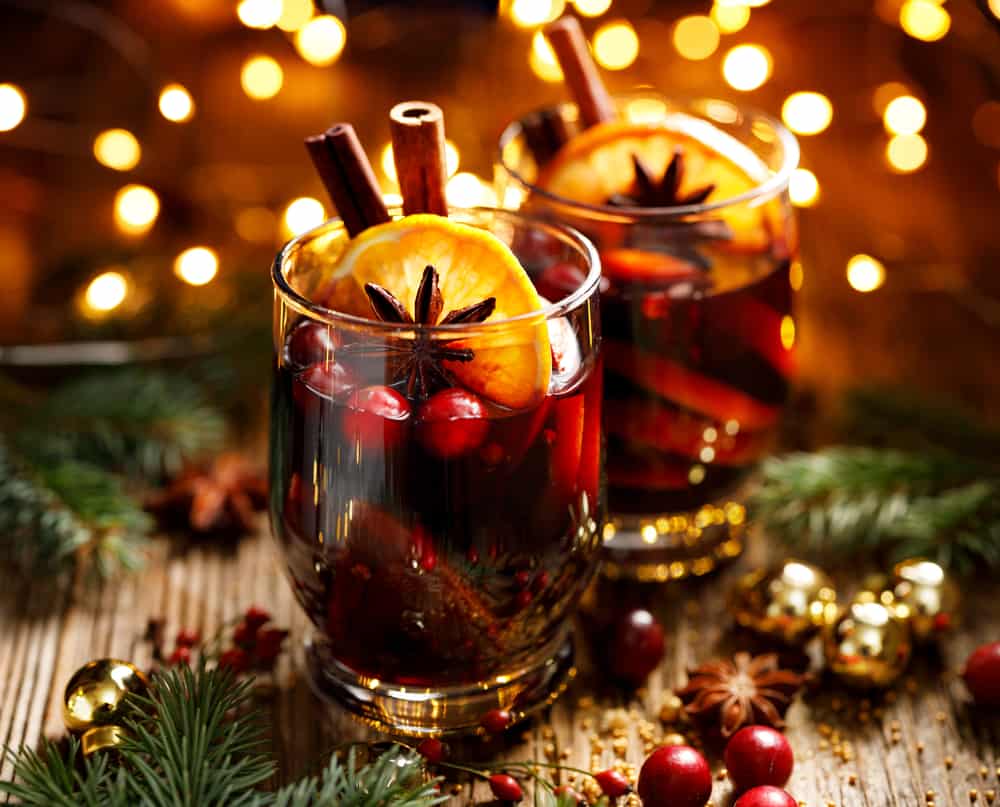 Ingredients for Gluhwein
Red Wine. Your choice of a dry, full-bodied red wine. Read below for more specifics.
Orange Juice.
Granulated Sugar. You can substitute maple or agave syrup as well.
Oranges. Fresh slices of oranges add color and a citrus taste to the drink.
Fresh Cranberries. These add a pop of color and a festive taste.
Whole Cloves.
Star Anise. These are a cute garnish perfect for photos.
Cinnamon Sticks. As a garnish for extra spice.
Brandy. Optional.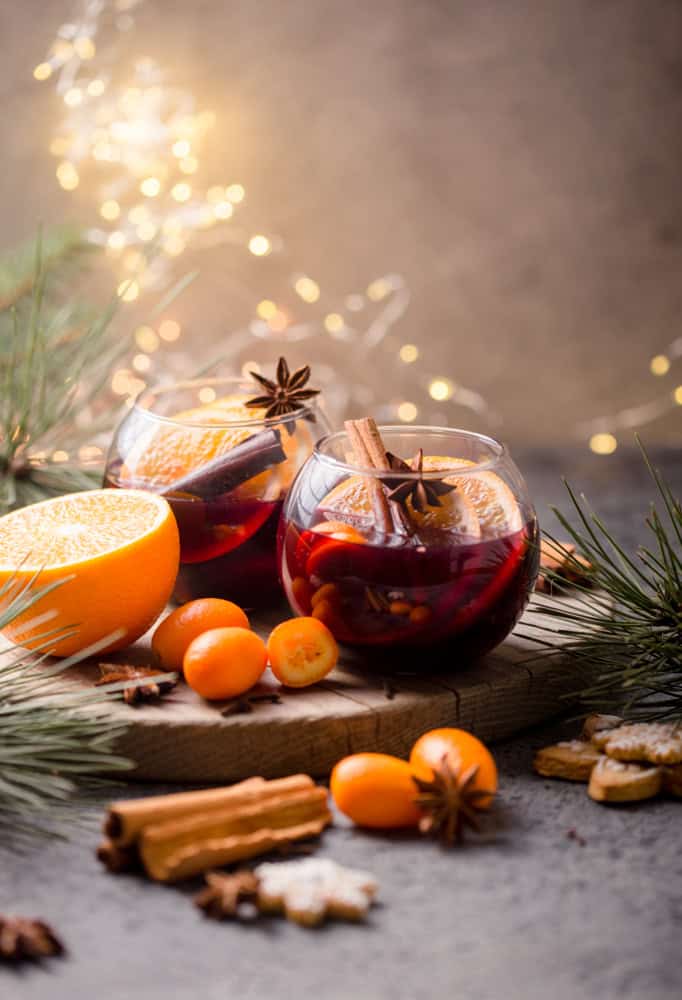 Best Wine For Gluhwein
The best type of wine to use when making German spice wine is something dry and full-bodied.
There are a lot of flavors in German Gluhwein from the spices to the fruits, so you don't want to choose a lighter wine that may get lost [such as Pinot Noir]
The best wines for making mulled wine are dry reds such as Syrah, Cabernet Sauvignon, and Malbec.
Can You Use Cheap Wine For Mulled Wine?
The answer is a resounding YES! Yes, you can use cheap wine when making mulled wine/Gluhwein! Actually, it is often encouraged!
Why?
As I said above, the flavors and subtle changes in the wine get lost in the mulled wine because there are so many spices and competing flavors.
As a result, a quality but cheap dry red wine works better than buying an expensive high-quality wine.
Don't waste your money on a fancy red when making German wine for Christmas or else it will be a huge mistake!
Not having to overthink your wine choice is why this is one of the best easy recipes for mulled wine!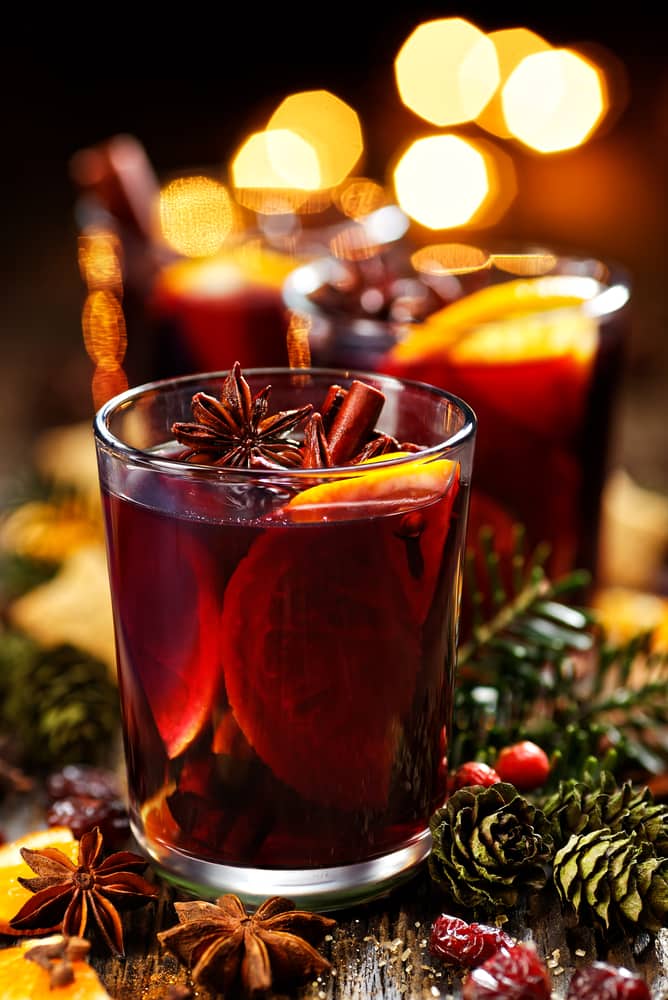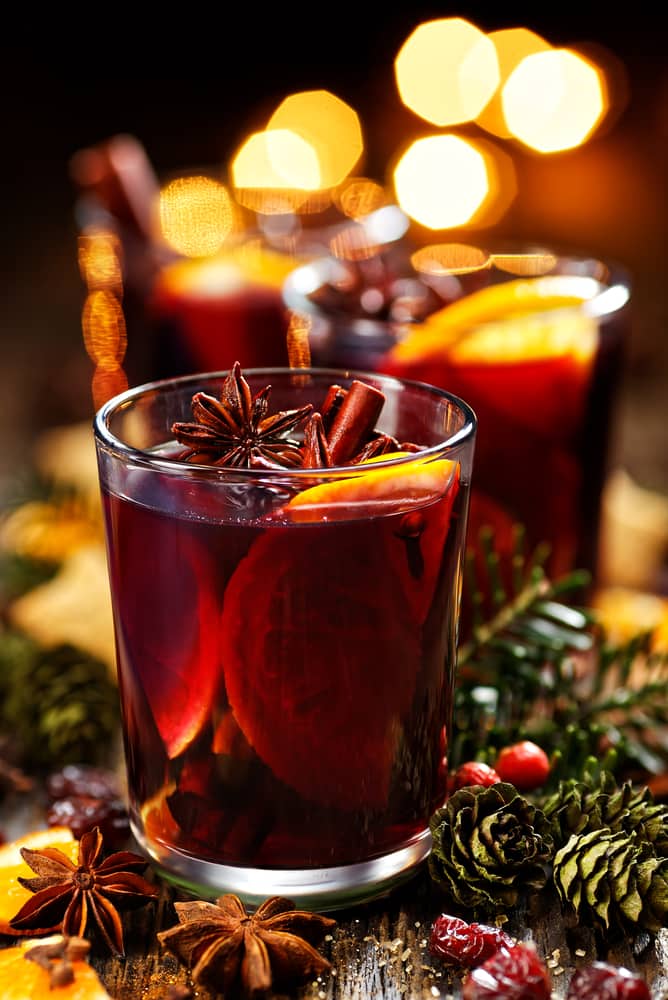 How To Make Gluhwein/Mulled Wine
Making this Gluhwein recipe has never been easier!
A traditional mulled wine recipe is actually sinfully easy to make and the results are super tasty and a crowd-pleaser!
It is very easy and simple to make, so if this is your first time making mulled wine, never fear!
First, you are going to want to boil water in a medium pot on the stove and dissolve the sugar in it.
You can use any sort of sweetener you want, such as stevia, maple syrup, agave, or just pure cane sugar.
Then, reduce the heat to a simmer and add in your cinnamon, cloves, orange peel, star anise, cloves, cranberries, and orange juice.
You can also add 1/2 cup of brandy if you want additional flavor and liquor content for your Gluhwein.
Then, it is time to simmer the mulled wine on low heat for about 30 minutes. You don't want it to boil, just simmer it on low!
At about the 20-minute mark, go ahead and taste it. Adjust flavors to taste by adding more sugar. If there is too much sugar, you may want to add a little more red wine to balance it out!
Feel free to play with the flavors to make your easy recipe for Gluhwein taste just the way you want it to!
And then you are done!
If you are wondering how to serve Gluhwein, traditionally, it is served hot, but you can drink it with ice as well.
Make sure to garnish with more oranges, cranberries, cinnamon sticks, star anise, and more!
See, I told you this Gluhwein recipe is easy!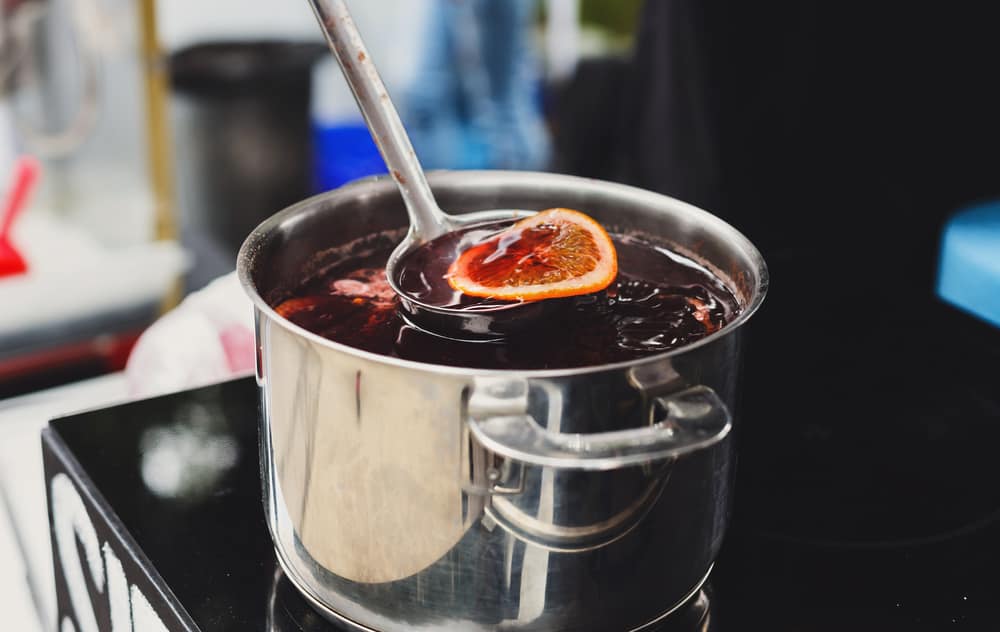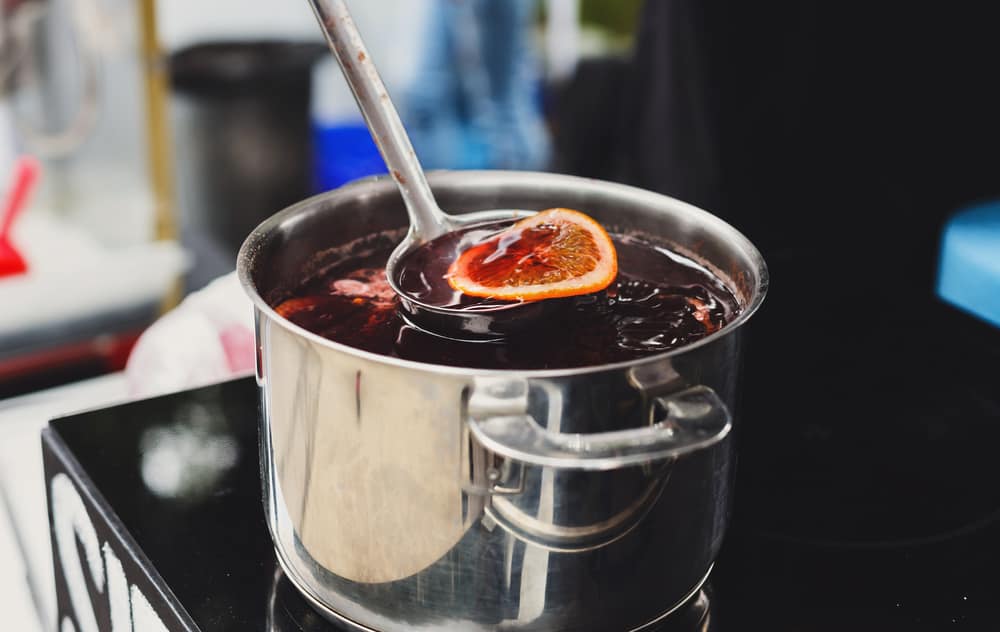 Can You Make Non-Alcoholic Mulled Wine?
Yes! You can easily make non-alcoholic mulled wine!
I recommend using a tart red liquid to fill in for the wine. Something like pomegranate juice or cranberry juice! Then, you can follow the instructions in this recipe to make your non-alcoholic mulled wine!
I have also used grape juice when in a pinch, but it doesn't give the same coloring as using red juice does!
There are even some non-alcoholic wines that you can buy and use if you are looking for a virgin version of homemade Gluhwein!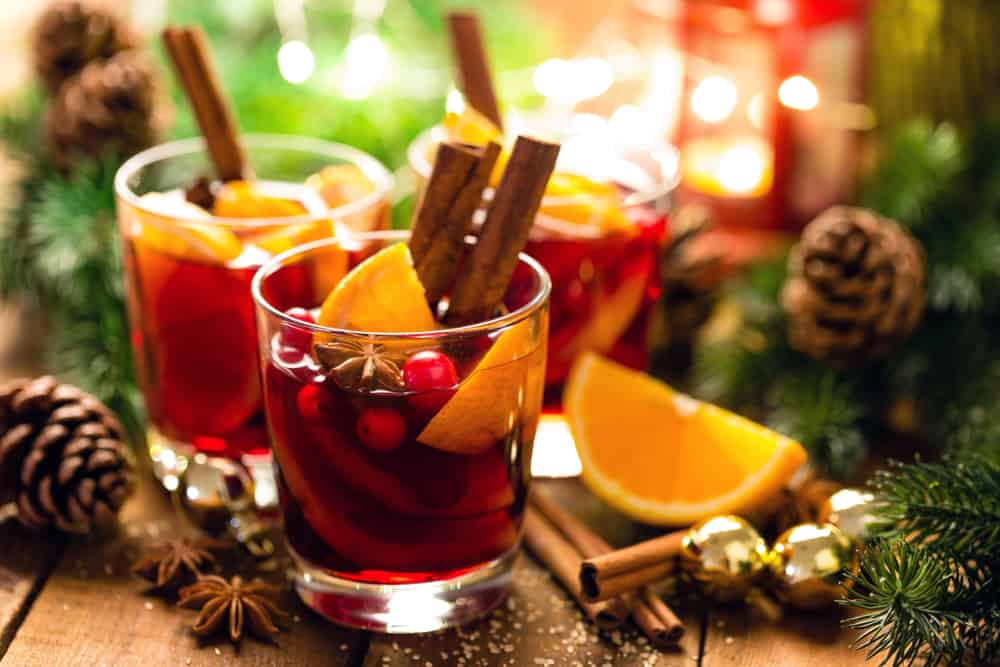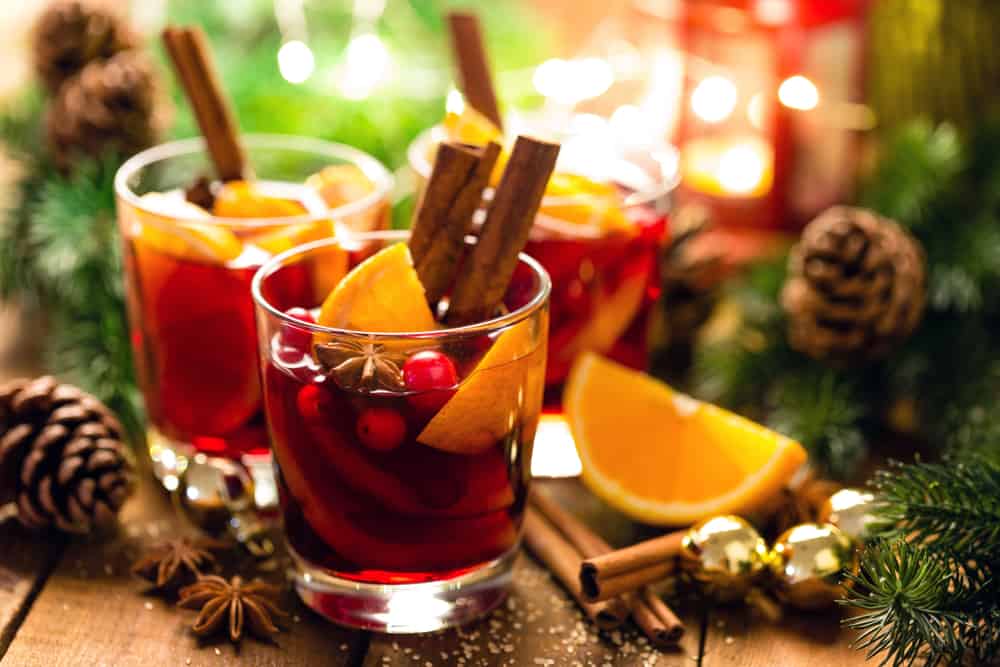 Making Gluhwein In Advance
You can easily make this Gluhwein recipe in advance!
Simply let the mulled wine cool to room temperature and then transfer it to an air-tight container such as a glass jar and store it in the fridge until you are ready to serve.
You can store the Gluhwein in the fridge for 3-4 days.
When it is time to serve the mulled wine, simply pour it into a saucepan and reheat on medium-low heat, then garnish and serve!
If you want iced mulled wine, just serve it straight from the fridge to skip the chilling step!
Did You Try This Recipe?
If so, I would love to keep in touch! I enjoy seeing photos and comments about the recipes that you make! You can follow me on Instagram and I will repost your goodies in my stories and comment on it too! Just tag me at @wowitsveggie and hashtag #wowitsveggie. I can't wait to see what you make!
Yield: 4-6
Easy Gluhwein Recipe (German Mulled Wine)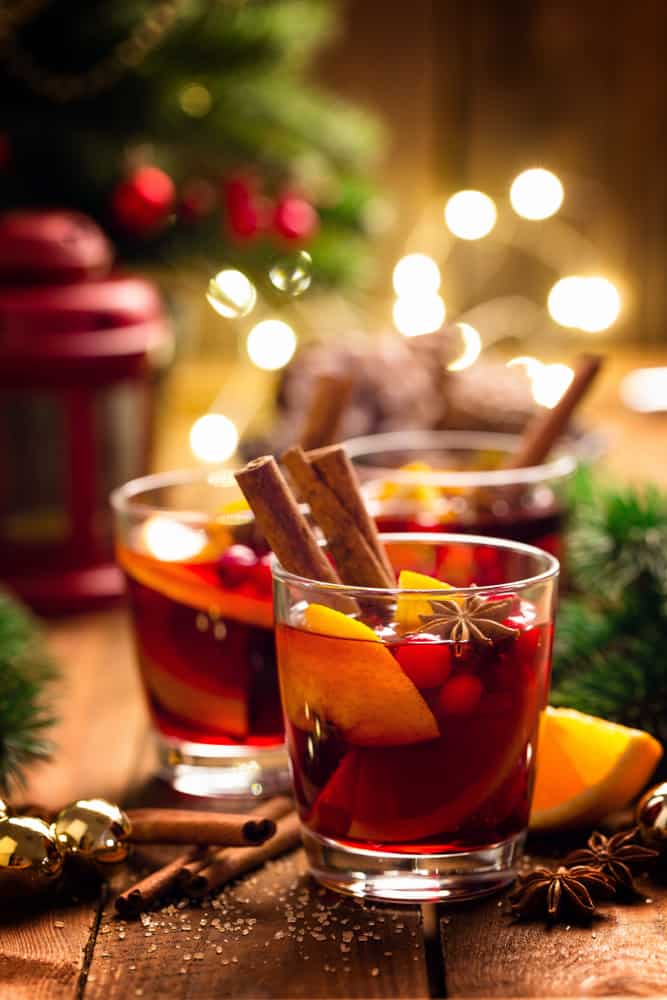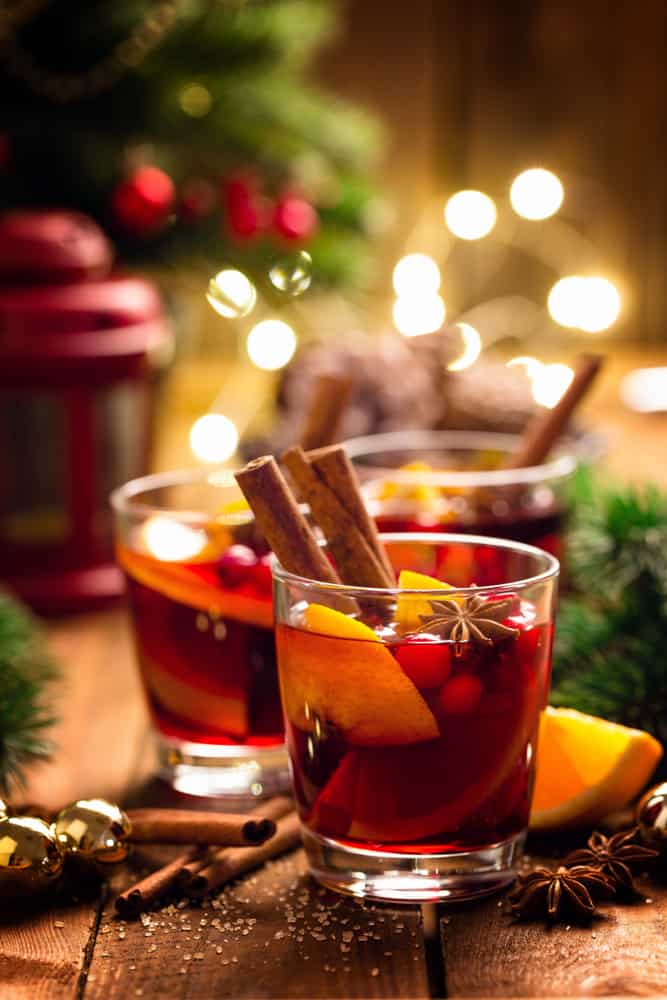 Learn how to easily make mulled wine! This Gluhwein recipe is spiced to perfection and perfect for the holidays. You can make non-alcoholic mulled wine too by using a red liquid in place of wine! Don't forget the garnishes as those are the best part of making Gluhwein, an authentic German mulled wine!
Ingredients
2 bottles of dry red wine
2 cups orange juice
3/4 cup granulated sugar [or maple syrup/agave]
2 oranges, sliced
1/2 cup fresh cranberries
10 whole cloves
4 star anise
6 cinnamon sticks
1/2 cup brandy [optional]
Instructions
Place a medium sauce-pan over medium-high heat on the stove.
Add the orange juice and granulated sugar and stir until the granulated sugar is dissolved.
Then, add in the red wine and all of the spices and fruits.The spices will be whole, not ground in a container, so their flavors will infuse into the liquid! Add the brandy if you are using it.
Reduce the heat to low and simmer the mulled wine for 30 minutes. At this point, taste the Gluhwein and adjust the flavor as necessary! You may want to add a little more sugar or add more brandy if it is too sweet for you! You can simmer the Gluhwein for up to a couple hours if you have time!
Serve the mulled wine garnished with cinnamon sticks, orange peel, star anise, cranberries, and more!