This vegan carrot soup is going to be some of the best stuff you will ever taste! It is creamy and delicious with no dairy!
This is one of my favorite vegan carrot recipes!
First, it tastes just like fall which makes it one of my favorite Vegan Fall Recipes. Of course, you can make it any time of year and I often do so! But it is particularly warm and cozy during the fall.
Second, it is quick and easy to whip up. It doesn't take any time at all and it is one of the best creamy vegan soups to make when you are in a pinch.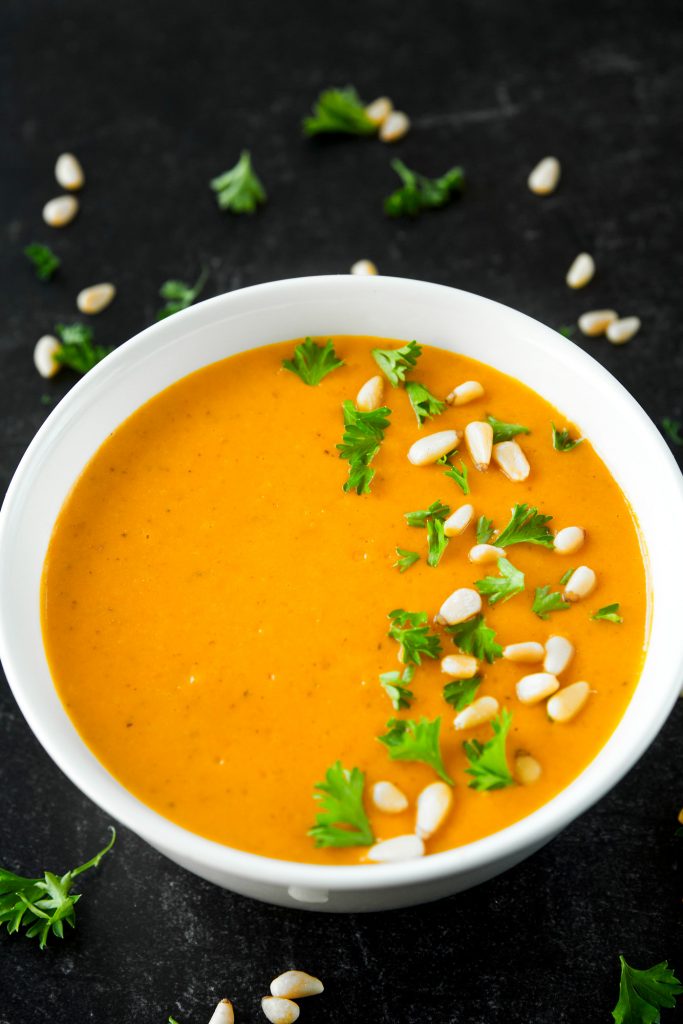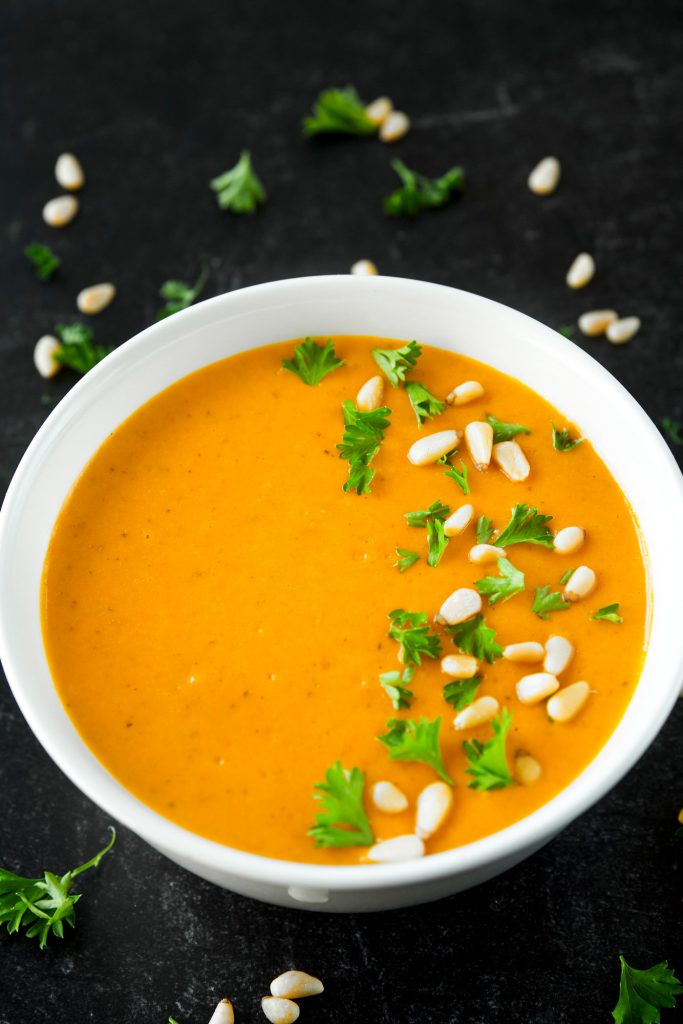 This recipe makes just enough for two people to have large bowls or three or four people to have small side bowls or starters with a meal.
This way, there is no waste and everything is fresh! This vegan carrot ginger soup is perfect for two or you can double it if you are feeding the whole family.
I tried to make this vegan ginger carrot soup recipe accessible to all and super easy. As a result, it only features good-for-you whole foods with high-quality ingredients!
This is one of my favorite Vegan Soup Recipes because it is light yet filling and perfect to eat with a side salad or sandwich for a yummy pairing.
I hope you enjoy this vegan carrot ginger soup as much as I do when I make it with my family!
Keep reading to learn how to make this ginger carrot soup vegan!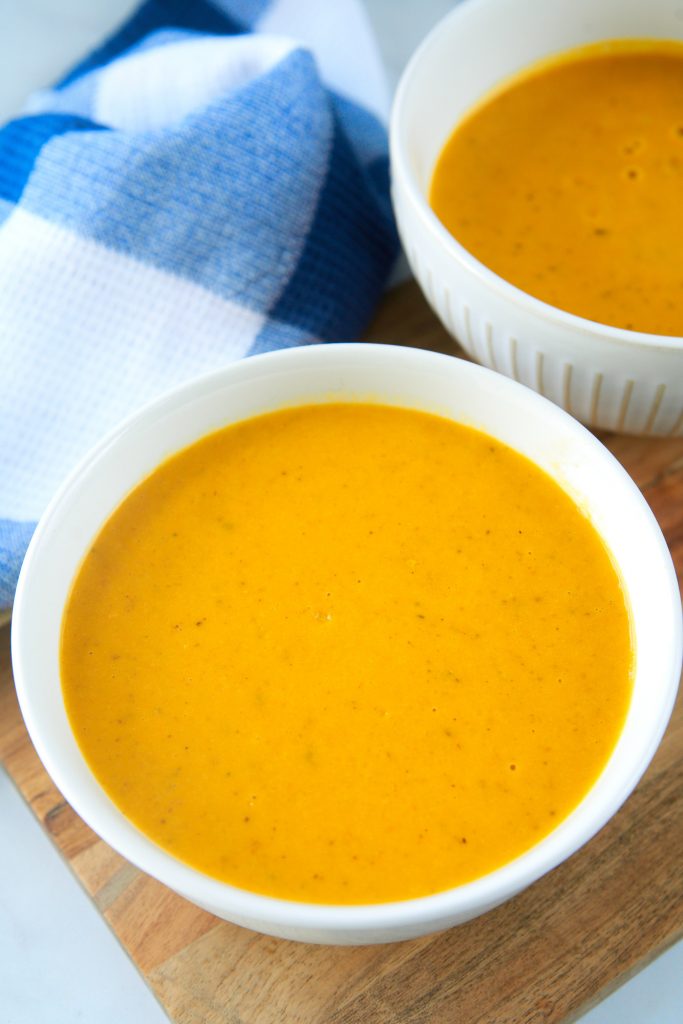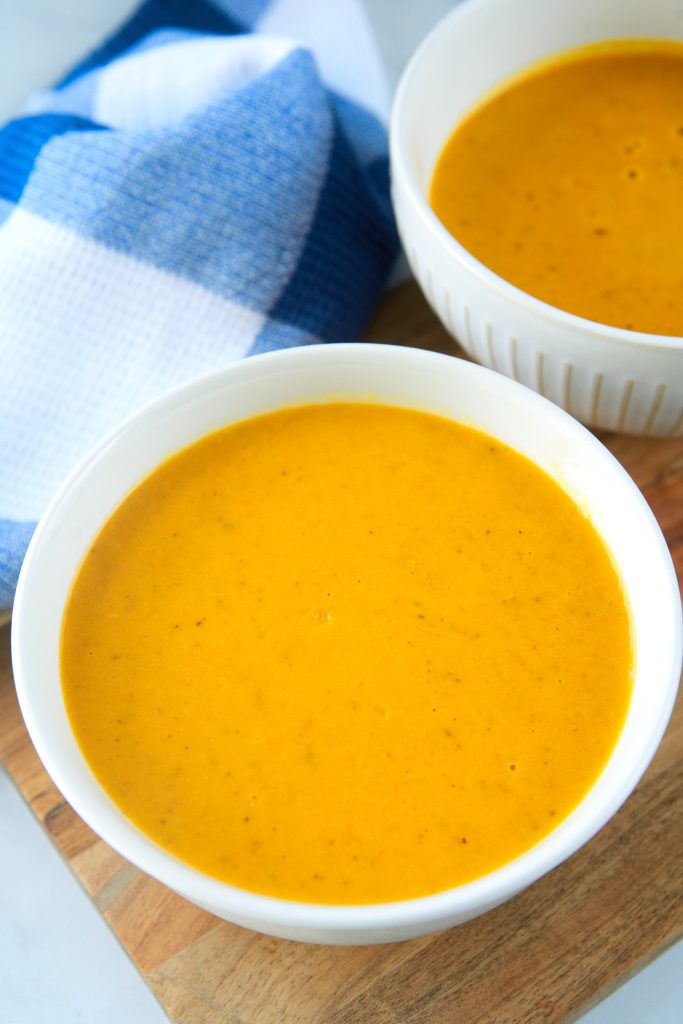 Why You Will Love This Recipe
It is quick and easy. This recipe only takes 20 minutes to complete and needs no skill. It uses basic ingredients you probably have on hand.
It is healthy. This soup is very healthy with fresh veggies and tasty seasonings. Carrots are super high in vitamin A which helps with eyesight and reduces the risk of cancer. They also have potassium, antioxidants, and other vitamins.
It is an immune booster. Carrots, ginger, and potatoes are all known to give a boost to the immune system. If you feel a cold coming on or want to prevent getting sick during the cold season, this soup is the perfect choice!
It will warm you up. This soup is a delicious comfort food that will warm you up during fall and winter. It is light and creamy, perfect for lunch or dinner.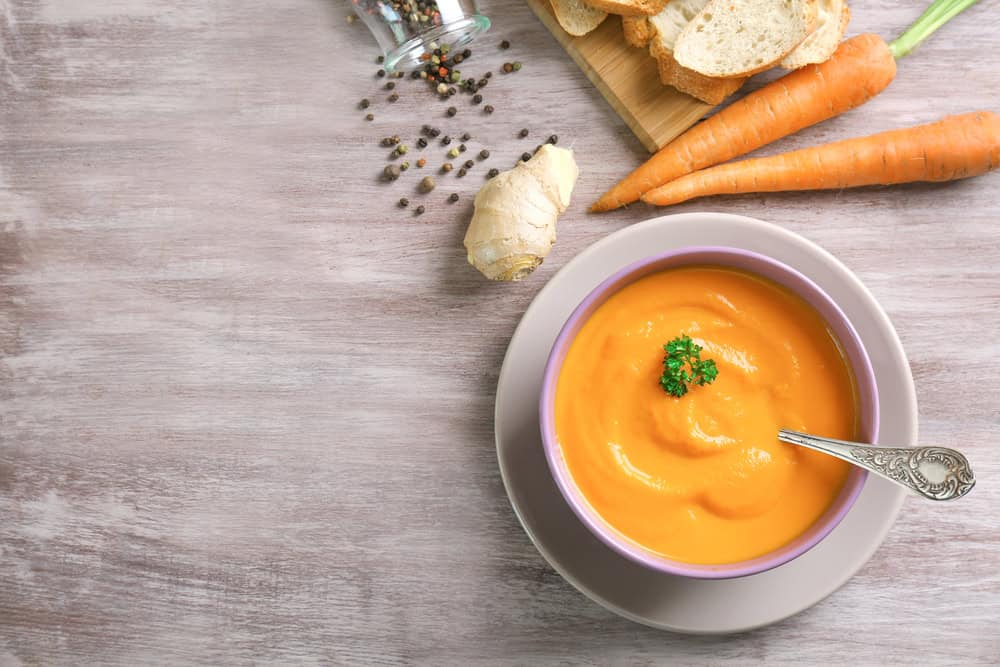 How To Make The Dairy-Free Carrot Soup Creamy
So there are a few ways that you can make carrot soup creamy. First, is of course using a lot of dairy and creamer products which is what non-vegan carrot soups popularly use.
For other vegan carrot soup recipes, coconut milk or coconut cream are employed. I am not a fan of cooking with coconut milk and try to avoid it as often as I can.
If you are a fan, you can feel free to use whatever kind you like! But I am going to show you how to get a creamy vegan carrot ginger soup without using any canned coconut milk.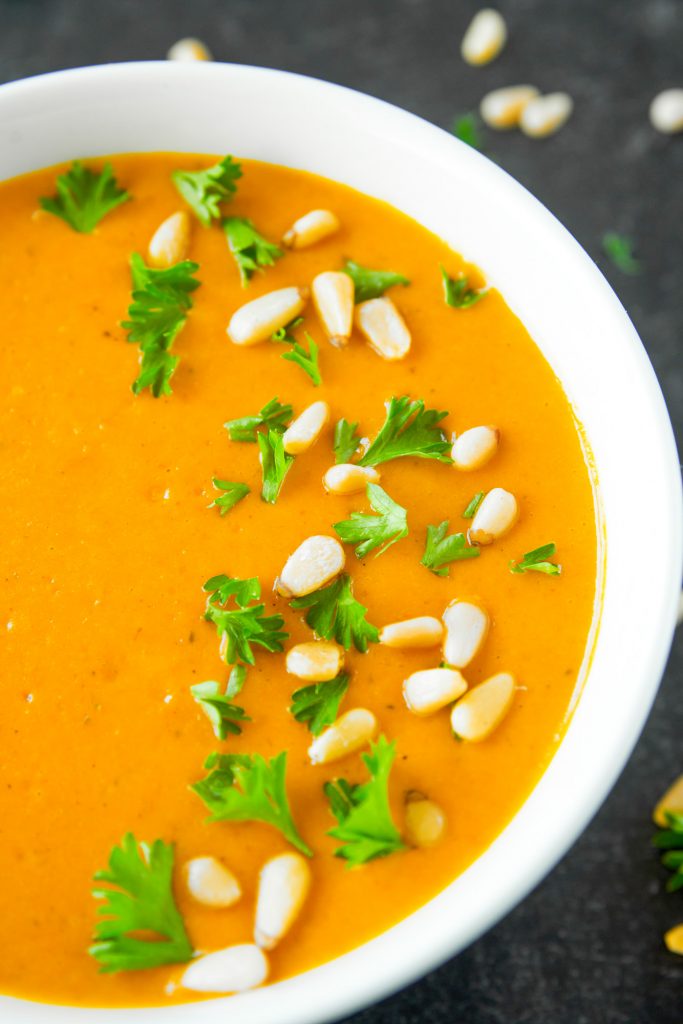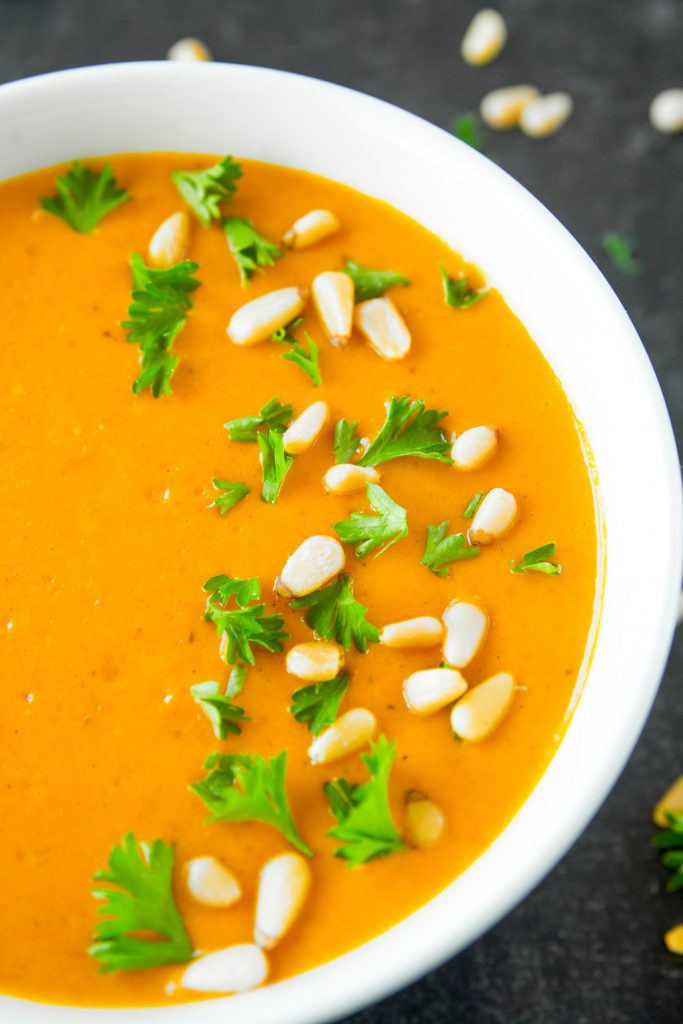 My secret weapon is using any non-dairy milk and a little bit of flour! Flour is a wonderful thickening agent for soups and I use it in many recipes including my Vegan Clam Chowder Soup!
I do like using thicker non-dairy milk such as almond/cashew/flax/oat milk instead of thinner non-dairy milk such as rice milk.
Then, you just sprinkle the flour over the veggies and make sure to coat them. Then you deglaze the pan with your water and milk combination and you are done!
After you puree the dairy-free ginger carrot soup, you may want to make the soup even thicker. To do this, simply stir in 1 tsp of flour at a time until the soup reaches its desired consistency.
If there is one thing I want you to learn from this recipe, it is how to easily thicken soups using nothing more than non-dairy milk of your choice and a little bit of flour [can be gluten-free too!]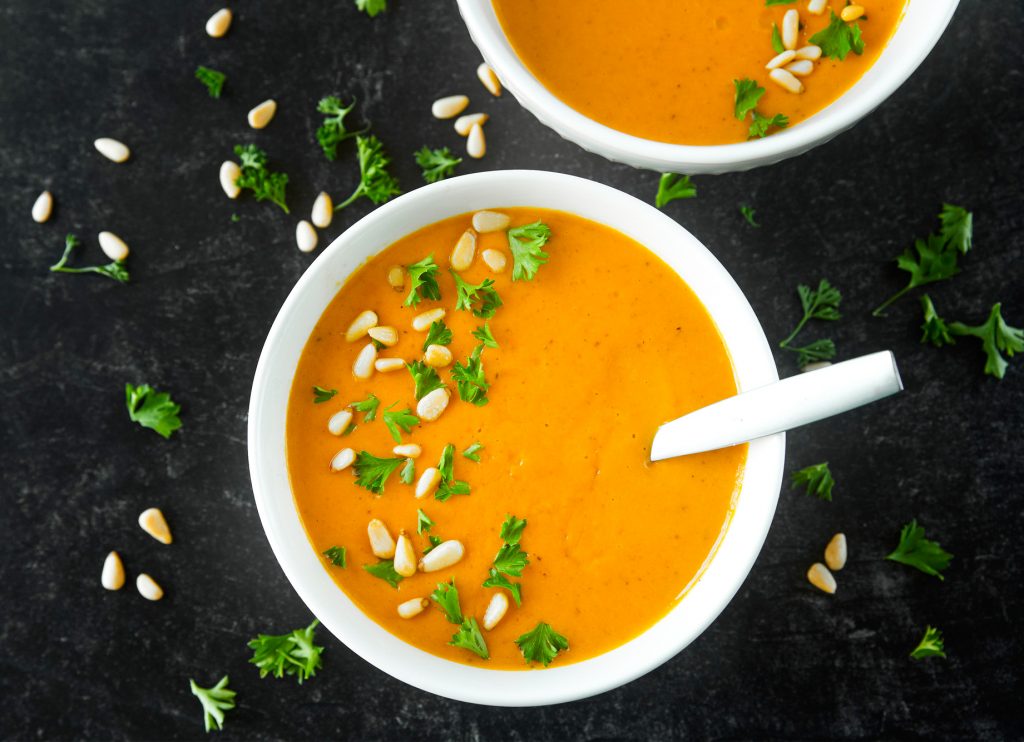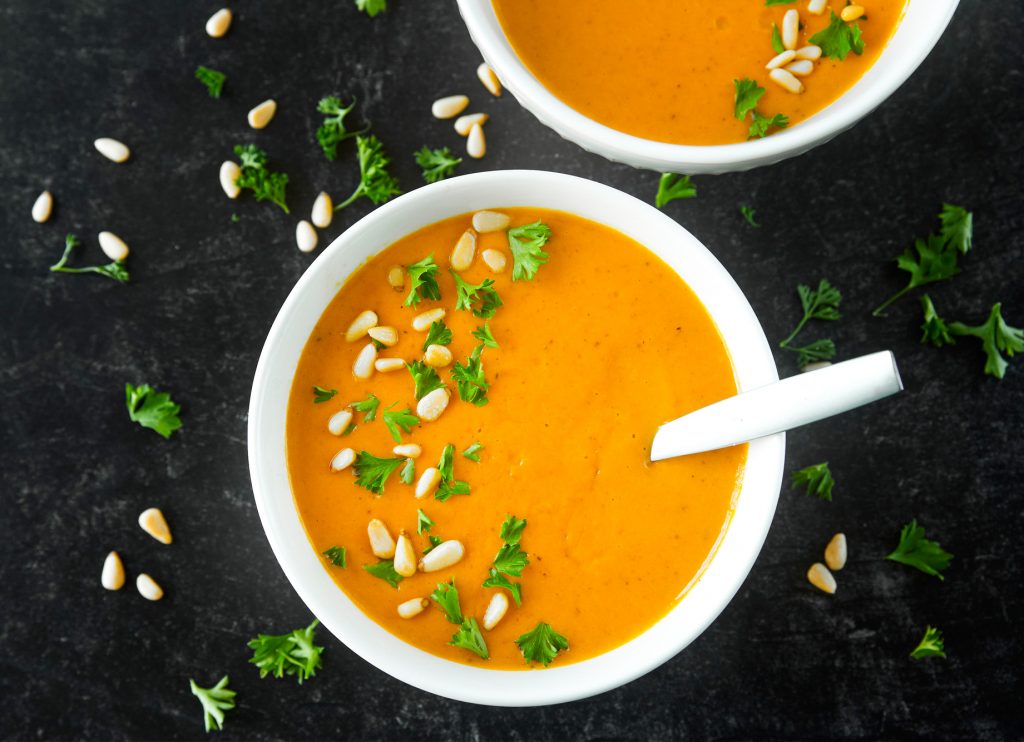 How To Make Vegan Carrot Soup
Making creamy carrot soup vegan is so darn easy and only takes about 20 minutes!
I start you off with a base recipe, but you can feel free to change it up with whatever you want! Add more spicy kick, take out the ginger, and play with it to your heart's content!
My trick to making soups quickly is to parboil the potatoes which means to boil them in another pot until just soft before combining them with the vegan cream of carrot soup.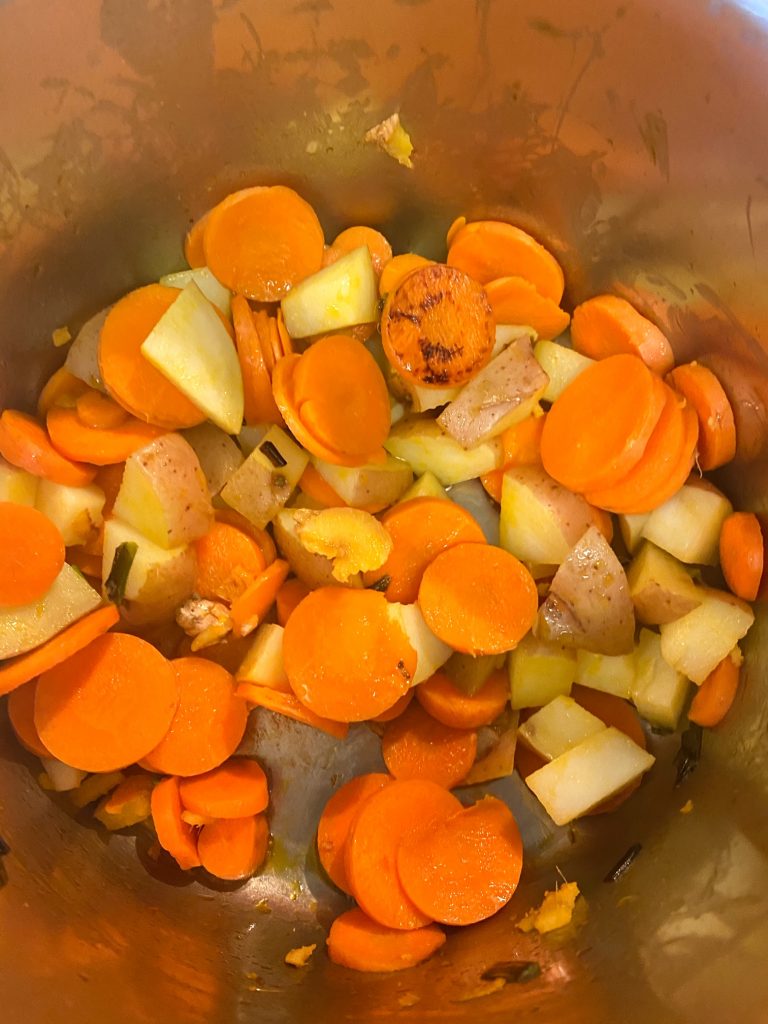 My next trick is to saute the veggies in the bottom of the pot until soft! Then you combine with your broth/water/non-dairy milk and you are done in a flash!
First, we want to heat our onions, chopped carrots, and ginger and saute until the carrots are soft. You can usually take your spatula and try to cut one in half.
This should only take a few minutes.
Meanwhile, chop your potato and have it parboiling in another pot until it is just done.
Drain the chopped potato and combine it with the carrots, ginger, and onion mixture.
Now it is time to flavor your vegan carrot ginger soup! I add rosemary and thyme but you can add whatever spices you have on hand and love. And of course, salt and pepper!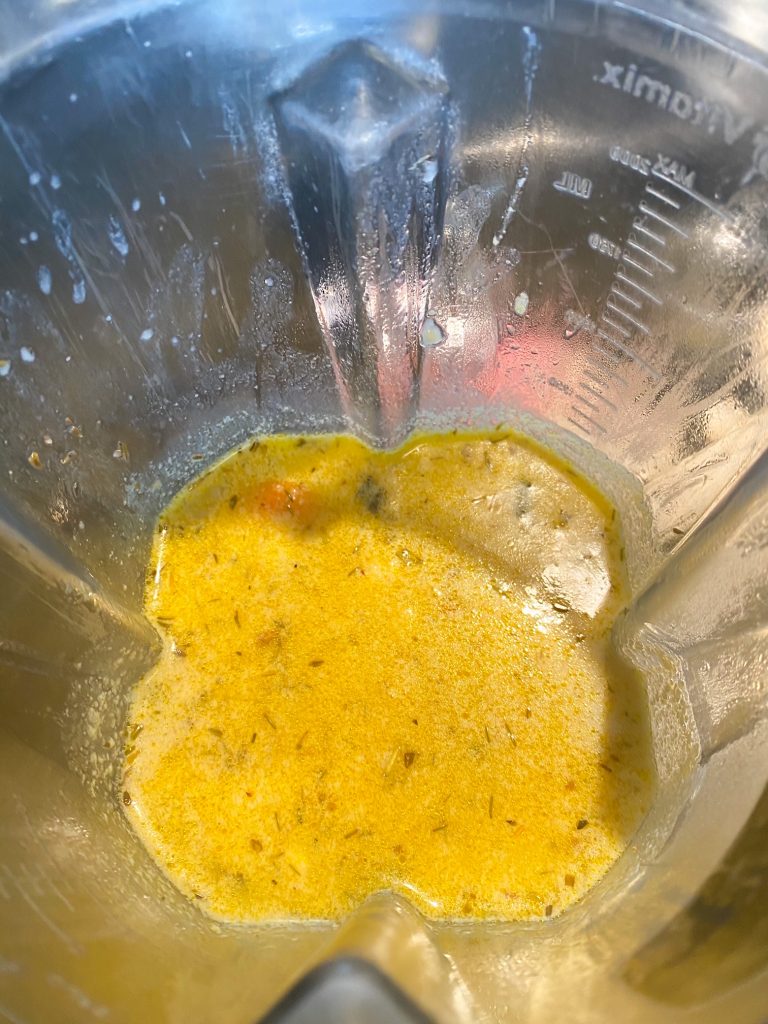 Next, sprinkle 1 tablespoon of flour over the veggies and stir to combine.
Use your 3 cups of water or vegetable stock and 1/4 cup of non-dairy milk to deglaze the pan.
Stir until combined and let simmer for about 5-10 minutes.
With an immersion blender or food processor, blend the vegan carrot soup without cream until it is smooth.
This is a pretty fast process since you have already cooked all of the veggies so it is simple and easy to blend up.
Serve immediately from the blender or return to your pot to reheat and serve that way.
I like to serve my easy carrot soup with a little fresh parsley and some sort of nut such as pine nuts or pumpkin seeds for a little crunch!
See how easy it is to make a carrot soup recipe vegan!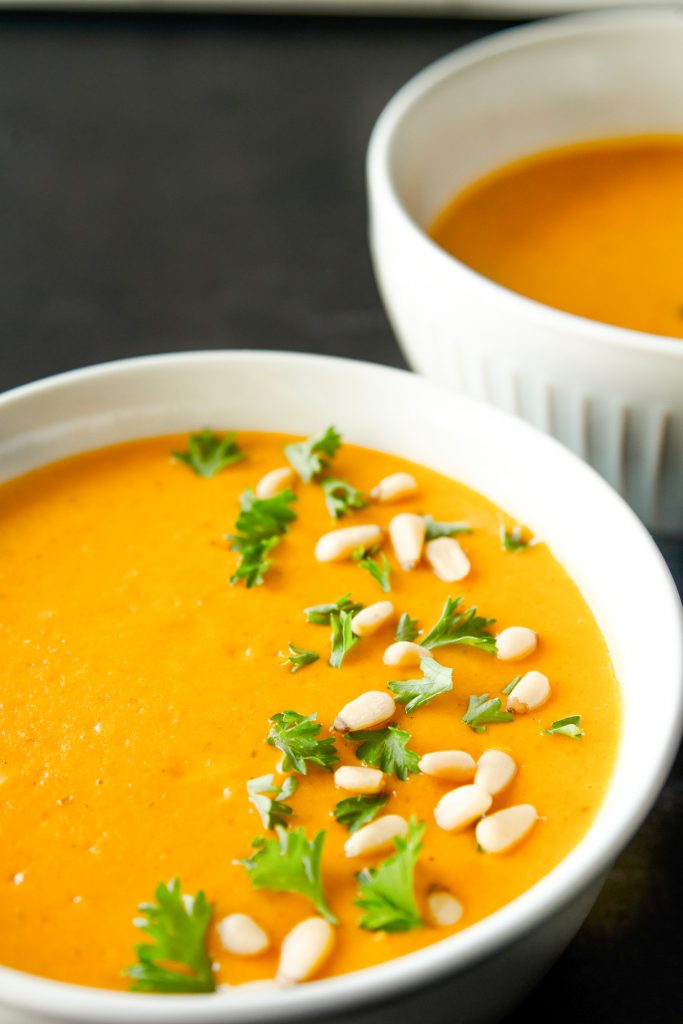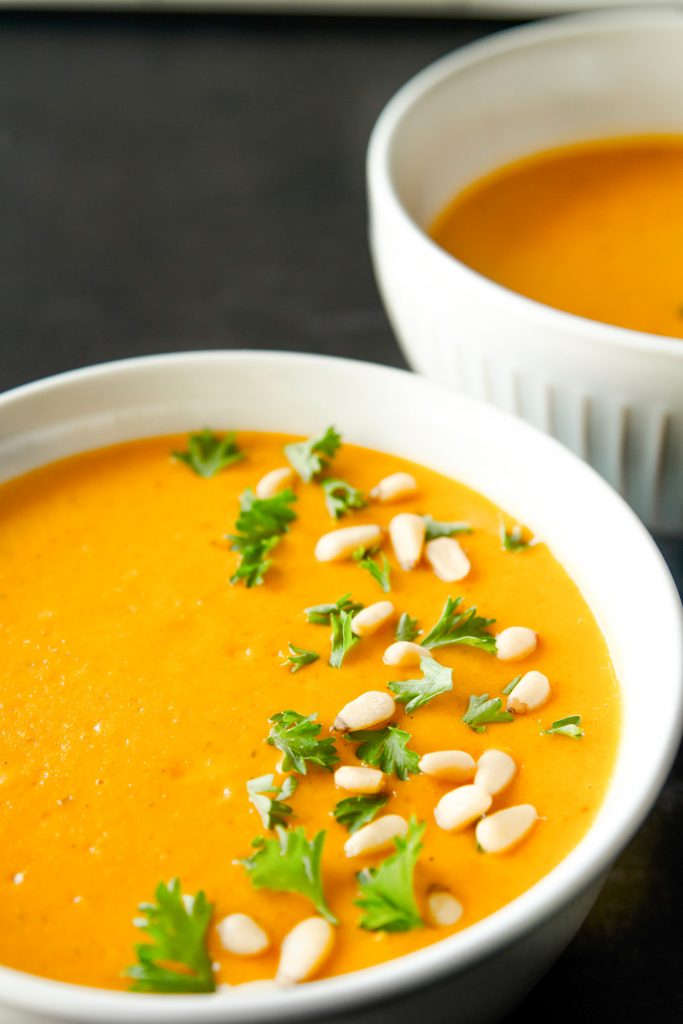 How To Store The Vegan Carrot Ginger Soup
Storing the vegan carrot ginger soup is super easy! Just wait for it to cool and then store it in an air-tight container in the fridge.
It does make enough for only 2 large bowls so there may or may not be any left over at all!
To reheat, simply add the remaining soup to a saucepan and stir on low until warm throughout.
Do not add the mix-ins with the nuts and seeds until you are ready to serve so that when you store it and reheat it it doesn't make the soup taste weird.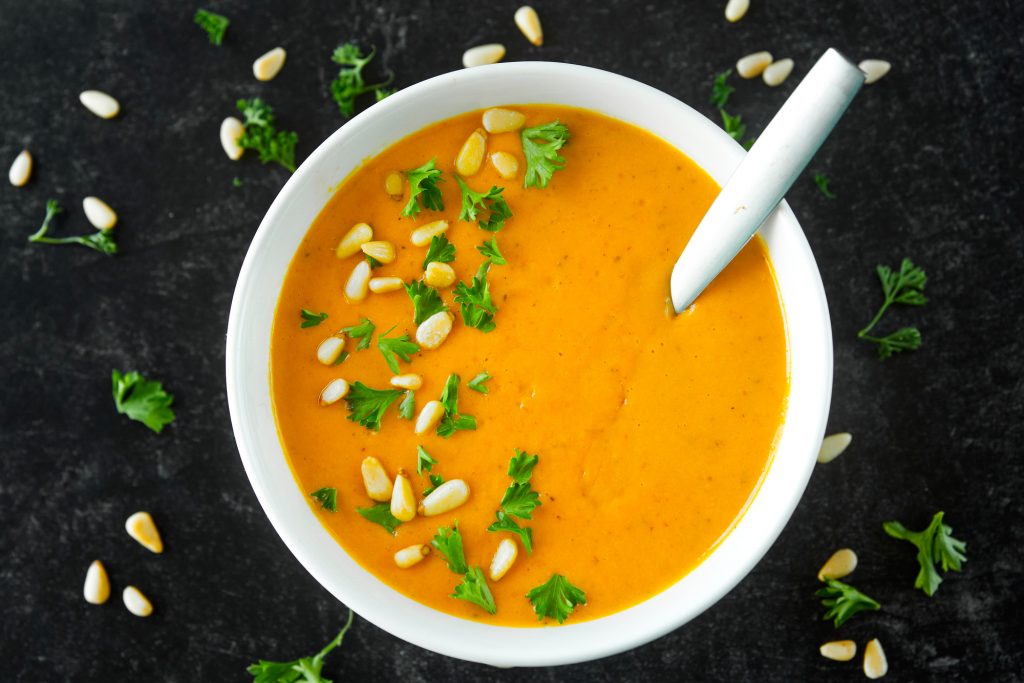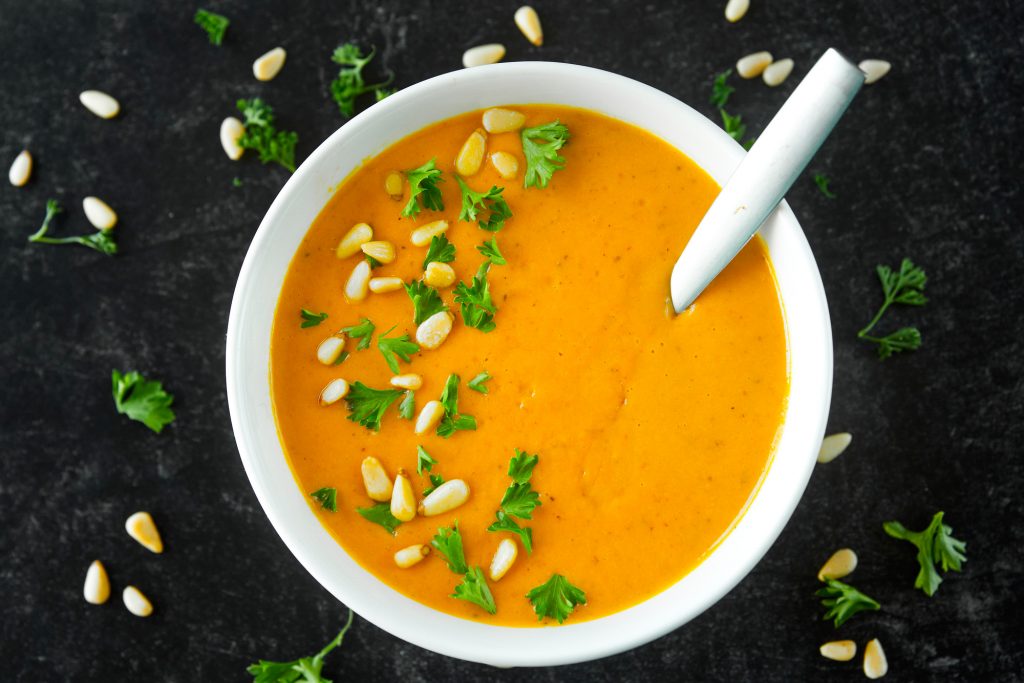 Did You Try This Recipe?
If so, I would love to keep in touch! I enjoy seeing photos and comments about the recipes that you make! You can follow me on Instagram and I will repost your goodies in my stories and comment on it too! Just tag me at @wowitsveggie and hashtag #wowitsveggie. I can't wait to see what you make!
Yield: 2 large or 4 small portions
Creamy Vegan Carrot Soup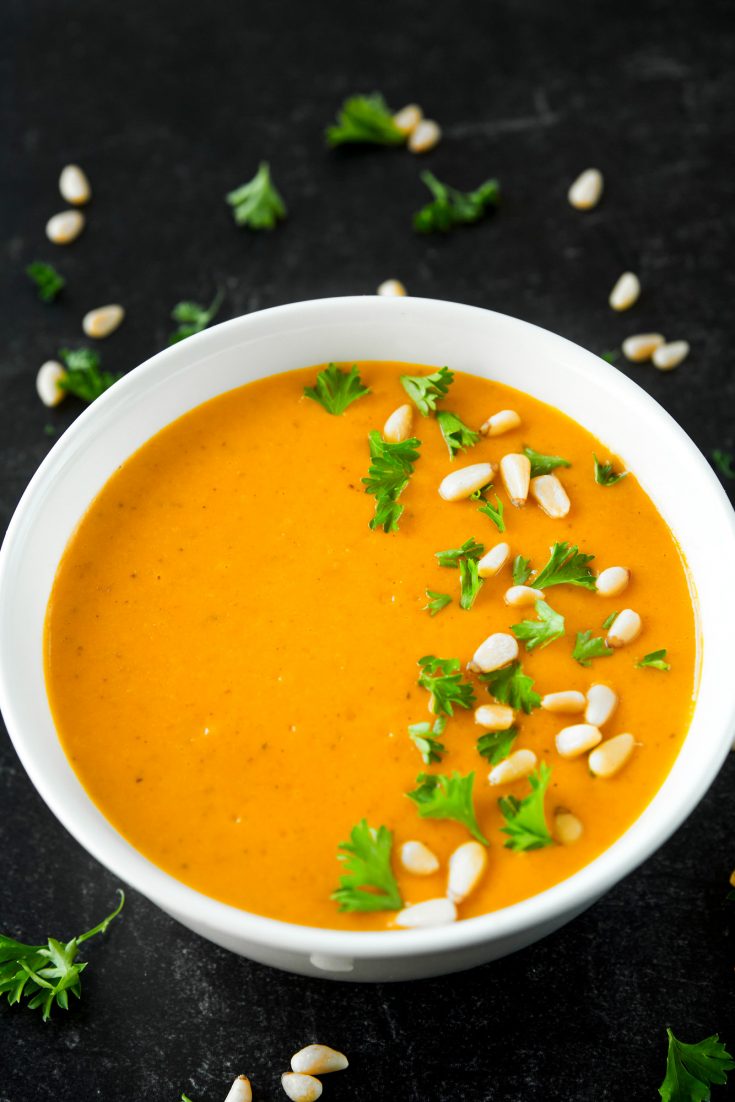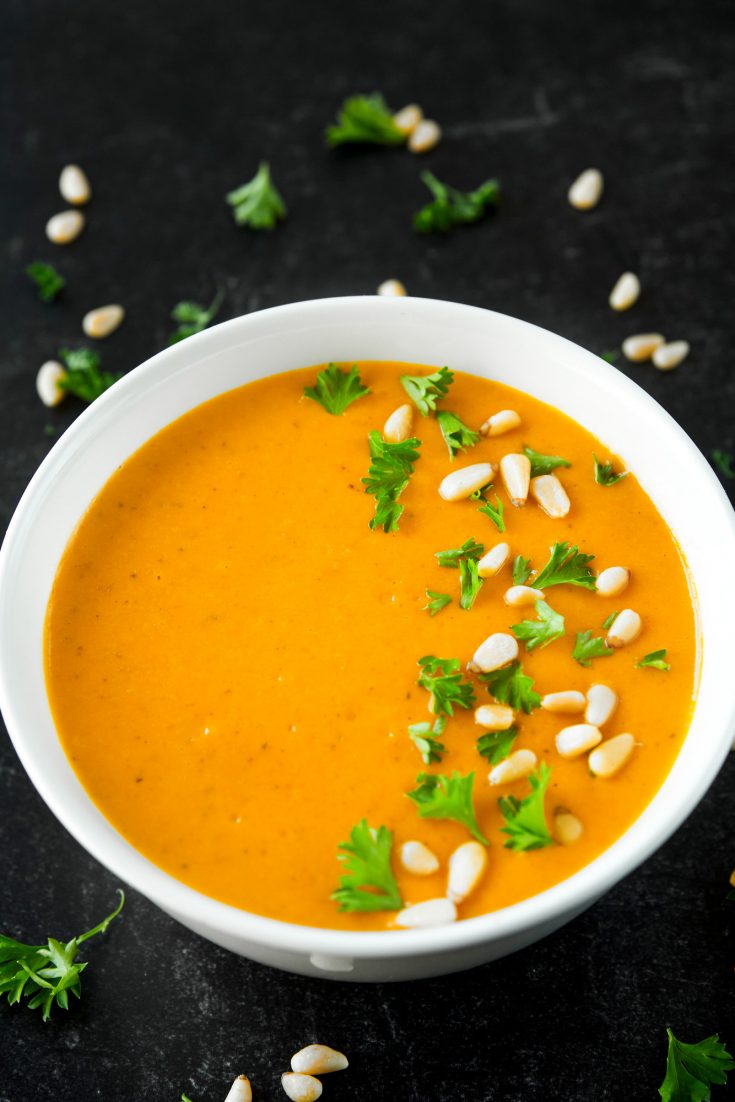 This vegan carrot soup is so easy to make and creamy and delicious too! It takes just about 20 minutes to whip up and although I love it during the fall, you can make it any time of year as carrots are healthy and in season 365 days a year!
Ingredients
1 small onion, chopped
1 small potato, cubed and boiled
2 large carrots, sliced
2 inches of fresh ginger, grated or cut into small pieces
3 cups broth or water
1/4 cup thick non-dairy milk [cashew/almond/oat/flax]
1 tablespoon flour (gluten-free works)
1/2 tsp salt
1/2 tsp pepper
1 tsp rosemary
1 tsp thyme
Instructions
In a medium soup pot on medium-high heat, saute chopped onions, carrots, and ginger until carrots are slightly soft. This should only take a few minutes.
Add in the potatoes and all of the spices and saute until combined.
Sprinkle the flour over the veggies and stir until incorporated throughout.
Deglaze pan with the water and non-dairy milk. Cover and let simmer for 5-10 minutes.
Transfer to a blender or use an immersion blender to blend the vegan carrot soup until smooth and creamy. Be careful when blending hot liquids!
Return to your pot and reheat if necessary. Serve topped with nuts and seeds and chopped fresh parsley!
Nutrition Information
Yield
2
Serving Size
1
Amount Per Serving
Calories

78
Total Fat

5g
Saturated Fat

2g
Trans Fat

0g
Sodium

511mg
Carbohydrates

9g
Fiber

6g
Sugar

11g
Protein

2g