This vegan cabbage soup recipe is so hearty and delicious!
Some days, all you want is a nice warm soup with some delicious bread to dip into the broth and soak up all the flavors.
You may even want to try my Vegan Garlic Knots or Vegan Breadsticks to try with this cabbage soup recipe!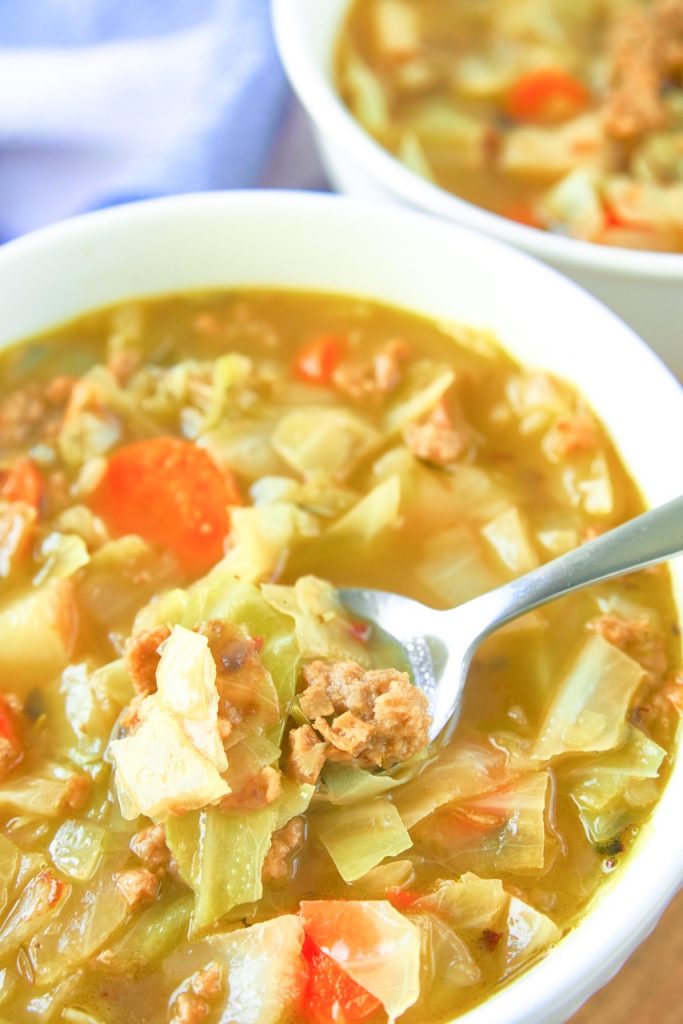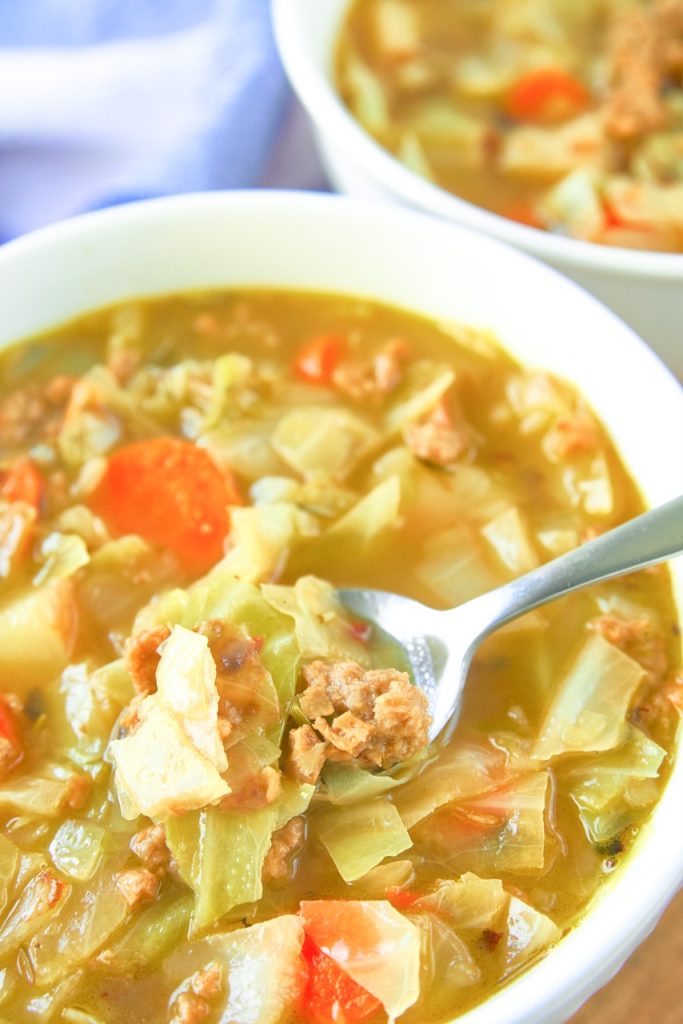 My Mom is from Ohio and hearty soups such as this are staples growing up in the Midwest in a blue-collar family.
That is because they are filling and healthy as well as quick and easy to make.
Cabbage is an excellent source of Vitamin B-6, Vitamin K, and Vitamin C so it is probably even healthier and better for you than you remember!
Couple that with the veggies and you are in for a really nice and healthy vegan cabbage soup!
The secret to making yummy-tasting vegan recipes is to spice them and prepare them the same way their meat-based alternatives are.
As a result, this vegan cabbage soup uses vegan ground beef in the recipe!
It doesn't use too much, but just enough to add flavor, and it sure is yummy!
I think the texture of the vegan meat lends a flavor to this vegetarian cabbage soup that is unique and adds depth to the recipe.
I hope you enjoy this healthy and hearty cabbage soup vegan recipe as much as I do! Don't forget your crusty piece of bread for dipping!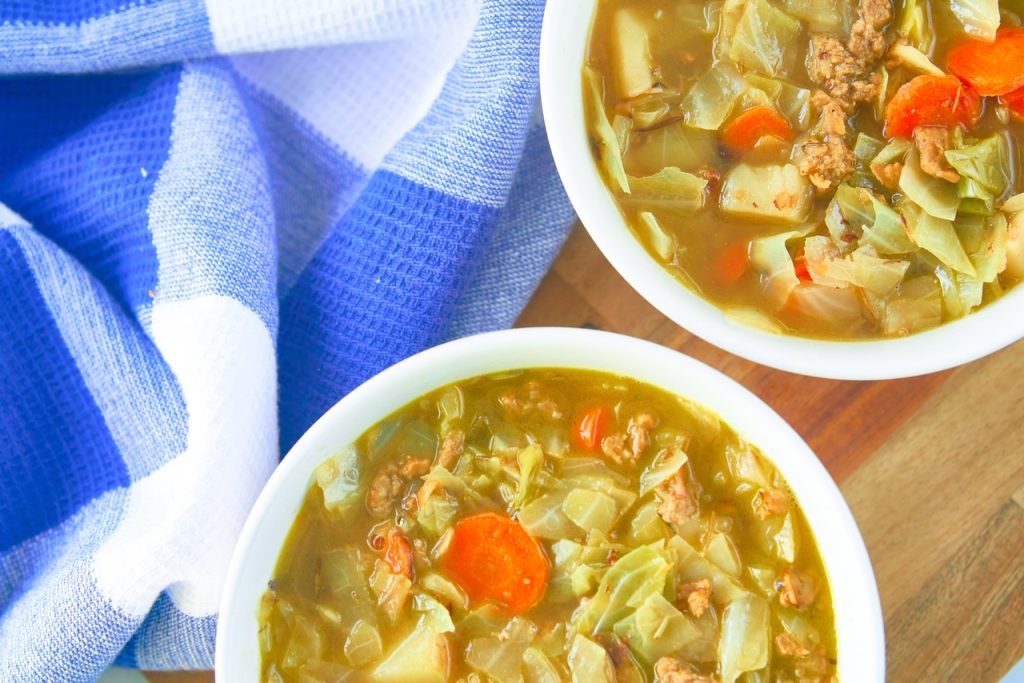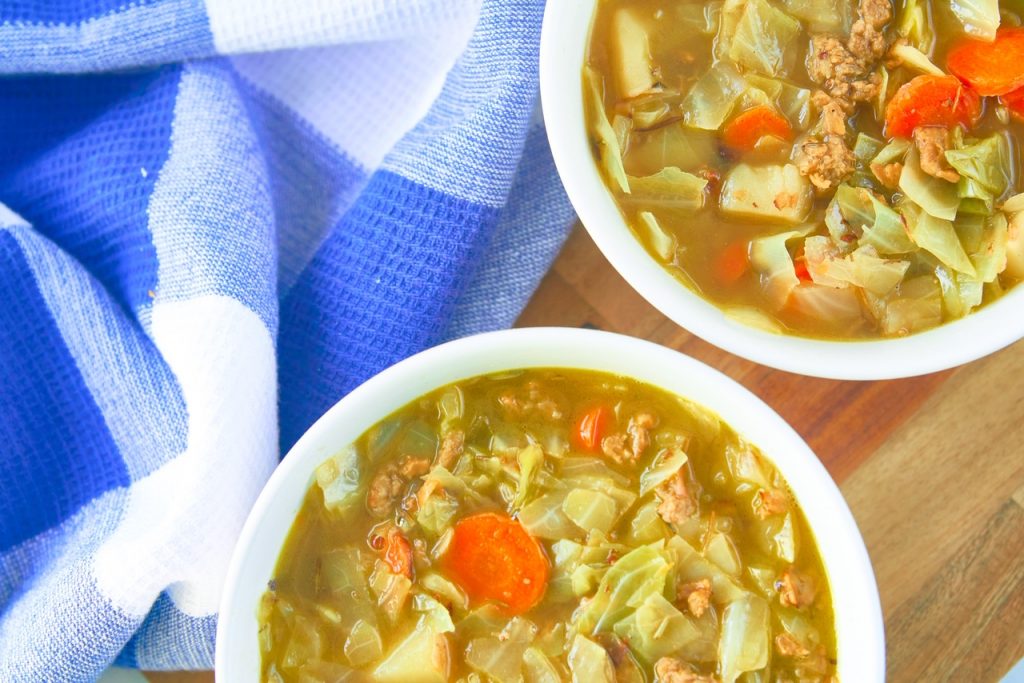 Reasons Why You Will Like This Recipe
It can be used as a cabbage soup detox. Cabbage is super healthy! It is a natural diuretic rich in sulfur meaning it removes excess salt and fluid and breaks down toxins. Cabbage soup is often used as a detox to help reset your body. Cabbage also has antioxidants, fiber, and anti-inflammatory properties.
It is the perfect Instant Pot meal. This meatless cabbage soup can easily be made in an Instant Pot or slow cooker. Throw all the ingredients in and let the magic happen!
It is filling and will warm you up. Packed with veggies and vegan beef, this soup is sure to fill you up and keep you warm during fall and winter.
It is quick and easy. You do not have to be a professional chef to whip this soup up. It's basically just chopping veggies and letting them cook. It only takes 20 minutes to complete.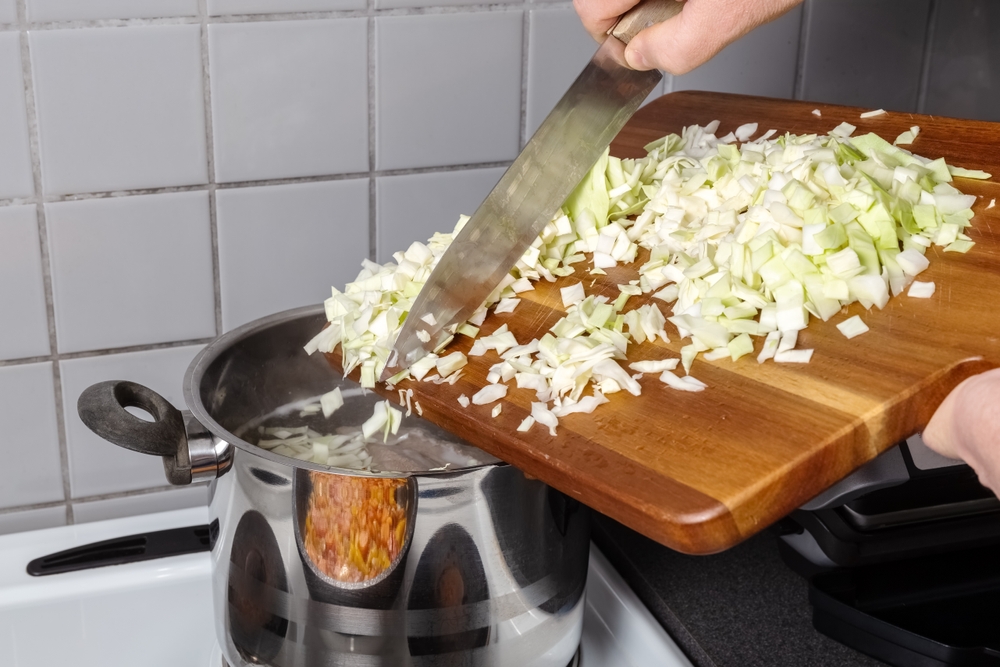 Best Kind Of Vegan Beef To Use
To make cabbage soup vegan, you can simply leave out any meat or you can use vegan beef.
Some kinds of vegan ground beef just work better than others!
Of course, you can use whatever vegan ground beef you have on hand or you can leave it off the recipe altogether.
I do think that it lends a nice hearty "Midwestern soup" touch to this recipe though!
I love using Beyond Beef for this recipe since it is healthier and uses pea protein instead of a lot of other crap. The ingredients are pretty good and the flavor is very nice and hearty.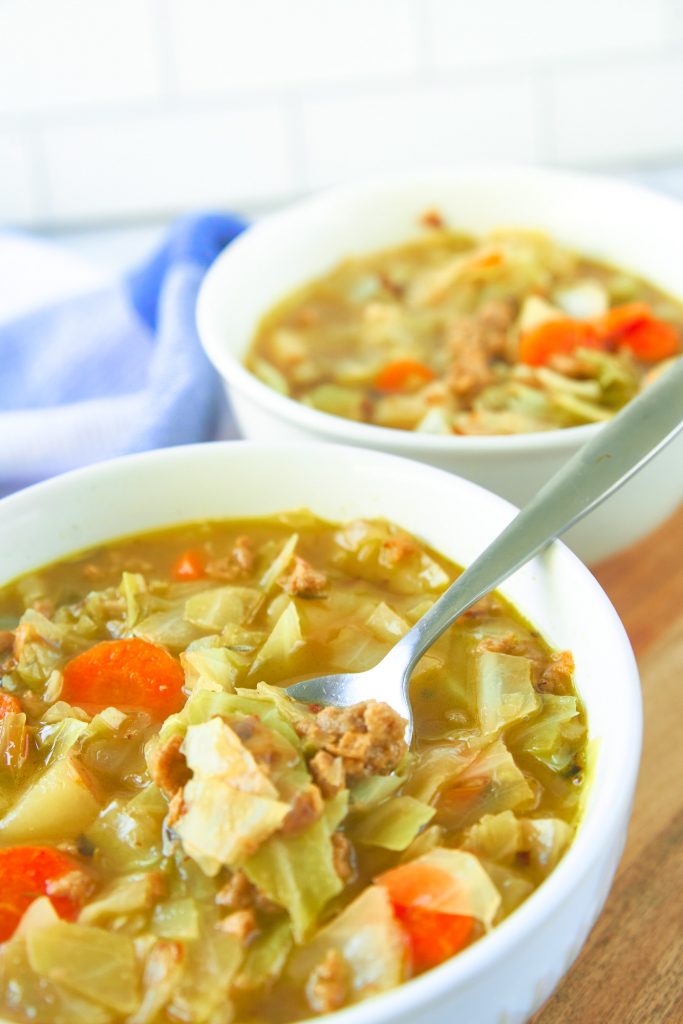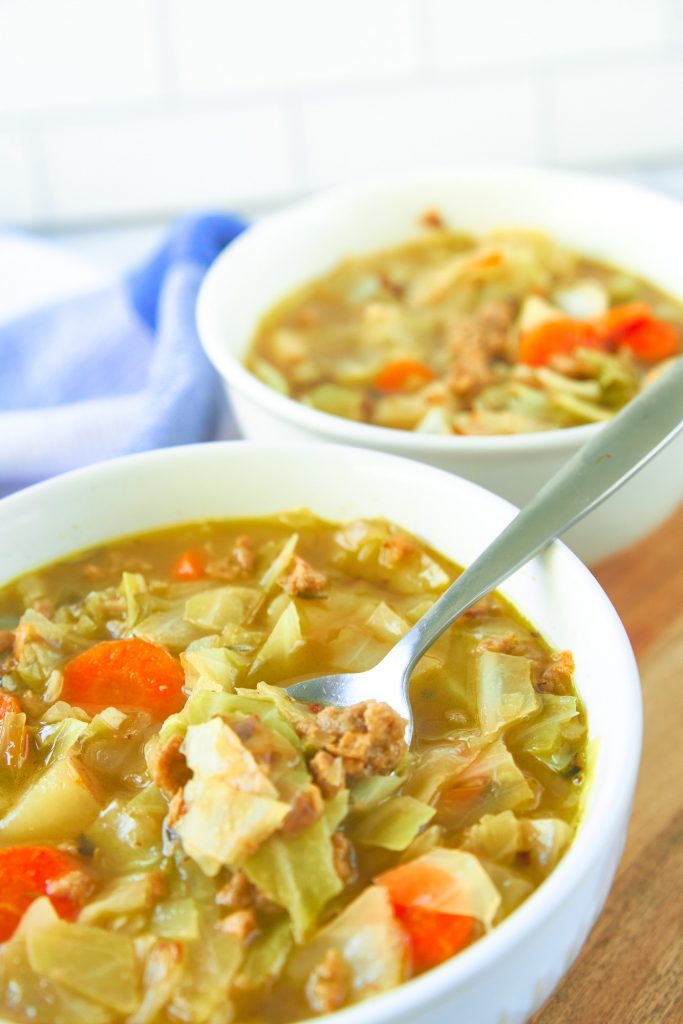 I also love Gardein beef crumbles. They are frozen and in a pink labeled bag.
I do think meat crumbles from the fridge tend to work better than frozen meat crumbles, but I have used both!
I understand that Beyond Meat is expensive, so use your favorite faux meat from the fridge section of the grocery store if possible.
If you are choosing to use frozen fake meat, try and find Gardein!
These are the two best options for adding beef crumbles to make your cabbage soup recipe vegan!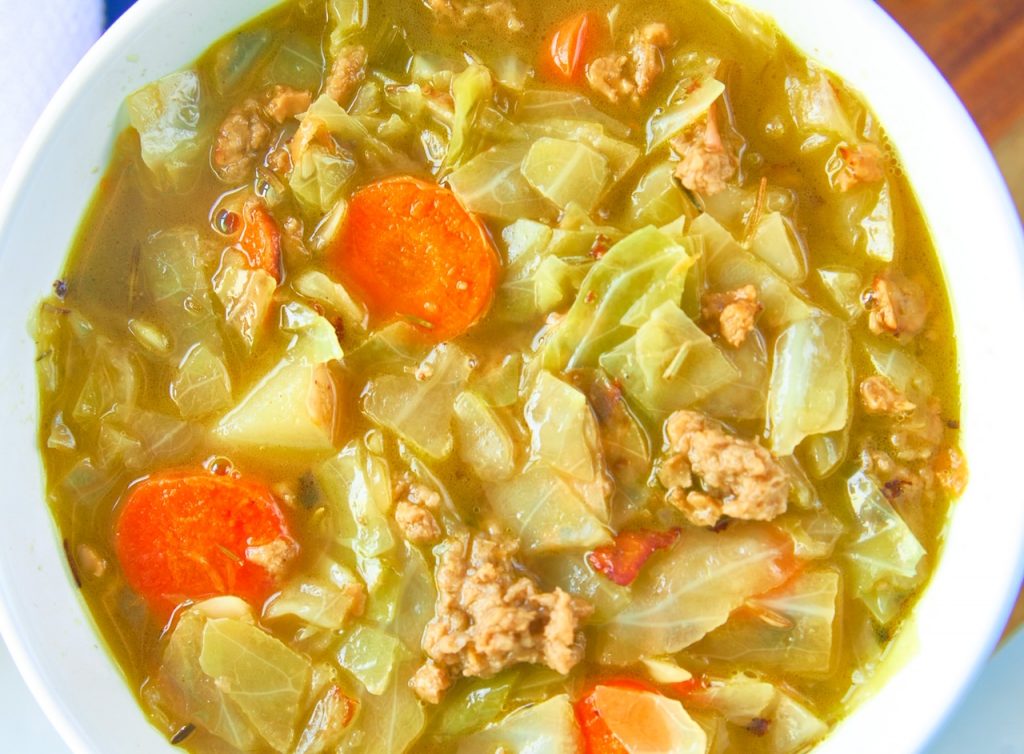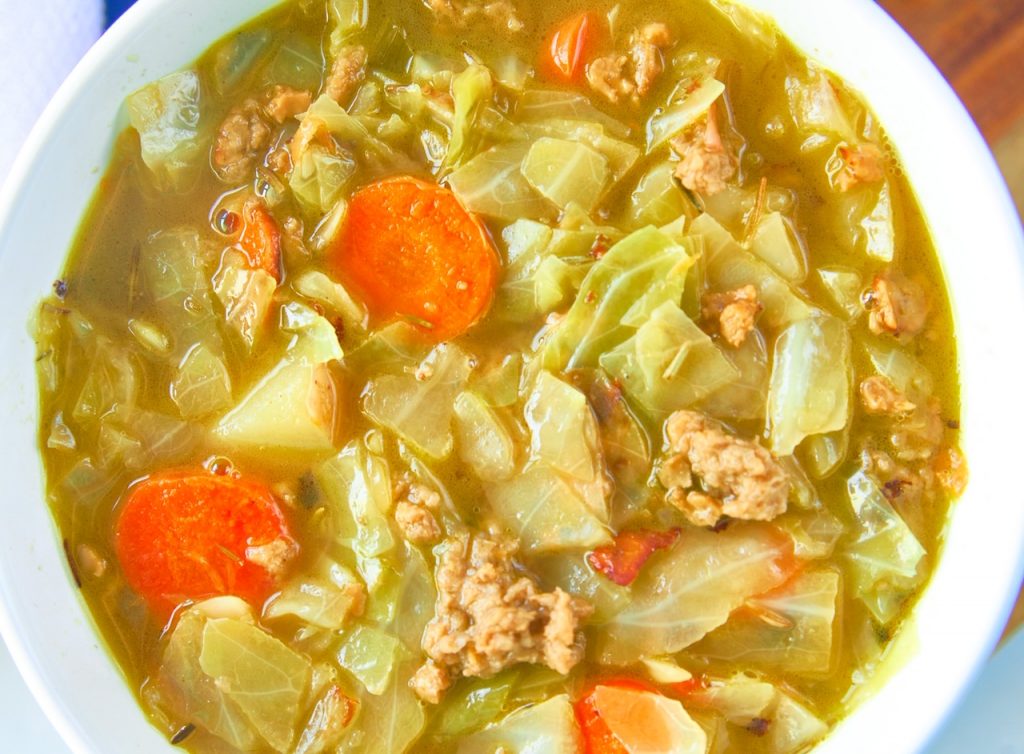 How To Make Vegan Cabbage Soup
Making vegan cabbage soup is super quick and easy!
First, you are going to want to parboil your potatoes in a different pot to save some time. Just cube your potato and boil until the potato is just slightly soft. Drain and set aside.
In a large pot, saute your garlic, onion, and carrots in the bottom of the pot in oil until soft.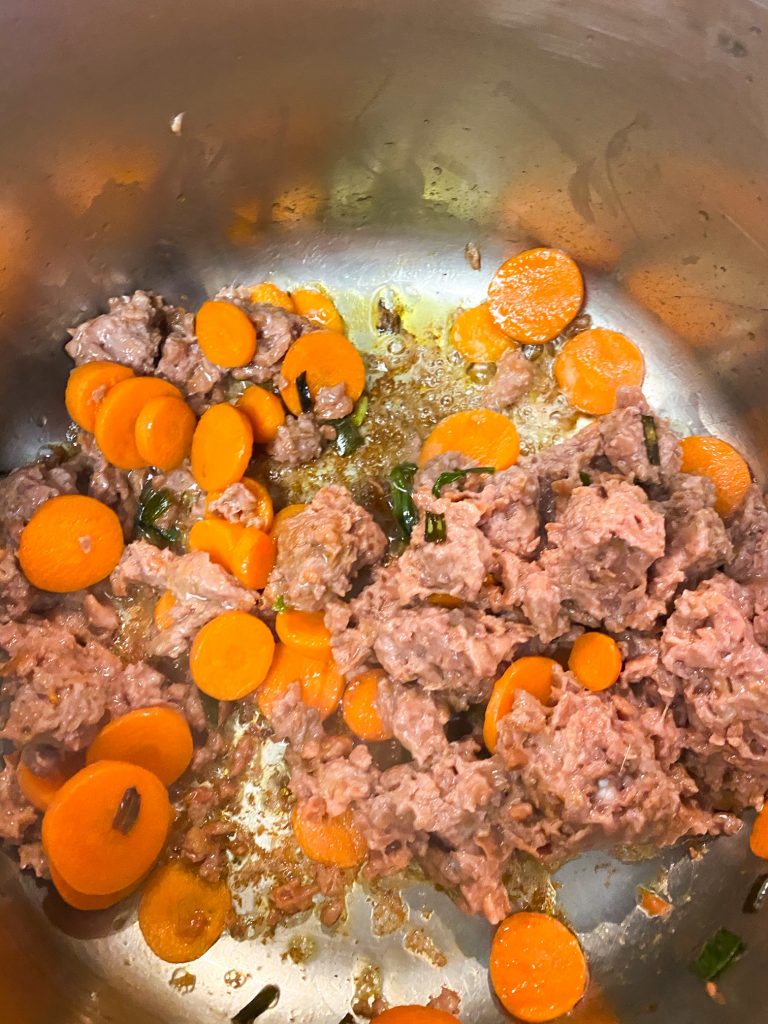 Then, add in the vegan meat crumbles and saute until slightly browned. Make sure to use your spatula to break up the meat crumbles if you are using the kind from the fridge as they tend to stick together.
Next, add in your chopped/shredded cabbage. The cabbage will take up A LOT of the pot but it will quickly boil down and reduce in size.
Stir the cabbage to combine it with the rest of the sauteed veggies and faux meat until well combined.
Add in all of the spices and the sugar and saute for a few minutes until the cabbage starts to reduce in size and cook down a little bit.
Now, add your water/vegetable broth, cover the pot with a lid, and let the vegetarian cabbage stew cook for about 10 minutes so that the flavors are well combined.
And that is it! That is all you have to do to make tasty and delicious vegetarian cabbage soup that tastes just like the real thing!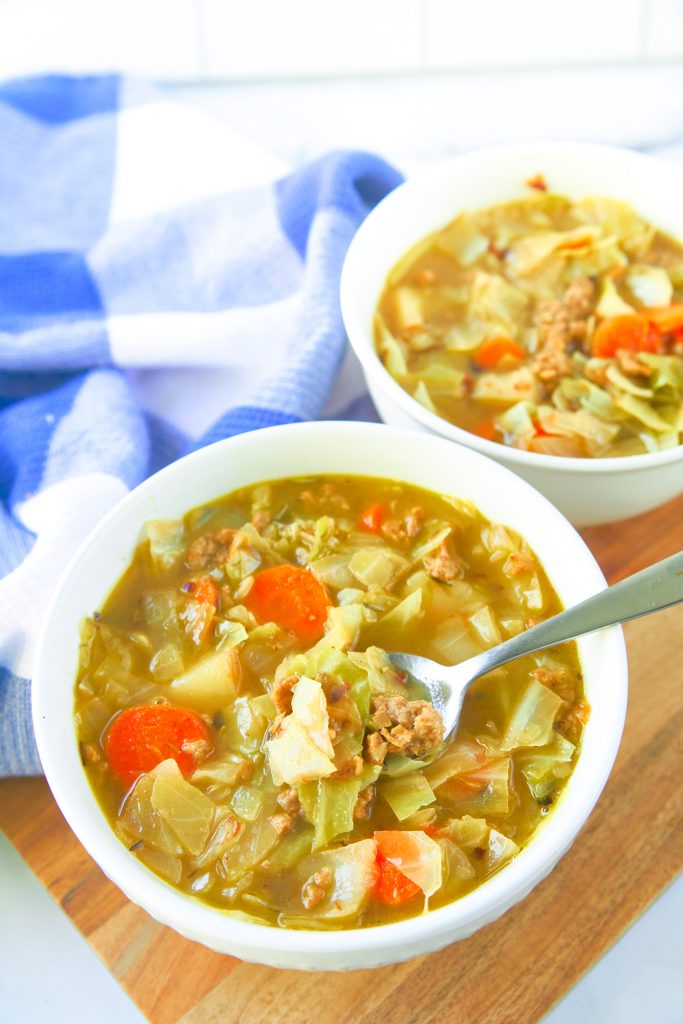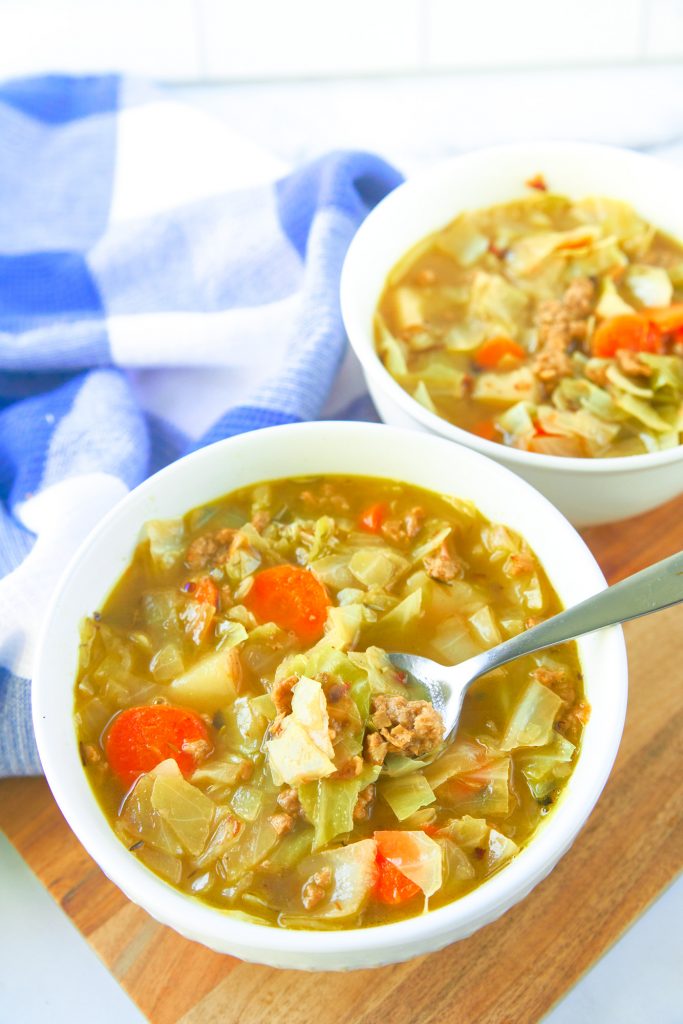 Slow-Cooker Cabbage Soup Variation
If you want to use the slow cooker to make this vegan cabbage soup, that is also an option!
I like to do it the hands-on way because I think it is much quicker, but some people love using a slow cooker and I wanted to provide an option for that too!
All you have to do is place all of your ingredients in a slow cooker and cook on high heat for 5 hours or until the carrots and cabbage are tender.
I prefer to saute my carrots and cabbage ahead of time so I know 100% that they are tender in a short period of time, but this is another method if you want the soup to cook while you are away!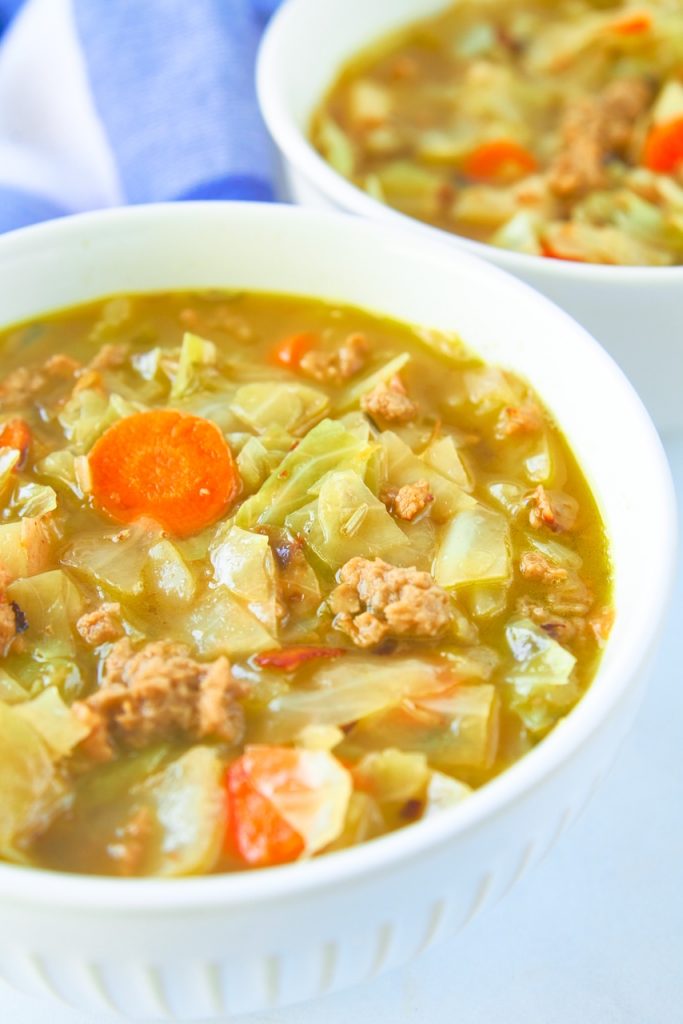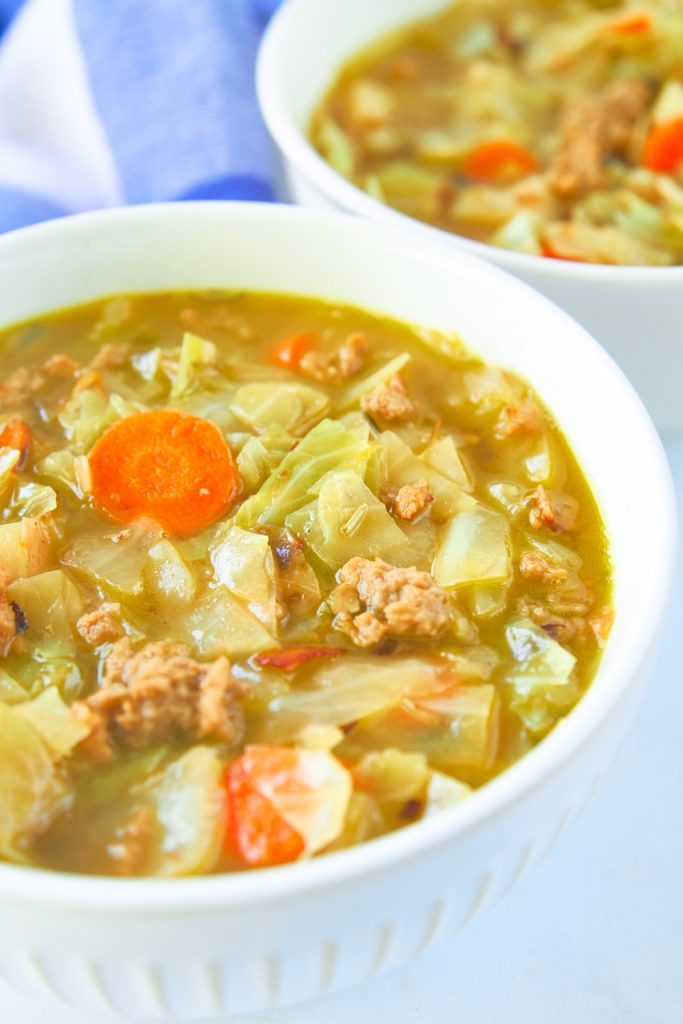 How To Store The Vegan Cabbage Soup
The vegan cabbage soup recipe stores incredibly well!
First, wait for it to cool and then put it in fridge-safe containers and store it in the fridge for 3-5 days.
This is also a wonderful vegan soup recipe for freezing! You can freeze this easy cabbage soup for 1-2 months!
To defrost, just take the jar out of the freezer, and then once you can take the soup out, reheat over the stove on medium heat until warm throughout!
Did You Try This Recipe?
If so, I would love to keep in touch! I enjoy seeing photos and comments about the recipes that you make! You can follow me on Instagram and I will repost your goodies in my stories and comment on it too! Just tag me at @wowitsveggie and hashtag #wowitsveggie. I can't wait to see what you make!
Yield: 4-6 Servings
Vegan Cabbage Soup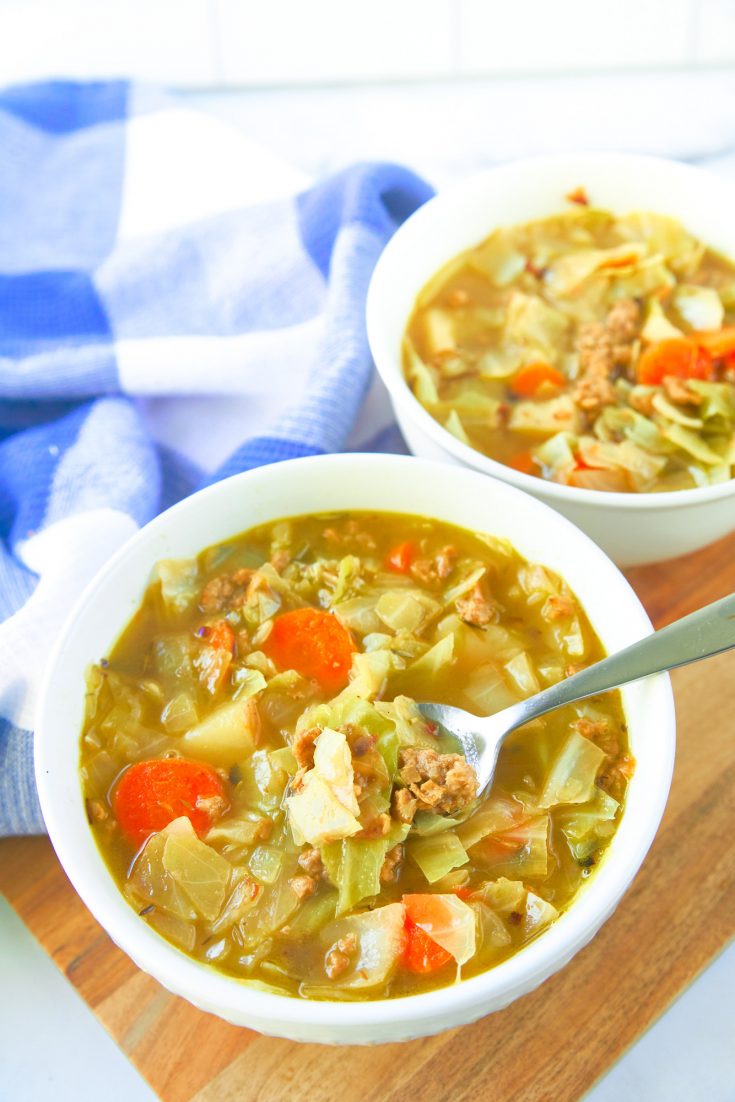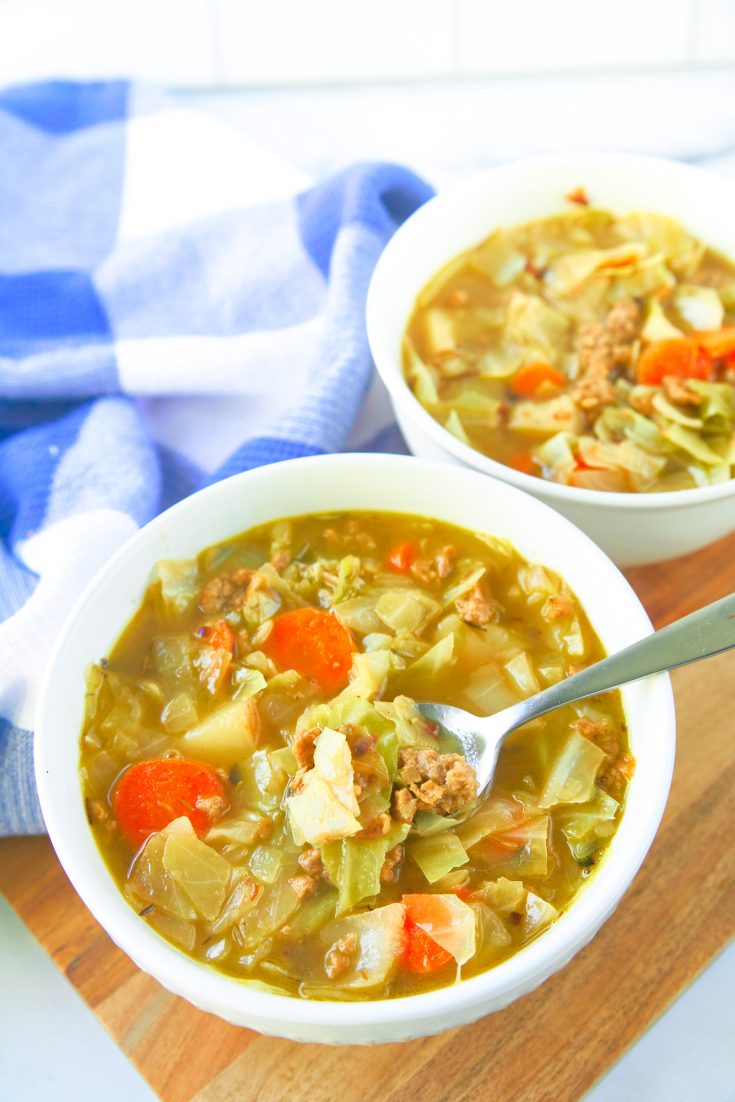 This vegan cabbage soup recipe is so hearty and delicious! It is healthy for you too as cabbage is filled with nutrients such as Vitamin B-6, Vitamin K, and Vitamin C! Make sure to serve this soup with some crusty bread so that you can soak up all the flavors from the broth!
Ingredients
2 garlic cloves, minced
1 small onion, chopped
1 small potato, cubed and parboiled
1 small head of cabbage, destemmed and chopped
1 large carrot, chopped
12 ounces of vegan ground beef
4 cups vegetable broth or water
1 tablespoon sugar
1 teaspoon thyme
1 teaspoon rosemary
1 teaspoon salt
1/2 teaspoon pepper
Instructions
Heat a little bit of oil in the bottom of a large stock pot on medium-high heat.
Saute garlic, onion, and carrots over medium heat until carrots are soft. Then, add in the vegan beef crumbles. Stir until combined and use your spatula to separate the beef crumbles. Stir until well combined and cook until vegan beef is slightly browned.
Add in pre-cooked potatoes and the chopped cabbage as well as all of the spices/seasonings. Stir until well combined. The cabbage will be quite large and will take up a lot of space. Continue to saute until the cabbage reduces in size and begins to cook.
Deglaze pan with the broth/water and simmer for 5-10 minutes to let the flavors combine.
Serve with a piece of crusty bread or a side salad!
Nutrition Information
Yield
6
Serving Size
1
Amount Per Serving
Calories

136
Total Fat

4g
Saturated Fat

0g
Trans Fat

0g
Unsaturated Fat

3g
Cholesterol

0mg
Sodium

1250mg
Carbohydrates

13g
Fiber

1g
Sugar

4g
Protein

15g