If you are looking for an easy vegan pumpkin soup recipe, you have come to the right place!
This recipe is perfectly creamy while being hearty and filling at the same time. It is rich while being light and tasty at the same time.
The flavor of this vegan pumpkin soup screams fall and chilly weather and crisp leaves, but you can make it any time of year! In fact, this is one of my favorite Cozy Vegan Fall Recipes and I know you are going to love it!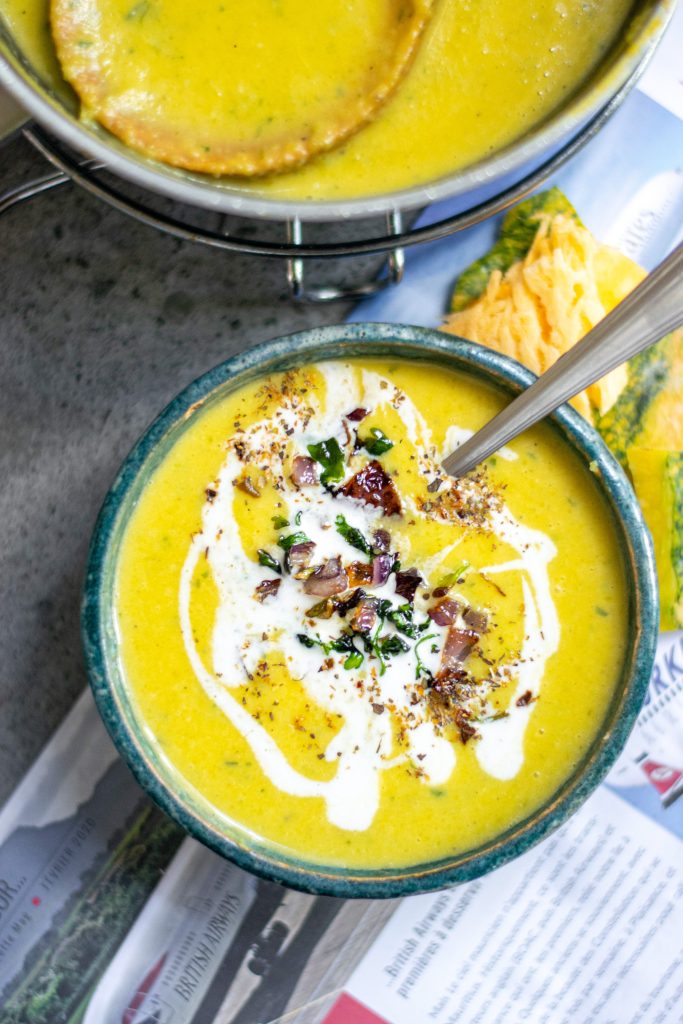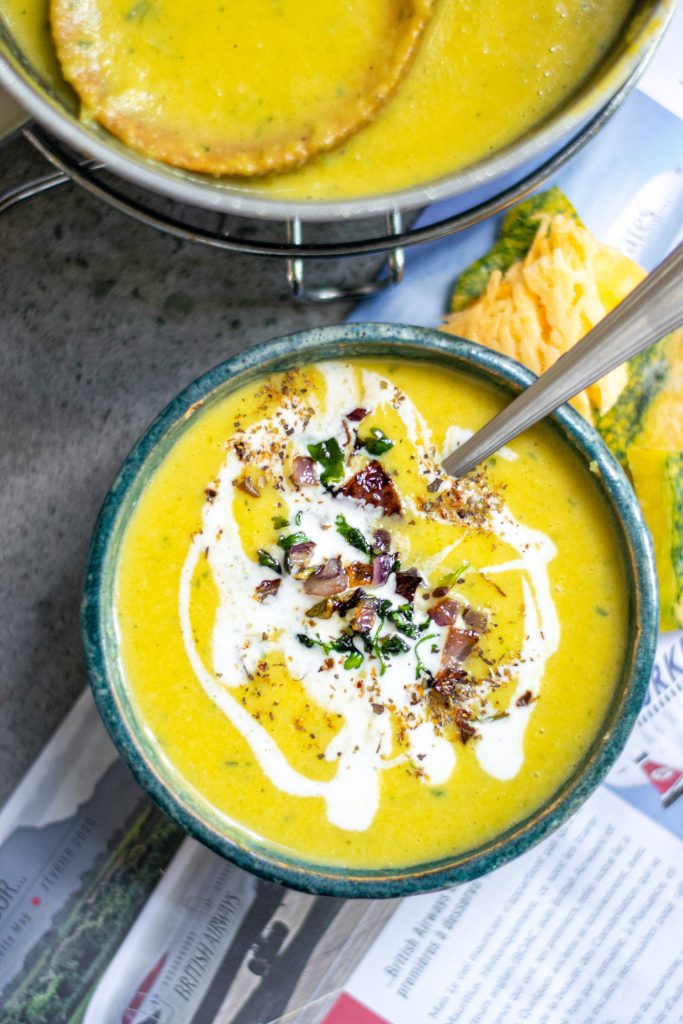 I also use fresh pumpkin for making the pumpkin soup. I roast it myself and you can too! I do provide modifications if you want to just use canned pumpkin so no worries there!
This recipe is easy for beginners who have never created a soup like this from scratch before!
The easy step-by-step instructions will show you how to quickly roast your pumpkin so that you can make a fresh, healthy, and delicious vegan pumpkin soup recipe for the fall!
Despite the fact that I do recommend roasting your own pumpkin, this whole recipe cooks up in about 40 minutes, with 30 minutes of that being the roasting time!
Think of this as sort of like a slow cooker soup but for your oven! You roast the pumpkin and prepare the rest of your other ingredients, perhaps a Vegan Side Salad, and then you finish the soup in just 10 minutes!
So easy, comforting, and delicious!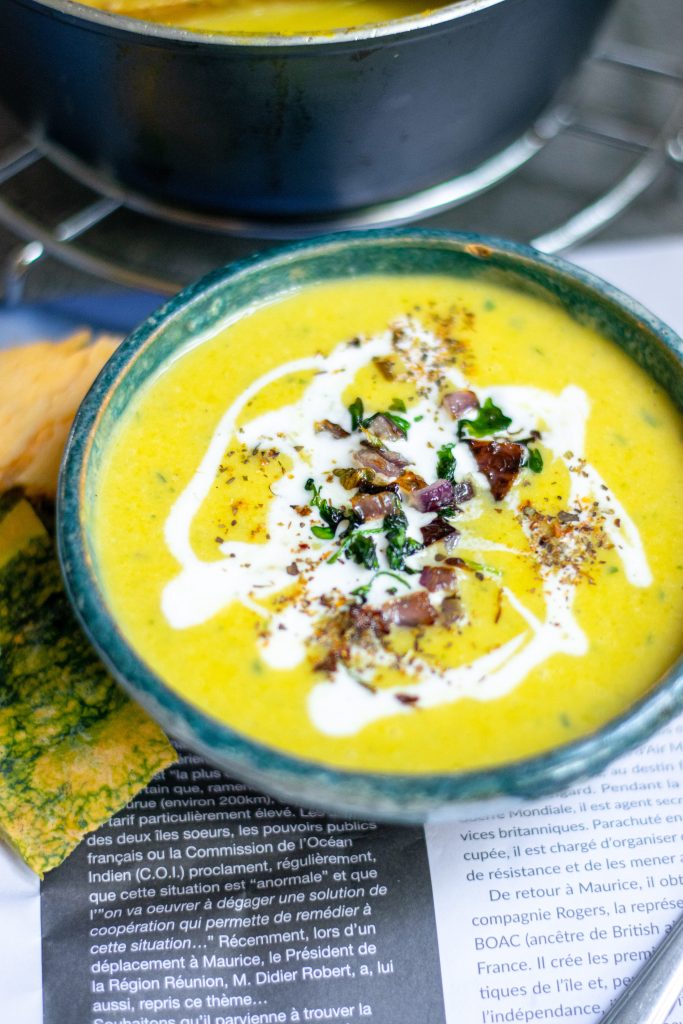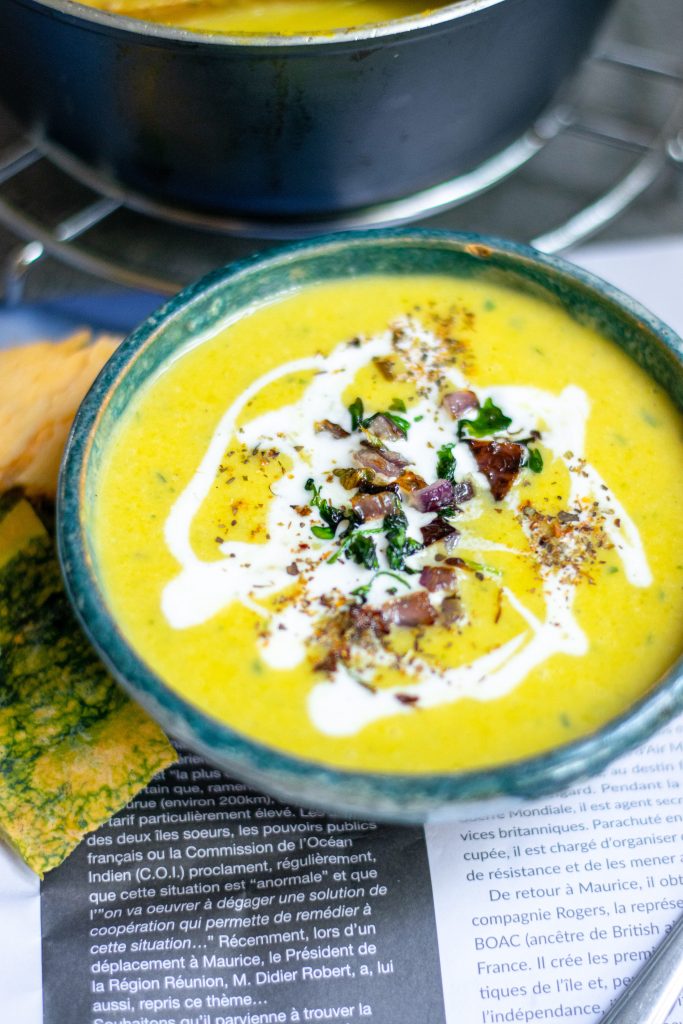 How To Roast The Pumpkin For The Soup
Roasting the pumpkin for this soup recipe is so easy! I wouldn't put a recipe on this site that wasn't tried and true to be simple and easy for beginners to understand!
First, you are going to dice your pumpkin into medium squares. You don't want the squares to be too huge, but they don't have to be too tiny either.
I usually buy my cooking pumpkins from Whole Foods but you can get them anywhere you have on hand. Just make sure you are using a COOKING PUMPKIN and not a regular pumpkin for carving.
Then, in a small mixing bowl, you will add a little bit of oil, onion, garlic cloves, pepper, and parsley and toss with the pumpkin until the pumpkin is coated.
This is how you add flavor to the vegan pumpkin soup recipe!
As the pumpkin bakes in the oven, the flavors meld together and create a really delicious taste!
Then all you have to do is place the mixture on a baking sheet or in a baking pan [what I usually do] and roast for 30 minutes!
You can even roast ahead of time if you want to cook later that day or that week. Just keep pumpkin in an air-tight container in the fridge.
How To Substitute Canned Pumpkin For Fresh Roasted Pumpkin
Yes, it is possible to substitute canned pumpkin for the roasted pumpkin.
I understand that you may want to make vegan pumpkin soup in May and fresh pumpkin doesn't come to the stores until the fall so you may want another option!
This recipe calls for 1 pound of fresh pumpkin. You can simply use 16 ounces of canned pumpkin instead!
If you use canned pumpkin to make the vegan pumpkin soup recipe, simply skip the roasting process and head straight to the part of the recipe where you combine the ingredients and make the soup!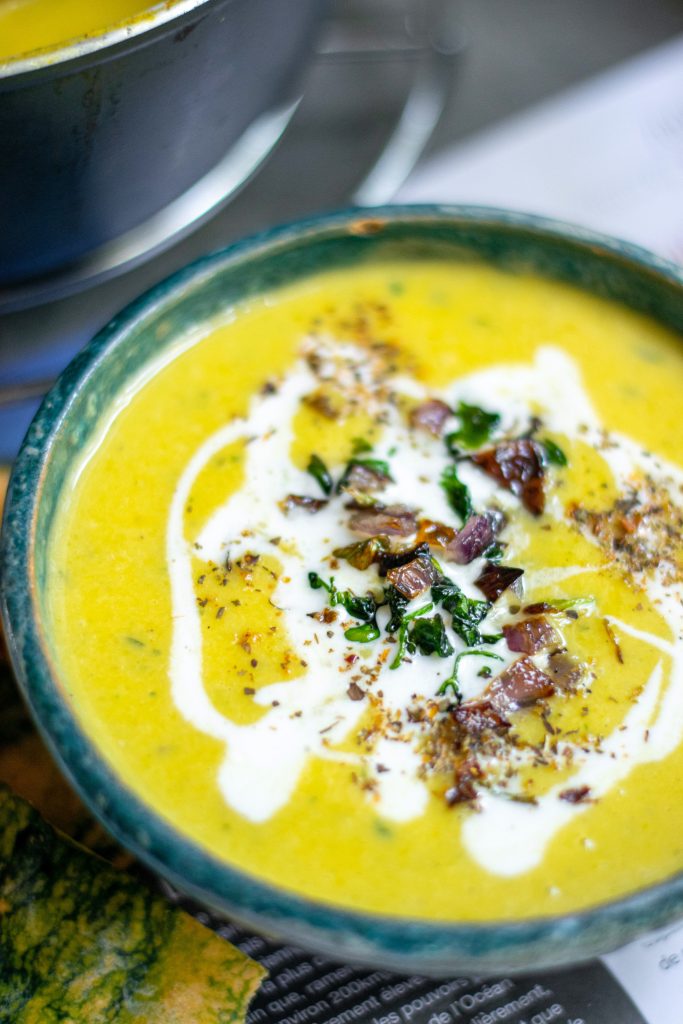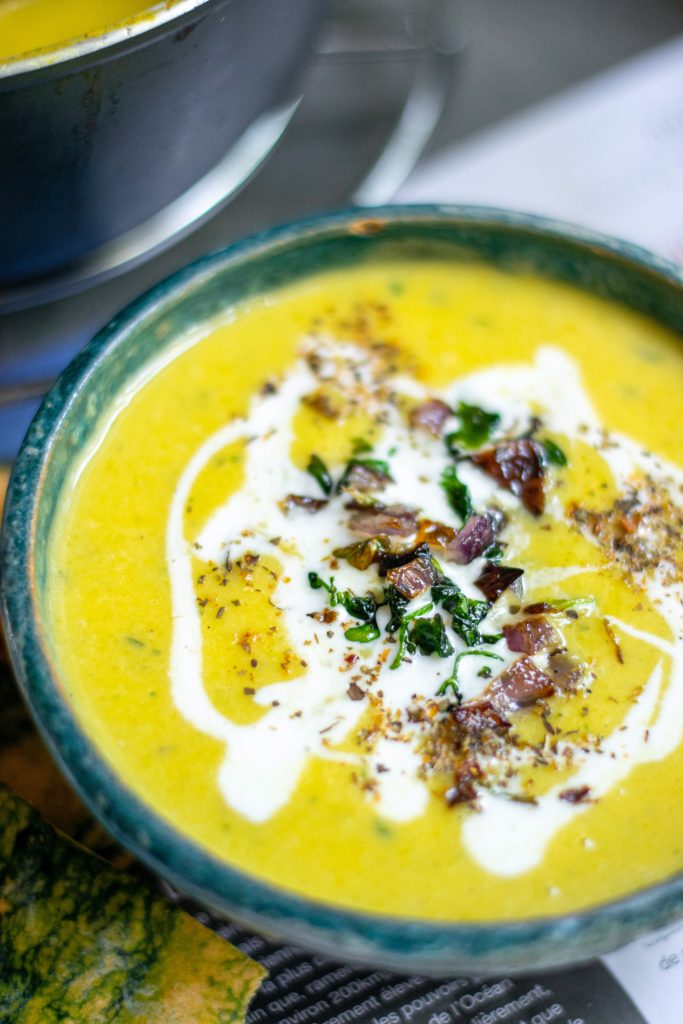 How To Make Pumpkin Soup Without Coconut Milk
I know a lot of you may be looking for a vegan pumpkin soup without coconut milk and that is okay!
It is so very easy to modify this recipe to not use coconut milk! Sometimes I do it myself depending on what I have on hand.
Coconut does blend nicely with the pumpkin soup flavor, but sometimes I am not always in the mood for coconut milk!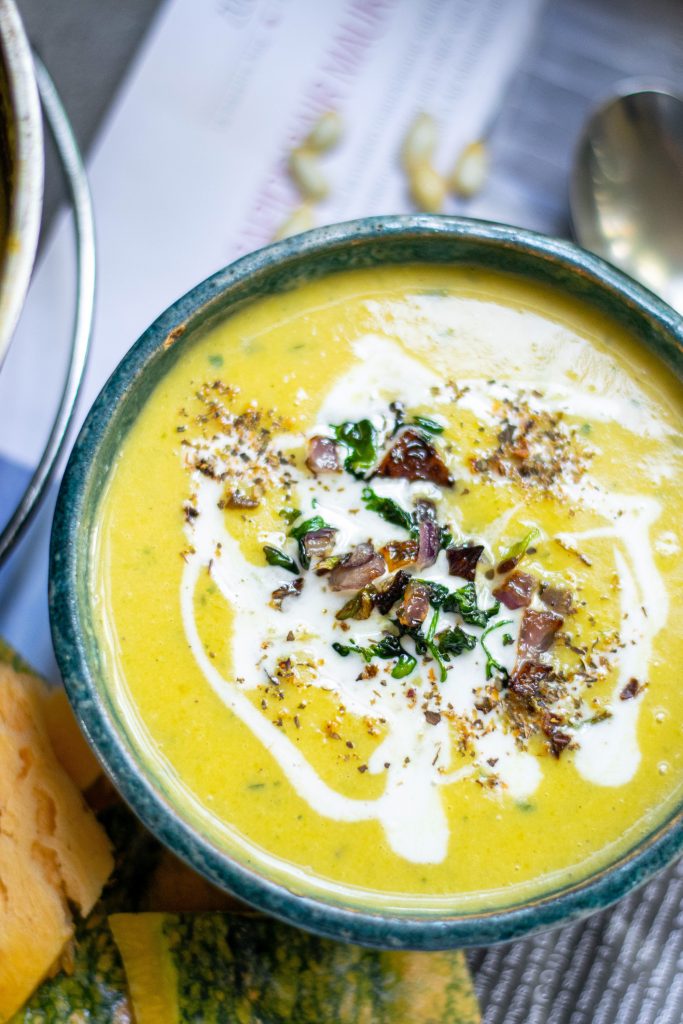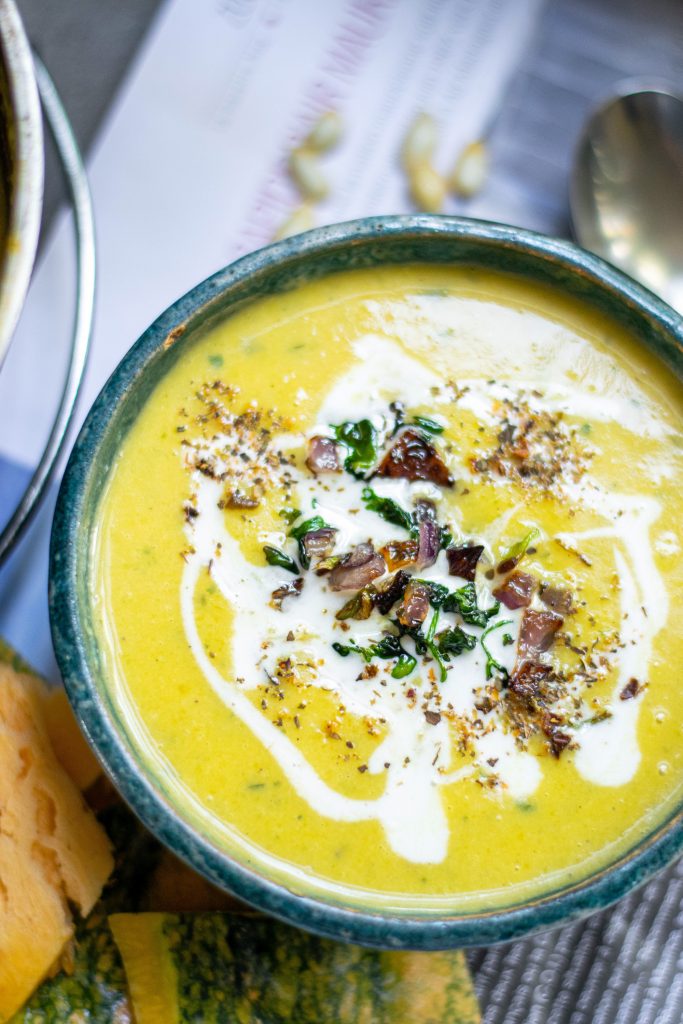 When choosing a substitute, you want to think of the creamier nut milks that are out there. You want an even substitution so that the soup still has that lovely creamy flavor.
Some great alternatives for making this vegan pumpkin bisque without coconut milk are:
Cashew Milk
Almond Milk (unsweetened)
Soy Milk
Rice Milk (a little thinner but still works)
Oat Milk
You can honestly try anything, but I recommend an unsweetened creamy nut milk if you want to try to make vegan pumpkin soup without coconut milk!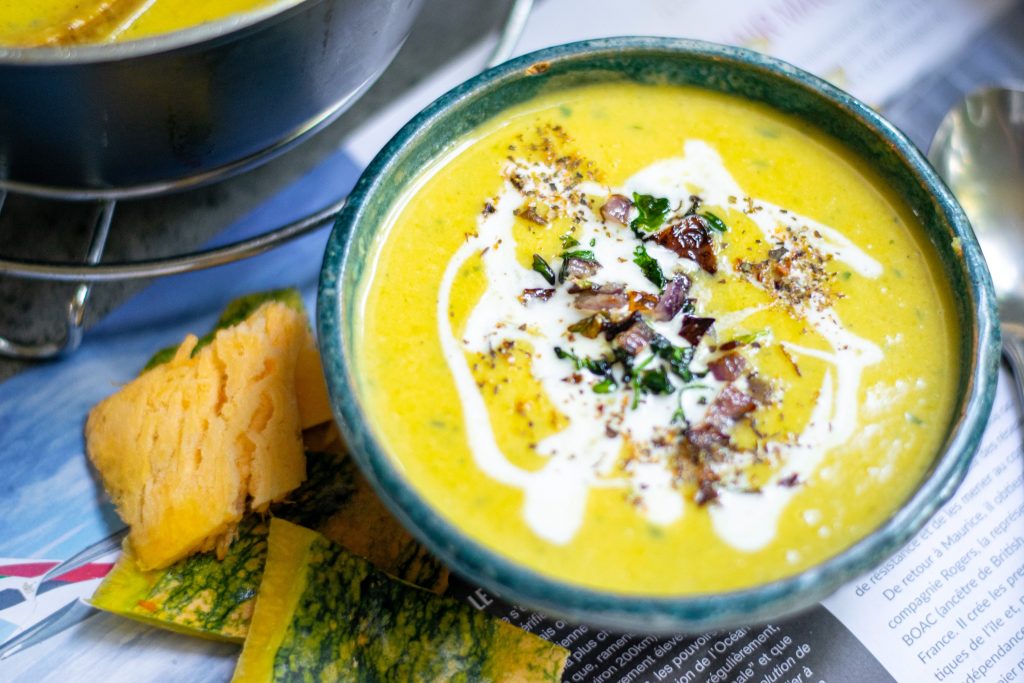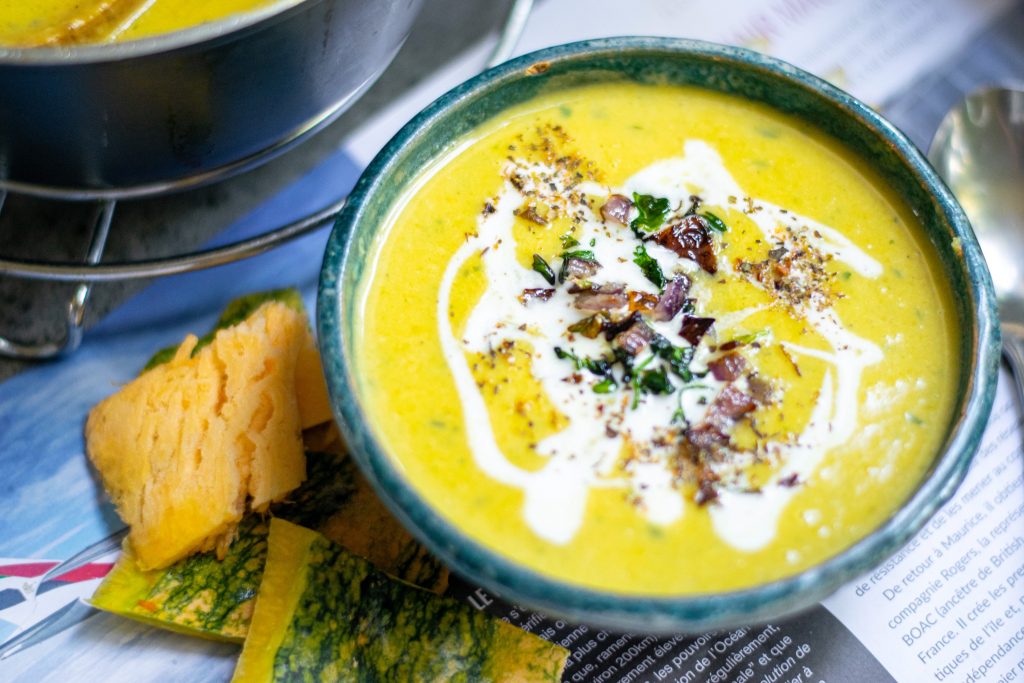 How To Make The Vegan Pumpkin Soup Recipe
Making this easy vegan pumpkin soup recipe is so simple! If you are using canned pumpkin or once you have your pumpkin roasted, it takes just a few minutes!
Once your pumpkin is done roasting [or you are using canned or roasted from another day] simply transfer the pumpkin to a blender.
Add in vegetable broth [or water if that is all you have] and coconut milk [or the milk of your choice] and blend in the blender until smooth.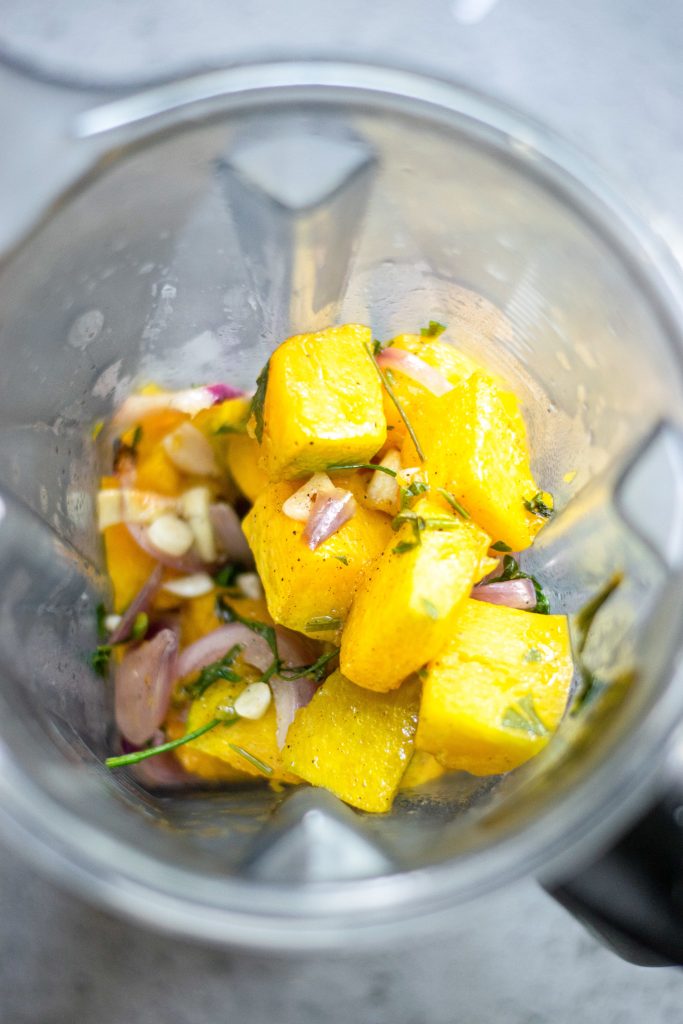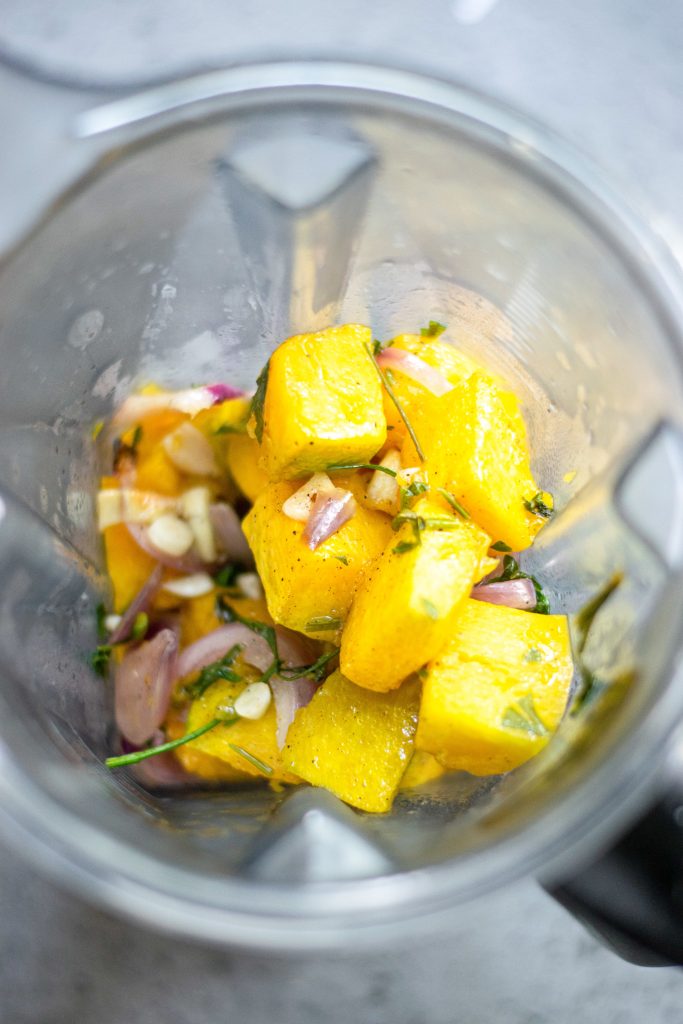 Then, transfer to a pot and simmer on medium heat for 3-5 minutes. If you are using canned pumpkin or roast pumpkin from the fridge, you may have to heat a little longer so it is warm throughout.
While the vegan pumpkin soup is warming, fry garlic and onion until crispy! This makes the perfect crunch topping for the soup!
As you can see, making this easy vegan pumpkin soup recipe takes no more than 10 minutes once you have your pumpkin prepared!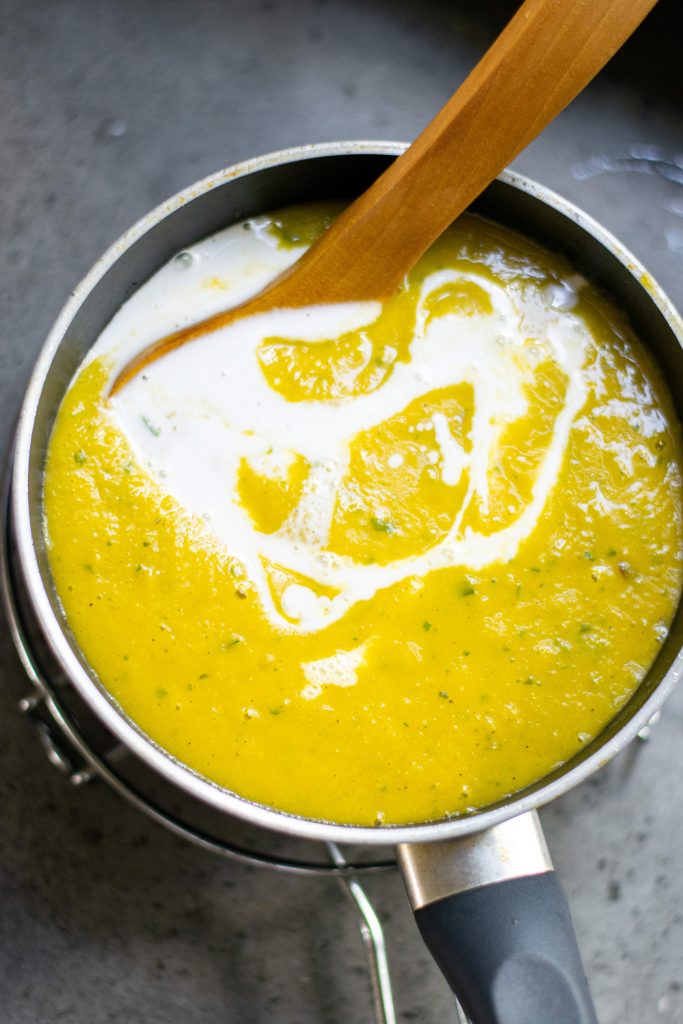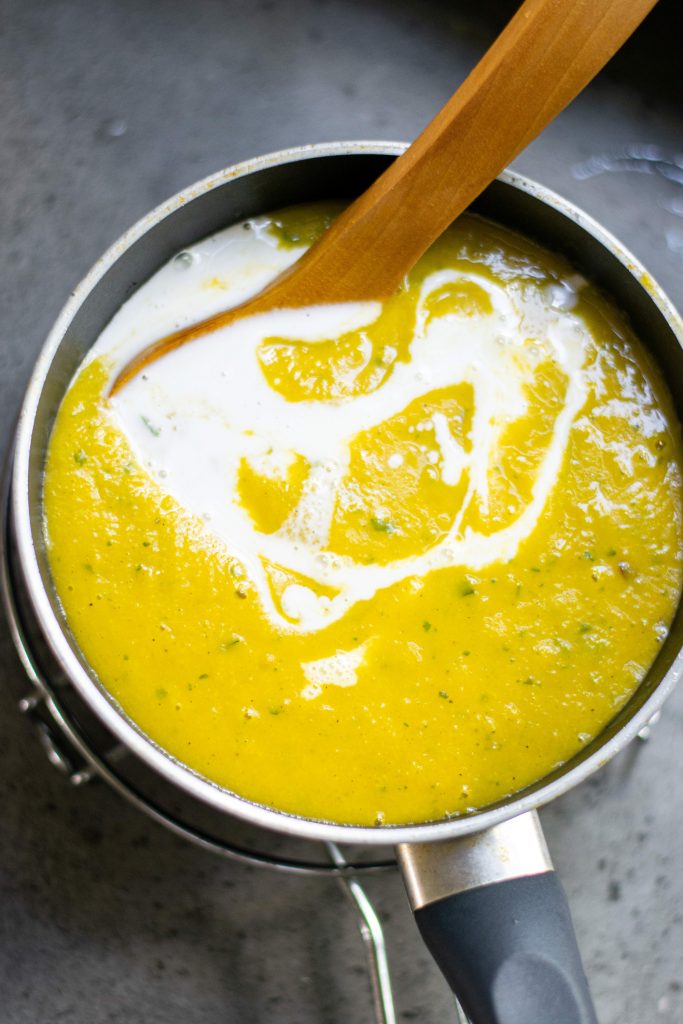 How To Store The Vegan Pumpkin Soup
Storing the vegan pumpkin soup is easy. You can make a big batch when fresh pumpkin comes to the store and eat it in the future whenever you feel the craving for fall flavors.
The pumpkin soup stores for 3-4 days in an air-tight container in the fridge. To warm it up, put it on the stove on medium heat until warm throughout.
You will want to remake the crispy onion/garlic topping on the day you eat it!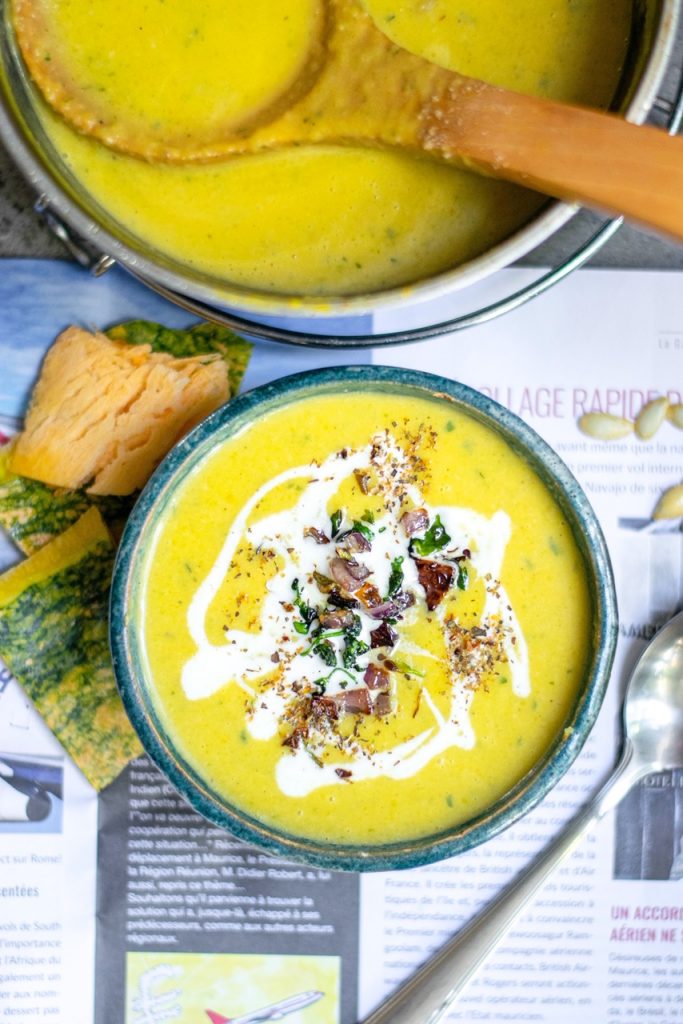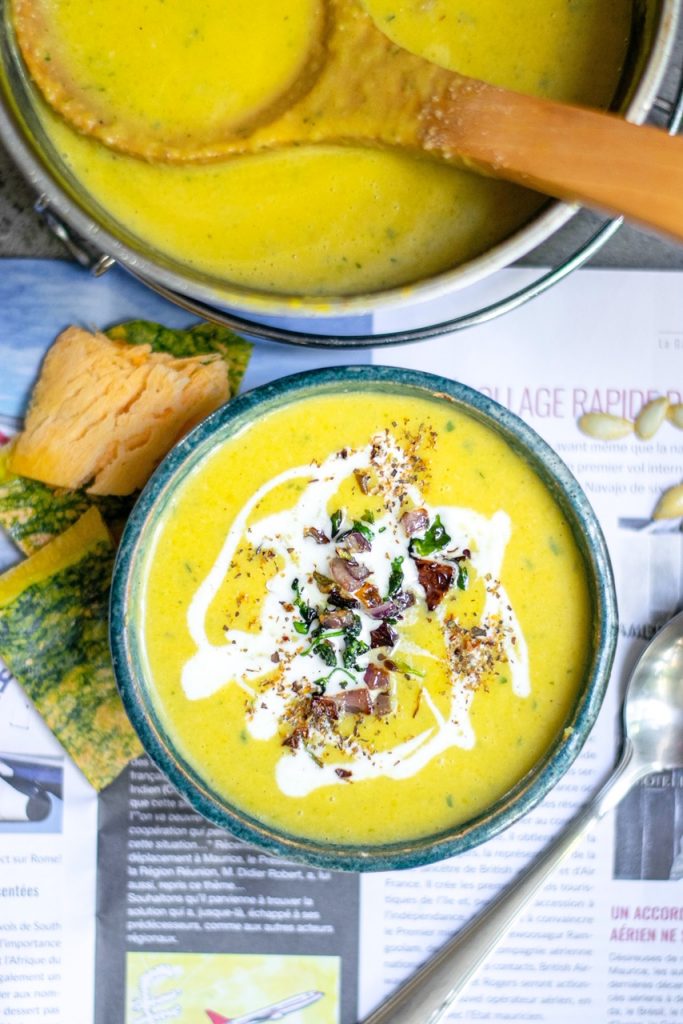 It is also freezer-friendly for about 1 month in an air-tight container! To reheat, simply let the frozen soup start to thaw to room temperature.
If you want, you can microwave it to help this process.
Otherwise, wait until it is defrosted a little and then heat on the stove until warm throughout! That is it! So easy and simple!
Yield: 4 Servings
Easy Vegan Pumpkin Soup Recipe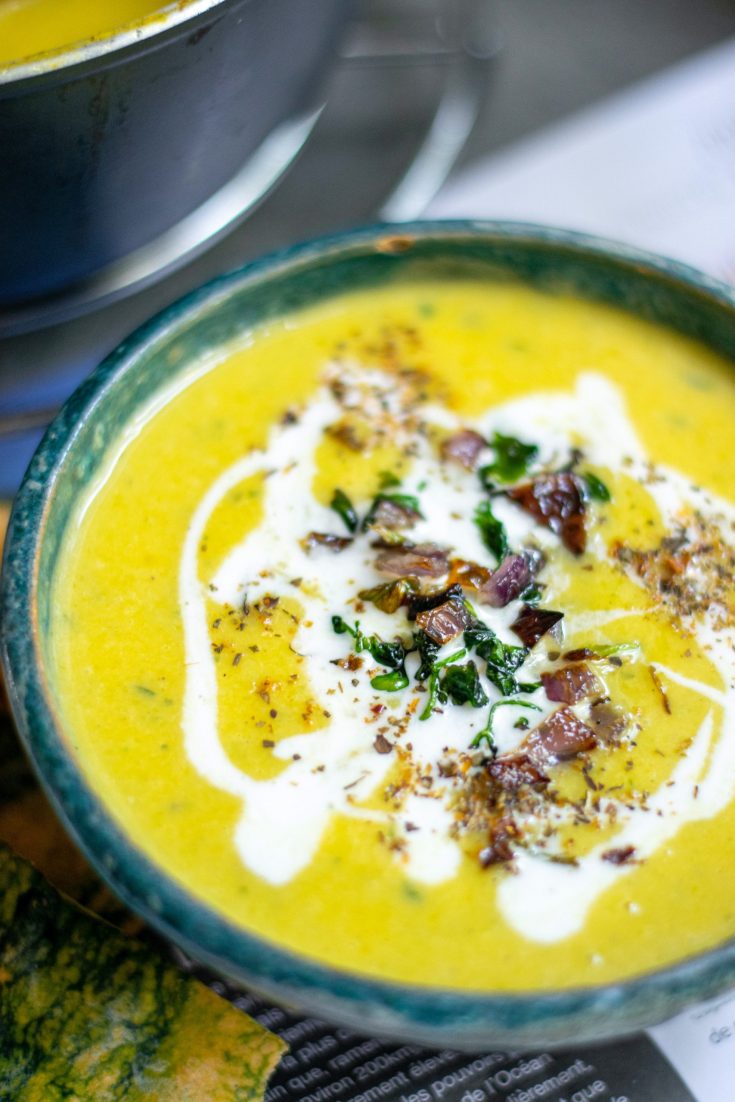 This easy vegan pumpkin soup recipe is creamy and delicious! You can use canned or fresh pumpkin and I show you how to do both in this recipe.
You can also choose to use coconut milk or use a popular substitute depending on your taste preference!
Don't forget the crispy onions and garlic to top this soup with, it really makes for a tasty crunch!
Ingredients
2 pounds pumpkin, skin and seeds removed
OR 32 ounces of canned pumpkin
1 big onion, sliced
5 cloves of garlic
2 tablespoons + 1 extra virgin olive oil
2 cups vegetable broth OR water
1/4 cup parsley, chopped
1/2 cup coconut milk OR any creamy nut-milk (unsweet)
1/2 teaspoon salt
1/4 teaspoon ground black pepper
Instructions
1. If you are roasting your own pumpkin, preheat oven at 425 degrees F. If you are using canned pumpkin, skip this step!
2. In a small mixing bowl, add 2 tablespoons oil, half of the onion, 3 garlic cloves, salt, pepper and parsley. (add this straight to your blender if using canned pumpkin)
3. Dice pumpkin in medium squares and mix with the parsley mixture. Roast in oven for 30 minutes.
4. Remove and transfer in a blender. Add vegetable broth (or water) and coconut milk (or any nut-milk) then blend until smooth. If you are using canned pumpkin, simply add everything from step 2 here)
5. Transfer to a medium pot and bring to simmer for about 3 - 5 minutes. Adjust salt if needed.
6. Add a little oil to a frying pan on medium heat and fry chopped 2 garlic cloves and the other half of the onion. They must be crispy.
7. Serve as topping on the pumpkin soup.
Nutrition Information
Yield
4
Serving Size
1
Amount Per Serving
Calories

309
Total Fat

16g
Saturated Fat

8g
Trans Fat

0g
Unsaturated Fat

7g
Cholesterol

5mg
Sodium

679mg
Carbohydrates

41g
Fiber

11g
Sugar

14g
Protein

9g