Making your own breakfast charcuterie board is so easy and the outcome is visually stunning!
You can easily make this a breakfast or brunch board depending on what time of day you will be serving it, and the presentation just makes for a fun meal.
This recipe requires no cooking skills, so you don't have to be a whiz in the kitchen to prepare it and there is no right or wrong way to go about it.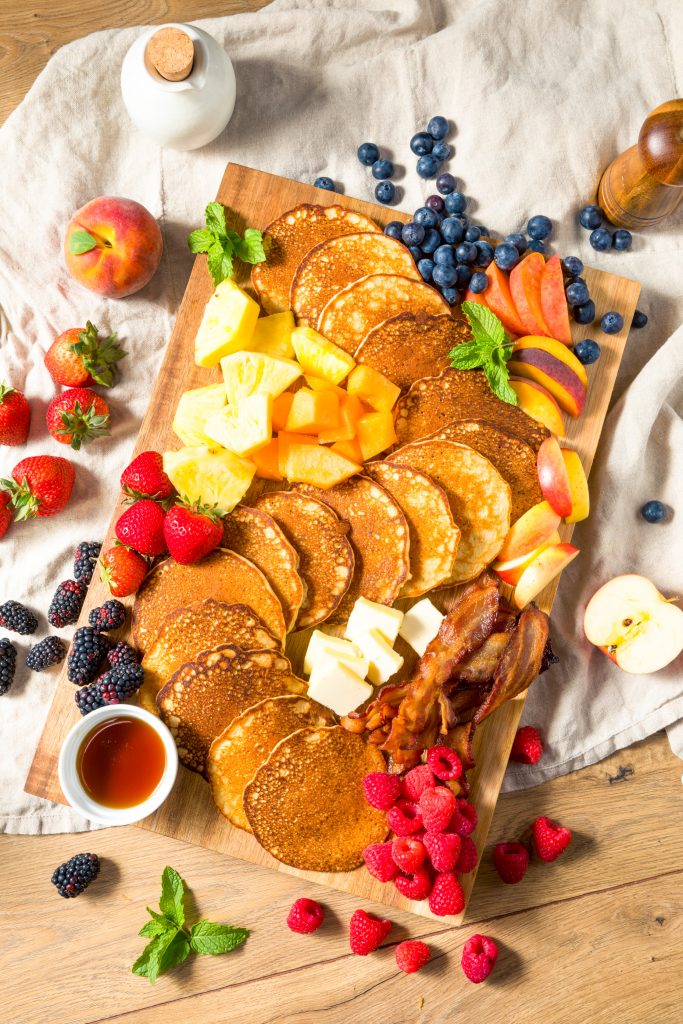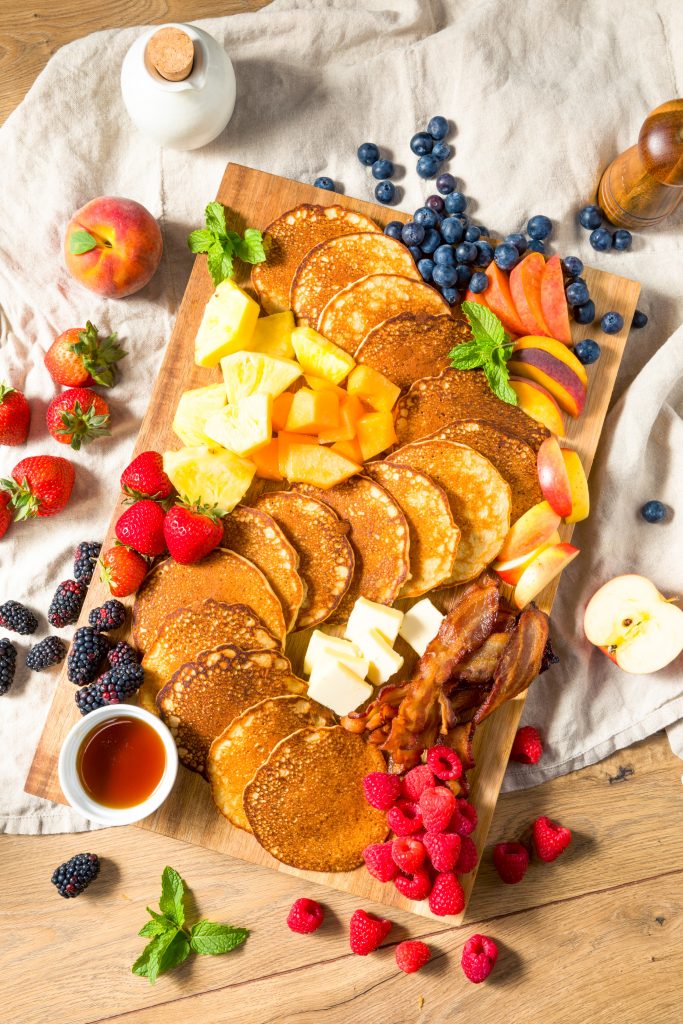 What I love about this breakfast charcuterie board is that it is easily customizable.
I do not eat meat, so all of the "meat" products I use are faux bacon, faux vegan sausage links and more.
If you eat meat you can add animal products and if you are vegan you can leave out every animal product in the book (such as eggs).
There is a breakfast charcuterie board for everyone!
I hope you run wild when making your own board and really play it up to your tastes and what you love.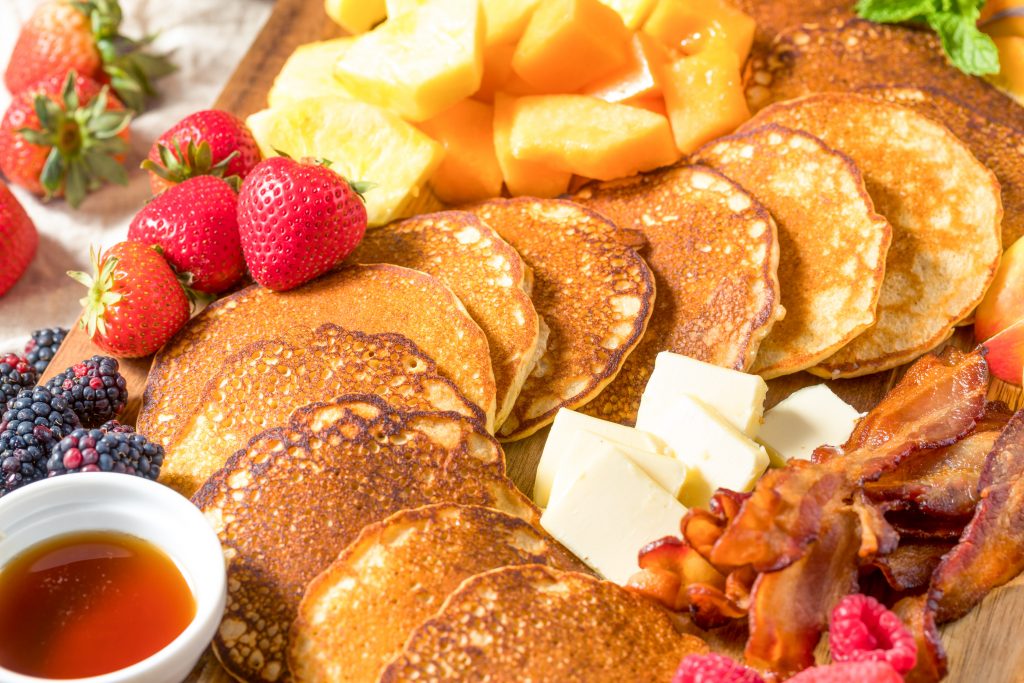 Why You Will Love This Breakfast Board
Easy To Make! The Breakfast charcuterie board is incredibly easy to make and requires no skill in the kitchen. Anyone can do it!
Can be very affordable! You don't have to spend $50 to make a pretty charcuterie board! You can buy your fruit from budget stores such as Aldi or buy in bulk from a store like Costco and still have a lovely presentation.
Make in advance. You can easily make most of this brunch board in advance. Figuring out the fruit is the easy part! You can make your pancakes in advance too and simply reheat them right before serving if you are in a rush.
Wait, Don't Charcuterie Boards Contain Meat?
Technically, yes, the word refers to smoked and dry-cured meats.
This breakfast charcuterie board can be either vegetarian or vegan, depending on which candy items you use.
As I mentioned above, I often use vegan bacon and vegan sausage links or patties. These can be found at most grocery stores, and for sure at a health food store.
These days, charcuterie boards contain anything and everything! From Halloween candy to Valentine's Day Boards with no meat in sight.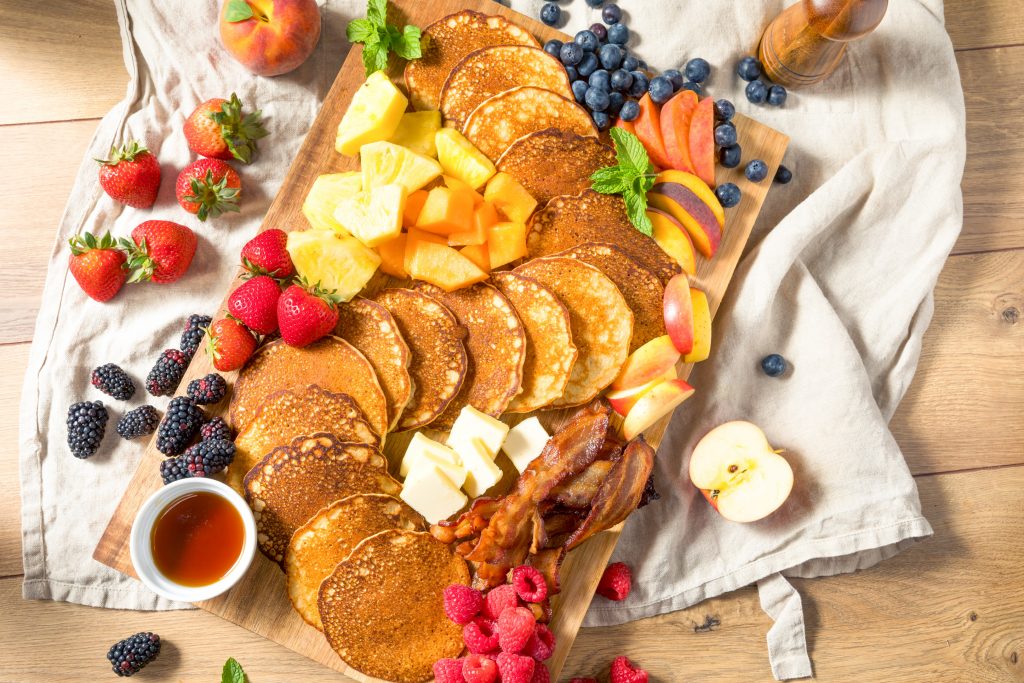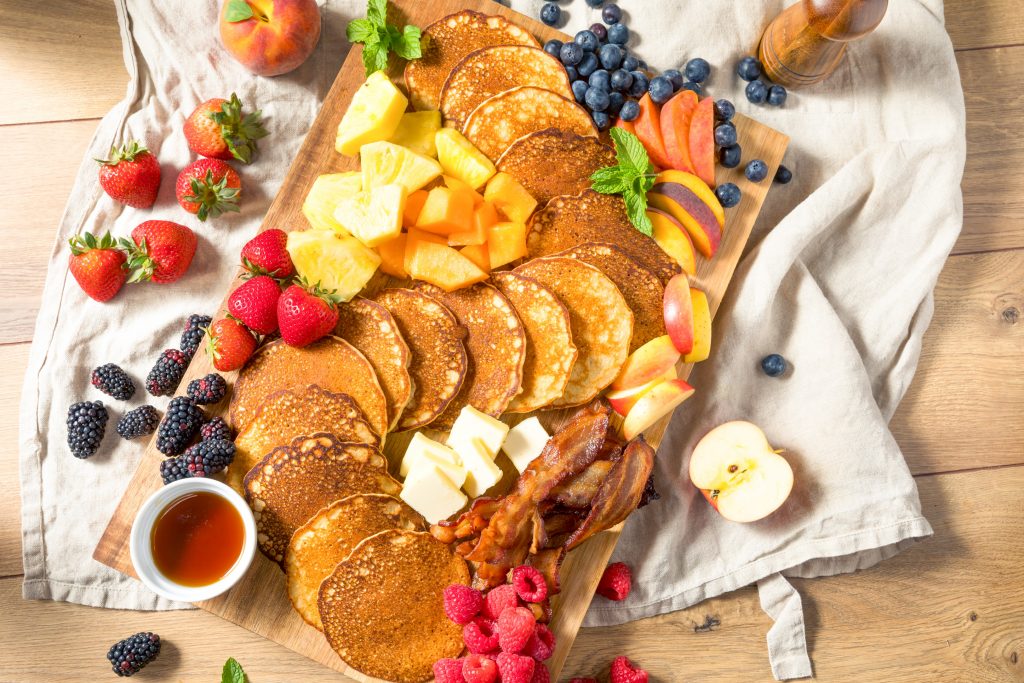 How Do You Say "Charcuterie"
This one always makes me laugh! It looks like a really hard word to say, but once you learn how, it is actually pretty easy.
I guess I should be considered lucky to have known how to pronounce this word years ago. If you don't know, don't worry!
Charcuterie is a French word and it refers to dry-cured meats or smoked meats.
These days, it basically refers to a board of food that is used for snacking or as an appetizer. There doesn't have to be beat.
You pronounce the word like this….shahr…cute…uh…ree. The "shahr" sounds like char like the char on a marshmallow or a grill.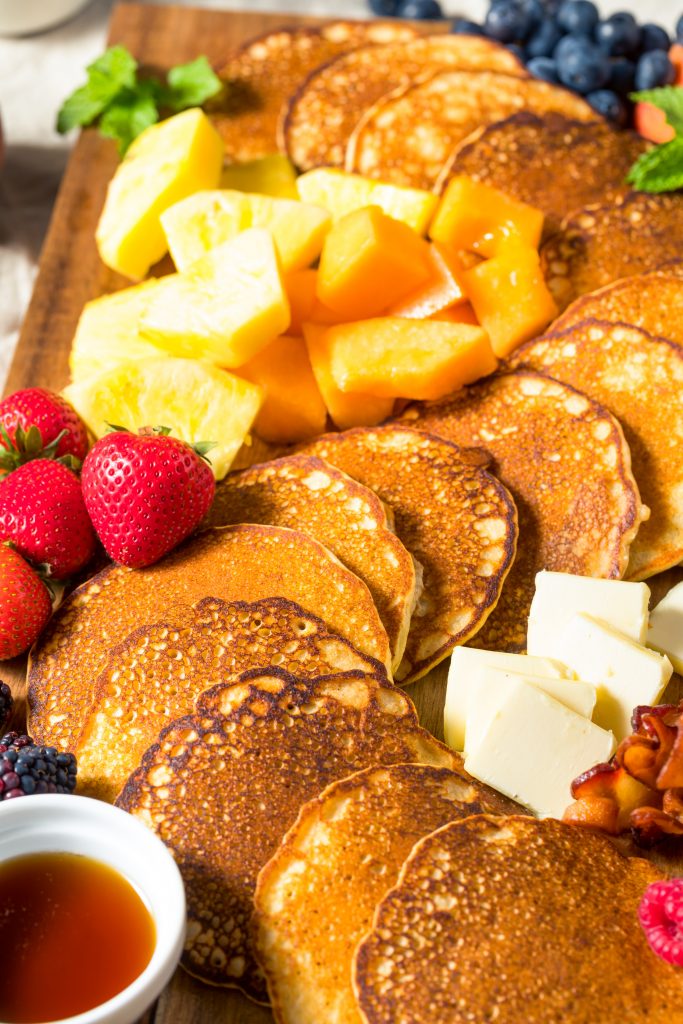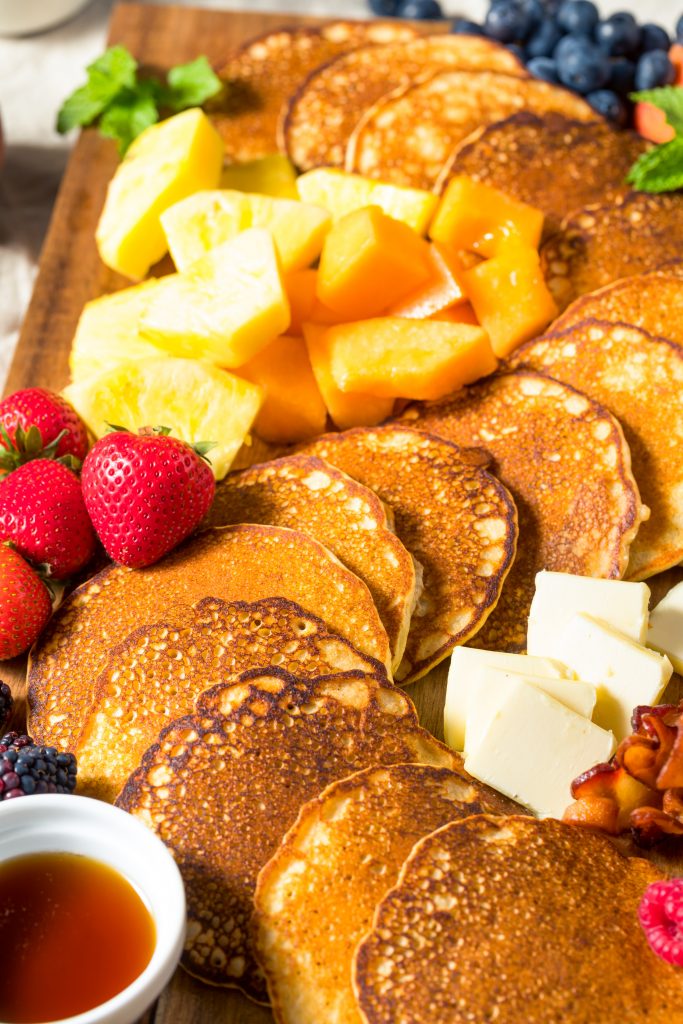 What To Add To Your Breakfast Charcuterie Board
Pancakes. Of course this is probably the most obvious choice of what to add to your breakfast or brunch board! I suggest making my easy Vegan Banana Pancakes or my Vegan Blueberry Pancakes. They are great to make in advance and keep well for a few days in the fridge. They are really tasty and everyone loves them! Pancakes make a great "barrier" for a breakfast charcuterie board so I highly recommend them!
Waffles. If you are a waffle fan, you can add them too! I use my Vegan Waffles Recipe and they are super fluffy and tasty. Waffles work well, but not as good as pancakes for a central barrier.
Fresh Fruit. Of course, you need some fresh fruit! I love berries as they hold up well, you can add melons, and stone fruits. Think blueberries, strawberries, raspberries, apples, pineapple, cantaloupe, peaches and more!
Dips and spreads. The best part of a breakfast charcuterie board is the spreads and dips. For a breakfast board, I suggest things such as maple syrup, Nutella, peanut butter, Vegan Butter and more. If you really want it to be sweet, you can go the whipped cream route or add in cream cheese.
Vegan meats. Since this is a vegetarian/vegan blog, we are going to talk about faux meat for a second. I love adding vegan meat to my breakfast board. Some favorites are vegan bacon, vegan sausage patties, and vegan sausage links. You can also add vegan cold cuts if you prefer that sort of brunch board instead.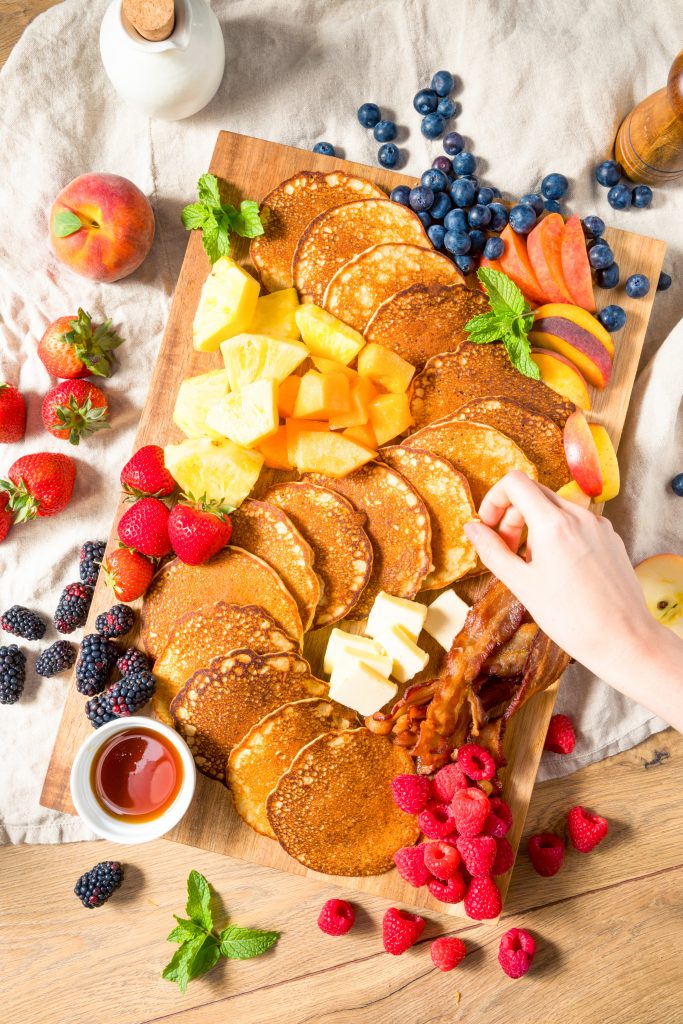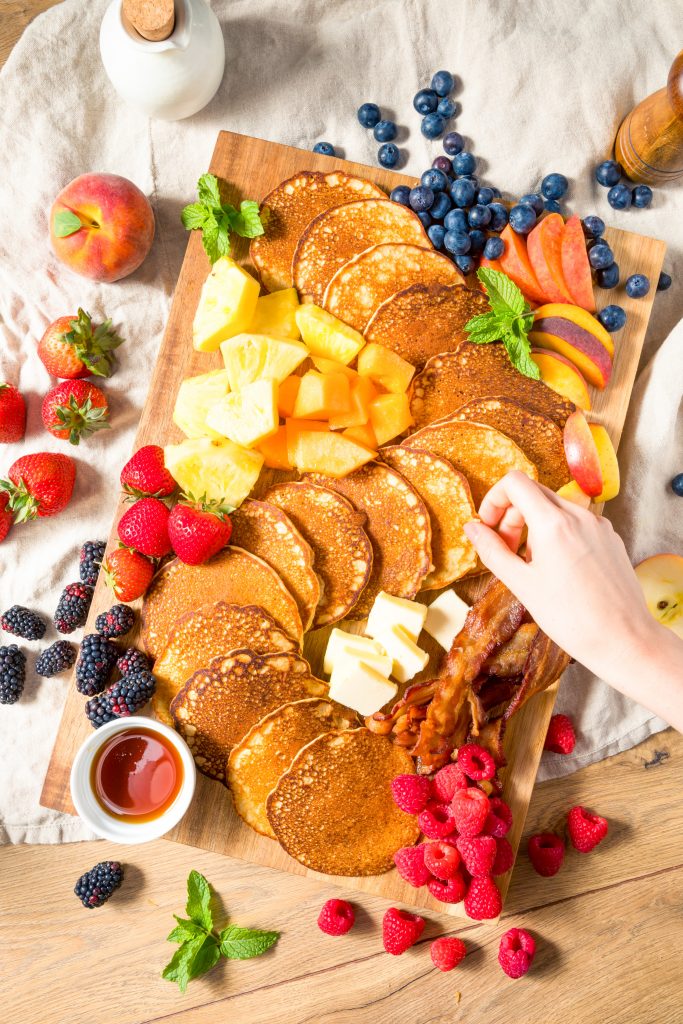 How to Arrange Your Breakfast Charcuterie Board
I am going to start off by saying that there is no right or wrong way to arrange your breakfast board!
That being said, to make things easier, I am going to provide you with a few quick tips for arranging a brunch board.
First, you want to start by adding any bowls of dips or fruits. For example, if you are putting your berries in a bowl, start with that. If you have a bowl of maple syrup or peanut butter, start with that as well.
These should be placed first so the rest of the board can be arranged around them.
Next, arrange your larger items which would be pancakes or waffles. I like to make a line of the pancakes right in the center of the board from one end to the other end.
This creates a nice barrier that you can now arrange more foods around.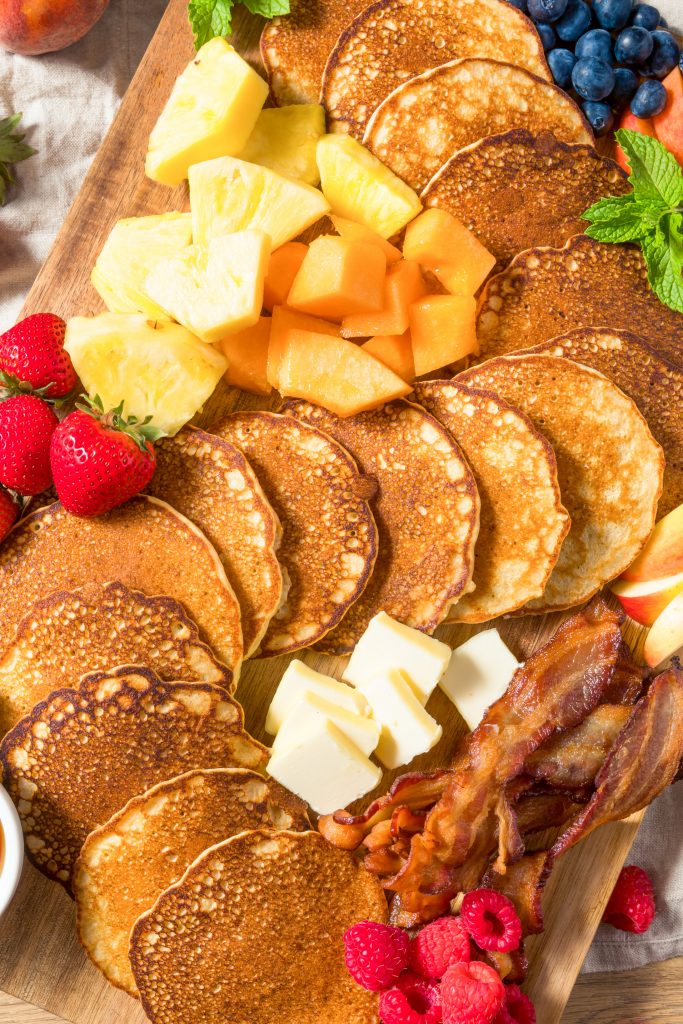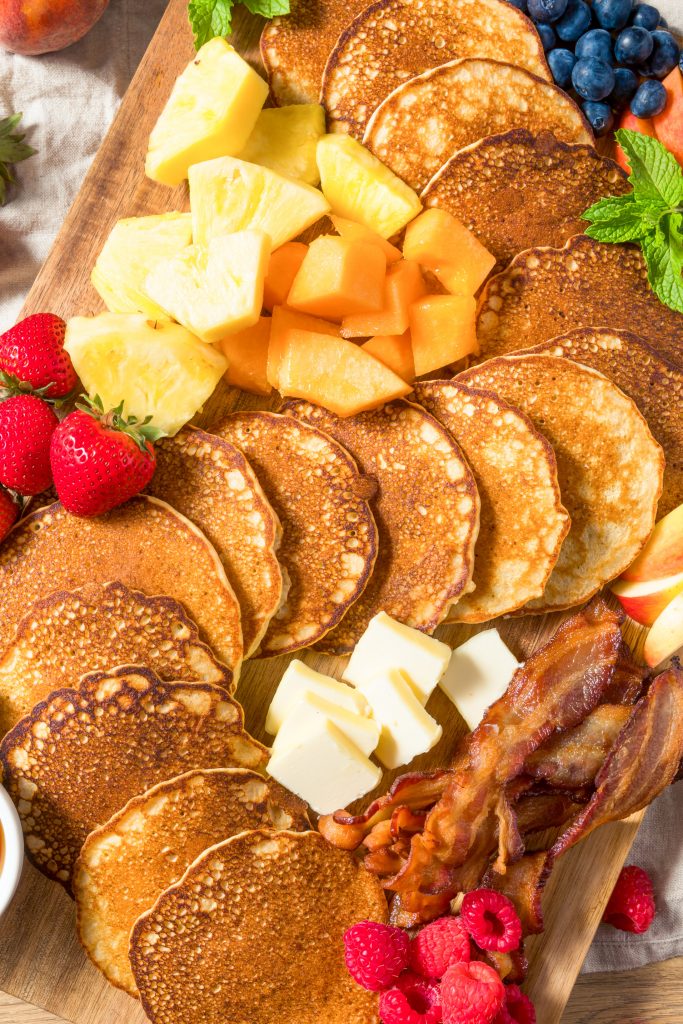 Once you have done this, fill in the space with larger fruits and the vegan meats.
For any space left, fill it in with smaller items such as berries.
The key to making a pretty breakfast charcuterie board is to fill in all space on the board. Make sure to do this if you have any gaps you don't want to be seen.
Honestly, there is no wrong way to make your breakfast board. It is up to you and you can arrange it however you see fit. Play around with it and see what you come up with and have fun with it, don't stress!
Did You Try This Recipe?
If so, I would love to keep in touch! I enjoy seeing photos and comments about the recipes that you make! You can follow me on Instagram and I will repost your goodies in my stories and comment on it too! Just tag me at @wowitsveggie and hashtag #wowitsveggie. I can't wait to see what you make!
Easy Breakfast Charcuterie Board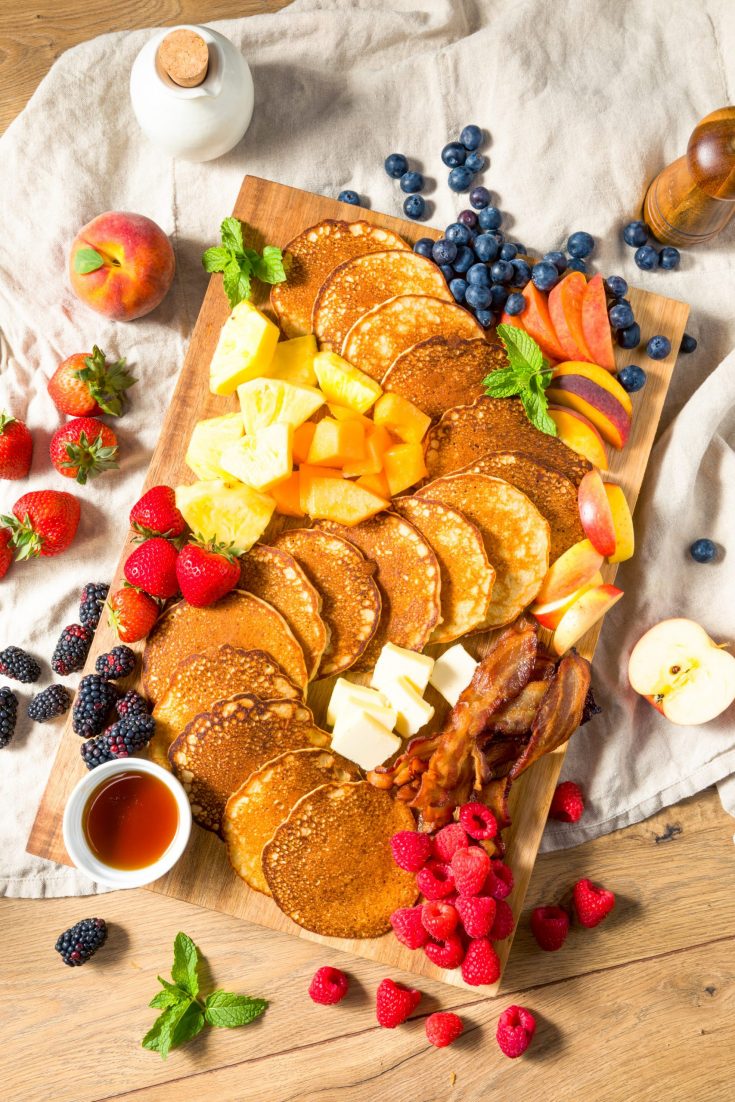 This breakfast charcuterie board is so cute and easy to make. It requires no cooking skills to make and has a beautiful presentation. I make this a vegan breakfast charcuterie board by using vegan butter, vegan bacon, vegan breakfast links and more. You can use whatever ingredients you want to create a showstopping finished product.
Ingredients
15-20 small pancakes (see note for my vegan pancakes recipe)
1 cup blueberries
1 cup raspberries
10-15 strawberries
1 cup pineapple
1 apple, cut into slices
1 peach, cut into slices
Vegan bacon or vegan sausage links, optional and cooked according to package
Vegan waffles (see notes for recipe)
Maple syrup, vegan butter, Nutella, Peanut Butter and more for dips and spreads!
Instructions
Cook up your vegan pancakes or waffles either the day you are making your breakfast charcuterie board or in advance. You can follow my recipe for Vegan Banana Pancakes, Vegan Blueberry Pancakes, or Vegan Waffles, or use your own recipe if you prefer!
Assemble all ingredients on a large board such as a wooden cutting board. Start with the bowls of fruit or syrups and then add larger items such as the pancakes or waffles around them. Fill in the gaps with medium-sized items such as the vegan meats and larger fruits. Finally, fill in any remaining gaps with smaller fruits such as berries to ensure the whole board is covered! There is no right and wrong way to do it!
Serve and enjoy!