This vegan coffee cake is easily the best you will ever taste. I know that is a bold proclamation, but bear with me for a second!
It is moist and delicious and has a delectable cinnamon streusel topping and there is no dairy or animal products involved in making it.
This vegan coffee cake recipe is perfect to eat on its own, to eat as a dessert or snack, or of course to eat with coffee of tea.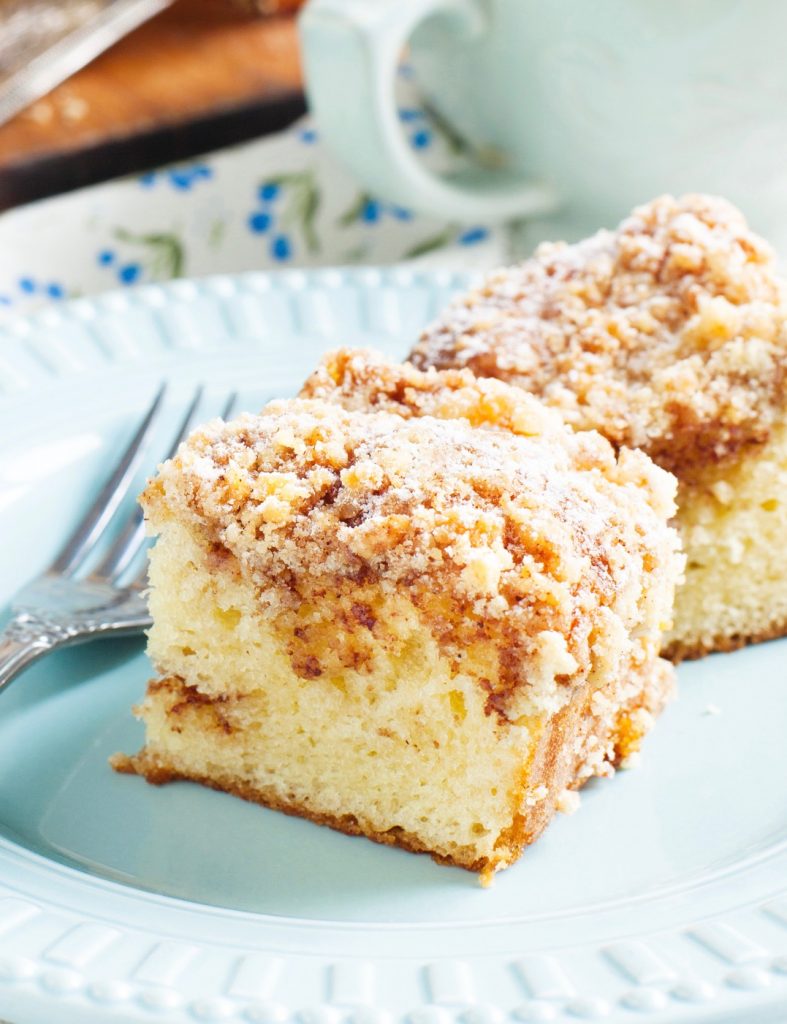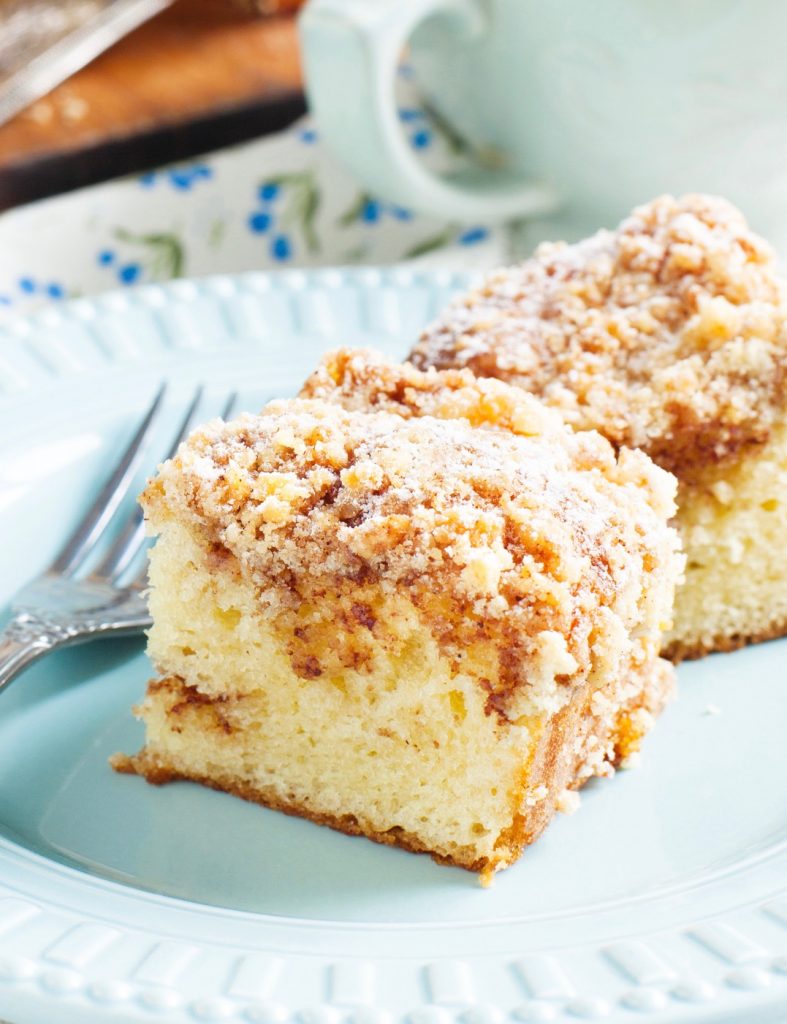 I think it works particularly well with a cup of my Greek Whipped Coffee and I love dunking it into the coffee.
Any coffee cake you get at the store or a pastry shop won't be vegan, so if you loved coffee cake before becoming vegan, you will be totally obsessed with this recipe.
Coffee cake can also be known as crumb cake, so if you see the two names, don't get alarmed, they are very similar.
The best part about making your own coffee cake is that it is fresh and warm and takes less than 30 minutes to make. It also stores well so you have it for the entire week.
I do hope you enjoy making this delicious vegan breakfast cake as much as I enjoy eating it.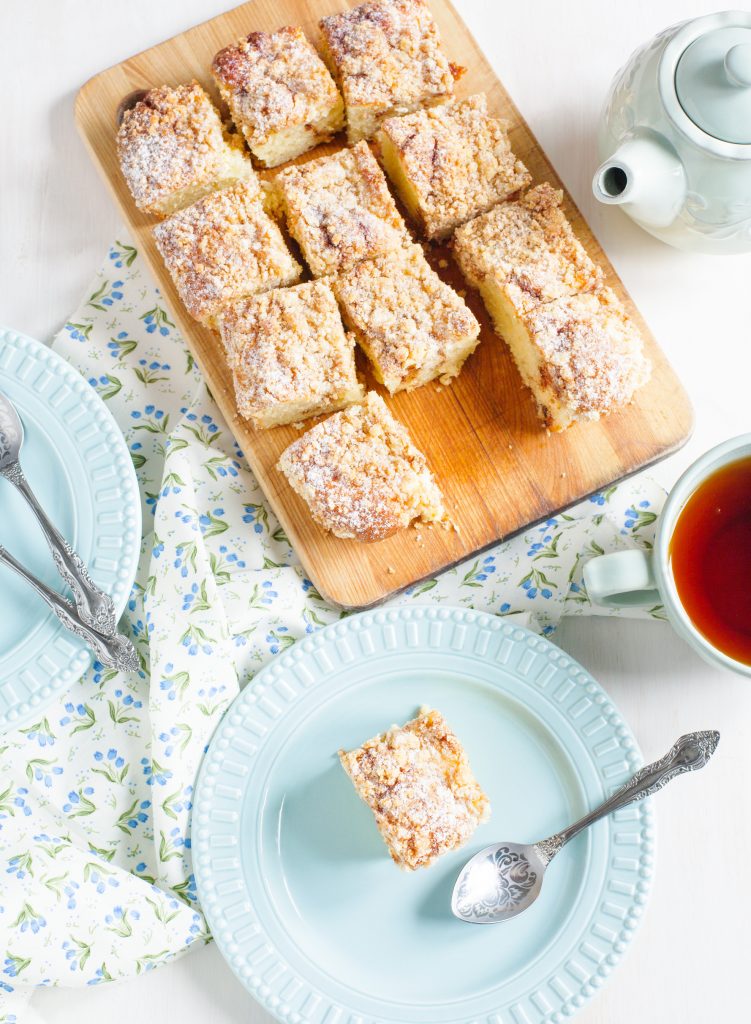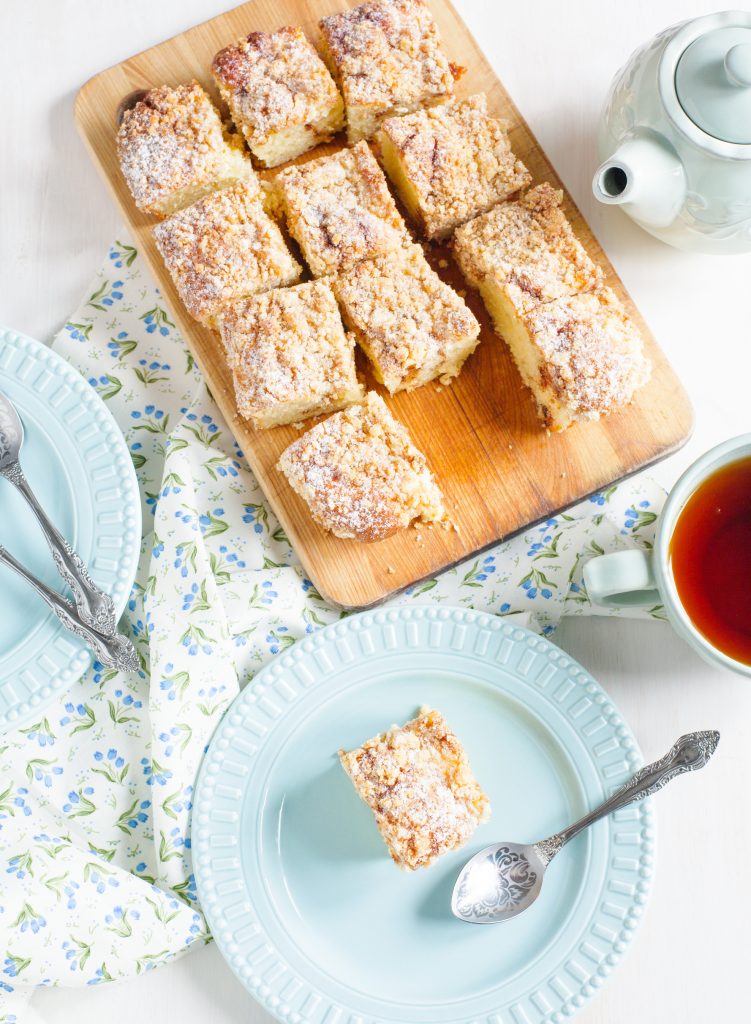 Why You Will Love Vegan Coffee Cake
Tastes better than what you remember. If you have visions of coffee cake you used to eat before you were vegan, I promise you that this version is better. It is moist and delicious and perfect for any time of the day or night.
Little active time is required. This means that you can quickly whip it up and just put it in the oven to bake. It takes less than 10 minutes to get things together, and then all it has to do is cook and you are ready to serve. I love that it makes for a quick and easy breakfast or dessert with little time investment.
Stores really well. The vegan coffee cake keeps really well! If you want to meal prep, you can make it in advance and it can keep for over a week in the fridge. This is perfect for when you need a quick pick-me-up and don't want to do any work.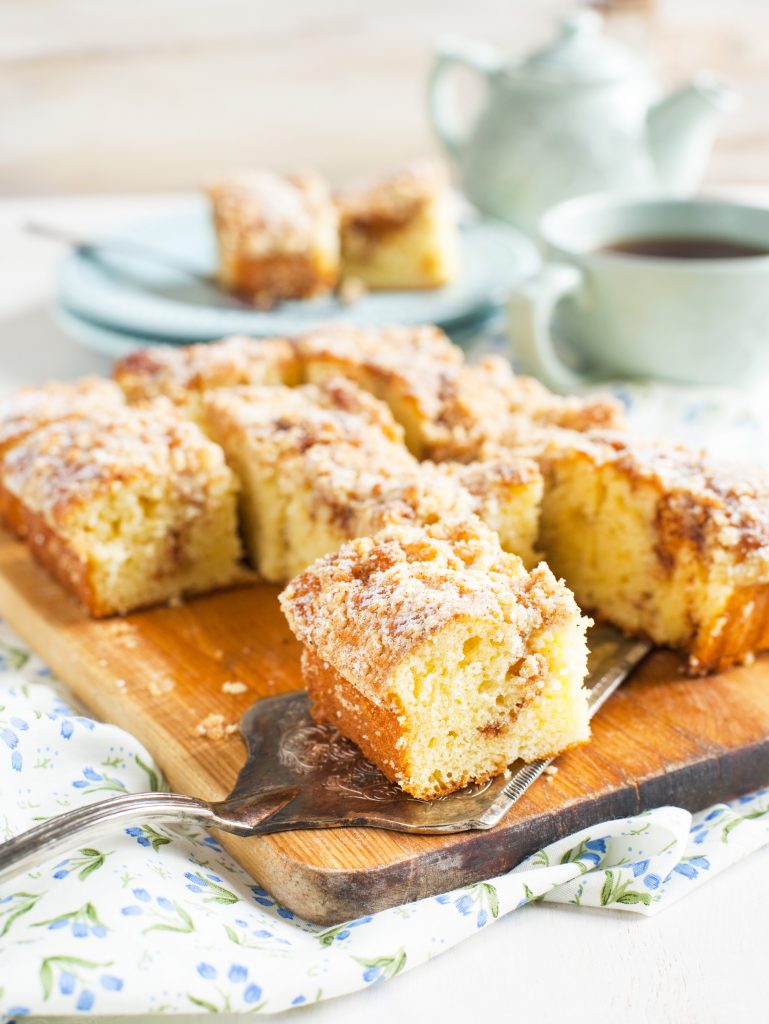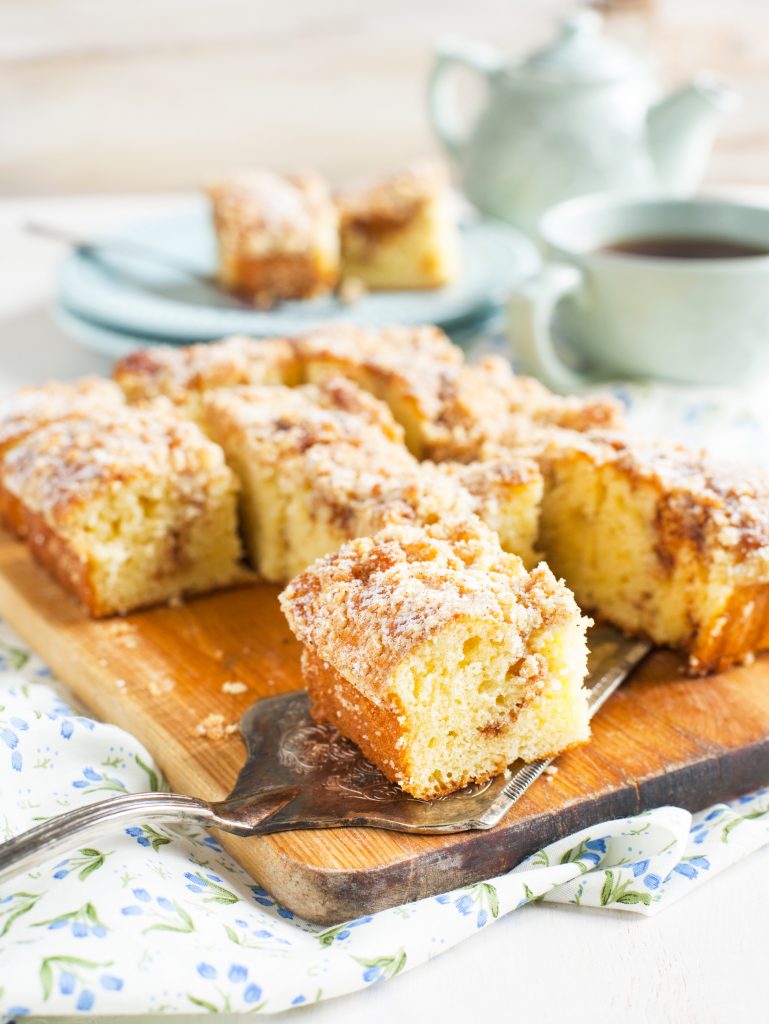 How To Make Vegan Coffee Cake
As I said above, making the vegan coffee cake is incredibly easy.
You can make this coffee cake in either a round 8-inch pan or an 8×8 or 9×9 brownie pan.
Either or works and it just depends on what shape you want. If you want wedges vs squares.
At the end of the day, the taste of the coffee cake remains the same, no matter the shape.
First, preheat your oven to 375F and grease your cake pan.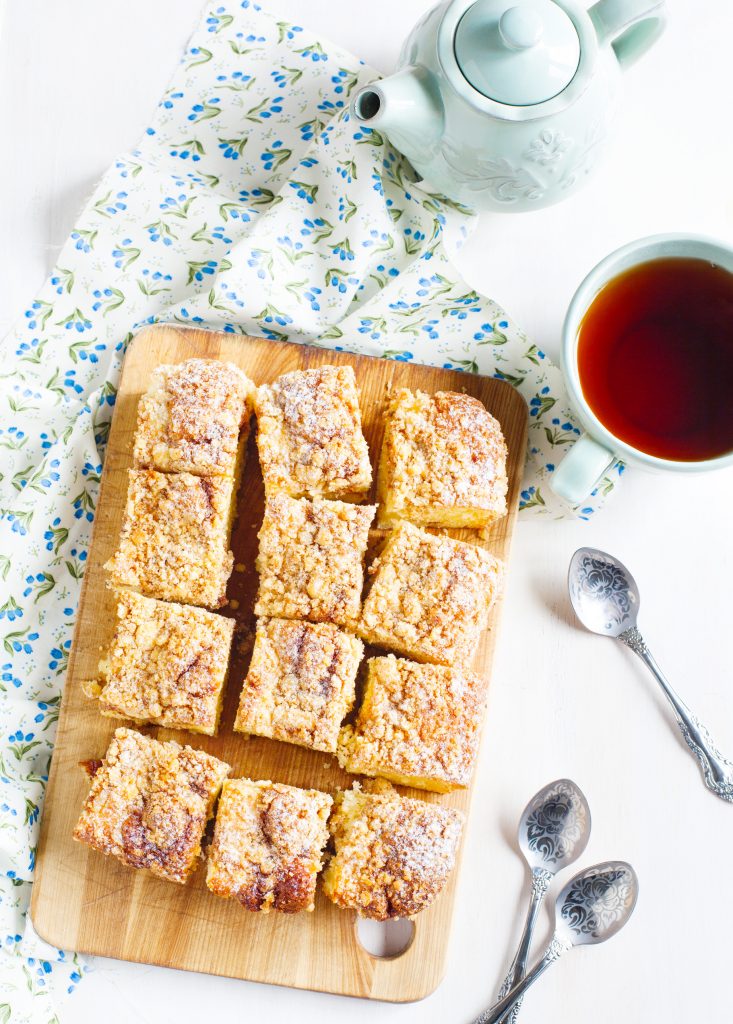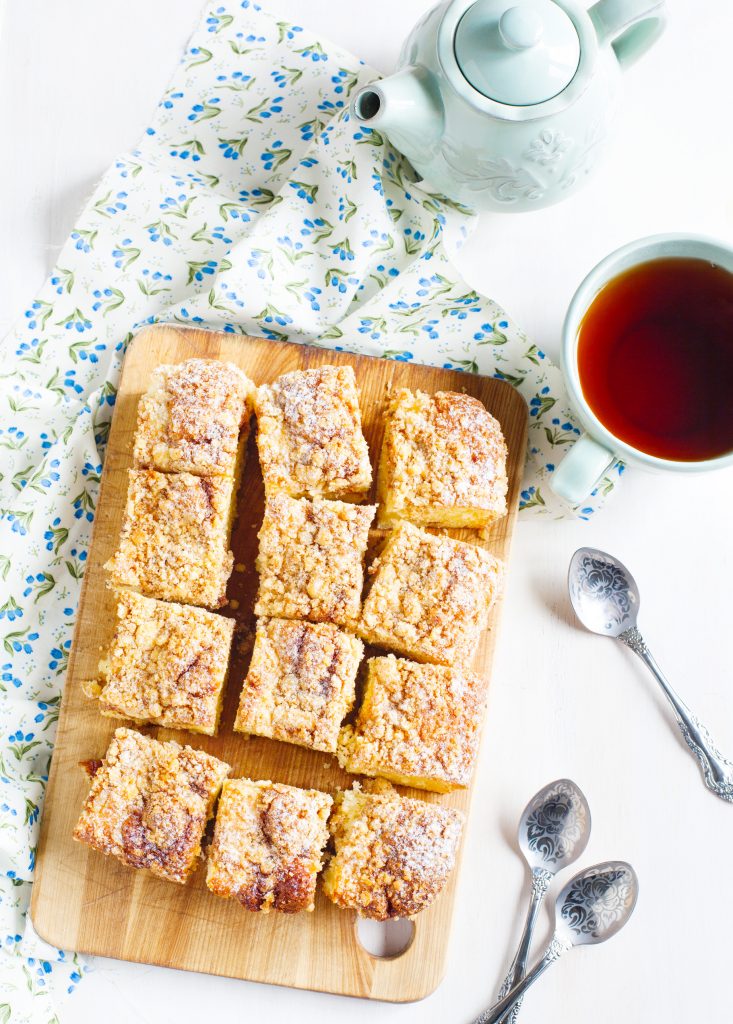 I line my cake pan with a silpat or parchment paper instead of greasing it, but the choice is up to you.
In order to make this recipe come out good, you are going to need to make a flax egg.
Essentially, combine 2 tablespoons of ground flaxseed with 1 1/2 to 2 tablespoons of water for a few minutes until it is combined. Let it sit to thicken while you take out the remaining ingredients.
Next, in a large mixing bowl, combine your flour, sugar, salt, baking powder, shortening, non-dairy milk, and flaxseed and water mixture.
Once you mix it all together, pour it into the greased or parchment lined cake pan.
Now, we are going to make the cinnamon streusel topping.
In a medium mixing bowl, you want to add your brown sugar, 1/4 cup of flour, cinnamon, and Vegan Butter.
When you mix it, it will become gravely or clumpy. This is exactly what you want to happen!
Once the mixture clumps together, you want to sprinkle it evenly on top of the batter for the vegan coffee cake.
Bake the coffee cake for 20-25 minutes or until a knife or toothpick comes out clean when you prick the cake.
All ovens are different, so this is the easiest way to tell.
Let cool, and serve warm or cold!
If you love this recipe, you may love my vegan coffee cake in a mug recipe too!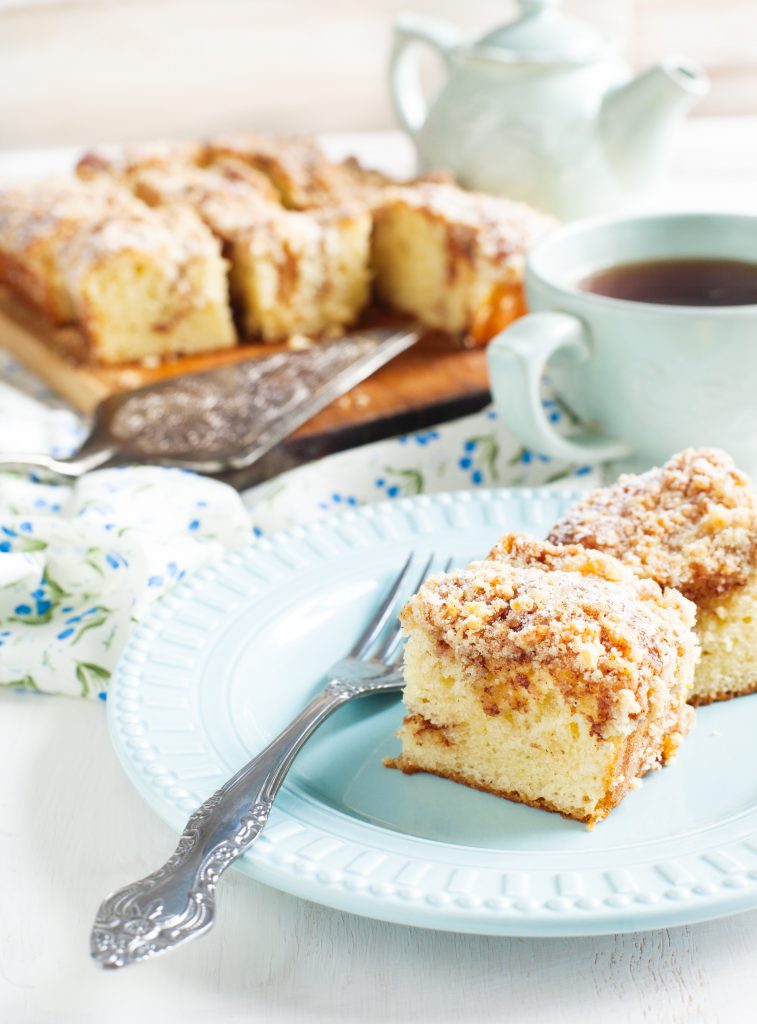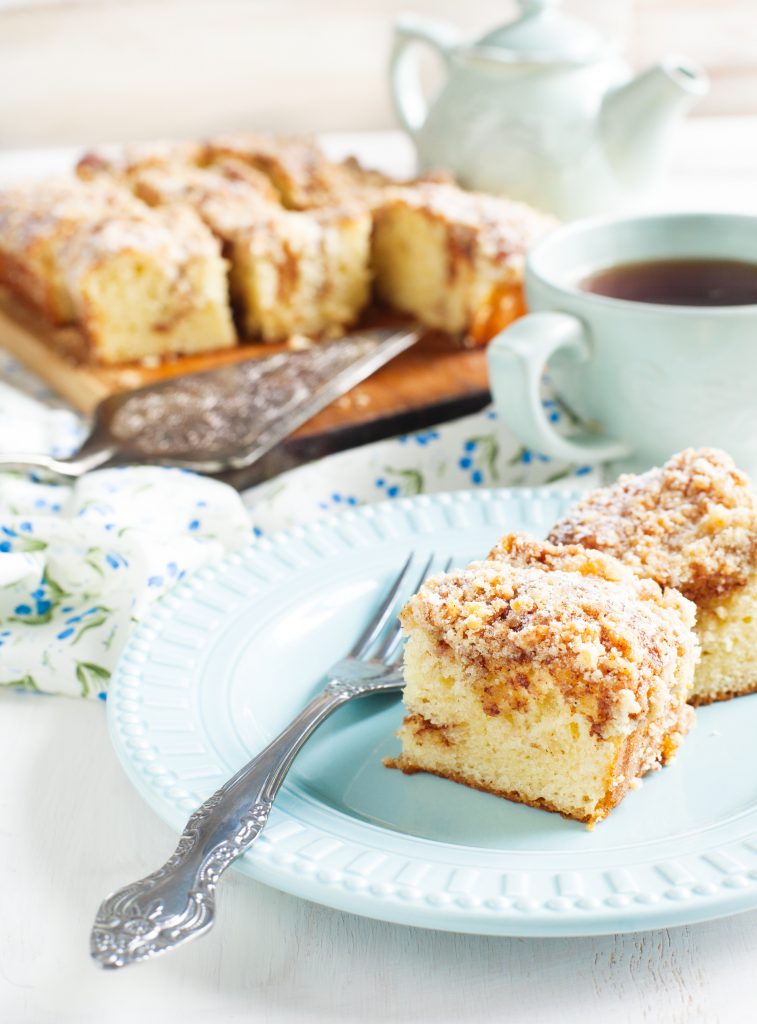 Making Gluten-Free Coffee Cake
You can easily make this recipe gluten-free by using your favorite gluten-free baking flour.
The recipe comes out the same and this way, all can enjoy!
How To Store The Vegan Coffee Cake
You can serve this vegan coffee cake recipe either cold or warm. Personally, I usually eat mine at room temperature as that is how I have always eaten it.
You can store the coffee cake in an air-tight container on the counter for 1-2 days before moving it to the fridge.
It will keep in the fridge in an air-tight container for 7-10 days which makes it perfect for making in advance and eating all week!
If you want to reheat it, you can always pop it in a Toaster Oven or use the microwave.
I think it is amazing either cold or warm so you can't go wrong.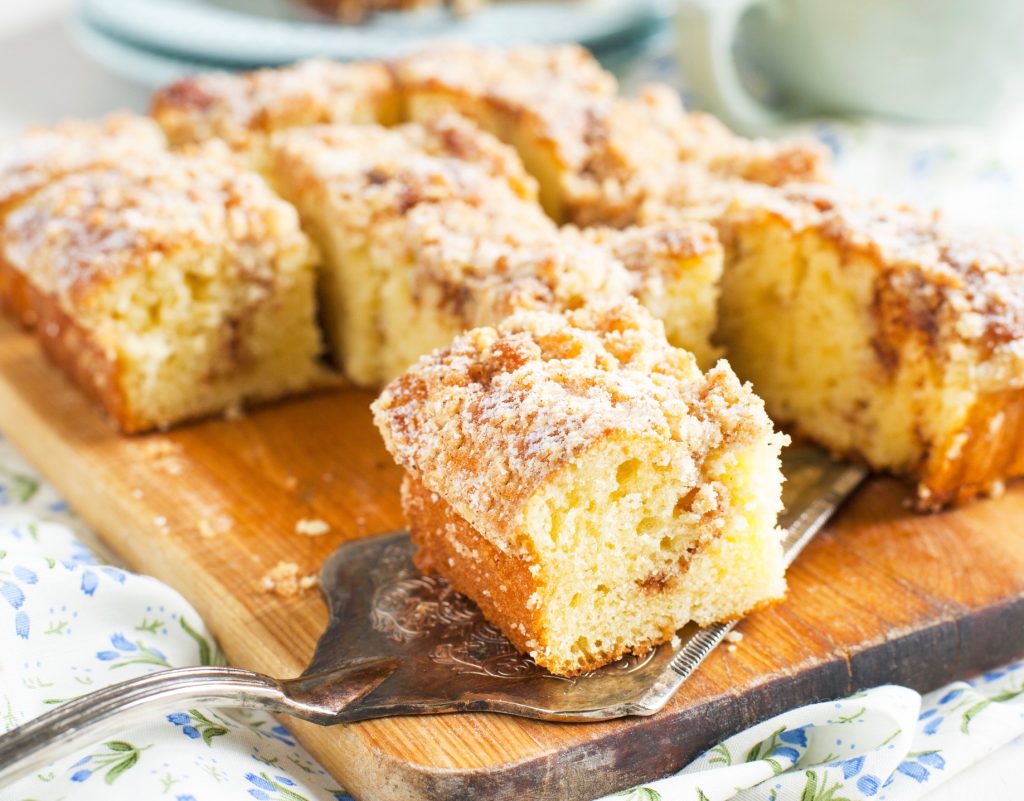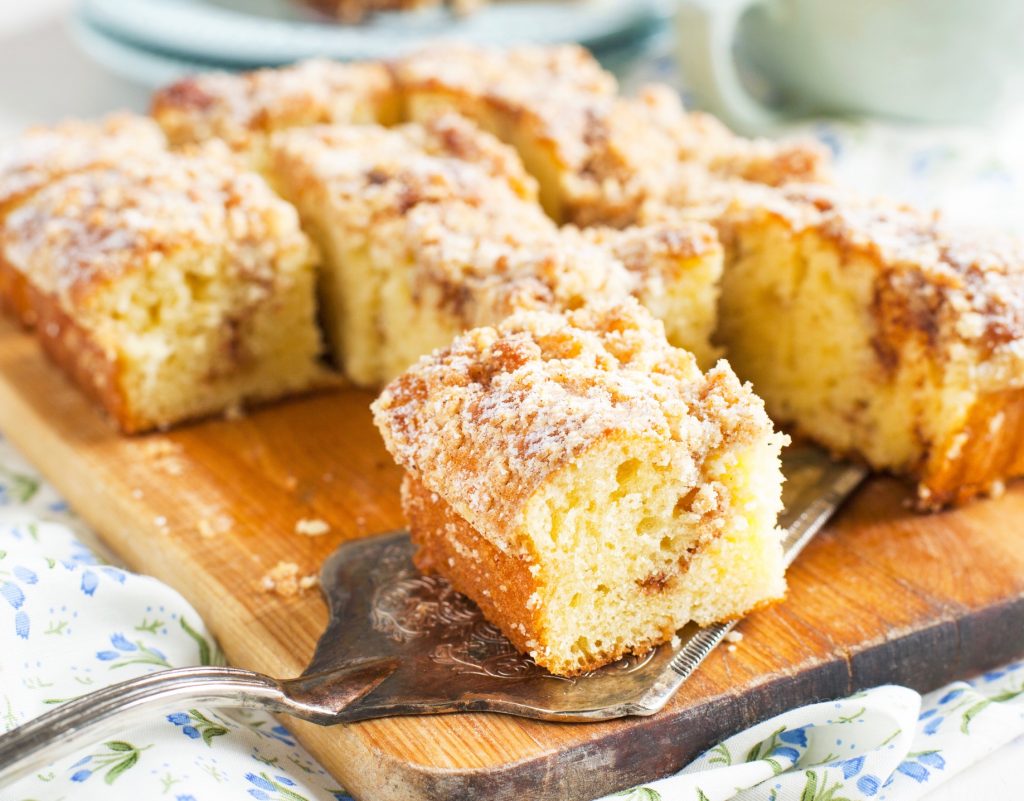 Did You Try This Recipe?
If so, I would love to keep in touch! I enjoy seeing photos and comments about the recipes that you make! You can follow me on Instagram and I will repost your goodies in my stories and comment on it too! Just tag me at @wowitsveggie and hashtag #wowitsveggie. I can't wait to see what you make!
Yield: 8 inch round or square cake
Easy Vegan Coffee Cake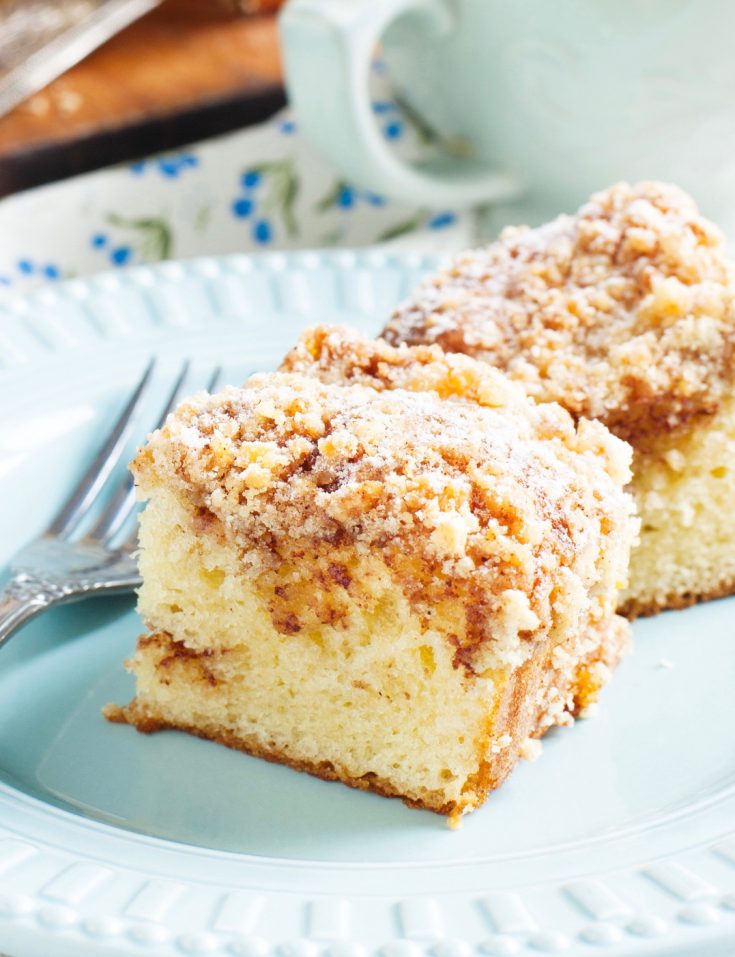 This vegan coffee cake is the perfect blend between moist and delicious and the cinnamon streusel topping really brings the whole thing together. It requires little active time and stores well in the fridge so it is really worth making it to enjoy for days to come!
Ingredients
1 1/2 cup flour (can be gluten-free)
1 1/2 cup sugar
1 teaspoon salt
2 1/2 teaspoons baking powder
1/4 cup vegetable shortening, softened
3/4 cup vanilla non-dairy milk
2 tablespoons ground flaxseed
1 1/2 tablespoons water
.
For the topping:
.
1/3 cup brown sugar
1/4 cup flour (can be gluten-free)
1 teaspoon cinnamon
3 tablespoons vegan butter
Instructions
Preheat oven to 375F and grease an 8x8 cake pan either square or round. I use parchment paper.
Make your flax egg by combining 2 tablespoons ground flaxseed and 1 1/2-2 tablespoons water and set aside to thicken.
In a large bowl, combine 1 1/2 cups of flour, white sugar, salt, baking powder, vegetable shortening, and non-dairy milk. Pour your flaxseed/water mixture over the top and mix until combined. Pour the coffee cake batter into your cake pan.
To make the cinnamon streusel topping, get out a medium bowl and combine brown sugar, 1/4 cup flour, cinnamon, and vegan butter. Stir until the texture is gravely and crumbles, this is exactly what you want it to be like.
Pour the streusel topping over the batter until it is evenly spread.
Bake the vegan coffee cake for 20-25 minutes or until a toothpick or knife comes out clean. Every oven is different so do this test starting at 20 minutes. Ensure the top is a light golden-brown.
Serve hot or cold and enjoy!