If you have never tried jalapeno jelly, you are in for a real treat! The blend of sweet and a little bit of spicy makes for a really unique jelly with an addicting flavor.
Sure, you may have tried Homemade Jalapeno Poppers, but chances are high you haven't had homemade jalapeno jelly.
I have been making jams and jellies at home for years. They are quite easy, require very few ingredients, and can keep for a long time.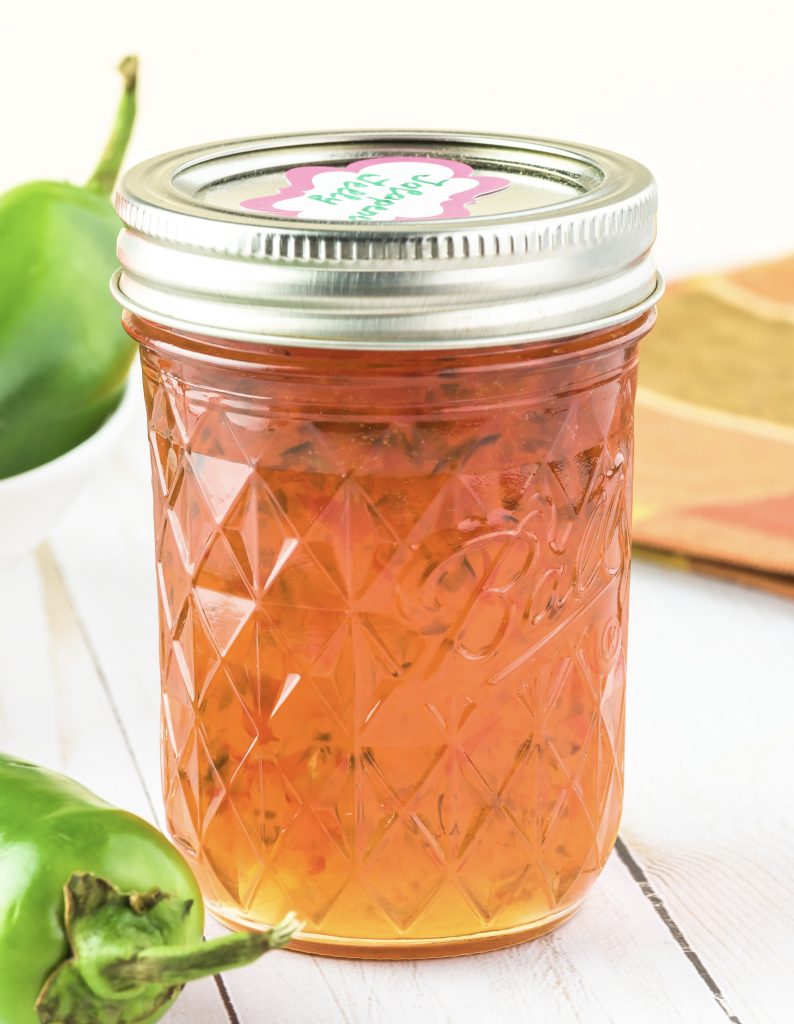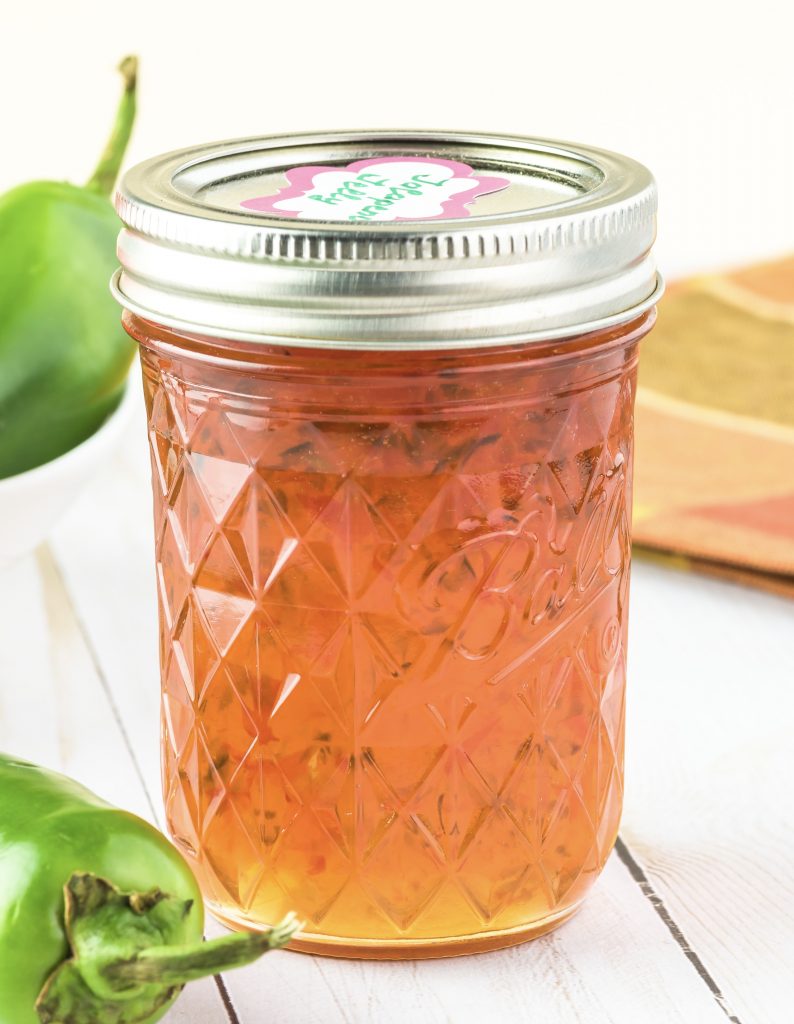 If you are looking for another spread, try my 3-Ingredient Kiwi Jam while you are at it.
I love this jalapeno pepper jelly because it is simple to make, uses easy ingredients, and makes a great gift.
Simply bottle it up, tie with a nice fabric or ribbon, and give it as a gift to all you know for any occasion.
As with anything, there is a trick to making jalapeno jelly so make sure to read through the tips before you begin for a really tasty and yummy treat.
You can spread it on so many things for a blend of sweet and savory and it makes the perfect snack.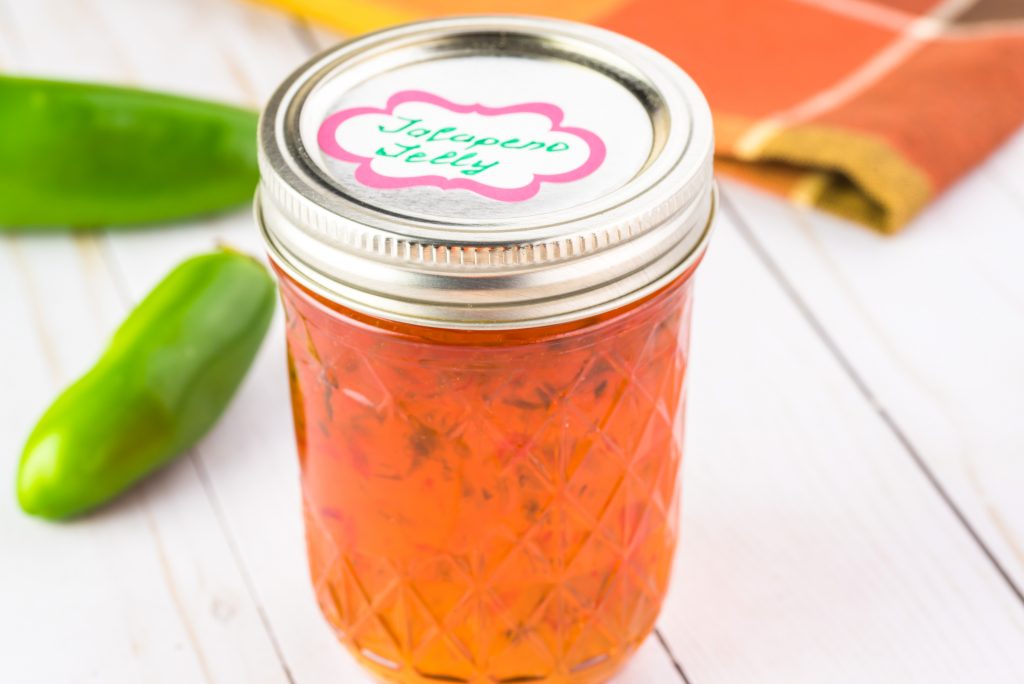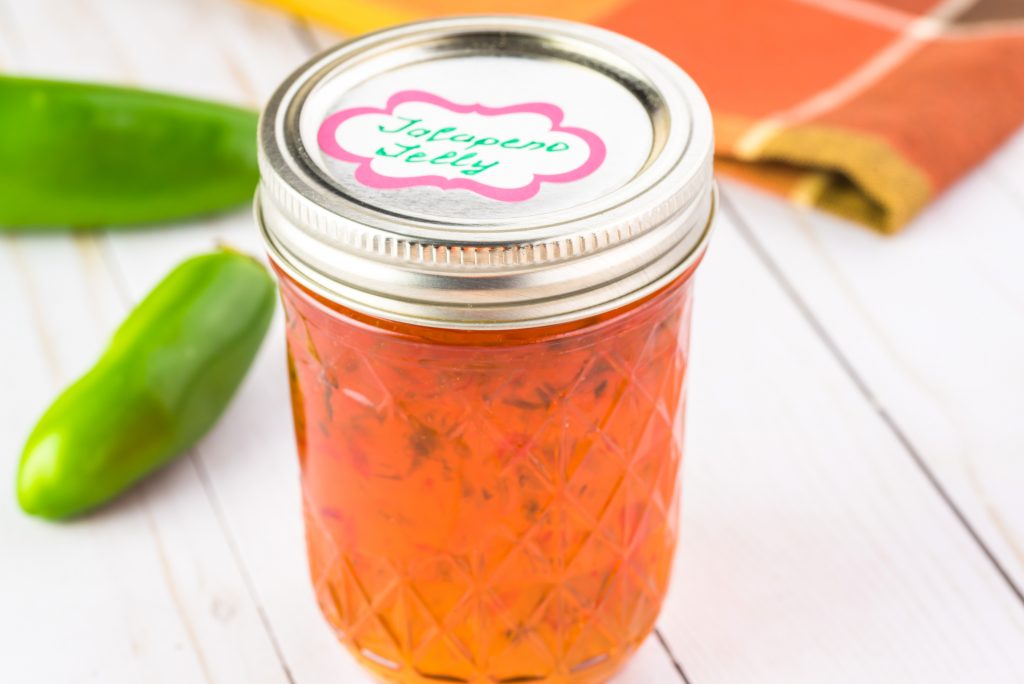 Red Vs. Green Jalapeno Peppers
Like most all peppers, jalapeno peppers start off green and then turn red as they mature on the vine.
For this recipe, I like to use both red/orange and green jalapeno peppers because it gives a nice flavor.
The jalapeno jelly will turn out a bit orange or on the redder side, but that is okay, most do.
If you see jalapeno jelly that is a deep green, this means that someone somewhere added food dye to it. Of course, you can do this, but I just want to be straight with you.
Green peppers have a stronger and spicier flavor, and red peppers have a more mild flavor, but still with a little bit of a kick.
Jalapeno peppers can be any color from green, red, yellow orange and more. Just know, the green are the hottest in flavor!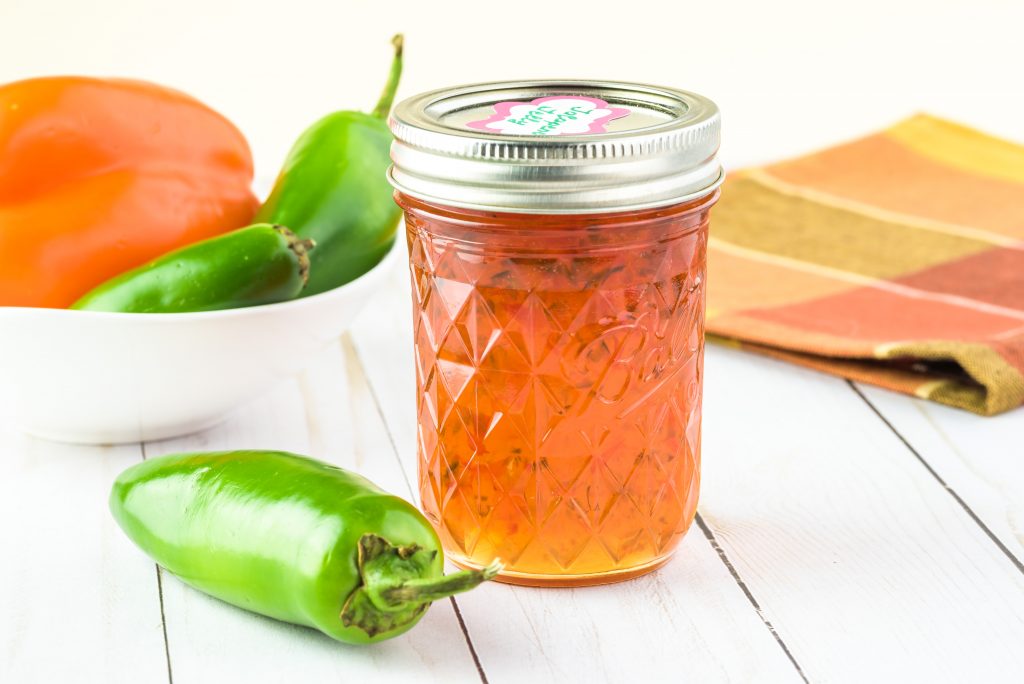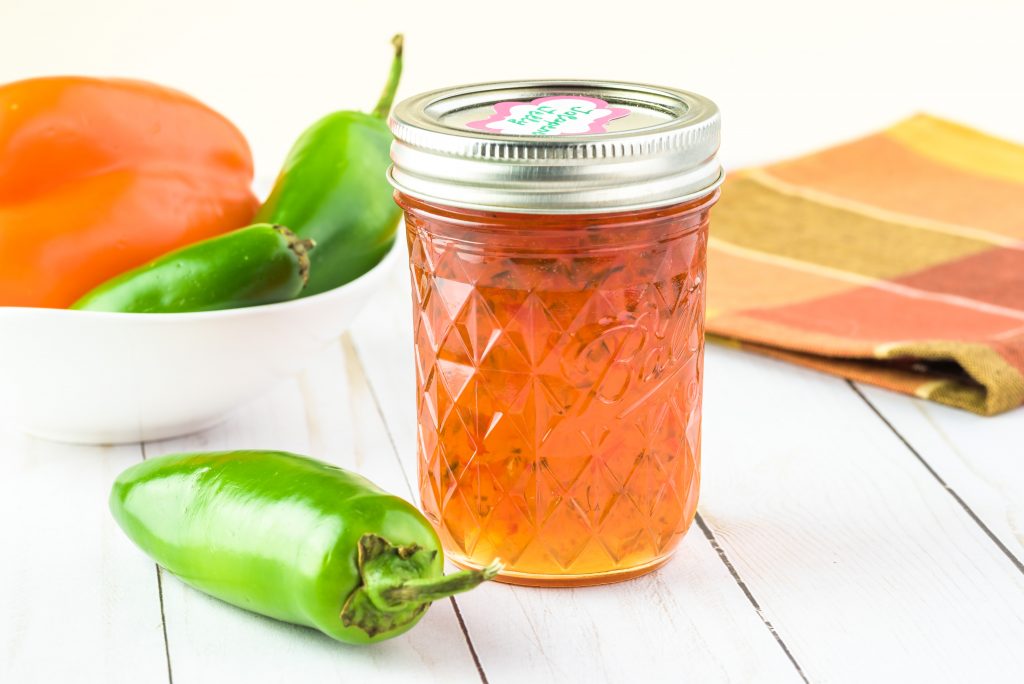 Can I Use Less Sugar For The Jalapeno Pepper Jelly?
I am going to go ahead and tell you that is a no.
This is a jelly.
If you look at any jelly from the store, there is a lot of sugar. That is how jelly is made.
If you don't add the sugar to balance out the heat and the flavor of the jalapeno peppers, the recipe won't come out right and probably wouldn't even be considered a jelly.
You can give it a try and report back to me in the comments, but I do not recommend making this jalapeno jelly recipe with a sugar substitute or by lessening or taking out the sugar all together.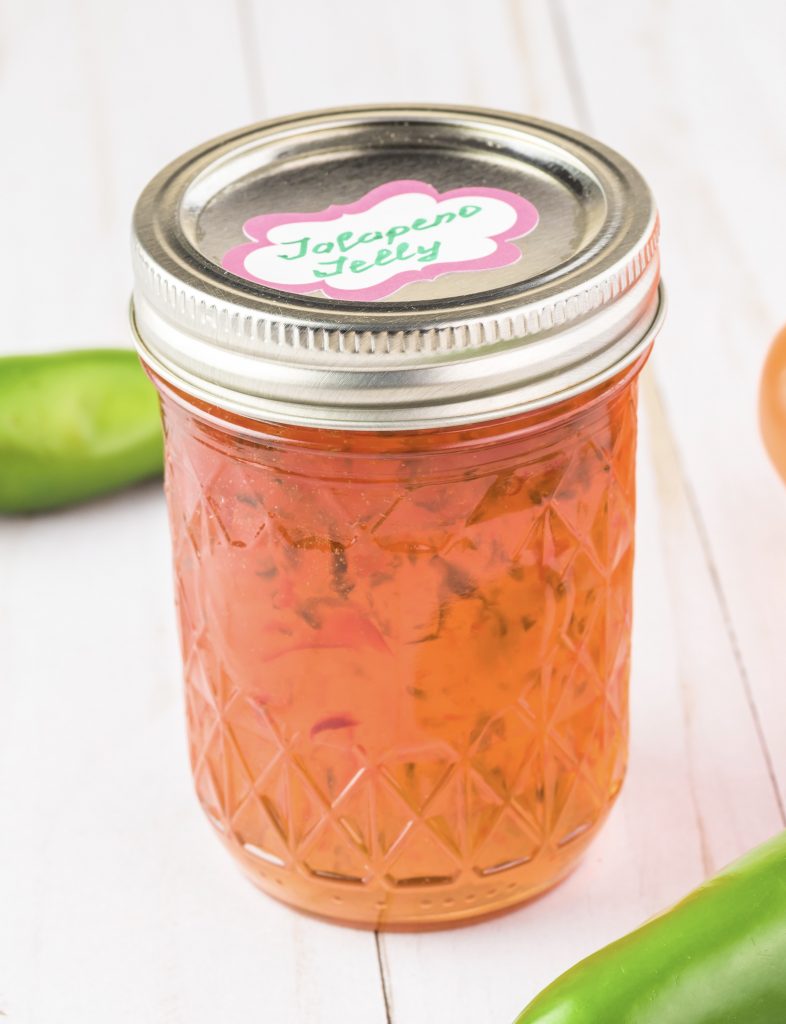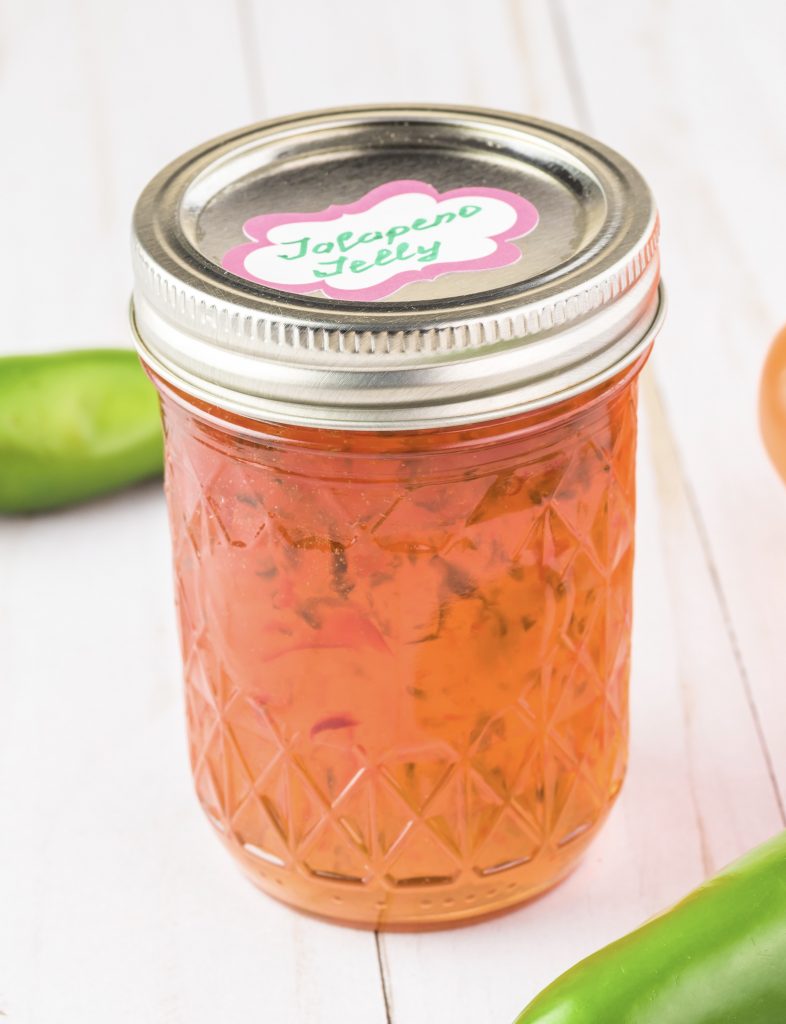 How To Make Jalapeno Jelly
First, you want to prepare your peppers.
I highly recommend using gloves because the peppers will stain your hands with their juices and this BURNS when you touch your eyes.
Cut the stems off of the jalapenos and then cut them in half lengthwise. Then, remove the membrane and all of the seeds.
If you want super spicy jalapeno jelly, you can leave the seeds in half of the peppers, but there will be a kick!
Once you have destemmed and taken out the membrane and most of the seeds, you want to combine the peppers with the vinegar in a high speed blender.
I use a Vitamix, but any high speed blender should work as peppers aren't too hard to puree.
Once you have done this, place a pot on the stove and turn the stove on high. Pour the jalapeno jelly mixture in.
Add in the liquid pectin and turn the jelly up to a rolling boil on high heat.
At this point, add in your sugar and food coloring drops if you prefer to use any to color the jelly vibrant green.
Let boil on a rolling boil for 3-5 minutes and then remove from heat to cool.
Spoon the jalapeno jelly into jars and let it set in the fridge for 4-5 hours.
Be careful not to put steaming hot jars directly into the fridge or else they will crack. Let them cool a bit on the counter at room temperature and then transfer to the fridge when they are warm, but not hot.
Enjoy! You just made jalapeno pepper jelly and it is so good!
You can store the jelly in the freezer in a freezer-safe jar for up to 6 months!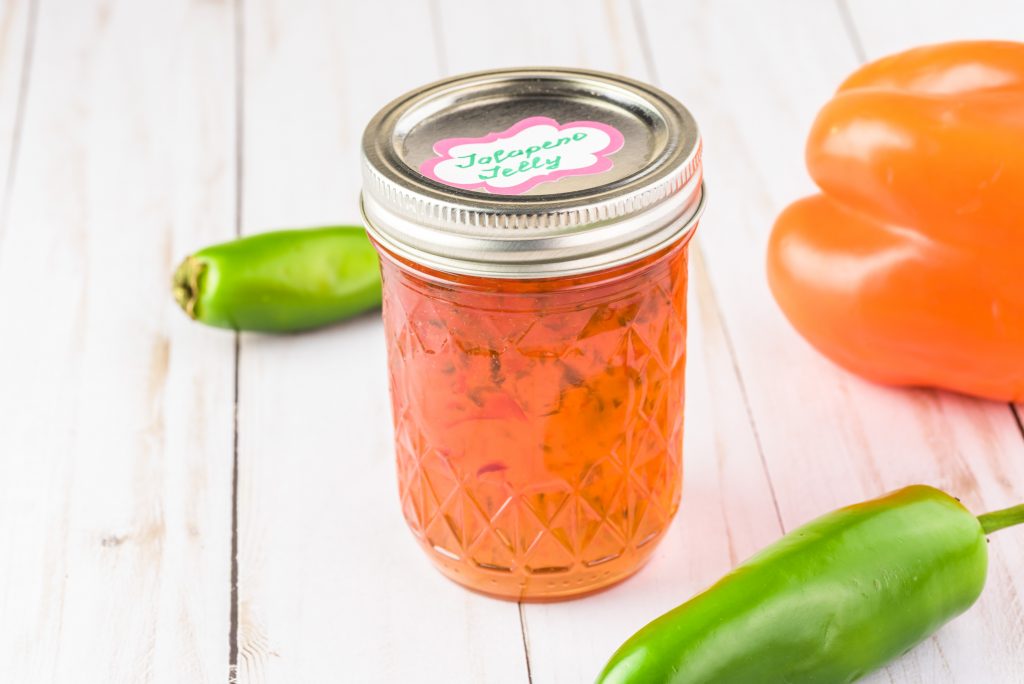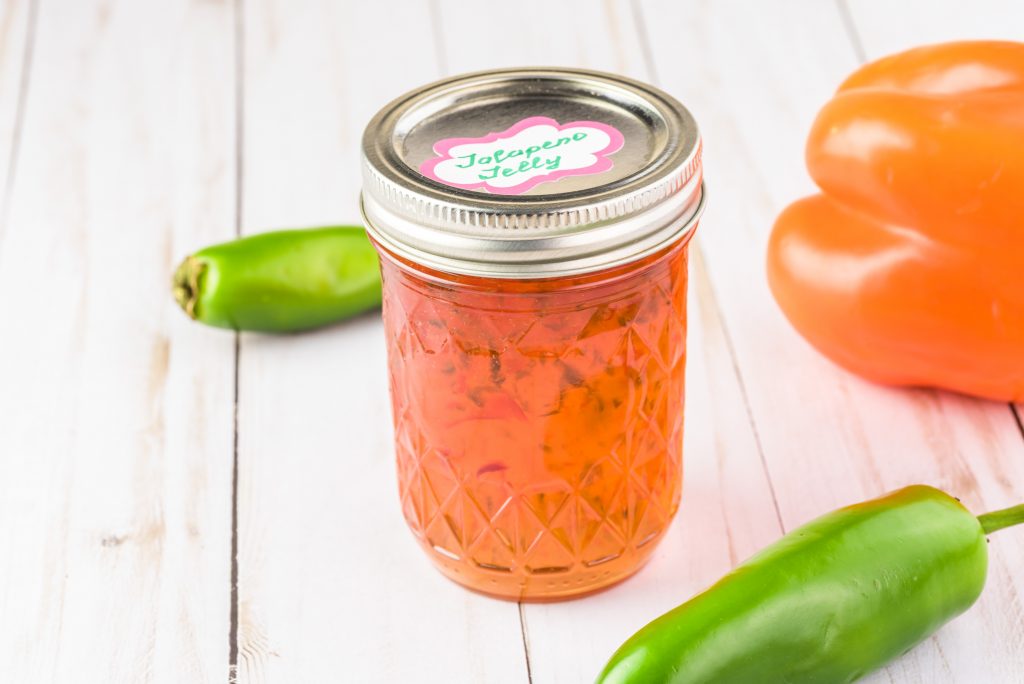 How To Serve Jalapeno Pepper Jelly
There are so many uses for this unique jelly with a blend of sweet and spicy. You can really play it up and use it in many different ways.
I recommend being creative and not boxing yourself in to one idea of where and how to use it.
Here are a few of my favorite ways to use jalapeno jelly:
Use it as a marinade on tofu or veggies for a hint of sweet and spicy
Spread it on peanut butter and jelly for a unique and spicy version
Mix it together with cream cheese for a spicy cracker spread
Add it to salad dressings for an interesting flavor
Spoon it onto soft cheeses for a kick
These are just a few of the many ways you can use jalapeno jelly! I will let you go forth and decide what ways you want to use this unique flavor.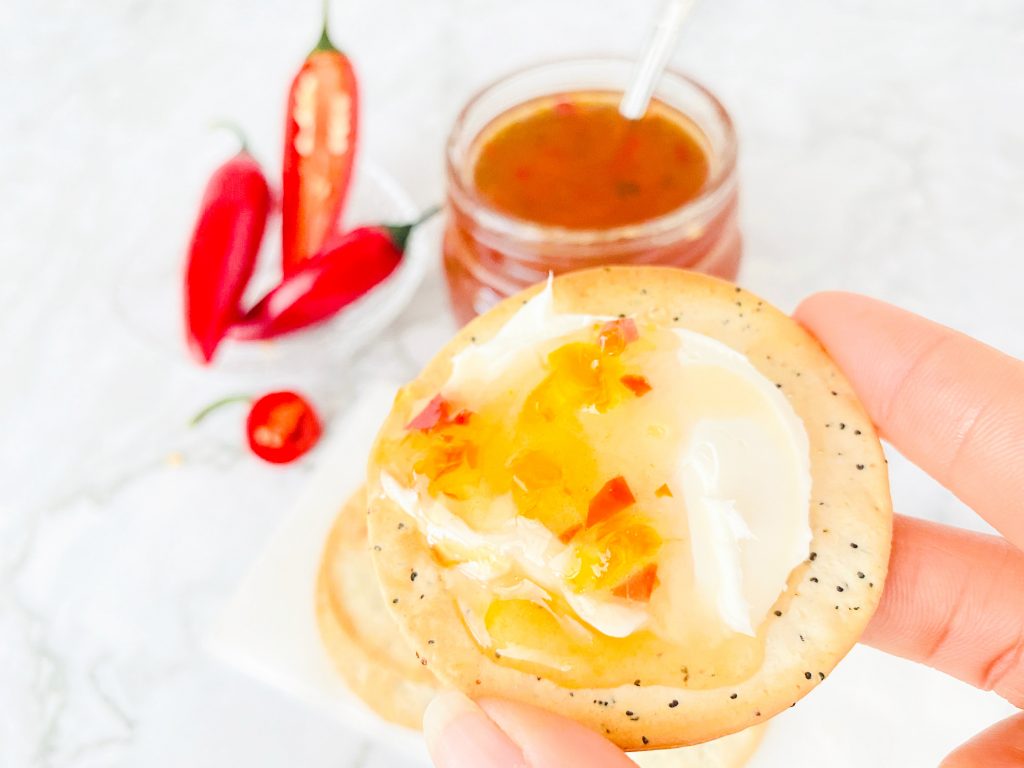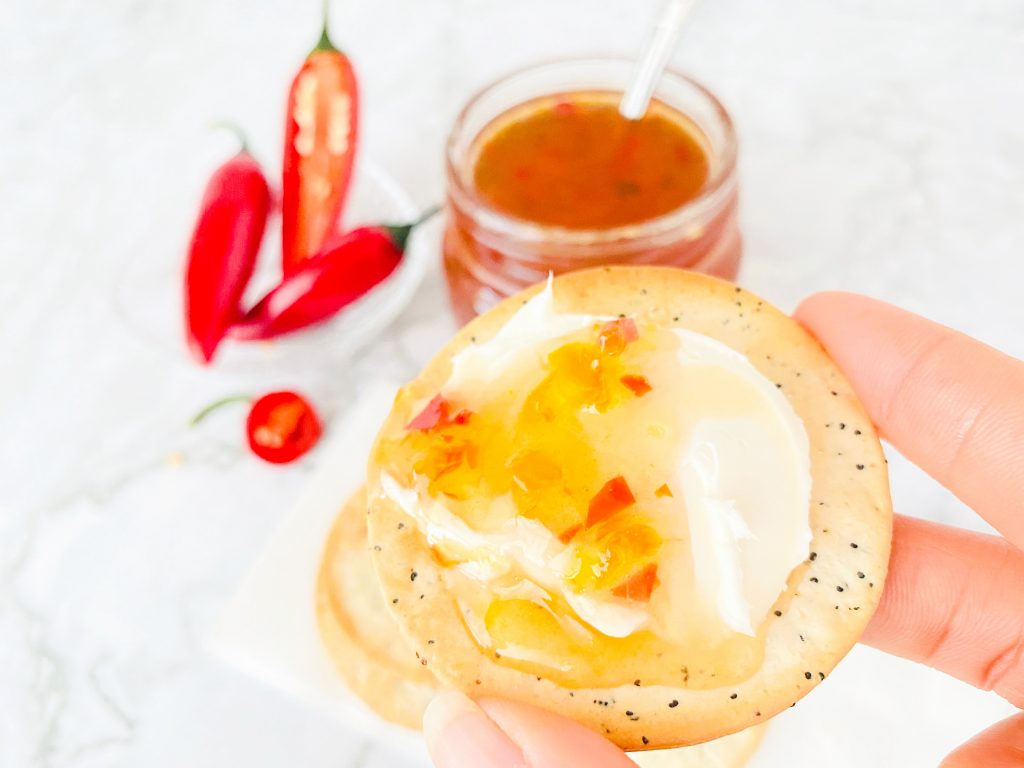 Did You Try This Recipe?
If so, I would love to keep in touch! I enjoy seeing photos and comments about the recipes that you make! You can follow me on Instagram and I will repost your goodies in my stories and comment on it too! Just tag me at @wowitsveggie and hashtag #wowitsveggie. I can't wait to see what you make!
Yield: 4 (8 ounce) jars
4-Ingredient Jalapeno Jelly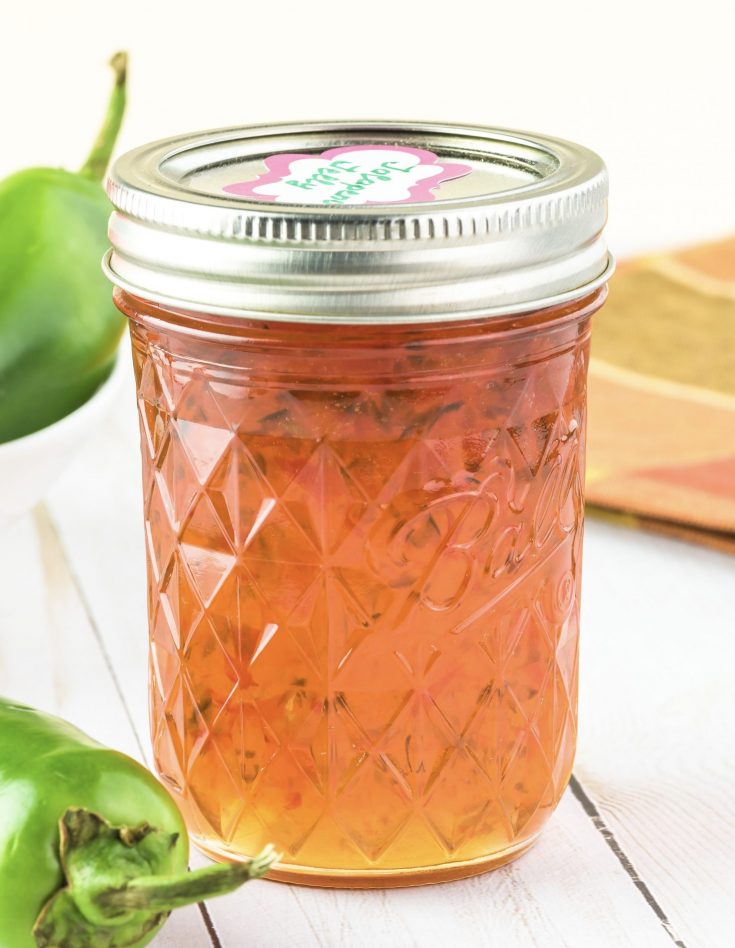 This jalapeno jelly is the perfect blend between sweet and spicy. It adds a really unique flavor to your kitchen to really take things to the next level. The jalapeno jelly makes the perfect gift when tied with a ribbon!
Ingredients
10 jalapeno peppers (mix between green and red!)
1 cup white vinegar
4 cups sugar
1 (3 ounce) container of liquid pectin
Green food coloring, optional and to taste
Instructions
Wearing gloves, cut the jalapeno peppers in half lengthwise and trim off the stem. Remove the membrane and seeds. The more seeds you leave, the spicer it will be. For a very hot jalapeno jelly, leave the seeds in all of the peppers. For medium heat, leave the seeds in half of the peppers. For a mild jalapeno jelly, take out all of the seeds.
Add jalapenos and vinegar to a high powered blender and blend until smooth.
In a medium pot on high heat, add the jalapeno/vinegar mixture and the pectin and bring the mixture to a rolling boil for 5 minutes.
Add in the sugar and green food coloring if you choose to use it. Continue to stir the jalapeno jelly and boil it on high heat for 5 minutes so that the steam allows it to reduce a little.
Remove the jelly from the heat and spoon it into jars. Let the jars cool down on the counter at room temperature, and then let them fully set in the fridge for 4-5 hours.
The jalapeno jelly can last in the freezer for up to 6 months! Simply allow it to defrost on the counter and enjoy.