Making your very own Valentine's Day charcuterie board is one of the easiest and cutest ways to celebrate the holiday of love.
Now, this isn't just about romantic love! You can love yourself, you can love your family, you can love your friends, whoever.
I will not judge you if you want to make this Valentine's charcuterie board all for you and graze over it over the course of a few days.
Dessert boards are all the rage and it is easy to see why.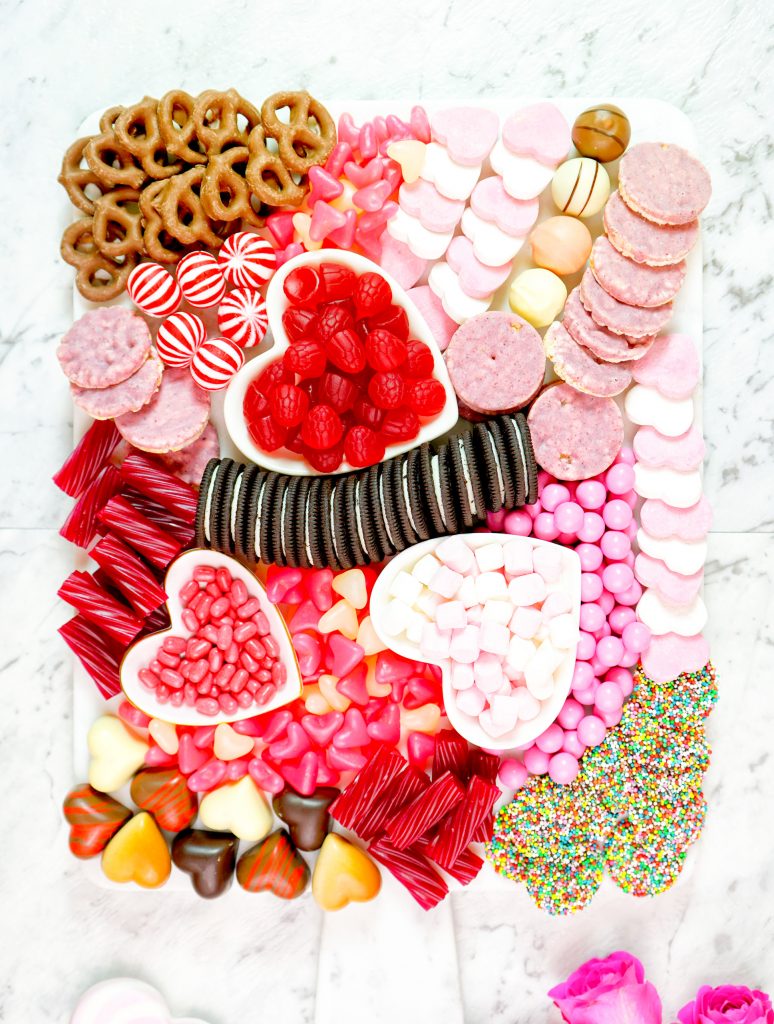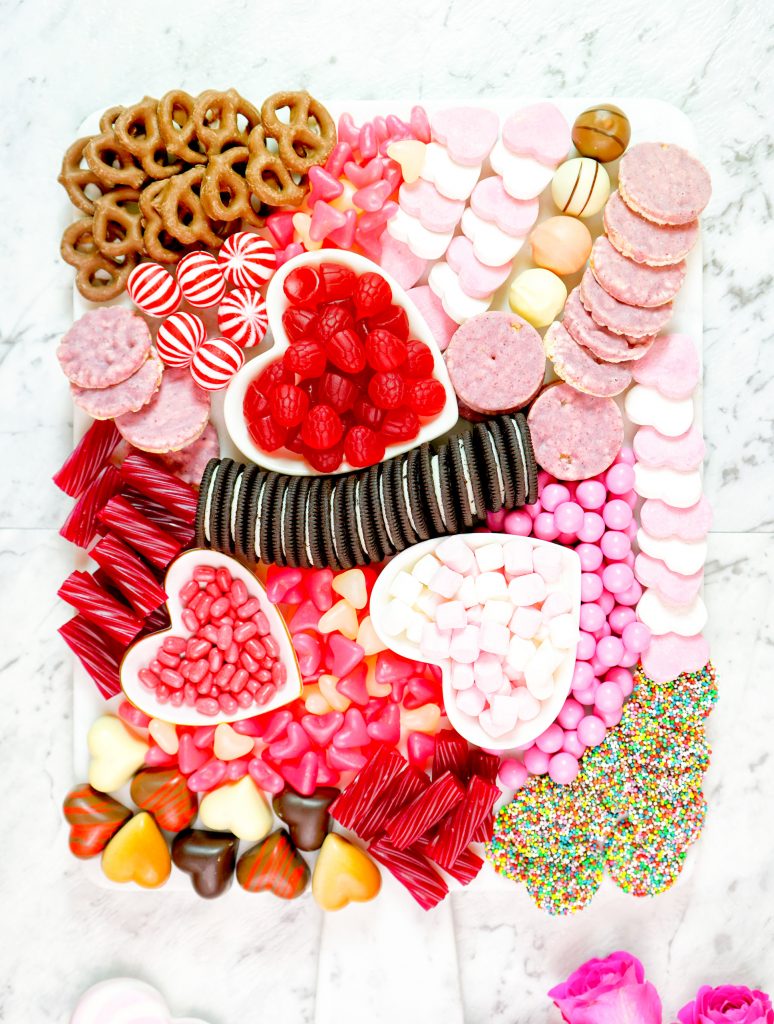 They require no cooking skills so you don't have to be a whiz in the kitchen to prepare the Valentine's Day dessert board.
You don't have to stick with just candy, you can use cookies, brownie bites, anything that is easy to pick up and easy.
Of course, you want your charcuterie board to be pretty to look at, so have fun arranging things or use the photos here as inspiration on how your own board should look.
I hope you run wild and make your own fun, pink and white and red version of my Valentine's charcuterie board!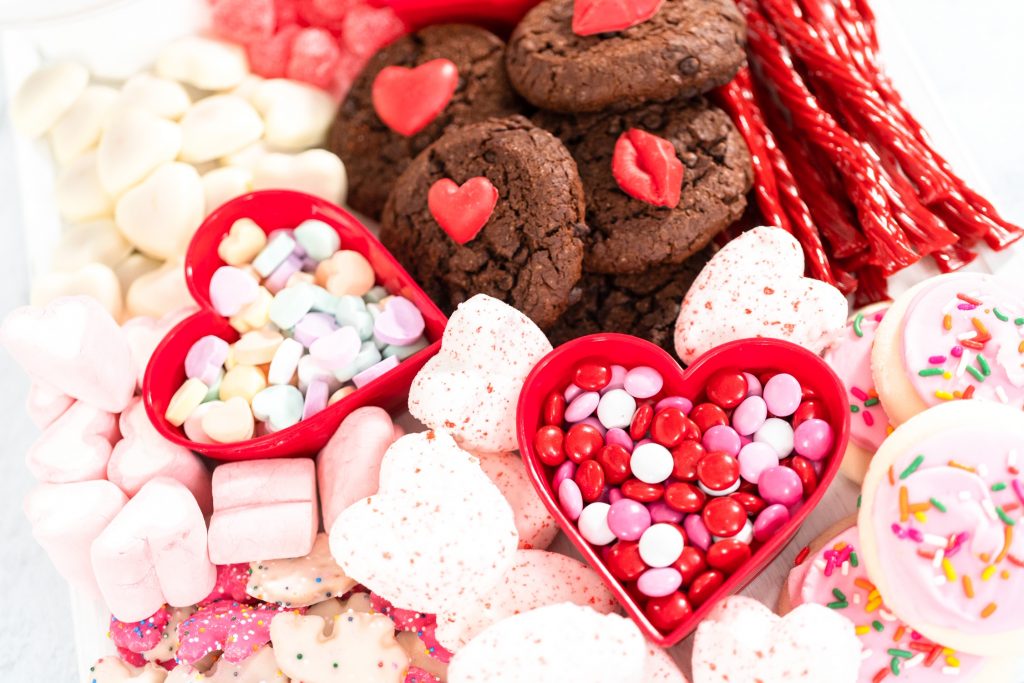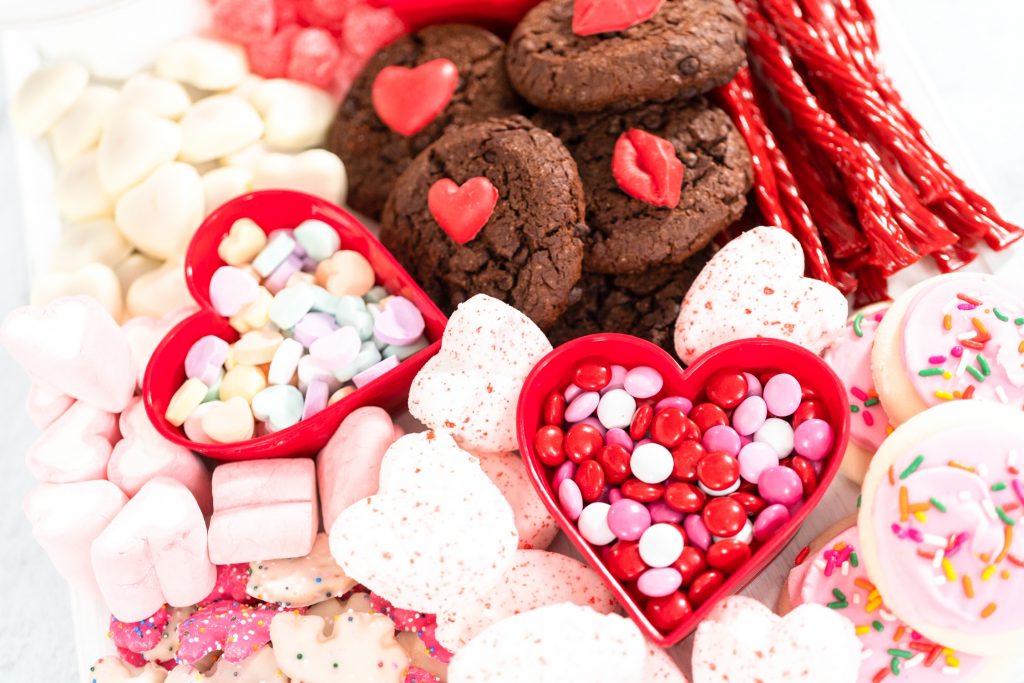 Why You Will Love This Valentine's Charcuterie Board
Easy To Make! The Valentine's Day charcuterie board is incredibly easy to make and requires no skill in the kitchen. Anyone can do it!
Can be very affordable! You don't have to spend $50 to make a pretty charcuterie board! You can buy your candy and cookies from budget stores such as Aldi or the Dollar Tree and still have a lovely presentation.
Make in advance. You can easily make the Valentine's dessert board in advance of the day you want to serve it.
Wait, Don't Charcuterie Boards Contain Meat?
Technically, yes, the word refers to smoked and dry-cured meats.
This Valentine's charcuterie board can be either vegetarian or vegan, depending on which candy items you use.
These days, charcuterie boards contain anything and everything! From Halloween candy to breakfast items with no meat in site.
But who has time for that?
If you are vegan, simply choose vegan candies and read the packaging as some candies are not vegan!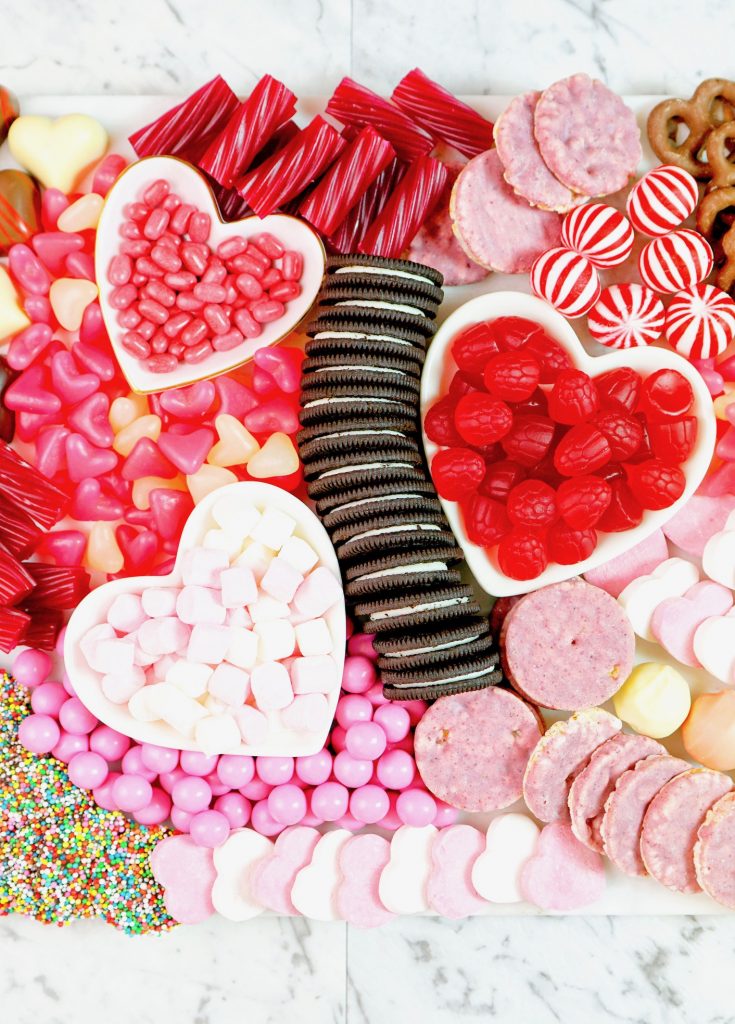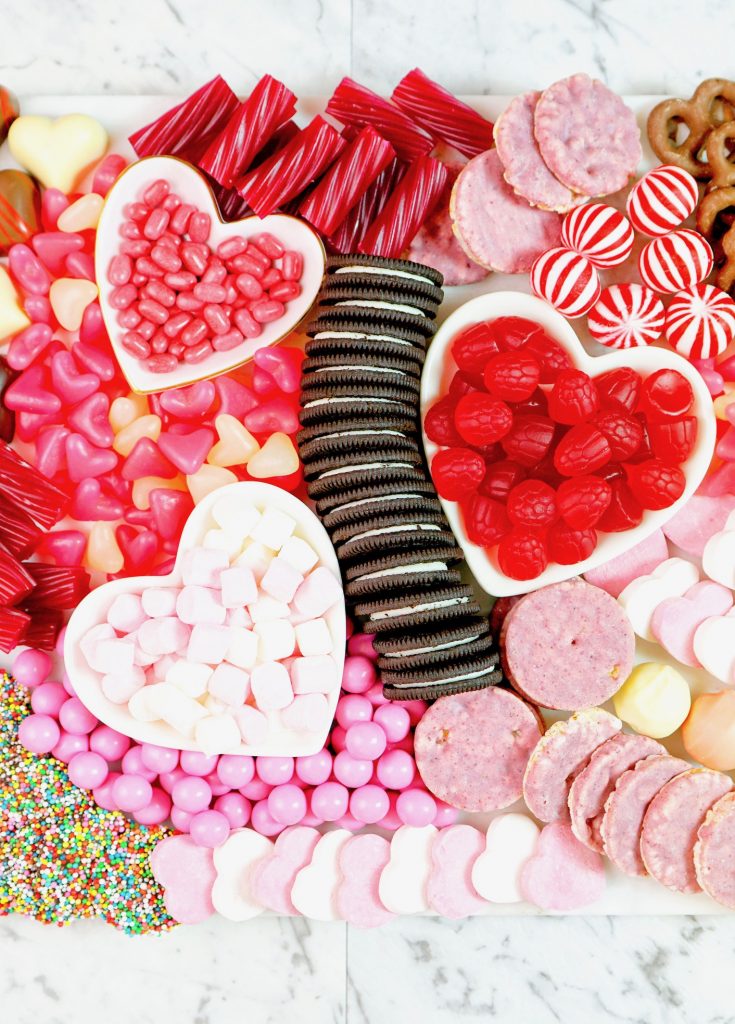 How Do You Say "Charcuterie"
This one always makes me laugh! It looks like a really hard word to say, but once you learn how, it is quite simple and easy!
Charcuterie is a French word and it refers to dry-cured meats or smoked meats.
These days, it basically refers to a board of food that is used for snacking or as an appetizer. There doesn't have to be beat.
You pronounce the word like this….shahr…cute…uh…ree. The "shar" sounds like char like the char on a marshmallow or a grill.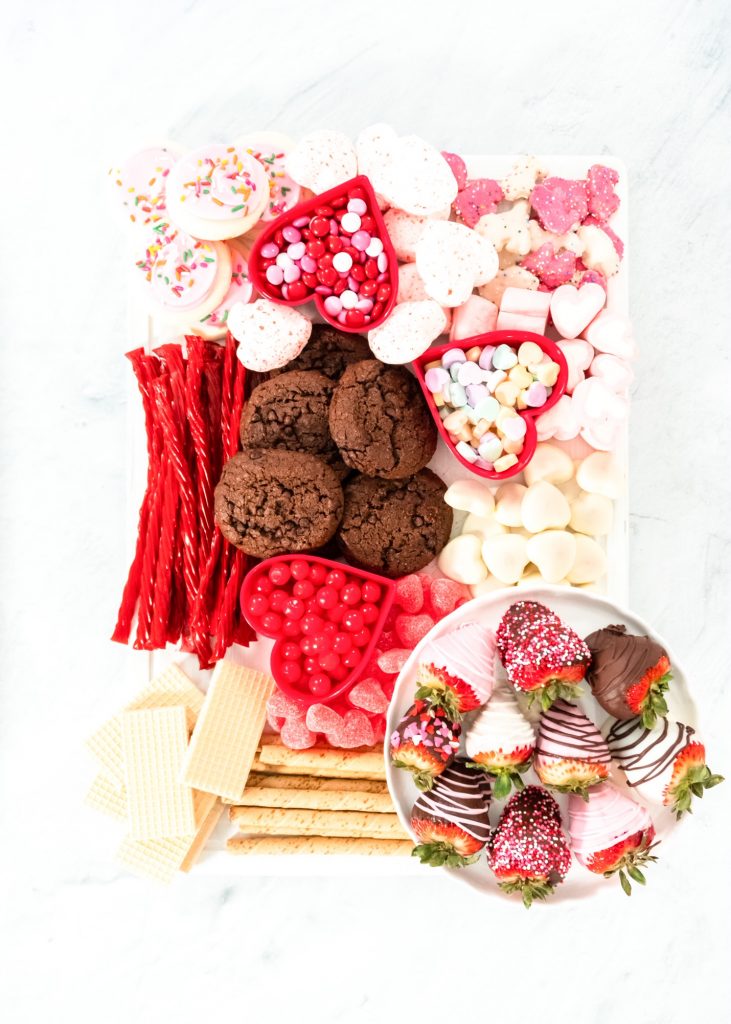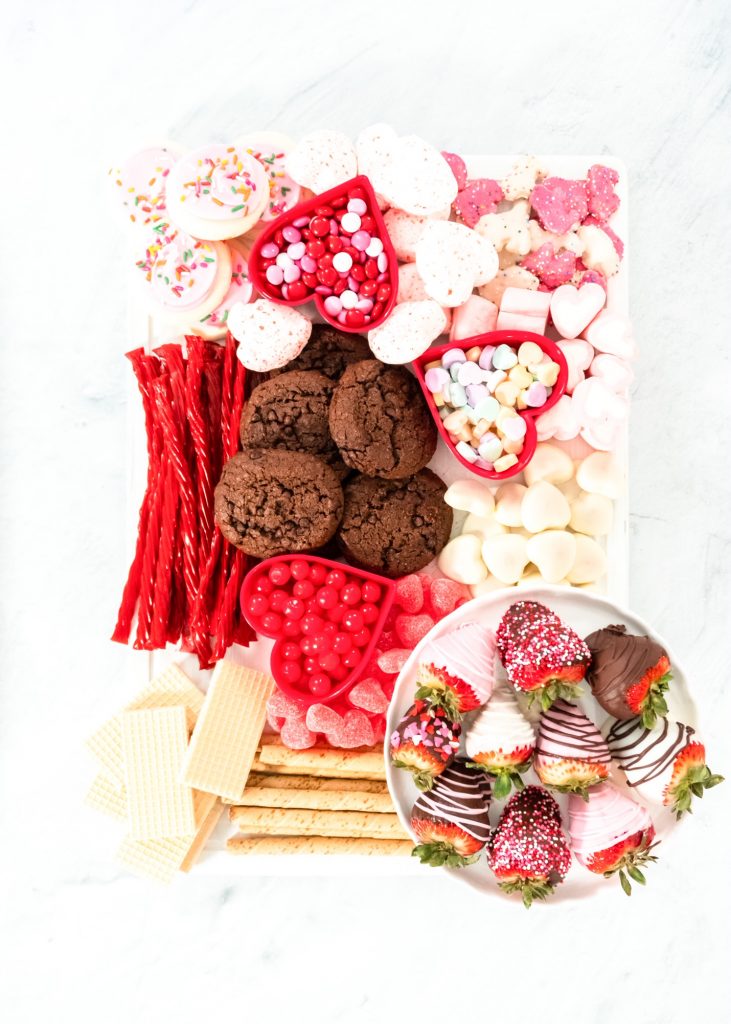 What To Add To Your Valentine's Dessert Board
Oreo cookies. Everyone loves these and they break up the color!
Chocolate covered pretzels. This allows for a sweet and savory treat! You can even make my Valentine's Day Pretzel Rods to include and they are so festive and cute.
Licorice. It is a red candy and when you cut the ropes, it looks really nice.
Mini brownies. Mini brownies add a heftier bite to the Valentine's charcuterie board and also add a pop of darker color.
Dips. One of the best parts of dessert boards is the dips! I suggest Nutella, peanut butter, whipped cream, cream cheese and more. You can use any or all when creating your charcuterie board!
Various candies. I love pink and white M&M's because they are perfect to go in a little bowl. You can use red hot candies, chocolate truffles and more.
Chocolate covered strawberries. Chocolate-covered strawberries are a great addition because they break up all the sweet of the candy!
Conversation hearts. Conversation hearts are the essential Valentine's Day candy! Of course they have to be included.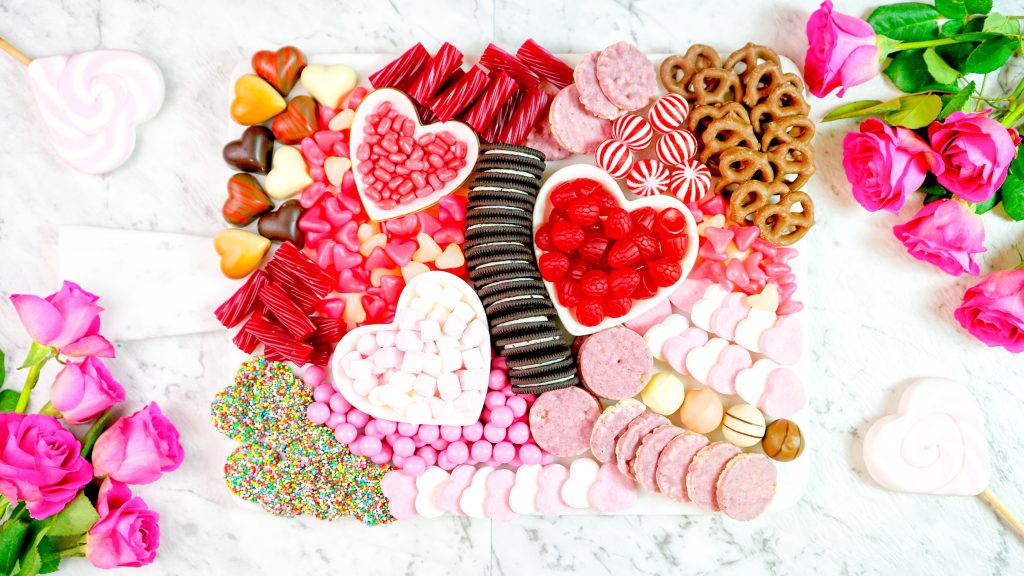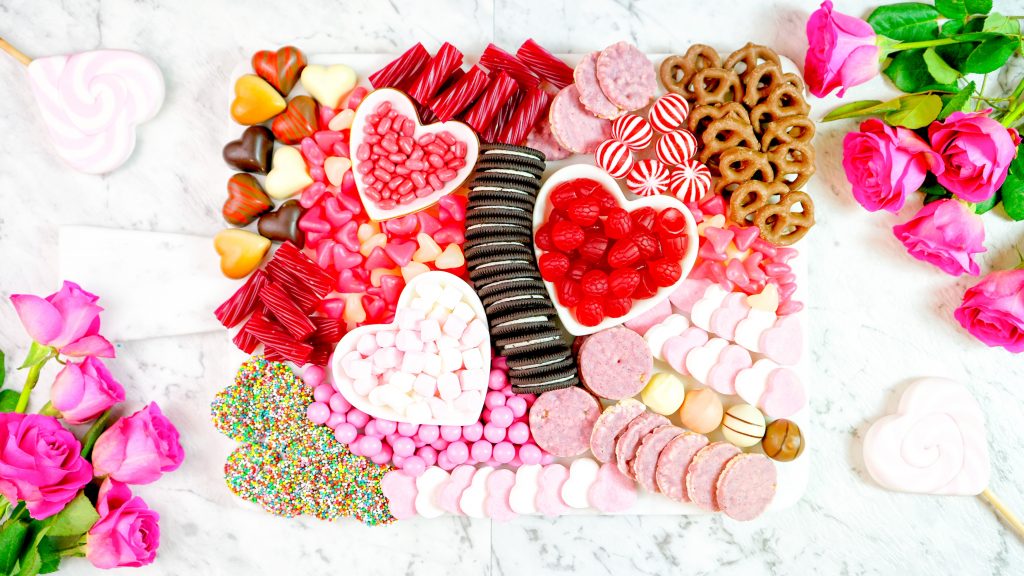 How To Arrange Your Valentine's Day Charcuterie Board
You can arrange your charcuterie board any way you want! But there is a knack to it that can help you with a few simple tips.
Start by arranging any bowls of dips or candies that you may want. If you are using jars to hold things, include those too.
These should be placed first so that you can arrange the rest of the board around them.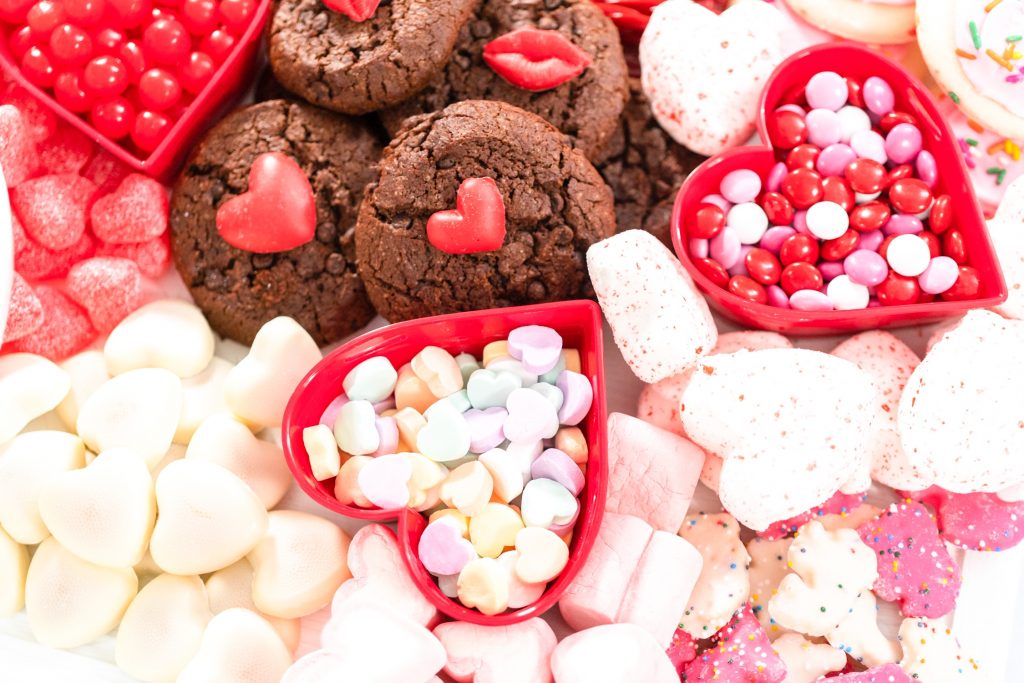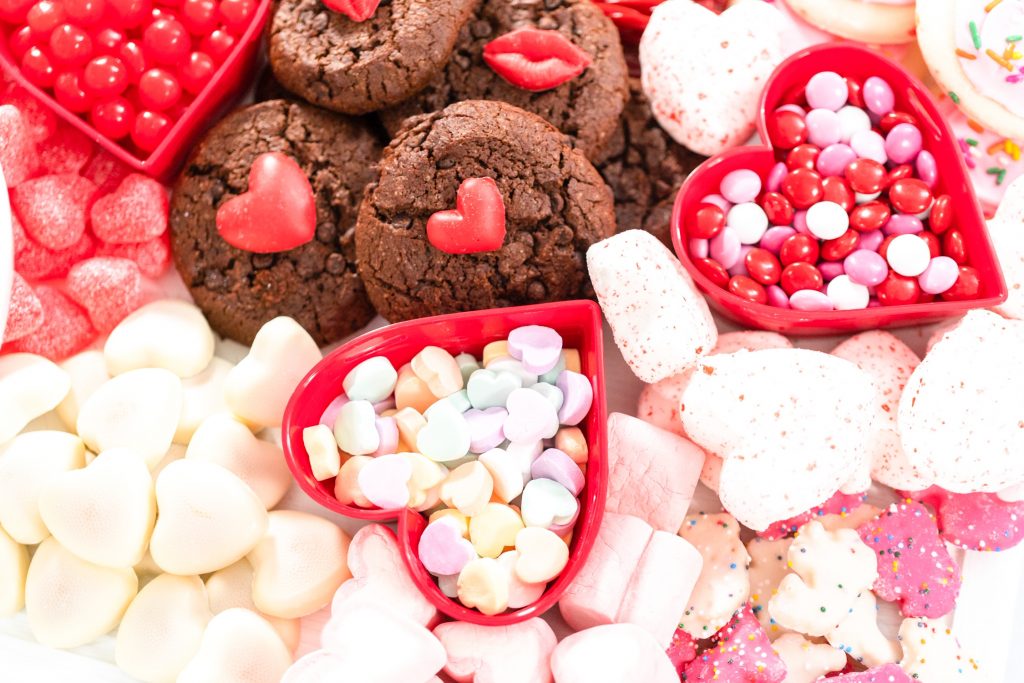 Next, arrange your cookies or larger items. I like to "fan" the cookies out so they take up a lot of space and create a barrier.
Then, fill in the spaces with small cookies and candy and any fruits that you may want to add.
If you are adding brownies, now is the time to do it.
Add larger candies, cookies, marshmallows or brownies in any areas that need to be filled in.
Honestly, there is no wrong way to do this! Simply start with larger items first and then create barriers and fill in the smaller spaces. It is quite easy to do and you shouldn't stress!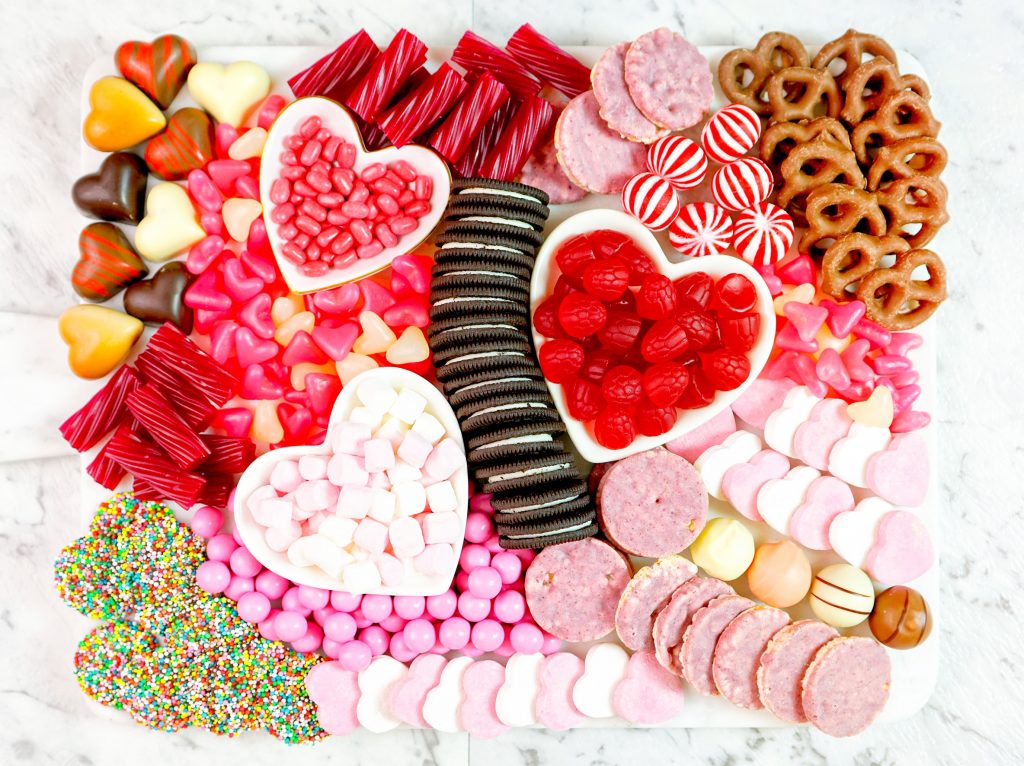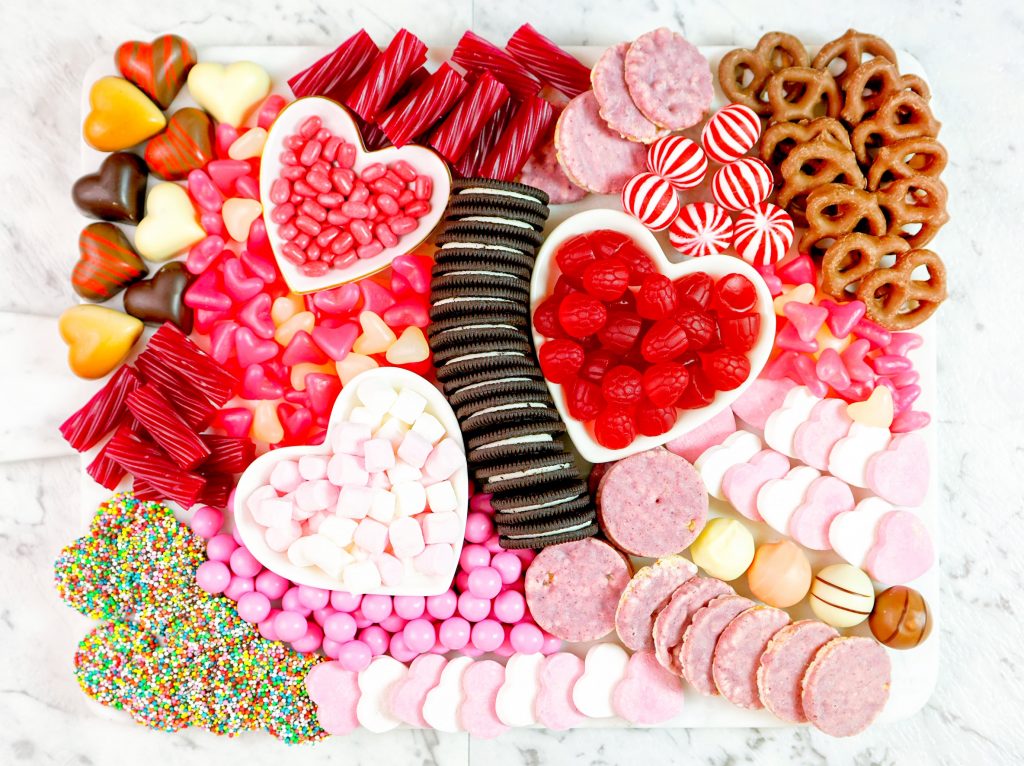 Did You Try This Recipe?
If so, I would love to keep in touch! I enjoy seeing photos and comments about the recipes that you make! You can follow me on Instagram and I will repost your goodies in my stories and comment on it too! Just tag me at @wowitsveggie and hashtag #wowitsveggie. I can't wait to see what you make!
Easy Valentine's Day Charcuterie Board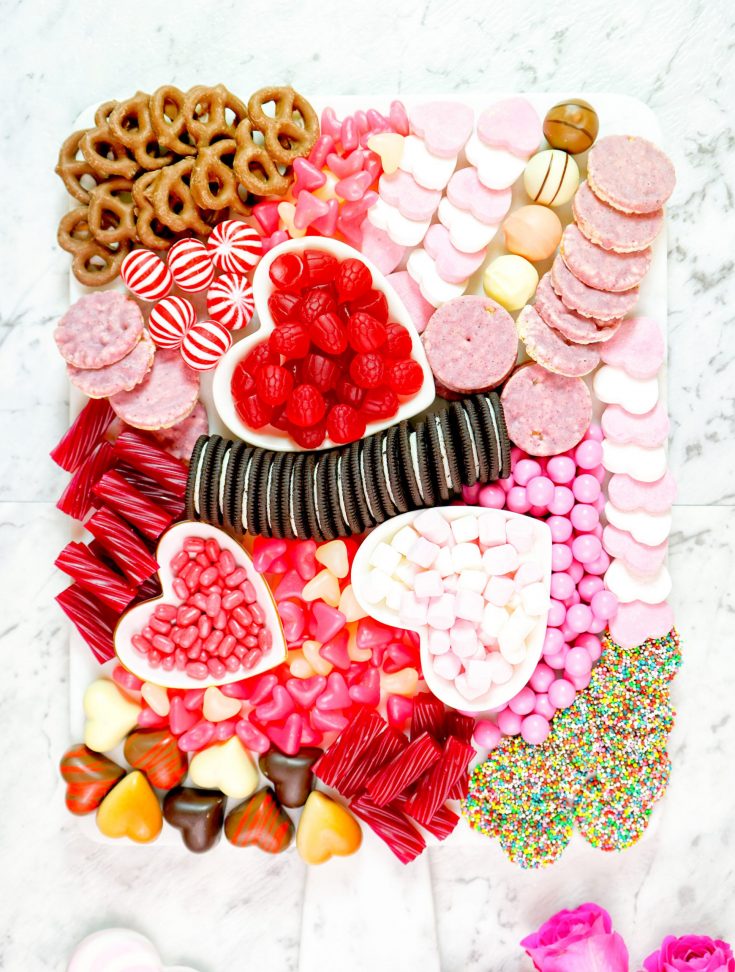 This Valentine's Day charcuterie board is so cute and festive! It requires no cooking skills to make and makes for a gorgeous presentation. The dessert board can be made vegan when you use vegan candies!
Ingredients
5-10 chocolate covered strawberries
15 Oreo cookies
1 cup red and white M&M's
2 cups chocolate covered pretzels
10 licorice sticks, either cut or left long
15-25 wrapped chocolate hearts, unwrapped
5-10 red and white peppermint candies
5 sugar cookies
5 chocolate truffles
1 cup conversation hearts
5 mini brownie bites
Instructions
Assemble all ingredients on a large board such as a cutting board. Start with the bowls, then add larger items such as cookies and pretzels, then fill in the gaps with smaller candies and bites. There is no wrong way to do it!
Serve and enjoy!