If you have never tried vegan jalapeno poppers, you are in for a real treat! They are a combination of creamy and spicy and topped with a toasted breadcrumb topping.
They make the perfect game-day appetizer or snack, but if you aren't into game day, don't worry.
These vegan jalapeno poppers go well with the movie of your choice or as a starter for a BBQ or any party or event.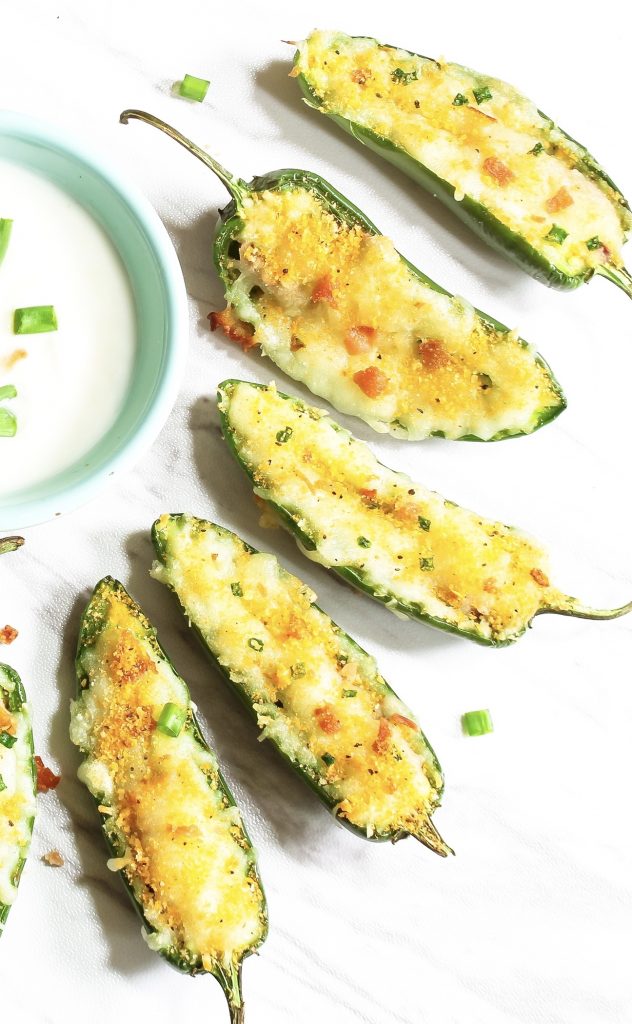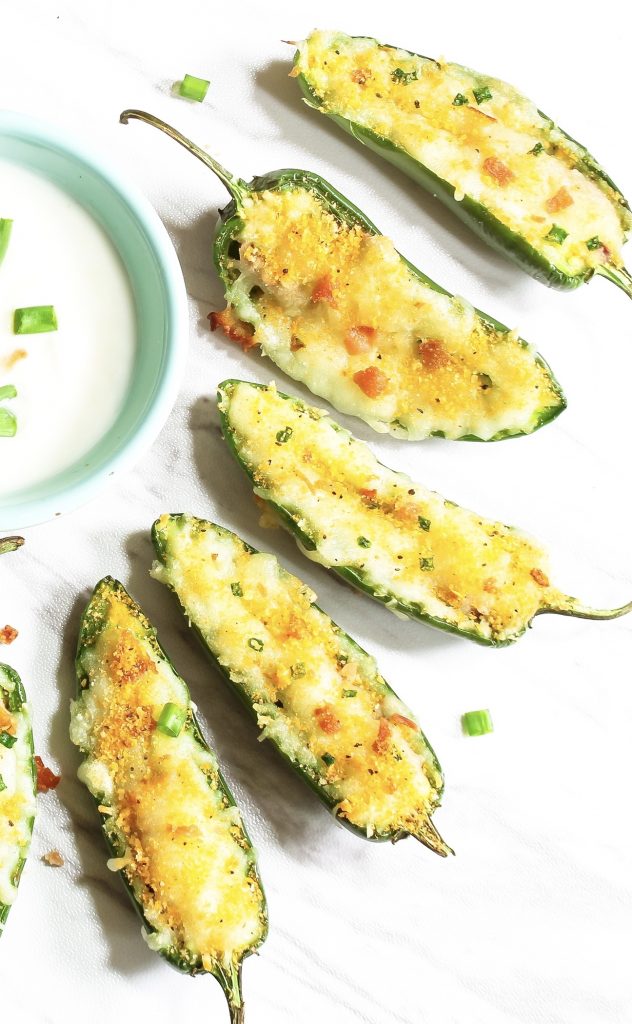 After all, I haven't met very many people who don't love jalapeno poppers so be sure to have a few at the beginning of the party because they go quickly.
The flavored vegan cream cheese filling and crispy topping is the perfect way to turn down the heat of the jalapeno poppers.
They are super easy to make, but you have to be careful so you don't touch your eyes when working with hot peppers. Just treat with caution if this is your first time.
I know that you will love making and eating these vegan jalapeno poppers for your special game day as much as I do.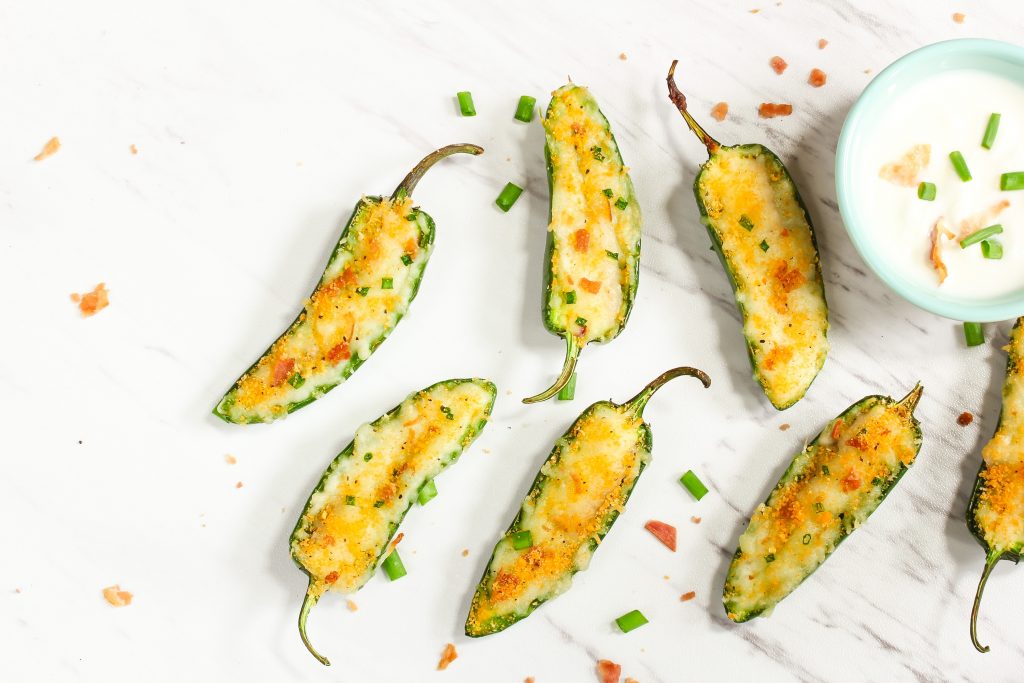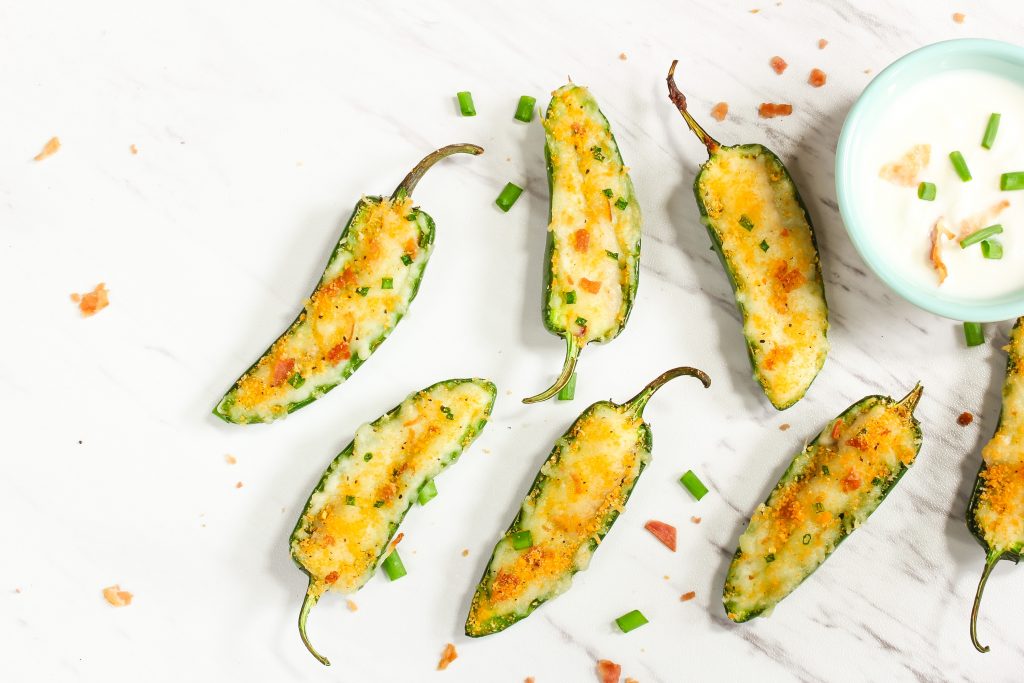 Why You Will Love The Vegan Jalapeno Poppers
They whip up quickly with little active time. These babies take just 20 minutes to bake and less than 5 minutes to put together. This means more time enjoying the party and less time making food. And yes, you can make them in advance!
They use simple ingredients. This recipe uses only a few simple ingredients so you won't have to be running around town to multiple grocery stores looking for hard-to-find ingredients!
Everyone loves them! Everyone loves how easy it is to pick them up and go. They are a favorite at every gathering and the taste can be changed according to your preference.
How To Make Vegan Jalapeno Poppers
Making these healthy jalapeno poppers has never been easier.
First, I want to note that they can easily be gluten-free when using your favorite gluten-free breadcrumbs. This is a simple fix so all can enjoy.
For this recipe, I also use vegan bacon. I usually use store bought and more health food stores or even some regular grocery stores carry vegan bacon these days.
You can also make your own vegan bacon to use, but I find that the store bought kind works better for the sake of these vegan jalapeno poppers.
You are going to want to start off by preparing your peppers.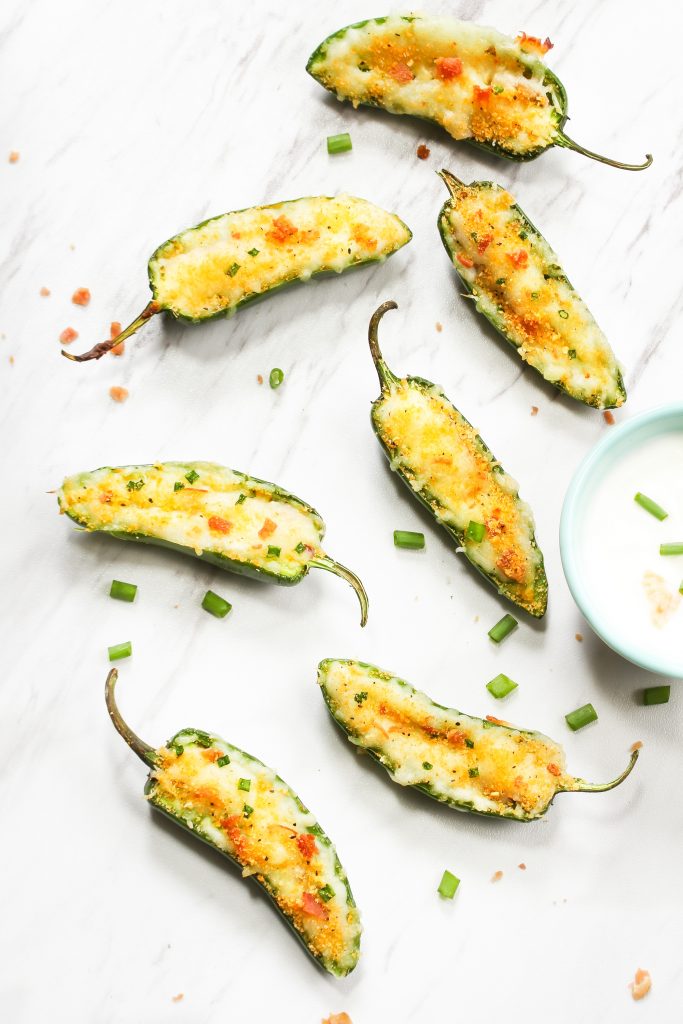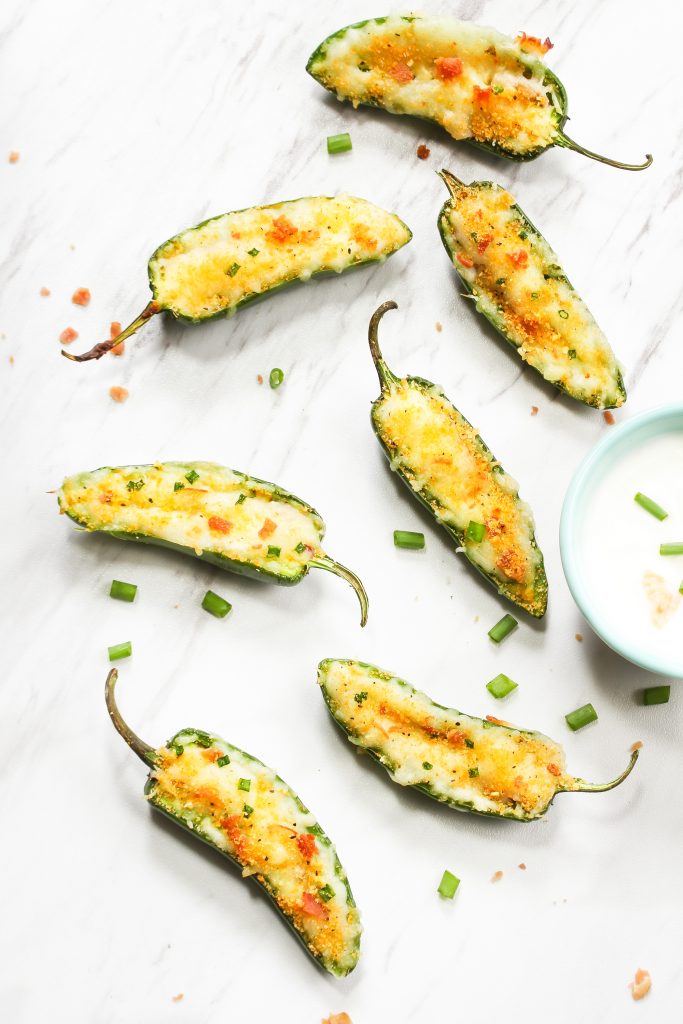 Jalapenos are hot and most of the heat comes from the membrane and seeds.
If you cannot avoid touching your fact, wear gloves when working with jalapenos so you don't accidentally touch your eye or face.
Washing your hands often isn't enough!
Anyway, now that we have proper pepper protocol….
You will want to take your jalapeno peppers and cut them in half lengthwise and remove the seeds, stem and all of the other insides.
In a large bowl, combine your vegan cream cheese (any brand works) and garlic powder.
You can use salt and pepper to taste if you want.
Next, you will use your fingers or kitchen scissors to rip or cut the vegan bacon into tiny bite-sized pieces.
You will also chop or cut your green onion tops.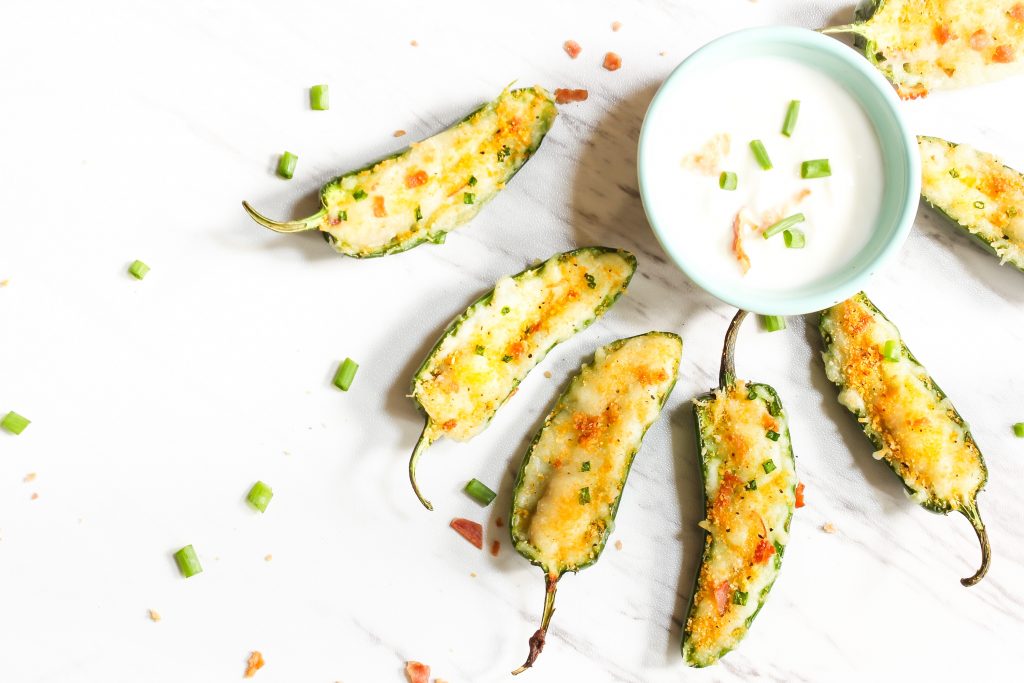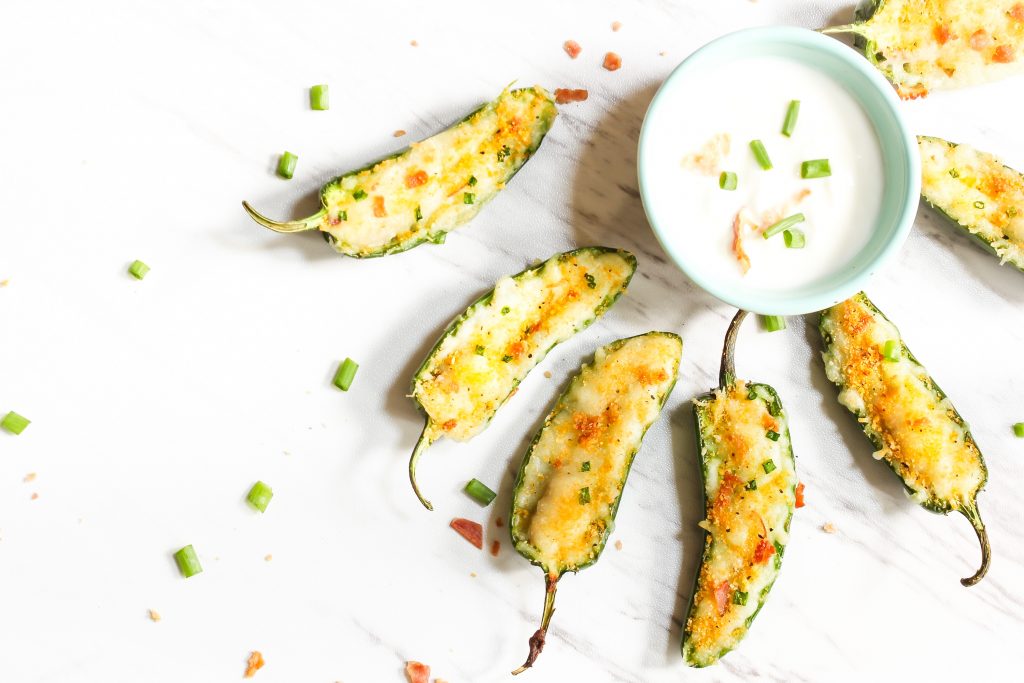 Mix the small vegan bacon slices and the green onion tops in with the cream cheese mixture.
Spread about 1 tablespoon of the cream cheese mixture into each pepper half.
Take your vegan breadcrumbs (or gluten-free if you prefer) and sprinkle a little bit over each vegan jalapeno popper.
If you want, you can top with even more vegan bacon strips.
Cook at 400F for 20 minutes and then you are ready to serve.
I do recommend serving the vegan jalapeno poppers when warm for best results, but they taste good at room temperature too!
For dipping, whip up a batch of my Vegan Sour Cream or use store bought sour cream for a tasty dipper.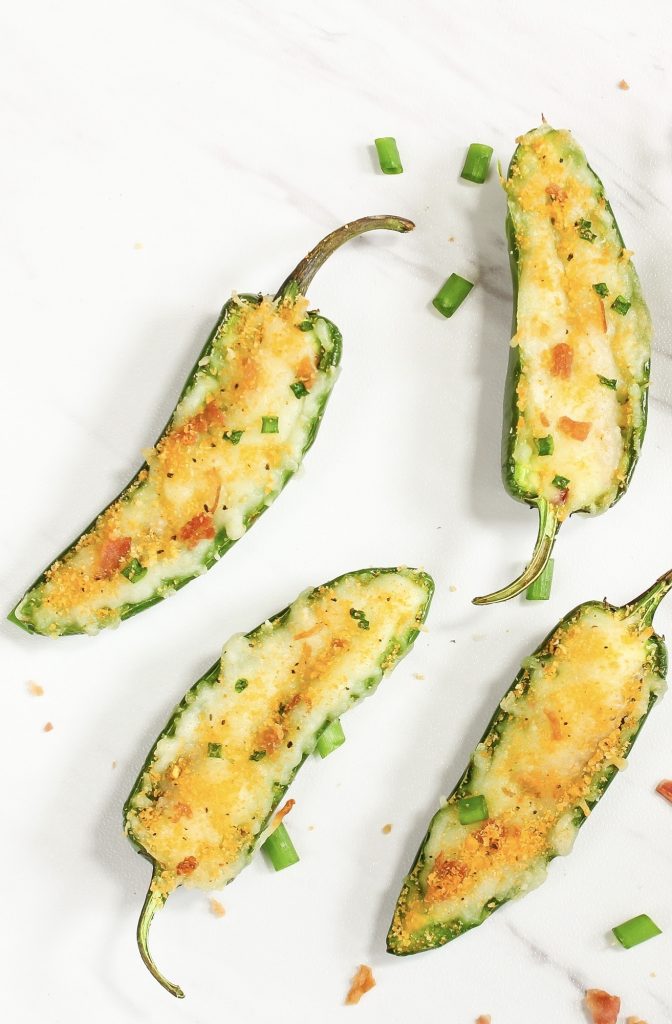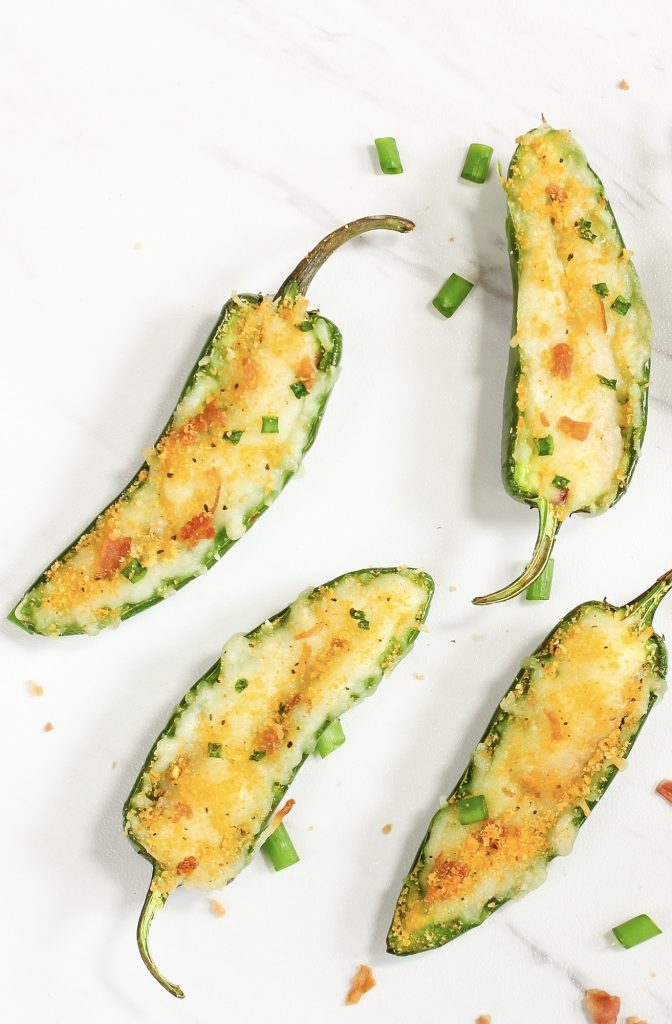 What To Serve With Vegan Stuffed Jalapenos
Of course you know that vegan jalapeno poppers are perfect for game day, movie night, or some other sort of party….but what do you serve with them?
The answer is comfort food! A comfort food entree is perfect to serve along side vegan stuffed jalapenos.
You don't have to reserve this recipe for a sports game, it can be the appetizer at any party or family dinner or just because you want a tasty snack.
Here are a few things I love serving with vegan jalapeno poppers:
As you can see, there are tons of ways that you can use vegan jalapeno poppers in your cooking.
Feel free to peruse my site and get an idea of what else you can make!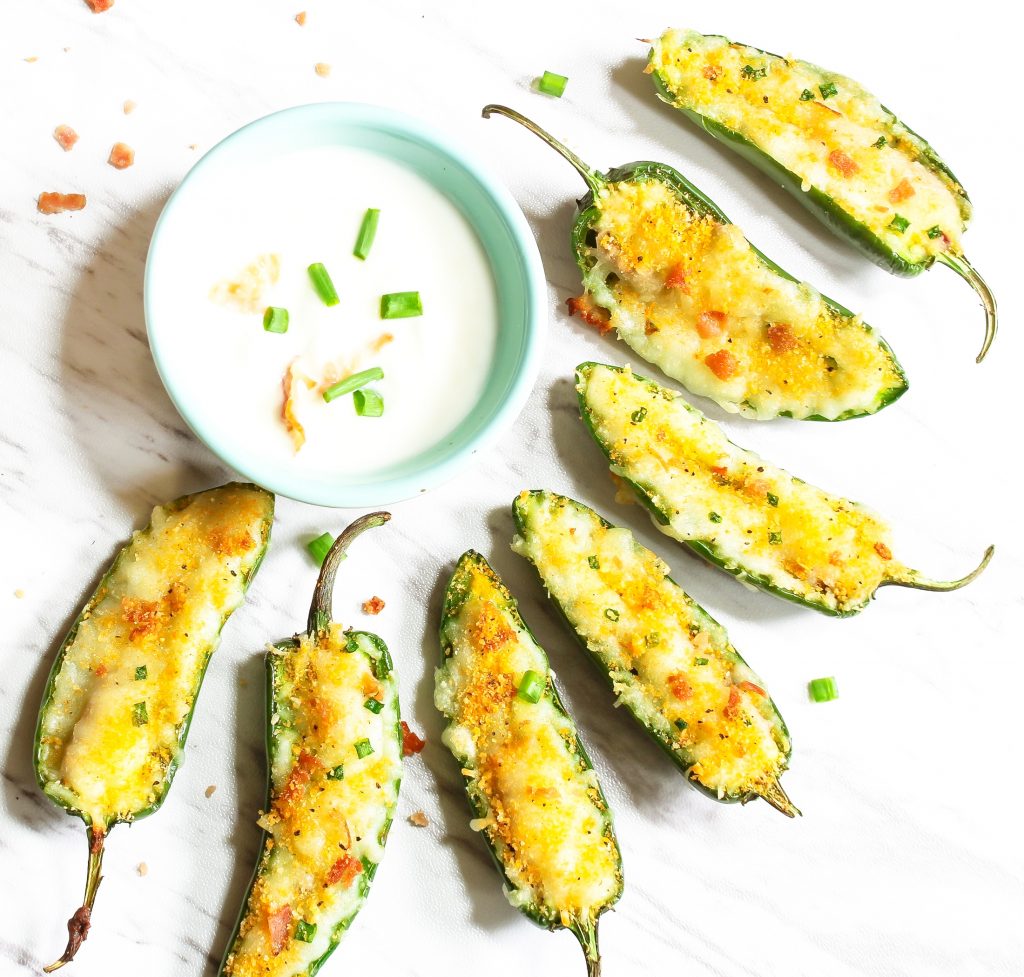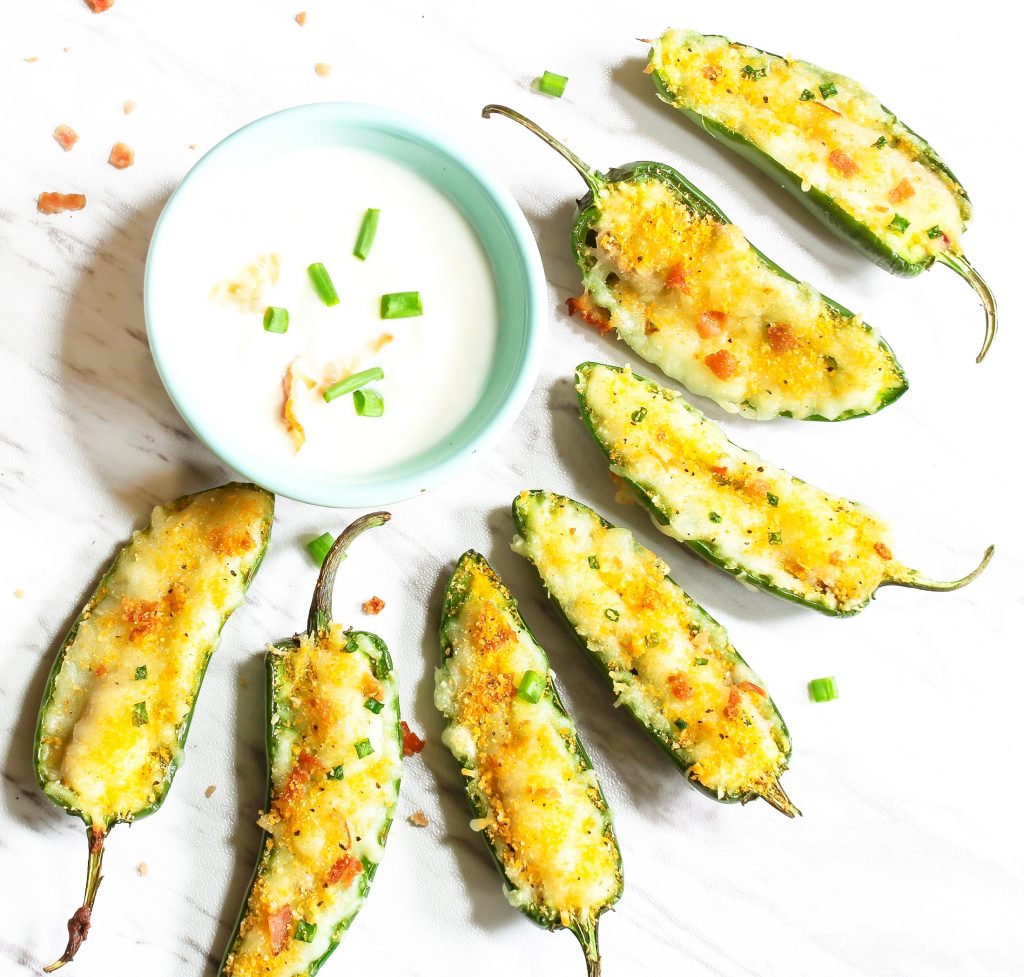 How To Store Jalapeno Poppers
Believe it or not, jalapeno poppers can be easily made in advance and store well.
If you want to make them in advance, simply mix together the vegan cream cheese filling and store it in an air-tight container for 3-5 days.
Once you make the vegan jalapeno poppers, they can be stores in the fridge in an air-tight container for 3-4 days.
To reheat them, you can microwave them for 20-30 seconds, but the breadcrumbs won't be so crunchy anymore.
If you want the breadcrumbs to be crunchy, bake them at 325F for about 10 minutes until heated throughout.
This works great in a small microwave oven or toaster oven and is a quick and easy way to reheat the poppers.
Did You Try This Recipe?
If so, I would love to keep in touch! I enjoy seeing photos and comments about the recipes that you make! You can follow me on Instagram and I will repost your goodies in my stories and comment on it too! Just tag me at @wowitsveggie and hashtag #wowitsveggie. I can't wait to see what you make!
Yield: 24 jalapeno poppers
Easy Vegan Jalapeno Poppers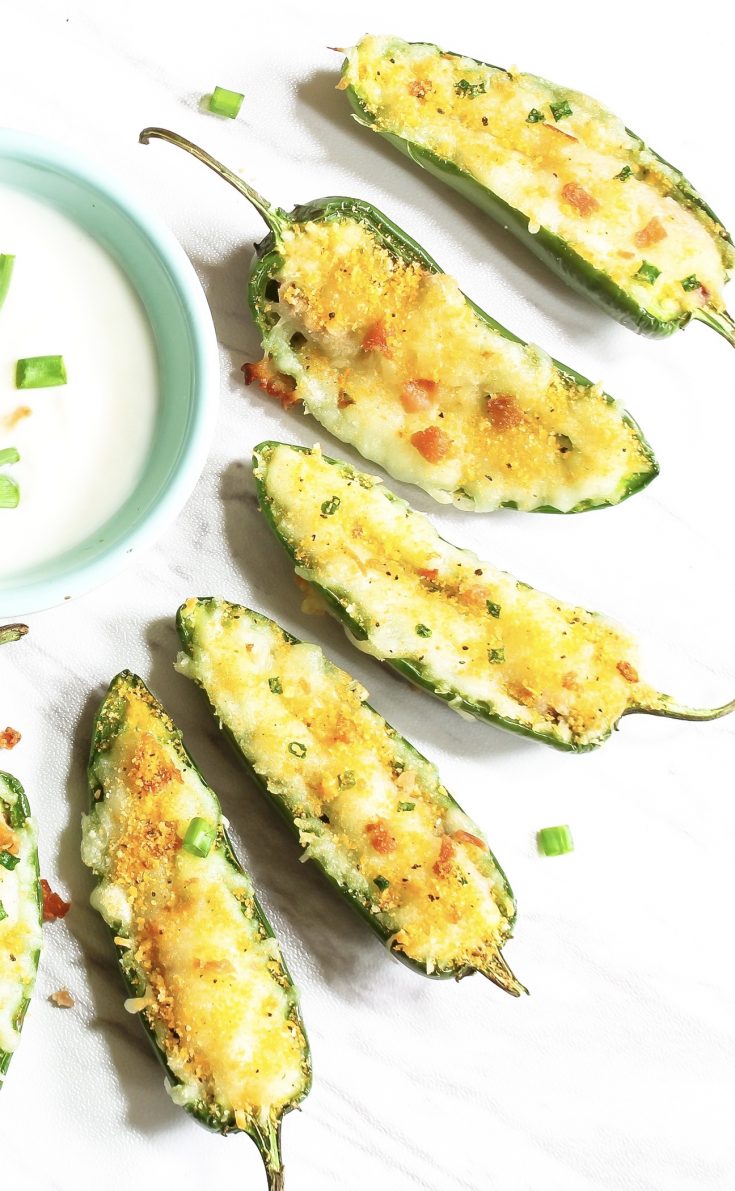 These vegan jalapeno poppers combine creamy, crunchy, and a hint of spice in the most addicting way! They are baked, not fried, so they are healthier than other options and use vegan bacon to take them to the next level. They can easily be made gluten-free when you use gluten-free breadcrumbs. The only downside is that they get eaten fast so you better take your creamy, crunchy bite quickly!
Ingredients
1 1/2 cups vegan cream cheese (any kind works!)
12 jalapeno peppers, cut in half lengthwise with stems, seeds, and membranes removed
5 slices of vegan bacon (store-bought or homemade is fine)
1/2 cup breadcrumbs (can be gluten-free)
2 teaspoons garlic powder
3 green onion tops, chopped small
Salt and pepper to taste
Instructions
Preheat oven to 400F and line a baking sheet with parchment paper.
Carefully cut jalapeno peppers in half lengthwise and remove the seeds, stems, and all membrane. The more insides you leave, the hotter the flavor. If you want a mild vegan jalapeno popper, remove as much as you can. I suggest wearing gloves so you don't accidentally touch your face.
In a bowl, combine cream cheese and garlic powder along with salt and pepper to taste. Stir until combined.
Using scissors, a sharp knife, or your hands, cut the vegan bacon strips into small pieces. Mix the vegan bacon pieces and the chopped green onion tops into the cream cheese mixture.
Spread about 1 tablespoon of the cream cheese mixture into each pepper half. Sprinkle with breadcrumbs and more chopped vegan bacon if desired.
Bake for 20 minutes until the pepper is cooked and the top is golden brown.
Serve with my Vegan Sour Cream, for dipping!
Nutrition Information
Yield
24
Serving Size
1
Amount Per Serving
Calories

67
Total Fat

6g
Saturated Fat

3g
Trans Fat

0g
Unsaturated Fat

3g
Cholesterol

2mg
Sodium

82mg
Carbohydrates

2g
Fiber

0g
Sugar

0g
Protein

2g