These vegan blueberry pancakes are some of the best you will ever taste. They are light and fluffy and only use 6 ingredients that you will most likely have around your home!
I love adding fruit to pancakes and blueberries really take the recipe to the next level! I do recommend fresh blueberries, but if you need to use frozen that will work too.
If you are making pancake cereal, just follow the recipe below and add your blueberries on top!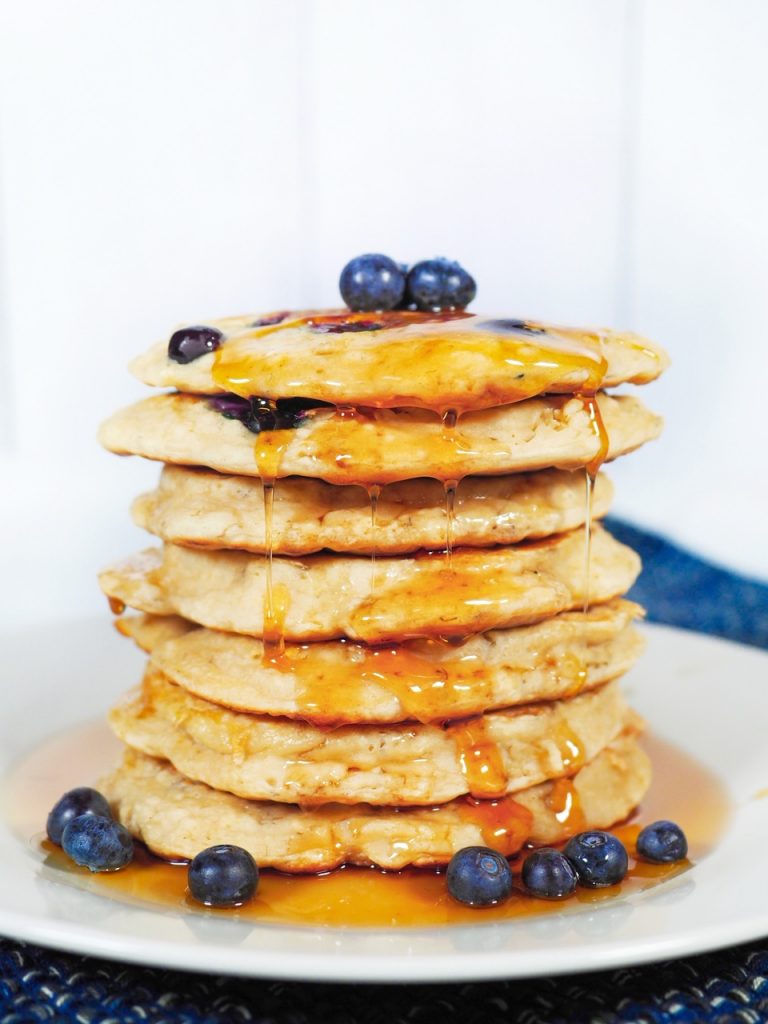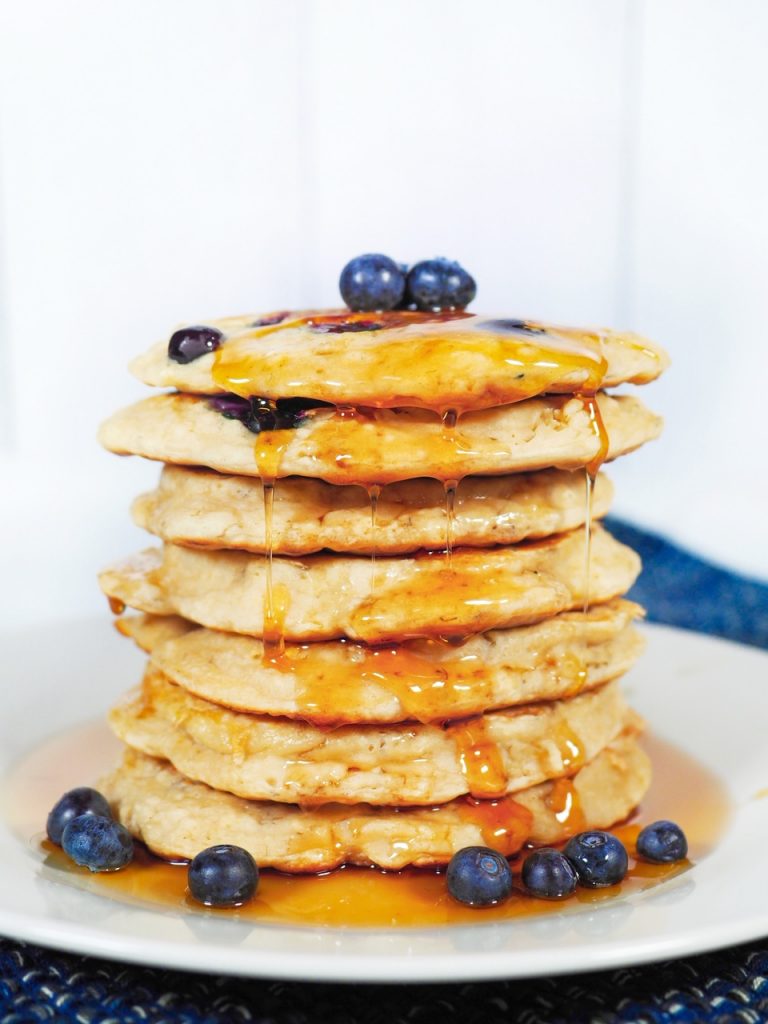 You would think that you would have to do something special in order to make the vegan blueberry pancakes, but it is actually quite straightforward so that you can easily make this recipe if you are tired in the morning but still want something super yummy!
My Dad who hardly never eats vegan EVER totally LOVES these easy vegan pancakes with blueberries. This recipe pleases a crowd and maybe YOUR picky carnivore Dad will love them as much as mine does!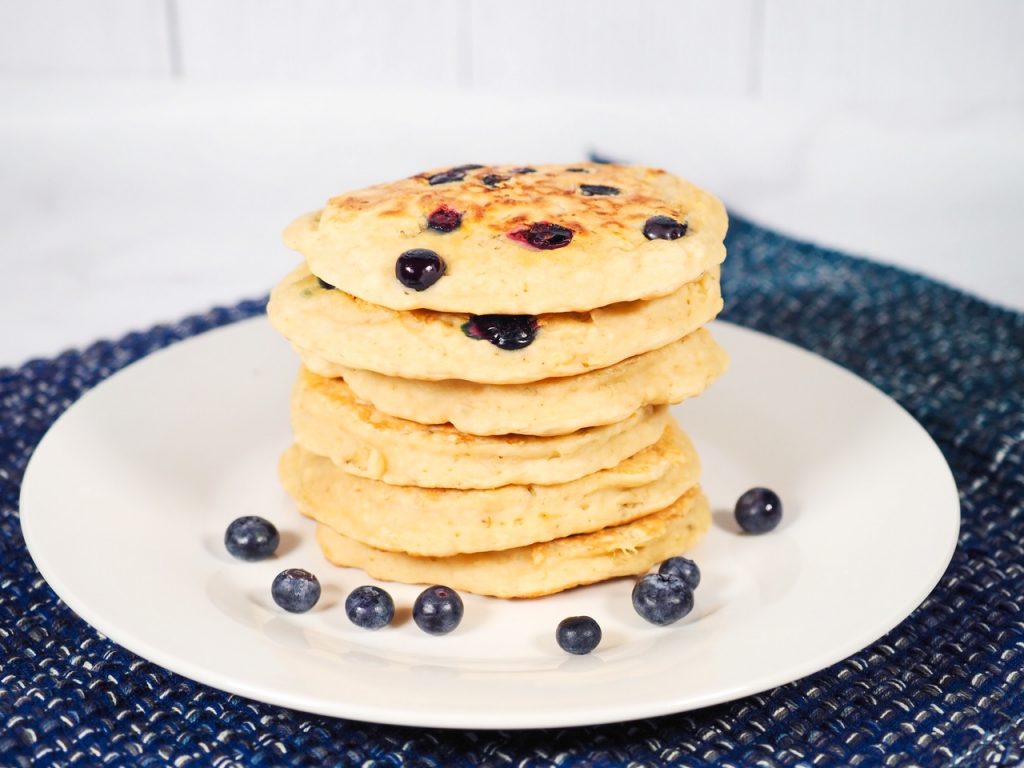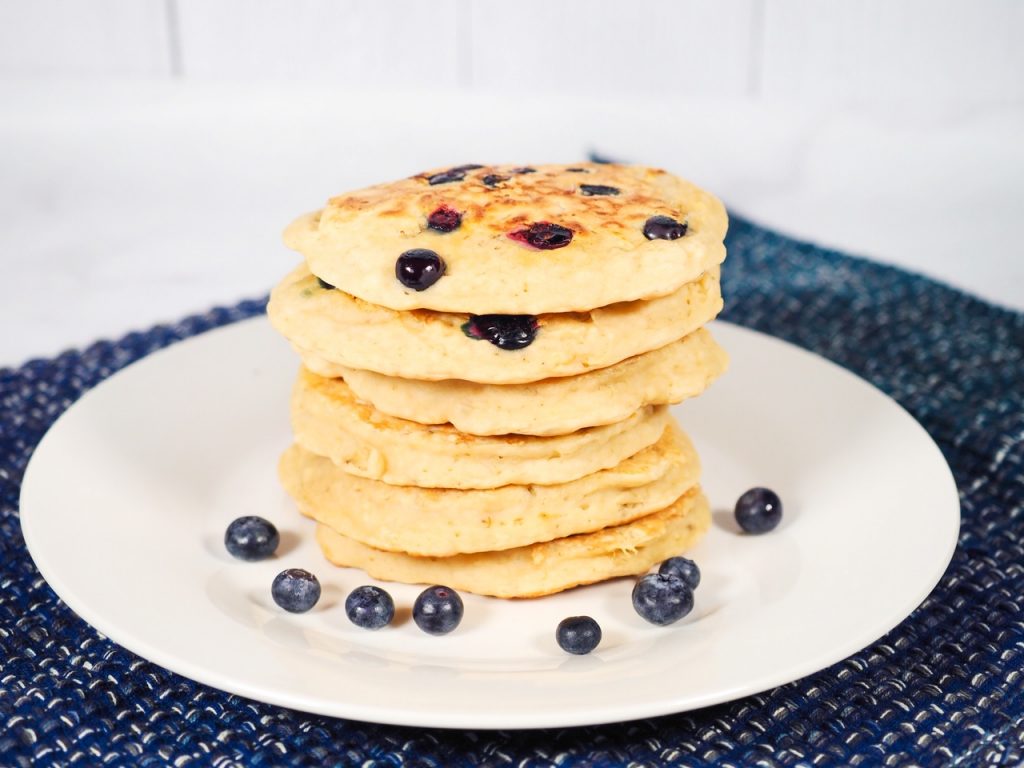 Preparing The Vegan Blueberry Pancakes
A lot of easy vegan pancake recipes use only one bowl. I am going to be a rebel and recommend using two bowls just because it is easier to separate the wet and dry ingredients when making the vegan blueberry pancakes.
In a medium-sized bowl, you will want to combine the flour, baking soda, and baking powder and give it a quick mix until all of the ingredients are sifted together.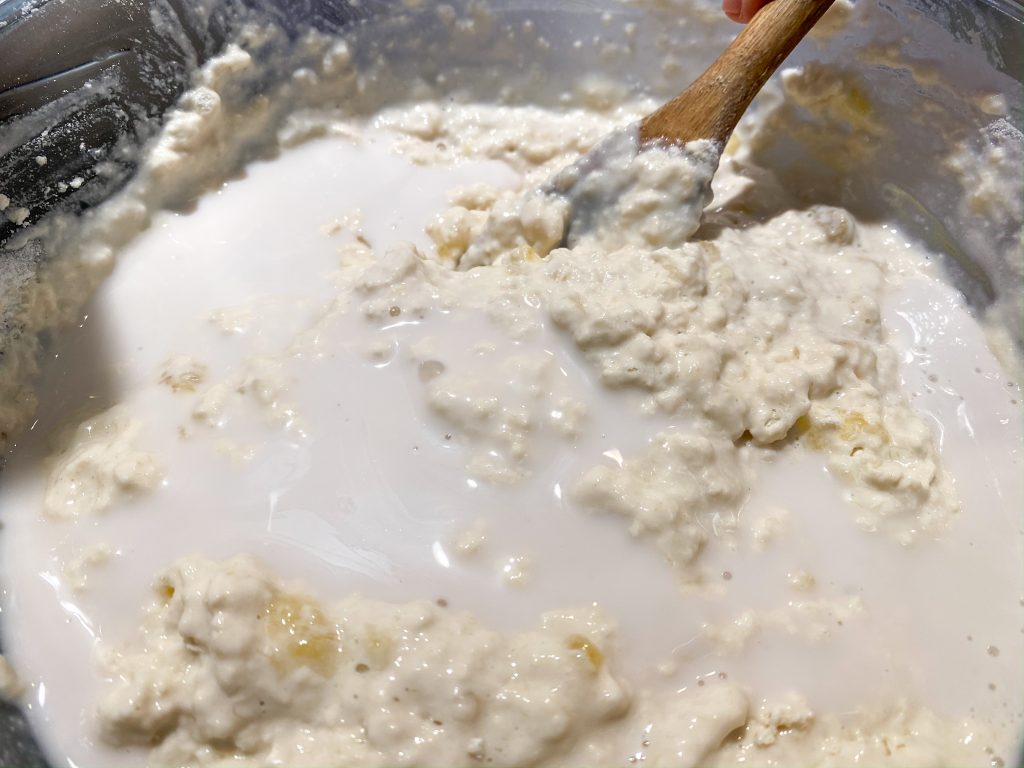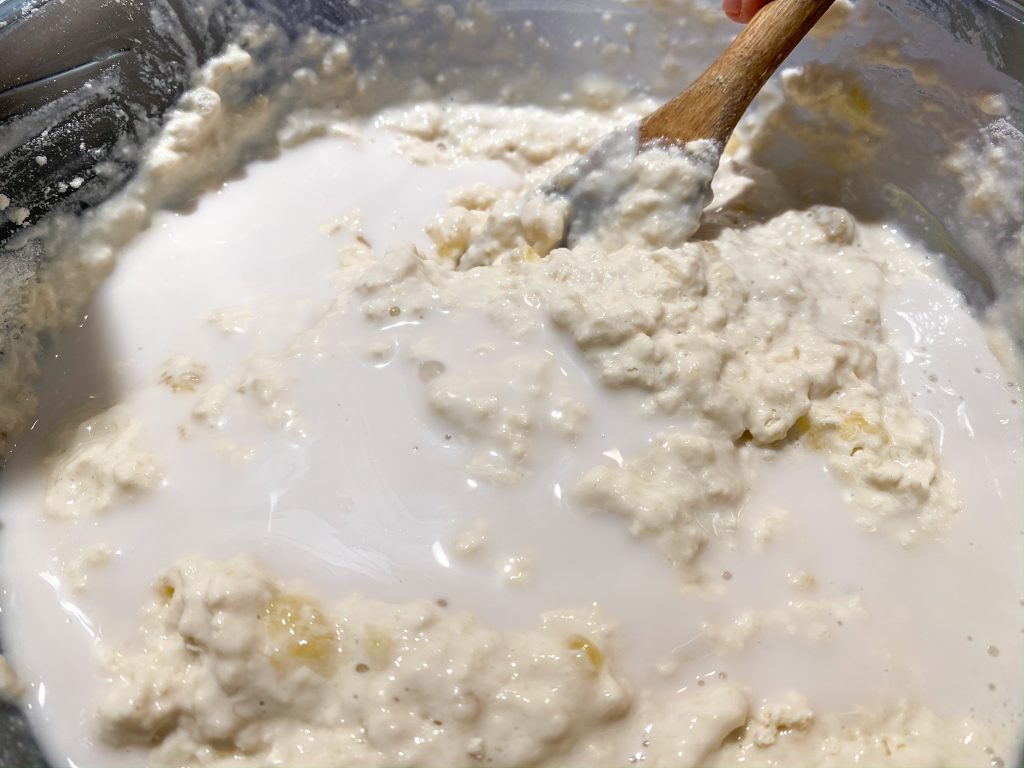 Then, in another medium bowl, combine your oil and your non-dairy milk and stir together!
Then you will add the wet ingredients to the dry ingredients. You want to do this part SLOWLY. Some people use a whisk or a hand mixer when making vegan blueberry pancakes but this is a HUGE mistake!
You want to combine slowly with a fork! Stir until barely combined. It is 100% okay if there are some lumps of flour still in the pancake batter. This is actually the way you want it to be!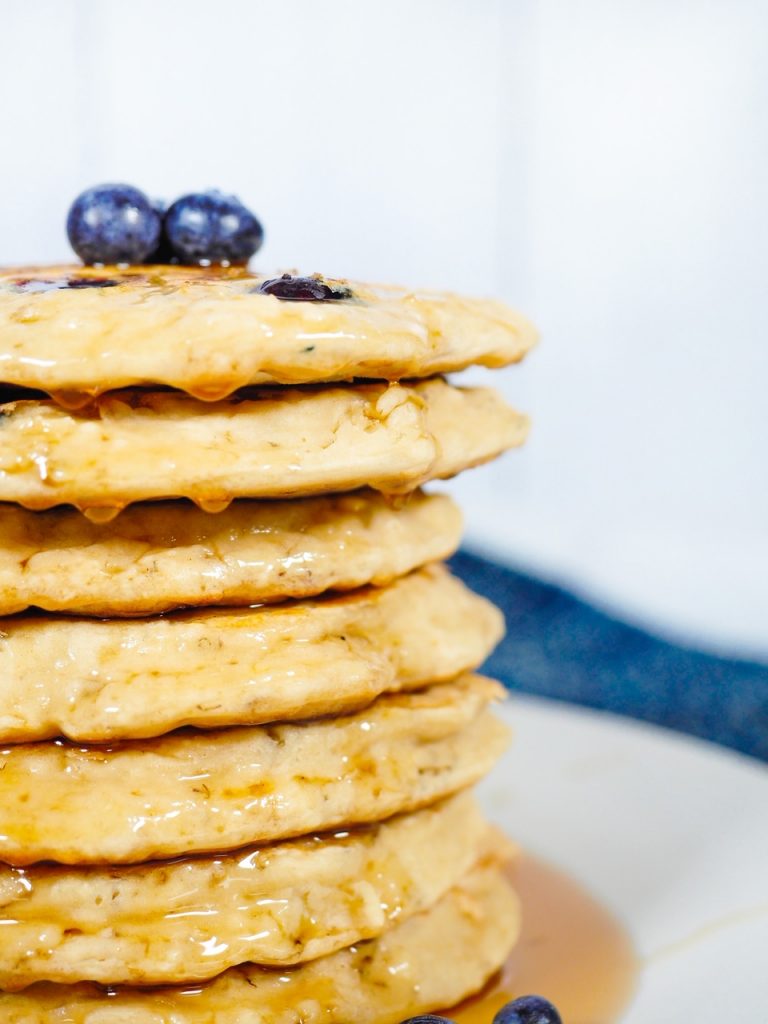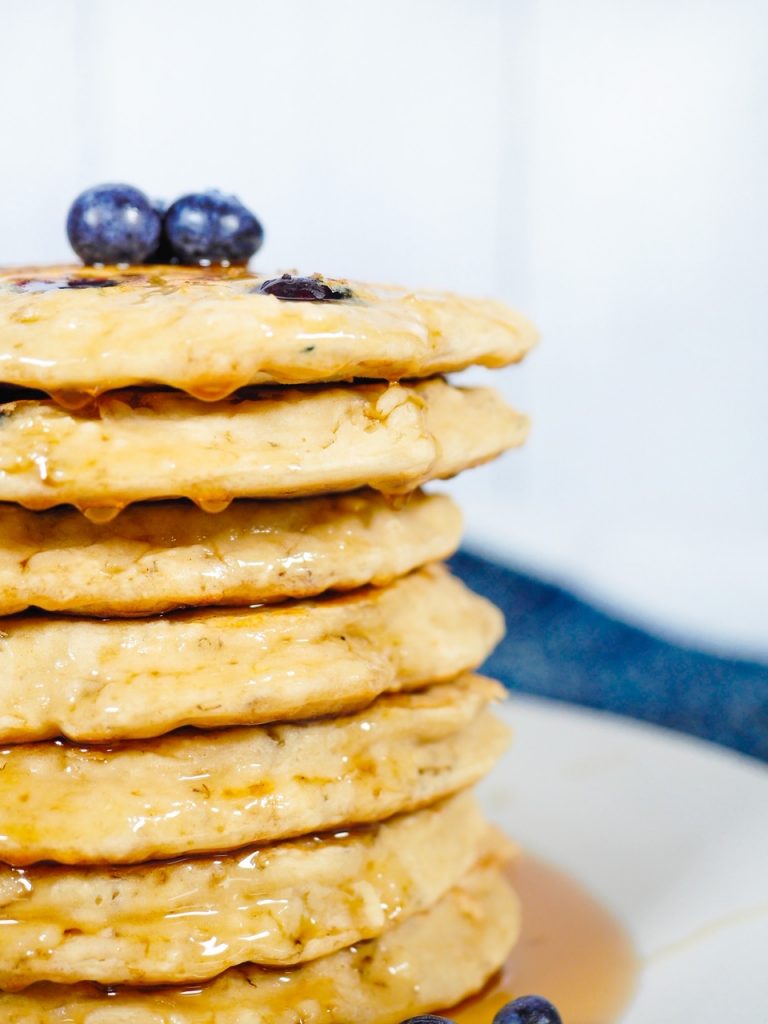 Cooking The Vegan Blueberry Pancakes
To cook the vegan blueberry pancakes, you are going to want to use a non-stick frying pan or griddle. I prefer to use a griddle simply because I can cook more pancakes at one time!
Using a ladle, pour one small ladle at a time onto the griddle or frying pan. You will want to use a little oil to coat the pan if you are not using a non-stick frying pan or griddle.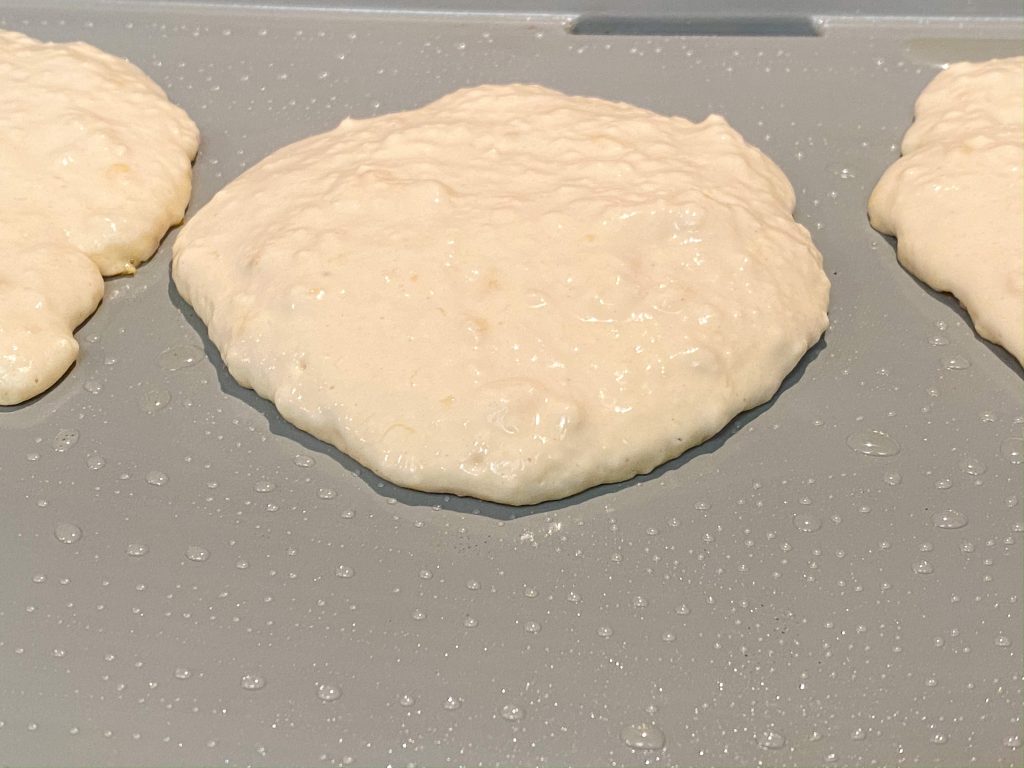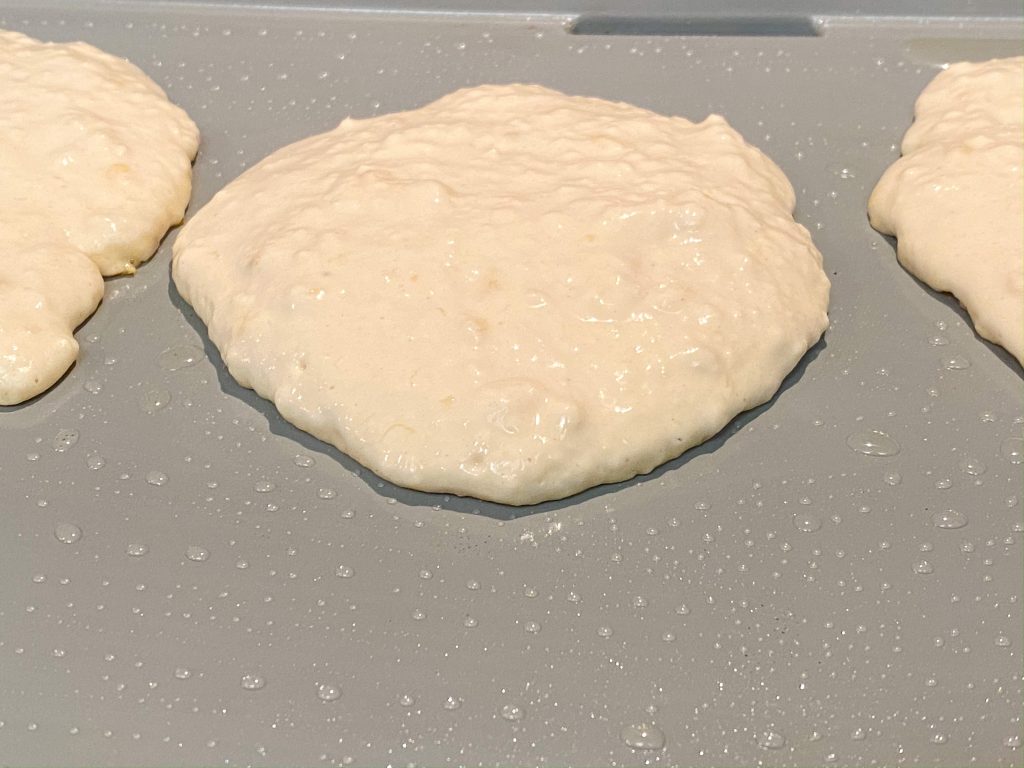 You will add blueberries to the vegan pancakes as soon as the batter hits the hot griddle. You simply sprinkle as many blueberries on the pancakes that you want. You may choose to only use a few blueberries or to use a ton, the choice is yours.
When you add the blueberries to the pancakes, you will do it as soon as they face down. Then, you will cook the vegan blueberry pancakes until you start to see bubbles on top, in between the blueberries.
You will cook on medium-high. Most griddles have settings and I use between 350-400 degrees.
As soon as the edges for the vegan blueberry pancakes start to look dry and dark, you will want to flip. You don't want to wait too long or else the pancakes will burn. Now, the blueberry side will be facing down!
You only want to cook this second side of the pancakes for no more than 1-2 minutes at the most. You want the bottom to be cooked but want to avoid burning the blueberries.
And that is it! You are done and you have made vegan blueberry pancakes with ease! If you want to customize you can easily make Vegan Banana Pancakes by adding one small ripe mashed banana and eliminating the oil entirely! Serve with a side of Vegan Hash Browns and enjoy!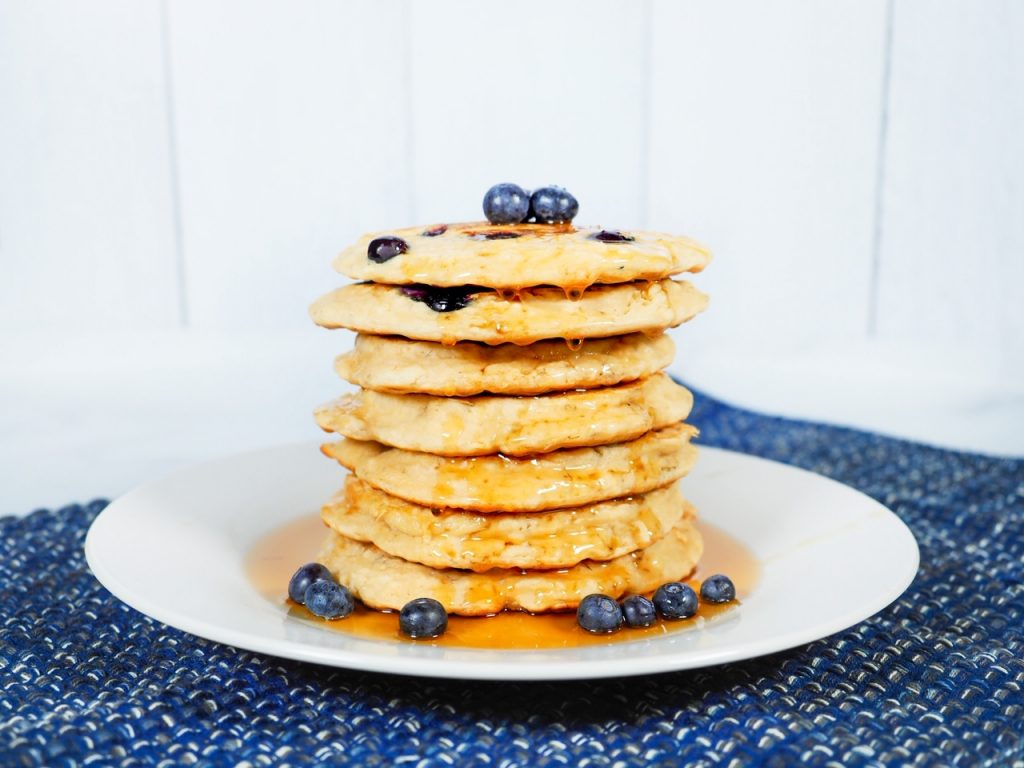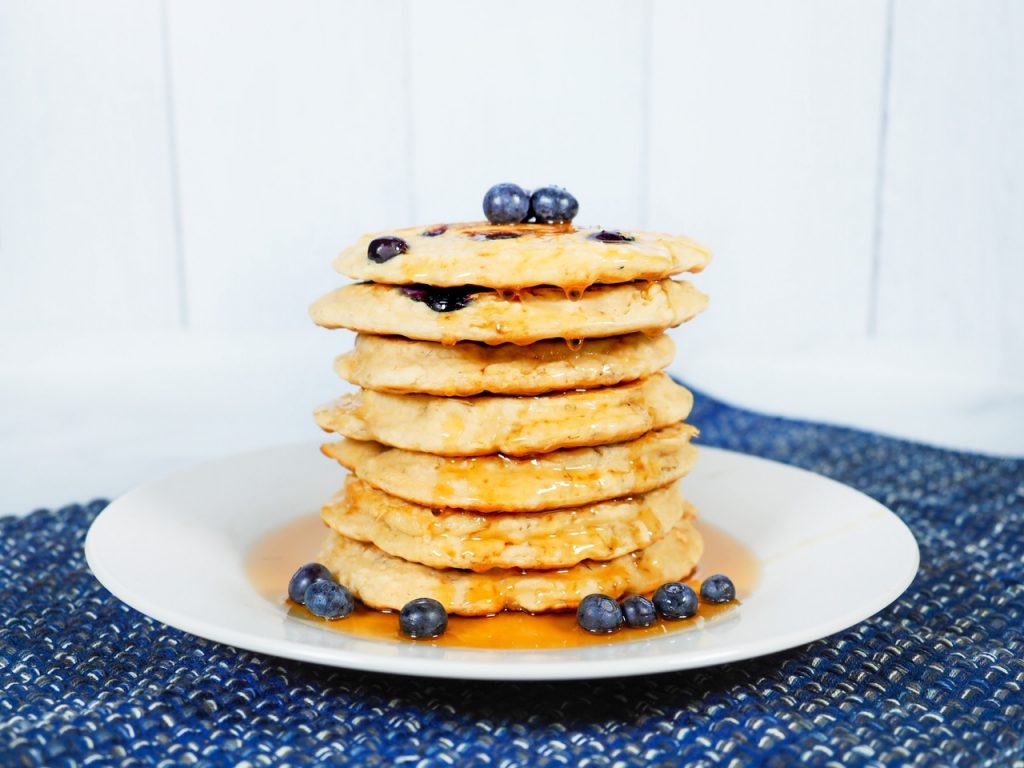 Yield: 3-4 Servings
Easy Vegan Blueberry Pancakes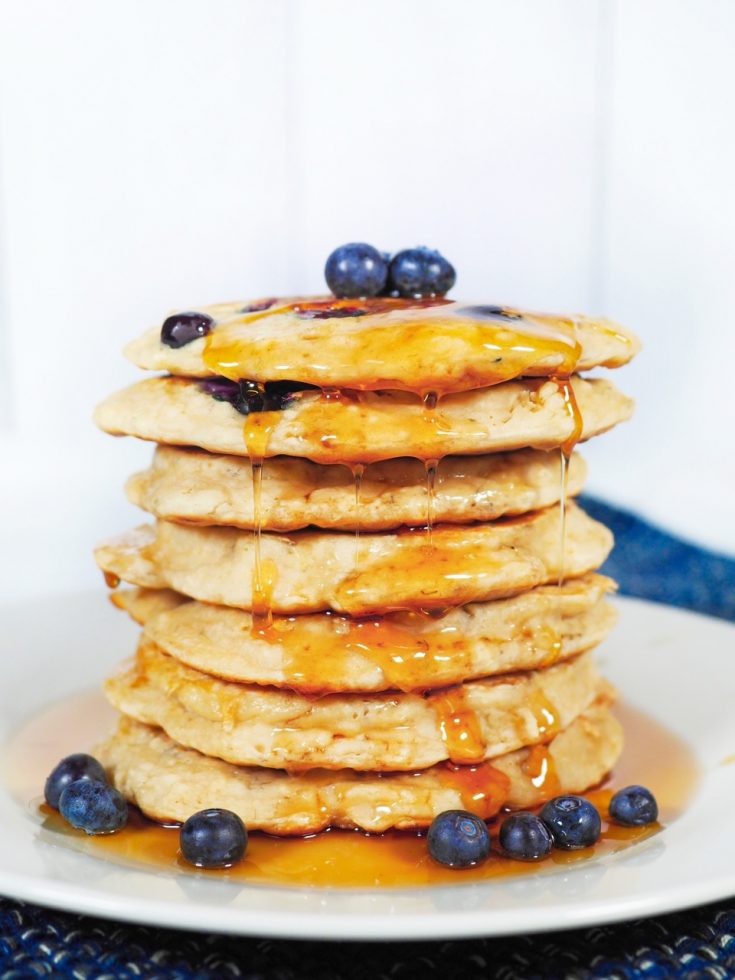 These vegan blueberry pancakes are super easy to make and only require 6 simple ingredients, most of which you should have around your house! The blueberry flavor really adds depth to these fluffy vegan pancakes.
Ingredients
3 Cups Of Flour
3 Tablespoons Of Oil
1.5 Teaspoons Baking Soda
1.5 Teaspoons Baking Powder
3 Cups Of Non-Dairy Milk
1 Medium Container Of Blueberries
Instructions
In a medium bowl, measure out your flour, baking powder, and baking soda. Mix until dry ingredients are combined.
Add oil and non-dairy milk to another bowl and combine wet and dry ingredients slowly. Do not overmix or use a hand mixer. Visible lumps of flour are okay!
Heat a griddle or non-stick frying pan on medium-high heat and use a small ladle to pour vegan blueberry pancake batter onto the griddle.
Immediately top pancake batter with blueberries, to taste.
Watch the blueberry pancakes until the edges are dry and the top is bubbly between the blueberries. Do not overcook! Then flip to cook the other side.
Cook the other side between 1-2 minutes at the most to avoid burning the blueberries. Check that the other side is cooked by pacing a spatula underneath the pancakes and looking to ensure the bottom side is cooked. Serve immediately.
To serve, eat with non-dairy butter, maple syrup, additional fresh fruit, or the topping of your choice!