These comforting apple walnut muffins are perfect for a chilly fall day or any other time of the year when you are dreaming of pumpkins and crisp leaves!
These apple muffins are actually on the healthier side than many other recipe options, so you can indulge in one or two for breakfast without feeling guilty!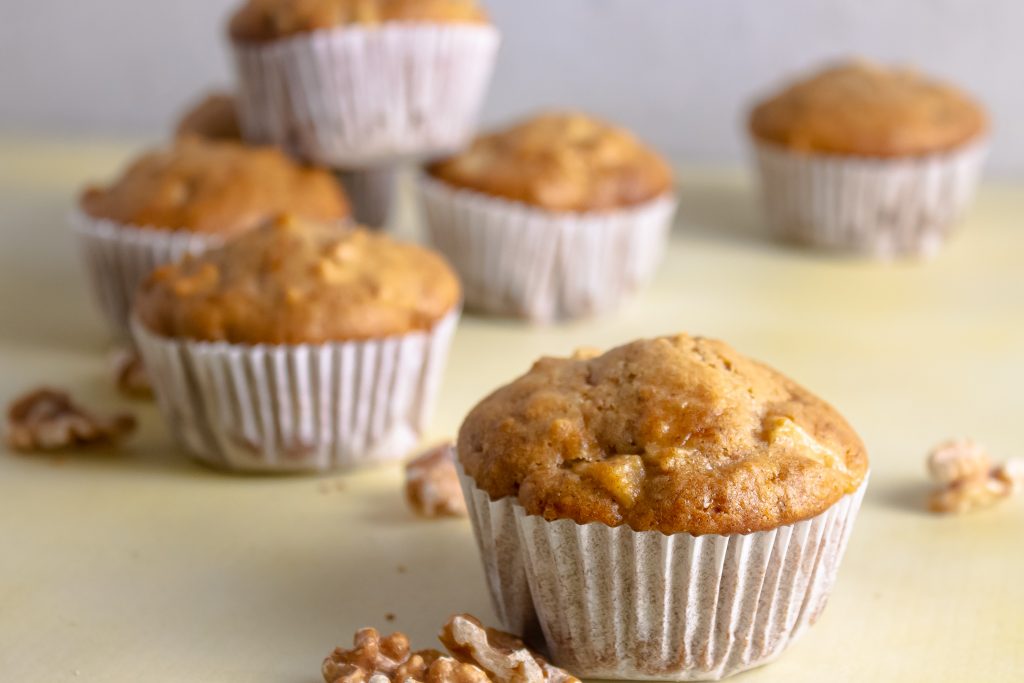 The fresh apples and walnuts are enhanced by honey and whole wheat flour which both have great health benefits! If you prefer white flour or a gluten-free flour, you can substitute out the whole wheat, but it does make for a healthier option!
These apple walnut muffins are moist yet crumbly and only use one bowl to make so cleanup is super quick! You can even use a smaller muffin tin if you want to get a bunch of mini apple walnut muffins for snacking on the go!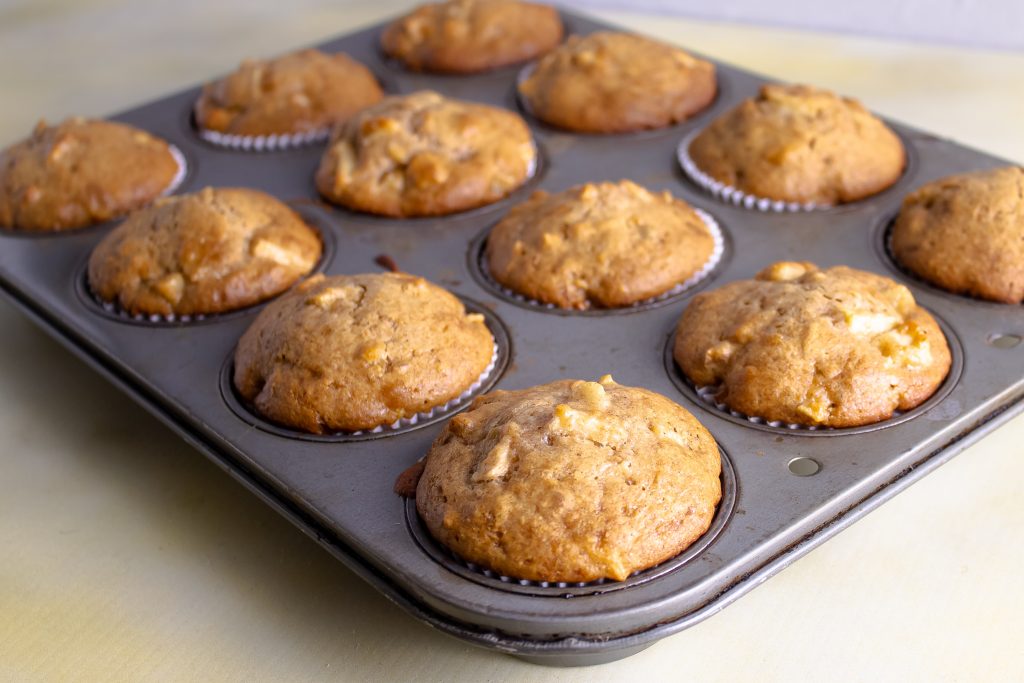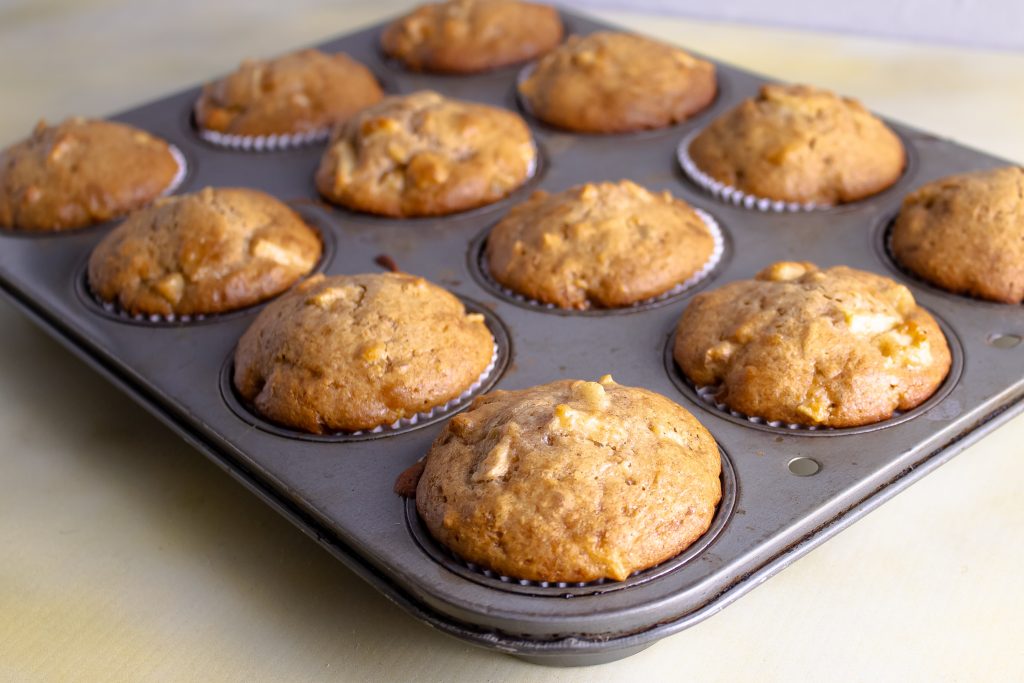 Selecting The Fruit For The Apple Walnut Muffins
Although these are apple muffins, this recipe only calls for 3 small apples. This means that you are going to want to be careful when selecting the apples to ensure that the flavor and quality are wonderful!
I leave it up to you to choose which types of apples you want to use depending on what you have on hand and what suits your tastes. If you prefer a sweeter taste, choose a sweeter apple, if you prefer tart, then choose a green apple for these apple walnut muffins.
Since there are only a few apples, it is essential to ensure they are of good quality and fully ripe and ready to be eaten in order to make this recipe shine!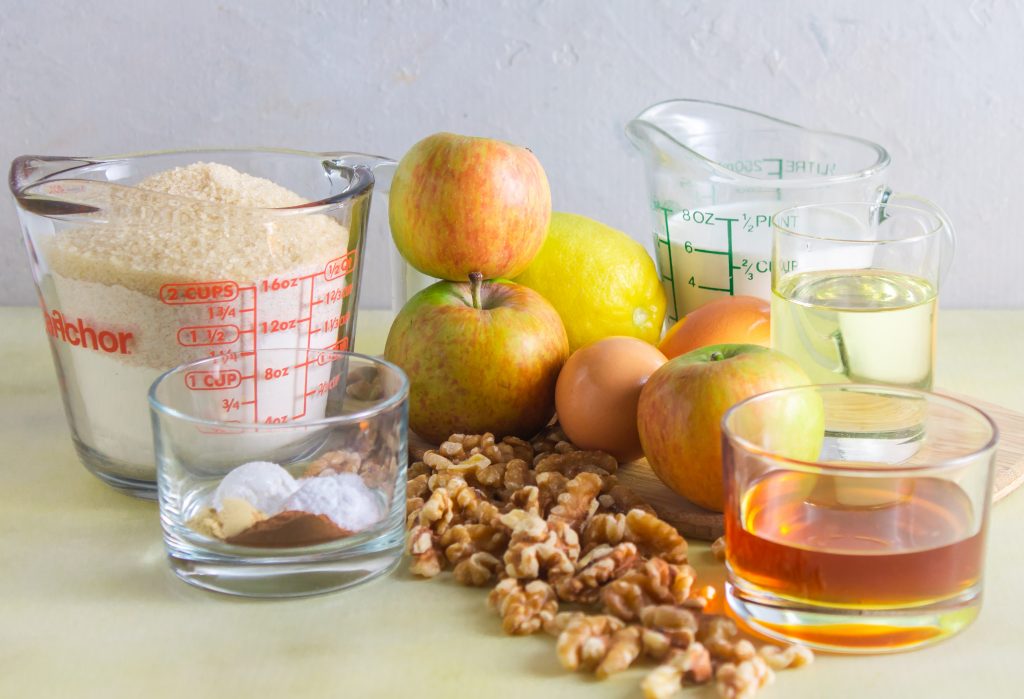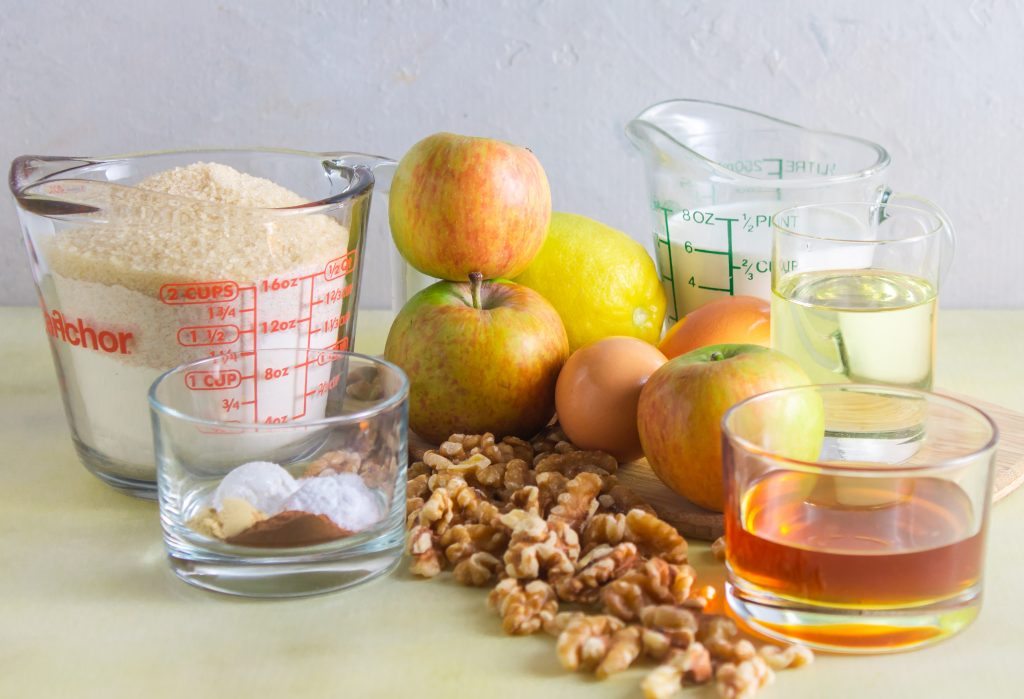 Making The Apple Walnut Muffins
When making the apple walnut muffins, you are going to want to chop your apples into cubes. I do NOT recommend peeling the apples as it takes time and the apple peel is full of healthy nutrients! As long as you wash the apples, you should be fine!
Next, chop the walnuts for the apple muffins into little pieces, about 1/4 an inch big which is quite tiny. I grew up chopping walnuts for recipes my mom would make, and it does take time! It may be easier to buy pre-chopped walnuts, although it is often more expensive.
If you loved this recipe, you may love my Best Vegan Apple Crisp Recipe too!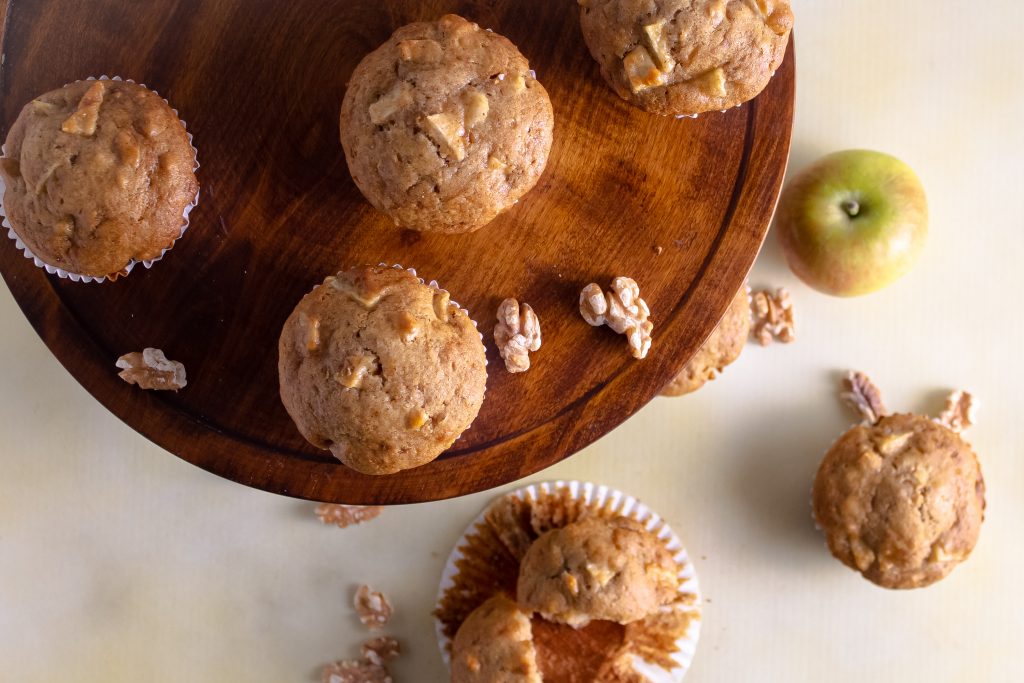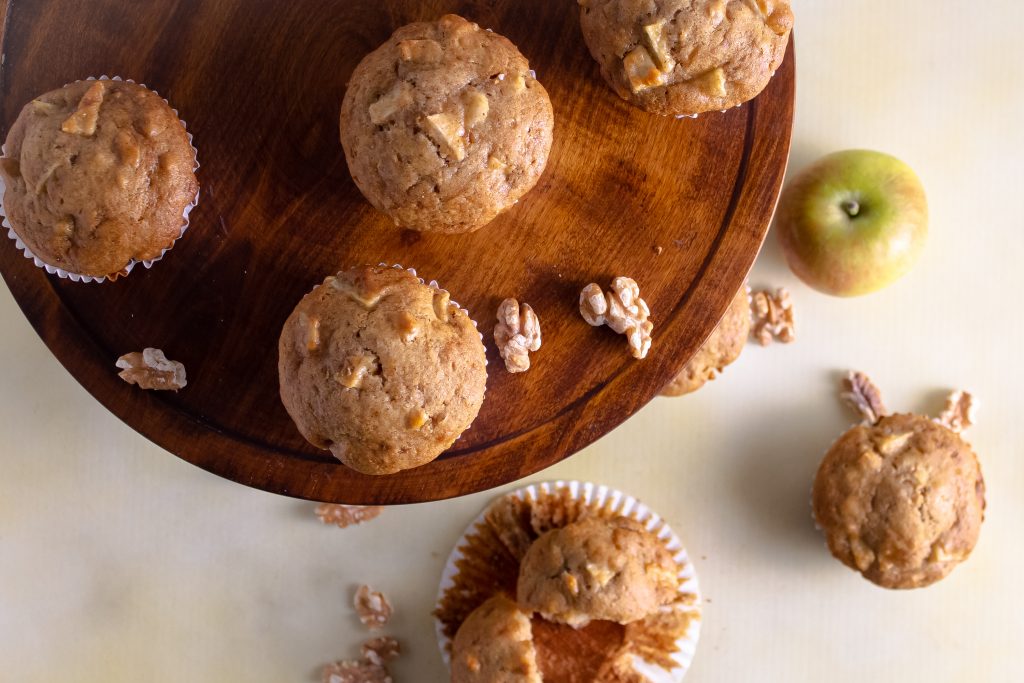 Once you mix the wet and dry ingredients for the apple walnut muffins, you want to be careful not to over mix! If you over mix it will result in tough or rubbery muffins and that is the exact opposite of what you want!
You want to mix until everything is just incorporated. If there are lumps, that is okay! Then you will gently fold in the apple and walnut pieces and fill your muffin tins.
You can freeze the batter for the apple walnut muffins in a muffin tin in a plastic bag in the freezer if you want to pop them in and make them fresh in the future. You can store cooked in the refrigerator for 2-3 days and frozen in an airtight container for up to 1 month!
To serve, eat warm with butter or cold on the go! If you make these apple walnut muffins, please let me know in the comments! If you loved this recipe, you may love my Vegan Apple Turnovers too!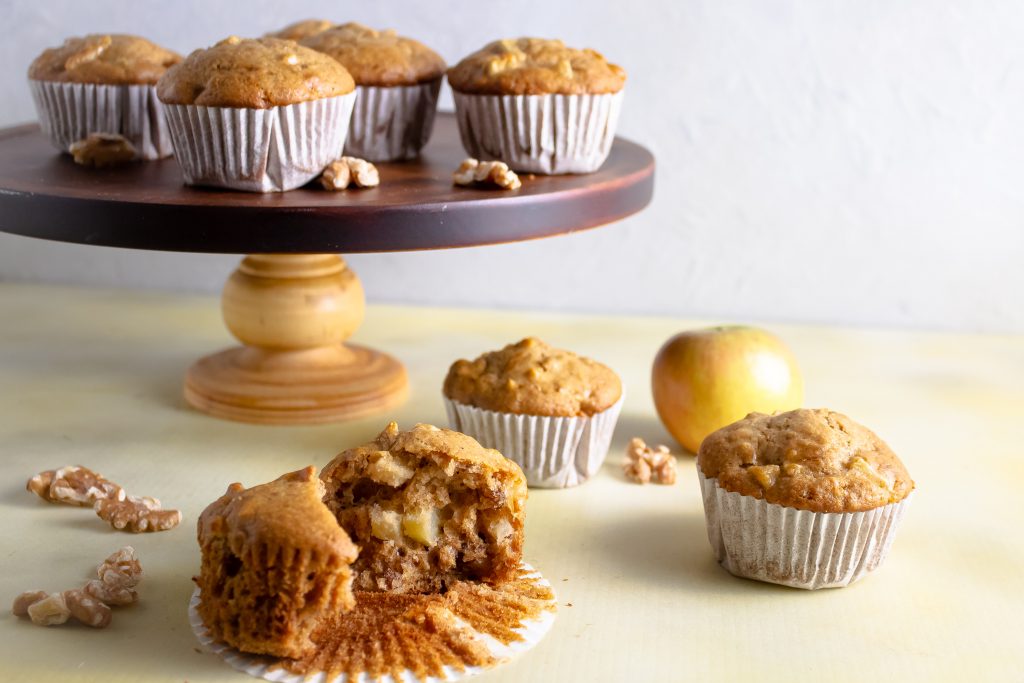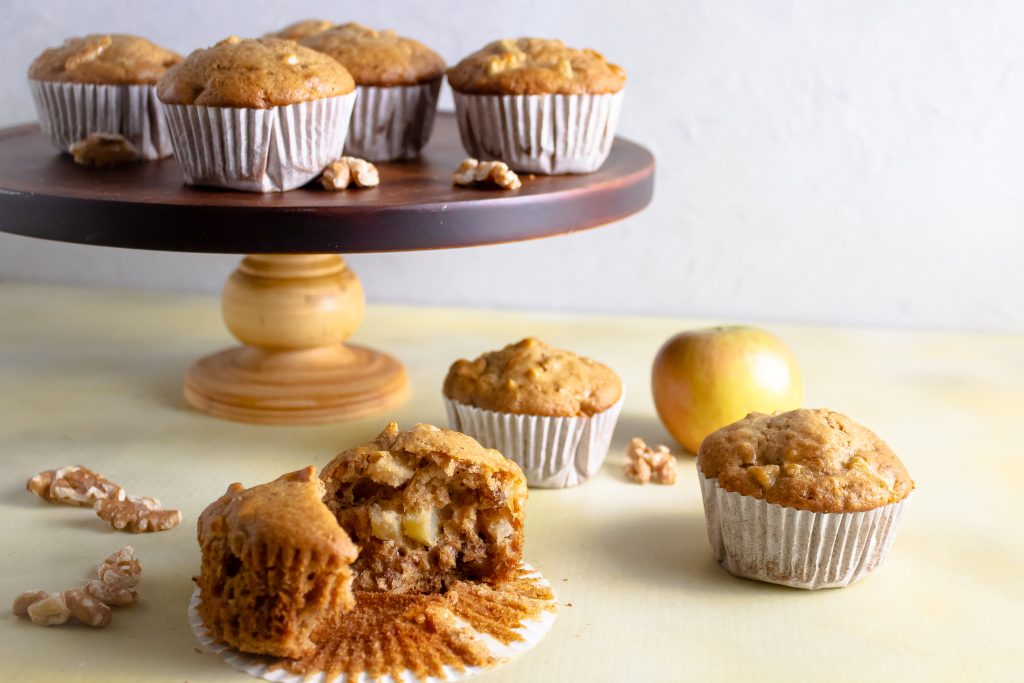 Yield: 12 Large Muffins
Comforting Apple Walnut Muffins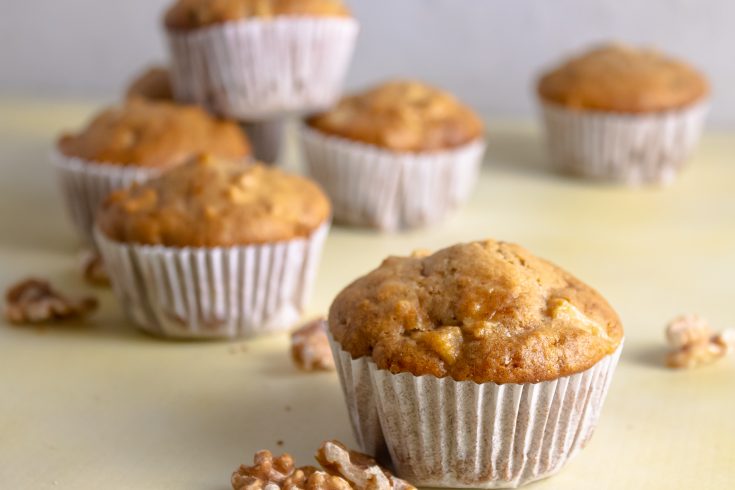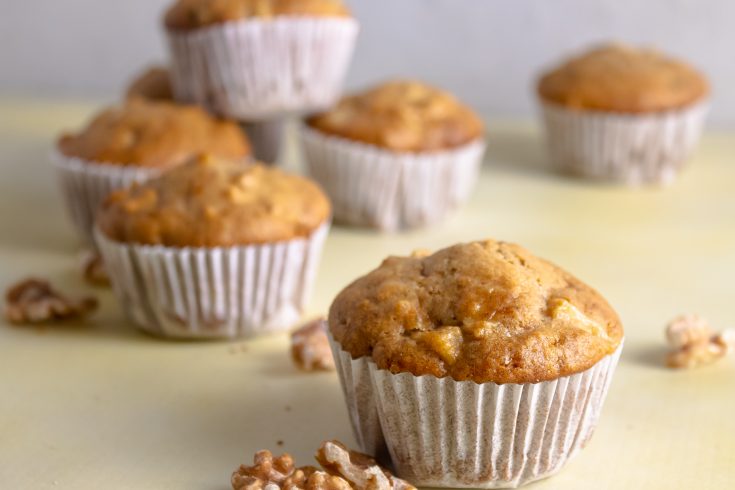 These apple walnut muffins are comforting and delicious! Filled with fresh fruit and walnuts, these apple muffins are perfect for a healthy breakfast or snack on the go! They cook up using only one bowl and are easy to make.
Ingredients
1 1/3 Cup all-purpose flour
2/3 cup whole wheat flour
½ cup granulated sugar
1 tsp baking powder
1 tsp baking soda
½ tsp ground ginger
½ tsp ground cinnamon
¼ tsp sea salt
¾ cup half and half
½ cup of vegetable oil
2 large eggs
¼ cup honey
1 tbs lemon juice
3 small apples
1 cup chopped walnuts
Instructions
Preheat oven to 350° F. Line 12 cups in a ½ cup capacity muffin pan with paper liners.
Chop apples for muffins into ½" cube or rectangular pieces. Make sure walnuts are coarsely chopped into ¼" pieces. If it is easier, buy walnuts that are already chopped.
Combine all dry ingredients (flours, sugar, baking powder, baking soda, spices, salt) in a large bowl. Whisk to evenly distribute everything.
Make a well in the center of the flour mixture. Add eggs and oil to well. Whisk eggs into oil incorporating as little of flour as possible.
Add half and half, lemon juice, and honey to oil and eggs. Whisk to mix, slowly incorporating in the flour.
Mix only until everything is incorporated, some lumps may remain. Over mixing will result in tough muffins.
Gently fold in apple and walnut pieces.
Scoop batter into paper liners, filling nearly to top.
Bake at 350° F for 25 minutes until a knife or toothpick comes out clean and the muffins are lightly browned.
Best served warm and the same day. If storing, keep in an airtight container in the fridge for 2 days or frozen for up to 1 month.
Nutrition Information
Yield
12
Serving Size
1
Amount Per Serving
Calories

323
Total Fat

18g
Saturated Fat

3g
Trans Fat

0g
Unsaturated Fat

15g
Cholesterol

36mg
Sodium

217mg
Carbohydrates

37g
Fiber

3g
Sugar

19g
Protein

6g