If you are looking for vegan soup recipes, you're in luck because we have found 30 delicious vegan soup recipes that are sure to delight your taste buds, fuel your body, and soothe your soul! Soup can be such a perfect meal filled with vitamins and essential nutrients. Most of these vegan soup recipes are easy to throw together and will quickly become part of your go to meal list.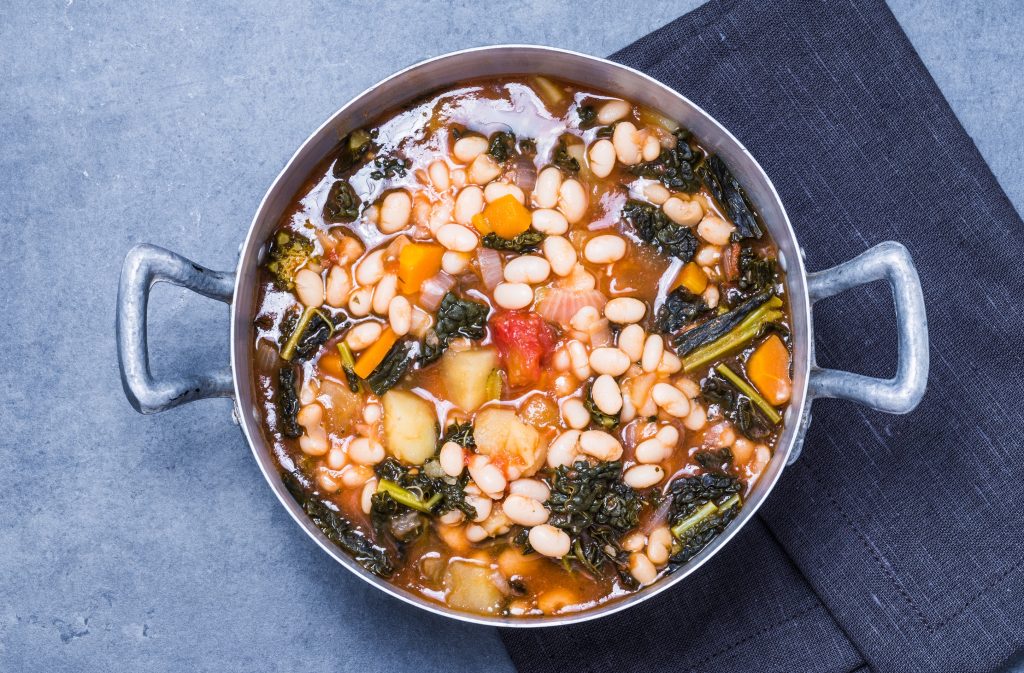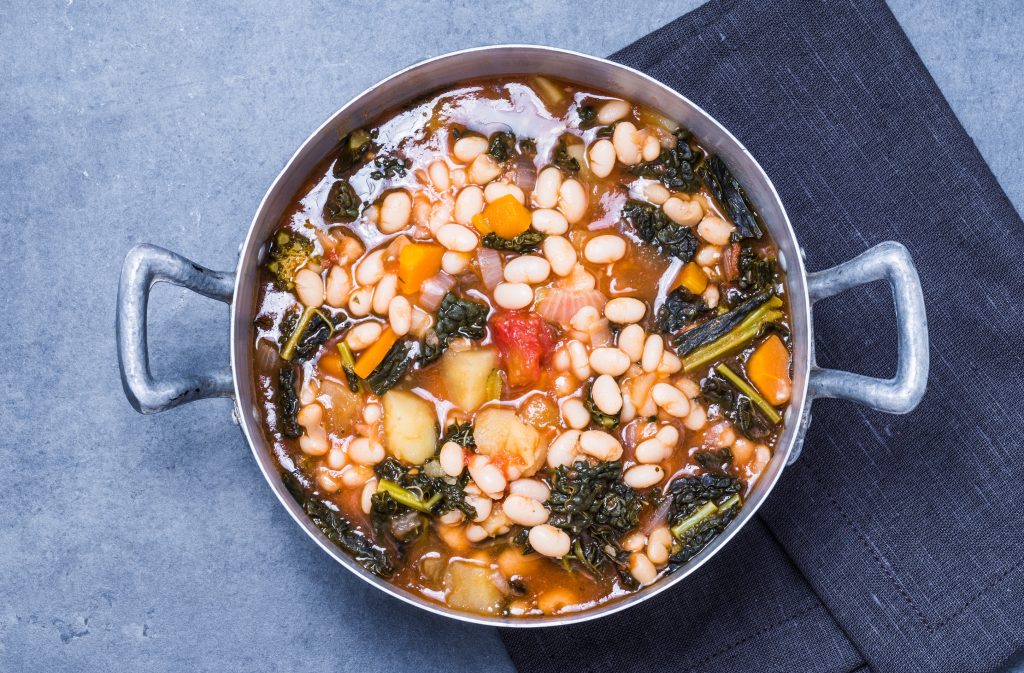 Can Vegan Soup Recipes Be Creamy And Full Of Flavor?
YES!! Often times people are instantly put off by just seeing the word vegan, but you shouldn't let that deter you. There is a stigma surrounding vegan food and to be frank this is based on assumptions and old recipes.
All vegan recipes and food items have come leaps and bounds as far as taste and texture are concerned. They are also readily available at most grocers now which makes sticking to a vegan diet very easy as ingredients are convenient to find.
Vegan soup recipes can vary drastically from very creamy soups to light broths. Just because a soup is vegan doesn't mean you have to compromise on flavor or creaminess. It's surprising, I know!
But, you will soon see how you can use cashews and dairy free milk to create velvety smooth soups. You will also see how different combinations of veggies and spices can create very exciting flavor profiles.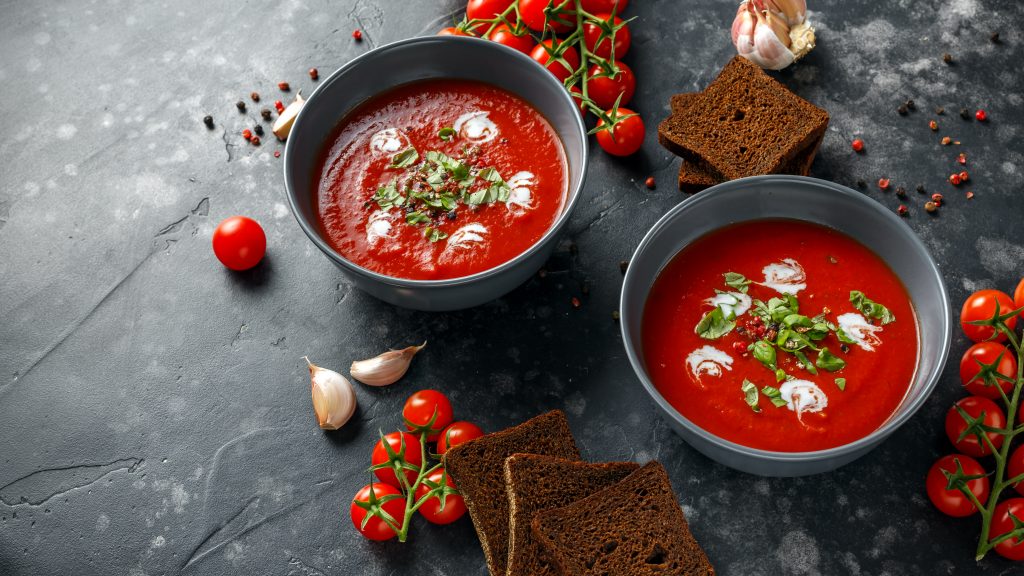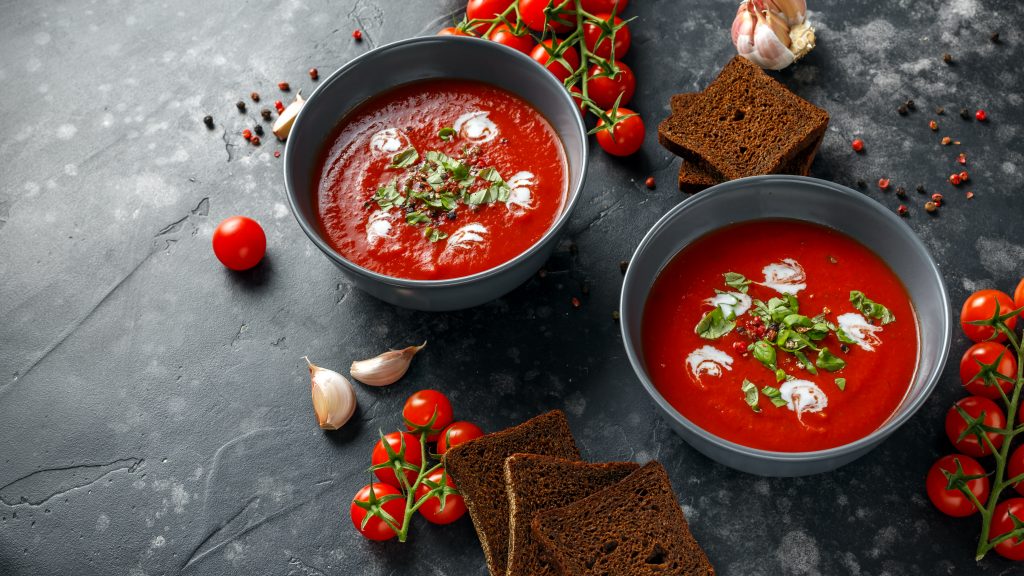 How Can Vegan Soup Recipes Benefit Your Overall Health?
You will find that vegan soup recipes commonly include sweet potatoes, curry, lentils, cauliflower, and cashews just to name a few. All of these ingredients have incredible health benefits. So, not only are you enjoying a tasty soup, but you are also helping your body and overall health.
Sweet potatoes are a wonderful source of beta-carotene. Beta-carotene acts as a powerful antioxidant in the body. Beta-carotene also converts it into the active form of vitamin A.
It has been suggested that consuming curry may improve brain and digestive health, help to lower blood sugar levels, and is associated with having anti-bacterial properties.
Lentils are rich in iron, folate, and protein. They also contain a high level of polyphenols which may reduce your risk for heart disease.
Cauliflower is high in B Vitamins as well as fiber. Cashews provide selenium, zinc, magnesium, iron and phosphorous. So, just one of these vegan soup recipes can tic a lot of boxes when it comes to getting the vitamins and nutrients your body needs to stay healthy.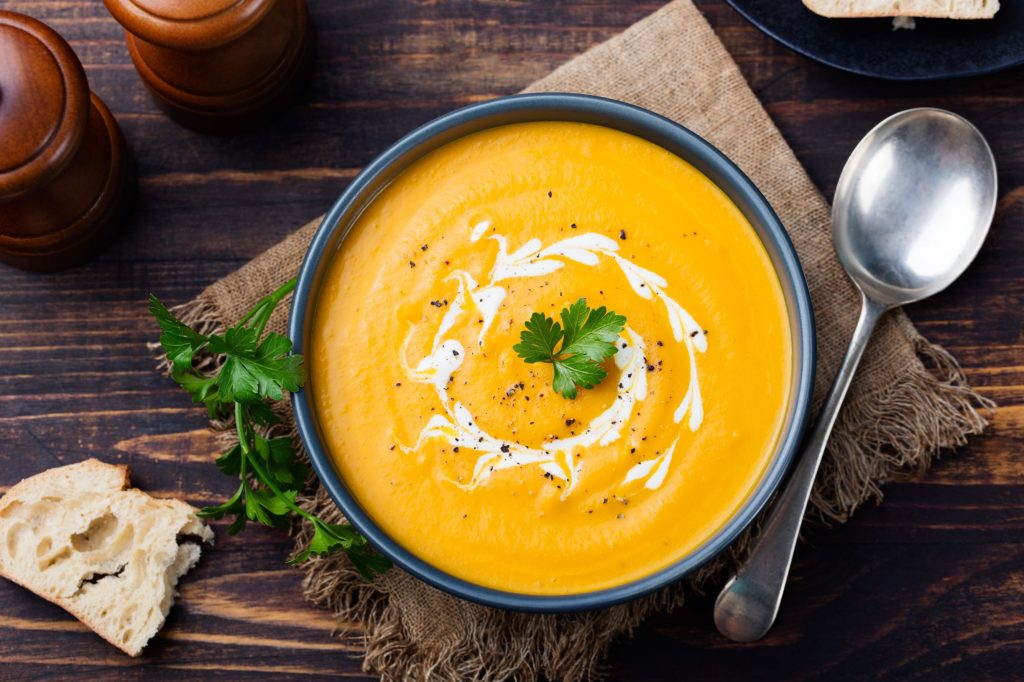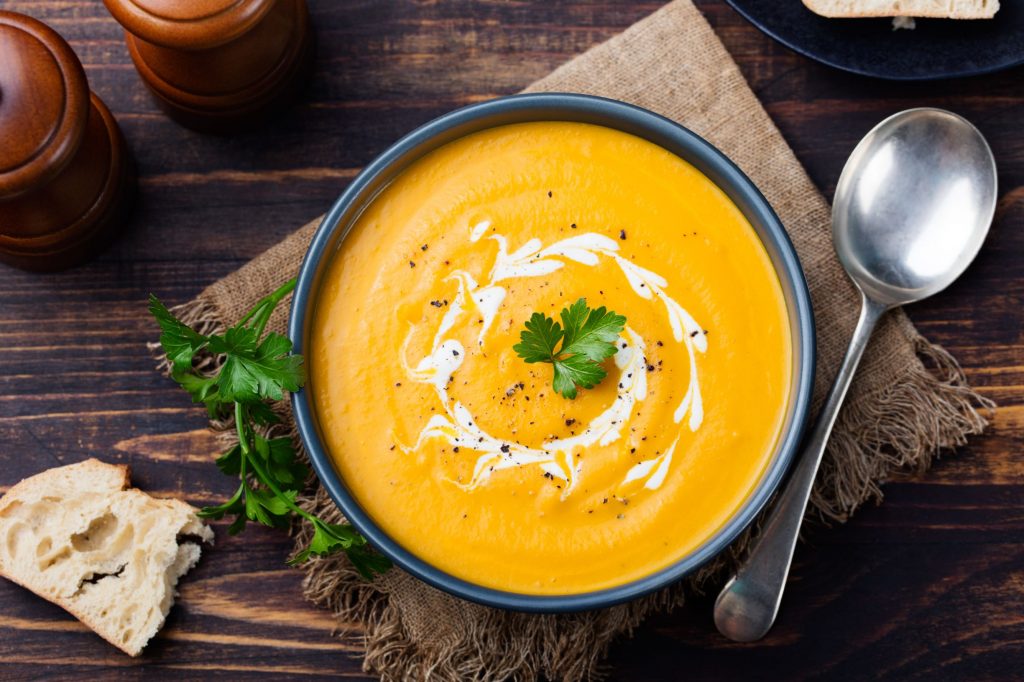 30 Fantastic Vegan Soup Recipes
5 Minute Vegan Tomato Soup
5 Minute Vegan Tomato Soup is a delicious, mildly spiced and creamy soup. The spice comes from Tikka Masala spice paste and the creaminess from coconut milk powder. Sure to become your go to quick soup!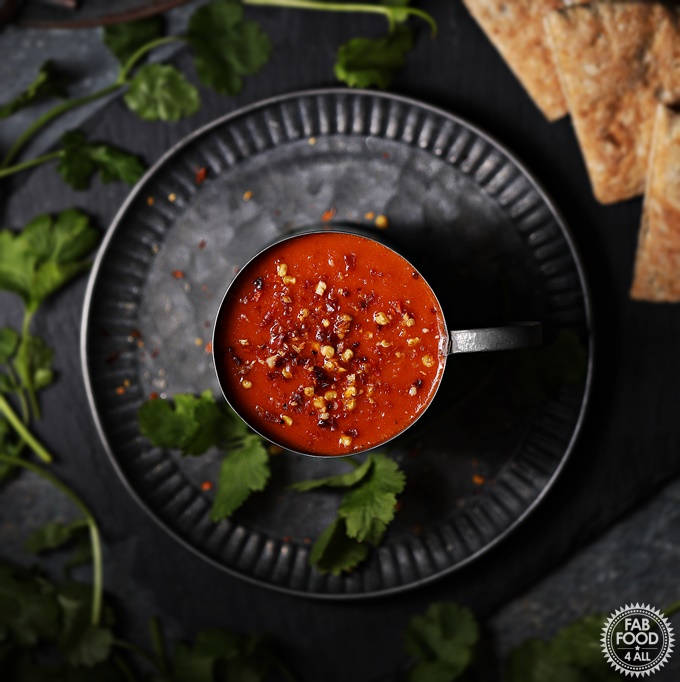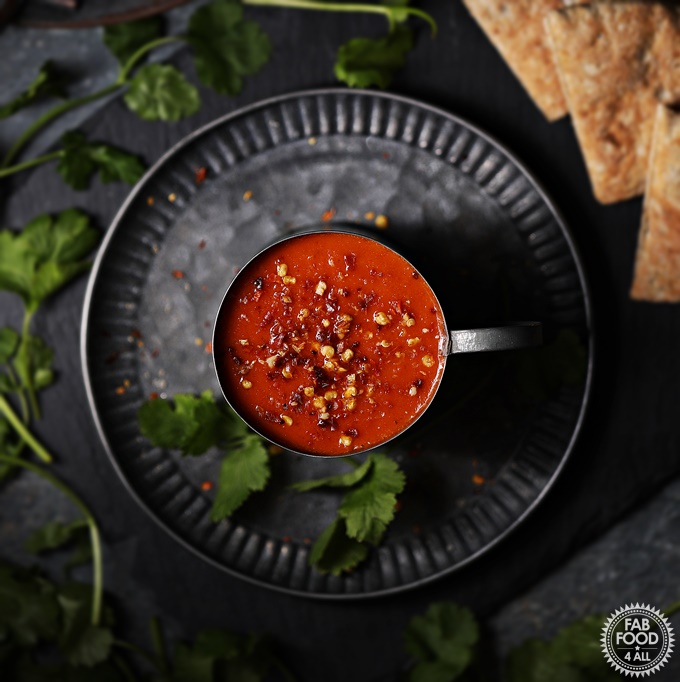 Easy Minestrone Soup With Chickpeas And Rice
You can't list vegan soup recipes without including this all time favorite comfort soup! Made with basic pantry items, there are many ways to modify the base of this easy minestrone soup and make it your own.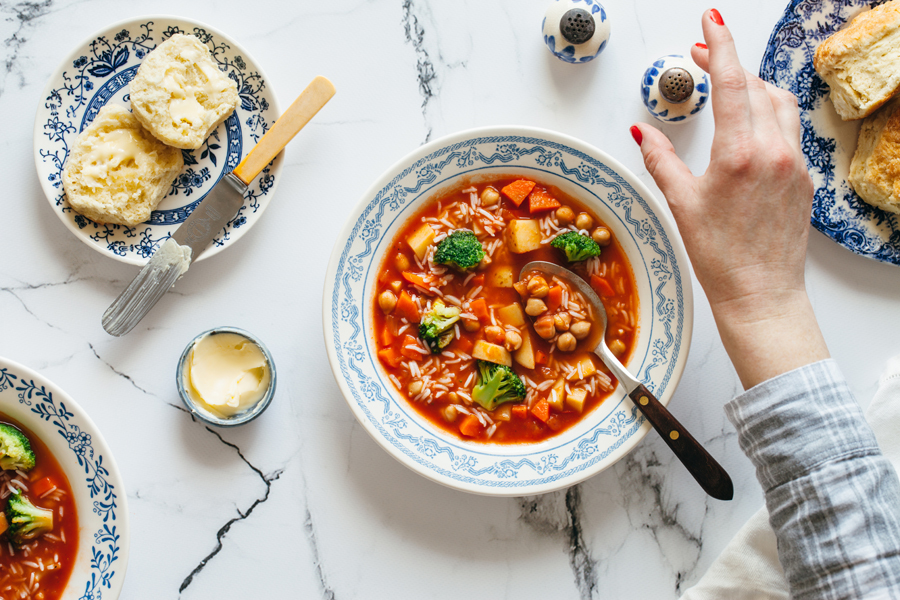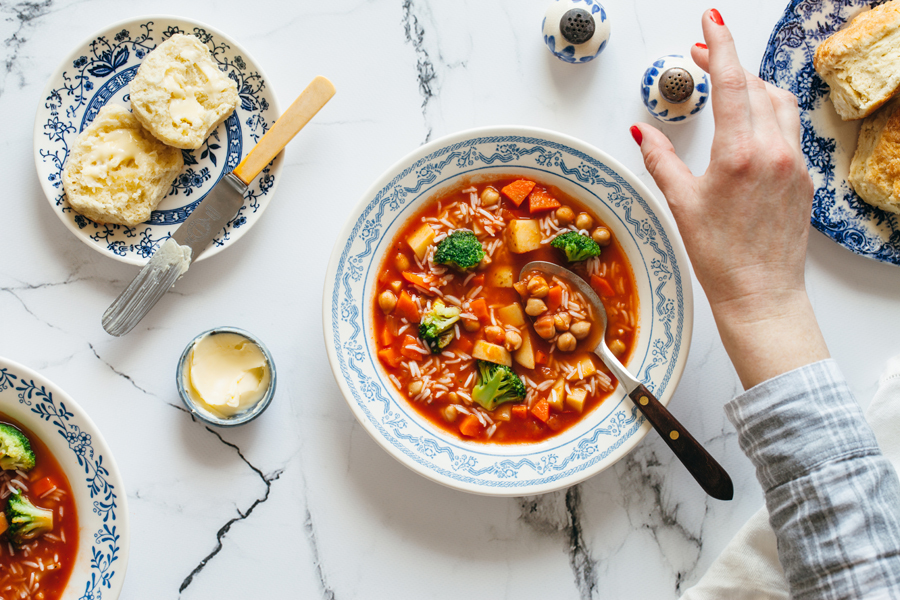 Slow Cooker French Onion Soup
This hearty and delicious slow cooker French onion soup is a classic, comforting dish. The onions are caramelized beautifully, and give the soup a really unique flavor.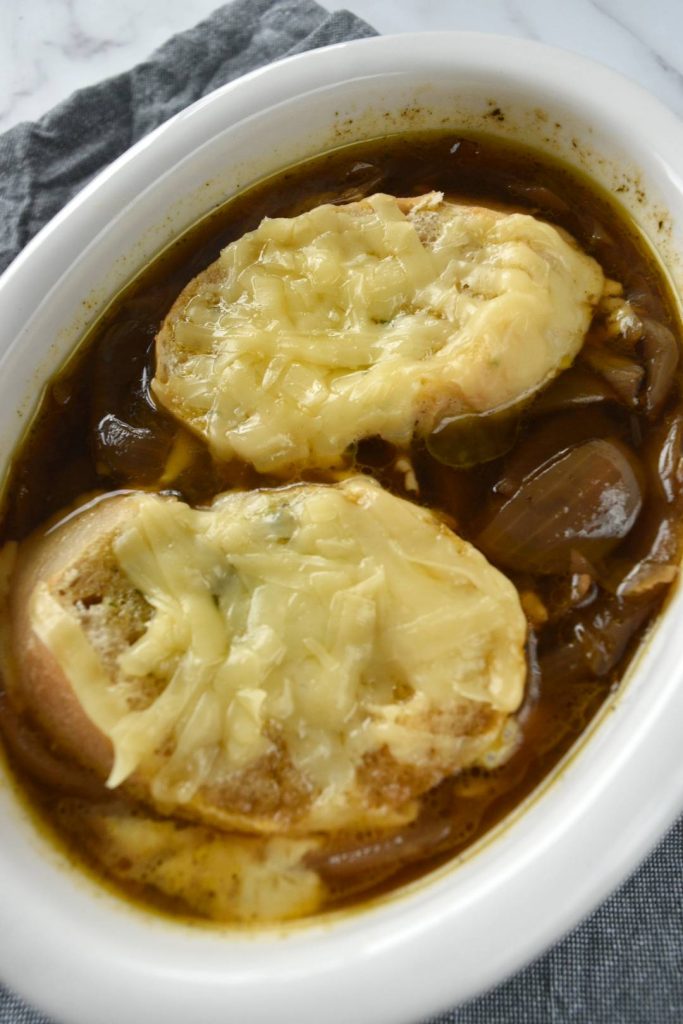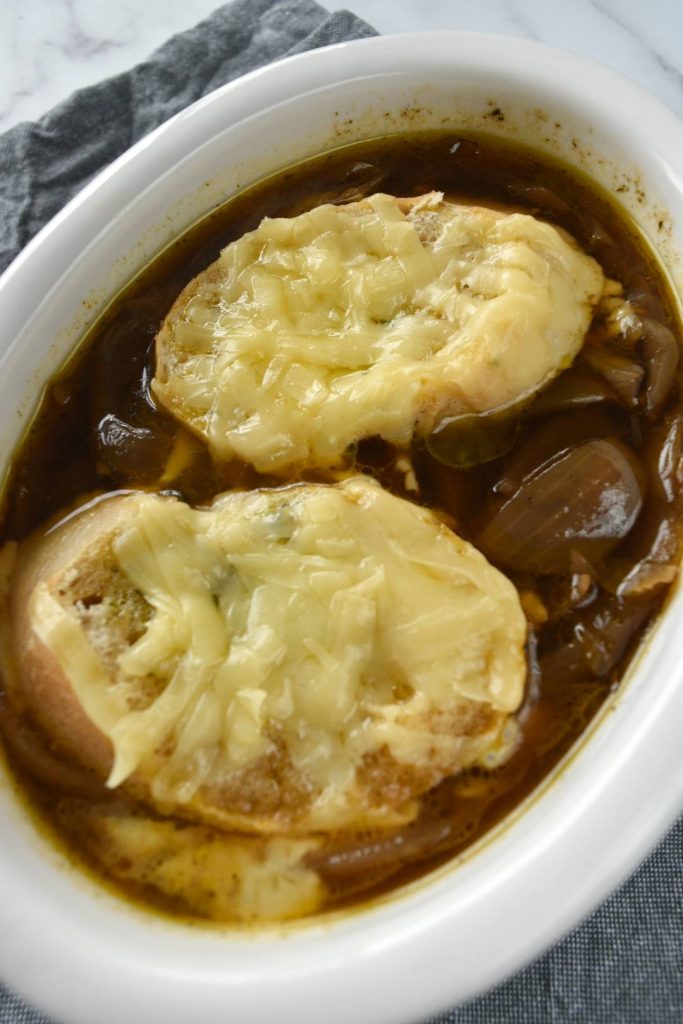 Vegan Sweet Potato Peanut Soup
Sweet Potato Peanut Soup – a vegan, gluten-free, nutrient-loaded soup that will warm your soul and belly on a cold day. Super quick and easy to make. Such a classic favorite among the vegan soup recipes!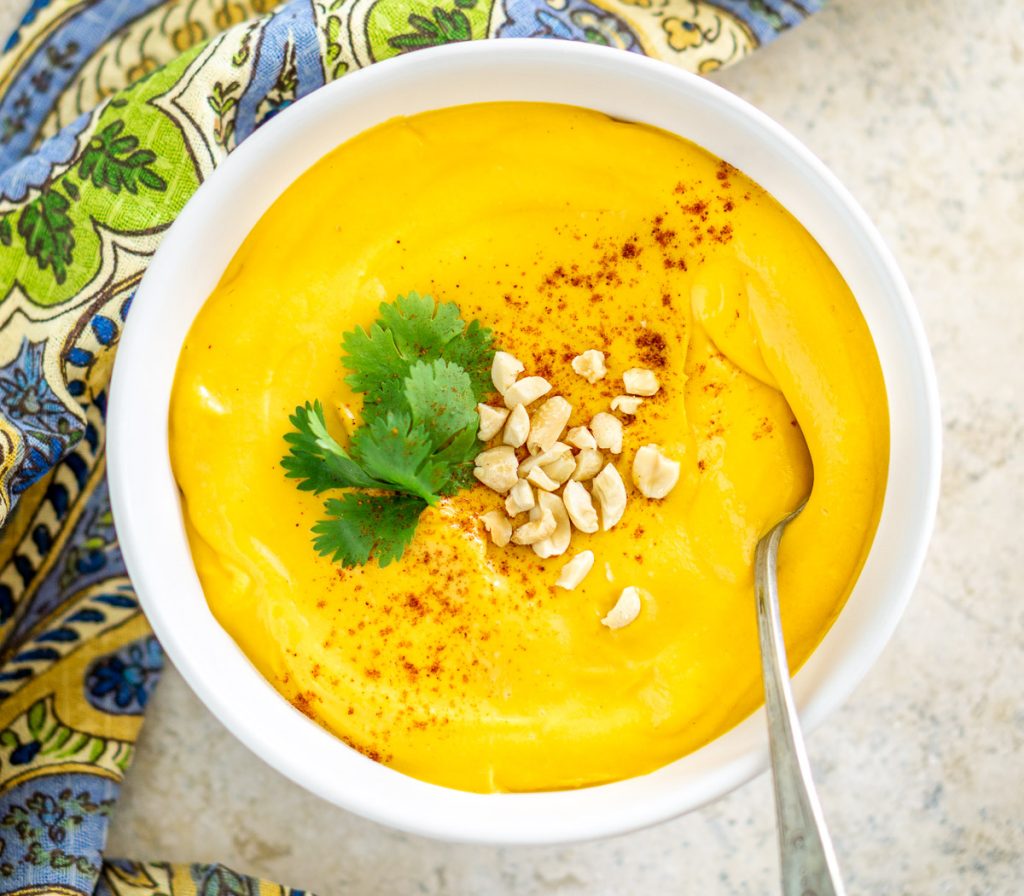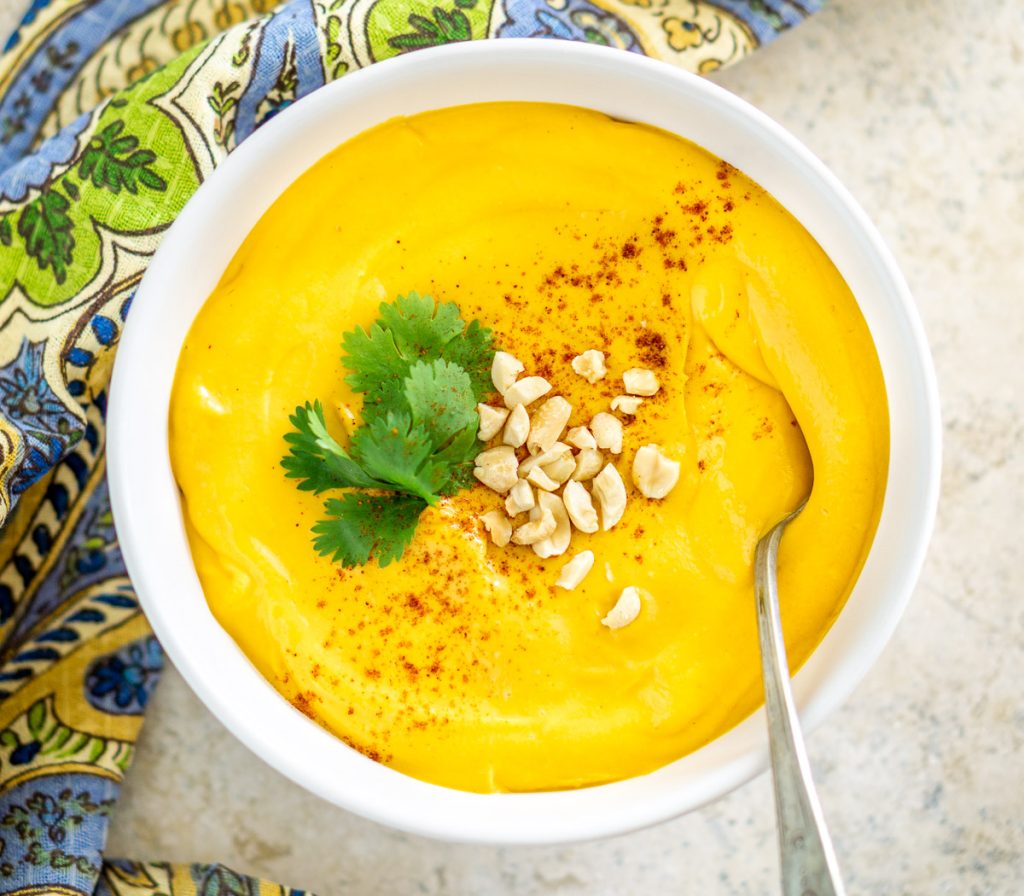 Minty Pea Soup
Looking for something a little different? This is definitely one of the more unique vegan soup recipes out there. This simple minty pea soup is perfect for using up frozen peas. An excellent quick weeknight dinner you'll love.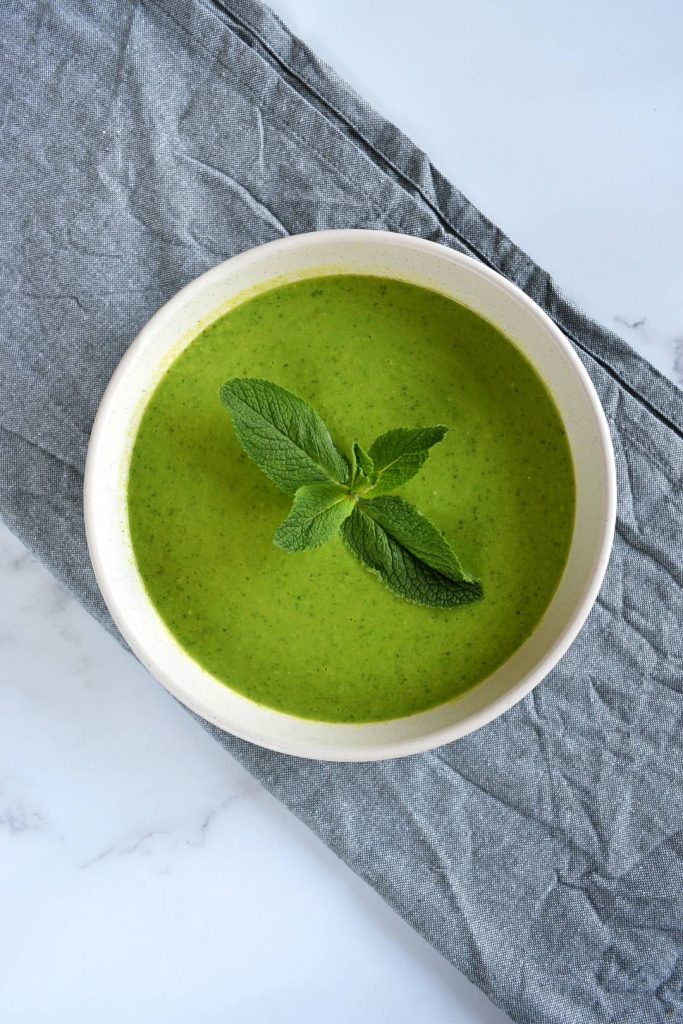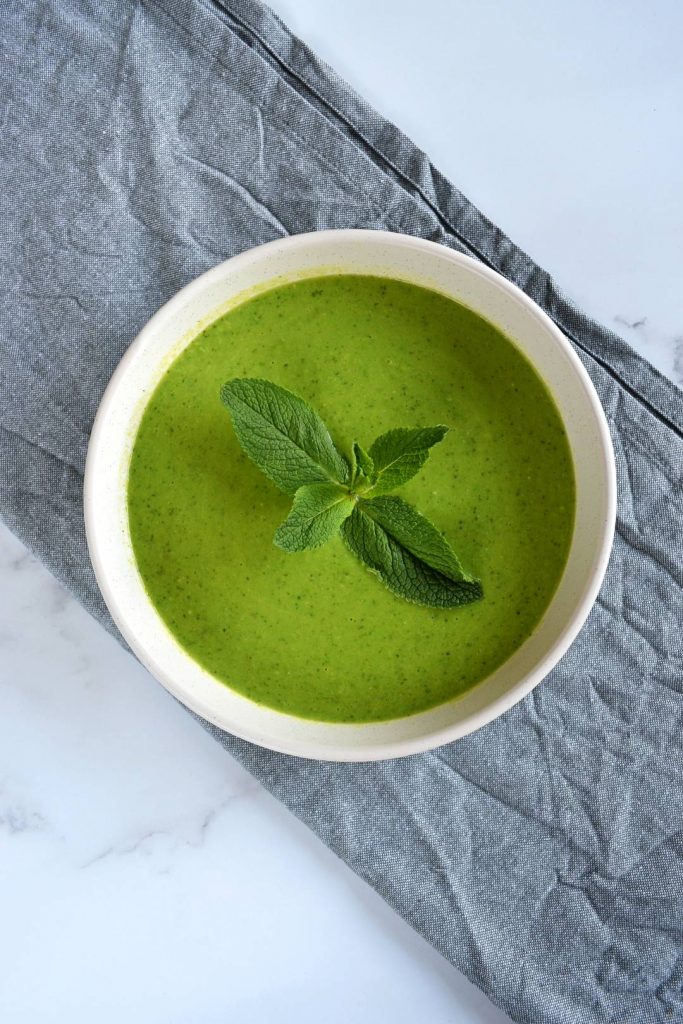 Chilled Swedish Blueberry Soup
Vegan soup recipes can be enjoyed chilled as a breakfast or a dessert?! How exciting! This Swedish blueberry soup is typically enjoyed cold. It's packed with antioxidants, and tastes absolutely amazing!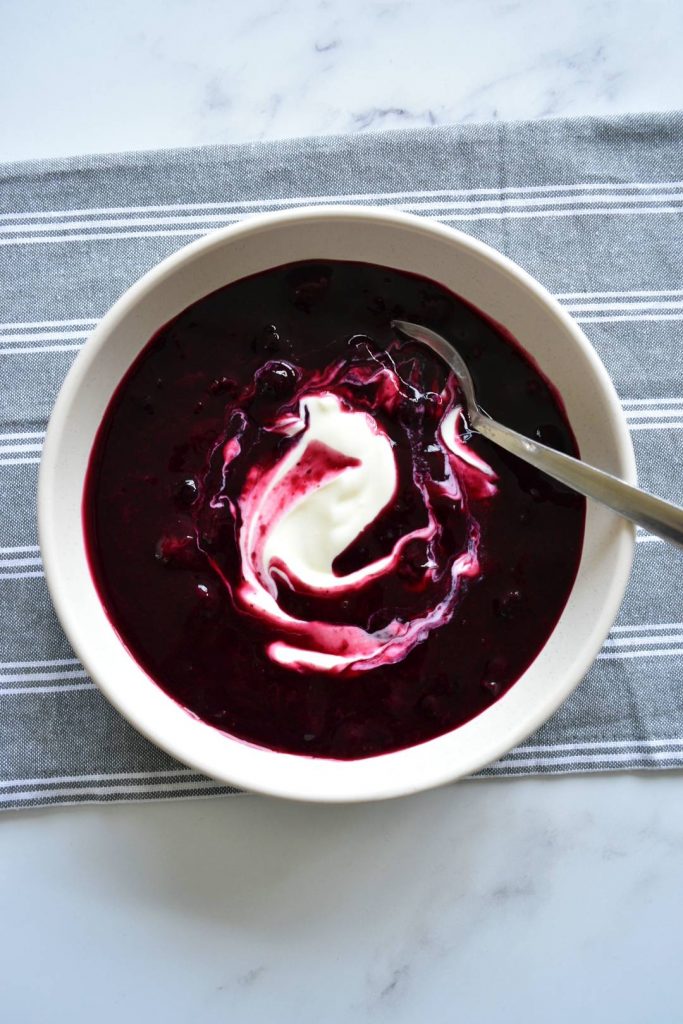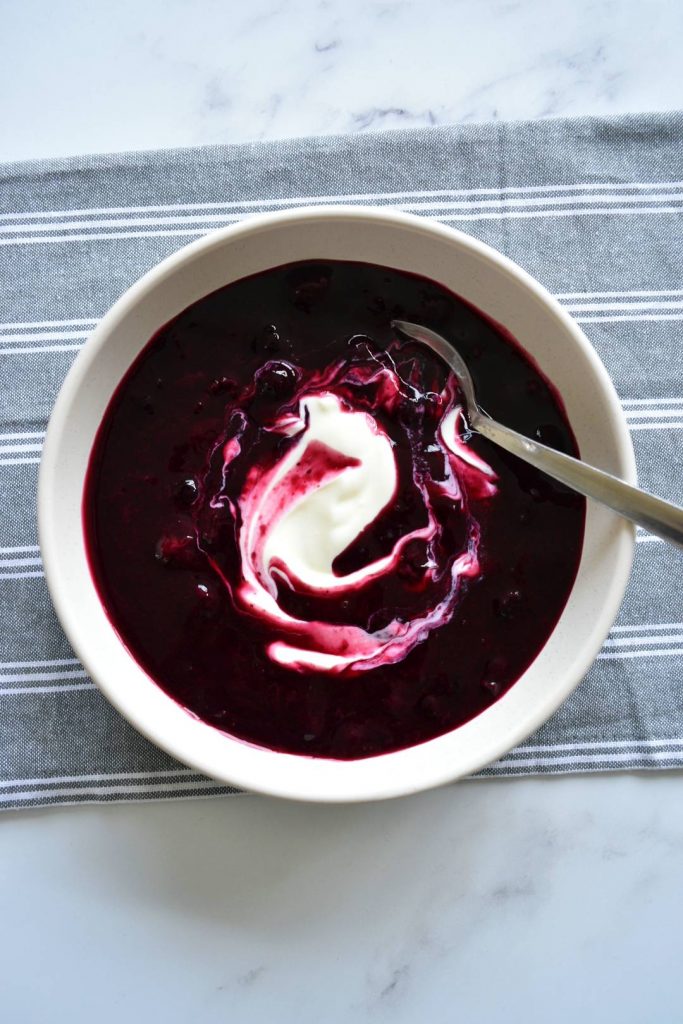 Pumpkin Curry Soup
Pumpkin Curry Soup is the cozy meal you're craving! Packed with flavor, and loaded with potatoes and garbanzos, it's a complete meal in a bowl!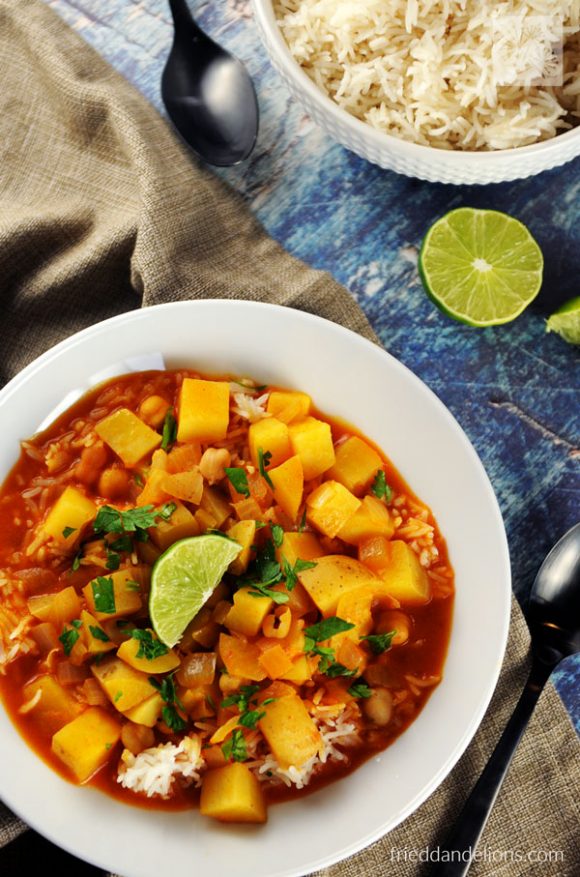 Spicy Black Bean Soup
Spicy Black Bean Soup is perfect for Meatless Mondays, or anytime you're craving a healthy meal. Made from scratch to control what goes in it. No more preservatives or high sodium added and obviously a lot less processed. When it comes to this Instant pot spicy black bean soup, tasty and healthy go hand in hand.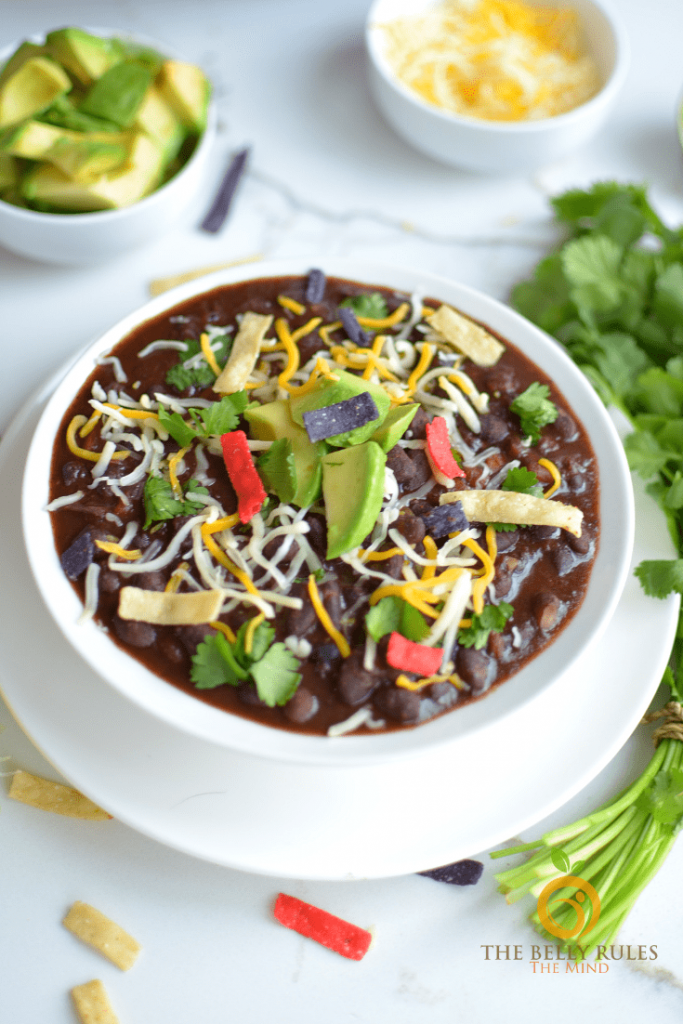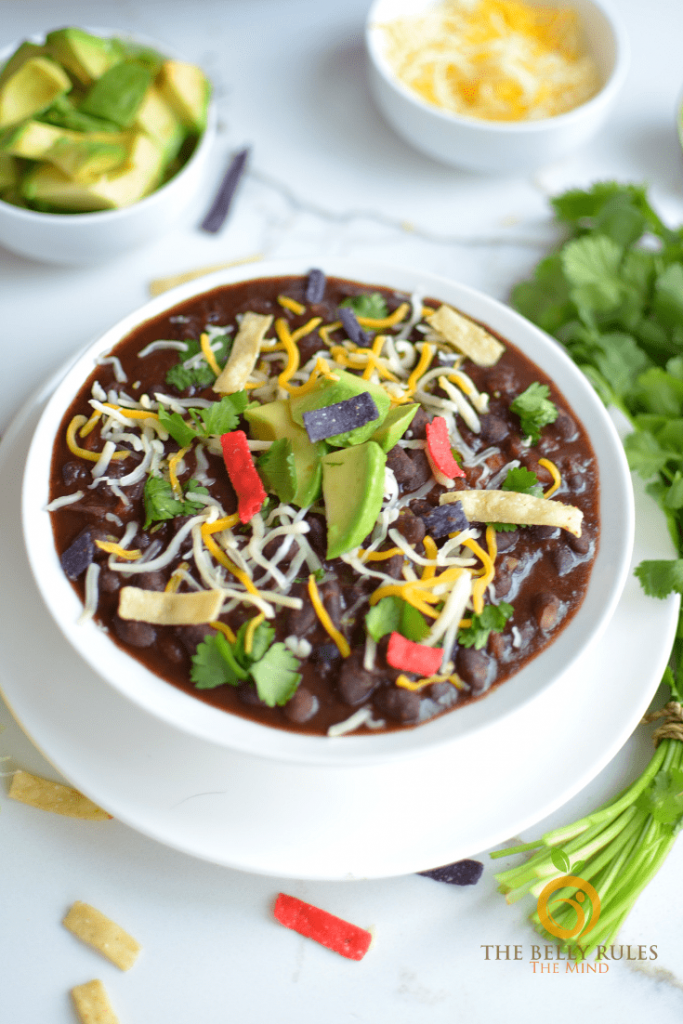 Creamy Vegan Carrot Soup With Parsley Pistou
A silky smooth, rich-tasting creamy vegan carrot soup with coconut milk, topped with a zesty flavorful parsley pistou. You'll LOVE this healthy comforting bowl of soup. Serve it in a bowl for lunch or dinner, or in elegant ramekins or martini glasses as a gorgeous appetizer for a dinner party.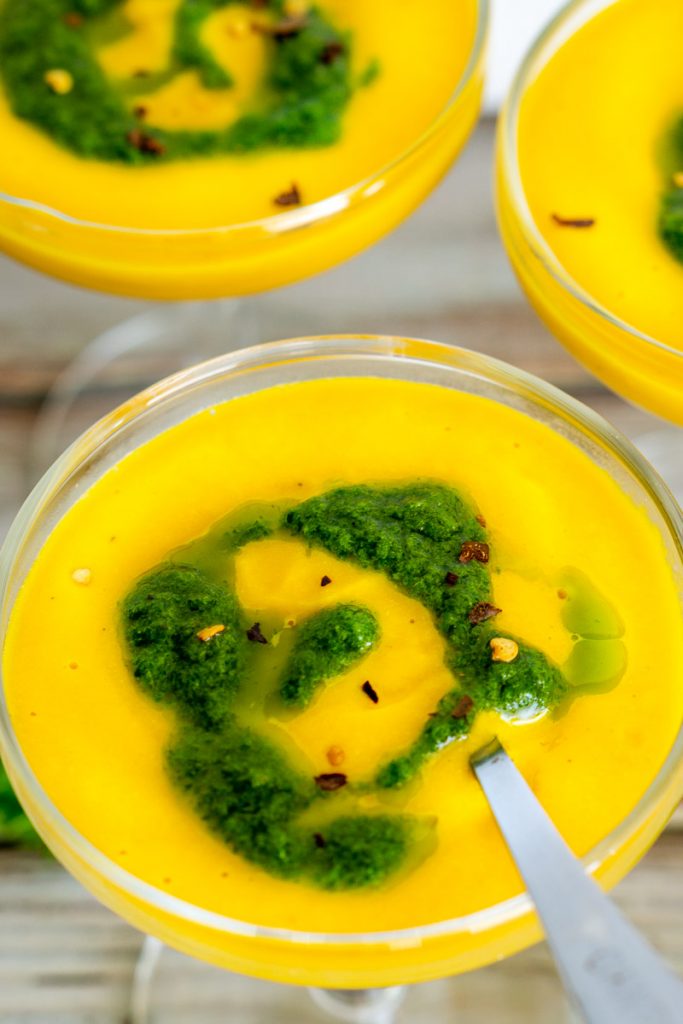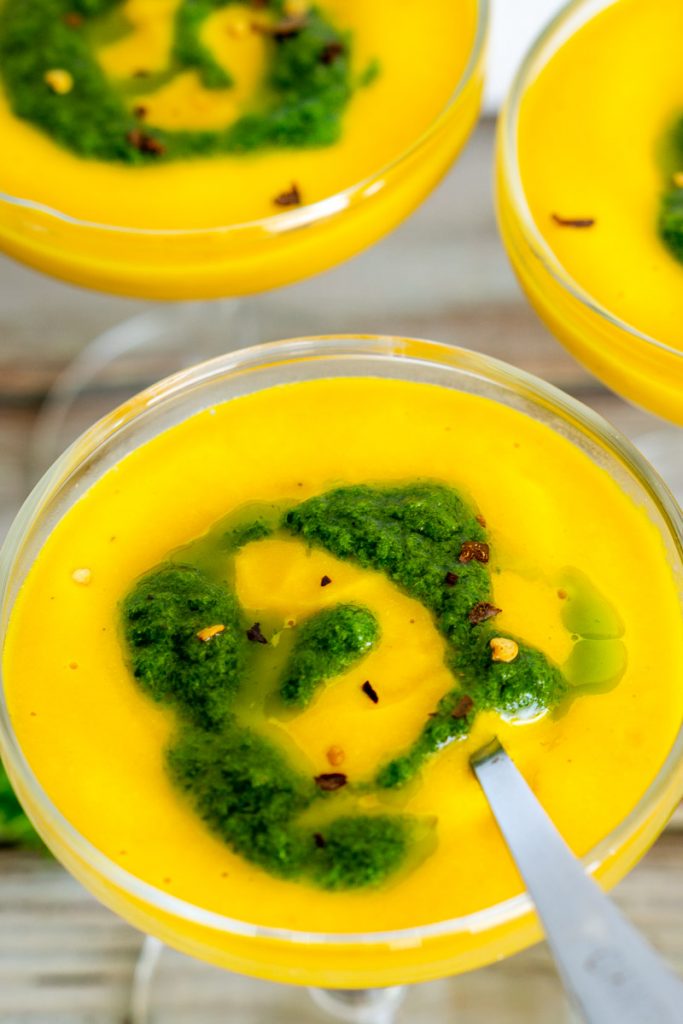 5-Ingredient Vegan Clam Chowder
This vegan clam chowder recipe is so easy to make! It uses just 5 ingredients and can be cooked in a flash. It is my favorite recipe to make when I have worked too late and want something hearty yet quick to make.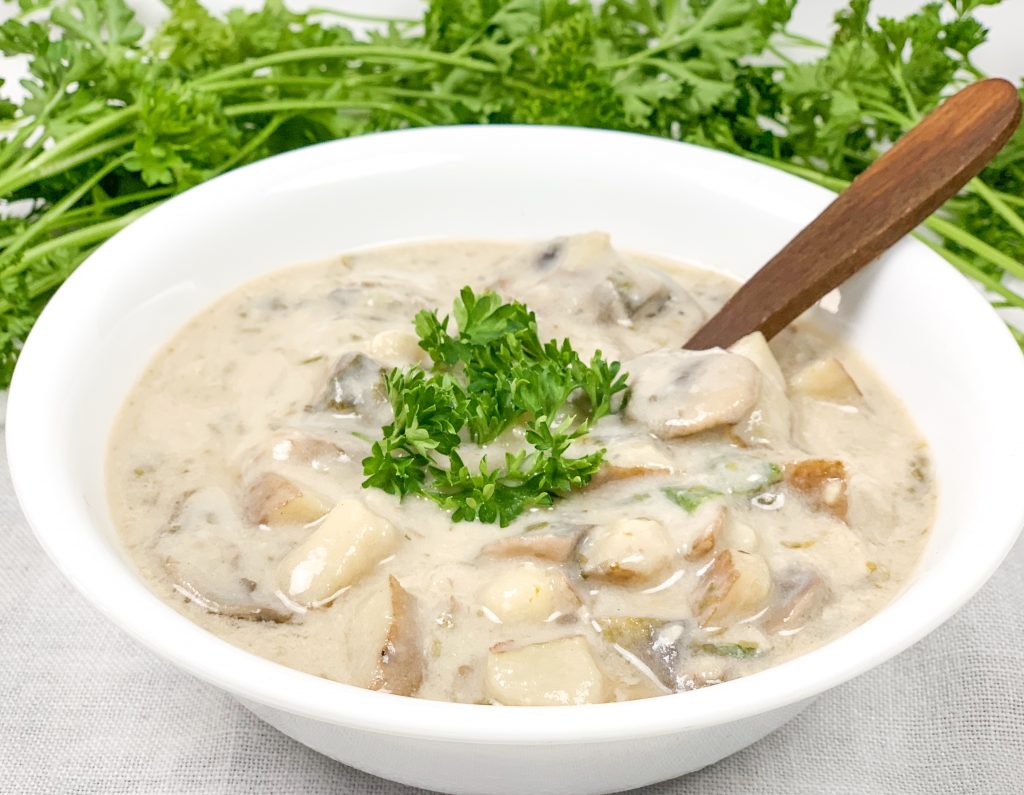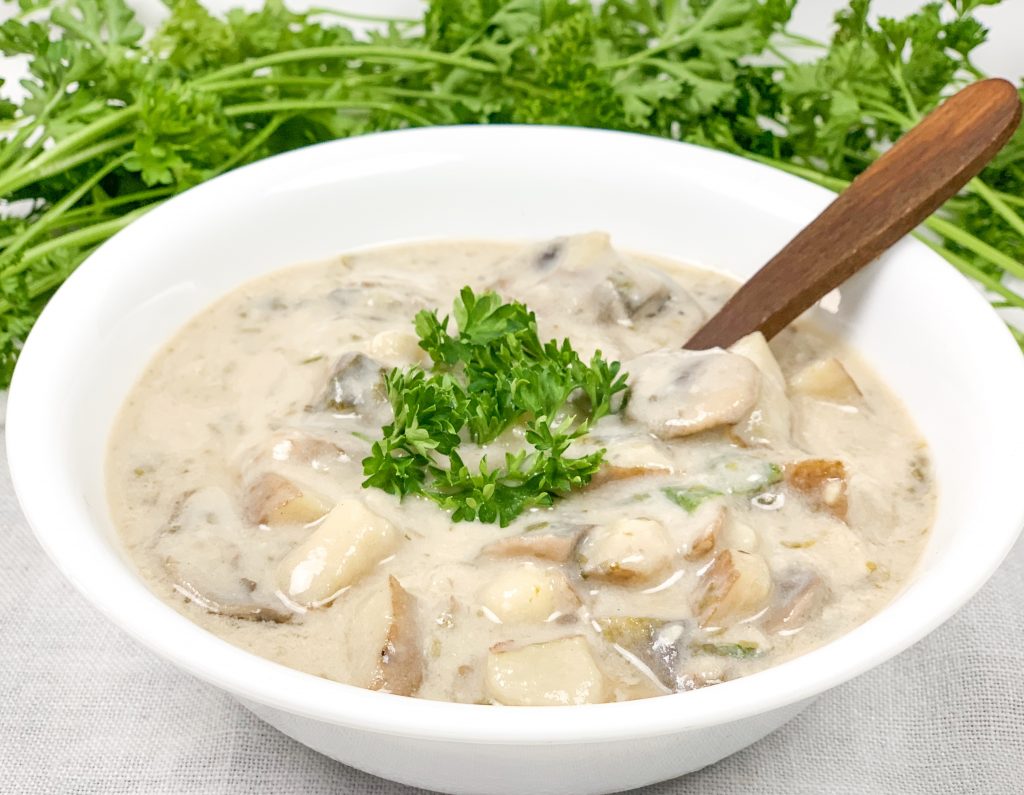 Moong Dal Shorba/Moong Dal Soup
An unusual soup among these vegan soup recipes, it features moong lentils. Moong Dal Shorba is easy to make and a good way to begin a meal. A little spicy, its best served with some naan.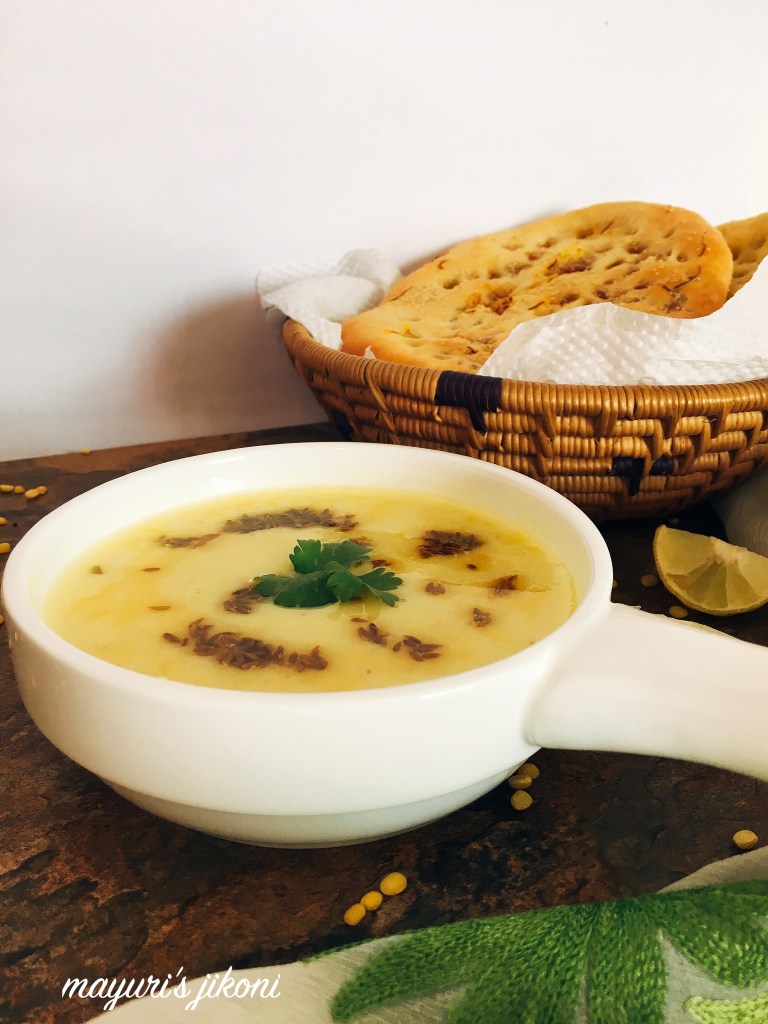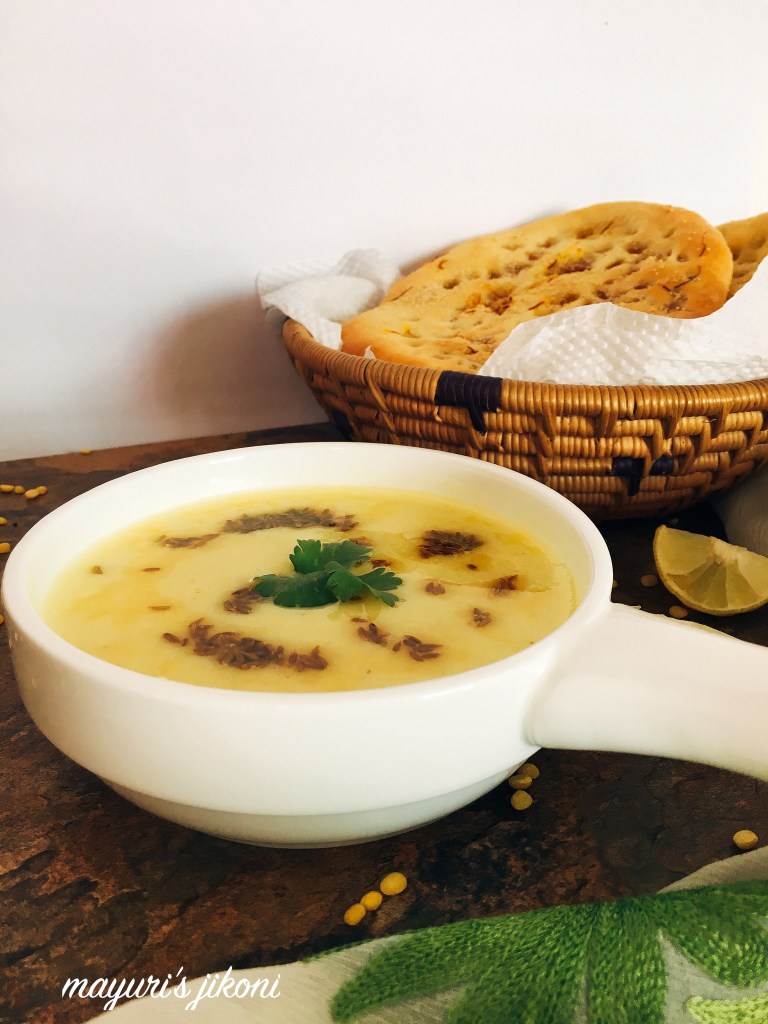 Roasted Tomato & Fennel Soup
This Roasted Tomato & Fennel Soup recipe brings the best out of seasonal fennel & tomatoes. Roasted with onion & garlic to intensify the flavors this soup is beautifully warming, comforting and will nourish your body and soul!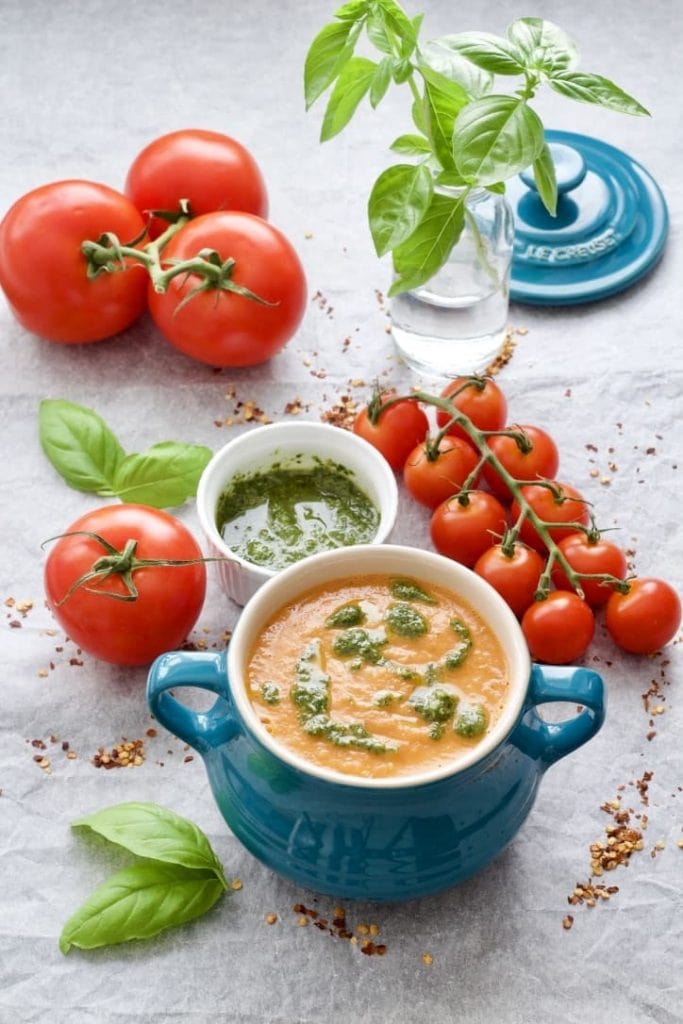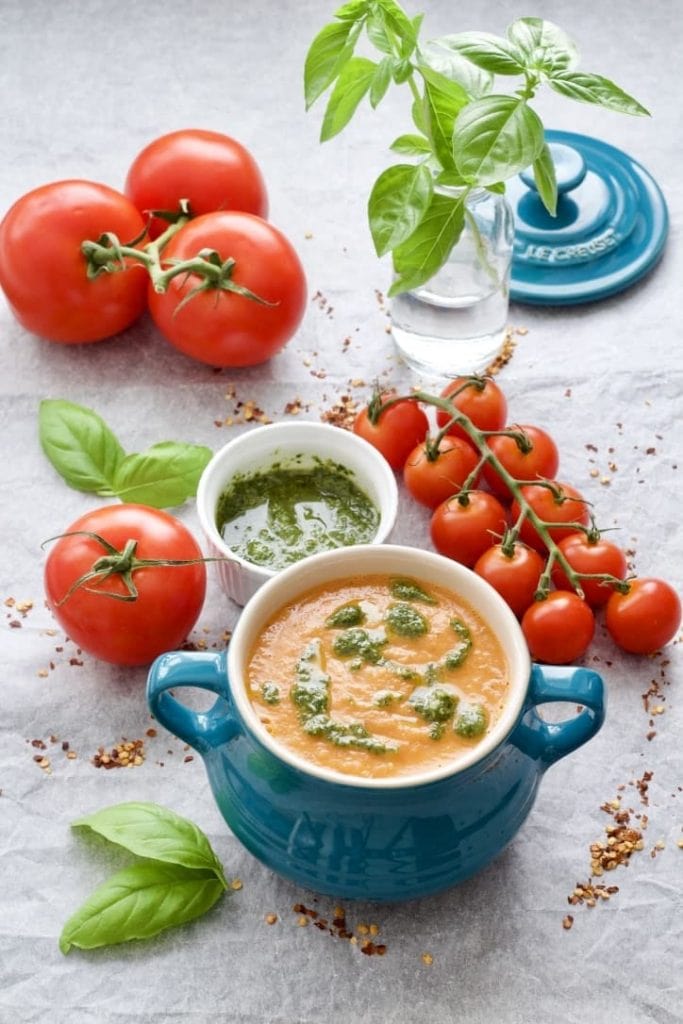 Lentil Butternut Squash Soup
Lentil Butternut Squash Soup is a heartier version of the classic Butternut Squash Fall soup. It's tasty, filling, and very quick to make. Serve this soup with croutons or toasted garlicky pita wedges.
Easy One-Pot Vegan Udon Noodle Soup
This vegan udon noodle soup recipe is SO EASY TO MAKE!! I was craving a warm and noodle dish and literally whipped this up from what I had on hand and a few things I picked up at the store.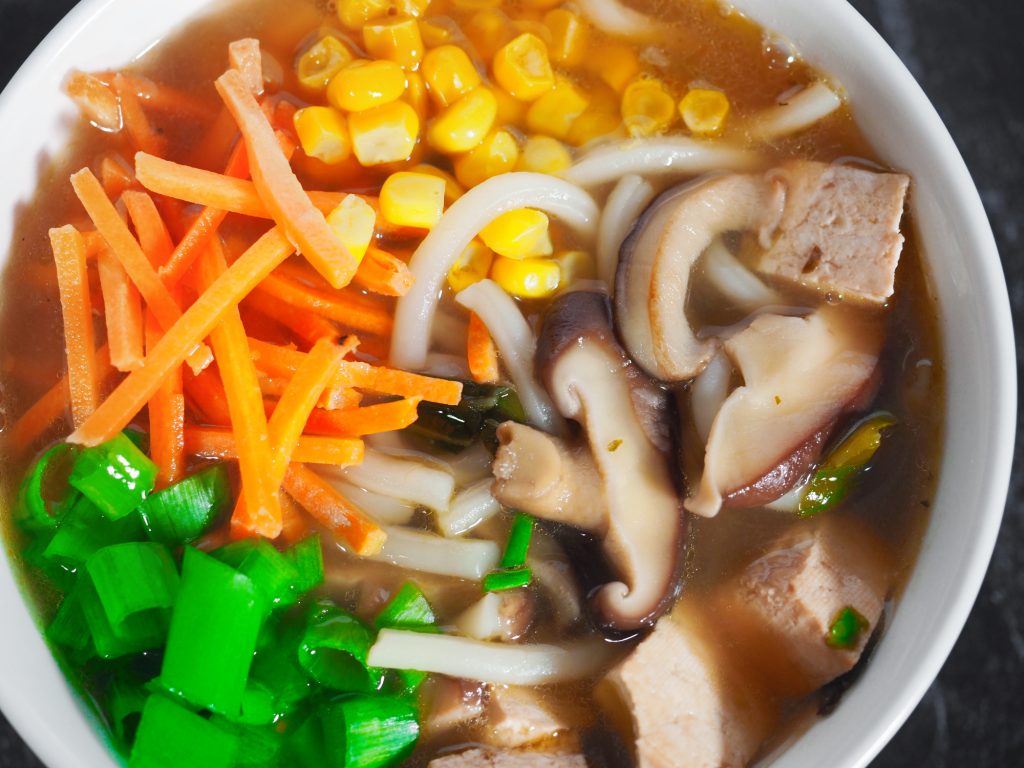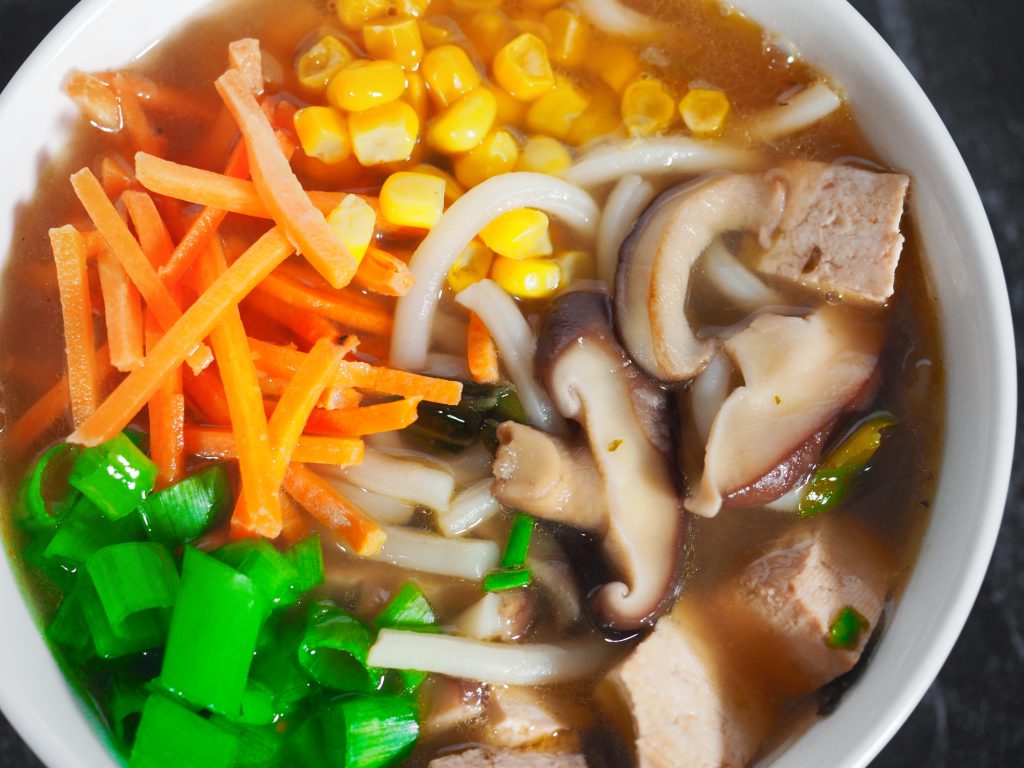 Potato Leek Noodle Soup
Hearty and heartful, Potato Leek Noodle Soup is just the fix for whatever ails you. This simple, vegan soup is filling and sure to satisfy all. An ideal winter staple among these vegan soup recipes.
Vegan Broccoli Cheese Soup [Gluten-Free]
This Vegan Broccoli Cheese Soup tastes so much like the traditional, you won't believe it's both dairy-free and gluten-free. And for those with allergies, it's nut-free too!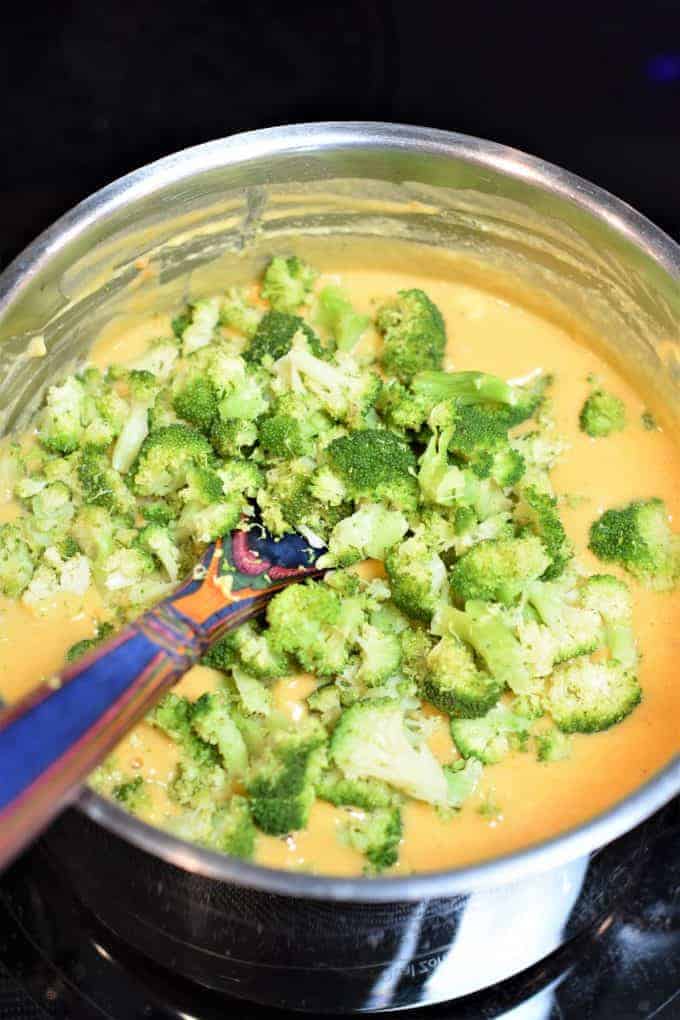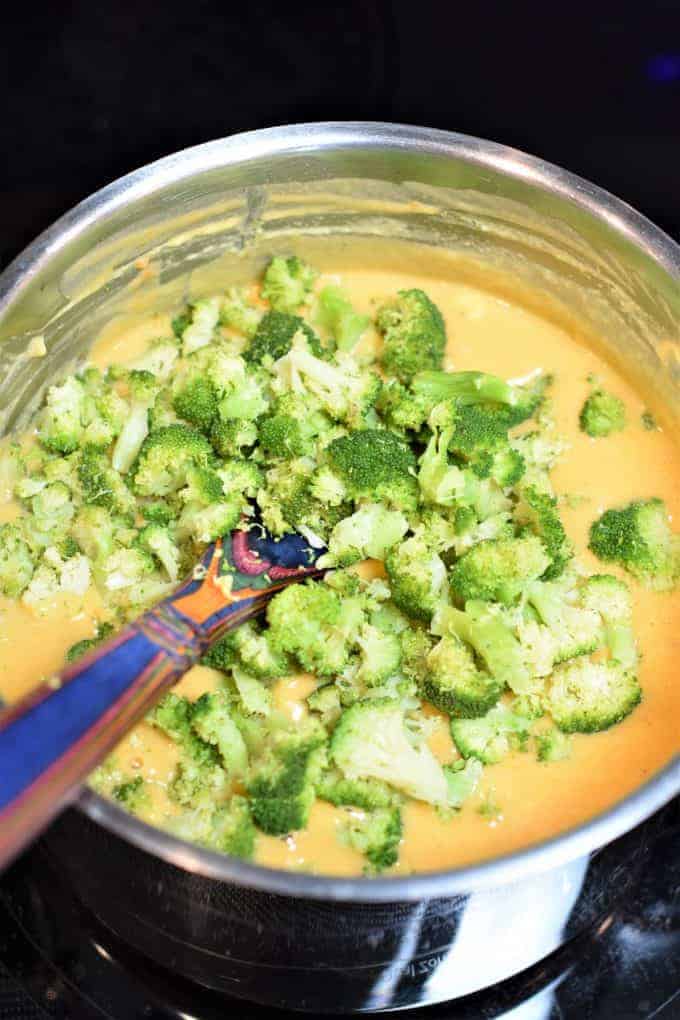 Indo-Chinese Corn Soup Recipe
Do you have an Instant Pot? If yes, you will love making this Indo-Chinese corn soup. All you need to do is pop the ingredients in the Instant Pot and wait patiently as this delicious corn soup cooks in 10 minutes.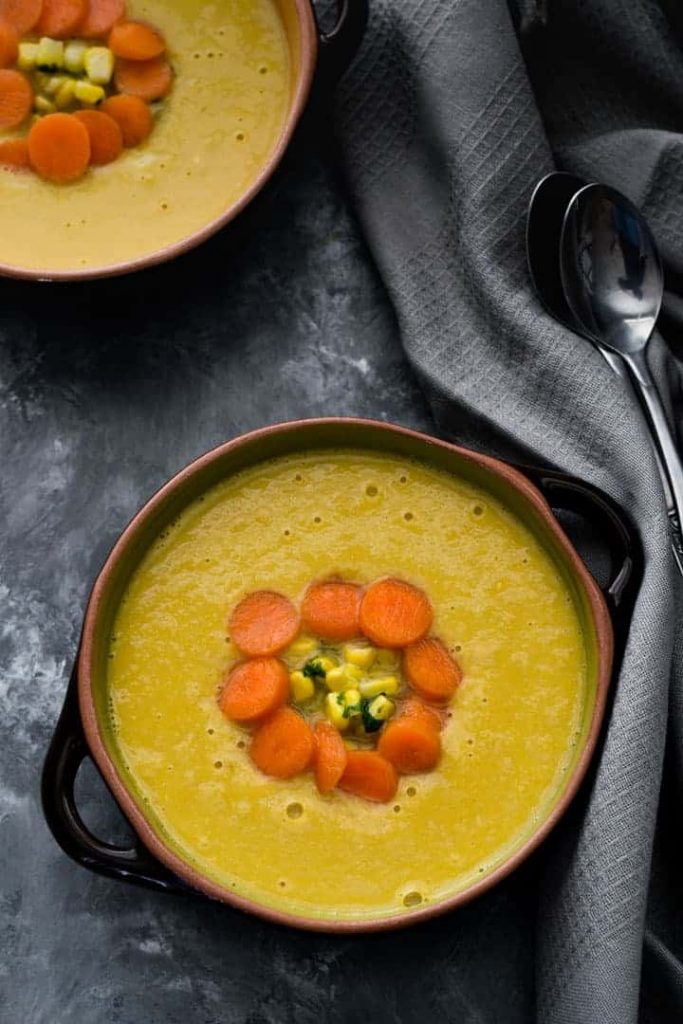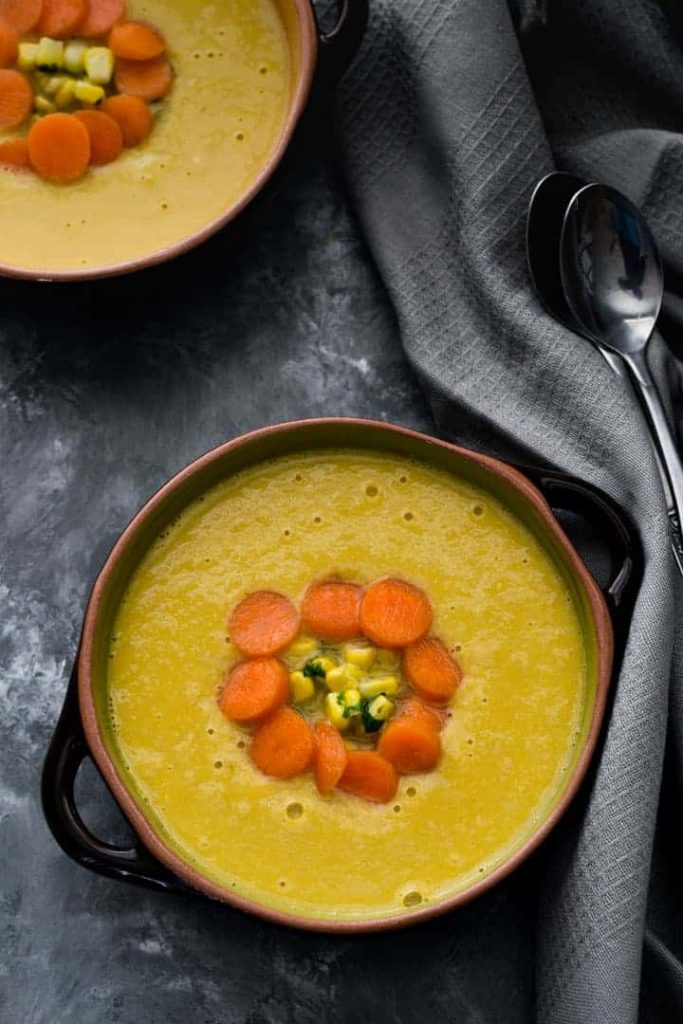 Vegan Stew With Winter Vegetables
This hearty vegan stew has a gorgeous bold color and is made with winter's best vegetables, fresh thyme, and chickpeas. It's a delicious, warm meal for a cold winter night!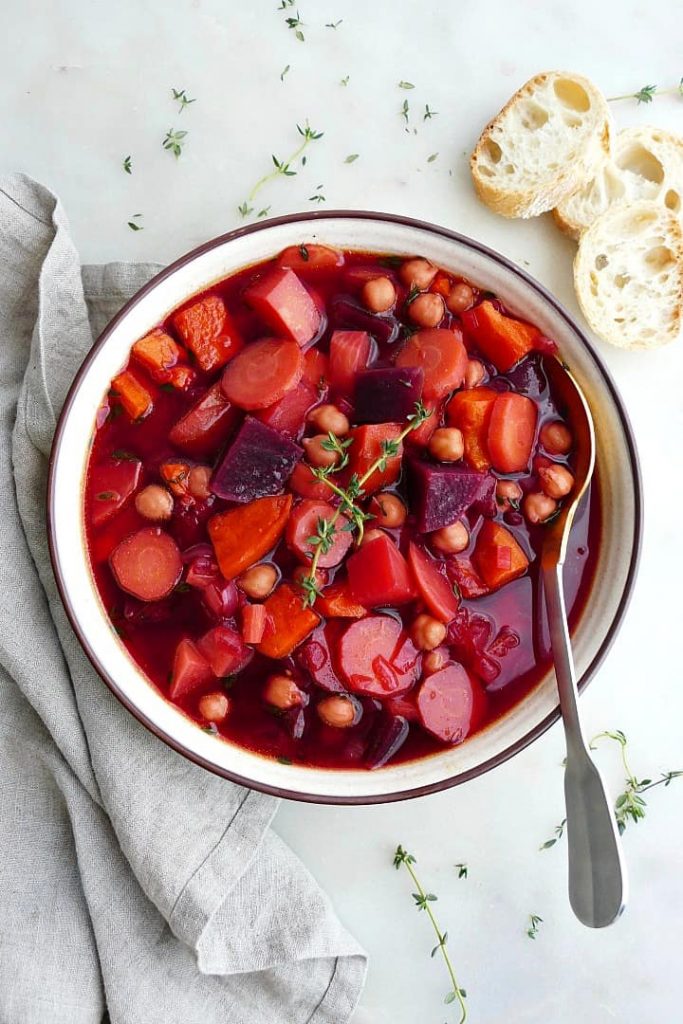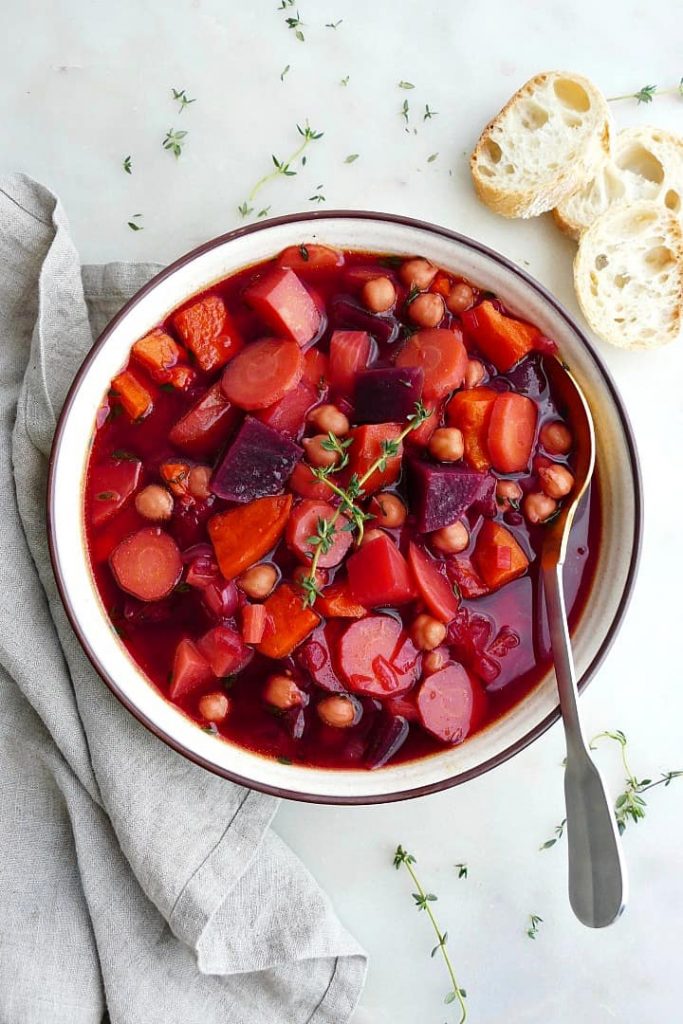 Easy Vegan Lentil Soup
Easy Vegan Lentil Soup is a satisfying, hearty soup that's perfect for warming up on a cold evening. Lentil soups are some of the highest in protein among the vegan soup recipes. This one pot lentil stew will be enjoyed by vegetarians and meat-eaters alike!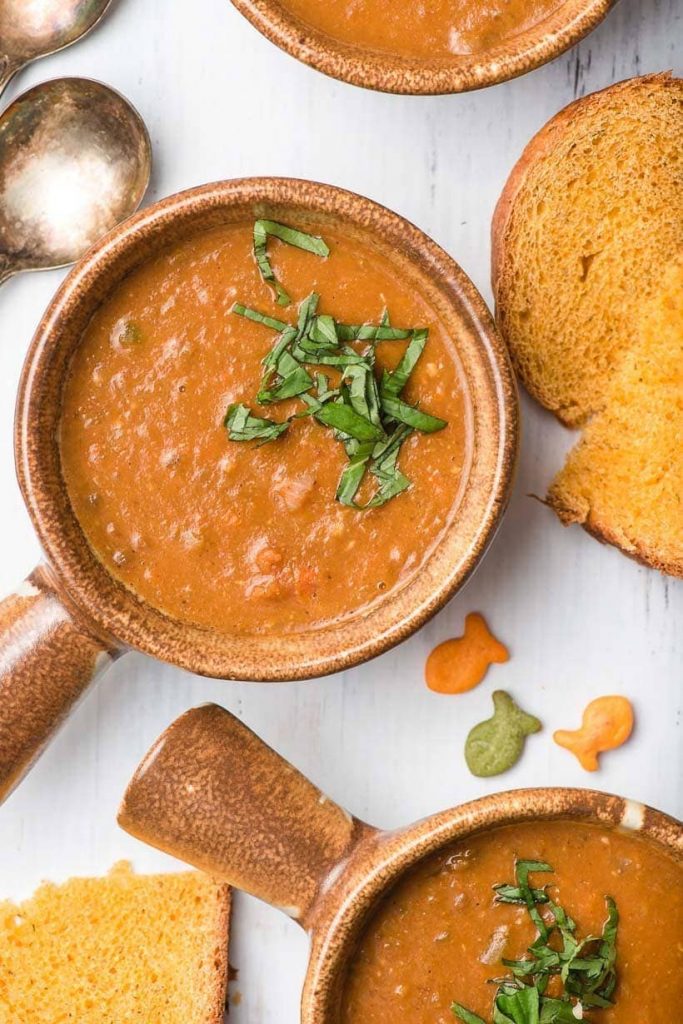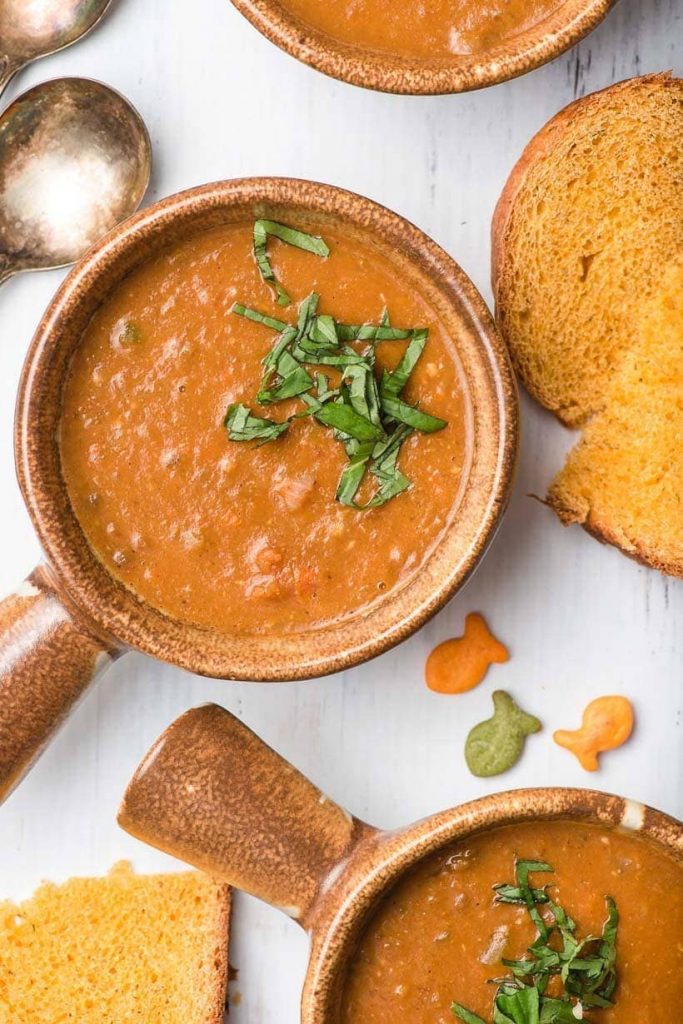 Potato Kale Soup
Get ready to grab a spoon and dip it into this creamy Potato Kale Soup! This warm, hearty bowl is oil free, vegan, and oh, so good! It cooks quickly in the Instant Pot or on the stove top, making it perfect for busy nights.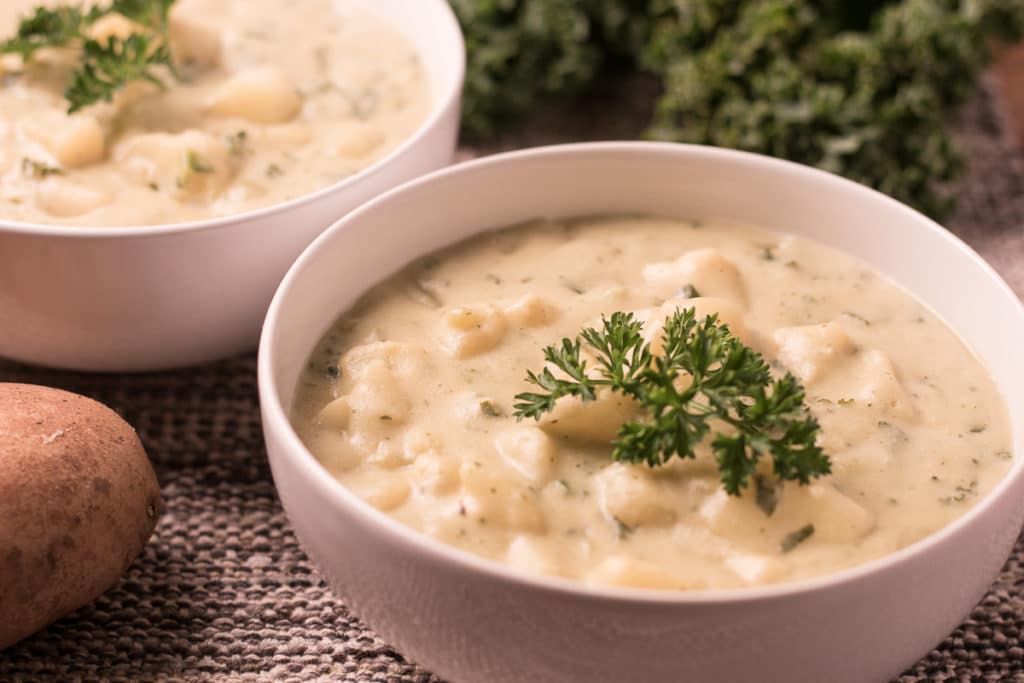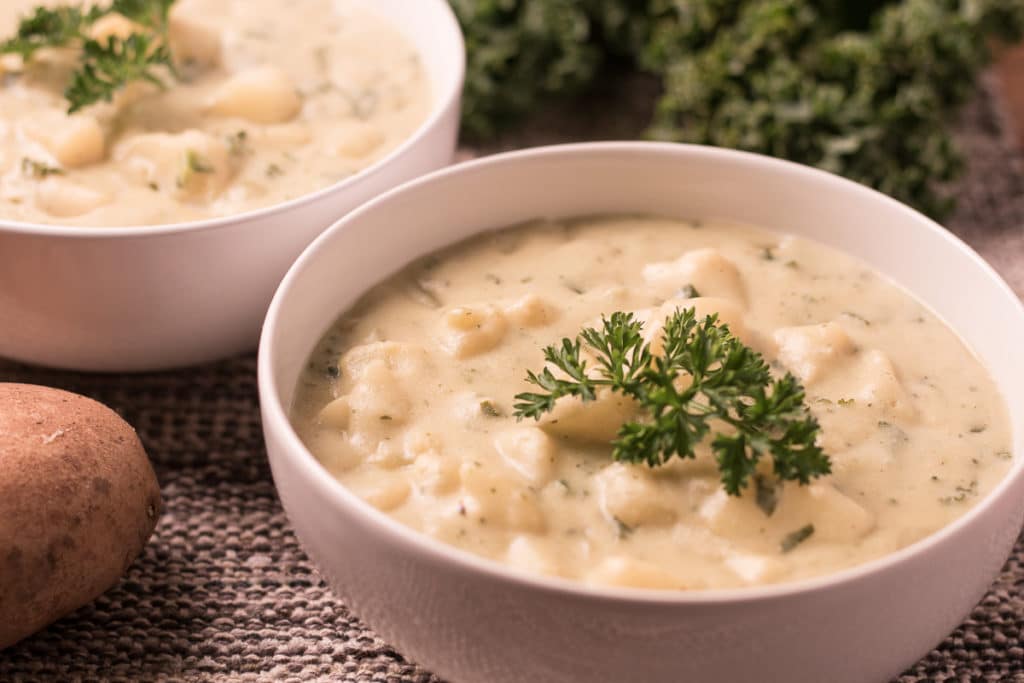 Cream Of Spinach Soup
It is possible to have a creamy vegan spinach soup without adding any dairy-free milk or cream? Why, yes it is! The not-so-secret ingredient is the potato. That's right whole foods all the way!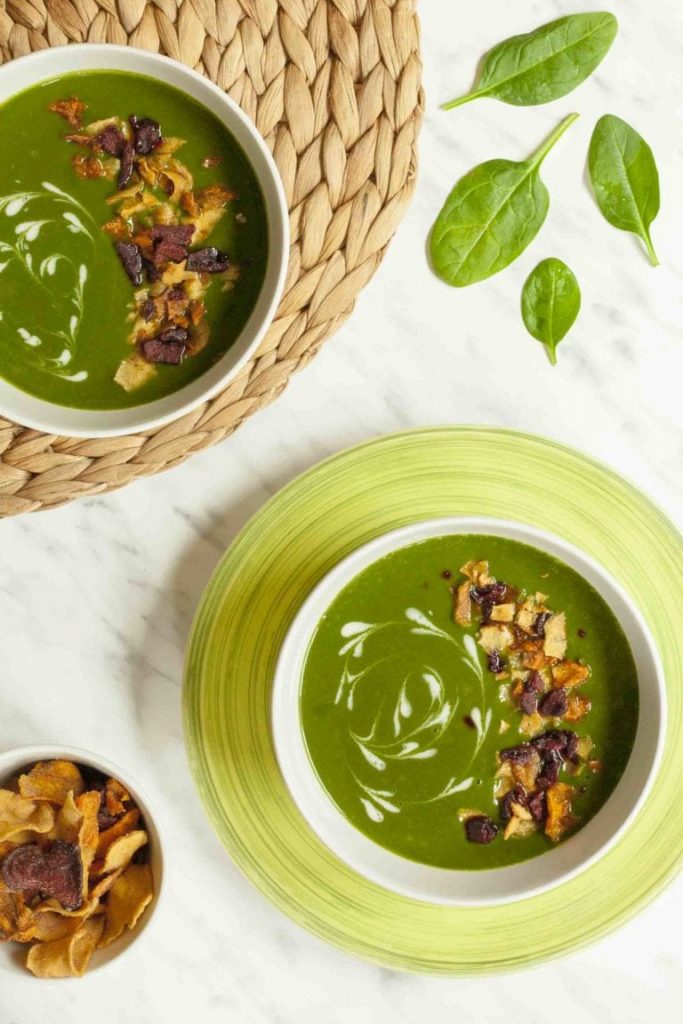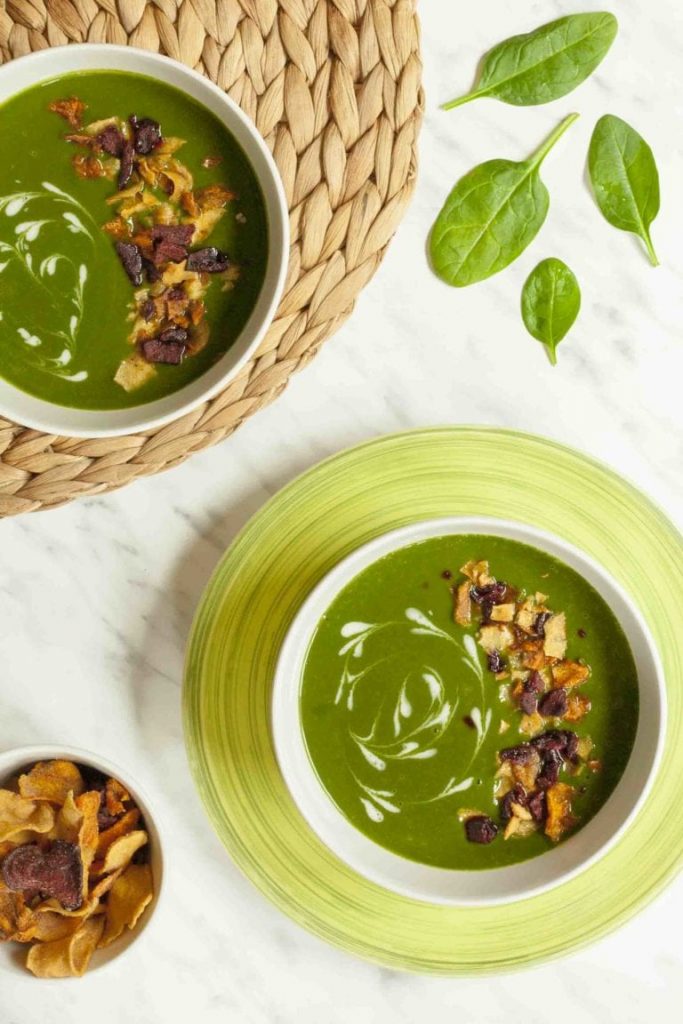 Vegan Cream Of Mushroom Soup
Another classic staple among the vegan soup recipes! Easy and creamy mushroom soup that can be done under 30 minutes. In this soup recipe we are using a mix of different mushrooms (cremini, portobello, shiitake) to have a delicious and rich vegan cream of mushroom soup at the end.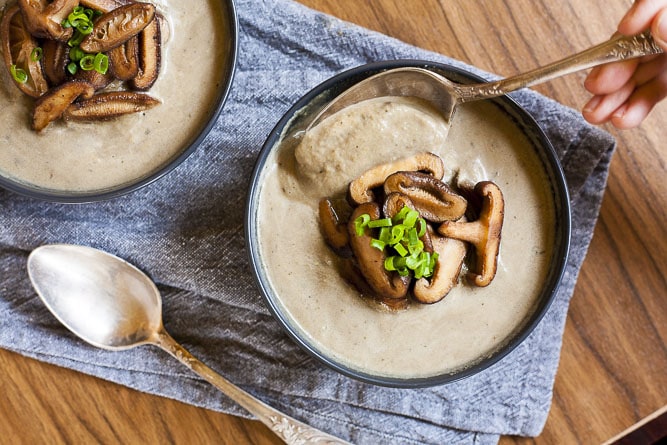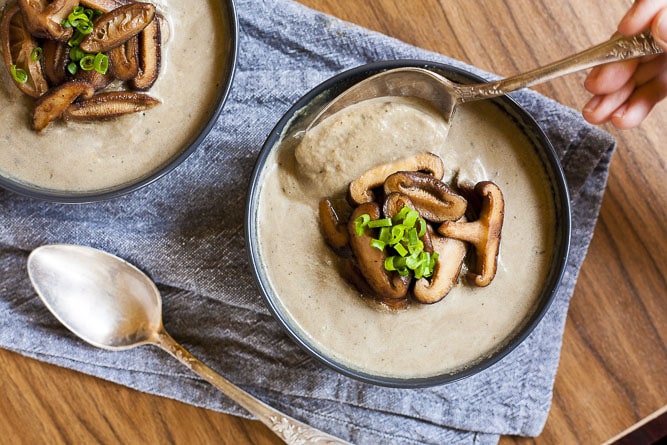 Peanut Butter Kabocha Squash Soup
You will love this warming, velvety and over the top delicious Peanut Butter Kabocha Squash Soup. It is full of healthy every pantry staples, you can have dinner on the table in less than 40 minutes!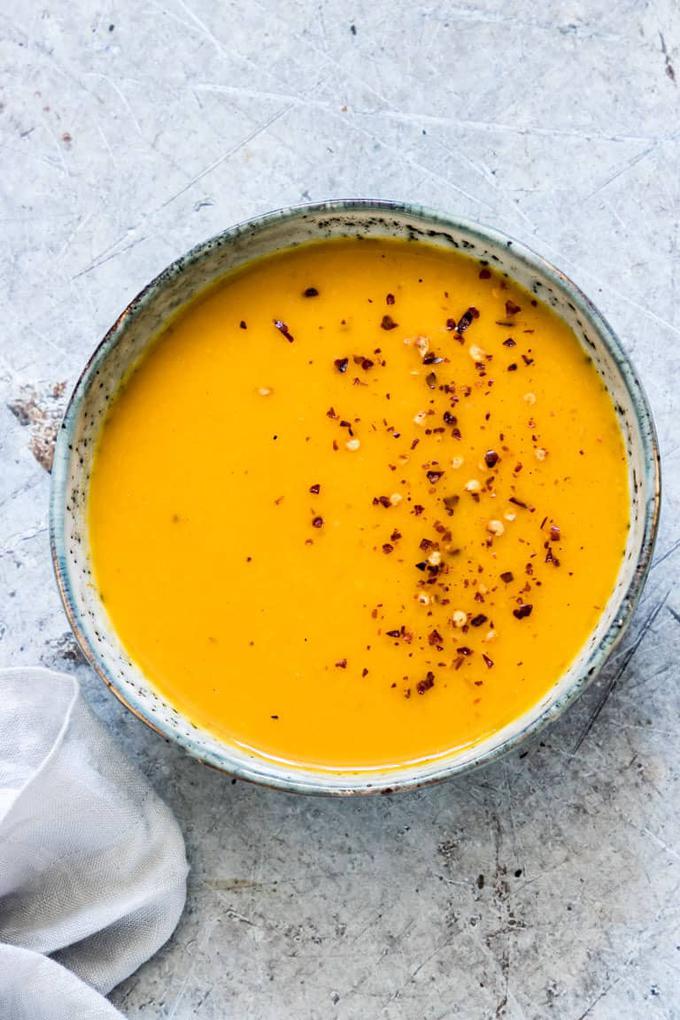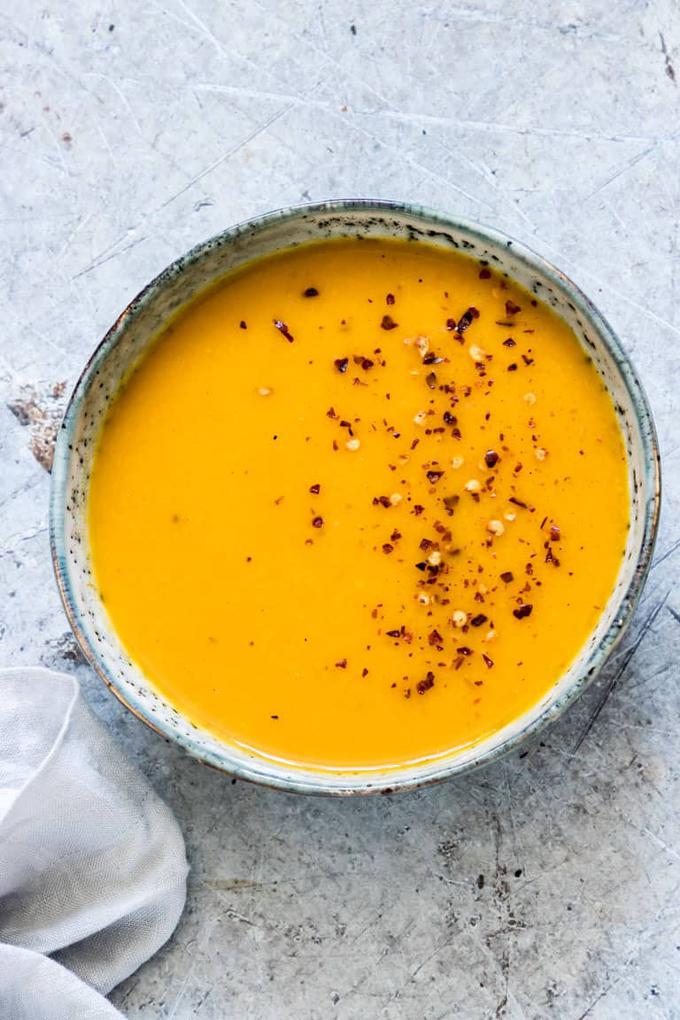 Thai Coconut Soup
Thai Coconut Soup is a scrumptious, plant-based Asian soup loaded with fresh veggies, coconut milk, and flavorful green curry. Of the vegan soup recipes, it is quick to make as the veggies are sauteed, then briefly simmered in a coconut milk sauce.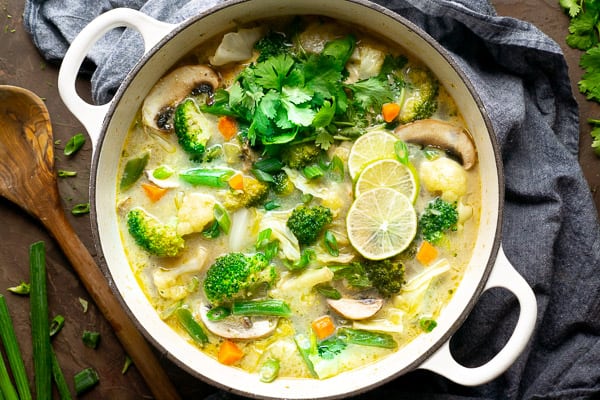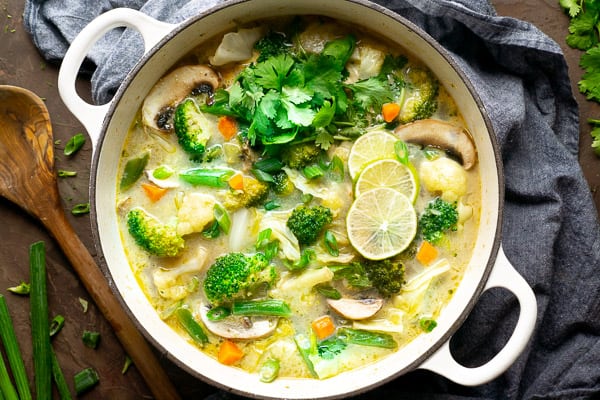 Vegan Cream Of Asparagus Soup
Bright, delicate, and silky smooth, this Vegan Cream of Asparagus Soup is like springtime in a bowl. Filled with the fresh flavors of asparagus, peas, lemon, and dill, this simple soup is rendered luxuriously creamy thanks to the addition of a cashew cream sauce.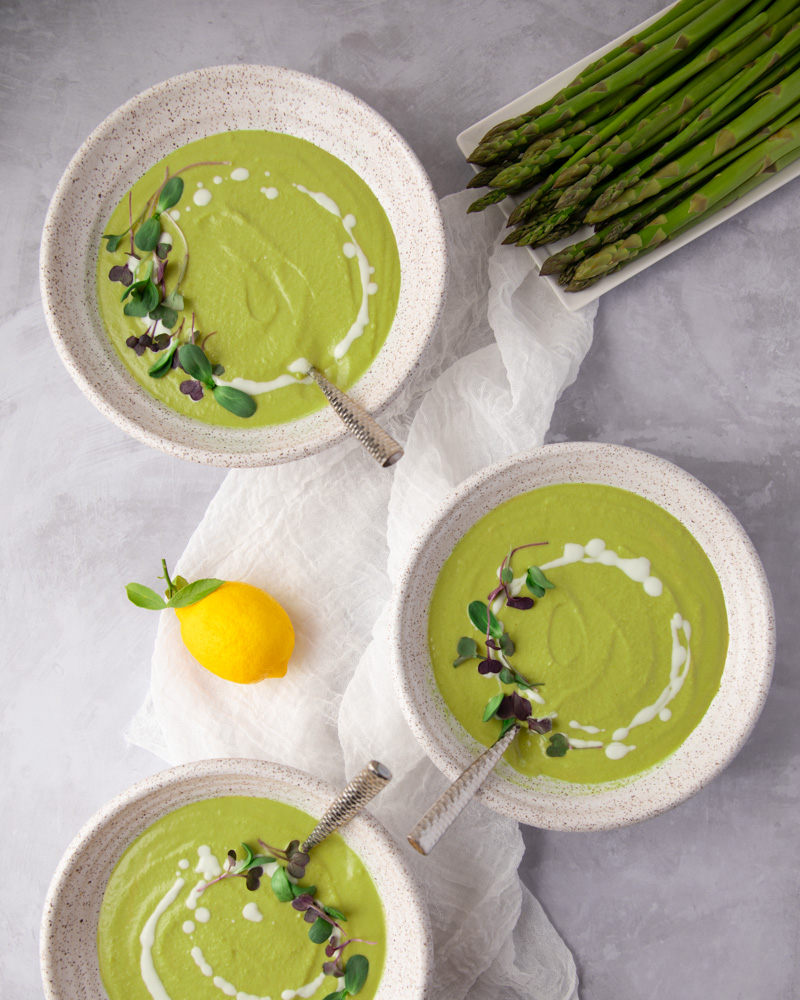 Creamy Coconut Lentil Chickpea Spinach Soup
This vegan creamy lentil chickpea soup is loaded with tender artichokes, protein and fiber-rich legumes, spinach, and the most flavorful golden broth. This easy to make soup is made in one pot and it's ready in 40 minutes! Vegan, gluten-free, and dairy-free.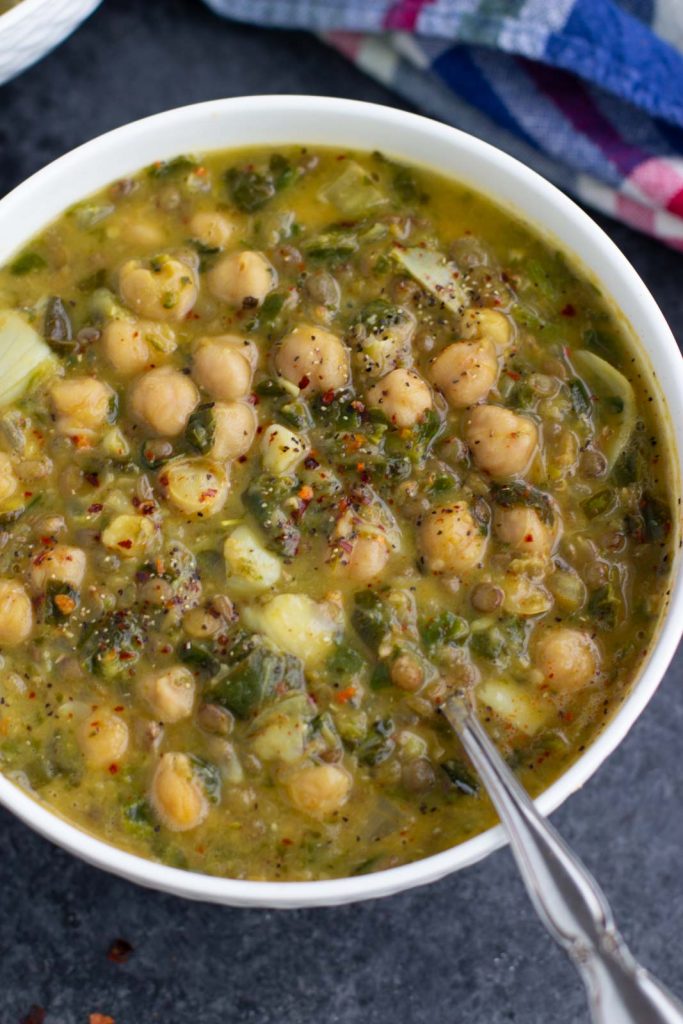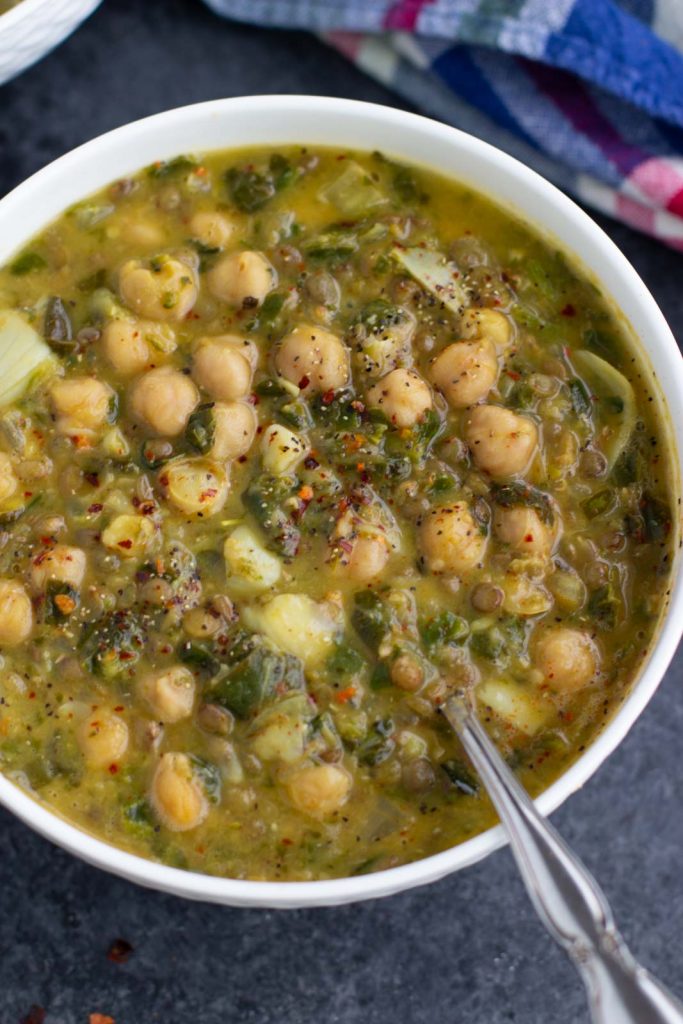 Dump & Start Red Lentil Tortilla Soup
Vegetarian Tortilla Soup super easy to make, all you have to do is dump the ingredients in the Instant Pot, press start and the magic pot will do the rest. This Red Lentil Tortilla Soup is all about flavors and textures.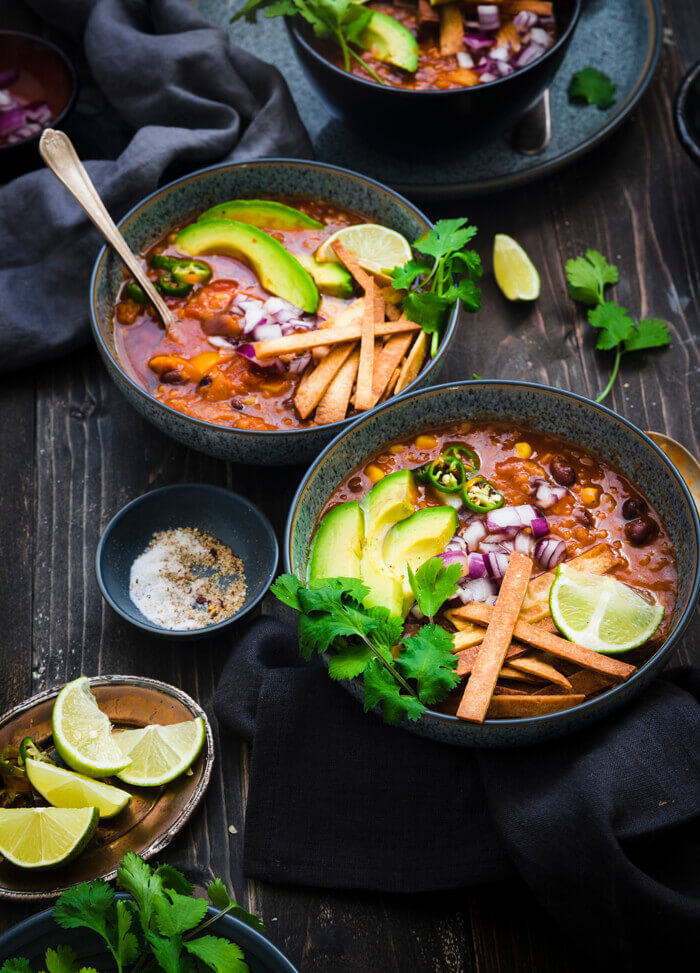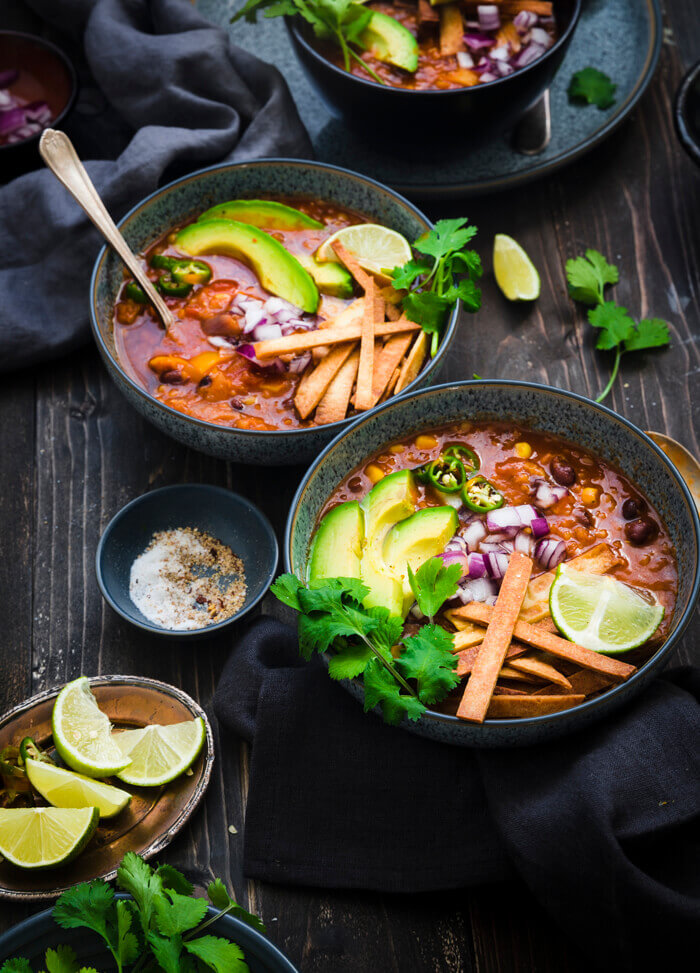 Sweet Corn And Tomato Gazpacho
When it just gets too hot in summer sometimes you just want something cool and refreshing. A sweet corn and tomato gazpacho is one of the rare cold soups that will rank high in your vegan soup recipes. It requires no cooking and is an amazing way to capture the fresh flavors with very little effort.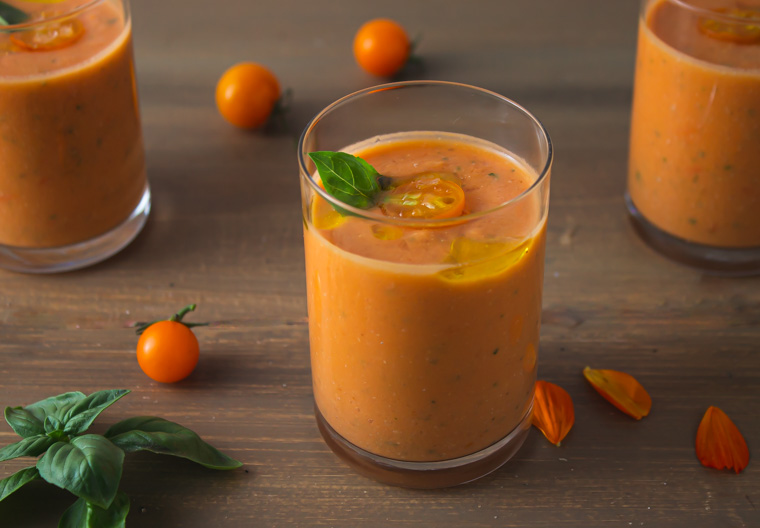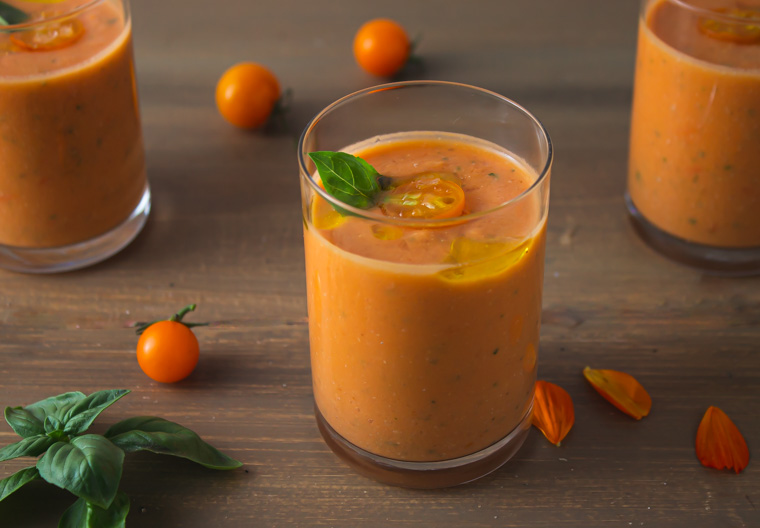 Curried Cauliflower Soup
Curried Cauliflower Soup is not only creamy and delicious, it's also Paleo, vegetarian, and gluten free! Cauliflower is naturally high in fiber and B-vitamins. It provides antioxidants and phytonutrients that can protect against cancer.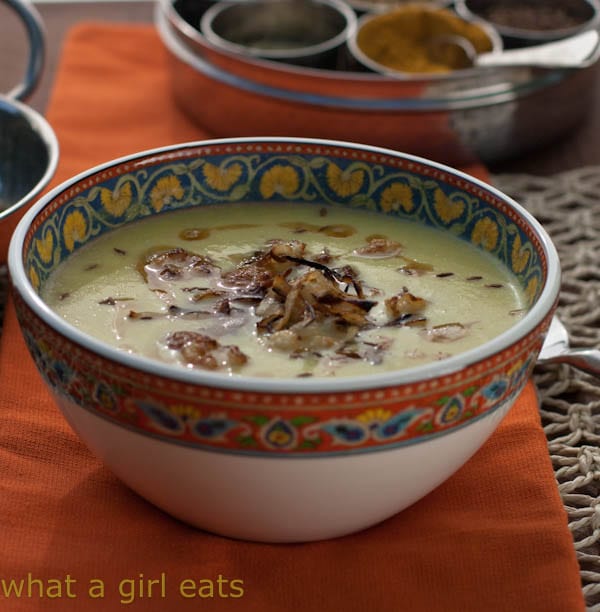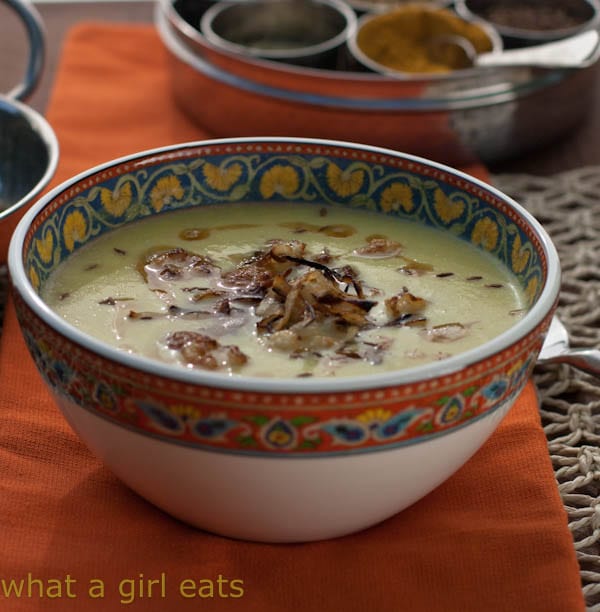 Sweet Potato Soup
This velvety smooth sweet potato soup is cooked with fresh ginger and onions and blended with coconut milk, to create a sweet and savory flavor. Serve with a green salad and toasted baguette for an easy meal.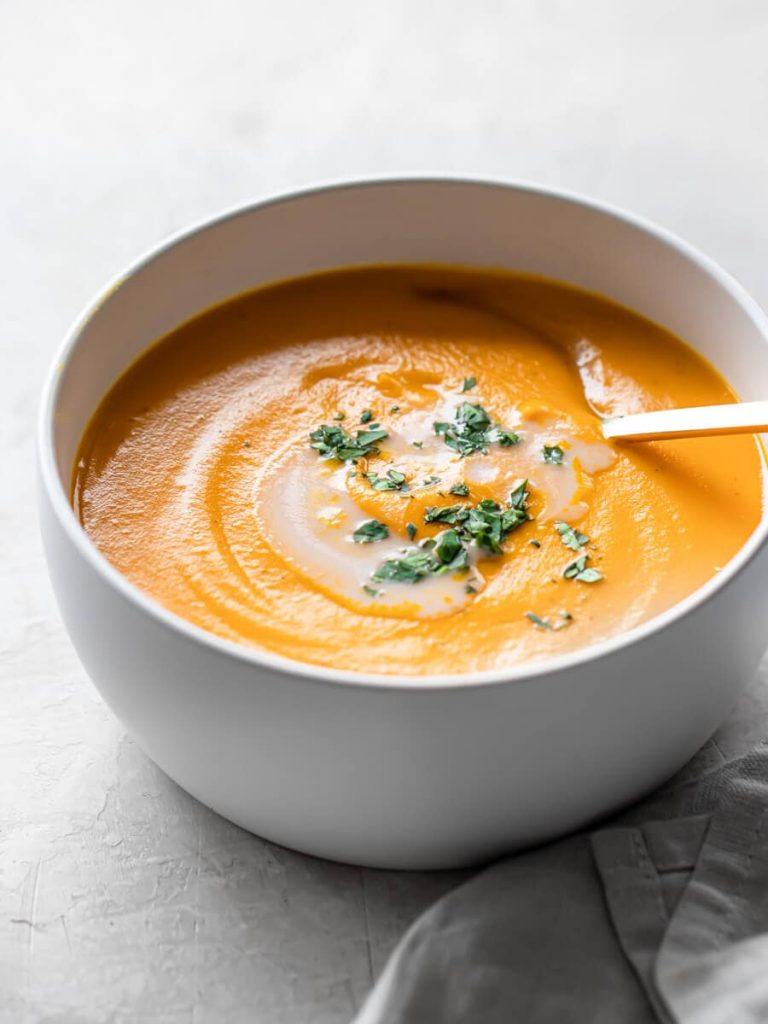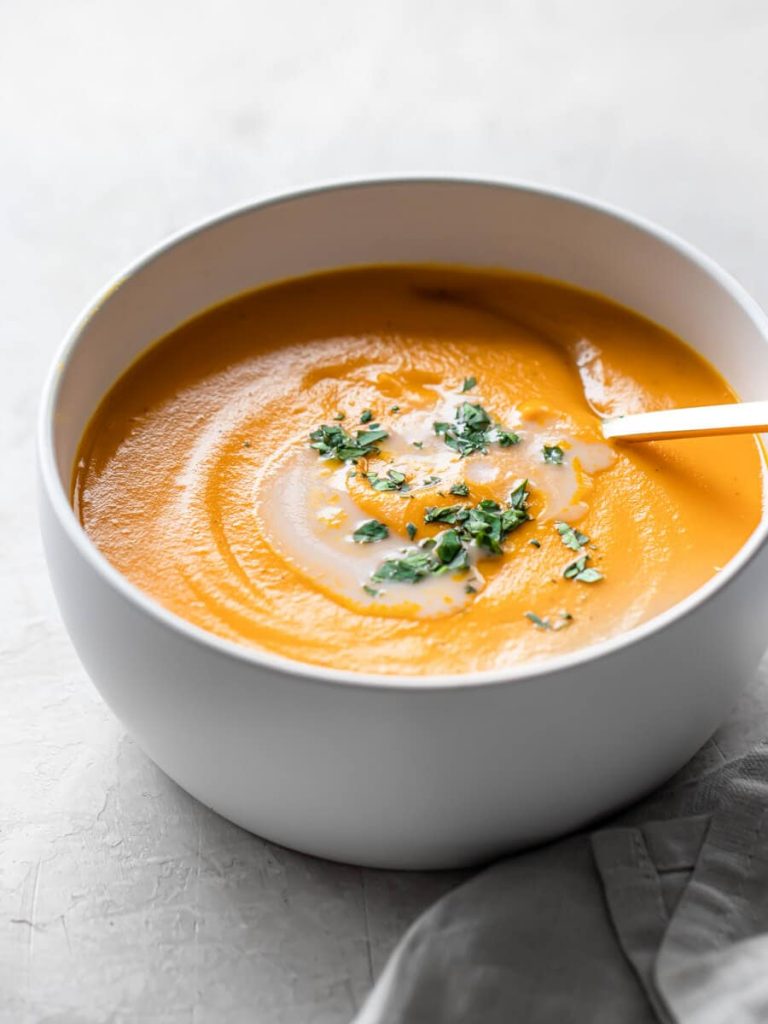 Well, I hope you will love all of these amazing vegan soup recipes. May they warm you on cold days, comfort you when you don't feel well, and fuel your families with vitamins and nutrients to sustain your busy schedules. Remember to keep these vegan soup recipes on hand for days when you want something quick, delicious, and nutritious. Enjoy!