Are you looking for some easy and tasty vegan recipes for kids? Well, you've found the perfect place! We all know that sometimes it can be hard to come up with new meals in general, but it is especially challenging with kids.
Don't worry! We are going to share some easy and kid-friendly vegan recipes that will fit right into your weekly line up. Not only will you find meals that are sure to put a smile of your child's face, but we will ensure that they aren't going to keep you in the kitchen for hours.
We all seem to be short on family time nowadays, so why not cook with your kids. These recipes provide a great opportunity for you to bond with your child while also giving them cooking skills for their future. You can have them help you measure, count, and tell you the different colors of the vegetables.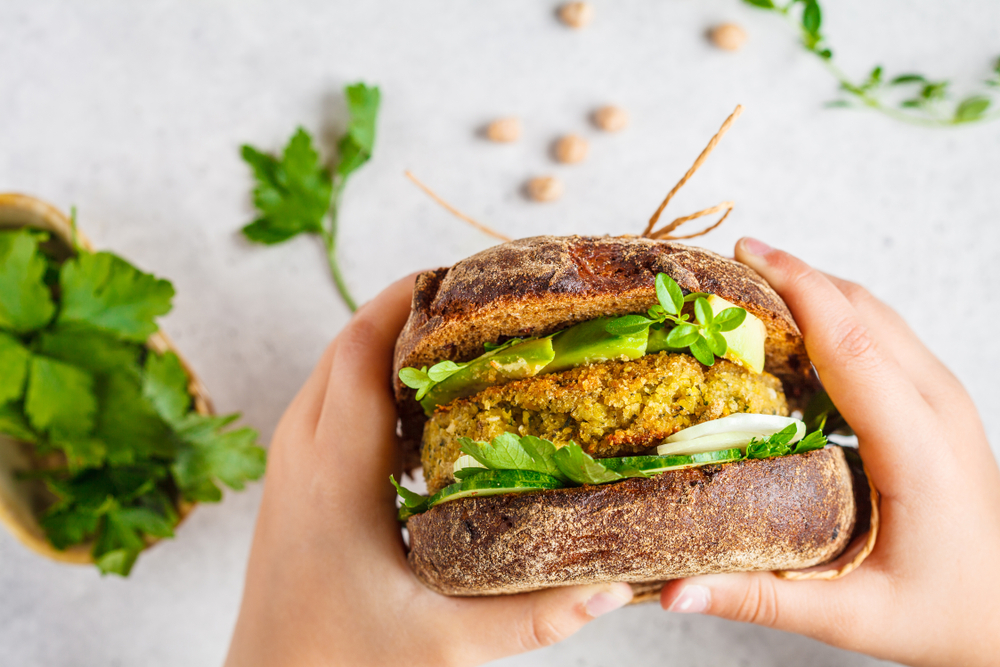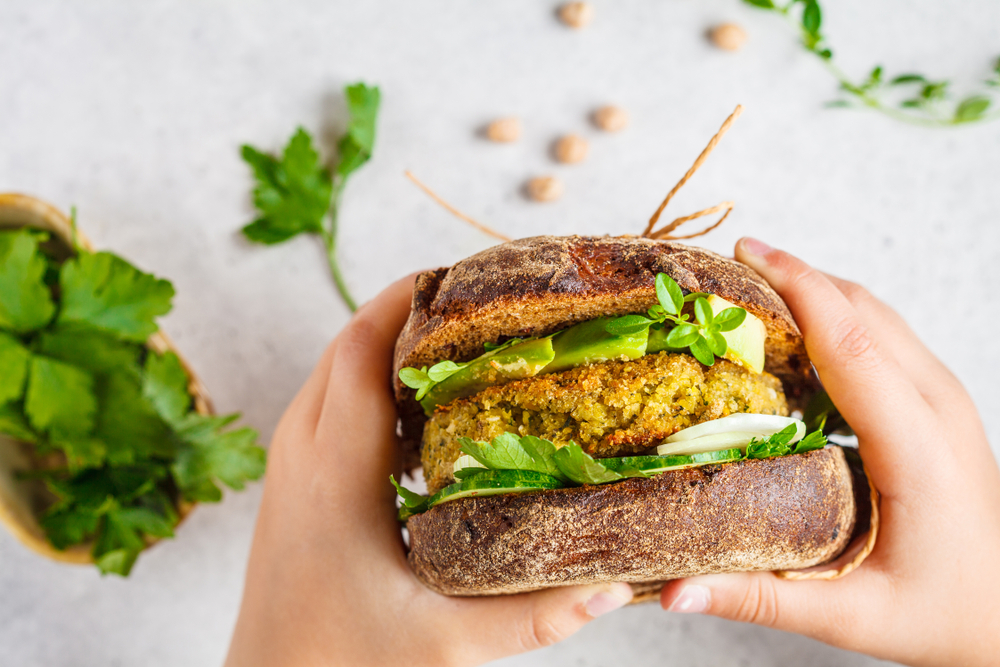 What Vegan Meals Can You Feed Kids?
Starting or sticking to a vegan diet with children might sound overwhelming and almost impossible, but here's the thing…kids can be picky no matter what diet you follow and a vegan diet has more flexibility than you might realize!
Look over this article with your child and you will soon begin to notice that they will get excited about these vegan recipes for kids. A vegan diet doesn't strictly mean only eating vegetables. There are plenty of vegan options for mac & cheese, pancakes, waffles, ice cream, and other kid favorites.
I believe that exposure to many different textures and flavors is key! A kid might not like a meal and it can have absolutely nothing to do with the fact that it is vegan, so don't let that make you feel defeated. Allowing them to be involved in the process will help you narrow down which vegan recipes for kids are right for your family.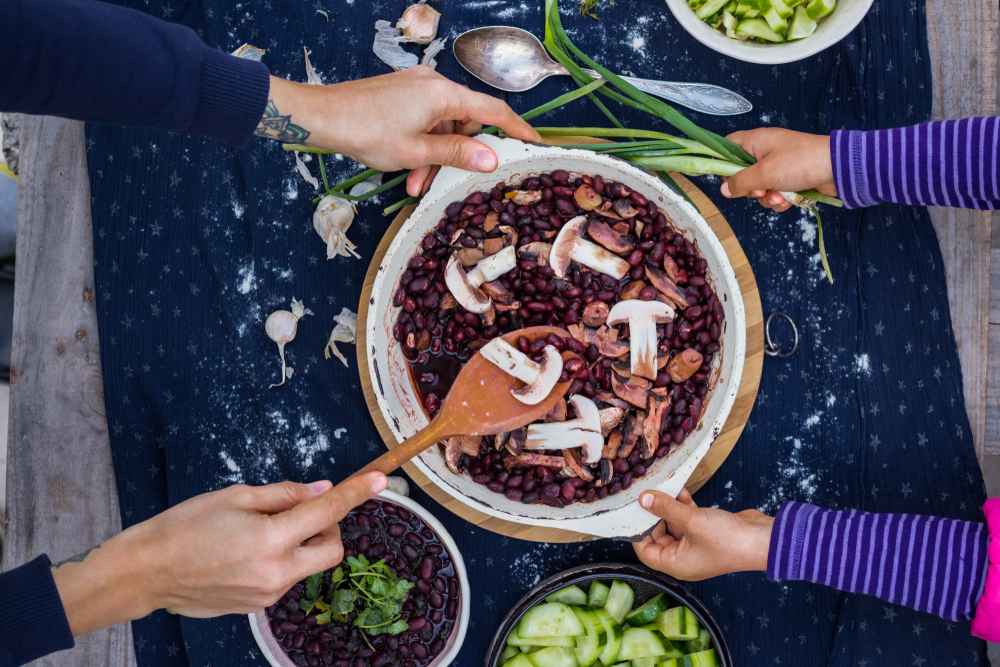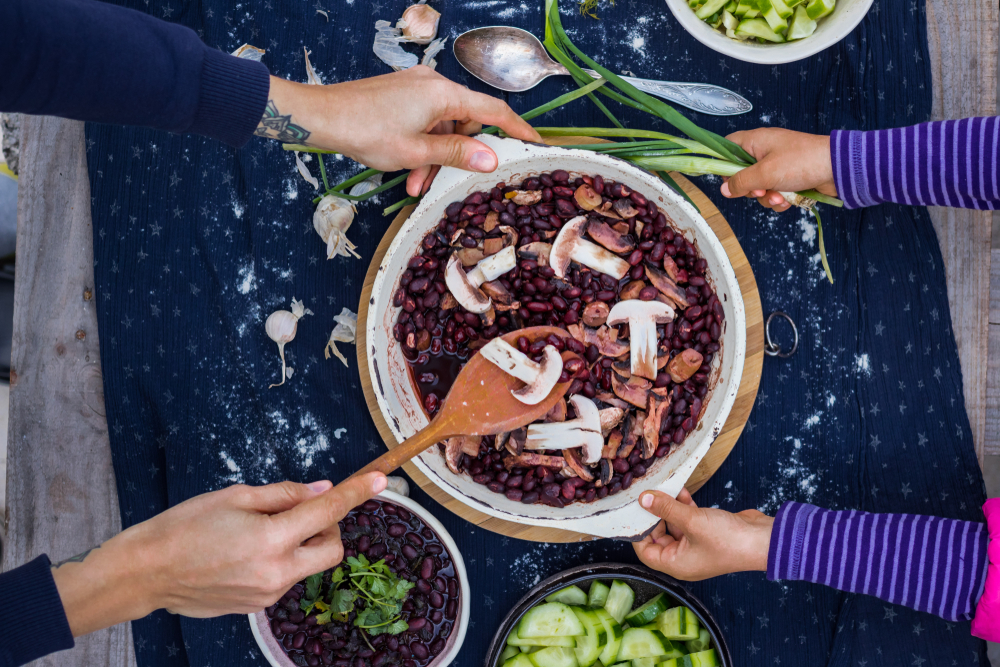 How Can I Convince My Kids To Eat Vegetables?
Preparing these vegan recipes for kids will start you on the path to having a child that loves vegetables. Cooking meals that are flavorful, but also happen to have a lot of veggies included is an excellent way to get your child to eat their vegetables.
If they encounter a veggie that they don't like, see if you can get them to explain why. Is it the texture? Is it the flavor? Sometimes you can make slight adjustments to cooking time to change the texture or you can adjust how much spice/sauce is added. These simple modifications can help keep some veggies off the blacklist.
Most kids will have at least one vegetable that they refuse to eat no matter how you prepare it. That's OKAY! There are so many amazing vegetables out there, so don't stress just because they don't like one or two. Switch things up and focus on the positives.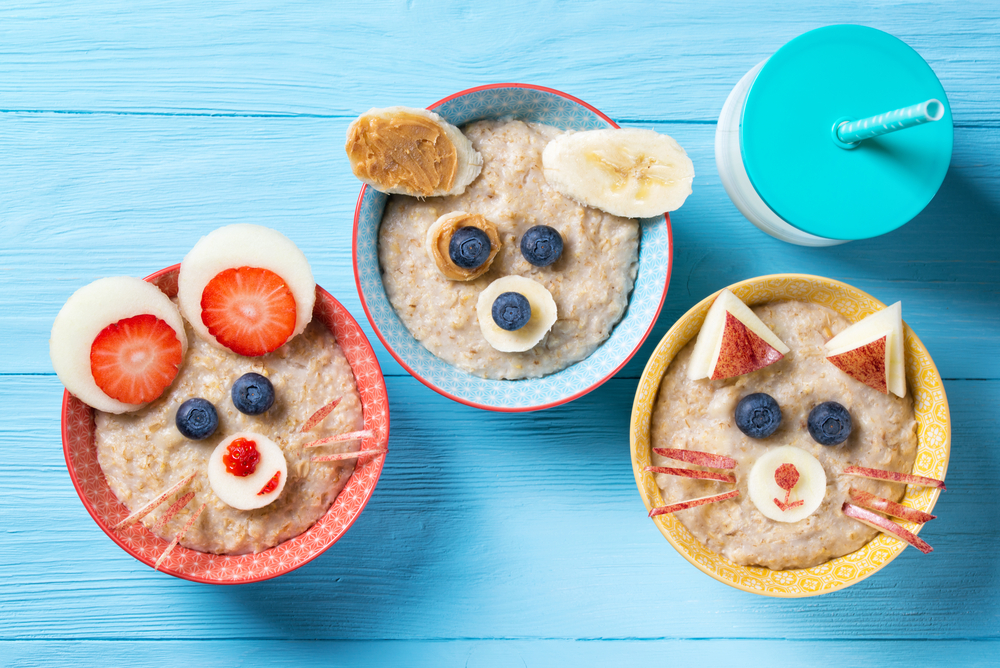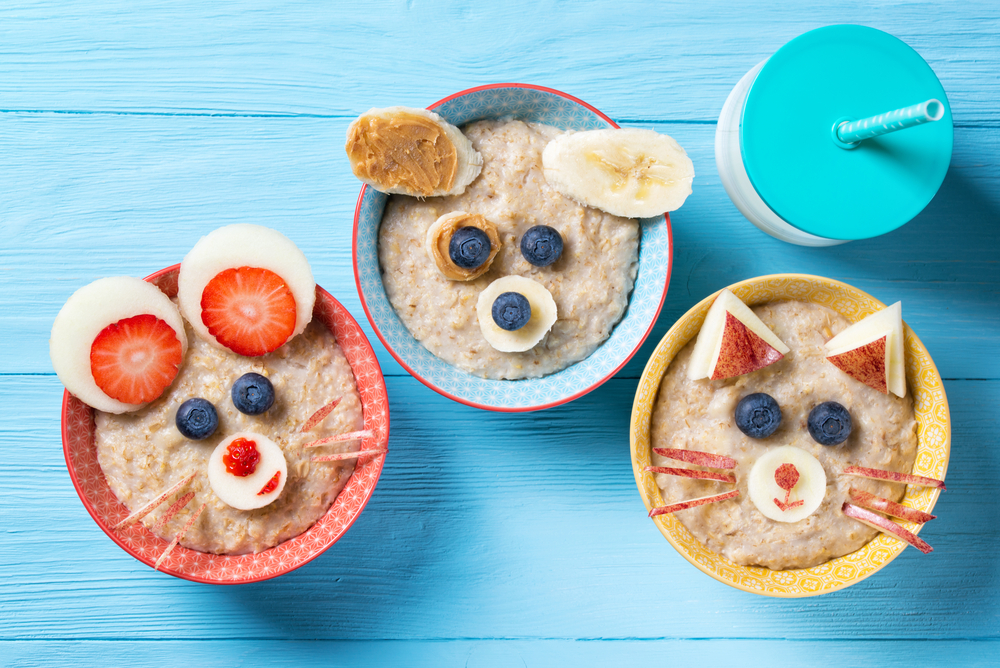 30 Easy And Delicious Vegan Recipes For Kids
Best Ever Vegan Sloppy Joes
Sloppy Joes are messy and that's probably why kids love them so much. These have added red pepper for an interesting twist.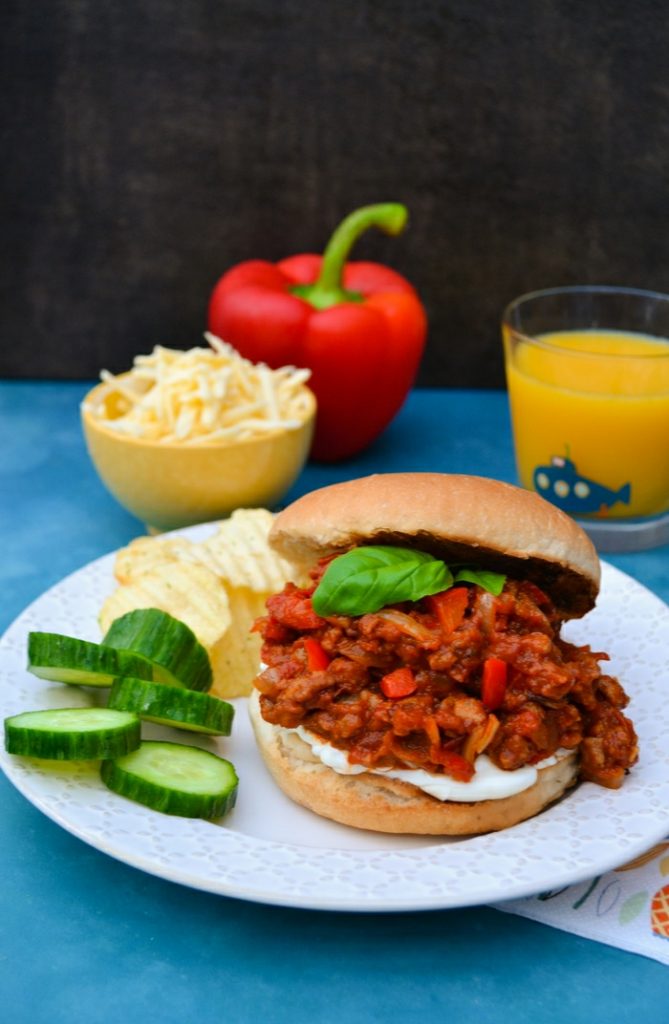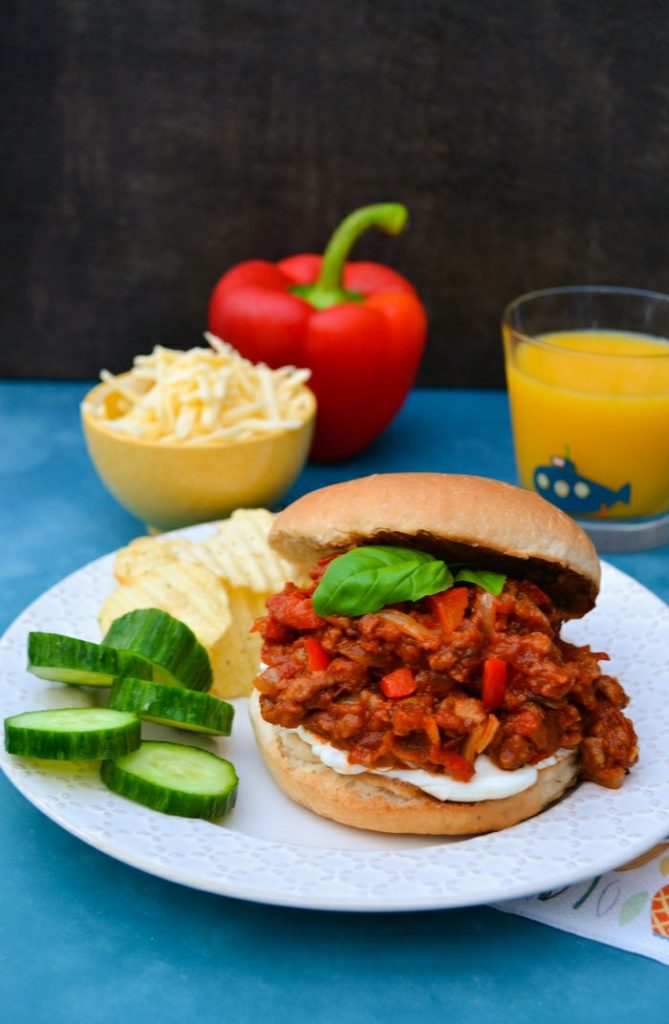 Vegan Lentil Bolognese Sauce
This vegan lentil Bolognese sauce is hearty, nutritious, and only takes 25 minutes to cook! One of our favorite easy family meals. This is a great vegan recipe for kids because they will love dunking their bread in the sauce!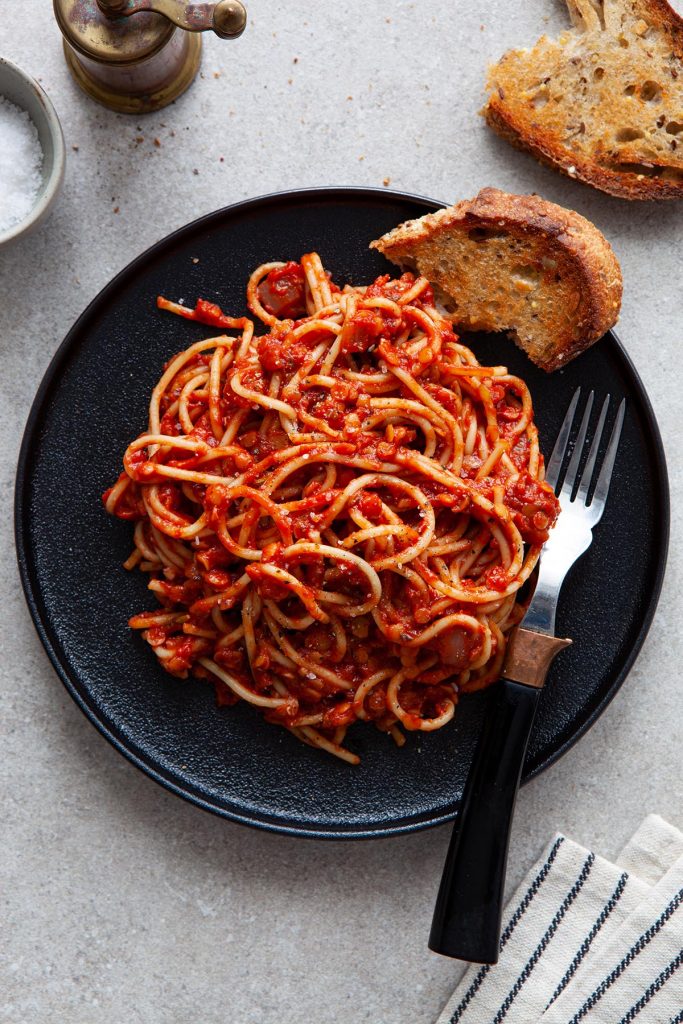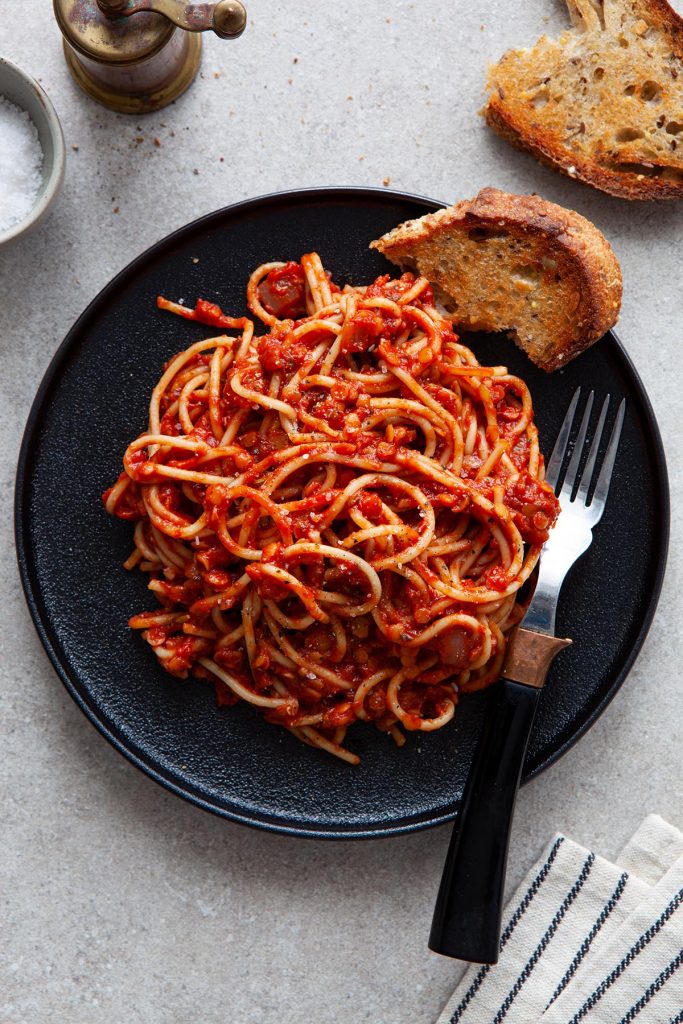 Instant Pot Vegetable Chow Mein
When I make these noodles everyone gobbles them up. They are so easy to make in this instant pot! This is perfect for those hectic weeks when need hassle free meals.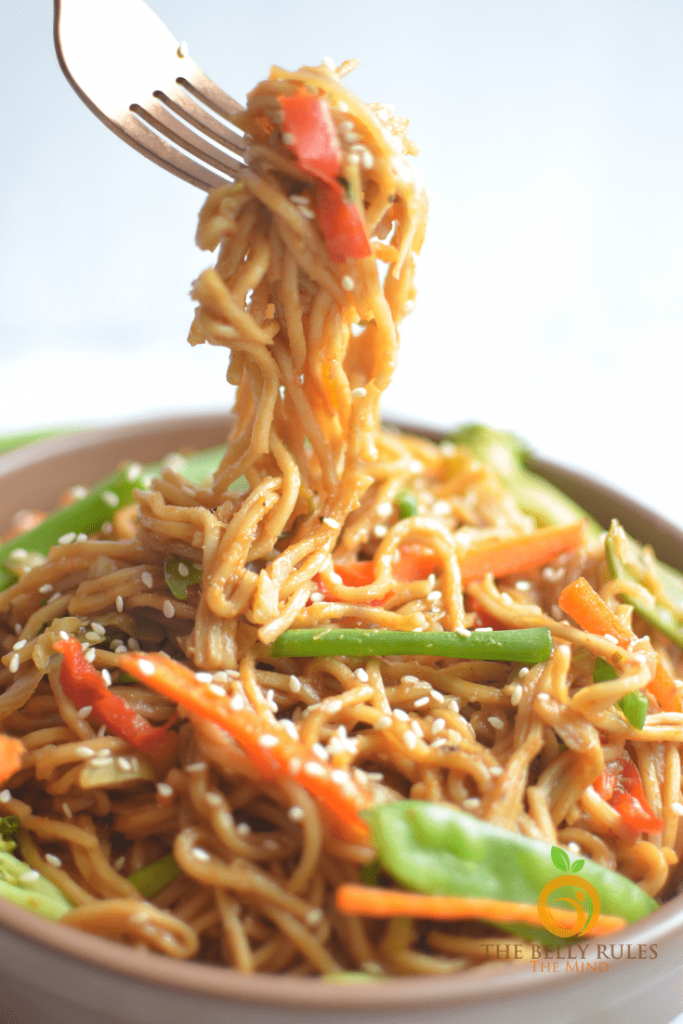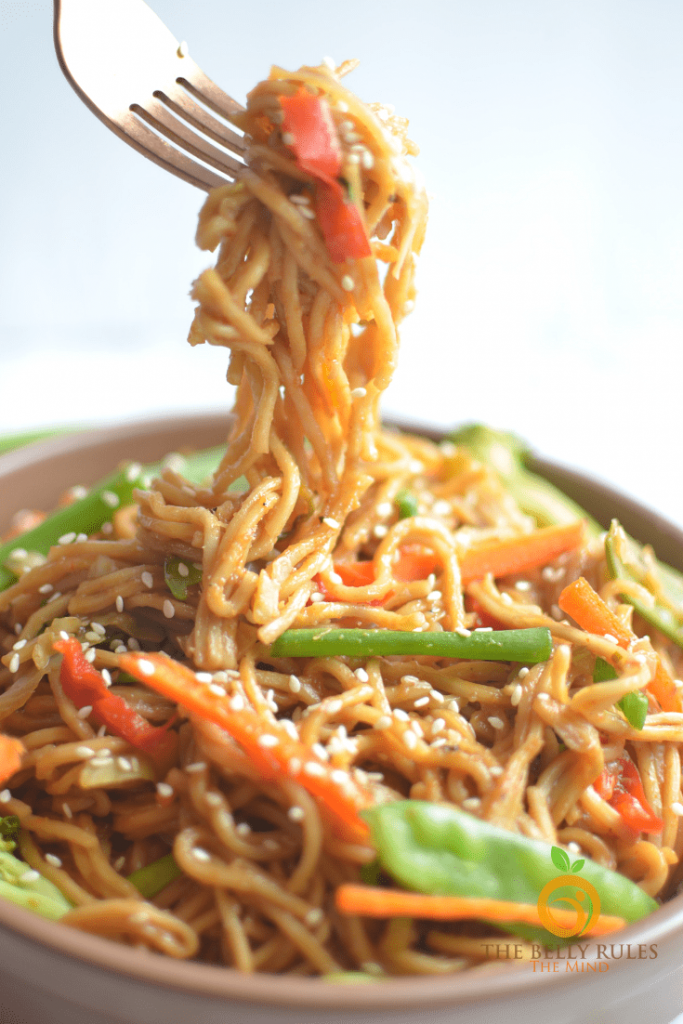 Vegan Butter Cauliflower "Chicken"
Rich, fragrant, and healthy vegan butter "chicken" made with cauliflower. This is a perfect vegan recipe for kids because it is so creamy, definitely not spicy, so even picky kids will enjoy it.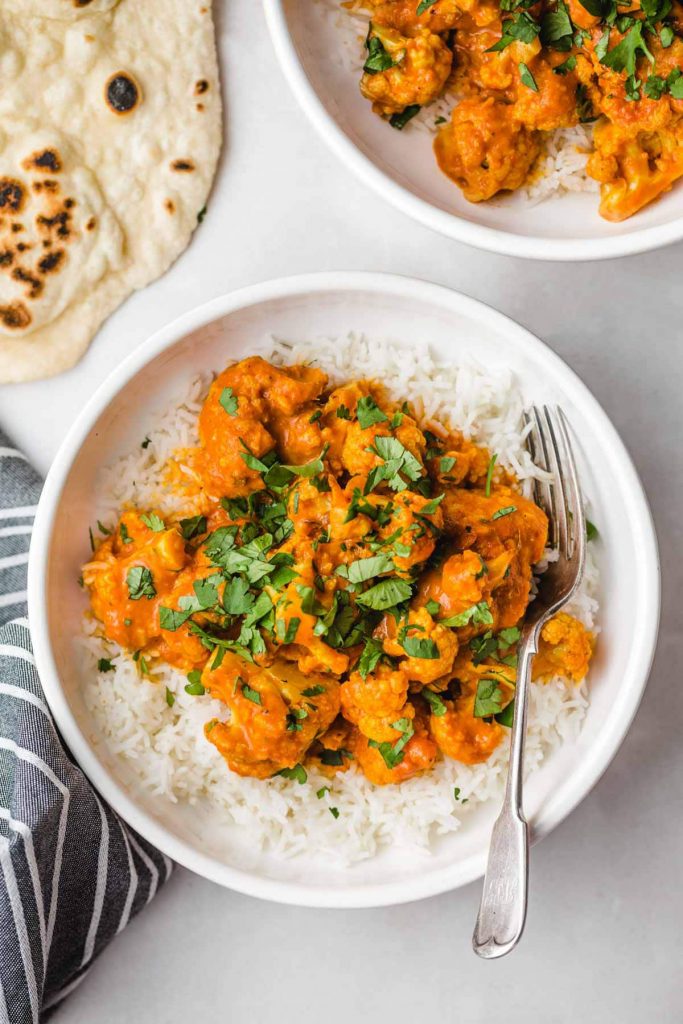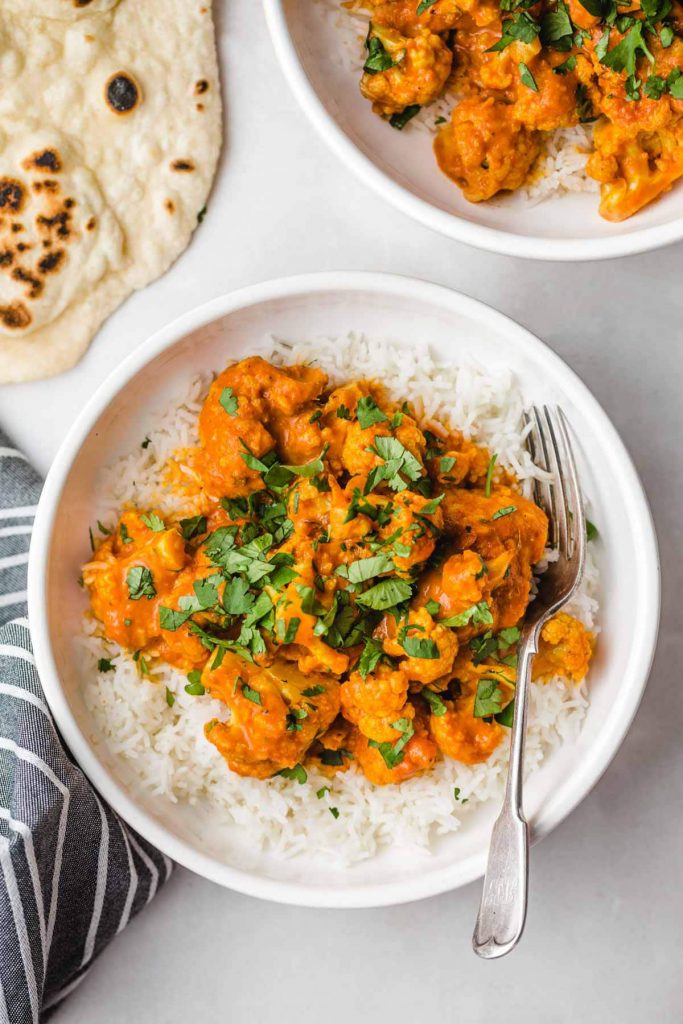 Smoky Chickpea Tuna Salad [Vegan & Gluten-free]
This smoky chickpea tuna salad is a vegan-friendly take on traditional tuna salad! The taste and texture are very reminiscent of the original thanks to the crunch of celery and the smokiness of cumin and paprika. This is a great vegan recipe for kids that lets them explore new spices.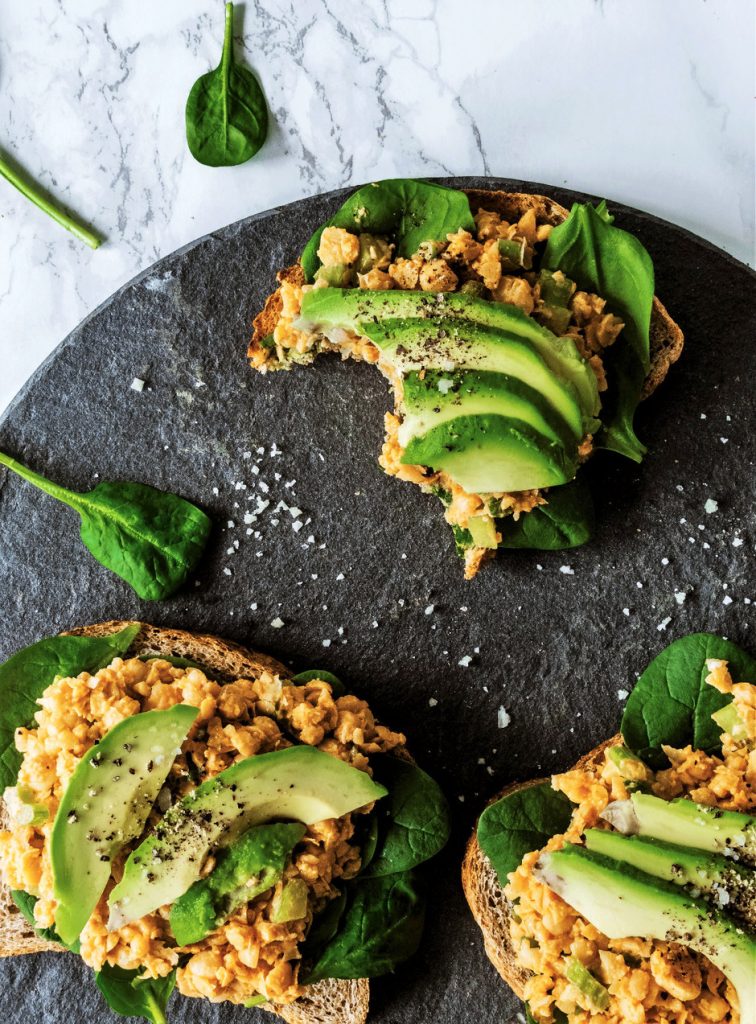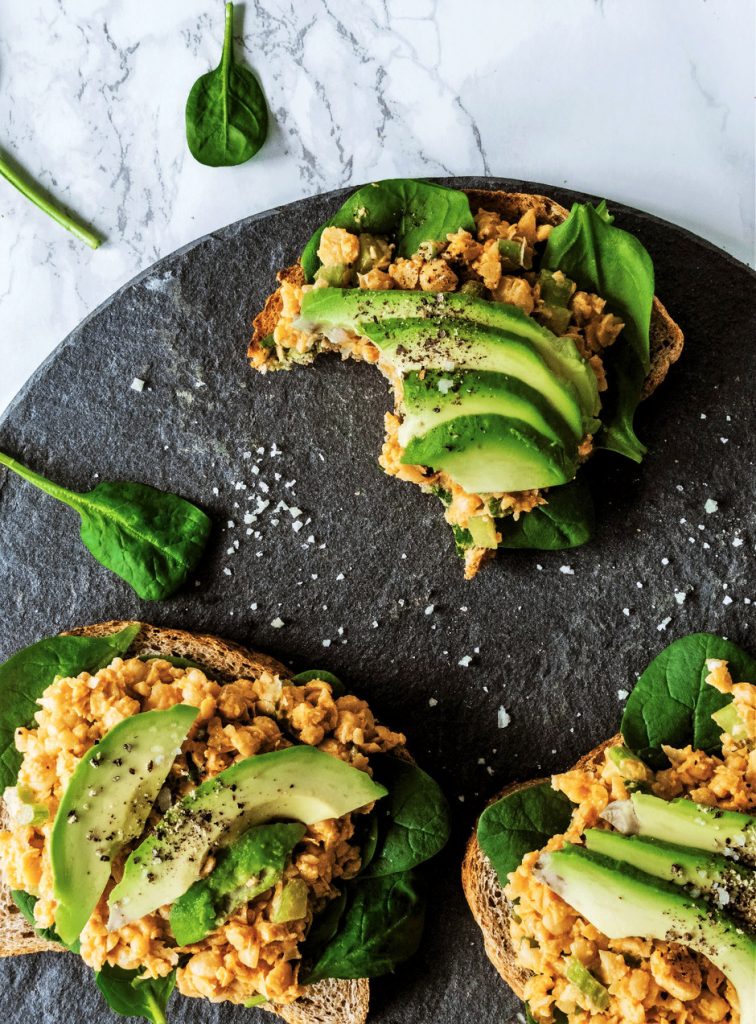 5-Ingredient Vegan Clam Chowder
This vegan clam chowder recipe is so easy to make! It uses just 5 ingredients and can be cooked in a flash. It is kid-approved and great for a cold winter day!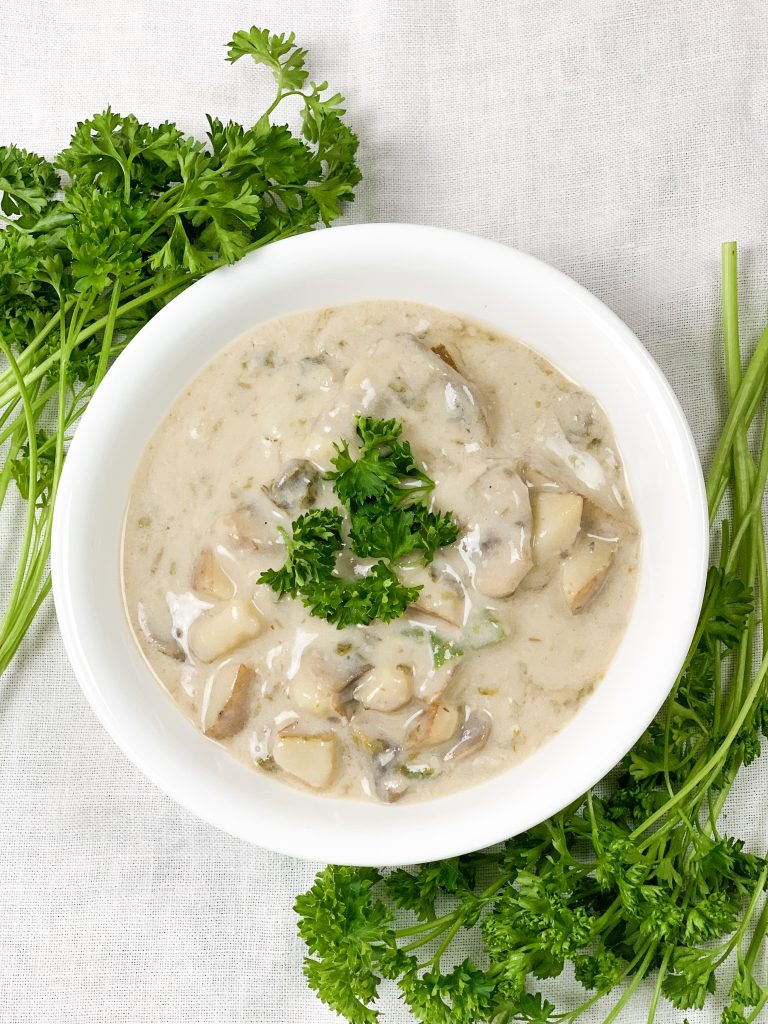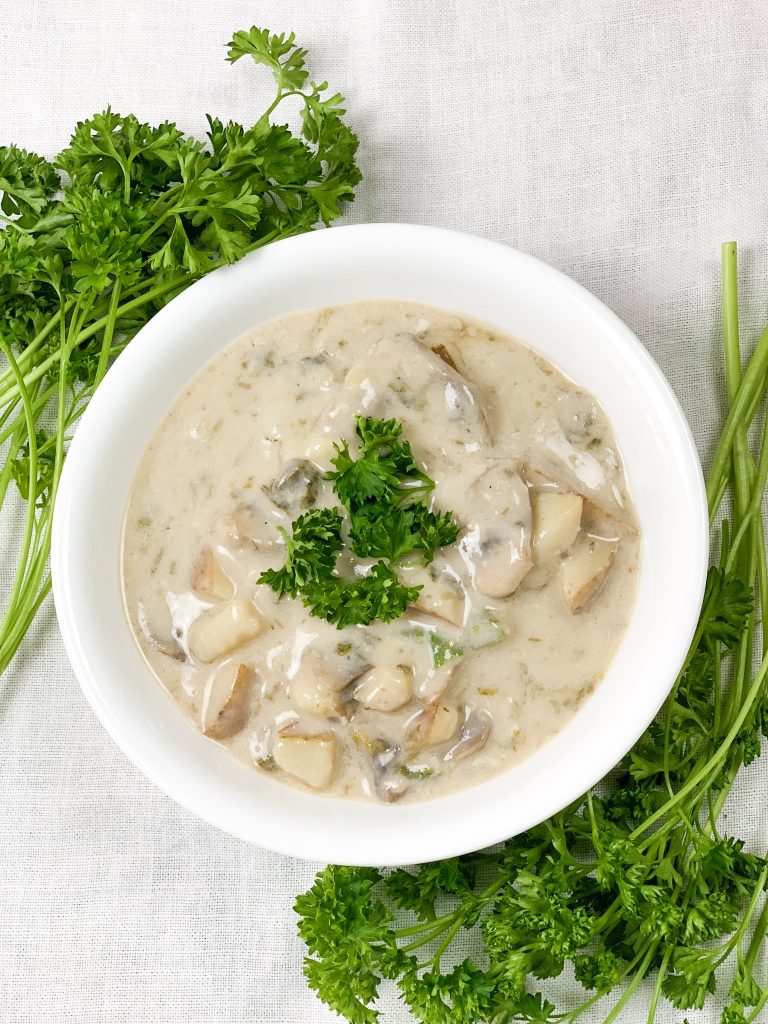 Vegan Tofu Stir Fry
This Vegan Tofu Stir Fry is bursting with a rainbow of color and flavor! One-pan meals are so easy to throw together and this healthy stir fry is ready in just 30 minutes. Perfect for a no-fuss weeknight dinner! This dish is naturally vegan, vegetarian, and gluten free!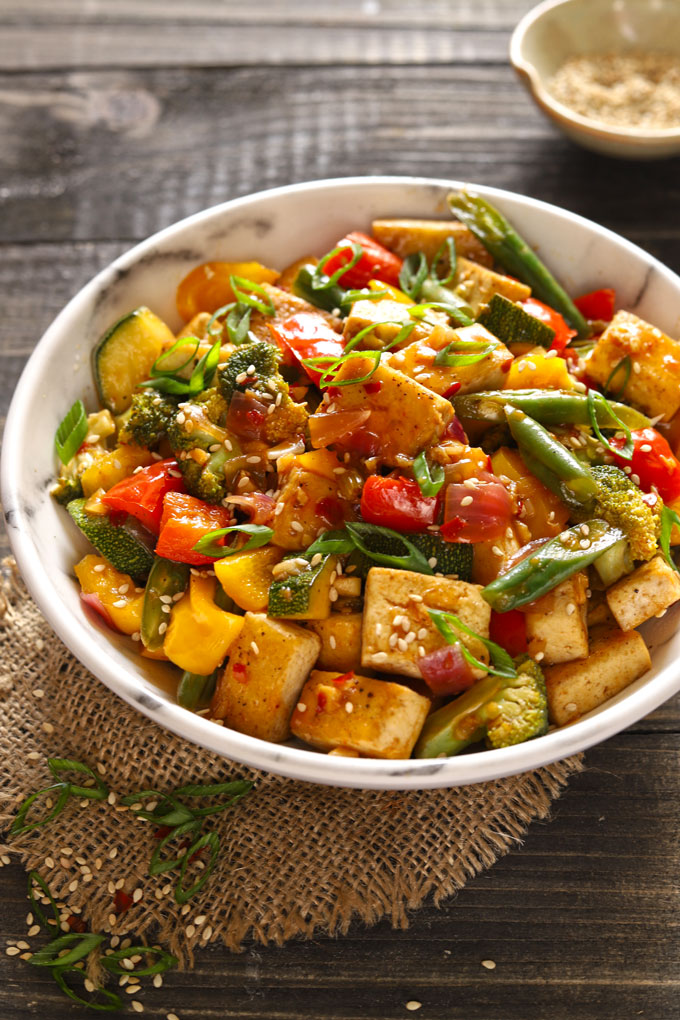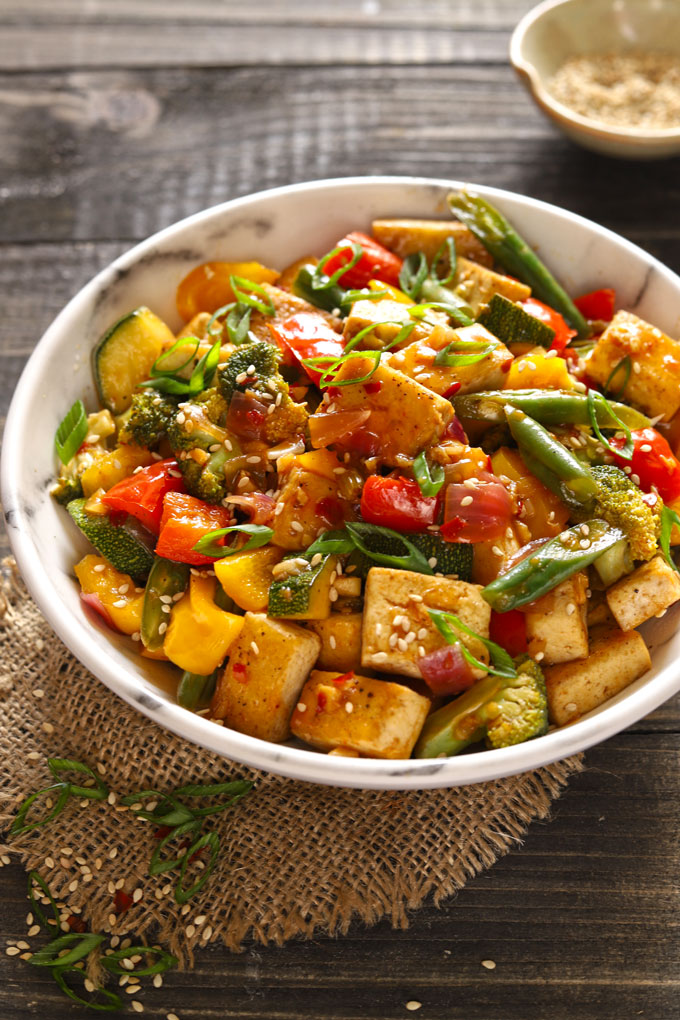 5-Ingredient Vegan Banana Pancakes
These are truly the best-ever vegan banana pancakes you will ever eat! The best part? They whip up using just 5 ingredients and NO OIL, they are kid-friendly and are perfect for breakfast or breakfast for dinner.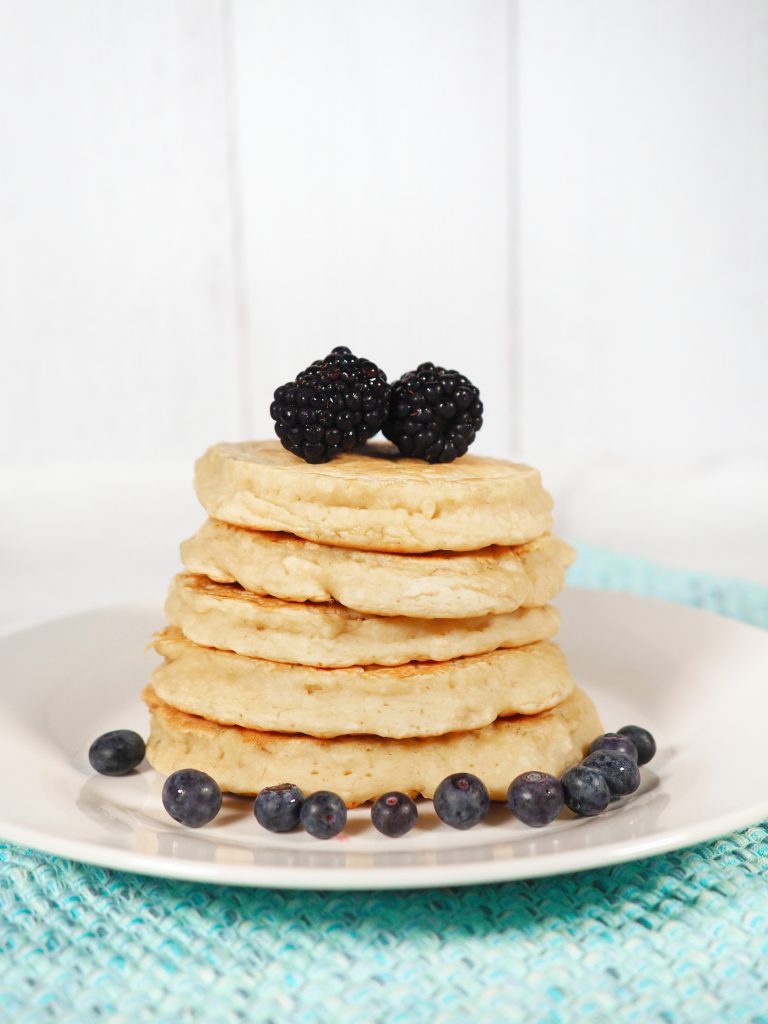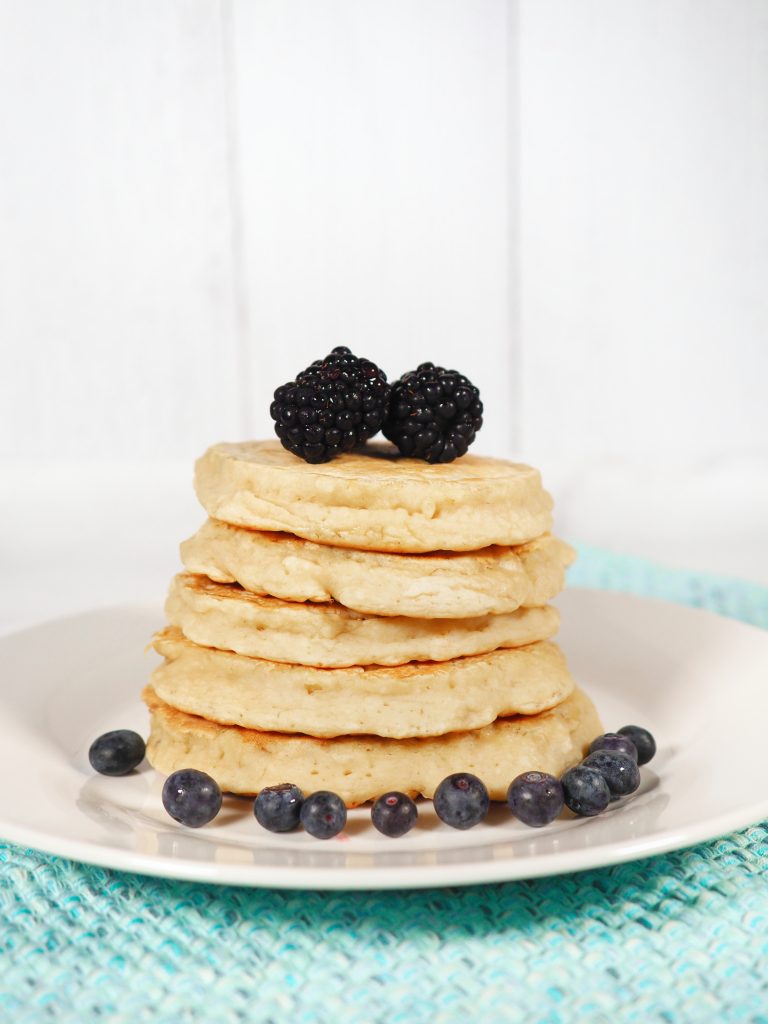 Mini Margherita Puff Pizza Pies
Easy mini Margherita pizza pies that can be made in under 30 minutes. They are easy enough for children to make and they always love to eat them. This is such a fantastic vegan recipe for kids because kids love personal sized pizzas!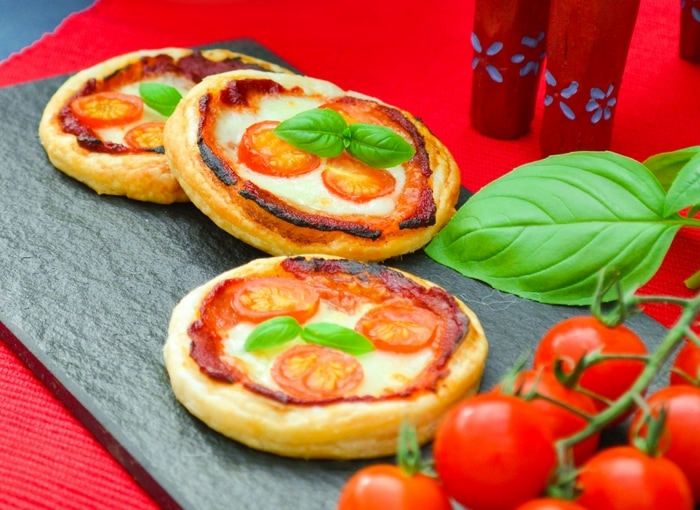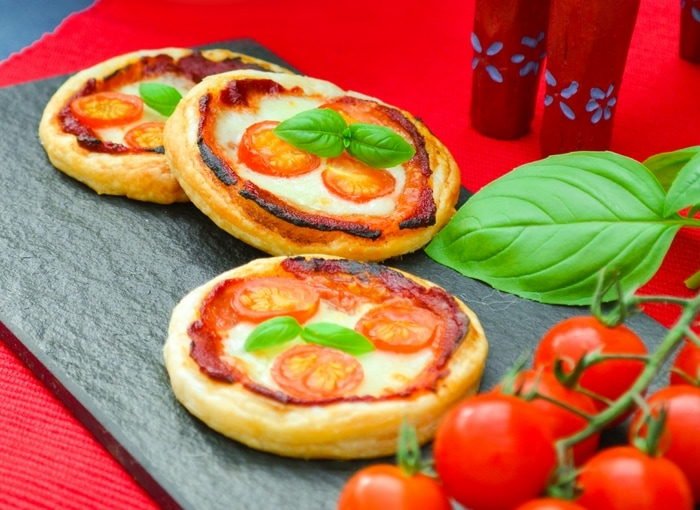 Vegan Chickpea Tacos With Peach Salsa
What to make it you're eating vegan and it's Taco Tuesday? Vegan Chickpea Tacos With Peach Salsa is an easy vegan recipe that's packed with the protein of chickpeas and topped with a lime-scented fresh peach salsa! Now you can eat a plant based diet and have your tacos and salsa too!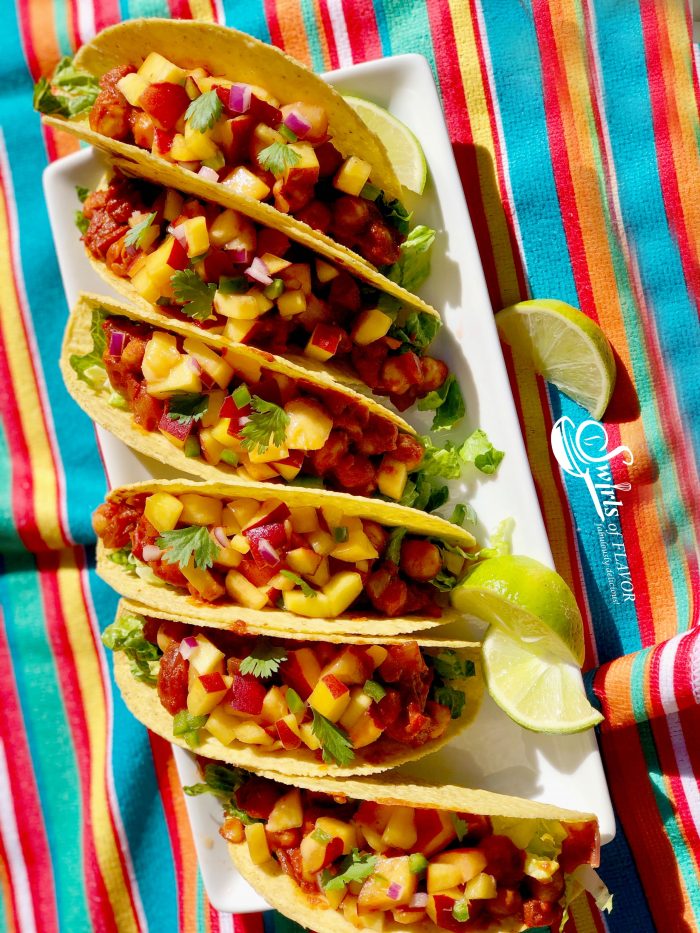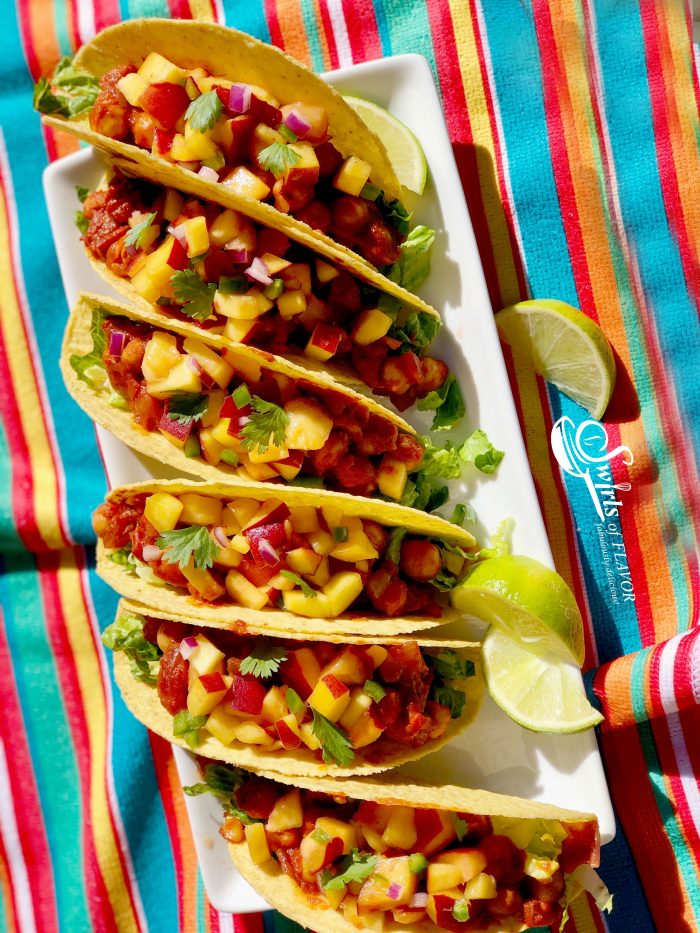 Twice Baked Broccoli and Kale Potatoes with Cashew Avocado Cream
This Twice Baked Broccoli and Kale Potatoes recipe will bring all the comfort of twice baked potatoes that your family won't even miss what's not there. This recipe proves that vegan food can be creamy and delicious!
Creamy Tomato Pasta
Super easy 15-minute creamy tomato pasta made with just 7 ingredients! This plant-based quick dinner is very easy to make, so it is the ideal vegan recipe for kids.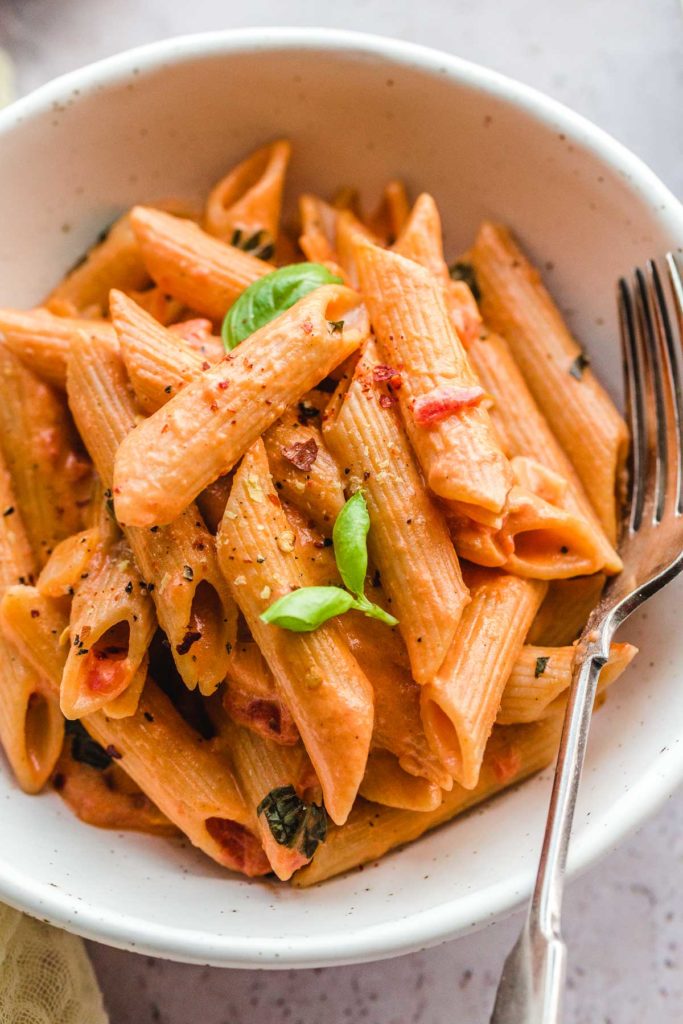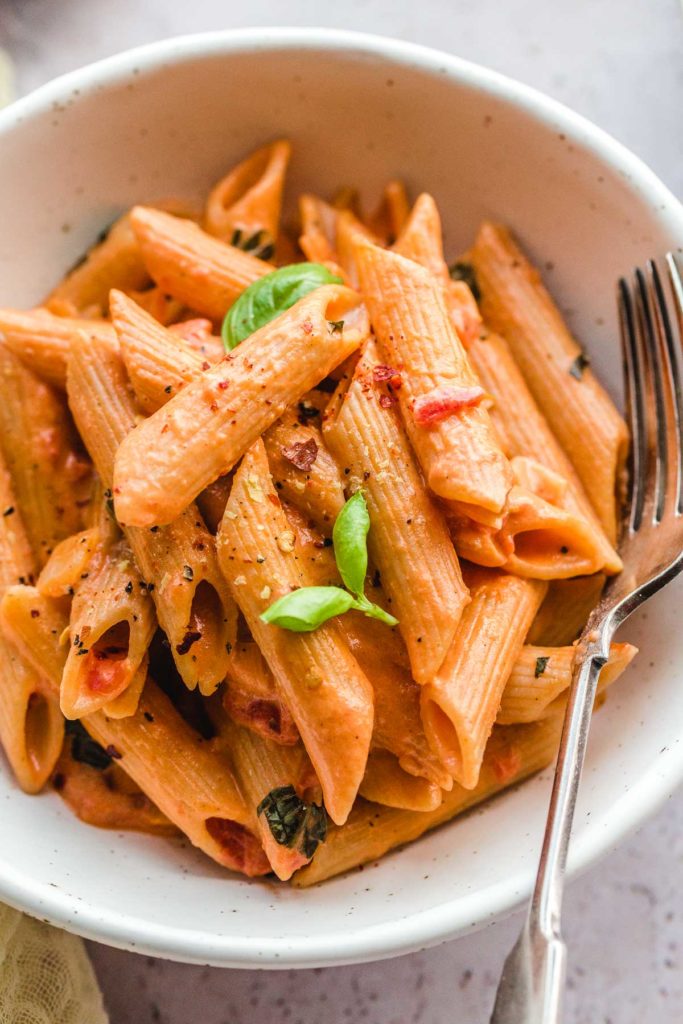 Chickpea And Potato Curry
Caribbean chickpea and potato curry or chana aloo masala is a healthy vegan curry typically served over rice. It's a family-friendly recipe, so easy to make, and ready in under half an hour!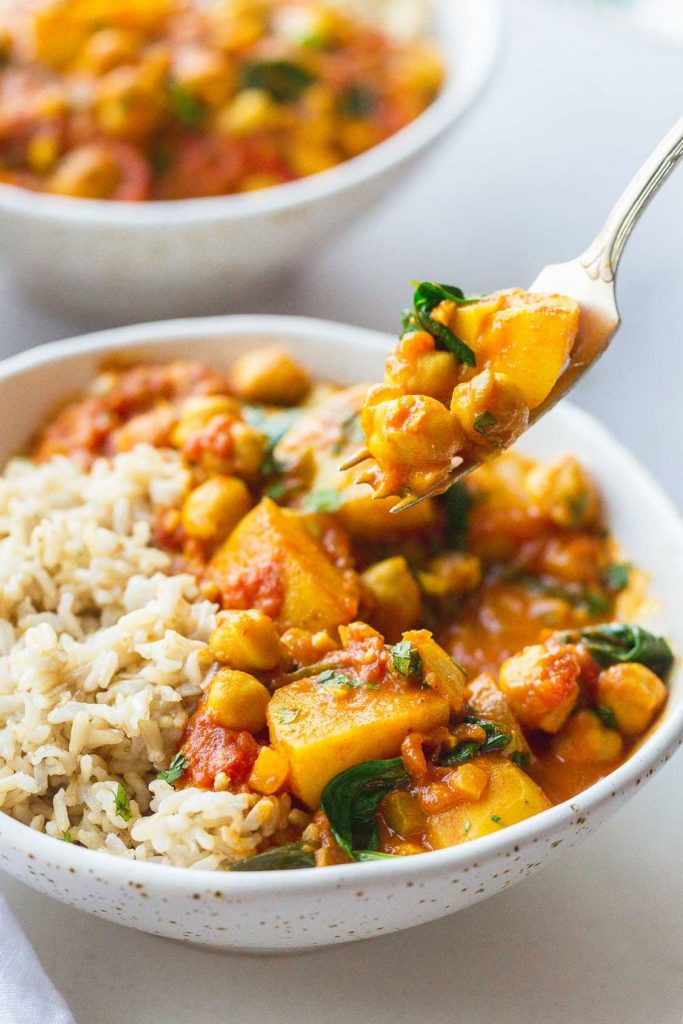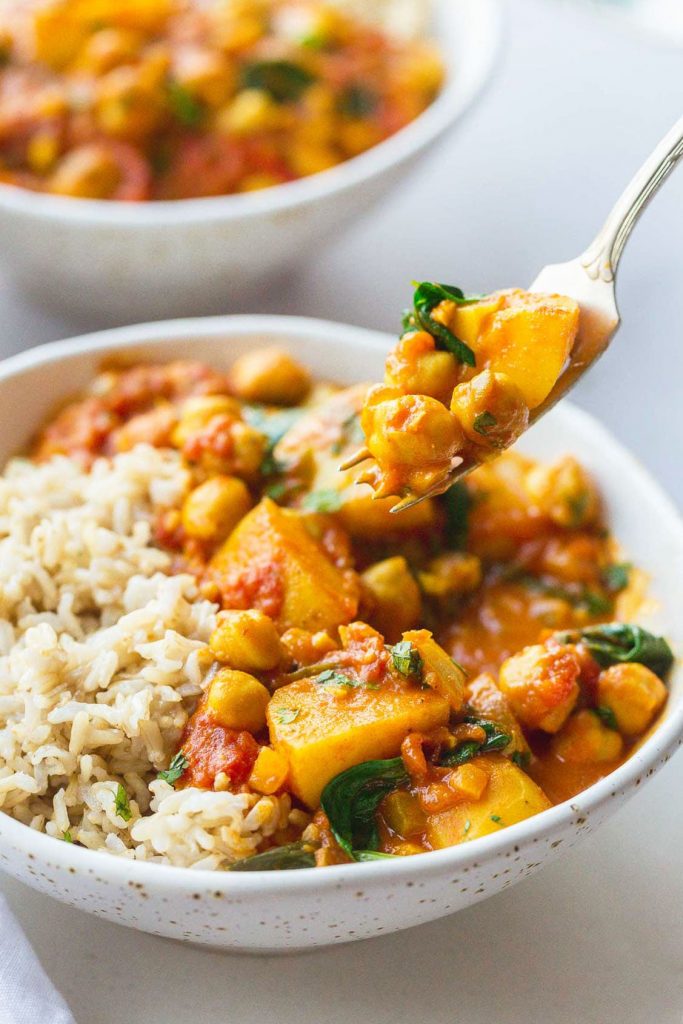 Best-Ever Vegan Portobello Mushroom Burger
The beauty of making vegan portobello mushroom burgers is that you can have a vegan burger without having to make a patty! Portobello mushrooms are meaty and the texture holds up well in a burger. You'll definitely want to add these to your vegan recipes for kids because they are perfect for laid back summer evenings.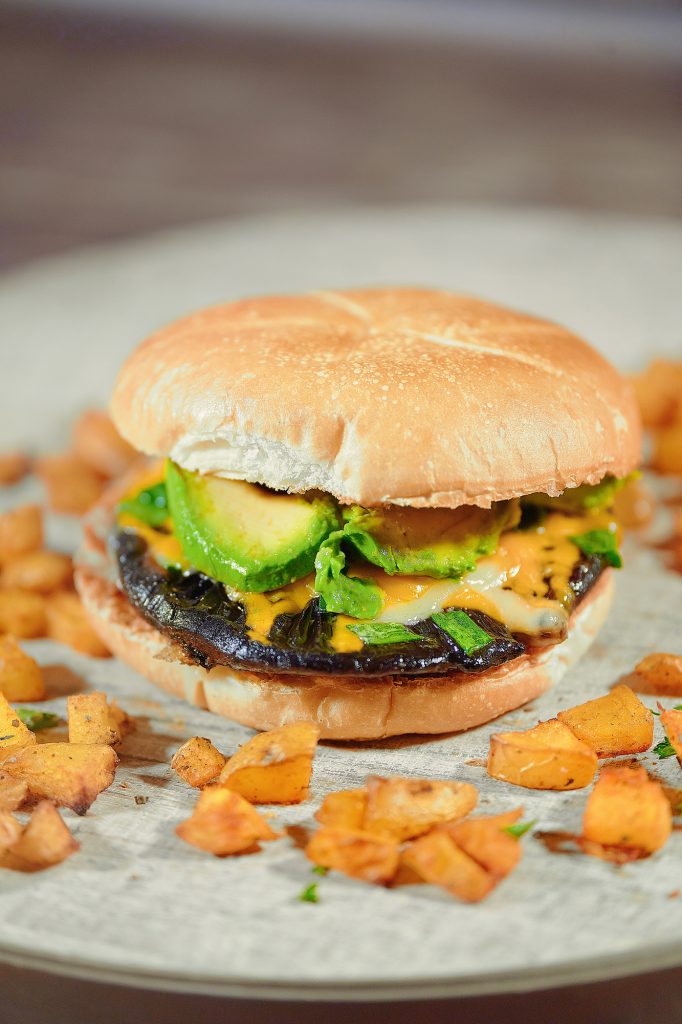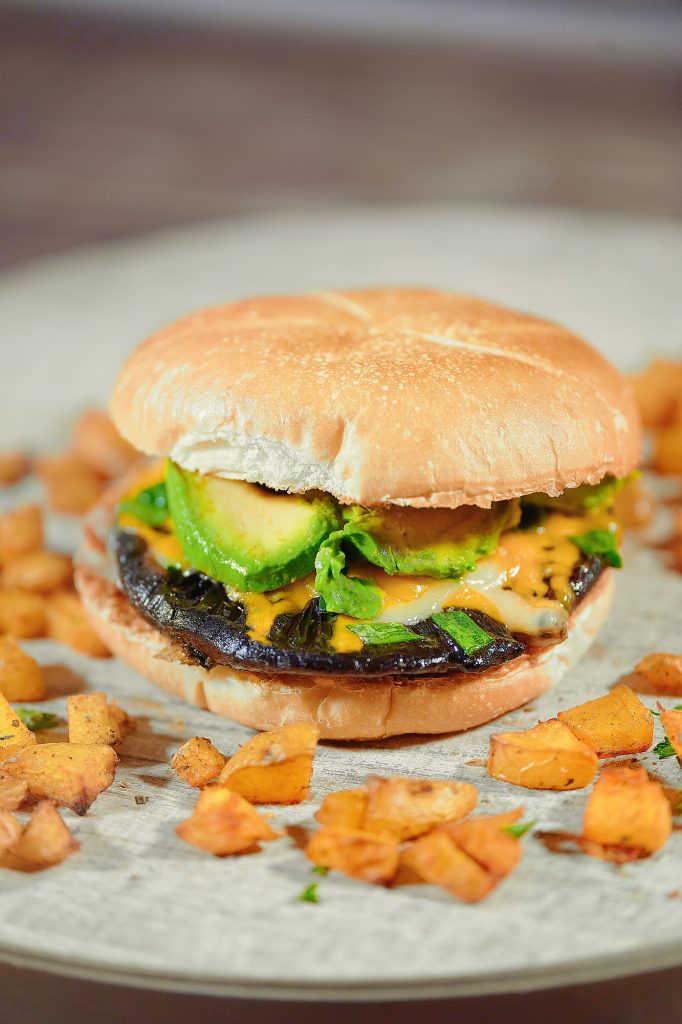 Vegan Aubergine "Meatballs"
These meatless aubergine (eggplant) meatballs will delight vegans and meat eaters alike! Perfect for meat-free Mondays and kids will love rolling the mixture into balls.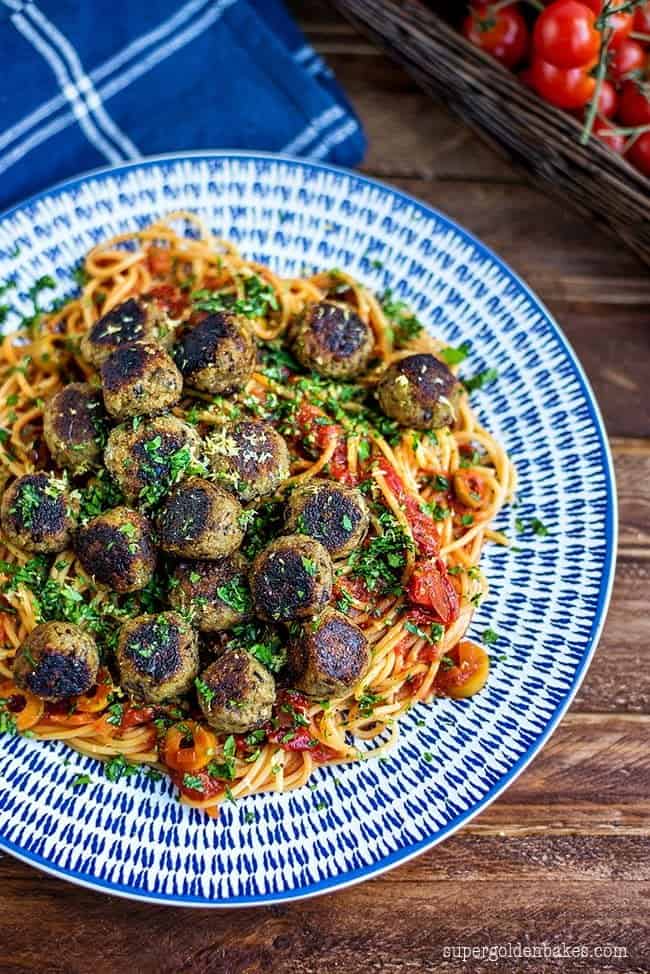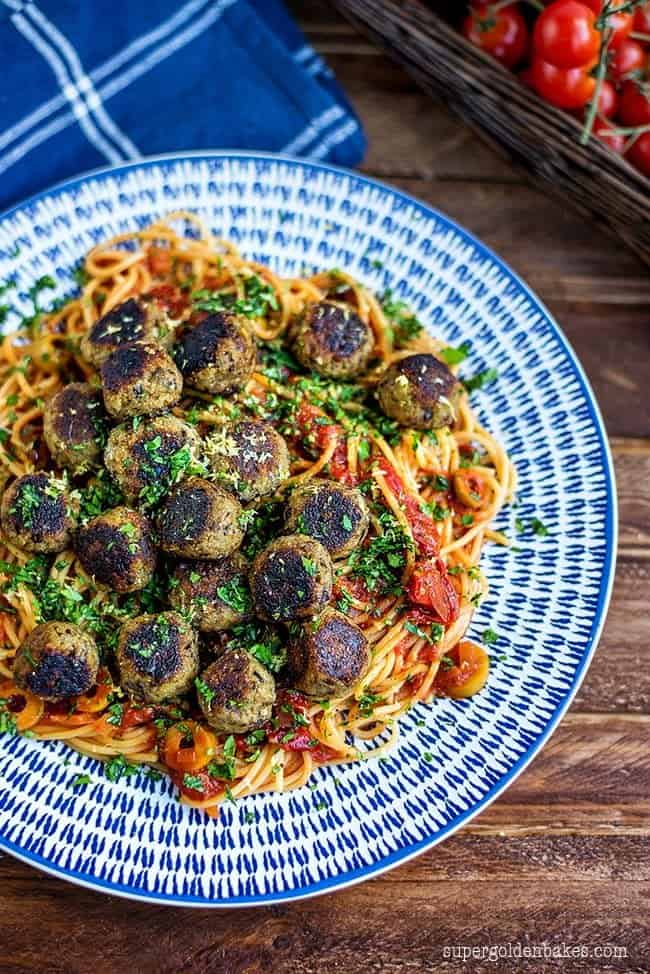 Baked Sesame Tofu Sticks With Peanut Butter & Tahini Sauce
Baked Sesame Tofu Sticks with Peanut Butter and Tahini Sauce are a delicious treat that's vegan, dairy-free, low-glycemic, and South Beach Diet-friendly. This is a wonderful vegan recipe for kids because it is finger food!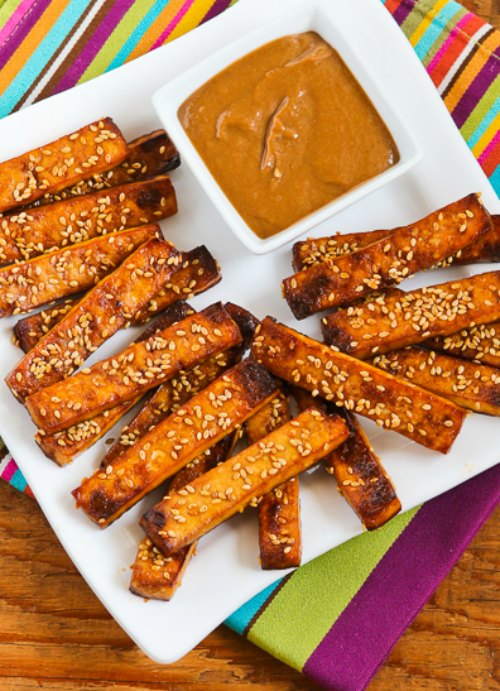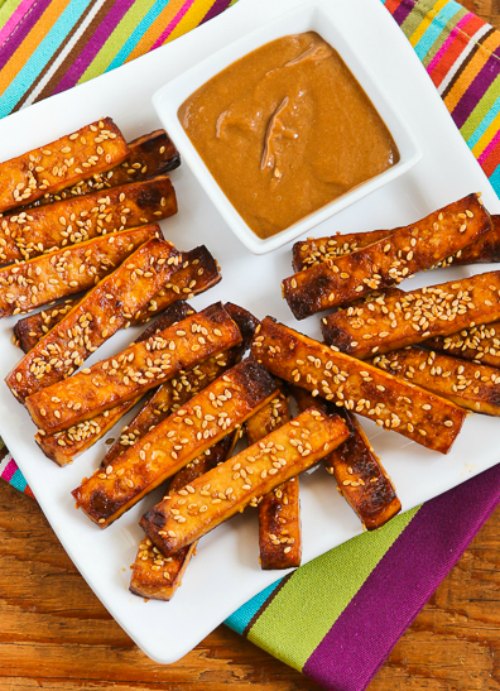 Ultra Gooey Vegan Instant Pot Mac And Cheese
You can't mention vegan recipes for kids without including Mac & Cheese! A comforting classic, this vegan version of homemade mac and cheese tastes just like mama used to make, minus the milk and cheese!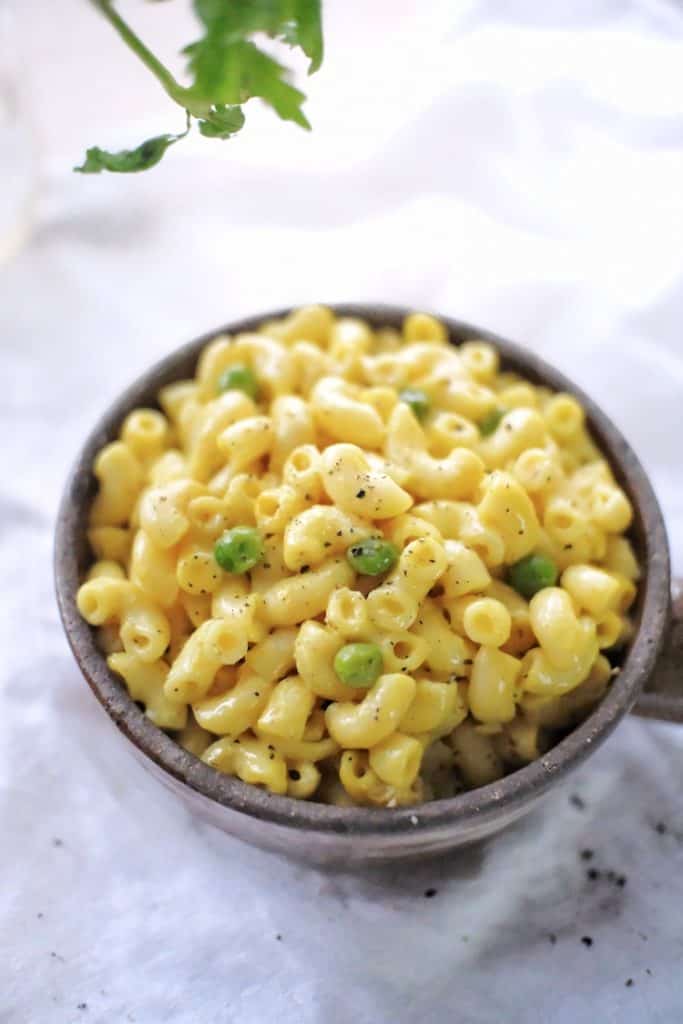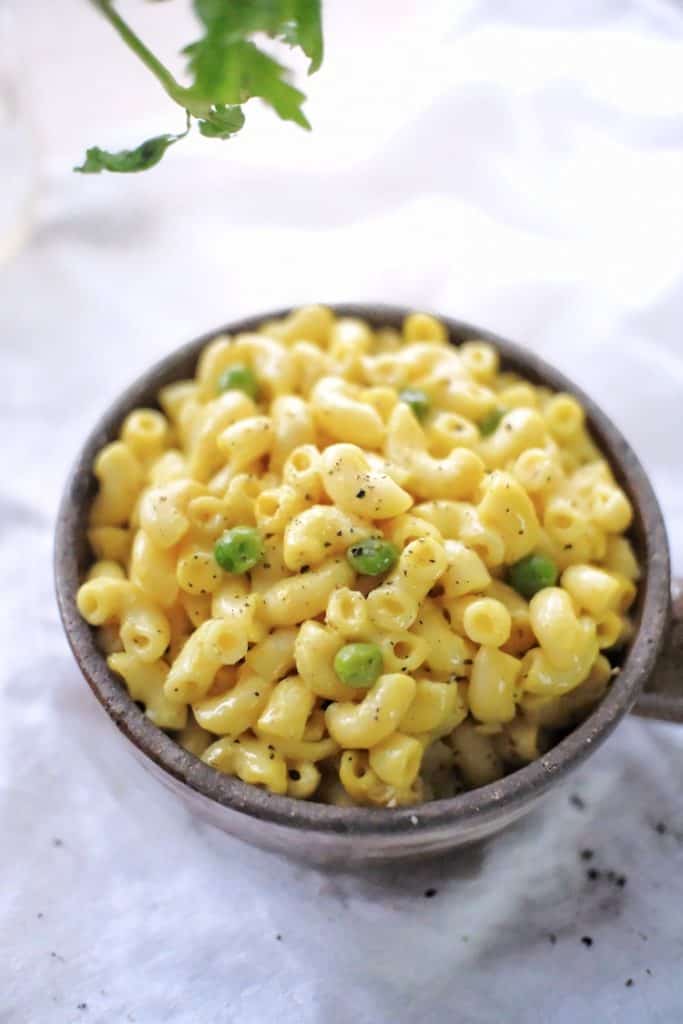 Lemon Orzo With Peas
Here's a dish you can prepare with your Instant Pot as a main course or as a side dish…Lemon Orzo with Peas! The first time I prepared this, it became such a great hit that my kids wanted this in their lunch box too.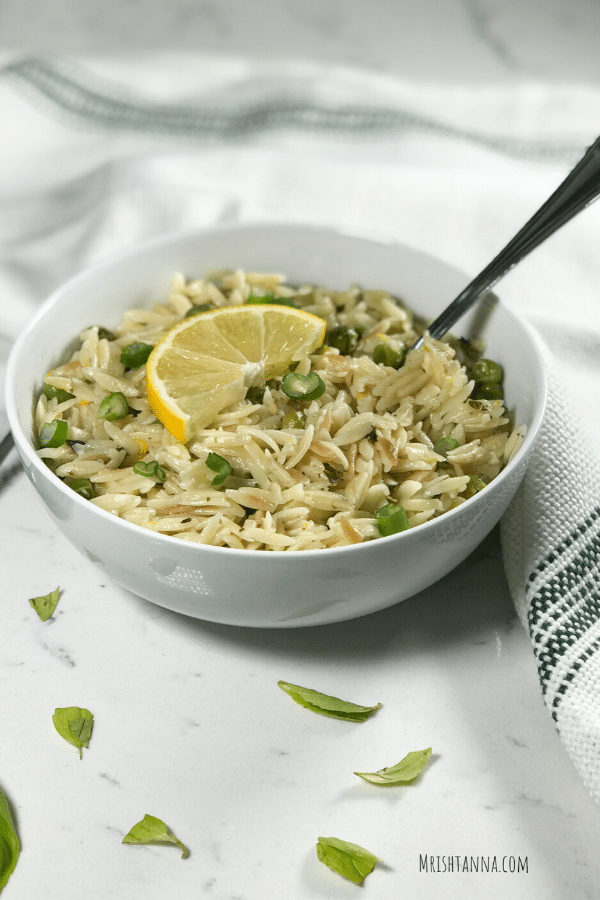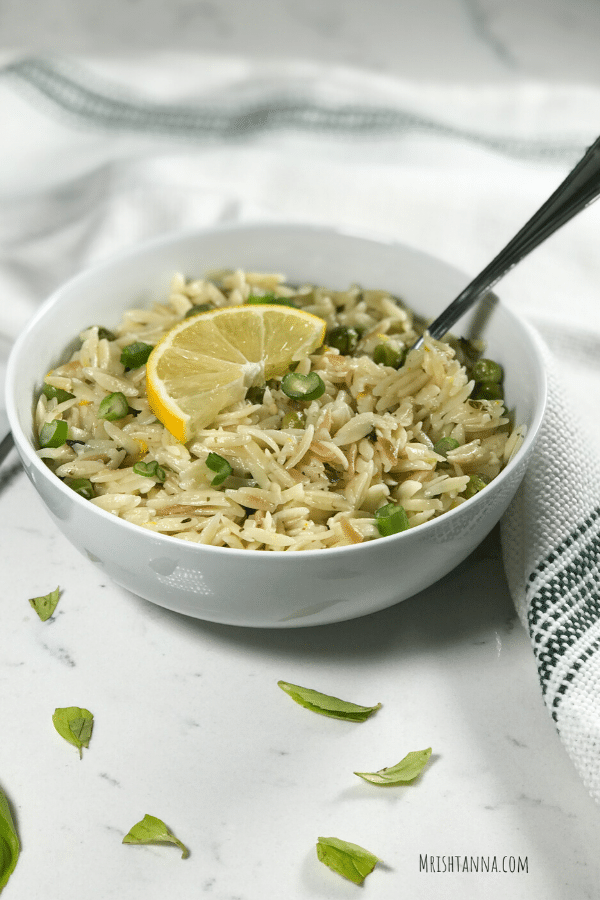 Sweet Potato Waffles
Looking for a kid-friendly vegan meal for breakfast? Well, these are a great way to add a punch of delicious nutrition into your regular waffles, while also bringing warming seasonal flavors into the mix!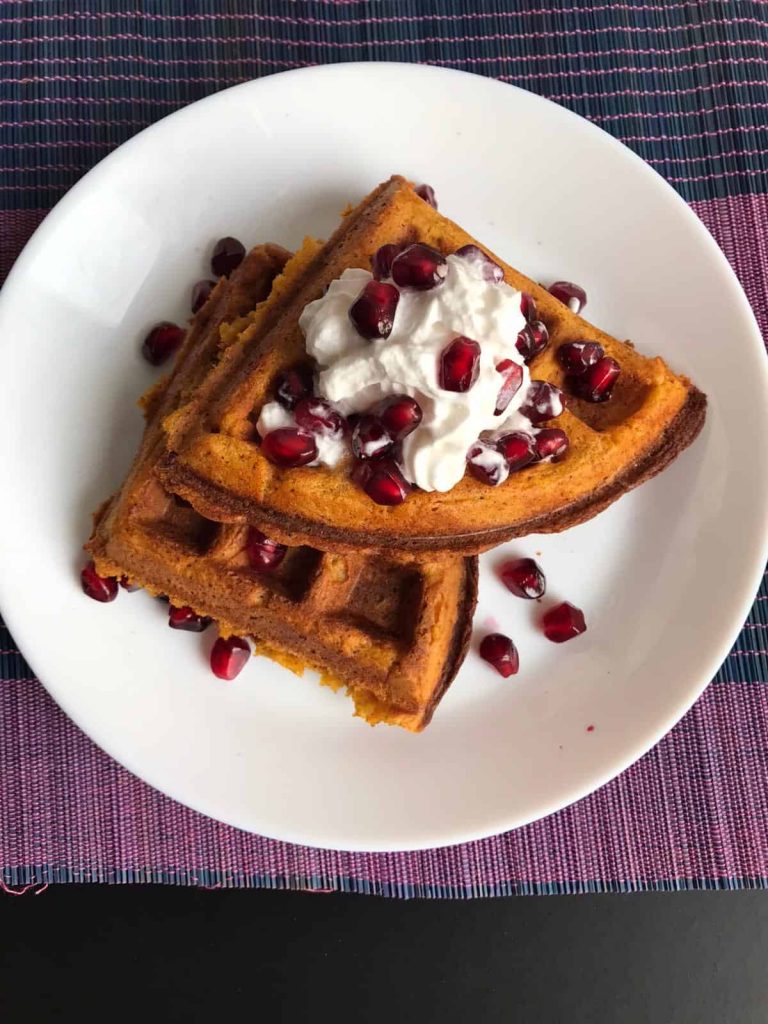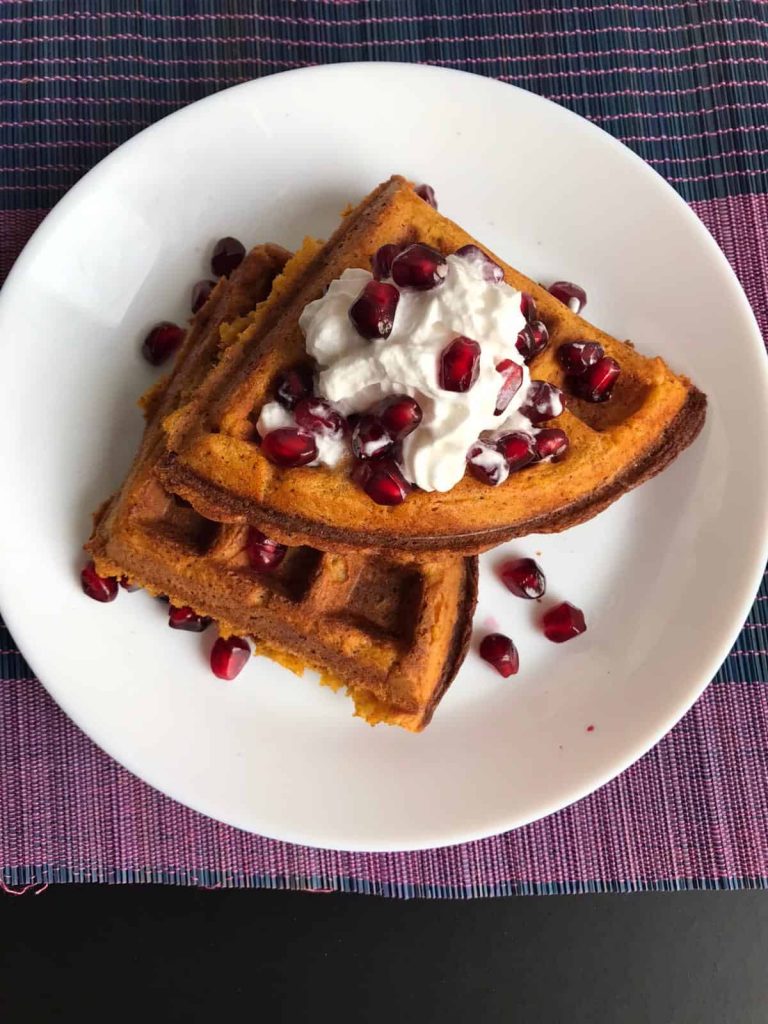 Lentil Carrot Hot Dog Recipe
Make your own quick and tasty carrot hot dog with pureed veggies and lentils to give them a delicious taste and fine 'veggie dog'-like texture. They're fast, easy and full of goodness. Vegan and easily gluten free.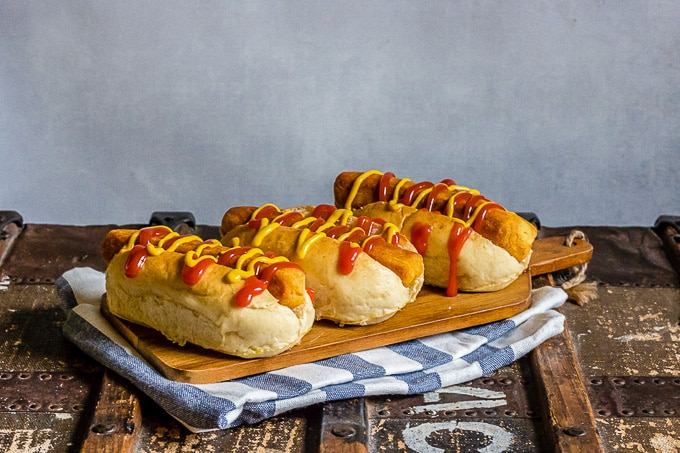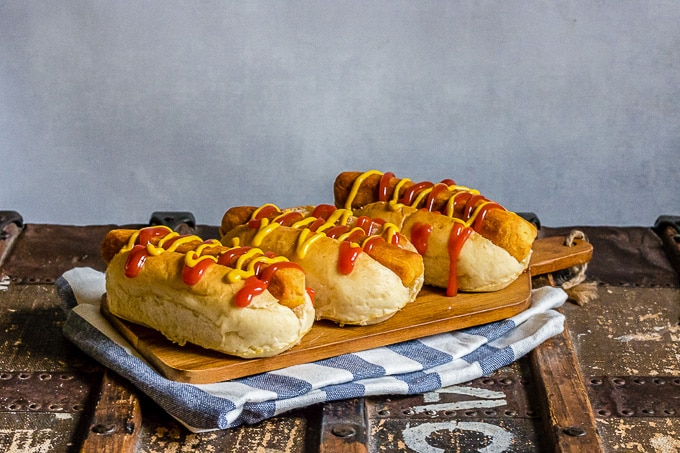 Baked Pesto Tofu
Recipes like this are made for days when you just need something uncomplicated, and without compromising taste or quality. Slightly more adventurous for a vegan kids meal, but sometimes kids will surprise you and love new flavors!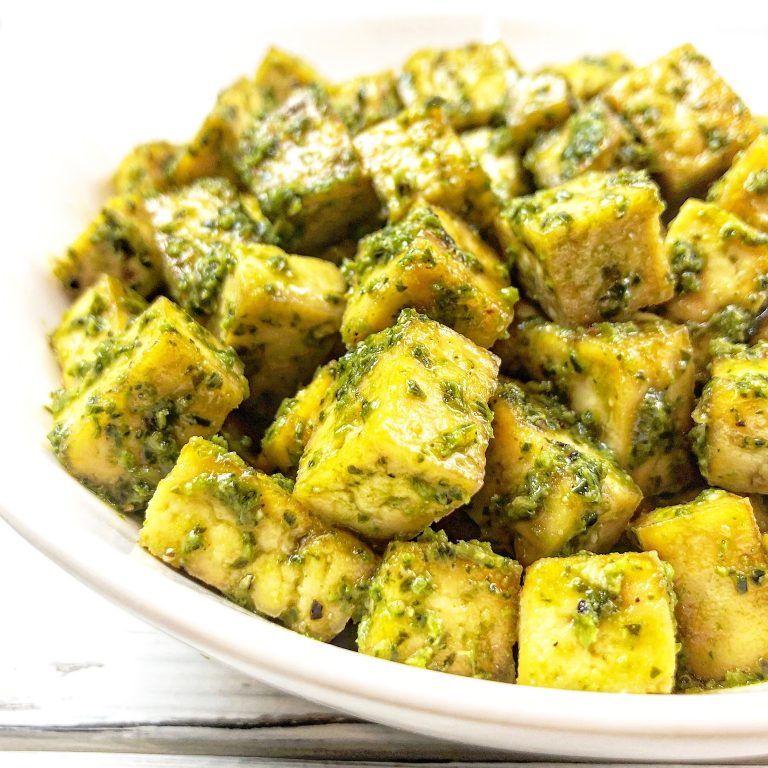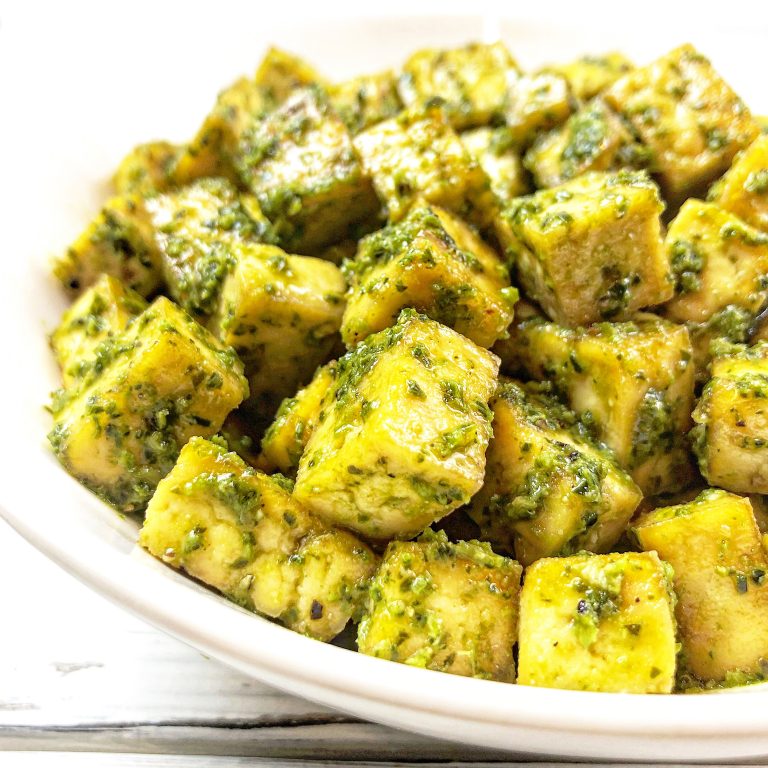 Healthy Samosas
Chances are, if you've eaten at an Indian restaurant, you've had samosas. They might look complicated to make, but they've become a household staple these days. And they're delicious because they're flaky and flavorful. This vegan recipe for kids is a little bit more time consuming, but we know they will just love them! Perfect for weekends when you have more free time.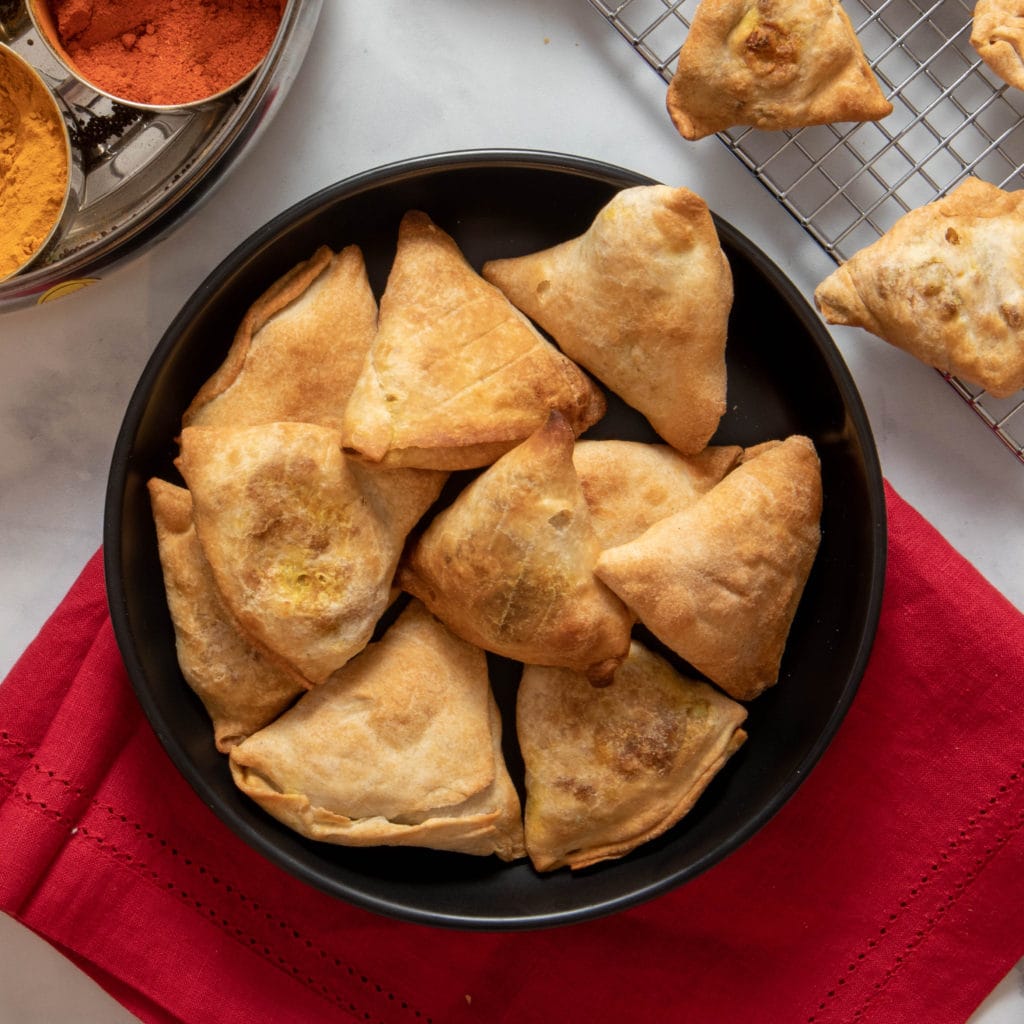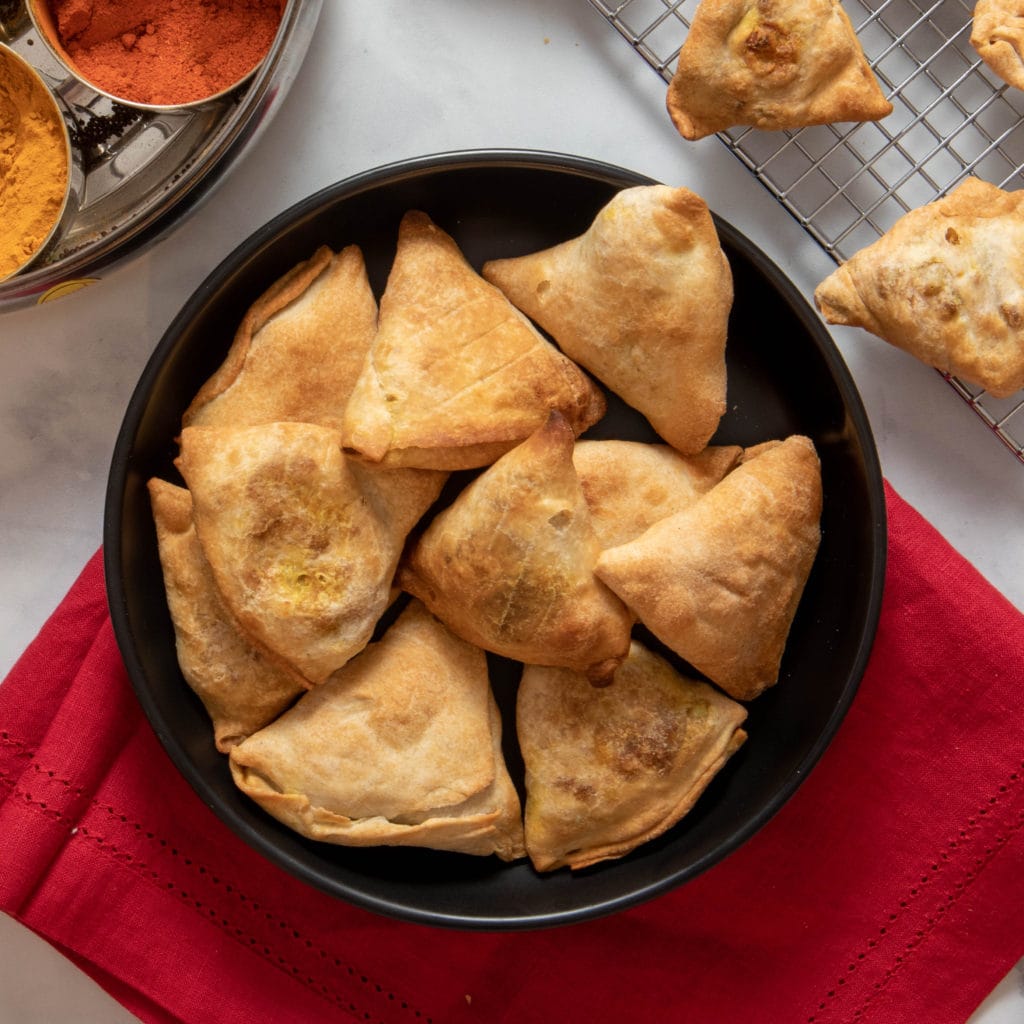 Vegan Broccoli Cheese Soup
Easy vegan broccoli cheese soup made with broccoli, onion, coconut milk, cashews, nutritional yeast, and vegetable broth for a comforting and healthy dairy free soup. Only 25 minutes for an easy weeknight meal, also the perfect vegan recipe for when your child doesn't feel well.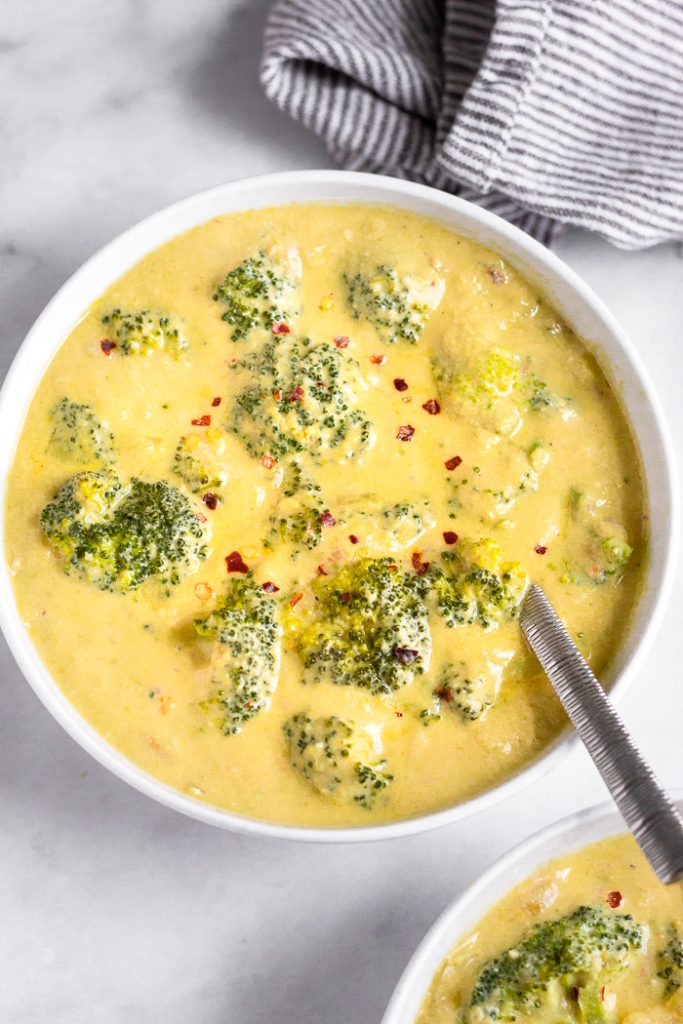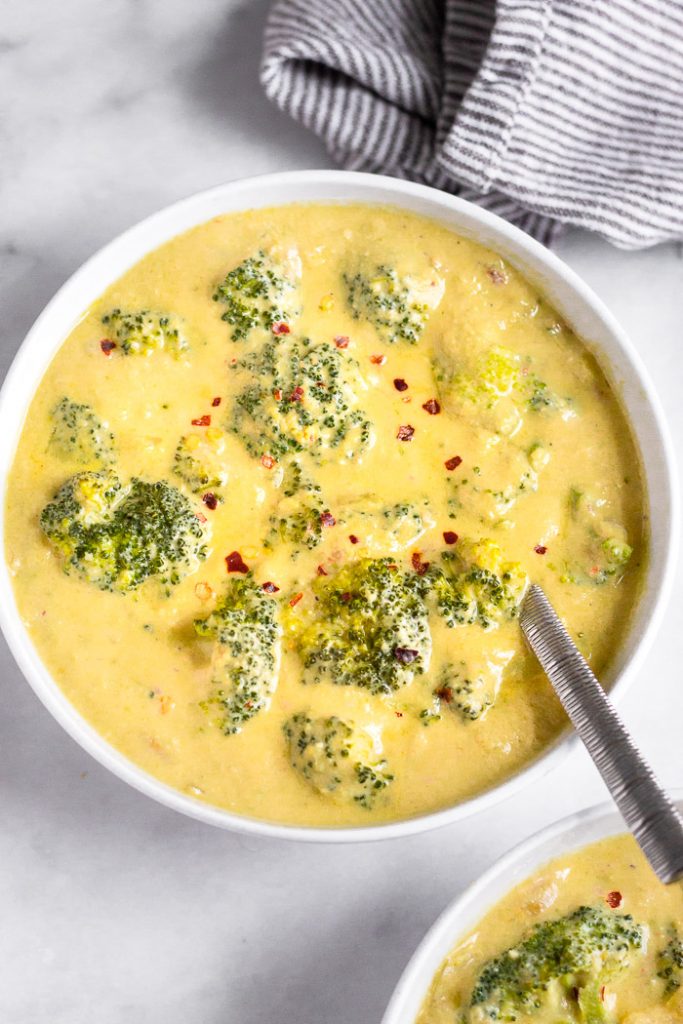 Baked Falafel & Garlic Dill Sunflower Dip
An easy go-to recipe for lunch or dinner that is high in fiber, protein and flavor! These Baked Falafel can be made ahead and kept in the fridge for an easy salad topper, quick vegan kids meal, or as a late night snack.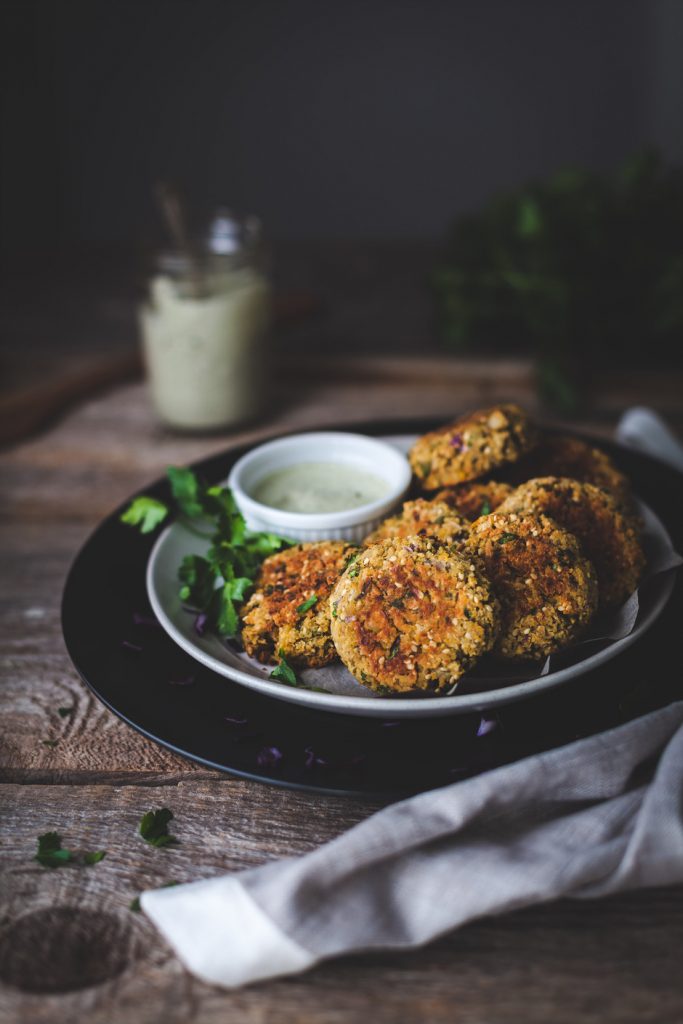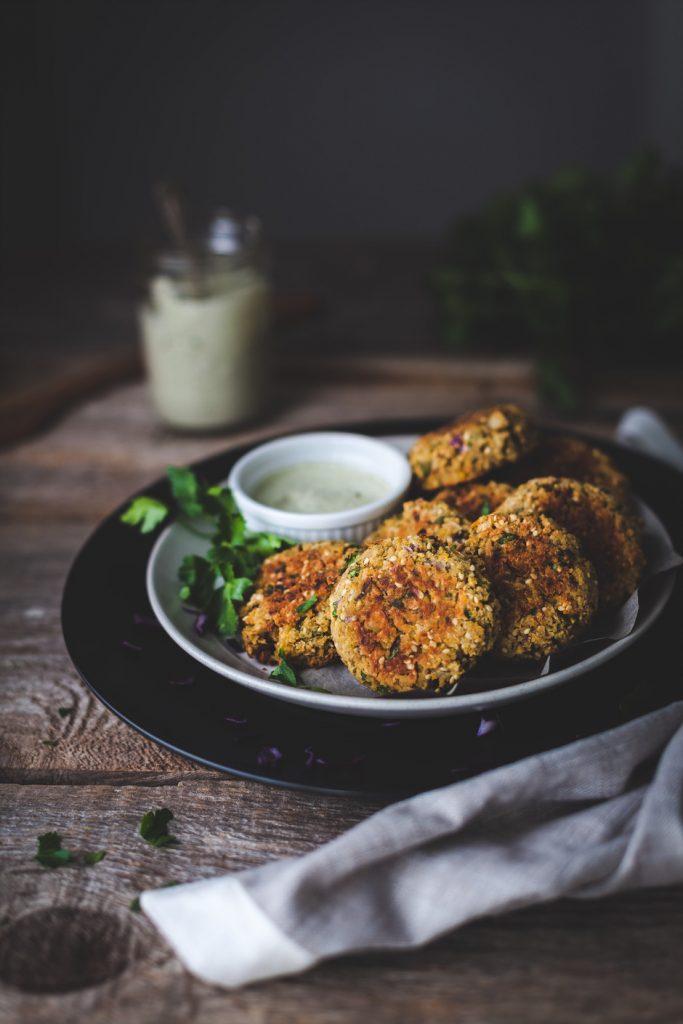 Instant Pot Vegan Burrito Bowl
This homemade instant pot vegan burrito bowl version is amazing, its packed with veggies, beans, and salsa. This is about to become your new go-to meal for weeknights, weekends or any other day!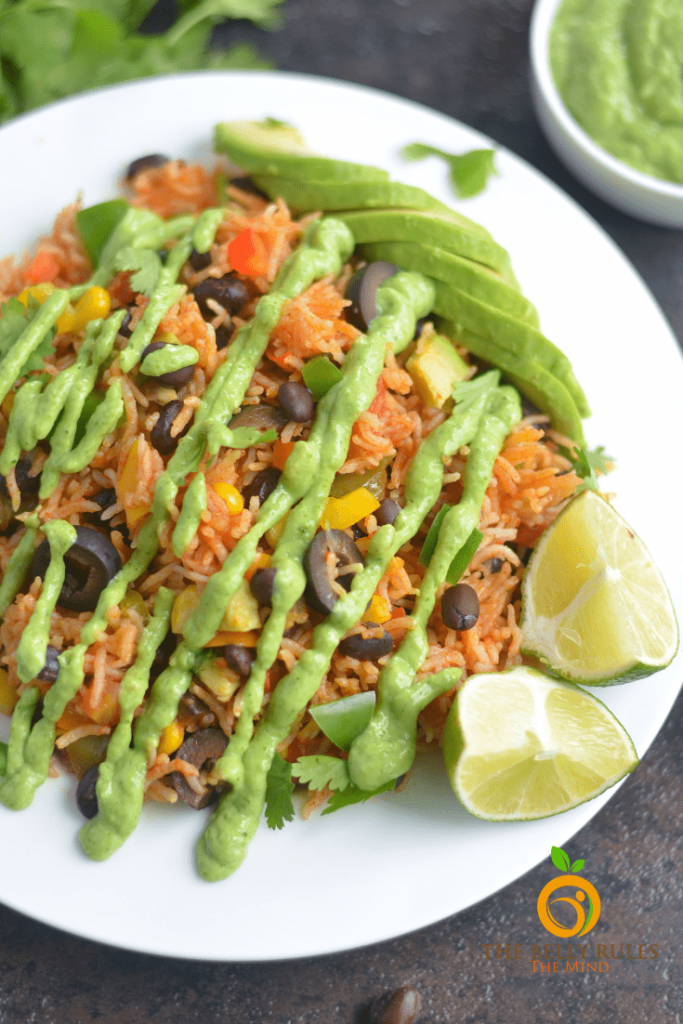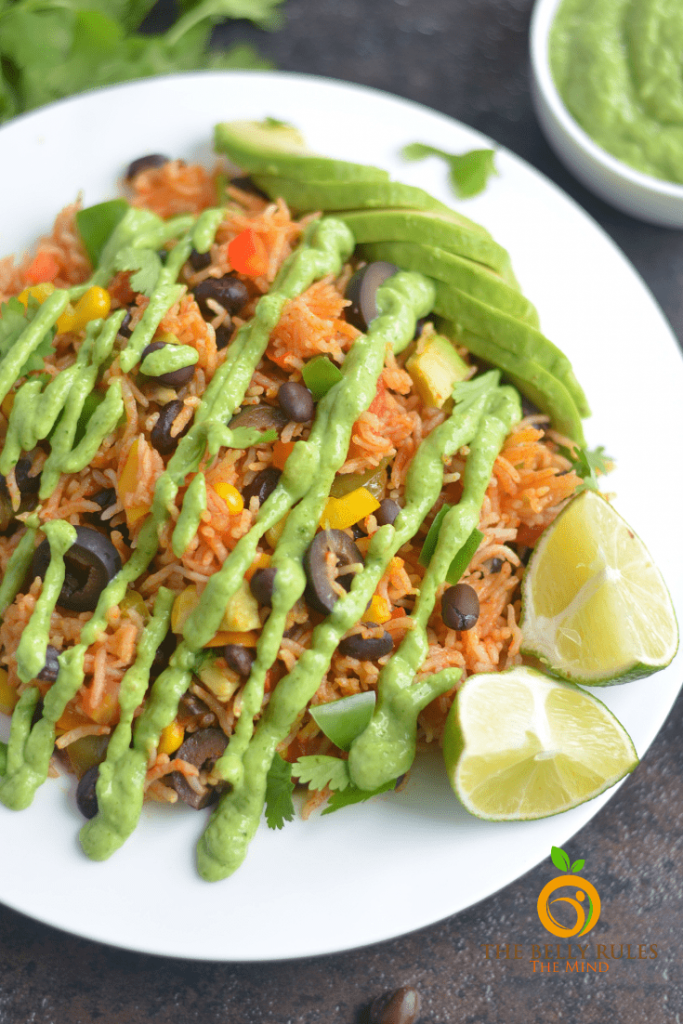 Easy Vegan Buffalo Chickpea Salad Sandwich
If you have picky kids, this super easy chickpea salad sandwich will be your new best friend. With just 5 ingredients and under 10 minutes you have a delicious vegan recipe for kids!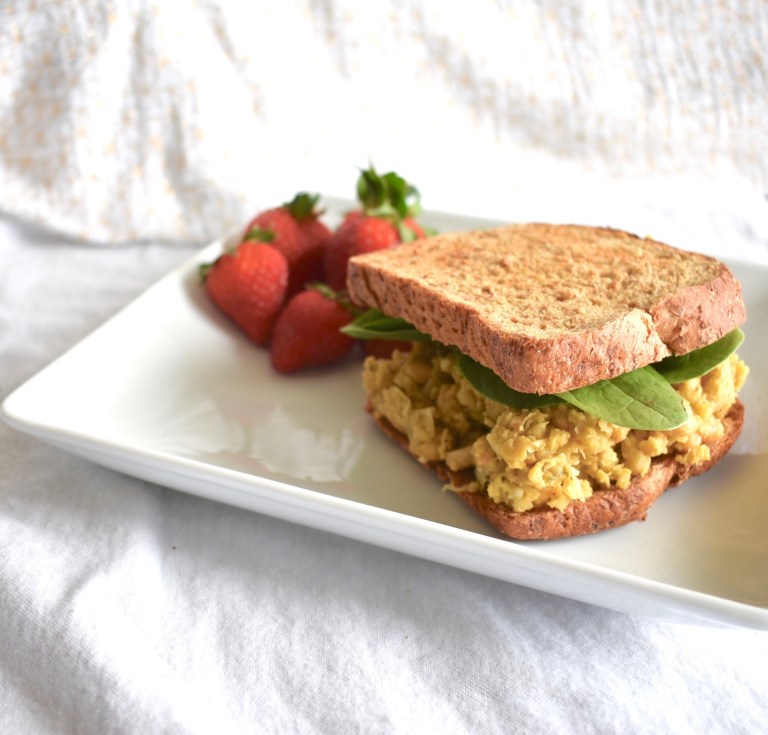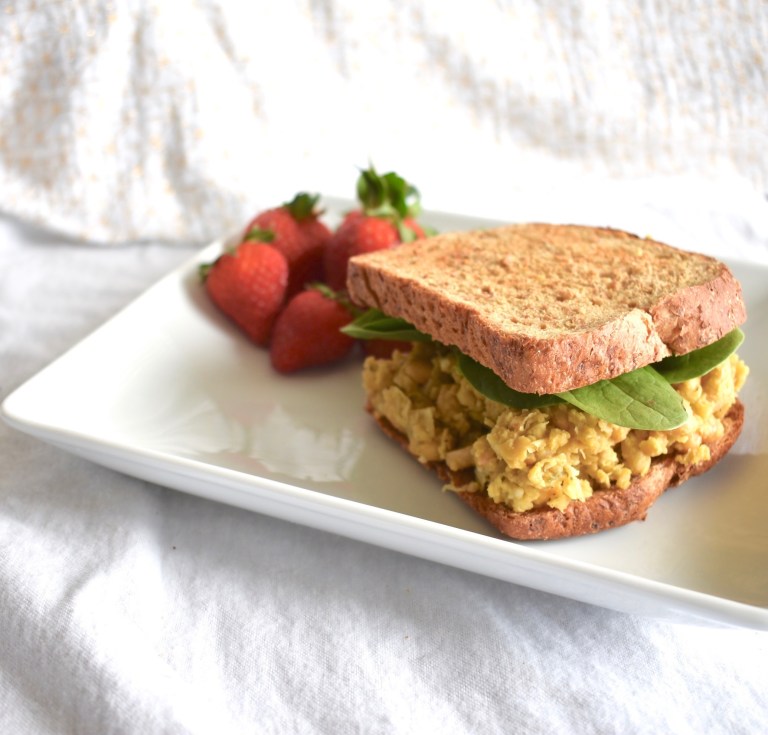 Pasta With Spinach Sauce
This healthy Pasta with Spinach Sauce is a super easy weeknight meal that will get your kids eating spinach! It is easy to make and tasty, so add this one to your vegan recipes for kids list!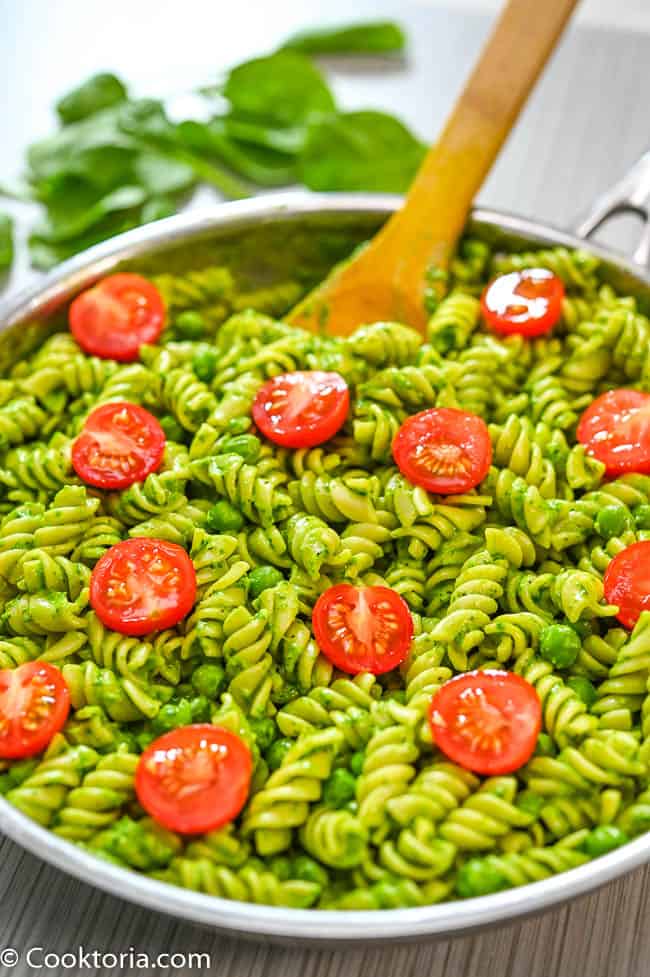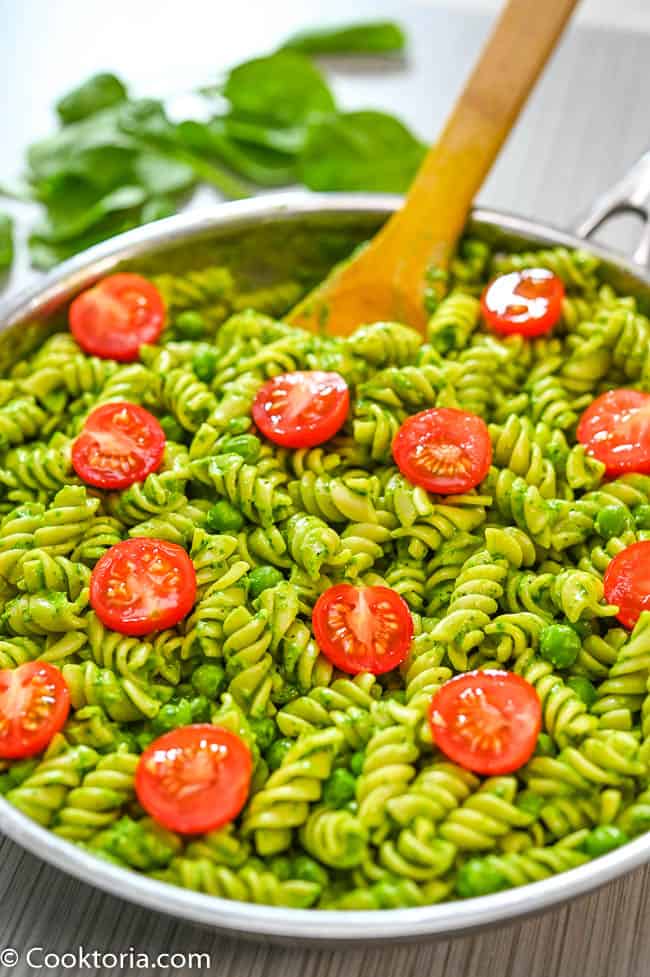 Gluten Free Vegan Banana Oats Spinach Muffins
These are good for a quick breakfast, snack, or for school lunches. You can make a big batch and freeze them. These are freezer friendly, just microwave for few seconds to make warm before serving.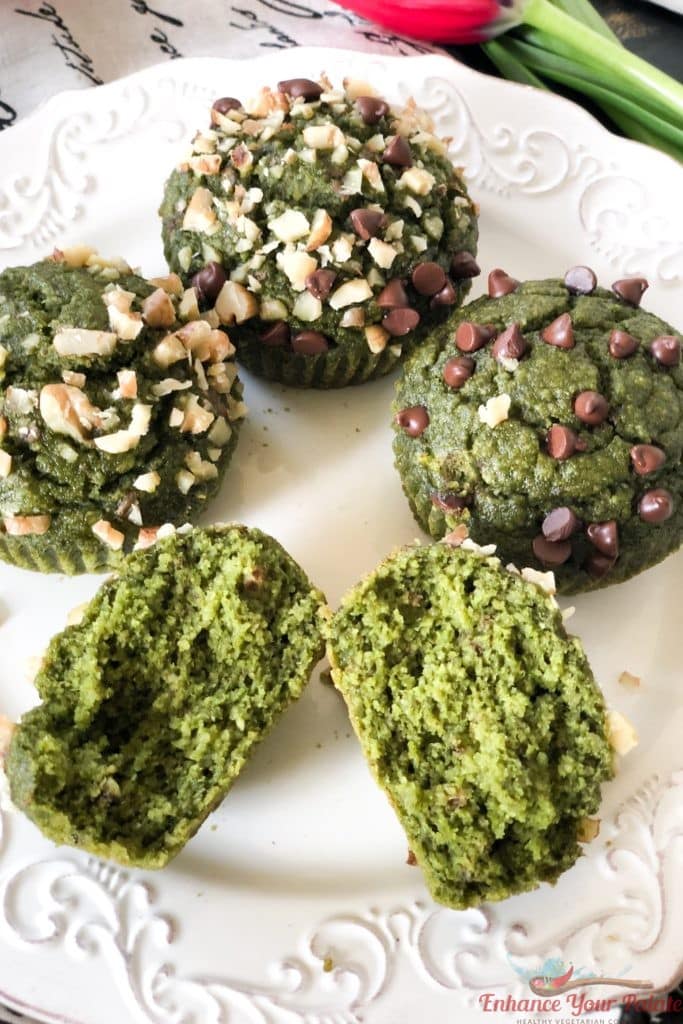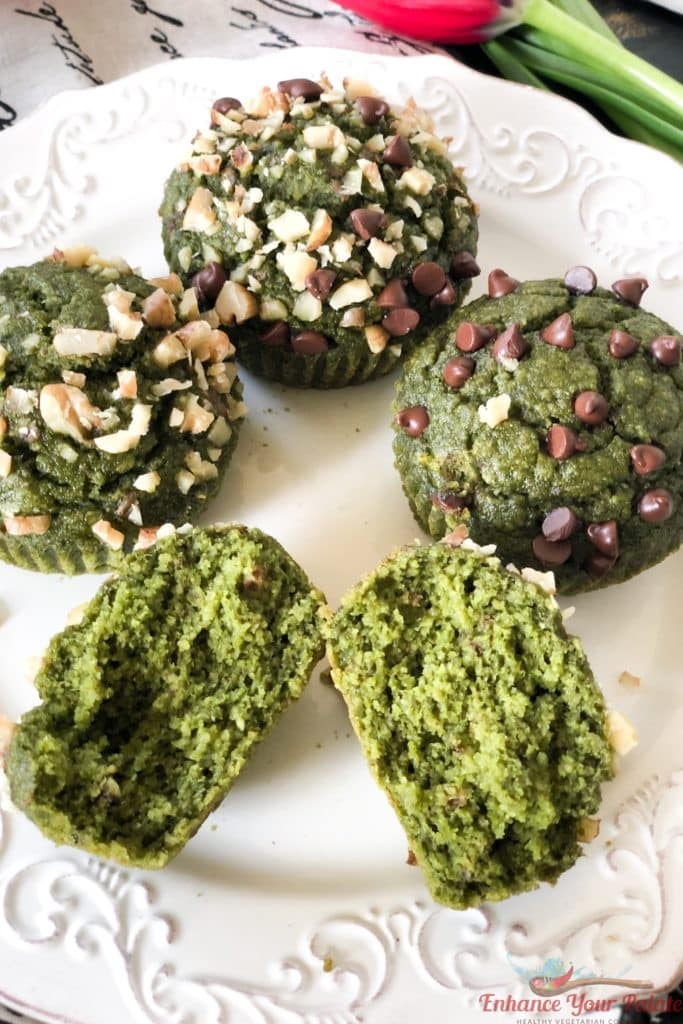 Vegan Pineapple Fried Rice
Easy vegan pineapple fried rice made with perfectly stir fried veggies, a simple sweet and savory tamari sauce and tons of flavor. Healthy, filling, gluten free and makes perfect leftovers. Definitely a fantastic vegan recipe for kids as they will just go crazy over the sweet pineapple flavor.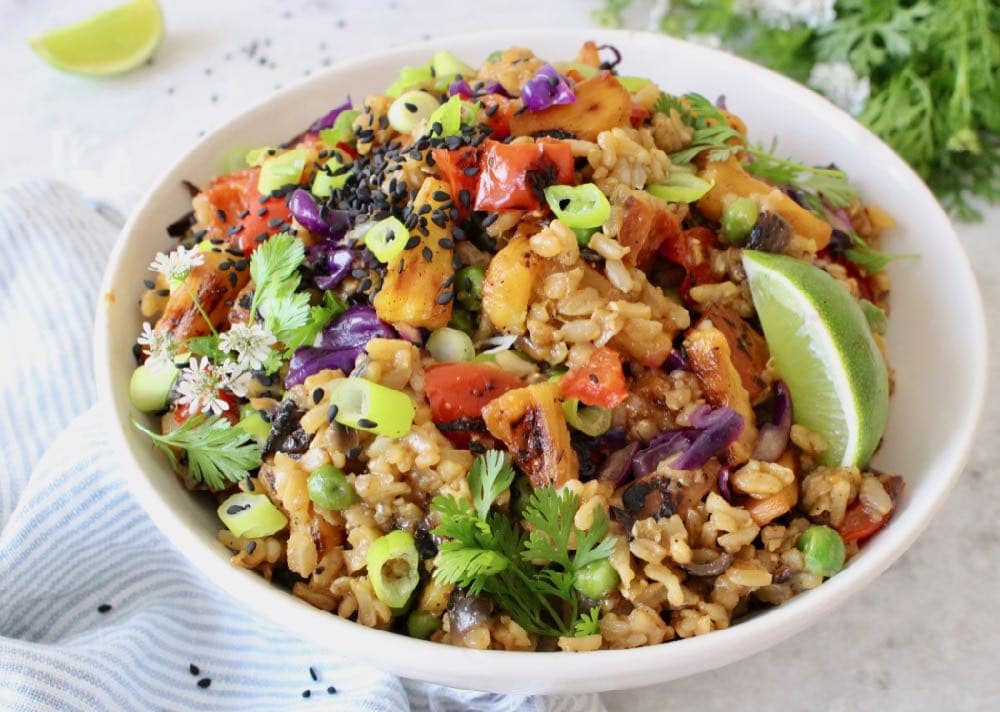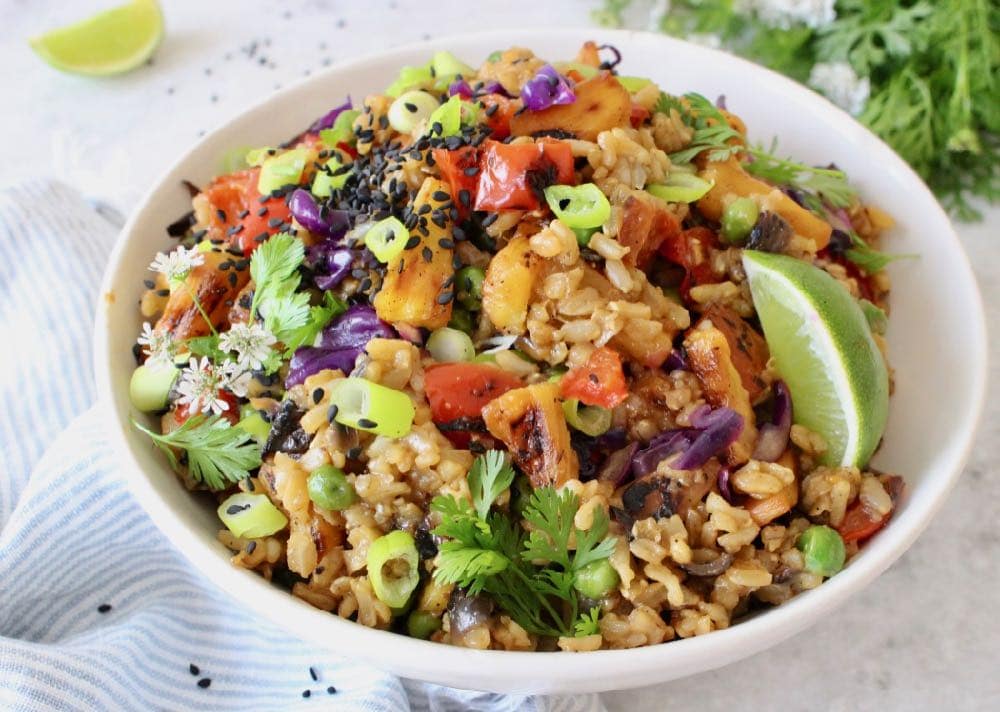 Tomato Omelette Recipe
An omelette without eggs? How cool is it that! This is a quick and easy recipe which makes it an awesome vegan recipe for kids. This omelette is amazingly soft, spongy, crispy and stays so even after some hours.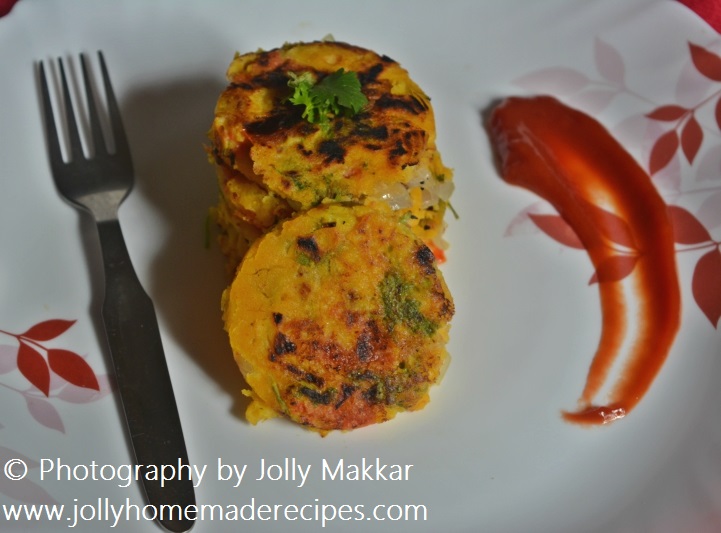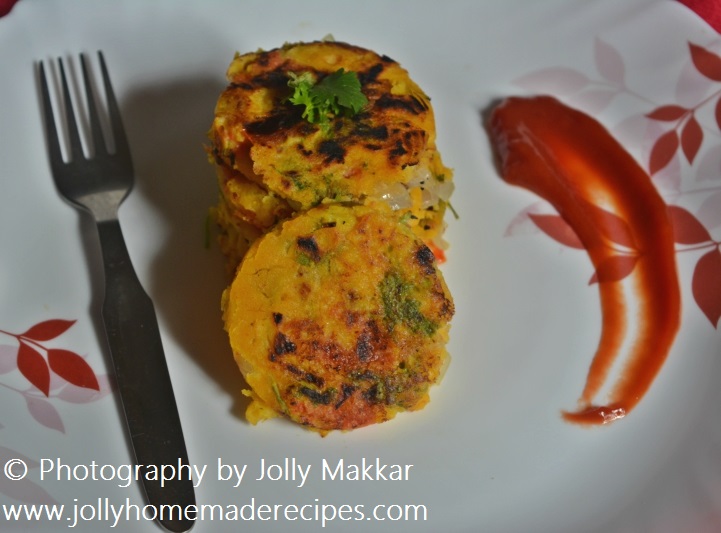 Vegan Mexican Macaroni Bake
Creamy, flavorful Vegan Mexican Macaroni Bake pasta dinner that will satisfy as only macaroni and cheese can, but without the dairy. Tomatoes and green chilies in a cashew cream sauce bring all the bold flavor to this delicious, vegan casserole.
Sopa de Fideo (Mexican Noodle Soup)
Sopa de Fideo – a savory Mexican Noodle Soup made with toasted noodles and a flavorful tomato-based broth. It's easy to make, requires simple ingredients and it's budget-friendly, too! The whole family will love this hearty and comforting meal!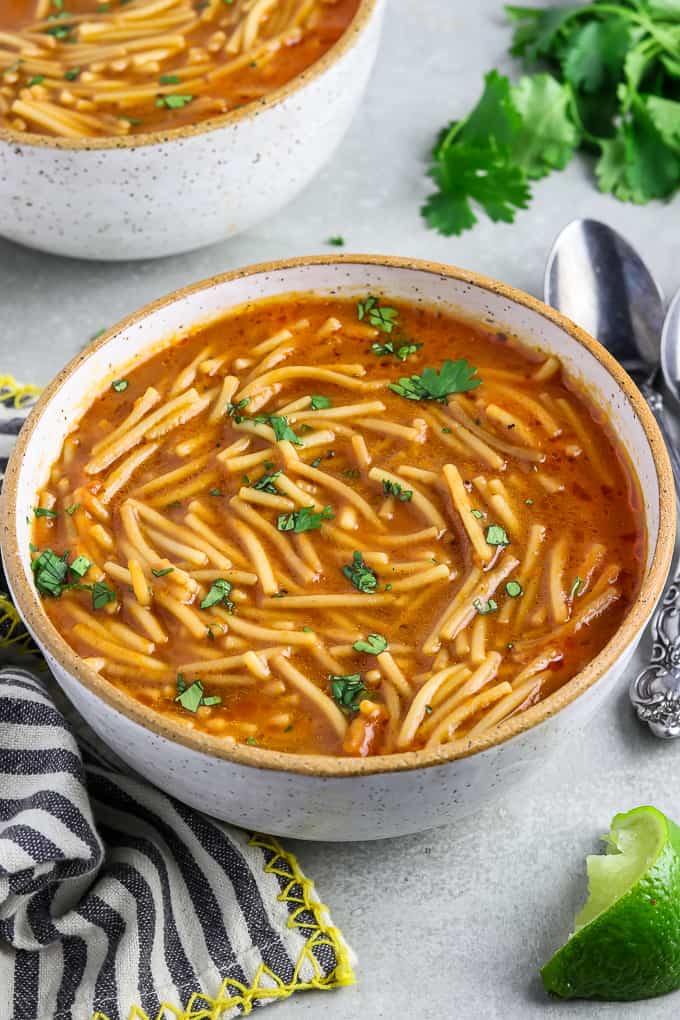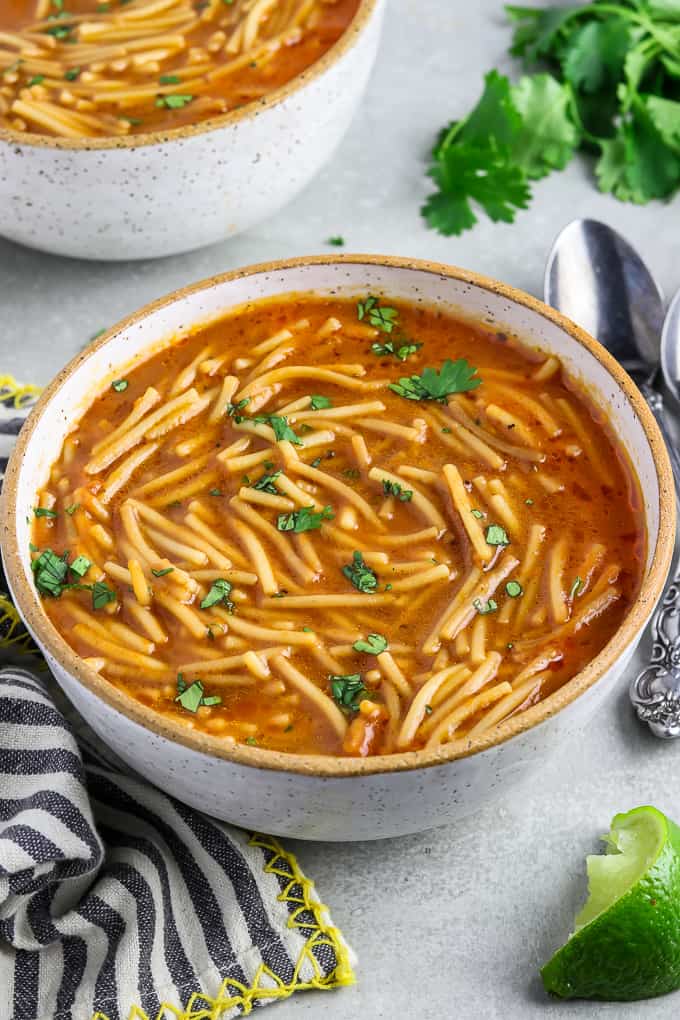 A Classic French Ratatouille Recipe
A classic French ratatouille recipe that is vegan, gluten-free but has lots of flavor. It's easily adaptable, so it is a perfect vegan recipe for kids because you can easily swap out vegetables that your child might not like that this stage.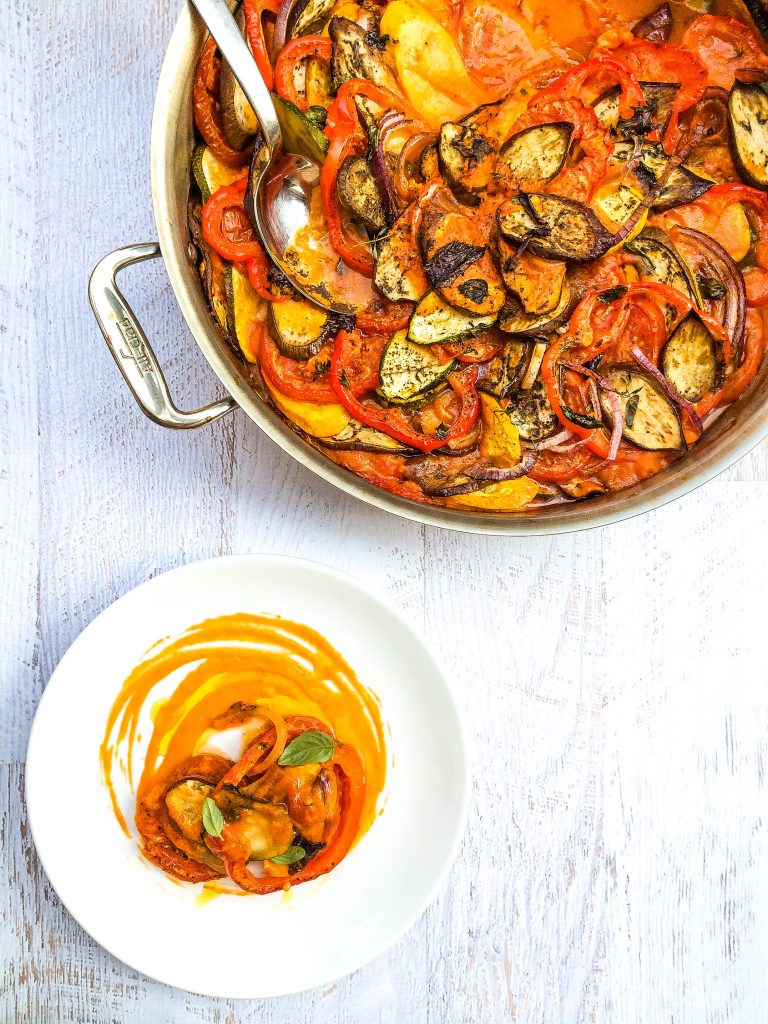 Vegan Chilli With Butternut Squash And Chipotle
A simple and delicious Vegan Chilli recipe. Perfect for vegetarians and meat eaters alike, this it hearty and full of flavor, it's mild enough for your go to vegan recipes for kids list, but you can always add more heat if you like!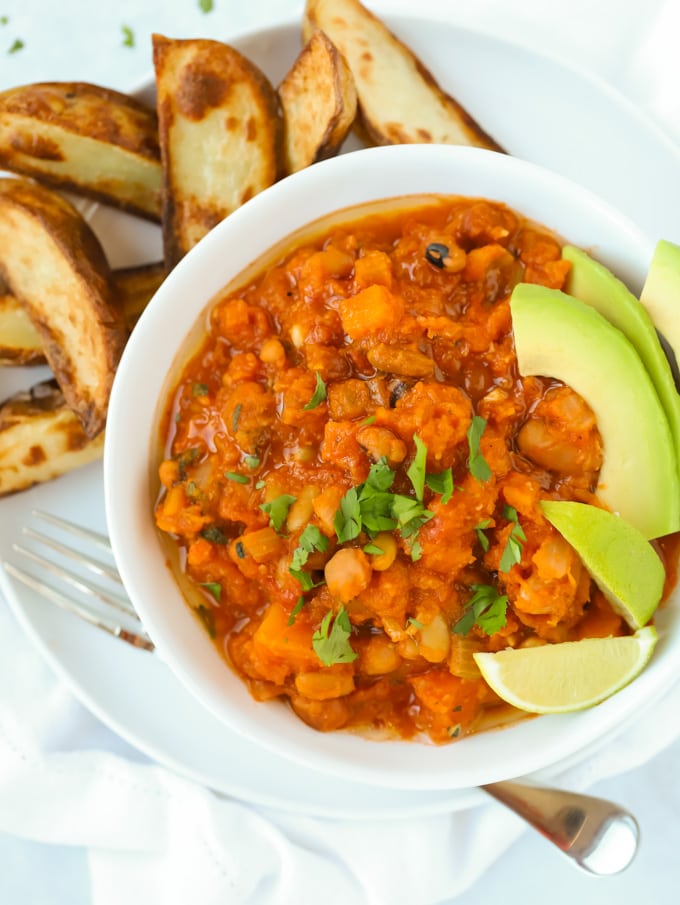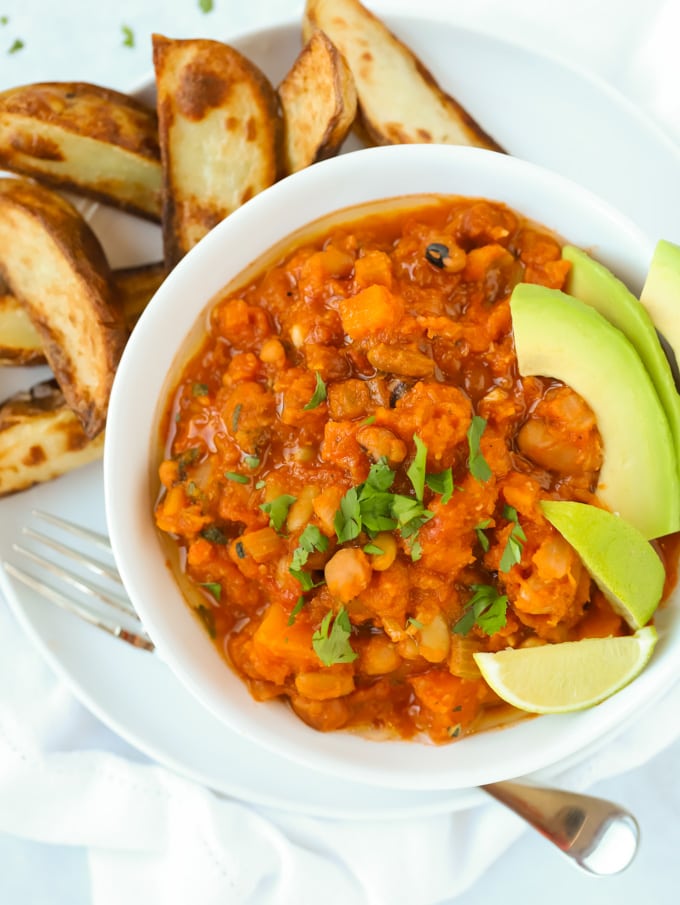 Avocado Pasta Salad
This Avocado Pasta Salad is one that'll be different than all the others on the cookout table. It's creamy, bright, packed full of (hidden) spinach, and it just happens to be vegan friendly! Take this on your next picnic as this is a wonderful vegan recipe for kids.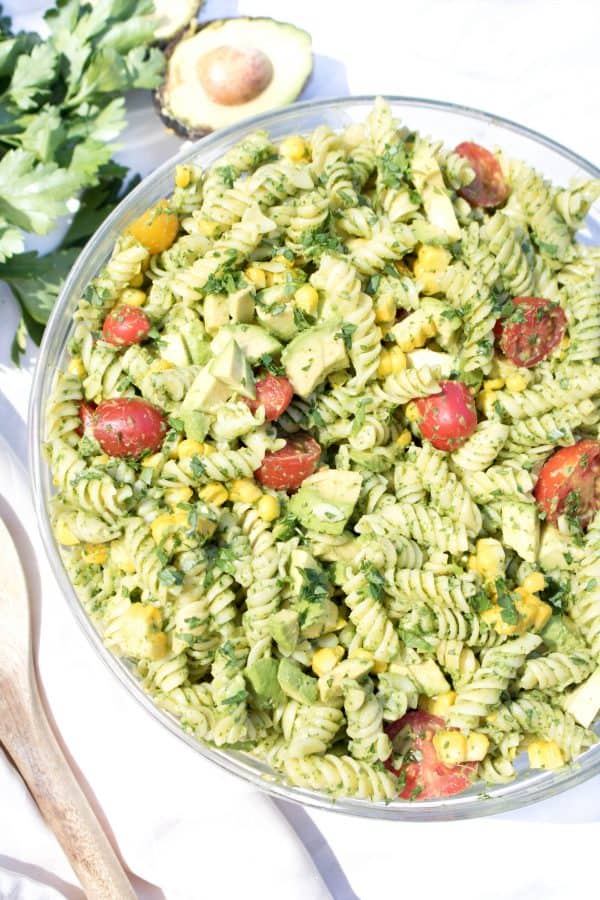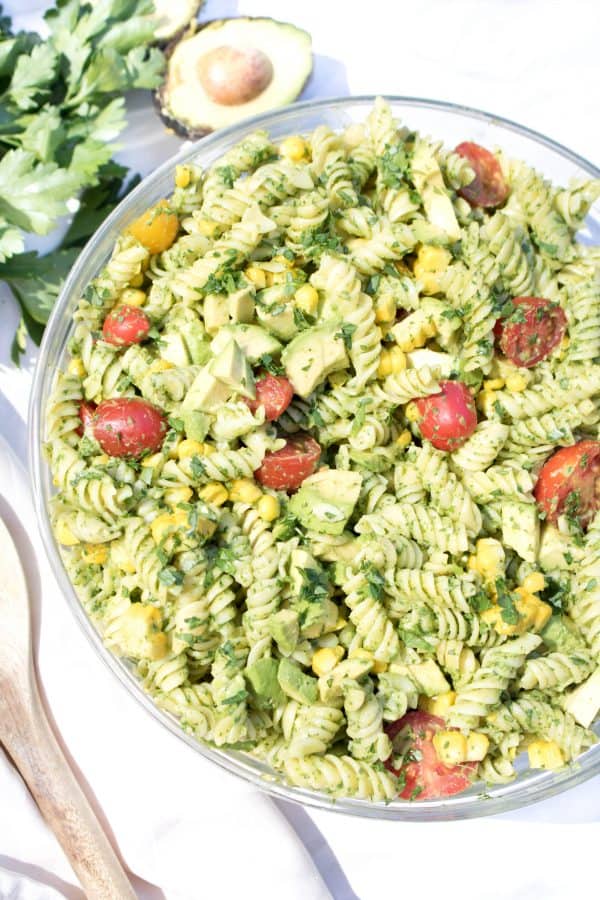 Well, I hope you've enjoyed all of these amazing and delicious vegan recipes for kids! Making healthy and tasty meals for your children is such a wonderful memory that they will always cherish. Most of these recipes are easy enough that you can even include your budding sous chef in the cooking process. Have fun and enjoy!