If you are looking for the best-ever vegan hash browns, you have come to the right place! These are SO GOOD and just like you would get at a diner or brunch restaurant, except they are vegan and not bathed in a ton of oil!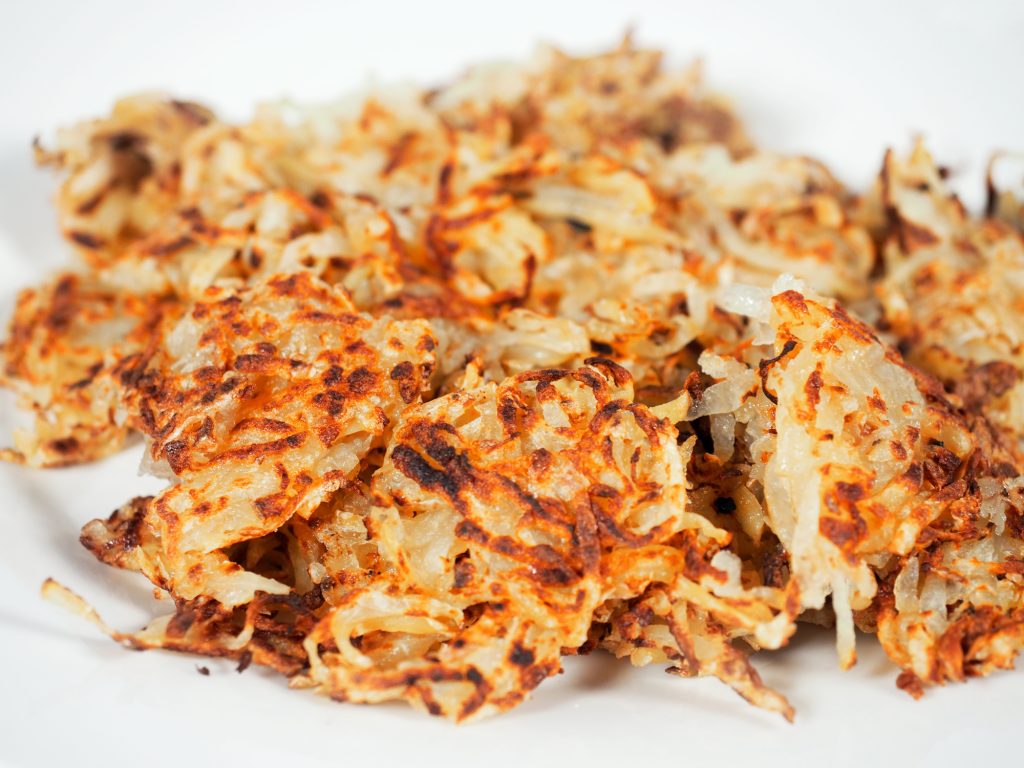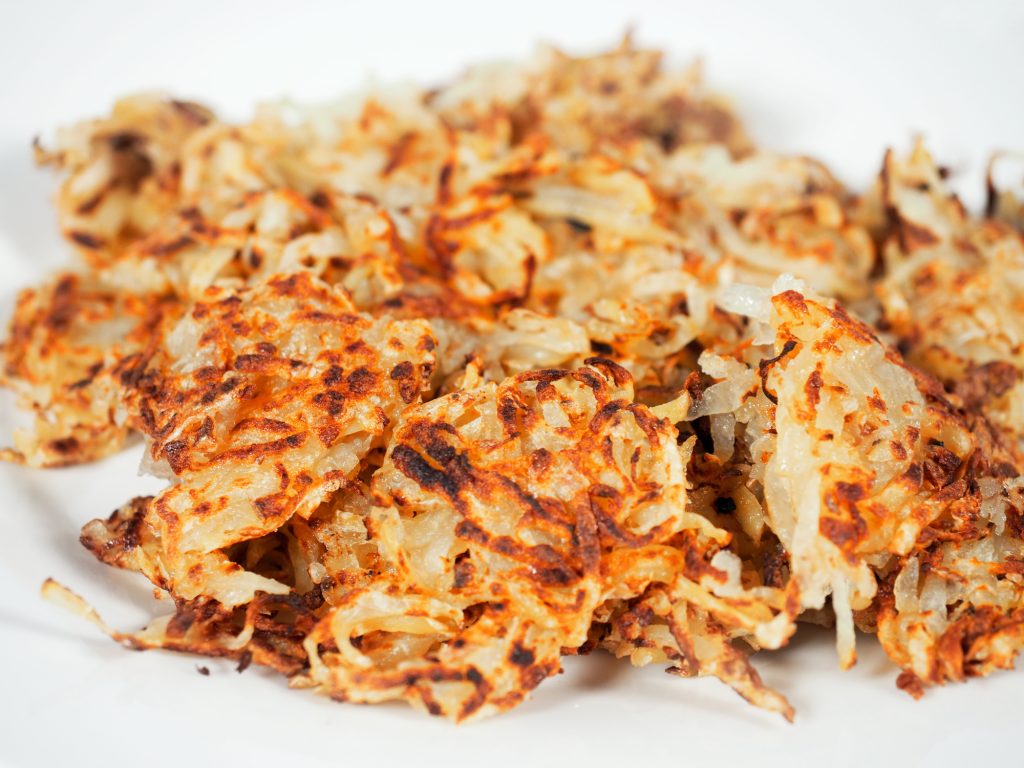 You may be wondering if hash browns are vegan. Sometimes they are not as they are cooked in animal fat or grease. If they are fried, sometimes they are cooked in a shared fryer. If you are truly wondering "are hash browns vegan?" you can now learn to make your own to never wonder again!
These vegan hash browns have a perfectly crispy outside and a perfectly cooked inside. There is a special technique in order to achieve this desired outcome which is the secret I will be showing you today!
If you want to make a hash brown patty, simply follow all of the steps below and then form into a patty before frying! You can still use the same recipe.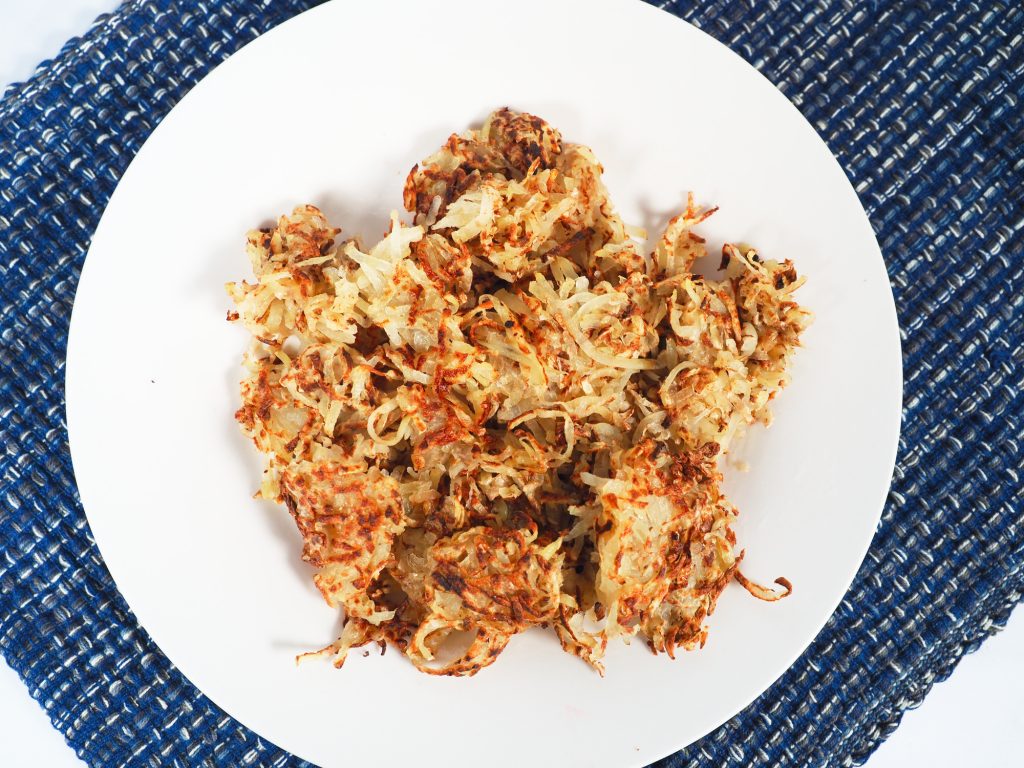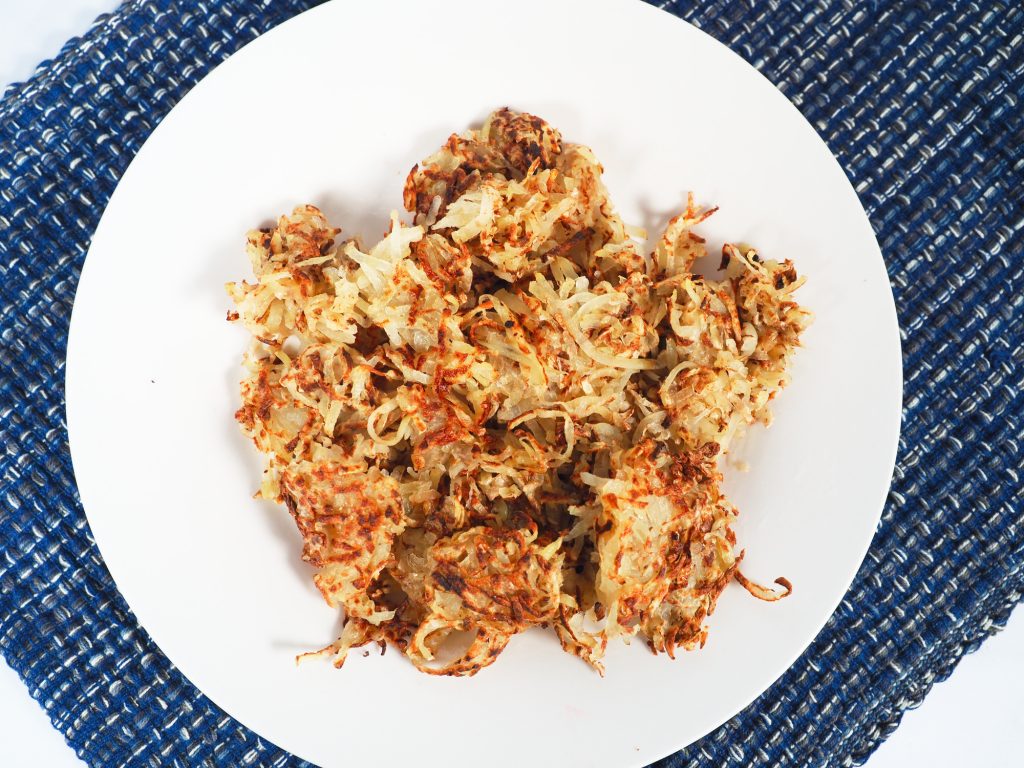 Preparing The Potatoes For Vegan Hash Browns
The way you prepare the potatoes for the vegan hash browns is essential! First, you are going to want to grate the potatoes! I personally used a shredding attachment on a food processor, but you can use a cheese grater with large holes to grate the potatoes.
I do NOT cook or boil the potatoes first. The harder the better to make them easier to peel!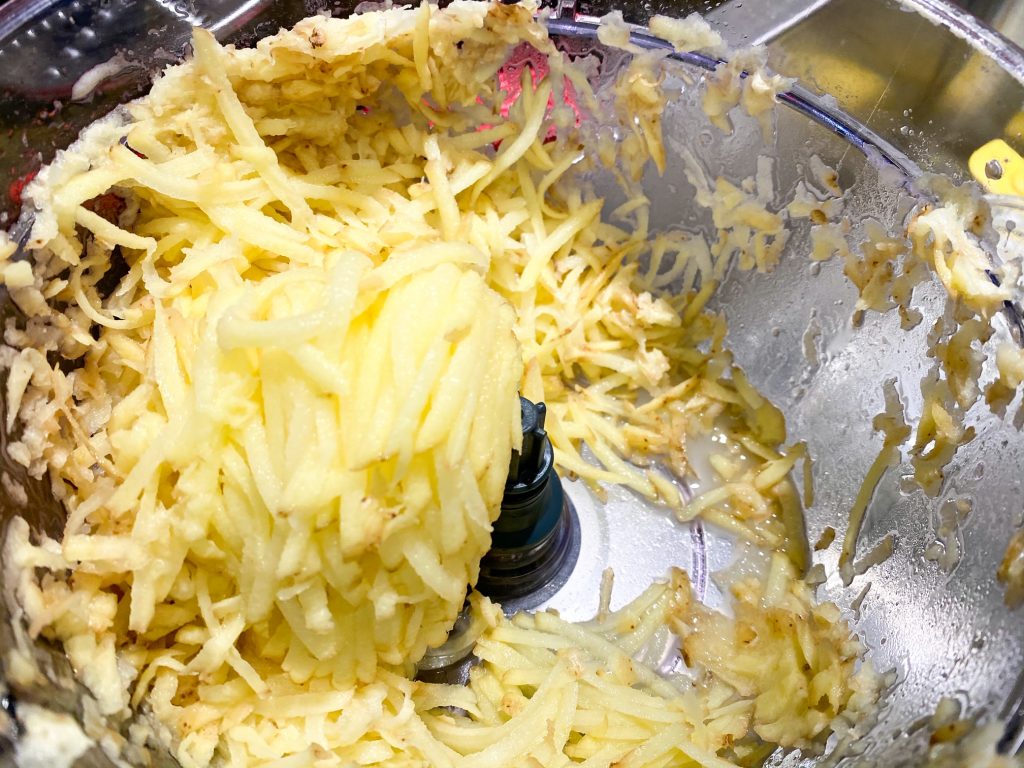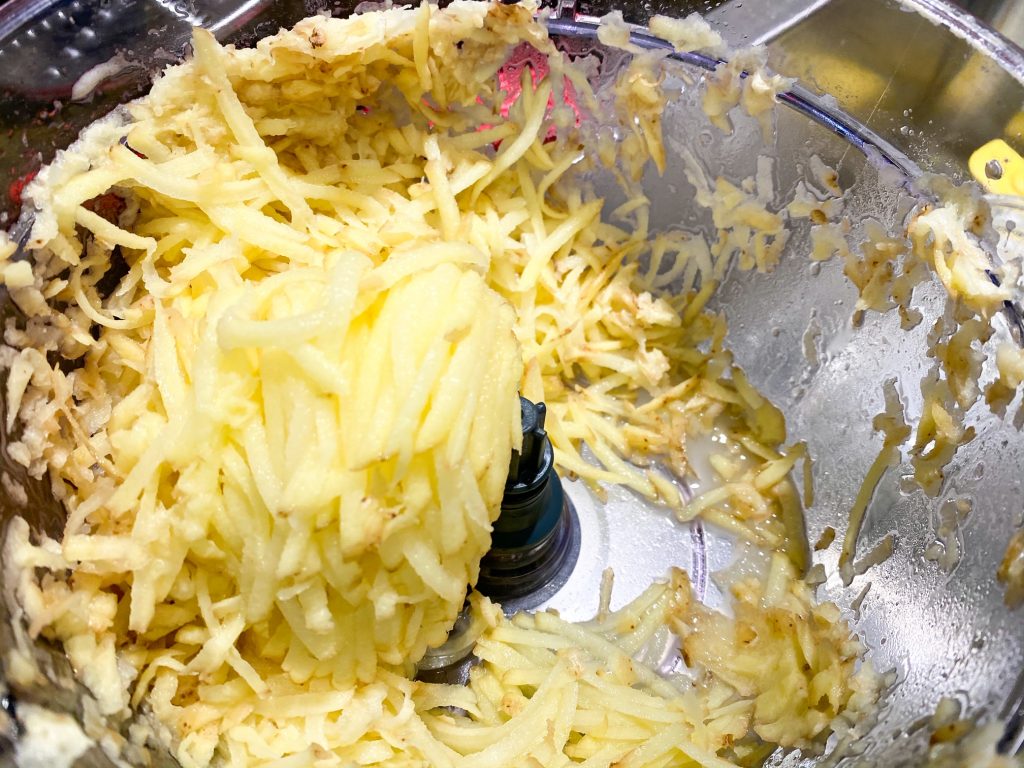 Next, this is the most important part! You will place the shredded potatoes in a bowl and fill them with water! Yes, you will bathe the potatoes in the water!
Once you douse the potatoes in water, you will put them in a clean dish towel and wring as much water as you possibly can out of them! This takes the starch out of the potatoes and makes for an extra crispy vegan hash brown recipe!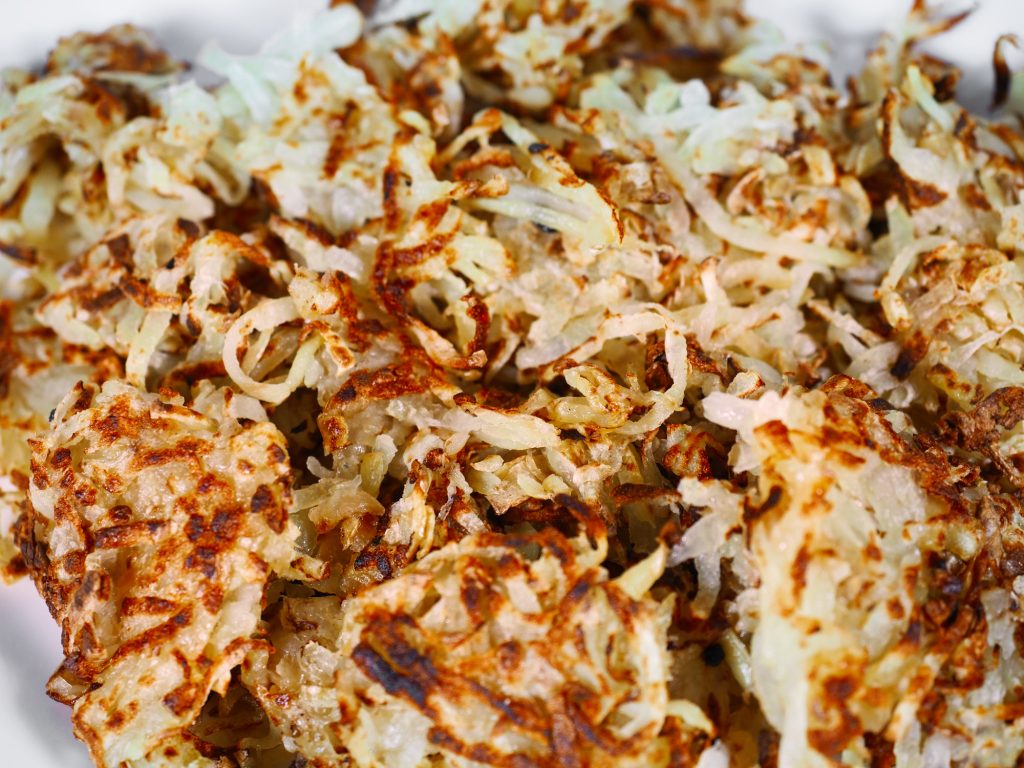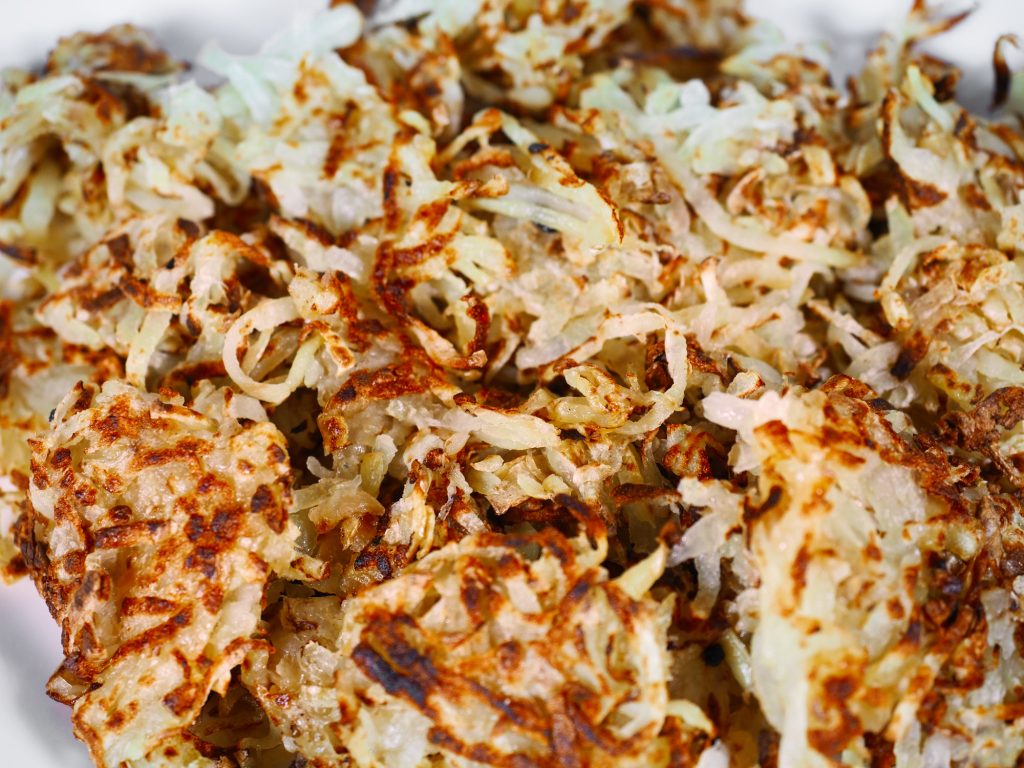 Cooking The Vegan Hash Browns
To cook the vegan hash browns, heat a non-stick skillet or griddle [my preference] on medium-high heat. Then you will add a light coating of oil. Use more oil if you are using a frying pan that isn't non-stick.
You will lay the potatoes on the griddle or frying pan in an even layer. They should be pretty flat and spread out. You will then use your spatula to press them down into the pan as hard as you can so that they compact together. This is the start of vegan hash browns.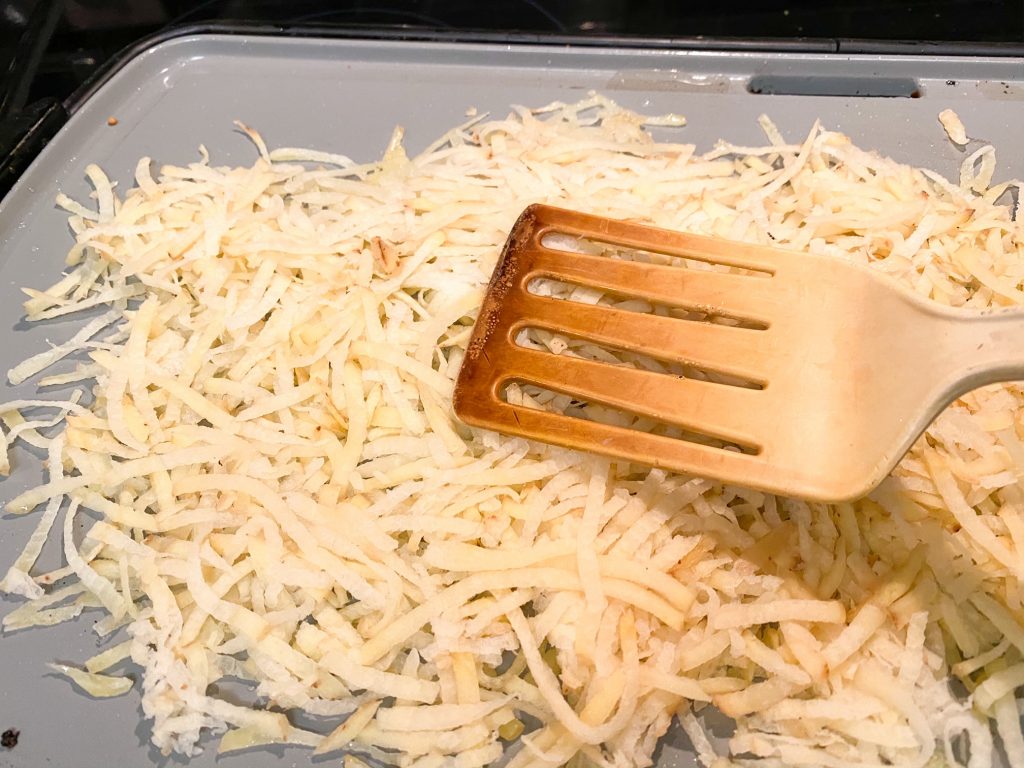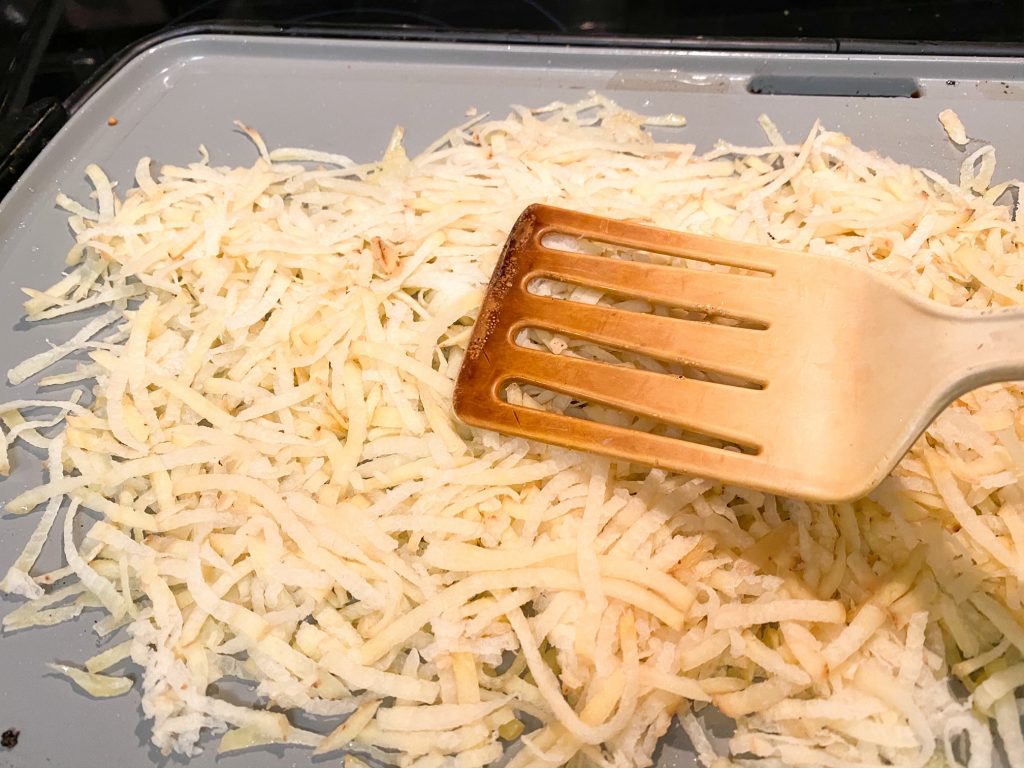 Next, you will cook the hash browns this way for 2 minutes. Set a timer!
Then, after two minutes, you will flip them over and spread them around. Then you will set the timer for 2 more minutes.
You will continue this process for about 10 minutes until the vegan hash browns shrink down in size and become crispy with cooked centers!
These two steps, bathing the potatoes and letting the shredded potatoes cook for 2-minute increments, are the keys to creating perfectly cooked and crispy vegan hash browns!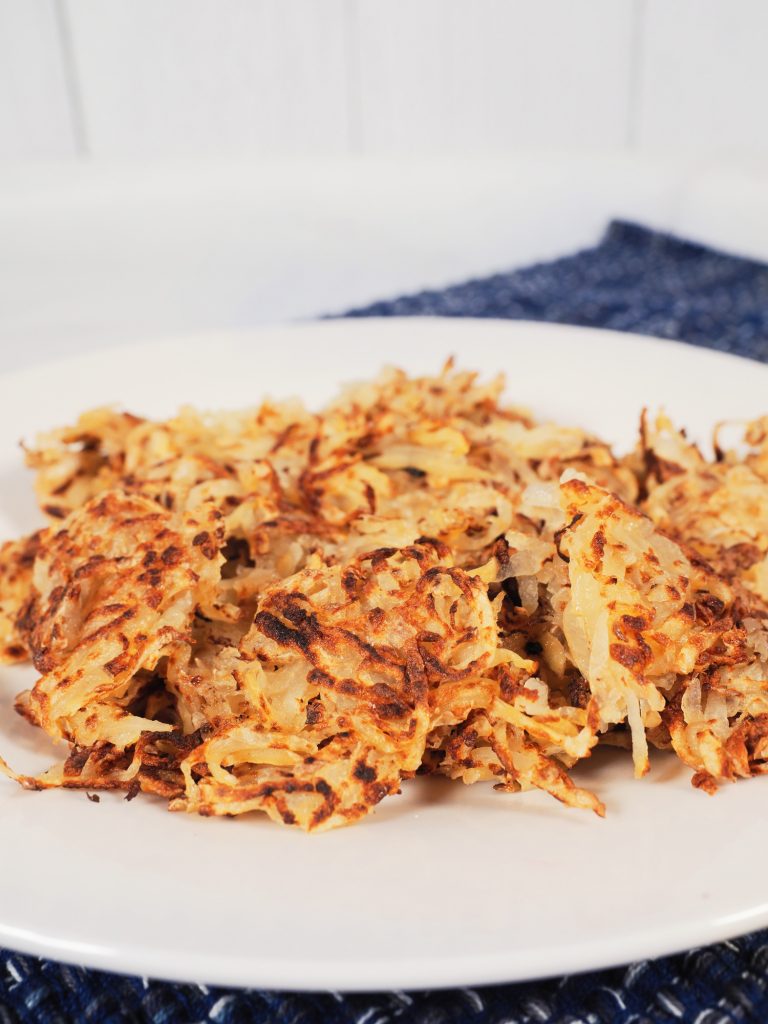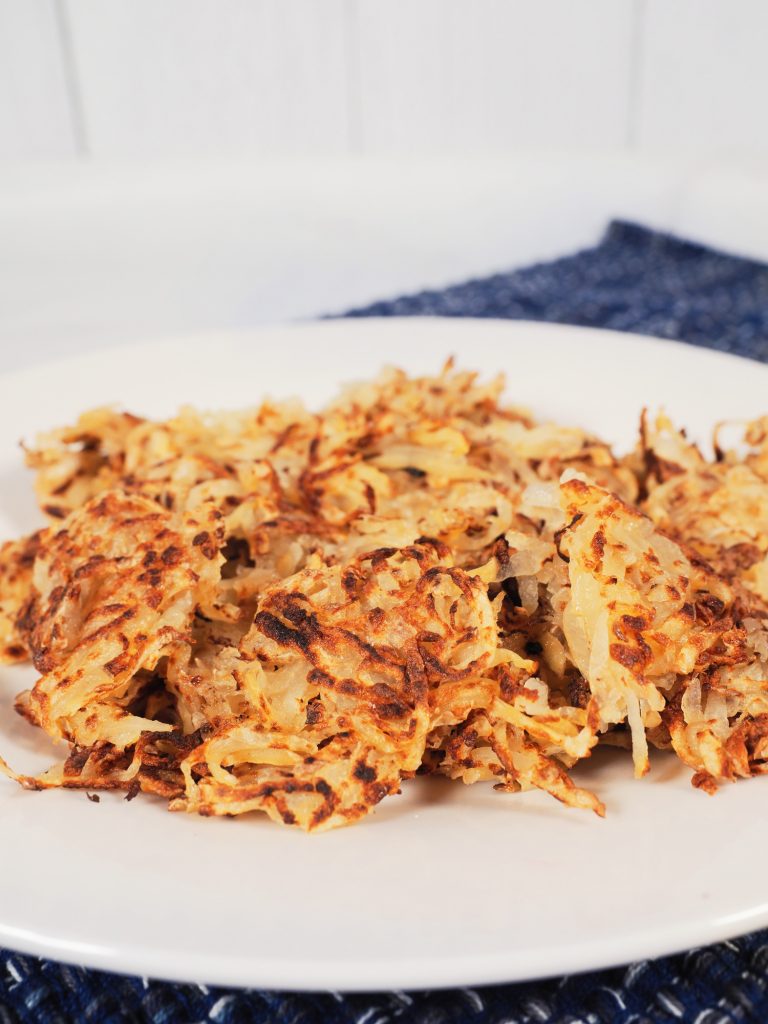 Yield: 2 Servings
3-Ingredient Vegan Hash Browns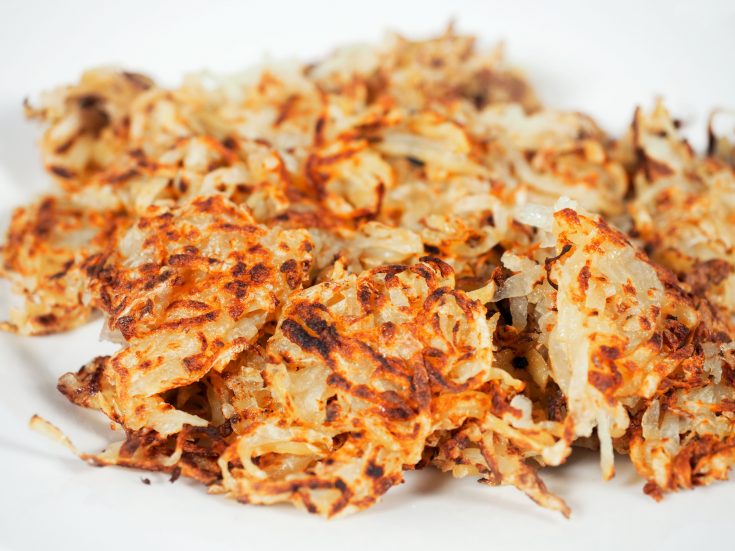 These perfectly crispy vegan hash browns use two secret steps in order to cook them properly! Bathing the potatoes then leaving them to cook are essential to creating the perfect hash brown that is vegan! Finally, this recipe only uses 3 ingredients that are pantry staples!
Ingredients
4 Medium Potatoes (Any Kind)
Oil (To Coat Pan)
Salt To Taste
Instructions
Shred potatoes using a food processor or a cheese grater.
Place shredded potatoes into a bowl of water to get rid of the starch. This is essential to a crispy potato.
Take potatoes out of the water and place in clean dish cloth. Squeeze until you get as much water out as you can!
Spread potatoes out in a single layer on griddle or frying pan on medium heat. Sprinkle salt over the potatoes. Set timer and cook for 2 minutes.
After 2 minutes is up, stir potatoes and rearrange into another thin layer. Set timer for 2 minutes again.
Continue this process for about 10 minutes or until potatoes reach desired crispiness!
Serve immediately!