These are truly the best-ever vegan banana pancakes you will ever eat! The best part? They whip up using just 5 ingredients and NO OIL, they are kid-friendly and are perfect for breakfast or breakfast for dinner.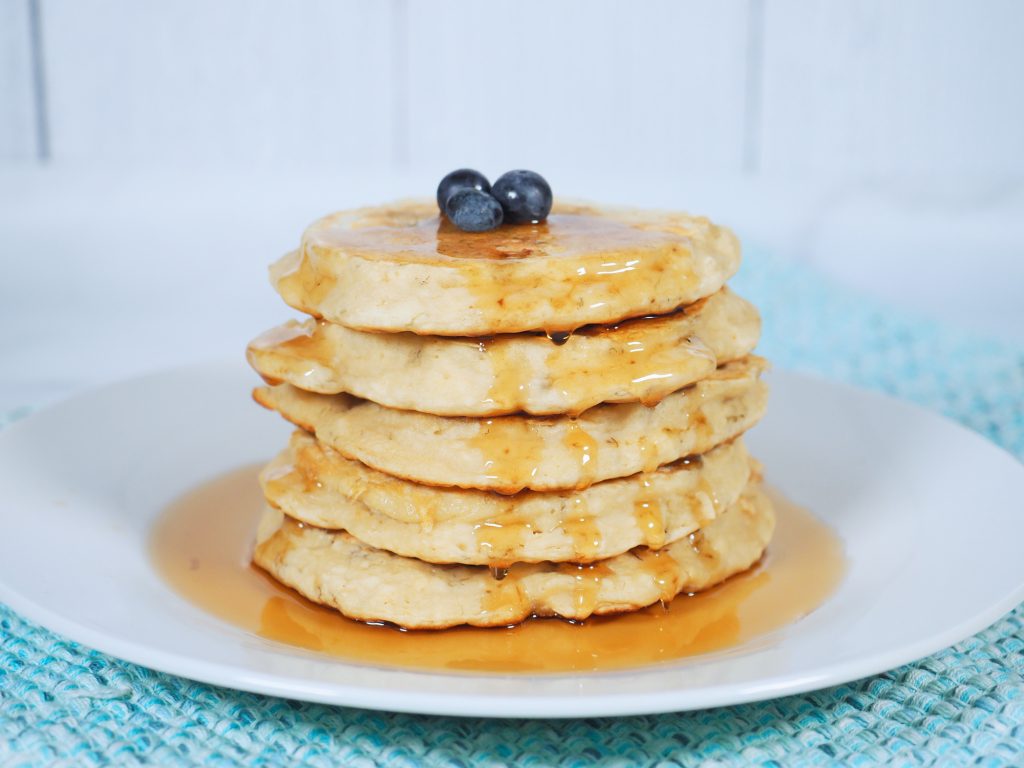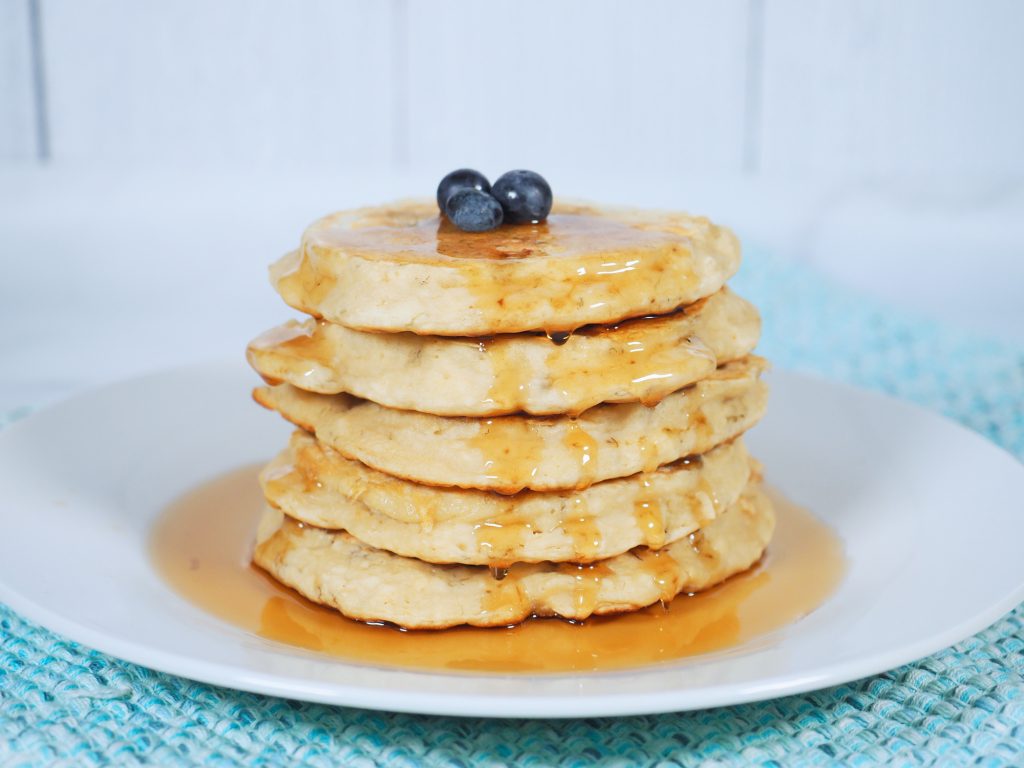 My Dad has never eaten a vegan thing in his life and even he loves these vegan banana pancakes and eats them up all the time. If you didn't tell anyone they were vegan pancakes, nobody would ever know!
If you are making Vegan Pancake Cereal, simply leave the banana out but follow the recipe below! You can top the pancake cereal with bananas after they are cooked!
Hear me out: If you do NOT like a strong banana flavor, this recipe is for you! The flavor is mild and surprisingly delicious. It is NOT a super overpowering taste that rules the recipe. It is light and flavorful, but if you hate a strong flavor, never fear, these are made with you in mind!
These eggless banana pancakes have been in my family for over 20 years and I hope that your family loves them as much as mine does!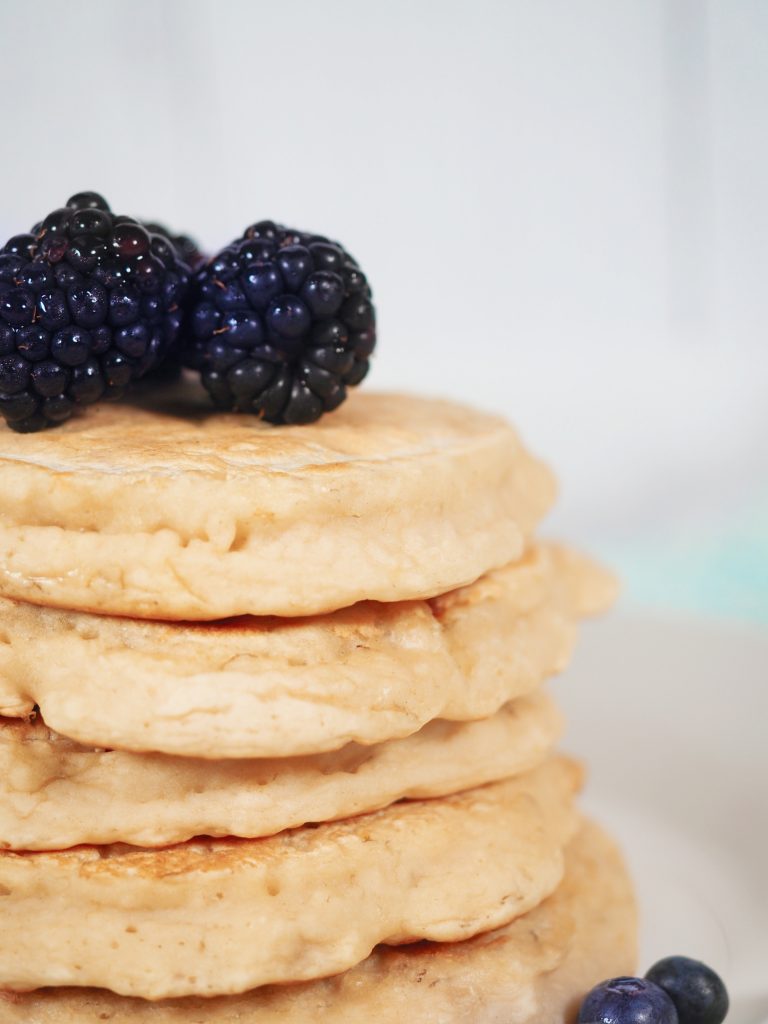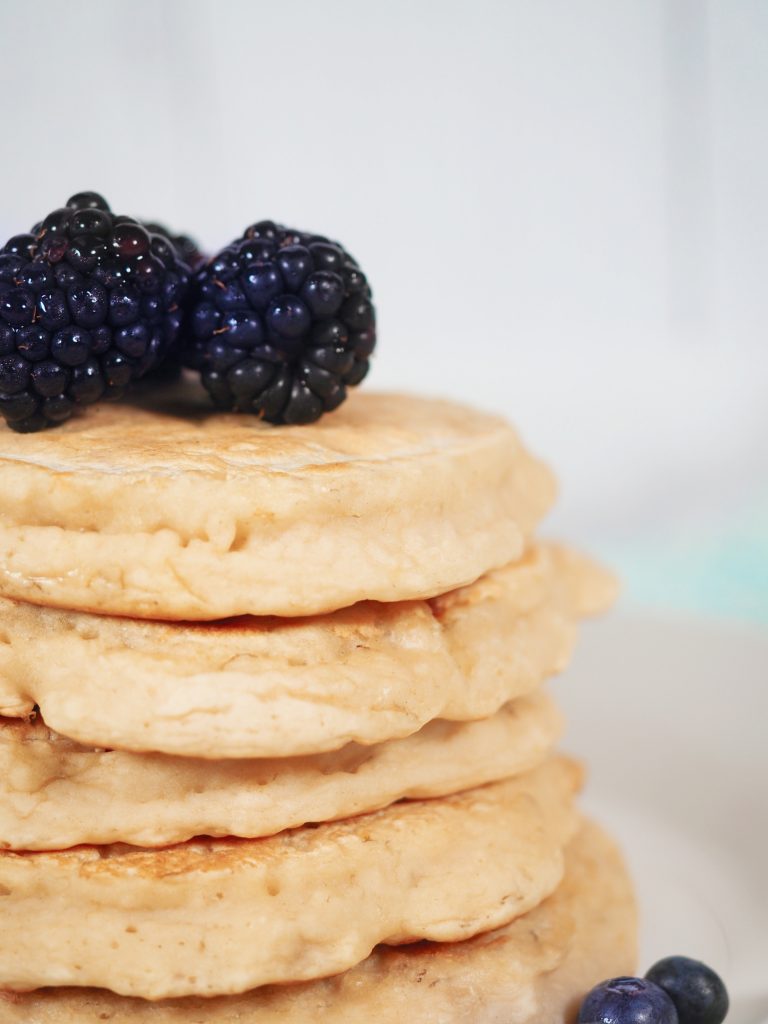 Why Use Banana In Pancakes?
You may be wondering why you should use banana in pancakes! If you are making the vegan pancakes, there are actually a few reasons!
First, the banana makes a great egg substitute in vegan pancakes! It has a similar eggy-like texture when mashed, so when put in the vegan pancake mixture, it makes a great binder!
Second, adding a banana to vegan pancakes allows you to not use any oil in the recipe! The banana is also a stand-in for oil! I promise you won't notice that the oil is gone at all.
The third reason is flavor. As I said above, the flavor is NOT overwhelming and is subtle. When you bit into the pancakes, your tastebuds will be delighted by the flavor of the banana mixed with maple syrup or whatever seasonings you add!
The banana in the vegan pancakes pulls double duty as both an egg and oil substitute and adds a little flavor to boot!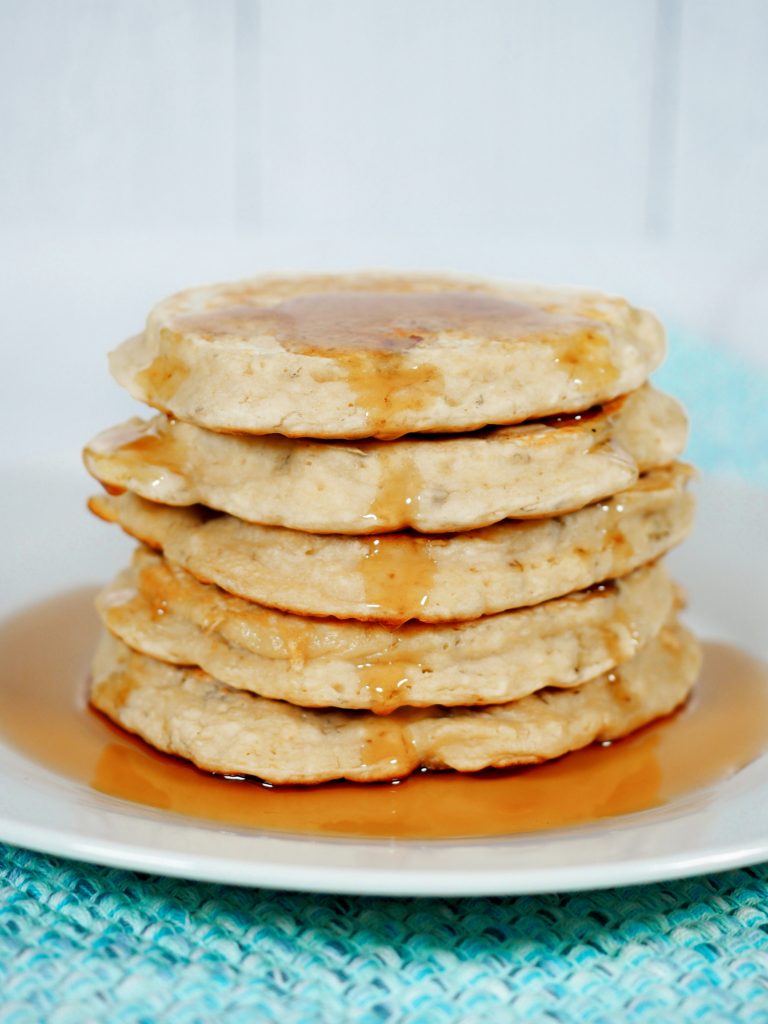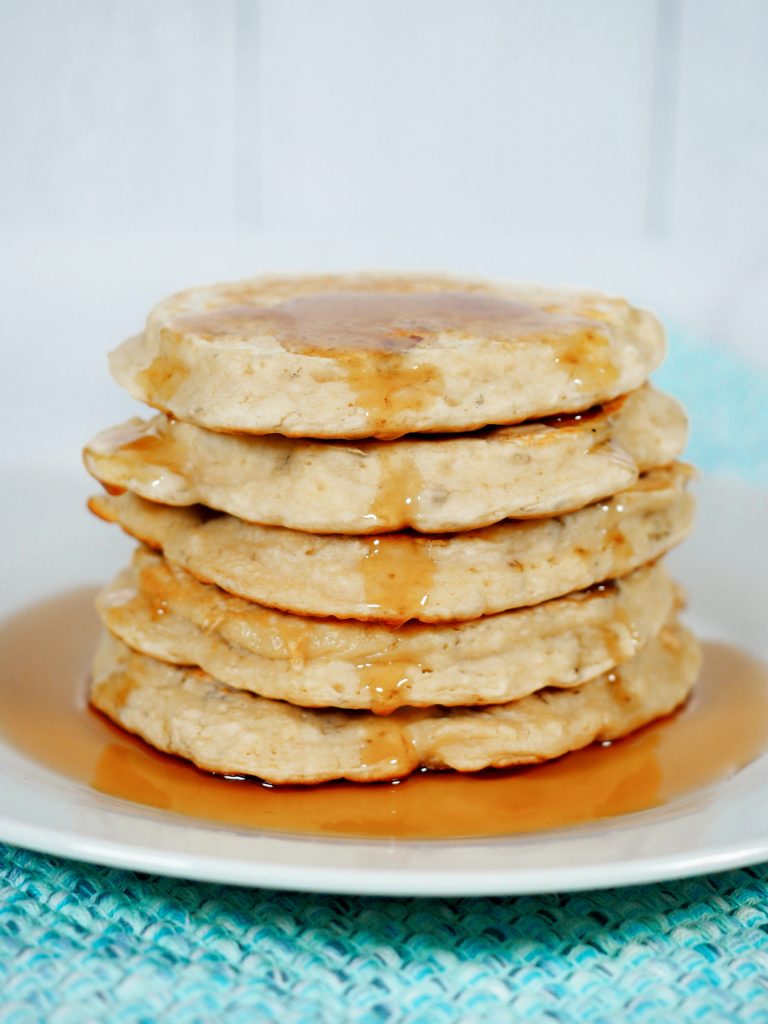 Preparing The Vegan Banana Pancakes
In a medium-sized bowl, combine the flour, baking soda, and baking powder and give it a quick mix. This is not a one-bowl vegan pancake recipe as I prefer to keep my wet and dry ingredients apart until necessary!
Then, in a larger mixing bowl, smash 1 ripe banana with a fork until it forms a custard or eggy texture. As you are mashing the banana, add the non-dairy milk until combined. You want to continue stirring the banana until you pour in all of the milk.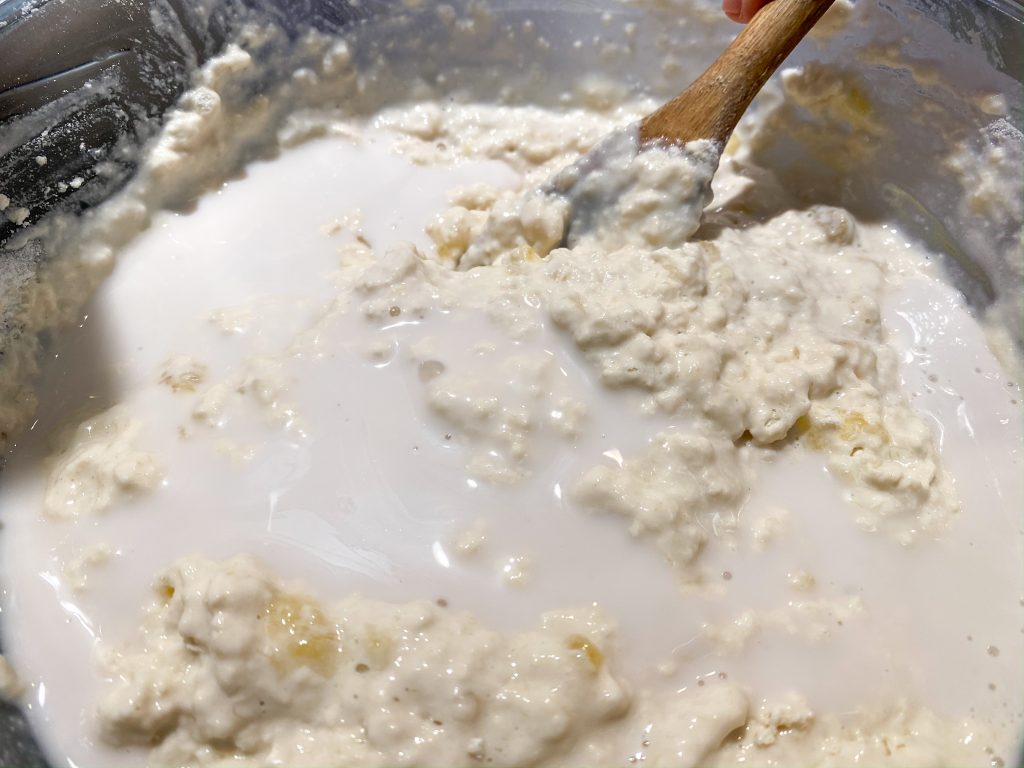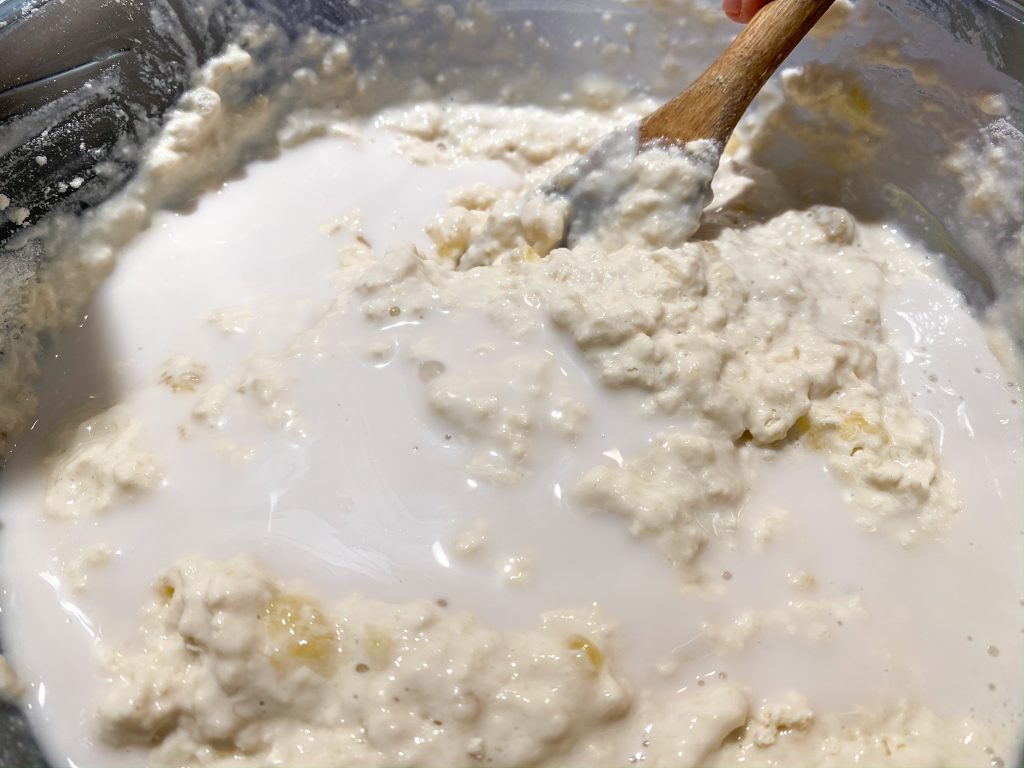 Then slowly combine the dry ingredients with the wet ingredients. Some people use a whisk, but I just use a fork! You do NOT want to use a hand mixture, if you do, the vegan banana pancakes will not come out right!
You want to stir until just barely combined. Some lumps of flour in the pancake batter is totally okay!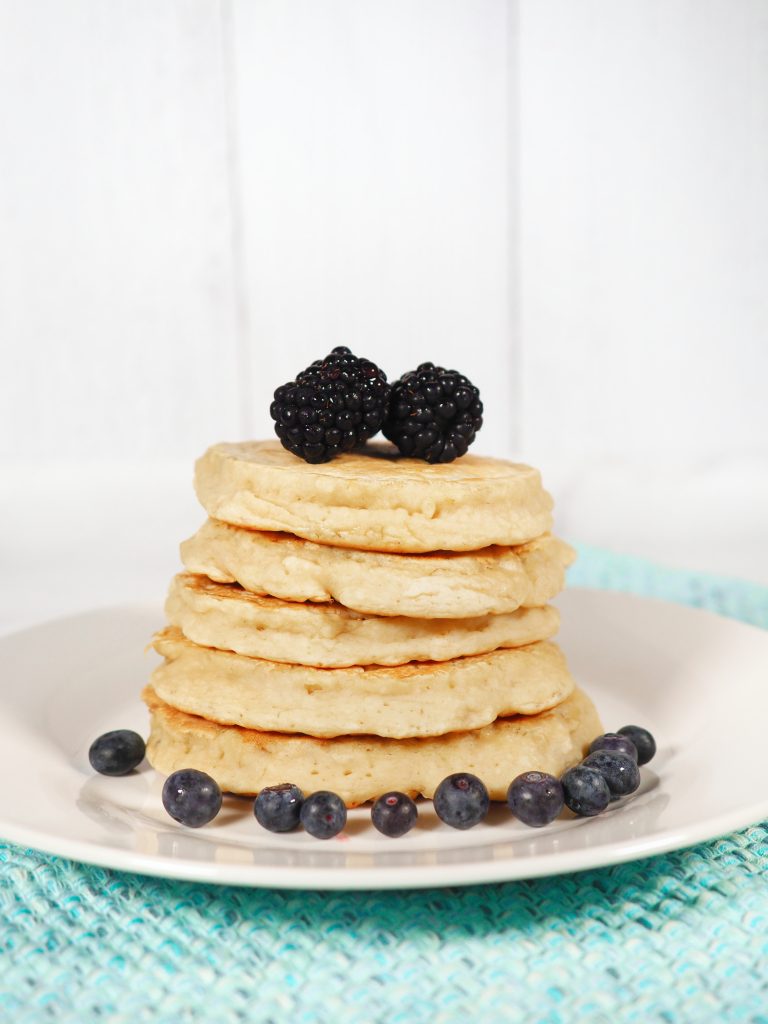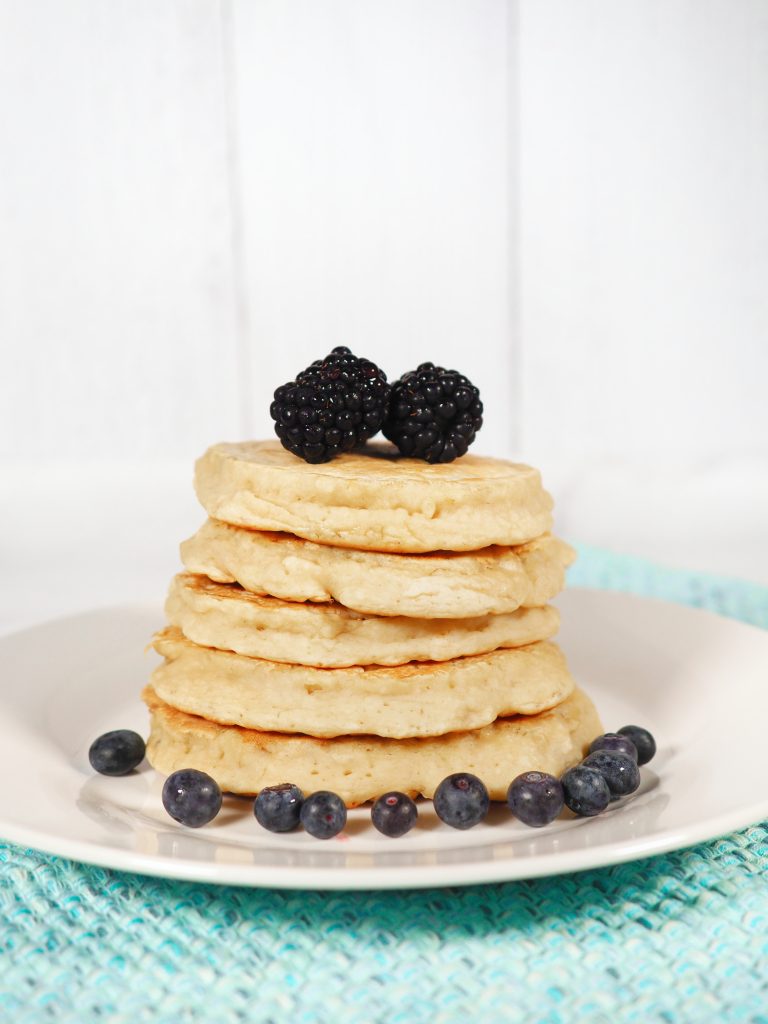 Cooking The Vegan Banana Pancakes
To cook, you will heat a non-stick frying pan or griddle. I always use a griddle and you can get them from Amazon for a very affordable price or from your nearest grocery store!
Using a ladle, pour one small ladle at a time onto the griddle or pan. If you do not have a non-stick griddle, you will want to add a little oil to coat the pan before cooking.
Then, you will cook the vegan banana pancakes until you start to see bubbles on top. You will cook on medium-high heat and most griddles have a setting. I use about 350-400 degrees on a griddle.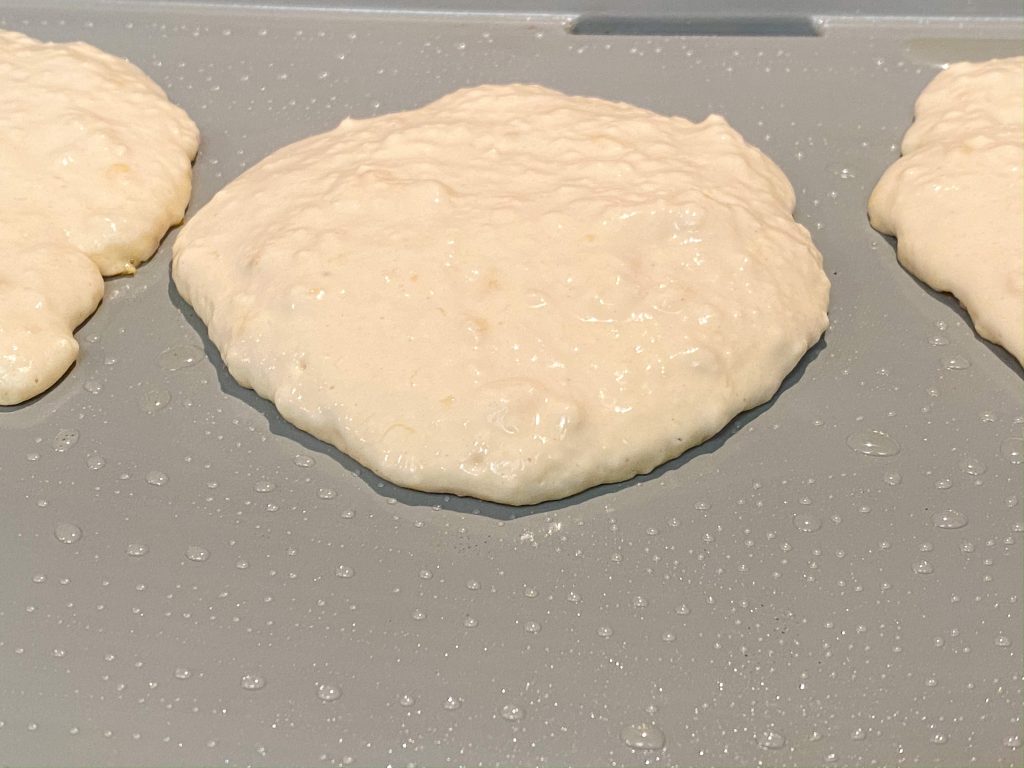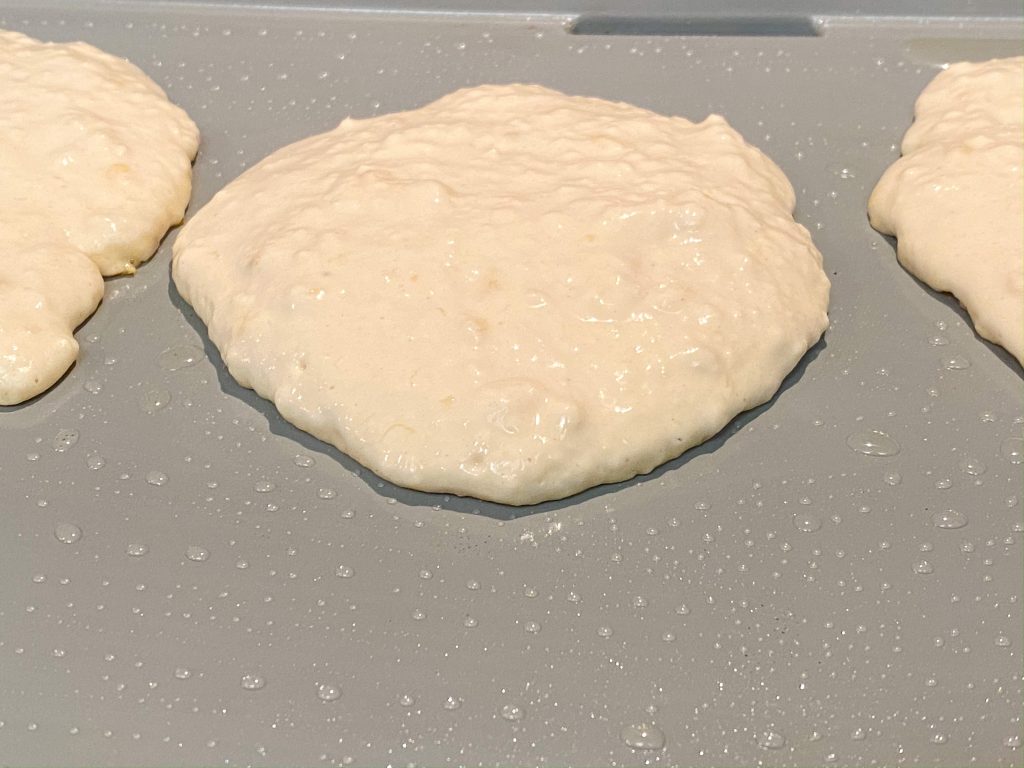 As soon as the edges of the vegan banana pancakes start to crisp up and dry out and you see bubbles on top, it is time to flip! You don't want to wait too long or else the pancakes will burn!
Flip the pancakes with a spatula and cook for 1-2 minutes on the other side at the most. You can use the edge of your spatula to pick up the pancake to ensure it is cooked.
And that is it! You are done and have made vegan banana pancakes with east! If you want to customize, you can easily make Vegan Blueberry Pancakes by adding in blueberries or even chocolate chips to the pancake while it is still batter on the griddle!
To keep warm, place vegan banana pancakes on a dish and cover with a large mixing bowl that is turned upsidedown! Don't forget to serve with a side of Vegan Hash Browns!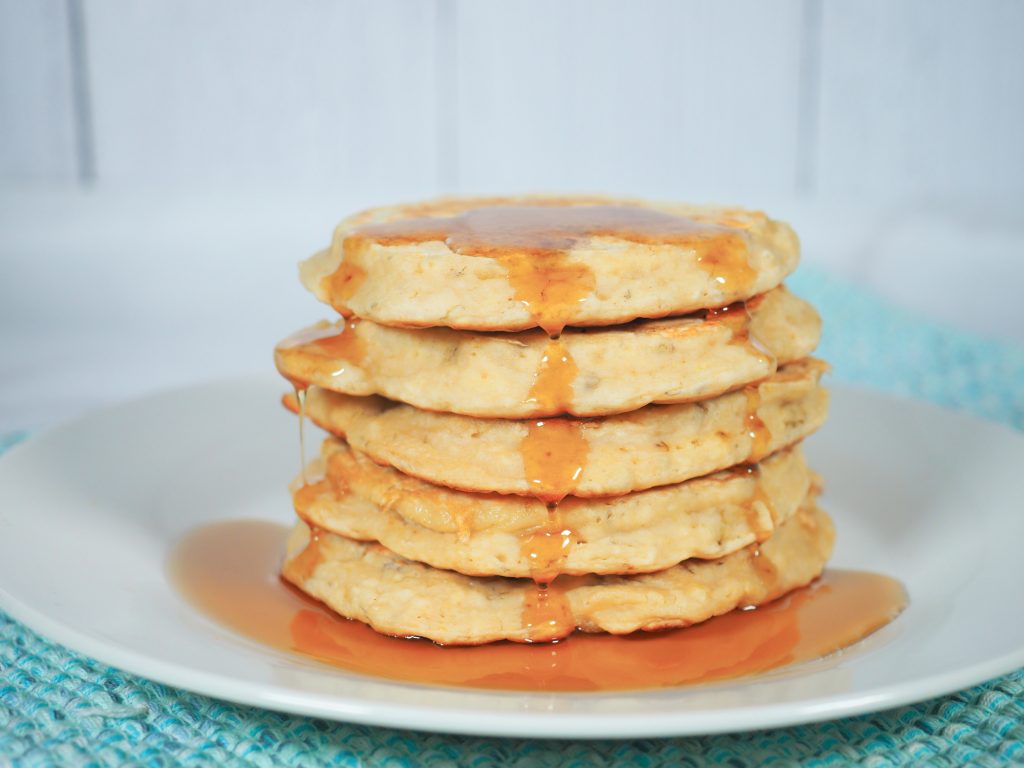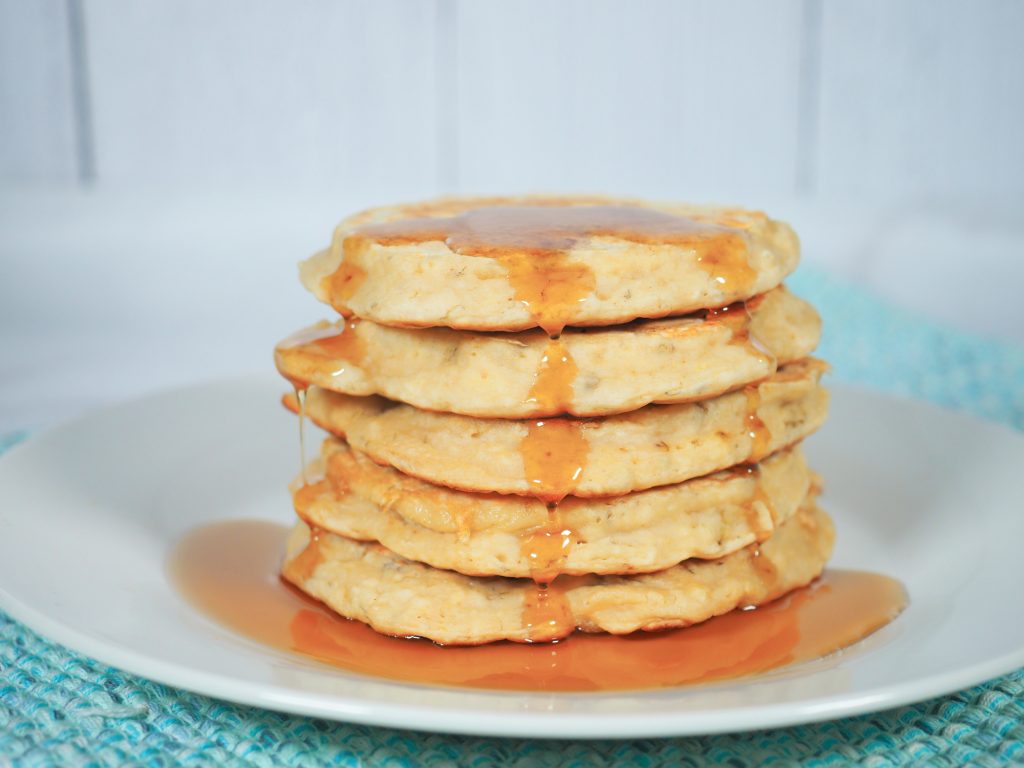 Yield: 3-4 Servings
5-Ingredient Vegan Banana Pancakes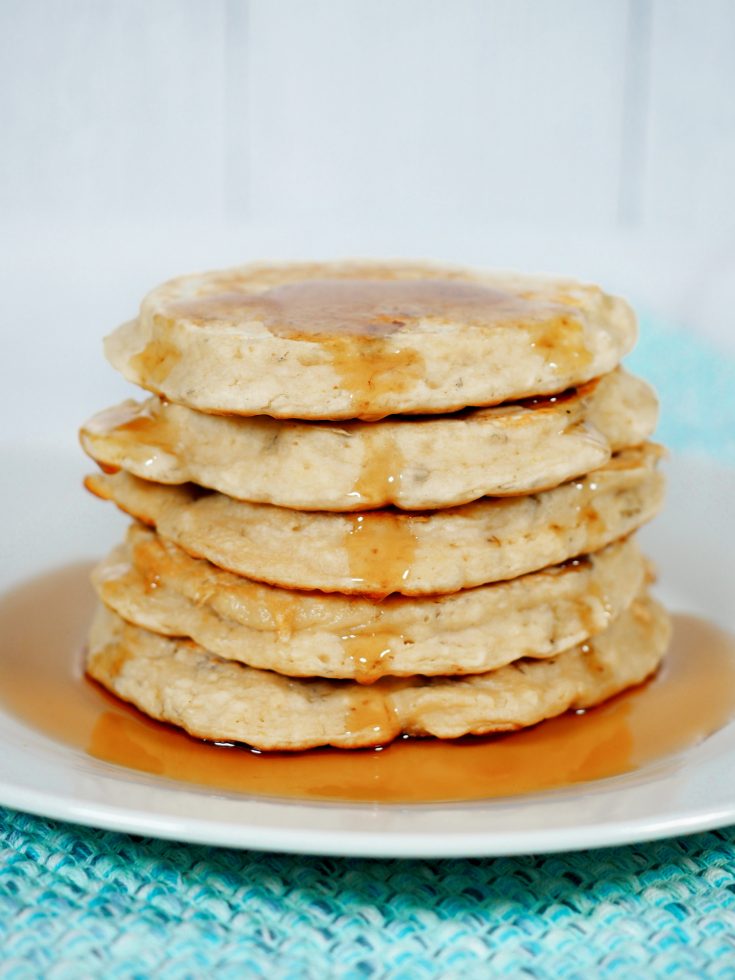 These vegan banana pancakes are super easy to make and require just 5 simple ingredients! The banana flavor isn't overpowering and adds a subtle taste to these fluffy vegan pancakes!
Ingredients
3 Cups Of Flour
1 1/2 Teaspoons Baking Soda
1 1/2 Teaspoons Baking Powder
1 Small Ripe Banana
3 Cups Of Non-Dairy Milk
Instructions
In a medium bowl, measure out your flour, baking powder, and baking soda. Mix until combined.
In a large bowl, mash the ripe banana with a fork and add the milk slowly until combined.
Add dry ingredients to the wet ingredients and slowly combine. Do not overmix or use a hand mixer. Visible lumps of flour are okay!
Heat a griddle or non-stick frying pan on medium-high heat and use a small ladle to pour batter onto the griddle.
Watch the pancakes cook until the edges are dry and the top is bubbly. Do not overcook! Then flip to cook the other side.
Cook other side between 1-2 minutes at the most. Check that the other side is cooked by simply placing spatula underneath pancakes and looking to ensure the bottom side is cooked. Serve immediately!
To serve, eat with non-dairy butter, maple syrup, fresh fruit or the topping of your choice!
Nutrition Information
Yield
4
Serving Size
1
Amount Per Serving
Calories

456
Total Fat

5g
Saturated Fat

2g
Trans Fat

0g
Unsaturated Fat

2g
Cholesterol

15mg
Sodium

743mg
Carbohydrates

87g
Fiber

3g
Sugar

13g
Protein

16g