This sesame tofu recipe is perfect for when you are looking to make something quick and easy! It is light and won't sit in your stomach for hours, yet filling and will leave you satisfied. It whips up in under 30 minutes which makes it perfect for after work!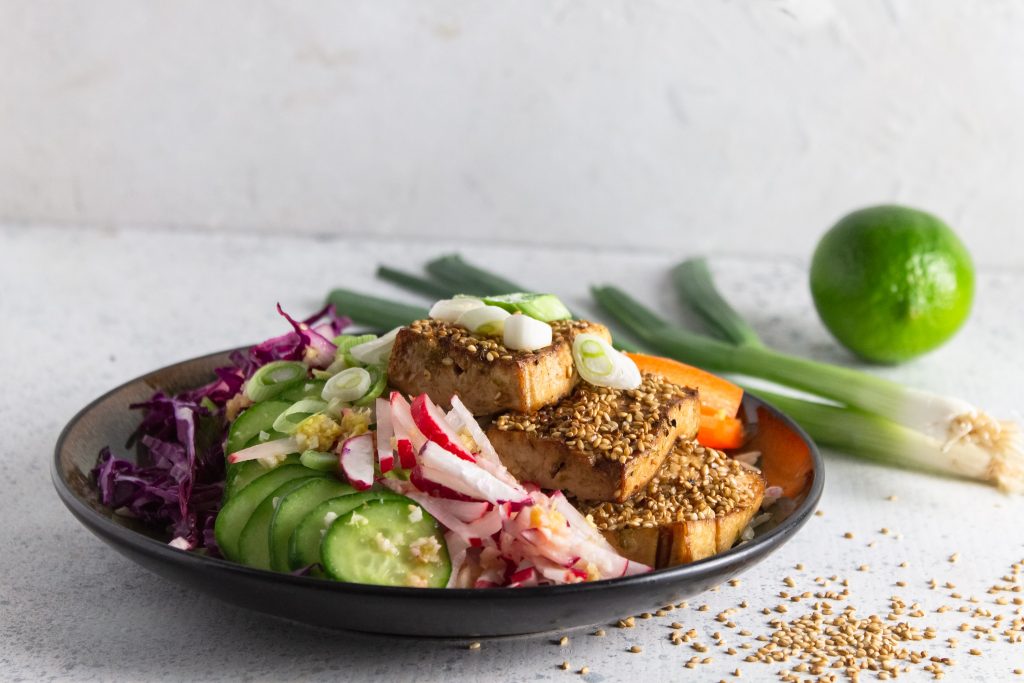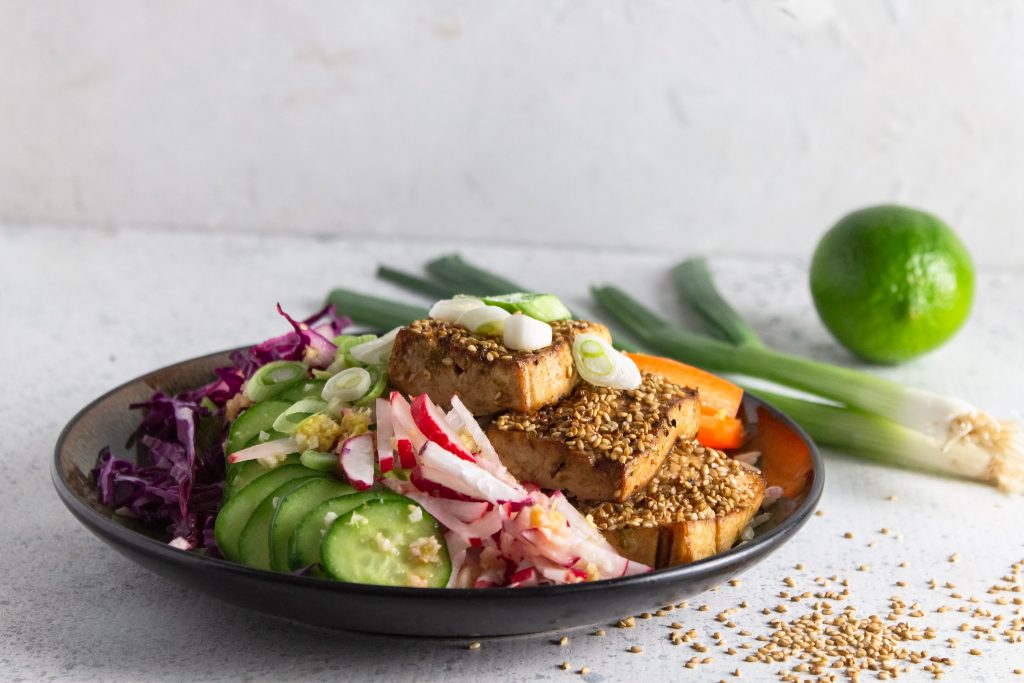 This recipe is created for everyone, but it is naturally vegan, gluten-free, and nut-free! It is quite allergy-friendly so everyone can enjoy!
Most sesame tofu recipes are fried. Now, while I love A Good Fried Tofu Dish, sometimes you just don't want to use that much oil! This recipe is baked and the baking process doesn't even take a long time! The way that the sesame seeds get toasted in the oven makes for a crispy perfection without deep-frying!
This sesame tofu recipe makes enough for two, but you can simply double it if you are meal prepping for the week. If you do decide to meal prep, you will eat the power plate cold which will make for a nice lunch.
When saving the sesame tofu for another day, simply store it separate from the veggies so neither get soggy and then pour the dressing over once you are ready to eat! Whatever you do, do not put the dressing on before your store!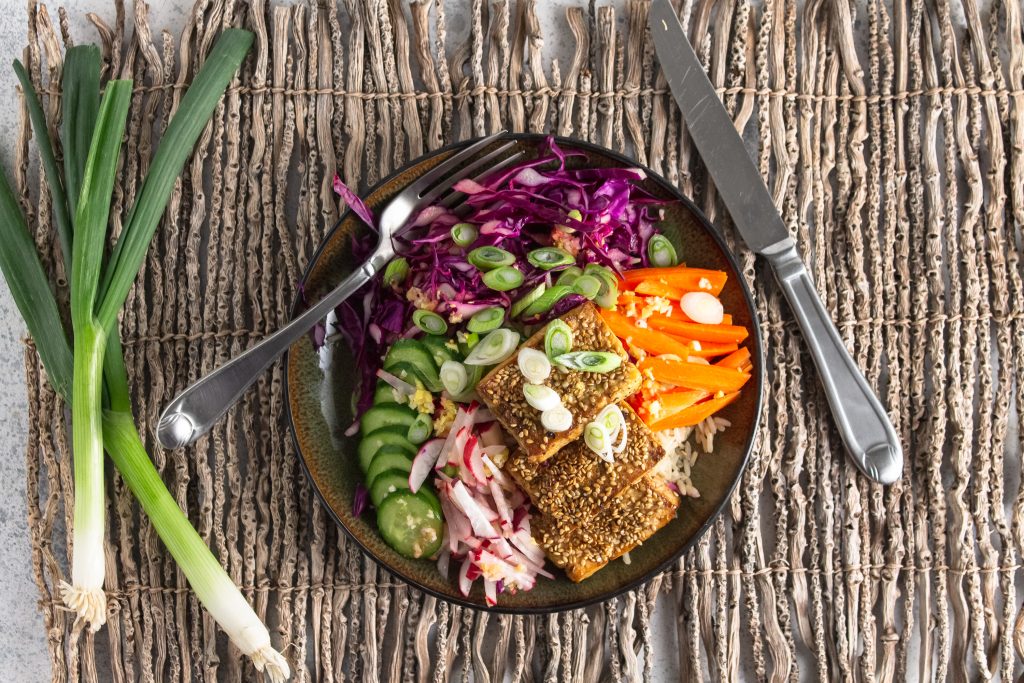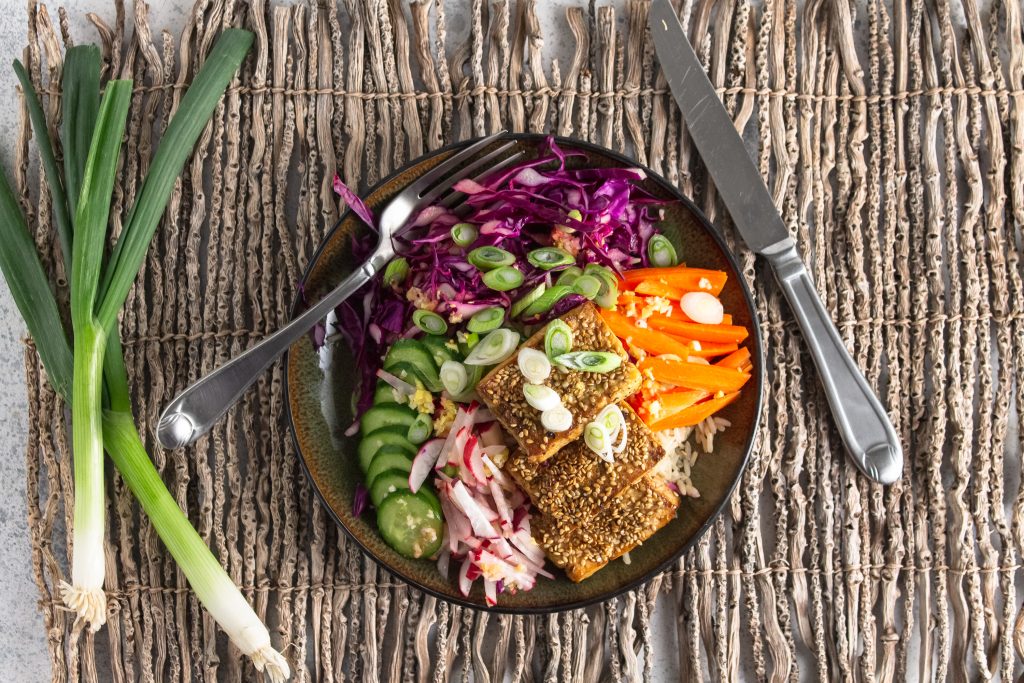 Marinating The Sesame Tofu
In order for the sesame tofu to come out correctly, you are going to want to marinate it. I know this takes a little longer, but it is super important when you are going to be baking your tofu, not frying. If you fry, you can fry the tofu in the liquid, but since you are baking, you will need to marinate beforehand.
Luckily, the marinating process takes just 10-15 minutes and while the sesame tofu is marinating, you can prepare other ingredients for the vegan power plate such as the vegetables and the rice.
Simply drain the tofu from the water or brine that it is in and squeeze it out and dry it using a dish towel or paper towel. Then slice the tofu and sit it in the marinate for 10-15 minutes, depending on your time!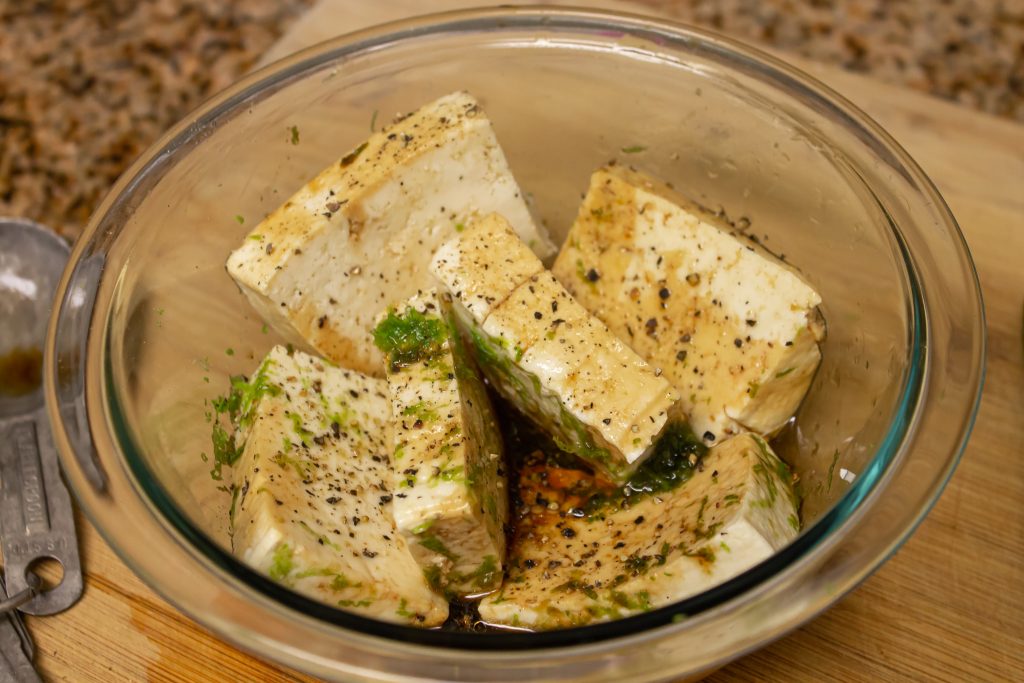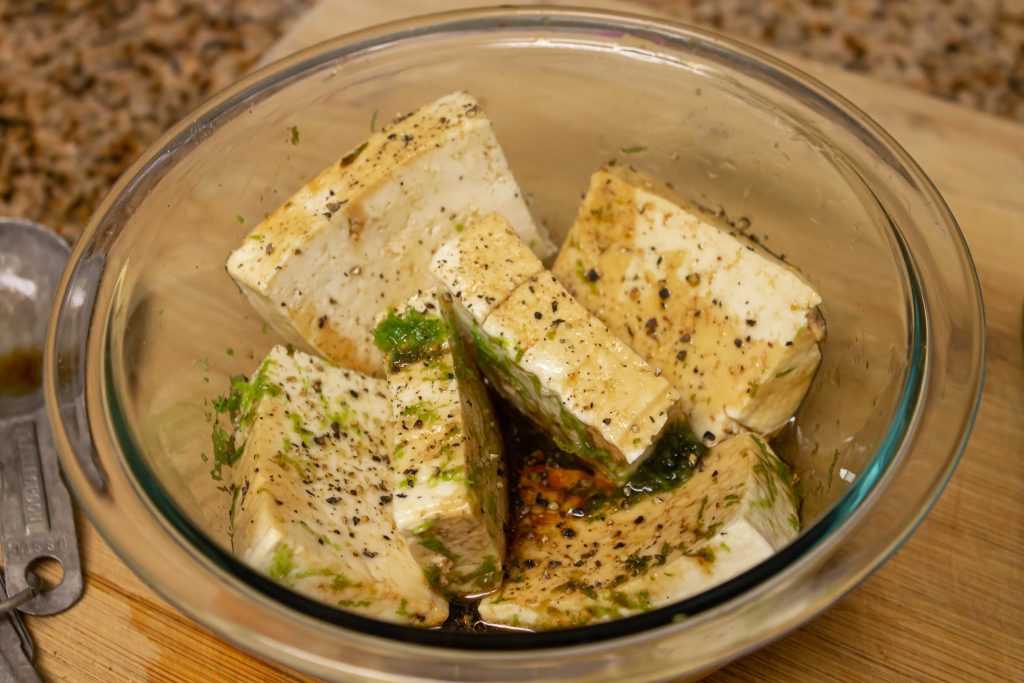 Cooking The Sesame Tofu
To cook the sesame tofu, you will preheat a broiler on high and line a pan with foil for easy cleanup. If you don't want to line, that is okay. I always use Silpat because it is reusable!
You can either choose to skewer the sesame tofu to make it a little easier or simply use tongs or your clean hands to put the tofu slices on the baking sheet. Either way is totally fine. I have done both ways and the only difference with a skewer is that you can easily turn without using tongs.
You only have to bake the sesame tofu for 5-7 minutes. When baking, keep an eye on the sesame seeds. You want to ensure that they are HEAVILY toasted and the edges of the tofu are starting to turn brown! This is an important part to ensuring that the sesame tofu is ready to go!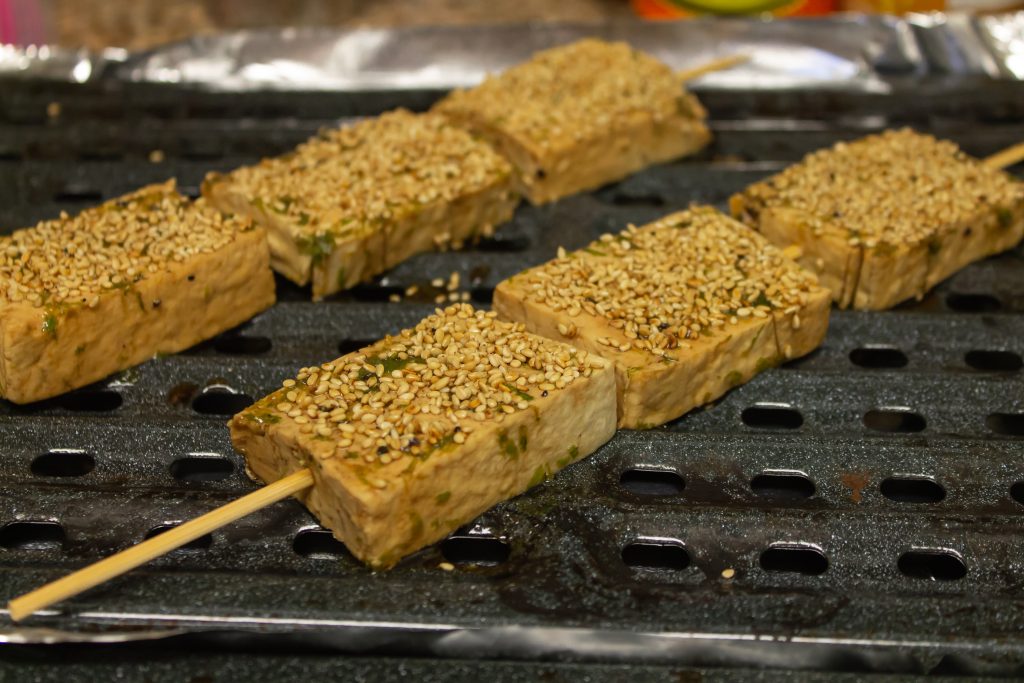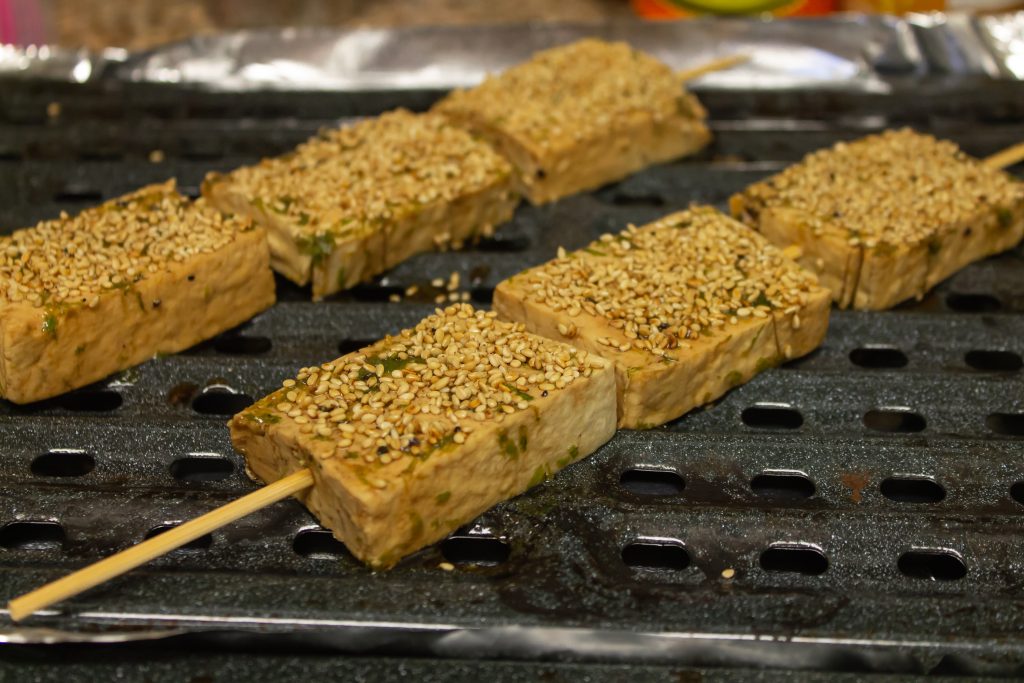 Preparing The Vegan Power Plate
While the sesame tofu is cooking, you will cook the rice, prepare the vegetables, and make the dressing. If you want to use whatever dressing you have on hand, that is fine too!
You will slice carrots into sticks, slice the cabbage into strands, and slice green onions, cucumbers, and radishes. Whichever size you want is fine, but I have offered suggestions below so that you can choose what works best for you!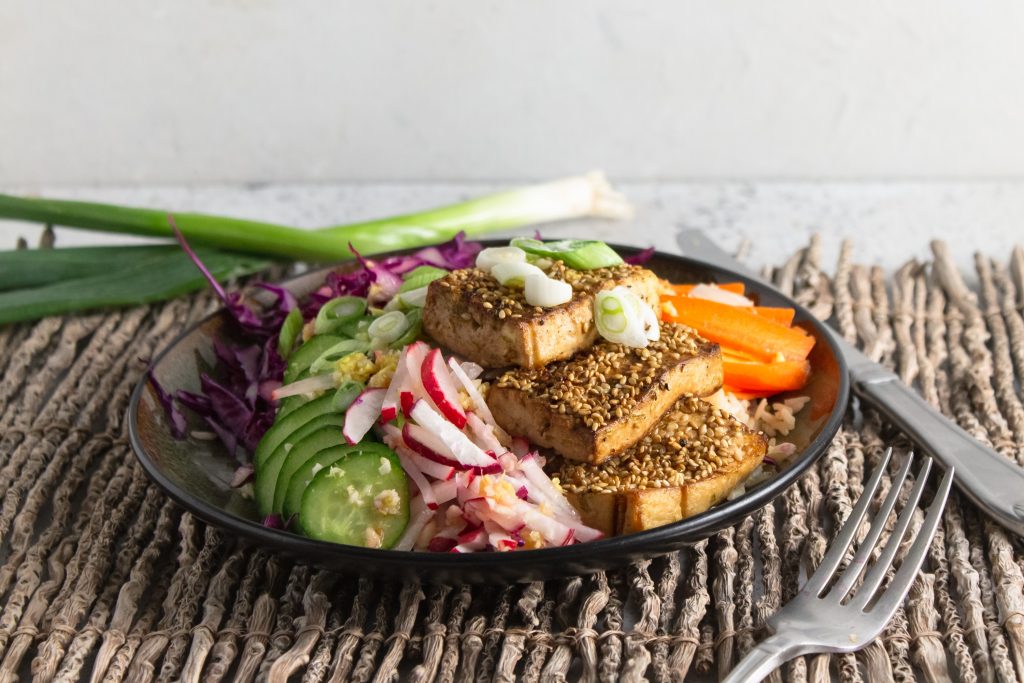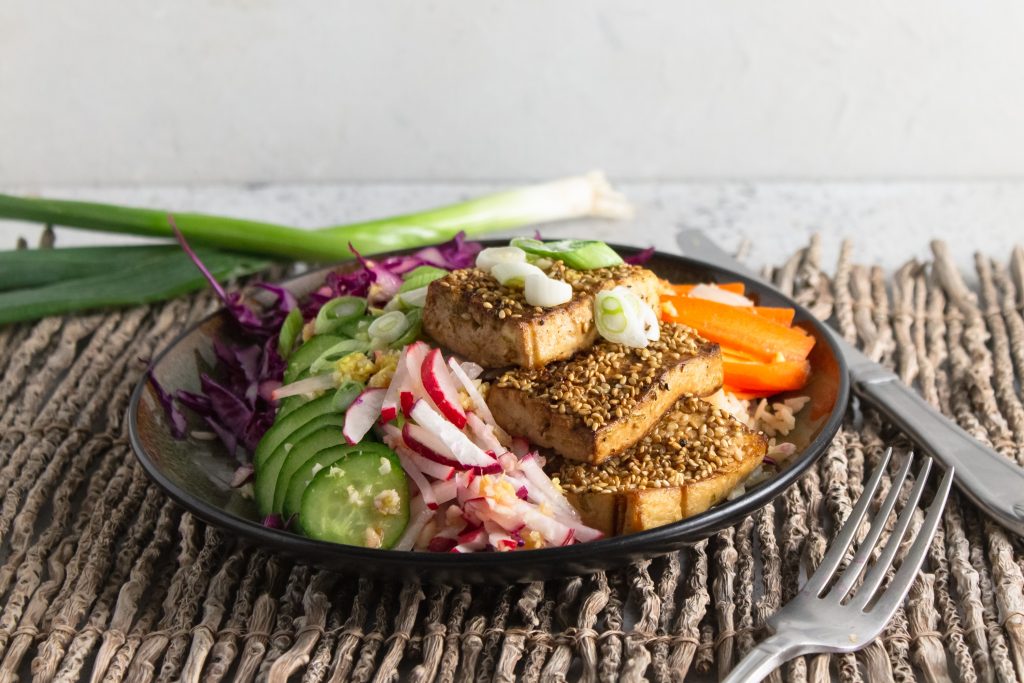 To make the dressing, simply mince ginger and garlic and combine ingredients and mix. If you don't want to make your own dressing, use a simple 1 part oil 1 part vinegar mixture to save time.
To assemble the vegan power plate, place half of the cooked rice on each place and add half of the vegetables onto each plate. Drizzle with dressing before adding 3 slices of the baked sesame tofu.
This sesame tofu recipe is best when served warm and immediately after cooking. It can also be enjoyed cold like a salad. If you are meal prepping or bringing this vegan power plate for lunch, don't forget to keep your veggies, tofu, and dressing in different containers!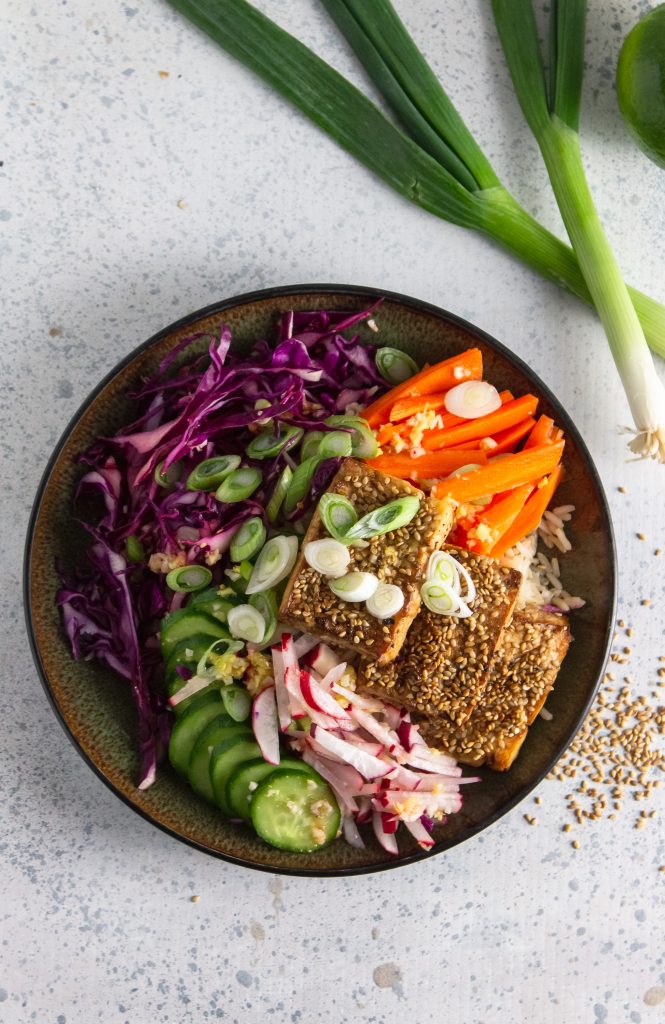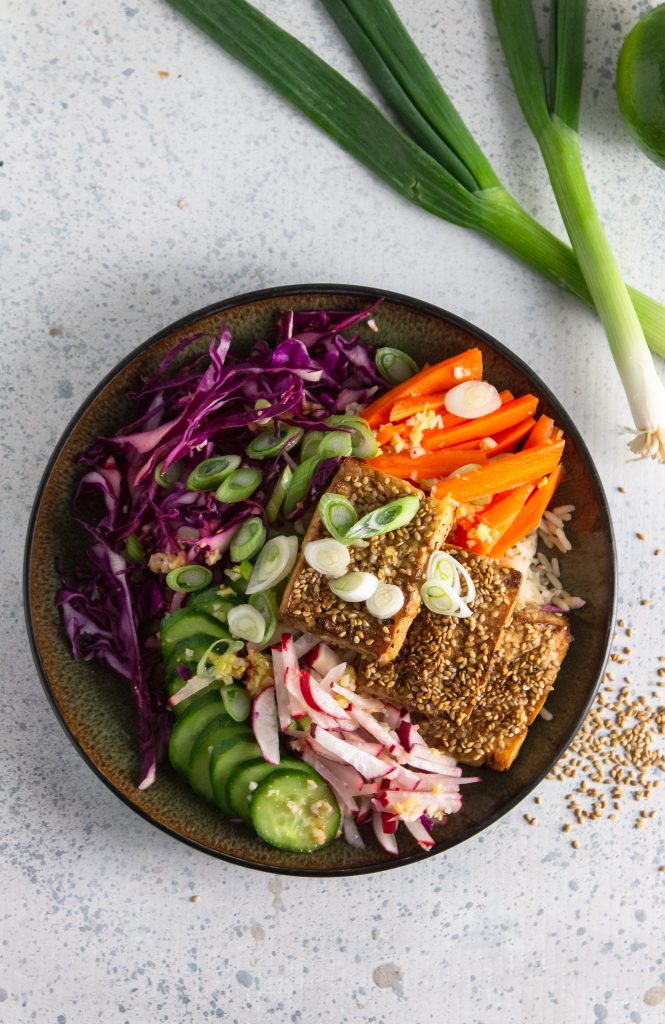 Yield: 2 Servings
Baked Sesame Tofu Power Plate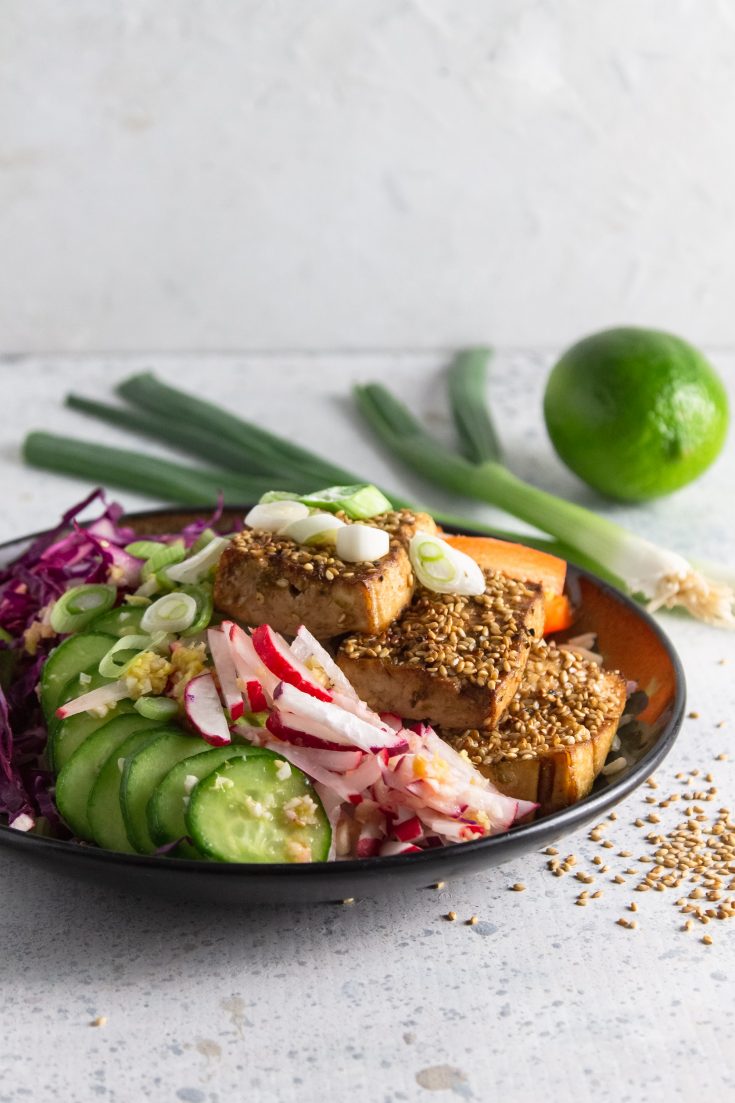 This baked sesame tofu power plate is very filling but whips up quickly using minimal ingredients! It is a 30-minute meal for 2 but you can double the sesame tofu recipe and meal prep for the week. It is delicious when served warm and makes a great cold lunch. It is healthy and Vegan, Gluten-Free, and Nut-Free!
Ingredients
Power Plate:
1 c/190g brown rice
1 medium/75g carrot
1 c/75g shredded purple cabbage
1 large/85g Cucumber
3 small/50g radishes
3 green onions
Marinated Tofu:
½ lb/250g firm tofu
Zest 1 lime
1 tbsp/15ml soy sauce (or Tamari for gluten free)
2 tsp/10ml sesame oil
1 tbsp/15ml rice vinegar
½ tsp/1g ground pepper
1 tbsp/15g sesame seeds
Dressing:
2 tbsp/30ml lime juice
1 tsp/5g brown sugar
2 cloves/10g garlic
1"/10g ginger
¼ tsp/2g salt
1 tsp/5ml sesame oil
Instructions
Start rice cooking:
Combine rice with 2 cups/475ml of water in a medium pot and bring to simmer over medium low heat. Cook until all liquid has been absorbed, about 20 minutes.
Once cooked, remove from heat and allow to rest for 5-10 minutes before fluffing with a fork.
While rice is cooking, marinate sesame tofu:
Combine the soy sauce (or tamari), sesame oil, rice vinegar, ground pepper, and zest of 1 lime in a bowl.
Drain tofu if packed in water or brine. Wrap tofu in a dish towel and squeeze water out!
Cut the tofu into 6 - ¾"/2cm thick slices. Gently place slices into marinade, turning to cover all sides.
Allow to sit for 15 minutes, occasionally turning slices over to distribute marinade.
Cut vegetables while tofu is marinating:
Cut carrots into thin sticks (or buy pre-cut)
Cut cabbage into strands (or buy pre-cut)
Cut cucumber into ¼"/6mm rounds.
Slice radishes into ¼"/6mm sticks.
Slice green onion tops and reserve for later
Cook sesame tofu:
Preheat broiler on high. Line a pan with foil or use a grilling pan, either way works good!
Remove tofu from marinade. Skewer tofu or use a spatula to place tofu on baking sheet. Sprinkle sesame seeds evenly over the exposed side of the tofu.
Grill under the broiler for 5-7 minutes, until sesame is heavily toasted, and edges of the tofu are starting to go brown. Remove and allow to sit for at least 1 minute before removing tofu from pan.
Make dressing while tofu is cooking:
Peel and finely mince ginger and garlic.
Combine all ingredients in a dish and mix vigorously.
Assemble power plate:
Place half of cooked rice on each plate. Add half of the vegetables (except onions) onto each portion.
Drizzle with dressing. Add 3 slices of cooked sesame tofu to each plate and garnish with green onions.
Notes
This Sesame Tofu power plate is best warm, but can also be enjoyed cold for lunch. It serves two people, but you can double the recipe to meal prep for the week. If you meal prep, keep dressing, veggies, and tofu in different containers so that nothing goes soggy. This dish is best if eaten within 2-3 days so the veggies don't go bad.