These vegan smores bars are quick and easy to make and they are oh-so-delicious!
I am obsessed with smores, they are ooey and gooey and tasty.
That is why you are going to love these vegan smores bars!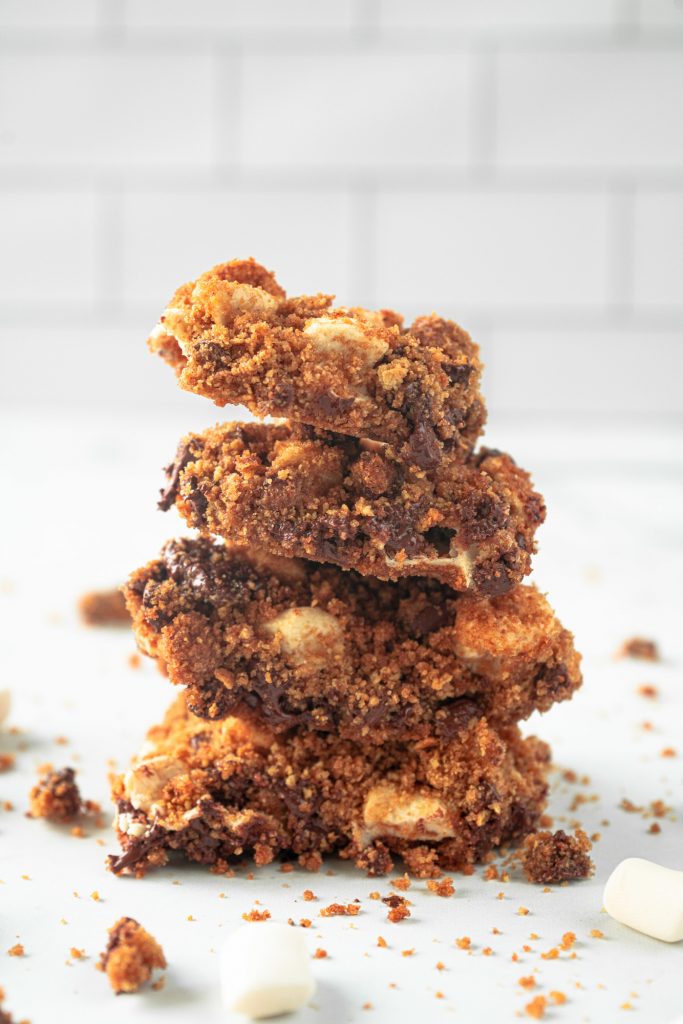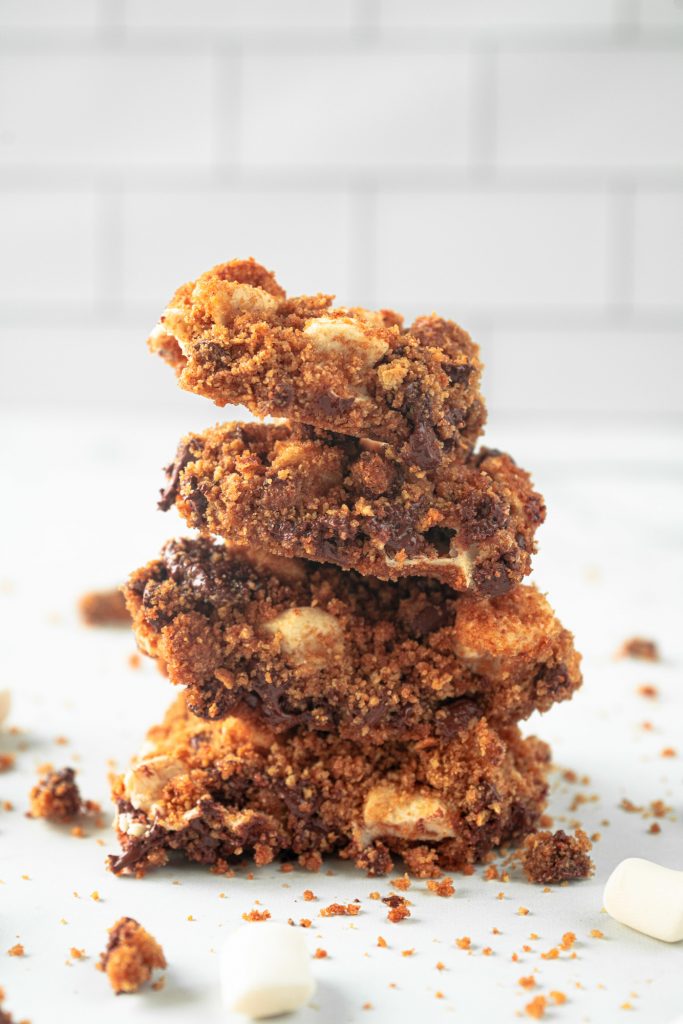 They take all the best parts of a smore and put it in bar form!
They are crumbly, crunchy, and take only 15 minutes to bake so you have this dessert ready in no time. They also use only 6 ingredients which makes it even better.
Think graham cracker crumbs, chocolate chips, and vegan mini marshmallows all wrapped up in a dessert bar.
The vegan smores bars are on the sweeter side, so if you don't have a huge sweet tooth, this dessert probably isn't for you!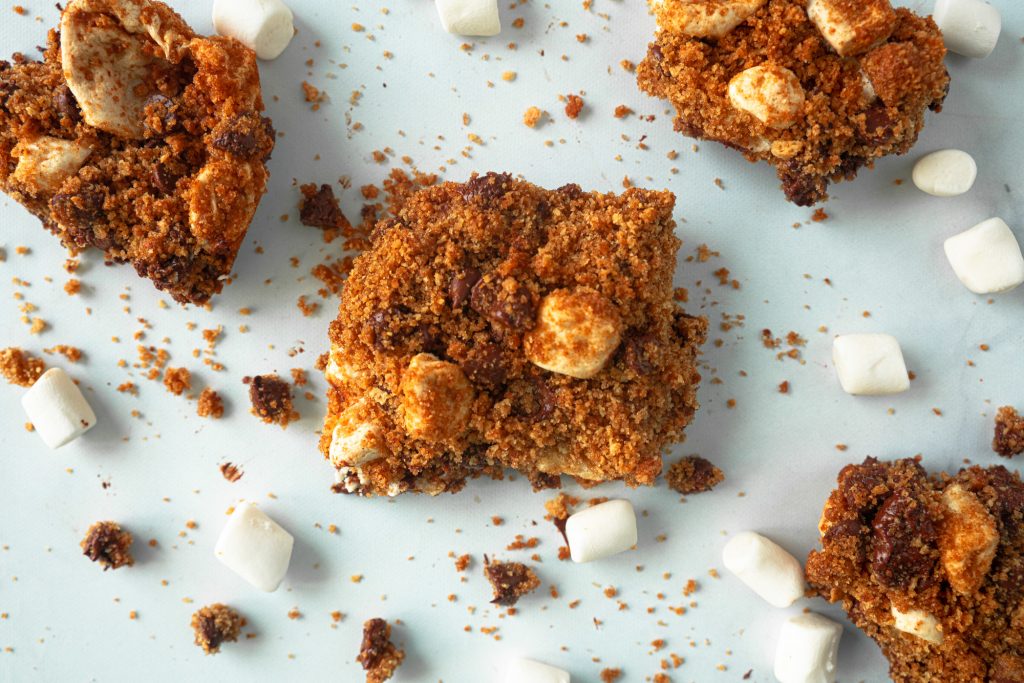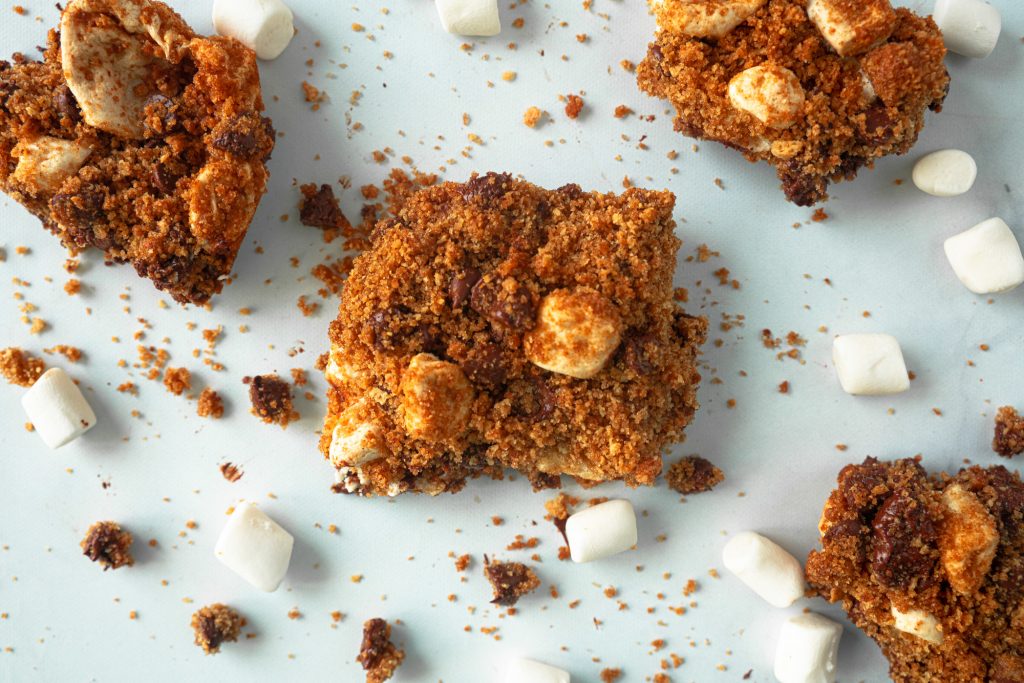 If you want to, you can reduce the sugar, but the topping may not spread as far, keep that in mind!
These bars are very rich so you really only need one or two pieces to feel satisfied!
If you want to bring the campfire classic home to your kitchen, this is the quick and easy way to do it using just 6 ingredients and 15 minutes of your time.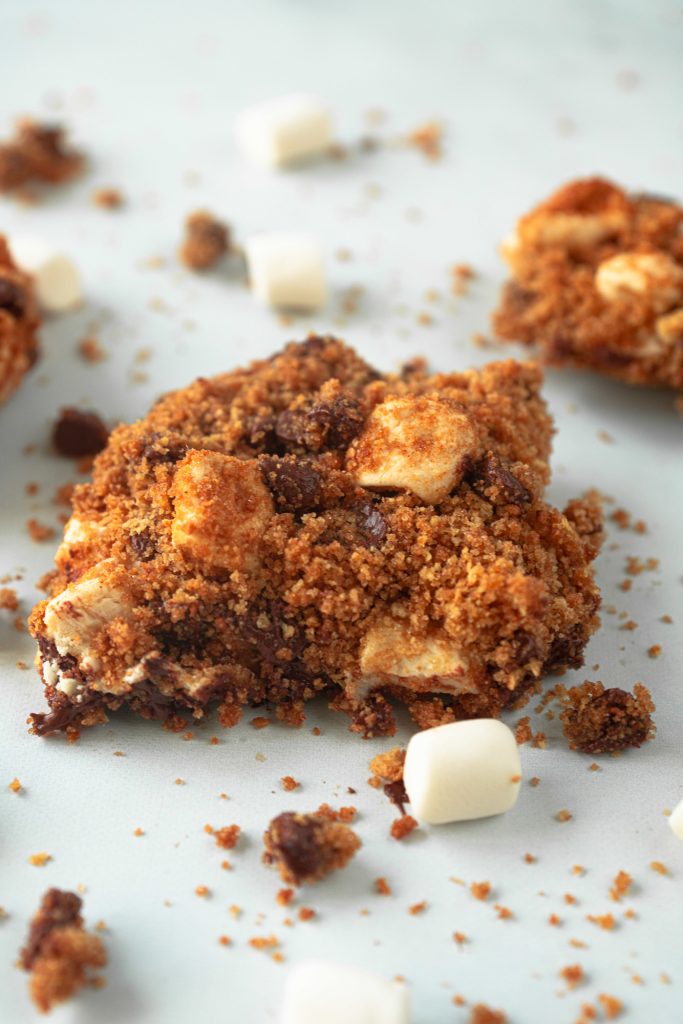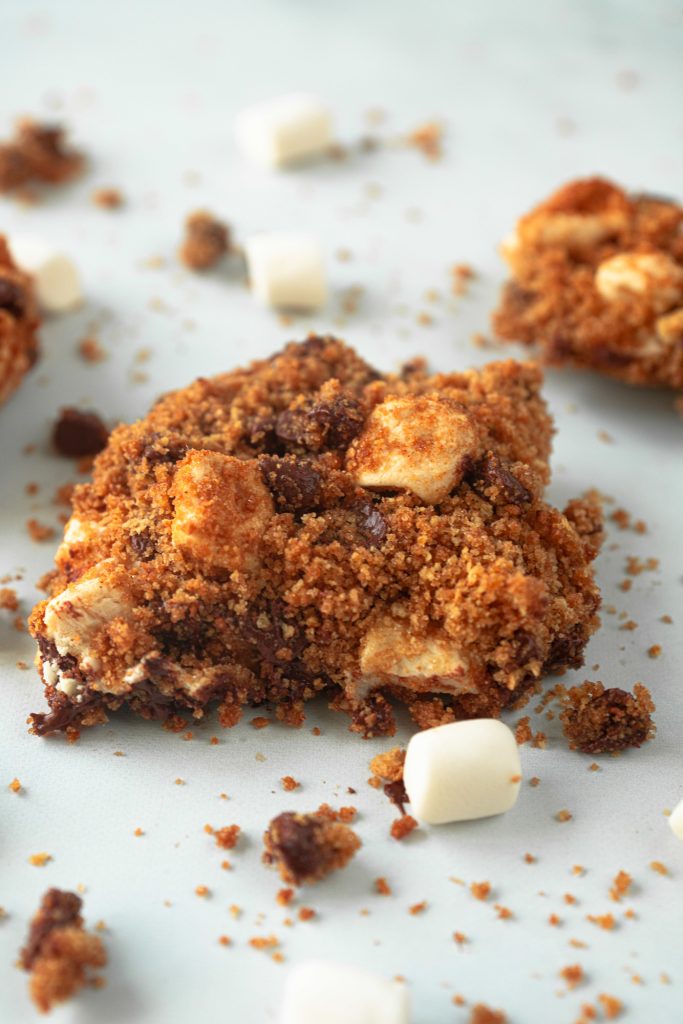 Where To Find Vegan Marshmallows
You can find vegan marshmallows at most health food stores such as Whole Foods Market, Trader Joes, and your local shop.
The brand I use is Dandies Vegan Marshmallows and they are quite good and realistic!
If you live in a place without a lot of health food store options or your Whole Foods happens to be out, you can buy Mini Vegan Marshmallows From Amazon!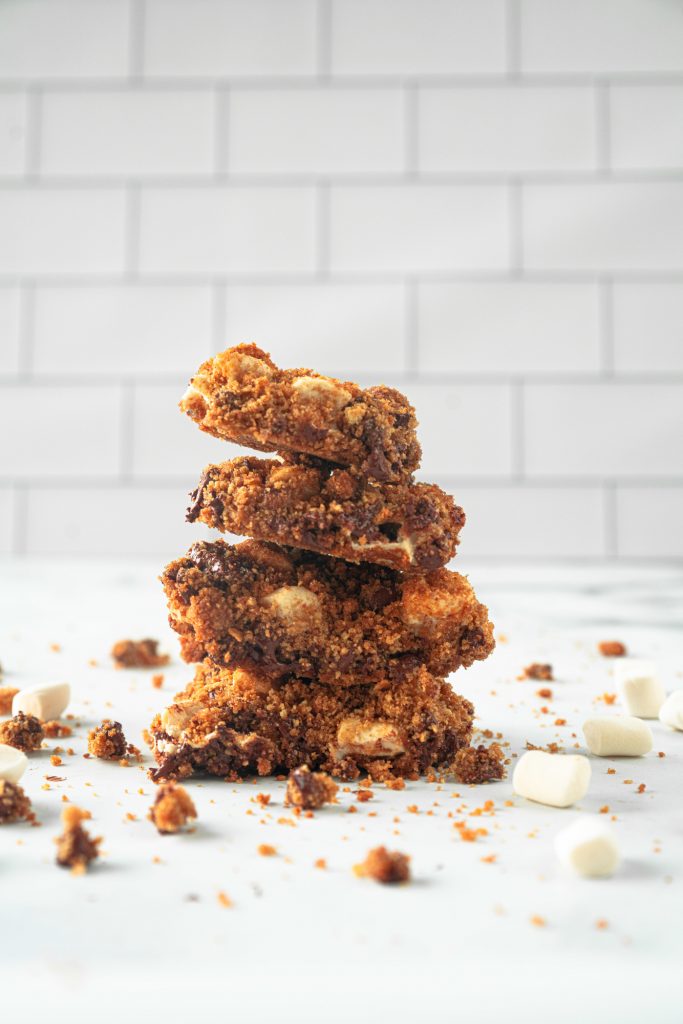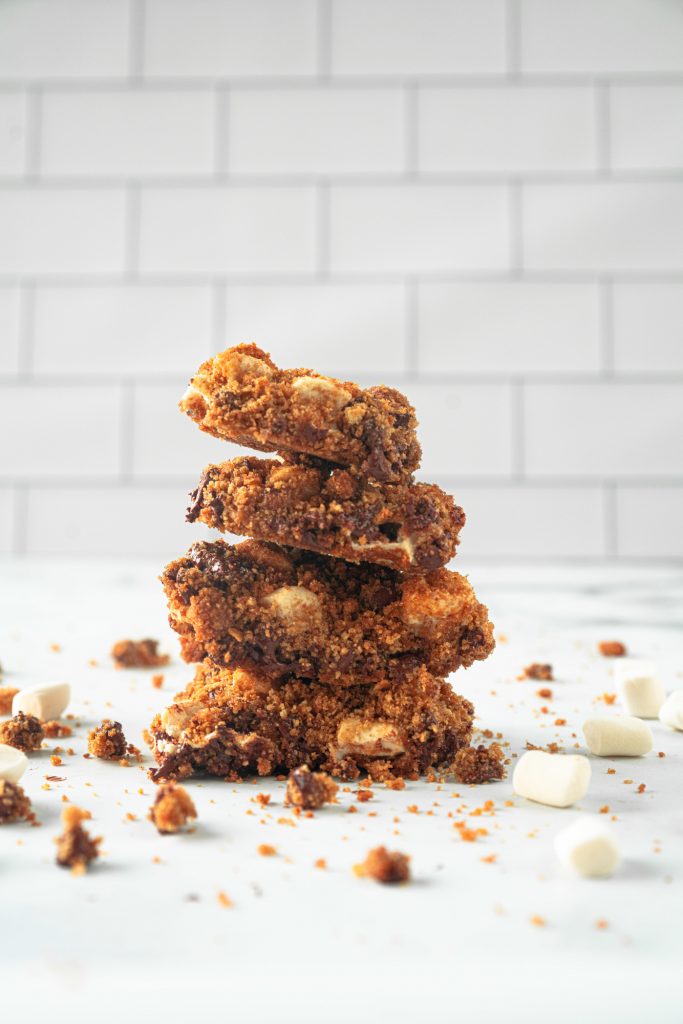 I recommend buying a 2-pack so that you can use them in another delicious vegan baking recipe.
A tip to keep in mind when working with vegan marshmallows is that they can become very tough if you cook them for too long.
When making these vegan smores bars, make sure not to overcook the bars or else the vegan marshmallows will be tough and chewy, not soft like you want them to be.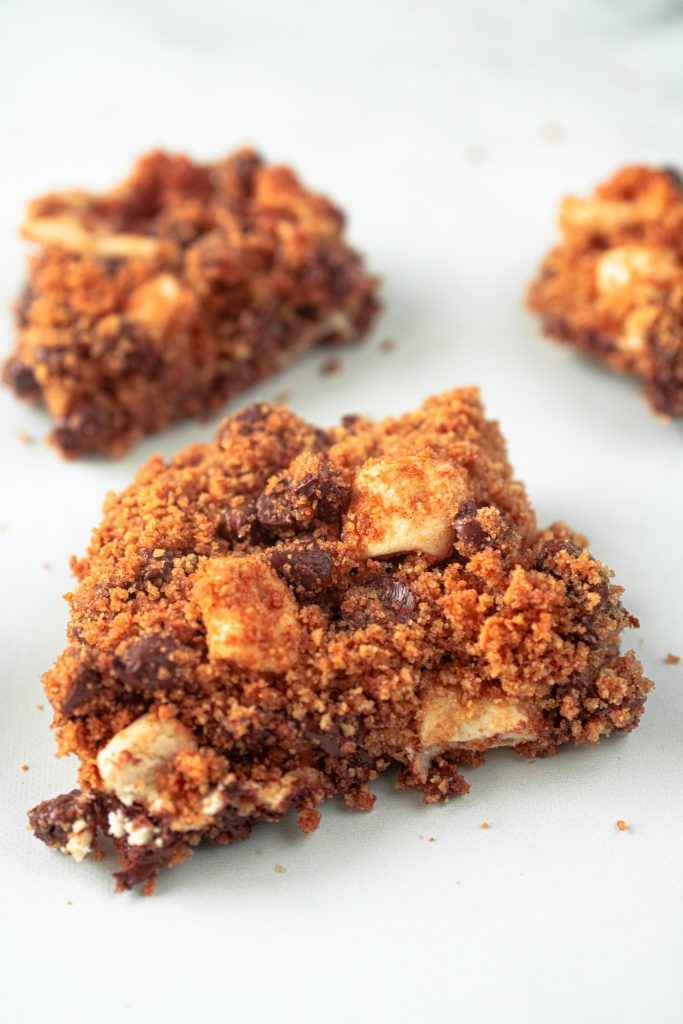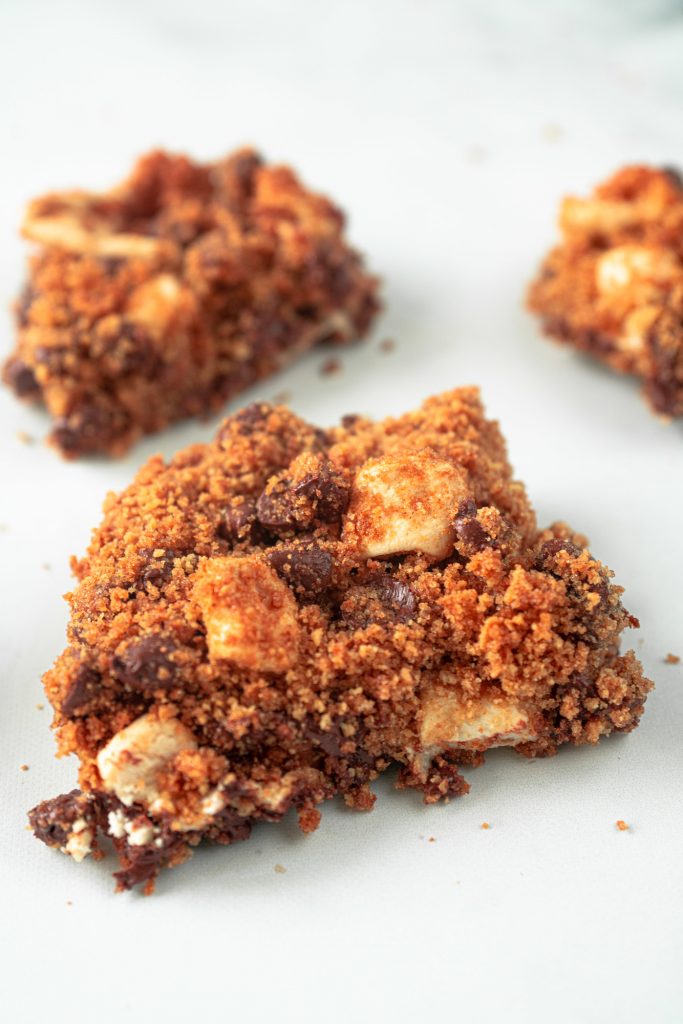 Where To Find Vegan Chocolate Chips
Finding vegan chocolate chips is easier than you may think!
I actually buy mine from Walmart, but big brands change ingredients all the time so you have to be sure to look at the label!
Whole Foods and similar natural foods stores usually always have vegan chocolate chips on hand.
If you can't find them, you can Buy Enjoy Life Vegan Chocolate Chips from Amazon for a reasonable price!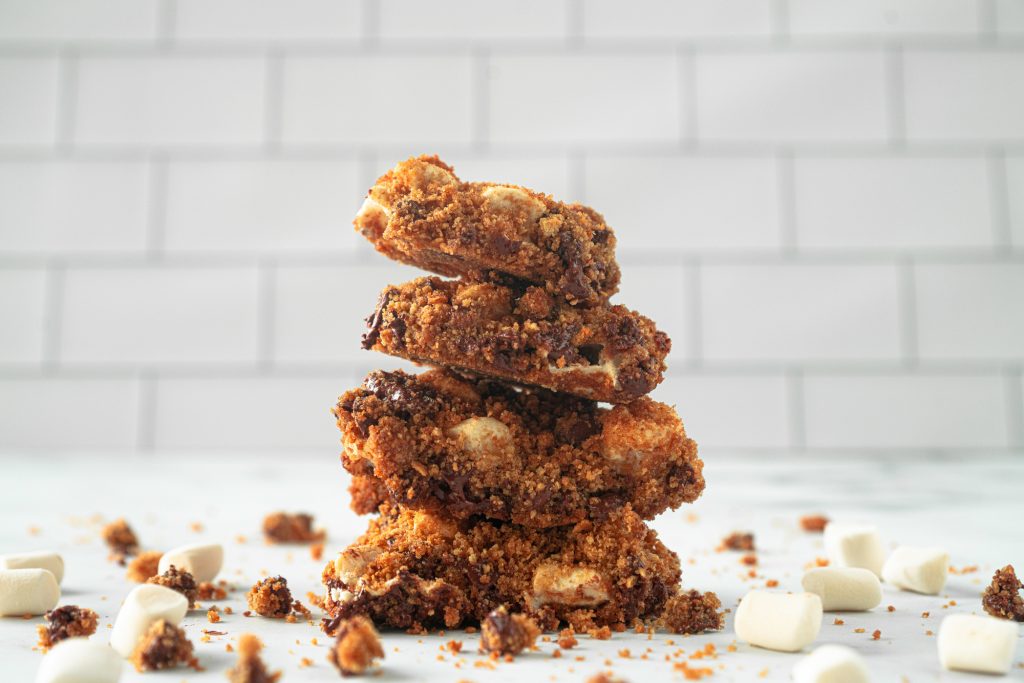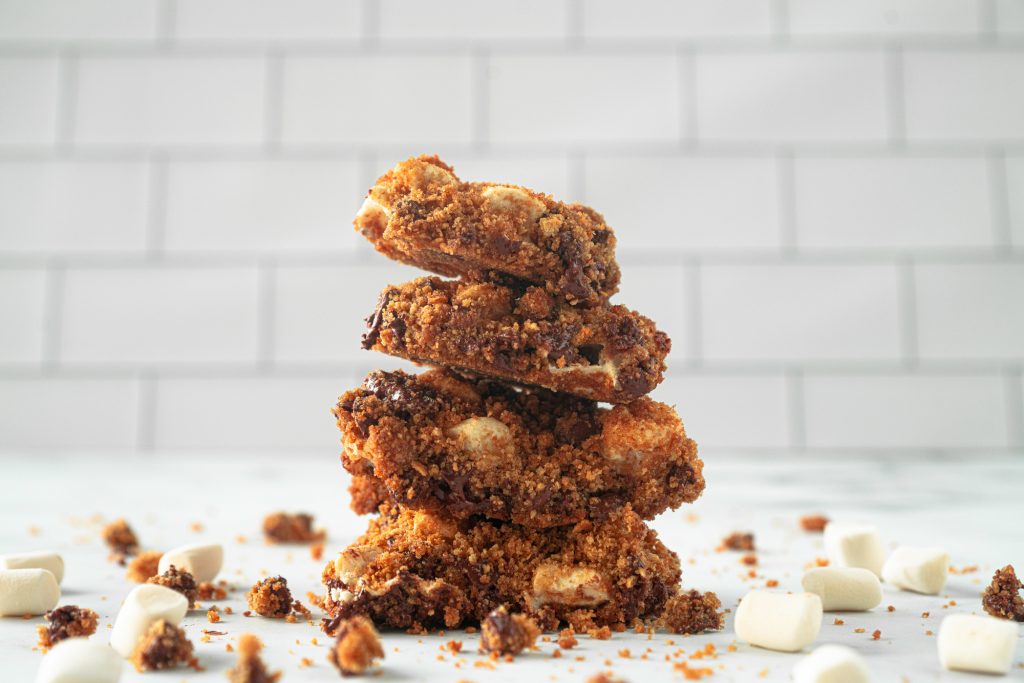 How To Make Vegan Smores Bars
Now we have finally come to the part where I tell you how to make these incredibly easy vegan smores bars!
First, you want to make graham cracker crumbs. This is quite easy to do by using a blender or by putting the graham crackers into a baggie and crushing them with a rolling pin or plate.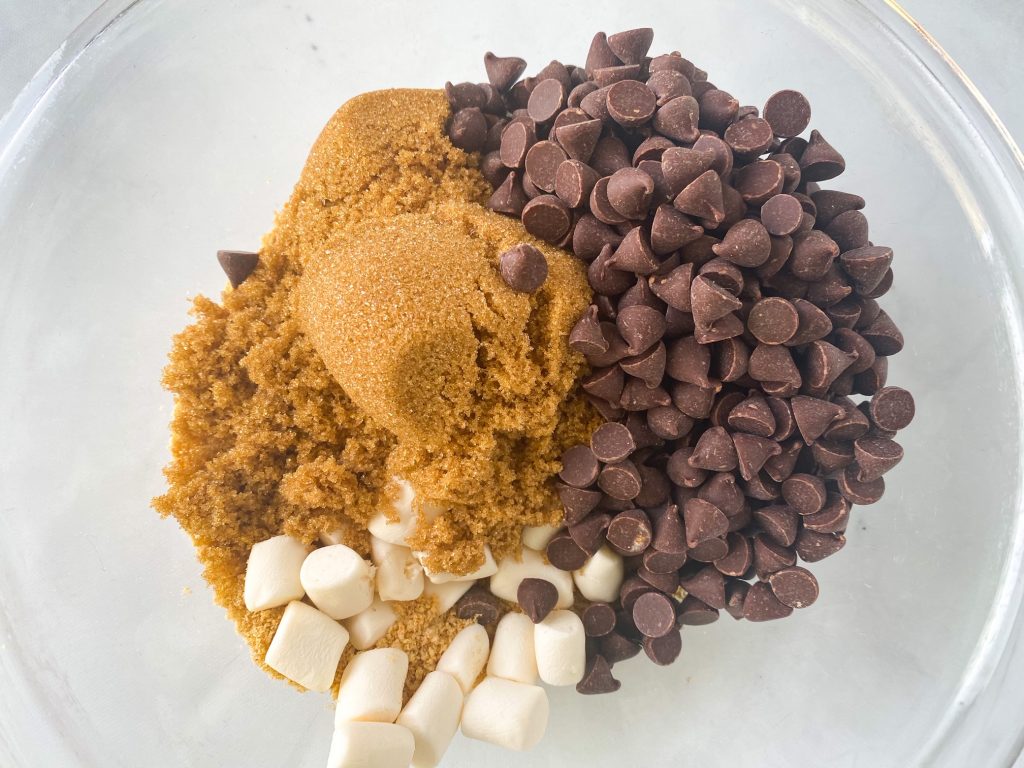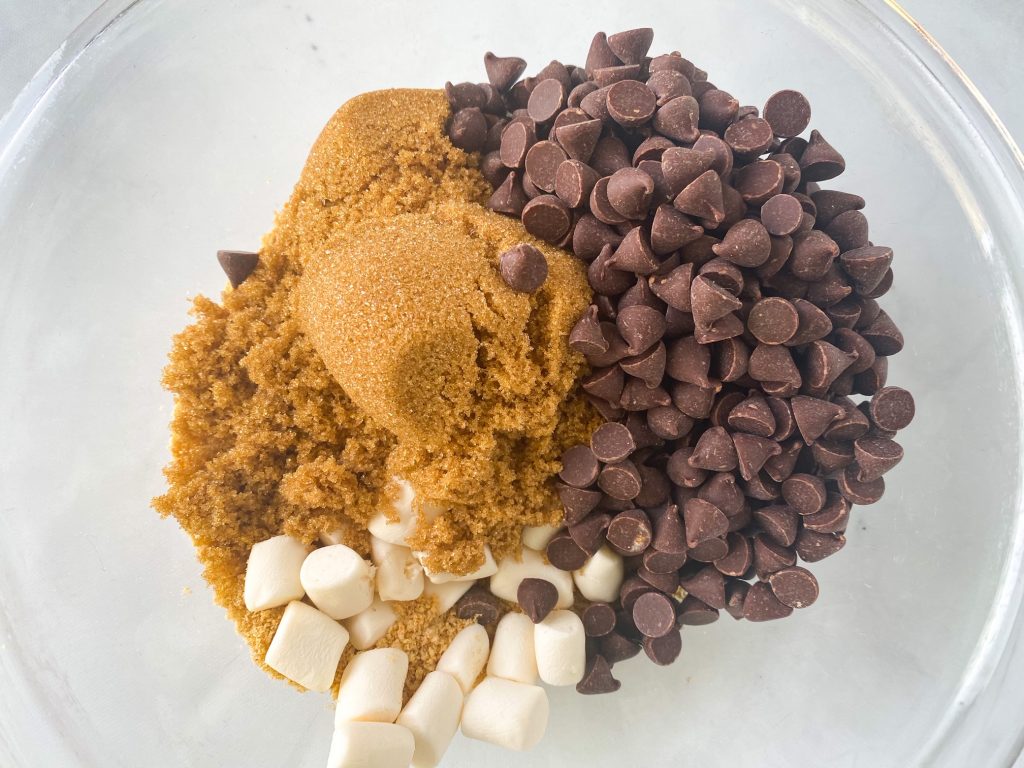 Next, melt butter on high heat until liquid and add in the vanilla.
In a bowl mix the graham cracker crumbs, brown sugar, chocolate chips, and marshmallows until combined.
Add your butter to the dry ingredients and mix until the liquid coats everything.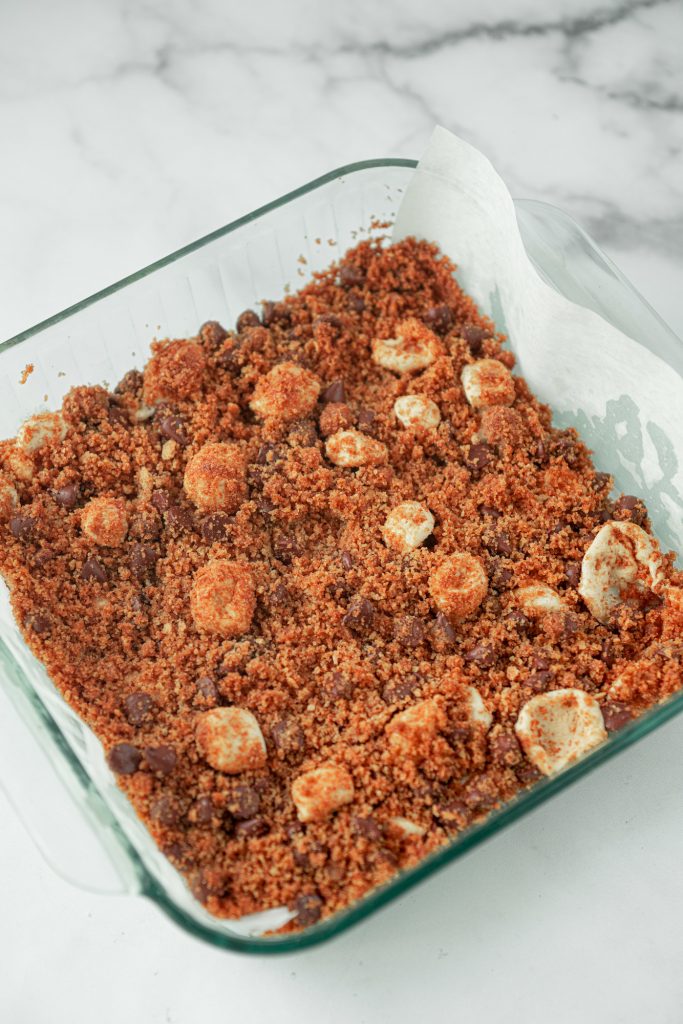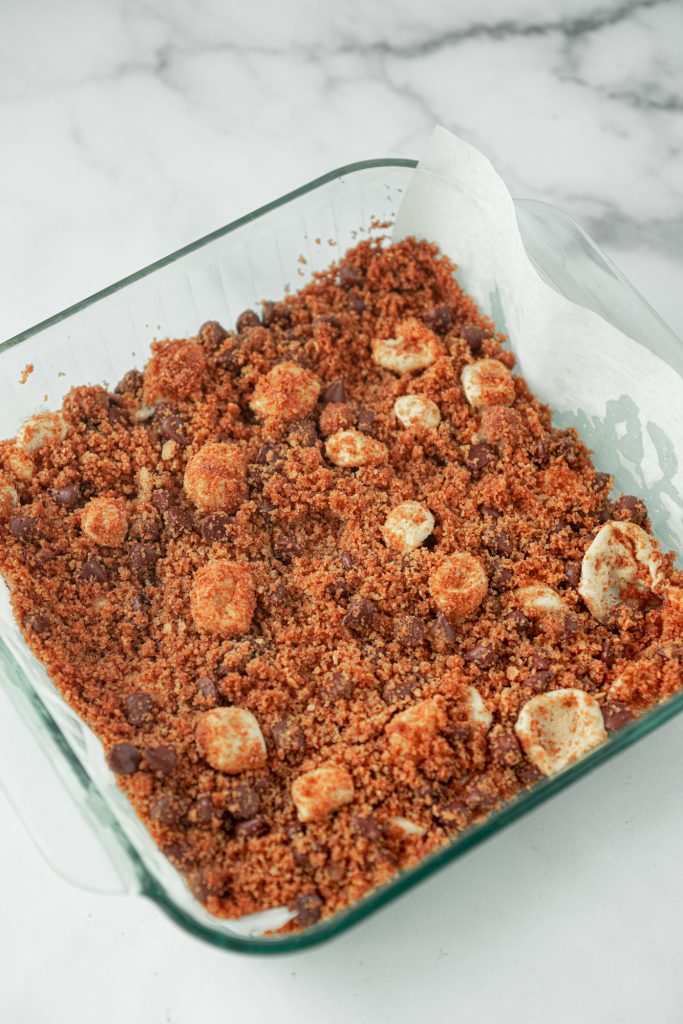 Now, I highly recommend lining your baking dish as things can stick and this is an easy way to remove your smores bars.
I cut out a little piece of parchment and line the inside and leave two "flaps" on either side so that I can pull out the bars.
Pour your mixture into the dish and bake for 15 minutes!
Allow the smores bars to cool and then cut into squares and serve!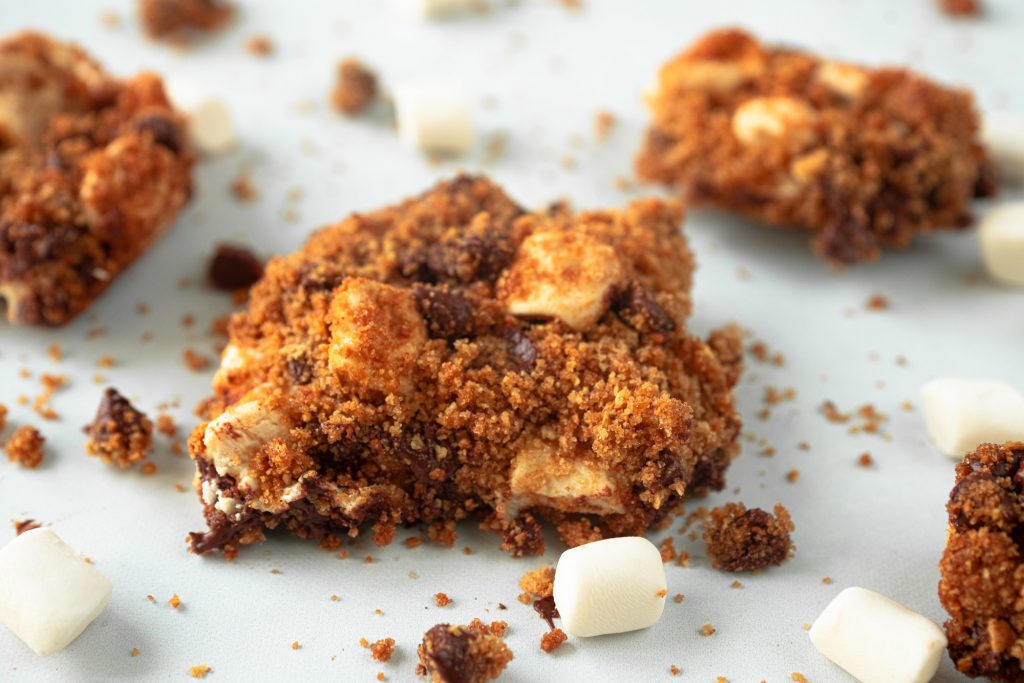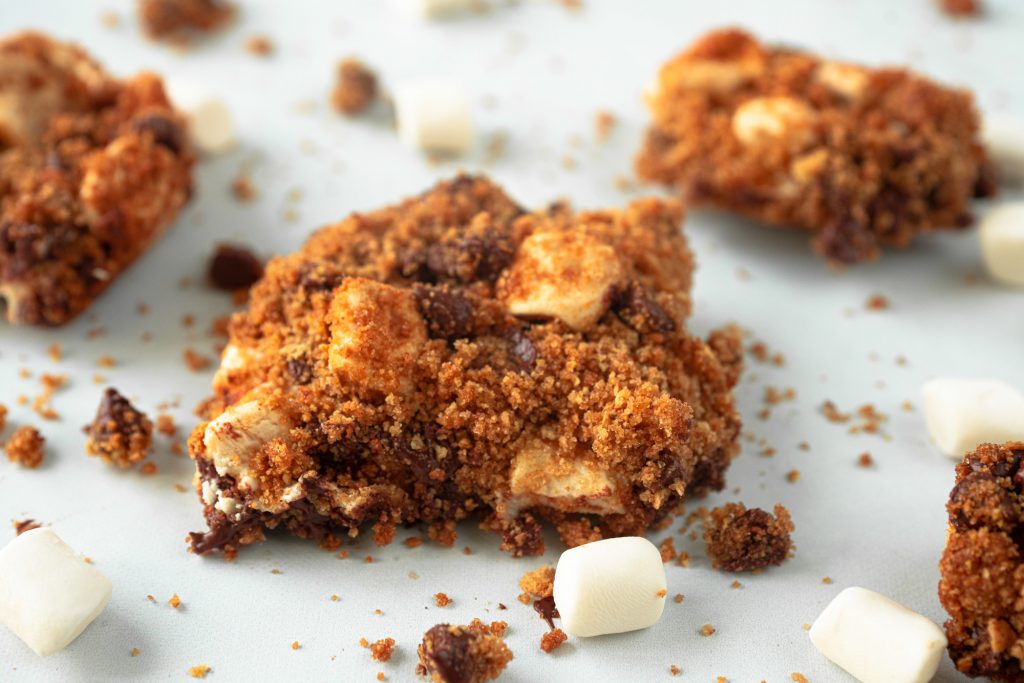 How To Store The Vegan Smores Bars
The vegan smores bars actually store really well!
For the first 2-3 days, you can store them covered and on the kitchen counter.
Then you will want to move them to the fridge in an air-tight container.
This is perfect in case you want to make the smores bars ahead for a party or just want to keep eating them as a treat throughout the week!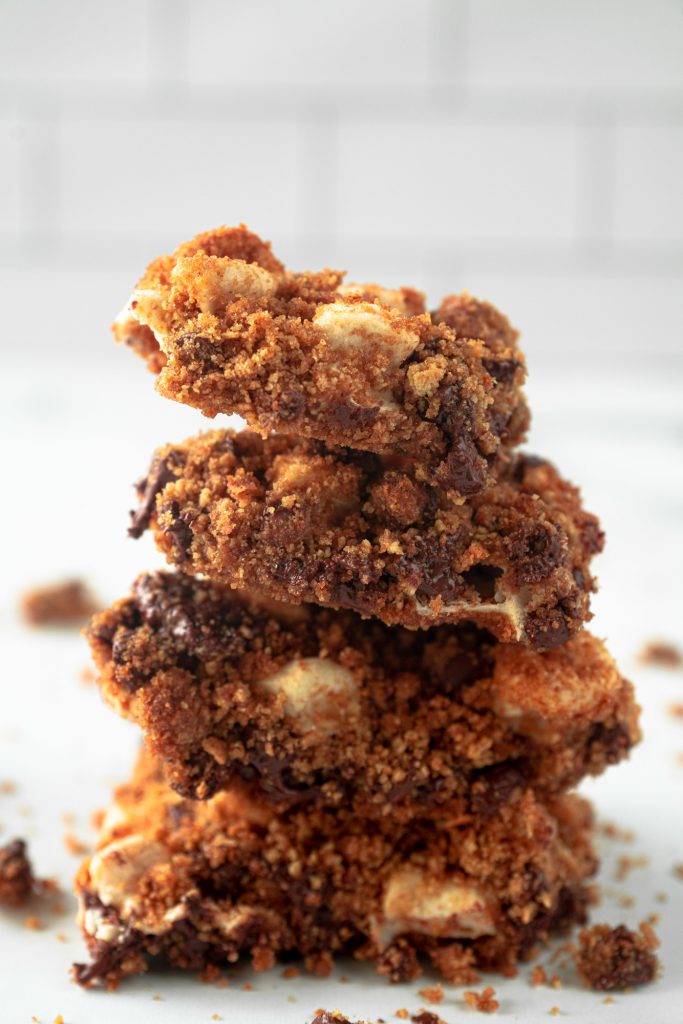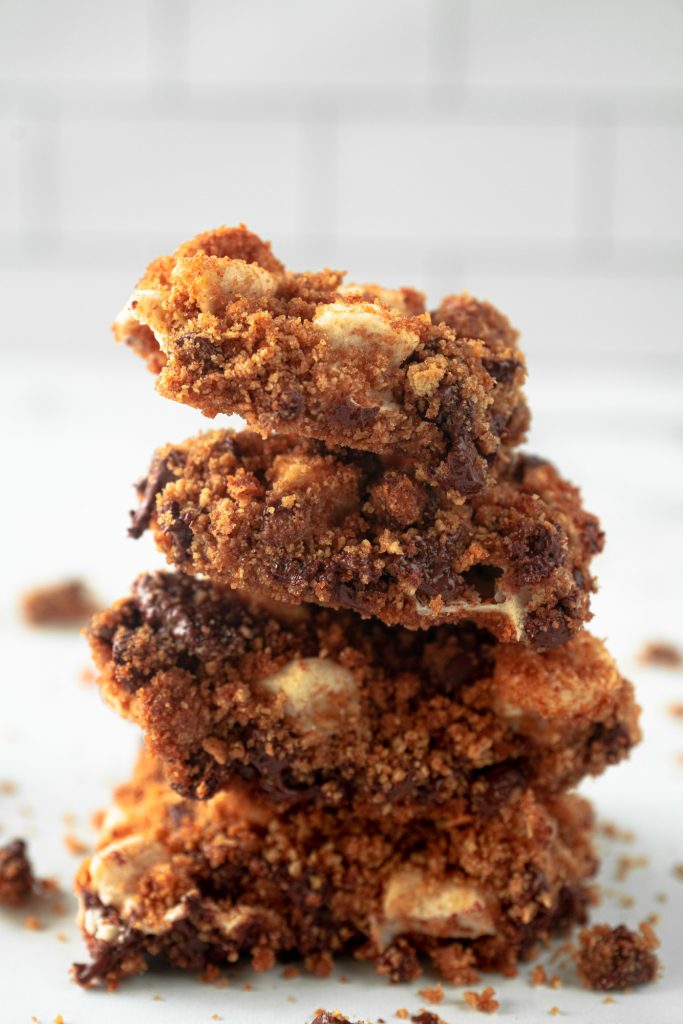 Did You Try This Recipe?
If so, I would love to keep in touch! I enjoy seeing photos and comments about the recipes that you make! You can follow me on Instagram and I will repost your goodies in my stories and comment on it too! Just tag me at @wowitsveggie and hashtag #wowitsveggie. I can't wait to see what you make!
Yield: 2 dozen small squares
Easy Vegan Smores Bars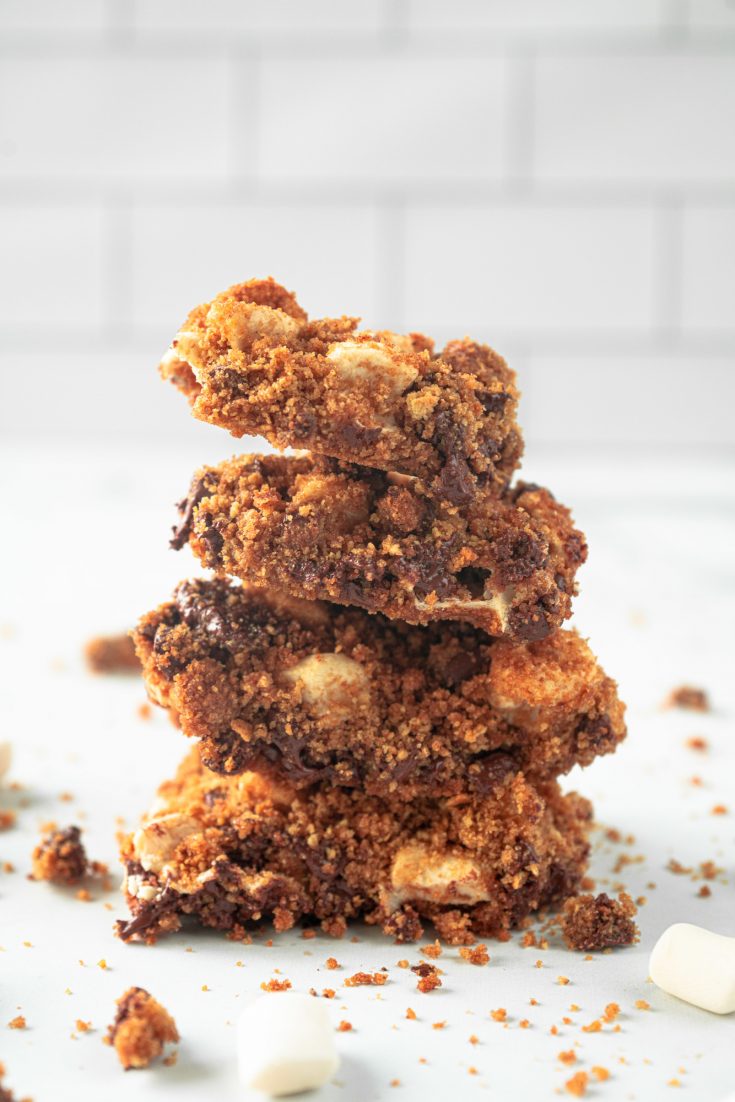 These vegan smores bars bring the campfire classic home to you! They take just 15 minutes to bake and use only 6 ingredients which means they get in your belly that much faster.
This recipe is for the sugar lover as these bars are quite sweet and really do taste like a smore!
Ingredients
1/2 cup vegan butter
1 teaspoon vanilla extract
1 cup vegan chocolate chips
1/3 cup vegan marshmallows (or to taste!)
3/4 cup brown or white sugar
1 cup graham cracker crumbs
Instructions
Preheat your oven to 350F and line a 9x9 baking dish with parchment or foil. This is to help you easily take the vegan smores bars out of the dish for serving!
In a small pot over medium heat, melt vegan butter. Once melted, remove from heat and add vanilla. You can Make Your Own Vegan Butter if you want!
In a bowl, mix brown sugar, marshmallows, chocolate chips, and graham cracker crumbs until combined. Mix in the melted vegan butter and and stir until the liquid coats all the dry ingredients.
Pour into the baking dish and cook for 15 minutes. Be careful not to overcook of the vegan marshmallows will get tough. Let cool and remove bars from pan and cut into squares!
Nutrition Information
Yield
14
Serving Size
1
Amount Per Serving
Calories

190
Total Fat

11g
Saturated Fat

6g
Trans Fat

0g
Unsaturated Fat

4g
Cholesterol

17mg
Sodium

82mg
Carbohydrates

24g
Fiber

1g
Sugar

20g
Protein

1g