If you have never had vegan scallops before, you are in for a real treat.
Vegan scallops actually have quite a similar texture to real scallops and are quite easy to make.
They also elevate any dish and you can plate them pretty much any way you want. I show you three ways to plate and serve them too.
My vegan scallops are cooked in a savory lemon garlic butter and topped with fresh basil.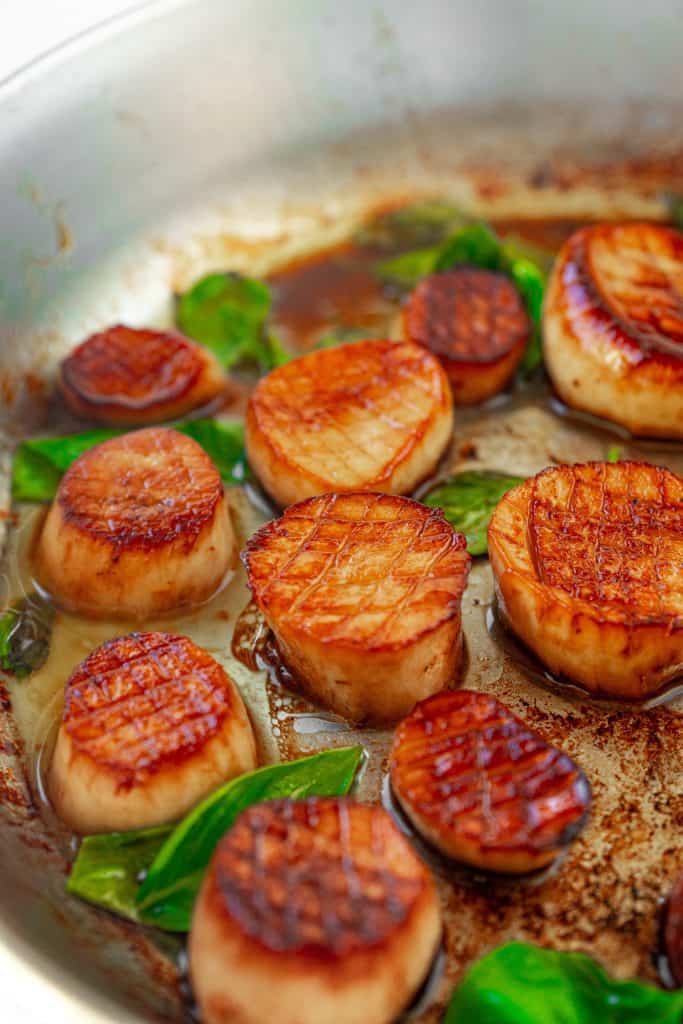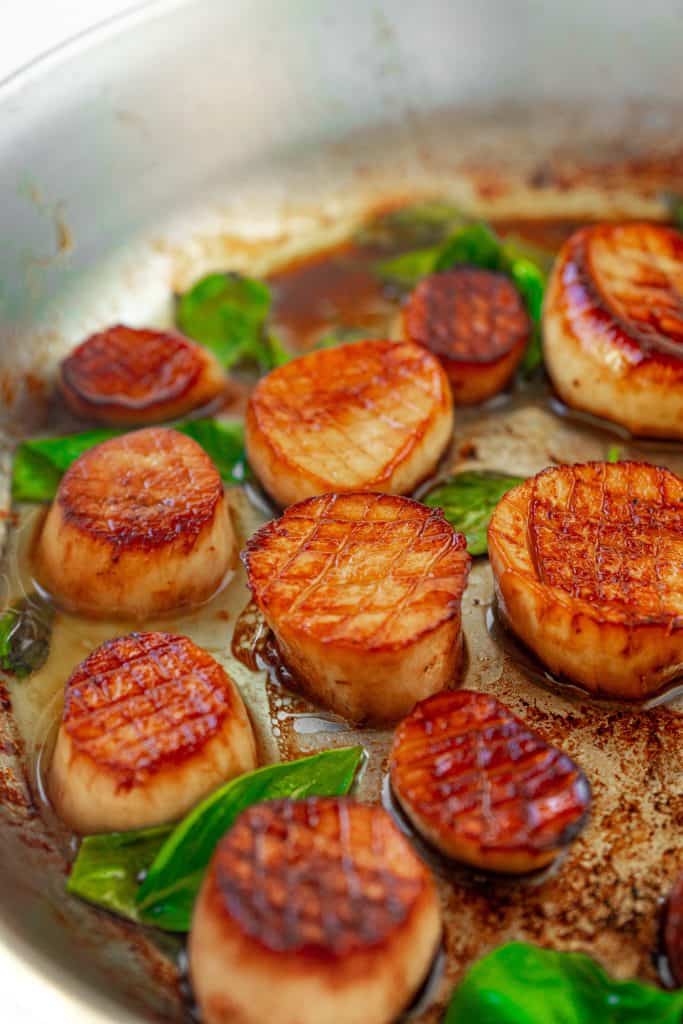 The key to tasty vegan dishes is to season and cook them the same way you would meat.
That means you don't want to skimp on the seasoning. If regular scallops are cooked in savory butter, why not cook yours in Vegan Butter and garlic the same way?
It tastes amazing and is cruelty free!
The way to make scallops vegan is to use king oyster mushrooms.
Now, depending on where you live, you may have a hard time finding king oyster mushrooms.
They are very popular in some areas and not so much in others.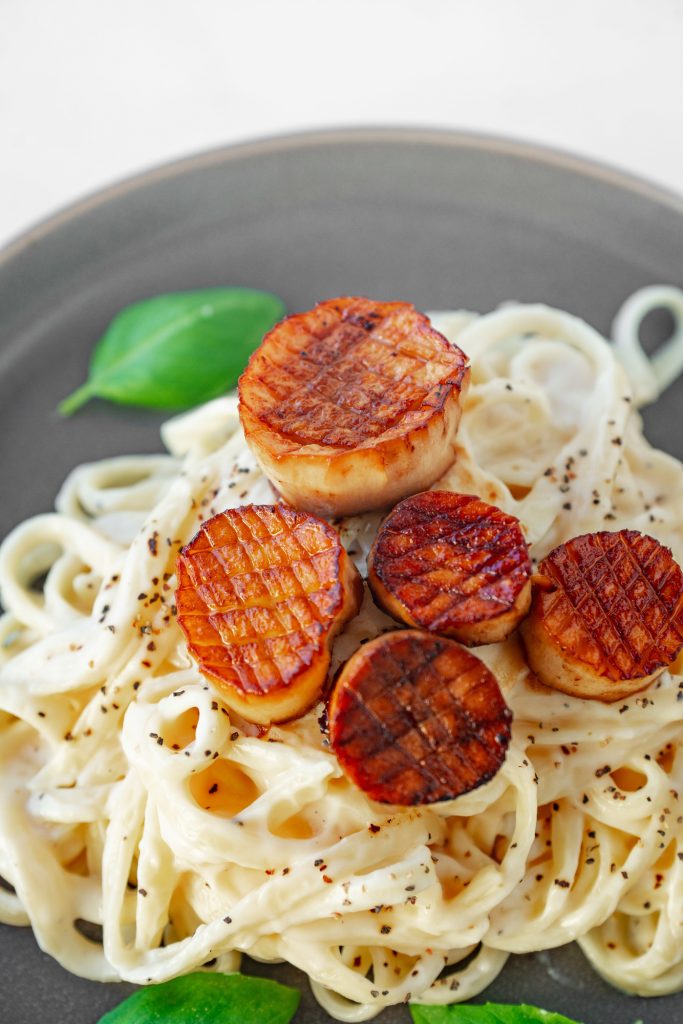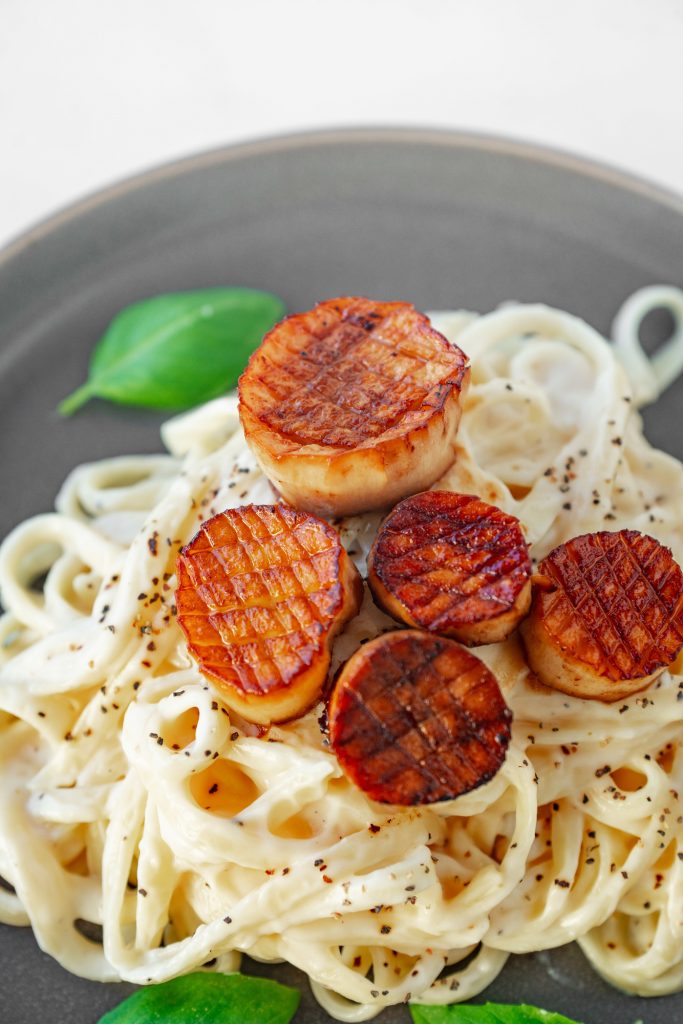 If you can't find any nearby you, I recommend checking to see if you have an Asian Market nearby or a large farmers market. Call ahead and ask!
I had to drive 40 minutes to a large Asian market in my area to procure my king oyster mushrooms as they are not so popular in Florida.
Either way, making king oyster mushroom scallops is totally worth it at the end of the day.
You are going to be amazed at how this recipe comes out and you are going to use it to impress all of your friends!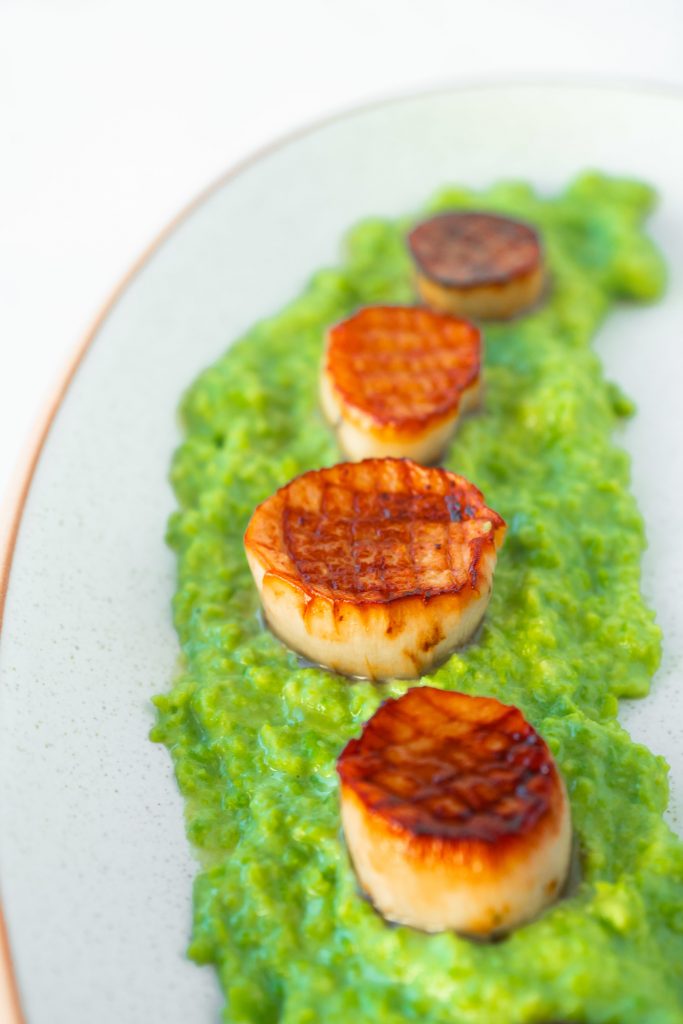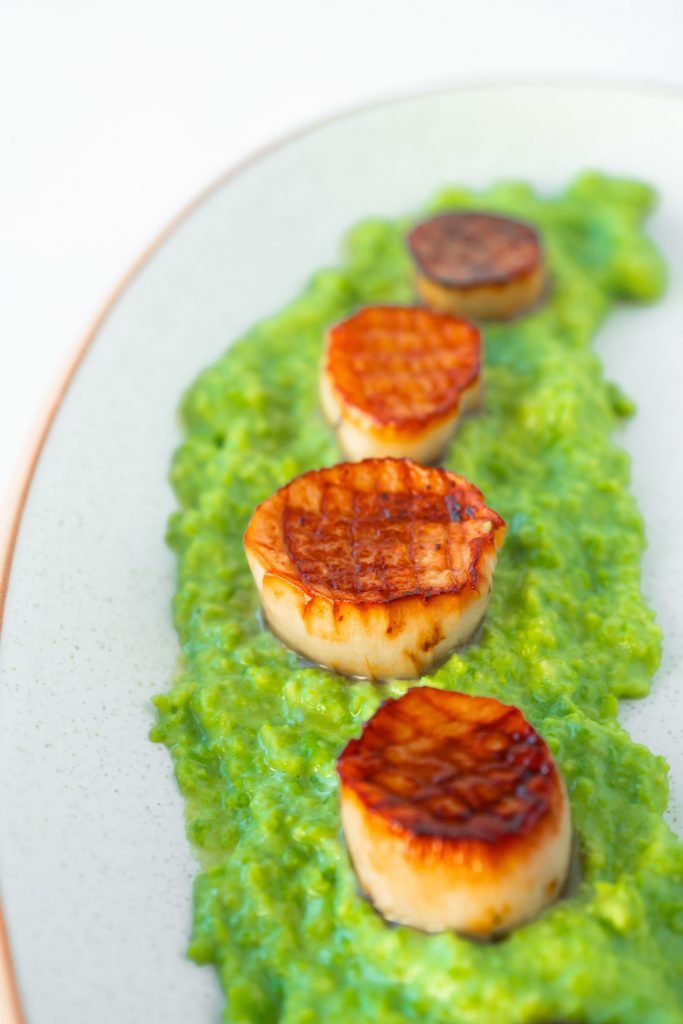 How To Prepare The King Oyster Mushrooms for Scallops
If you aren't familiar, king oyster mushrooms are literally huge, like the size of your hand!
They range in size from "pretty large for a mushroom" to "legit massive" and they are quite impressive.
This is why king oyster mushrooms are so good for making scallops.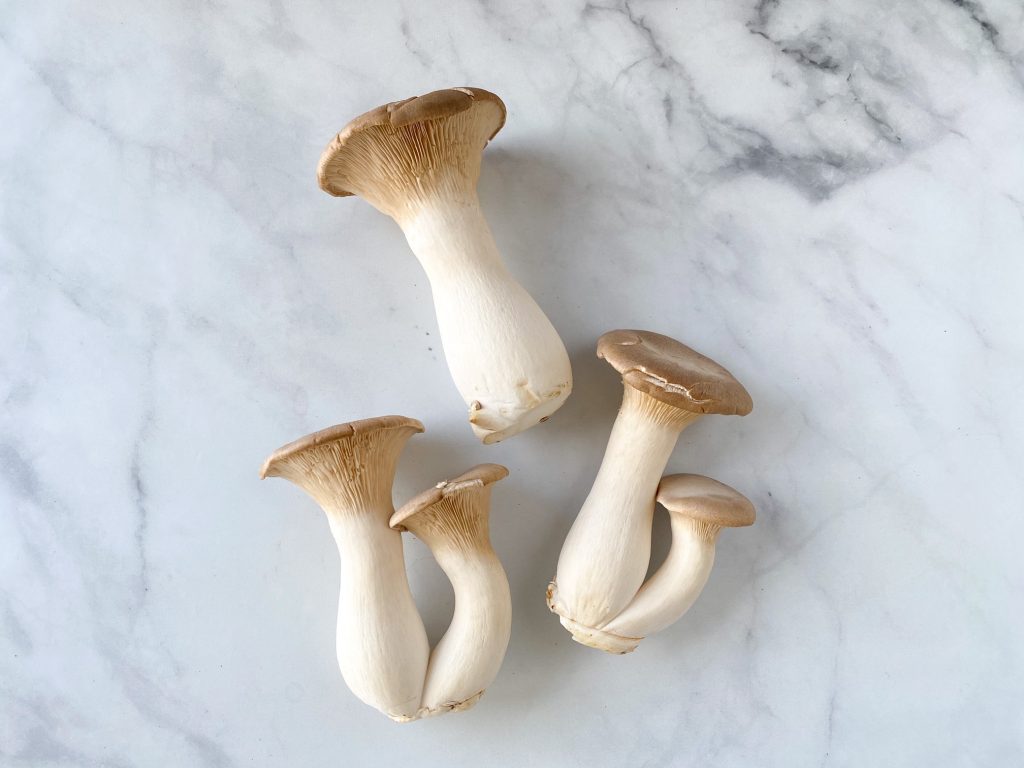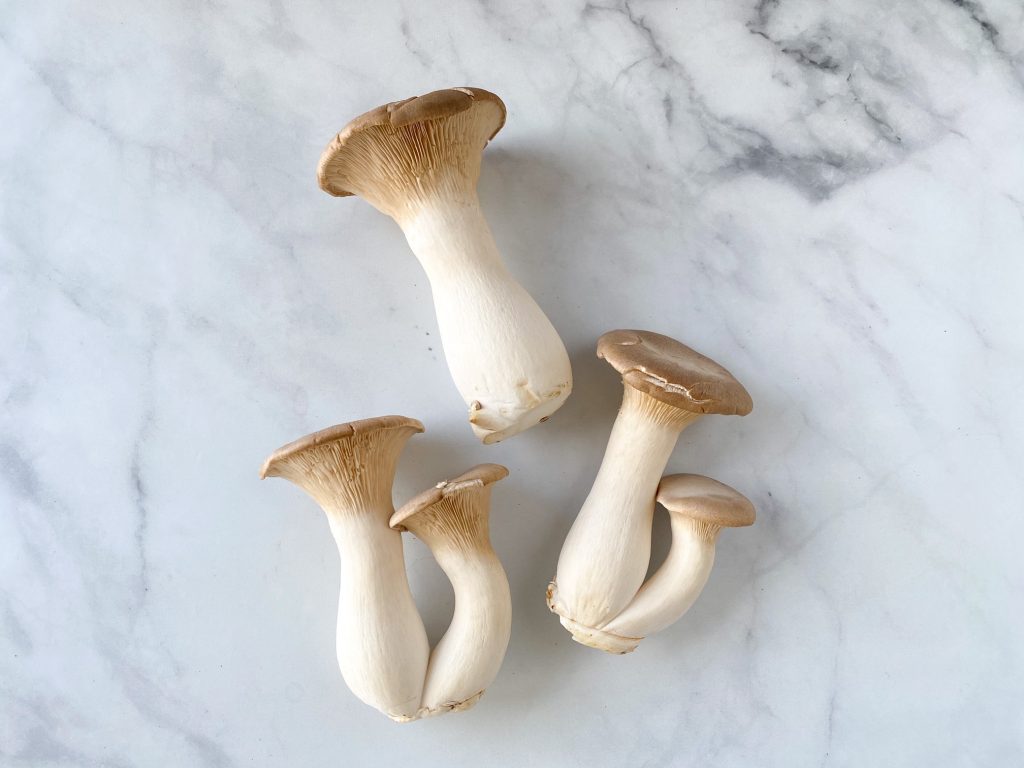 You are going to use the huge stem of the mushrooms to make the scallops shape.
Unlike most mushrooms, king oyster mushrooms have a very tough stem that is succulent when cooked. It isn't at all like a portobello mushroom or a regular white button mushroom.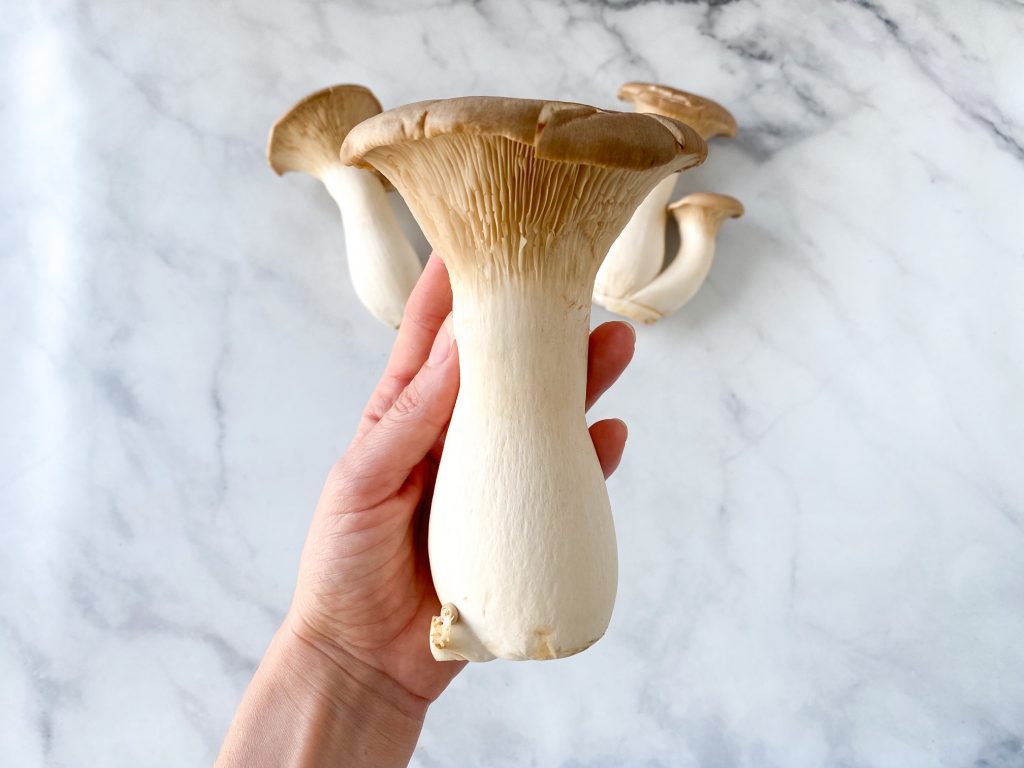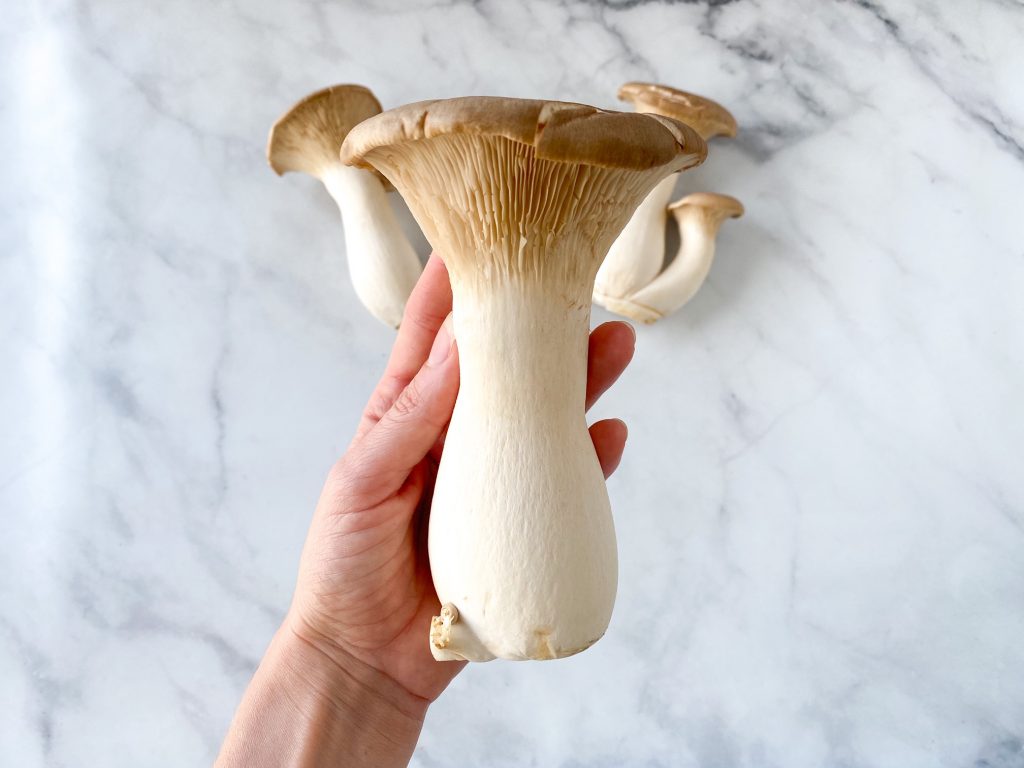 To prepare your king oyster mushroom scallops, you will slice the stems into about 1-inch thick pieces.
Once you get to a part of the stem that is too narrow, that is when you stop cutting.
Depending on the size of your king oyster mushroom, you will probably get 1-3 scallops per mushroom.
Then, you are going to want to cut crosswise on the flat top and bottom of each stem piece.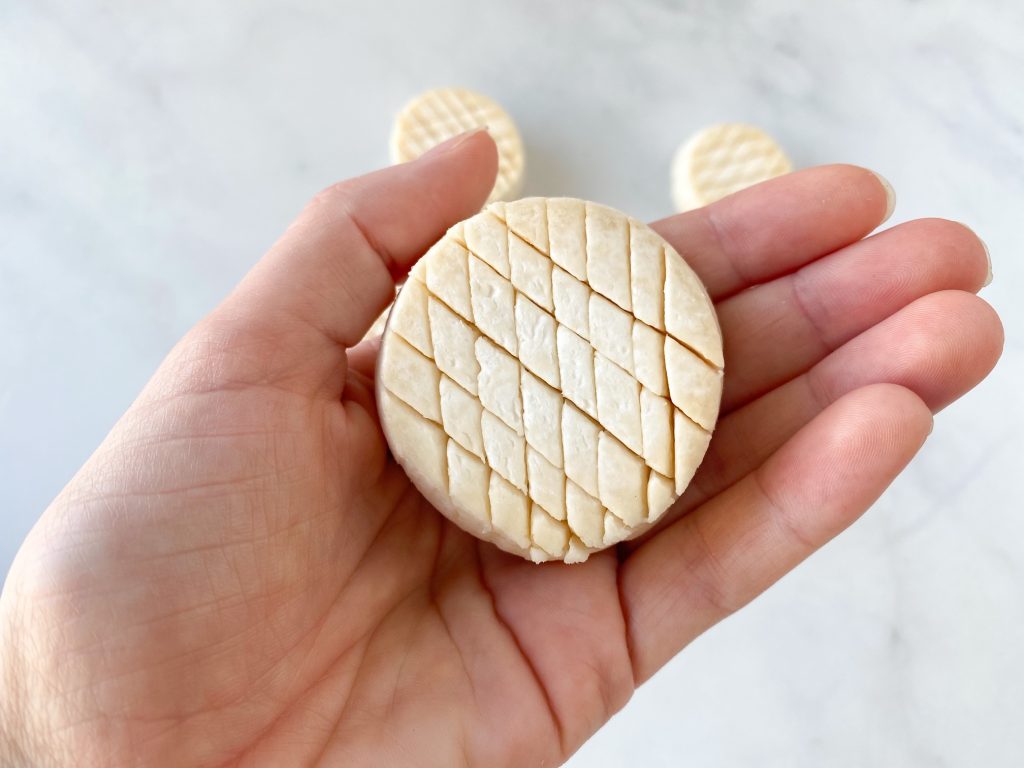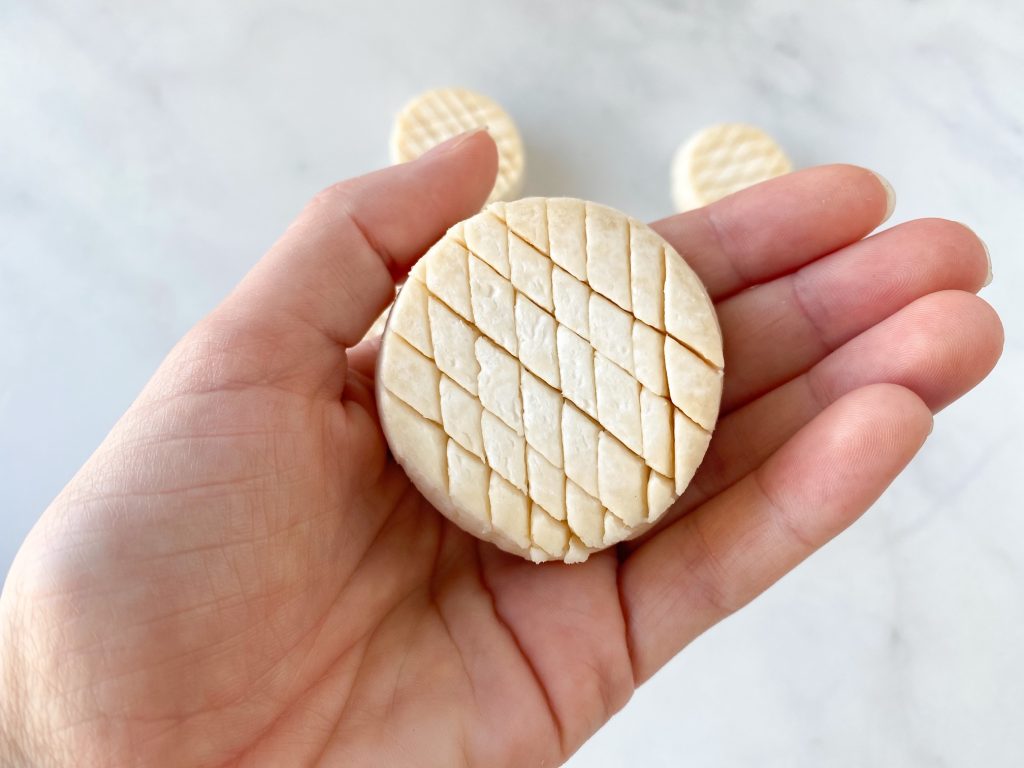 This is going to help you create that authentic "scallop look" and will help your mushroom absorb the flavors during cooking.
Start by cutting slightly with a sharp knife. You do NOT want to cut all the way through, just enough to make a design. Then, on a slight bias, cut in the opposite direction.
Again, be careful not to cut all the way through!
And that is it! The cutting the cross marks into the vegan scallops is actually quite satisfying as they begin to take the shape of scallops that you may recognize!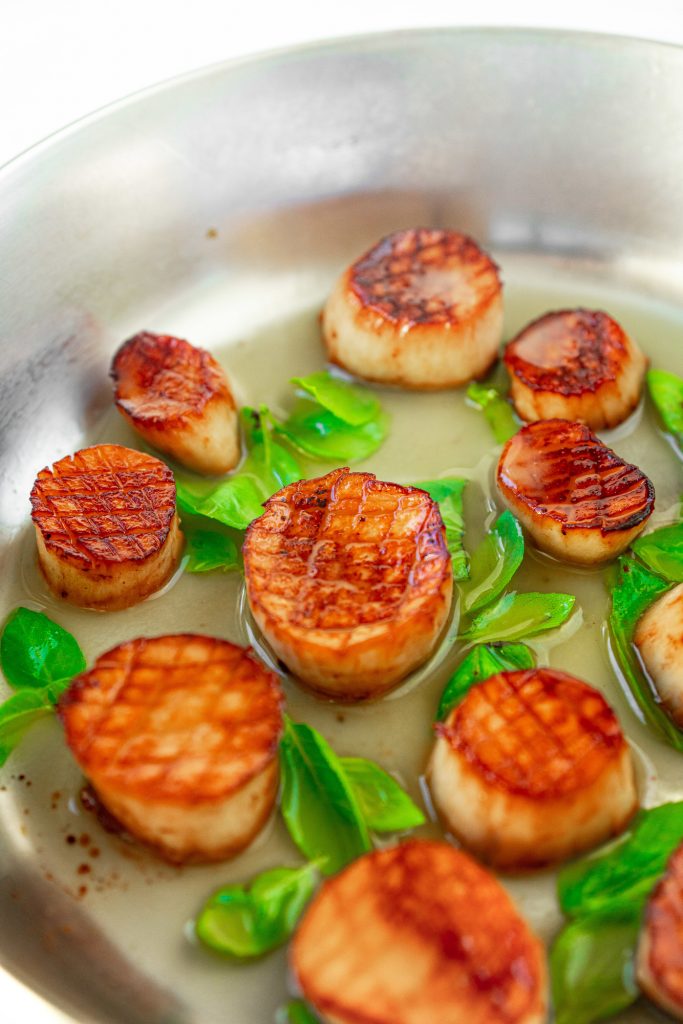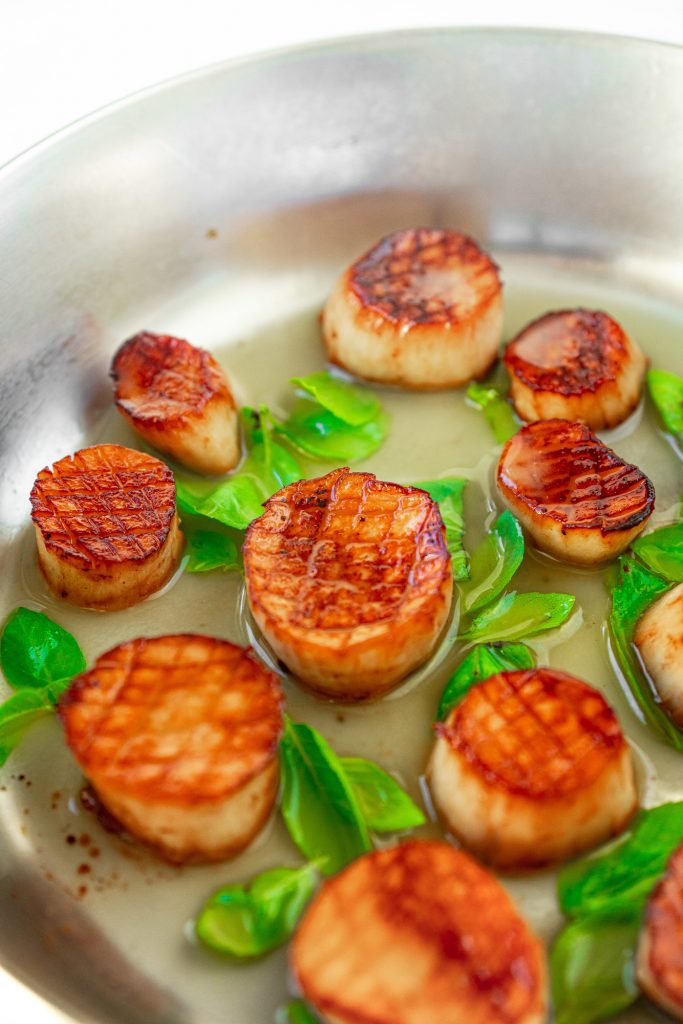 How To Make Vegan Scallops
Now that you prepared your king oyster mushrooms, it is time to make the scallops!
You can season and prepare them any way you want! Try it my way one time, and then you are free to change it up!
In a bowl, you are going to want to mix water, white miso paste, soy sauce, salt, and kelp granules.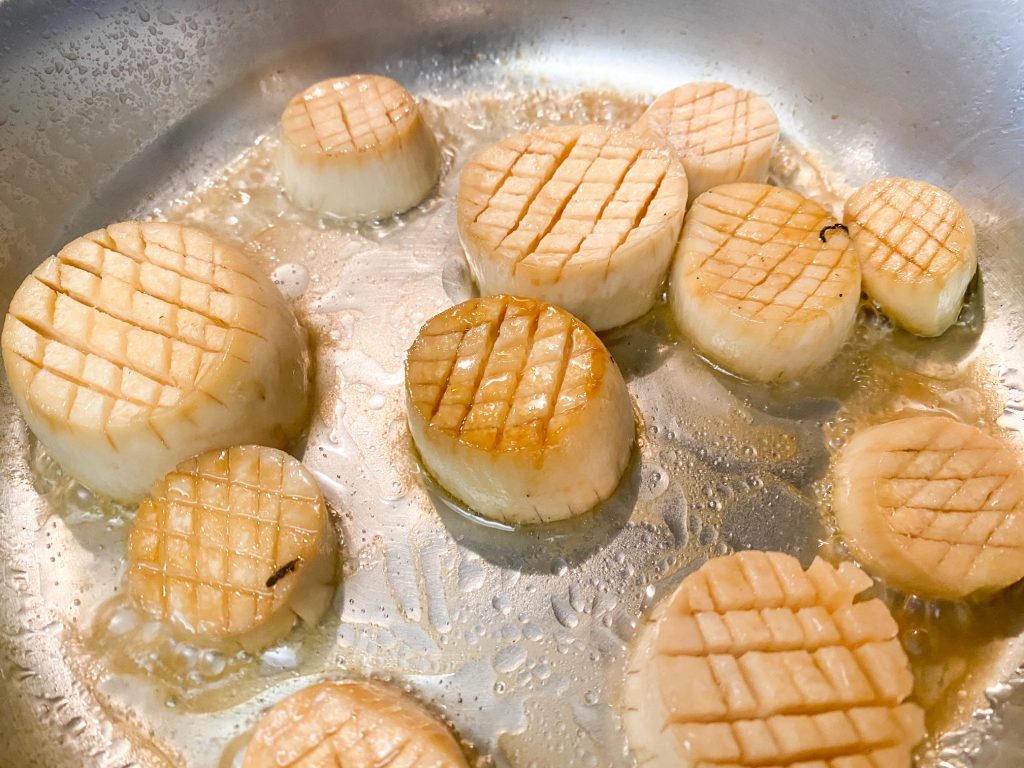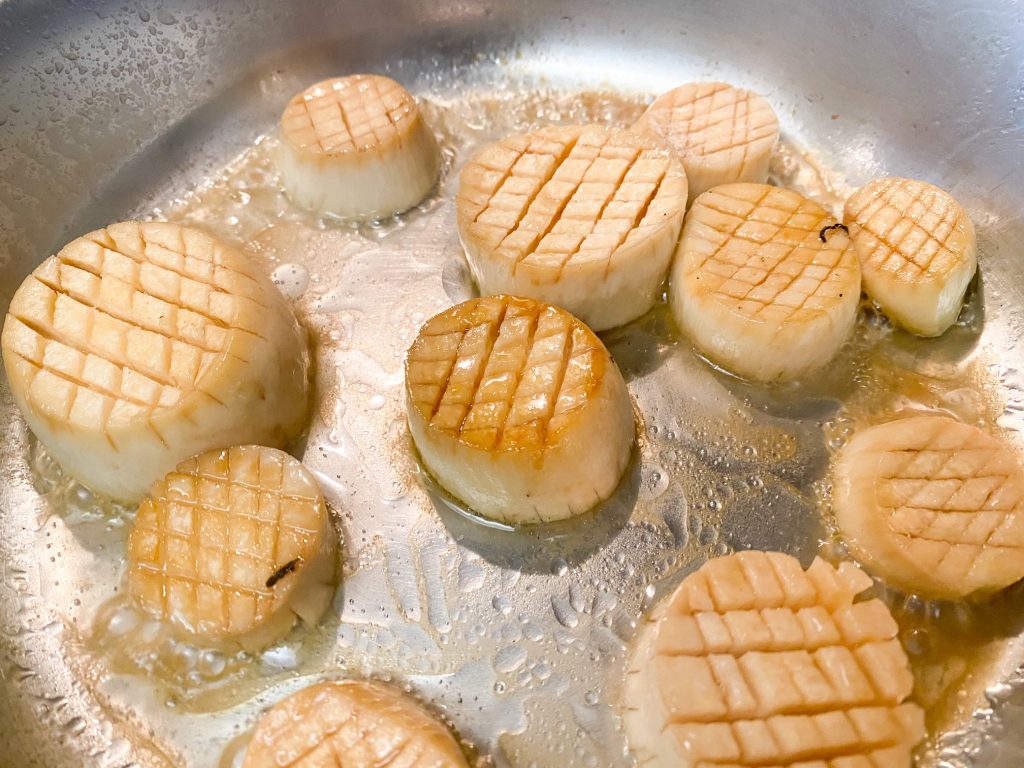 If you want a seafood flavor, you need to be sure to add the kelp granules or else it won't come out with the flavor of regular scallops.
If you aren't a seafood fan and still want a tasty dish, leave the kelp granules off!
Kelp granules are actually very healthy for you and you can find Kelp Granules on Amazon or at your local health food store.
I digress!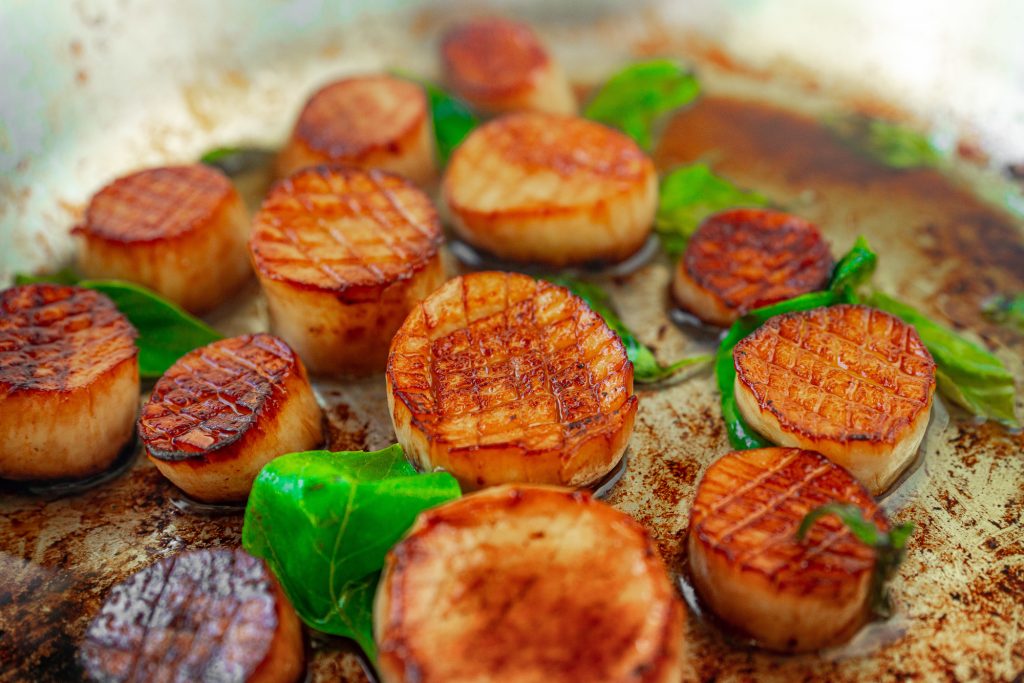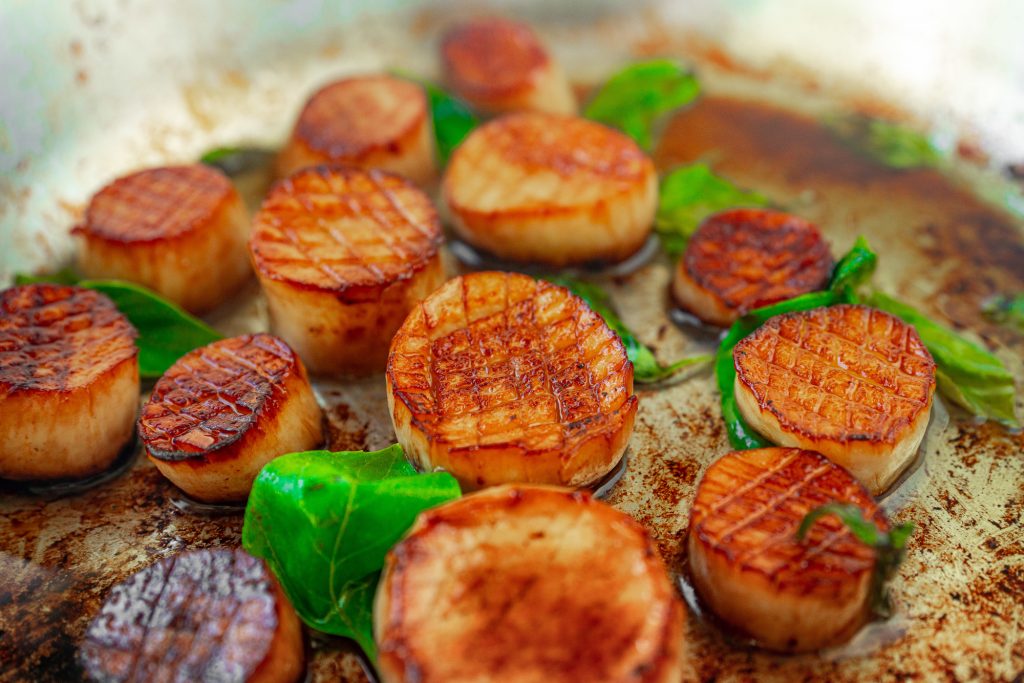 So soak your king oyster mushrooms in the miso/tamari/water/kelp mixture. You can soak them for about 5-10 minutes or if you are short on time, just douse them and put them on your pan.
Use oil to grease your skillet and fry the mushrooms until golden brown.
Be careful not to burn the vegan scallops. If your heat is too high, this will happen pretty quickly!
Make sure to turn the scallops a few times during cooking, but don't overcook.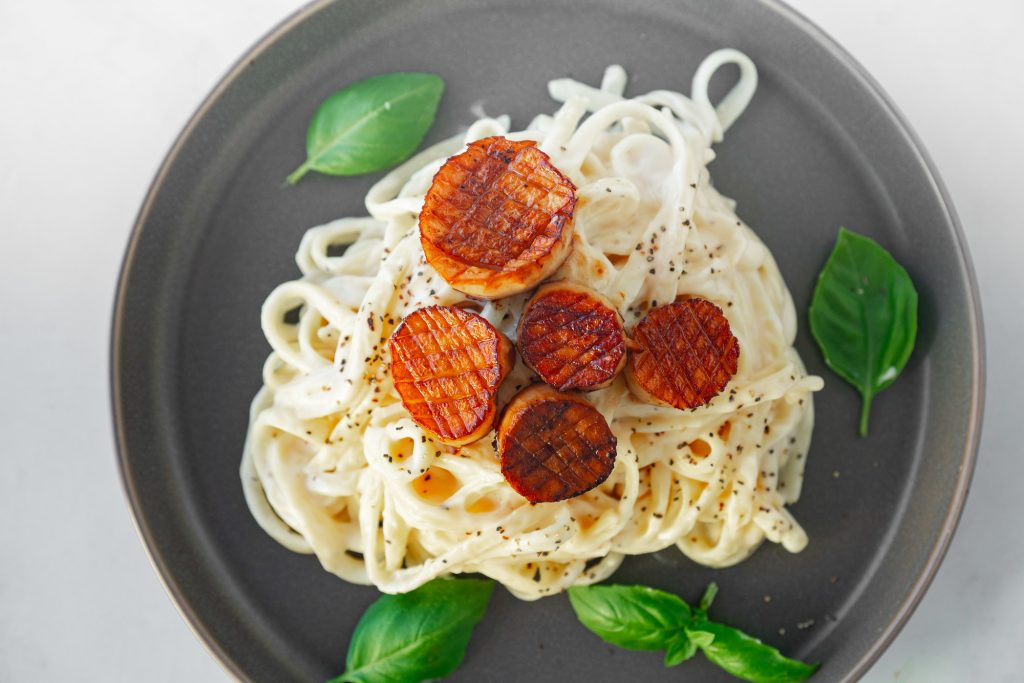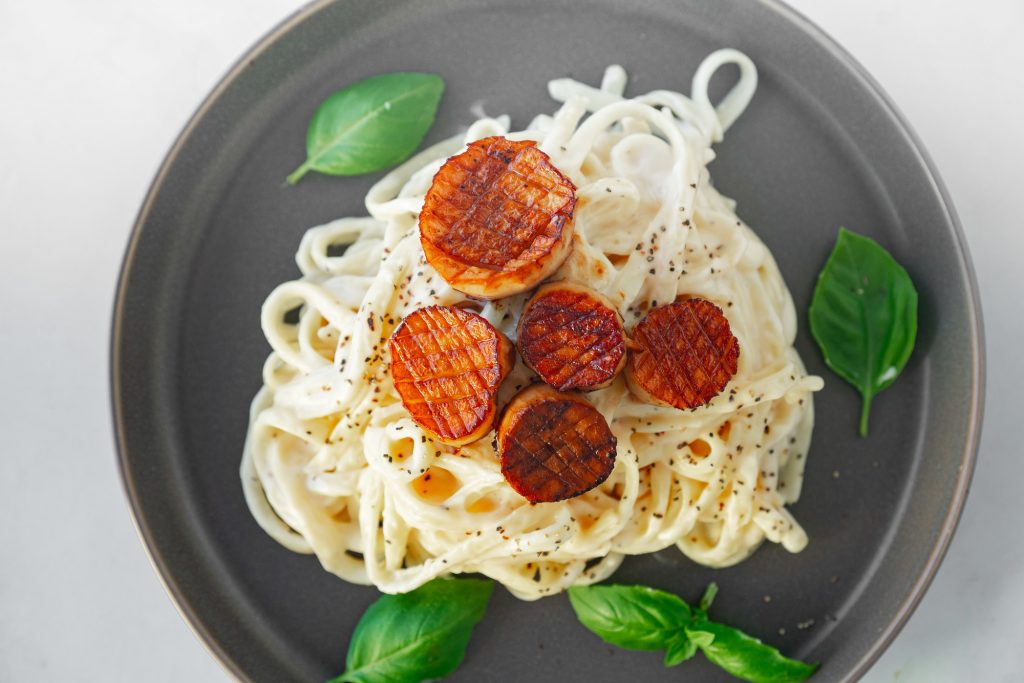 As soon as they are golden brown, they are done!
Melt your vegan butter in the same pan and add garlic. Cook until the garlic is fragrant.
I even have a recipe for Homemade Vegan Butter if you want to make your own.
Stir in the remaining butter and lemon juice. Toss in fresh basil and stir to combine.
And that is it! You just made vegan scallops!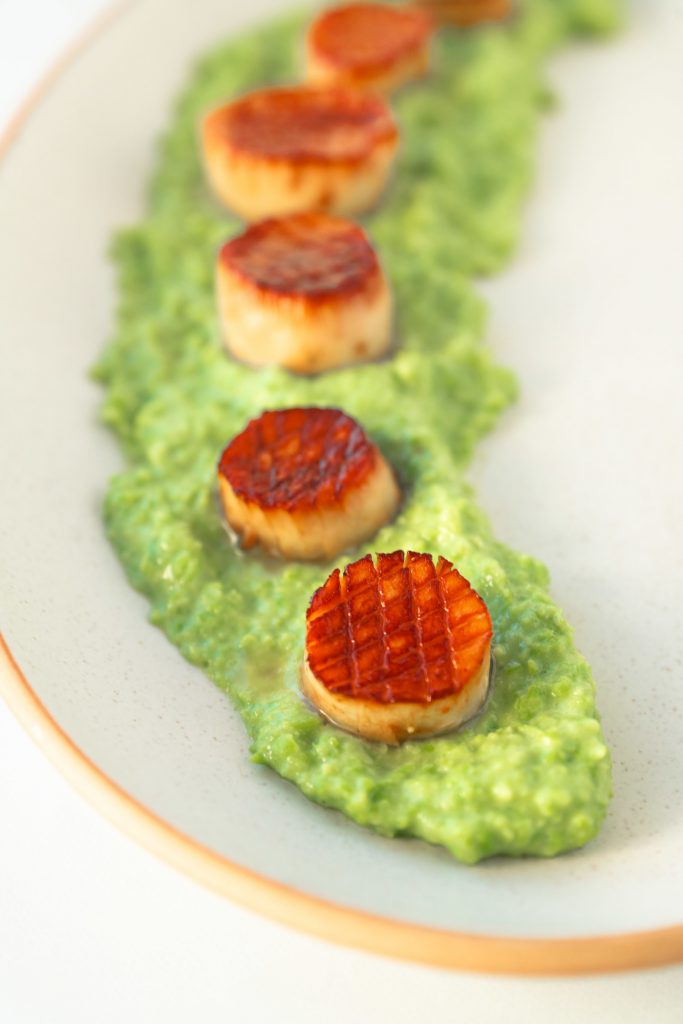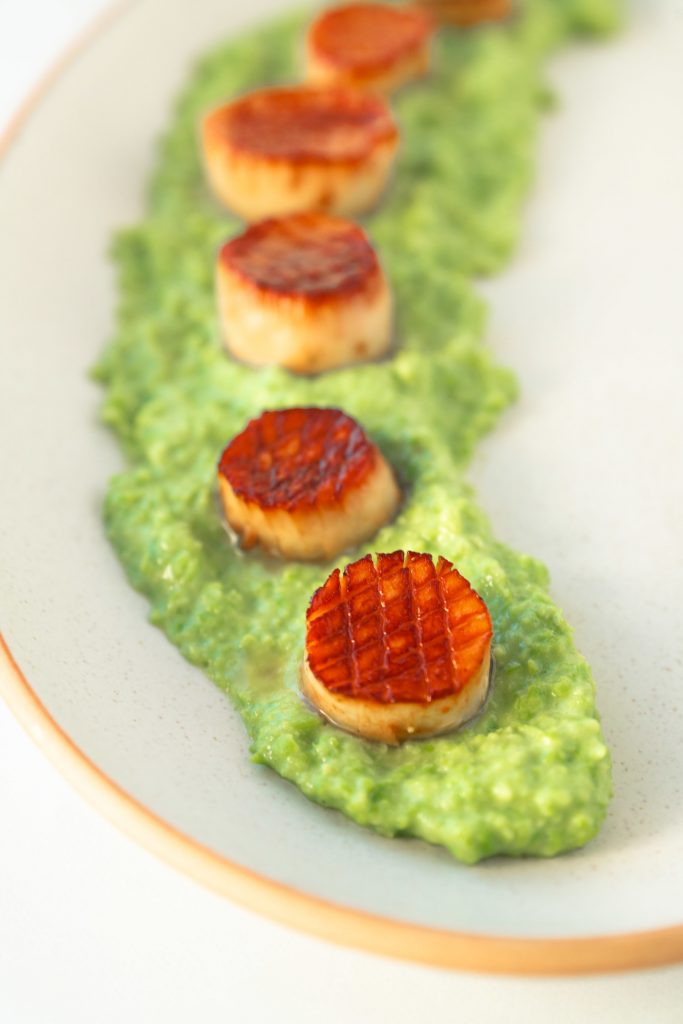 How To Serve Vegan Scallops
Serving king oyster mushroom scallops is pretty easy!
You can serve them the way you serve any regular seafood scallops. Over rice, pasta, garlic toast and more.
I love serving these scallops over Creamy Vegan Alfredo! It makes for such a lovely addition to the pasta and will really impress your friends.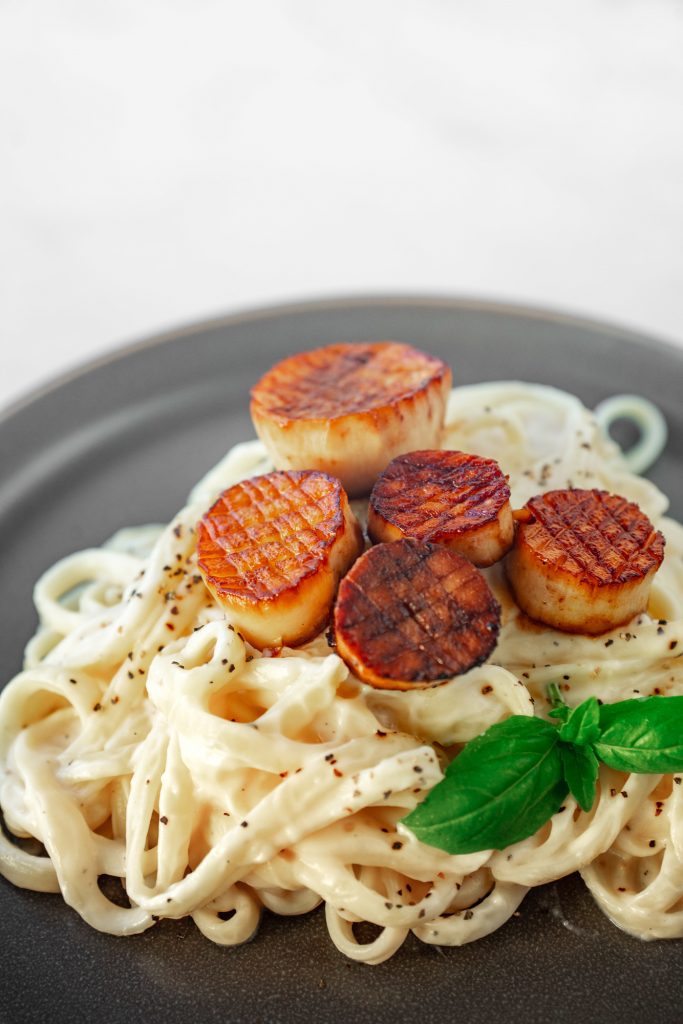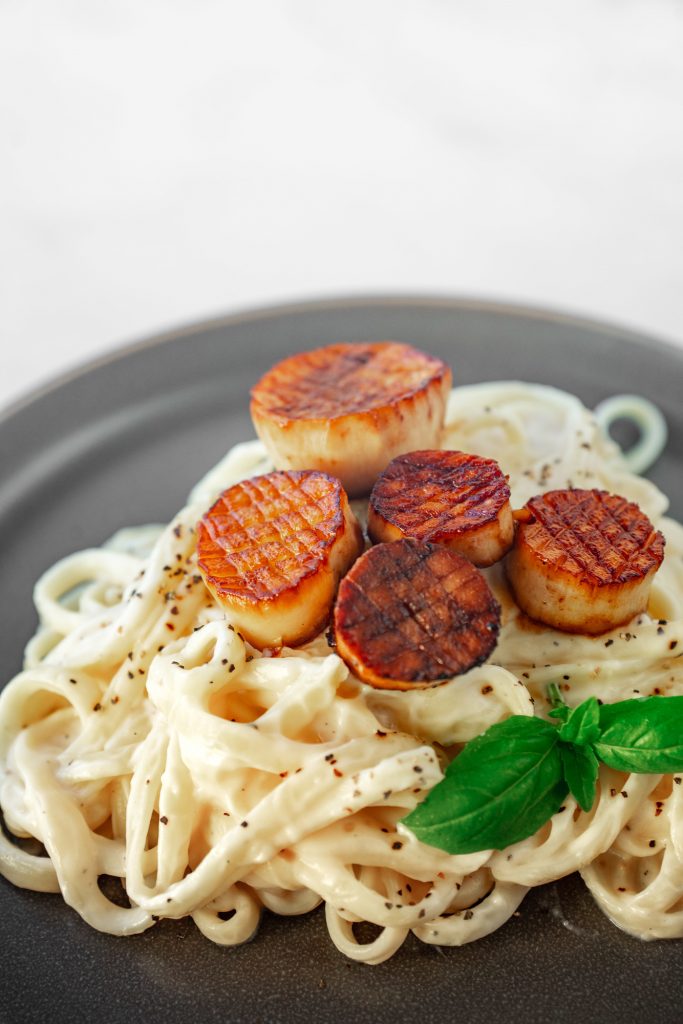 If you really want to get into the plating, you can serve the vegan scallops over a truffle pea puree.
Put your peas, salt, garlic, and a splash of truffle oil into the food processor and blend until smooth.
If the pea puree is clumpy and not smooth, add water in 2 tablespoons at a time until it is spreadable like a hummus.
These are two easy and delicious ways that you can serve vegan scallops!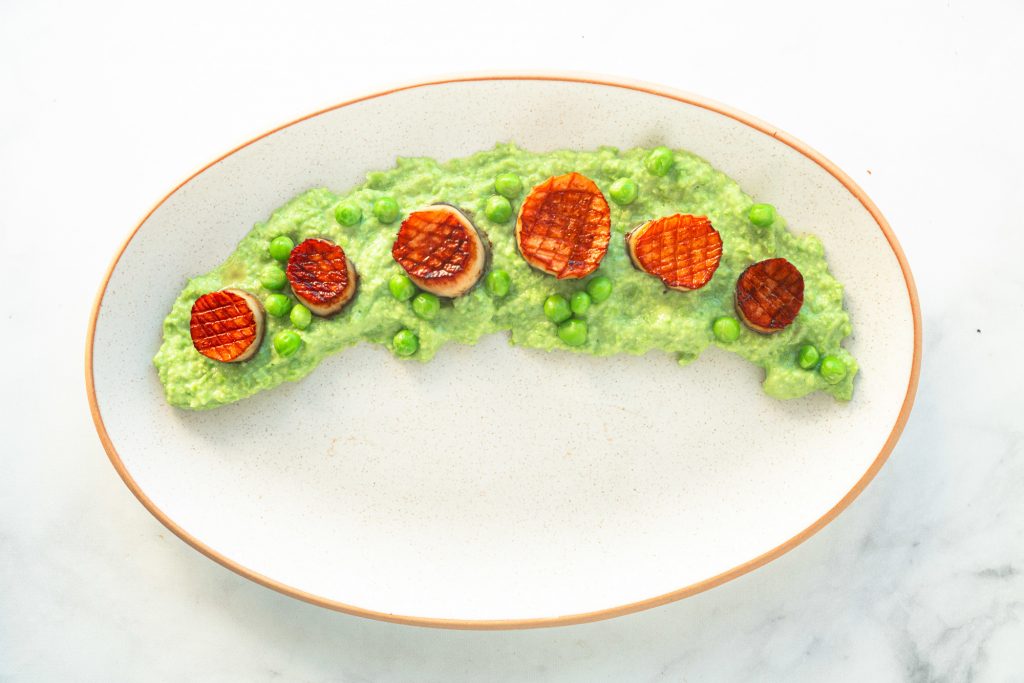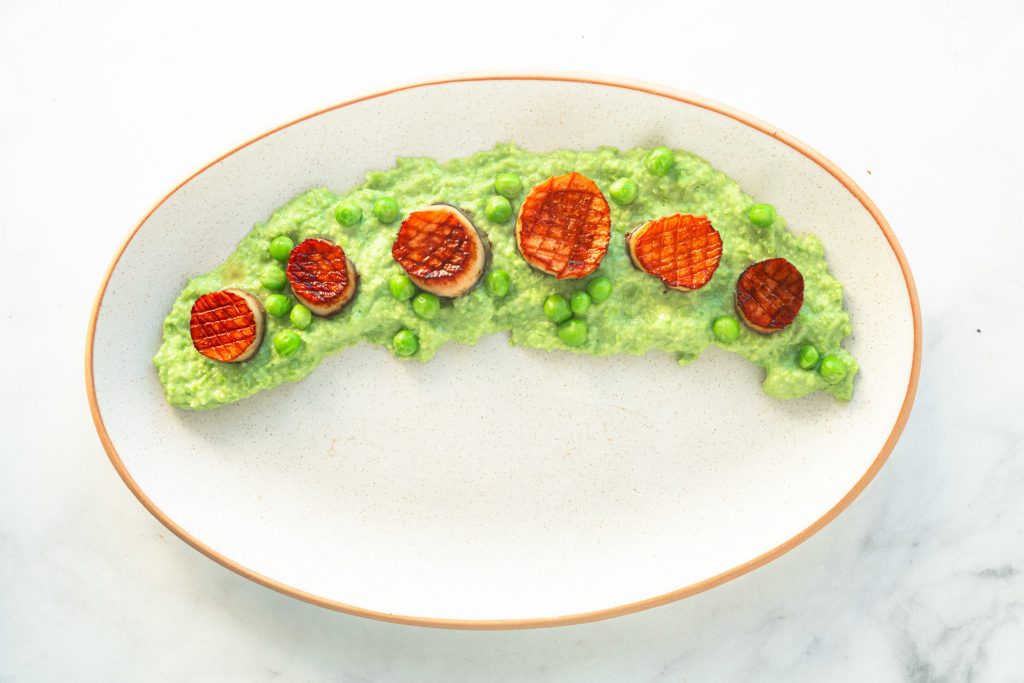 Did You Try This Recipe?
If so, I would love to keep in touch! I enjoy seeing photos and comments about the recipes that you make! You can follow me on Instagram and I will repost your goodies in my stories and comment on it too! Just tag me at @wowitsveggie and hashtag #wowitsveggie. I can't wait to see what you make!
Yield: 2-4
Vegan Scallops In Lemon Garlic Butter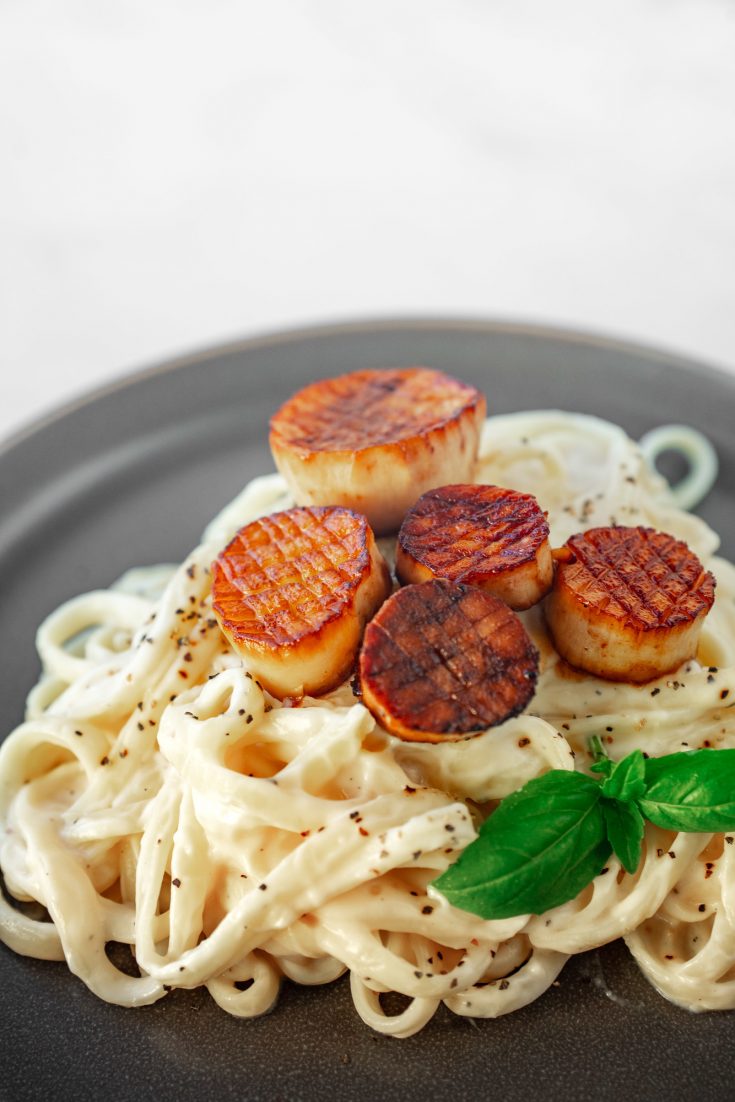 These vegan scallops in lemon garlic butter will impress anyone you set them in front of! Made from the succulent stem of king oyster mushrooms, vegan oysters will delight you. Use them to top rice, pasta, garlic bread and more.
Ingredients
3-5 King Oyster Mushrooms [stems only. More depending on how hungry you are!]
1 cup water
1 tablespoon white miso paste
1 teaspoon kelp granules [optional if you want seafood flavor]
2 teaspoons soy sauce or tamari
1 teaspoon salt
3 tablespoons vegan butter
2 tablespoons lemon juice
4-5 cloves of garlic, chopped
1/2 cup fresh basil for serving
Instructions
Slice the king oyster mushroom stem crosswise into 1-inch thick disks. You may get 1-3 oysters per mushroom stem. You can get more if you don't need the oysters to be perfectly shaped.
Score the top and bottom of each vegan scallop, being careful to barely cut through. You don't want to cut all the way through! This allows the mushroom to absorb the flavors.
In a large bowl, mix together, miso, kelp granules, water, and soy sauce until miso is smooth. Marinate oyster mushroom stems for 5-10 minutes.
Pat the mushrooms dry using a kitchen towel or paper towel.
Use oil to grease a skillet on medium-high heat. Add mushroom stems to pan and sear until the edges and crisp and golden brown. Depending on your stove, this usually only takes a few minutes. Make sure to carefully turn a few times during cooking. Don't overcook!
Reduce heat and add 2 tablespoons of vegan butter and chopped garlic. Fry until garlic is fragrant. Then add in the remaining tablespoon of butter, lemon juice, and basil. Toss until all of the vegan oysters are coated!
Serve vegan oysters straight from the pan or plated with a pea puree [instructions in post] or on top of vegan alfredo pasta! Enjoy!
Nutrition Information
Yield
4
Serving Size
1
Amount Per Serving
Calories

264
Total Fat

15g
Saturated Fat

8g
Trans Fat

0g
Unsaturated Fat

5g
Cholesterol

61mg
Sodium

1755mg
Carbohydrates

21g
Fiber

7g
Sugar

3g
Protein

19g