This easy vegan eggplant Parmesan is indulgent while being light and tasty at the same time.
It is actually pretty quick to make put together, and it bakes quickly too!
Believe it or not, this tasty vegan eggplant Parmesan recipe has no vegan Parmesan cheese in it at all!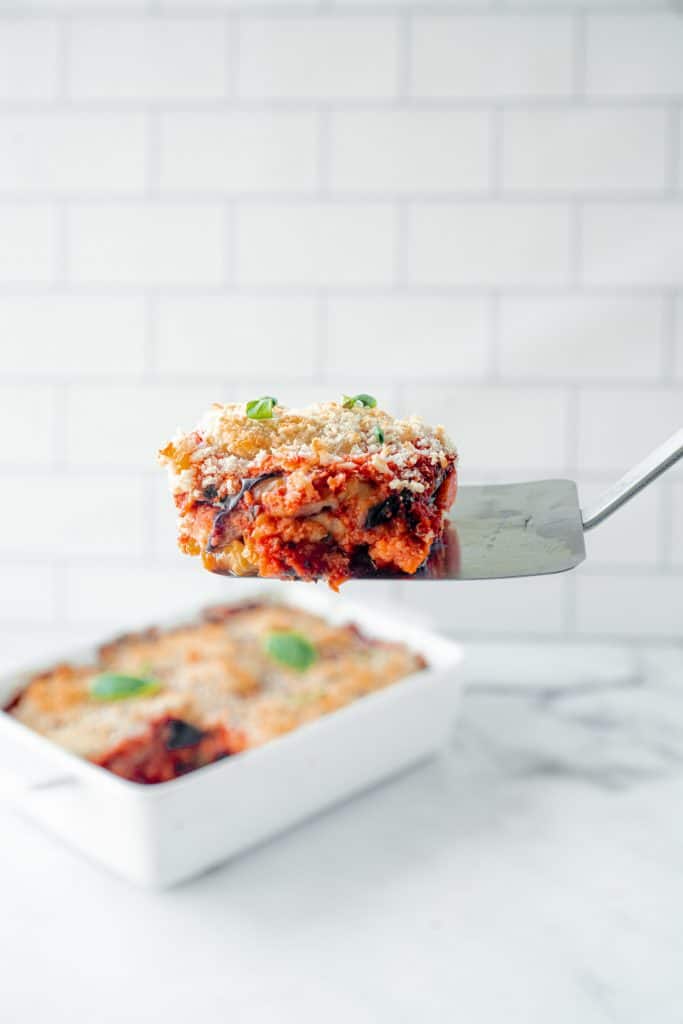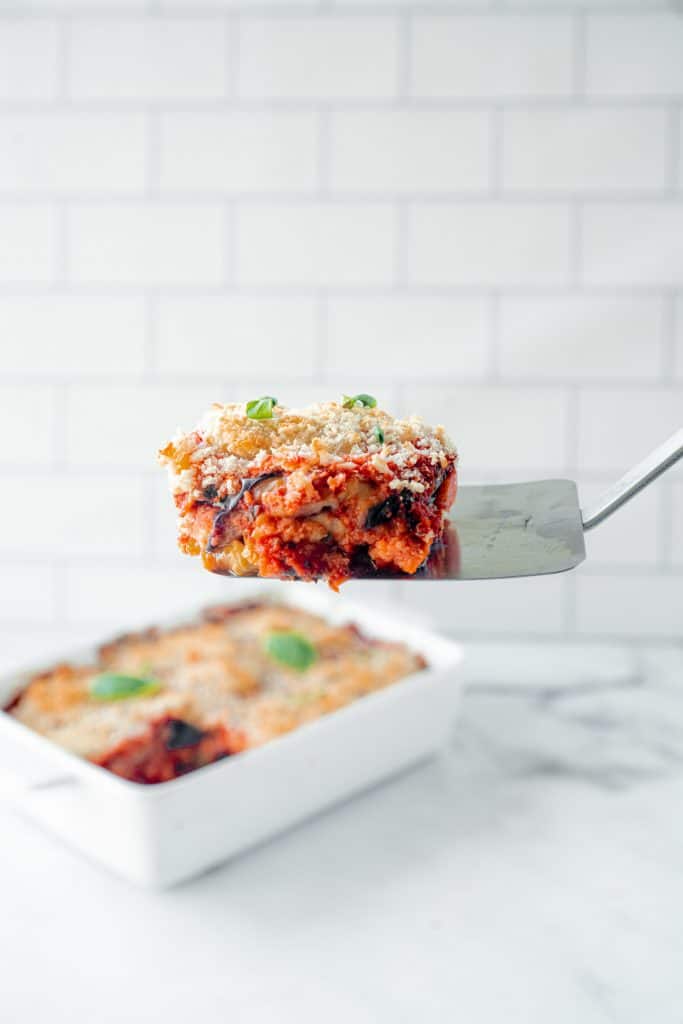 Instead, it has vegan mozzarella sauce which is so darn good and adds a wonderful depth of flavor.
The vegan mozzarella sauce is made from cashews and a few other ingredients.
My mom is NOT a fan of most cashew stand-ins for vegan food because they usually taste like cashews, despite being camoflouged.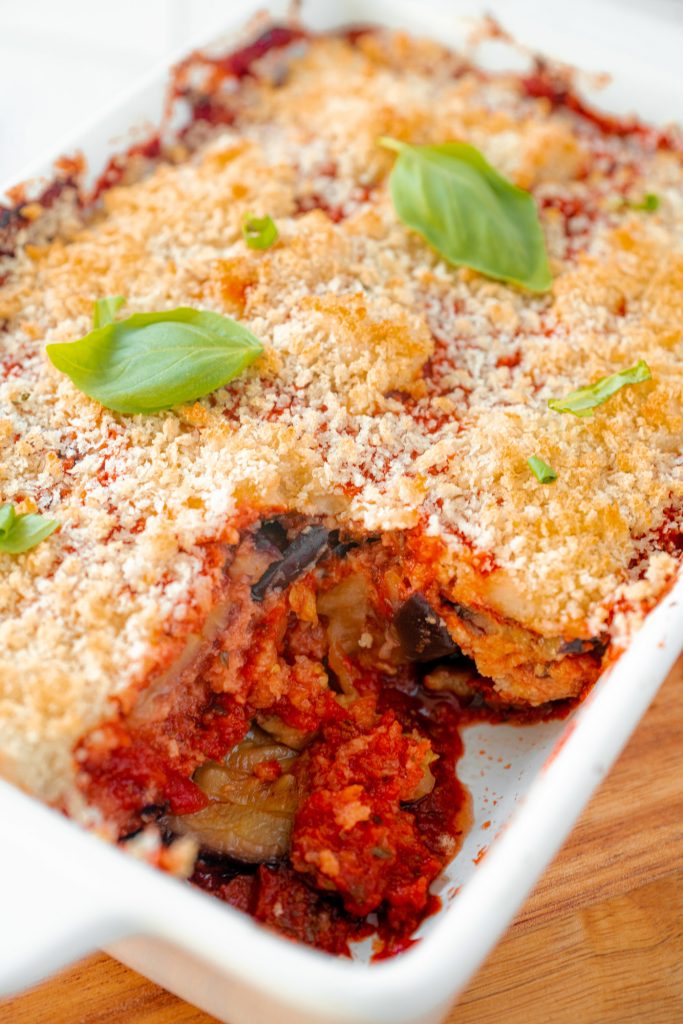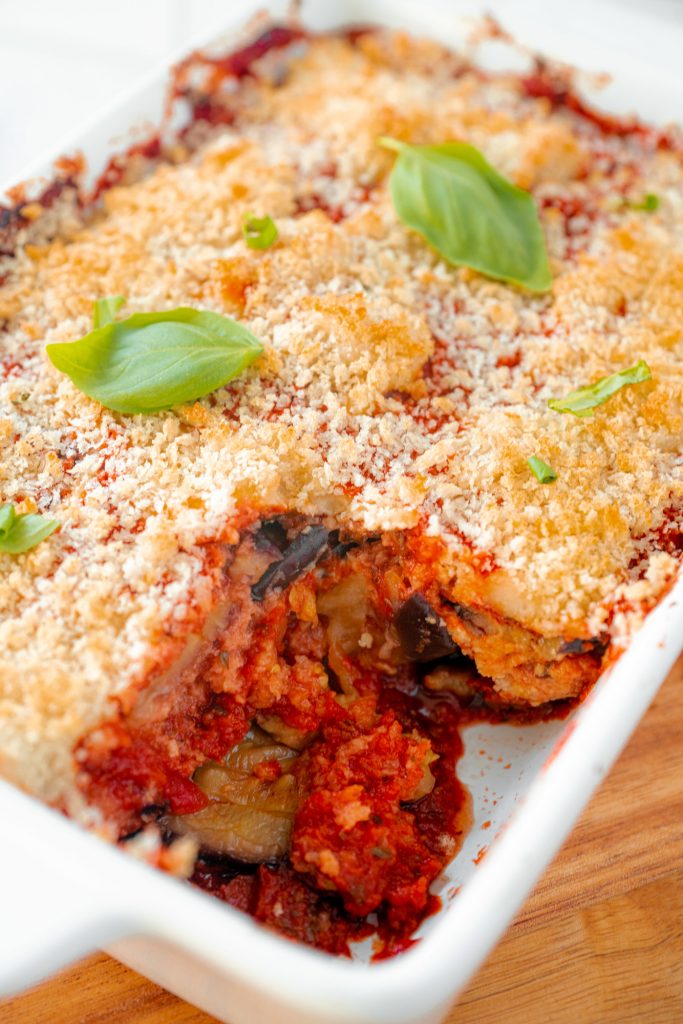 She was very impressed that this vegan eggplant Parmesan tasted so good with the vegan mozzarella sauce. She couldn't taste the cashews at all and said it added a wonderful depth of flavor.
It also has crispy panko breadcrumbs, which stand-in for the texture of Parmesan cheese.
After all, who doesn't love breadcrumbs?!
Now, to make this a lighter and healthier eggplant Parmesan dish, each individual eggplant slice is NOT breaded!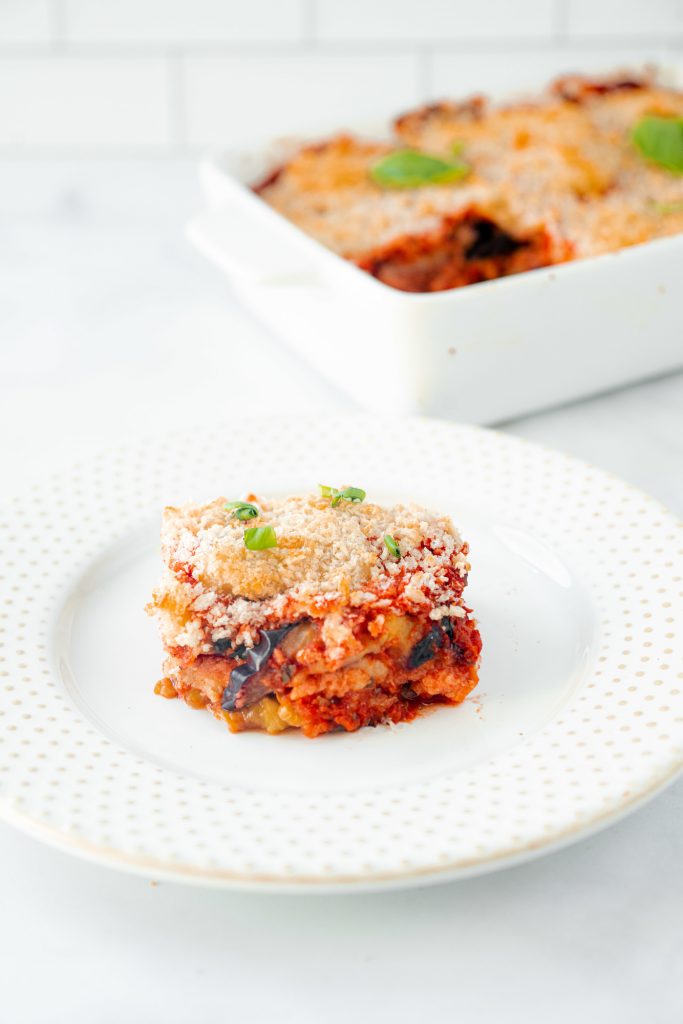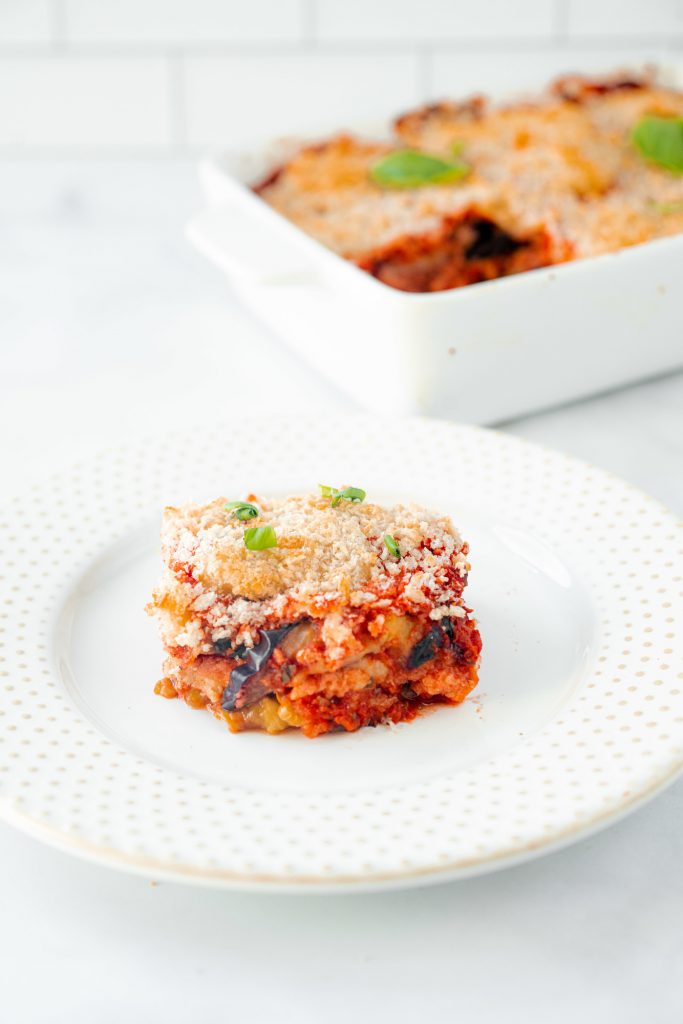 Instead, you sprinkle breadcrumbs in between layers and then again on the top for a nice crispy texture that is still healthy!
This is one of my favorite Vegan Italian Recipes because it doesn't take long at all to cook up!
If you are scared about cooking your first vegan eggplant Parmesan, you shouldn't be!
It is pretty much fail-safe! Serve it with a side of Vegan Garlic Breadsticks and enjoy!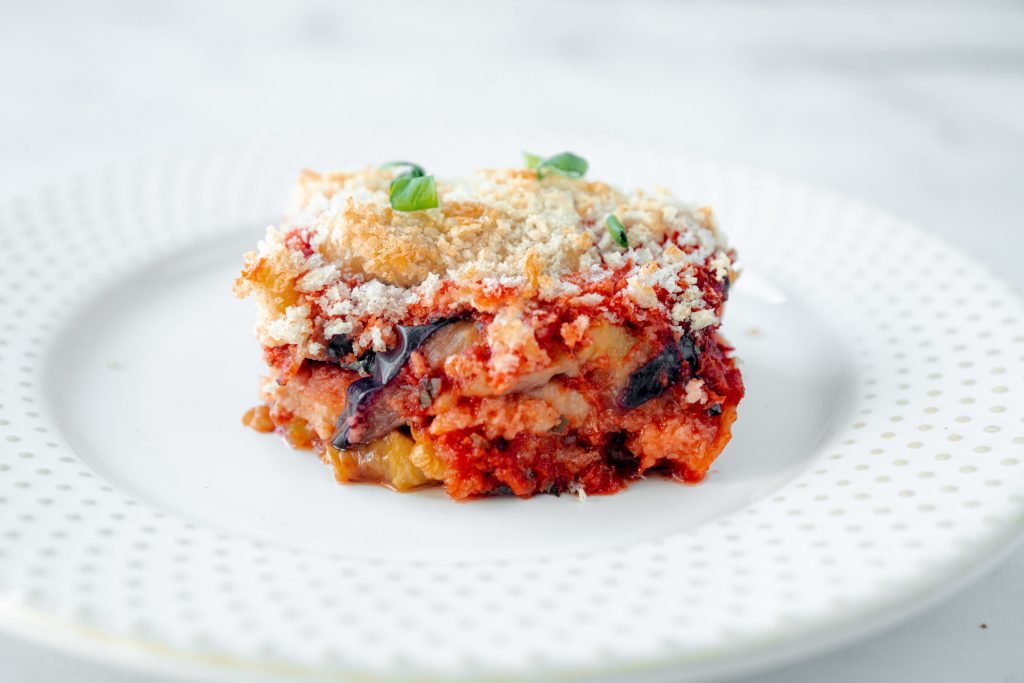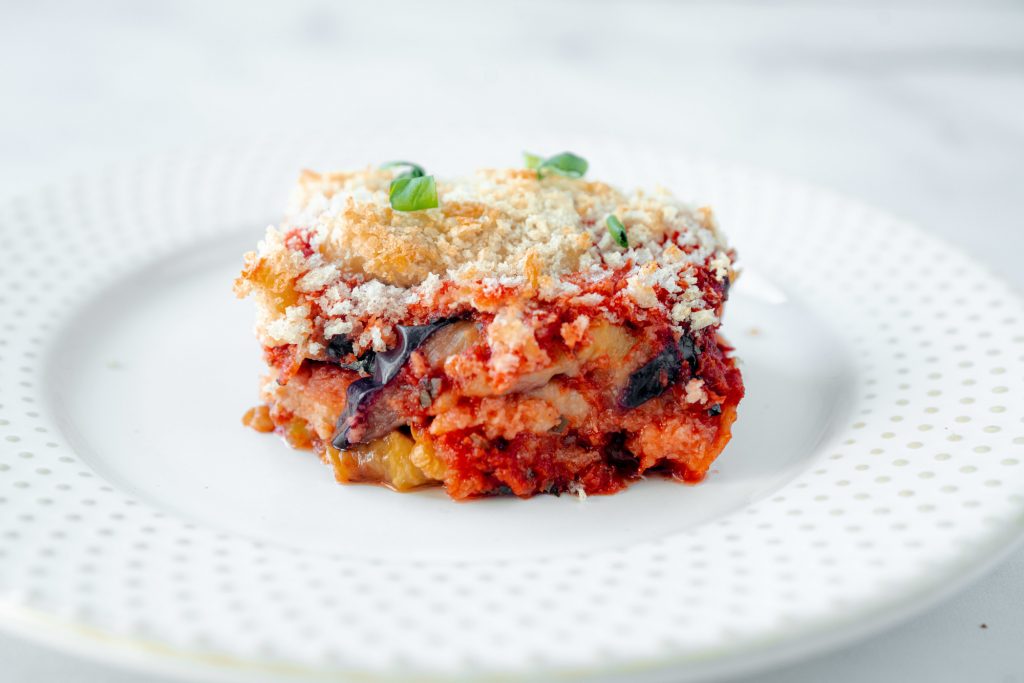 How To Prepare The Eggplant
Preparing the eggplant is super easy! For this recipe, I use about 2 medium eggplants.
You want to slice them about 1/4 inch thick. Thick enough to hold their shape but not too chunky!
Then, you will put the eggplant in a colander or strainer and salt them.
It is best to let them sit salted so that they can sweat out any extra water for about 30 minutes.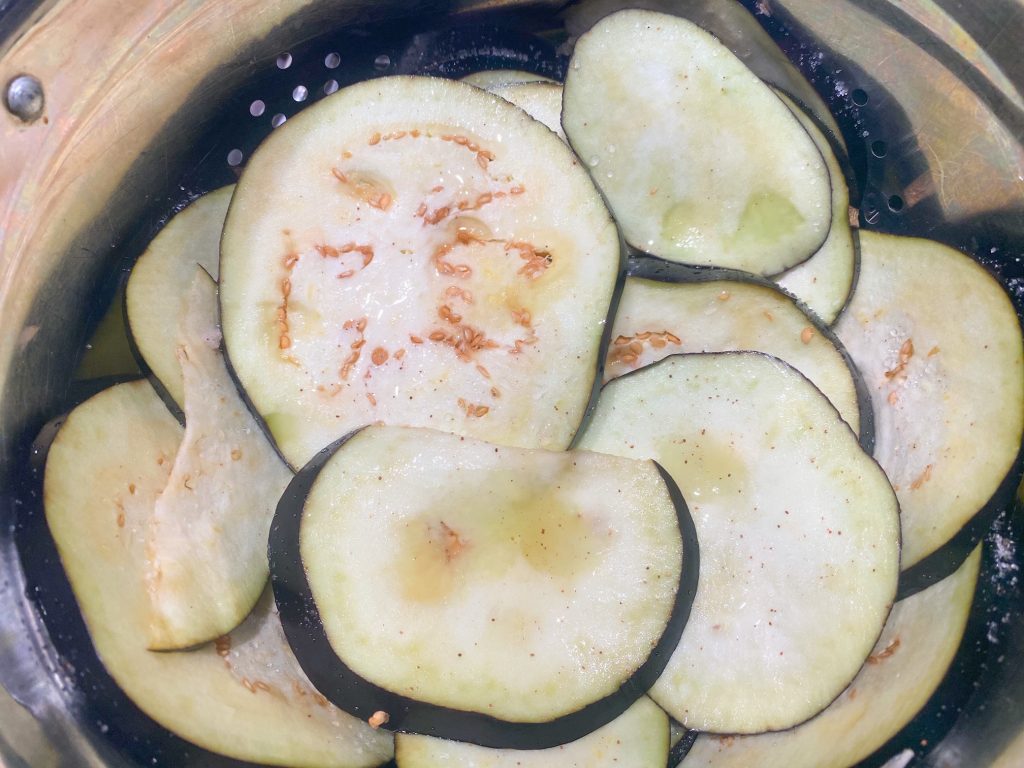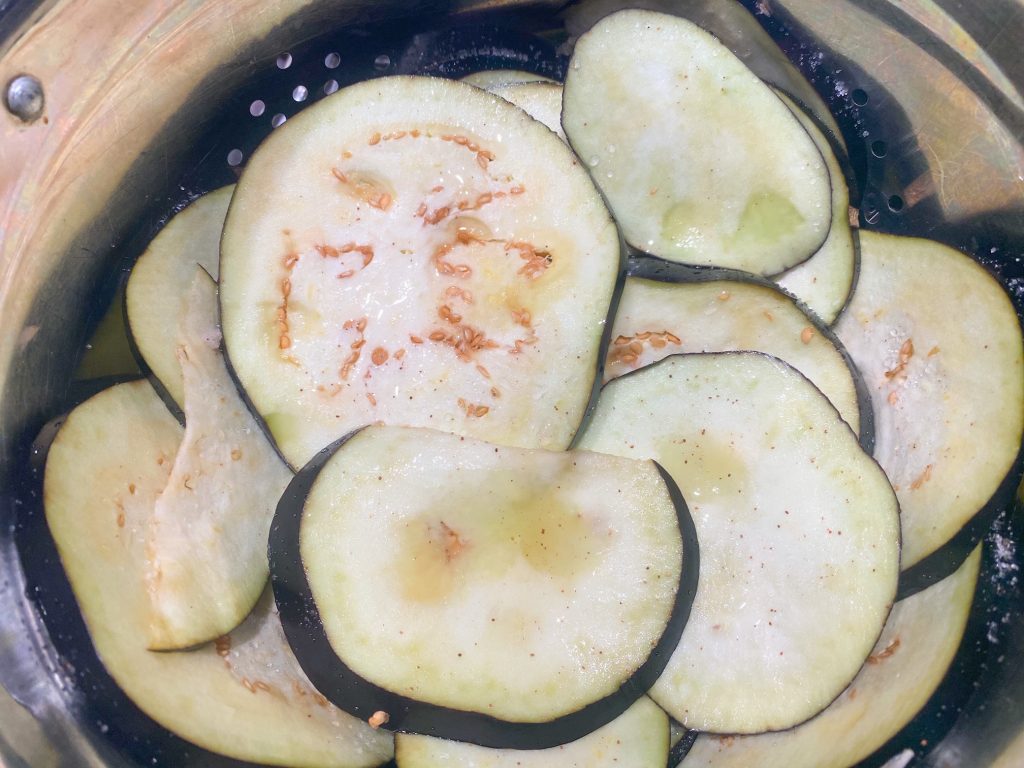 If you don't have 30 minutes, even just 10 minutes can help the end result!
If you aren't usually an eggplant fan, it is probably because of the texture and because the eggplant hasn't sweat as much!
Then, you are going to want to wipe the eggplant with a towel or paper towel.
Brush the eggplant with oil and arrange it on a baking sheet.
Turn on the "broil" setting on your oven.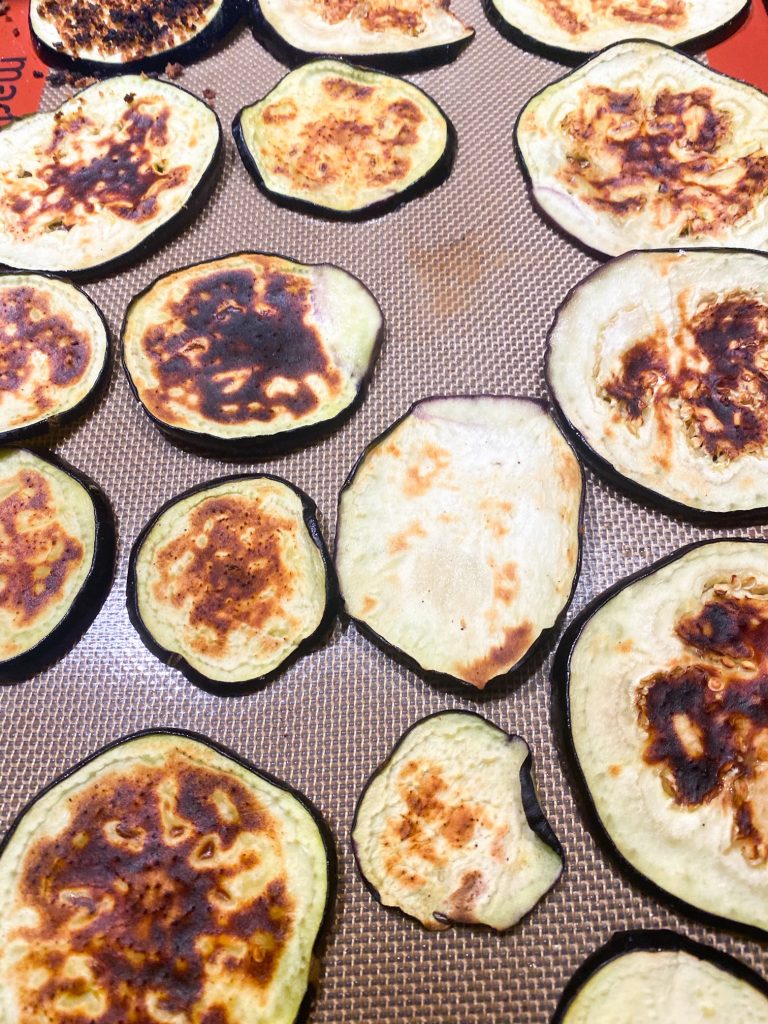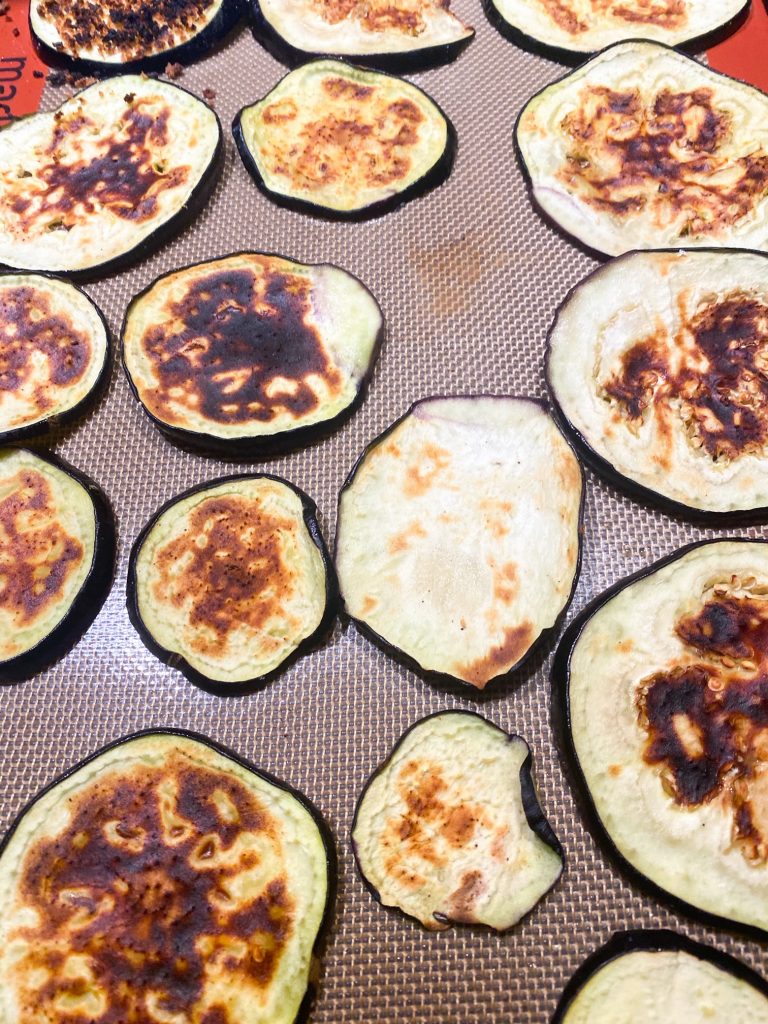 Now you are going to want to broil the eggplant for 4-6 minutes AT THE MOST!
I have burned the eggplant before, so set a timer and check your eggplant after 3 minutes!
Do not overcook! As soon as the eggplant is slightly browned on top, you can take it off!
It is easy and healthy and you don't have to dredge the eggplant in breadcrumbs and then bake.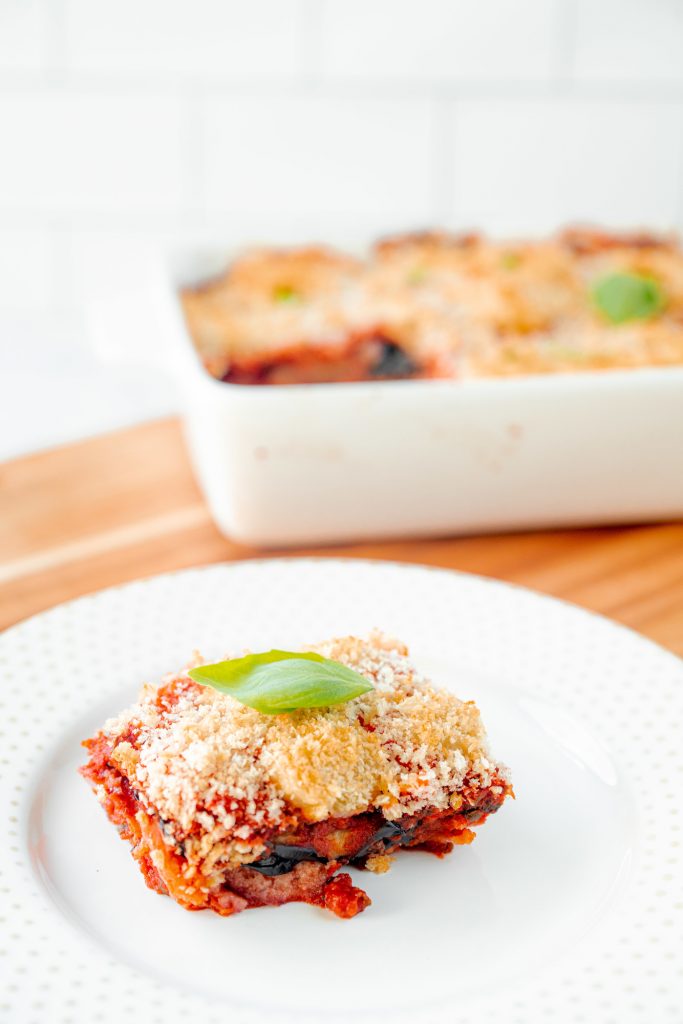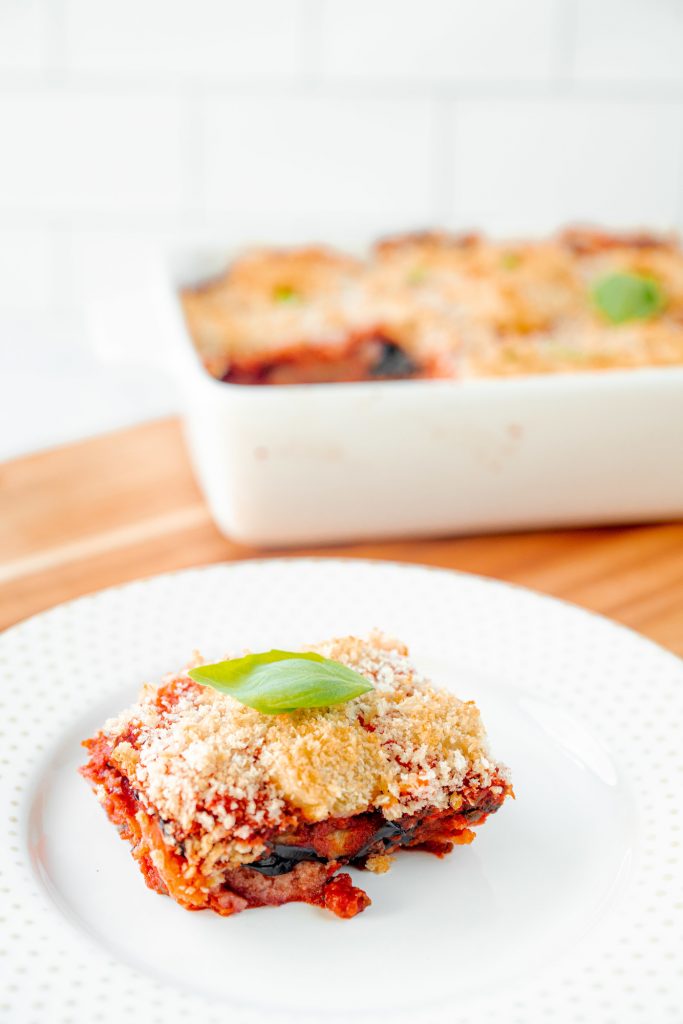 How To Make The Cashew Mozzarella Sauce
While your eggplant is sitting and "sweating" go ahead and make your mozzarella cheese.
This is so easy and makes all the difference in your vegan eggplant Parmesan!
While I am often not a fan of doing Vegan Alfredo Sauce with cashews, they do have their time and place in vegan cooking.
As an accent to the dish, not the main star!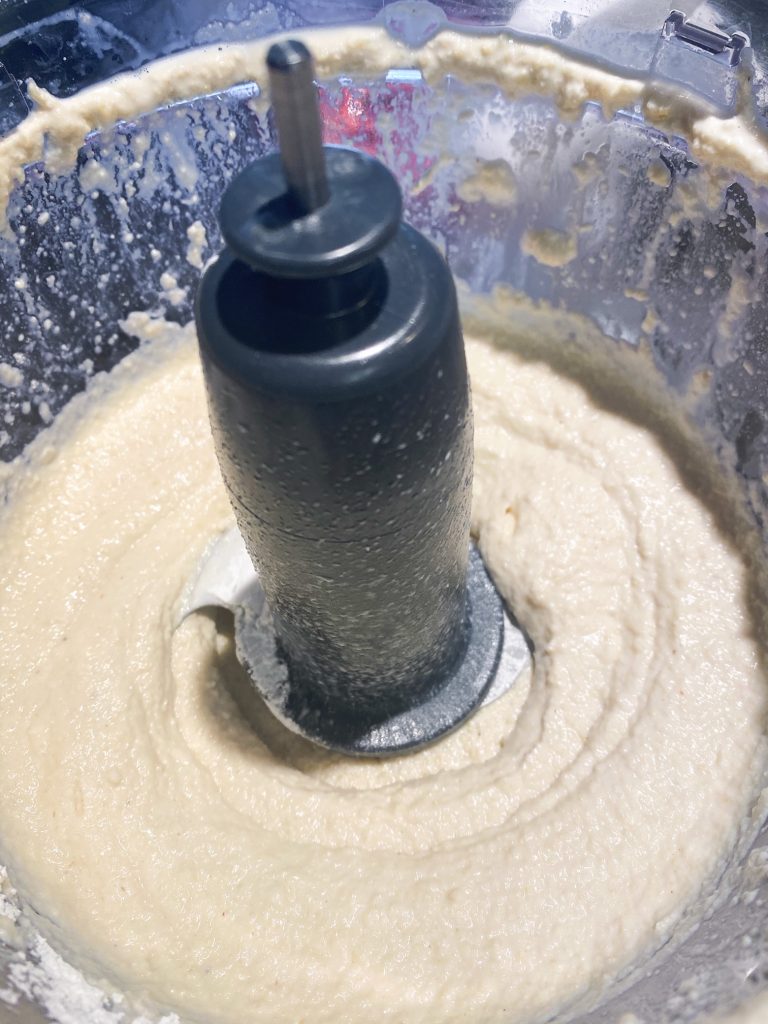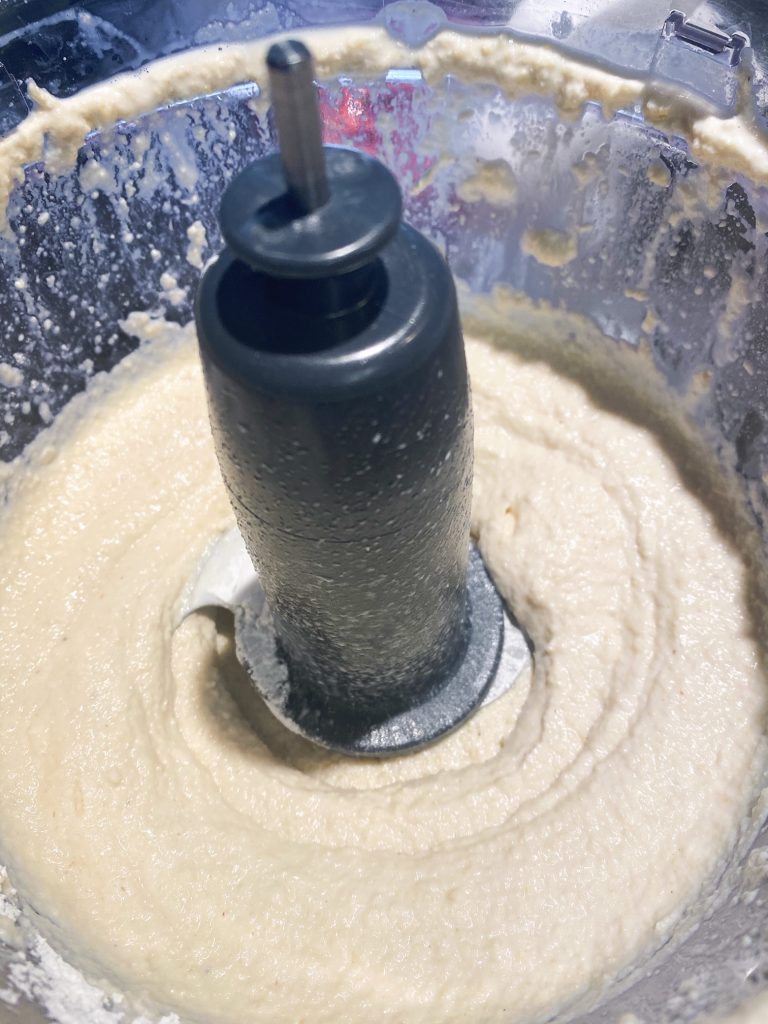 Anyway, simply combine your cashews and water and blend on high until smooth.
I personally used a high-powered food processor, but you can use a blender if that is all you have on hand.
Then, mix in the lemon juice, salt, garlic and onion powder, and cornstarch/arrowroot and blend until smooth.
The secret ingredient that gives this mozzarella sauce flavor is the splash of lemon juice! Don't skip it!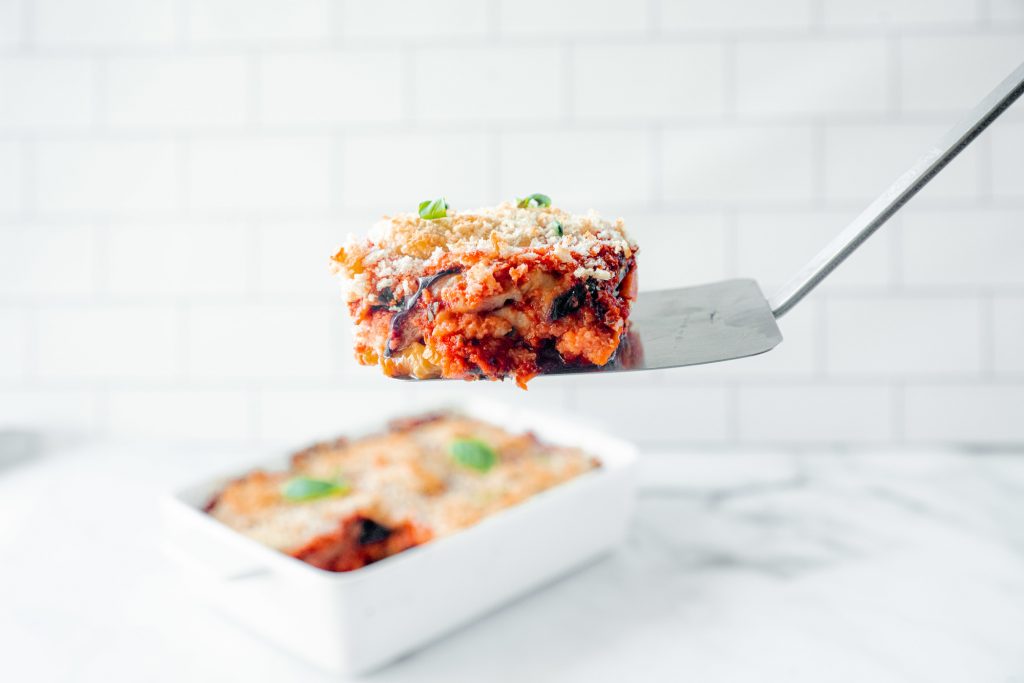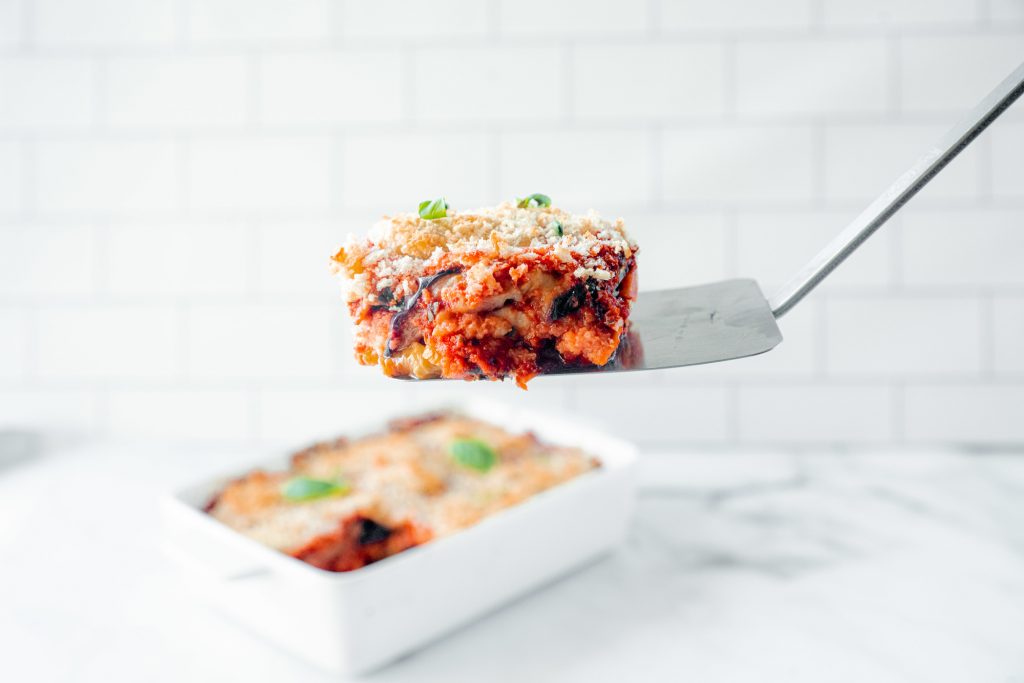 Assembling The Vegan Eggplant Parmesan
Once your eggplant is broiled and your mozzarella sauce made, it is time to assemble the vegan eggplant Parmesan!
First, you will lightly grease a 9×13 inch casserole dish. You can easily half this recipe and I have done that before when I have a craving for vegan eggplant parm!
You are now going to assemble the eggplant parm just like you would assemble a lasagna.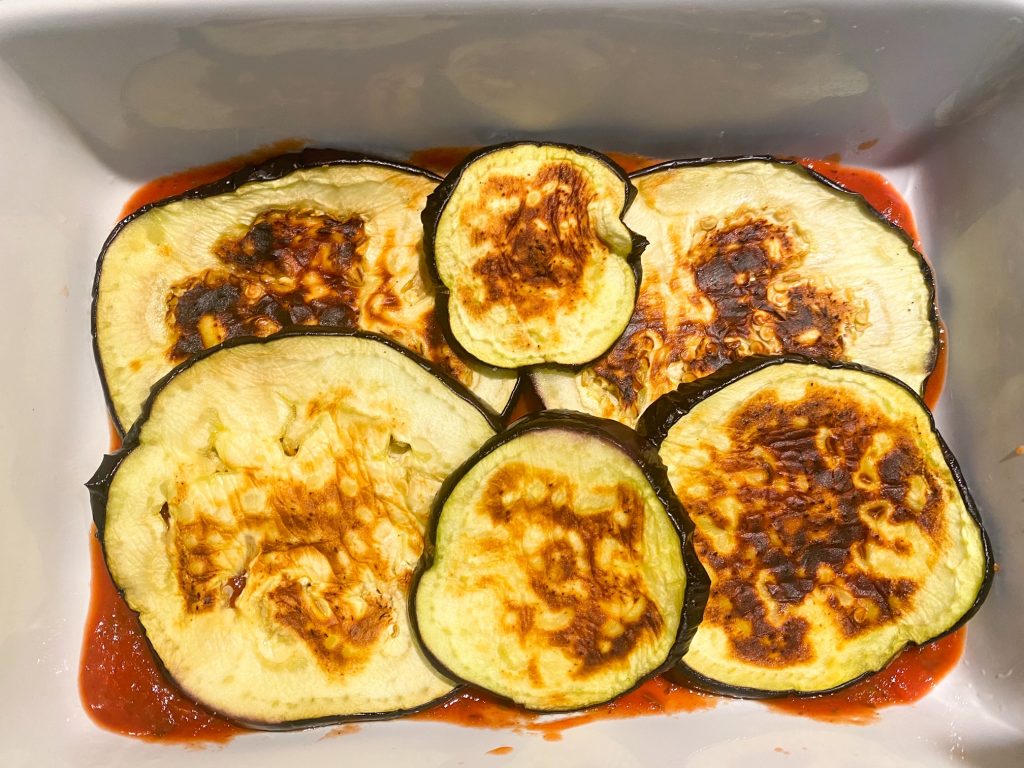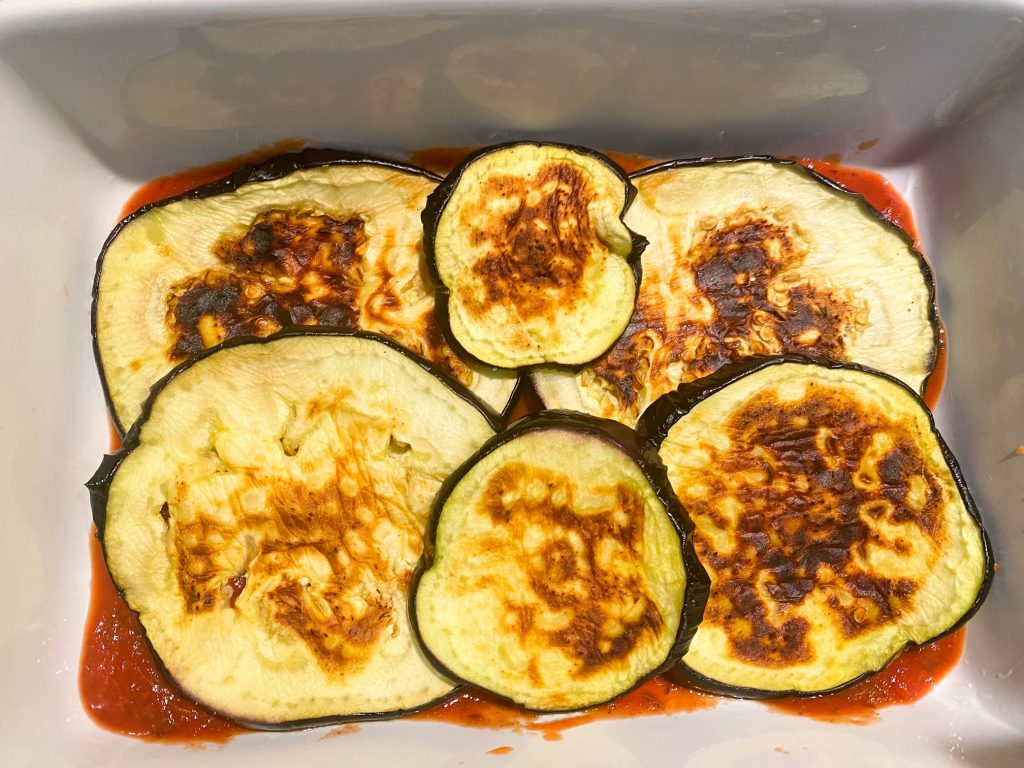 You can use jarred tomato sauce [what I do when I am lazy] or make my Vegan Tomato Sauce [what I do when I'm feeling creative!]
First, put down a small layer of the tomato sauce.
Then, layer half the eggplant in the bottom of the pan. You can go ahead and overlap some of the slices so that they make a nice layered shape.
Next, sprinkle on the breadcrumbs over all of the eggplant. This gives a crunchy flavor without too much breading.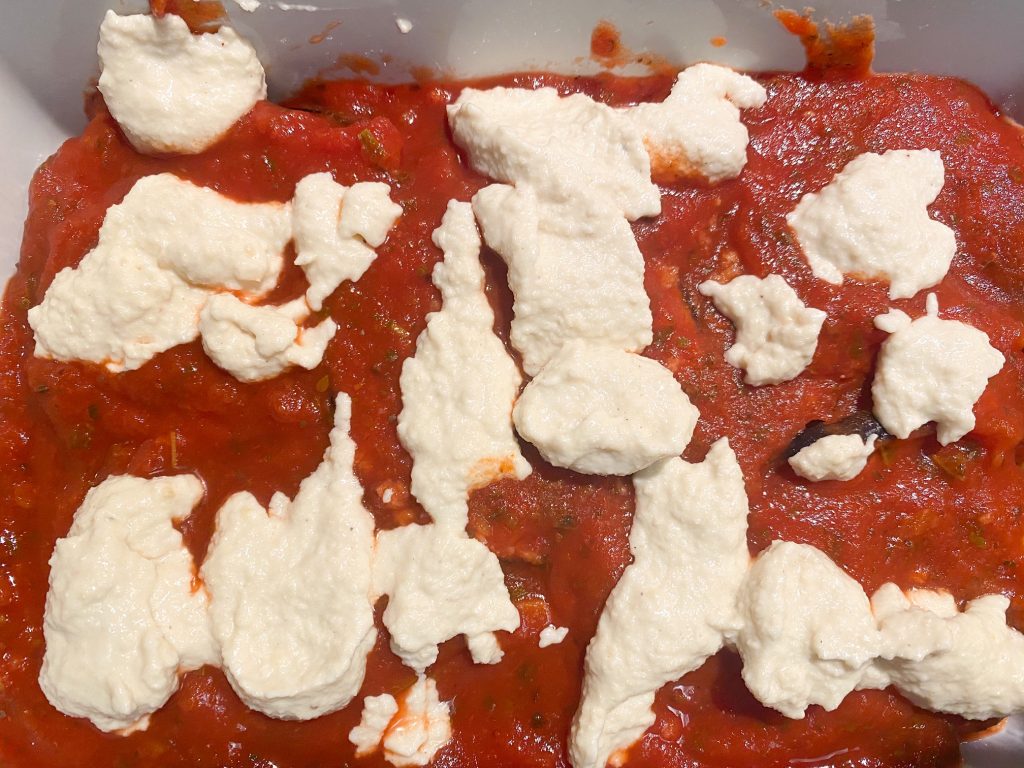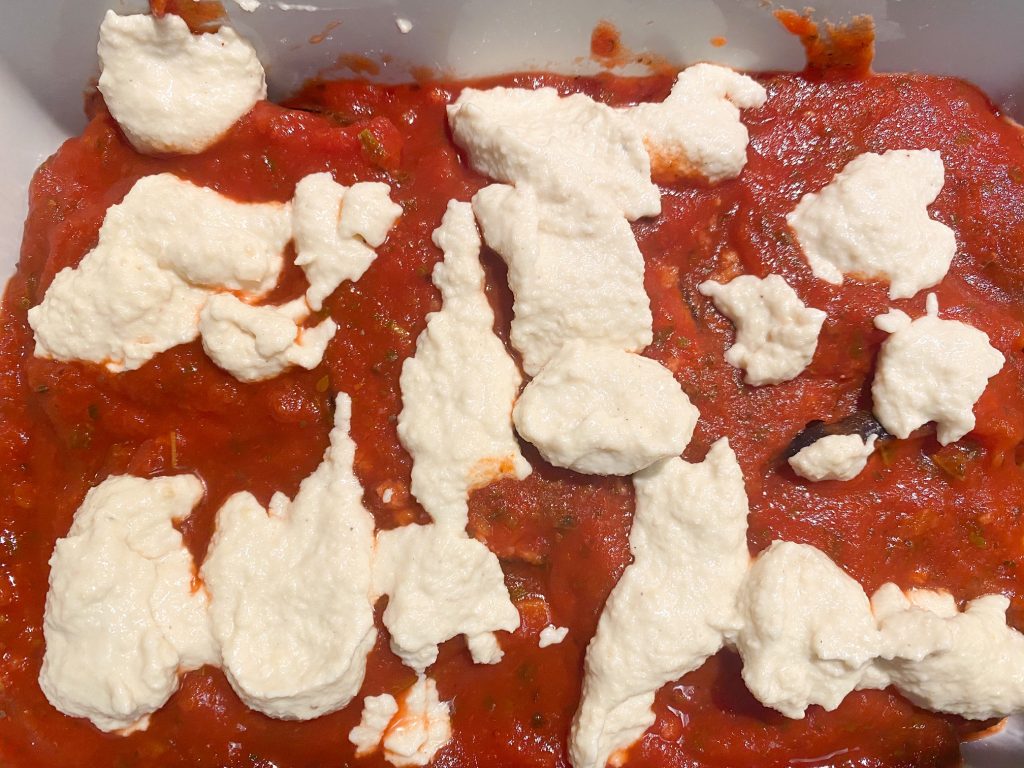 Then, add more tomato sauce and half of the vegan mozzarella sauce.
The mozzarella sauce is pretty thick, so you will have to "dollop" it wherever you want it.
You can also get a knife and spread it around.
Now, top with more breadcrumbs!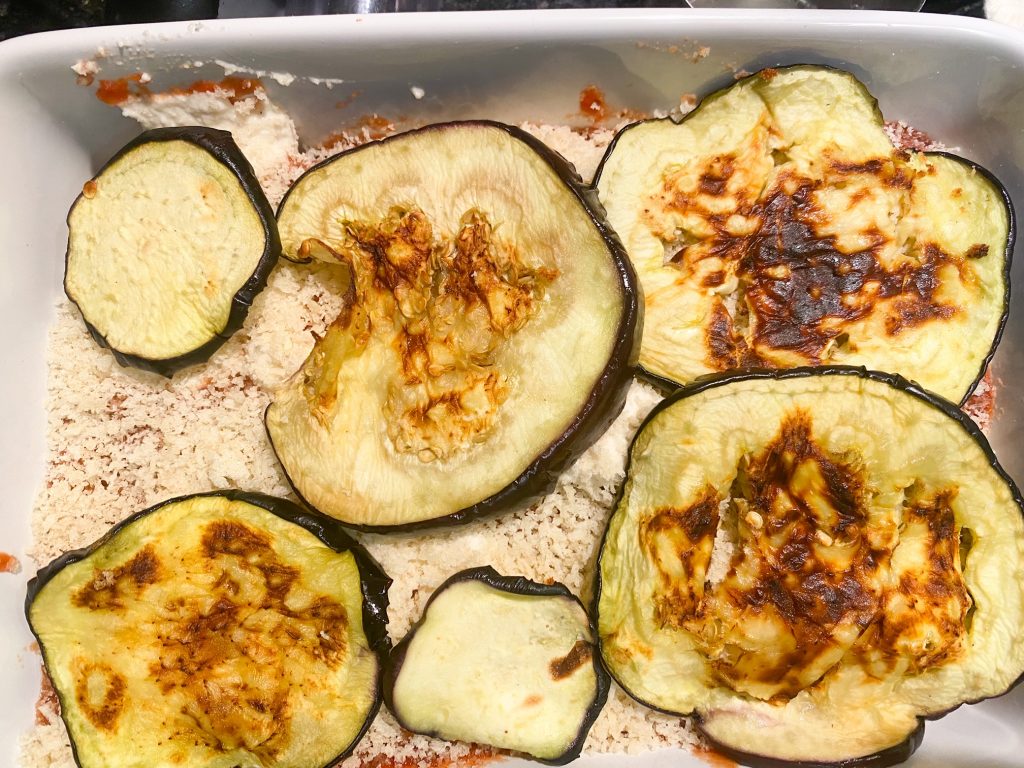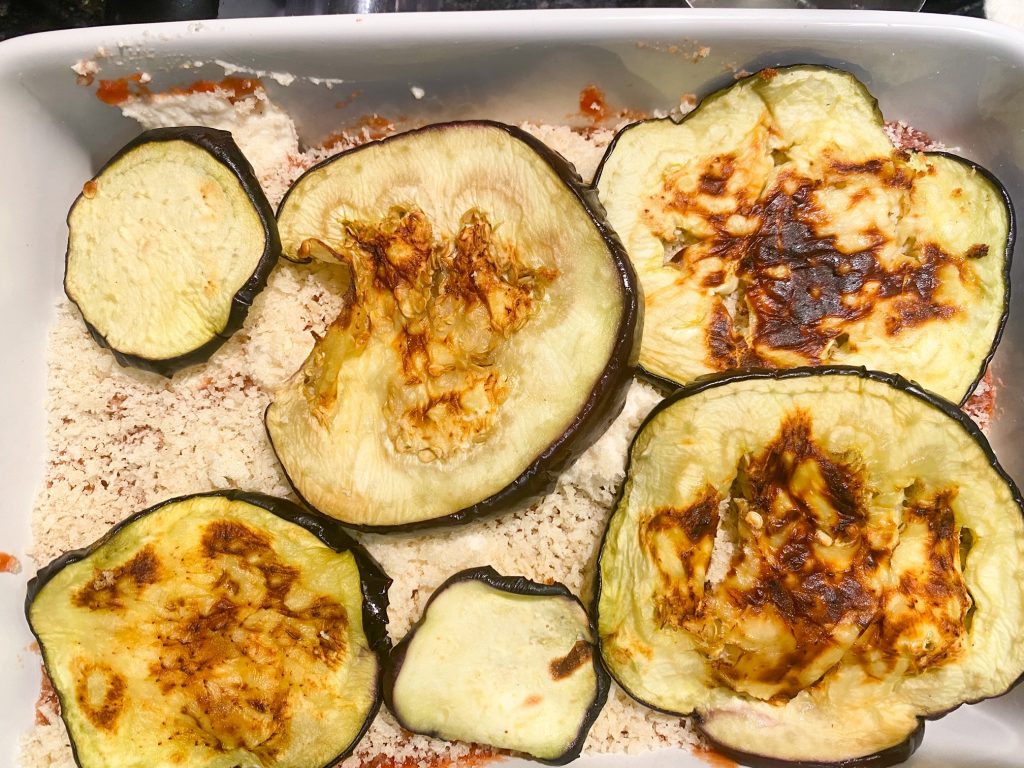 Repeat until your dish is full of vegan eggplant Parmesan!
Once you reach your last layer, you will top with sauce, then mozzarella sauce, then sprinkle with enough breadcrumbs to cover the top of the dish!
That is it! Then bake on 350 for about 20 minutes or until the top is golden brown!
To serve, you can top with fresh basil for an extra fancy presentation and a delicious taste!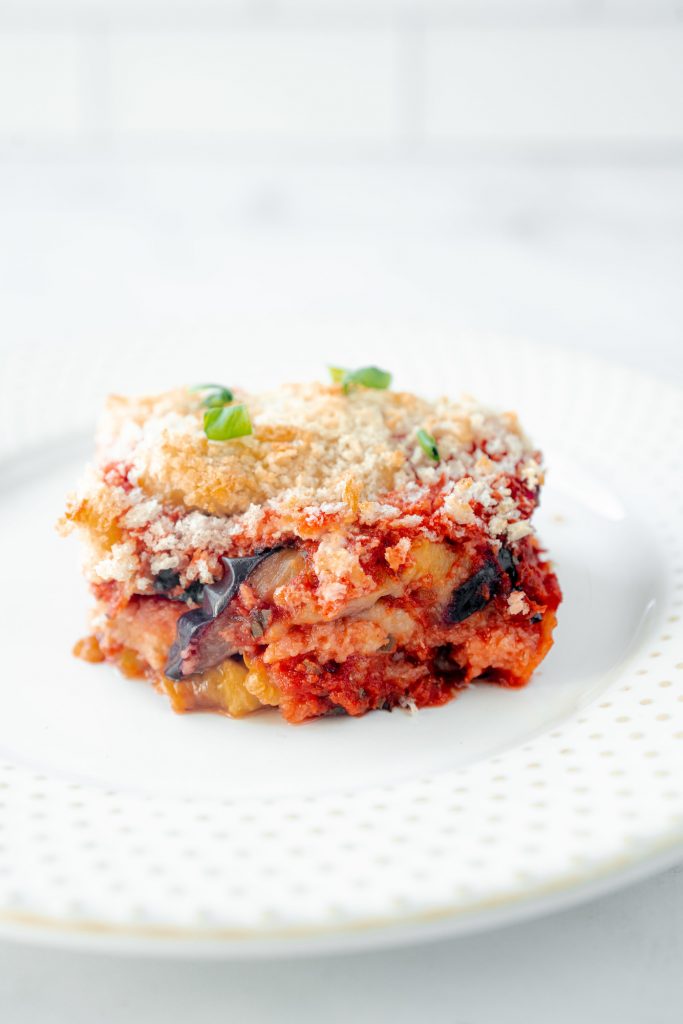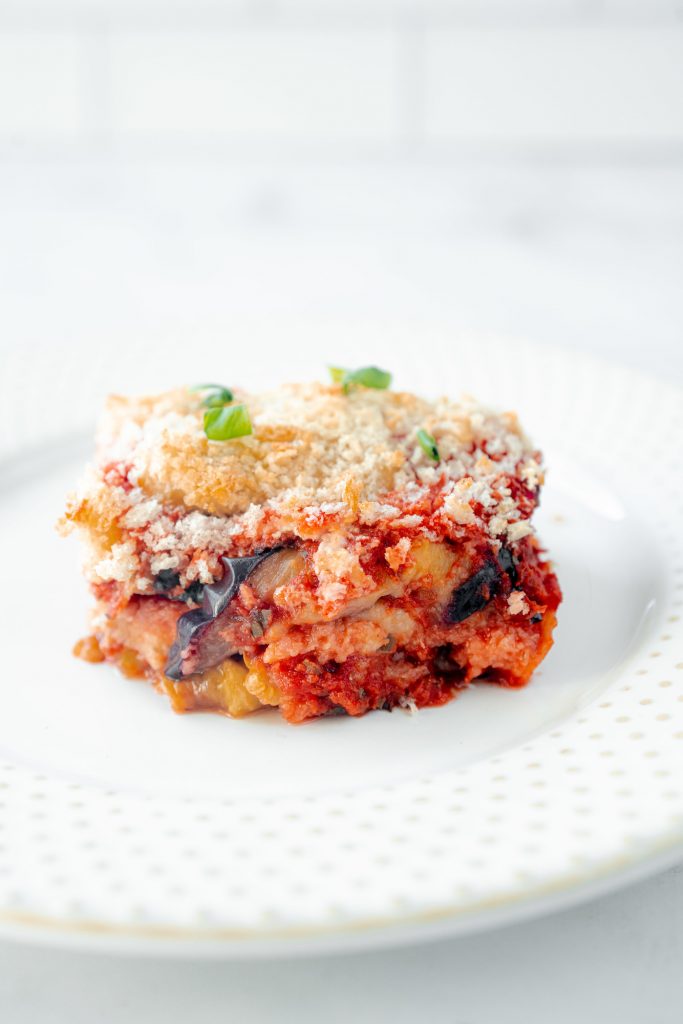 How To Store The Vegan Eggplant Parm
The vegan eggplant parm keeps very well in the fridge for 3-4 days.
Simply put the entire container in a plastic bag and tie with a twist tie or rubberband.
Alternatively, you can take out the slices and put them in individual containers for meal prep or store them in one large container.
It tastes delicious cold, which is how my mom likes to eat it!
However, if you want to heat it, you can use a Toaster Oven to lightly reheat or microwave it.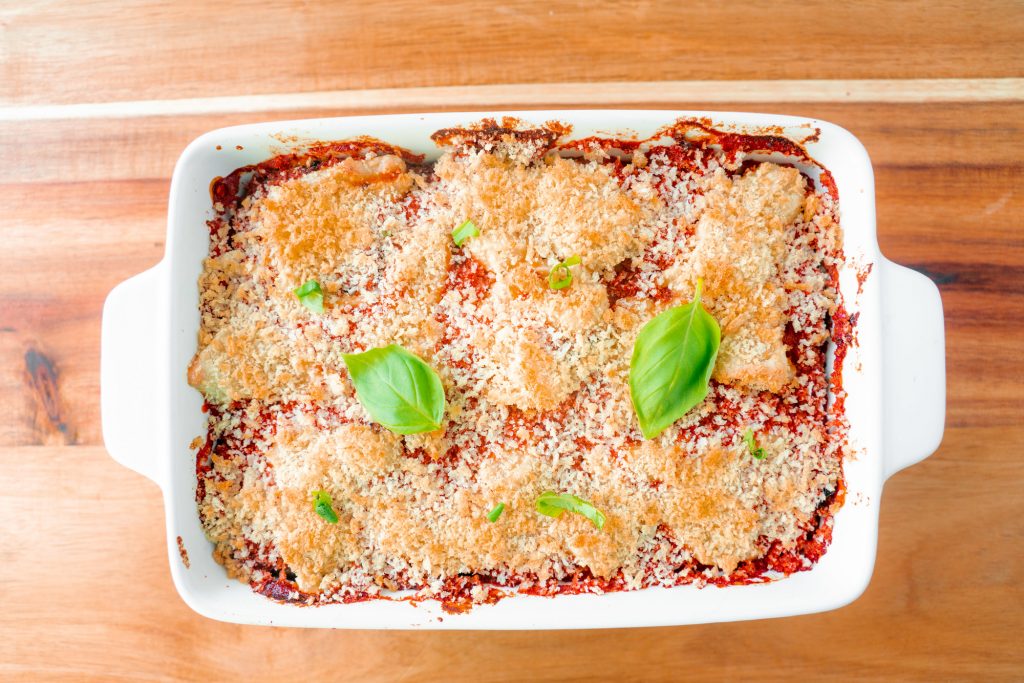 Did You Try This Recipe?
If so, I would love to keep in touch! I enjoy seeing photos and comments about the recipes that you make! You can follow me on Instagram and I will repost your goodies in my stories and comment on it too! Just tag me at @wowitsveggie and hashtag #wowitsveggie. I can't wait to see what you make!
Yield: 4-6 servings
Best-Ever Vegan Eggplant Parmesan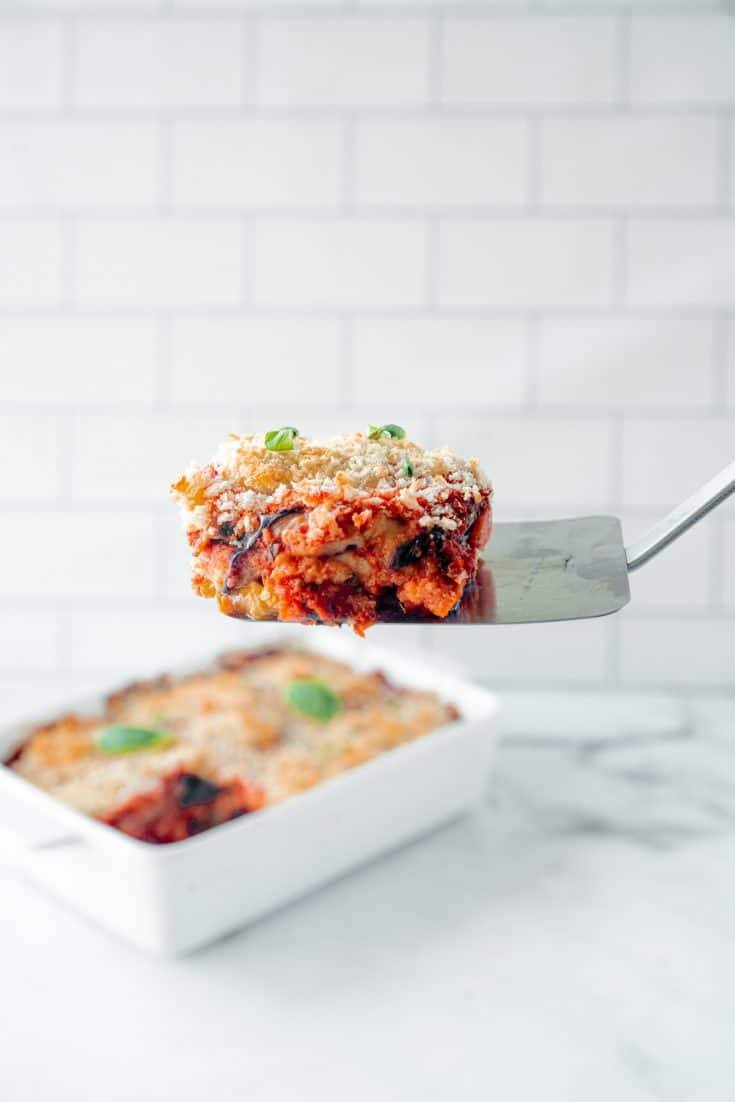 This vegan eggplant parmesan recipe is so healthy and delicious! It is light and tasty while being indulgent at the same time. Simple and wholesome ingredients that make for the perfect Italian dinner. The vegan mozzarella sauce and breadcrumbs really elevate this dish.
Ingredients
Eggplant Parmesan Ingredients
3 Medium eggplant, sliced 1/4 inch
1 tablespoon olive oil
1 26 ounce jar tomato sauce
1 cup panko breadcrumbs
Fresh basil for topping
Vegan Mozzarella Sauce
1 1/2 cups raw cashews
1 cup water
2 tablespoons lemon juice
1.5 teaspoons sea salt
1 garlic clove
1 teaspoon onion powder
2 tablespoons cornstarch or arrowroot
Instructions
Preheat your oven to the broil setting and use a silicone liner or grease 2 large cookie sheets.
Salt your eggplant slices and let them "sweat" in a colander for 30 minutes. If you don't have 30 minutes, at least let them sweat for 10 minutes.
Wipe the eggplant with a paper towel or cloth and arrange them on the baking sheets. Brush with a little bit of oil and broil for 4-6 minutes or until browned on top. Make sure to check after 3 minutes so your eggplant isn't burned.
Meanwhile, make the cashew mozzarella by combining water and cashews and blend on high until very smooth. Add in lemon juice, garlic clove, onion powder, and cornstarch and blend until combined. Reserve for later.
Lower your oven temperature to 350F and pour a thin layer of tomato sauce into a 9x13 inch pan.
Arrange half the broiled eggplant on the bottom of the dish in layers. Sprinkle with half the breadcrumbs and then layer tomato sauce and half the mozzarella sauce.
Repeat the layers. The final layer should be the sauce, then mozzarella puree, and finally the remaining breadcrumbs. Feel free to add more breadcrumbs to taste.
Bake uncovered for 20 minutes or until the breadcrumbs are golden brown. Top with fresh basil and serve!
Nutrition Information
Yield
6
Serving Size
1
Amount Per Serving
Calories

251
Total Fat

5 gramsg
Saturated Fat

1g
Trans Fat

0g
Unsaturated Fat

4 gramsg
Cholesterol

0mg
Sodium

345mg
Carbohydrates

20g
Fiber

11g
Sugar

2 g
Protein

8g