You are in for a real treat when making this vegan orange tofu! It is the vegan take on orange chicken and you are going to love it.
I am always amazed at how it smells like your favorite Chinese takeout restaurant every time I make this! It is truly amazing and so easy.
This takeout-version of orange tofu is way healthier than the crap they put in it at Panda Express because you know each and every ingredient that is going into it!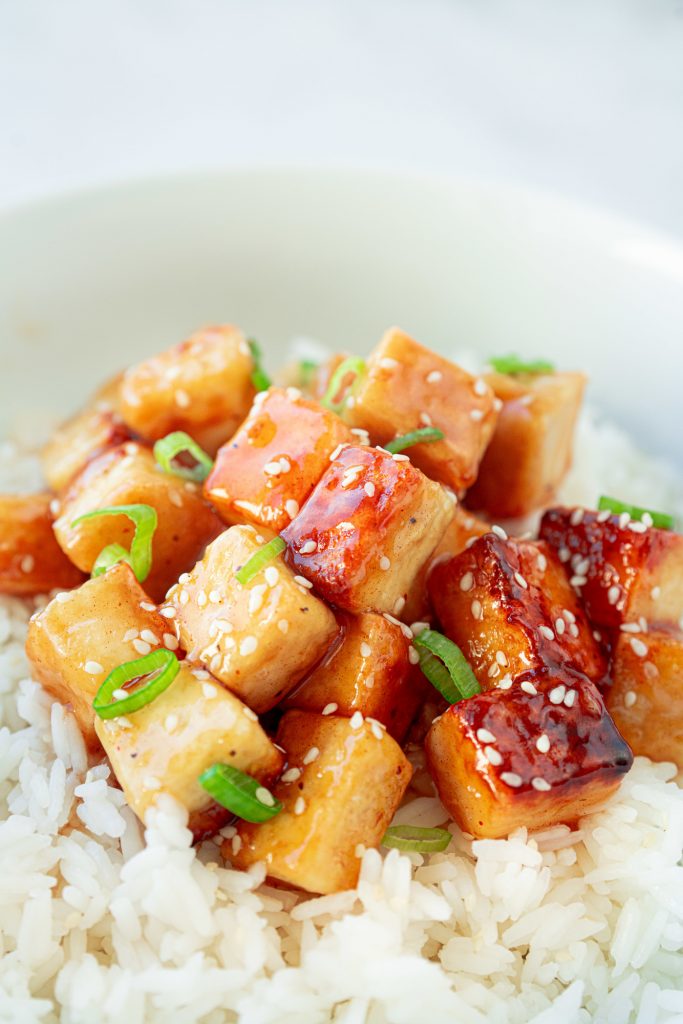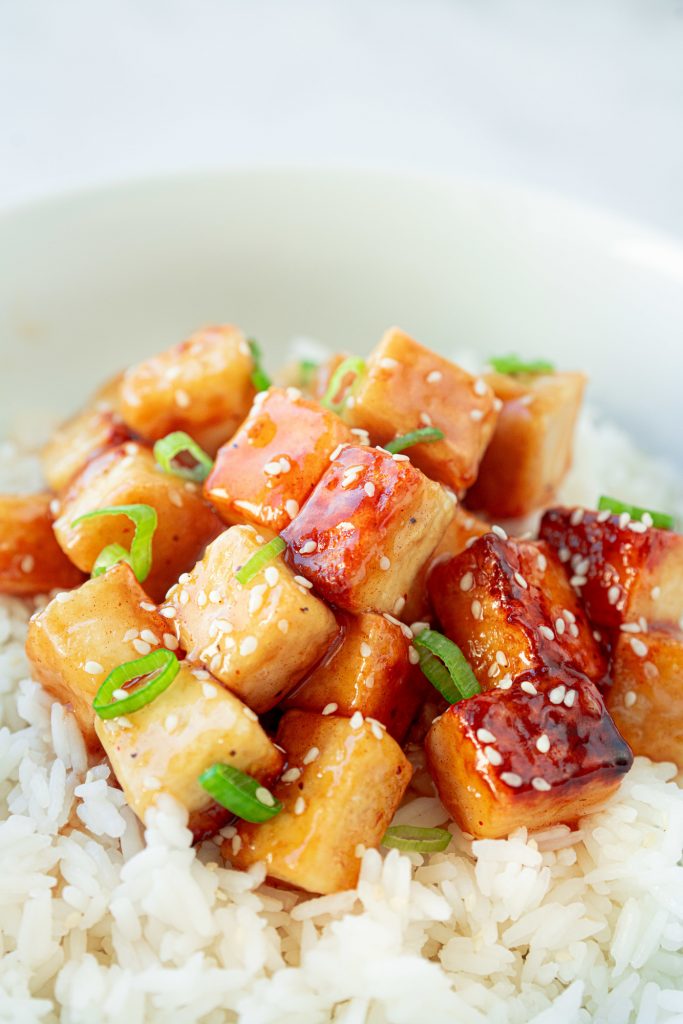 You will fry the tofu to crispy perfect! But unlike other recipes that require you to fry, my vegan orange chicken recipe only requires a few tablespoons of oil, not a few inches! It also makes it faster by frying instead of baking.
YES, it is entirely possible to get crispy tofu by just using a little bit of oil and this recipe is here to prove it!
You also don't need to spend time making a batter! Just a little seasoned four and you get the tofu cooked to perfection.
Then it is time to slather it in the sticky orange sauce which is the perfect blend between sweet and sour.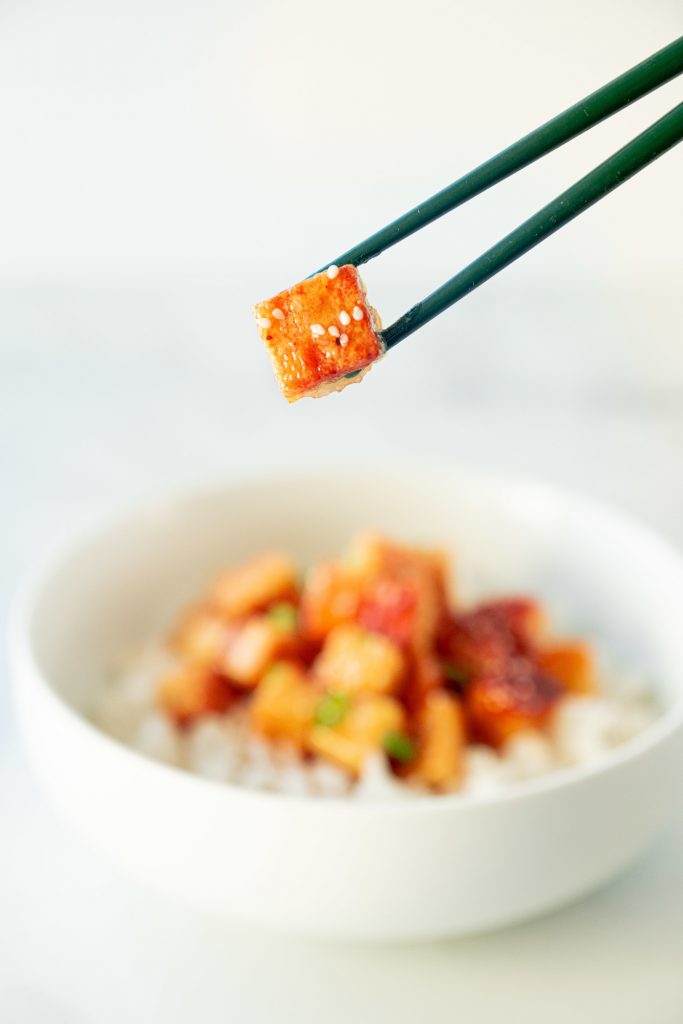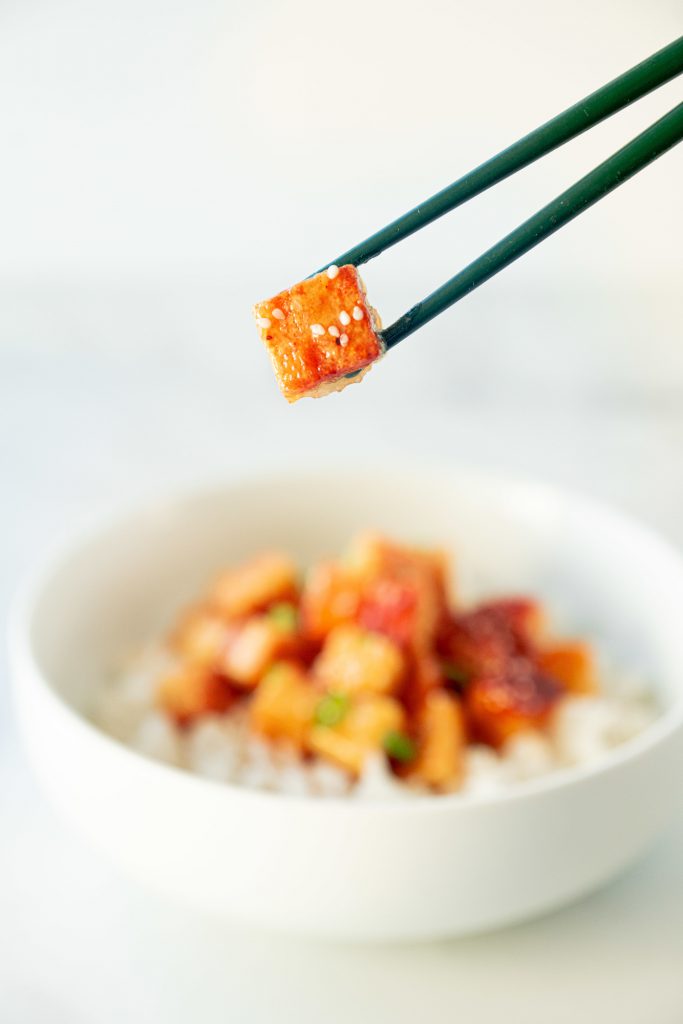 One thing I love about this vegan orange chicken recipe is that it is perfect for newbie vegans!
If you aren't comfortable with tofu yet, this is the perfect introductory recipe because it is pretty hard to mess this one up.
The orange tofu is one of the best Vegan Recipes For Kids because kids totally love the crispy taste and parents love that it isn't actually deep-fried.
I love this recipe because it cooks up quickly and is perfect for a weeknight when you are on the run but want something indulgent.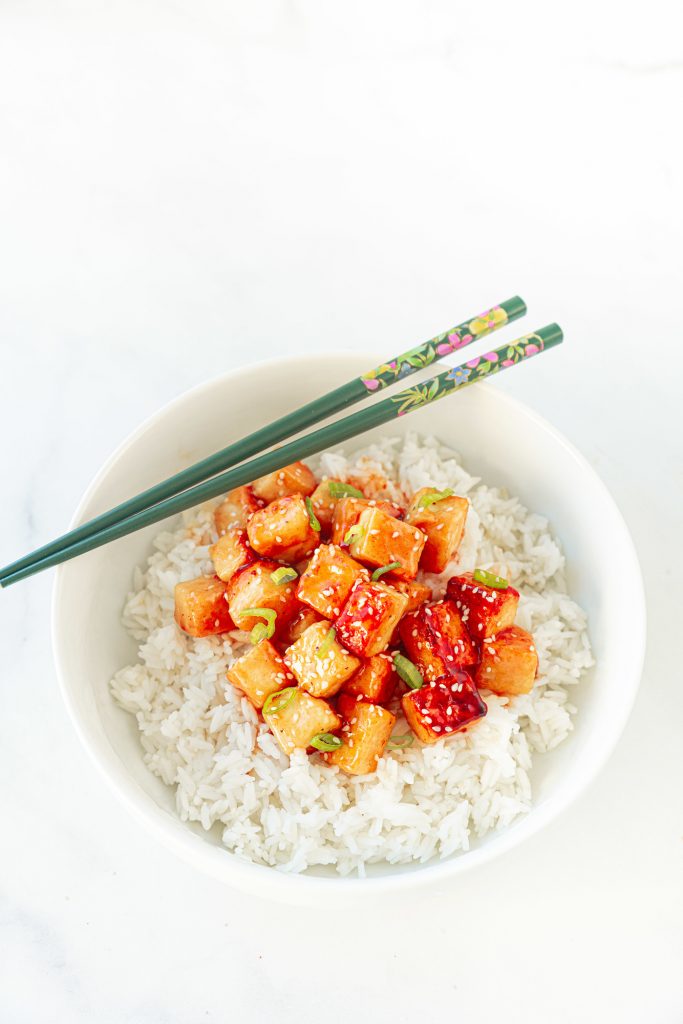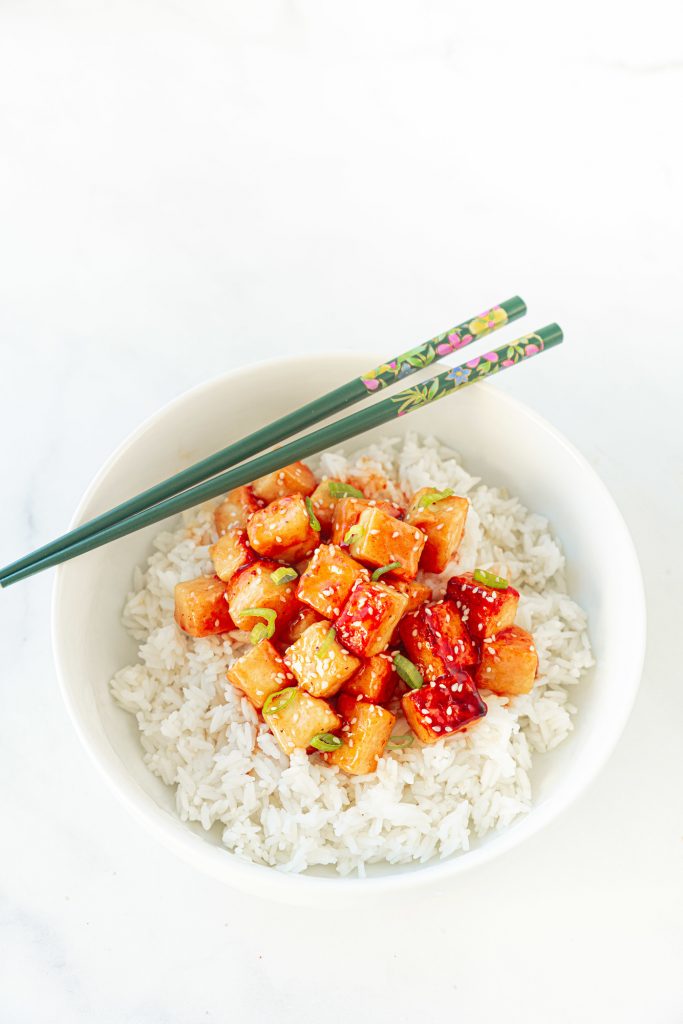 Homemade Vs Store Bought Orange Sauce
I am going to let you in on a HUGE secret. Are you ready?
You can make this orange tofu recipe with store bought orange sauce.
I know, that is SO bad, but so good!
Of course, I include how to make your own vegan orange sauce and it is pretty easy. But if you are short on time, please don't feel afraid to use store-bought!
When I am in a hurry, I use Kikkoman Orange Sauce which you can find at most grocery stores or Asian markets.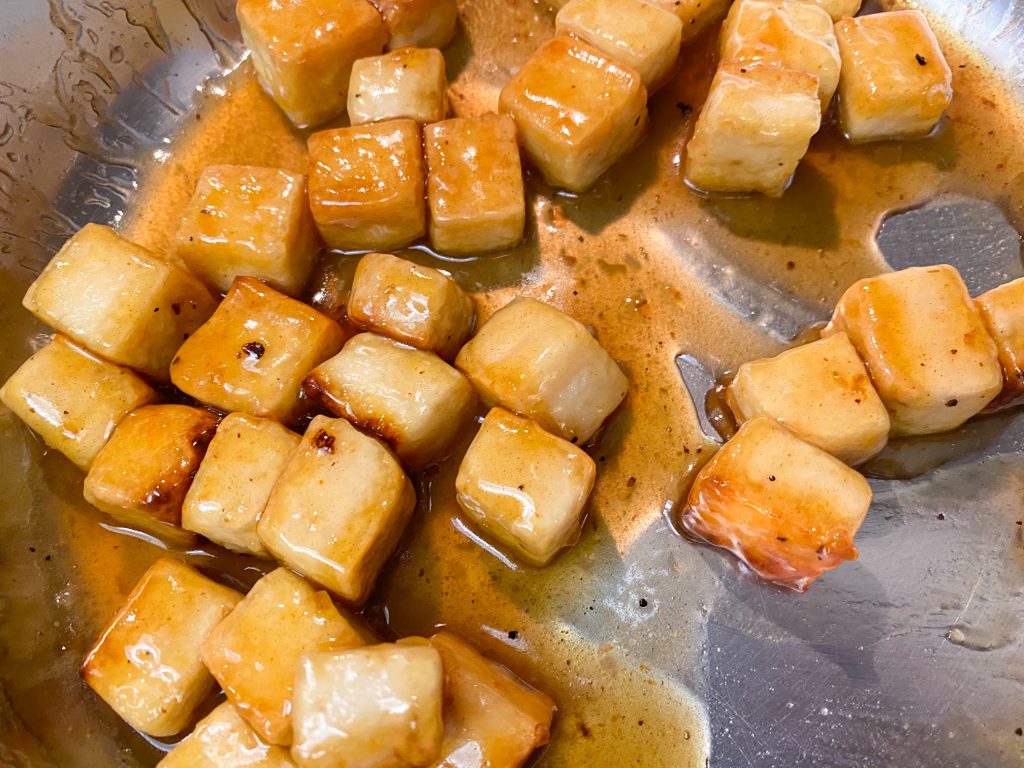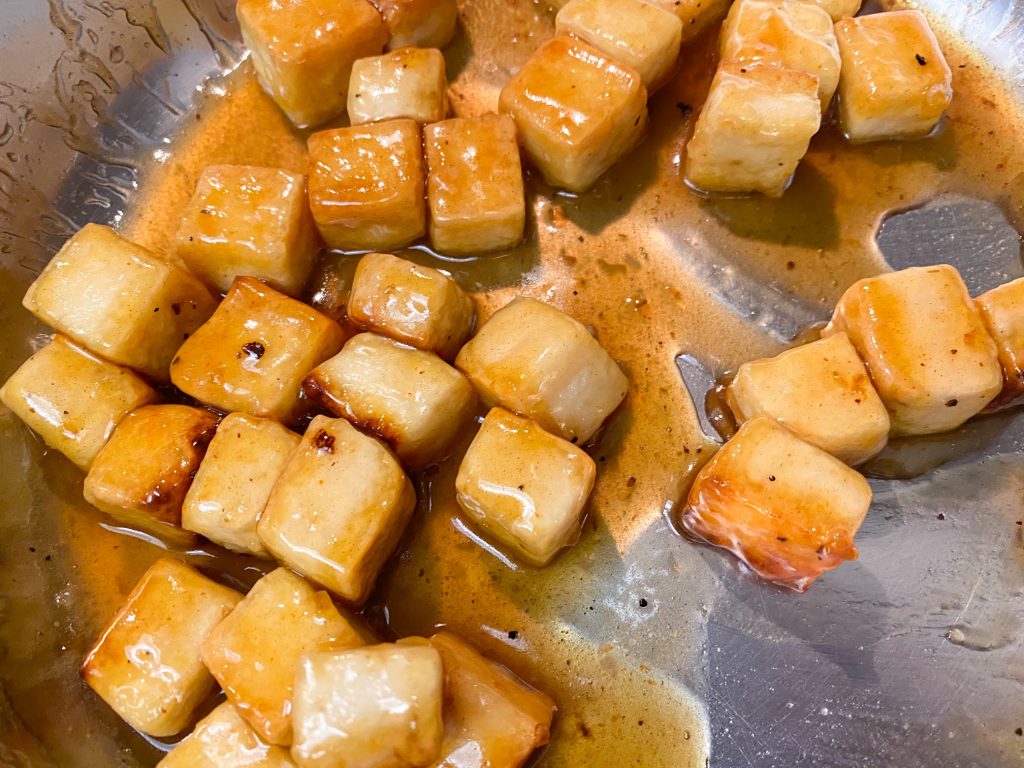 It is completely vegan and the ingredients aren't too horrible either!
The Store-Bought Orange Sauce just makes things easier, whether you have kids or you are in a rush!
If you want to make the vegan orange chicken with store-bought sauce, simply prepare the tofu according to my recipe below and once the tofu is crispy, mix in the orange sauce!
It is truly that simple!
Of course, homemade is a bit healthier, but I understand that sometimes you want homemade orange tofu without all of the fuss of making your own sauce!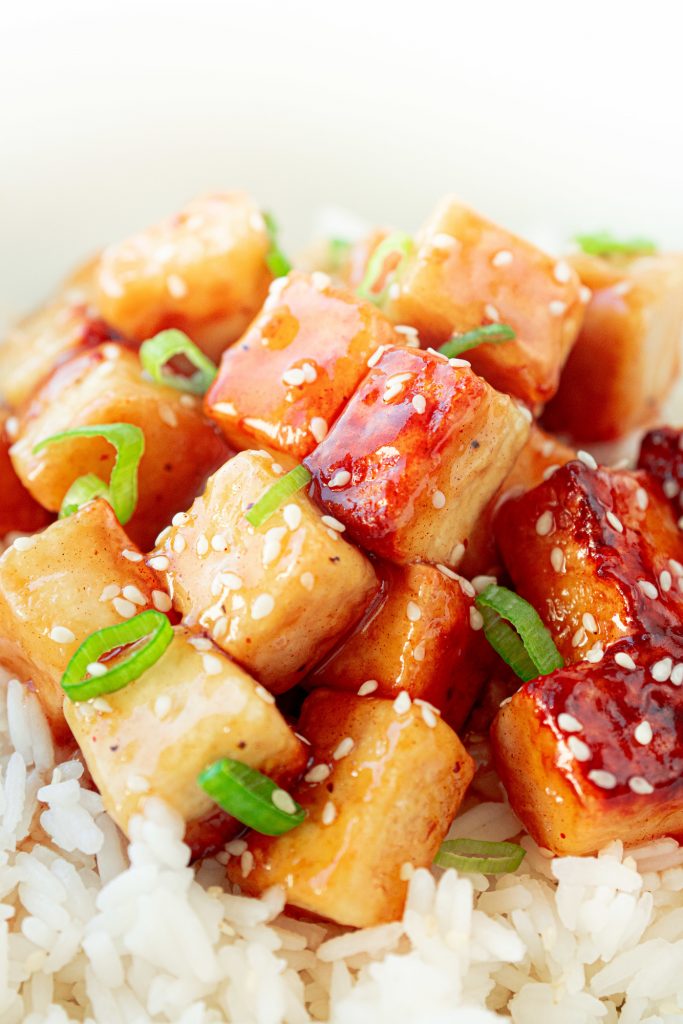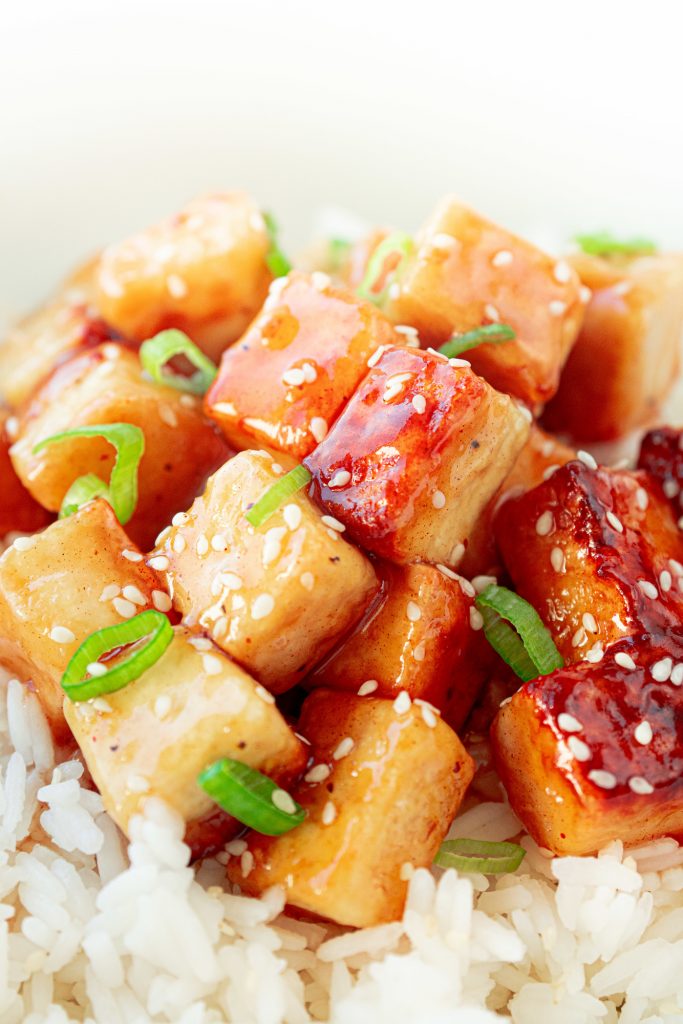 How To Make The Vegan Orange Sauce
Making the sauce for the vegan orange chicken is literally so easy! There are two steps!
The first step is to prepare the orange sauce, assuming you are making it homemade like I did here!
You will just bring your ingredients such as the sugar, soy sauce, orange zest, orange juice etc. to a boil and stir them constantly. Then, you will whisk your cornstarch or arrowroot together.
You will combine the cornstarch/water mixture to the boiling liquid mixture.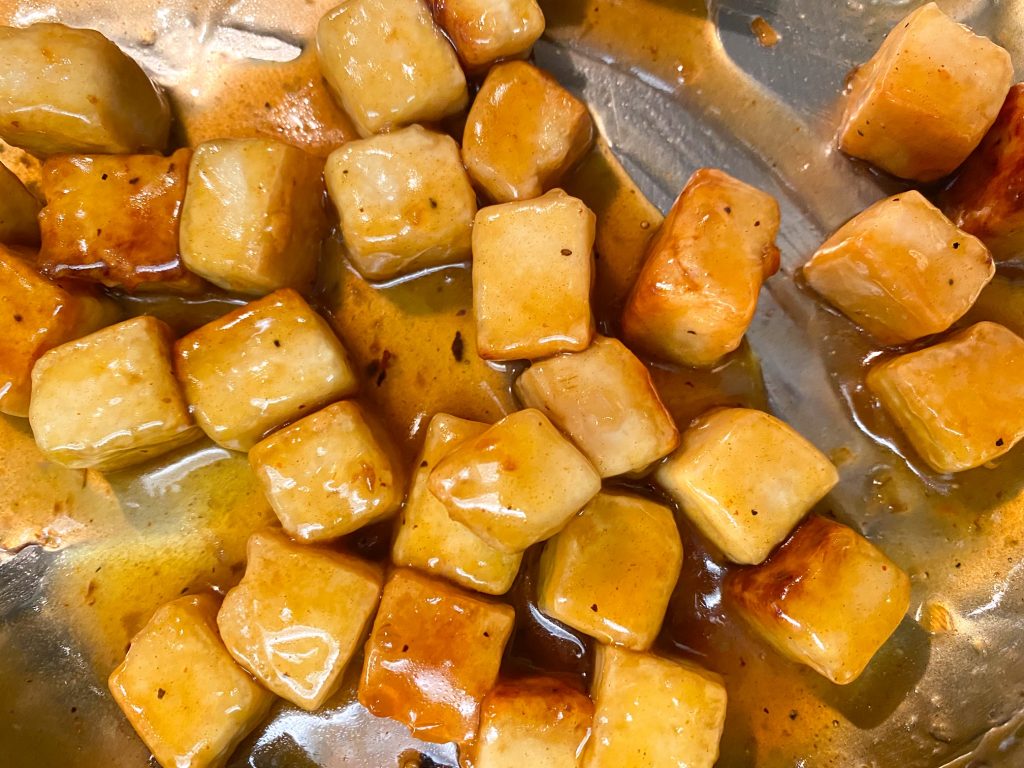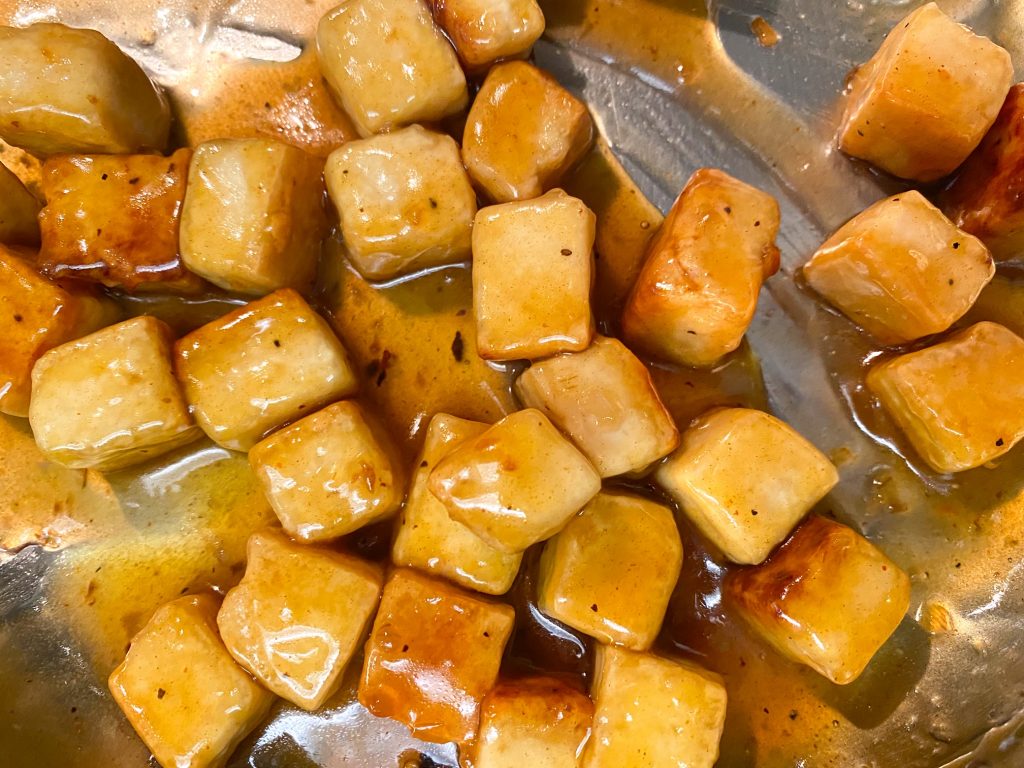 This is what is going to thicken the sauce and give it the amazing consistency you are after for the vegan orange tofu!
You may choose to wait to thicken the sauce by adding the cornstarch until you are doing frying the tofu, but I usually just do mine before because the tofu cooks up quickly!
The sauce takes probably 5-8 minutes to make, tops, so the part that takes the longest is getting all the ingredients together!
Again, if you are in a rush, you can skip this step and get some store-bought orange sauce. It is less healthy, but alright in a pinch.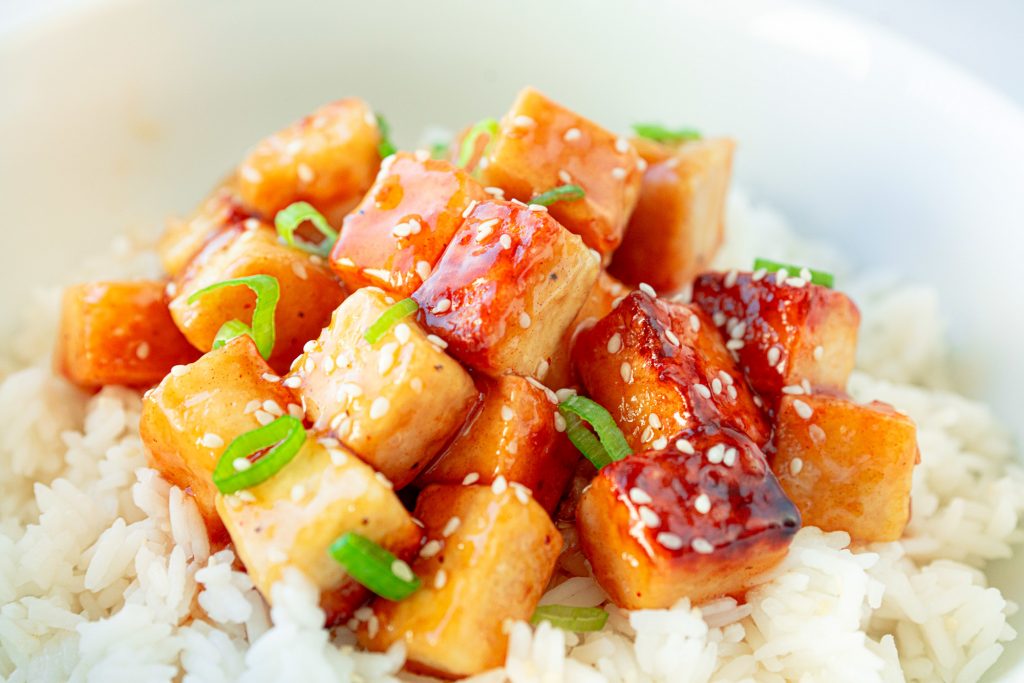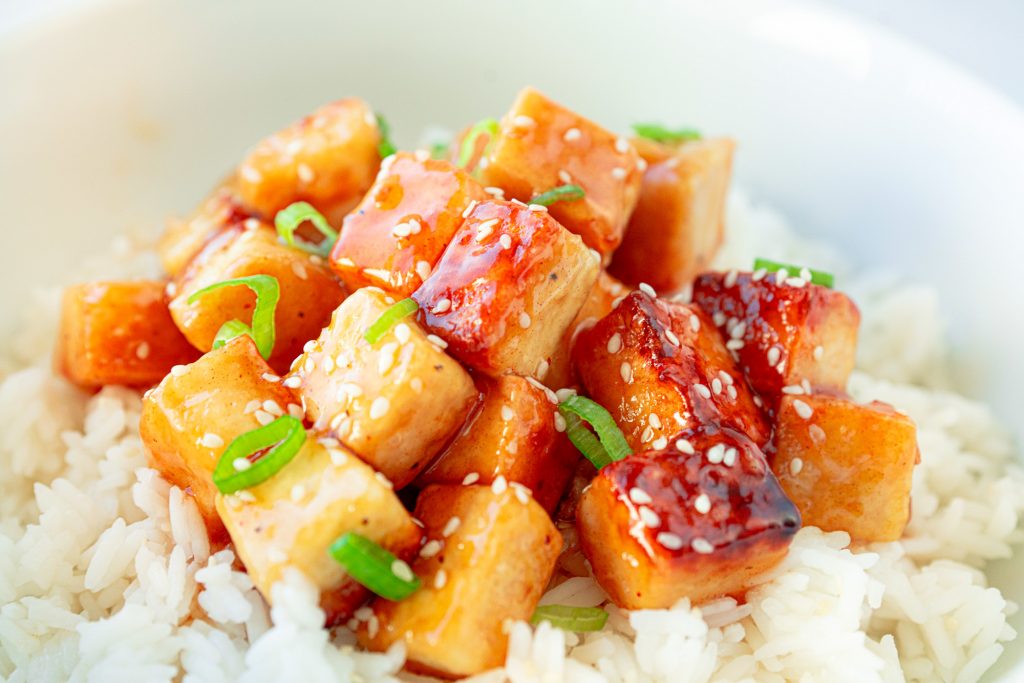 How to Make The Vegan Orange Tofu
After you make the sauce, it is time to make the orange tofu.
This part literally takes only a few minutes, as fast as you can fry it! If you are using store-bought orange sauce you will skip the first step and just come to this step for making the tofu.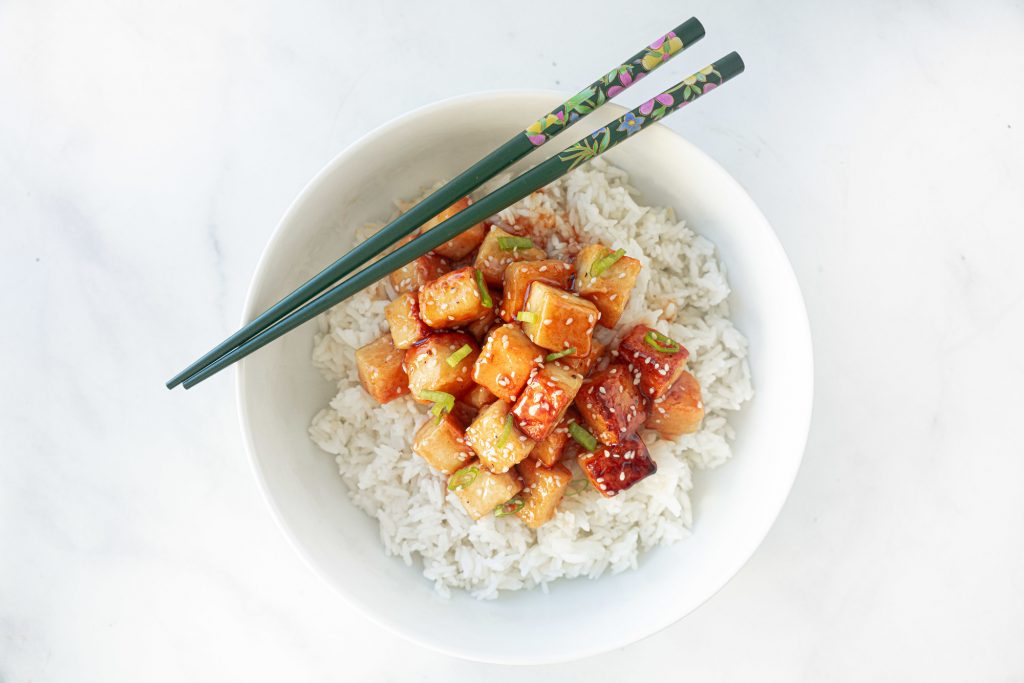 First, you are going to want to use extra firm tofu if possible. If you can only find firm, that is okay, but it may fall apart during cooking.
Next, you are going to want to drain your tofu and squeeze it out in a dish cloth.
Then, in a shallow dish, you are going to stir together flour, salt, and pepper. I usually just eyeball it, but I have included measurements for the spices below to help.
I have added a pinch of arrowroot or cornstarch to the flour mixture in the past, but it doesn't really matter.
Cut your tofu into 1-inch cubes and then USING YOUR HANDS, mix the tofu in the flour until each piece of tofu is coated.
If you don't think the tofu is wet enough, I promise that it will be and that the coating will stick!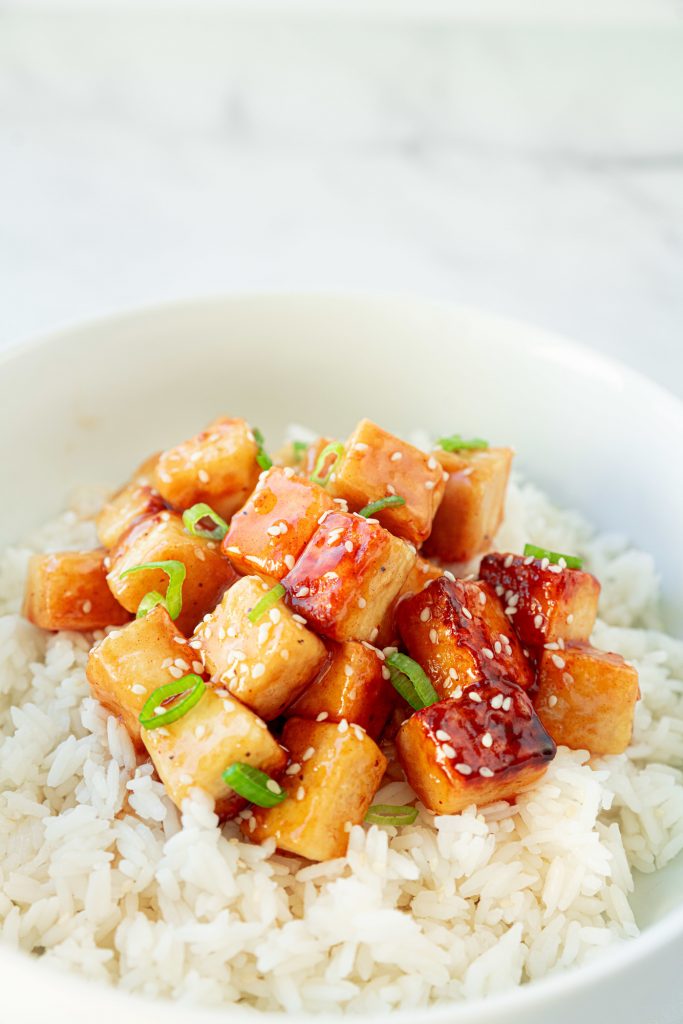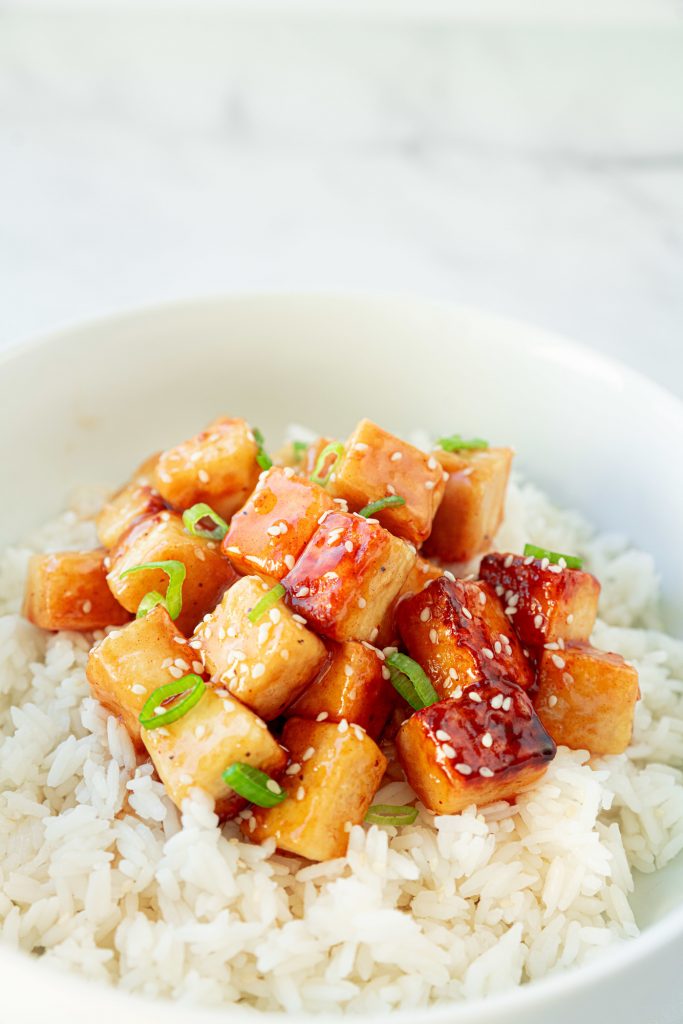 I recommend using your hands, not a spoon, so that the tofu cubes don't break apart. Just gently use clean dry hands to "fold" the tofu until it is evenly combined.
Now, in a large frying pan, you will add a few tablespoons of oil. Believe it or not, to make good vegan orange chicken, you don't need a lot of oil!
Heat the oil then drop in the tofu cubes.
I recommend letting the top cook for a little then flipping gently and letting the bottom cook.
Shortly, you will start to see that the orange tofu is beginning to crisp up. You can even use your finger to gently touch a piece of the tofu on the pan if you are excited!
Simply fry your tofu until golden brown. Usually about 5-8 minutes, depending on your stove and heat.
Remove the pan from the heat and stir in the orange sauce.
Put the pan over the burner that is still hot and stir the tofu in with the orange sauce until combined and thicker.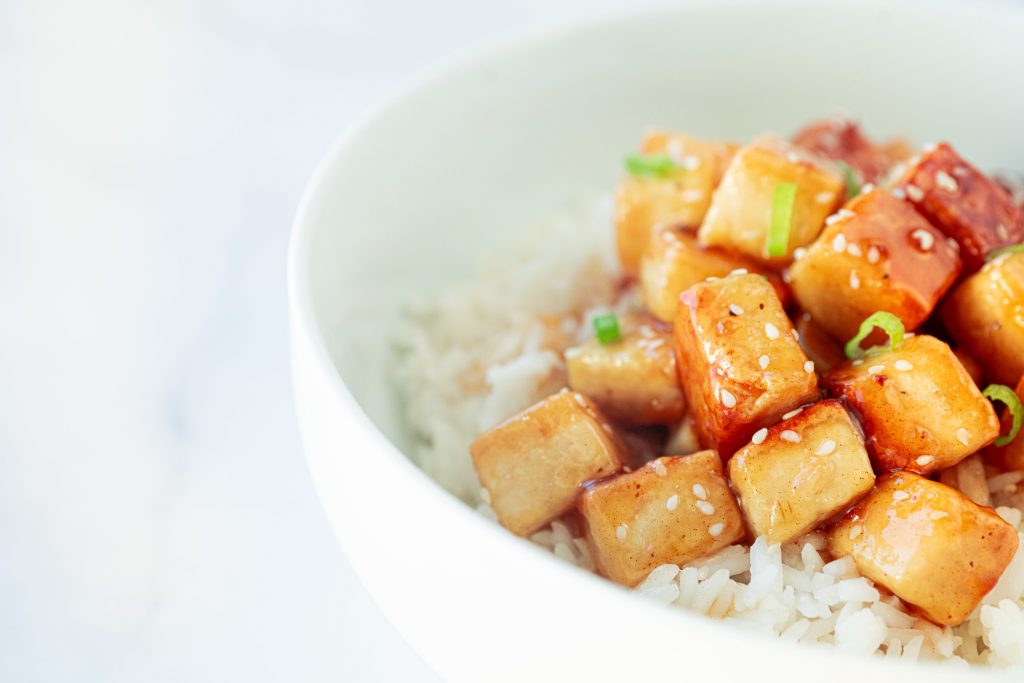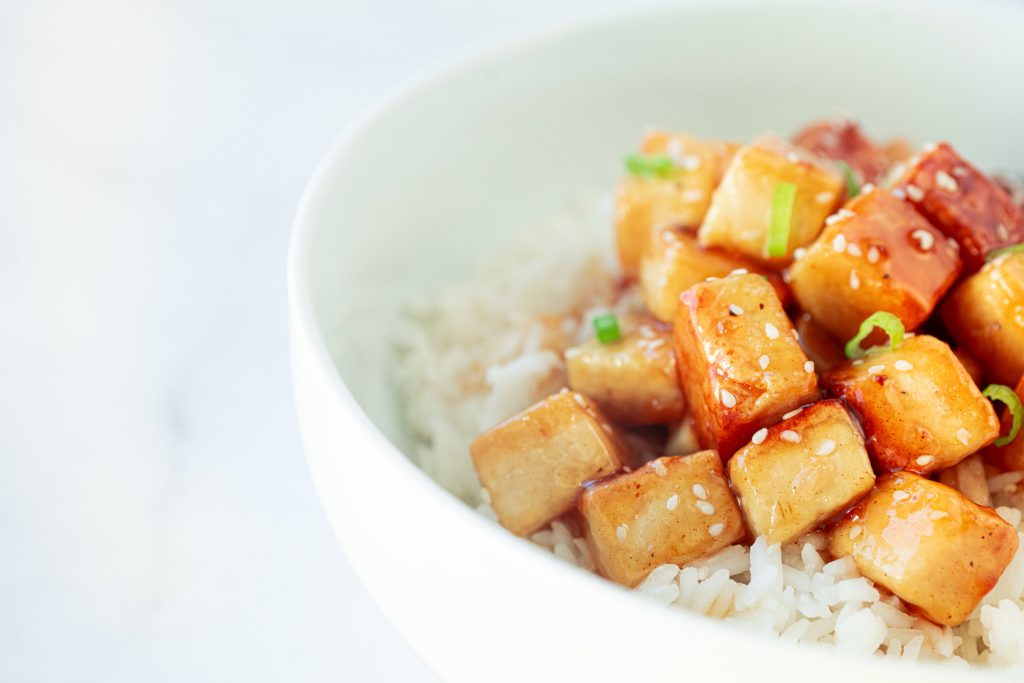 You want to make sure that every piece of tofu is pretty evenly coated.
I like to toss the tofu and orange sauce in the pan as it makes everything easier to see and get an even coating. I like to do this over low heat or over the burner that is still hot, only for a few seconds.
To serve, top the vegan orange chicken with sliced green onions and sesame seeds!
You can buy Sesame Seeds from Amazon for super cheap, don't spend $12 at Whole Foods like me!
Eat your orange tofu over white rice and maybe even with a side of steamed broccoli for the best experience! If you want to get real fancy, you can even make our Vegan Fried Rice to go with it!
You will never want to go to Panda Express again!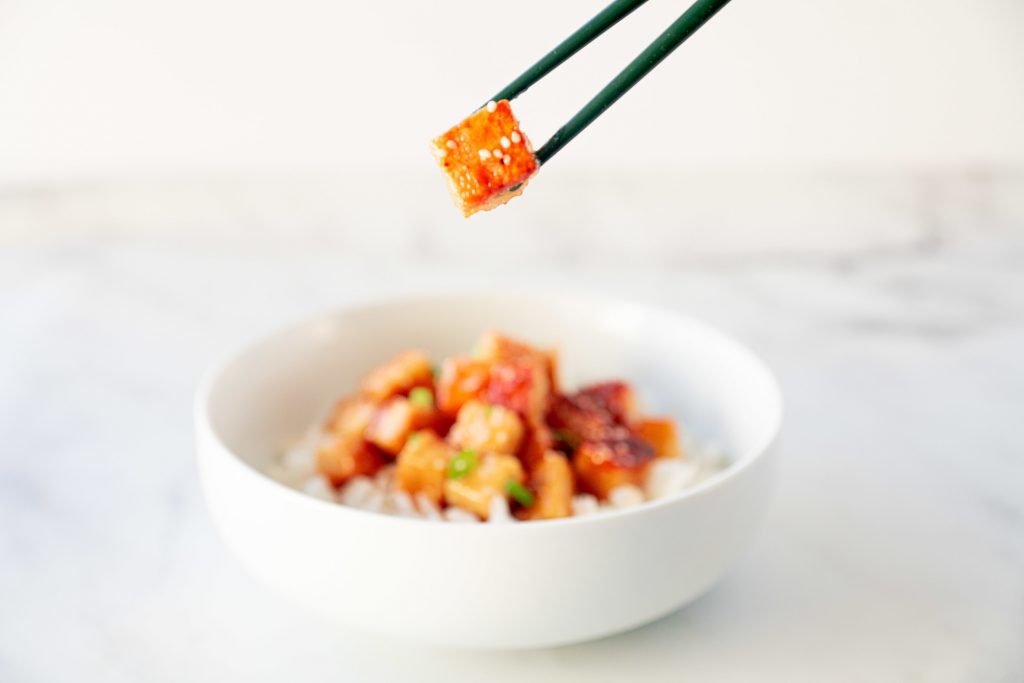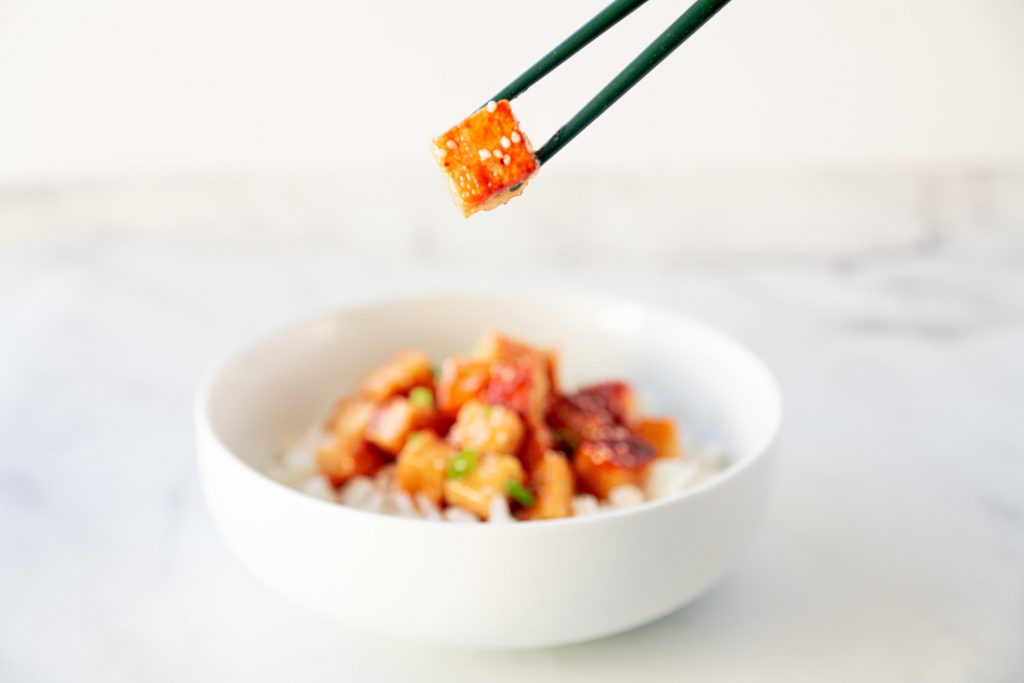 Did You Try This Recipe?
If so, I would love to keep in touch! I enjoy seeing photos and comments about the recipes that you make! You can follow me on Instagram and I will repost your goodies in my stories and comment on it too! Just tag me at @wowitsveggie and hashtag #wowitsveggie. I can't wait to see what you make!
Yield: 4 Servings
Easy Vegan Orange Tofu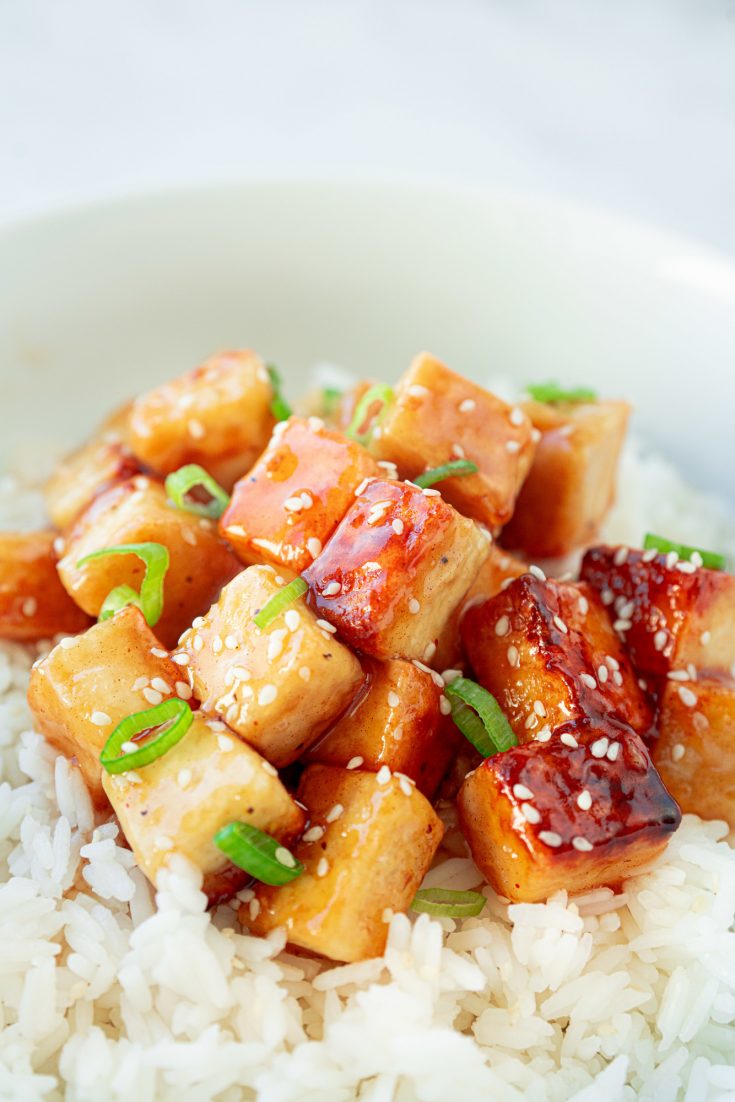 This vegan orange chicken recipe is going to become your new family favorite! Orange tofu is the vegan take on the popular Panda Express favorite and it is so good!
To save time, you fry tofu in a little bit of oil and toss with the sticky orange sauce!
If you are short on time or in a rush, you can even use store-bought orange sauce and skip making it yourself. I promise I won't snitch!
Either way, the vegan orange tofu smells and tastes just like your favorite takeout restaurant! You won't be disappointed!
Ingredients
1 1/2 cups water
2 tablespoons of orange juice
3 tablespoons lemon juice
1/2 cup rice wine vinegar
3 tablespoons soy sauce or tamari
3/4 cup sugar [brown/white/maple syrup]
1/4 teaspoon red pepper flakes
1/2 teaspoon grated ginger
1 clove of garlic, crushed
2 tablespoons cornstarch or arrowroot
1/2 cup of flour
1 teaspoon salt
1/2 teaspoon black pepper
1 package firm or extra firm tofu cut into 1-inch pieces
oil for frying
Green onions and sesame seeds for topping
1 cup of cooked white rice per person for serving
Instructions
For The Orange Sauce
In a medium saucepan, combine 1 cup water, orange juice, vinegar, soy sauce, sugar, red pepper flakes, ginger, garlic, and lemon juice and bring the mixture to a boil. Stir constantly.
While the liquid is cooking, combine cornstarch/arrowroot and 1/2 a cup of water. Add the mixture to the pot and cook on medium-low heat until the orange sauce is thick. This usually takes about 3-5 minutes. Remove from heat as soon as the sauce thickens!
For The Orange Tofu
Using a plate or shallow dish, add flour, salt, and pepper.
Drain your tofu and press it between a dishcloth to remove some of the liquid. Cut your tofu into 1-inch squares.
Using clean dry hands, mix your tofu with the flour mixture. Using your hands prevents the tofu from falling apart. If you use a spoon, the tofu may not keep its shape.
In a large frying pan, heat 2-4 tablespoon of oil. Add tofu and cook on medium-high heat until golden brown. Your tofu will crisp up nicely! Make sure that all sides of the tofu get cooked and gently turn during the frying process. This usually takes about 5 minutes.
Remove frying pan from the heat and stir in orange sauce with the tofu. Mix to combine so that every piece of tofu is coated. You can do this on low heat too!
Serve on white rice topped with chopped green onions and sesame seeds!



Notes
If you are short on time you can just make the tofu as instructed and use Kikkoman Orange Sauce from the store to top it! This is a "cheat" way to make this process even quicker!
The tofu keeps well for a few days in the fridge. You can reheat it simply by frying it jut enough to heat it up. You can also microwave it, but a lot of people don't like to use the microwave!
Nutrition Information
Yield
4
Serving Size
1
Amount Per Serving
Calories

312
Total Fat

9g
Saturated Fat

1g
Trans Fat

0g
Unsaturated Fat

7g
Cholesterol

0mg
Sodium

1020mg
Carbohydrates

35g
Fiber

3g
Sugar

27g
Protein

9g