This vegan caramel sauce recipe is going to become your favorite vegan dessert ever! It uses just 3 ingredients [bourbon and salt are optional] and comes together in about 5 minutes.
I will admit, I am a sucker for caramel sauce or caramel topping, from using it on ice creams to loving it on top of coffee beverages!
That being said, you probably can't find vegan caramel sauce at your local coffee shop [and if you can, you are super lucky!]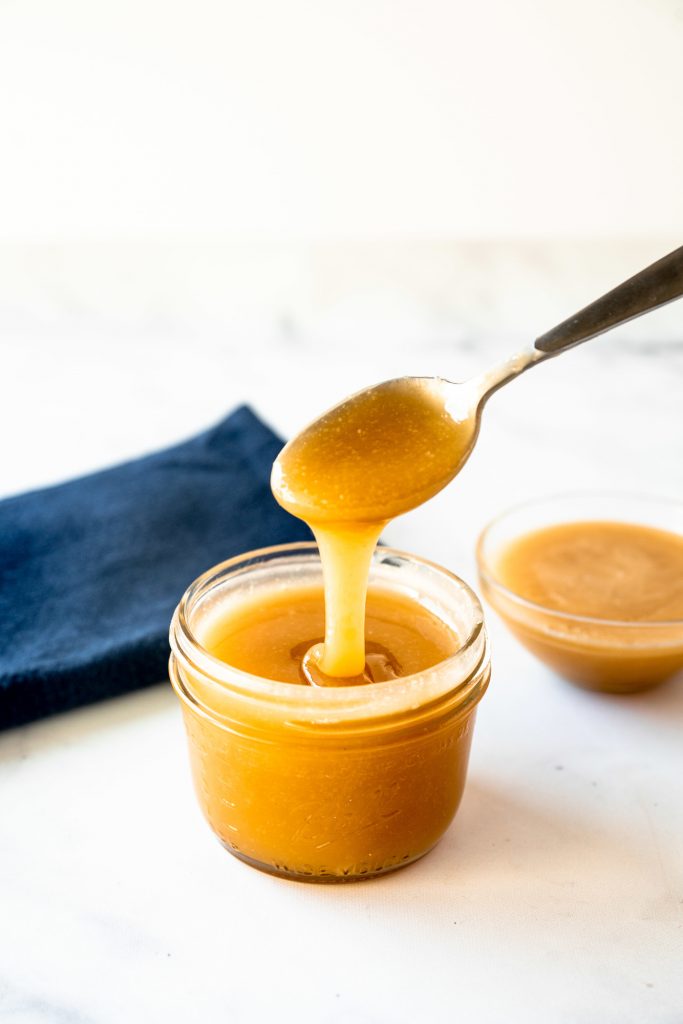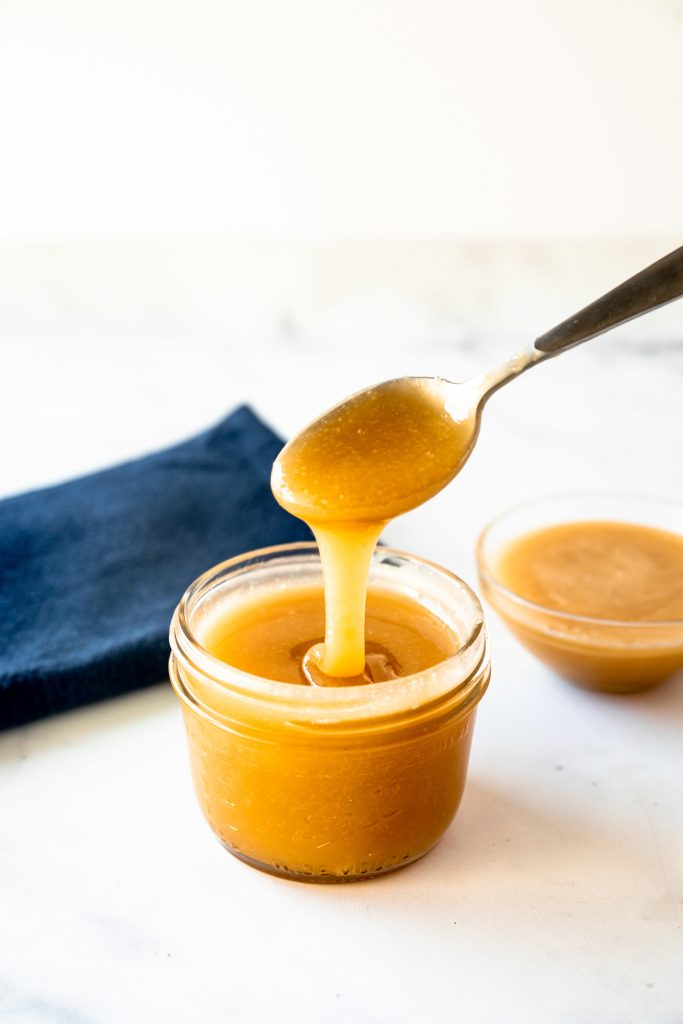 I will admit, the thought of melting sugar to caramelize was daunting and my mom and I had a few disastrous mishaps when creating this recipe.
We had the mishaps so that YOU don't have to! This recipe is fool-proof and quick and easy!
There are only 4 ingredients for making the vegan caramel and I like to add a hint of bourbon.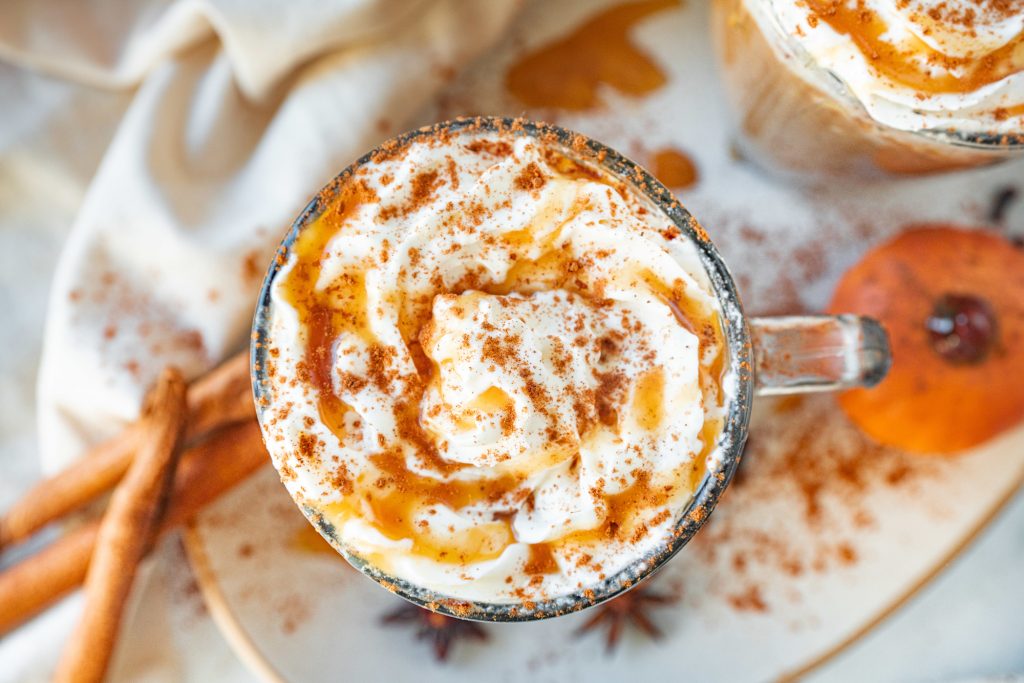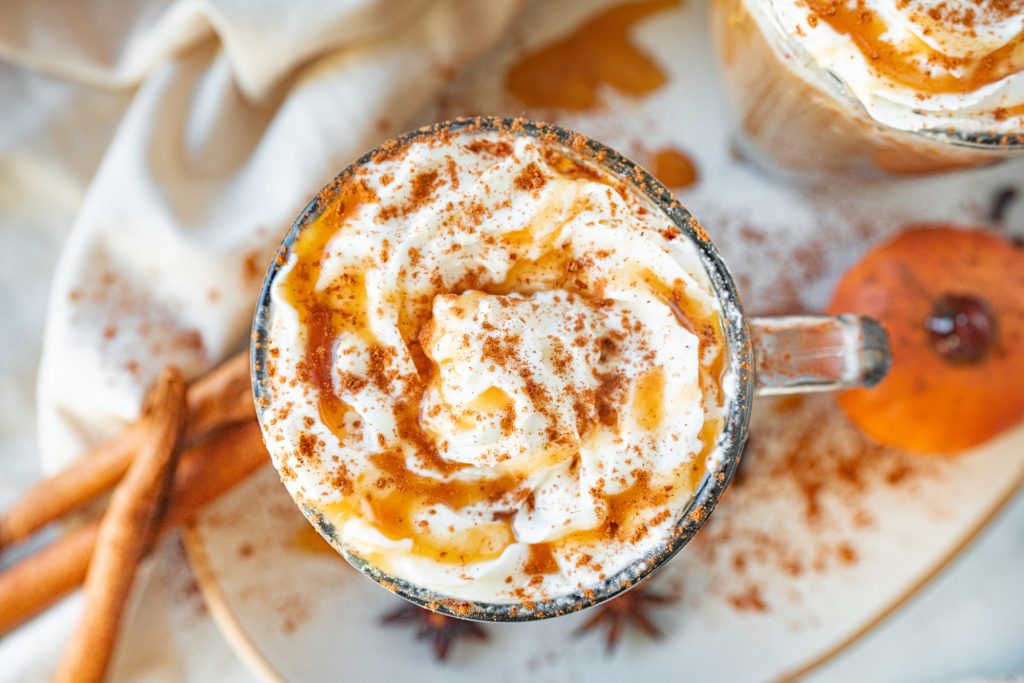 The bourbon adds depth of flavor and it is such a small amount that it is safe for kids to have too! Of course, this is totally optional!
The way the vegan caramel sauce drizzles over desserts is fabulous and looks authentically like the real thing!
How can you go wrong with these easy ingredients and the delicious final taste?
I love using my salted caramel sauce to top my Vegan Pumpkin Spice Latte or pies such as my Vegan Pumpkin Cheesecake. The options are endless!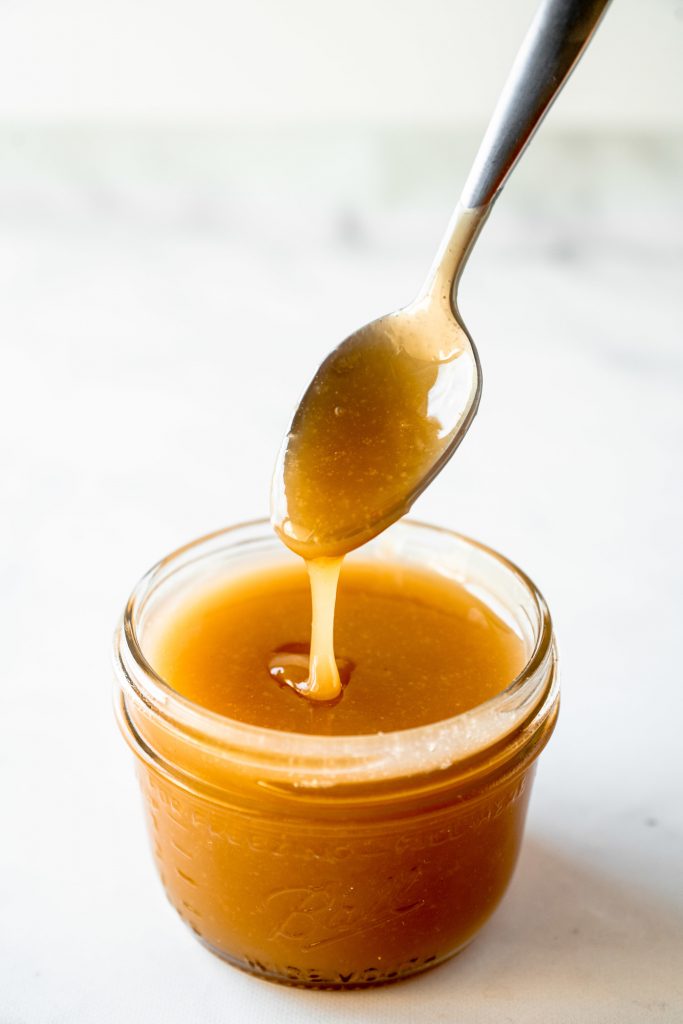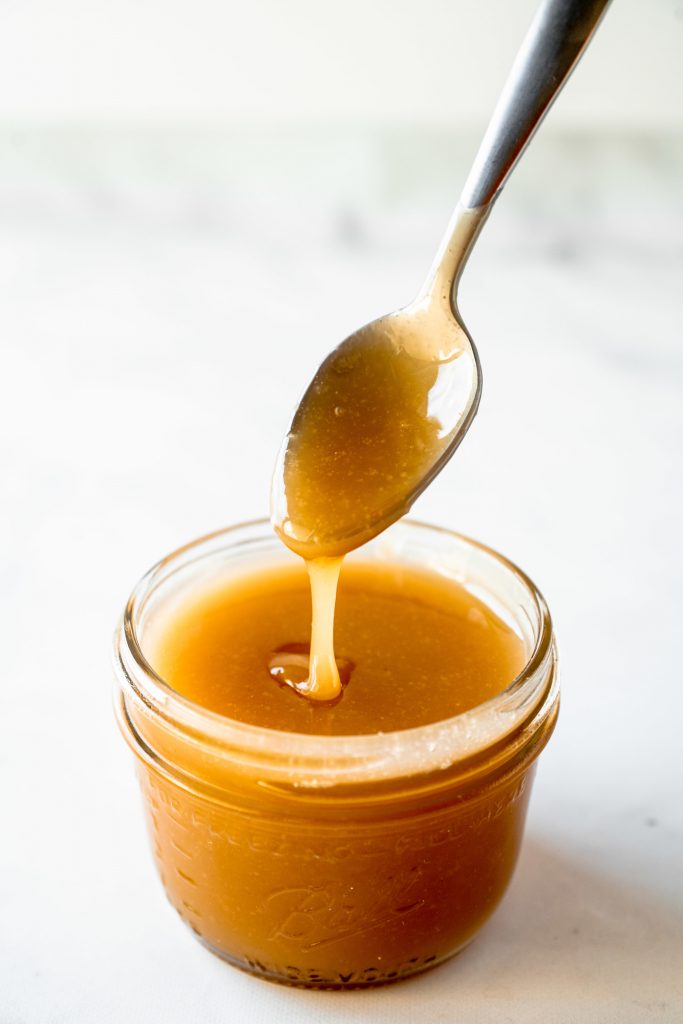 What Is In Vegan Caramel Sauce?
My vegan caramel sauce has 3 main ingredients and 2 "optional" ingredients!
First, is soy creamer. I recommend soy creamer such as Silk brand because it adds a thick nature while being sweeter than regular non-dairy milk.
I tried using coconut cream and it was a huge disaster. I highly recommend soy creamer instead of thicker soy milk.
Next, is vegan butter! I actually have an Easy Vegan Butter Recipe that you can make at home!
You can use any margarine from the store and that works great. My vegan butter melts well too but I totally understand using store-bought for the sake of time!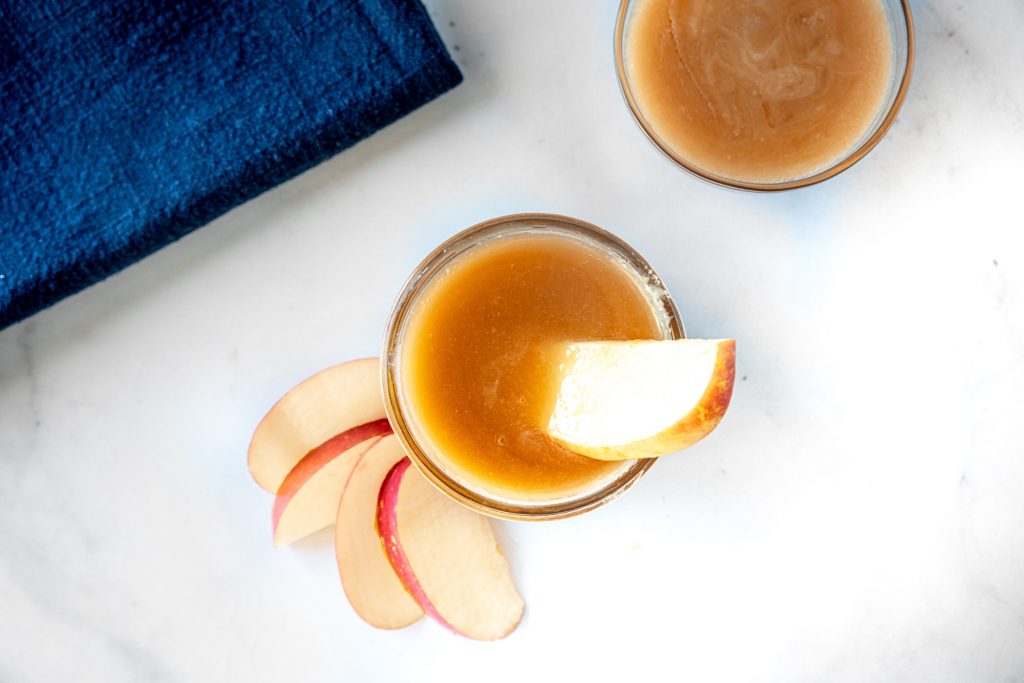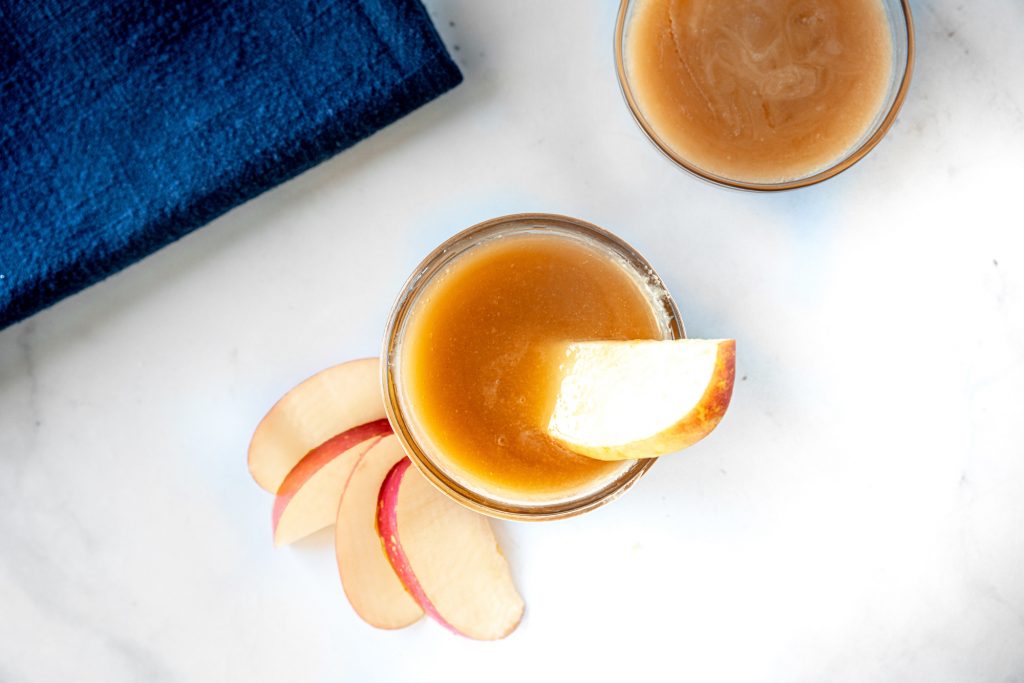 Vegan butter melts well and is easier to handle and find than the coconut cream I had previously tried. Plus, there is no flavor.
Finally, sugar. A ton of sugar.
I have used both brown and white sugar. White sugar doesn't change the color of the caramel, believe it or not!
When melted, the white sugar actually becomes brown in nature! So feel free to use whatever you have on hand.
Finally, I like to add salt and a touch of bourbon. Both are optional ingredients, but make the vegan caramel sauce taste oh so good!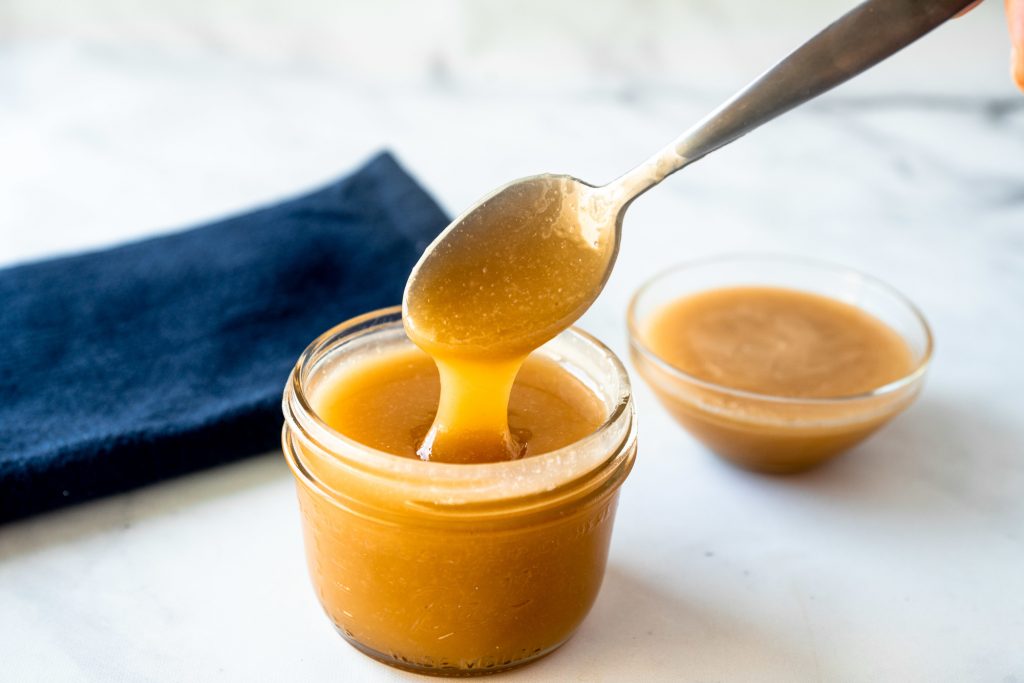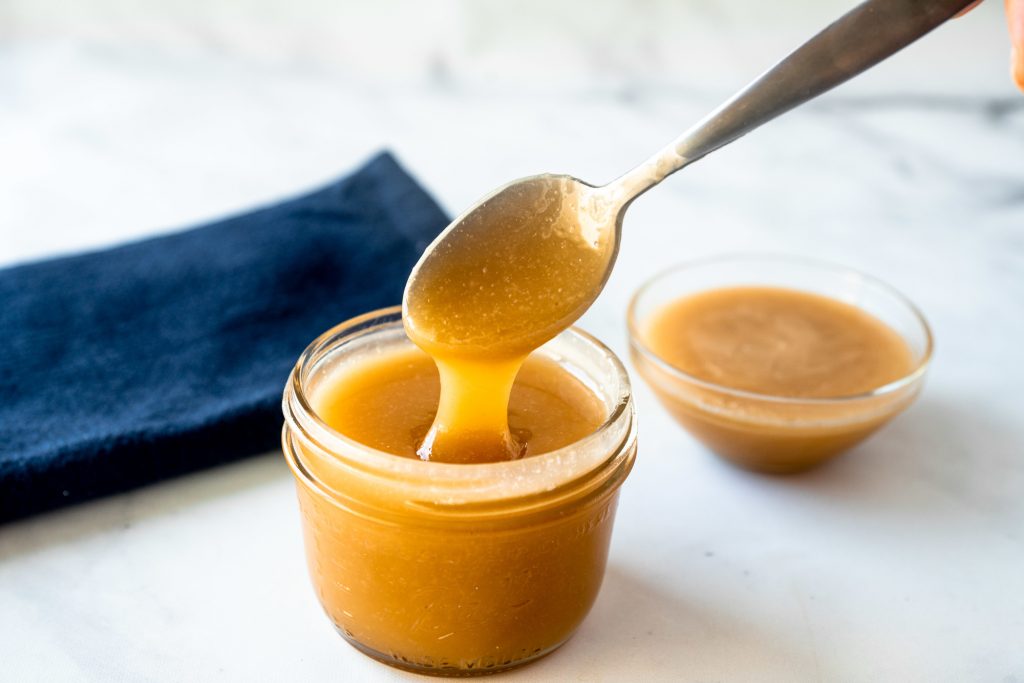 How To Make Vegan Caramel Sauce
Making this vegan caramel sauce is so quick and easy! It is sweet and thick with a light bourbon and salt flavor.
It literally takes 5 minutes to make and requires very little effort!
If it is your first time making caramel, READ THIS!
DO NOT UNDER ANY CIRCUMSTANCES caramelize the sugar ALONE in the pan without the other ingredients.
Unless you are an experienced candy maker, this will result in disaster.
You will want to melt your sugar WITH ALL THE INGREDIENTS in the pan so that you avoid a huge kitchen mess.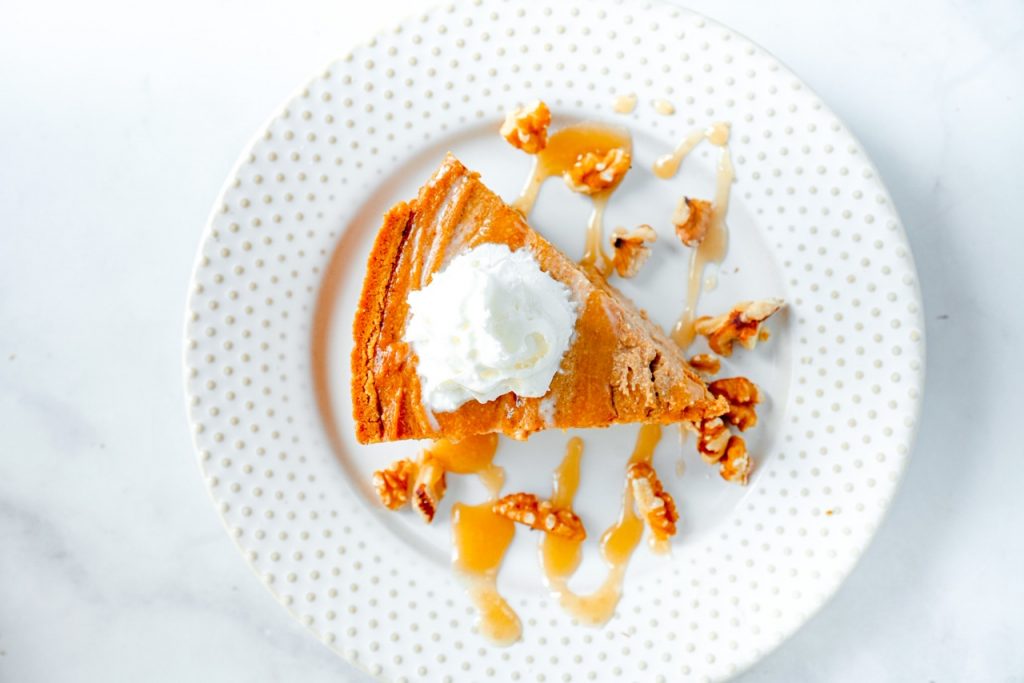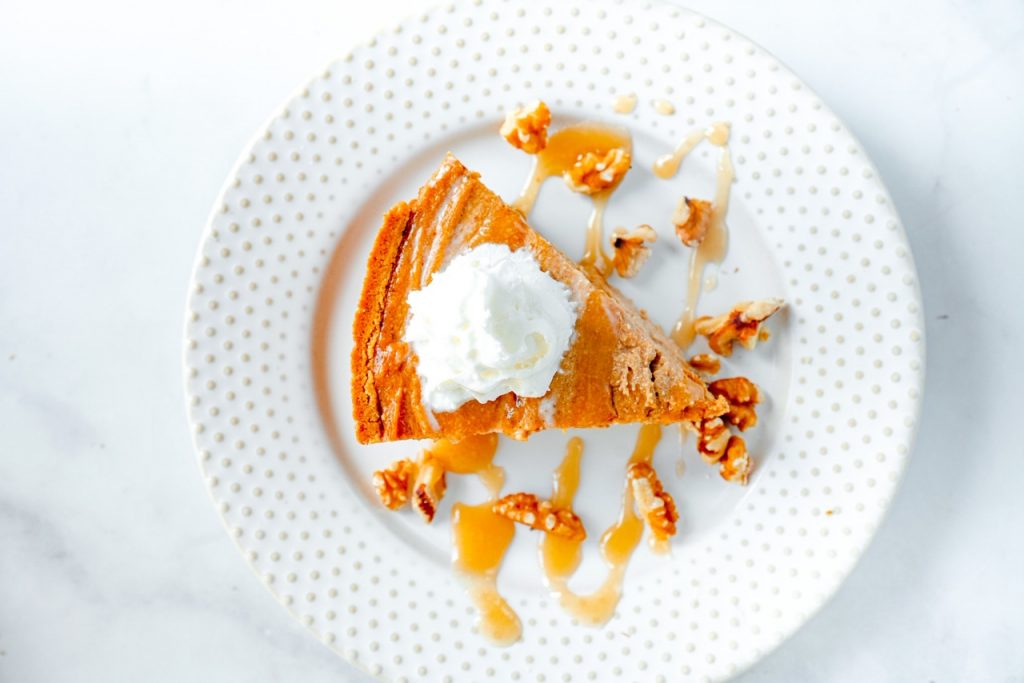 All you have to do is add your non-dairy creamer, vegan butter, salt and brown sugar to a saucepan over medium to high heat.
You will want to whisk the mixture constantly until a full boil is reached.
As soon as you reach a boil, shut the stove off and continue to whisk the mixture together for about 3-5 minutes.
As it cools, the vegan caramel sauce will thicken.
If you want to add the bourbon, you will add it after you remove the caramel sauce from the heat. Just add your light splash and whisk to combine.
Be careful to not add too much bourbon or else it will ruin the tasty flavor of the caramel sauce.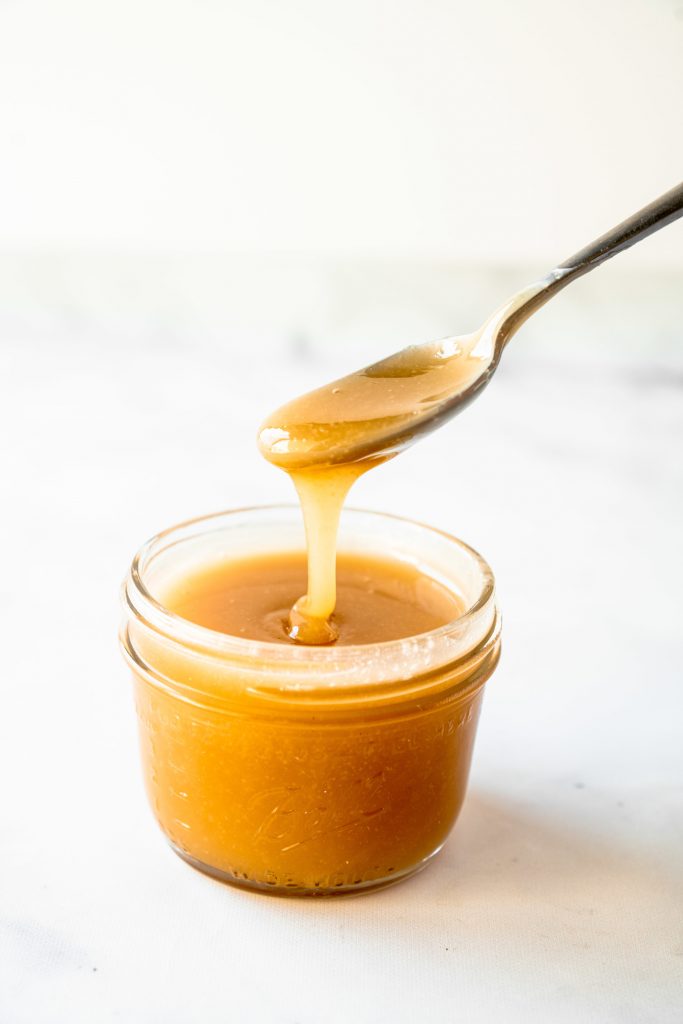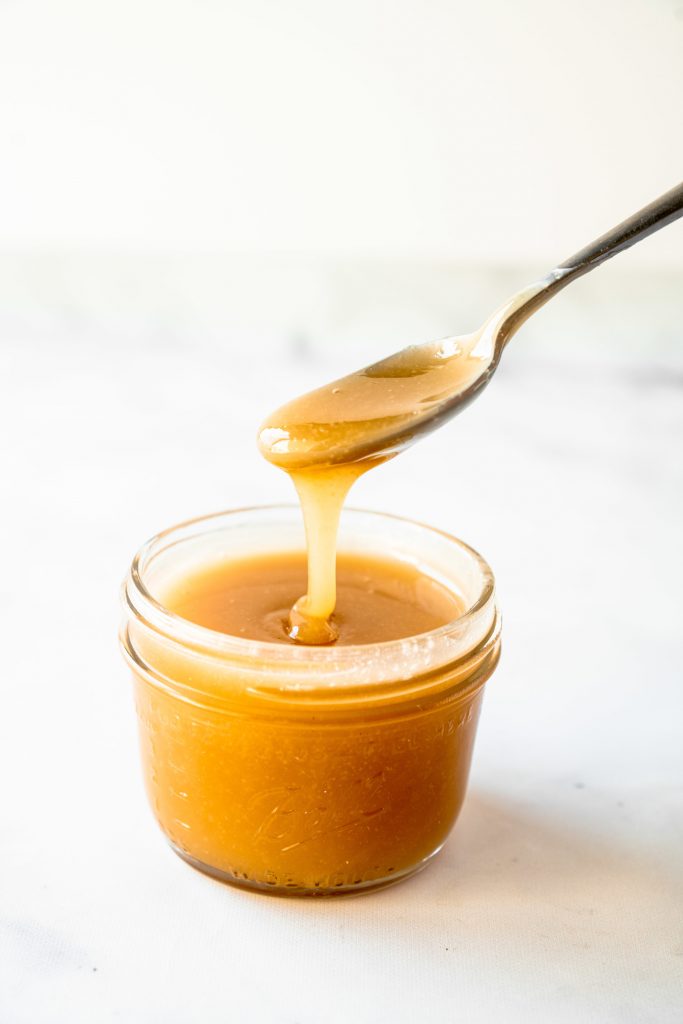 How To Reheat The Caramel Sauce
The longer you let your caramel sauce sit, the more it will thicken.
If you are storing it in the fridge, it might become too thick for your liking.
All you have to do is simply reheat it for the texture and consistency to become the way you want to use it!
If you use the microwave, simply pop it into the microwave and give it a stir.
If you don't use the microwave, just put the remaining vegan caramel sauce into a small saucepan and heat it on low heat until the mixture is warm.
If the sauce gets too thick for you, all you have to do is reheat it for it to go back to the way you want it!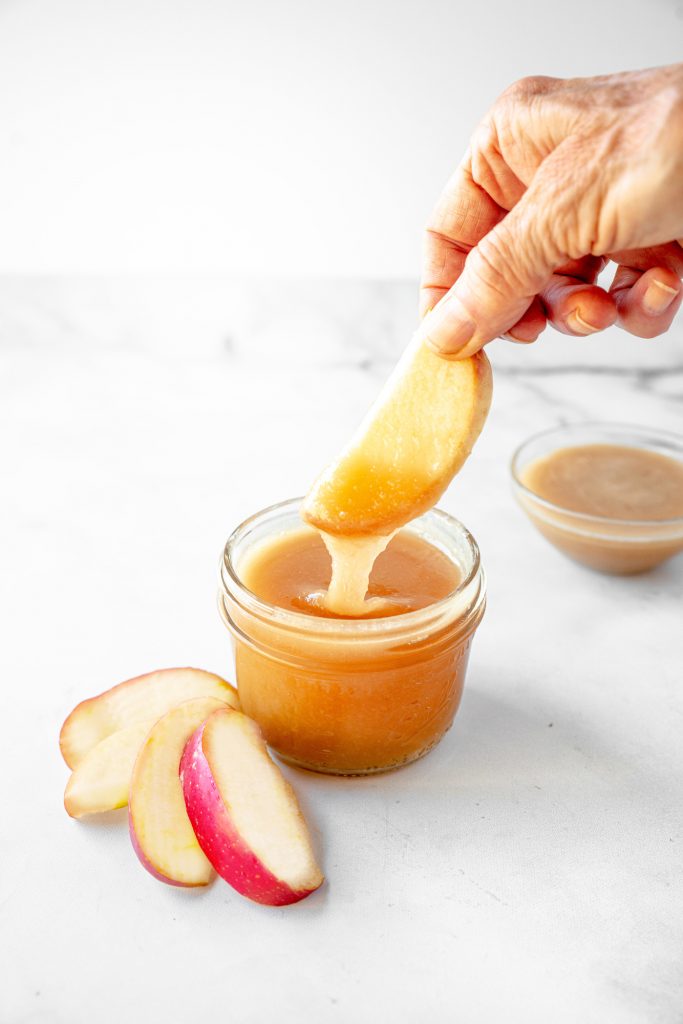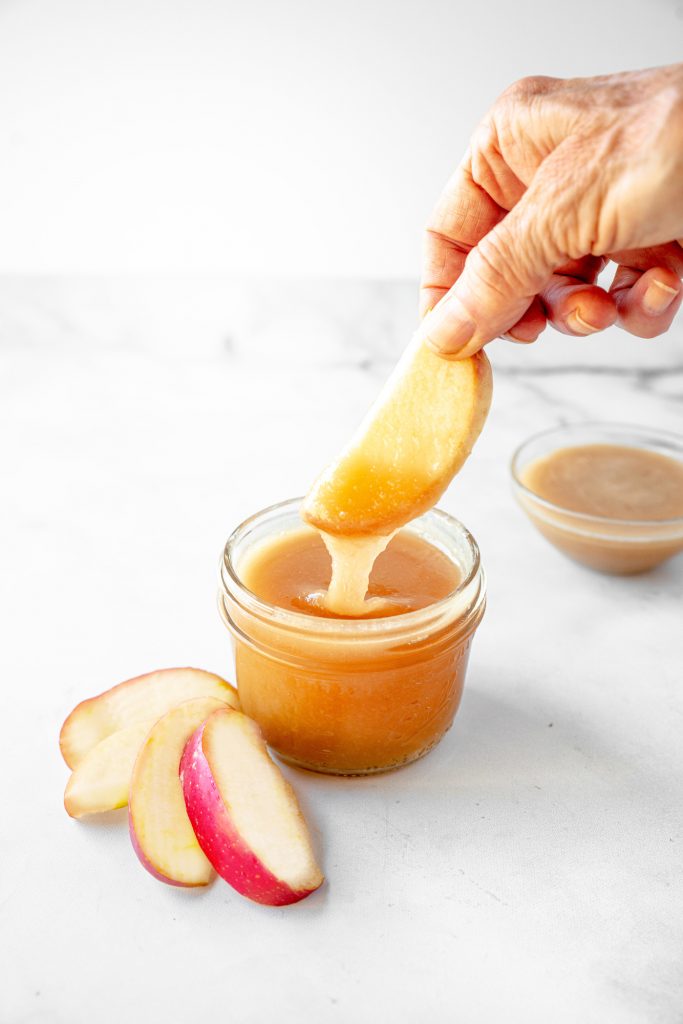 How To Use The Vegan Caramel Sauce
There are so many amazing ways to use this vegan caramel sauce recipe!
First, there are the obvious ways such as topping ice cream!
Here are some of my favorite recipes to top with the delicious sauce:
Vegan Double-Chocolate Chunk Cookies
Dunk in sliced apples
Of course the options are endless! Feel free to play around to your heart's content!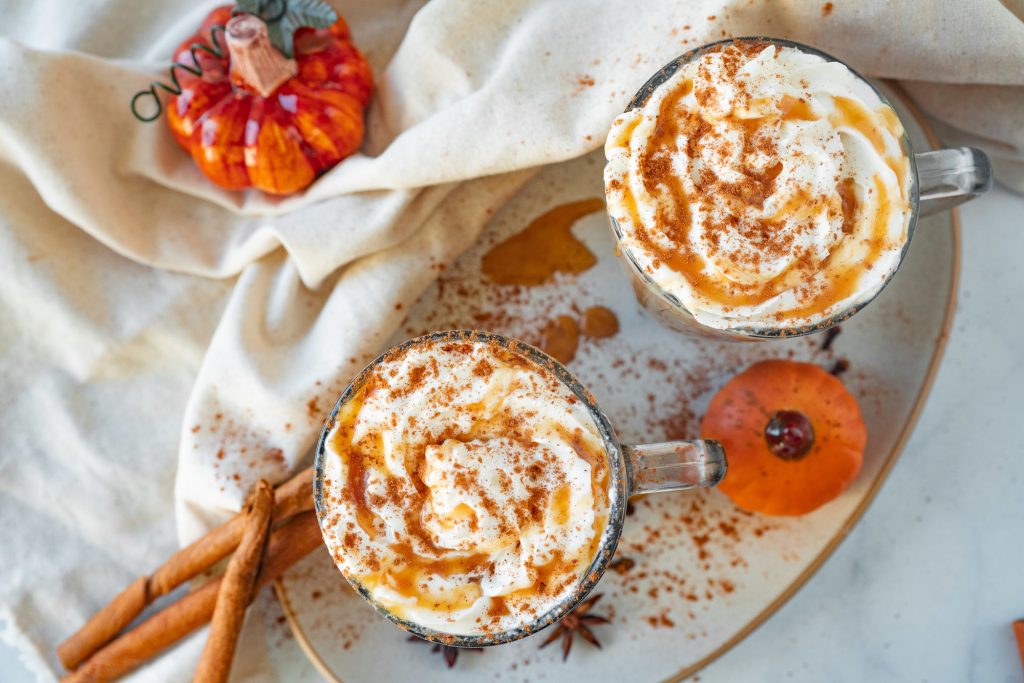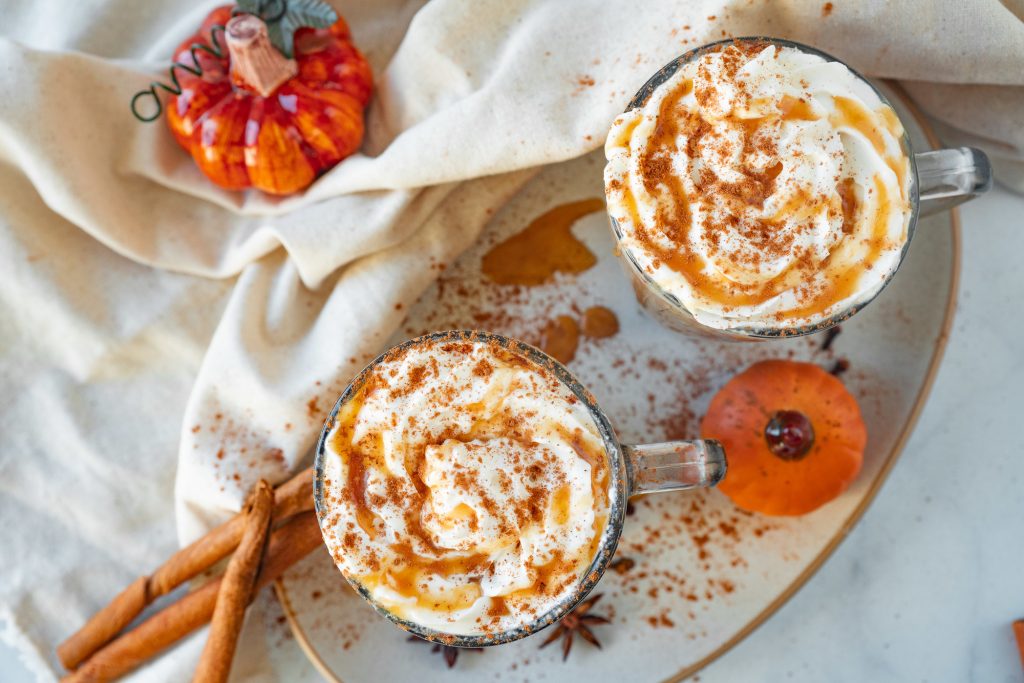 Did You Try This Recipe?
If so, I would love to keep in touch! I enjoy seeing photos and comments about the recipes that you make! You can follow me on Instagram and I will repost your goodies in my stories and comment on it too! Just tag me at @wowitsveggie and hashtag #wowitsveggie. I can't wait to see what you make!
Yield: 1 Cup
Easy Vegan Caramel Sauce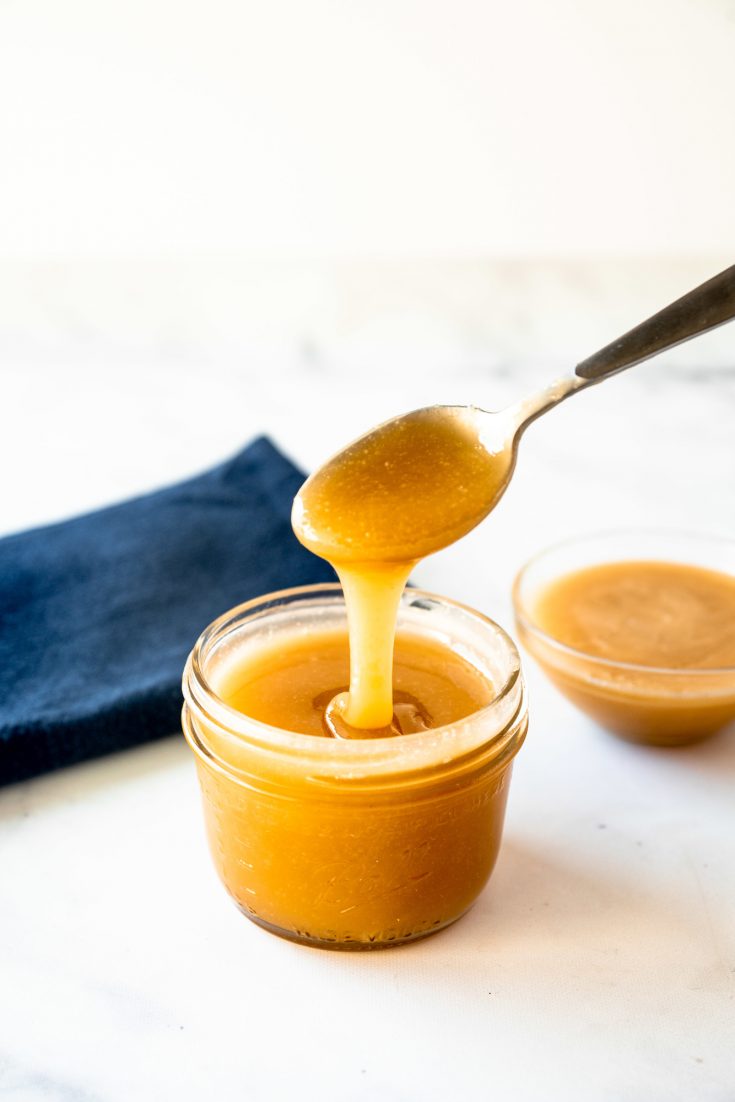 This vegan caramel sauce recipe is so tasty and delicious! It comes together in just a few minutes and uses just 3 ingredients. It is indulgent and goes well with almost anything! Add in some salt and bourbon for an even better flavor.
Ingredients
1/2 cup vegan butter
1/2 cup non-dairy creamer
1 cup sugar
Optional: 1 teaspoon salt/1 tablespoon bourbon
Instructions
In a saucepan on medium-high heat, melt Vegan Butter, non-dairy creamer (or thick non-dairy milk), sugar, and salt. Whisk the mixture constantly until combined and a full boil is reached.
Once the vegan caramel boils, turn the heat to low and whisk for about 3 minutes and then shut off the heat and whisk for a few more minutes until the sauce thickens. The cooler the caramel sauce gets the thicker it will get.
If you are using the bourbon, remove the caramel sauce from the heat and stir in the bourbon.
Serve warm over vegan ice cream, cheesecake, pie, or dip in cookies and fruit!
Nutrition Information
Yield
16
Serving Size
1
Amount Per Serving
Calories

111
Total Fat

7g
Saturated Fat

4g
Trans Fat

0g
Unsaturated Fat

2g
Cholesterol

15mg
Sodium

184mg
Carbohydrates

13g
Fiber

0g
Sugar

12g
Protein

0g