If you have never tried crispy cauliflower, you are in for the treat of a lifetime! This post is on the longer side, that is because I have a lot to say and a lot of tips for this recipe!
First, this crispy baked cauliflower is totally vegan/vegetarian and can be gluten-free when you use gluten-free flour and breadcrumbs.
Second, it is breaded to perfection and then oven-baked so you aren't frying it in gobs of oil [not that I am against that every now and again]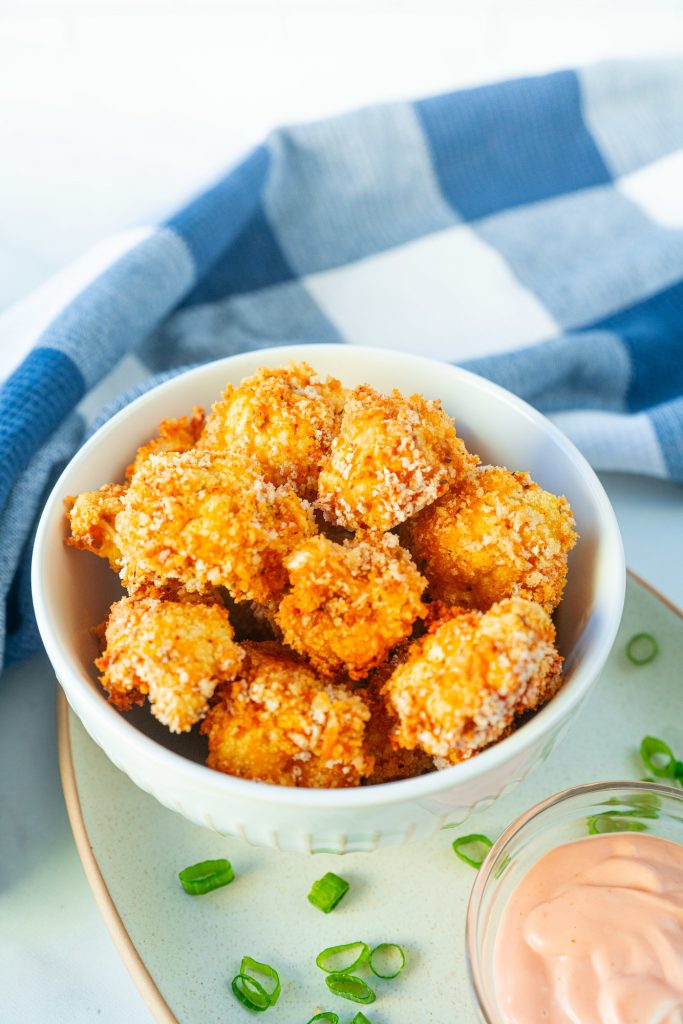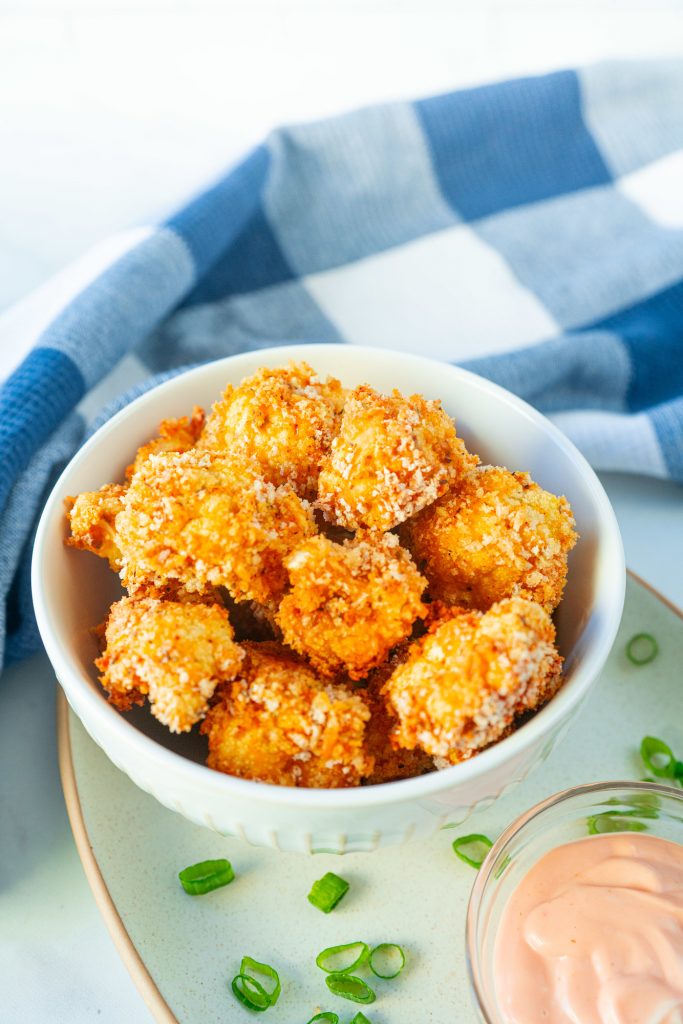 If you are concerned that it will taste like cauliflower, don't be. It will taste like the #bestthingever and that taste will taste nothing like the cauliflower that you know, if you follow this recipe properly!
The breading makes this the best cauliflower recipe ever and oven baking it allows it to be crispy to perfection. You do NOT need to pan-fry it to create that fried taste.
This crispy cauliflower recipe makes the perfect side or appetizer or you can whip it up to eat as a delectable main dish which is what I usually do!
My mom and I can usually share one head of cauliflower for dinner and it is perfectly filling while still being surprisingly light!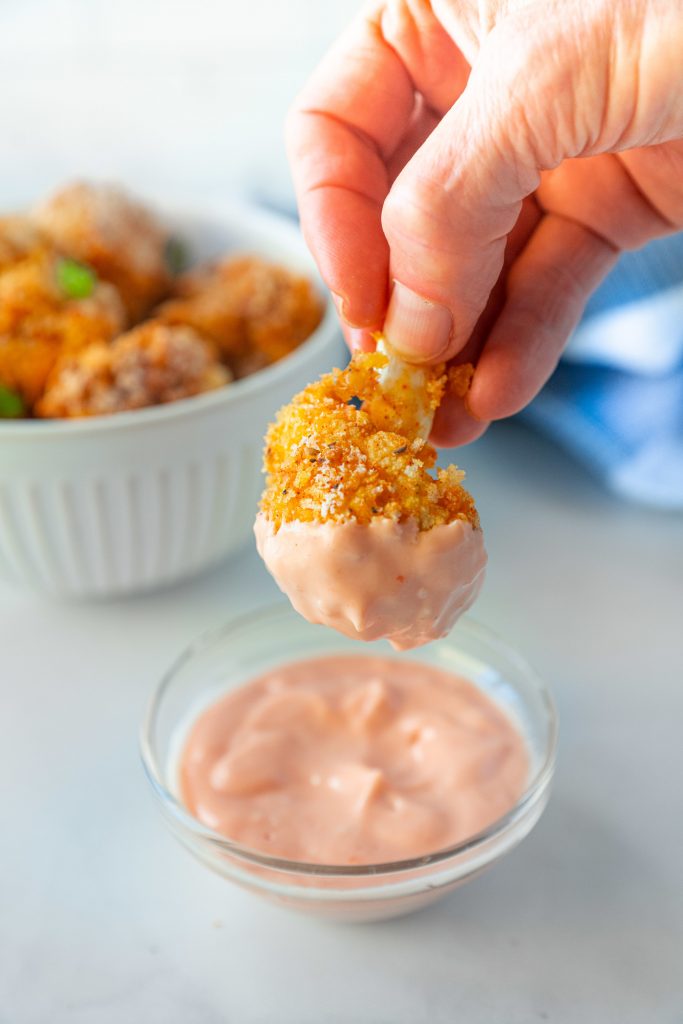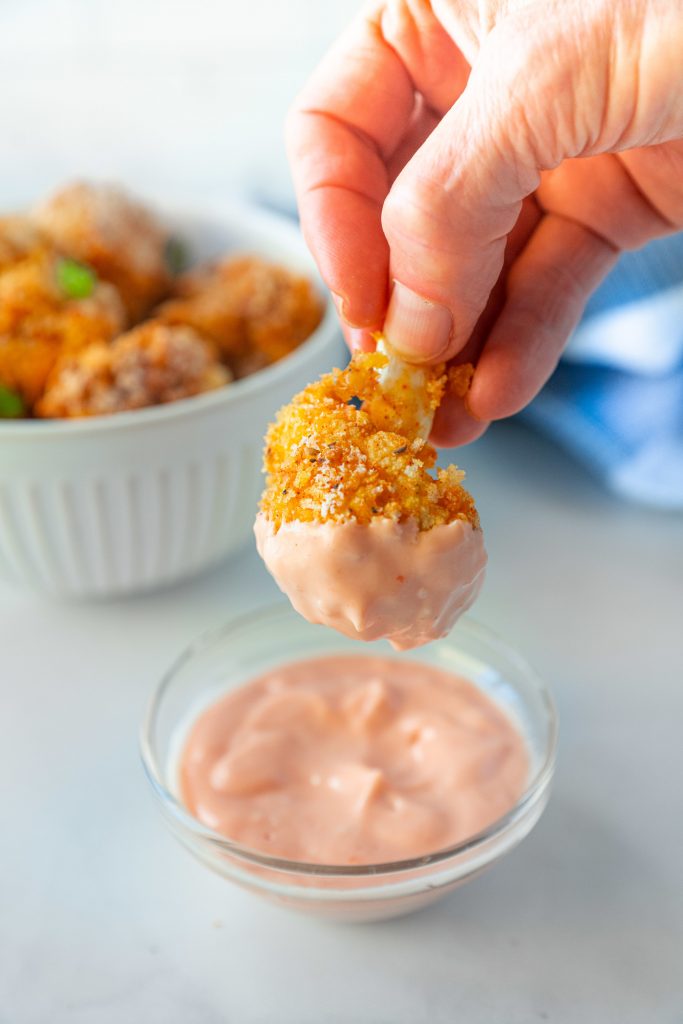 I pulled together the perfect mixture of spices so that you will have the best tasting crispy cauliflower due to the breading.
If you don't have one ingredient for the breading, don't fret! Sub it with the spice of your choice or a spice you have on hand.
While these cauliflower bites do have to bake for about 30 minutes, the prep takes like 5 minutes so this is the perfect recipe after you get home from work!
Who doesn't want vegan baked cauliflower to roast in the oven while they get changed, shower, and clean up from a long day at work?
The prep is minimal and the final outcome is truly legendary. Mark my words you are going to love it!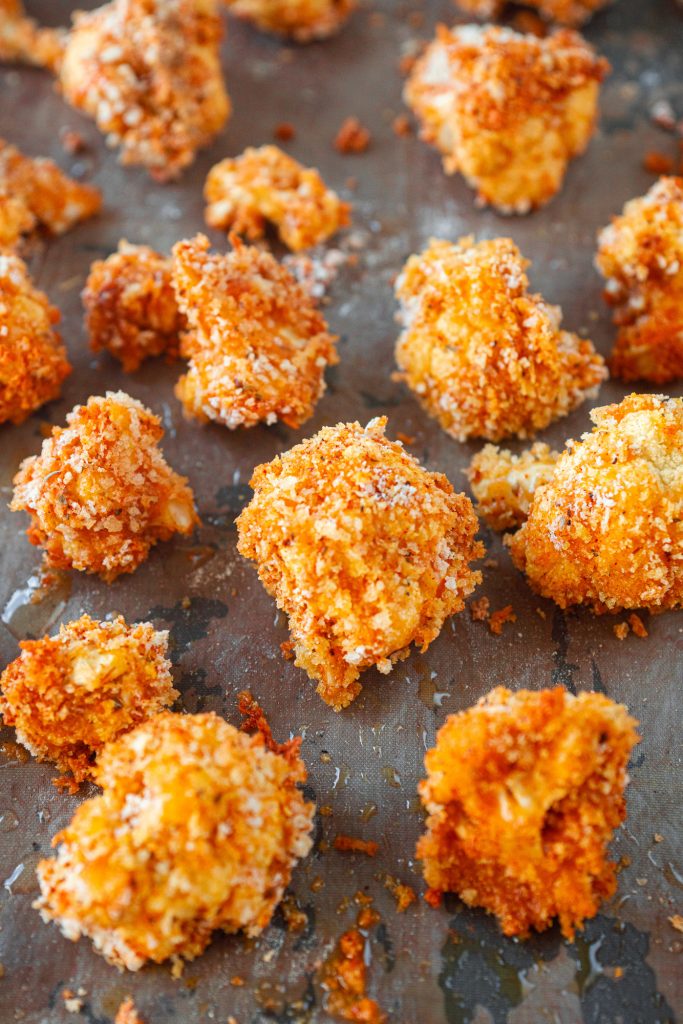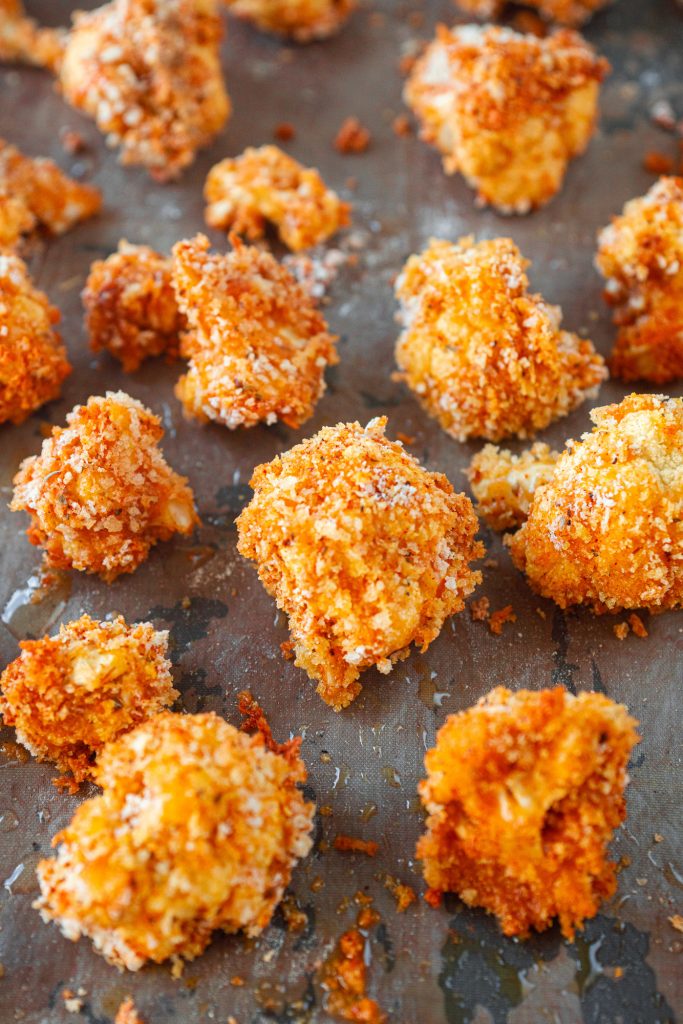 What Seasoning Is In The Crispy Breaded Cauliflower?
That is a good question! I created the perfect concoction of spices so that the taste is amazing, but I understand not everyone has every spice!
If you don't have one on hand, go ahead and sub for something that you do have nearby!
This recipe uses paprika, turmeric, salt, pepper, dried oregano and seasoning salt.
I use Lawrys Seasoning Salt and it is so darn good!
That being said, I understand that not everyone has seasoning salt on hand or at a store nearby! That is okay! This crispy breaded cauliflower recipe still tastes great without it so don't worry!
If you want, you can buy Lawrys Seasoning Salt From Amazon and I love to use it in other cooking too!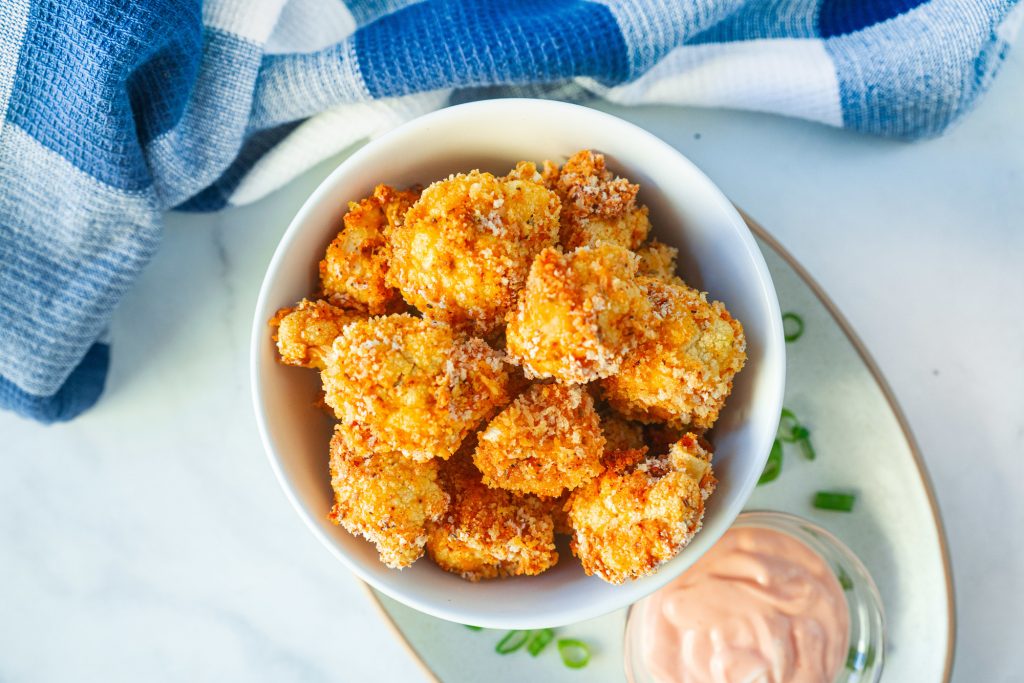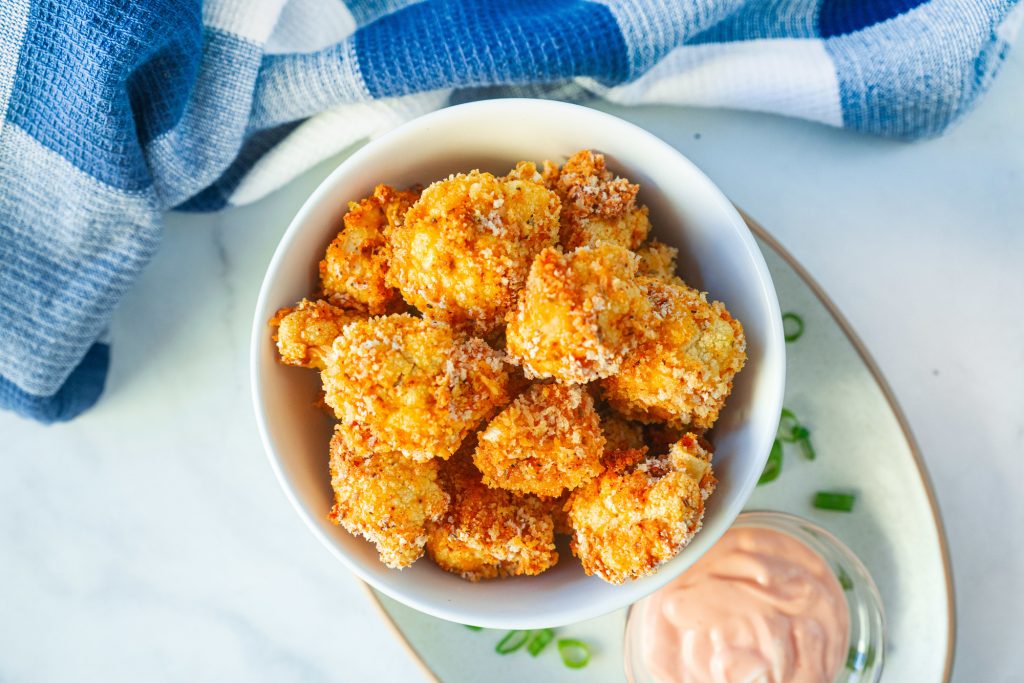 Is The Crispy Cauliflower Spicy?
Nope!
The crispy baked cauliflower is NOT naturally spicy.
Why?
Because I don't like spicy foods, plain and simple!
I am giving you the BASE to create your own dish and add as much spice as you like!
Make the cauliflower bites as this recipe says, and then go ahead and toss them in buffalo sauce or hot sauce to coat them just the way you like.
This is one of my favorite Vegan Recipes For Kids and kids often don't like spicy food either.
I figure that we can make the recipe neutral and then add as much heat as we want after the fact!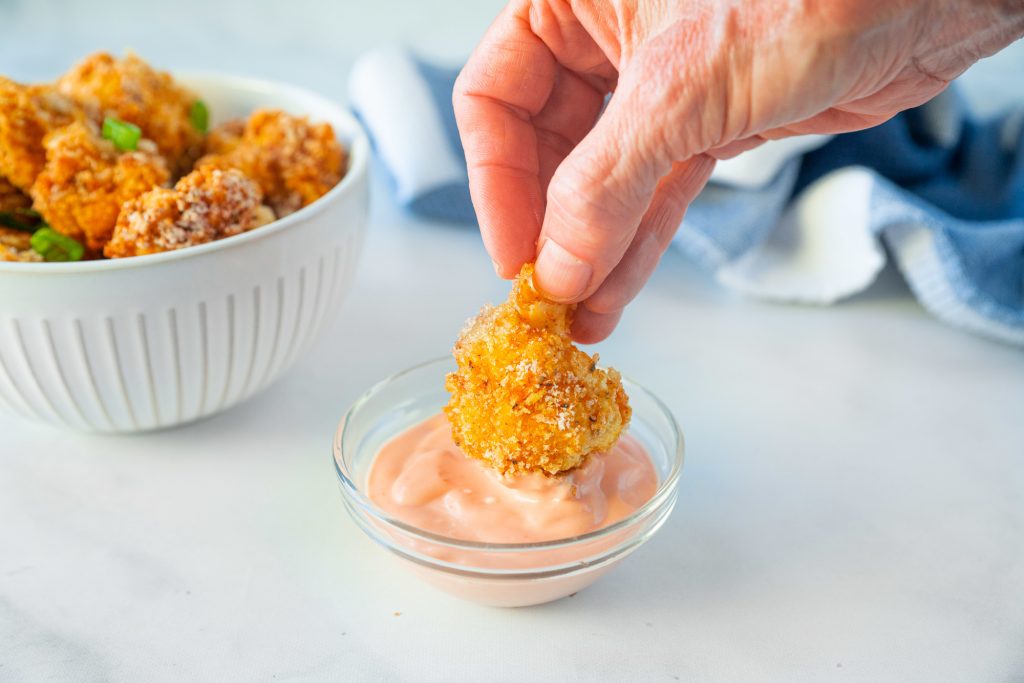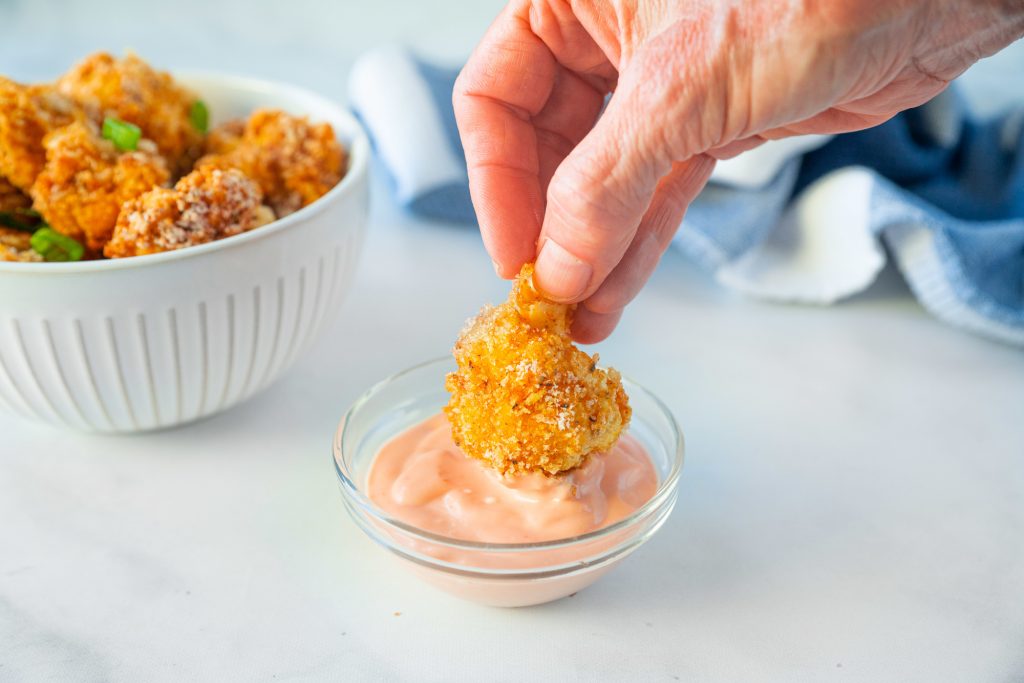 How To Make Vegan Crispy Cauliflower
When I tell you this recipe is easy, I mean it!
Take your cauliflower head and use a sharp knife to destem it and cut the cauliflower into florets.
You can also used precut florets from the store if you are in a rush.
I highly recommend cutting your florets into SMALL pieces. Even medium pieces may be too large.
You want these to be cauliflower BITES meaning you can easily pop one into your mouth in 1-2 bites.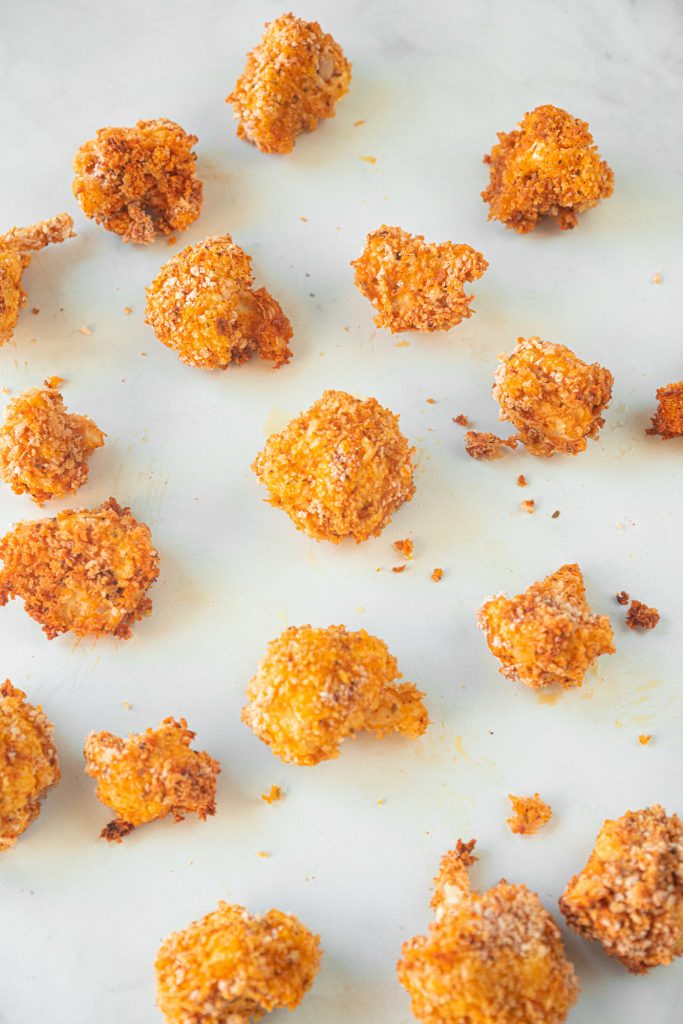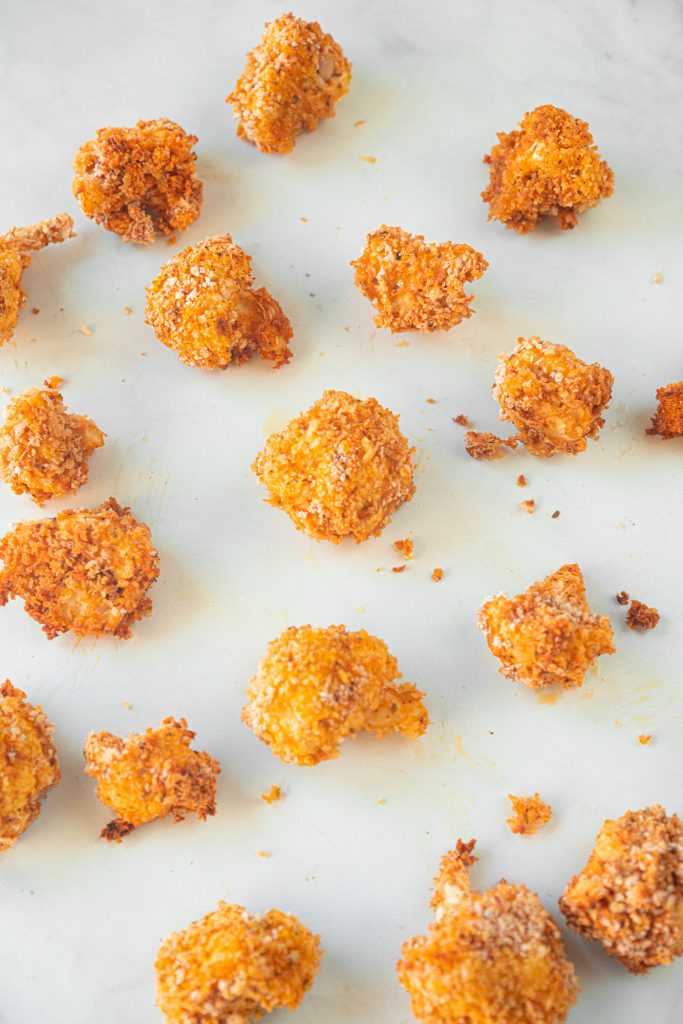 If the cauliflower floret is large enough for 3 bites, you lose the breading after you bite into it and will start to taste an overwhelming cauliflower flavor which I don't love.
Next, you are going to want to use an absolutely huge mixing bowl and one medium one.
Put the flour, non-dairy milk, and half the spices in the medium bowl.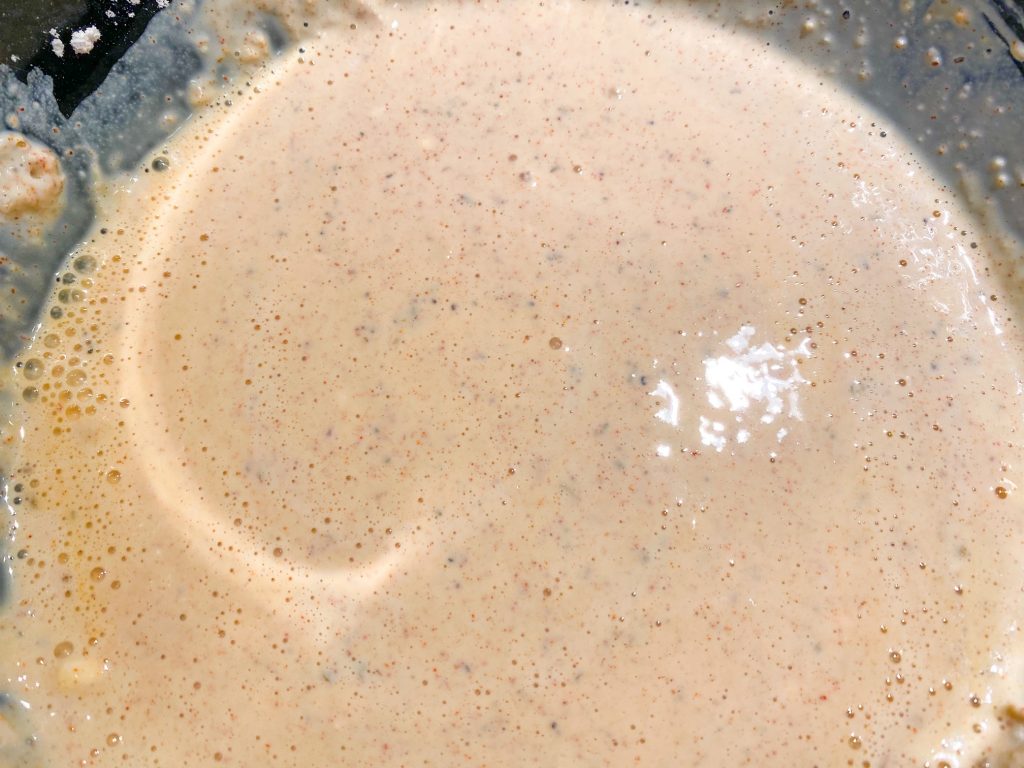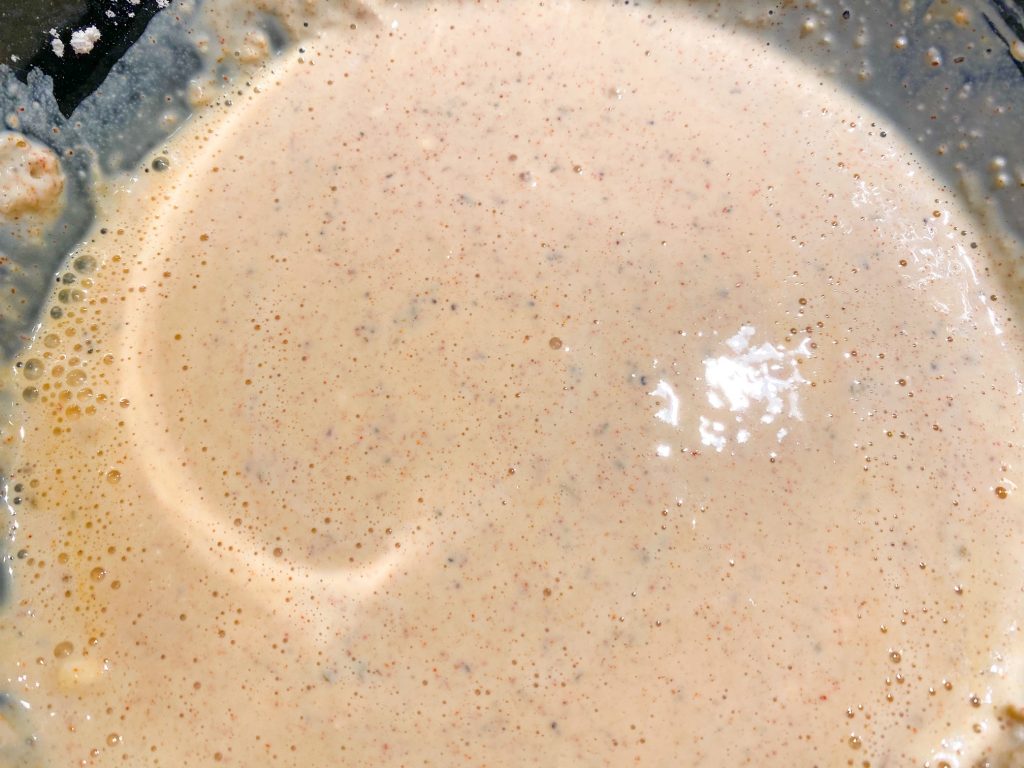 Put the panko and the other half the spices on a large plate or in a shallow dish.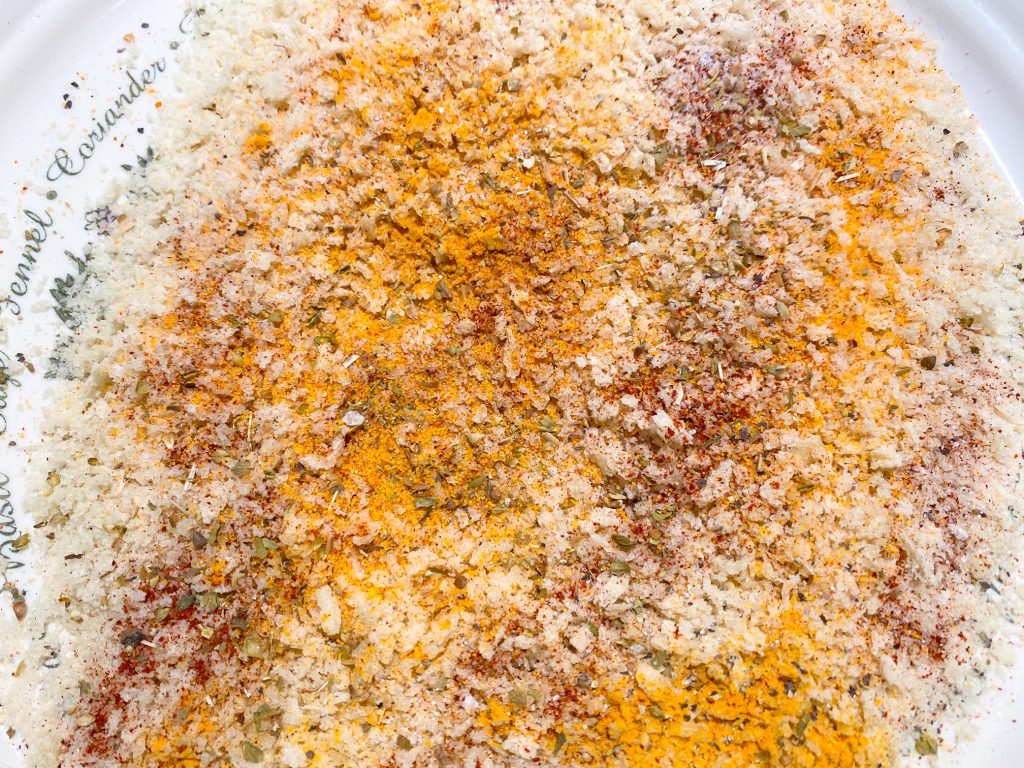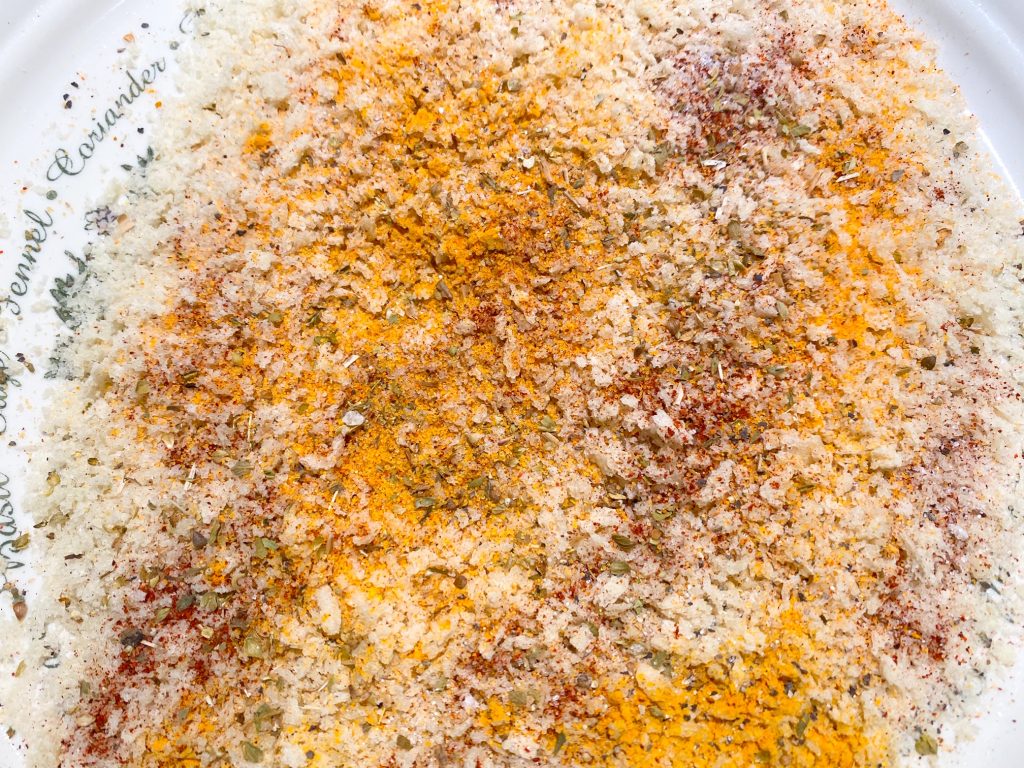 Mix the wet ingredients together until a liquid forms that is just thinner than Pancake Batter.
If your breading batter is still too thick, go ahead and add more milk until it reaches your desired consistency. Sometimes I need almost 1/2 cup more than the recipe calls for!
Once you have prepared your panko breadcrumbs and your wet breading, dump all of your cut cauliflower florets into the huge bowl.
Pour your wet mixture over the cauliflower florets in the huge bowl and toss to mix using a wooden spoon or your clean hands.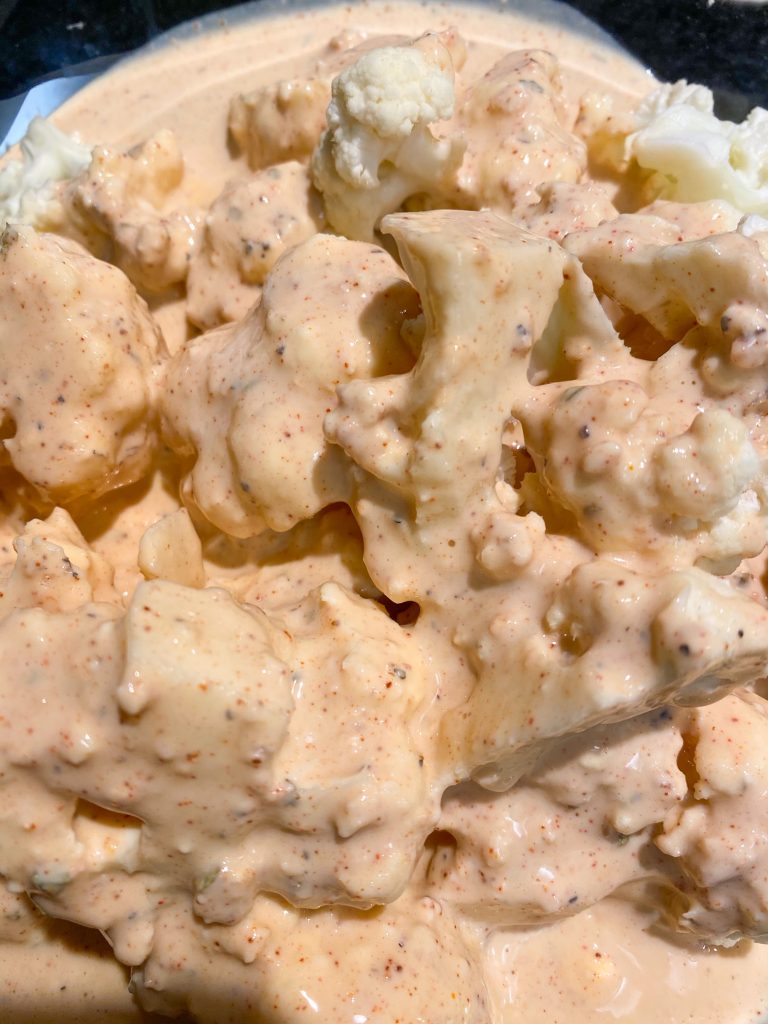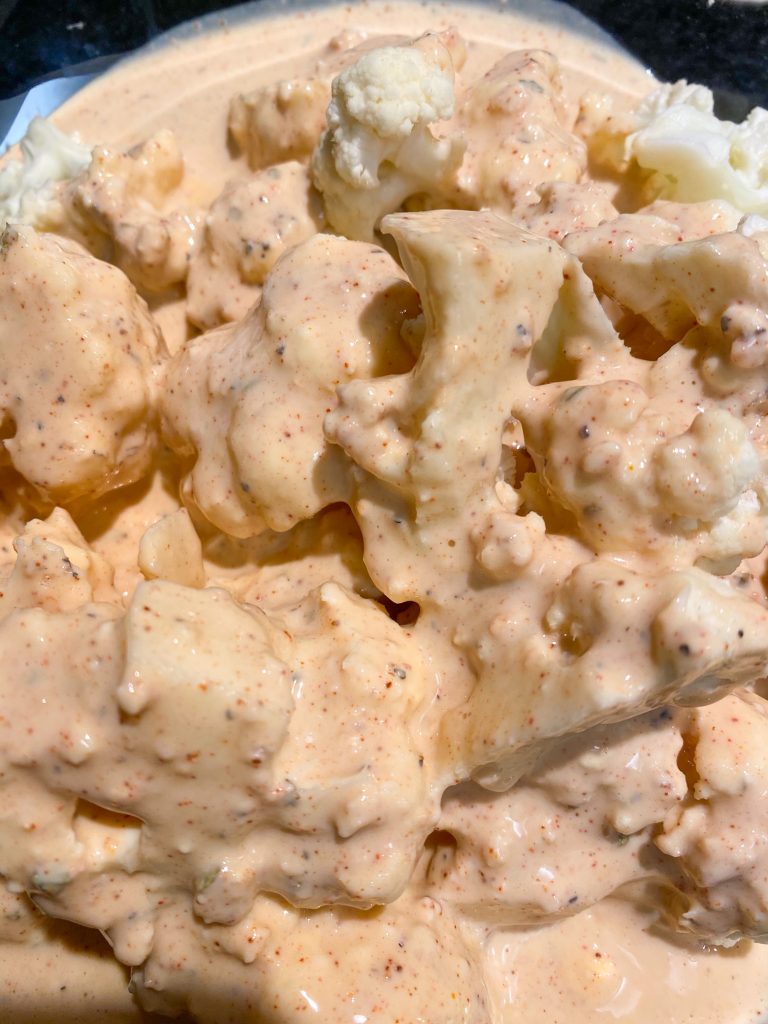 Now, working with about half the breadcrumbs, take your cauliflower floret out of the wet mixture and roll it in the breadcrumbs until completely covered.
Repeat this until you cover your baking dish/cookie tray.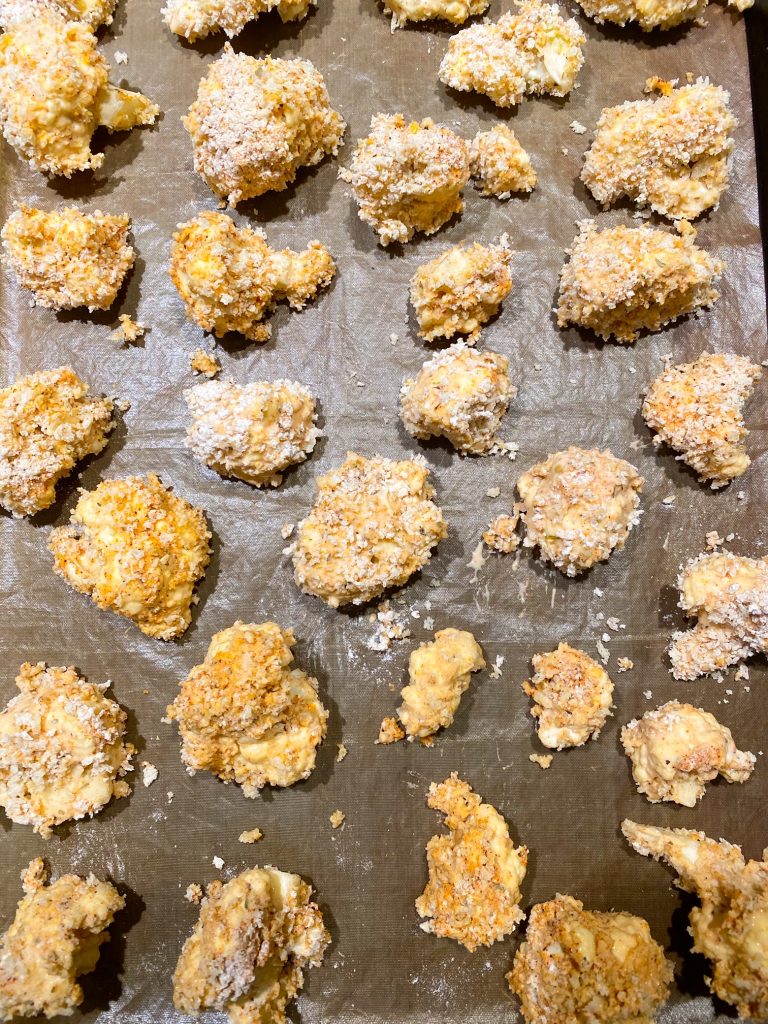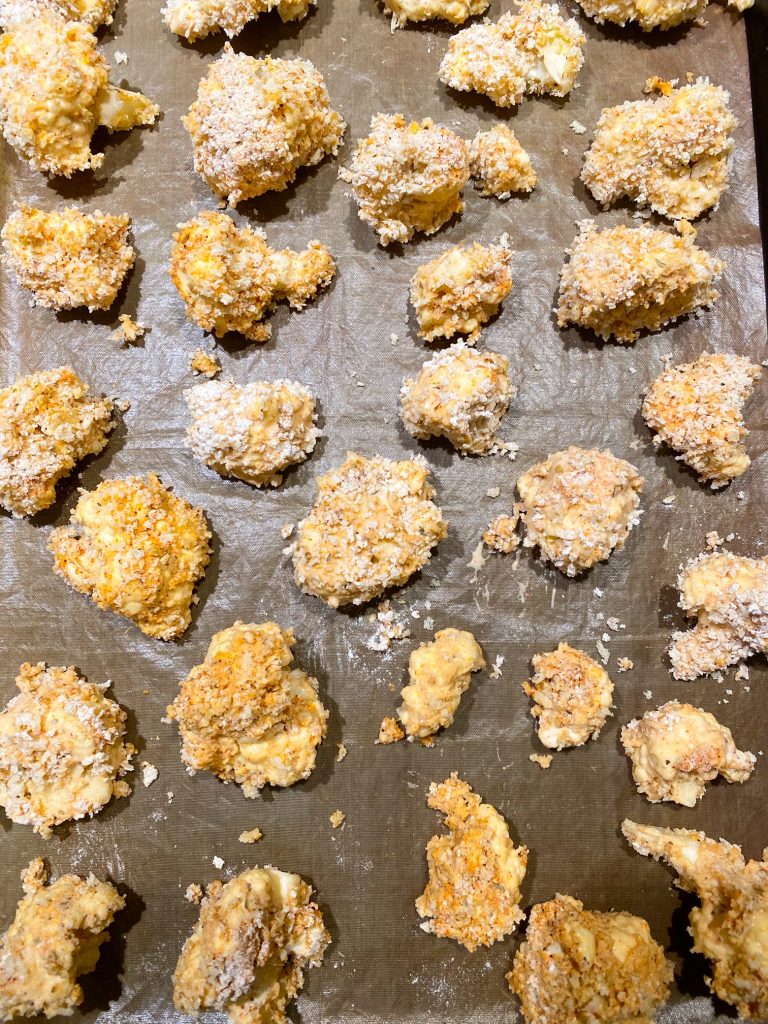 About halfway through, the panko breadcrumbs become kind of soggy and you are going to want to dump them in the trash and replace with new ones.
After all, this is panko cauliflower we are making, so you want to make sure it is fresh!
After your cauliflower is lined on the tray, you can go ahead and spray the pieces with oil.
If you don't have spray oil, that is okay.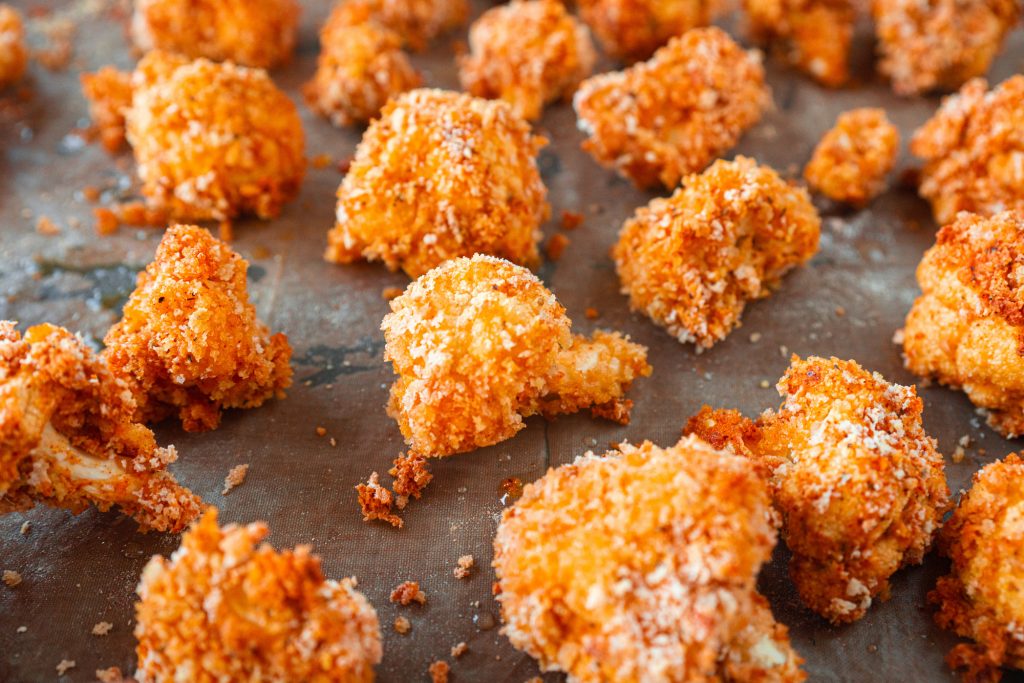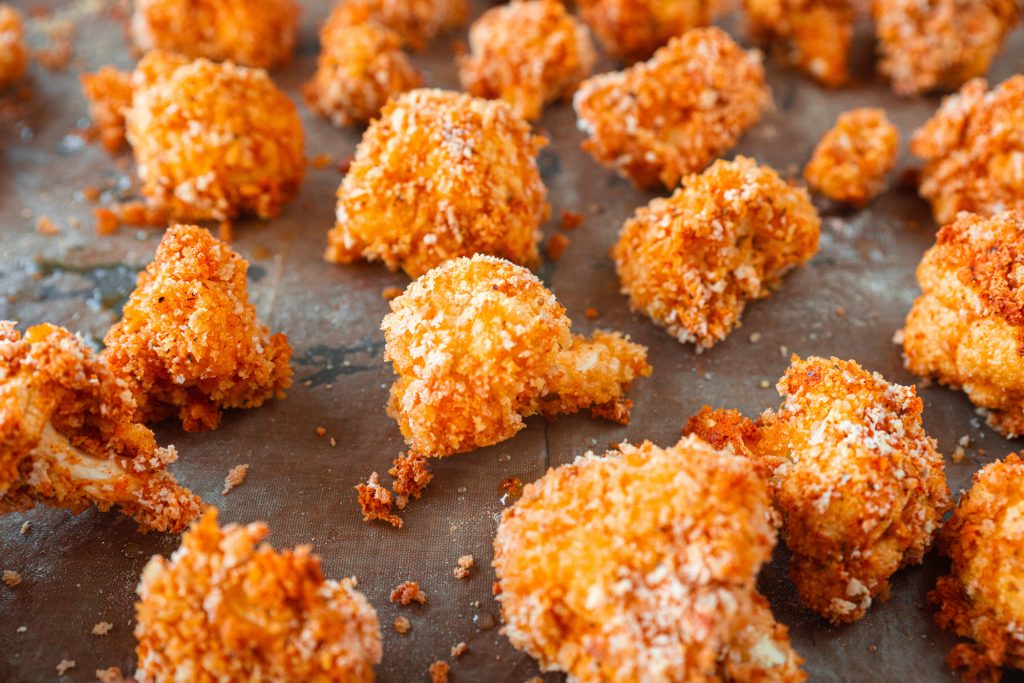 Wait until 15 minutes into cooking and take out the cauliflower and then use a pastry brush to brush a little oil on each floret.
You will also want to take this time to "turn" the florets and flip them. You can do this using your hand or a spoon.
And that is it! That is how you easily make vegan crispy cauliflower in the oven and with minimal oil and no frying!
It is beyond simple and aside from flipping the breaded cauliflower bites one time during cooking, there is minimal work to watch this recipe!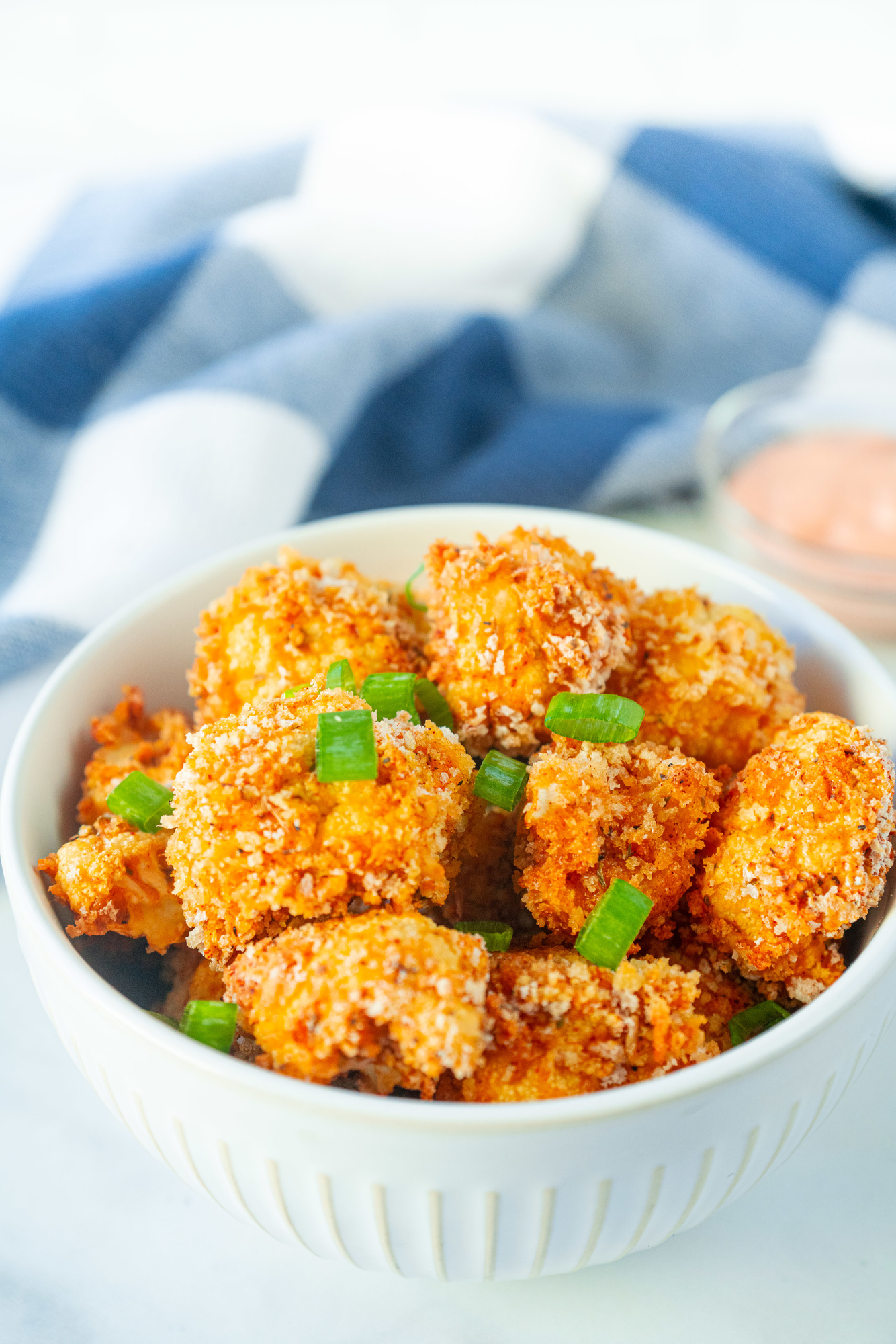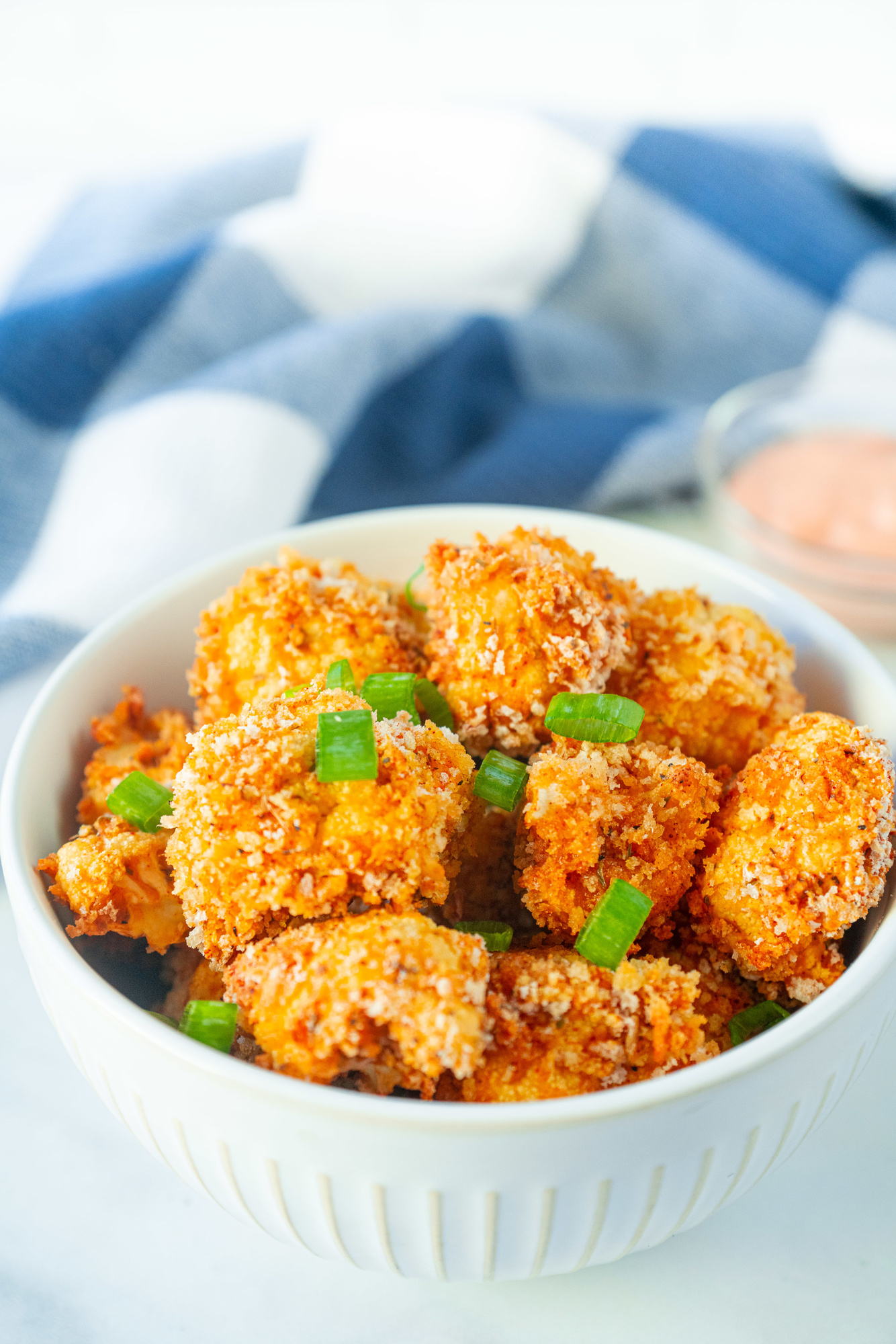 Dips For The Panko Cauliflower
DIPS DIPS DIPS!!!
This is the most fun part of the entire recipe!
Here are my two favorite tips!
One is mixing equal parts vegan mayo and ketchup to make a pink vegan aoli inspired dip.
It is so good and my mom who hasn't had this kind of dip in years loved it!
My second favorite way to dip the breaded cauliflower is a vegan version of honey mustard!
You want to take 2 parts maple syrup to 1 part dijon mustard and whisk until combined.
Remember, "honey" mustard is supposed to on the sweeter side, so don't be afraid to add more maple syrup to taste!
Finally, you can always toss your baked cauliflower bites in a seasoning such as buffalo sauce, hot sauce, orange sauce and more!
If you want to make orange cauliflower, check out my Orange Sauce Recipe Here!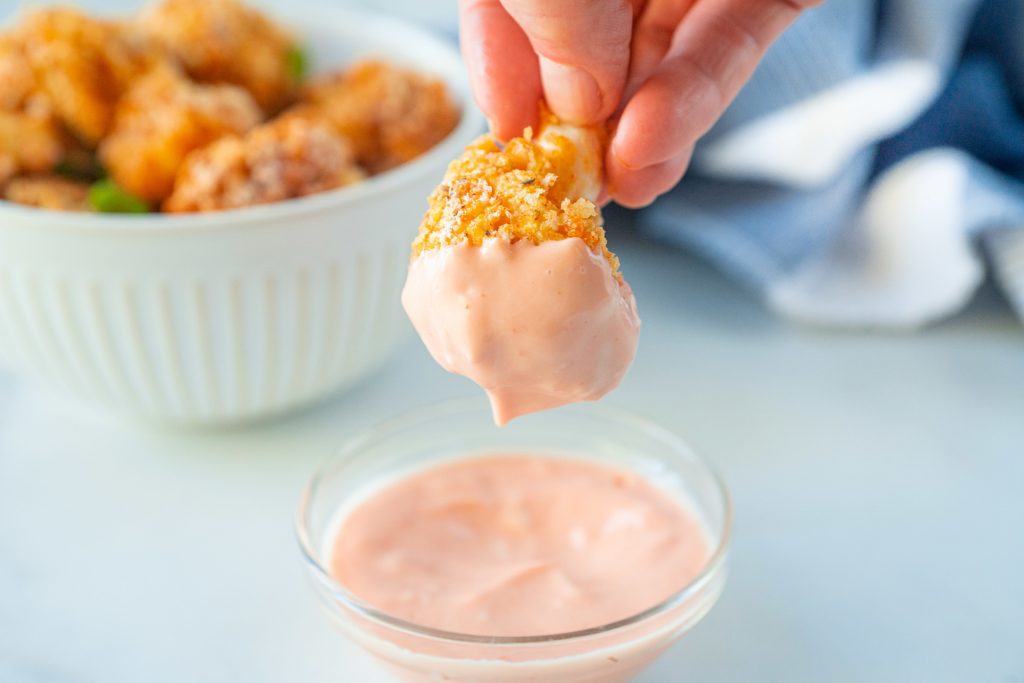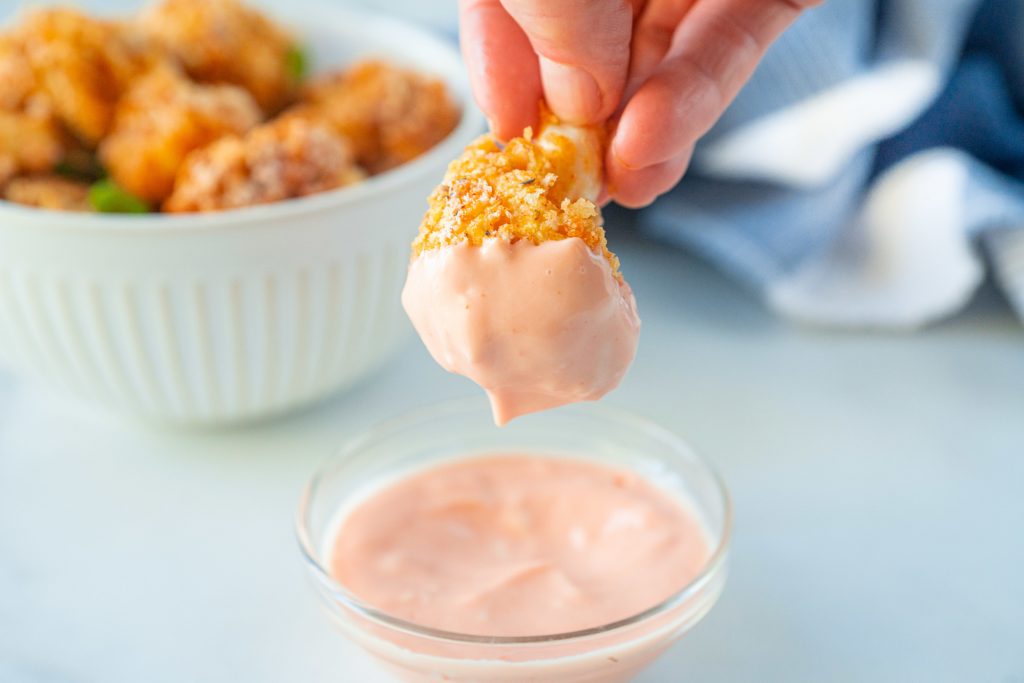 Reheating Baked Cauliflower
To reheat baked cauliflower, you are NOT going to want to microwave it!
You want this cauliflower to be crispy, and to do that, you must reheat them in the oven!
For best results, reheat the cauliflower in the oven on 350-375 for about 10 minutes.
Make sure to flip the bites one time during cooking so that you can cook everything evenly!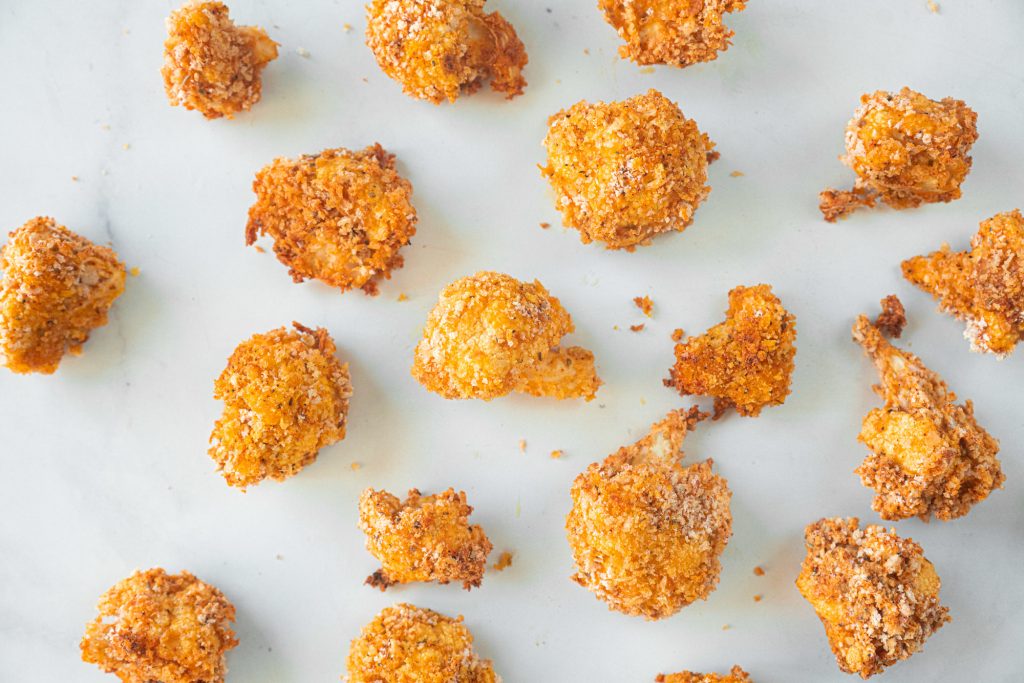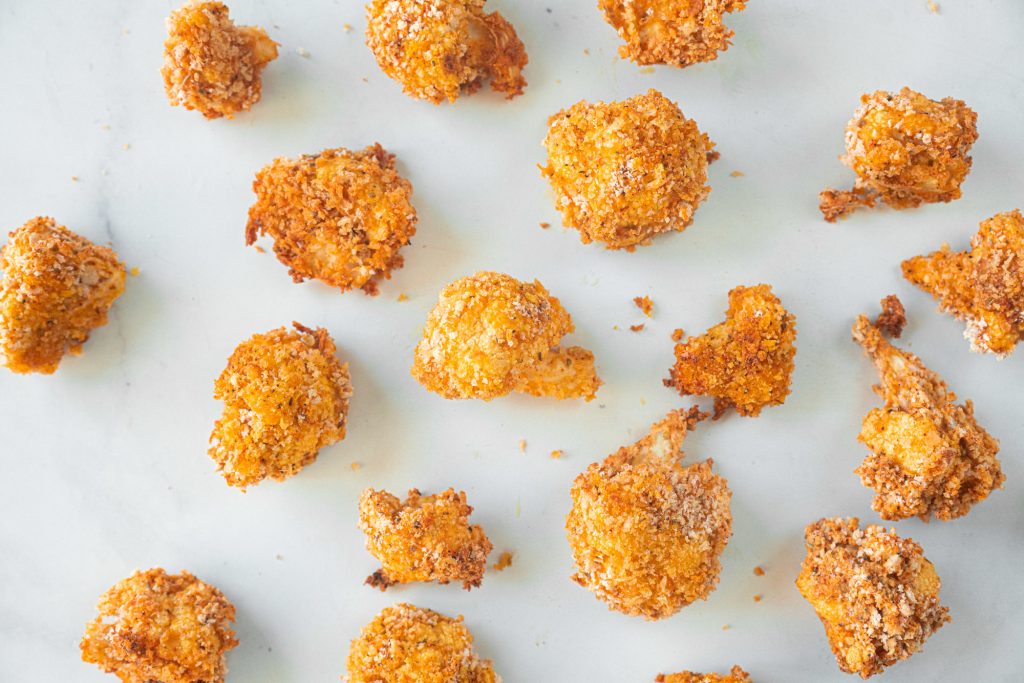 Did You Try This Recipe?
If so, I would love to keep in touch! I enjoy seeing photos and comments about the recipes that you make! You can follow me on Instagram and I will repost your goodies in my stories and comment on it too! Just tag me at @wowitsveggie and hashtag #wowitsveggie. I can't wait to see what you make!
Yield: 2 Entrees Or 4 Appetizers
Vegan Crispy Baked Cauliflower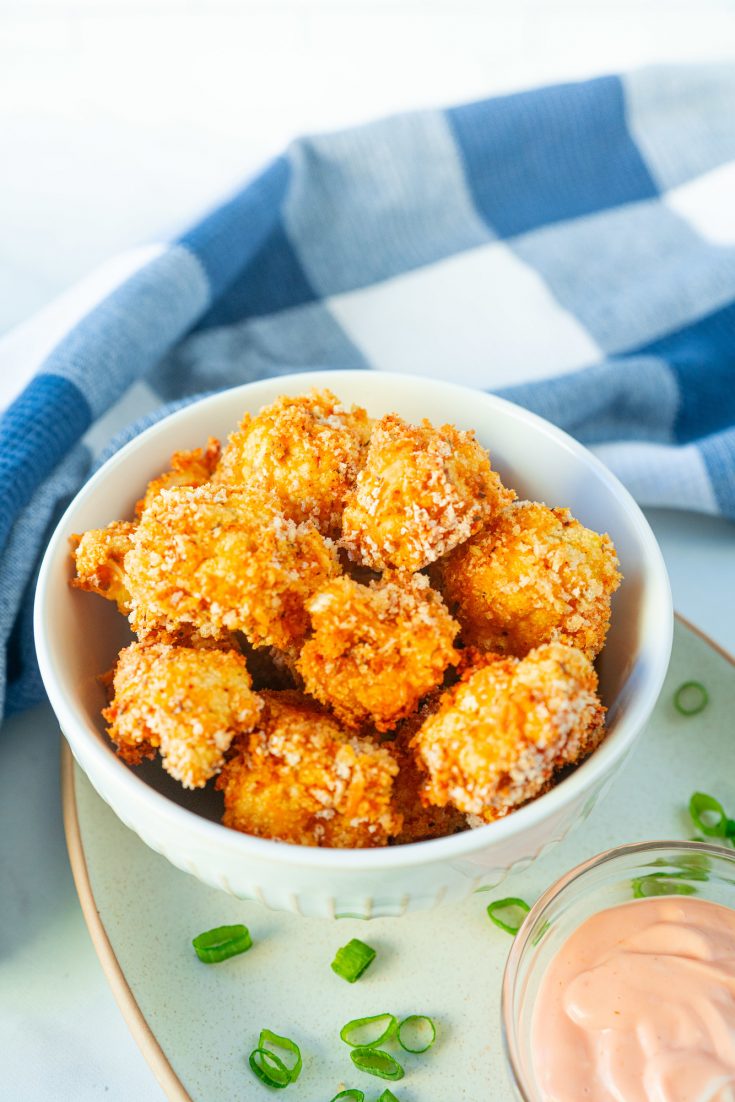 This is the best crispy baked cauliflower you will ever make! The breading is spiced to perfection and the cauliflower is oven-baked and perfectly crispy.
This crispy cauliflower recipe is vegan/vegetarian/plant-based and can be gluten-free when using the gluten-free bread crumbs and flour of your choice!
This recipe is so easy and takes minimal prep so it is perfect for after work.
I love eating this as an entree with a variety of tasty dipping sauces.
Ingredients
1 Medium Cauliflower
1 cup flour + 3 TBS flour
1.5 cups panko breadcrumbs (more if necessary)
1 cup non-dairy milk (plus more if necessary)
2 teaspoons paprika
1 teaspoon turmeric
2 teaspoons dried oregano (or dried herb of your choice)
2 teaspoons Lawrys seasoning salt (okay to do without if you don't have it)
1 teaspoon salt
1 teaspoon pepper
Oil for brushing [optional]
Instructions
Preheat oven to 400F
Destem cauliflower and chop into small florets. You want to make sure the florets are small enough for bite-size pieces, anything larger won't come out right!
In a medium bowl, combine 1 cup flour, 1 cup non-dairy milk, and half of the spices [so 1 teaspoon of each]. Mix until well combined. The mixture should be like a thin pancake batter. If it is still too thick, add more milk.
On a large plate, add half the breadcrumbs and 3 TBS of flour as well as the remaining half of the spices. Use a fork to combine.
Put cauliflower florets into a huge bowl and then pour the wet mixture over the florets. Using a spoon or your hands, toss to combine so that every floret is coated in the wet mixture.
Now, using your clean hands, take each floret and dredge it through the dry panko breadcrumbs mixture. Then, place it on a lined baking sheet. NOTE: About halfway through, the breadcrumbs will become soggy and no-good. Throw them away and replenish with the remaining half of your breadcrumbs, more spices, and more flour. Continue until all cauliflower is on your baking dish.
Cook cauliflower for 15 minutes. After 15 minutes, take the cauliflower out and turn/flip it. At this point, you can use a pastry brush to coat each cauliflower bite with a little bit of oil or you can spray oil on. Feel free to skip this step if you are oil-free.
Cook for 15 minutes more and remove from the oven when the breading is golden brown.
Serve immediately with the dipping sauce of your choice. [1 part vegan mayo to 1 part ketchup or 2 parts maple syrup to 1 part dijon mustard]
Notes
For buffalo cauliflower, toss the cauliflower with buffalo sauce and return to the oven for an additional 5-10 minutes.
For orange cauliflower, toss your orange sauce over the cauliflower and serve over rice.
For bang bang cauliflower, combine 1 part vegan mayo and 1 part sriracha and toss cauliflower in sauce.
Nutrition Information
Yield
4
Serving Size
1
Amount Per Serving
Calories

151
Total Fat

6.1g
Saturated Fat

1g
Trans Fat

0g
Unsaturated Fat

4g
Cholesterol

0mg
Sodium

347mg
Carbohydrates

21g
Fiber

7g
Sugar

2g
Protein

14g