Please do yourself a favor and make this vegan Eggs Benedict recipe as soon as possible!
I am obsessed with Eggs Benedict and the flavors and textures that you get from it. It is so darn good and the perfect recipe for breakfast or brunch.
That being said, finding a vegan Eggs Benedict is like finding a needle in a haystack. Unless you are going to a special vegan restaurant, I can promise you that you probably aren't going to find one.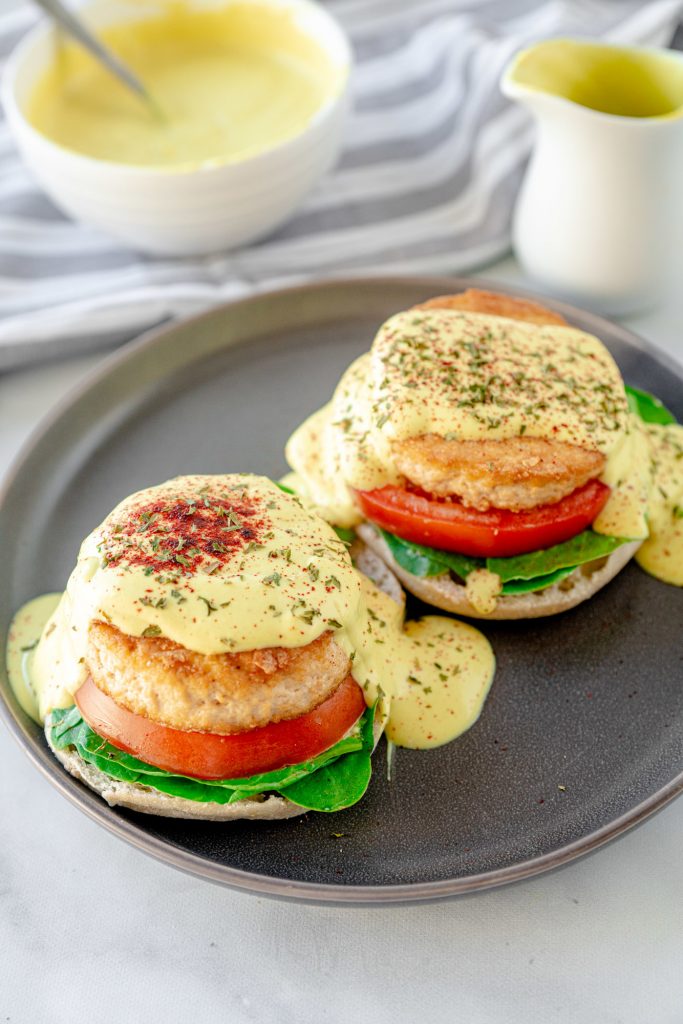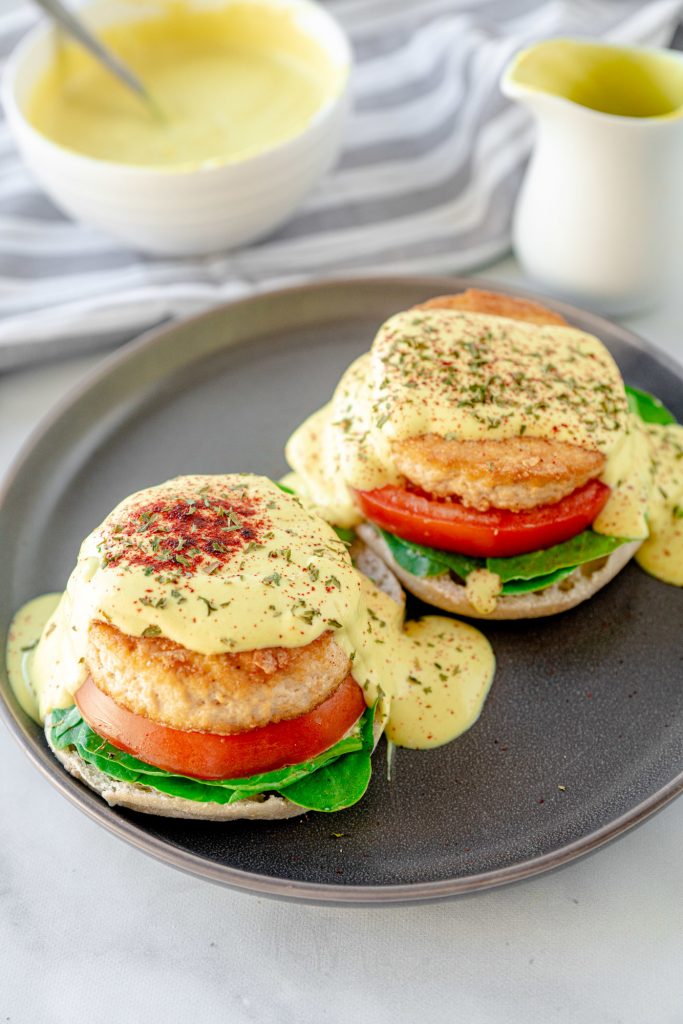 That is okay! You can easily make Eggs Benedict vegan at home in your own kitchen and it doesn't take long at all.
I first made this recipe for my mom who has been vegan for over 30 years and hasn't tasted an Eggs Benedict in a long time. I am more familiar with the taste of "regular" Eggs Benedict and she said I recreated it perfectly and that it tasted so good!
There are a few steps to making your own vegan Eggs Benedict but each and every one of them is quick and easy!
You are going to marinade your tofu and while it is marinading, you are going to make your Vegan Hollandaise Sauce!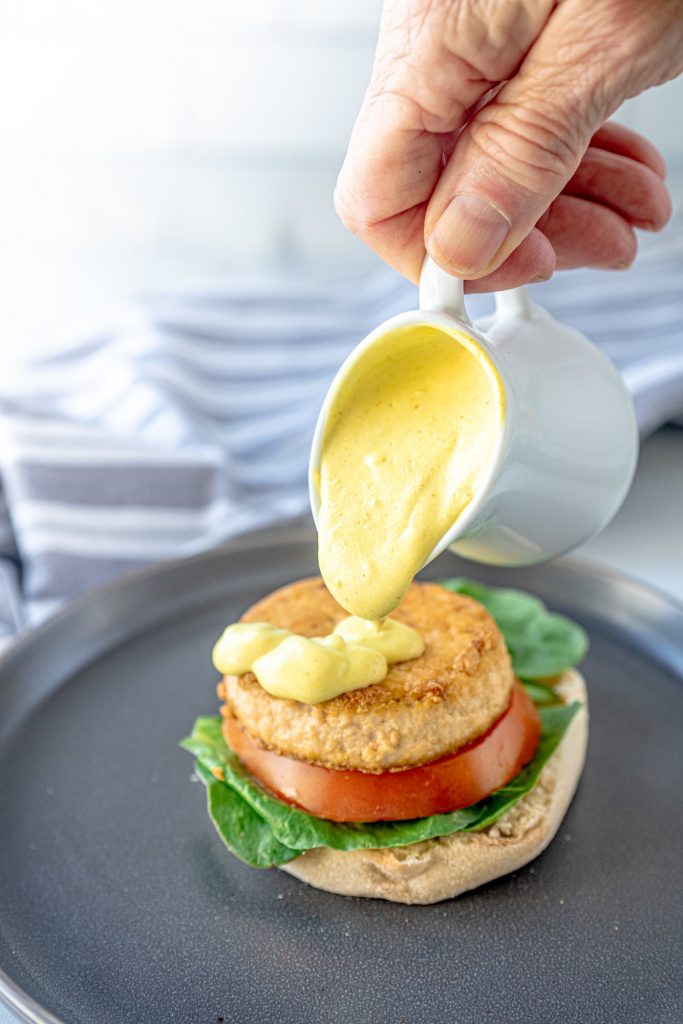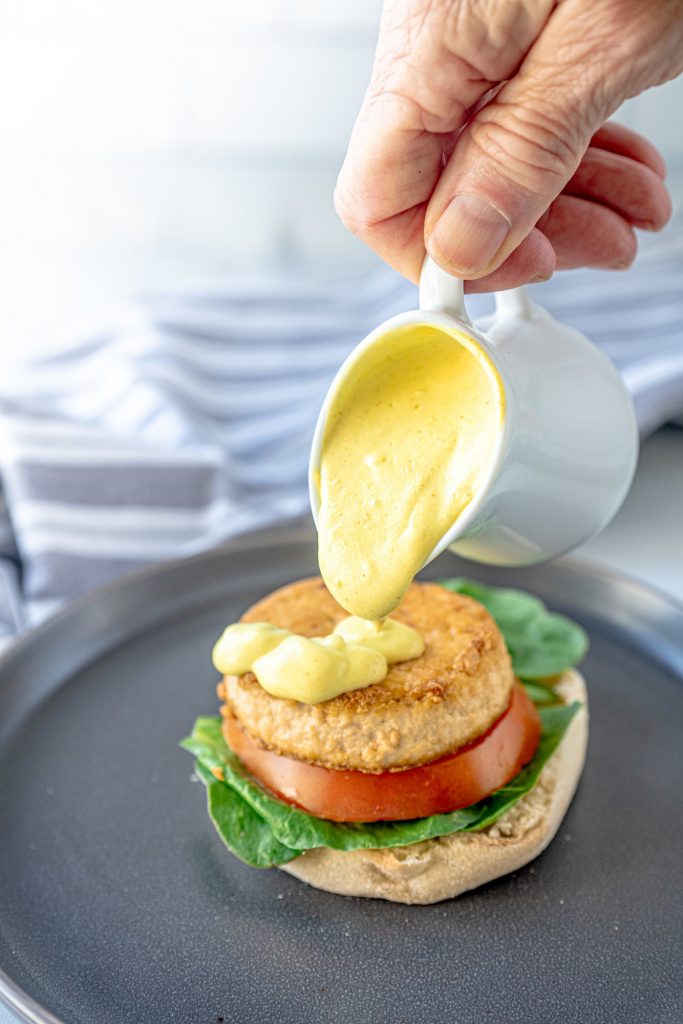 The one ingredient you simply cannot make this recipe without is Black Salt or Kala Namak. This ingredient will give your recipe an "eggy" flavor and smell. DO NOT skip it!
Of course, you cannot have Eggs Benedict without hollandaise sauce so you should not skip this step! It is quite easy to make.
Then, you fry your tofu, put the toppings together and you are done! You just made a masterpiece of a vegan Eggs Benedict!
If you are trying to impress someone such as a friend or love interest, this is the perfect recipe to introduce them to how yummy vegan food can be.
Don't be scared of making your own vegan eggs Benny, there are a few steps, but the process is pretty quick and easy and you will get to enjoy the delicious results!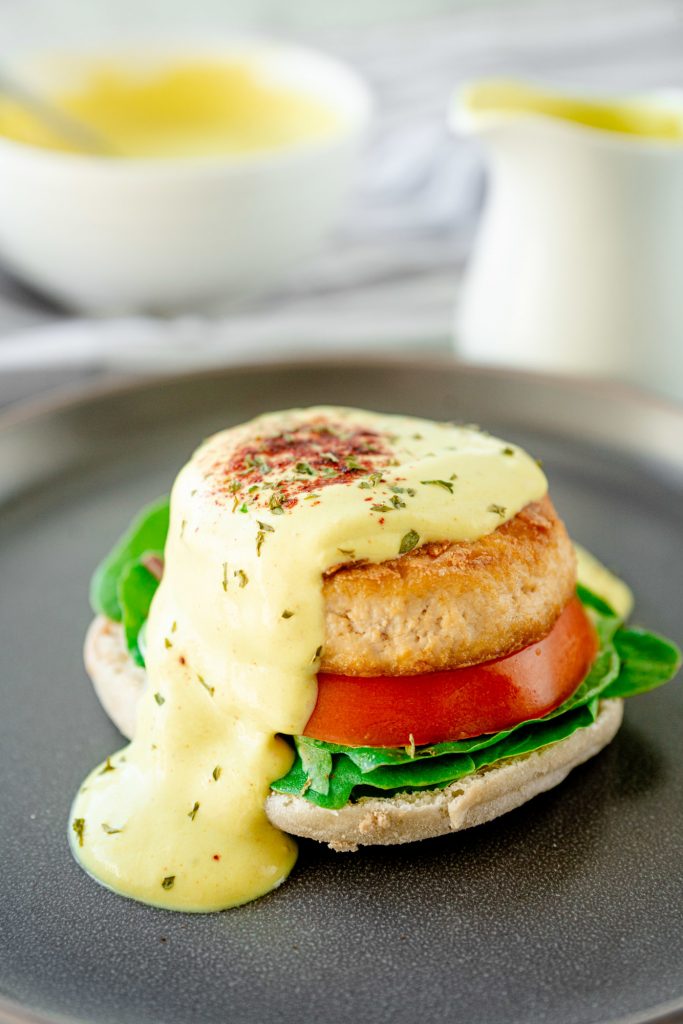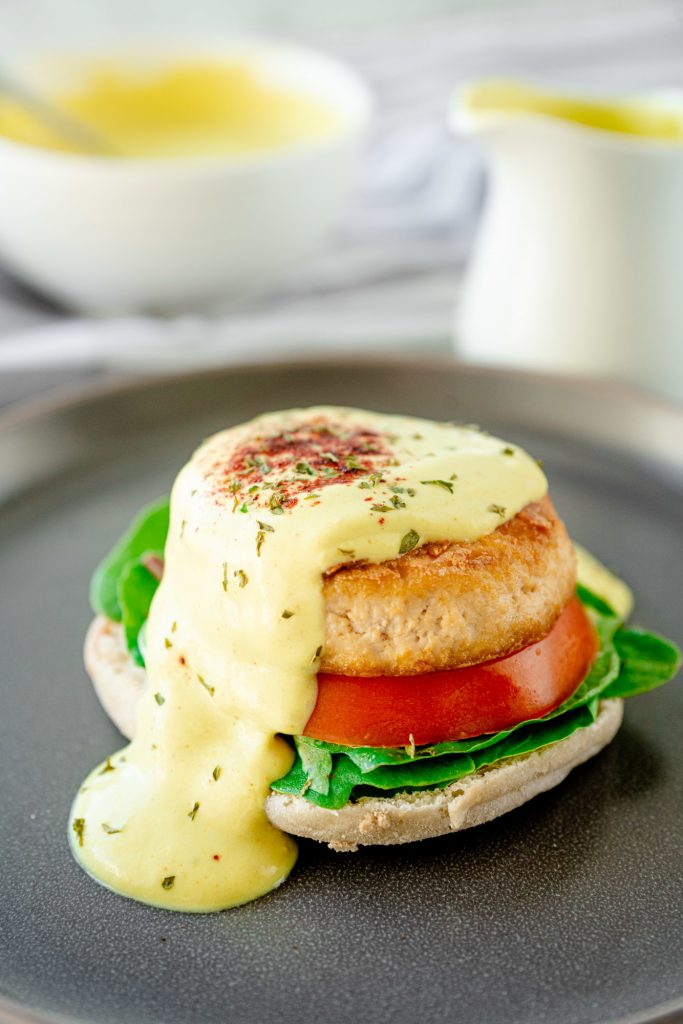 What Type Of Tofu To Use For Vegan Eggs Benedict
I highly recommend extra firm tofu when making this Eggs Benedict recipe because you really want the tofu to keep its shape once you cut it into rounds!
You can use "firm" tofu but the edges may crumble and fall apart. If you are using firm, you may want to use an actual "round" cookie cutter in order to achieve the look instead of just using a glass like I suggest below in a pinch!
If you have a choice, extra firm tofu is the way to go!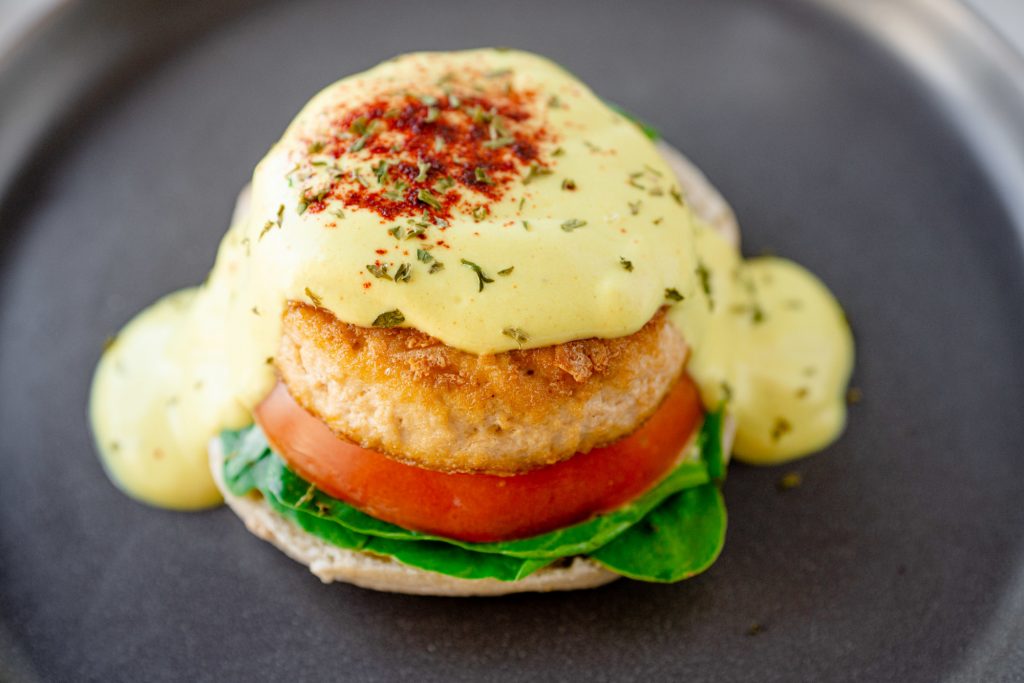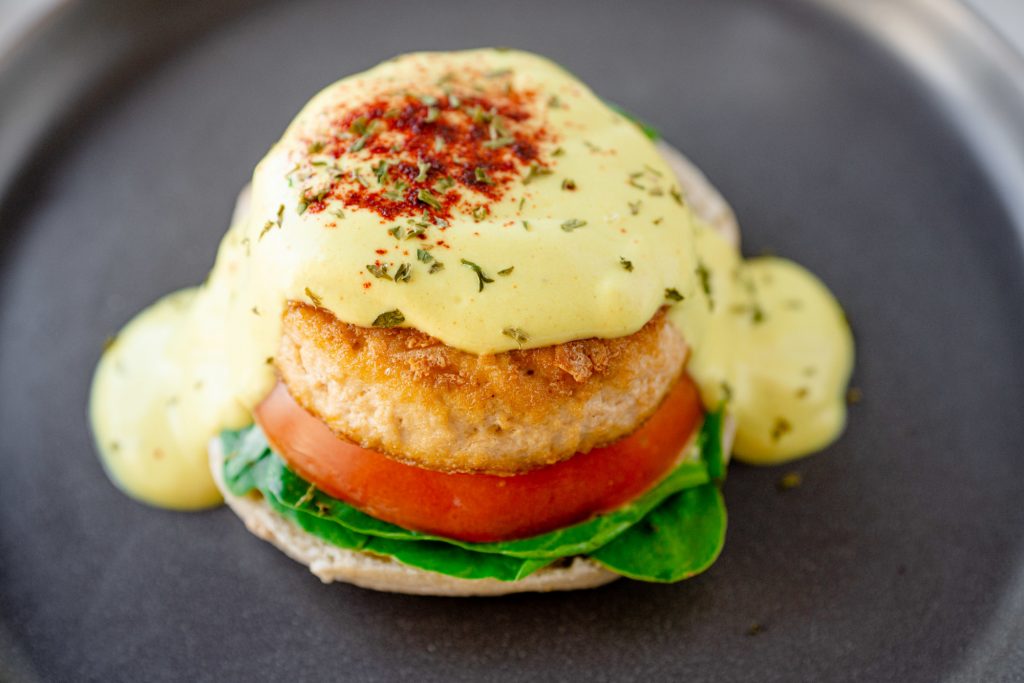 Is Black Salt Powder Really Necessary?
YES!!!! DO NOT MAKE THIS RECIPE WITHOUT BLACK SALT POWDER! It is commonly used in plant-based cooking such as my Vegan Egg Salad and is so amazing!
I travel to Iceland quite often and actually have real volcanic black salt from Iceland. My mom and I tried it and yeah, doesn't smell or taste like rotten eggs.
The minute you order Black Salt Powder from Amazon or get it from your local Indian grocery store, you will see why I say don't bother making this vegan Eggs Benedict recipe without it.
I had put off order it for a long time, and my local Whole Foods thought I was wild when I asked for it, but it really is worth the couple bucks and a few days wait!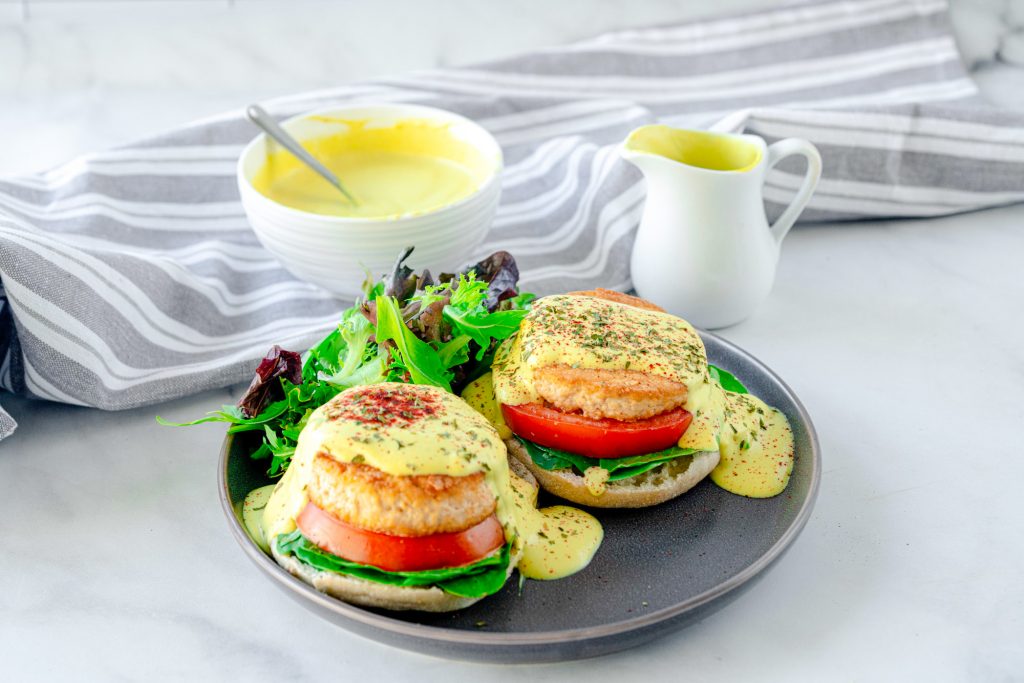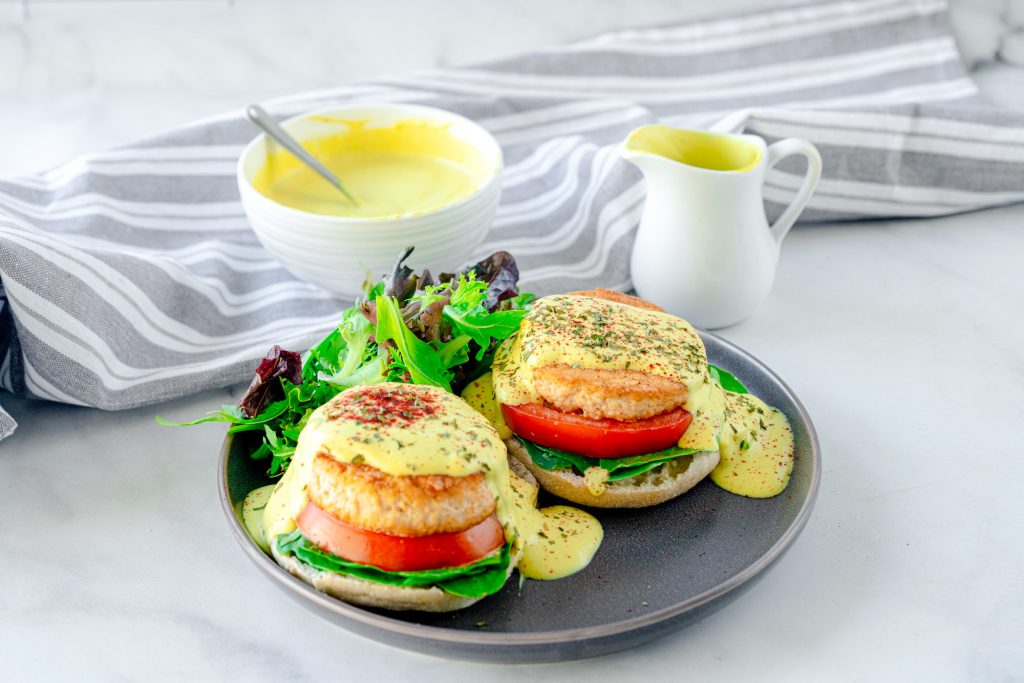 Kala Namak is popularly used by vegans and vegetarians in Indian cooking, and it is the perfect way to dress up tofu dishes to make them taste like real eggs.
Again, you will think I am a totally wild and "weird" vegan until you try it and see that it actually does taste and smell strongly of sulfur.
Once you follow this recipe, you can add as much Black Salt Powder to taste, depending on if you like a strong or lighter flavor.
Finally, Black Salt Powder is actually pink, not black! Don't ask me why it is called Black Salt when it isn't even black! Please get this essential ingredient when making your vegan Eggs Benedict!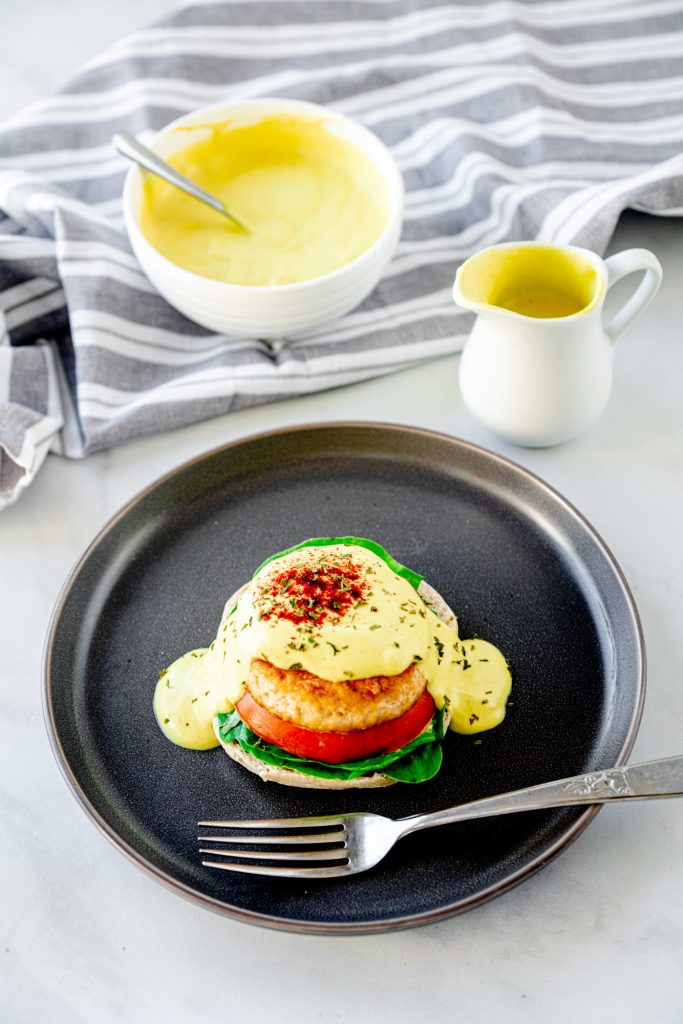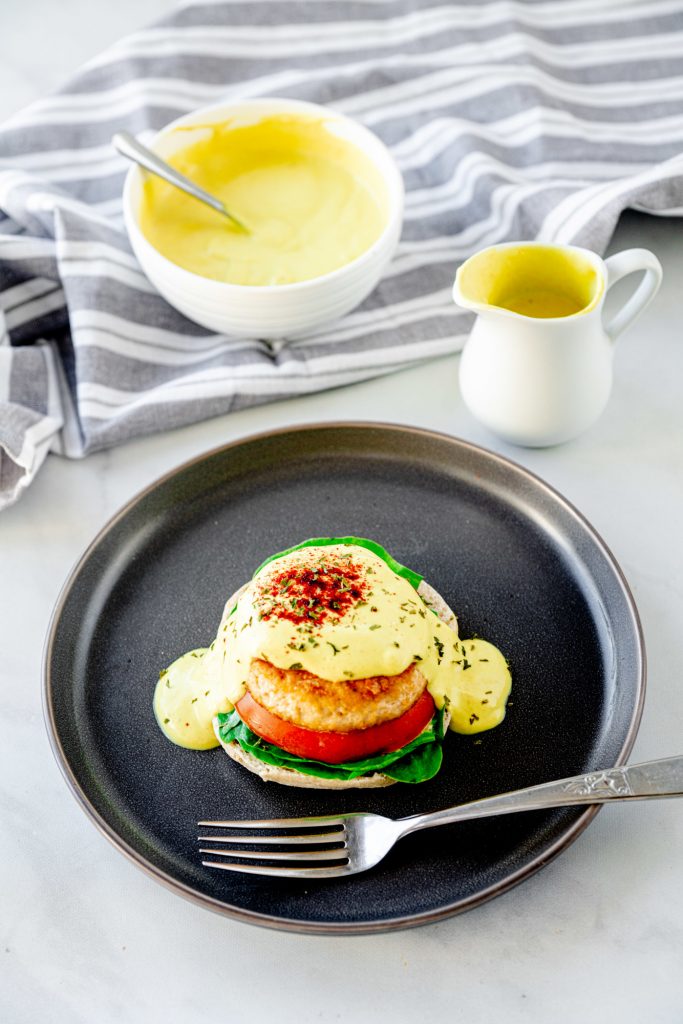 How To Make The Vegan Eggs Benedict
Okay! Here we go! This is how to make the vegan Eggs Benedict and it is super easy!
The first thing you are going to want to do is lay tofu on the narrow/small side and then slice it into 3 pieces lengthwise. We normally cut tofu width-wise so you will want to do the opposite.
Then, use about a 3-inch round cookie cutter or the bottom of a small glass to cut the tofu into rounds. You can buy a 3-inch Cookie Cutter From Amazon if you don't have one.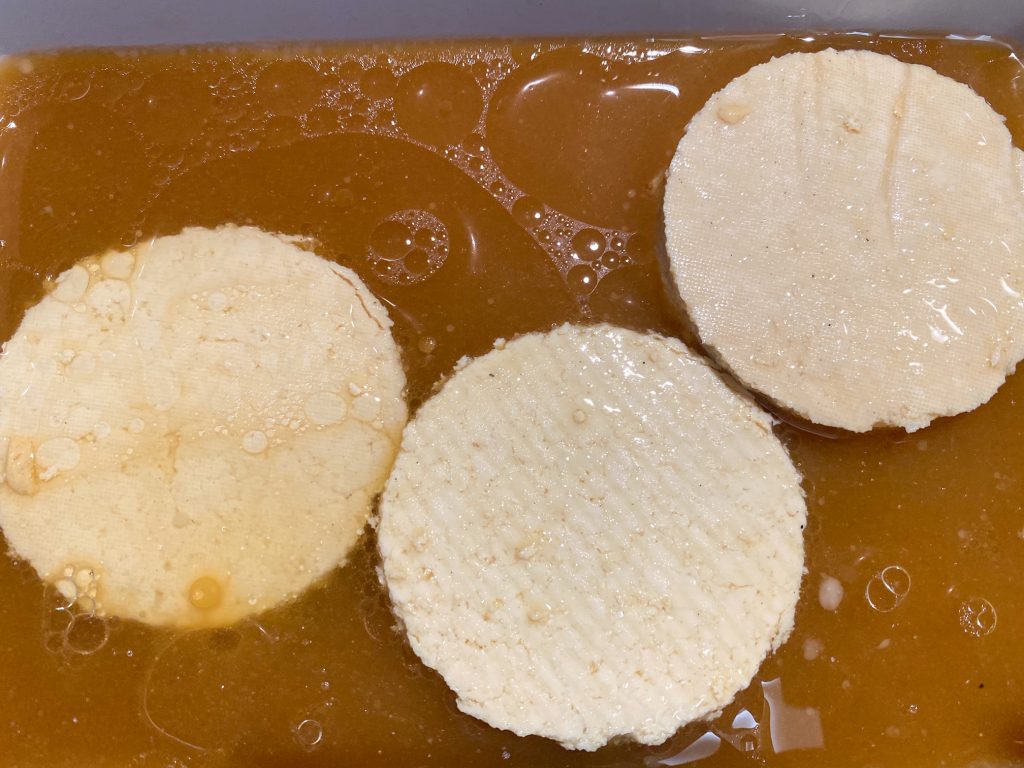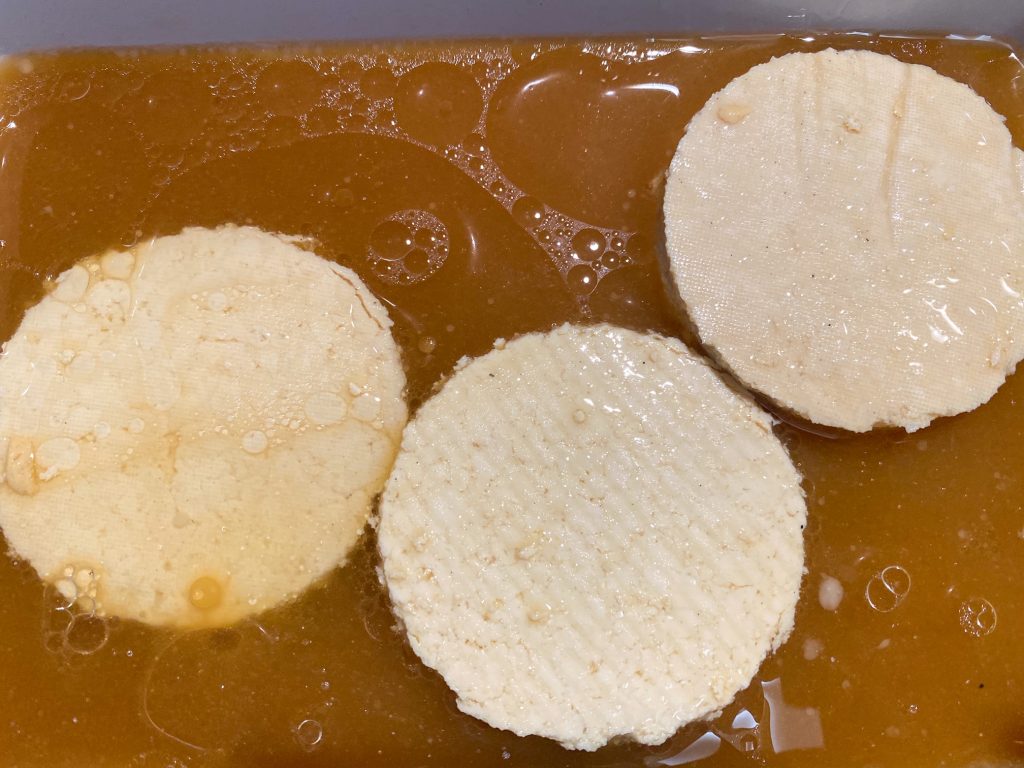 I used the top of a small glass and it didn't achieve a perfect round as it wasn't sharp, but the end result was free and easy.
The key is to ensure that your glass or cookie cutter is smaller than the "cut" of tofu which is usually about 3 inches for an average slice.
There will be a lot of extra tofu so reserve the rest for use at another time! You may want to even use the remaining tofu to make my Vegan Egg Salad for a lunch sandwich!
Next, you are going to marinade the tofu rounds in the prepared marinade for about 10-15 minutes if you are short on time and an hour if you are not.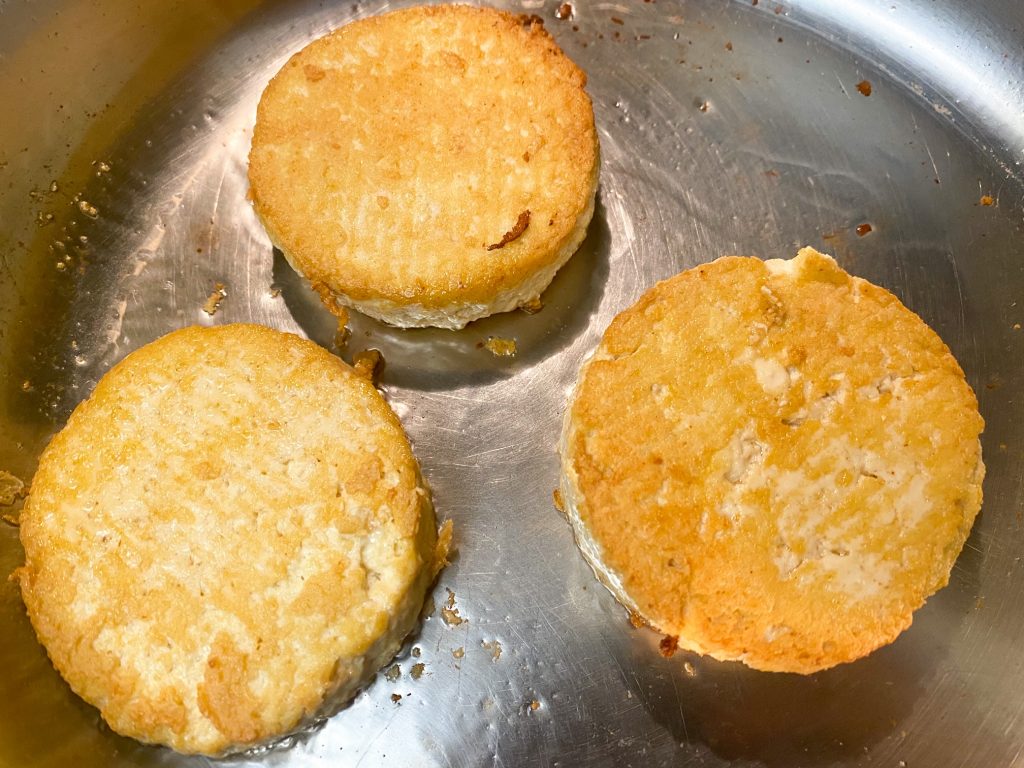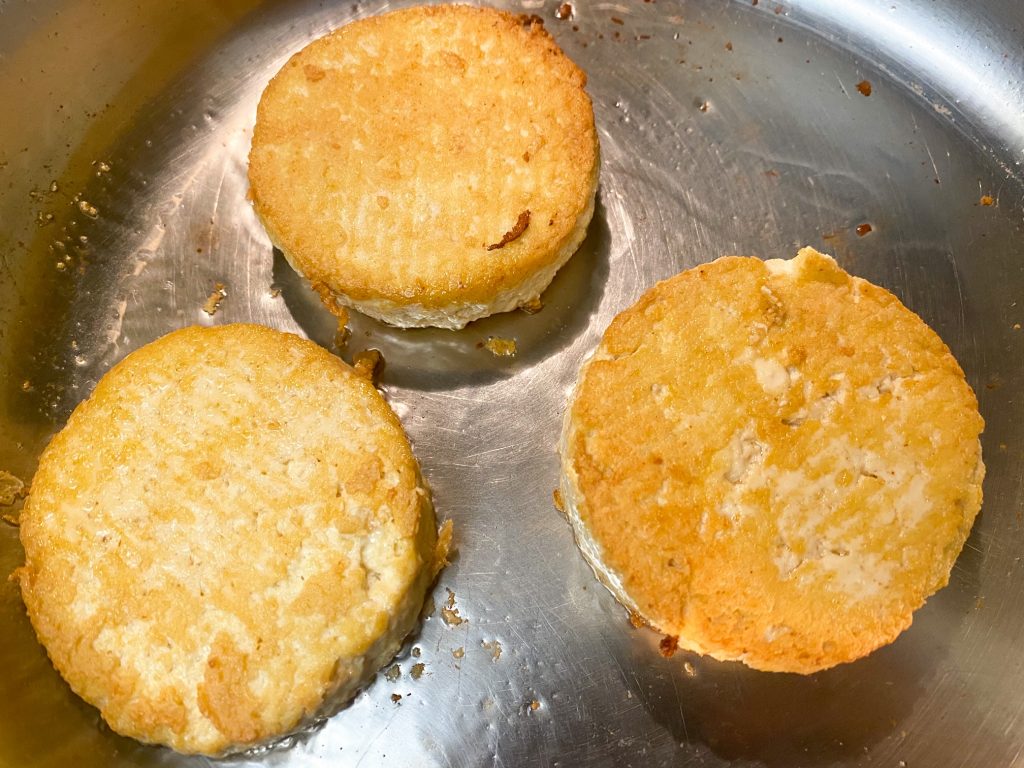 I have marinaded for both a short and long time and I honestly don't see the difference! I am not going to lie, it is pretty much the same!
While you are marinading the tofu, go ahead and make my Vegan Hollandaise Sauce recipe!
Once you have made the sauce, now it is time to let the sauce cool a little and cook the tofu rounds!
This is when your vegan Eggs Benedict really comes into shape!
Preheat your pan with a thin layer of oil and cook the tofu rounds on either side until nicely browned. This usually takes about 10-15 minutes!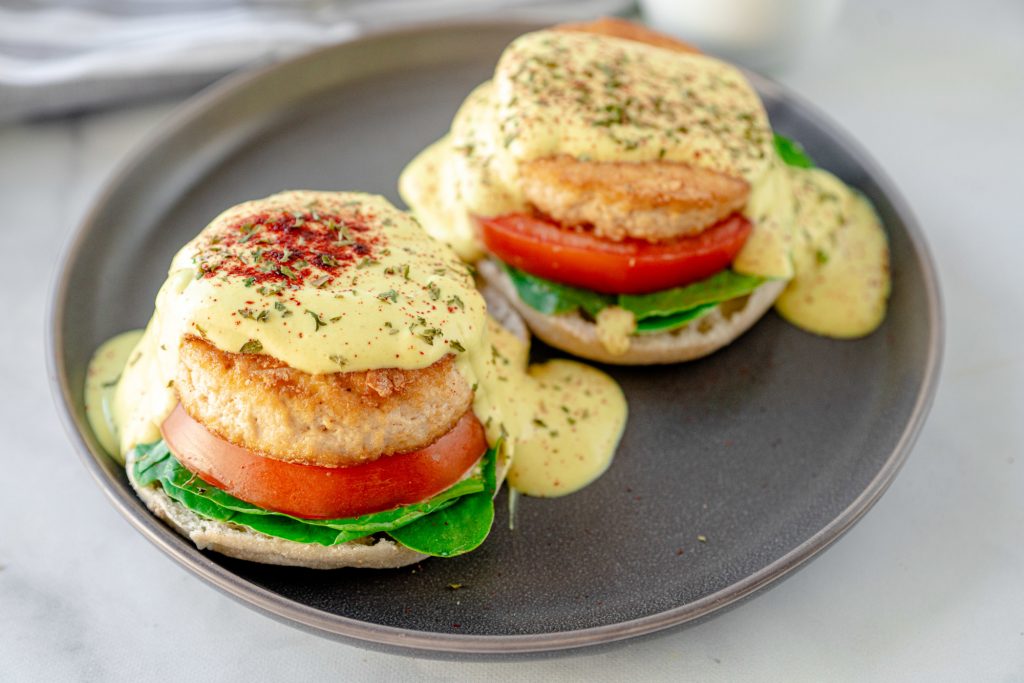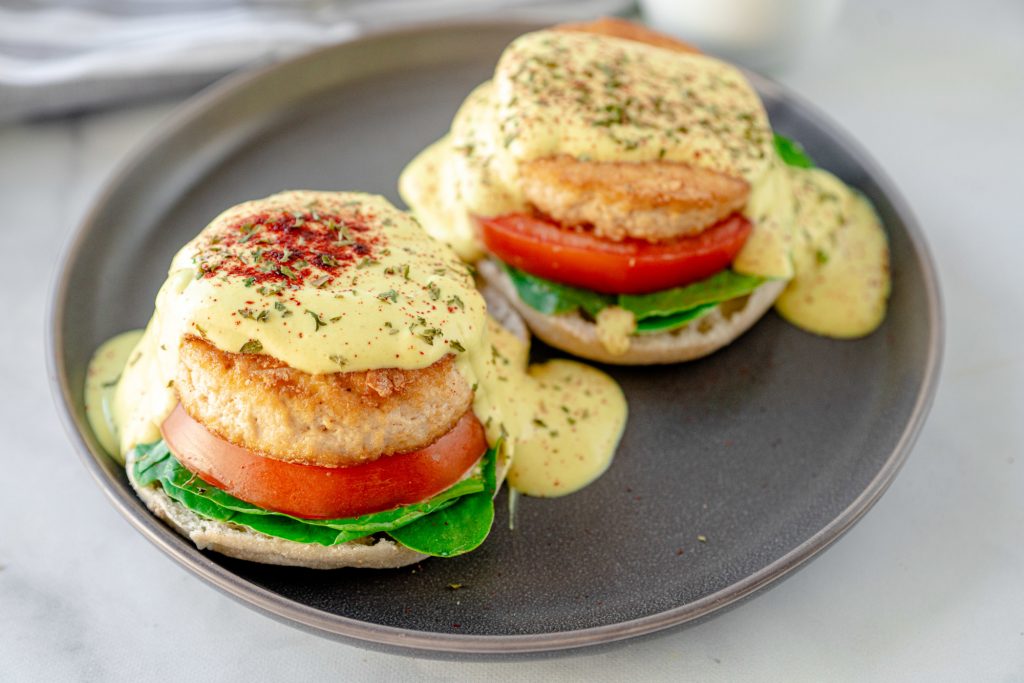 Putting Together The Vegan Eggs Benedict
Once your tofu is finishing cooking, cut a tomato to be about the same thickness as your tofu round. You do not have to add tomato if you don't like it, but if you love tomato, this is what I suggest!
Place the tomato on the hot pan and then use your fingers to add a touch of liquid smoke or smoked salt to the tomato. Then flip the tomato and add more to the other side.
You want your tomato to get a nice seared edge on either side. This makes it taste so so good!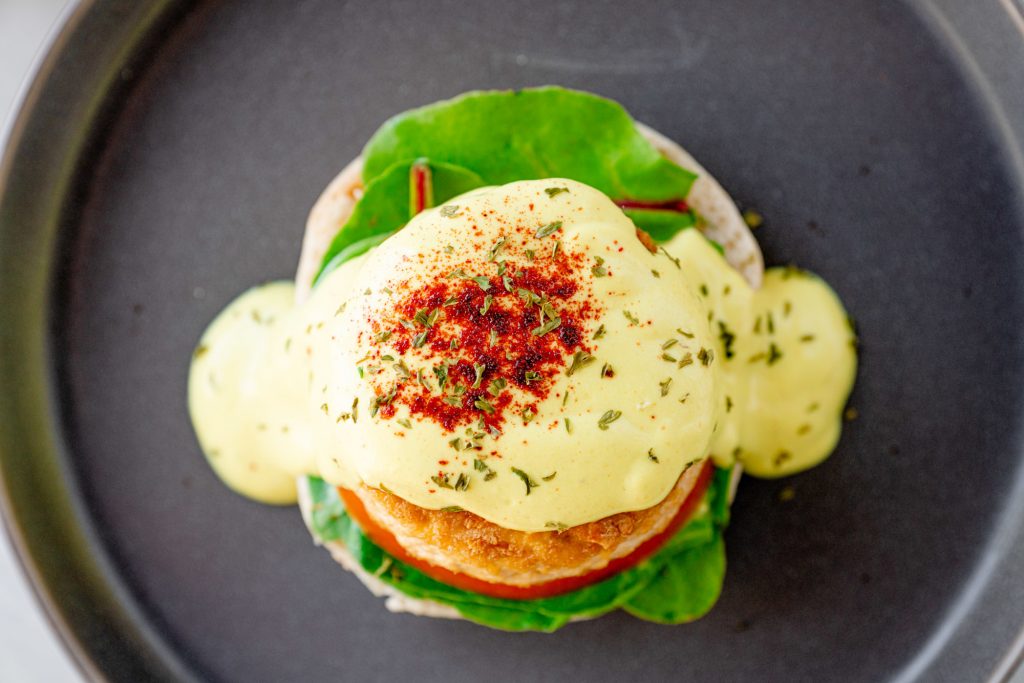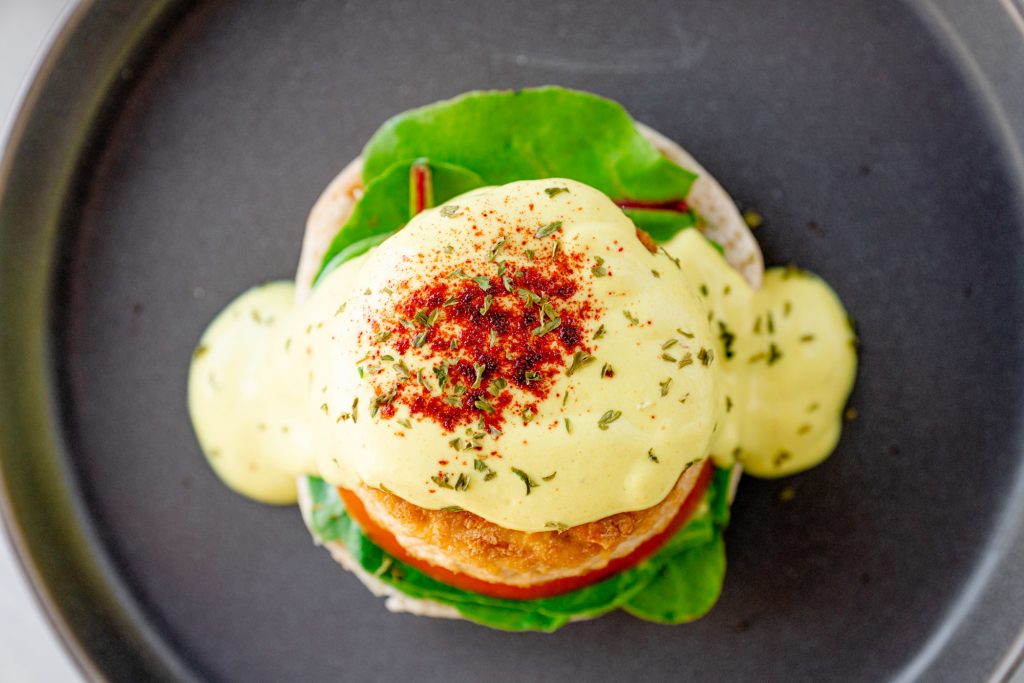 To put your vegan Eggs Benedict together, simply toast your vegan English muffin [found at Whole Foods!] and then add your greens, the cooked and smoked tomato, and the tofu round.
Of course, you can top your Eggs Benny with whatever topping or veggies you want such as avocado, saute mushrooms and more!
Once you have topped your dish to perfection, now you simply pour your Vegan Hollandaise Sauce over the whole thing!
Just save a little sauce for the other dishes as it is tempting to douse the whole thing in it.
When I say this is the best vegan Eggs Benedict you will ever try, I am truly not kidding! I know you will love it!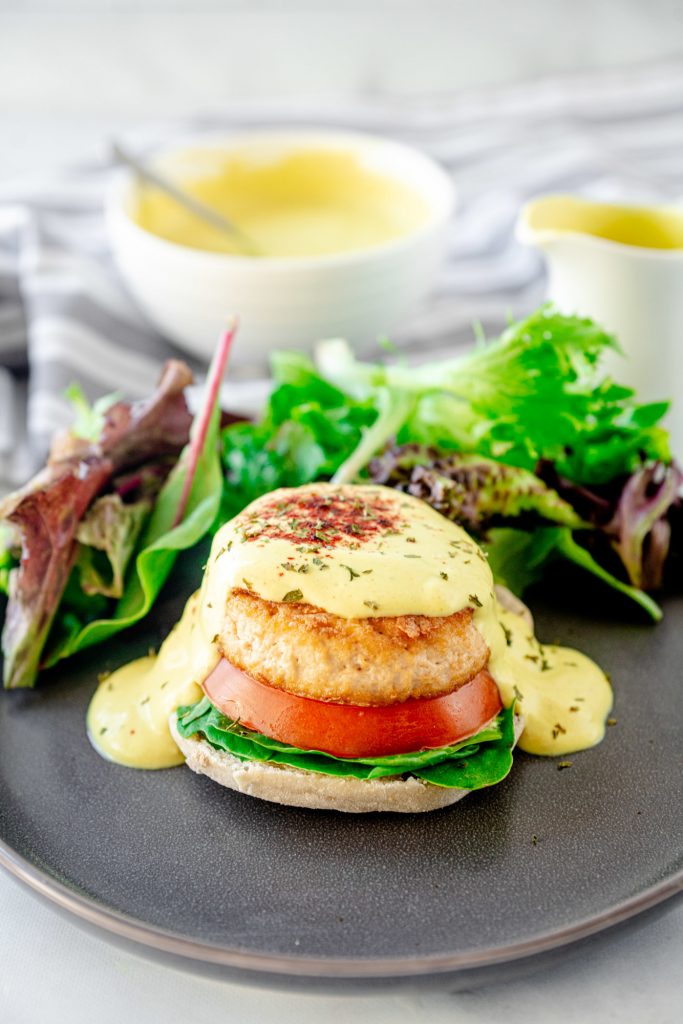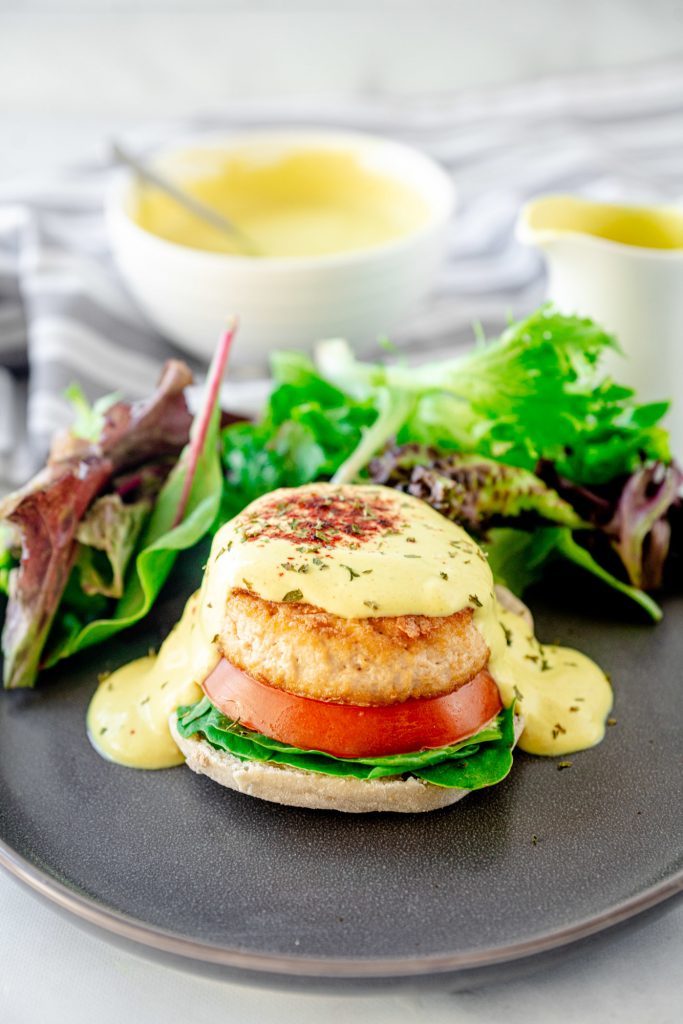 Storing The Vegan Eggs Benedict
To store the vegan Eggs Benedict, you are going to want to wrap each individual section and store that way.
Meaning, store the tofu rounds together, store the veggies together, store the sauce together.
You do not want to store the entire put-together Eggs Benedict in the fridge. You will want to assemble it when it is time to eat.
To reheat the tofu rounds, you can lightly saute them in oil until they are heated throughout!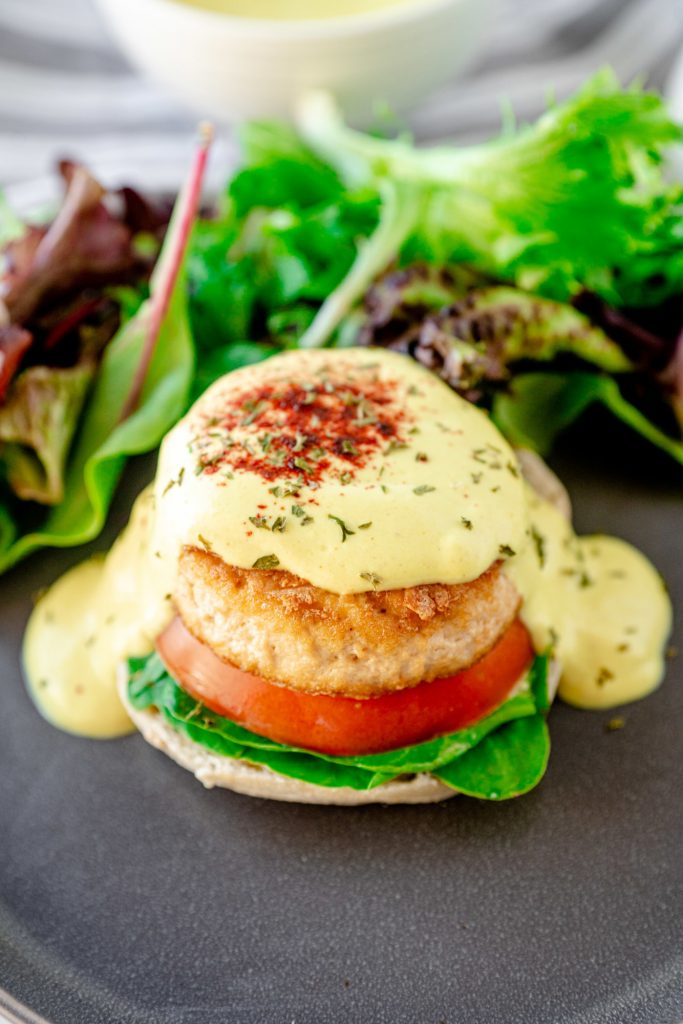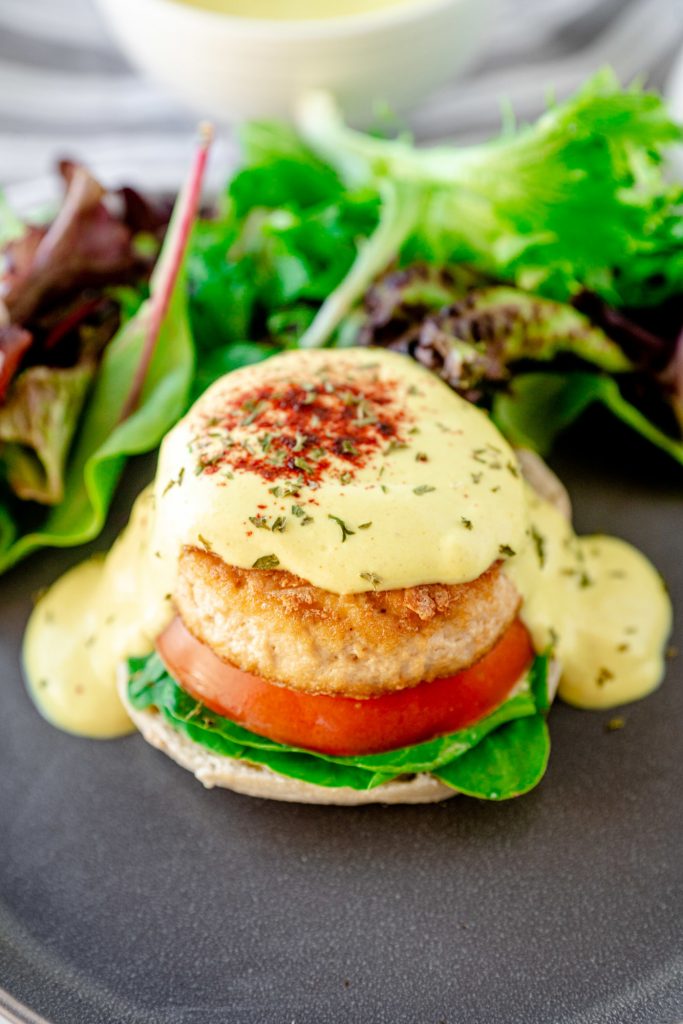 Did You Try This Recipe?
If so, I would love to keep in touch! I enjoy seeing photos and comments about the recipes that you make! You can follow me on Instagram and I will repost your goodies in my stories and comment on it too! Just tag me at @wowitsveggie and hashtag #wowitsveggie. I can't wait to see what you make!
Yield: 3
Easy Vegan Eggs Benedict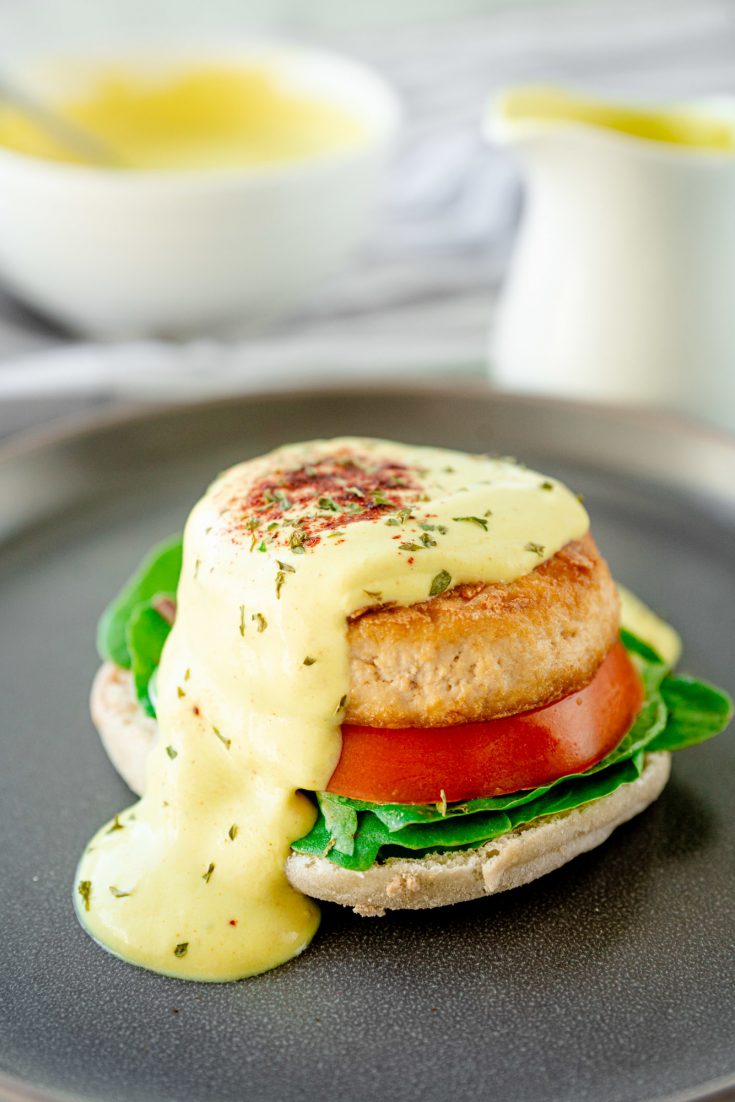 This vegan Eggs Benedict is a delicious take on the breakfast favorite! The recipe looks time consuming, but it is really nothing more than marinating some tofu, making a sauce, and putting it all together. Top if with Vegan Hollandaise sauce for real flair. This will "wow" any guest you serve!
Ingredients
1 container extra firm tofu
1 recipe Vegan Hollandaise Sauce [see notes]
1 tablespoon soy sauce
1/2 teaspoon dijon mustard
3/4 cup vegetable broth
1/4 teaspoon arrowroot or cornstarch
2 teaspoons black salt powder (more to taste)
2 tablespoons oil
3 large tomatoes
smoked salt or liquid smoke
Instructions
Combine soy sauce, mustard, broth, arrowroot, black salt, and oil in a bowl for your marinade and set aside. I like a shallow bowl or dish so all of the tofu is covered.
Next, use a dishcloth to press out the water from your tofu. Then, lay your tofu on the narrow side and cut it into 3 slices longways. Using a small glass or cookie cutter, cut circles into each tofu slice. You will only get one circle per tofu slice. Make sure that whatever you are using to cut the tofu rounds is smaller than the square of tofu so you have a circle. Reserve the remaining tofu for another recipe such as my Vegan Egg Salad.
Let the tofu marinate for about 10-15 minutes while you prepare the Hollandaise Sauce Recipe.
Once the Hollandaise Sauce is done cooking, grease a pan with oil and lightly fry your tofu rounds until they are nicely browned about 10-15 minutes. Be sure to flip so they don't stick!
As your tofu finishes cooking, cut your tomato into slices that are about as thick as your tofu slice. Spread liquid smoke or smoked salt on both sides of the tomato and place the tomato in the pan to sear the top and bottom so that it is nicely cooked!
Toast an English Muffin and then top with your greens, tomato and tofu round. Finish off with Hollandaise Sauce and parsley and paprika for topping. Of course, you can top this vegan Eggs Benedict with whatever you want such as avocado, mushrooms and more! Don't worry if you don't like tomato or greens!
Nutrition Information
Yield
3
Serving Size
1
Amount Per Serving
Calories

365
Total Fat

17g
Saturated Fat

4g
Trans Fat

0g
Unsaturated Fat

12g
Cholesterol

44mg
Sodium

2274mg
Carbohydrates

48g
Fiber

3g
Sugar

5g
Protein

6g