This vegan hollandaise sauce is so darn tasty and delicious! It is nut-free, mayo free, and tofu free, which makes it accessible to all!
This hollandaise sauce recipe is perfect for topping my Vegan Eggs Benedict [you gotta try it!] or any veggies that you may have!
It actually whips up quite quickly and you can make it while you marinade your tofu from the eggs Benedict recipe, or while your veggies are cooking!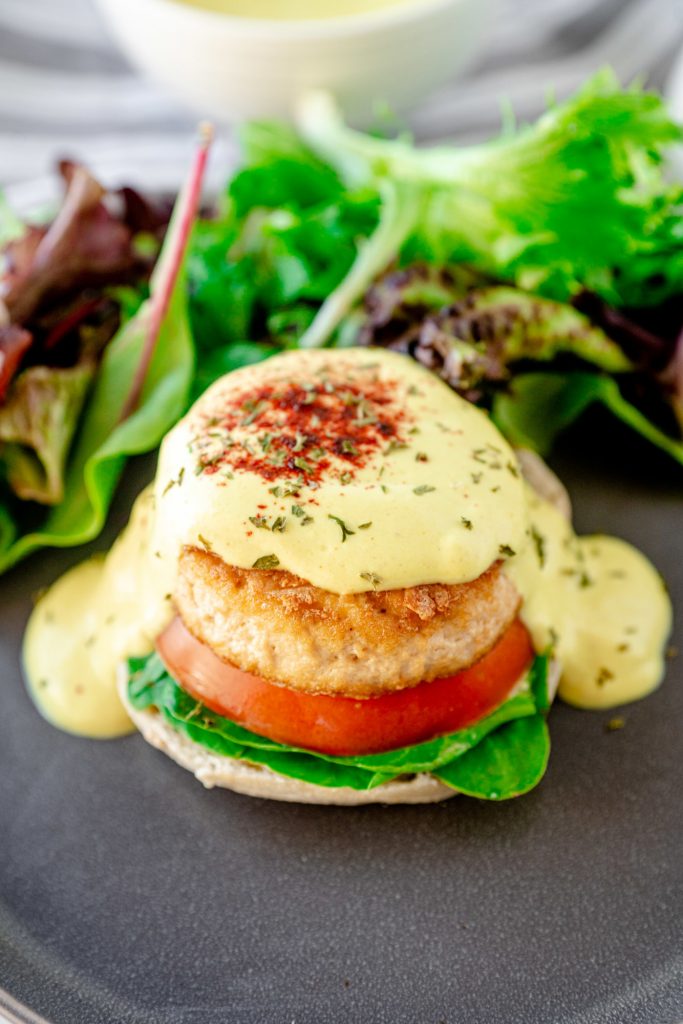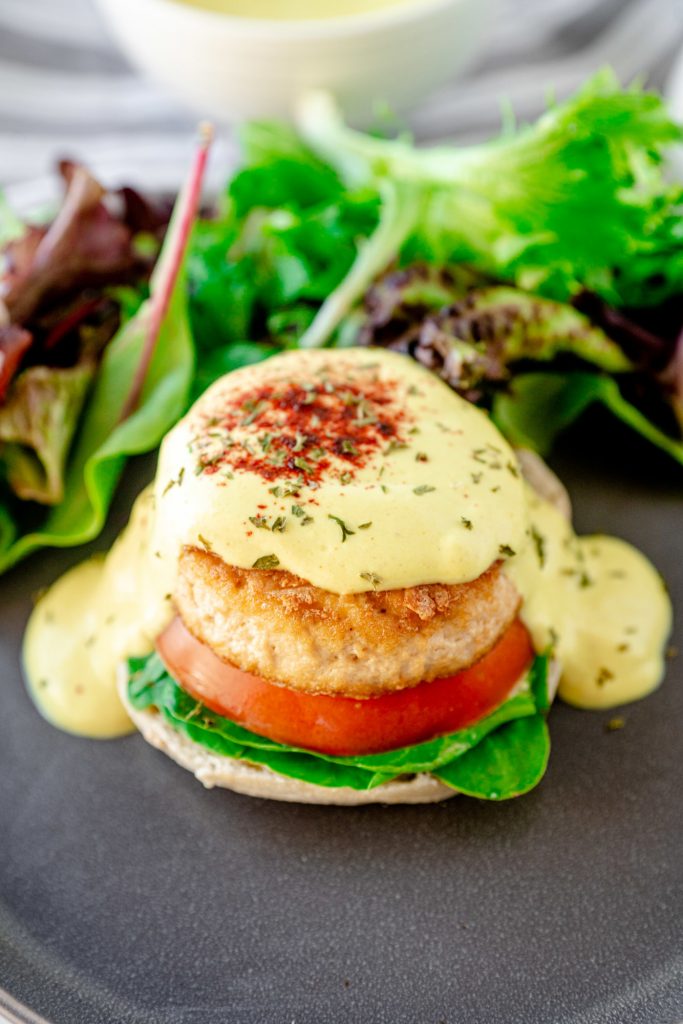 As you may know from reading my site, I am not a fan of using nutritional yeast as a main ingredient in recipes. I don't like the taste, not going to be sorry about it!
However, nutritional yeast SHINES in sauces, when added in a small amount! For example, the flavor that nutritional yeast adds to my Vegan Brown Gravy is divine!
Nutritional yeast gives the same boost of flavor to this vegan hollandaise sauce because it is used in a small amount, just enough to taste yummy without overpowering the recipe!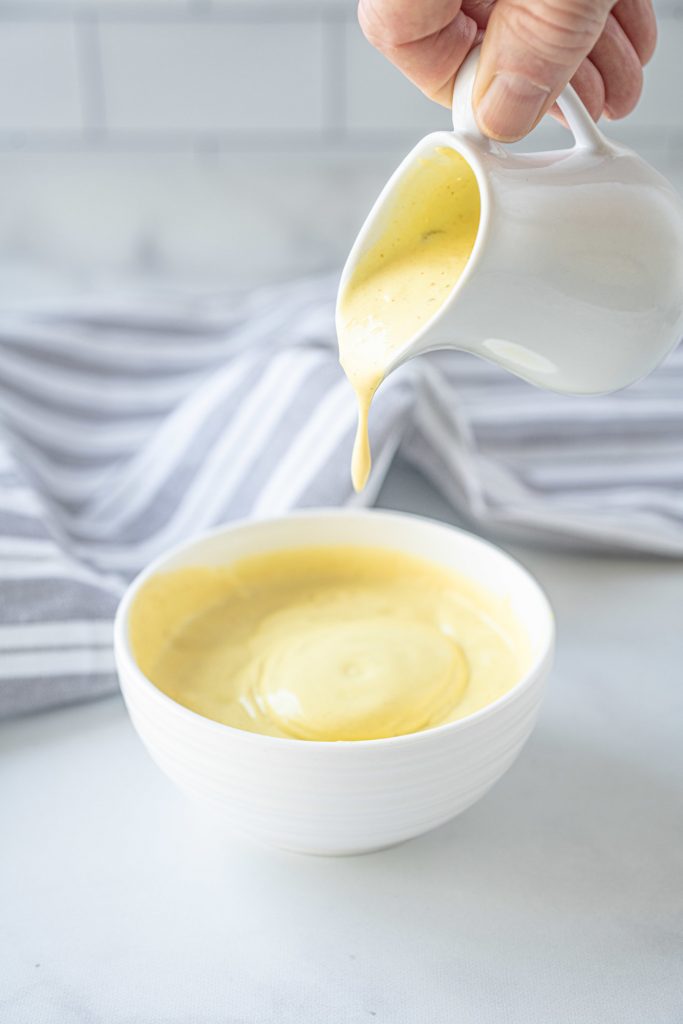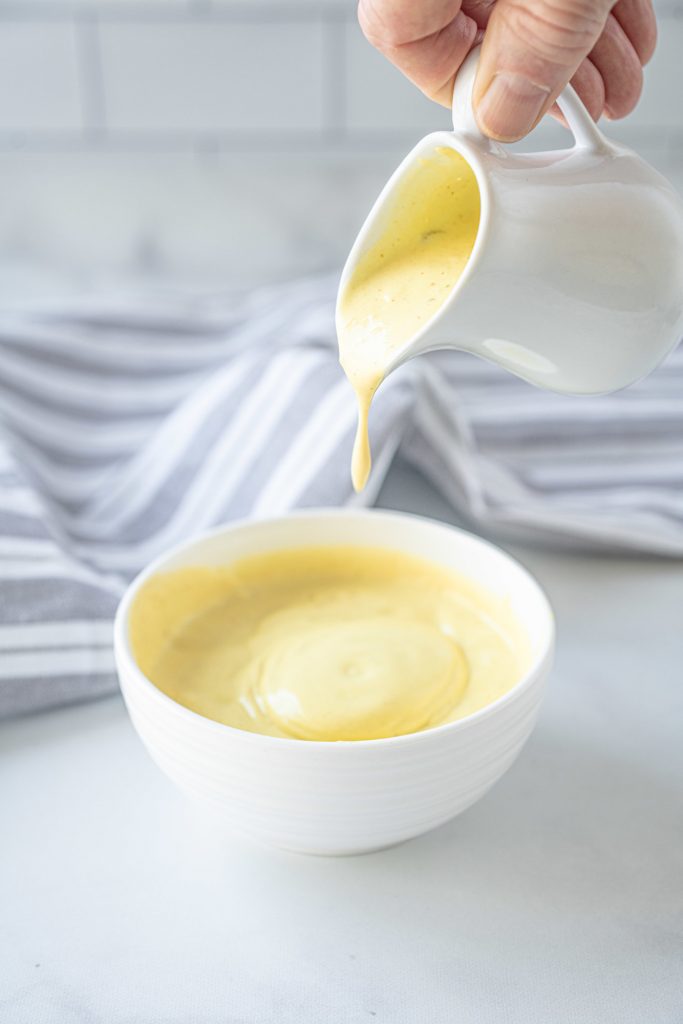 Another thing to keep in mind is that this is a vegan hollandaise sauce with no tofu and no nuts! So everyone can enjoy.
The one ingredient you simply cannot make this recipe without is Black Salt or Kala Namak. This ingredient will give your recipe an "eggy" flavor and smell. DO NOT skip it!
Use your vegan vegan hollandaise recipe to impress your friends because it is so tasty and delicious!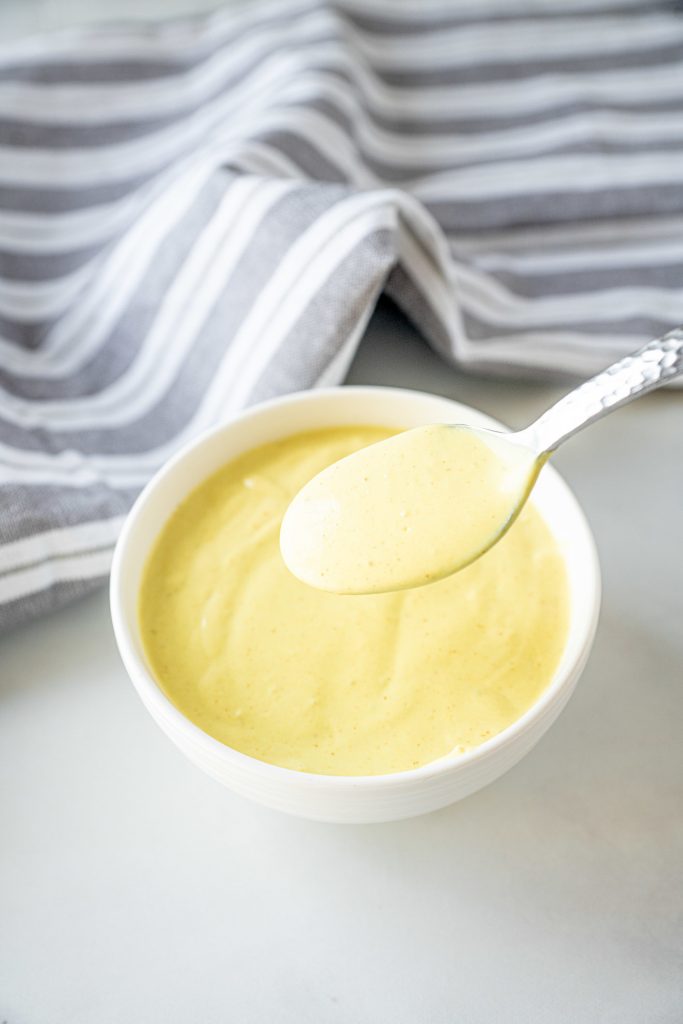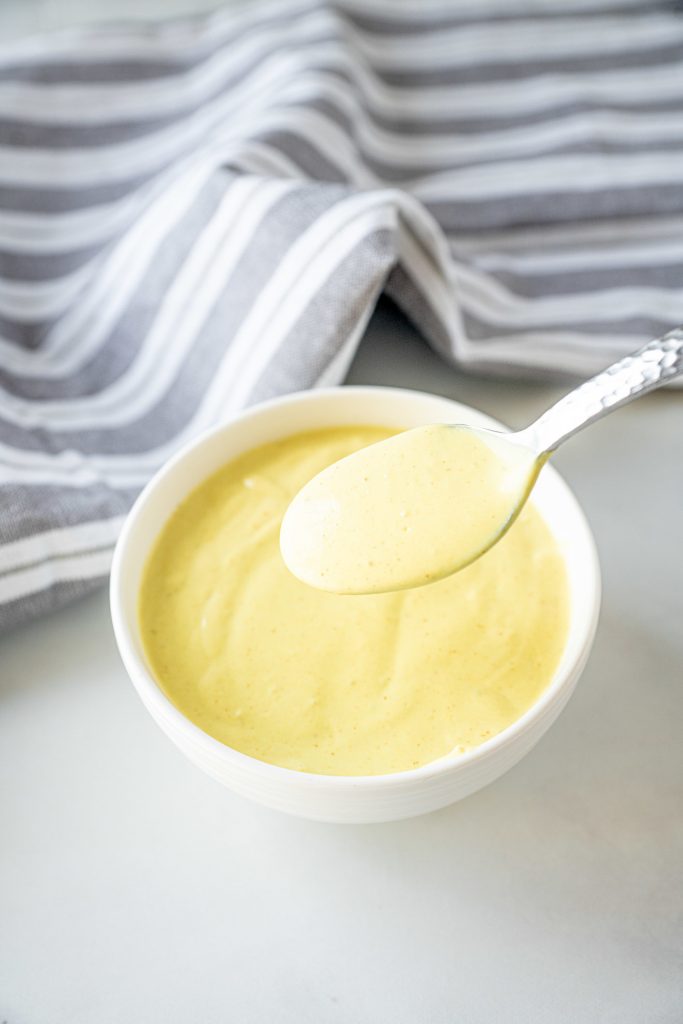 Is Black Salt Powder Really Necessary?
YES!!!! DO NOT MAKE THIS RECIPE WITHOUT BLACK SALT POWDER! It is commonly used in plant-based cooking such as my Vegan Egg Salad and is so amazing!
I travel to Iceland quite often and actually have real volcanic black salt from Iceland. My mom and I tried it and yeah, doesn't smell or taste like rotten eggs.
The minute you order Black Salt Powder from Amazon or get it from your local Indian grocery store, you will see why I say don't bother making this vegan hollandaise recipe without it.
I had put off order it for a long time, and my local Whole Foods thought I was wild when I asked for it, but it really is worth the couple bucks and a few days wait!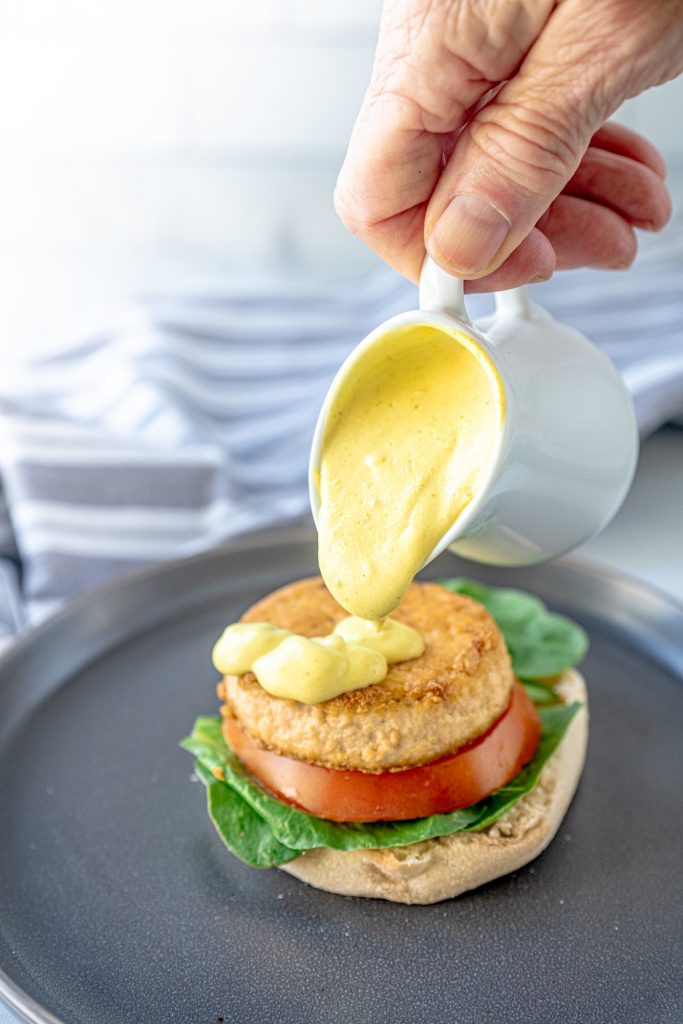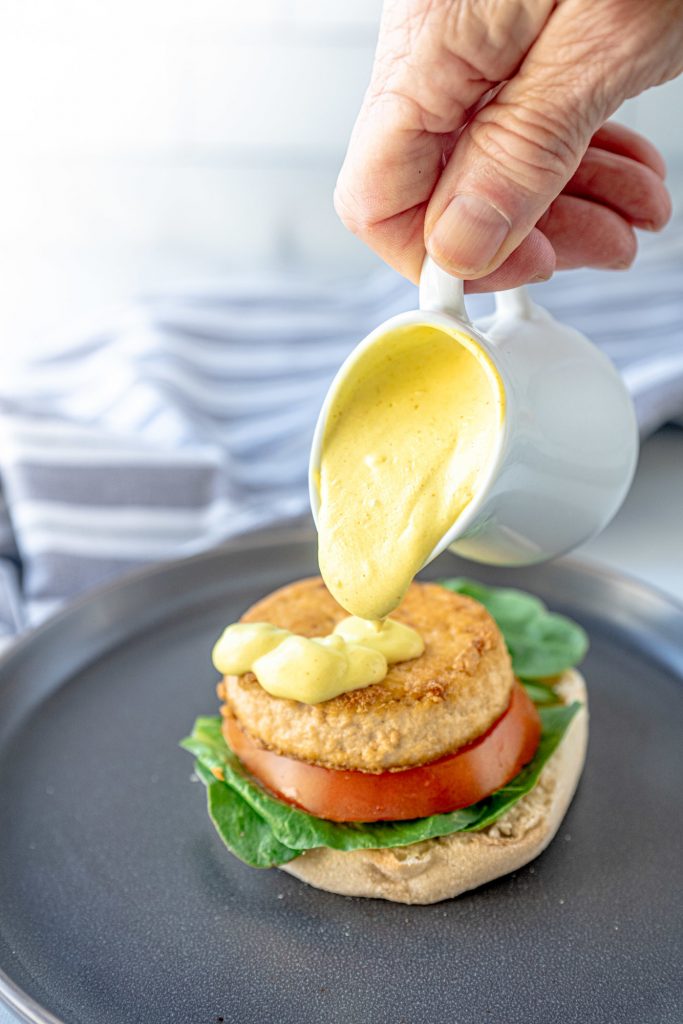 Kala Namak is popularly used by vegans and vegetarians in Indian cooking, and it is the perfect way to dress up tofu dishes to make them taste like real eggs.
Again, you will think I am a totally wild and "weird" vegan until you try it and see that it actually does taste and smell strongly of sulfur.
Once you follow this recipe, you can add as much Black Salt Powder to taste, depending on if you like a strong or lighter flavor.
Finally, Black Salt Powder is actually pink, not black! Don't ask me why it is called Black Salt when it isn't even black! Please get this essential ingredient when making your vegan hollandaise!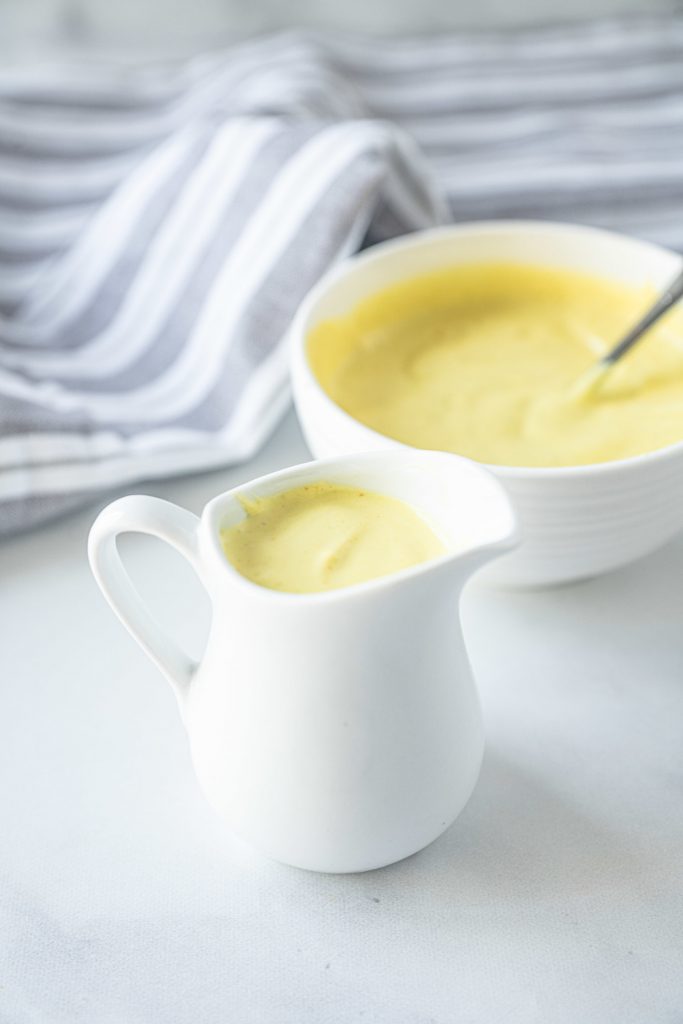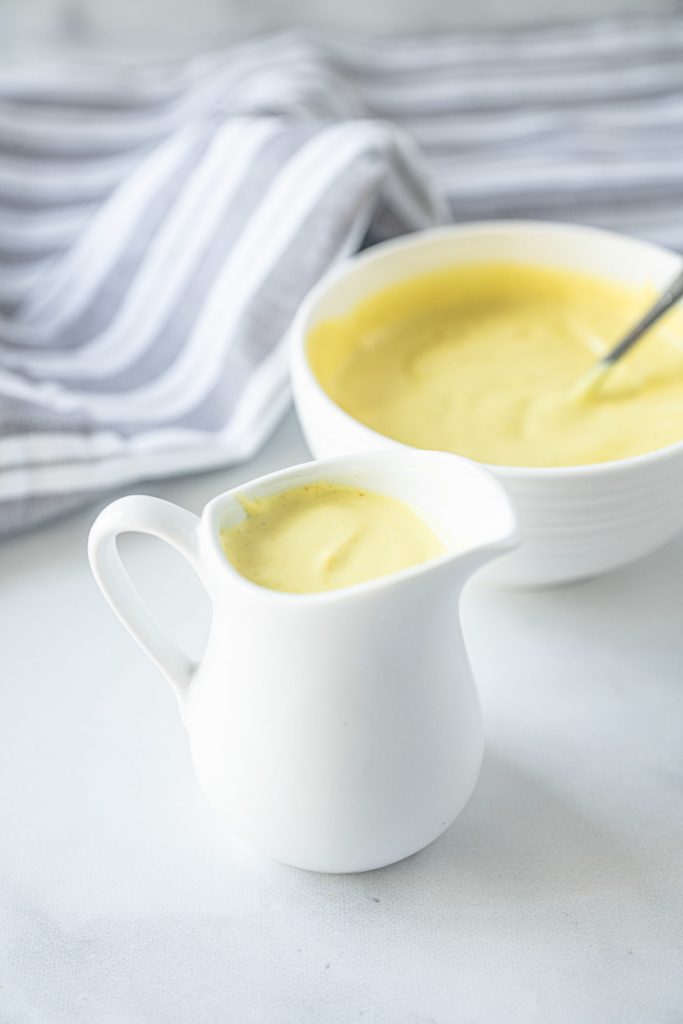 How To Make The Vegan Hollandaise Sauce
This recipe is titled EASY vegan hollandaise sauce because I want you to understand how simple this is to make!
All you have to do is saute your onion in oil in a small pot for about 3 minutes over medium heat. You can also use green onions which is what I prefer to do in many cases!
Then, you will prepare your milk and arrowroot in a cup and set it aside. You can also use cornstarch. This is what is going to give the vegan hollandaise sauce a "thicker" consistency.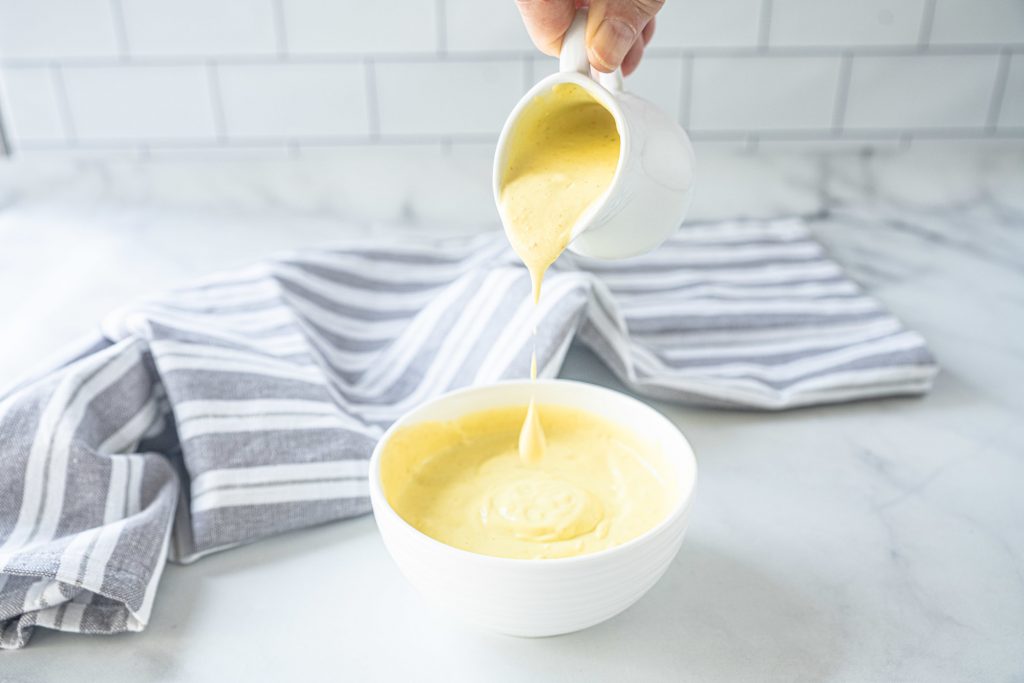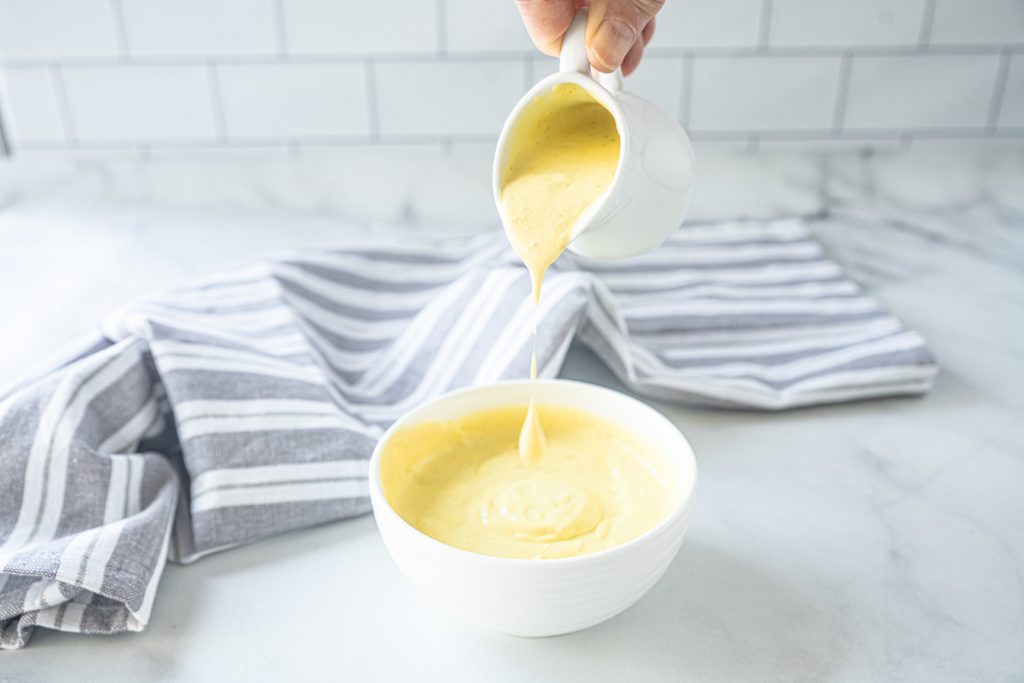 Next, add your white wine and vinegar to the onions and bring the mixture to a boil until the liquid has reduced to about 2-3 tablespoons. I know this isn't much, but bear with me! You want that flavor all good and yummy!
Combine turmeric and vegetable broth bullion or powder to your milk mixture. You can find vegetable broth bullion at most stores and especially health food stores. You can also find it online.
Once your onion mixture has reduced, add the milk mixture to the pot and lower the heat. You are going to want to whisk for 5-7 minutes or until the mixture thickens.
This is the same process that I do in my Vegan Chocolate Pudding.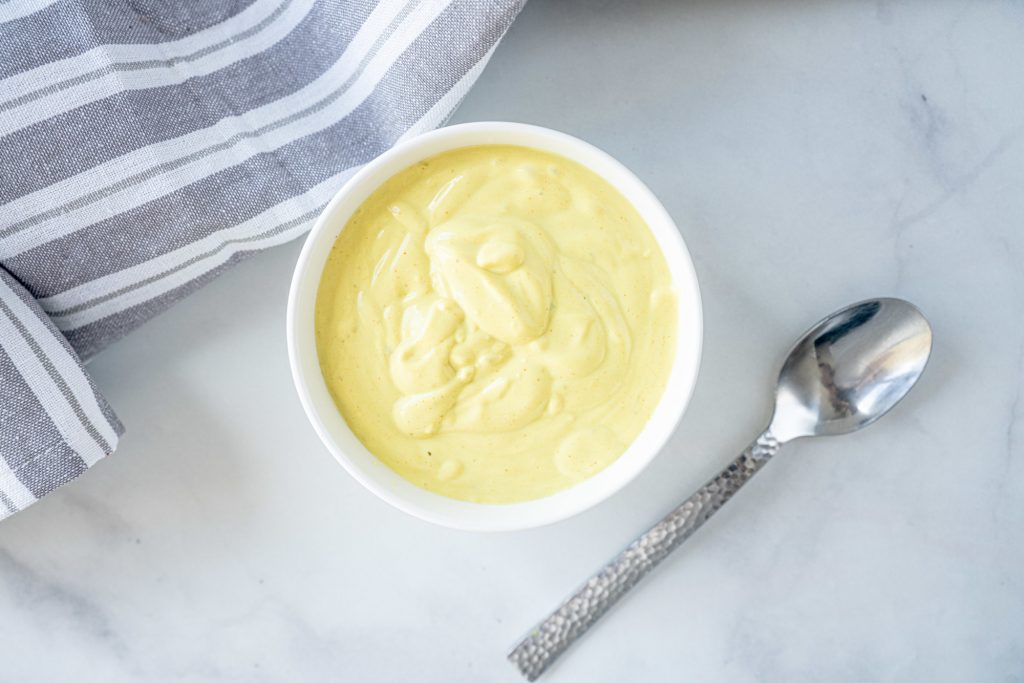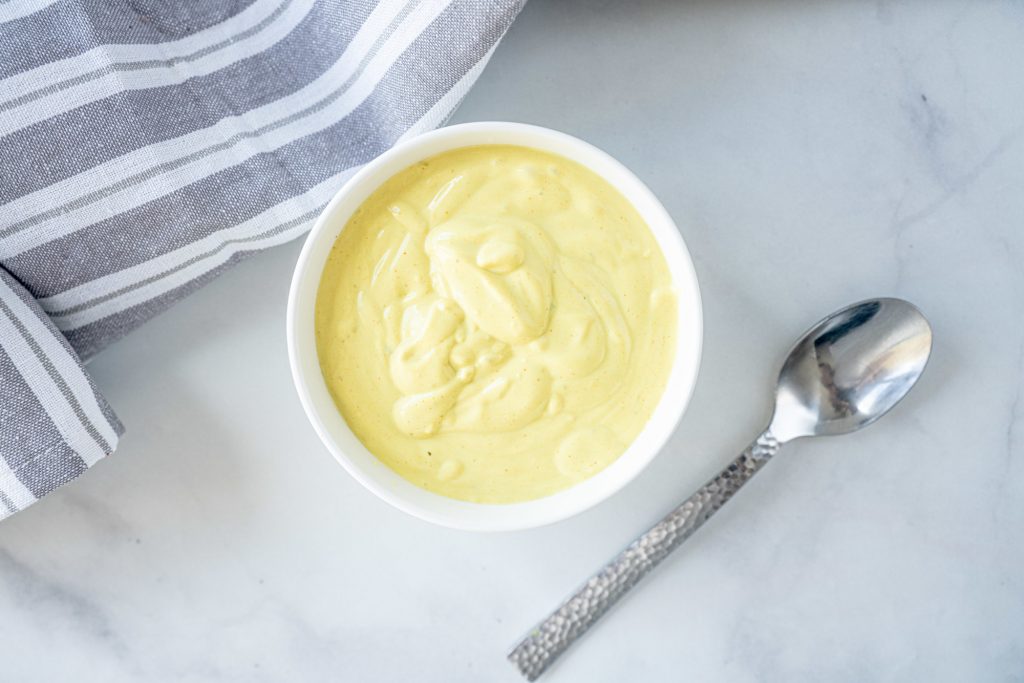 You must mix with a whisk or spoon consistently until the sauce thickens. If you do not whisk it, it will be lumpy and gross!
Once the sauce is thick, mix in nutritional yeast, lemon juice, and black salt powder and stir to combine.
Do a taste test and add more black salt powder as necessary.
This vegan hollandaise sauce tastes the best when it is warm, but not hot. You want the flavors to blend, but don't want it too cold.
Go ahead and make the vegan hollandaise and then set it aside while you put your Vegan Eggs Benedict together.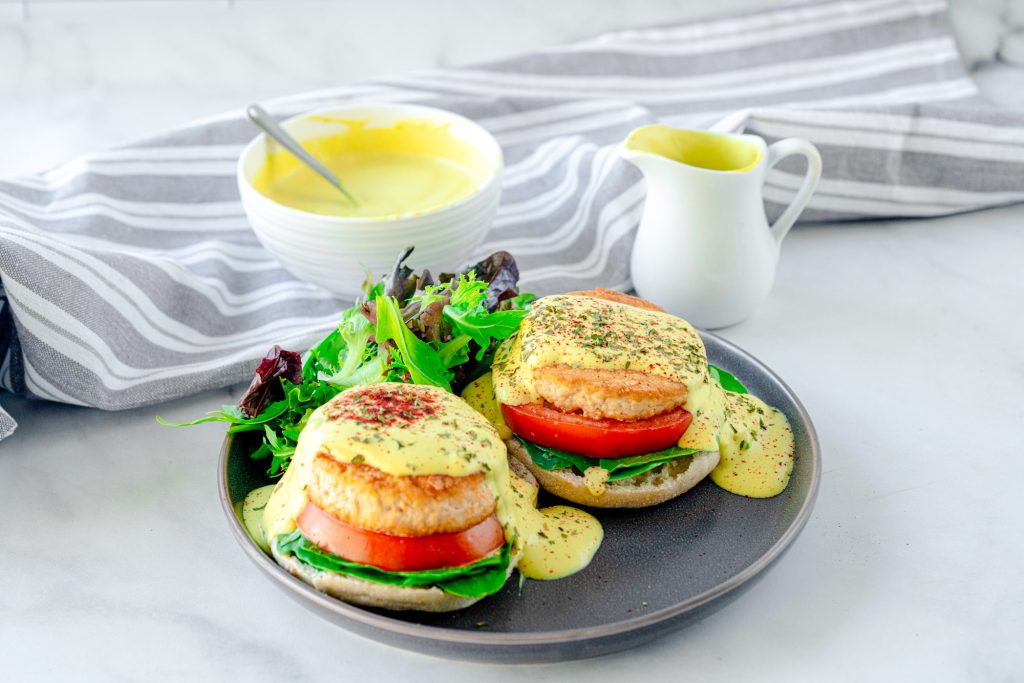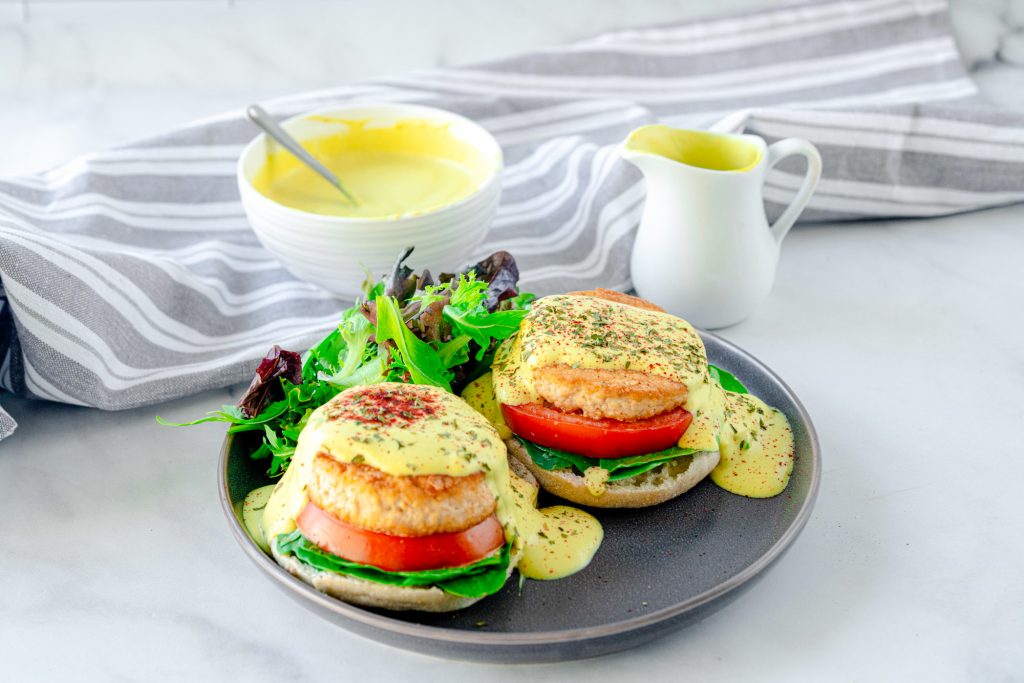 How To Store Vegan Hollandaise
You can easily store this vegan hollandaise sauce covered and in the fridge for up to 5 days.
To reheat, simply dump it into a small saucepan and whisk until warm and just heated throughout.
I highly recommend adding a little liquid in small amounts if you feel like you prefer a thinner consistency. Only add milk 1 tablespoon at a time so you don't overpower the recipe!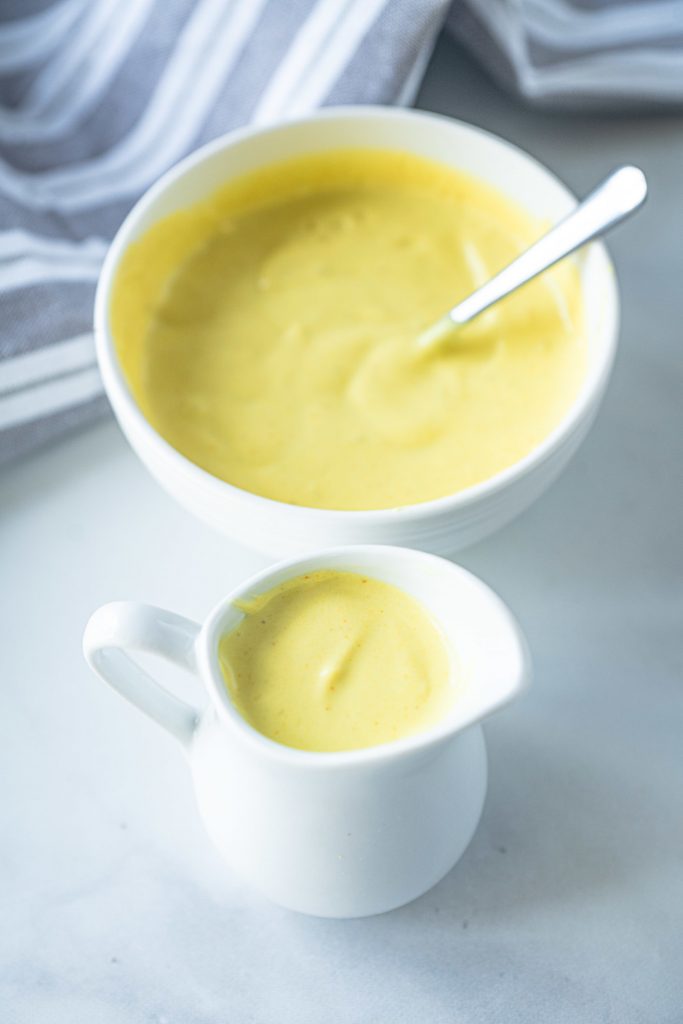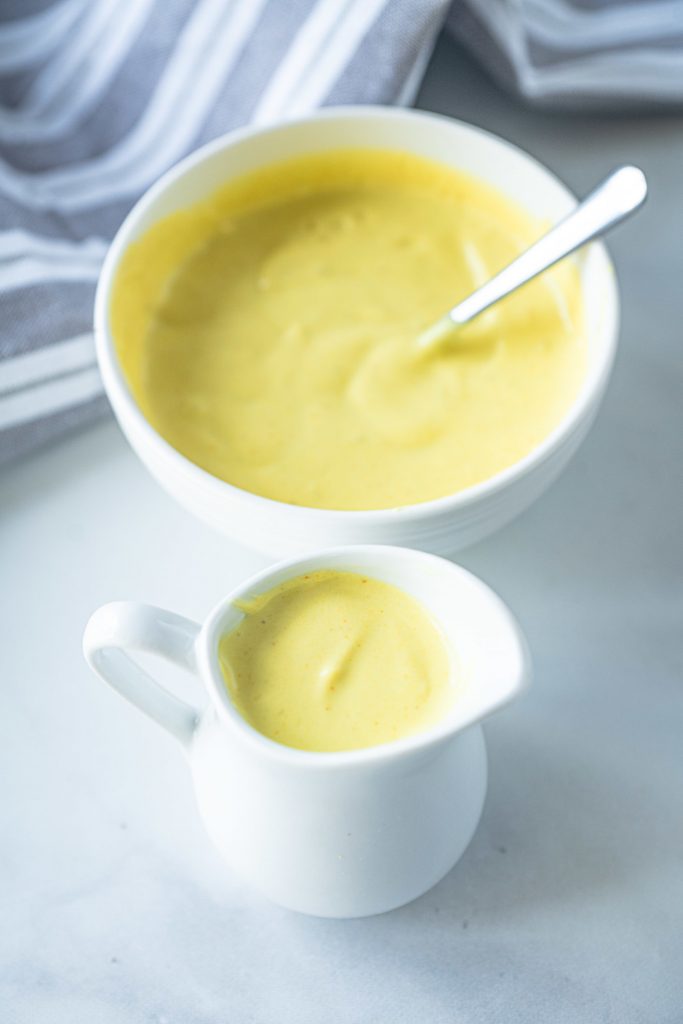 Did You Try This Recipe?
If so, I would love to keep in touch! I enjoy seeing photos and comments about the recipes that you make! You can follow me on Instagram and I will repost your goodies in my stories and comment on it too! Just tag me at @wowitsveggie and hashtag #wowitsveggie. I can't wait to see what you make!
Yield: 2 cups
Easy Vegan Hollandaise Sauce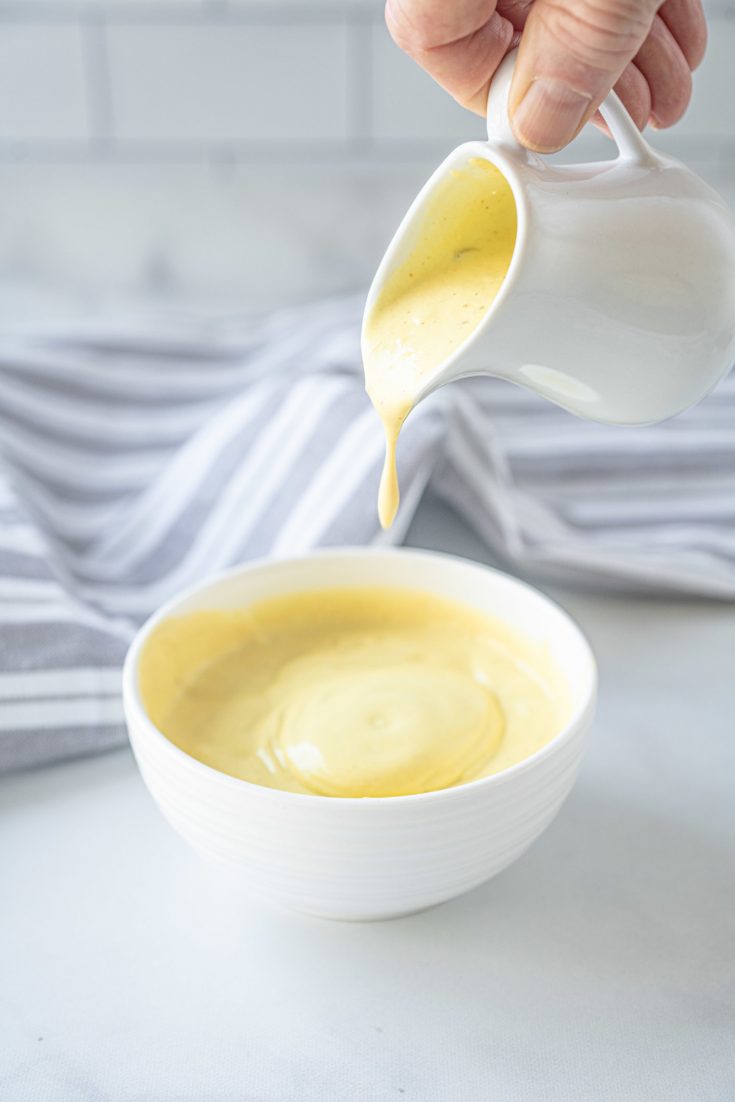 This vegan hollandaise sauce is so easy and delicious to make! It is nut-free and tofu-free which makes it easy and accessible to all. This vegan hollandaise will impress all of your friends and is perfect to top a Vegan Eggs Benedict with!
Ingredients
2 tablespoons oil
1/4 cup minced onion
1 1/2 cup non-dairy milk
2 tablespoons plus 1 teaspoon arrowroot or cornstarch
1/4 cup white wine
1/2 teaspoon Black Salt Powder
3 tablespoons white wine vinegar
2 tablespoons vegetable broth powder/bullion
2 tablespoons nutritional yeast
1 tablespoon lemon juice
Instructions
In a small pot, saute your onion in oil until fragrant.
Mix non-dairy milk with arrowroot/cornstarch and stir until combined. Add turmeric and broth powder and set aside.
Add white wine and vinegar to the onions and turn the heat to a boil and boil for 5 minutes until the mixture has reduced to about 2-3 tablespoons.
Once reduced, add the milk mixture to the onion mixture and lower the heat to medium. Now, whisk for 5-7 minutes until the sauce is thick. Whisk during this entire time and do not stop until it gets thick!
Once the sauce is thick, mix in nutritional yeast, lemon juice, and black salt powder. Let sauce cool for a little and serve warm, not hot, for best results!
Nutrition Information
Yield
6
Serving Size
1
Amount Per Serving
Calories

177
Total Fat

6g
Saturated Fat

1g
Trans Fat

0g
Unsaturated Fat

5g
Cholesterol

5mg
Sodium

224mg
Carbohydrates

25g
Fiber

1g
Sugar

4g
Protein

4g