Making a vegan portobello mushroom burger does NOT have to be hard or complex! I personally hate when I see a dish that looks good but the recipe is as long as my arm! Ain't nobody got time for that, at least this nobody doesn't!
The beauty of making vegan portobello mushroom burgers is that you can have a vegan burger without having to make a patty! Portobello mushrooms are meaty and the texture holds up well in a burger. You can simply cook your portobello mushroom and use it as the base for a delightful mushroom burger.
I recommend serving them alongside our oven-roasted paprika potatoes for the full experience! They whip up quickly and are the perfect side!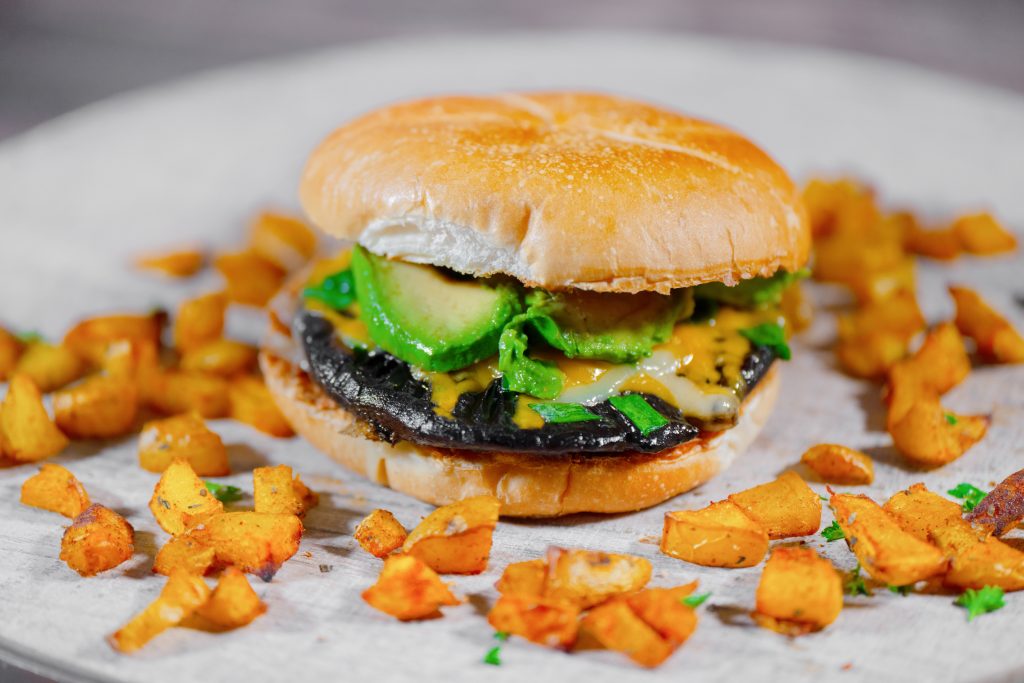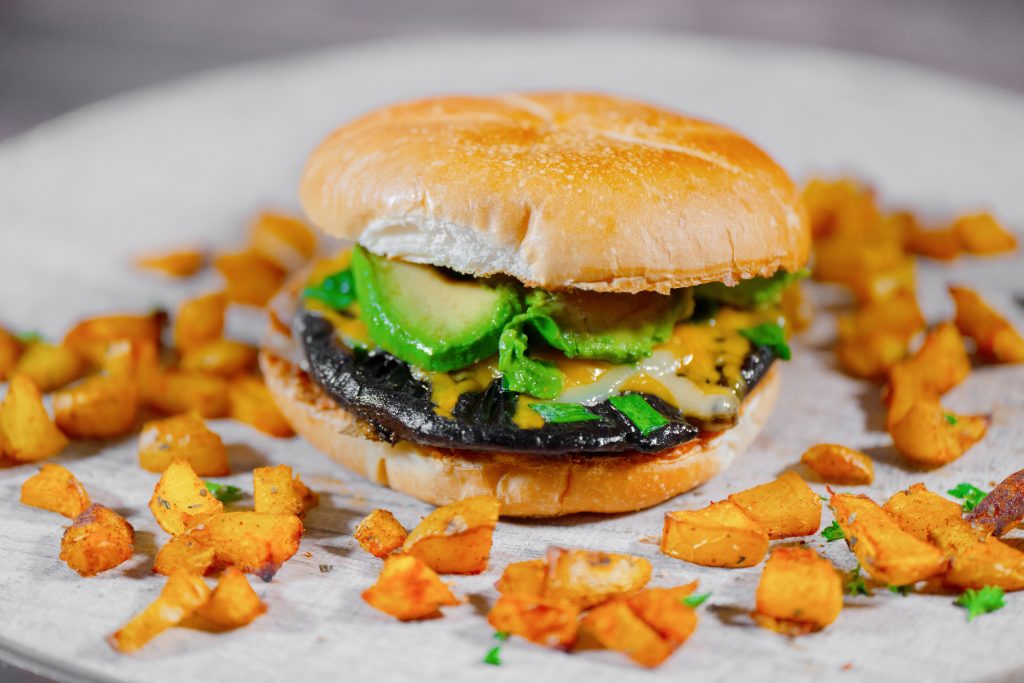 The best part about portobello mushroom burgers is that you can customize to your tastes! If you are vegetarian and eat cheese, you can add real cheese or even egg to the burger. If you are a strict vegan, you can eat this recipe as-is! Gluten-free? Sub out lettuce or gluten-free bun and you are golden!
I've made this vegan portobello mushroom burger for the past 15 years and all around the world. I travel a lot and the ingredients for this grilled portobello mushroom burger are easily found around the world! I have eaten this everywhere from the wilds of Iceland to a small flat in Paris overlooking the Eiffel Tower [not kidding!]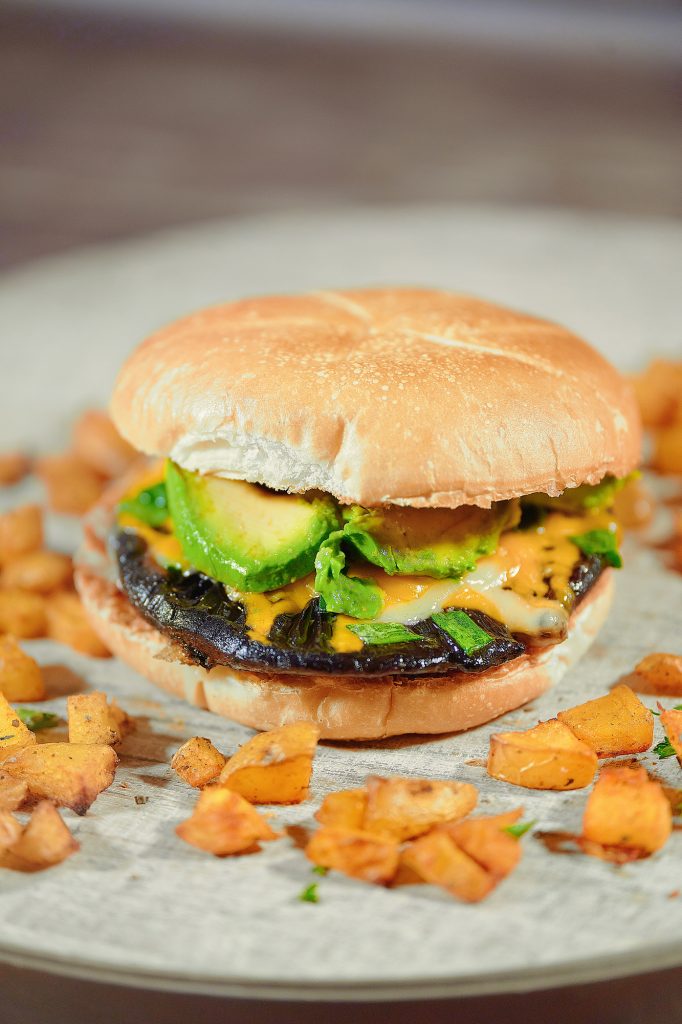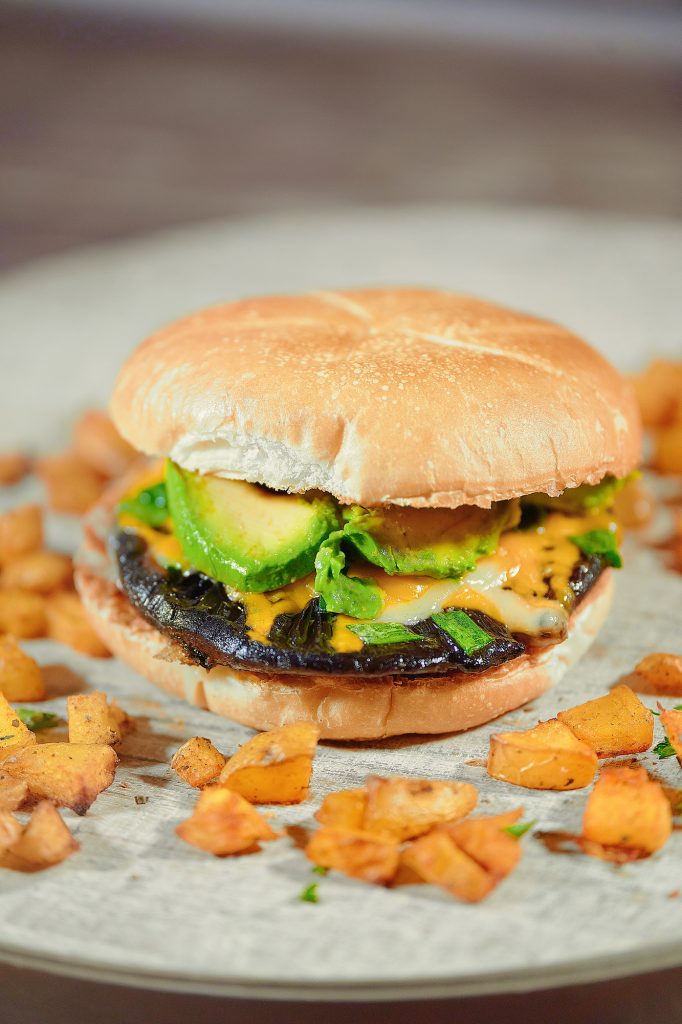 How To Cook Vegan Portobello Mushroom Burgers
I am not going to lay out the entire process for cooking vegan portobello mushroom burgers because it will take up too much space and I have already done it on another post!
CLICK HERE TO READ HOW TO COOK PORTOBELLO MUSHROOMS!
Essentially, you are going to want to take the stem out of the portobello mushroom so that the mushroom lies flat against the pan. Then you are going to want to coat the mushroom in oil, salt, and Italian spice blend.
As you are cooking your this portobello mushroom burger recipe, you want to ensure that the mushroom cooks down so that it is soft and meaty, not raw! As your portobello mushroom cooks down, it will turn a dark brown in color, and this signals that it is ready to eat!
Again, I explain the whole process for cooking portobello mushrooms in this article so you can read my QUICK and EASY process!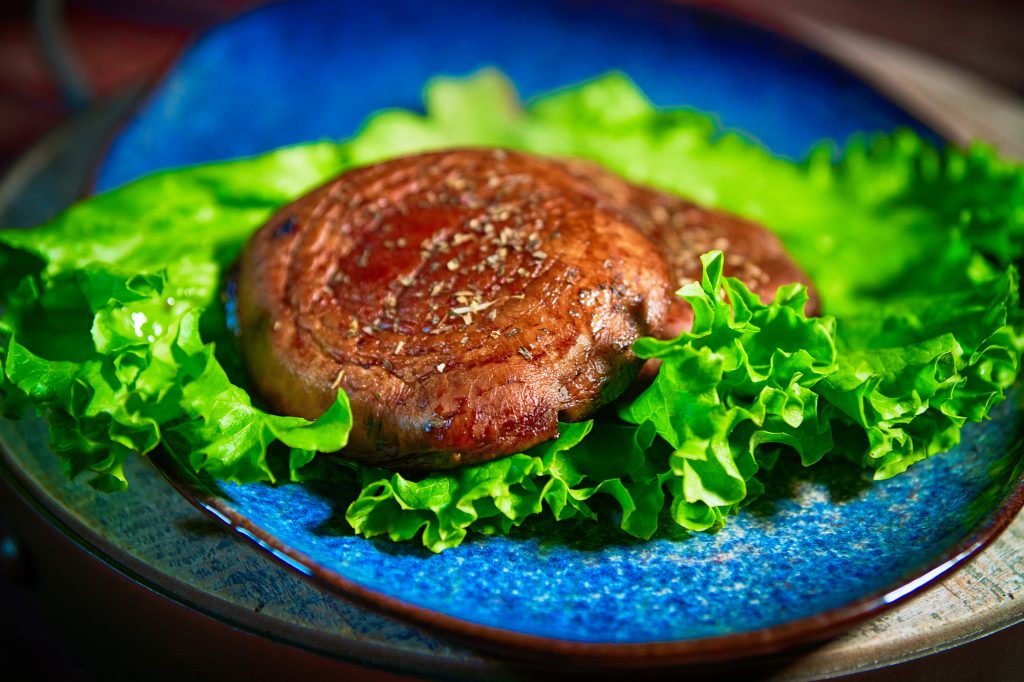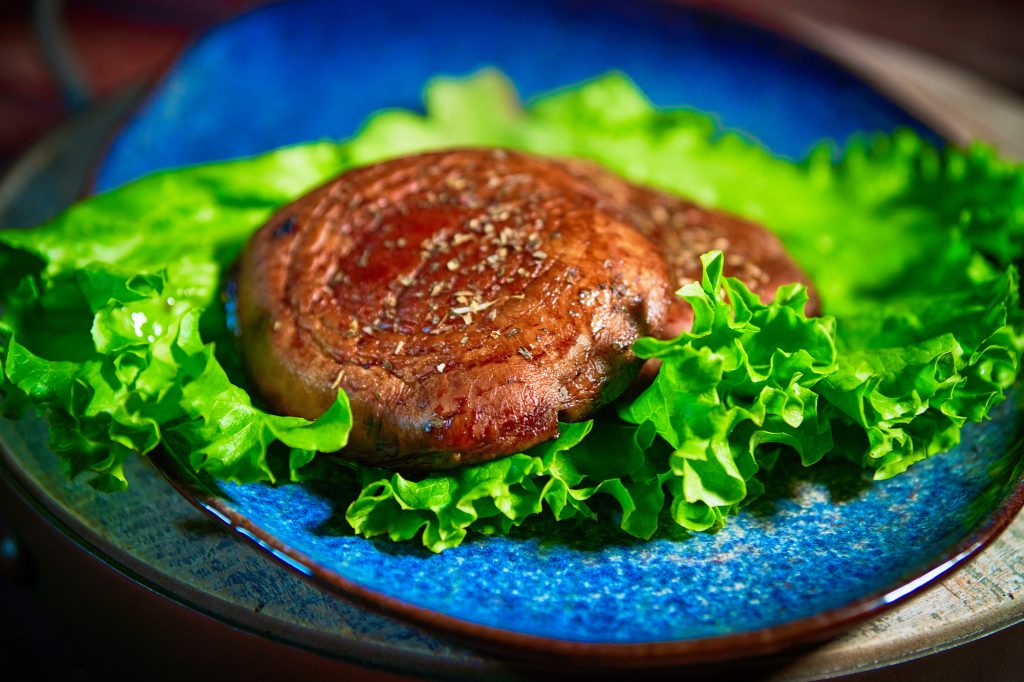 Assembling This Vegan Portobello Mushroom Burger Recipe
During the last few minutes of cooking, you will want to flip your portobello mushroom over so that the stem faces up. It will look like a little plate. You will want to sprinkle vegan cheese [or whatever cheese you want] on top for the last bit of cooking. This is to ensure that the cheese begins to melt. I also recommend sprinkling some green onions/scallions at this point during the cooking process as well!
Since these are vegan portobello mushroom burgers, we aren't going to use any animal products to create this delicious burger.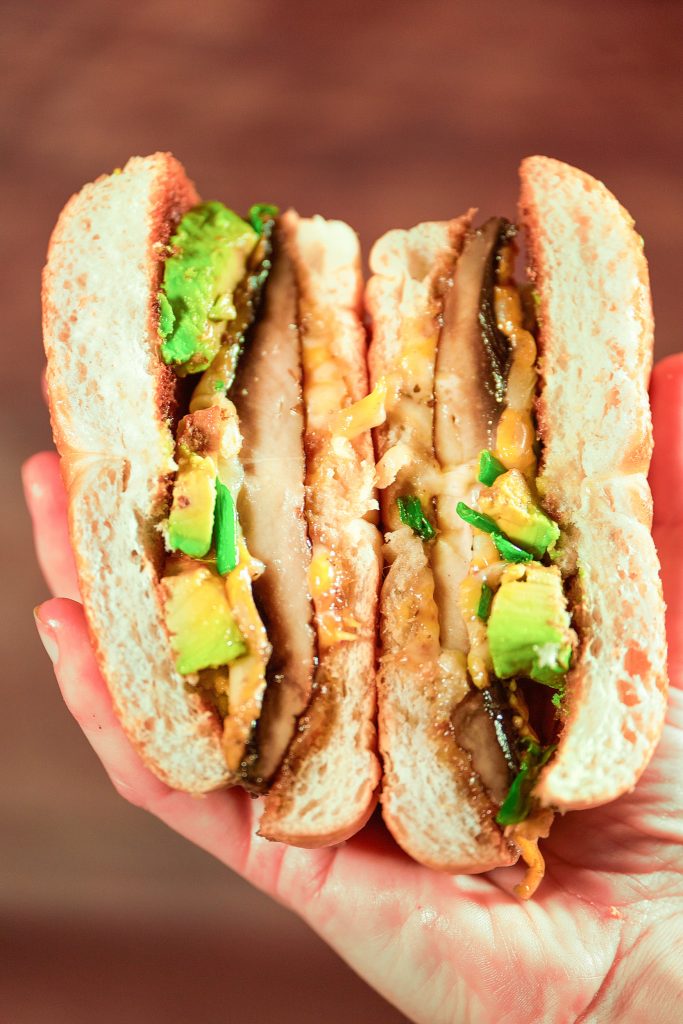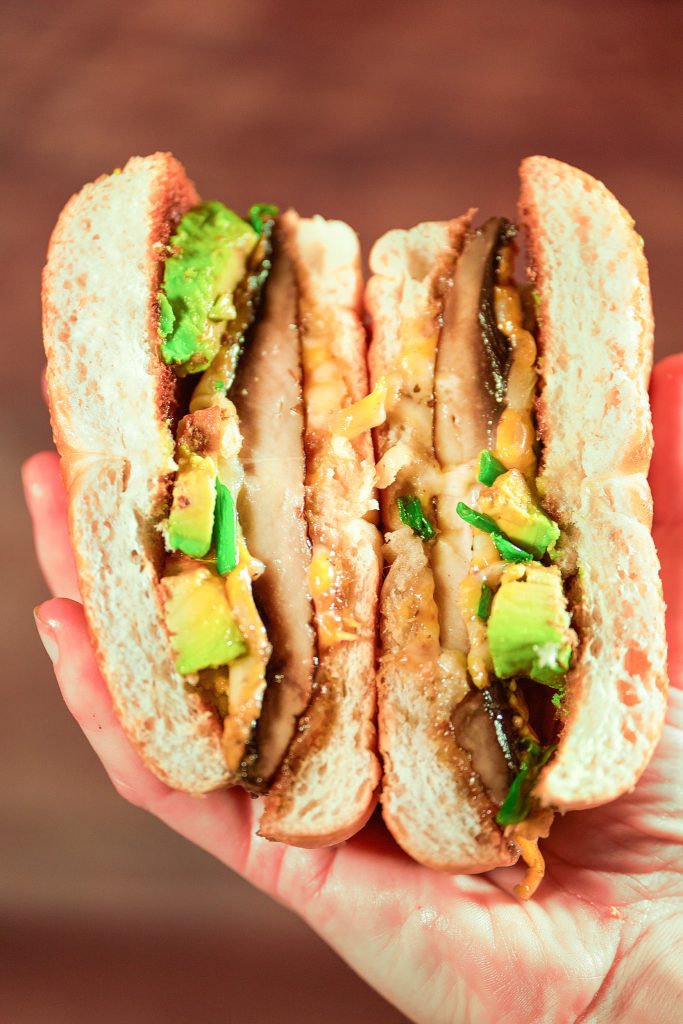 You are going to want to toast a bun in a toaster. I like my buns toasted and I always recommend toasting using a toaster for best flavor. DO NOT try and toast your bun in the same pan that you made the portobello mushroom burger as it will make the bun become instantly soggy and gross.
To assemble, place the bottom of the bun on a plate. Then sprinkle a layer of shredded vegan cheese. I recommend using Violife because it melts well, but any brand works fine.
Next, you will gently place your cooked portobello mushroom burger on top of the melted cheese. I recommend adding a few more sprinkles of scallions/green onions at this point.
Place a few pieces of lettuce between the portobello mushroom burger and the remaining layers.
Then, carefully slice an avocado and set it on top of the whole thing. Sprinkle the avocado slices with a bit of salt.
Before you eat this vegan portobello mushroom burger, make sure to "push" down on it a little bit so the cheese fuses together with the rest of the toppings and then slice it in half using a sharp knife. This makes the portobello mushroom burger easier and less messy to eat!
I recommend making vegan roast potatoes with paprika as a side to go with the portobello mushroom burgers, along with a small side salad. This makes a perfectly delicious dinner and it is perfect for weeknight meals!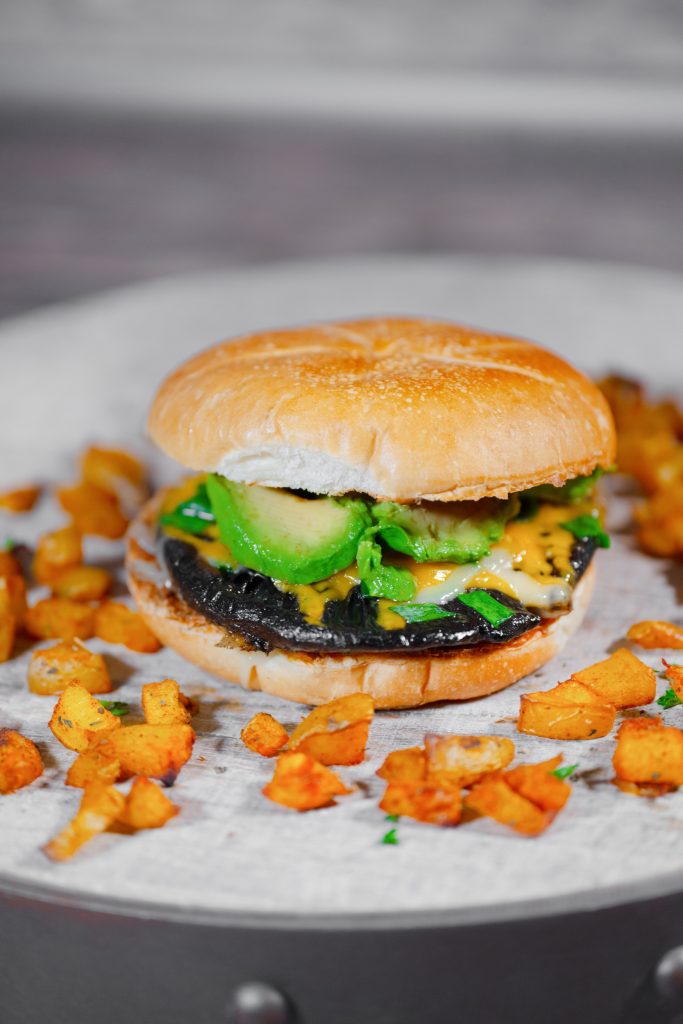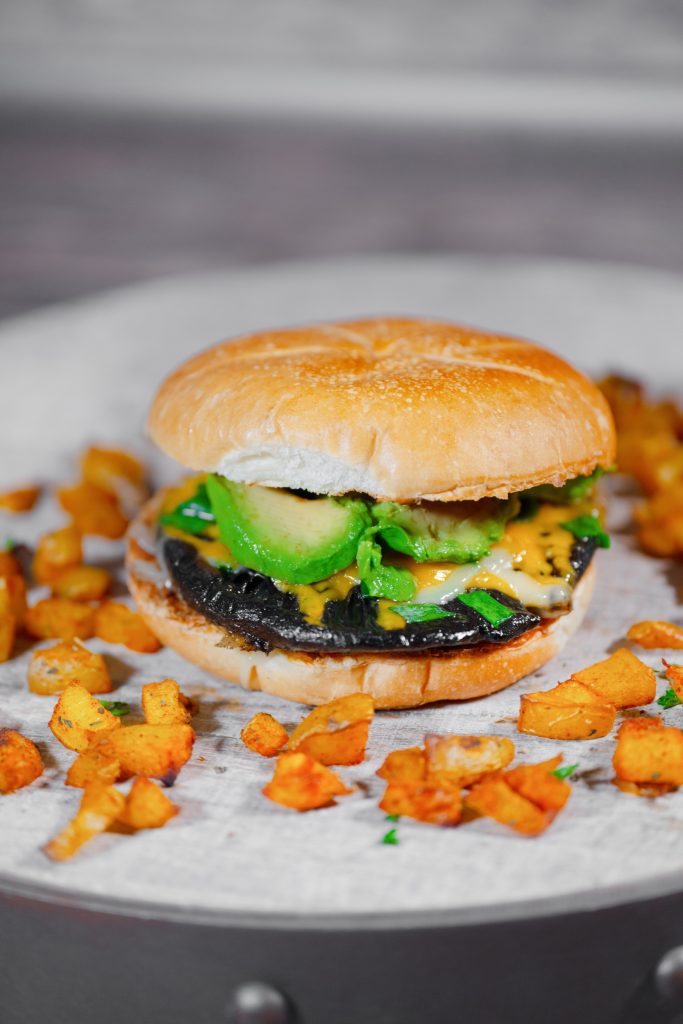 Yield: 1 Burger
Vegan Portobello Mushroom Burger Recipe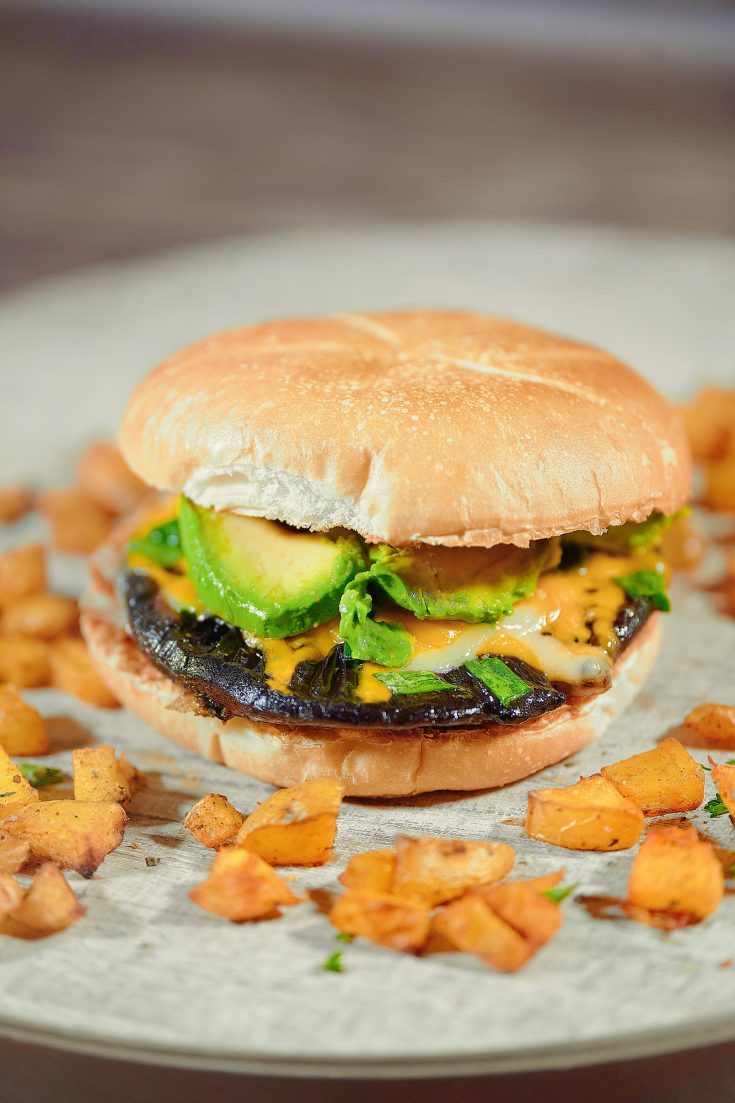 This vegan portobello mushroom burger recipe will delight a crowd! With hearty portobello mushrooms as the "meaty" center and creamy avocado and melty vegan cheese, you can't go wrong! The best part? This portobello burger recipe whips up quickly and makes a great weeknight meal.
Ingredients
1 Cooked Portobello Mushroom Cap [See Recipe Above On How To Cook Portobello Steaks]
Oil For Cooking [Avocado Or Olive Oil]
1 Burger Bun
1/2 Avocado
Salt [To Taste]
Scallions [To Taste]
2-3 Pieces Of Lettuce
Instructions
Cook vegan portobello mushrooms according to this easy recipe
Toast burger bun using toaster and lay bottom of bun on a plate.
Sprinkle the bottom of the bun with vegan cheese.
Gently place cooked portobello mushroom burger on top of the bun and sprinkle vegan cheese and scallions.
Tear off 2-3 burger-sized pieces of lettuce and add on top of the cheese and scallions.
Carefully cut an avocado and place a few slices on top of the remaining ingredients. Add a little salt and place the top bun on the vegan portobello mushroom burger.
Gently "push" down on the burger to help melt the cheese and blend the ingredients.
Using a sharp knife, cut the portobello mushroom burger in half and serve with vegan roast potatoes.
Nutrition Information
Yield
1
Serving Size
1
Amount Per Serving
Calories

475
Total Fat

32g
Saturated Fat

4g
Trans Fat

0g
Unsaturated Fat

26g
Cholesterol

0mg
Sodium

868mg
Carbohydrates

42g
Fiber

13g
Sugar

8g
Protein

12g