If you have never had moo shu vegetables before, you are in for a real treat! Think of them as moo shu vegetables like savory tacos but using Chinese-inspired ingredients.
It is a very simple dish that uses many staple ingredients you may have around the house, but it is memorable and flavorful. The best part? You can eat this dish with your hands!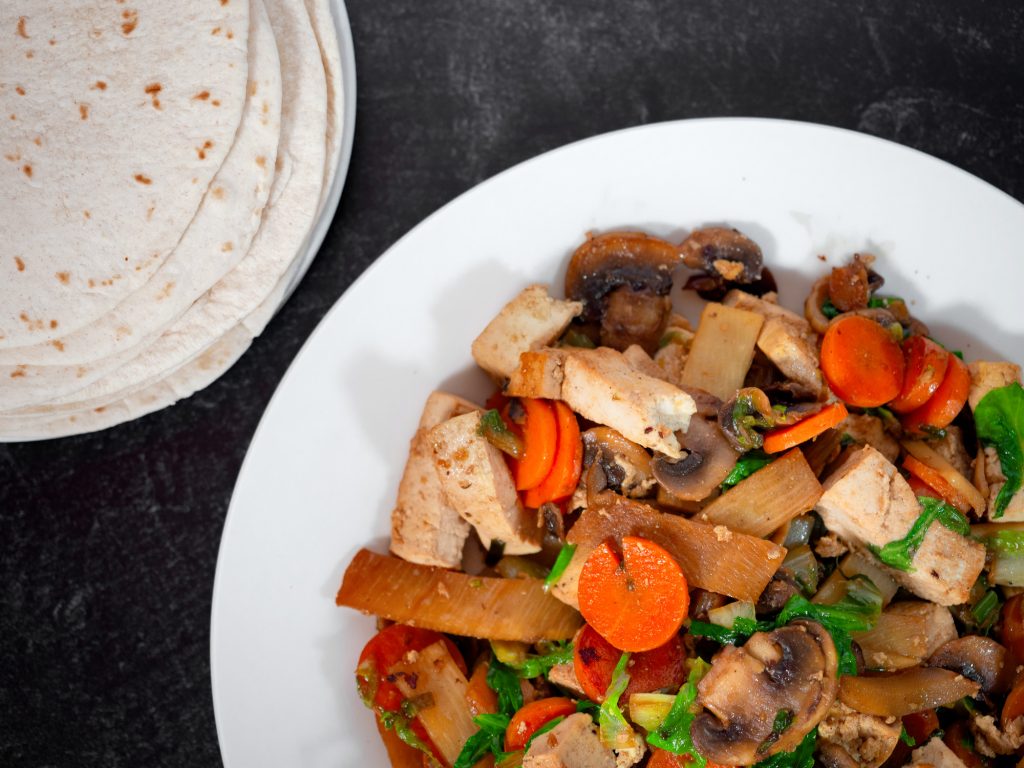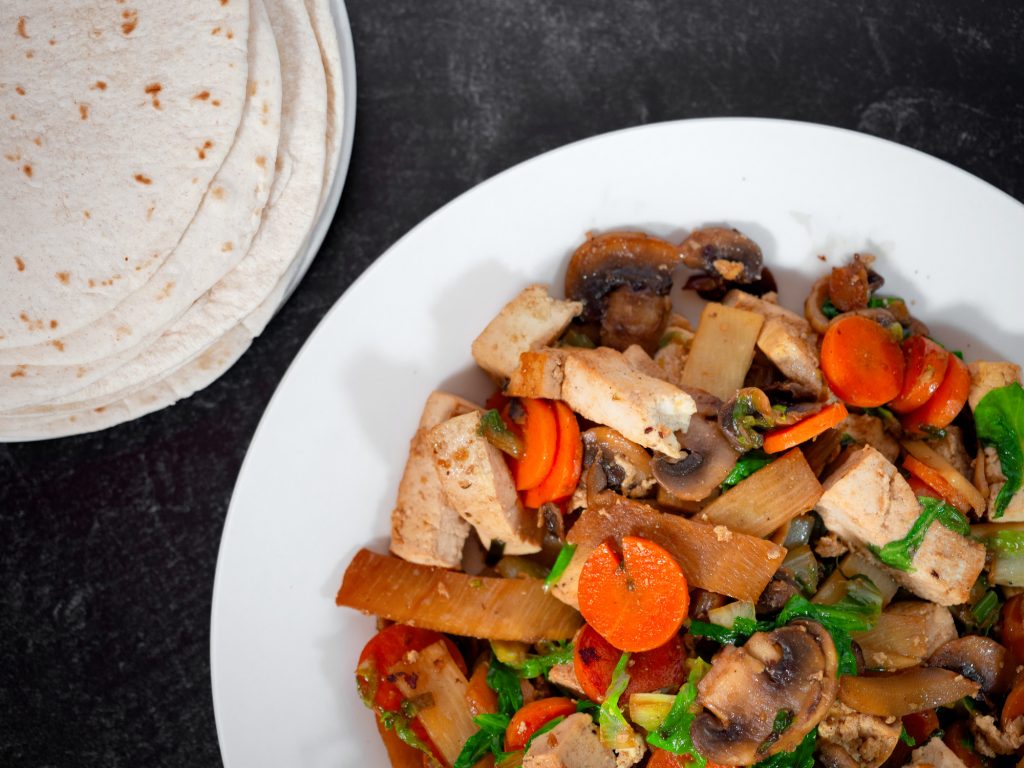 Fresh hot "pancakes" slathered in hoisin sauce and filled with mild and delicious vegetables and tofu are sure to delight guests. These moo shu vegetables are naturally vegan and there are no eggs or dairy products in this recipe. If you are serving a crowd, no need to even mention that this recipe is vegan as there is really no way to tell!
In Chinese cuisine, homemade pancakes are used with moo shu vegetables. For the sake of time, we are subbing in flour tortillas that you can buy at any grocery store for the homemade pancakes. This is a huge time saver that will allow you to make this dish on a weeknight and without having to prepare and cook the pancakes.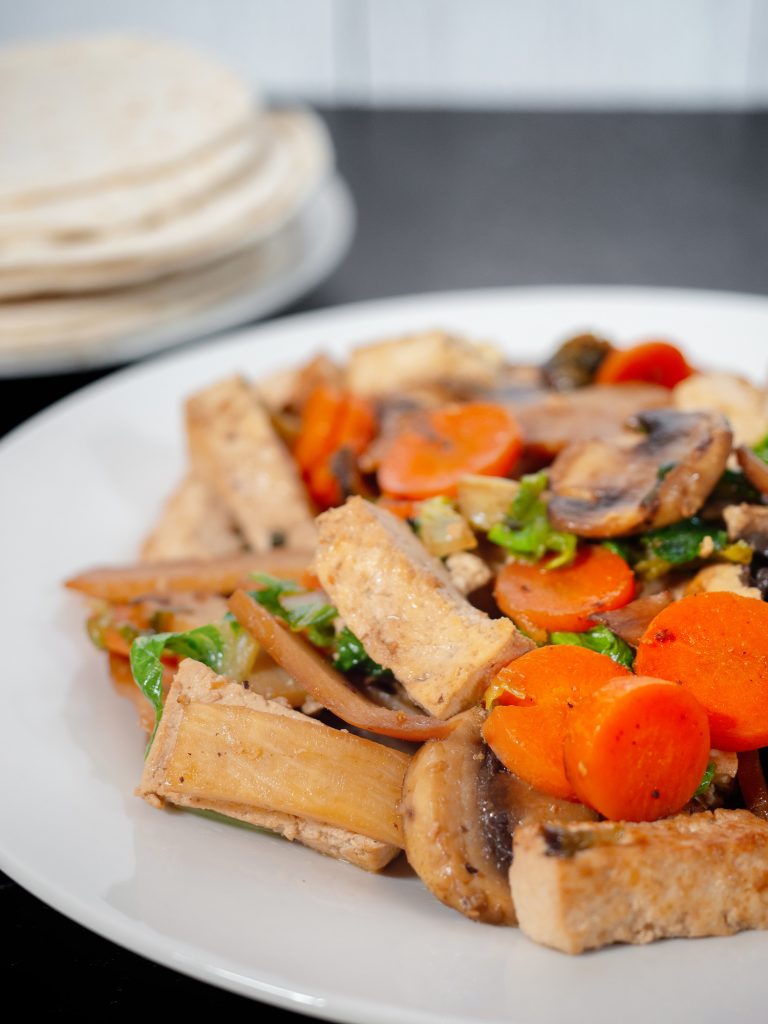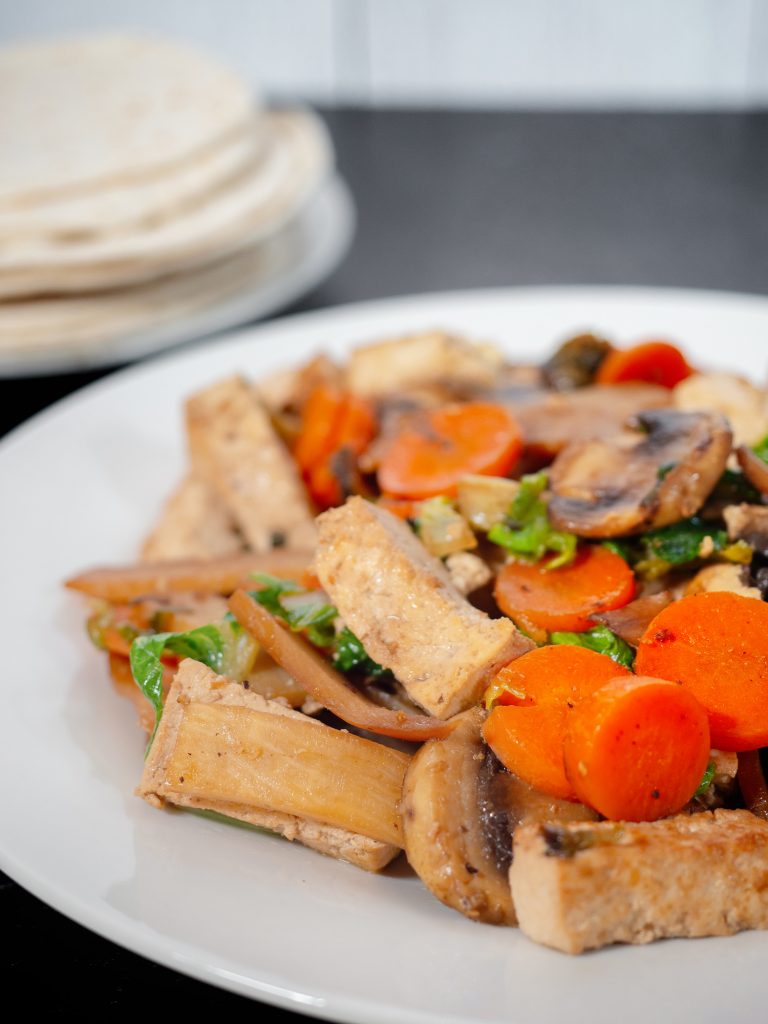 Most recipes suggest using cabbage as an integral part of your moo shu vegetable dish, but it is totally okay to use whatever you have on hand. I have used romaine lettuce and actually used that in the photos I have taken for this recipe!
If you want to use cabbage or a coleslaw mix that is entirely up to you and totally okay. I also think these moo shu vegetables would work wonderfully if you used Baby Bok Choy. Either way, you can customize the moo shu vegetables to your tastes and choices for the best possible experience!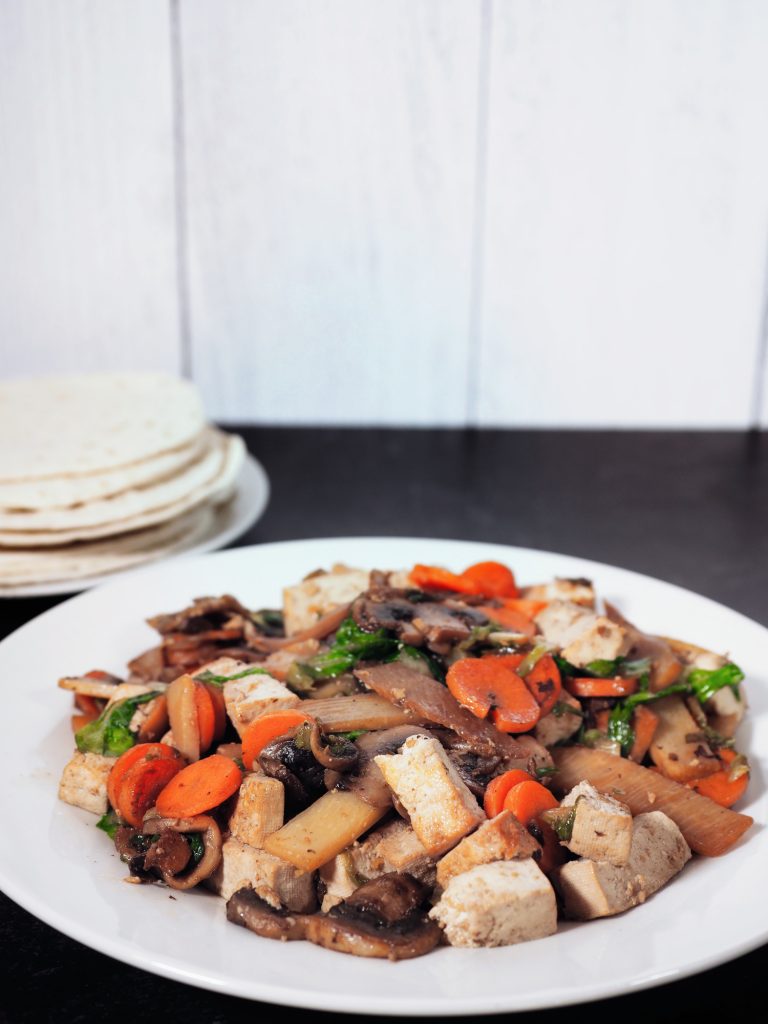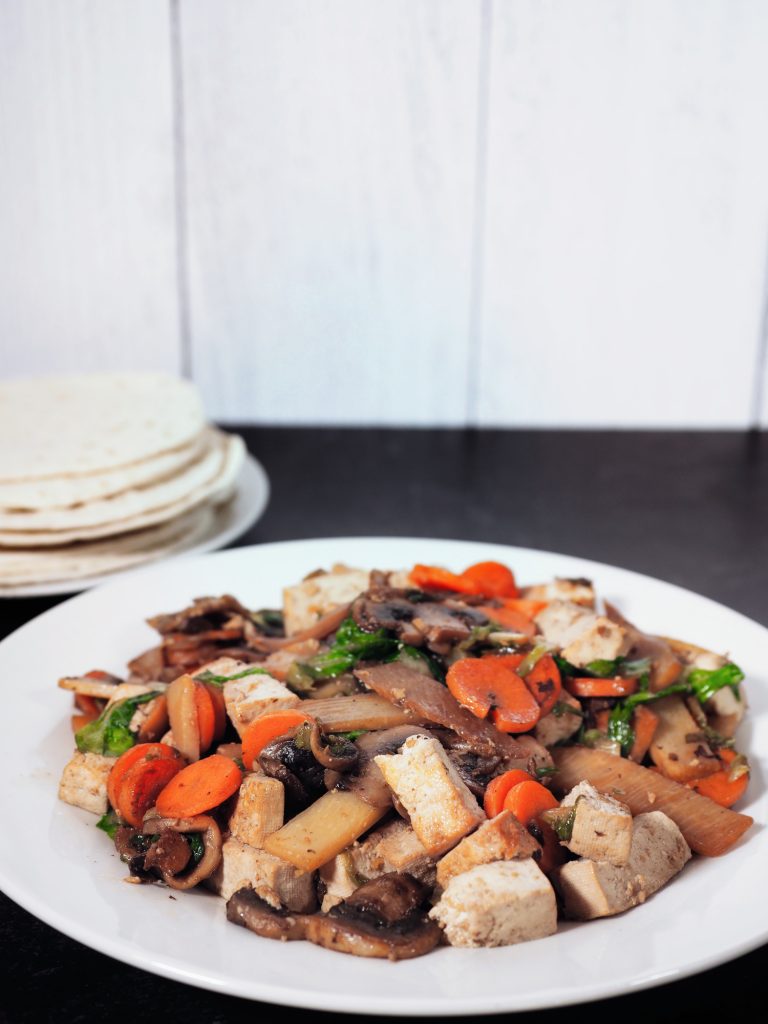 Preparing The Moo Shu Vegetables
Like every stir fry, it is important to have your vegetables chopped and ready to go for this moo shu vegetable recipe. Simply cut on a cutting board or hard surface and have them ready to go, no need to dirty up bowls.
Next, you are going to want to prepare the tofu. In order to properly prepare tofu, you are going to want to drain the tofu and then wrap it in a paper towel or clean cloth to squeeze out the water. In order of the tofu to cook properly. it must be drained and the water should be squeezed out.
Once the tofu is drained and wrapped in a towel for a while, you will cut the tofu into thin strips. I personally keep mine in small rectangular shapes, but the shape you decide is entirely up to you! You just want to ensure that the tofu doesn't fall apart when cooking.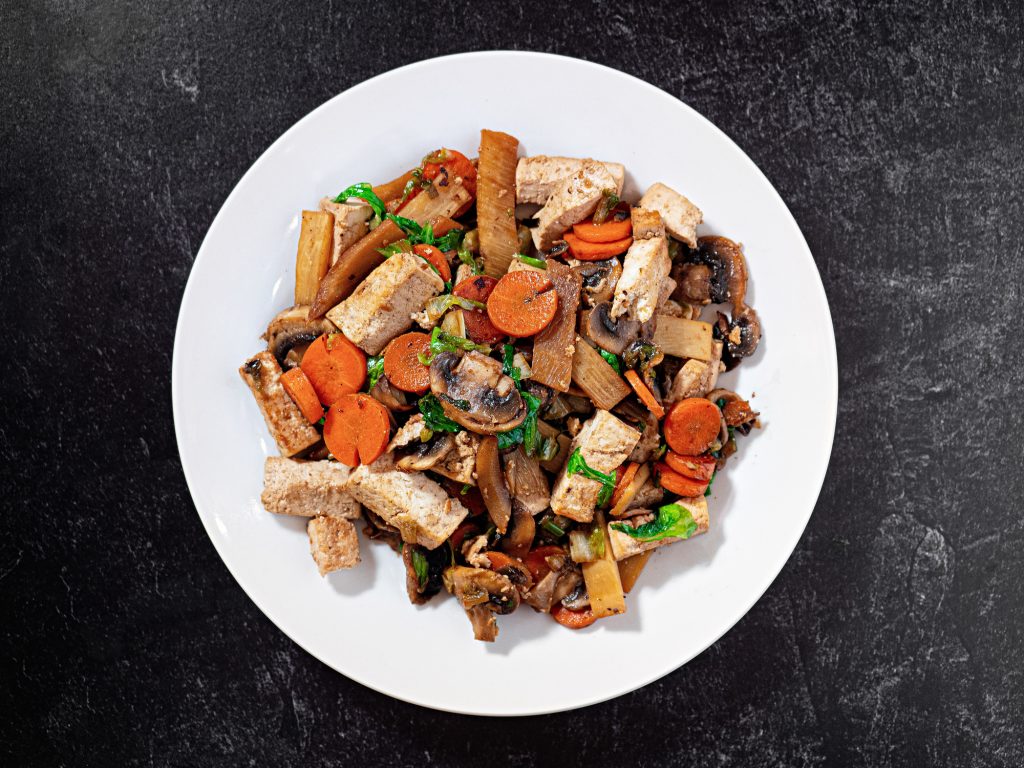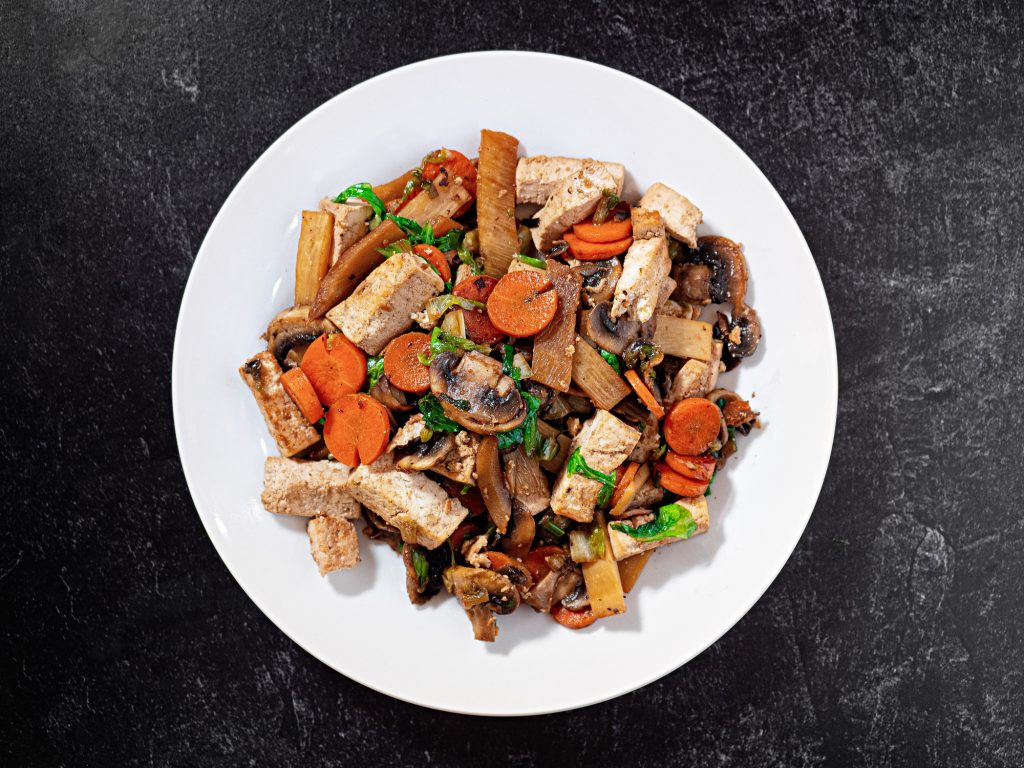 Cooking The Moo Shu Vegetables
You are going to want to begin by preparing the tofu. You will do this by putting a little oil in a pan and then placing the tofu slices on the pan. You will then drizzle 3 tablespoons of soy sauce over the tofu slices and turn them regularly and cook until brown.
This process happens pretty quickly, so you will want to continue to turn the tofu with a spatula as it cooks. You want to ensure that it is lightly browned on both sides. When in doubt, there is no harm in cooking the tofu a little more. You will then transfer the tofu to a separate plate.
Using the same pan, you will add the cut-up vegetables and stir fry using 3 tablespoons of soy sauce. You will stir fry the vegetables until they cook down and are fragrant.
At this point, you want to add the tofu and stir the entire mixture together. That was it, you are done!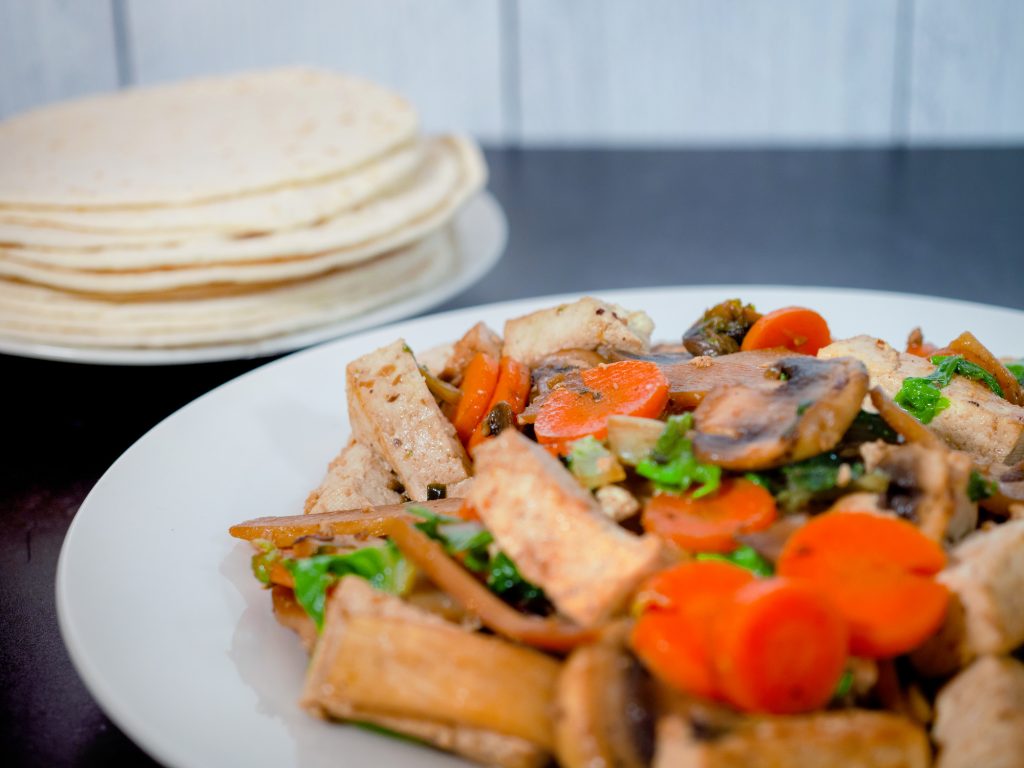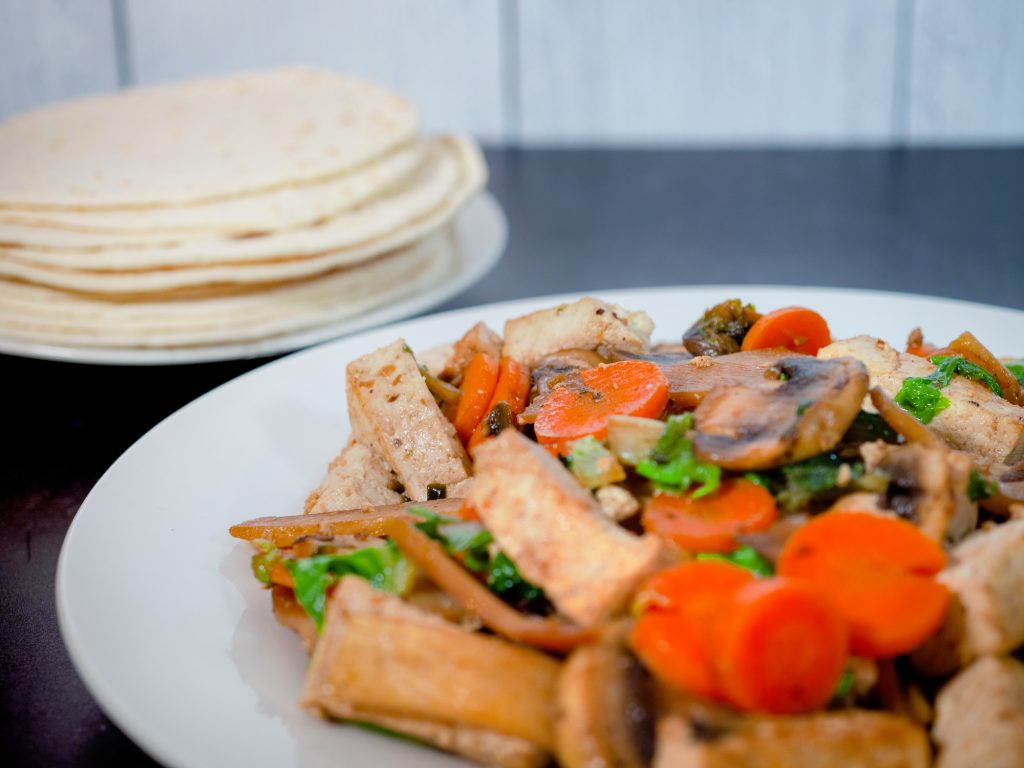 Eating Moo Shu Vegetables
Once you cook the tofu and stir-fried vegetables, it is time to eat! You will whisk hoisin sauce and soy sauce in a small bowl until combined.
Then, you will lay out a flour tortilla and spread the hoisin sauce on the top of it. Finally, you will top the tortilla with the moo shu vegetables and then roll the whole thing up and eat it!
If you want more sauce, feel free to dip your moo shu vegetables in the hoisin sauce.
If you are serving this dish to guests, you will want to serve it in three parts, the "pancakes" aka tortillas, the vegetable stir fry, and the hoisin sauce. This will allow your guests to prepare their moo shu vegetables as they see fit.
If you are feeling hungry, serve this recipe with a side of vegan fried rice!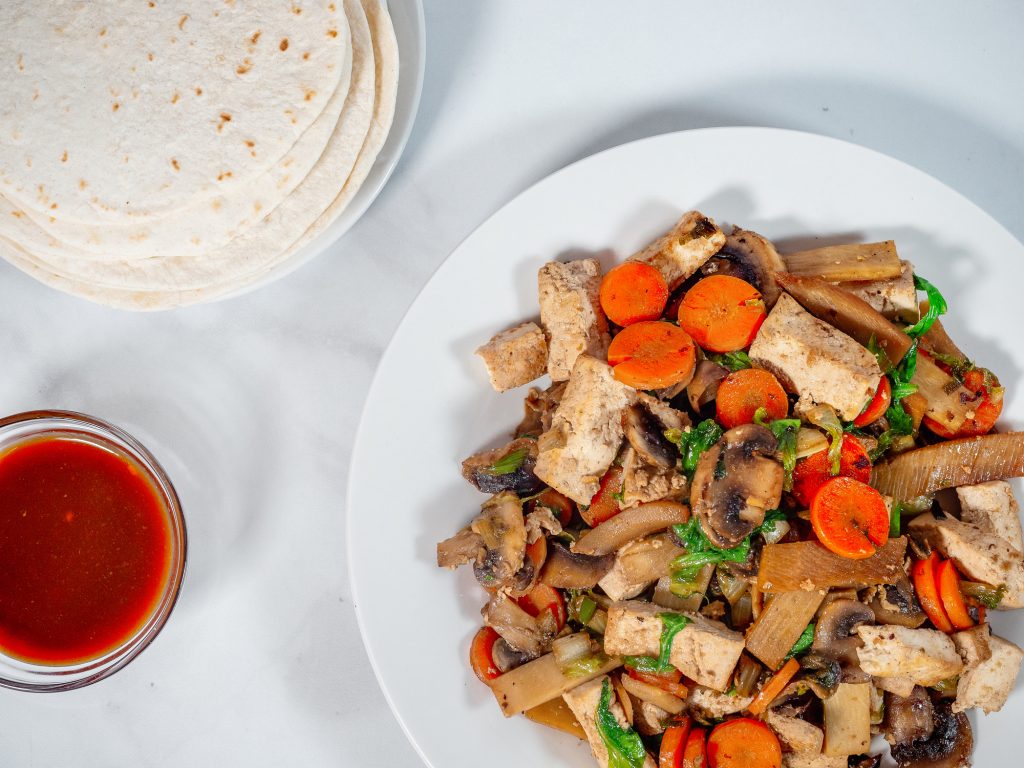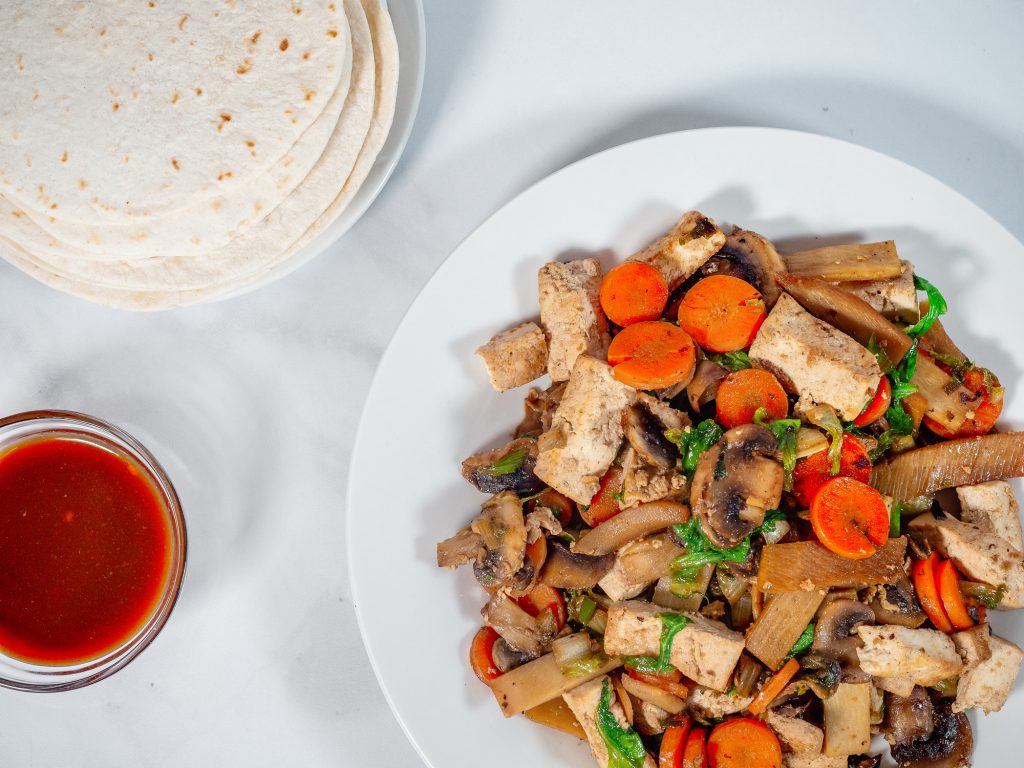 Yield: 4 Servings
Easy Moo Shu Vegetables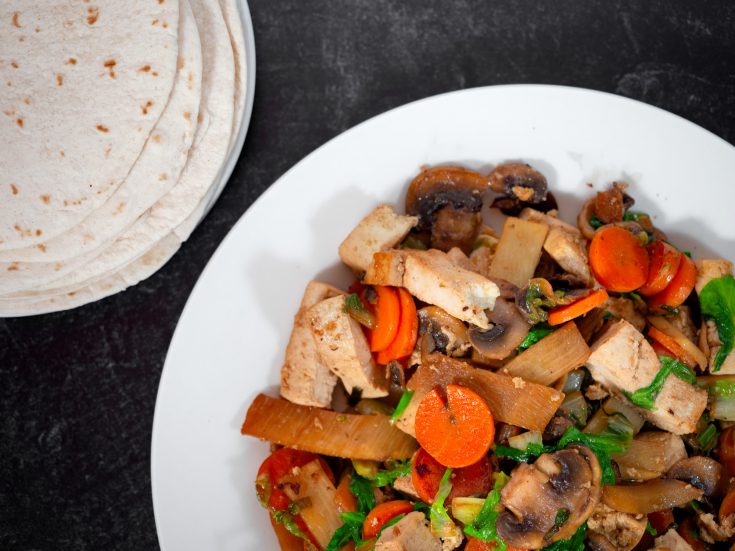 These moo shu vegetables are easy and naturally vegan. They mostly use staple ingredients that you can easily find at your local grocery store. Moo shu vegetables cook up quickly and are simple to make but delicious to enjoy!
Ingredients
1 Package Of Extra-Firm Tofu
10 Tablespoons Of Soy Sauce
8 Ounce Packet Of Mushrooms
1/2 Head Of Romaine Lettuce [or 7-ounce cole slaw mix]
2 Chopped Carrots [or 1 cup shredded carrot]
1 Small Can Bamboo Shoots
1/4 Cup Water
2 Scallions [green part only]
1 Package Flour Tortillas [2-3 per person]
1/4 Cup Hoisin Sauce
Optional: 1 Teaspoon Fresh Grated Ginger
Instructions
Drain and squeeze water out of tofu and cut into cubes, strips, or thin rectangles.
Cut up vegetables and set near your stovetop.
Lightly oil a frying pan and add tofu and 3 tablespoons of soy sauce. Flip tofu with a spatula and cook until tofu is lightly browned. Do not be afraid to cook longer if you are unsure.
Transfer tofu to a separate plate and set aside.
Add a little more oil to pan and add in vegetables. Drizzle 3 tablespoons of soy sauce over your vegetables and cook until fragrant.
Add 1/4 cup of water and 1 tablespoon of soy sauce. Let cook until the liquid evaporates. Add tofu and grated ginger [optional] and stir until combined. Feel free to add more seasoning based on taste. Remove from heat.
Whisk 1/4 cup hoisin sauce and 3 tablespoons of soy sauce until combined.
To serve, spread hoisin sauce on the flour tortillas and then top them with vegetables and tofu before rolling them up and eating! Add more hoisin sauce to taste.
Notes
It is okay to modify the moo shu vegetables based on your tastes and what vegetables you have on hand. Add or remove based on what you like and what is available to you.
Nutrition Information
Yield
4
Serving Size
1
Amount Per Serving
Calories

246
Total Fat

9g
Saturated Fat

2g
Trans Fat

0g
Unsaturated Fat

7g
Cholesterol

4mg
Sodium

2651mg
Carbohydrates

33g
Fiber

7g
Sugar

14g
Protein

11g