This vegan udon noodle soup recipe is SO EASY TO MAKE!! I was craving a warm and noodly dish and literally whipped this up from what I had on hand and a few things I picked up at the store.
I have to be honest, when I was making this vegan udon recipe for the first time I bought into the idea that I needed "fancy" ingredients. I bought Bok Choy and Shitake Mushrooms for the occasion. After remaking it with regular mushrooms and whatever green leafy things you have on hand, I realized that I wasted my money!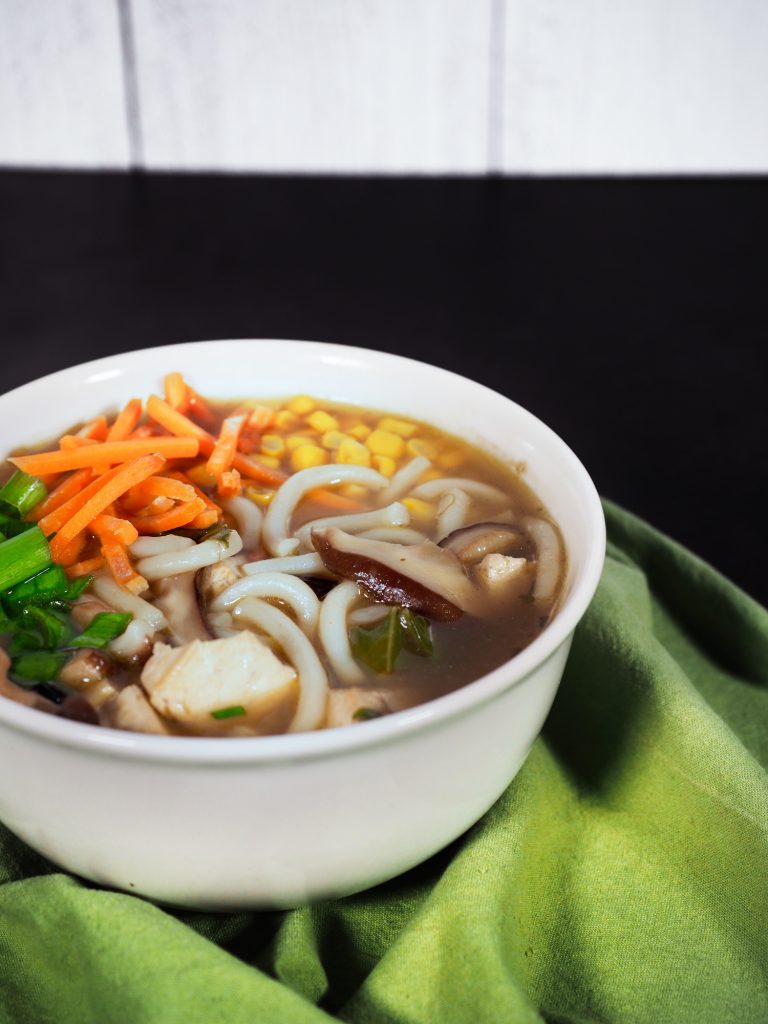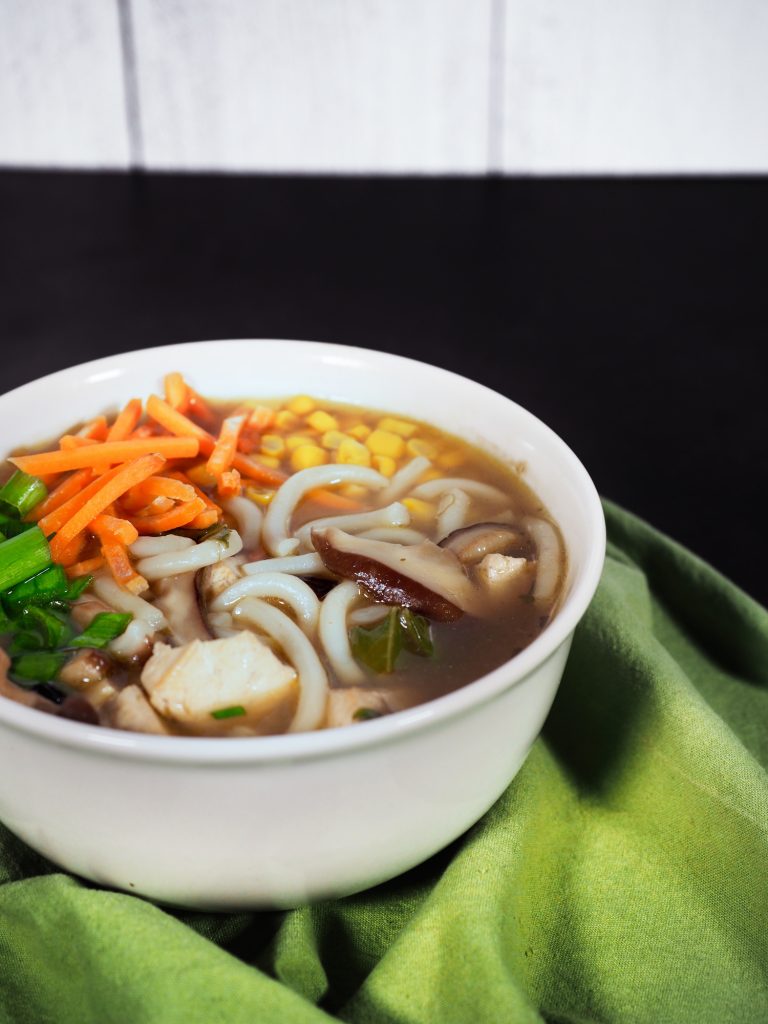 You can 100% use whatever mushrooms you want, plain white button mushrooms work just fine, and whatever greens you want, I recommend romaine lettuce or cabbage but anything is completely fine!
The best part about this easy udon noodle recipe is that you can make the entire thing in just one pot and it takes less than 30 minutes to make! This makes clean up super easy and you can enjoy the udon noodle soup that much faster!
You do not need a wok or any special pan for this. What you DO need are scallions/green onions, sesame oil, and sweetener of some sort, either sugar or maple syrup. Otherwise, you are free to play with this recipe however you want!
If you want to make this into a vegetarian udon soup, you can always add a lightly cooked egg to the top of it, but otherwise, it is vegan as-is! As I said before, feel free to customize to your heart's desire!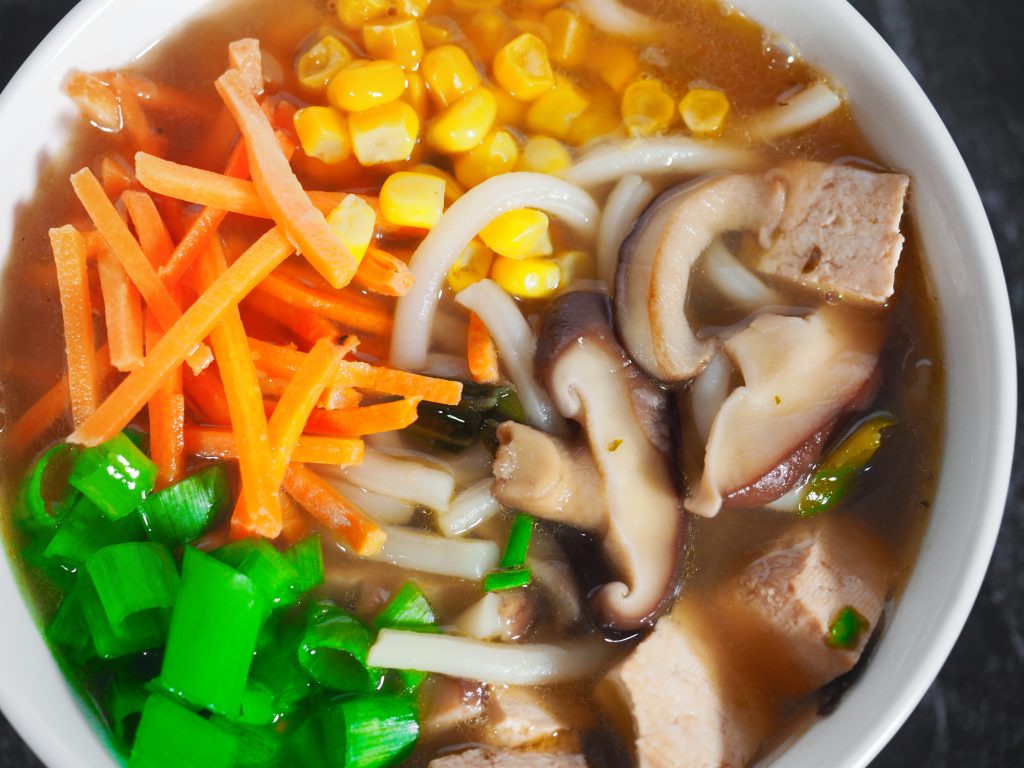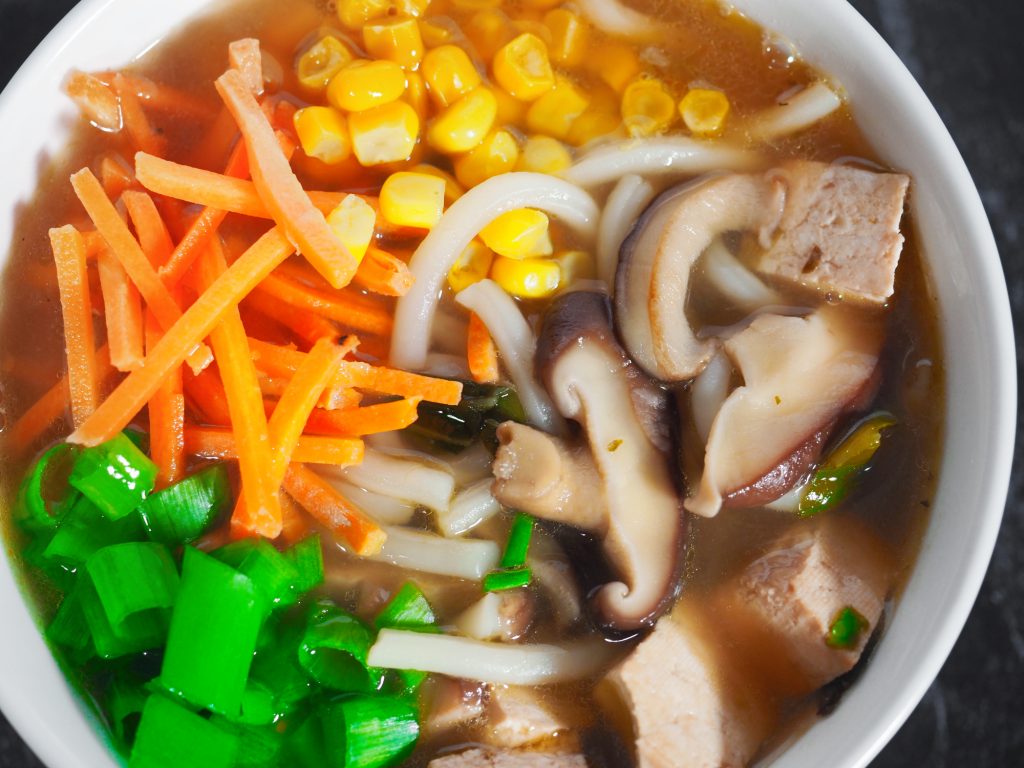 How To Cook Udon Noodles
As you can imagine, there are about a trillion types of udon noodles out there. You can get dried udon noodles, thin or flat udon noodles, or really wide toothsome udon noodles!
THESE RIGHT HERE are the type of udon noodles we are referring to. Otherwise, this recipe won't work the way it is supposed to! You don't have to buy your udon noodles online, I am just linking to show you an example of what you are going to be looking for. This is an example of what you are not looking for!
If you are looking for how to cook udon noodles for the sake of this vegan udon soup recipe, you are pretty much going to want them to already be cooked but just sealed in packaging as shown in the link above.
When cooking udon noodles for this recipe, you will simply open the pack of udon noodles and drop them into the both. You will stir them around and they will break up into individual noodles and they will begin to grow a little in size as they absorb the liquid.
That is literally all you have to do when learning how to cook udon noodles for the sake of this recipe! I don't want you to have to use another pot or learn another skill!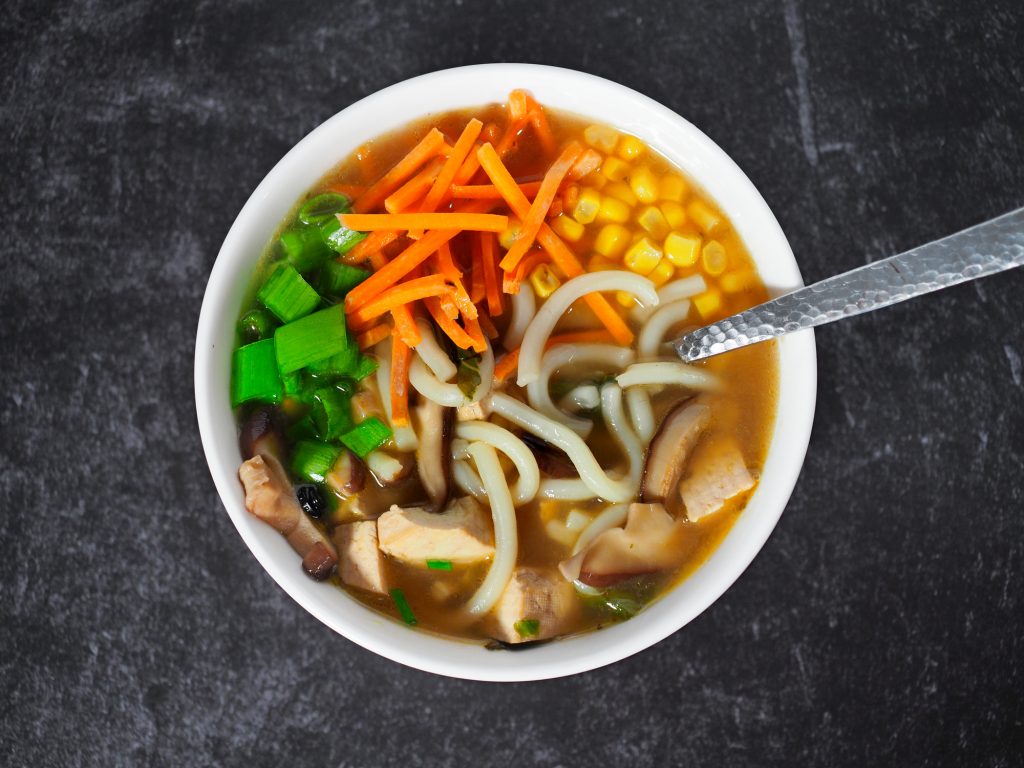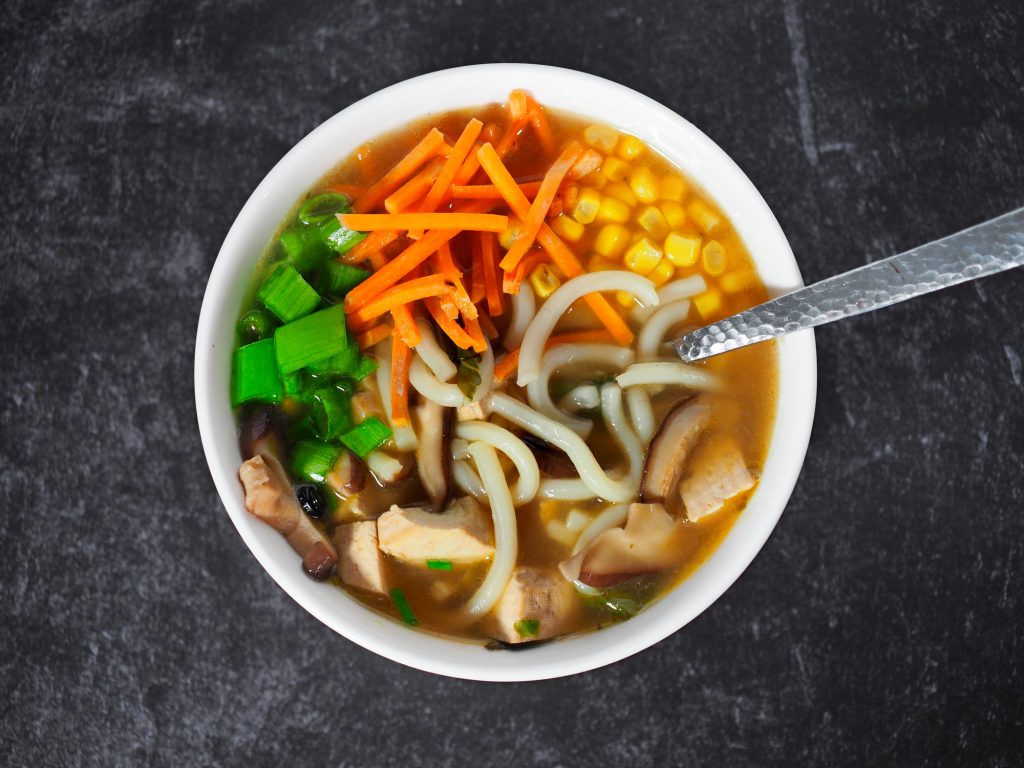 Preparing The Vegan Udon Soup
Sesame oil is the name of the game! It is VERY potent but lends a great flavor that is bitter and nutty. I highly recommend snagging some. If you don't have any, use the oil you have on hand but the vegan udon soup won't be quite the same.
Anyway! You will need a large stockpot. You will saute green onion tops, sliced mushrooms of your choice, cubed tofu, and cut up greens of your choice in sesame oil in the bottom of the pot. You will also splash a little bit of soy sauce over the veggies and tofu and saute until covered and slightly cooked.
When making the base for the vegan udon soup, you do not want to cook the veggies down too much. You still want the greens to be green and the mushrooms to be plump and thick! Before the mushrooms cook down totally, you will add your water.
There is no need to use vegetable broth as the base for the vegan udon soup, it makes no difference at all!
Water is enough and allows the other flavors to shine through! You will add in a little sugar and a little more sesame oil and wait until the flavors blend together! You will also add your udon noodles at this time.
That is it! That is essentially how you make this easy vegan udon soup and you can do it all in one pot!
PLEASE NOTE: If your udon soup tastes either too sweet or too sour/bitter, add a little more of the opposite to balance the flavors. I accidentally added too much sesame oil and needed to balance the flavor with more sweetener. The broth should be slightly sweet and not bitter. The perfect blend of flavors. If you get overzealous and put more in than recommended, you can easily save the recipe by balancing with the opposite flavor!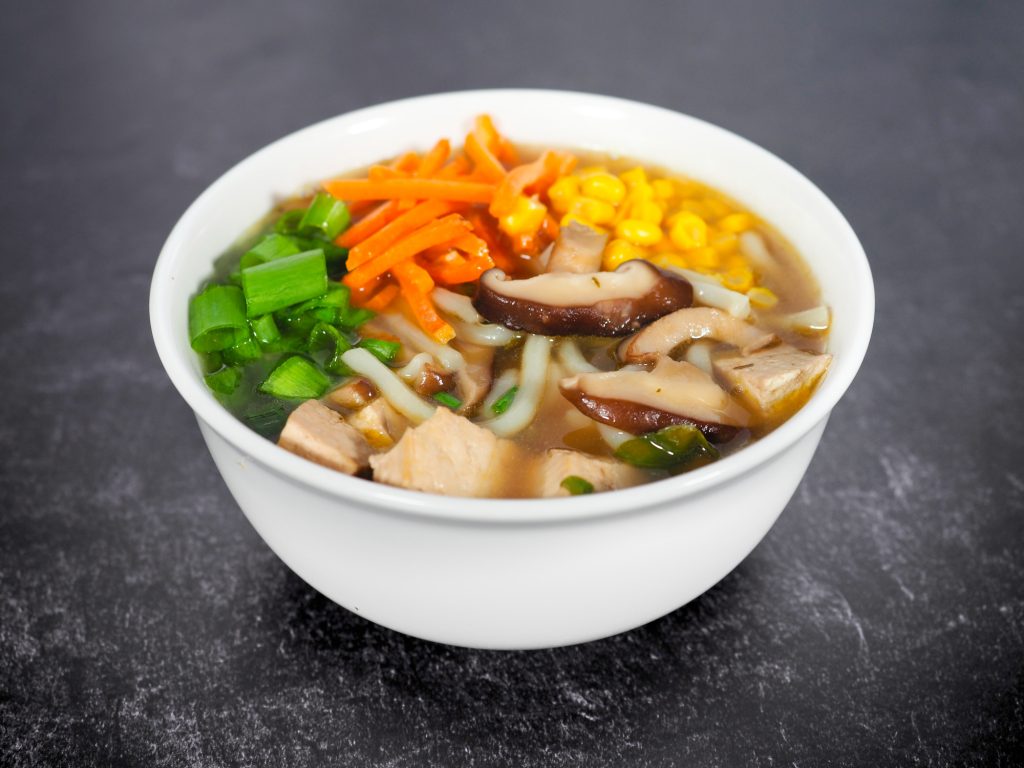 Toppings For The Vegan Udon Bowl
You are going to want to top your vegan udon soup with RAW VEGGIES! Yes, this is an essential part of creating the best udon noodle soup you can! I recommend shredded or cut up carrots, sliced green onions, and corn at a minimum!
The taste of shredded carrots and raw green onion tops mixed in with the warm broth and toothsome udon noodles is the perfect blend of flavors and you really shouldn't skip generously topping your vegan udon soup!
If you are feeling hungry, serve this soup with a side of vegan fried rice!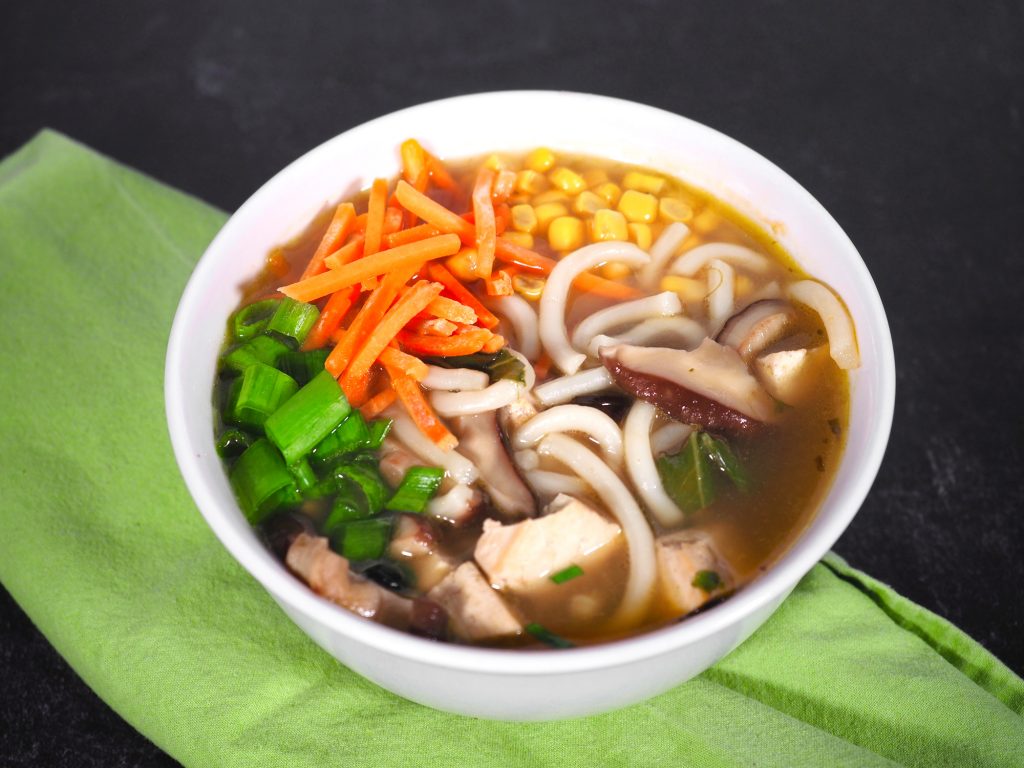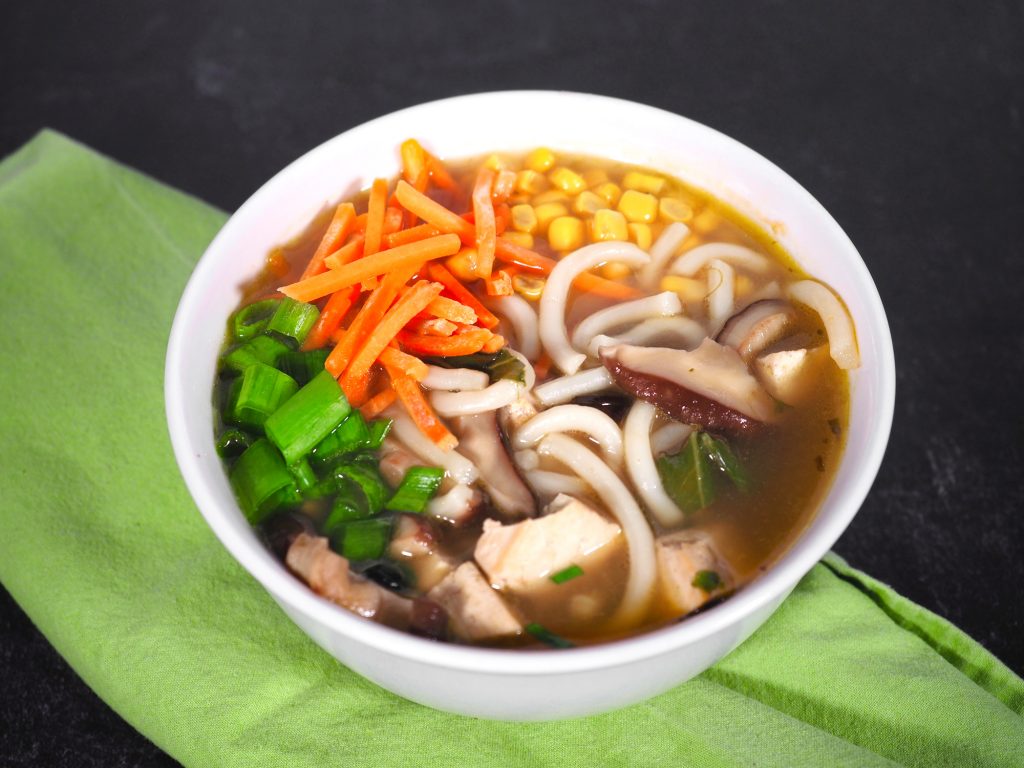 Yield: 3 Servings
Easy Vegan Udon Noodle Soup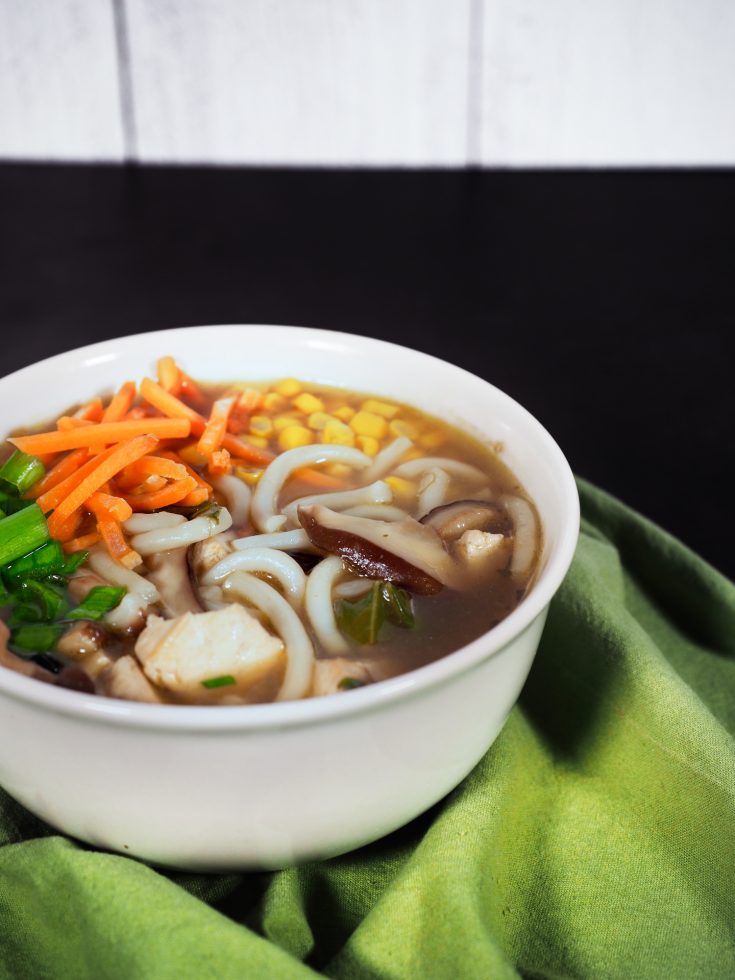 This easy vegan udon noodle soup recipe is delicious and uses fresh ingredients. It cooks up in less than 30 minutes and the entire recipe can be made using the same pot! Perfect for a quick and tasty weeknight meal!
Ingredients
1/2 Block Of Tofu, Cubed
6 Tablespoons Sesame Oil
4 Tablespoons Sugar Or Maple Syrup
1 Package Mushrooms Of Your Choice
1 Bunch Green Onions/Scallions
2 Packages Of Premade Udon Noodles
2 Cups Shredded Greens Of Your Choices [Romaine/Cabbage/Bok Choy]
4 Cups Of Water
3 Tablespoons Of Soy Sauce
Salt
Corn [For Topping]
Chopped/Shredded Carrots [For Topping]
Instructions
Heat 2 tablespoons of sesame oil in a medium pot. Lightly stir fry 1 package of chopped mushrooms, 2 cups shredded greens, and 2 chopped green onion tops [the green part] until lightly cooked.
Add in 3 tablespoons of soy sauce and 1/2 block of tofu, cubed, to the pot and continue to stir fry until combined and fragrant. Be careful not to cook too much or the vegetables will cook down too much.
Add 4 cups of water, 3 tablespoons of sesame oil, salt, and 4 tablespoons of sugar or maple syrup. Stir until combined.
Add 2 packages of premade udon noodles and stir until noodles break up and begin to absorb the liquid.
Adjust the taste of broth to your liking by adding either more sweetener or more sesame oil, 1 teaspoon at a time and tasting in between.
Cook uncovered for 8 minutes until flavors are well combined.
Ladle soup into bowls and then top generously with raw corn, carrots, and green onion tops. Adjust salt to taste!
Notes
If you get overzealous and add more sesame oil or sweetener, simply adjust the taste of the broth by adding the opposite flavor, either sweet or sour, to the broth mixture, 1 teaspoon at a time.
For a little heat, add red pepper flakes as you cook the broth!