If you are wondering how to make cashew butter you have come to the right place. My mom has been making her own homemade cashew butter since the 1990s and her recipe has only been perfected with time. The best part is that IT IS SUPER EASY!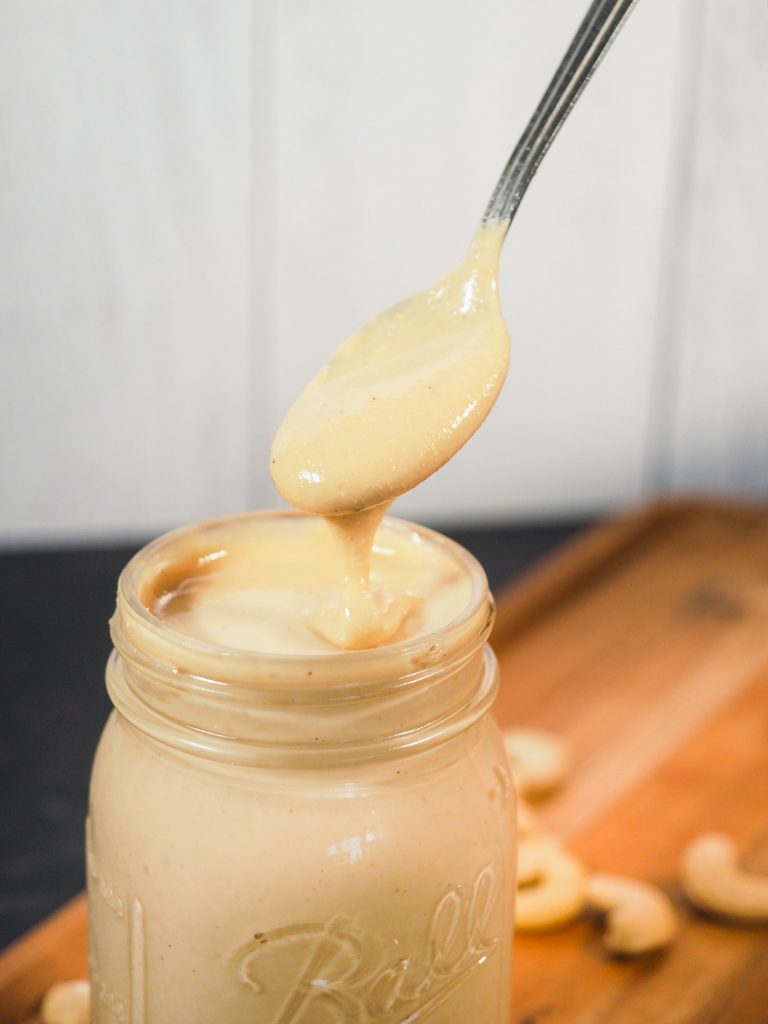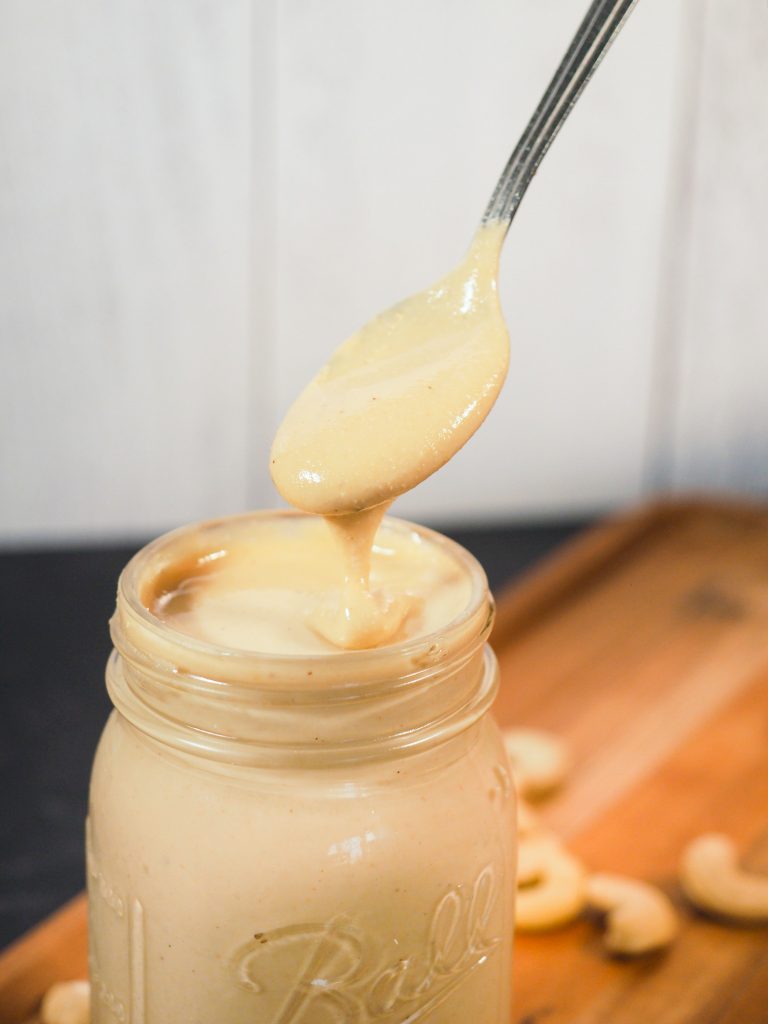 Many people are scared to make their own nut butter, but I am here to tell you that making your own cashew butter is newbie-proof. Nut butters such as almond butter can be quite picky and difficult, but homemade cashew butter is so simple it can practically make itself!
The best part about making homemade cashew butter is that you can customize it to your tastes. This recipe is going to be the BASE CASHEW BUTTER recipe. You can add in ANYTHING YOU WANT! Popular add-ins are sugar, vanilla, cinnamon or even flavors such as coconut!
Learn how to make cashew butter first and then put in the add-ins that you want and mix to your heart's content!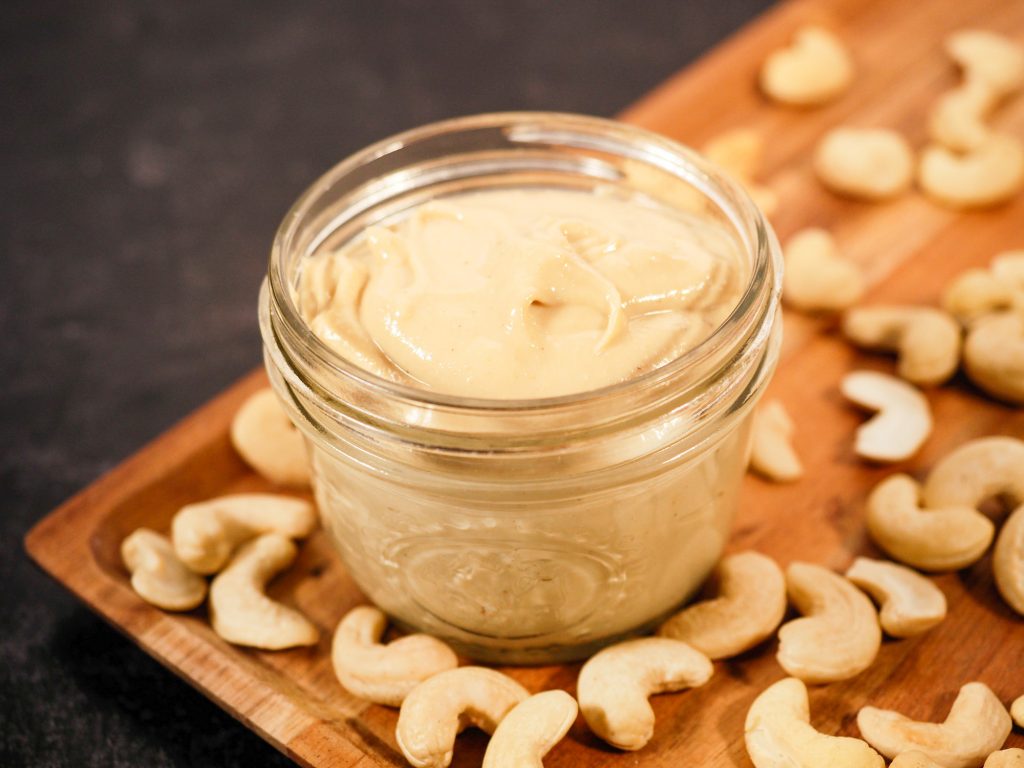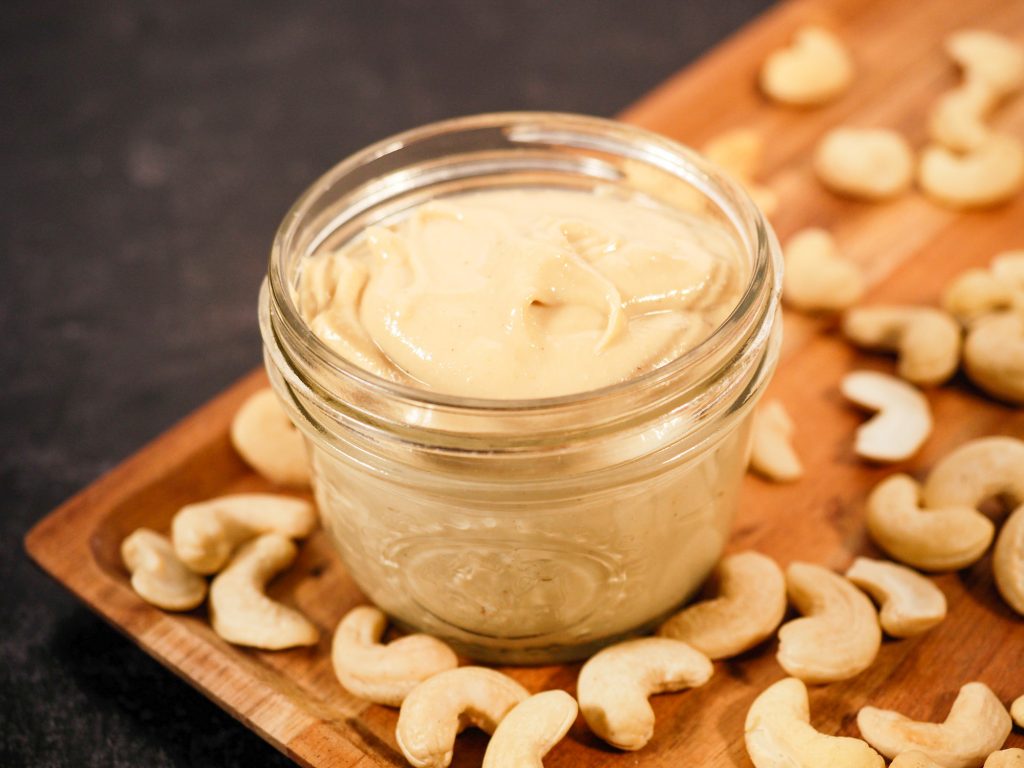 Is Homemade Cashew Better Really Better For You?
The answer is YES! Making your own cashew butter is way healthier for you and even cheaper than buying it at the store! If you read the label on store-bought cashew butter you will see what I mean.
Store-bought nut butters are high in sugars such as barley malt syrup and weird other names for refined sugars. There are additives that you can't pronounce and even if the cashew butter is "better than normal" it is still highly processed and questionable ingredients are often snuck in.
When you learn how to make cashew butter, you are using one ingredient and that is cashews. Period! If you want modify and add a little sugar, you can! If you want to add flavoring or vanilla extract, you can.
The difference is that you are in complete control and you know 100% what you are putting in your body!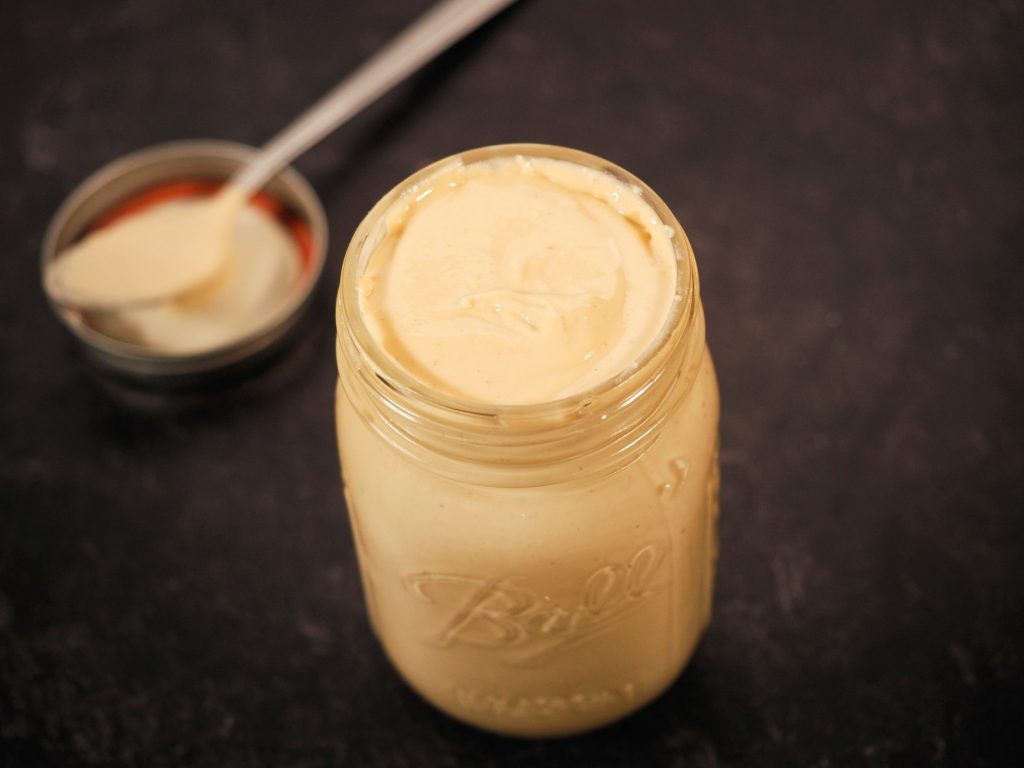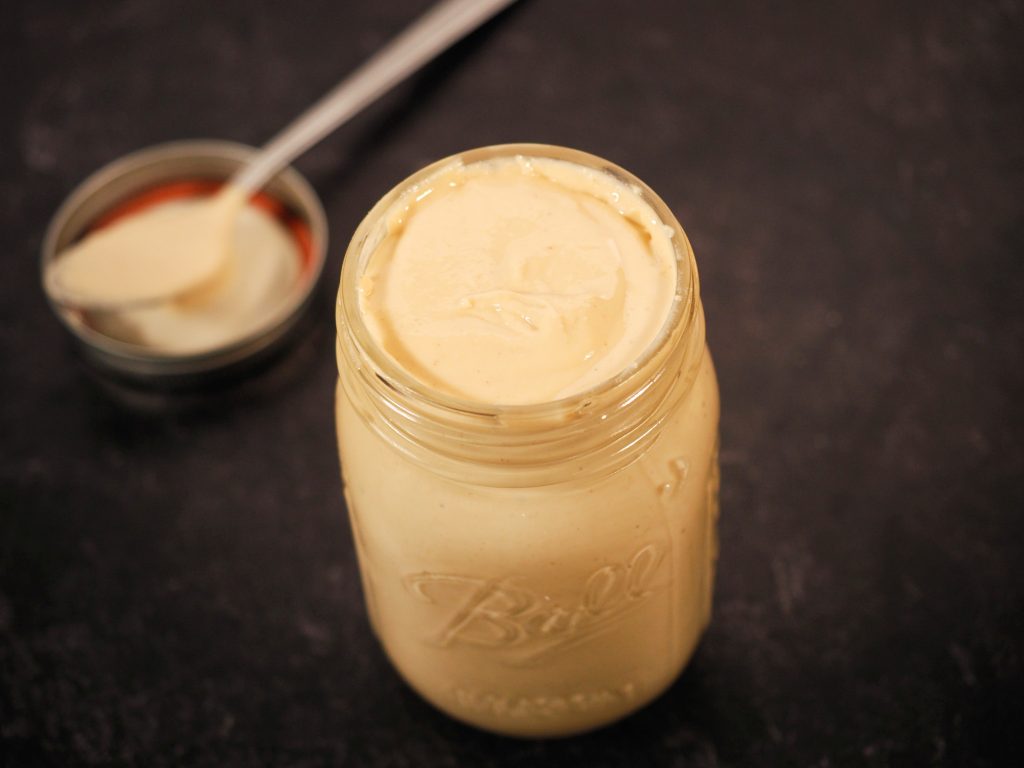 Preparing The Cashews
This is a raw cashew butter recipe so I am going to assume that you bought raw cashews from the store. If you bought roasted cashews, you can go ahead and skip this step!
You will heat the cashews on medium heat on the stove until they get fragrant, between 5-10 minutes at the most. You will NOT ADD OIL TO THE PAN! This is very important when roasting the cashews! They are not meant to be coated in oil in any way, shape, or form.
Simply put the cashews in a pan on medium heat and stir until they are lightly roasted and fragrant. That is it! That is how you take the cashews from being "raw" to "gently roasted" for the sake of making homemade cashew butter.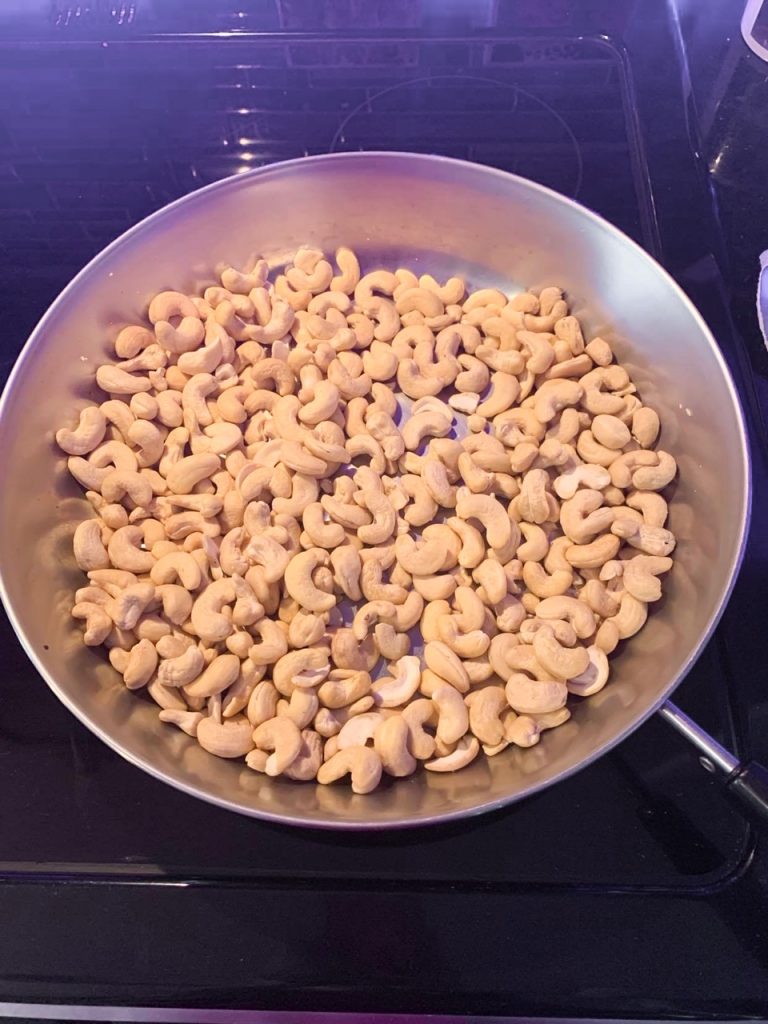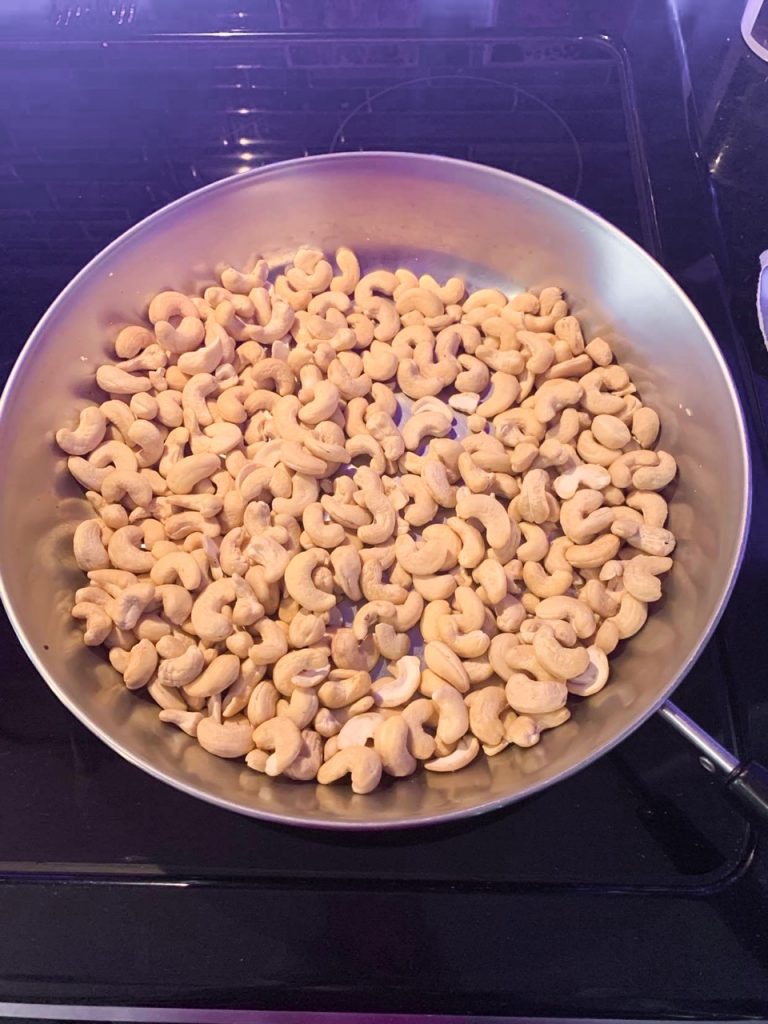 How To Make Cashew Butter
Once you have gently roasted your cashews, you will put them in a food processer. This is the one essential tool that you have to have when making your own cashew butter. A food processor is a sturdy and useful kitchen tool. It is on the more expensive side, but it lasts for years so it is well worth the money!
Once you start to chop the cashews using the food processor, you will see a flour or meal-like texture begin to form. The cashews will chop up into little tiny pieces that look like sawdust. This is the point where you wonder how in the world this will ever become cashew butter!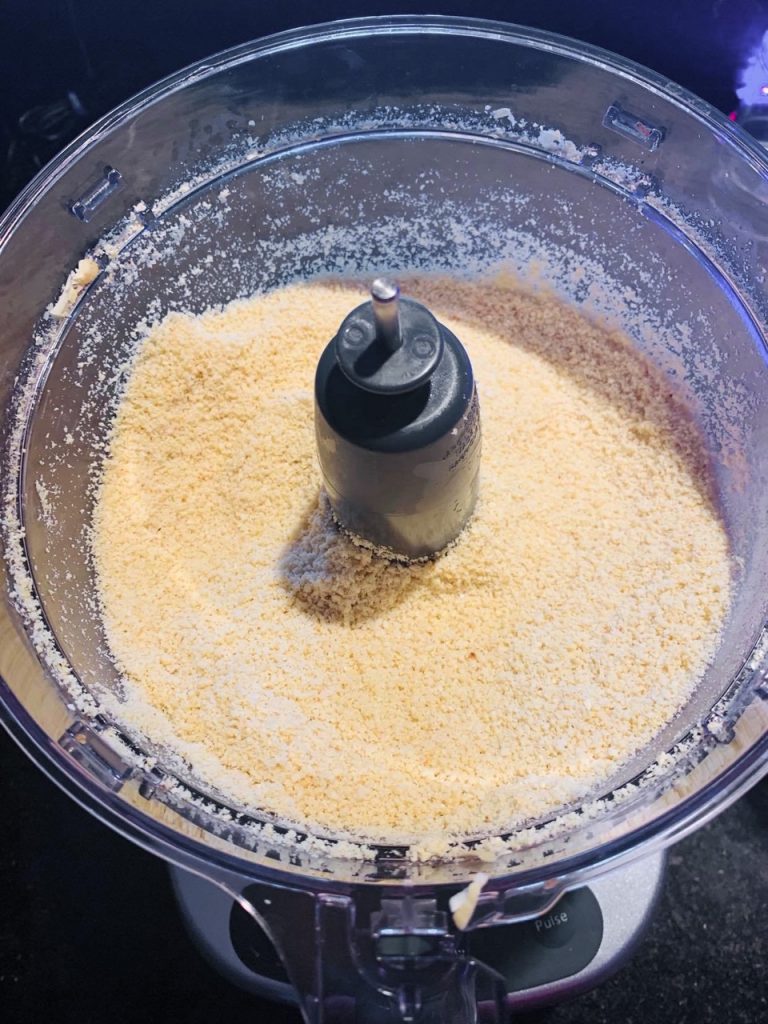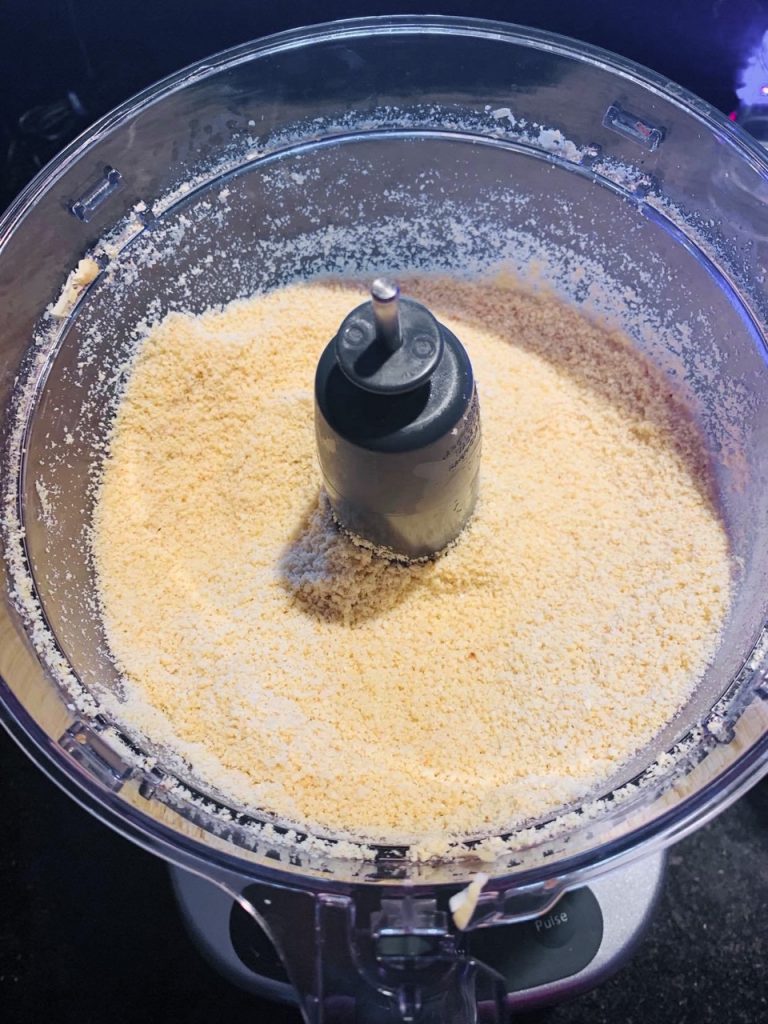 You will then stop the food processor and "scrape" the sides and walls of the container to get the nut meal to fall back toward the blade.
When the food processor is blending, it will "push" the mixture to the outside of the basin and it will make a "whirring" sound which means it is time to stop, scrape, and reset.
You will scrape the sides of the bowl every few minutes to ensure that all of the nuts are getting blended evenly and your blade is constantly hitting the nuts.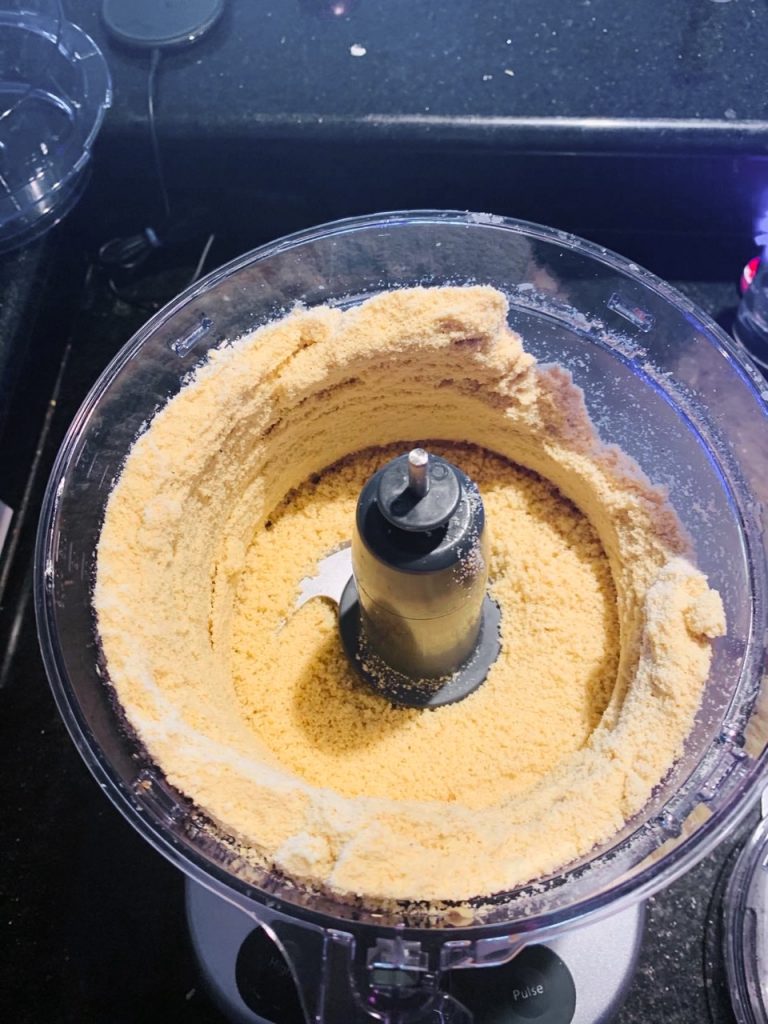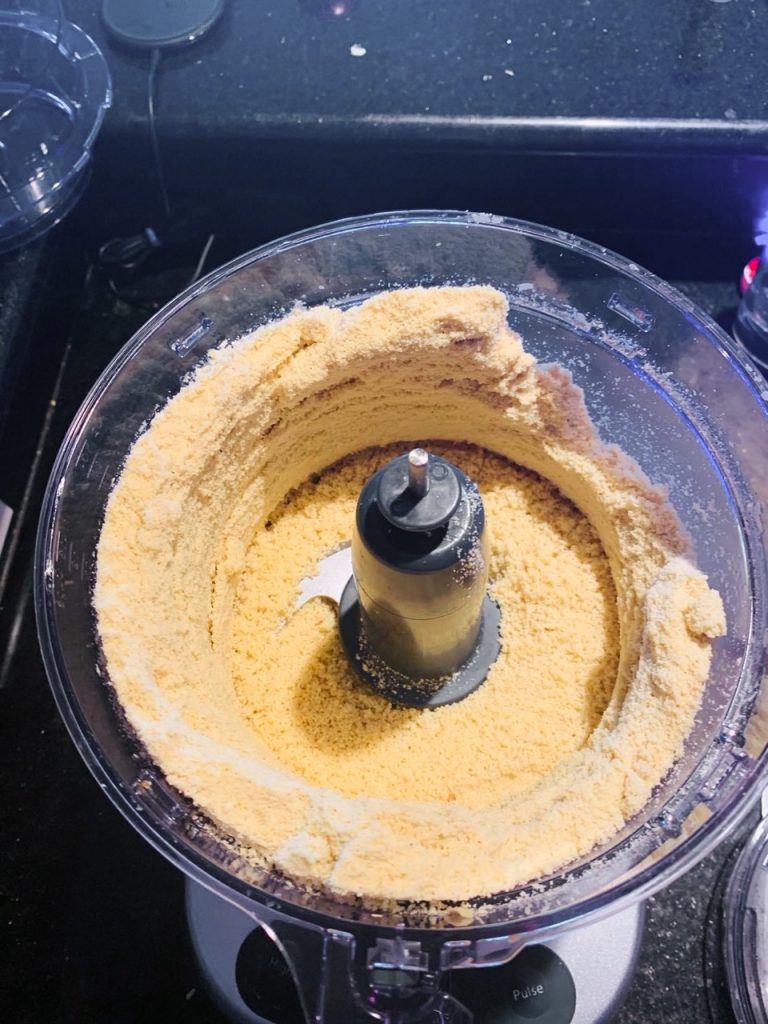 This process takes between 10-20 minutes, depending on your food processor. Patience is key when learning how to make cashew butter. Although it is very easy, this part does take a little time as you want to ensure you don't overheat your motor and that the cashews constantly keep getting blended.
Like magic, the fine meal/flour texture will eventually turn into a "glob" or a ball that will be whirring around your food processor! This is GOOD and this is the next step!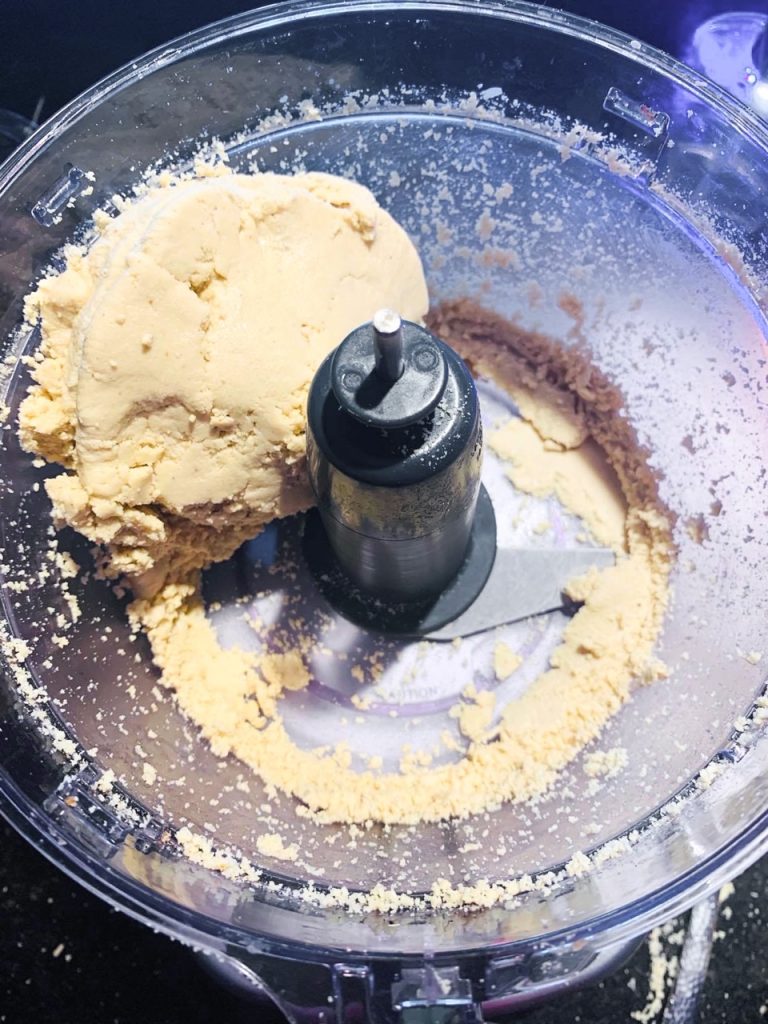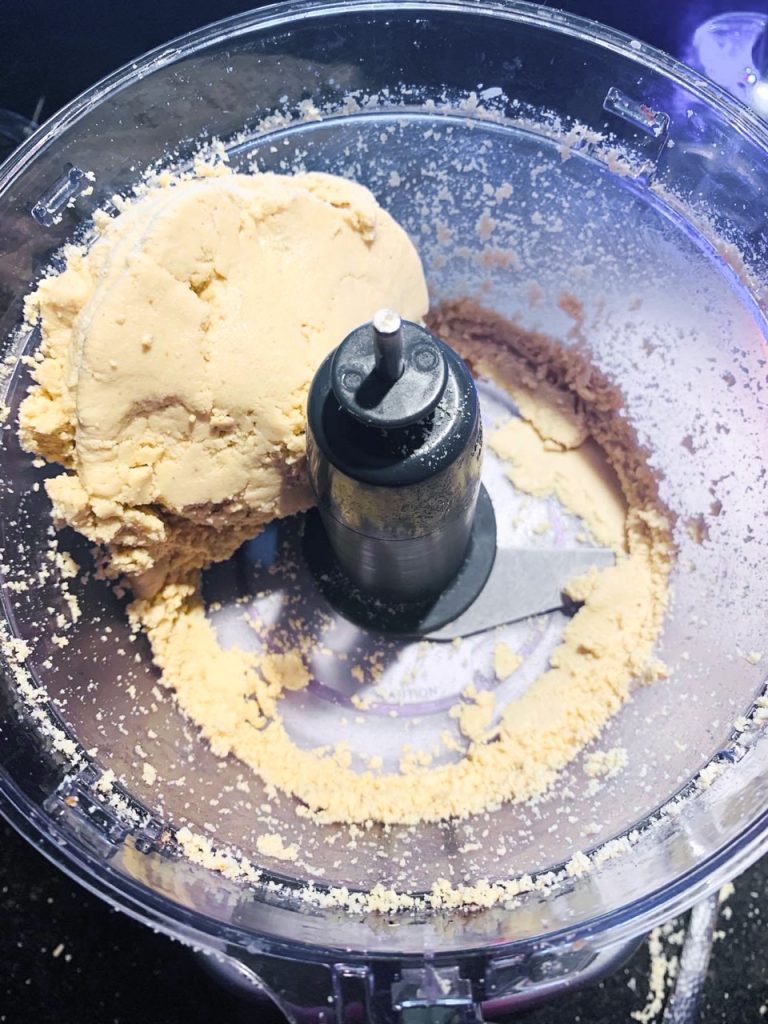 Finally, that glob will give way to perfectly creamy homemade cashew butter! You must not doubt the process and you simply keep blending until your desired consistency is achieved.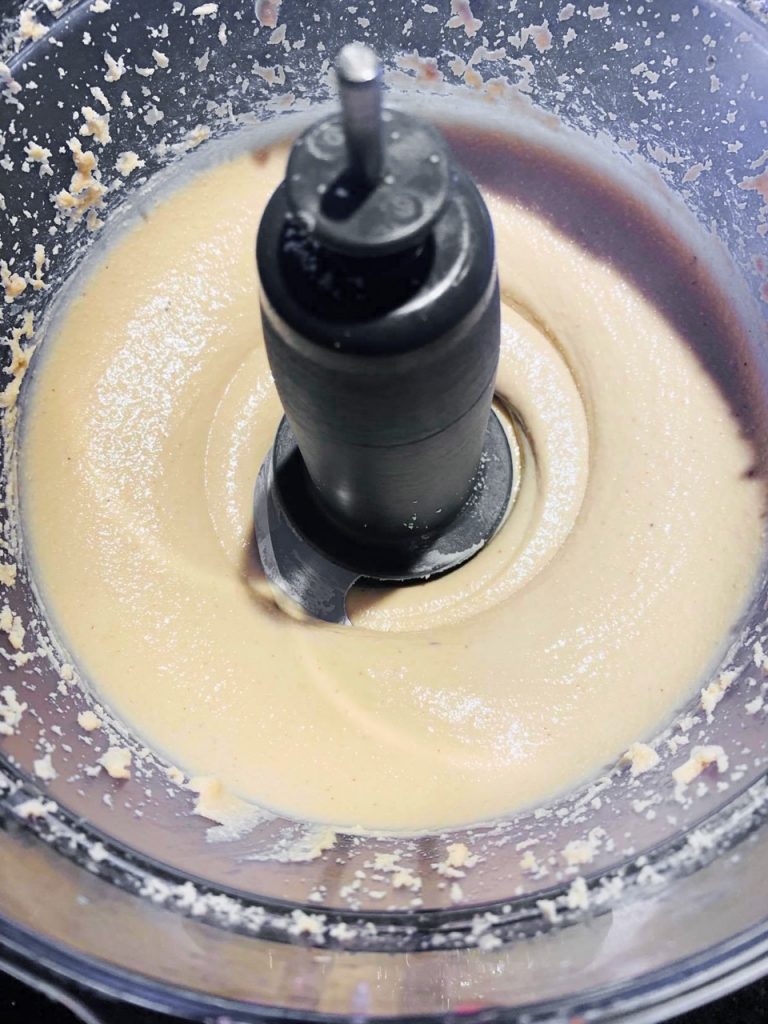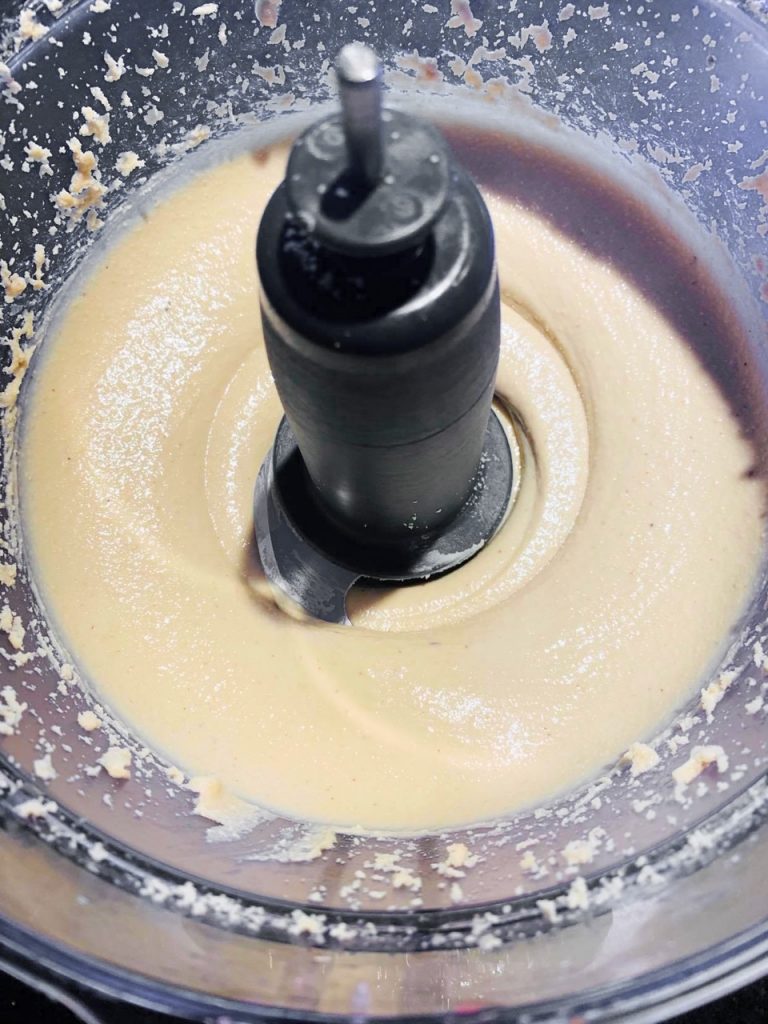 If you want to add in sugar, salt, vanilla, cinnamon or other add-ins, this is the time to do it! You want to wait until the cashews reach "nut butter" consistency before adding anything else.
Go ahead and add your flavors, give it a few whirls, and you are done! Congratulations! You just learned how to make cashew butter at home and it is so totally easy!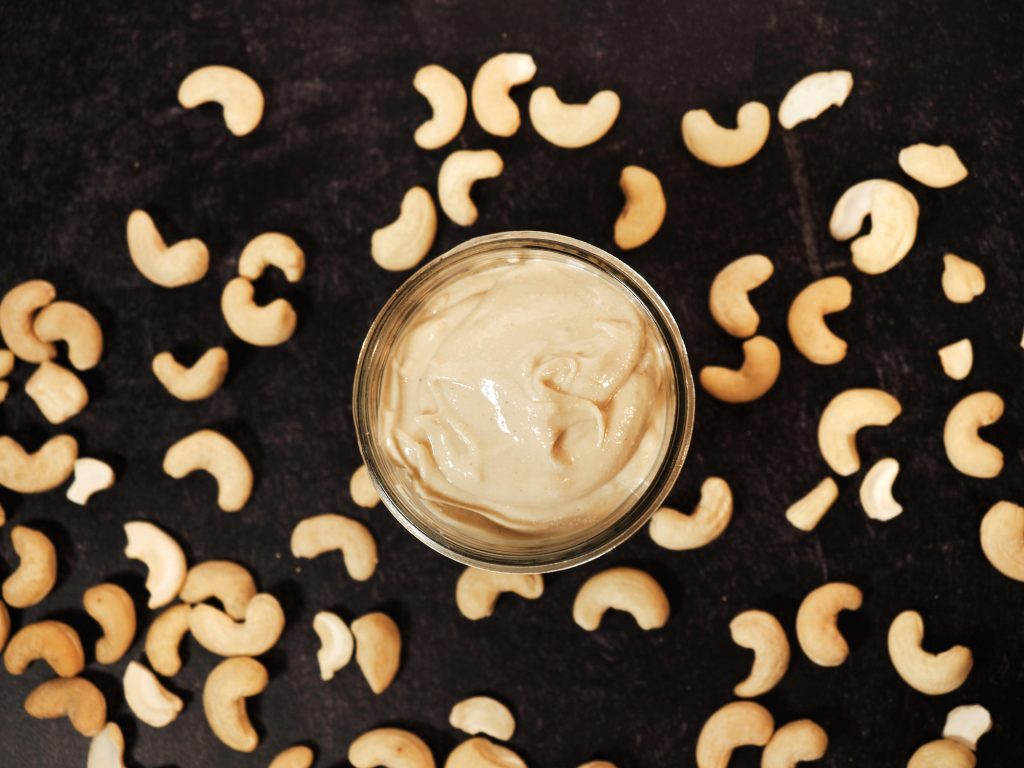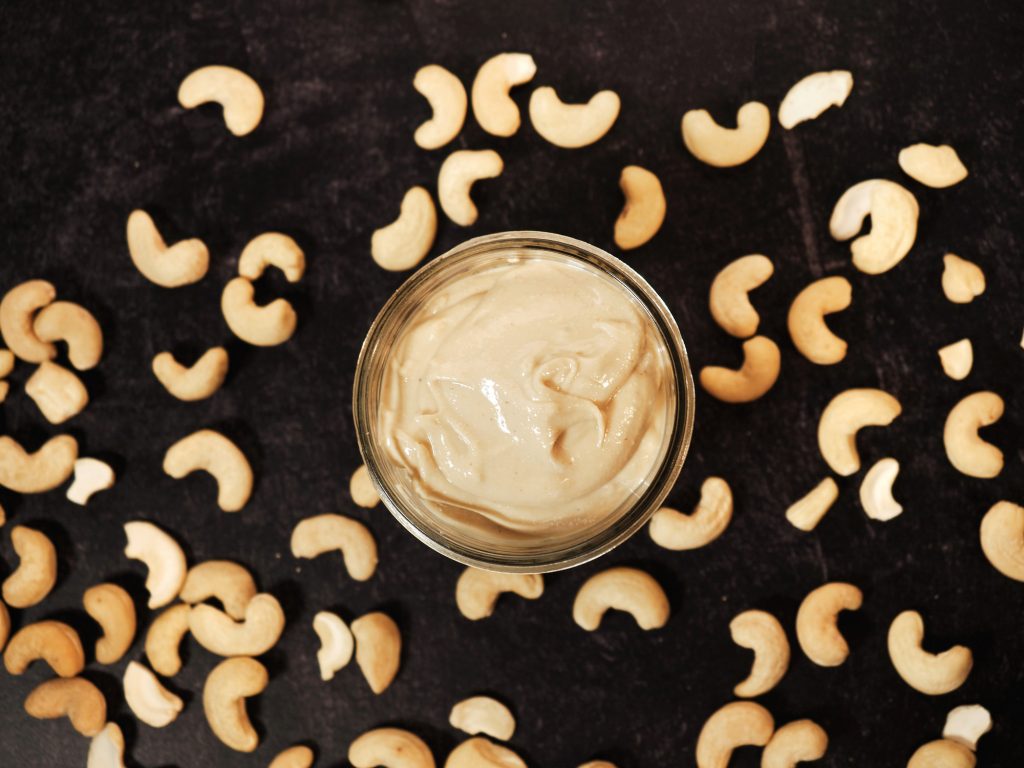 Yield: 1 Cup
How To Make Homemade Cashew Butter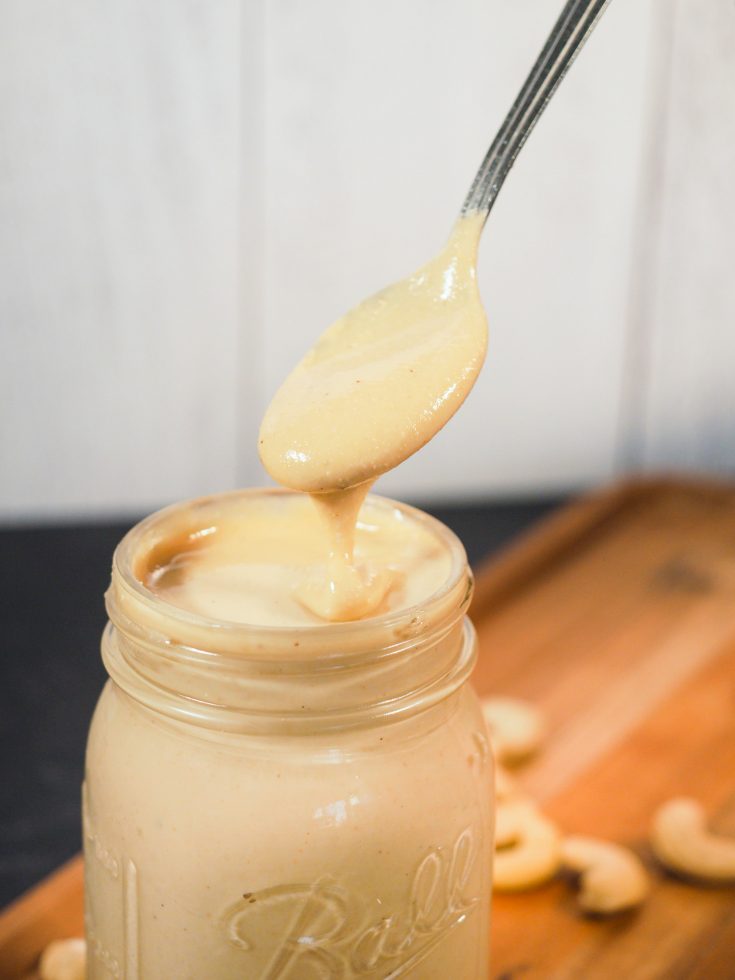 Learn how to make cashew butter with this fool-proof recipe! The base is made using only ONE ingredient and that is cashews! No oils or additives. Feel free to customize this small-batch homemade cashew butter depending on your taste. It is naturally raw and naturally vegan but perfect for everyone!
Ingredients
4 Cups Raw Cashews
Optional: Sea salt, sugar, cinnamon, vanilla, coconut, chili pepper or whatever add-in you would like!
Instructions
Roast raw cashews in a frying pan over medium heat for 5-10 minutes until fragrant. You will not use oil for this step, just the cashews and the hot pan!
Next, add your cashews and blend in the food processor. stopping every few minutes to scrape down the sides. First, a meal-like texture will form, then a sticky ball, and finally, smooth cashew butter will appear.
Once the texture is smooth, feel free to add in any sweetener or seasoning you would like and give your food processor one more whirl.