I have been obsessed with portobello steaks for over 15 years now! "Back in the day" we called them grilled portobello mushrooms, but now the use of the term "portobello steaks" has become more popular so that is what I call these tasty 'shrooms now!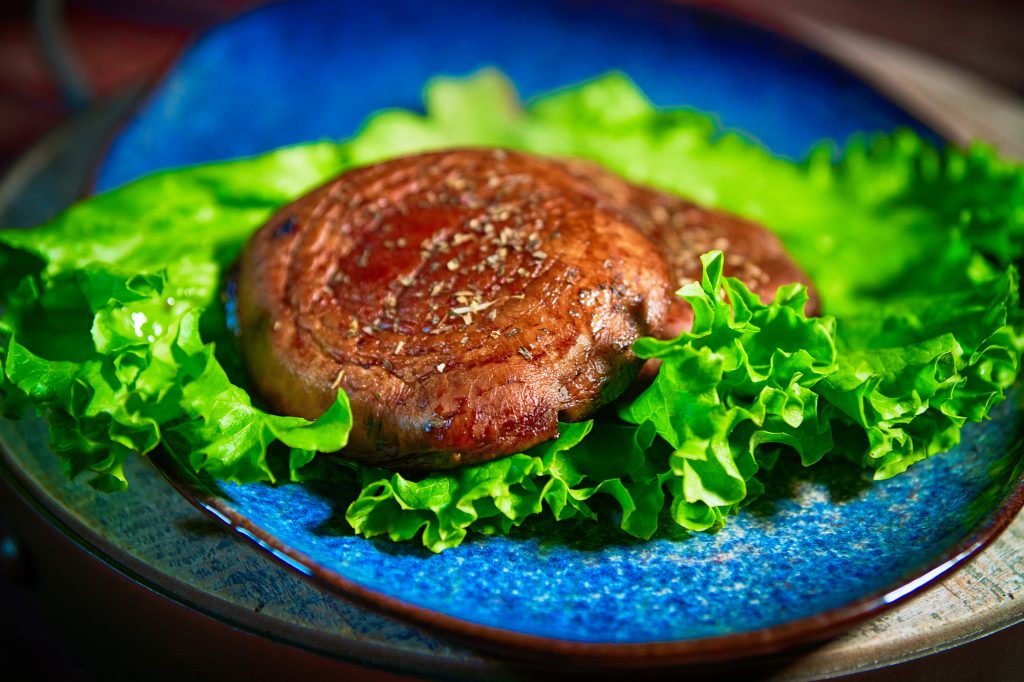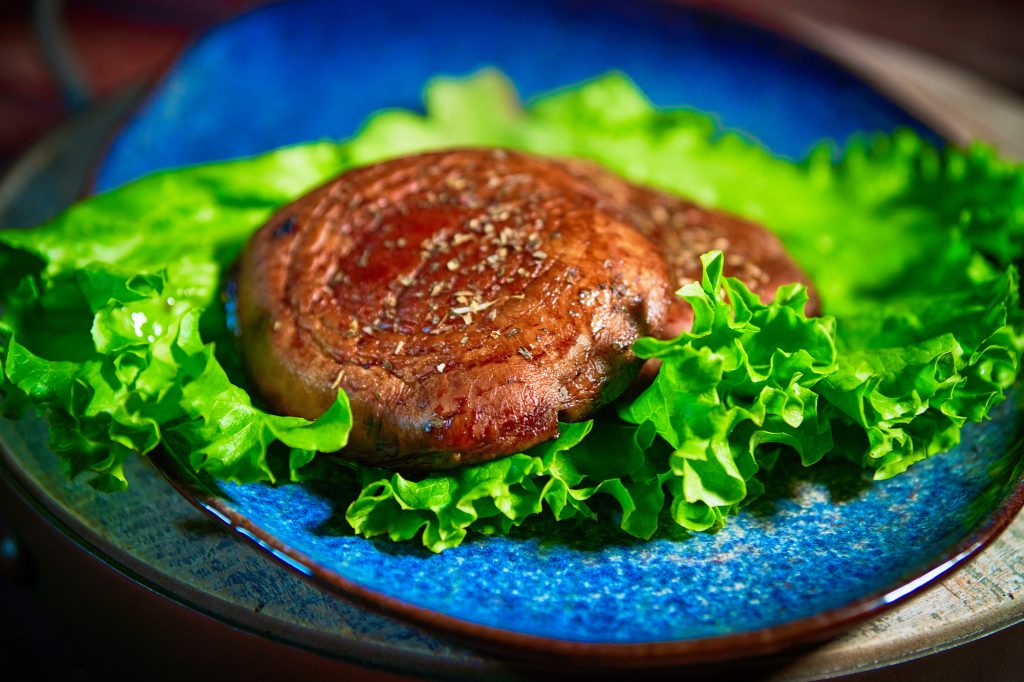 Portobello steaks are EASY to make. They whip up quickly and they LAST in the fridge. The best part is that they can be easily modified and used for a variety of recipes. This portobello mushroom steak recipe is simply the BASE that you can use for your favorite dish.
I love making vegan portobello mushroom steaks on a weeknight and I worked too late and I couldn't think of anything else to make. I will eat them slathered in ketchup with my Paprika Roast Potatoes and a small side salad. You can also chop up the portobello steaks and use them as filling for Vegan Stuffed Peppers! It is the perfect healthy-yet-filling dinner!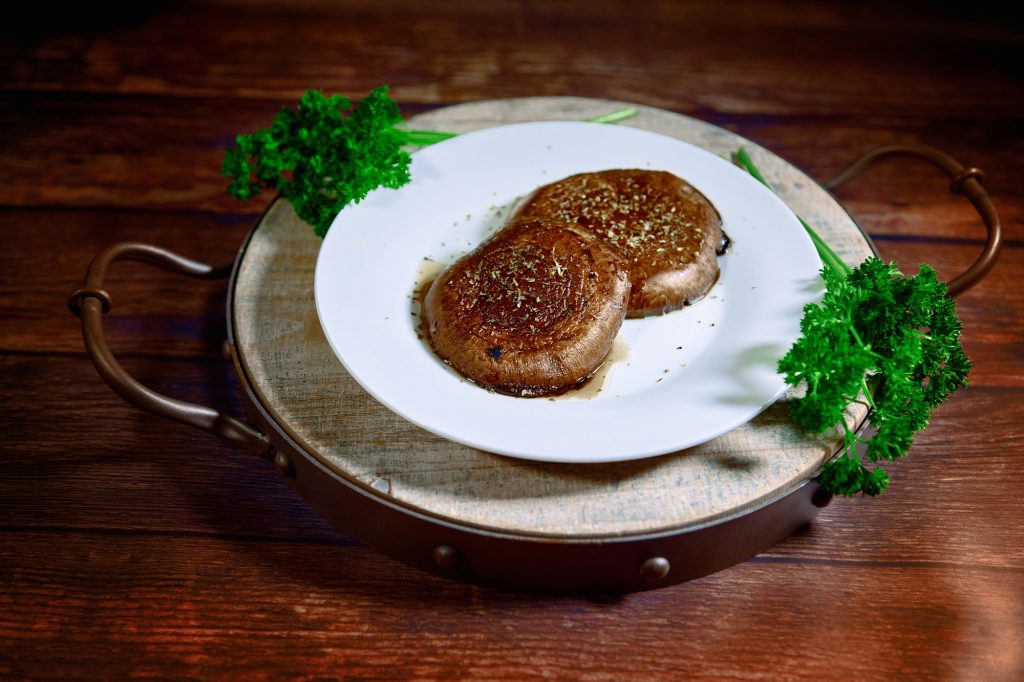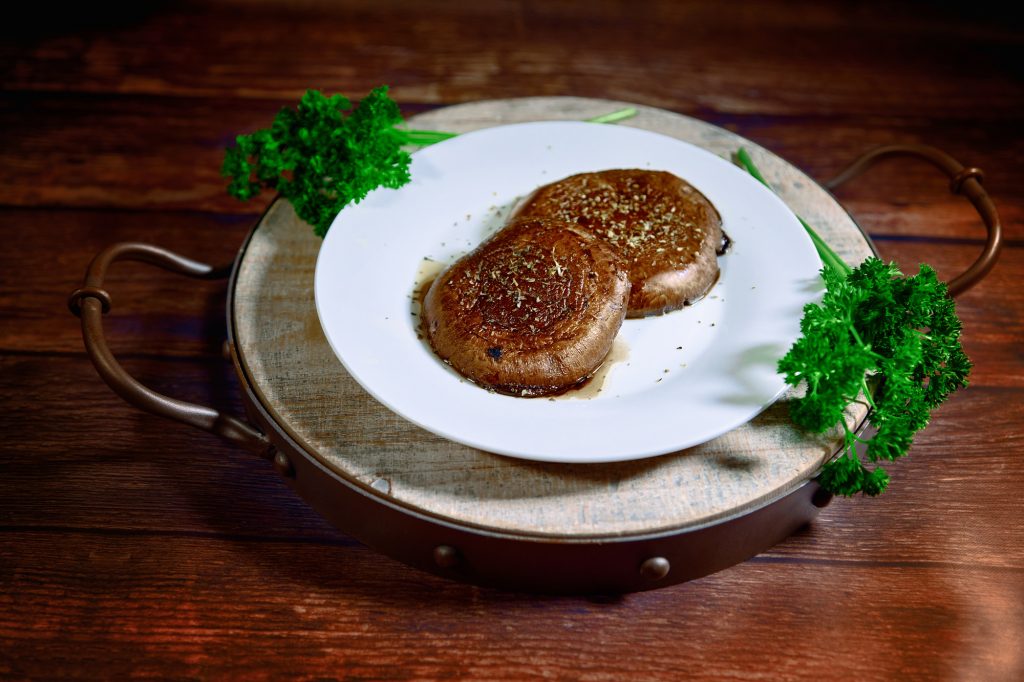 Preparing The Portobello Steaks
After you buy your back of portobello mushrooms, you are going to want to GENTLY twist and remove the mushroom stems. You want the stem to be flat or at least beneath the outer edges of the portobello mushroom so that your 'shroom can lay flat while cooking.
You can wipe down your future portobello mushroom steak with a clean cloth, but I don't do that [bad I know!]
Next, you are going to use a pastry brush to brush the mushrooms lightly with oil. You can add balsamic vinegar or soy sauce if you want, depending on your tastes. I personally prefer them plain so that I can use them as a "base" for other dishes, but that is up to you!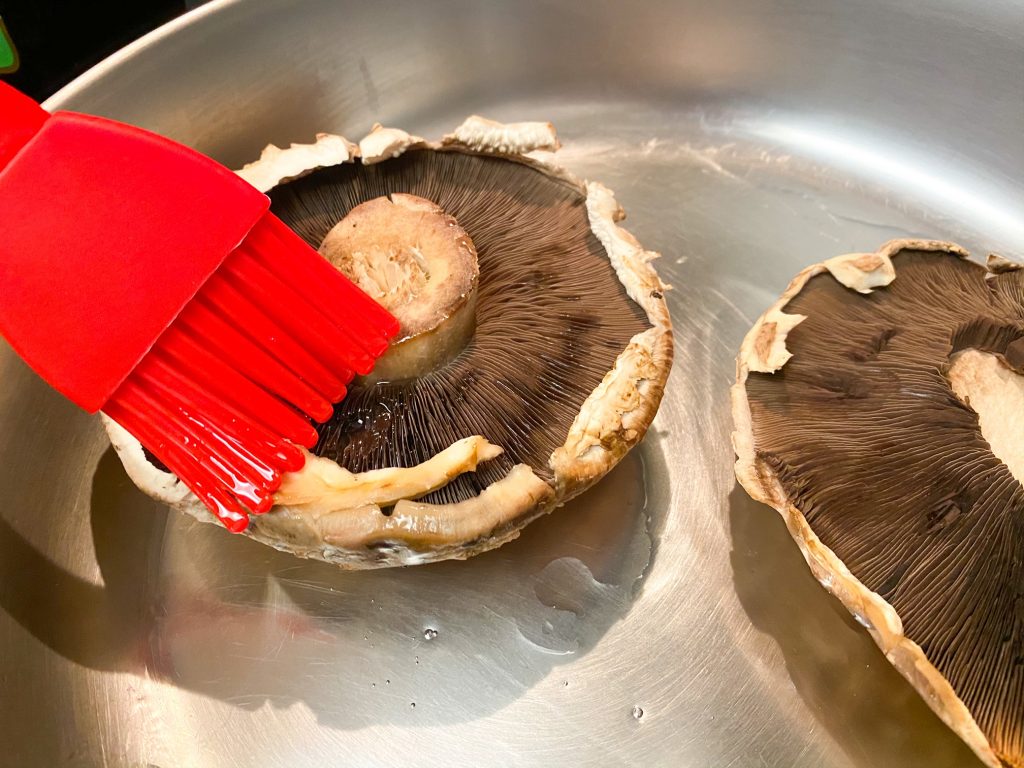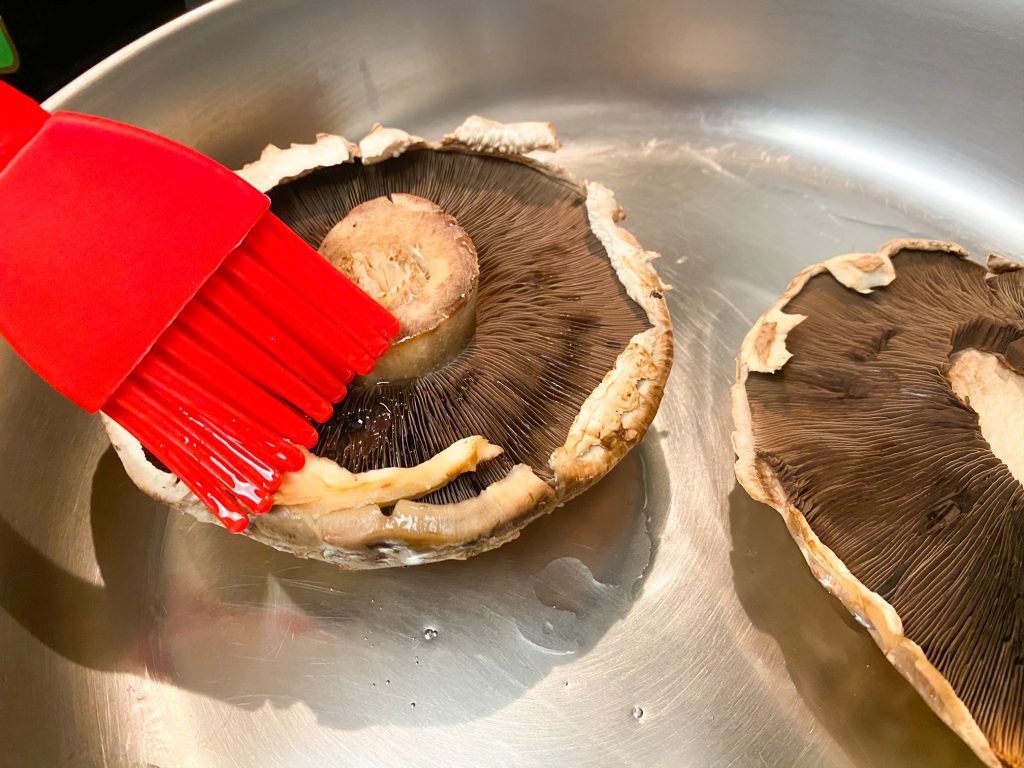 Cooking The Portobello Steaks
I cook my portobello steaks on a pan on the stove. Other people choose to bake them, which I don't recommend as it takes longer. During the summer, you can also grill your portobello steaks! I have done this many times!
If you are using a shared grill with meat, simply oil your portobello steak well and place it on a large piece of tin foil during the grilling process. This has been a vegan staple for years and years before the "good" veggie burgers have come out!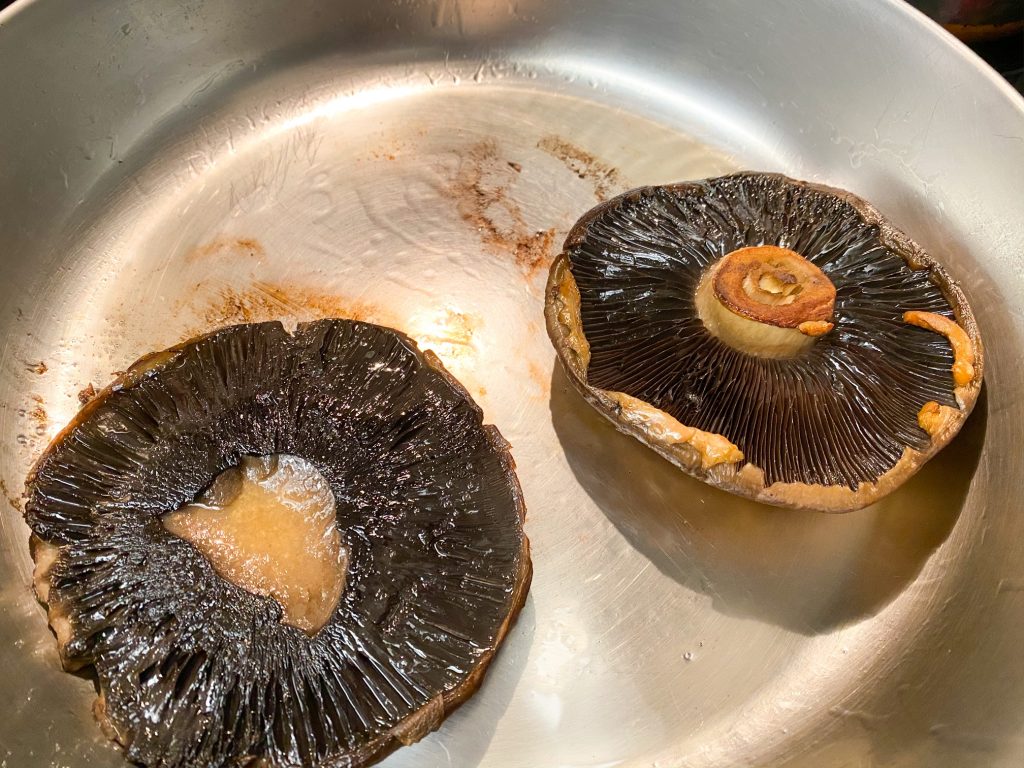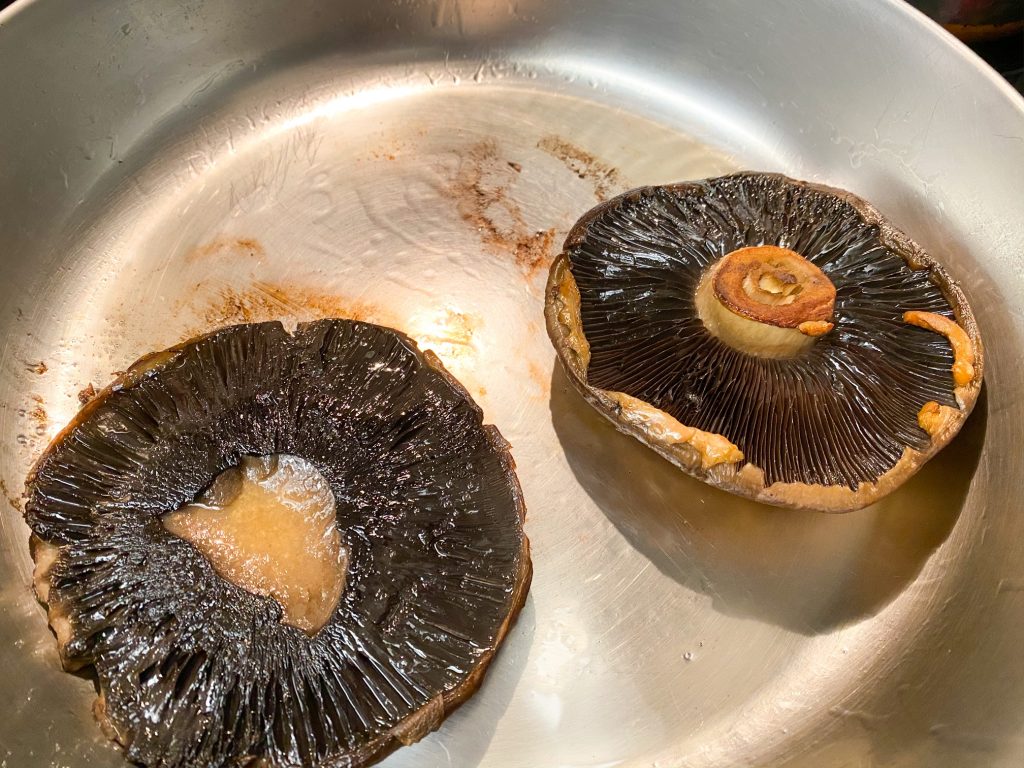 When you cooking this vegan portobello mushroom recipe on the stove, you will want to ensure that you have enough oil in the bottom of the pan so that the mushrooms don't stick. This is essential and why brushing the portobellos until they are lightly coated with oil and seasoning is a must!
Next, you want to cook the portobello mushroom steaks "down" until they wilt and become soft. You want them to lose their original coloring and turn a dark brown. You do NOT want to undercook the portobello steaks or they will taste raw and will be hard to cut through. You want them to be easy and savory to cut through and eat.
Finally, when you are finished, the portobello steaks may have some juices leftover. Feel free to use a paper towel or clean cloth to pat the mushrooms dry before serving. Some people don't like the juices that the portobello mushroom steaks leave behind, and that can easily be fixed by just patting them dry when cooking is complete!
This portobello steak recipe makes the perfect center for savory portobello mushroom burgers or the perfect center or side dish to complete your meal! Don't forget to serve this recipe with a side of some Baked Vegan Mac And Cheese! This recipe also works well with a side of Vegan Glazed Carrots too!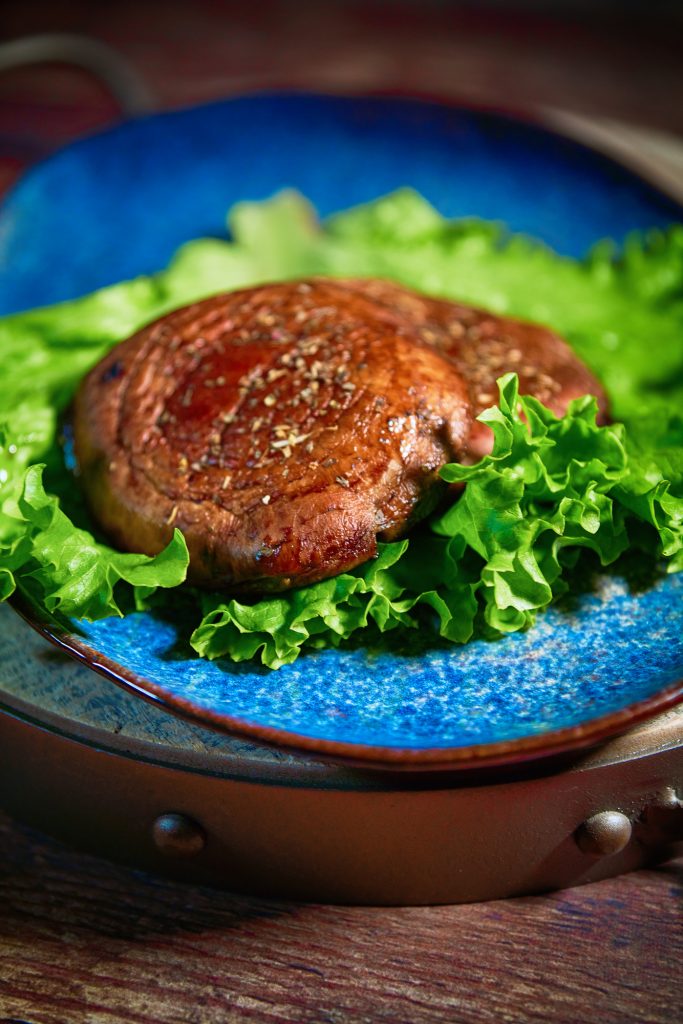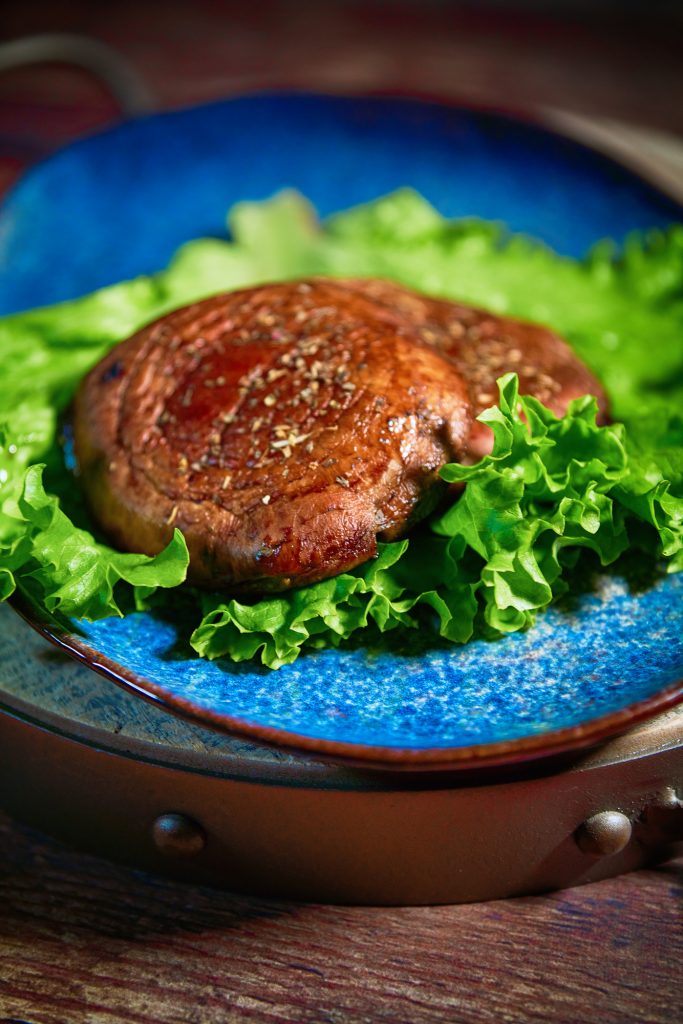 Yield: 4
Easy Portobello Mushroom Steaks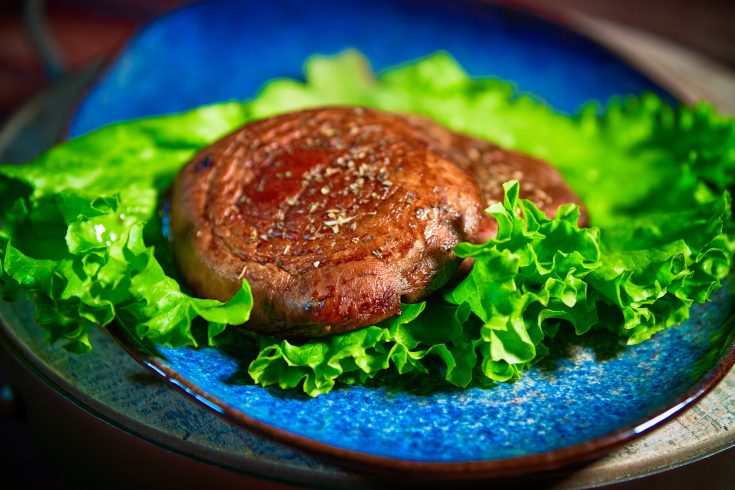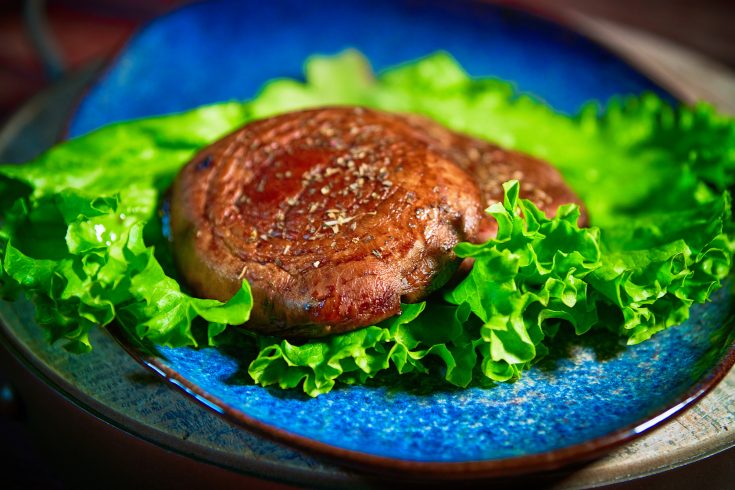 These easy Portobello steaks make the perfect weeknight dinner! They whip up in just minutes and are hearty and savory. The portobello mushroom steaks can be eaten alone or added to another dish!
Ingredients
4 Portobello Mushrooms
Oil For Cooking [I use Avocado or Olive Oil]
Salt [to taste]
Italian Spice Blend [to taste]
Instructions
Gently twist the portobello mushroom stem until it comes off. You want to be sure the mushroom lays flat when cooking.
Place portobellos in an oiled pan. While the pan begins to heat up, use a pastry brush [or your hands!] to brush oil on the top, sides, and bottom of the mushrooms.
Cook portobello steaks on high for 10 minutes, flipping throughout. Note: Portobellos cook faster when they are cooking stem-side facing DOWN. This allows the heat to "gather" underneath the mushroom cap which allows for quicker cooking.
Add more oil as needed and cook until mushrooms are dark brown in color and "droopy." Season with Italian spice blend and salt on the top and inside the cap.
Optional: Pat dry with paper towel or clean cloth.
Nutrition Information
Yield
4
Serving Size
1
Amount Per Serving
Calories

131
Total Fat

11g
Saturated Fat

1g
Trans Fat

0g
Unsaturated Fat

9g
Cholesterol

0mg
Sodium

162mg
Carbohydrates

7g
Fiber

5g
Sugar

2g
Protein

3g