If you have never made a vegan Oreo cheesecake before, you are in for a real treat! The end result is flavorful and delicious and it is super easy to make.
The best part about this vegan Oreo cheesecake is that it is no-bake so you don't need to heat up the oven and it is super quick and easy to firm up to be ready for serving.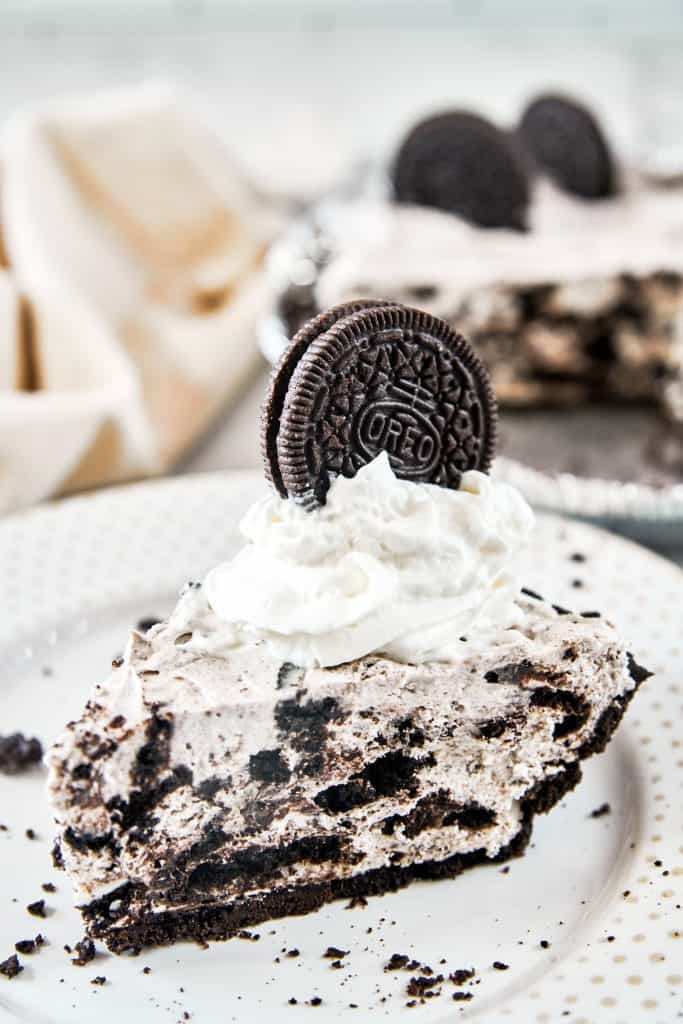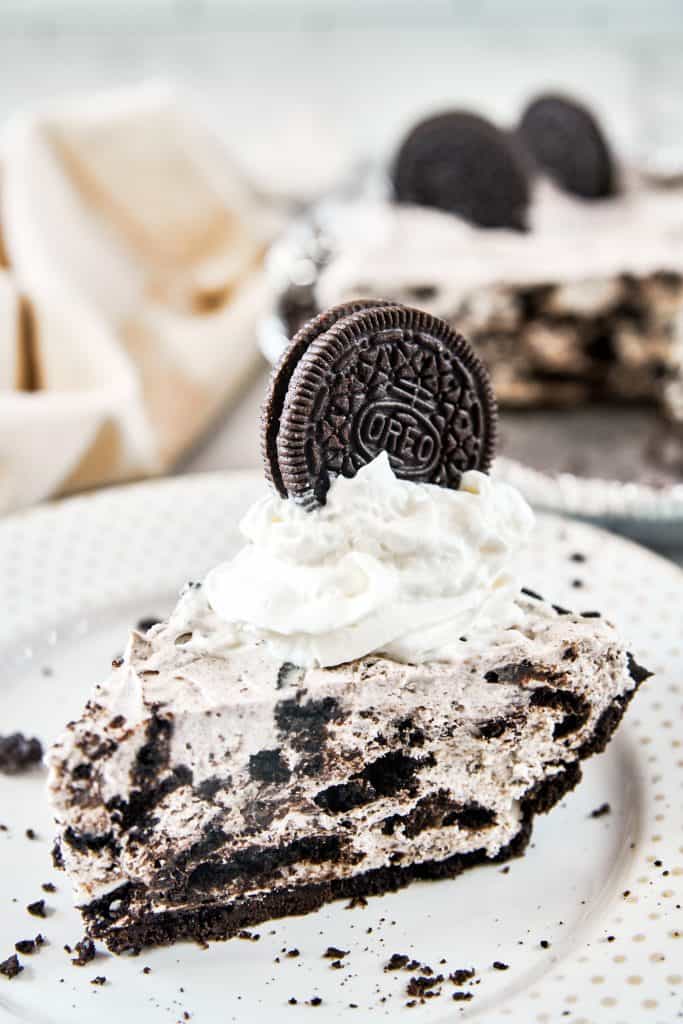 It requires only a few simple ingredients and you should have most of them around your house already!
I learned early on that the key to making amazing tasting vegan food is to simply veganize the "regular" version.
Why re-invent the wheel? To make Oreo cheesecake vegan, I simply use vegan ingredients in place of the dairy ones.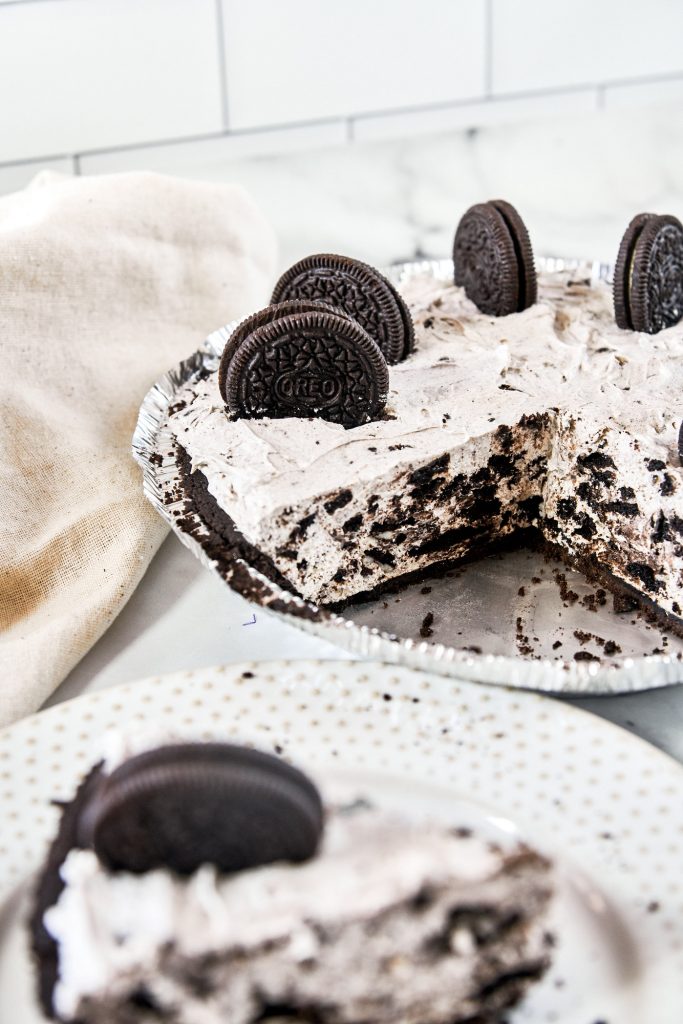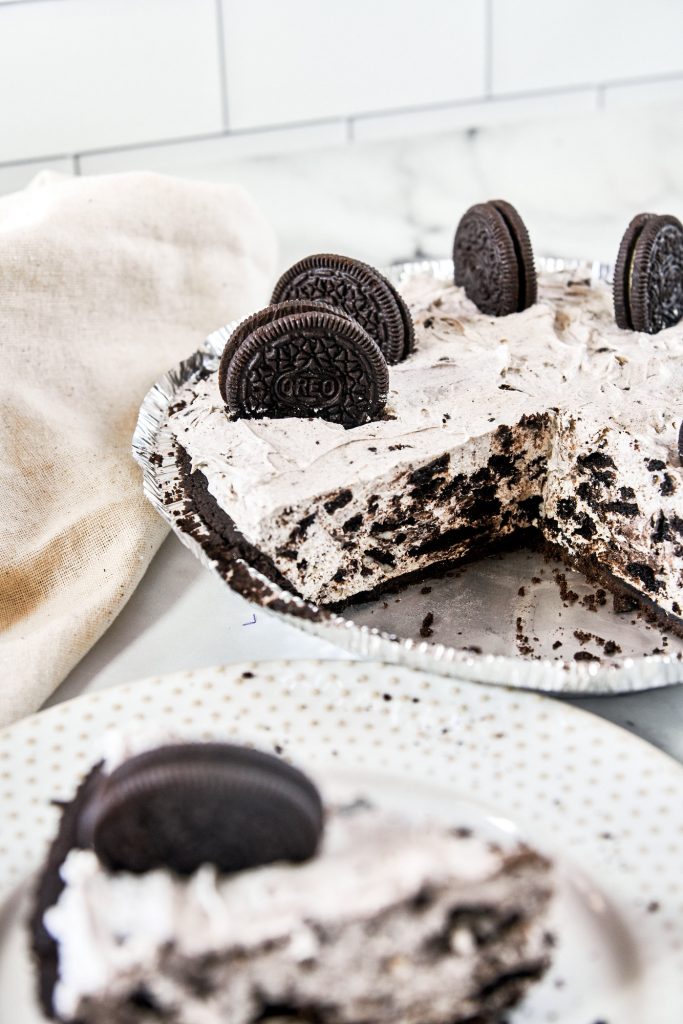 There is no need to add extra ingredients such as cashews or anything along that line.
The key is to prepare vegan food in the same way and with similar ingredients as you would the "regular" version!
For example, a regular Oreo cheesecake would use cream cheese. This is an easy fix! We will simply use vegan cream cheese!
I hope you enjoy making this sinfully delicious and totally easy vegan Oreo cheesecake as much as I love eating it!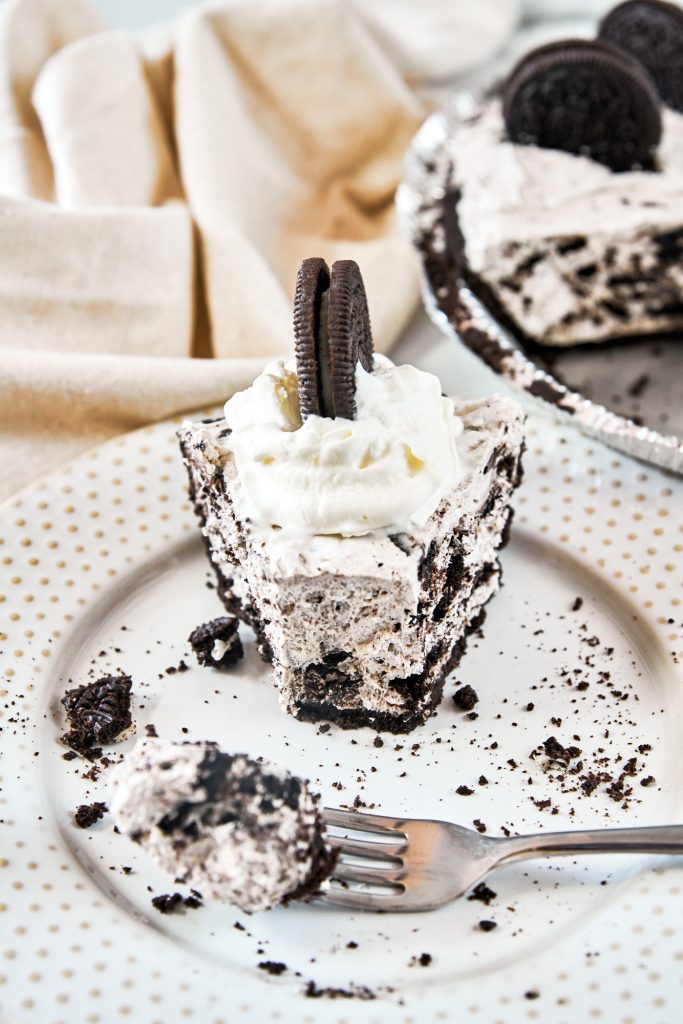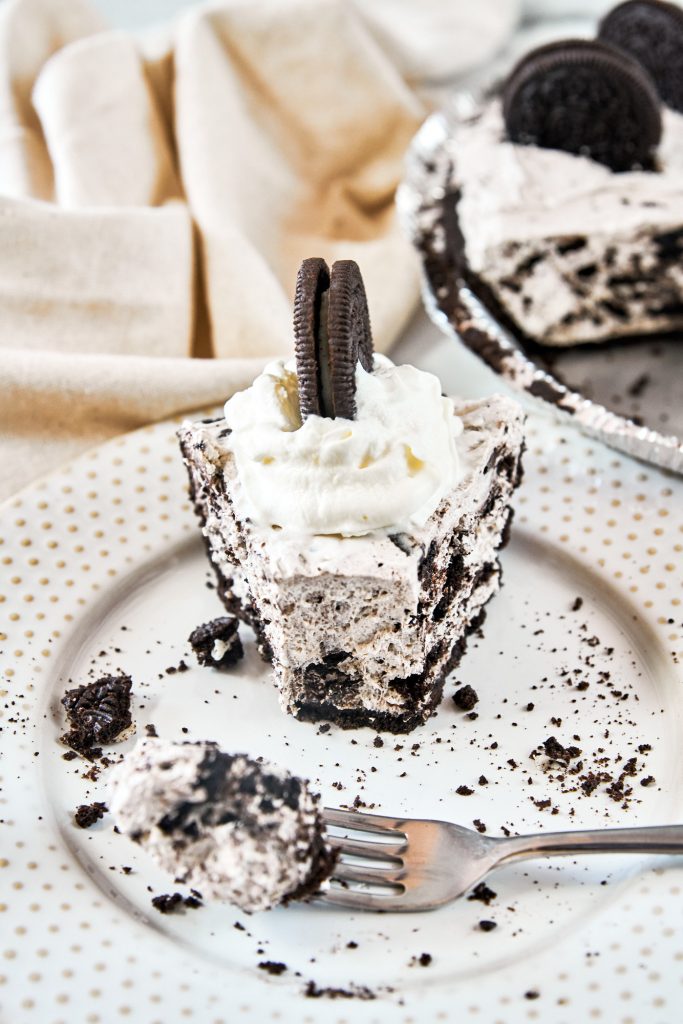 Why You Will Love This Vegan Oreo Cheesecake
A decadent dessert nobody will know is vegan! You can bring this amazing cheesecake to any party and everyone will be scrambling for seconds. If you don't say the word "vegan" nobody will ever know. People love Oreos and the end result is so tasty, it is perfect for any event!
It is no-bake which saves tons of time! Some cheesecakes I make on this site do require baking. Not this one! Like most "regular" Oreo cheesecakes, this one is also no-bake! All you have to do is prepare it and let it set in the fridge [or freezer] for a small amount of time before enjoying!
It uses simple and easy ingredients. This recipe uses super easy ingredients and it is perfect for those who are new to baking and don't want to mess up. Since no cooking is involved and all you have to do is mix up the ingredients, it is great for newbies and you won't have to run all over town to satisfy a long list of ingredients!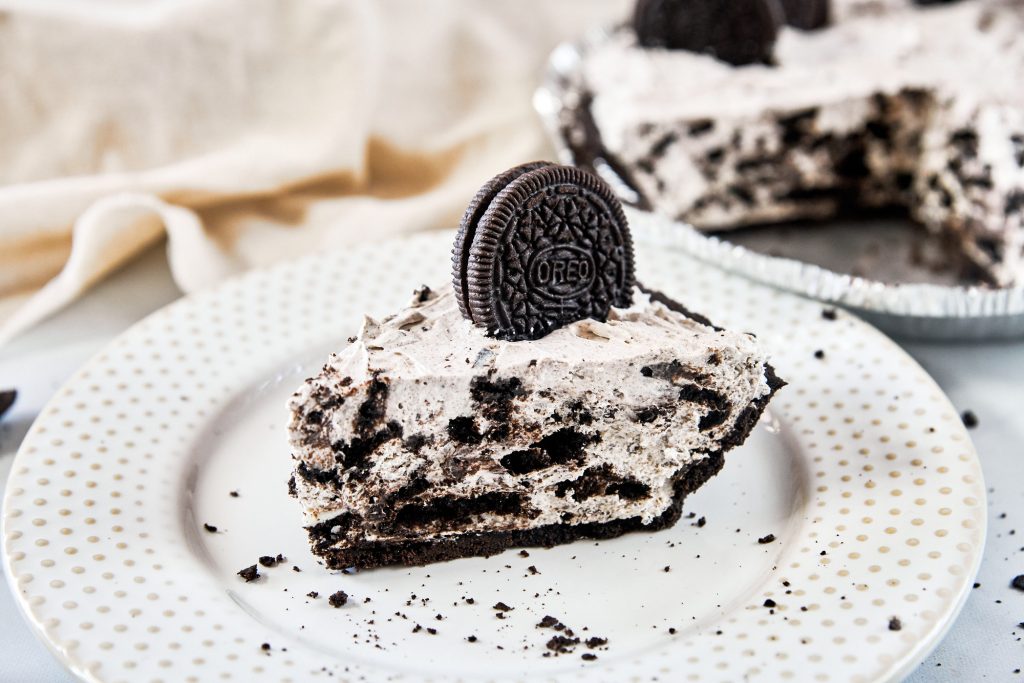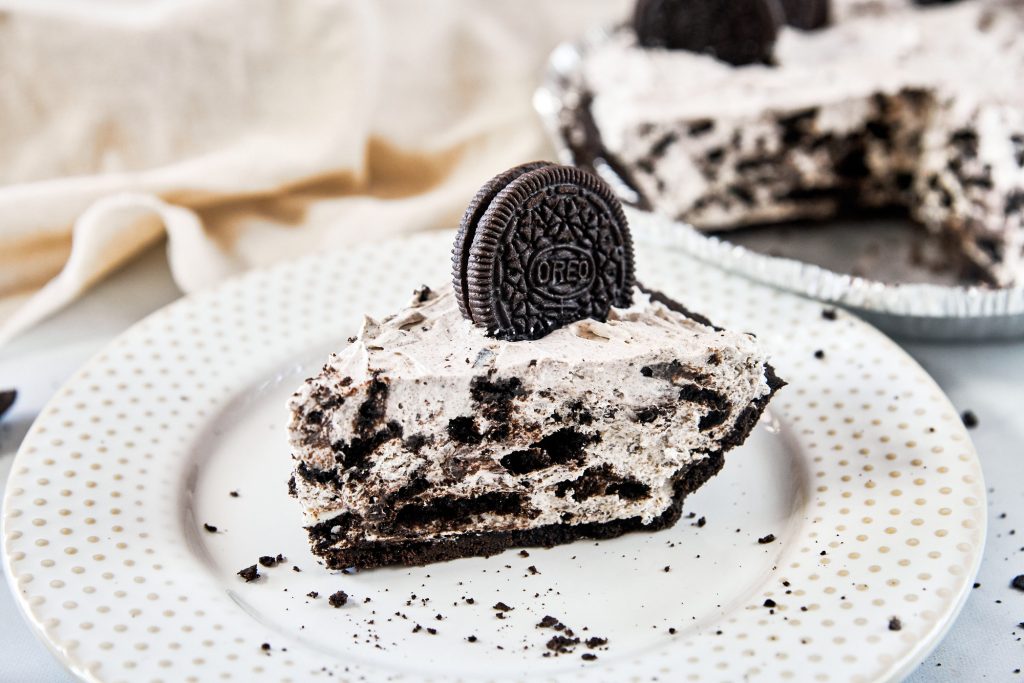 How To Make Vegan Oreo Cheesecake
Everyone loves no-bake Oreo cheesecake and this vegan version is no different!
Making it is as easy as dumping everything in a bowl and putting it in your pie crust to settle in the fridge or freezer! It is totally an amazingly easy process and it will become your dessert staple.
First, you are going to want to take out your vegan cream cheese to soften.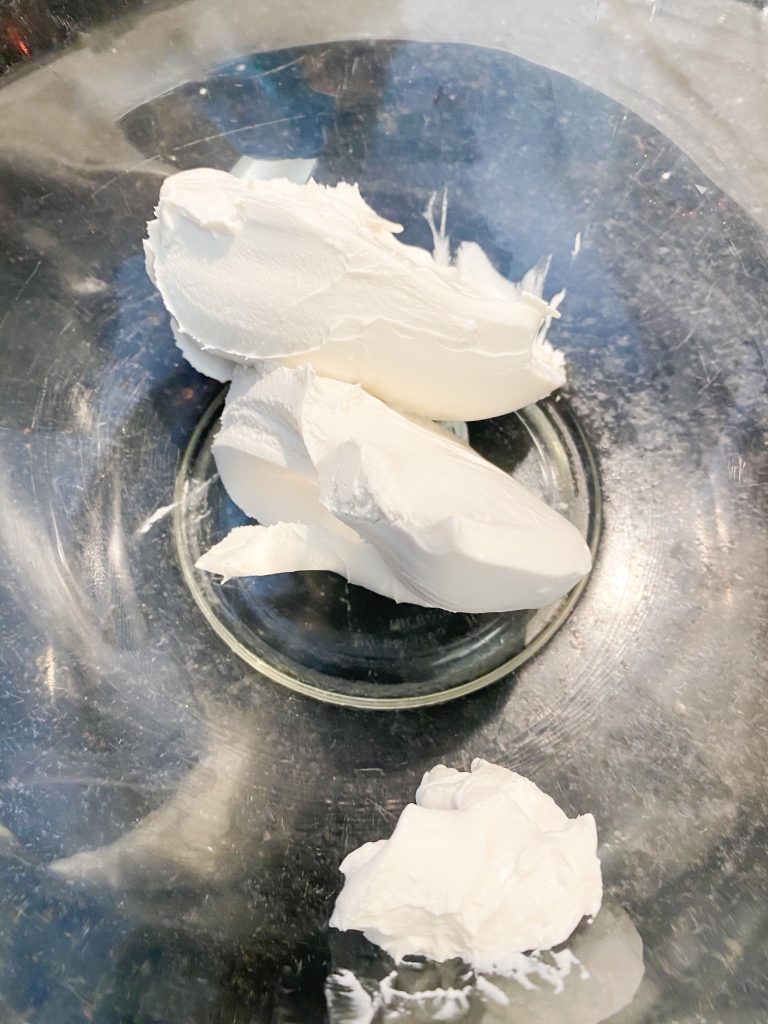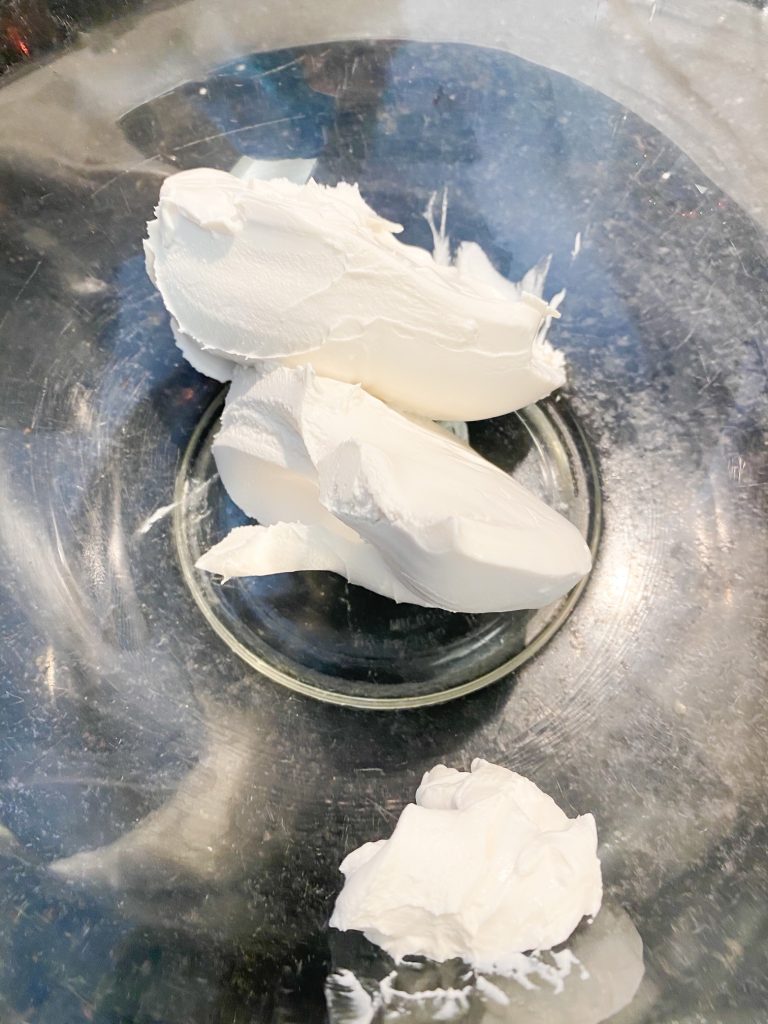 You can use any vegan cream cheese brand or even make your own. If I am buying from the store, I use Tofutti brand as it is easy to find and keeps well in my fridge.
I do suggest using an electric hand or stand mixer if you have it because you are going to want to beat the vegan cream cheese until it is nice and soft and fluffy.
This will be very hard to do with a whisk or by hand so please take this into consideration before starting to make this vegan Oreo cheesecake.
Once your vegan cream cheese is soft, add in your powdered sugar, vanilla, and lemon juice and beat on high until combined and fluffy.
Fold in your non-dairy whipped topping and ensure the cream cheese mixture is well combined.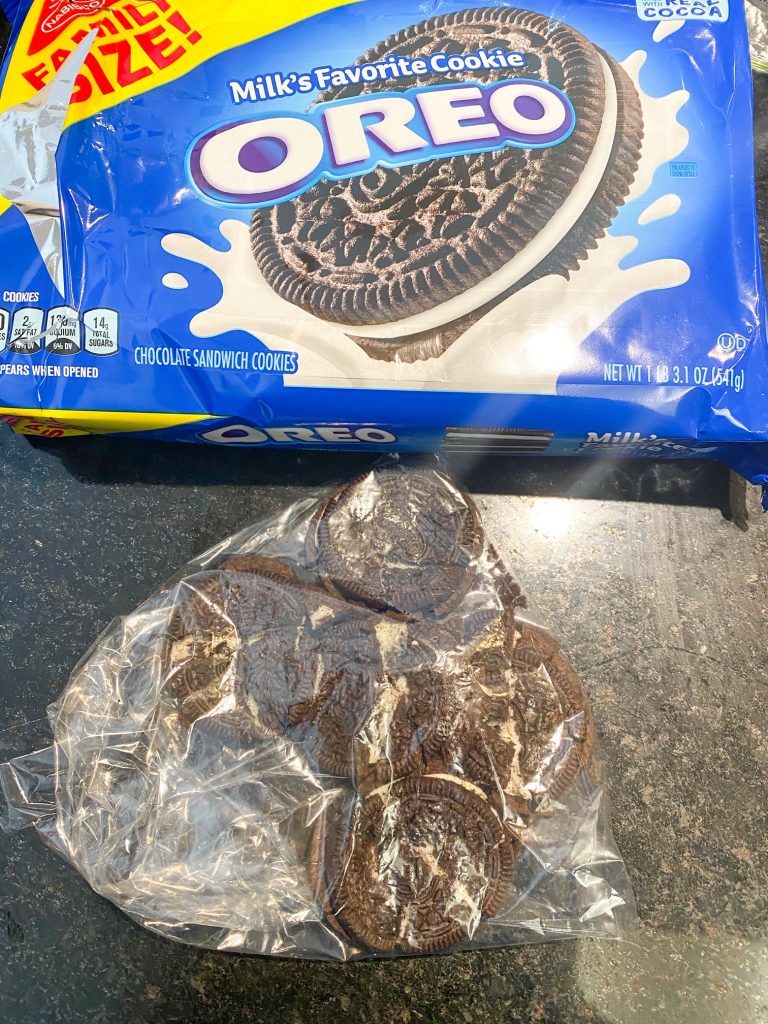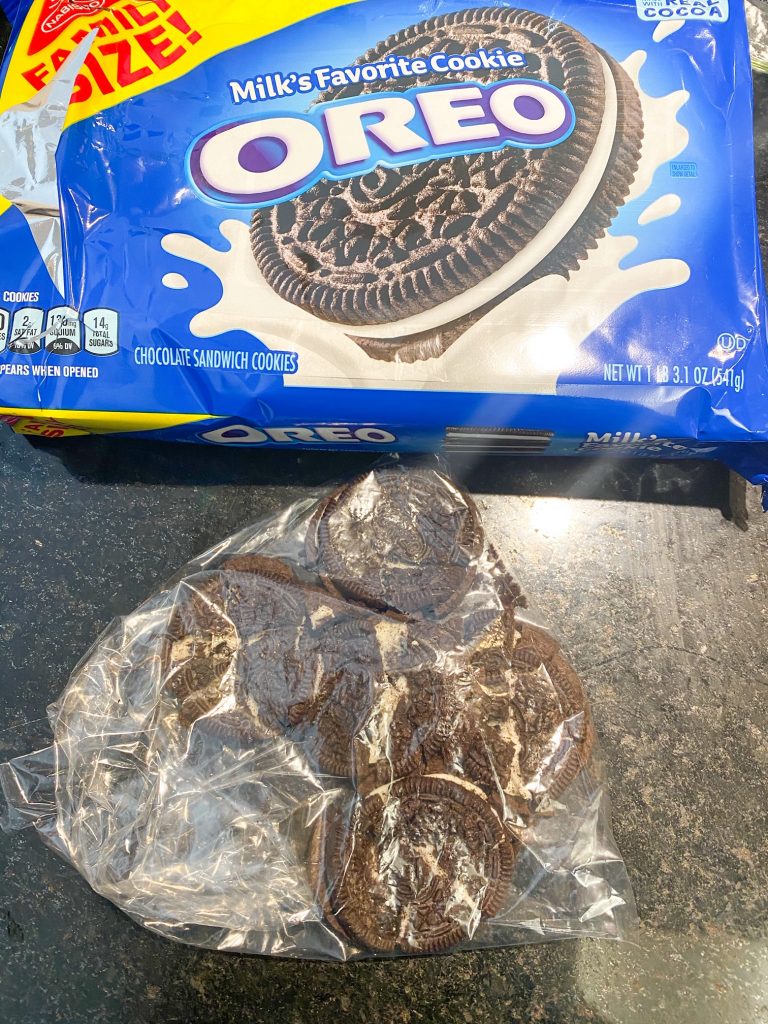 You can use any non-dairy whipped topping you want such as CocoWhip or even homemade non-dairy whipped topping.
You do not want to use the hand-mixer to combine the whipped topping in because you want the whipped topping to retain the fluffy nature. So fold it in with a wooden spoon and you are good to go!
Now you are going to crush the Oreos!
I find putting them in a plastic bag and using a rolling pin or a spoon is a great way to crush them.
In order to make the vegan Oreo cheesecake look nice when you cut it, you want your Oreos to be in a variety of sizes.
I am an Oreo fiend so I add about 2 sleeves of a family-sized pack of Oreos. This is around 20-25 Oreos, not including the topping.
Some Oreos I crush large and some I crush super fine to give the overall cake a nice look.
Once your Oreos are crushed, add them to the bowl with the other ingredients and fold them into the mixture.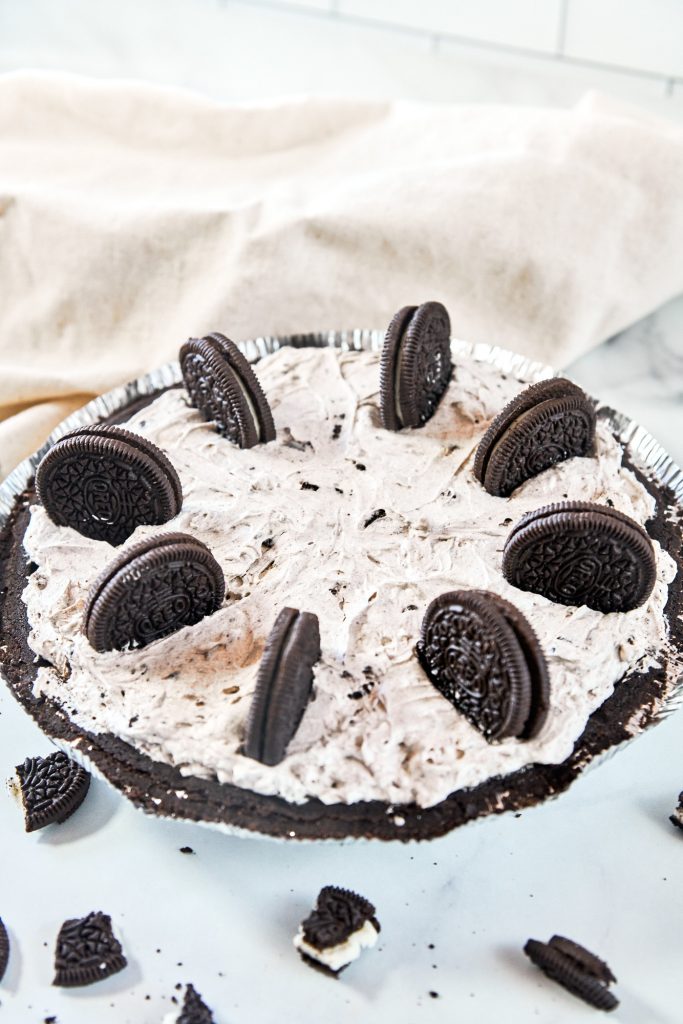 You want to ensure that the Oreos are well combined. Feel free to add more crushed Oreos depending on your taste preference.
Prepare your Oreo pie crust. I use a pre-made Oreo pie crust from the store, but you can also make your own by crushing Oreos and adding Vegan Butter.
I like a pre-made Oreo pie crust because it is incredibly easy and cuts down on your time.
Simply pour the vegan Oreo cheesecake mixture into the pie crust and use the pack of a spatula to even it out across the whole thing.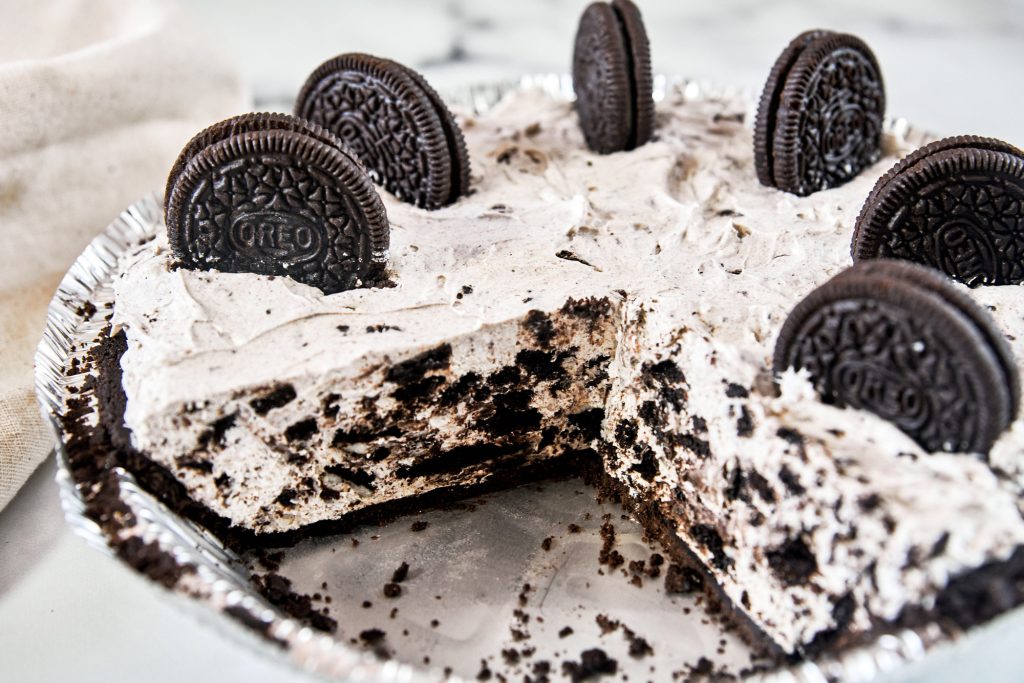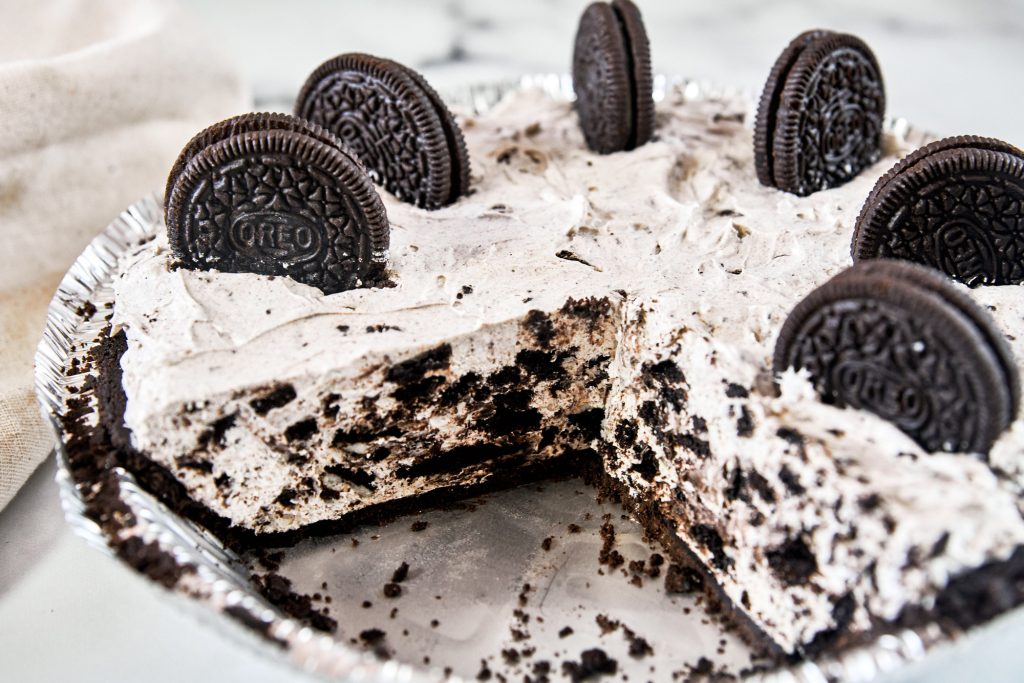 Now, decorate your easy Oreo cheesecake however you want!
I love simply pushing in an Oreo cookie for each slice. I usually do 8 cookies but you can do even more.
Alternatively, you could crush up the cookies and decorate the top that way.
You can even make your own batch of Vegan Vanilla Icing and pipe some decorations on top.
Simply let the vegan Oreo cheesecake set in the fridge until it hardens up a little bit and it is good to serve!
If you are looking for more Oreo recipes, you may like my Easy Oreo Cake, my Oreo Stuffed Cookies, or my Healthy Oreo Milkshake!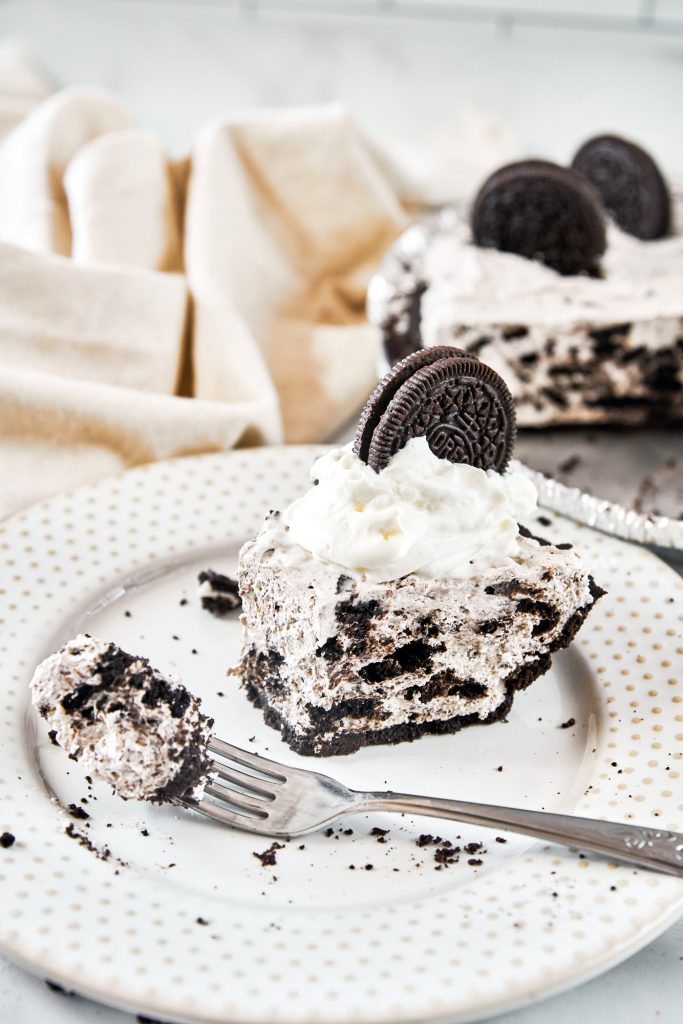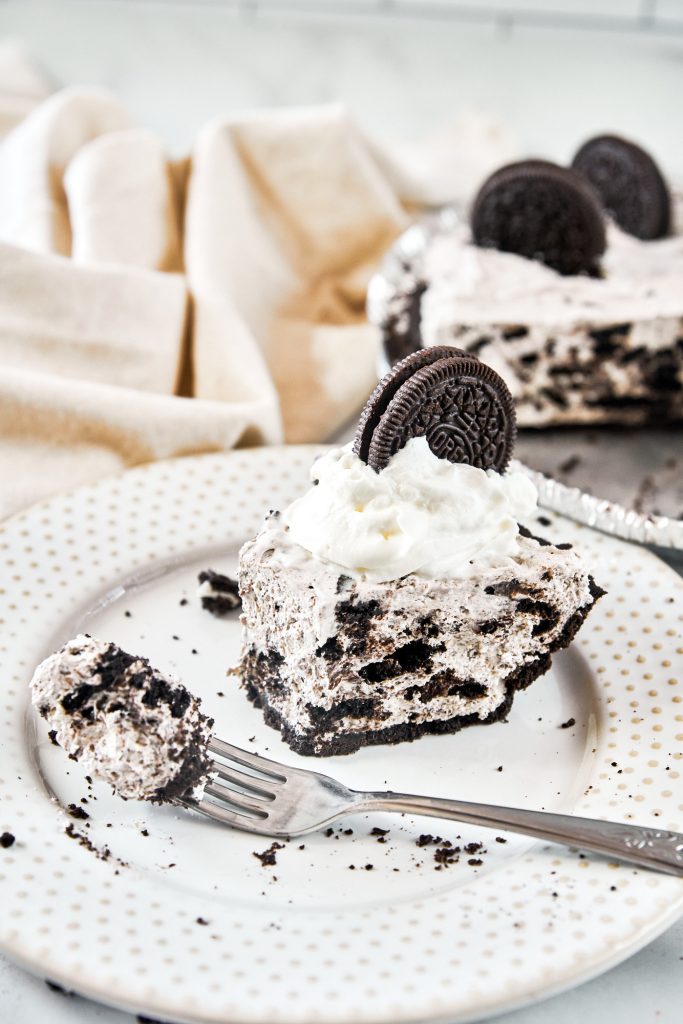 How To Store The Vegan Oreo Cheesecake
The one thing I love about this recipe is that it takes a short time to make yet it stores so wonderfully!
You can store your vegan Oreo cheesecake in the fridge for up to 1 week as long as it is covered by a plastic baggie or a cake dome.
Alternatively, you can slice the cheesecake into individual slices and freeze it.
I love freezing this recipe because it retains the original flavor much better than keeping it in the fridge for that long, and you always have a delicious slice to eat whenever you want it!
To eat, simply remove the Oreo cheesecake from the freezer and let it thaw out a bit on the counter. I do recommend only taking out the amount you need instead of thawing and refreezing the whole thing over and over again!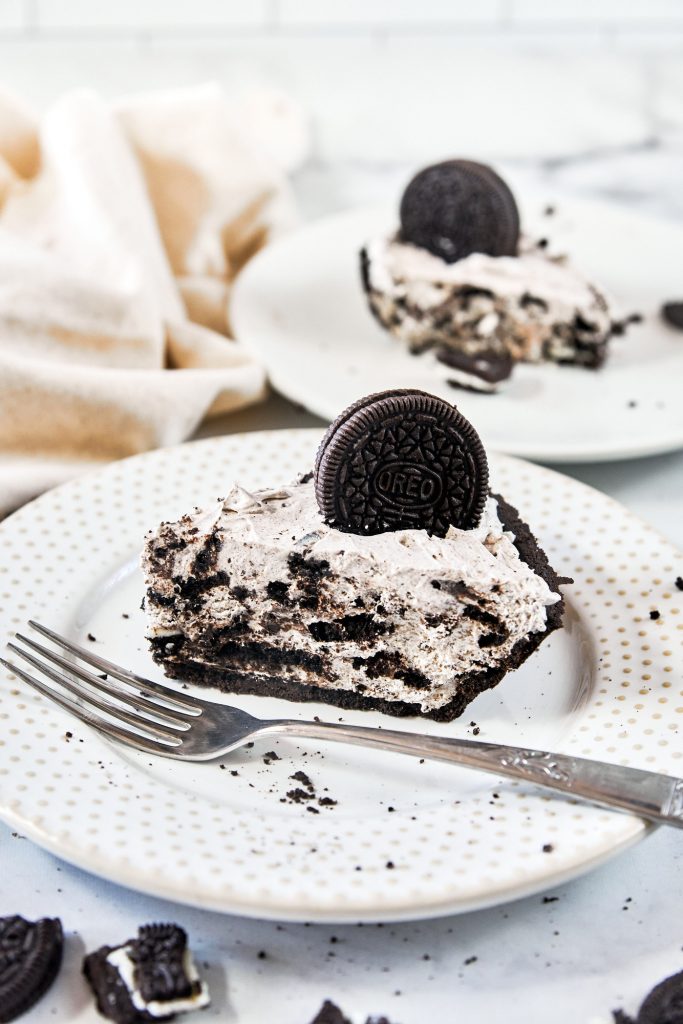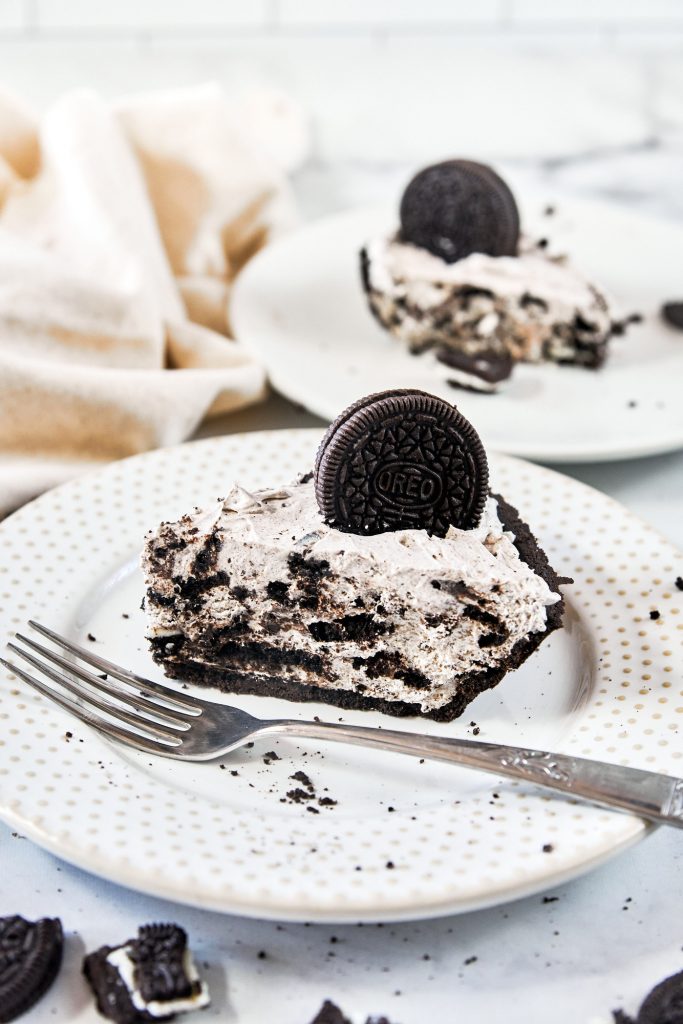 Did You Try This Recipe?
If so, I would love to keep in touch! I enjoy seeing photos and comments about the recipes that you make! You can follow me on Instagram and I will repost your goodies in my stories and comment on it too! Just tag me at @wowitsveggie and hashtag #wowitsveggie. I can't wait to see what you make!
Yield: One 9-inch Oreo Cheesecake
No-Bake Vegan Oreo Cheesecake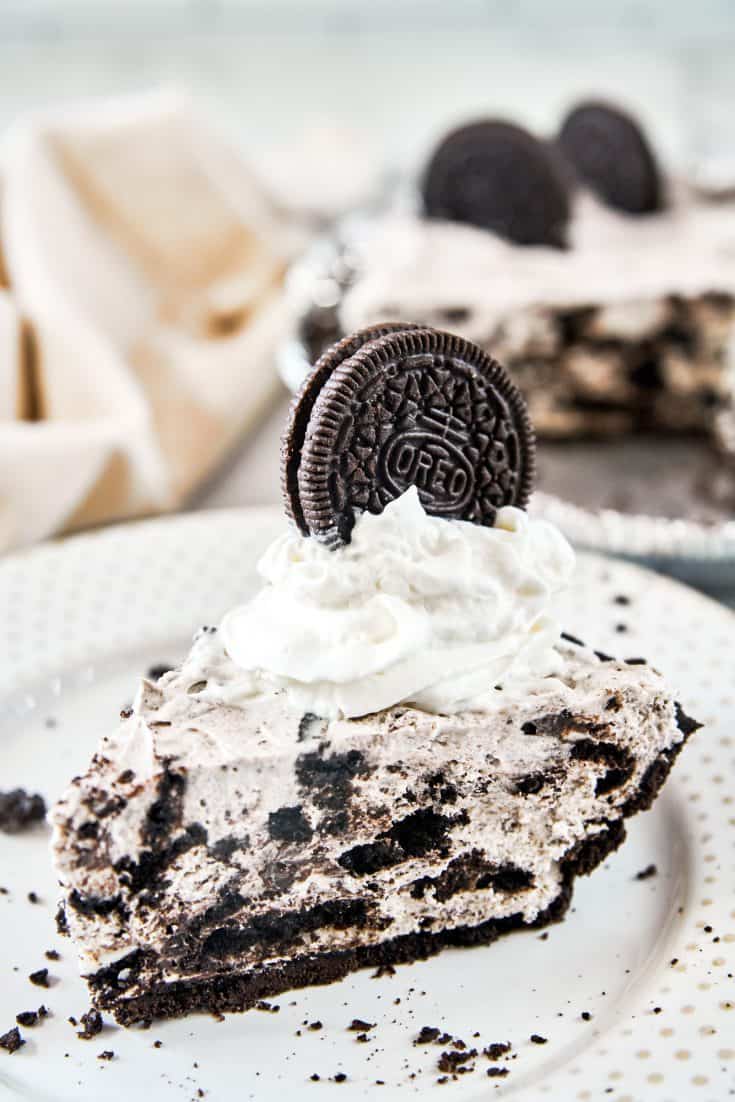 This no-bake vegan Oreo cheesecake is so easy to make and the end result is a restaurant-quality dessert. To make Oreo cheesecake vegan, we want to follow a similar method for preparing and simply use non-dairy ingredients. This recipe takes less than 15-minutes to prepare and everyone loves it.
Ingredients
8 ounces vegan cream cheese, softened
8 ounces non-dairy whipped topping (such as CocoWhip)
1 teaspoon vanilla extract
1/2 teaspoon lemon juice
3 teaspoons powdered sugar
20-25 Oreos
Pre-made Oreo pie crust (or your homemade version)
Instructions
In a large bowl, use an electric hand mixer or stand mixer to beat the vegan cream cheese until soft and whipped. I use Tofutti cream cheese but you can use any kind you want, even homemade. Make sure the vegan cream cheese is soft before you start.
Once soft, beat in the lemon juice, powdered sugar, and vanilla extract until combined.
Using a wooden spoon, fold in the non-dairy whipped topping until it is combined with the cream cheese mixture. You do not want to use the hand mixer for this part.
Now, it is time to crush your Oreos. I crush Oreos by placing them in a plastic bag and then using a rolling pin or the back of a spoon to crush them. You want the Oreos to be crushed in various sizes, both large and smaller chunks in order to fill out the entire inside of the vegan Oreo cheesecake. I like to use between 20-25 Oreos but you can use as few or as many as you like!
Once you crush your Oreos, use a wooden spoon to fold them into the whipped cream mixture. Make sure they are incorporated throughout.
Pour the mixture into your store-bought Oreo pie crust. If you want to make your own crust, that works too, but a pre-made kind just saves time! Use the back of a spatula to smooth out the top.
Decorate your vegan Oreo cheesecake any way you want! You can stick an Oreo into the top of each slice. You can top it with more crushed Oreos. You can make Vegan Vanilla Frosting and pipe that around the top. The options are endless!
Allow the cheesecake to set in the fridge until firm. I recommend chilling for 1-2 hours or overnight. Enjoy!
Nutrition Information
Yield
8
Serving Size
1
Amount Per Serving
Calories

454
Total Fat

28g
Saturated Fat

14g
Trans Fat

0g
Unsaturated Fat

8g
Cholesterol

0mg
Sodium

285mg
Carbohydrates

48g
Fiber

2g
Sugar

28g
Protein

5g