You have probably had a creamy mushroom pasta recipe when you are dining out, but have you ever made it at home?
This recipe for mushroom pasta is super easy and allows you to bring restaurant-quality food home in a flash!
It whips up quickly and is perfect for weeknight cooking or whenever you feel like you want something super tasty and delicious!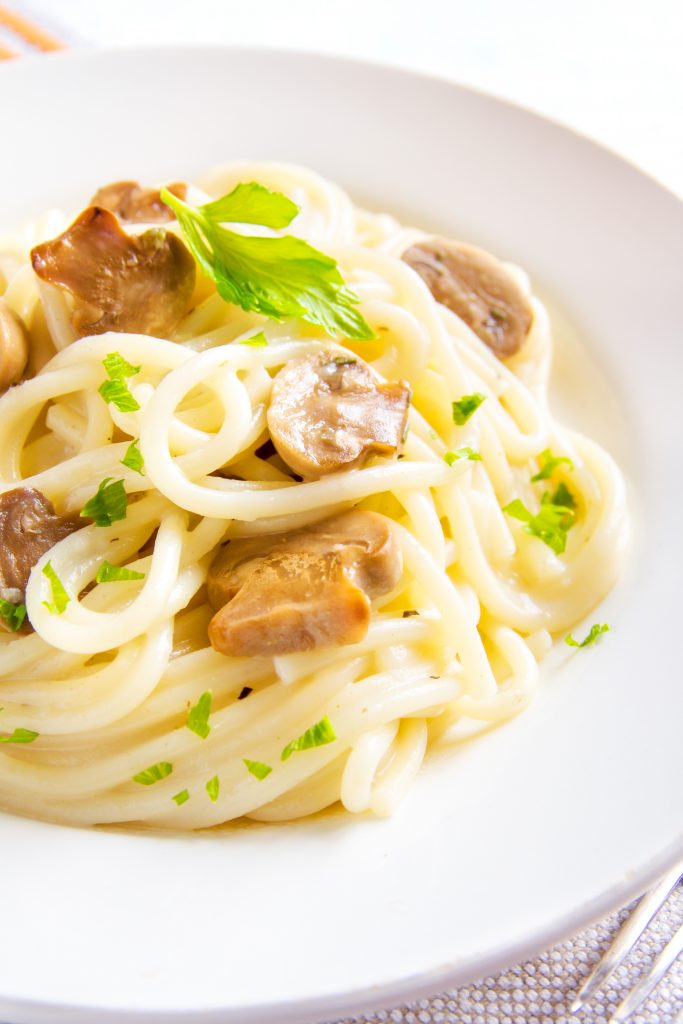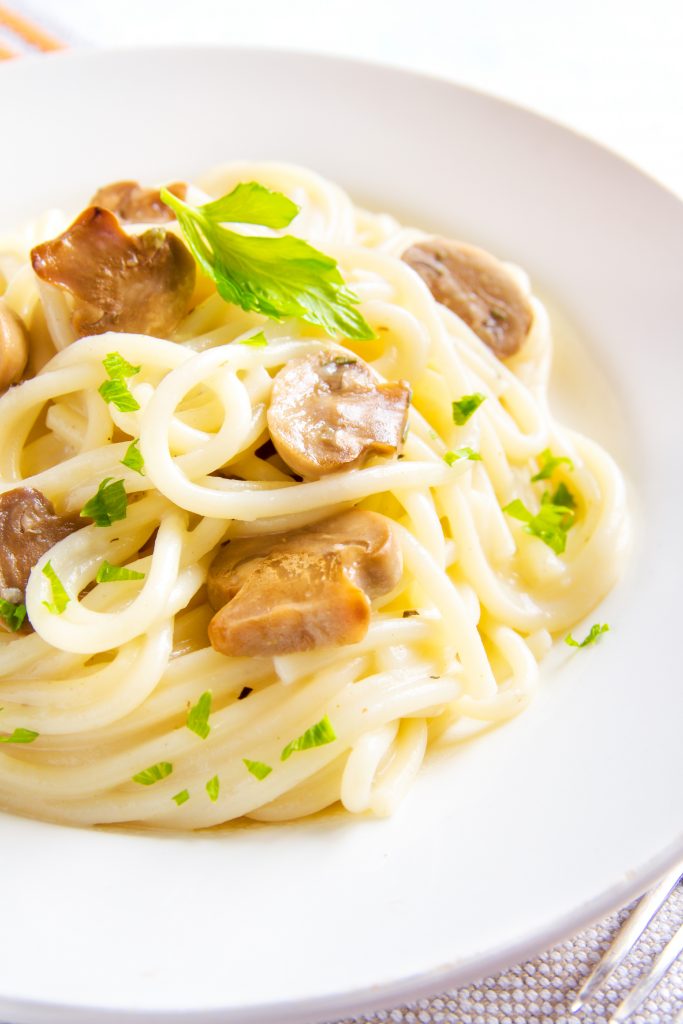 You can easily modify this recipe depending on your taste, and it can be veganized too by simply using non-dairy products listed in the ingredients.
It is very easy to make, but there are a few tricks which I will show you how to do below so that you can get this dreamy creamy mushroom pasta recipe just right.
This is a great recipe for serving kids [you can call it cheesy pasta!] or for serving at a party or gathering.
It is great for the mushroom pasta lover in your life because the mushrooms truly are the star of the show!
I hope you enjoy making and eating this creamy mushroom pasta recipe as much as I love eating it!
If you love this recipe, you will sure love my 10-minute Brie Mac And Cheese!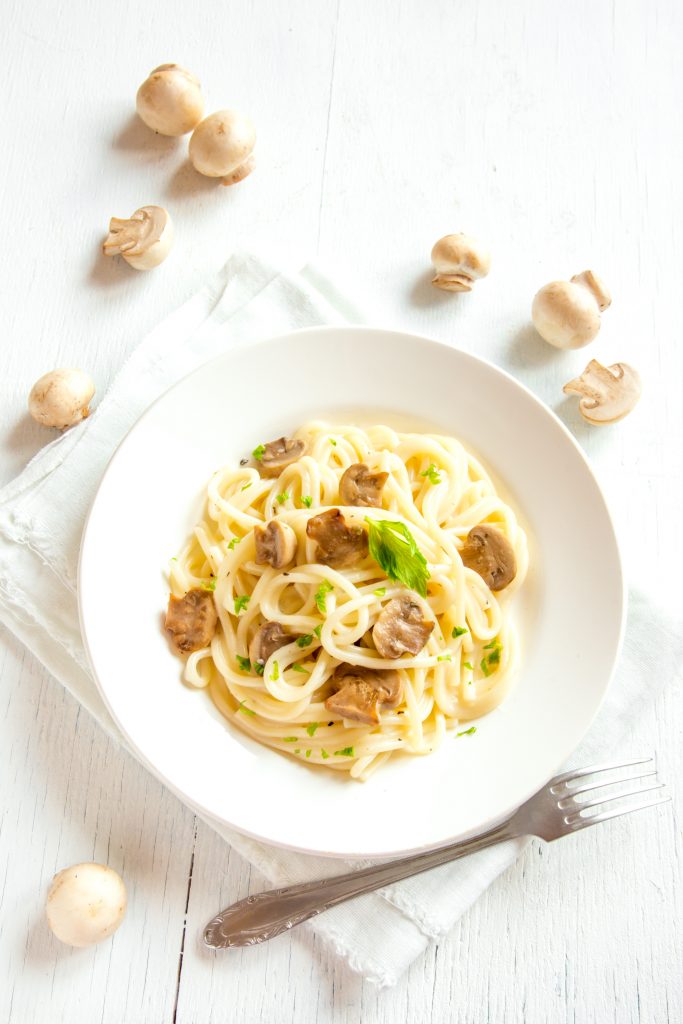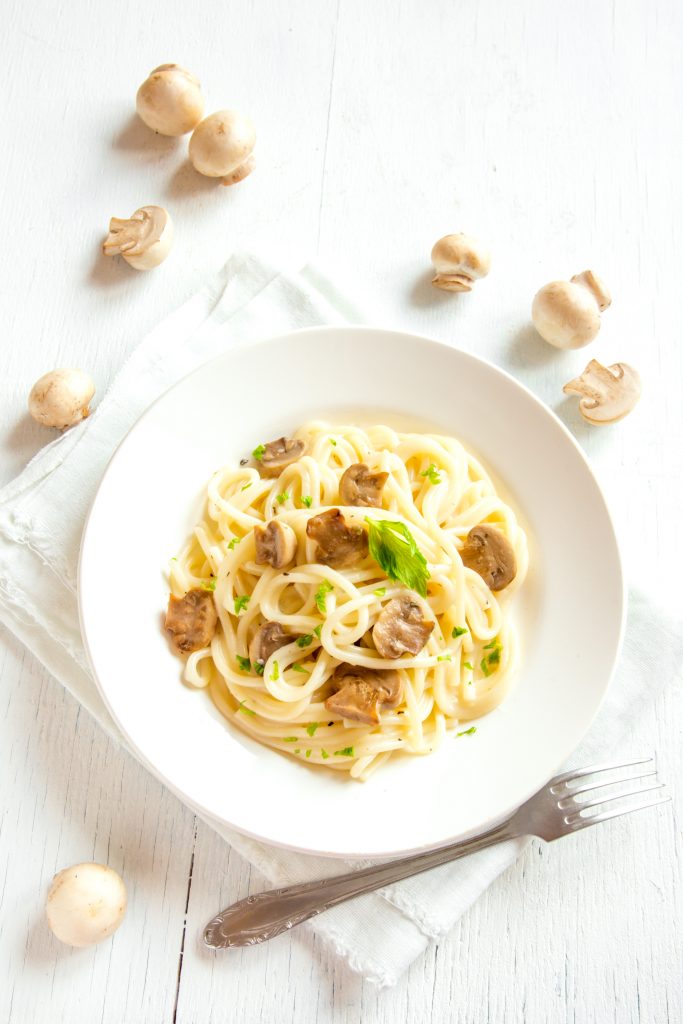 Why You Will Love This Creamy Mushroom Pasta
It cooks up super quickly! This recipe cooks up in under 20 minutes which means you can have a restaurant-quality meal in a really quick time. It is not fussy and is incredibly simple, even for new cooks!
It uses easy-to-find ingredients. If you hate running around to multiple grocery stores like I do, do not worry! This creamy mushroom pasta recipe uses ingredients that you will most likely have on hand! You may only have to go out and buy 1-2 additional items if you don't already have them.
It makes a hearty and filling meal. If you are trying to cut back on meat and are looking for a hearty and filling meal, creamy mushroom pasta will do the trick. It is delicious and when served with a Side Salad, it will make you feel full and make a lovely meal.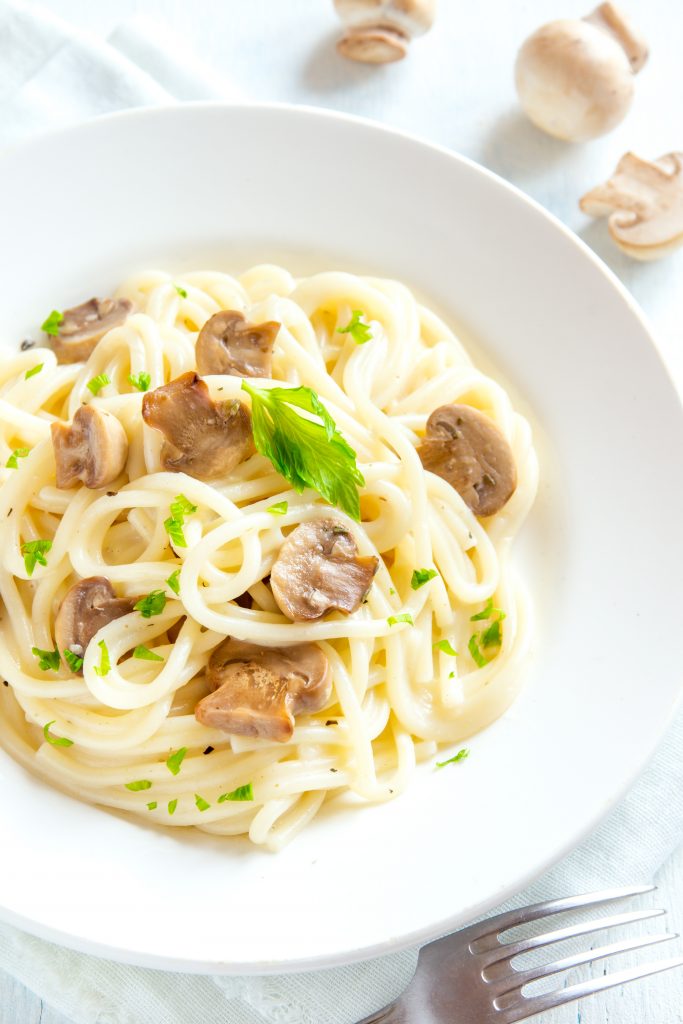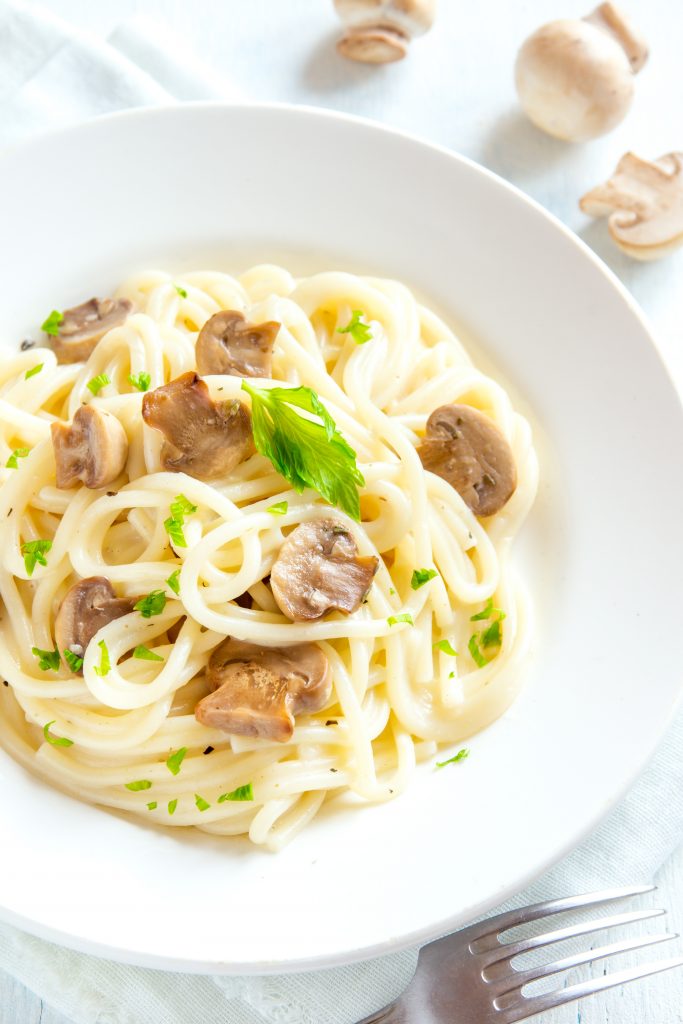 What Kind Of Mushrooms To Use
You can use any kind of mushrooms you want for this recipe!
I love using Baby Bellas as they give the color a deeper brown look or simple white button mushrooms. Don't be scared of cooking with plain white mushrooms, they are great to work with, they just need a little seasoning!
You can also use fancier mushrooms such as wild mushrooms or shiitake mushrooms if you are really looking to take it up a notch. Just make sure to follow the instructions for how long to cook different types of mushrooms.
For the sake of my creamy mushroom pasta recipe, we will be using either baby bella or white button mushrooms!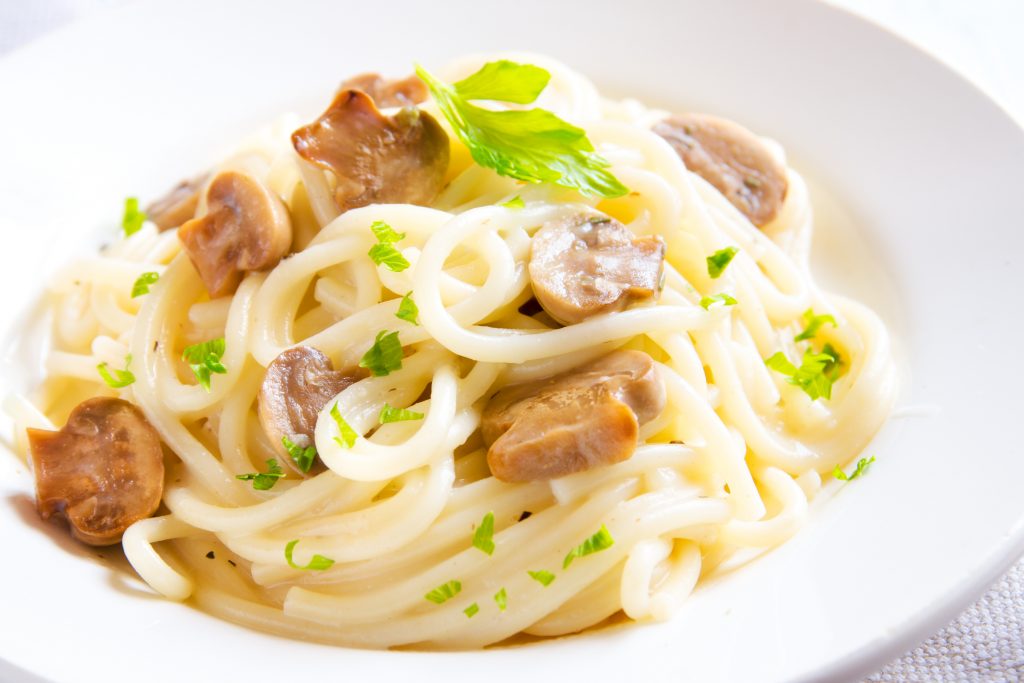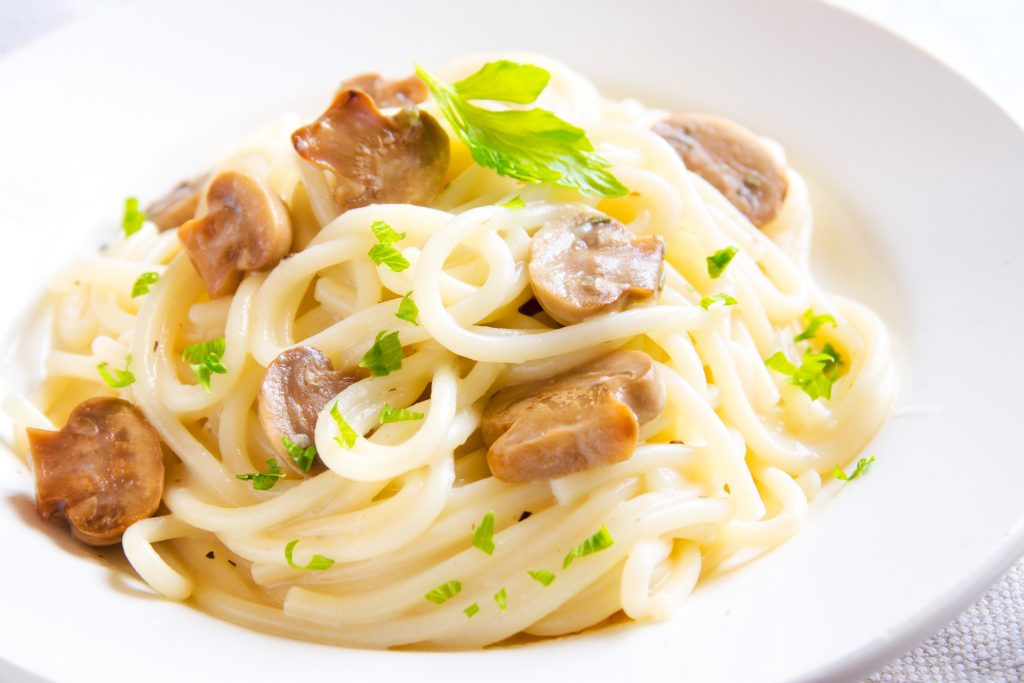 How To Make Creamy Mushroom Pasta
When making is mushroom cream pasta sauce, you may think you have to use tons and tons of cream. This is not true!
I often use non-dairy milk in mine and skip the cream all together.
You only need a little bit of cream or thick non-dairy milk in order for this recipe to work well.
You want a light creamy flavor, you don't want to be overloaded and stuffed!
First, you are going to want to boil your pasta according to the package. Don't forget 1-2 teaspoons of salt in the water.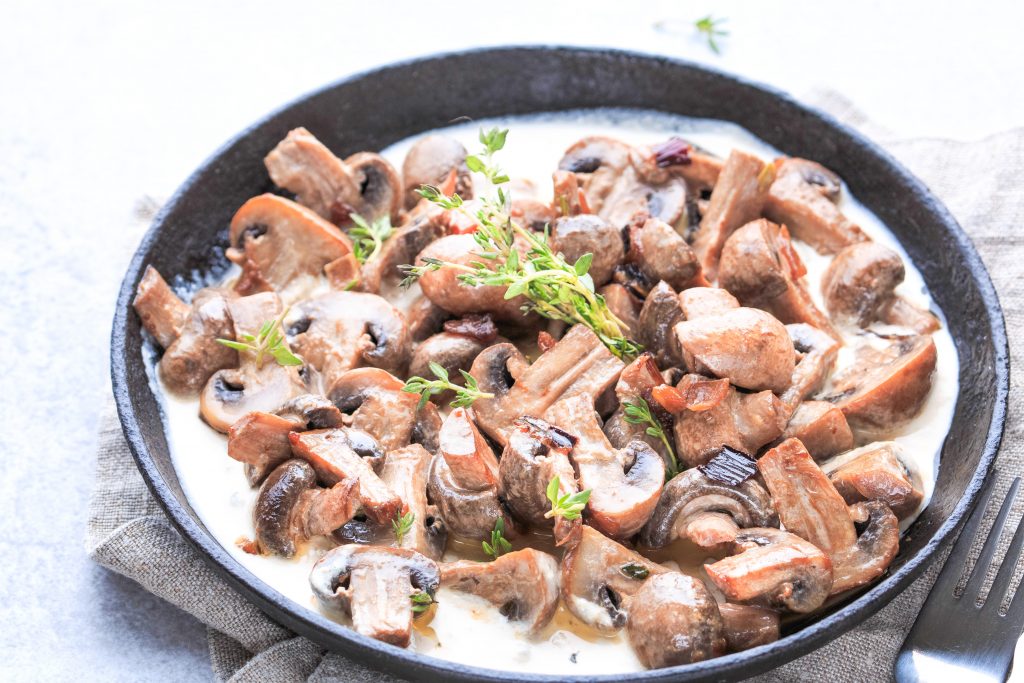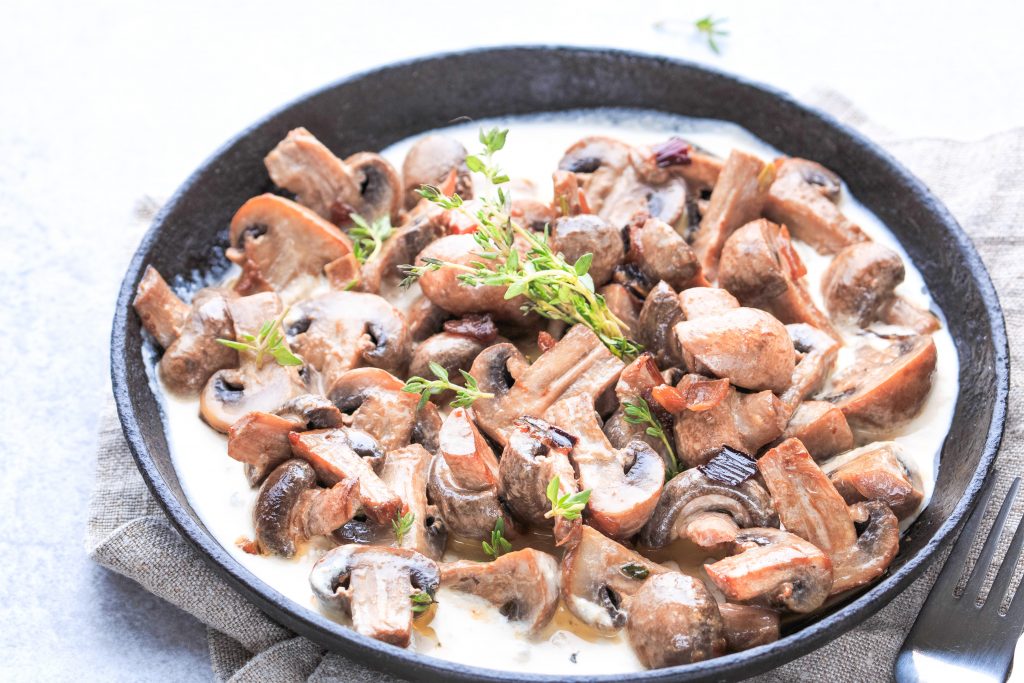 You can use any kind of pasta you like. I have made this recipe with a variety of pasta shapes and it always works out well.
Next, we are going to prepare the cream sauce with mushrooms for the pasta.
This is sinfully easy and you can play around with it according to your taste preference!
First, heat a large pan on medium heat and saute your chopped garlic in olive oil or butter. I prefer to use olive oil but you can use whichever you please!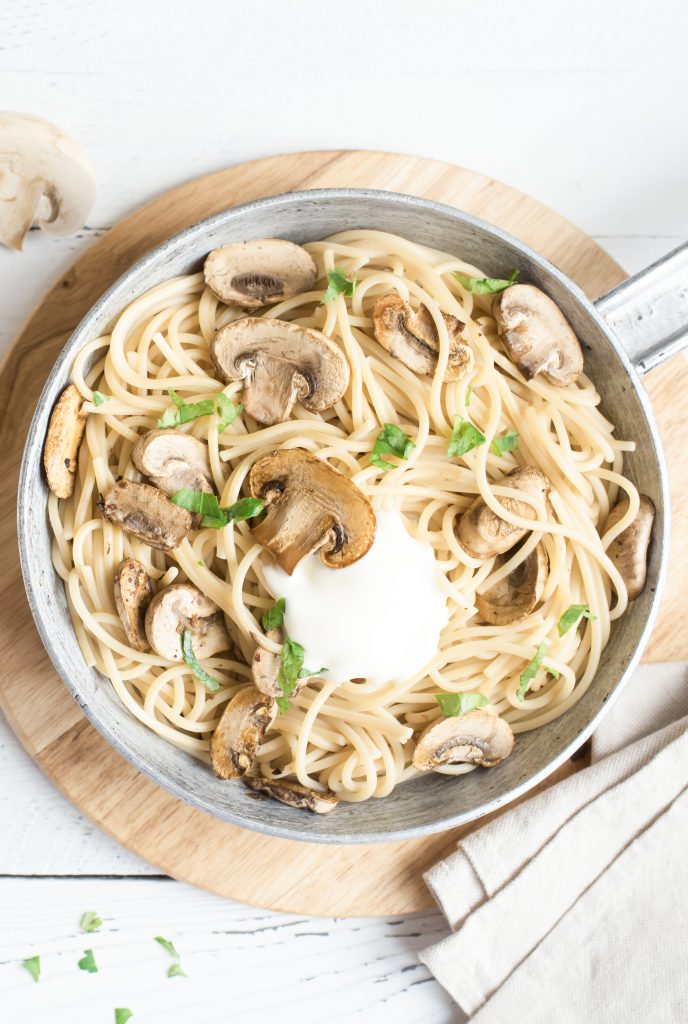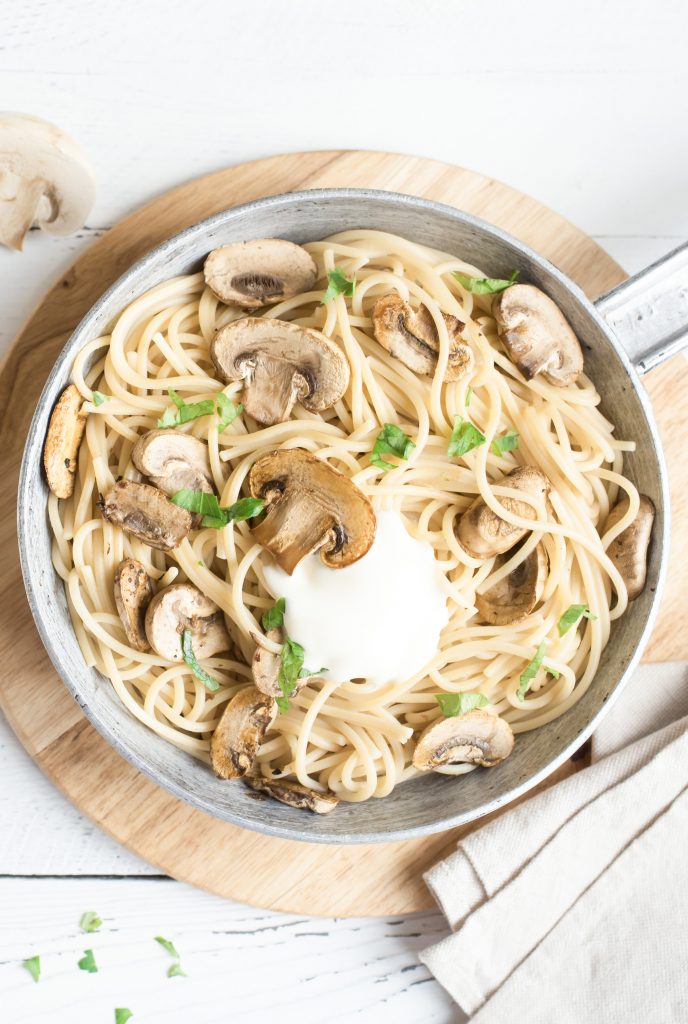 Once the garlic is fragrant, add in your chopped mushrooms. You want to cook the mushrooms until they are soft and a little brown.
This usually takes about 5-7 minutes but depends on your stove and the type of mushrooms you are using.
No matter what type of mushroom you are using, you want to ensure they are cooked, but not burnt or super tiny.
Season your mushrooms salt and pepper to taste.
Next, pour in your water and allow the veggies to simmer until the water reduces to half.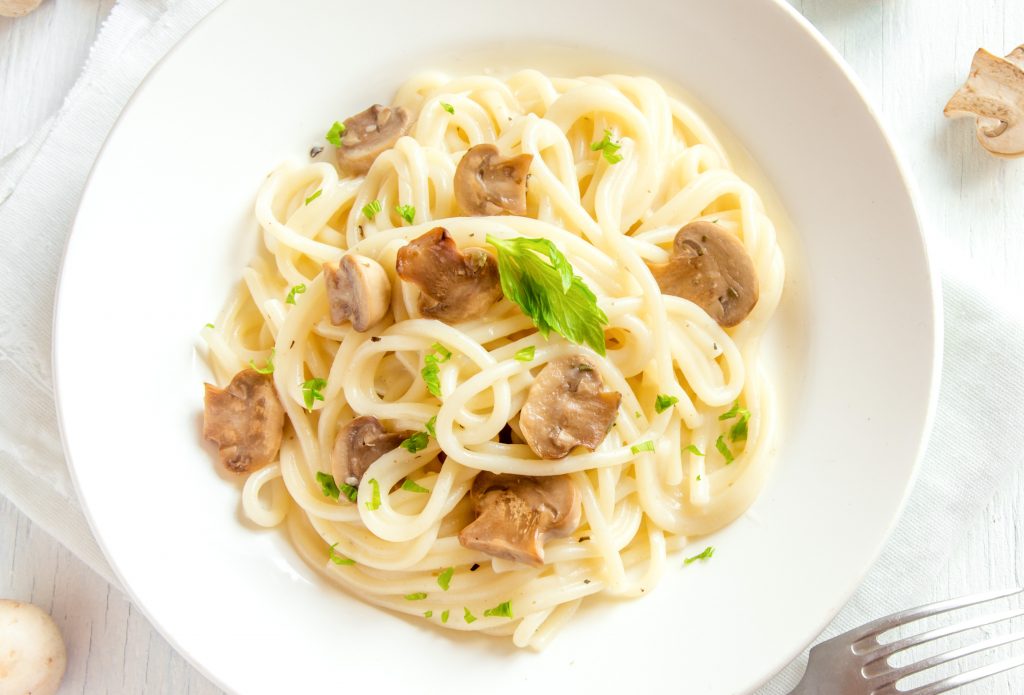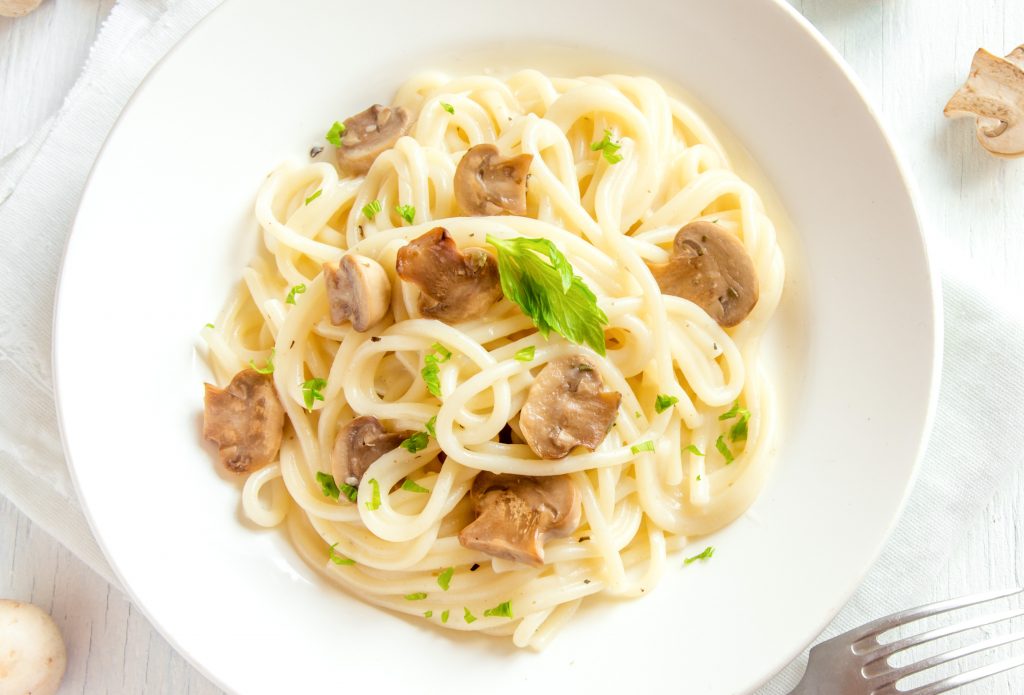 Then, pour in your heavy cream or thick non-dairy milk.
Stir so that the cream is mixed in with the reduced water.
Add in all of your spices and a bit more salt and pepper.
As your creamy mushroom pasta sauce begins to thicken, stir in your parmesan cheese.
I love using parmesan flakes as they are higher quality than the kind you get in a green bottle. The extra little effort is worth it for a high-quality creamy pasta.
Once the sauce has been made, drain your pasta water and add the pasta to the pan with the sauce/mushrooms.
If your sauce has thickened too much, you can add a splash of pasta water or regular water to loosen it up a little bit. If your sauce is too thin, continue to simmer until it reduces and clings to the individual pasta noodles.
Once you have combined the pasta and the sauce, you are ready to serve.
To serve, simply add more parmesan and fresh herbs to your taste and you are ready to go! f you loved this recipe, you may also like my 1-Pot Vegan Tomato Sauce too!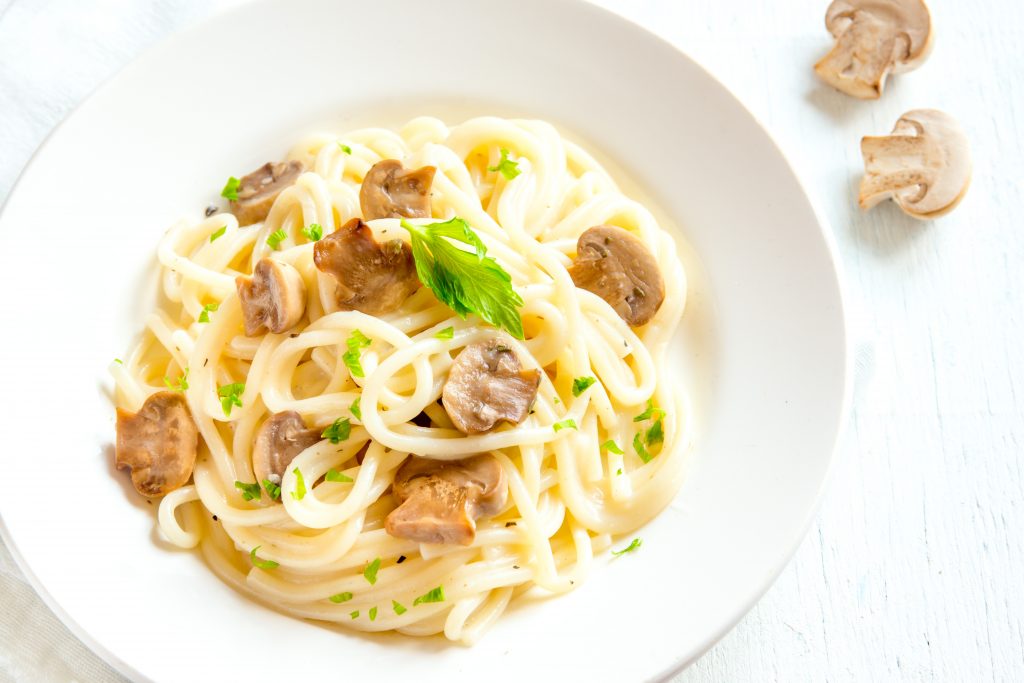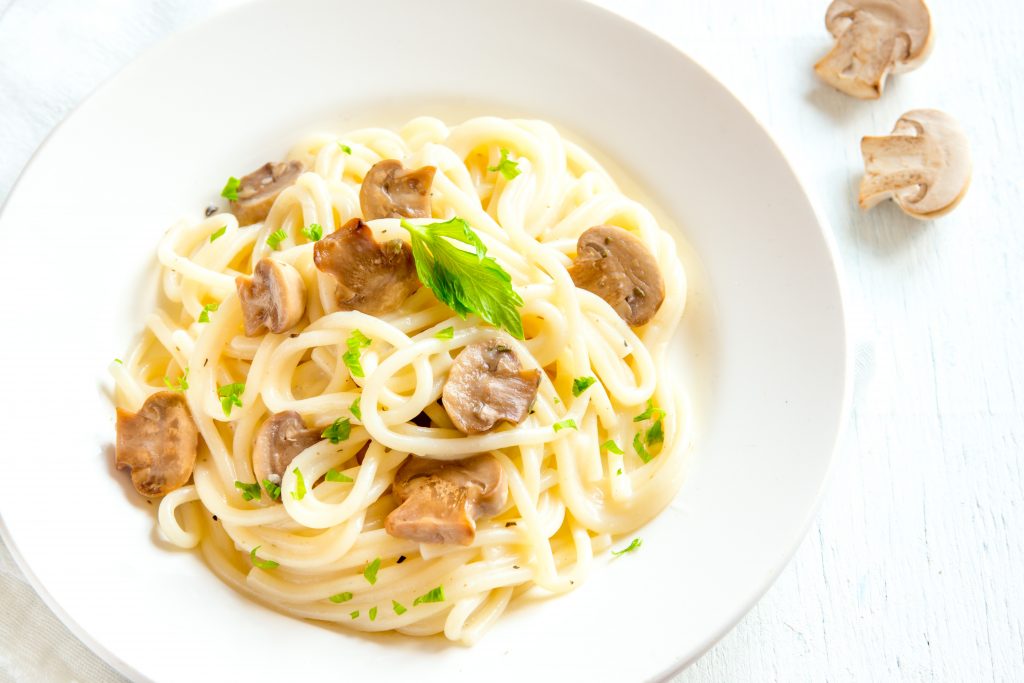 How To Reheat This Mushroom Pasta Recipe
You can store the creamy mushroom pasta in an air-tight container in the fridge for 3-5 days.
To reheat, I do recommend reheating it on the stove for best results.
Pasta acts like a sponge and soaks up everything in its path. As a result, the creamy pasta will now be more like dry pasta.
To reconstitute, simply add a splash or water or milk and place the pasta in a pan on the stove over medium heat. Continue adding a bit of water or milk until your desired consistency is achieved.
It is hard to reconstitute using milk or water when using the microwave, but you can do it this way if you like! If you loved this recipe, you may also like my Vegan Pumpkin Pasta Recipe!
Did You Try This Recipe?
If so, I would love to keep in touch! I enjoy seeing photos and comments about the recipes that you make! You can follow me on Instagram and I will repost your goodies in my stories and comment on it too! Just tag me at @wowitsveggie and hashtag #wowitsveggie. I can't wait to see what you make!
Yield: 4 servings
20-Minute Creamy Mushroom Pasta Recipe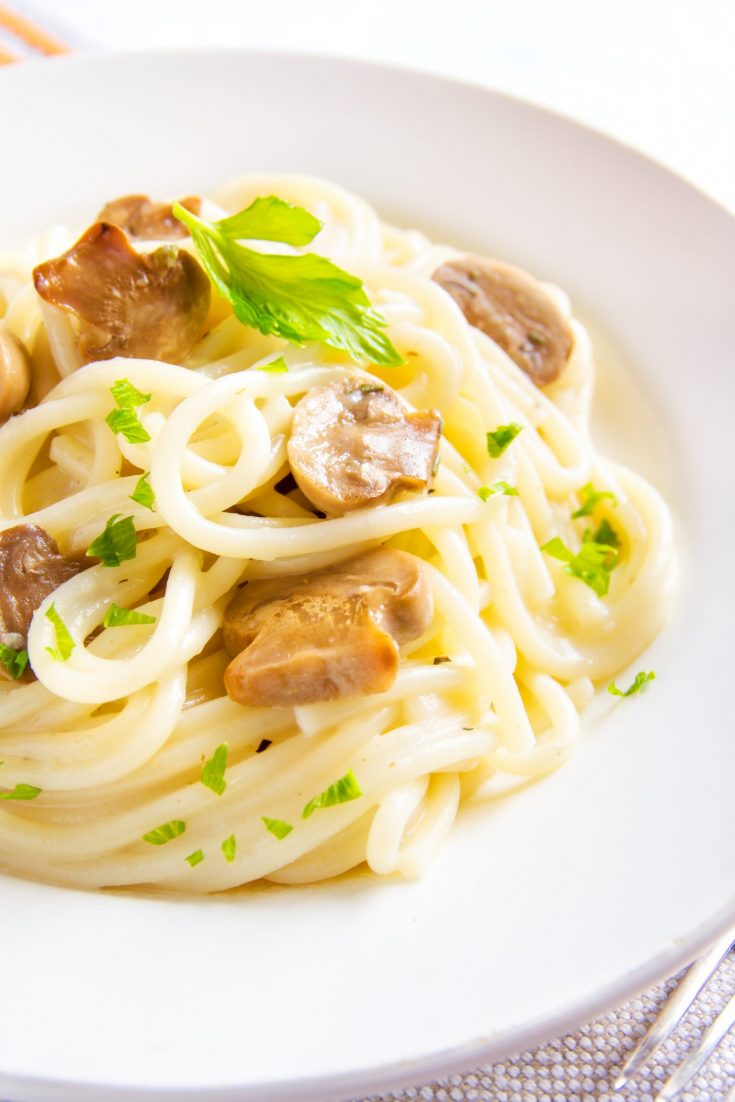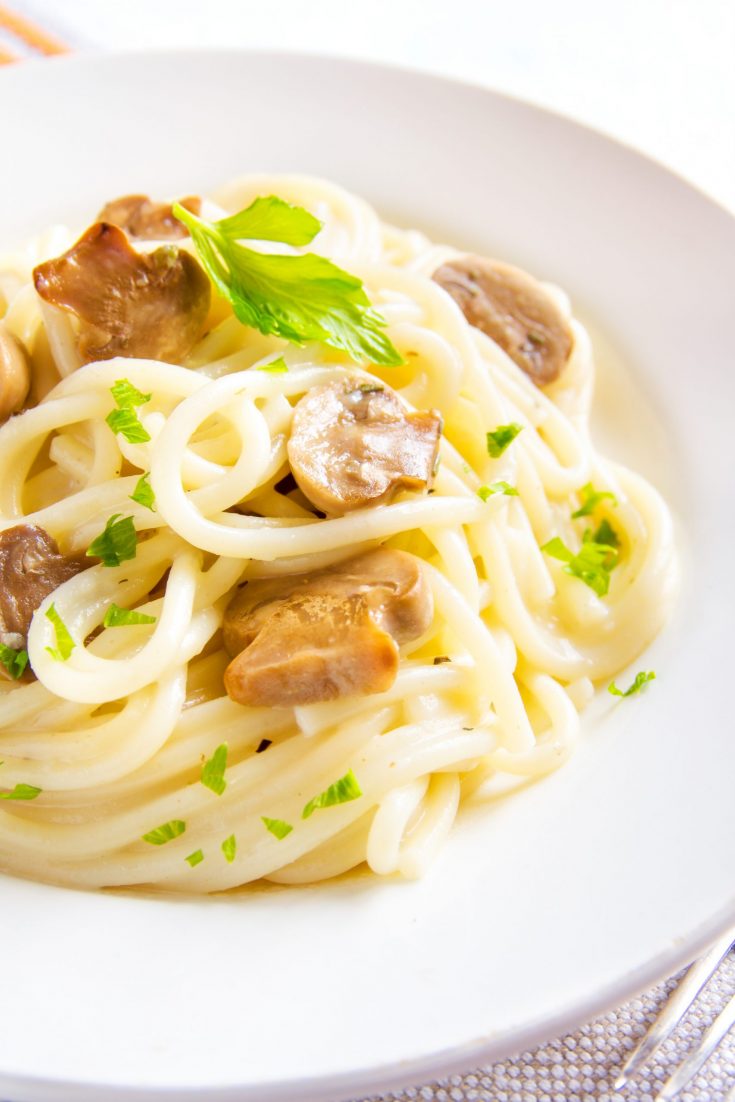 This creamy mushroom pasta recipe allows you to make restaurant-quality food right in your home! It uses very easy ingredients and takes just 20 minutes. The end result is a creamy and dreamy pasta everyone will love.
Ingredients
13 ounces pasta (any shape)
10 ounces mushrooms, sliced (any kind!)
1 cup heavy cream or thick non-dairy milk
1 cup water
1/2 cup fresh parmesan (I love using flakes!)
4 cloves of garlic, minced
2 teaspoons dried thyme
2 teaspoons dried basil
Fresh parsley for serving
Olive oil for frying
Grated parmesan for serving
Instructions
Bring your water to a boil and cook your pasta according to the instructions. I recommend generously salting your pasta water using 2 teaspoons of salt or more.
In a large pan over medium heat, saute your garlic in olive oil until fragrant. Add in your chopped mushrooms and continue to cook until mushrooms are soft, about 5 minutes. I usually use baby bella or white button mushrooms, but you can use whichever kind you want! Salt the mushrooms and season with pepper to taste.
Add in your water and cook until water reduces to half.
Add in your heavy cream or thick non-dairy milk along with all of the spices and more salt and pepper to taste. Stir until the heavy cream is mixed throughout the mushrooms. Cook the mushrooms in the cream and allow the mixture to reduce and thicken a bit more.
Once the mushroom pasta sauce thickens, add in your fresh parmesan and stir until incorporated.
Drain your pasta and add the pasta to the mushroom mixture on low heat. If your sauce is too thick, add a bit more water to thin it out. It if isn't thick enough yet, continue to cook until it reduces to your desired consistency.
Serve topped with more fresh parmesan and fresh parsley!
Notes
Please note: you can use any mushroom you want for this recipe! Just make sure to follow the instructions on how long to cook the specific type that you are using! Some mushrooms take longer to cook than others!
Nutrition Information
Yield
4
Serving Size
1
Amount Per Serving
Calories

496
Total Fat

31g
Saturated Fat

17g
Trans Fat

1g
Unsaturated Fat

11g
Cholesterol

84mg
Sodium

305mg
Carbohydrates

41g
Fiber

4g
Sugar

7g
Protein

15g