This vegan crunchwrap supreme is literally the best of the best when it comes to making amazingly delicious food with no animal products.
Crunchwrap supremes are a very popular dish at Taco Bell, but of course, like many things, they are not vegan.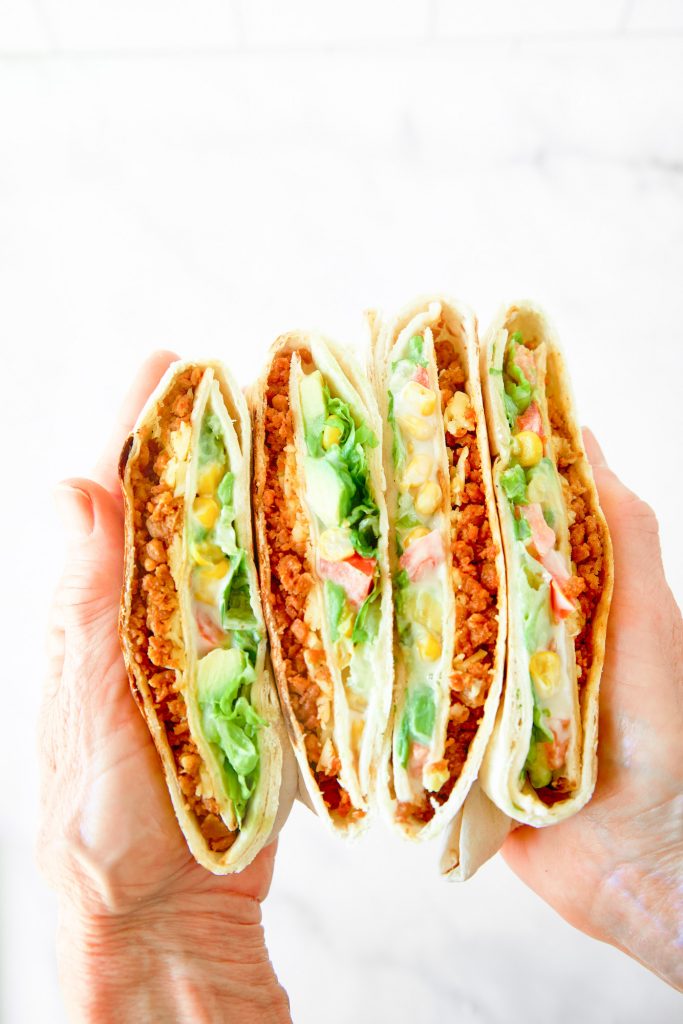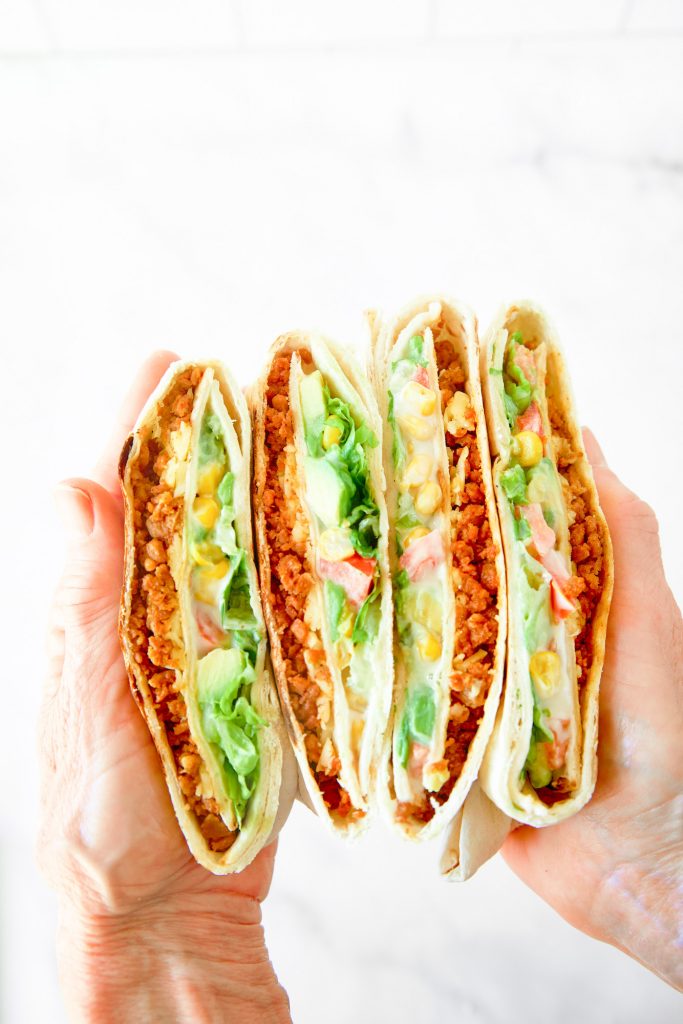 With a little innovation and a few tries, I bring you this easy Taco Bell copycat crunchwrap supreme that is 100% vegan and totally delicious!
If you are vegetarian, you can simply use dairy cheese in place of vegan cheese in this recipe and you are good to go.
This vegan crunchwrap is super simple to make and takes no more than 10 to 15 minutes of your time.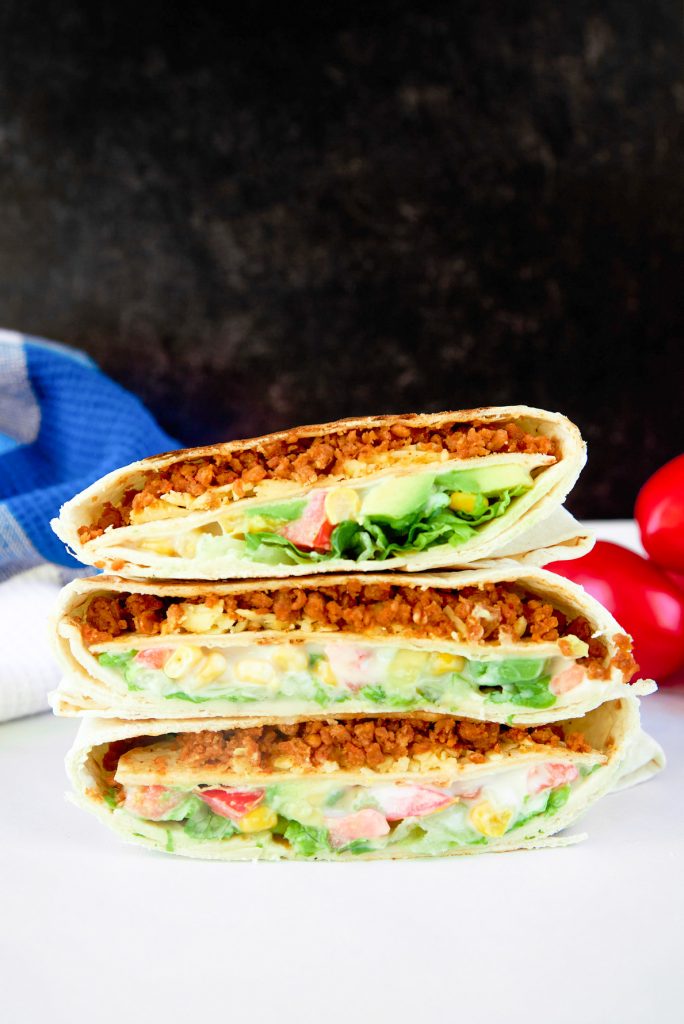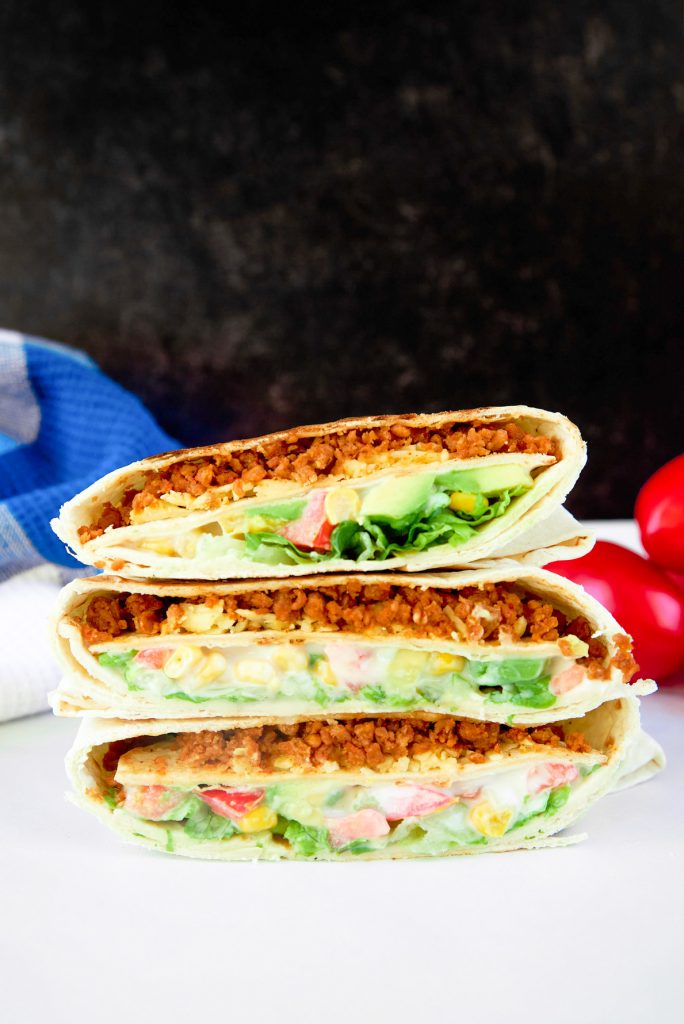 Many vegan crunchwrap supreme recipes require a lot of extra work such as making your own Queso Cheese Sauce (which I have as a recipe and you can do if you want!) making your own taco filling by marinating tofu, making a guac topping etc.
If you want to put in the time, that is totally fine! But if a recipe requires a lot of different steps and work, I usually skip it. I like to add in a few shortcuts so you can eat the crunchwrap as much as you want!
If you want easy but tasty and quick vegan food with a big payoff, my vegan crunchwrap supreme recipe is the one for you.
There is no right or wrong way to make your crunchwrap, so don't stress! Let me guide you and show you the tips!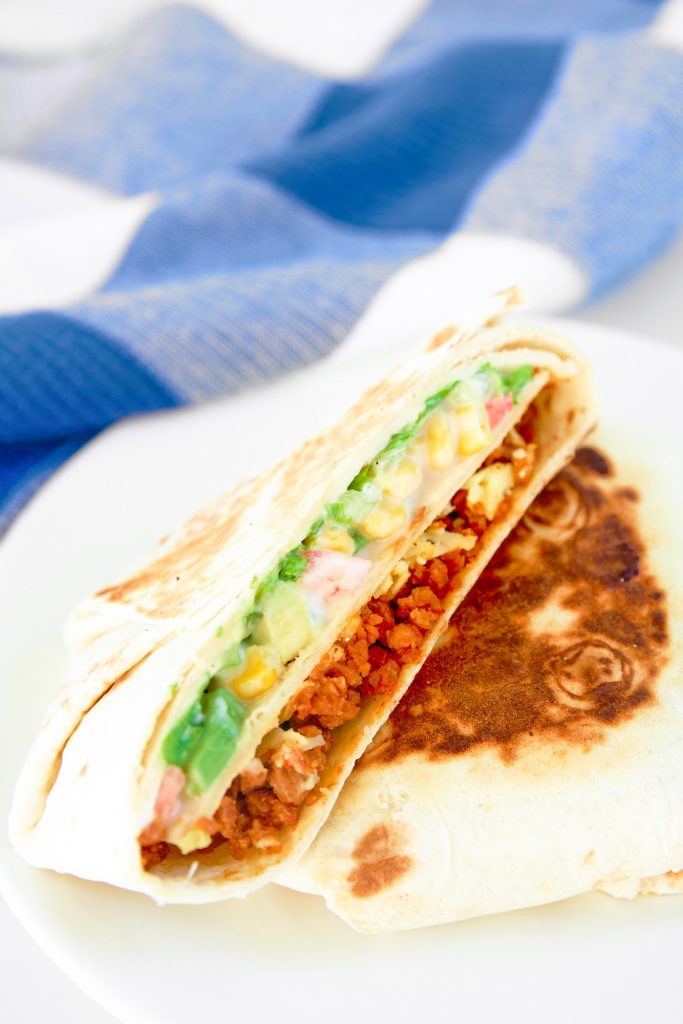 What Is A Crunchwrap Supreme?
If you don't know what a crunchwrap supreme is, it is essentially a bunch of taco fillings including meat (at Taco Bell) cheese, a tostada chip, veggies, and sour cream wrapped in a huge flour tortilla like a burrito and then fried on the griddle.
The outside is crispy and the inside is soft with the crunch of the chip which really makes for a unique and wonderful flavor.
The way Taco Bell serves the crunchwrap supreme is not vegan, but with a few quick changes, you can make it yourself at home. Eat it with one of our Best Sides For Tacos and you can make it a tasty meal!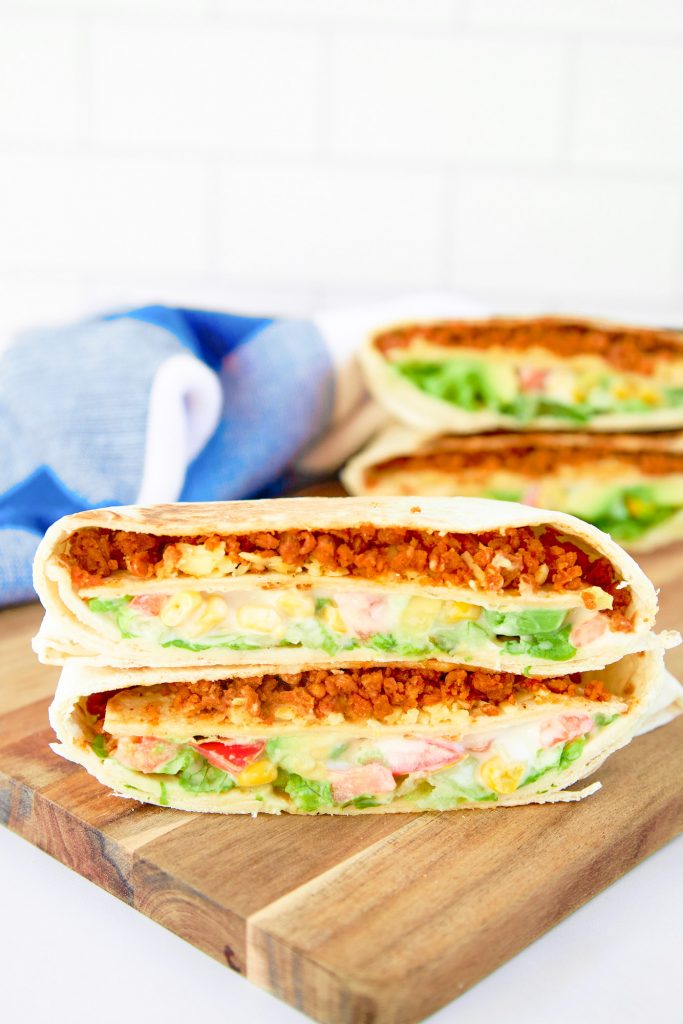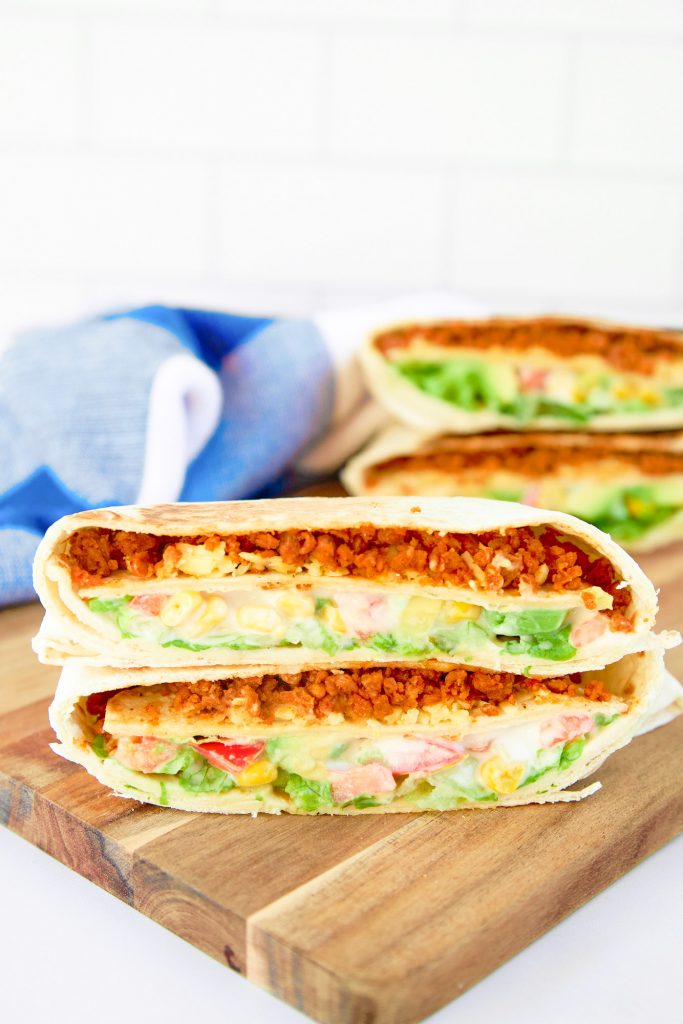 Why You Will Love This Vegan Crunchwrap Recipe
An explosion of flavor. The vegan crunchwrap is an explosion of flavor like you have never experienced. Sure, we are all used to tacos and burritos, but something about the way this recipe is layered to perfection is just so satisfying!
Minimal oil is used. The only oil you need in this recipe is to cook your vegan beefless crumbles. Otherwise, the entire crunchwrap is made without any oil at all, save for making the vegan meat filling.
Whips up very quickly. The crunchwrap supreme whips up very quickly and it really only takes 10-15 minutes at the most. While you are heating up your vegan taco meat, you can be chopping your veggies an putting the whole thing together!
A really impressive dish. I won't lie, this is an impressive dish to make for friends or yourself when you want to be fancy. It takes minimal work and the payoff is a tasty and gorgeous presentation. Don't worry, it is way easier than you may think!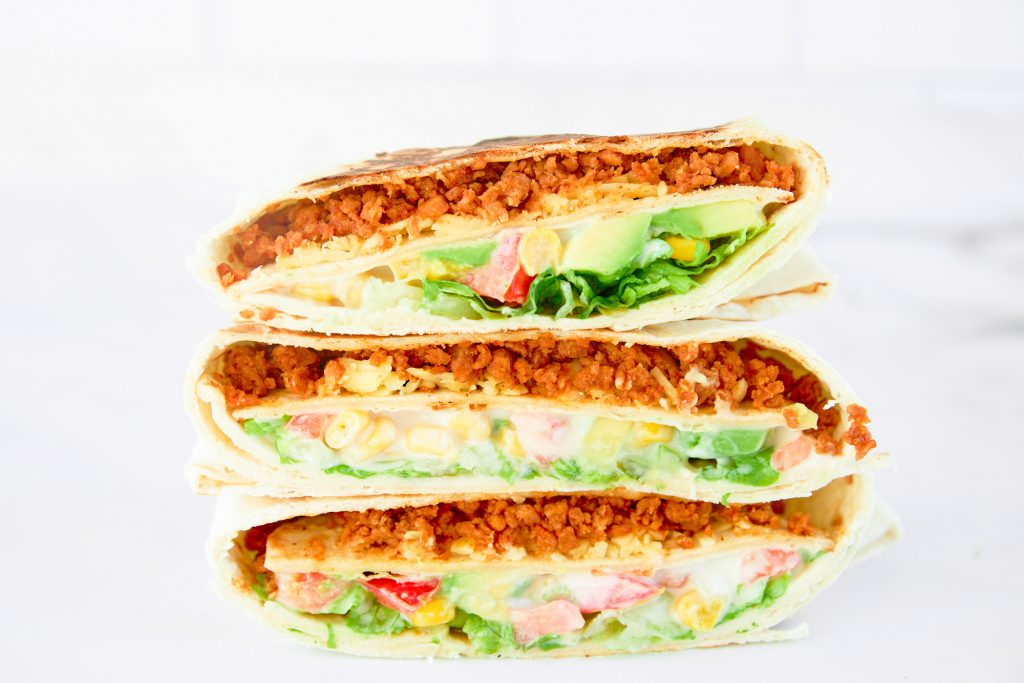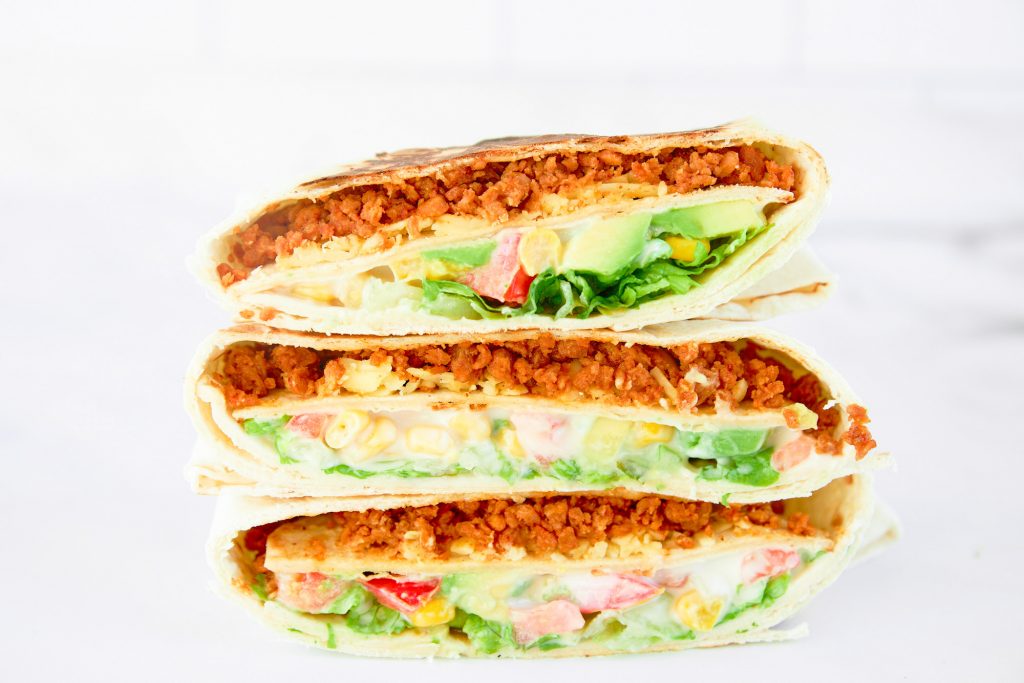 How To Make The Vegan Crunchwrap Supreme
As I said above, making the vegan crunchwrap is sinfully easy!
In order to make this recipe quick and something you can whip up on a weeknight, we do not add the Vegan Nacho Cheese sauce as it is an additional thing to make and include.
I do not feel like anything is missing from this recipe, and would prefer to have an impressive meal in under 10 minutes, than spend the extra time making the vegan nacho cheese.
The choice is yours!
First, you are going to want to saute your vegan beef crumbles. I love using Gardein Beefless Grounds, but you can use the brand of your choice.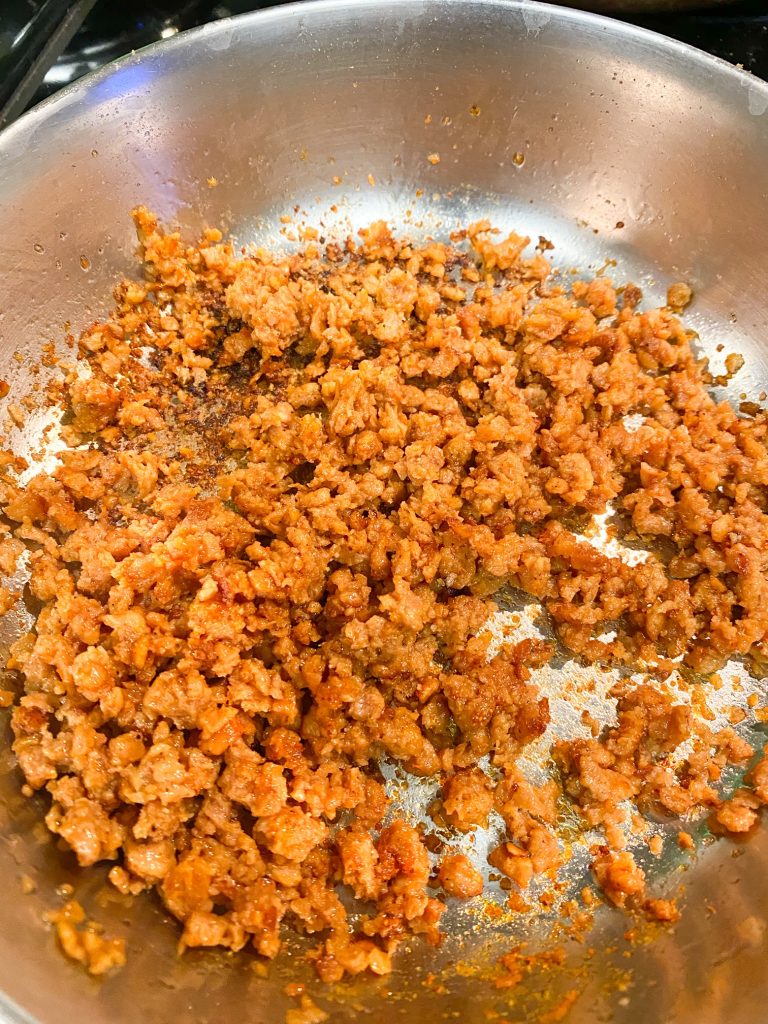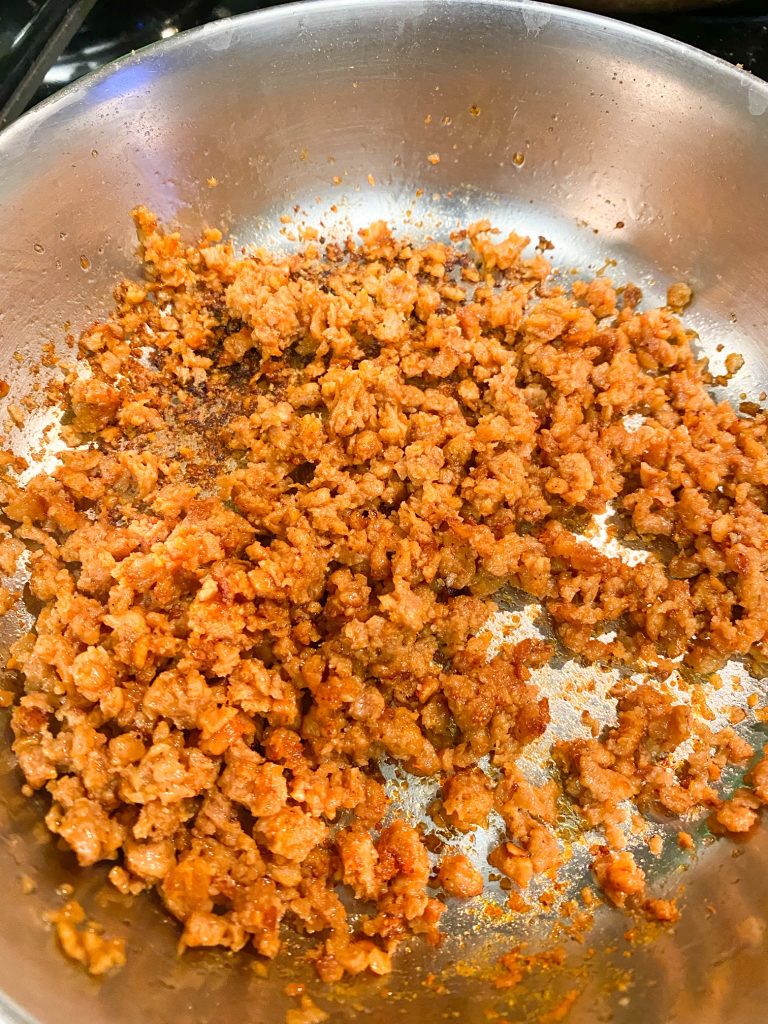 I add in a taco seasoning blend from the store to flavor my vegan meat grounds and mix them all together until cooked.
Cooking my vegan meat grounds usually takes about 3 minutes and is quite quick. You can use either frozen or refrigerated beefless crumbles.
If you don't want to use beefless crumbles, you can also use refried beans or plain black beans for an easy vegan layer.
While your vegan meat crumbles are cooking, chop the rest of the veggies.
Lay out your large flour tortilla and spoon the meat onto the center of it to form a little circle. I use a large burrito tortilla when making my vegan crunchwrap supreme.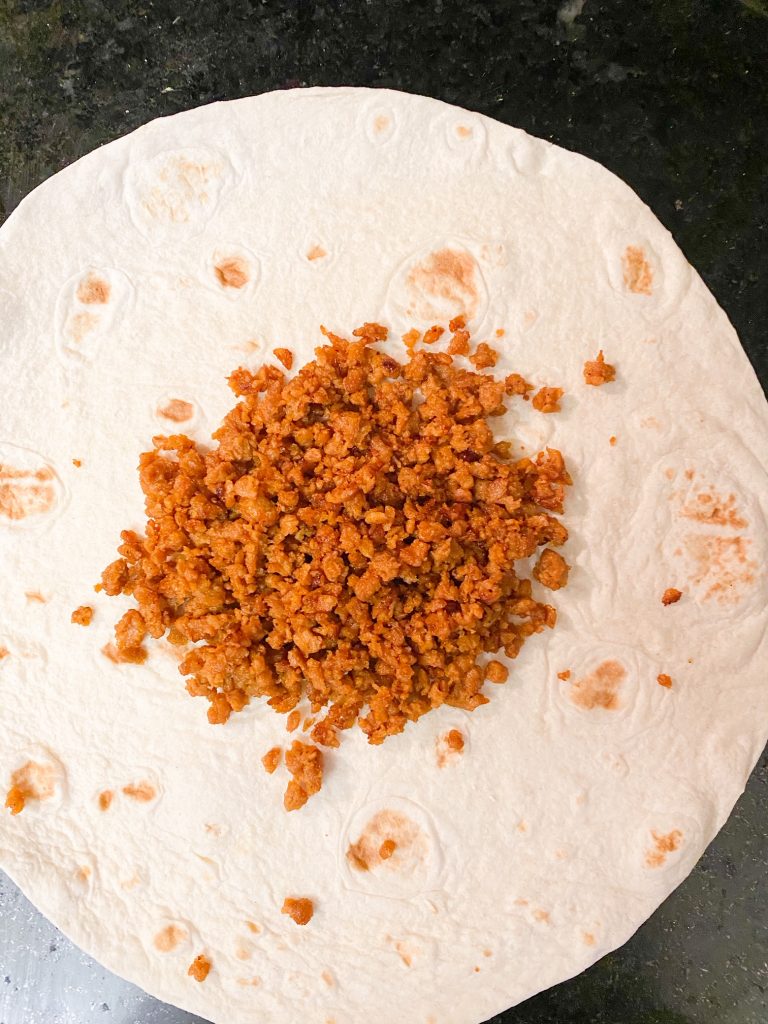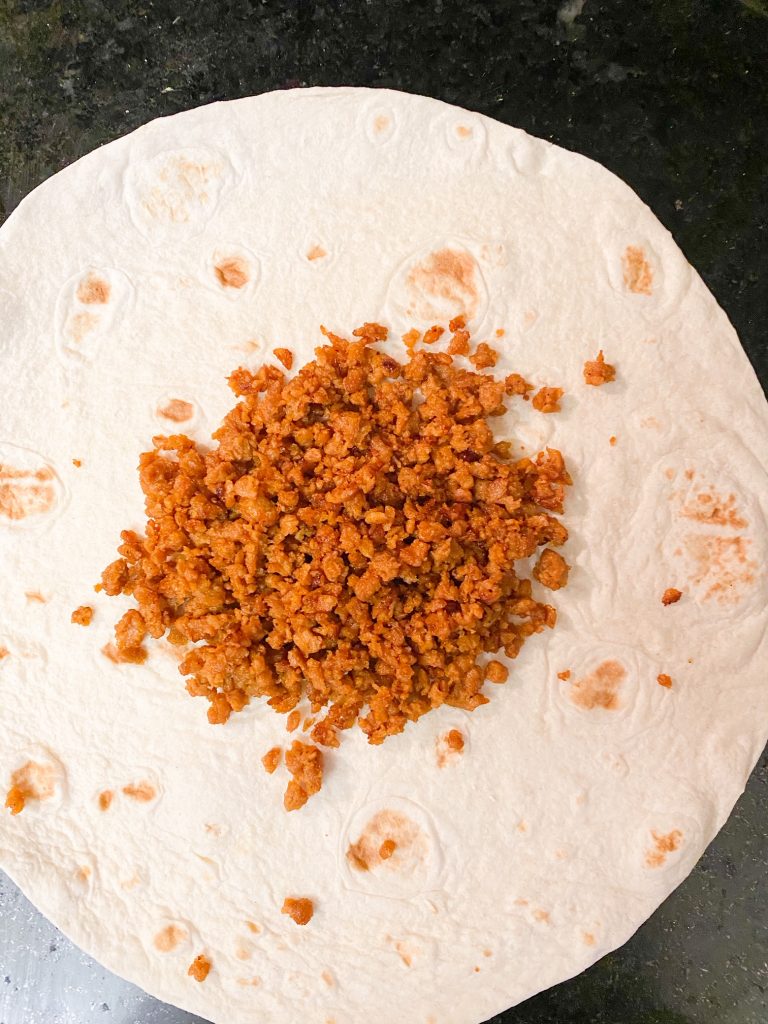 Next, add a layer of your vegan cheese sherds on top of your meat. I like to use Violife brand cheese, but any brand works.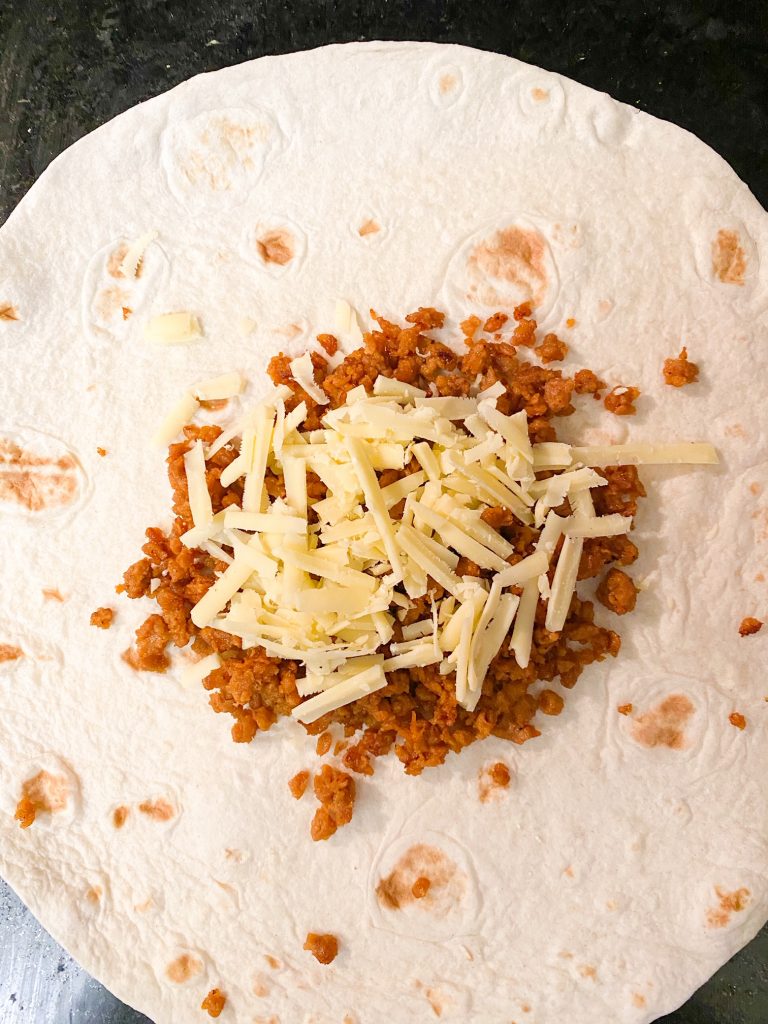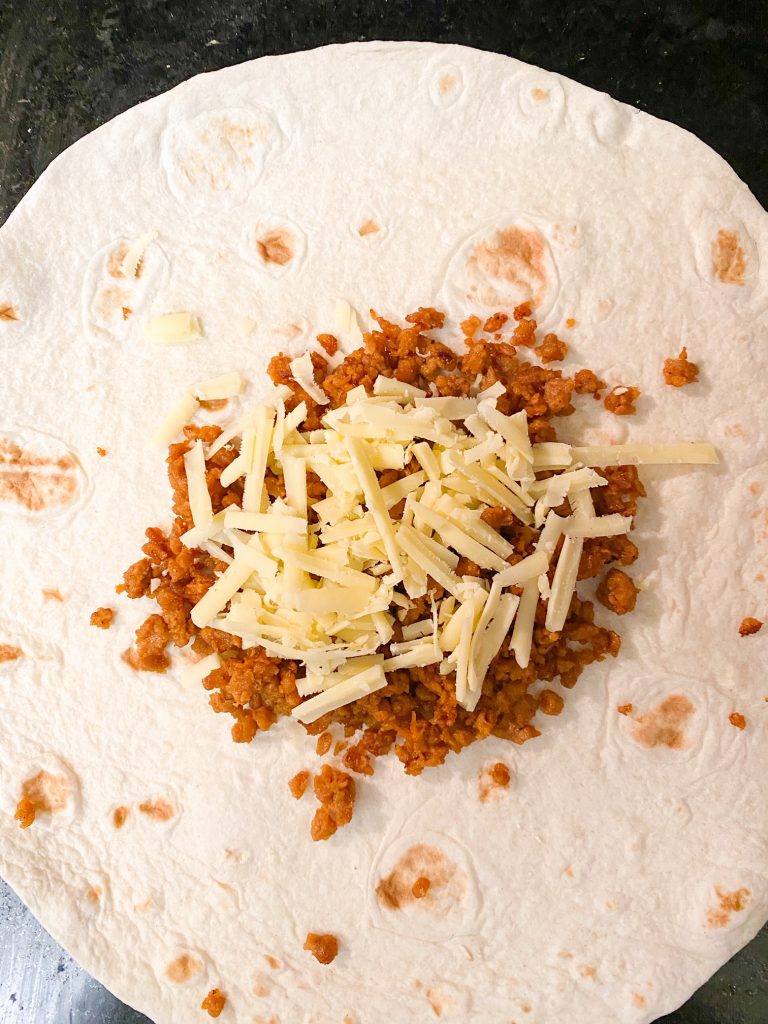 Now, you can use tortilla chips or buy a whole package of tostadas, but I am going to show you a shortcut for making the crunchy center layer.
Using scissors, cut out a small circle from the center of another burrito or taco tortilla you have on hand.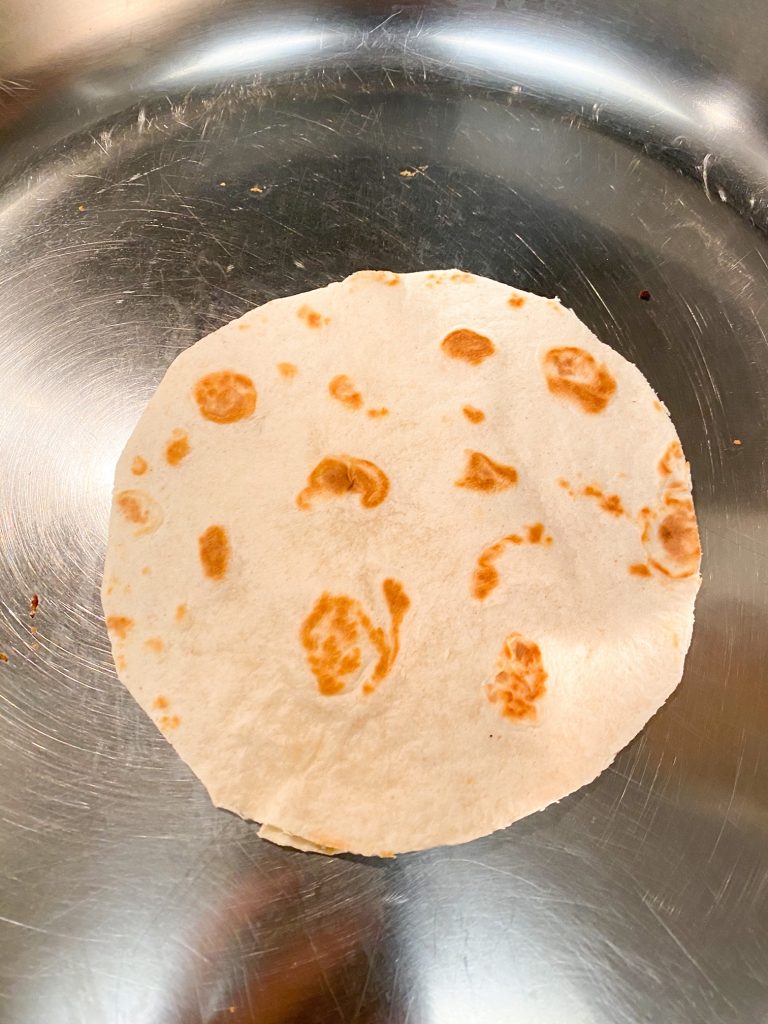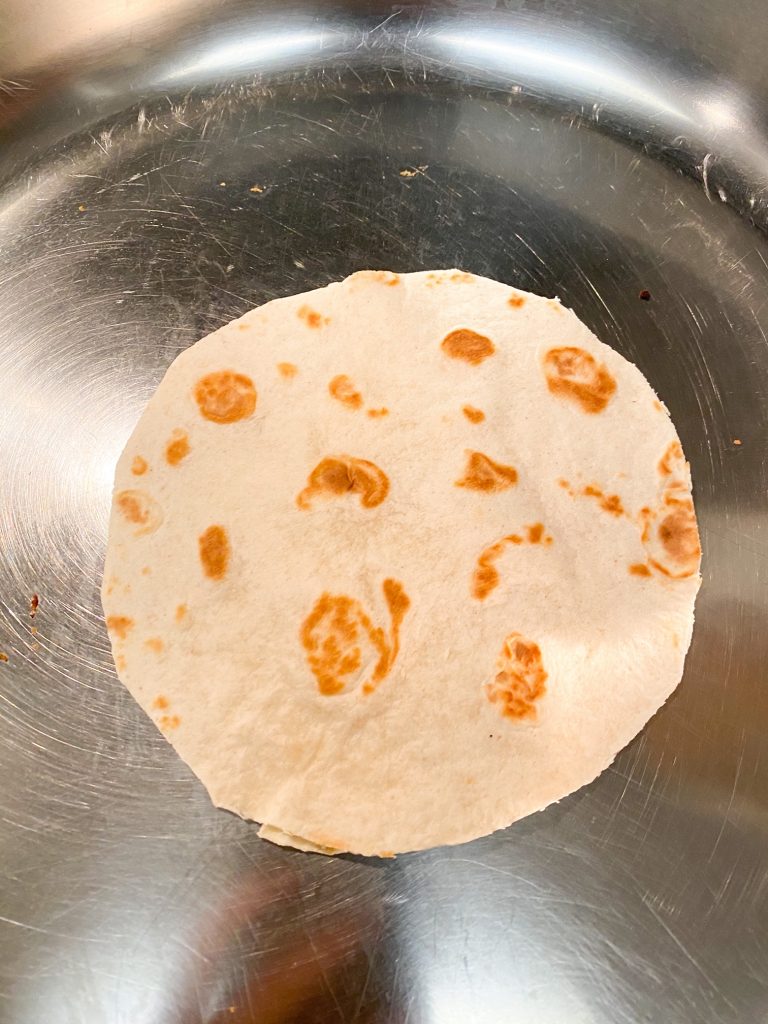 On an ungreased pan, fry the tortilla round for a few minutes until it crisps up.
Do not add oil or else it will weigh the tortilla down and it won't crisp up. It is essential to use an un-greased pan for this part.
Once your tortilla is cripy, go ahead and set the tortilla on top of the meat and cheese layer.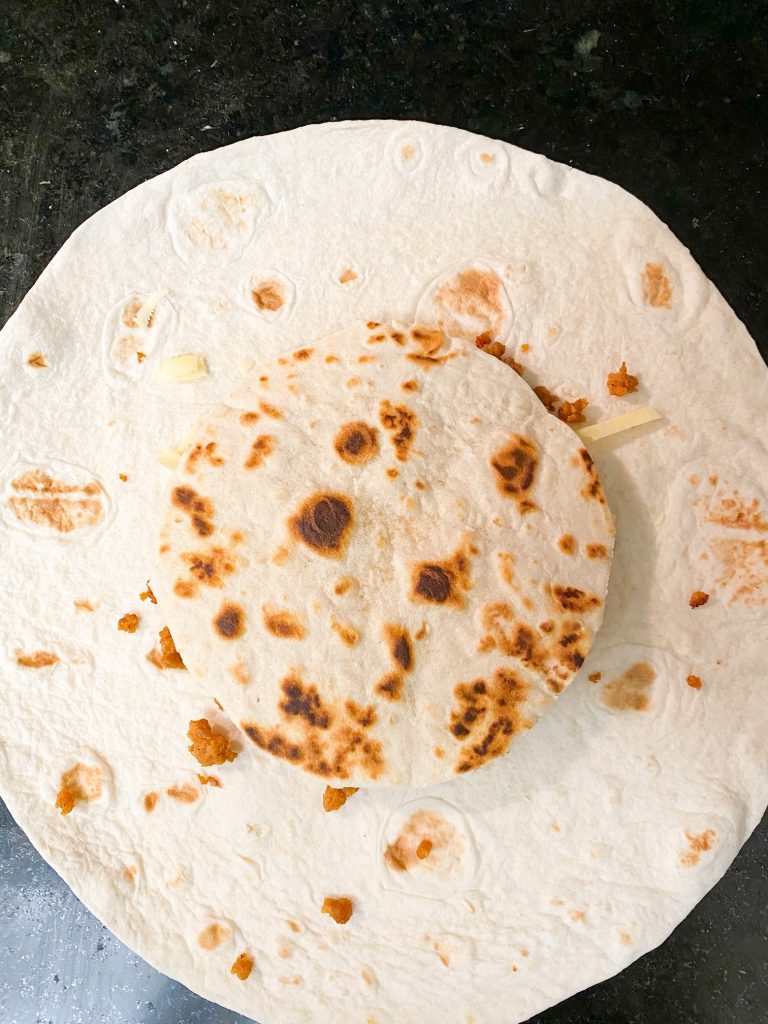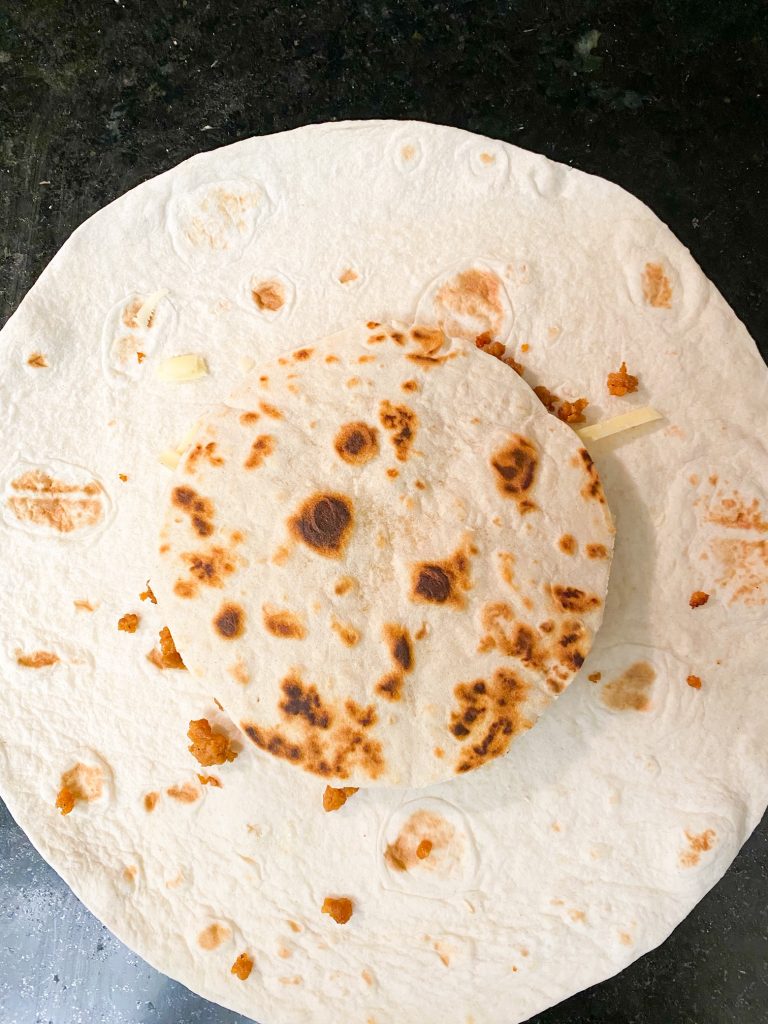 Spread the crispy tortilla with Vegan Sour Cream. You can make your own or use store-bought. I usually always have some on hand.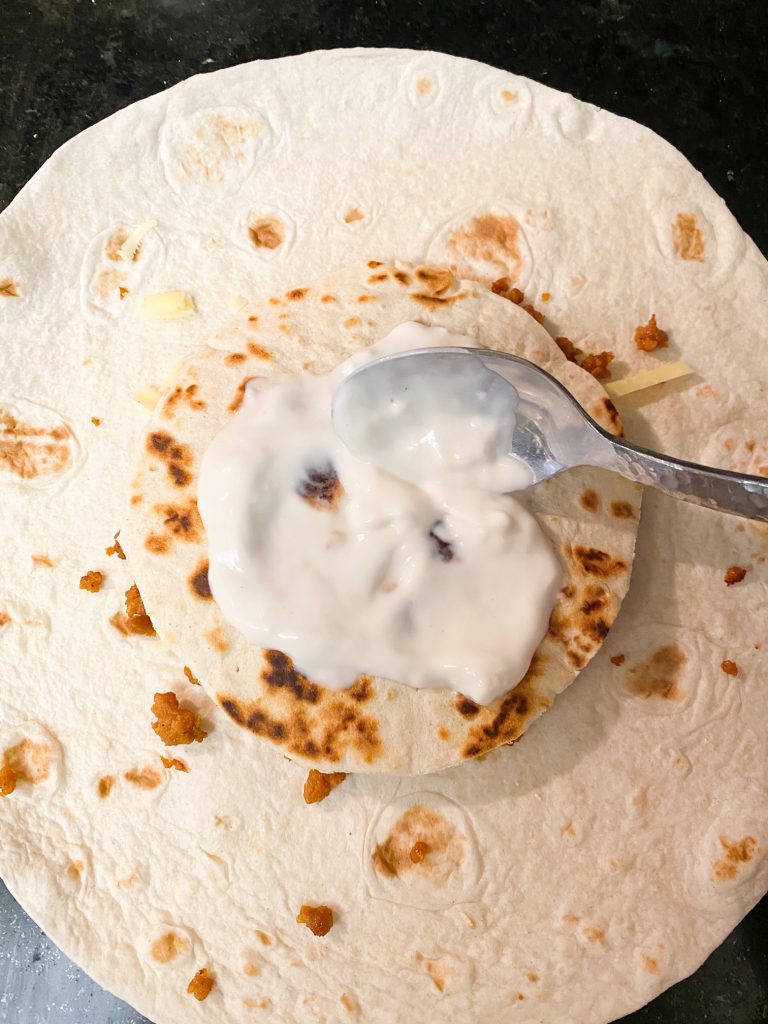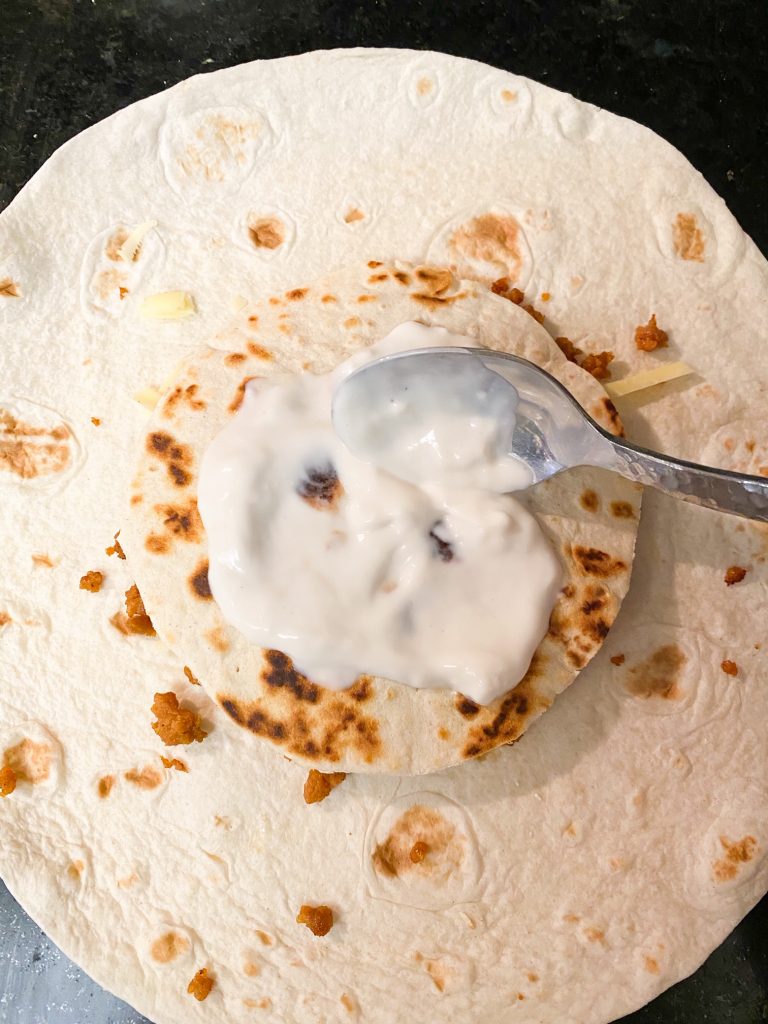 On top of the sour cream layer, add your chopped veggies. I use avocado, tomato, and corn. You can also add olives if you like.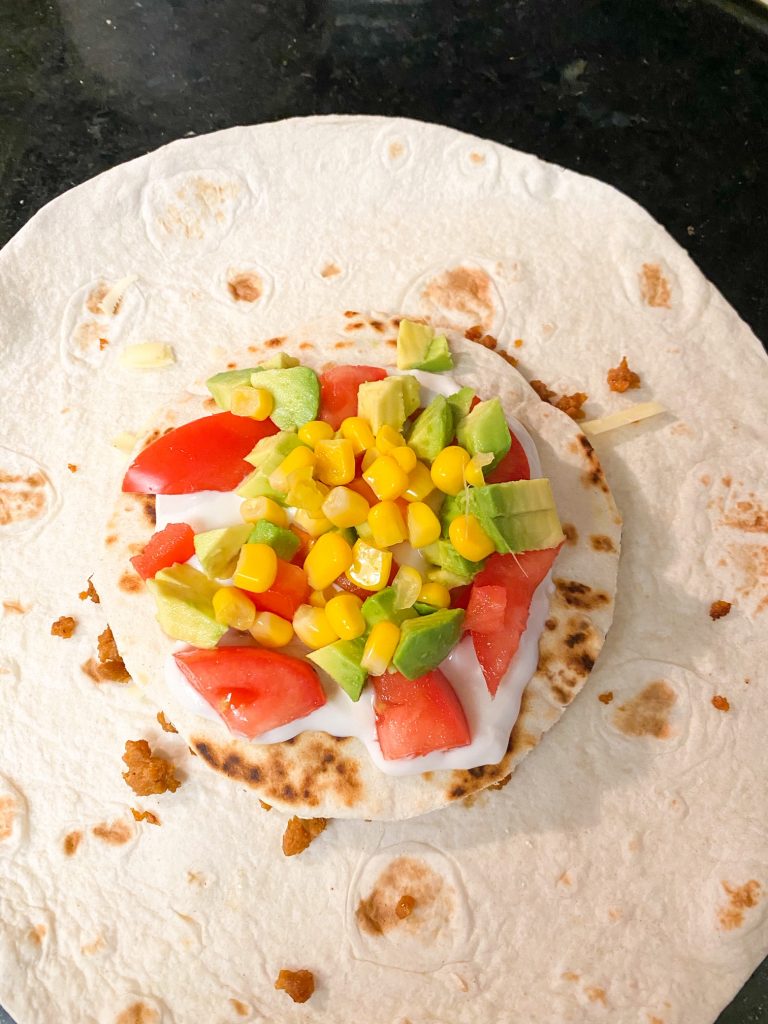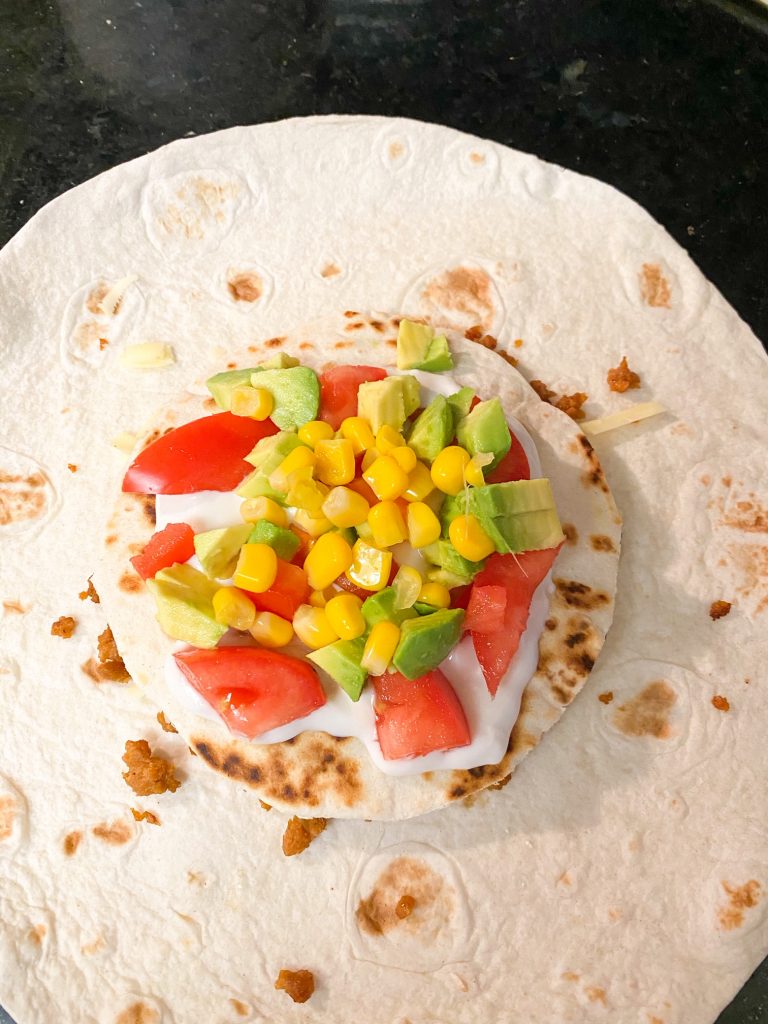 Top the veggies with shredded lettuce.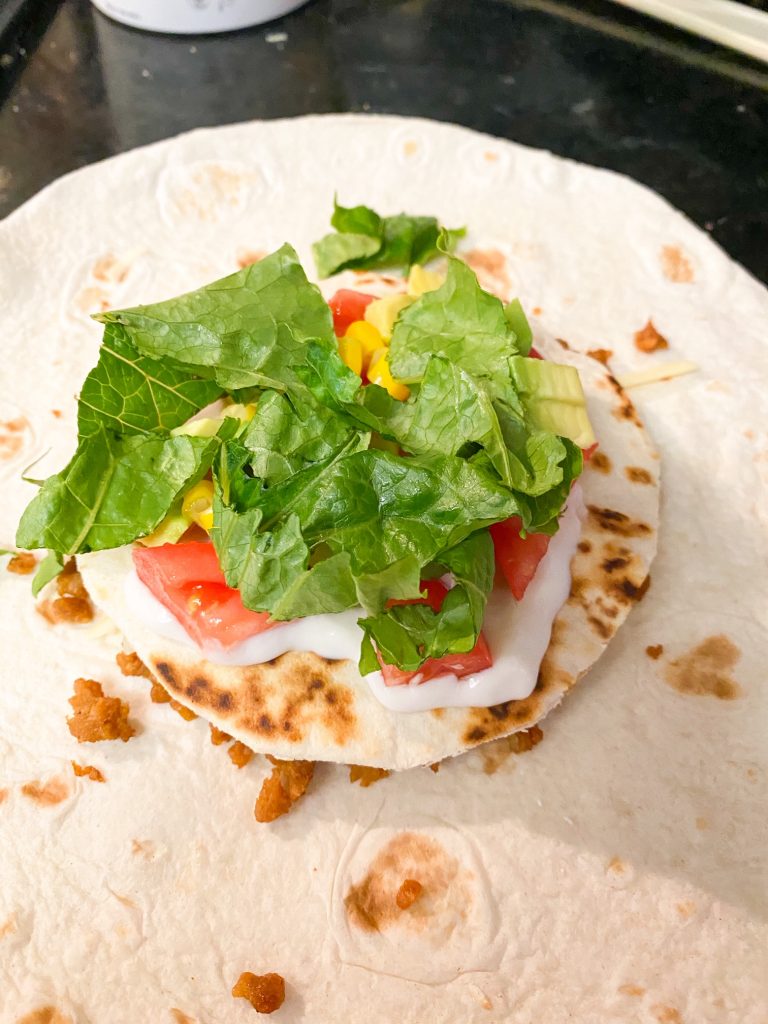 Now it is time to fold the vegan crunchwrap supreme! I promise it isn't as hard as it looks.
To make your life easier, take your scissors and cut out another small round from another flour tortilla.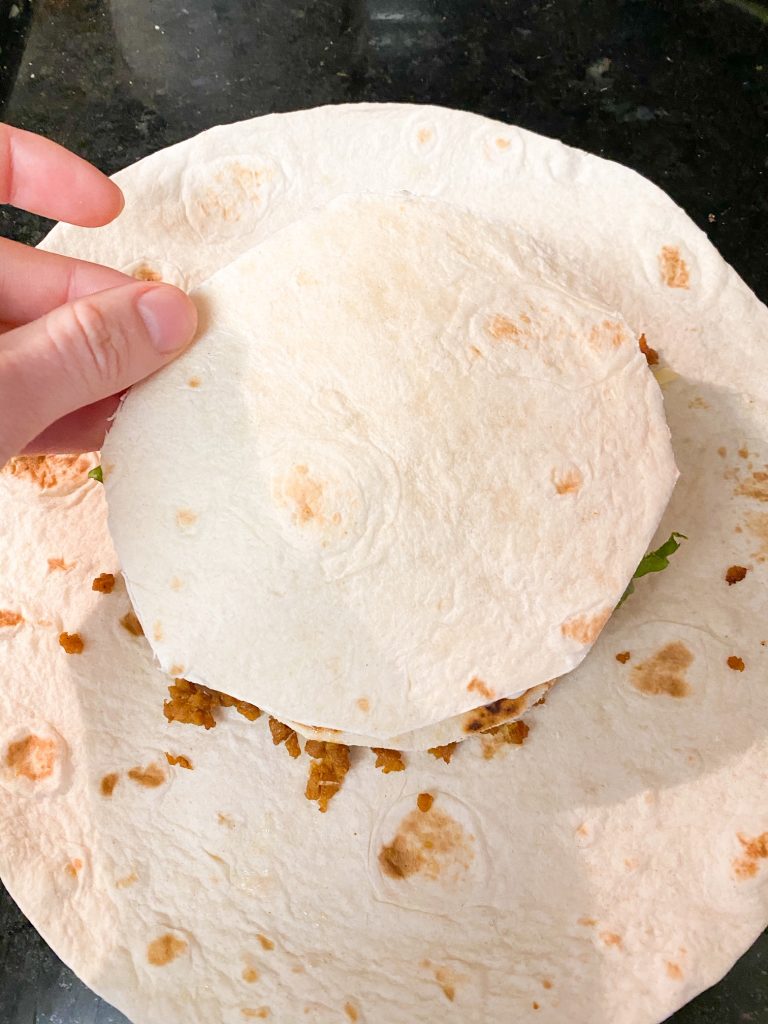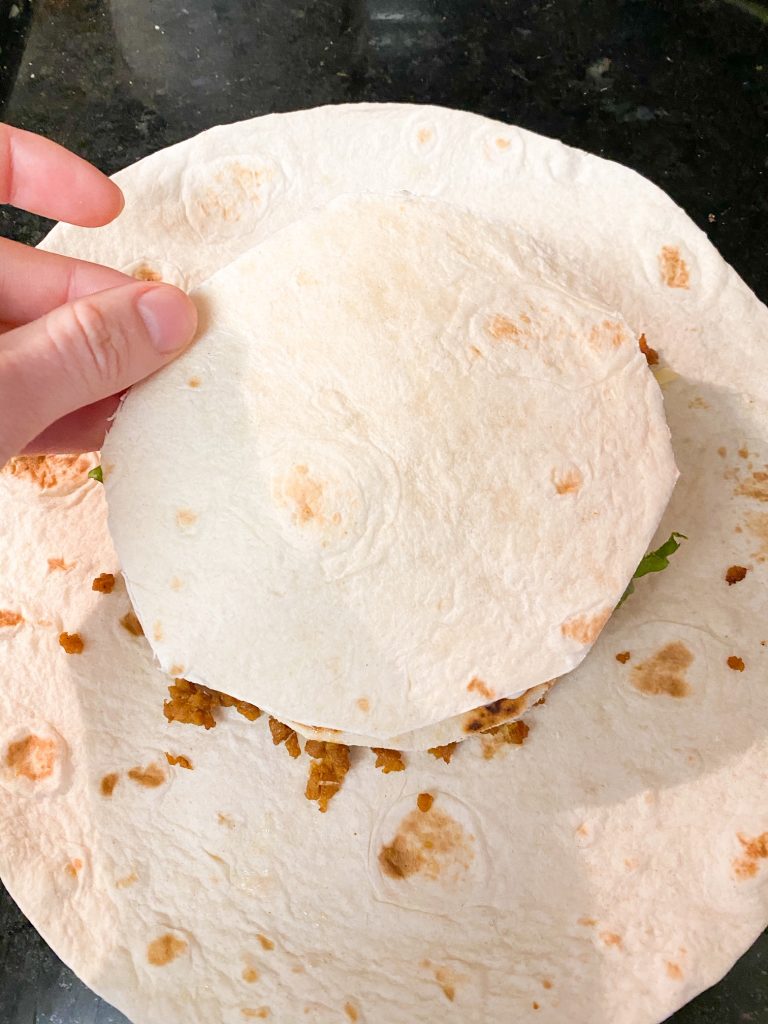 This is going to be your barrier and will make folding vegan crunchwrap so much easier!
Starting from the bottom, fold the bottom in and the sides over like you are wrapping a present.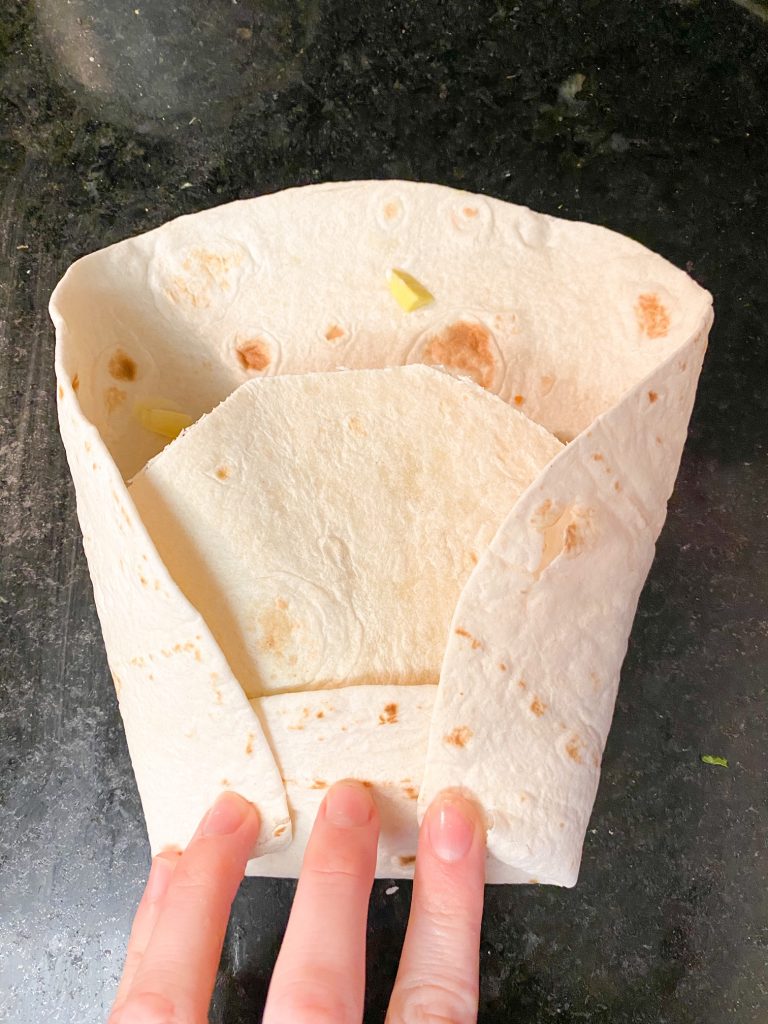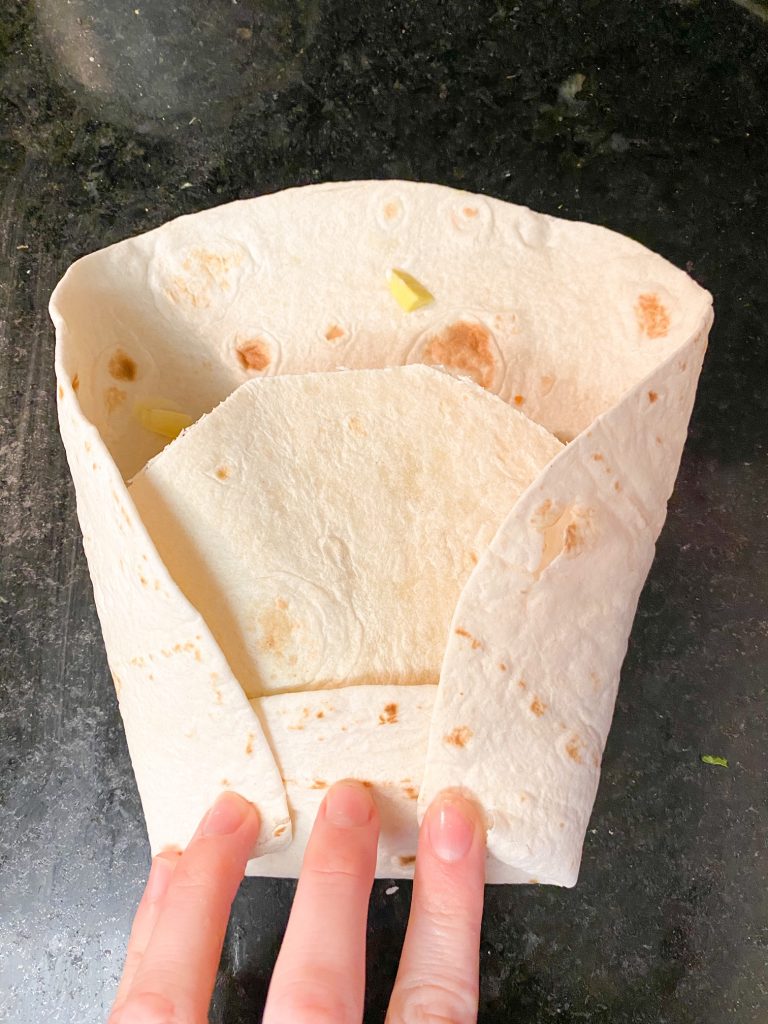 You can see how the extra tortilla circle makes all of the difference when helping you fold the edges in.
Fold the top edges one over the next so that you form a shap with 5 points. There is no wrong way to do this, as long as you fold the whole thing up and nothing comes out, you are good!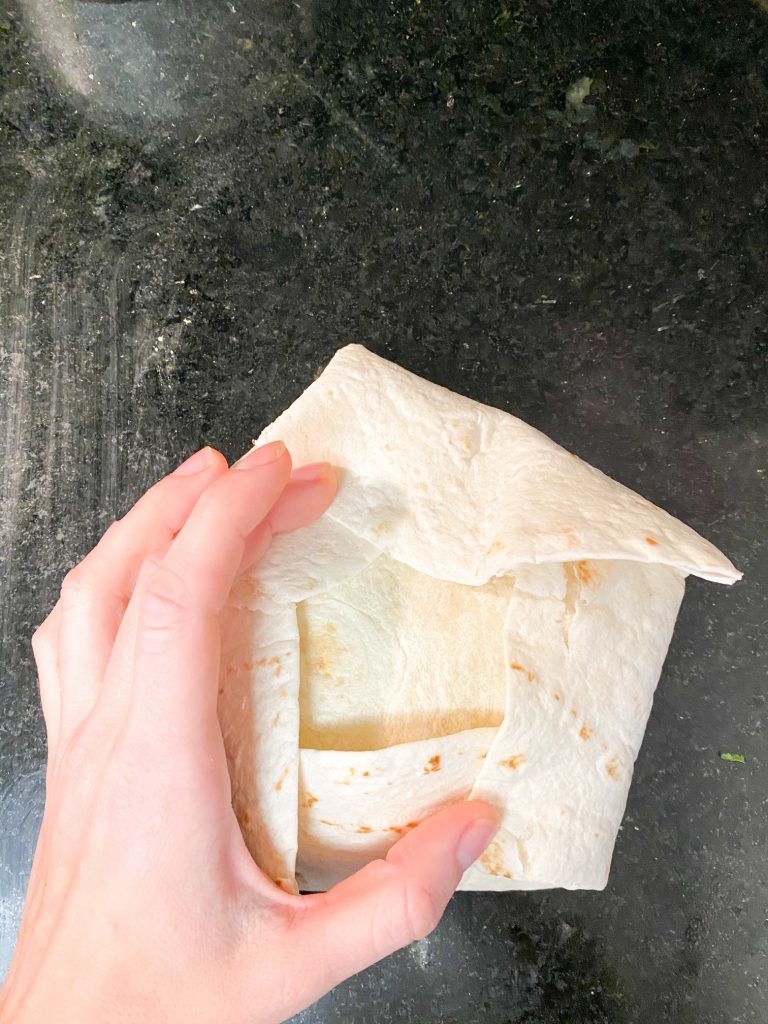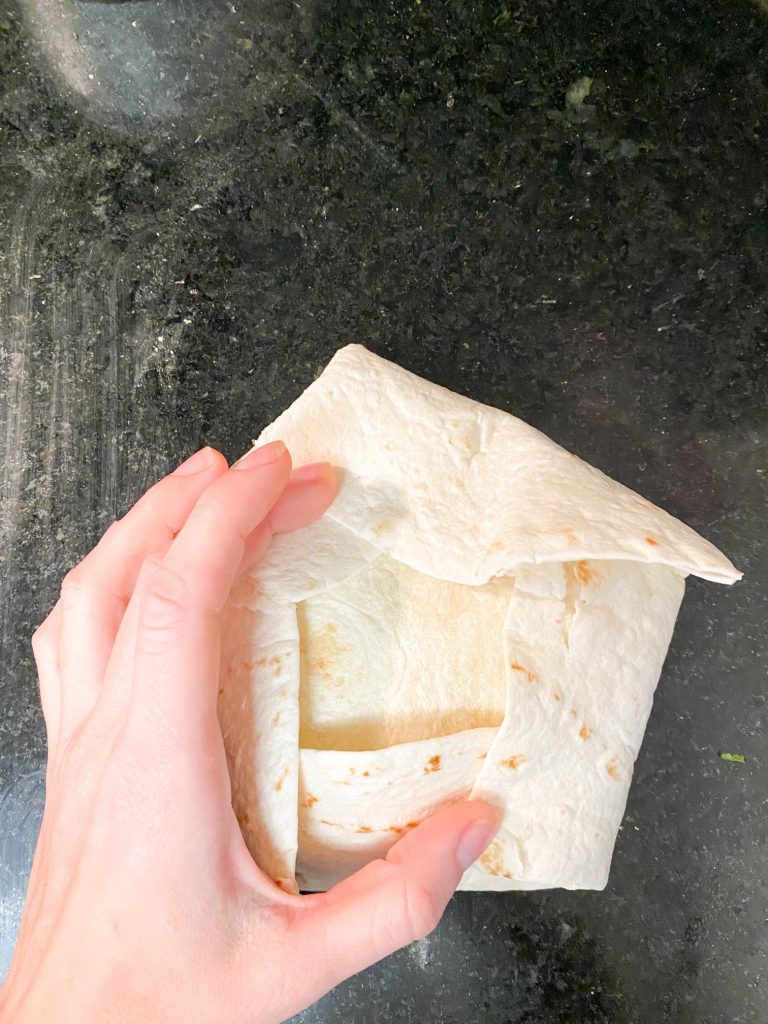 Carefully life the vegan crunchwrap supreme over to an ungreased pan and fry it with the folded side down.
Very carefully slide it onto the pan so the crunchwrap doesn't unwrap.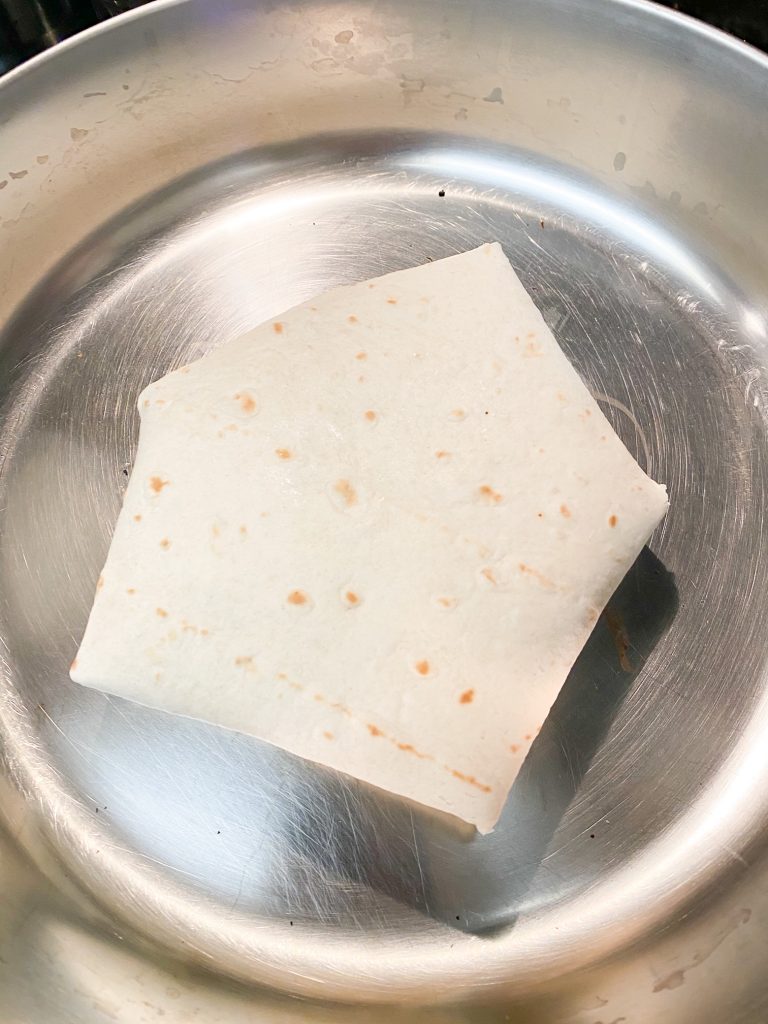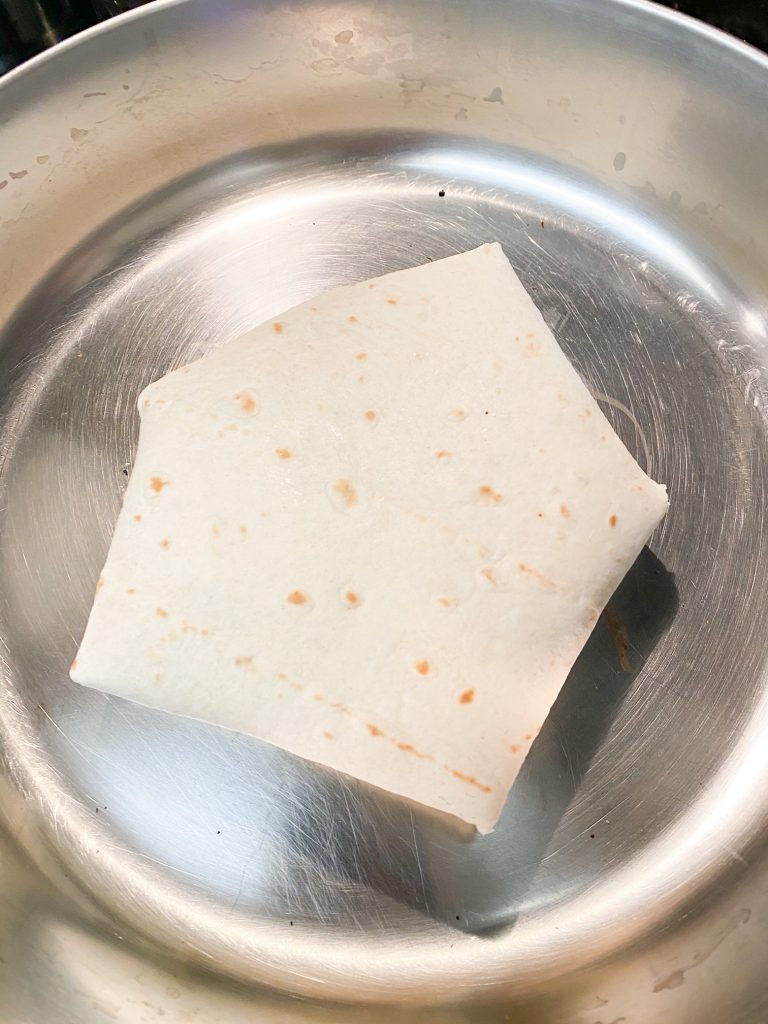 I suggest doing this while the pan is still cold so you don't burn yourself like I did.
Fry on an ungreased skillet for a few minutes and then use a spatula to flip the crunchwrap over.
You will see that the bottom is now sealed together.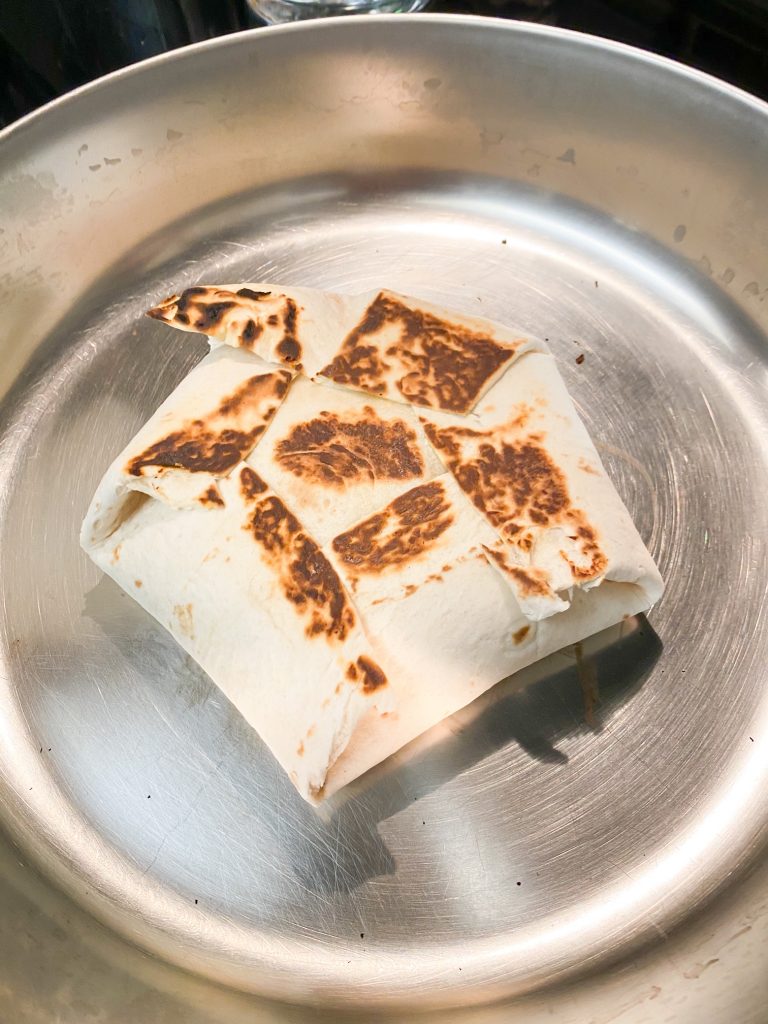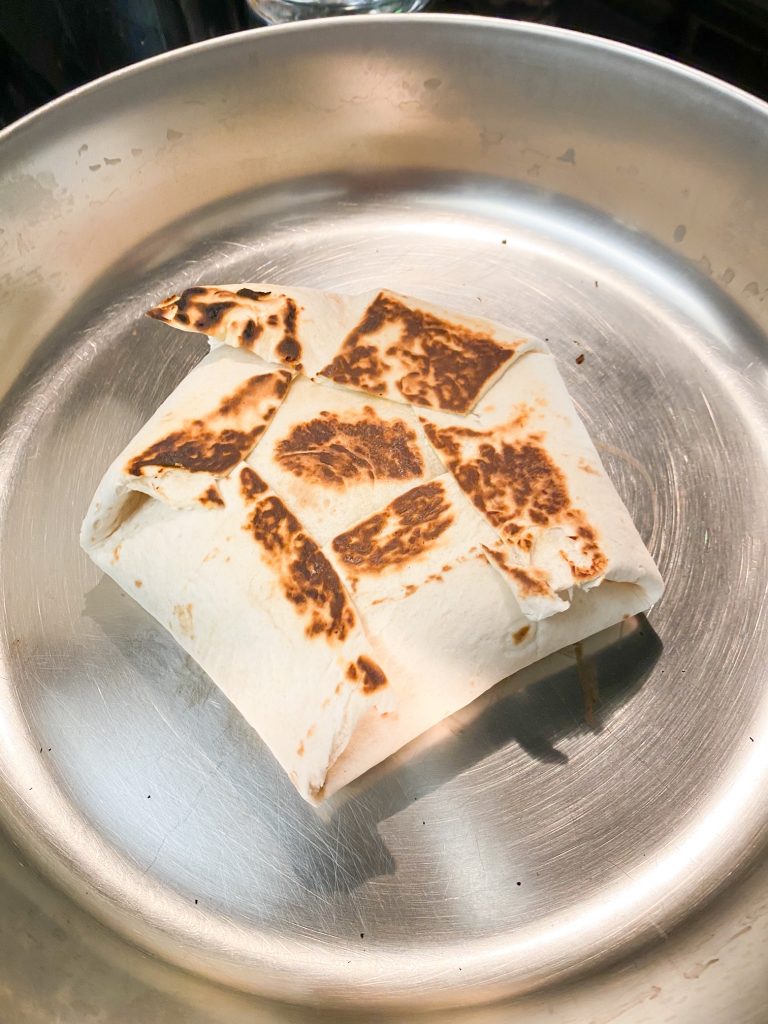 Fry the other side until golden grown which usually only takes a few minutes and you are done!
Using a sharp knife, cut the vegan crunchwrap supreme down the center and enjoy with more sour cream and cilantro.
For an added twist, serve with my Vegan Mexican Street Corn Pasta Salad!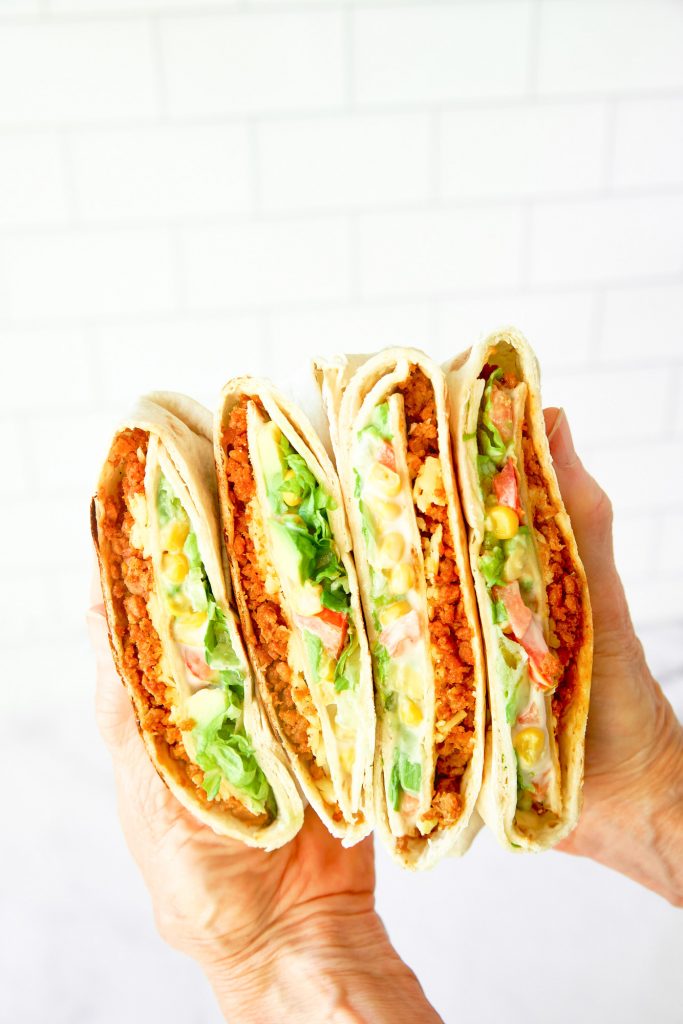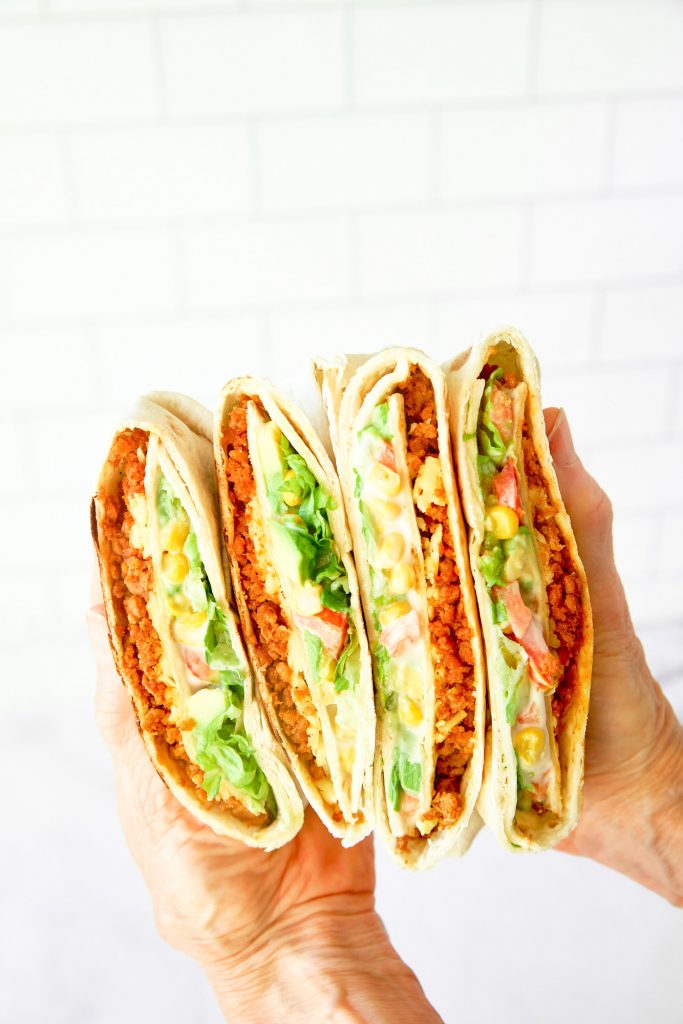 How To Store The Vegan Crunchwrap Supreme
This recipe is perfect for meal prep because it holds up well in the fridge!
Looking at it, you may think that it is a finnicky recipe, but that is actually quite far from the truth!
Simply store the vegan crunchwraps in an air-tight container in the fridge for 3-5 days.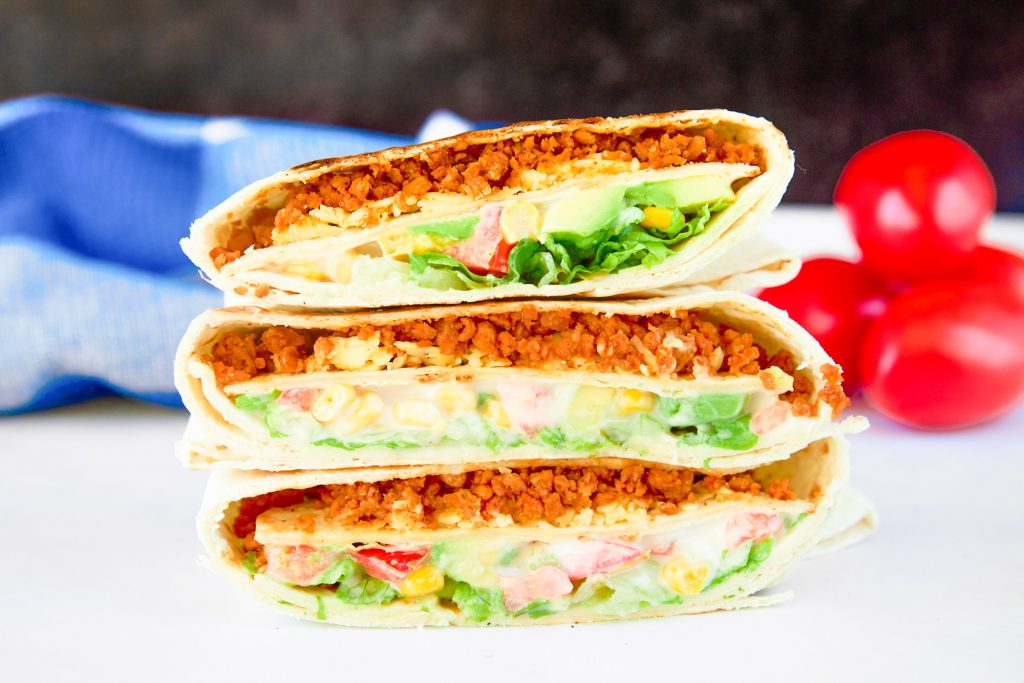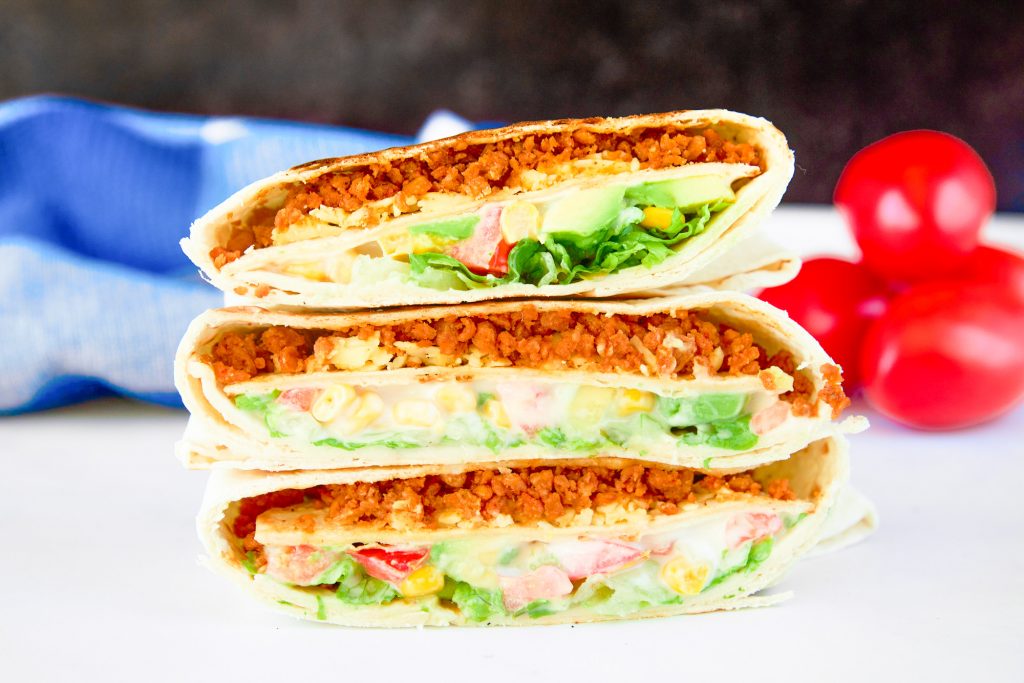 You can store them either cut in half or uncut in the 5-point shape you fried them in.
To reheat, simply warm them up on an ungreased skillet and fry them for about 2 minutes on each side!
Then, they taste just as good as the day you made them.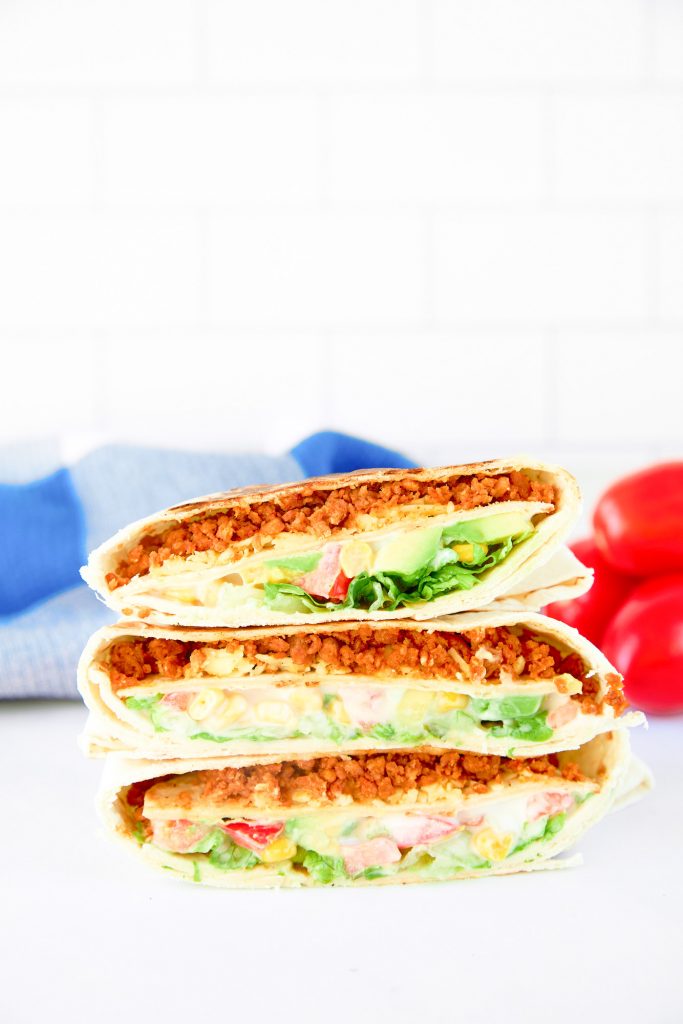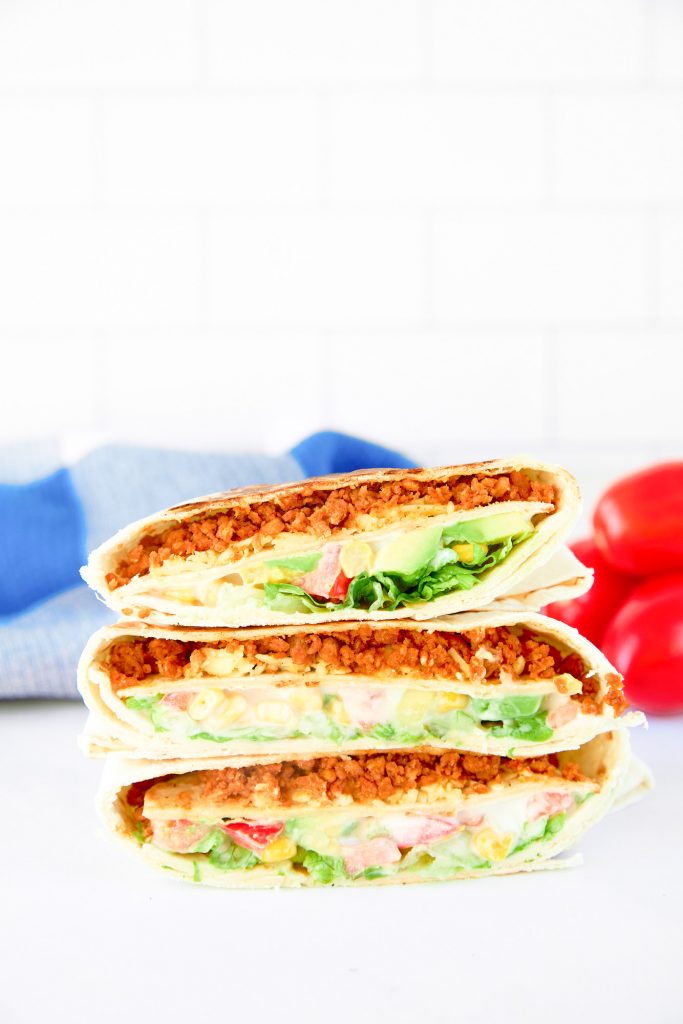 Did You Try This Recipe?
If so, I would love to keep in touch! I enjoy seeing photos and comments about the recipes that you make! You can follow me on Instagram and I will repost your goodies in my stories and comment on it too! Just tag me at @wowitsveggie and hashtag #wowitsveggie. I can't wait to see what you make!
Yield: 1 crunchwrap
Easy Vegan Crunchwrap Supreme (Taco Bell Copycat)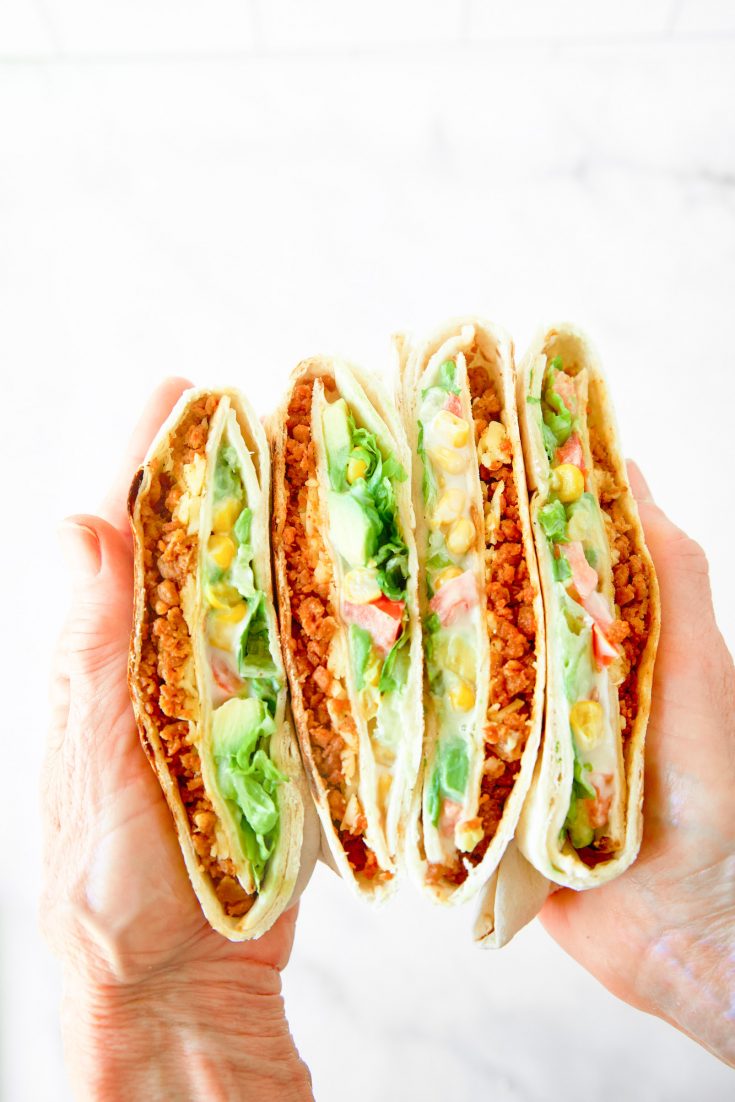 This vegan crunchwrap supreme is an easy and delicious Taco Bell copycat with no animal products at all! Please see the blog post for step-by-step assembly instructions. This impressive and tasty meal whips up in about 15 minutes so it is perfect for a weeknight treat. It is a vegan version of the popular drive through favorite!
Ingredients
1 large flour tortilla/Burrito size
1/3 cup vegan beef crumbles (any kind, I like Gardein Beefless Grounds)
1 teaspoon taco seasoning
2 tablespoons vegan cheese
1/2 avocado, chopped
1 spoonful vegan sour cream
2 small flour tortillas (taco size or burrito size cut into a small circle)
2 leaves lettuce, chopped
2 tablespoons corn
Instructions
In a small skillet with a little bit of oil, cook vegan beef crumbles with taco seasoning for 3-4 minutes until done. Meanwhile, chop your veggies.
While the vegan meat crumbles are cooking, take a small flour tortilla round and fry it on an ungreased skillet for 1-2 minutes until it is crispy. Alternatively, you could use a tostada chip but this is an easy way to DIY it. (See blog post for step-bystep)
Spread the large flour tortilla/burrito on your workspace and spoon in the cooked vegan meat crumbles. Sprinkle your cheese on top of the vegan beefless.
Add your crispy tortilla circle on top of the vegan meat and cheese and spread your spoonful of Vegan Sour Cream to taste on top of the crunchy piece.
Next, arrange your veggies and finally your lettuce.
Take a second small flour tortilla circle and place it on top of the lettuce (see photos in blog post) This will help you create a seal when you cook the vegan crunchwrap.
To fold, start by folding the bottom side up and the sides in like you are wrapping a present. Finish by gently tucking the top down to create a 5-point shape. The shape doesn't have to be 5 points, any shape you create is fine, this is just the easiest to make.
Gently flip your vegan crunchwrap "sealed side" down on an ungreased skillet. Heat the skillet on medium-heat for a few minutes until the bottom part is sealed. Then use a spatula to flip it over and fry the other side. Be careful when you flip the crunchwrap over to fry it, you don't want the folding to come undone, but the second tortilla round helps with this! Make sure your skillet is ungreased.
Let the vegan crunchwrap supreme cool down for a few minutes and then use a sharp knife to cut it in half.
Enjoy!