These are truly the best and easiest vegan chocolate cupcakes you will ever taste!
They are extremely moist and delicious and are truly a chocolate lover's dream, especially when topped with my Vegan Chocolate Frosting.
The thing I love about this vegan chocolate cupcake recipe is the fact that it takes just 10 minutes of active time to prepare.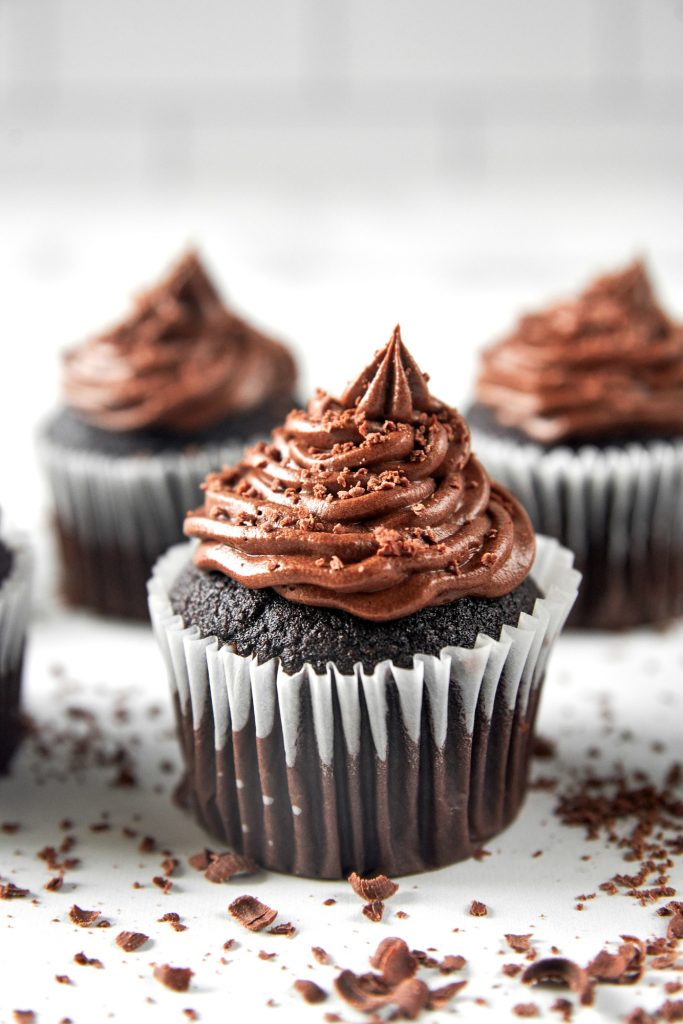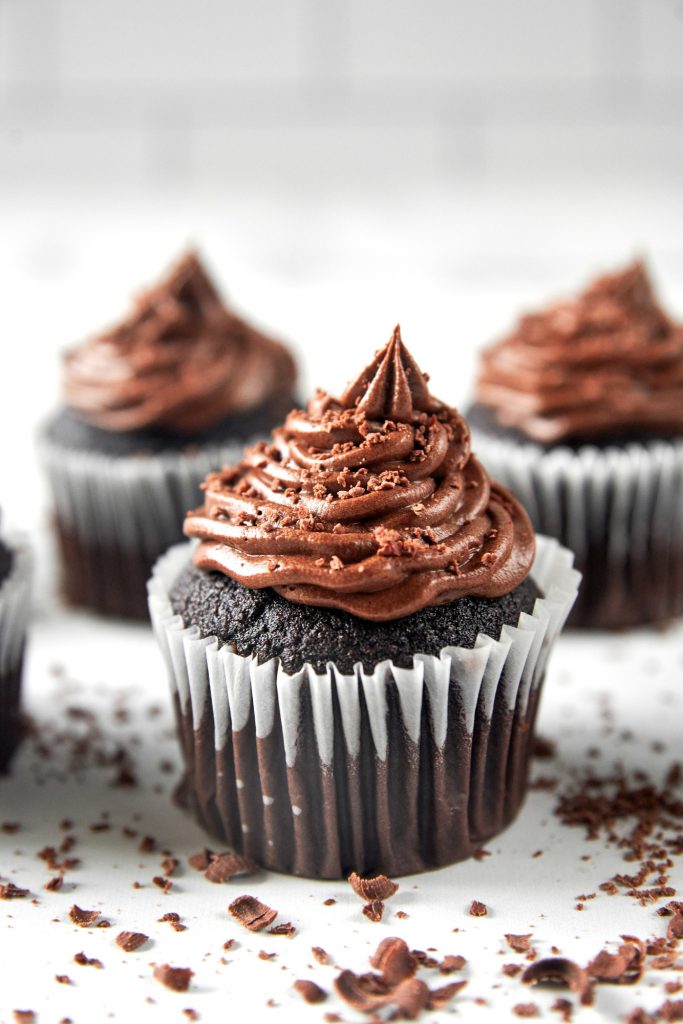 Yes, it does take about 20 minutes to cook, but that means that in just 30 minutes you will have moist and tenderly delicious vegan chocolate cupcakes.
These eggless chocolate cupcakes use my secret ingredient to make them moist, light, and fluffy.
This secret ingredient is vegan mayonnaise!
If you have not yet used mayo for baking, you are in for a real treat.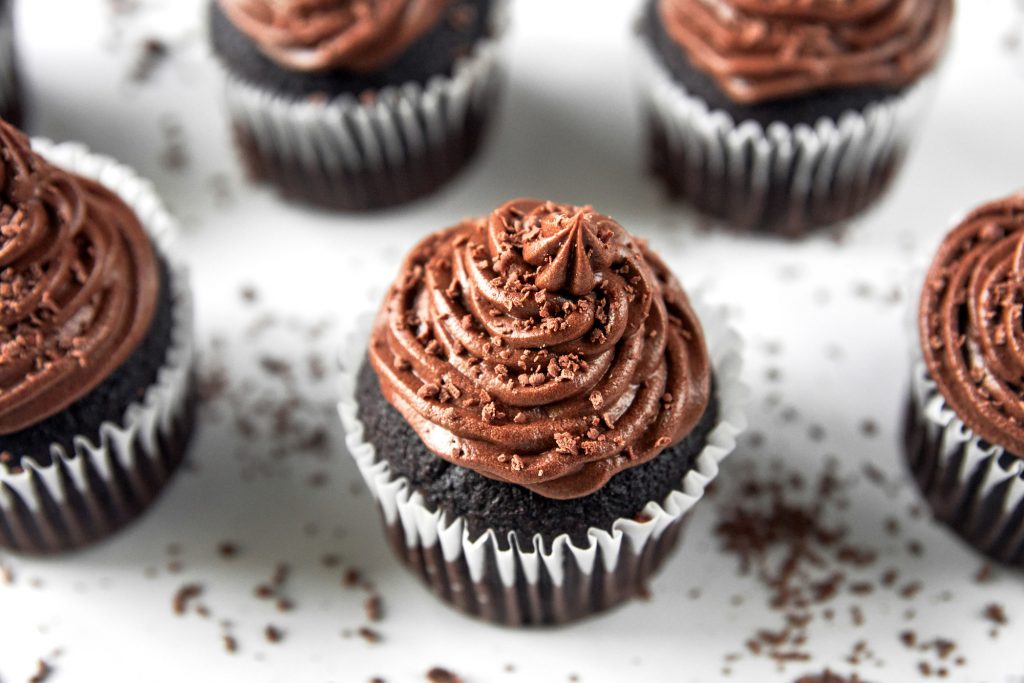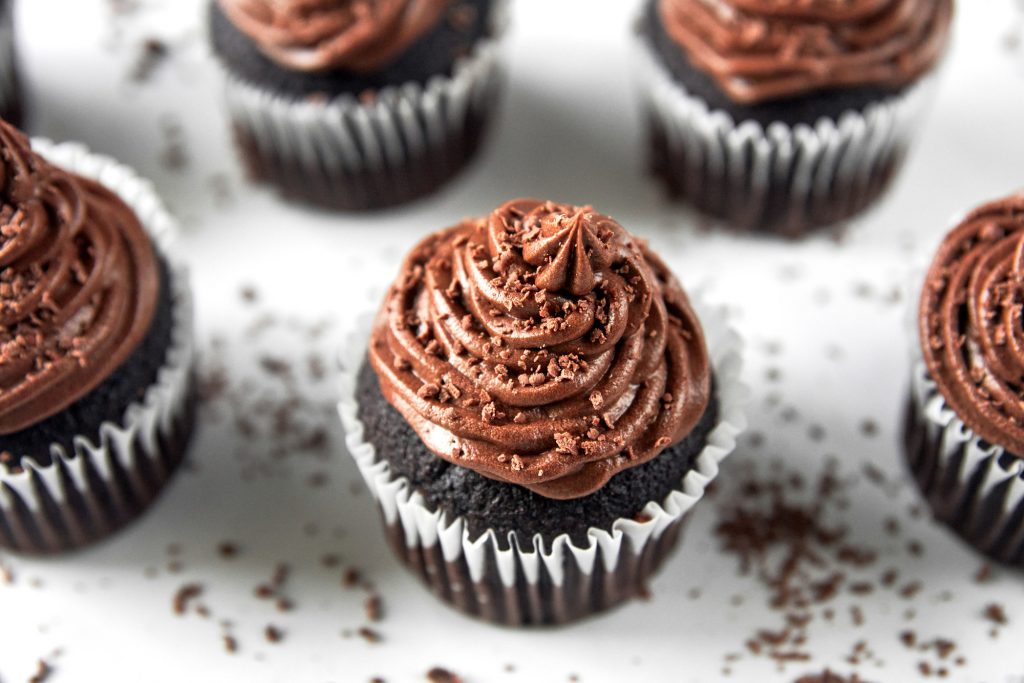 It sounds like a super weird thing to do, but we have been doing this my whole life as this is my Mom's recipe for the best vegan chocolate cupcakes.
Baking with vegan mayo actually results in some of the best baked goods you will ever try.
If you are brave enough to give baking with mayo a go and you trust my recipe, you are in for a real treat.
The end results of making these chocolate cupcakes vegan is truly one of the best things you will ever taste.
I do hope you enjoy the best vegan cupcake recipe that my family has been making for over 15 years.
Come learn how to make vegan cupcakes from scratch!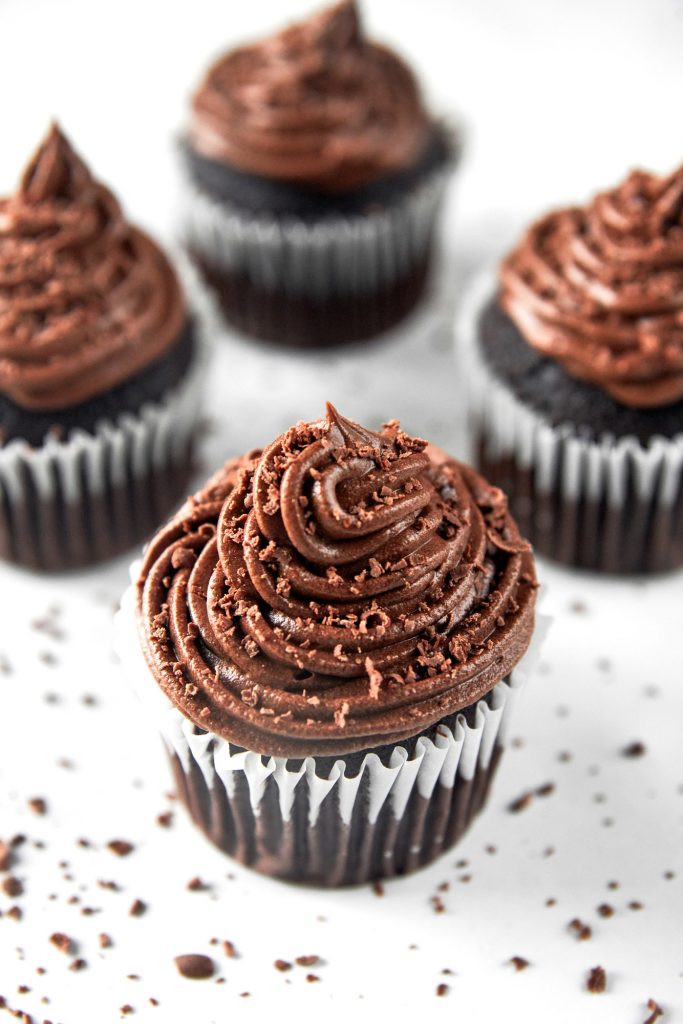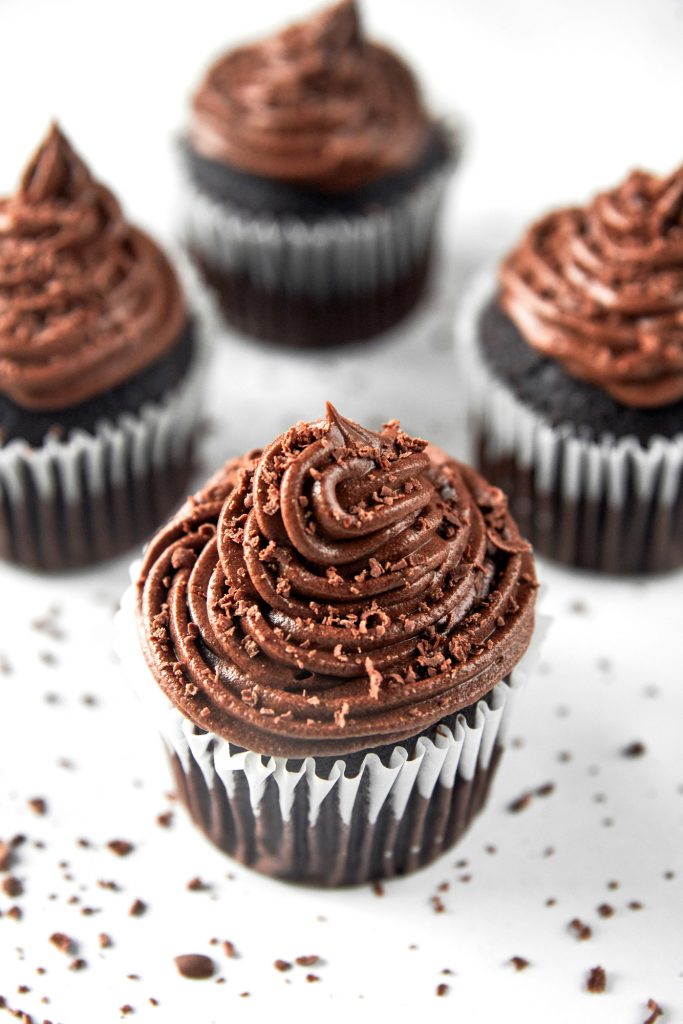 Can You Use This Recipe To Make A Cake Instead Of Cupcakes?
Believe it or not, you can use pretty much any single-layer cake recipe to make cupcakes and vice versa!
That means that you can use this easy vegan chocolate cupcakes recipe to make a chocolate cake if you so choose! In fact, this recipe is the base of my Vegan Oreo Cake so you can see it in action over there too!
It can fit in an 8-9 inch single-layer cake pan. Try it out and if it fits, you are good to go!
If it seems a little too small or a little too big, go ahead and size up or down depending on your needs.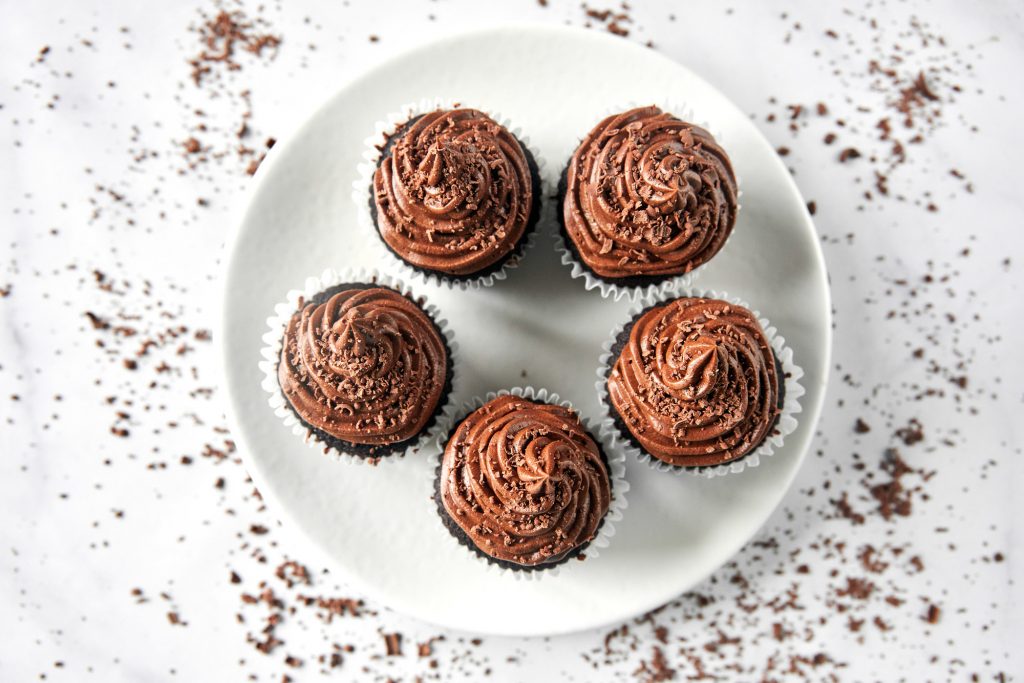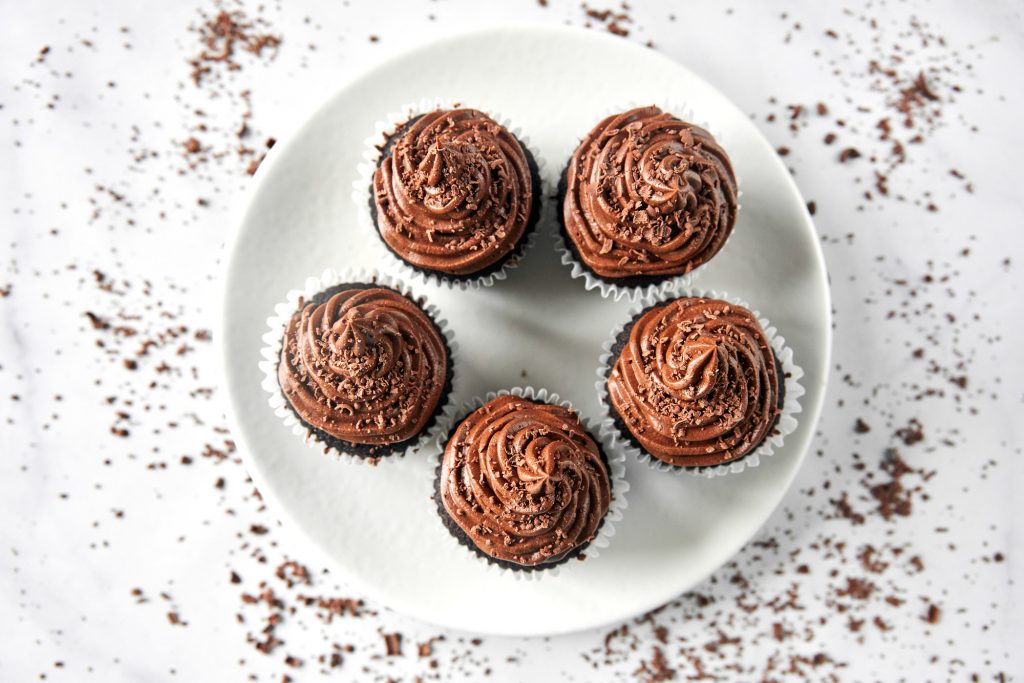 Chocolate Cupcake Ingredients
Flour. Any type works, including gluten-free.
Cocoa Powder.
Baking Soda.
Salt. I use sea salt, but any will be fine.
Vegan Mayonnaise. This secret ingredient acts as a replacement for eggs.
Water.
Sugar.
Vanilla Extract. For an added flavor.
Vegan Chocolate Chips.
Vegan Chocolate Frosting. Make my Vegan Chocolate Frosting to top the cupcakes.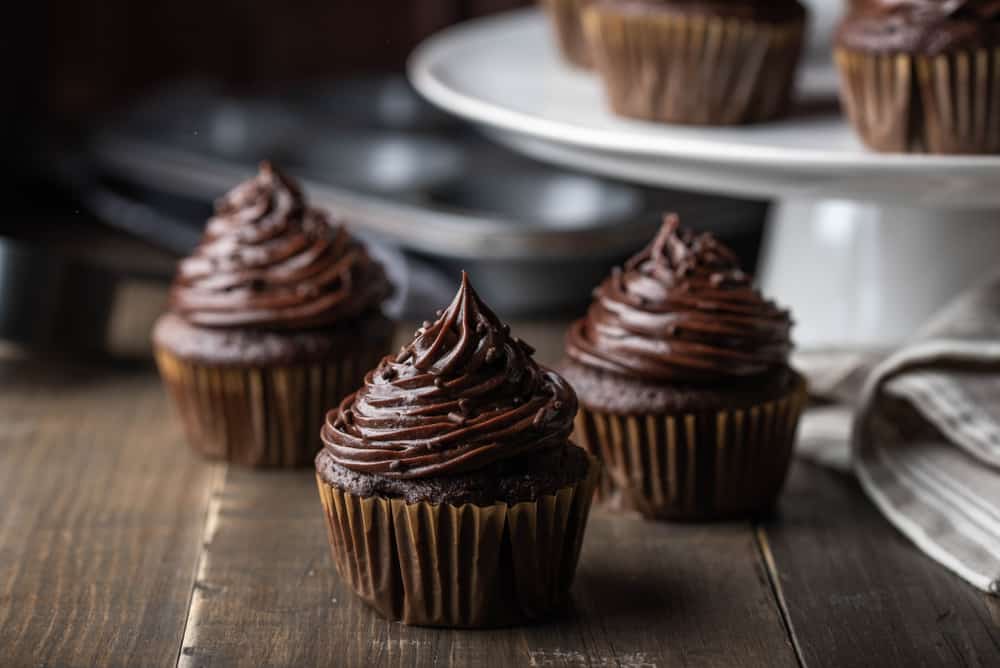 How To Make Vegan Chocolate Cupcakes
If you want to make chocolate cupcakes vegan, come along and let me show you!
It is truly so simple and takes no more than 10 minutes of your time to make and then 20 minutes to bake.
The end results are moist and delicious and will produce a cupcake that chocolate lovers can only dream about!
First, you want to preheat your oven to 350F.
Then, get a large bowl and mix your dry ingredients with a whisk. Your try ingredients are your flour, cocoa powder, baking soda, and sea salt.
Then, you want to combine your vegan mayo, water, sugar, and vanilla together. Use a whisk to ensure that they are well mixed together.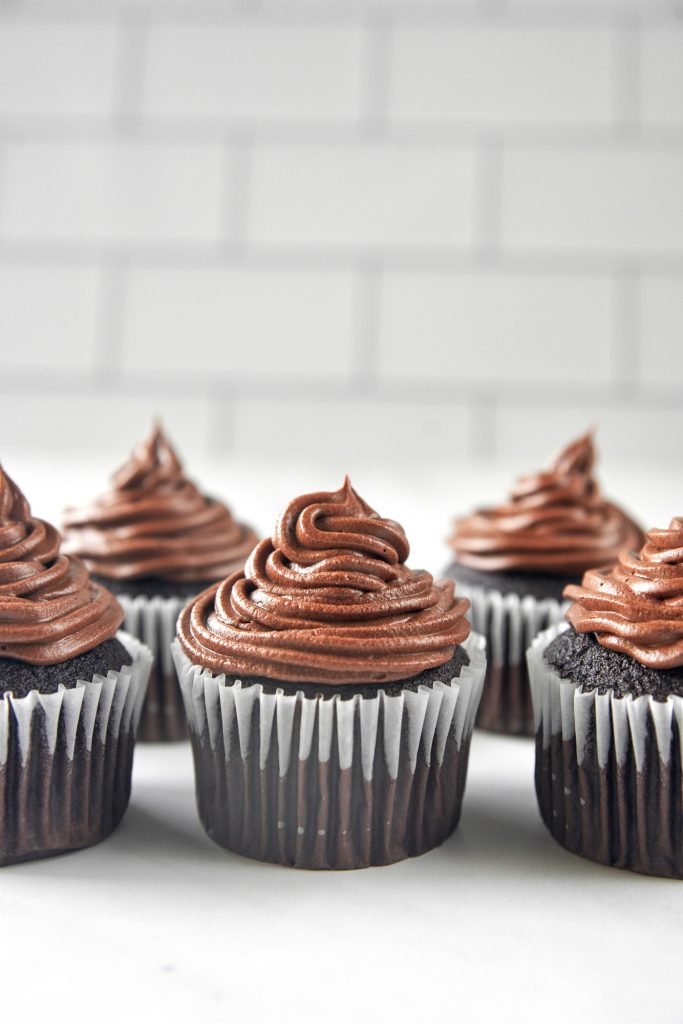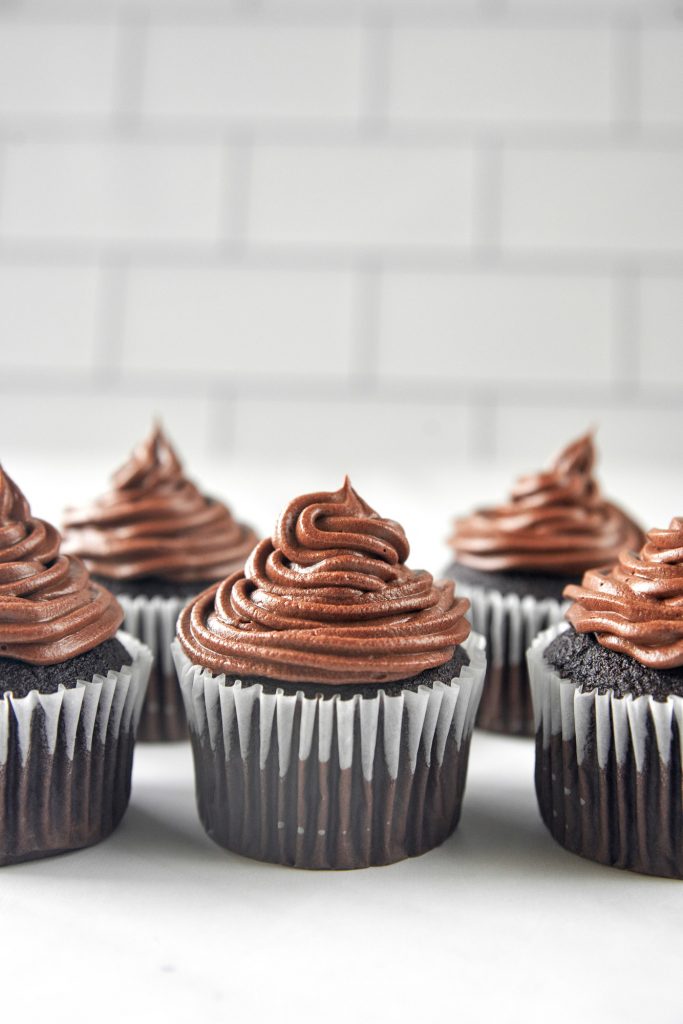 Now, add in the wet ingredients and the dry ingredients and fold until just barely combined.
Now, add in your chocolate chips and fold the chocolate chips into the cupcake batter until they are evenly distributed throughout.
If you want to add nuts or you don't want to use chocolate chips at all, that is okay, this vegan chocolate cupcakes recipe will still taste good and work well.
I have added a variety of mix-ins such as Oreos in my Vegan Oreo Cake recipe so you can feel free to play it up instead of just doing plain dairy-free chocolate cupcakes!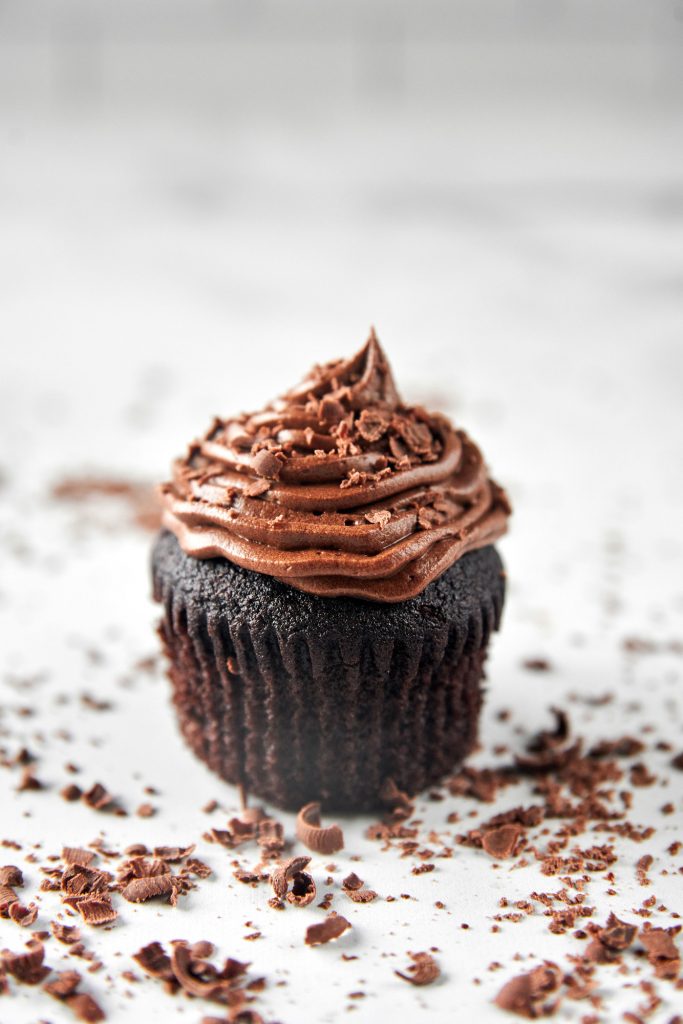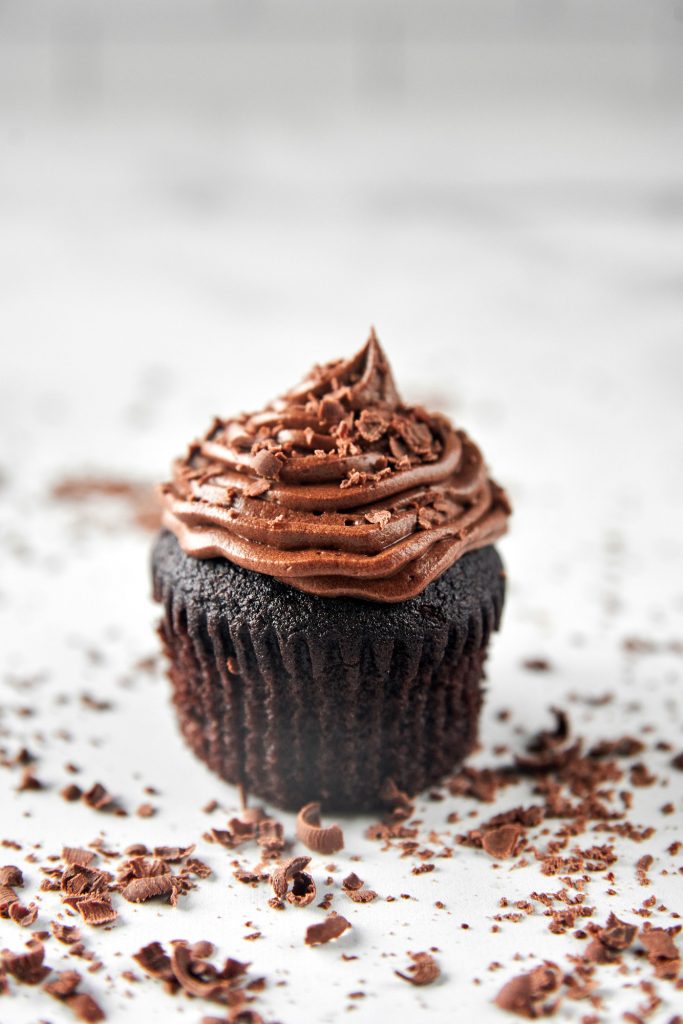 Line a muffin tin with 12 cupcake liners and evenly pour the batter among each liner.
Make sure that you only fill each one 2/3 of the way as you don't want the cupcakes to spill over during baking or else they will be ruined.
Bake the cupcakes for 20 minutes or until a toothpick inserted in the center comes out clean.
Make sure to let the chocolate egg-free cupcakes cool completely before frosting them with my Vegan Chocolate Frosting or else the frosting will melt right off.
Enjoy these tasty chocolatey cupcakes!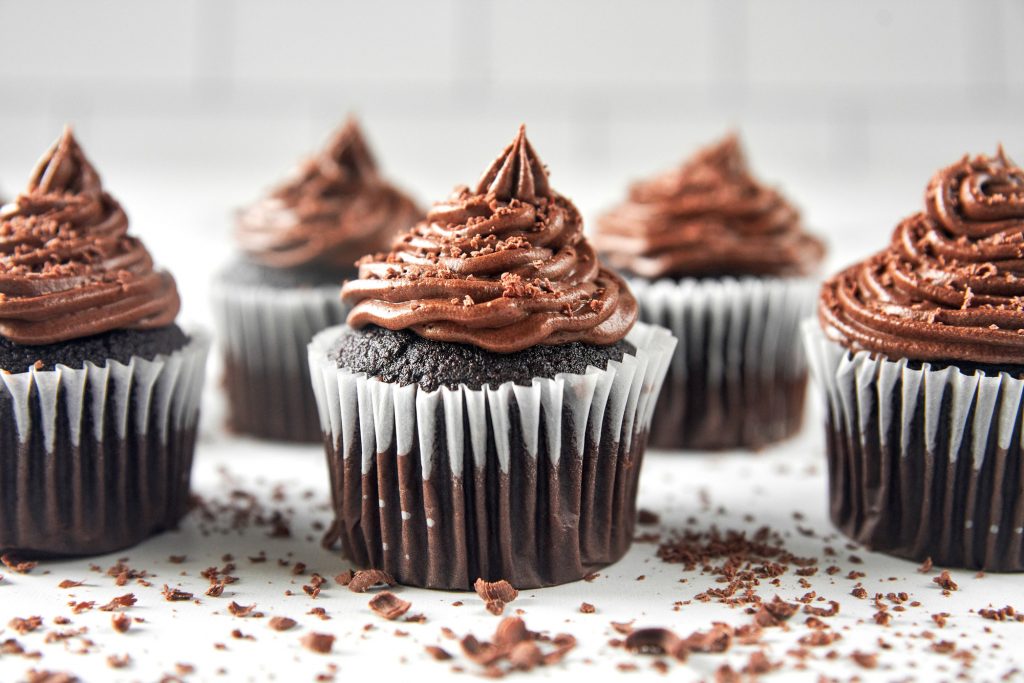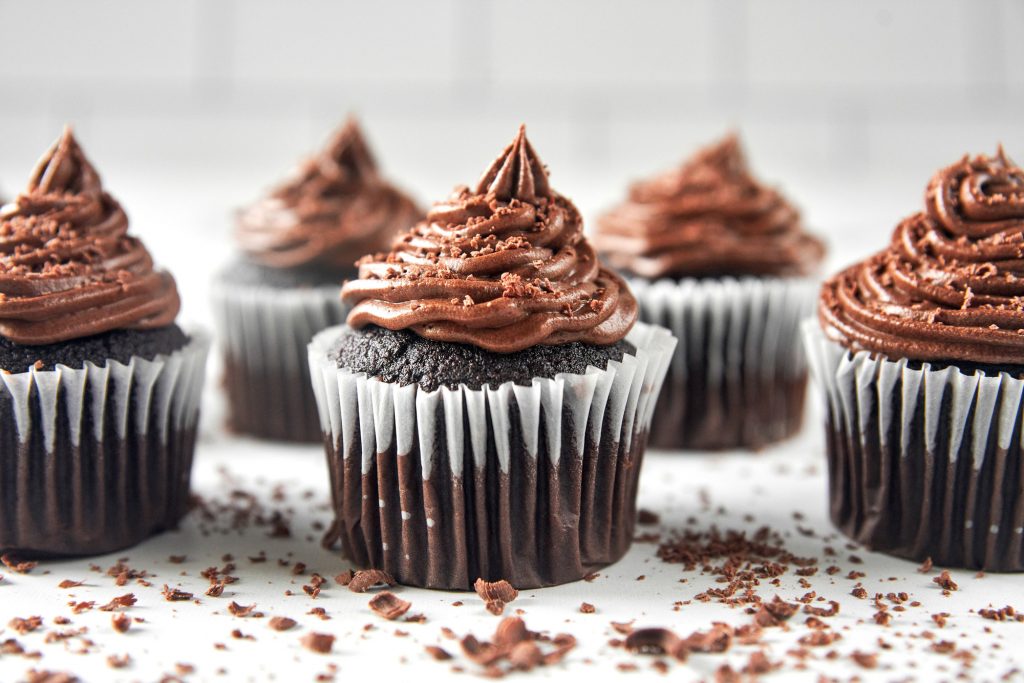 Vegan Chocolate Cupcake Variations
Just this one recipe for simple vegan chocolate cupcakes can produce multiple fun variations if you are looking for something different!
Just one simple recipe can produce a multitude of different ideas if you just change one thing or add another!
Here are a few easy modifications I love for changing up this vegan chocolate cupcake recipe:
Vegan Peppermint Cupcakes: Add 1 teaspoon of peppermint extract. Top with the peppermint frosting variation from my Vegan Chocolate Frosting recipe. Sprinkle crushed peppermint candy on top of each cupcake when finished!
Vegan Oreo Cupcakes: Just like my Vegan Oreo Cake, but small! Add crushed Oreos to the cupcake batter and then add ground Oreos to my Vegan Vanilla Frosting. Top each cupcake with a mini Oreo cookie.
Vegan Coconut Cupcakes: Sub the chocolate chips for 1 cup of coconut flakes and top with the coconut icing from my Vegan Vanilla Frosting recipe.
As you can see, there are a variety of ways that you can take this one simple vegan chocolate cupcake recipe and vary it for different moods and holidays!
I love doing the peppermint cupcakes for Christmas and they turn out kind of like my Vegan Peppermint Fudge but in cupcake form. The sky is the limit!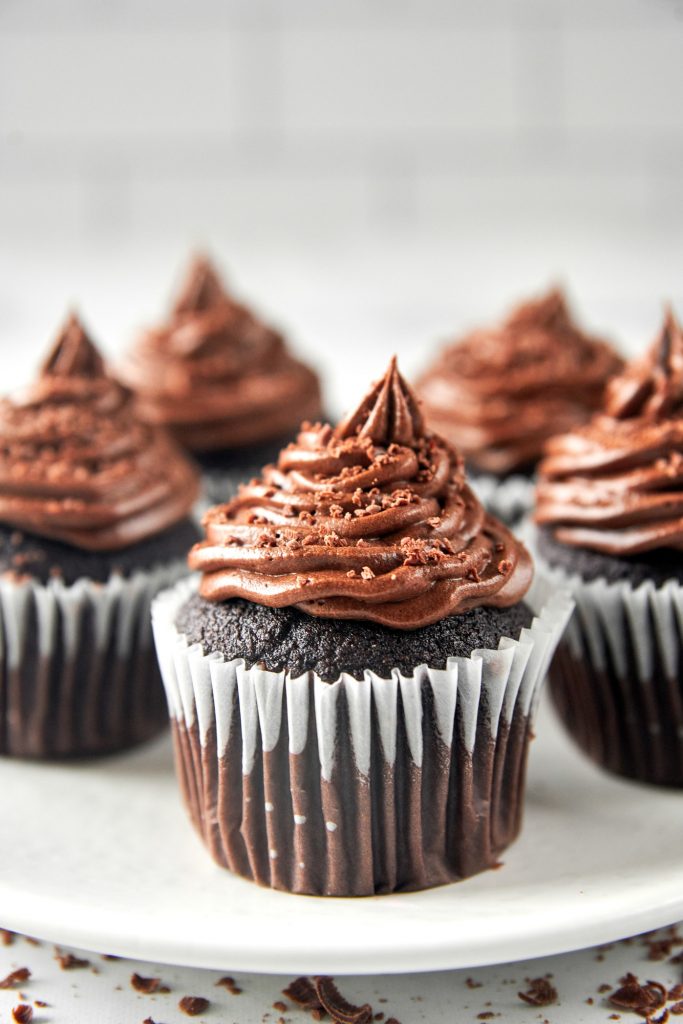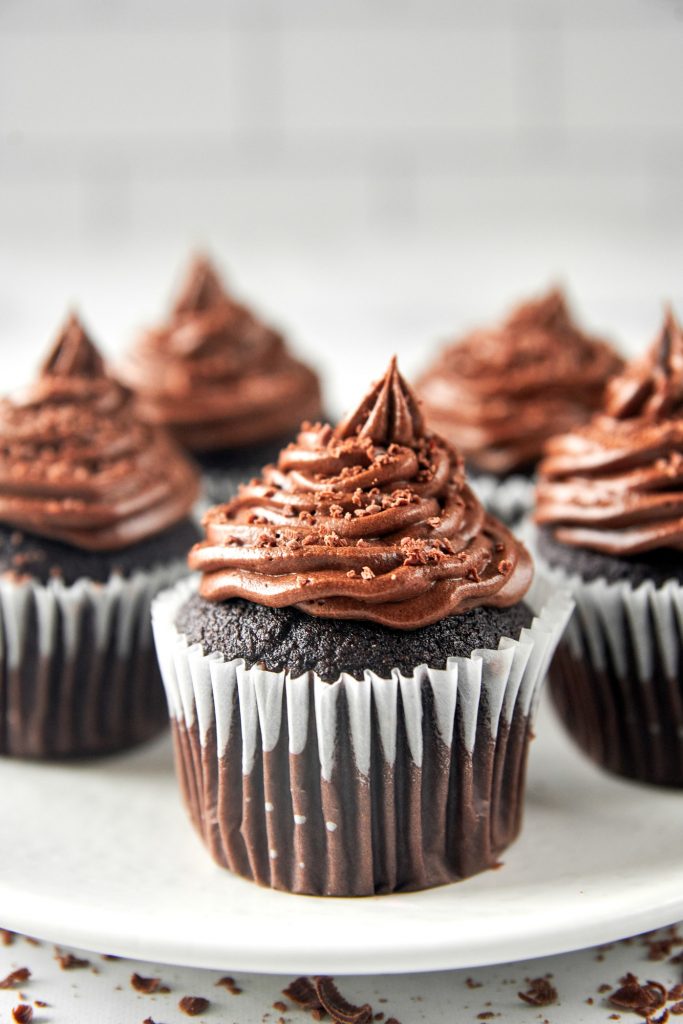 How To Store The Vegan Chocolate Cupcakes
Storing the non-dairy chocolate cupcakes is quite easy and they keep well!
You can store them uniced in the fridge for 3-4 days and then frost them when you are ready.
You can store the frosted chocolate cupcakes in the fridge for up to 4-5 days and they keep pretty well. Make sure to store them in an air-tight container!
After the first few days, the cupcakes will start to lose their moisture, but they do keep well as we often have leftovers from birthday parties that we store in the fridge.
You can freeze the cupcakes for later and I recommend freezing the uniced cupcakes and then frosting them when the day you want to serve them arrives for best results.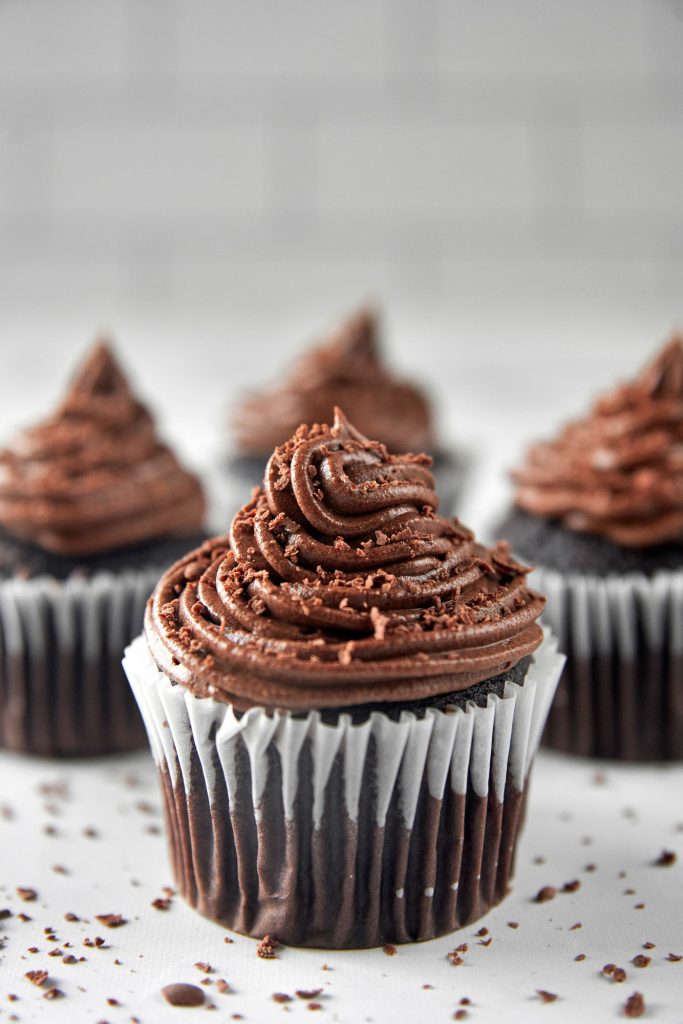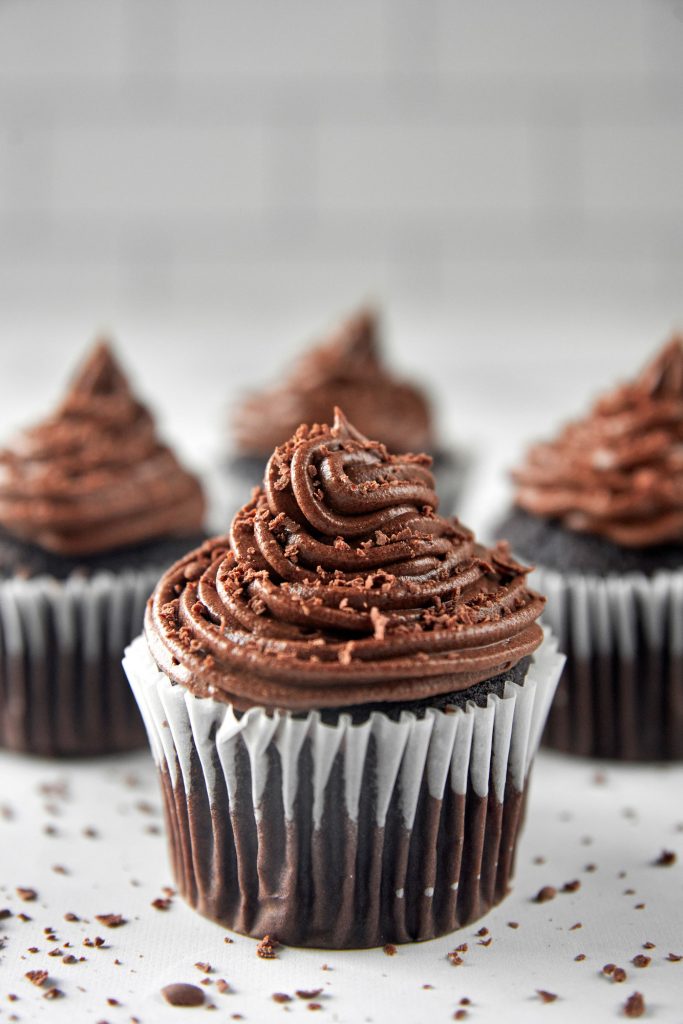 Did You Try This Recipe?
If so, I would love to keep in touch! I enjoy seeing photos and comments about the recipes that you make! You can follow me on Instagram and I will repost your goodies in my stories and comment on it too! Just tag me at @wowitsveggie and hashtag #wowitsveggie. I can't wait to see what you make!
Yield: 12 vegan chocolate cupcakes
Easy Vegan Chocolate Cupcakes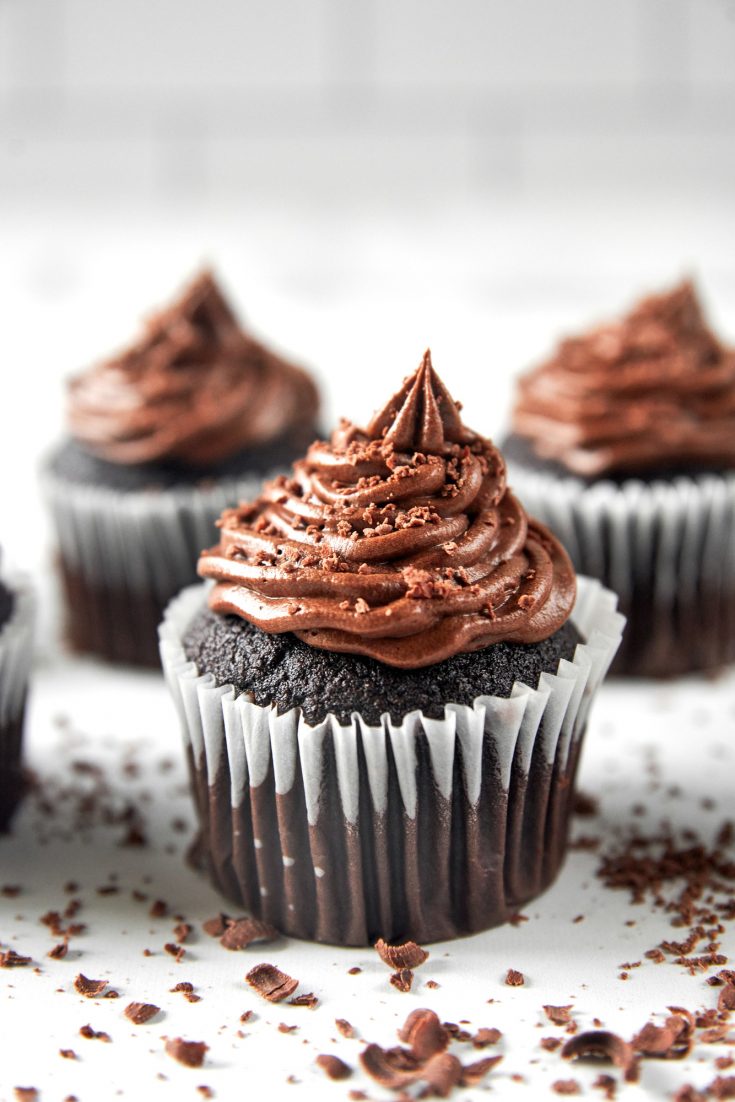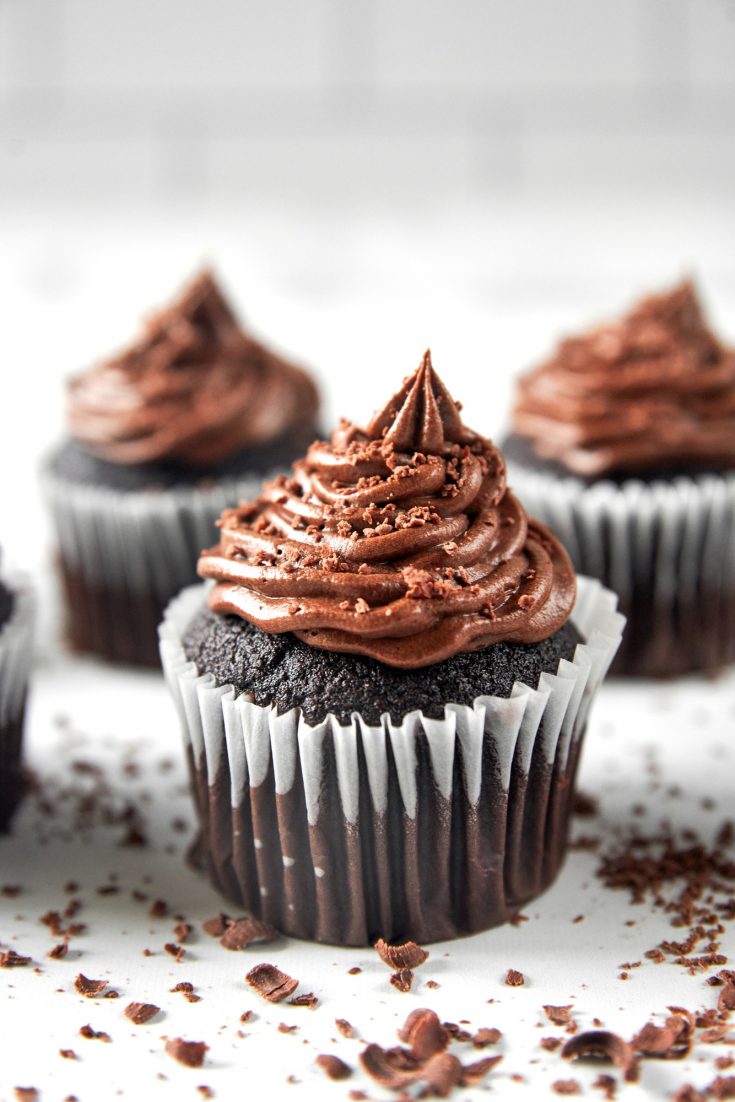 These vegan chocolate cupcakes are a chocolate lover's dream! They are moist and delicious because of my secret ingredient, vegan mayonnaise! It may sound weird, but baking with mayo is a game-changer for the best baked goods ever! These vegan chocolate cupcakes are easily the best you will ever have.
Ingredients
2 cups flour
4 tablespoons cocoa powder
2 teaspoons baking soda
1/2 teaspoon salt
1 cup vegan mayonnaise
1 cup cold water
1 cup sugar
2 teaspoons vanilla extract
1/2 cup vegan chocolate chips
1 recipe Vegan Chocolate Frosting
Instructions
Preheat oven to 350F and line a muffin tin with 12 cupcake liners. Set aside for later.
In a large bowl, mix flour, cocoa powder, baking soda, and sea salt. Whisk together until combined.
In a medium bowl, combine vegan mayo, water, sugar, and vanilla. Mix until thoroughly incorporated.
Combine the wet ingredients to the dry ingredients and mix until just barely combined. Fold in the chocolate chips and mix until the chocolate chips are evenly distributed throughout the vegan chocolate cupcake mixture.
Evenly pour the batter into the prepared muffin tin. Make sure not to overfill more than 2/3 of the way for each cupcake so they don't overflow in the oven.
Bake for 20-25 minutes or until a toothpick inserted in the center comes out clean.
Let them cool completely and then top with my Vegan Chocolate Frosting.
Nutrition Information
Yield
12
Serving Size
1
Amount Per Serving
Calories

281
Total Fat

12g
Saturated Fat

3g
Trans Fat

0g
Unsaturated Fat

8g
Cholesterol

0mg
Sodium

369mg
Carbohydrates

42g
Fiber

1g
Sugar

23g
Protein

3g