This vegan shepherd's pie is so amazingly delicious and whips up quite quickly!
Vegan shepherd's pie, or cottage pie as you may also know it as, is a delicious savory filling topped with mashed potatoes.
I have to be honest, I am usually a fan of Vegan Pot Pies because I love me some crust, but after perfecting this lentil shepherds pie, I am a true fan and convert to the cottage pie life!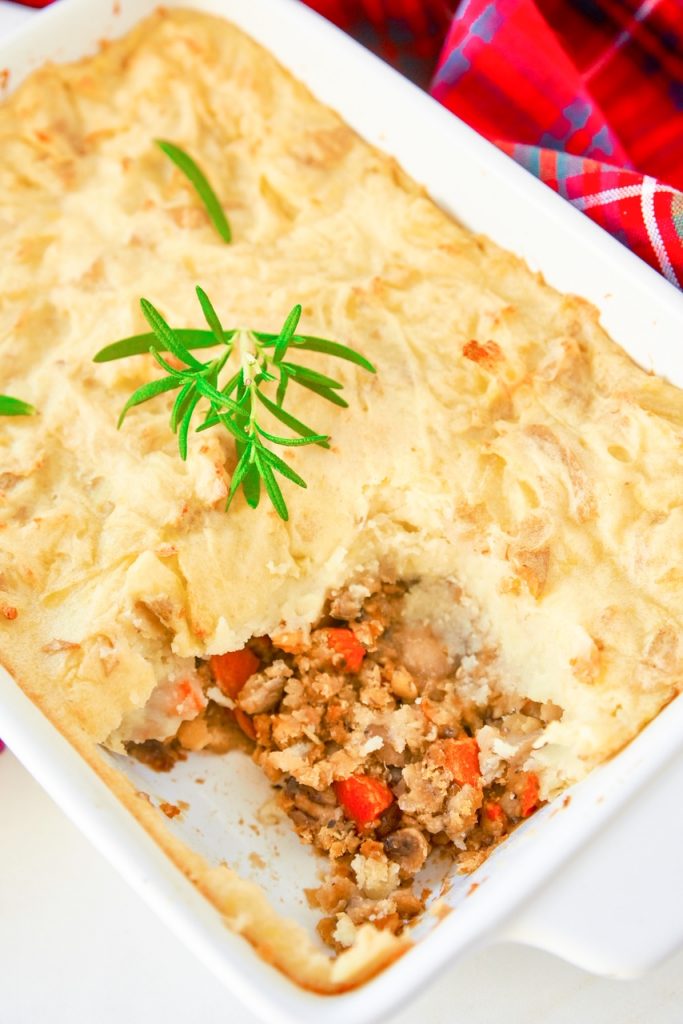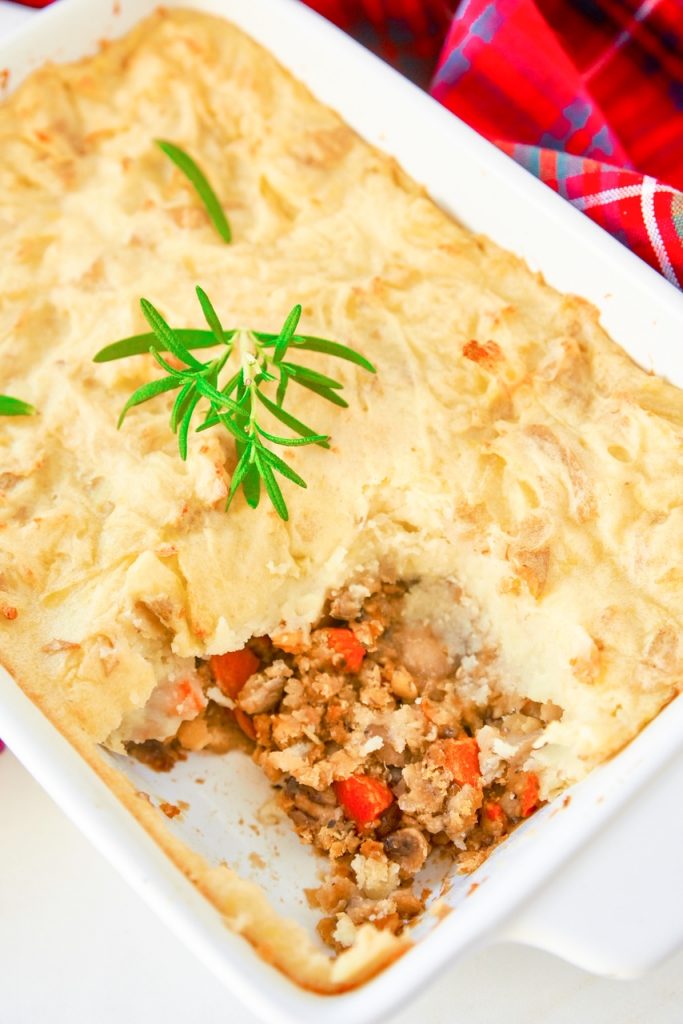 Not only is this recipe incredibly tasty, it is very healthy as well. It tastes good and there is no added crap!
It is made with all whole food ingredients which makes it perfect for indulging any time of year.
I love eating it when I can't figure out what else to eat for dinner and my Mom and I just throw this together.
I personally eat it any time of year, but it is one of my favorite Vegan Fall Recipes because it is so comforting and warm!
Lentils are high in protein and fiber and they make up much of the vegan shepherd's pie filling.
My Vegan Mashed Potatoes recipe that tops the vegan cottage pie is also healthy and uses only good stuff.
And of course we can't forget the yummy veggies that are also part of the filling. They are lightly cooked and then pan fried.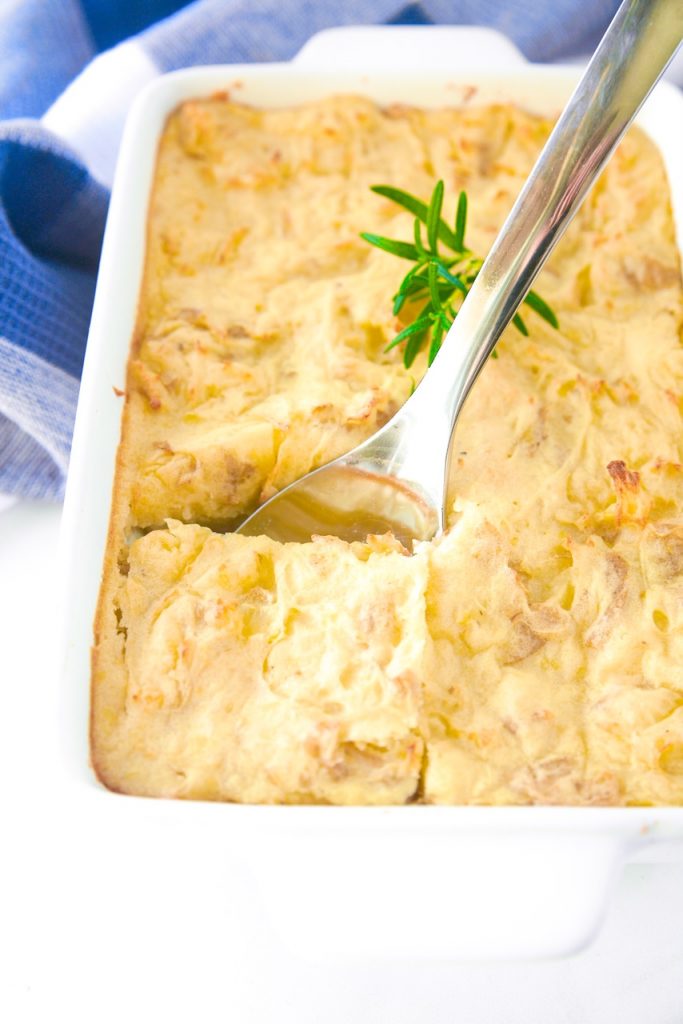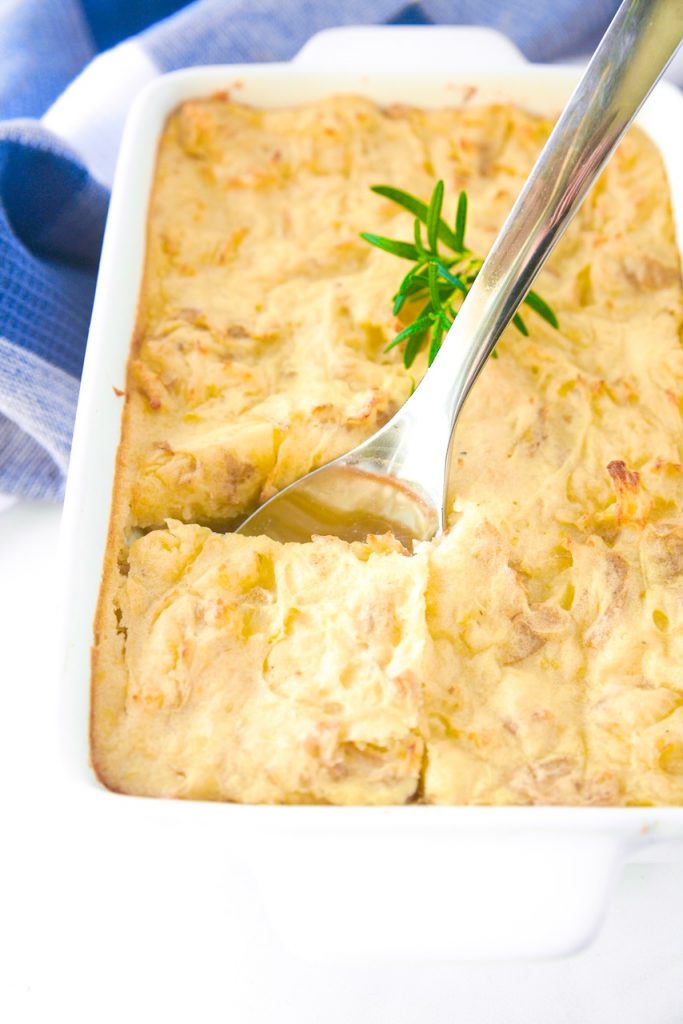 A lot of veggie shepherds pie recipes call for baking the casserole for an hour.
Who the heck has time for that? Not me!
Instead, my hack is to bake it uncovered for just 10-15 minutes to get that golden brown crust you so desire without taking a long time!
After all, the ingredients are already cooked. You cooked the lentil shepherd's pie filling and you cooked the mashed potatoes.
The only point of baking it is to brown the topping! So why cook for 45 minutes and leave uncovered for the last 15 minutes when you can just leave it uncovered for 10-15 minutes total?
I hope you enjoy this incredibly warm and savory vegan shepherd's pie! It is a total staple in my home and I know you will love it too.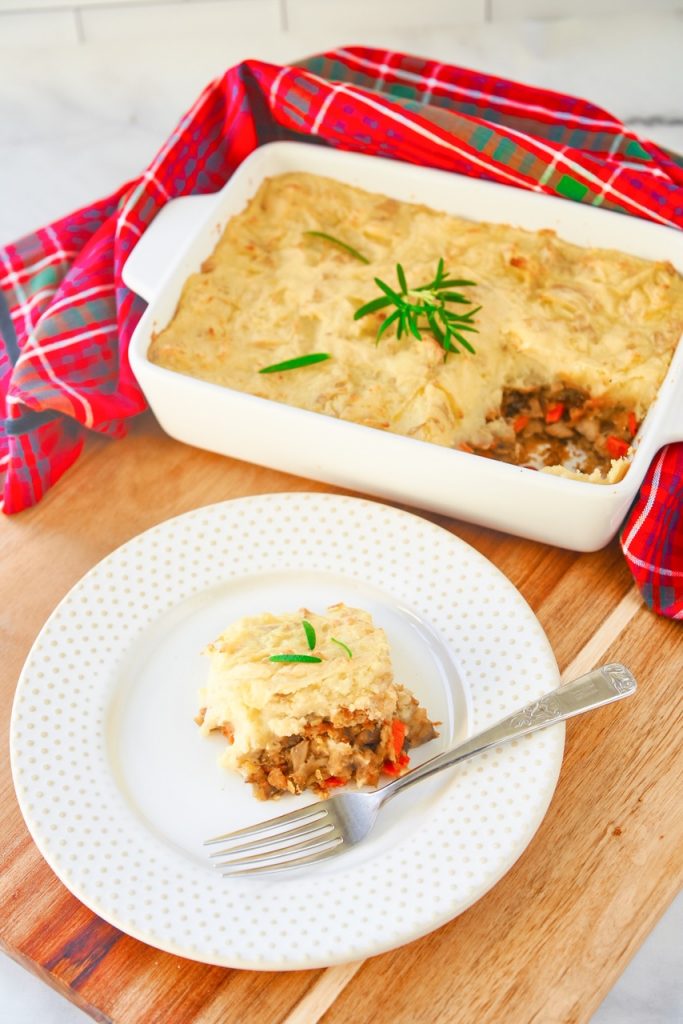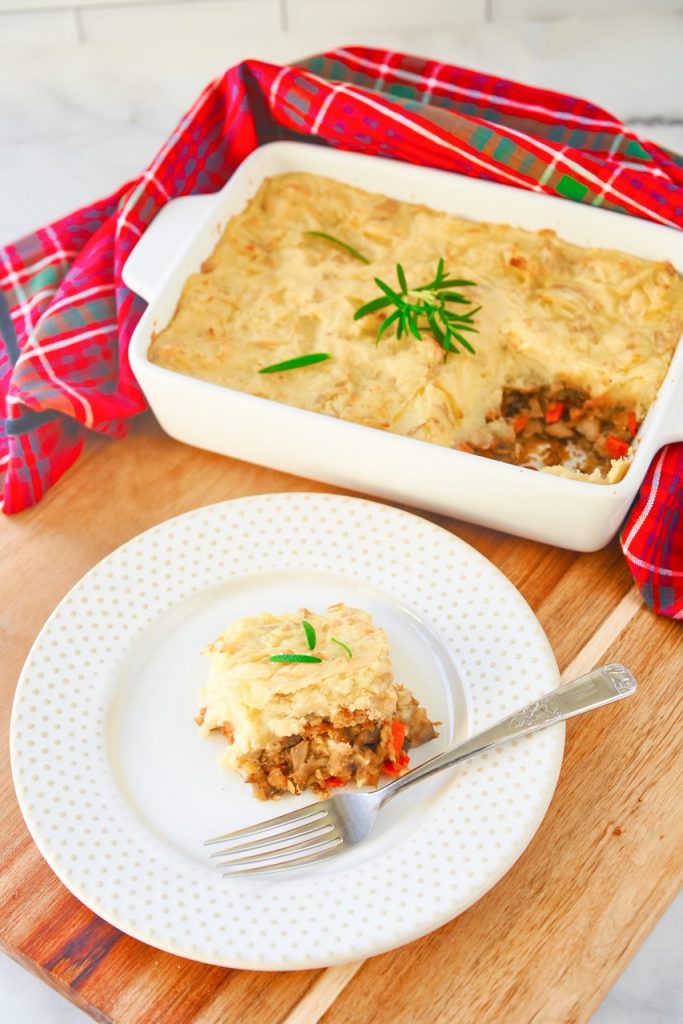 What Kind Of Lentils To Use For The Vegan Cottage Pie
I personally use red lentils because they are easiest for my stomach to digest.
I have a lot of digestion issues and red lentils are what works best for me and what I often use.
That being said, you can use whatever lentils you want when making a vegan lentil shepherd's pie.
Brown, red, green, it really doesn't matter!
Red lentils start off with a very bright color, but when cooked, they lose their color and turn brown just like their friends the brown and green lentil.
I like to keep my recipes chill and this vegan shepherd's pie recipe is no different! You can use whatever lentils you have on hand or that are at the store nearest to you!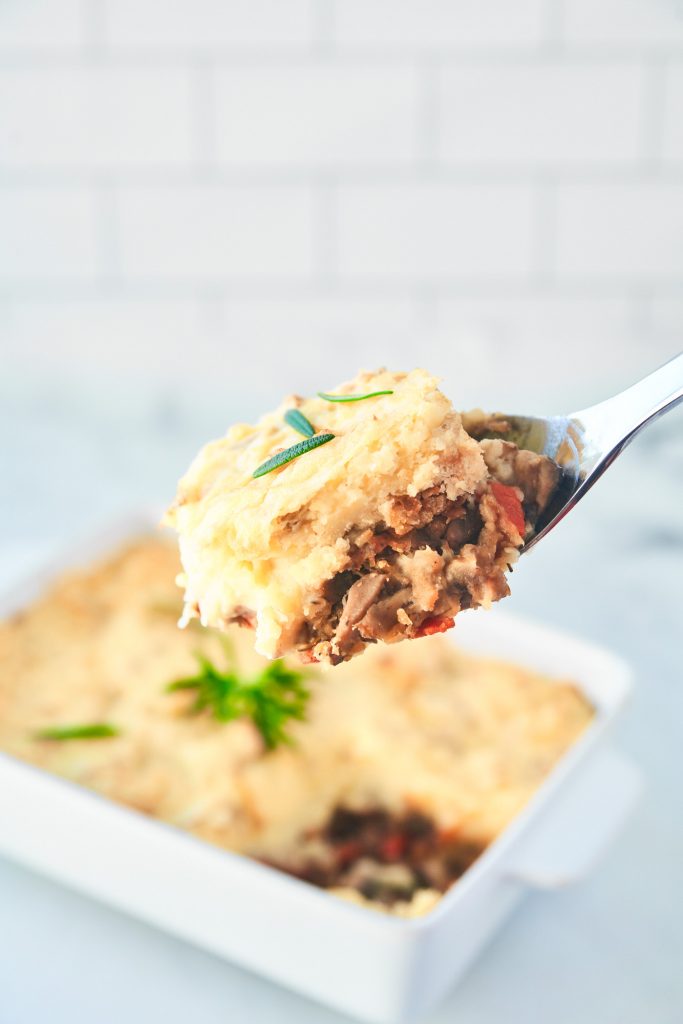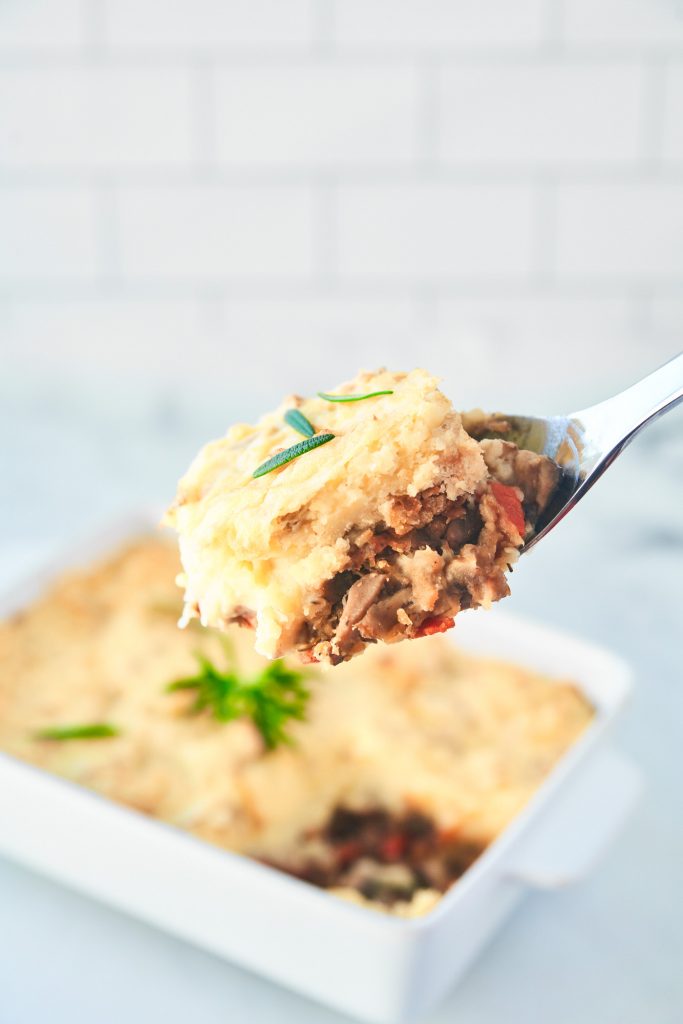 Tips For Cooking Lentils
You can always use canned lentils, but I only ever cook my own lentils!
Unlike cooking rice, cooking lentils takes what feels like seconds! They absorb water quickly and as soon as they are soft they are done!
All you have to do is put 1 part lentil to 1 1/2 part water. Simmer until you take a lentil out and try it and it tastes soft.
If you don't want to try it, just squish it between your fingers to ensure that it is cooked.
Again, I always cook my own lentils when making this vegan shepherd's pie recipe, but if you are cooking for a crowd or want to reduce the time it takes, you may find canned lentils more to your liking.
Don't forget to drain them if you use canned!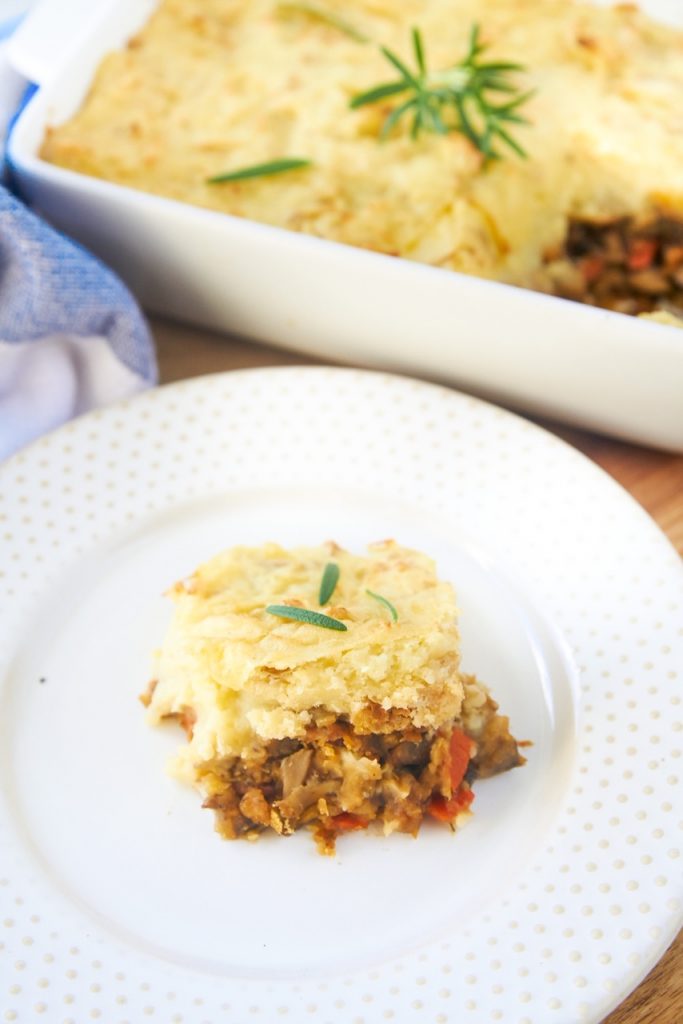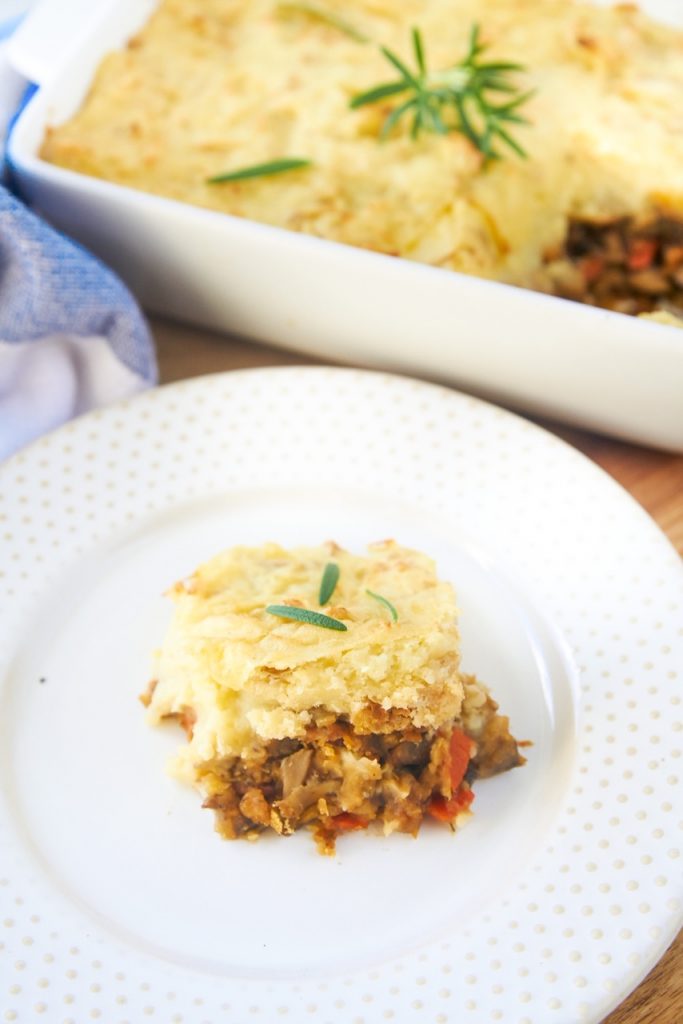 How To Make Vegan Shepherd's Pie
As I said above, this vegan shepherd's pie recipe is actually quite fast compared to how long it usually takes.
There are three steps!
First, make the mashed potatoes. Then, make the filling. Finally, bake for 10 minutes until golden brown.
If you are working with someone else, this makes the beginning part go even faster as someone can work on the mashed potatoes and someone can work on the vegan cottage pie filling.
For this recipe, we will use my Vegan Mashed Potatoes Recipe.
It is simple and easy and all you have to do is follow with the amount of potatoes that this shepherds pie recipe calls for.
I just add Vegan Butter, non-dairy milk, and salt for the mashed potatoes. I like to keep it simple because the lentil filling is what makes this casserole shine!
Next, it is time to make the filling.
If you are making your own lentils, go ahead and set those to boil while you saute the filling. If you are using canned lentils, that will save time, just make sure to drain them.
Meanwhile, saute your green onions and then add your carrots and celery and saute until soft.
Then, add your chopped mushrooms. You can use any kind of mushrooms you like, but I have found that baby bellas have a really nice deep flavor.
Now, the real fun happens when it comes to spicing your lentil shepherd's pie filling.
Once you cook the veggies and they are soft and aromatic, go ahead and combine the lentils and add your spices, vegan Worcestershire sauce, tomato paste, and soy sauce!
This gives you the delicious and hearty veggie shepherd's pie flavor you are after and creates a nice savory filling.
Once you are done, grease your baking dish with a little bit of oil or Vegan Butter and plop in that filling of veggies and lentils that you just made.
Then, top it with mashed potatoes and YOU. ARE. DONE! That is it!
Bake uncovered for 10-15 minutes until the top is browned to your specifications and serve while hot.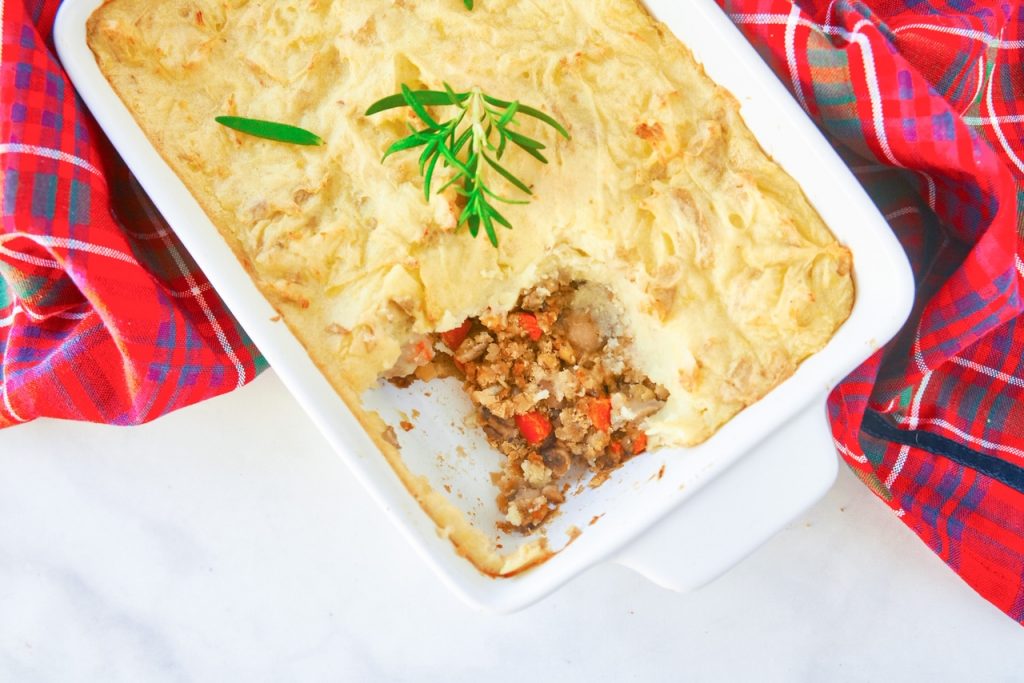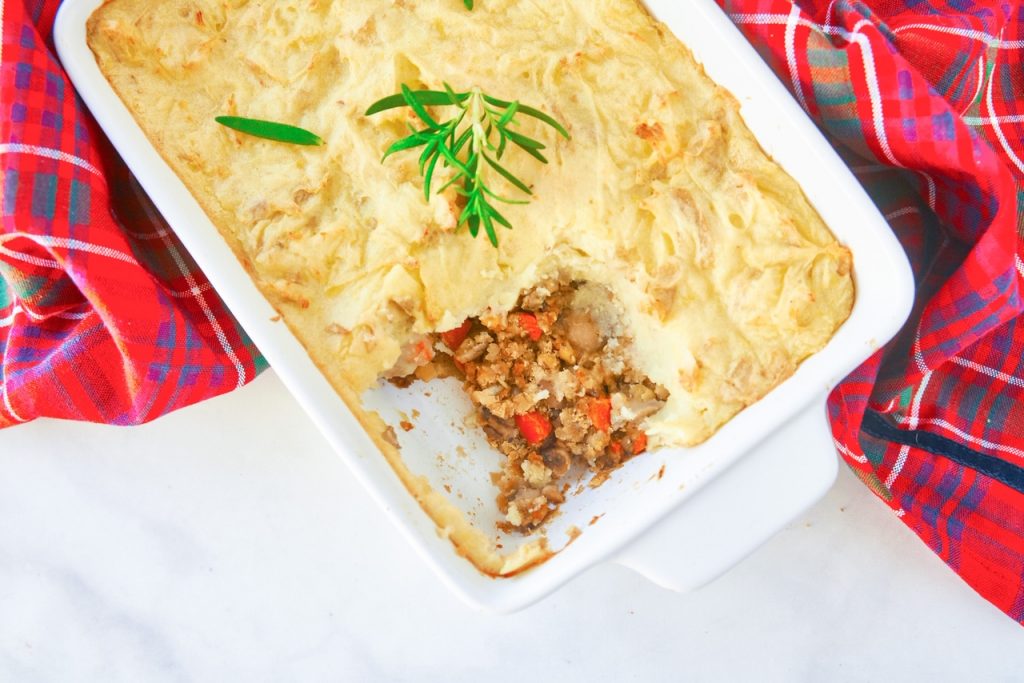 Making The Lentil Shepherd's Pie In Advance
Whether you want this vegan shepherd's pie for Thanksgiving Dinner or you are just meal prepping for the week, you can make some or all of this recipe in advance!
Option 1: You can just saute the filling and lentils and put in an air-tight container in the fridge until you are ready. Then, you just make the mashed potatoes the day of and bake to perfection!
Option 2: You make the mashed potatoes in advance and store them in the fridge. You also boil the lentils and store in an air-tight container. The day you make the vegan shepherd's pie you just make the veggie filling and combine the lentils and bake.
Option 3: You make the whole thing in advance and put the vegan cottage pie in plastic wrap in the fridge. The day of, you will bake the whole thing for about 20-30 minutes. It needs to bake longer as the filling and mashed potatoes are starting out cold instead of warm.
These three options will give you some ideas for how to meal prep this yummy vegan shepherd's pie recipe for whenever you need to eat it!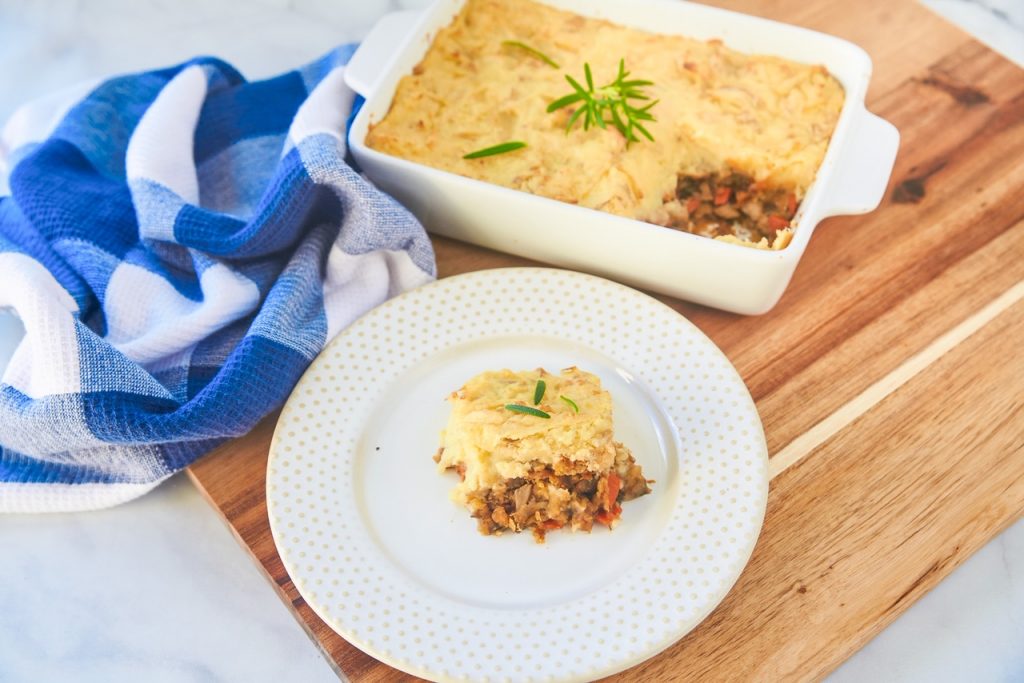 Storing And Reheating The Veggie Shepherd's Pie
Storing the vegan shepherd's pie is super easy!
Just put the whole casserole dish in a plastic bag and store in the fridge for 1-2 days.
For longer storage, cut individual pieces and store the vegan lentil shepherd's pie in an air-tight container in the fridge for 3-5 days.
To reheat, preheat your oven to 250-300F and warm the individual pieces until heated.
Yes, this will cook the pie a little bit more, but it only makes it taste better, not worse!
Of course, you can microwave the vegan shepherd's pie as well, but heating it in the oven makes it stay warm longer and is all around healthier for you!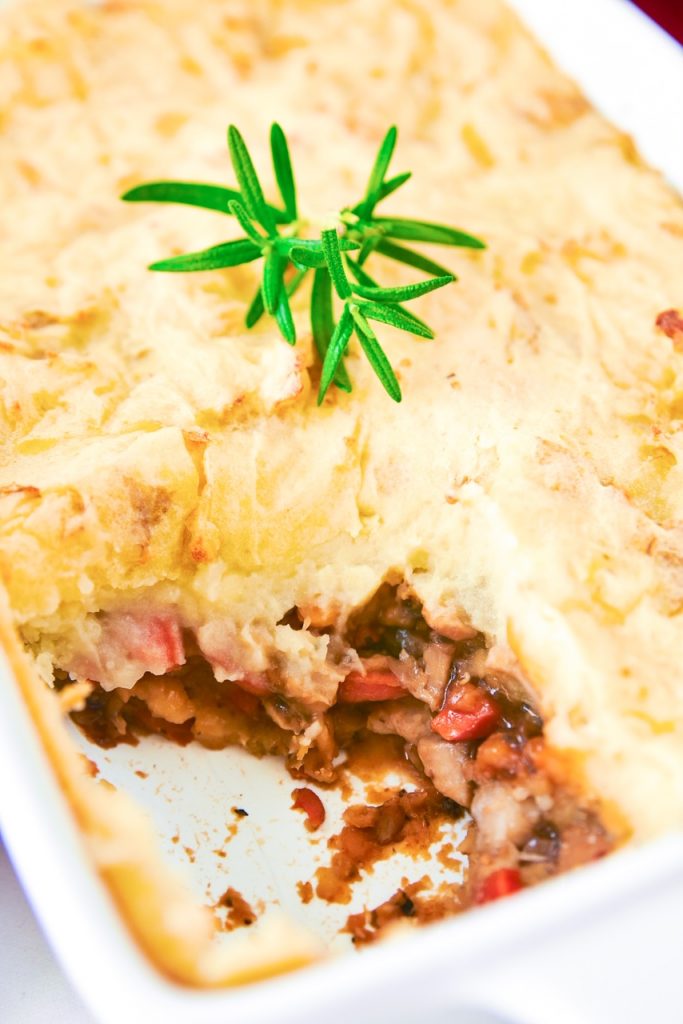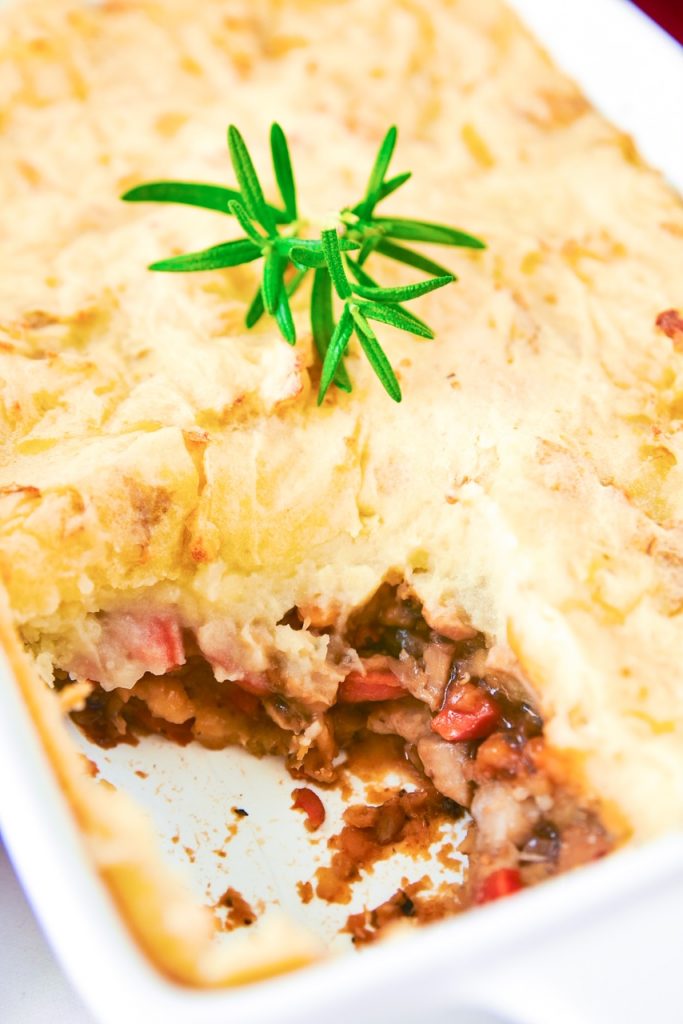 Did You Try This Recipe?
If so, I would love to keep in touch! I enjoy seeing photos and comments about the recipes that you make! You can follow me on Instagram and I will repost your goodies in my stories and comment on it too! Just tag me at @wowitsveggie and hashtag #wowitsveggie. I can't wait to see what you make!
Yield: 4-5 Servings
40-Minute Vegan Shepherd's Pie With Lentils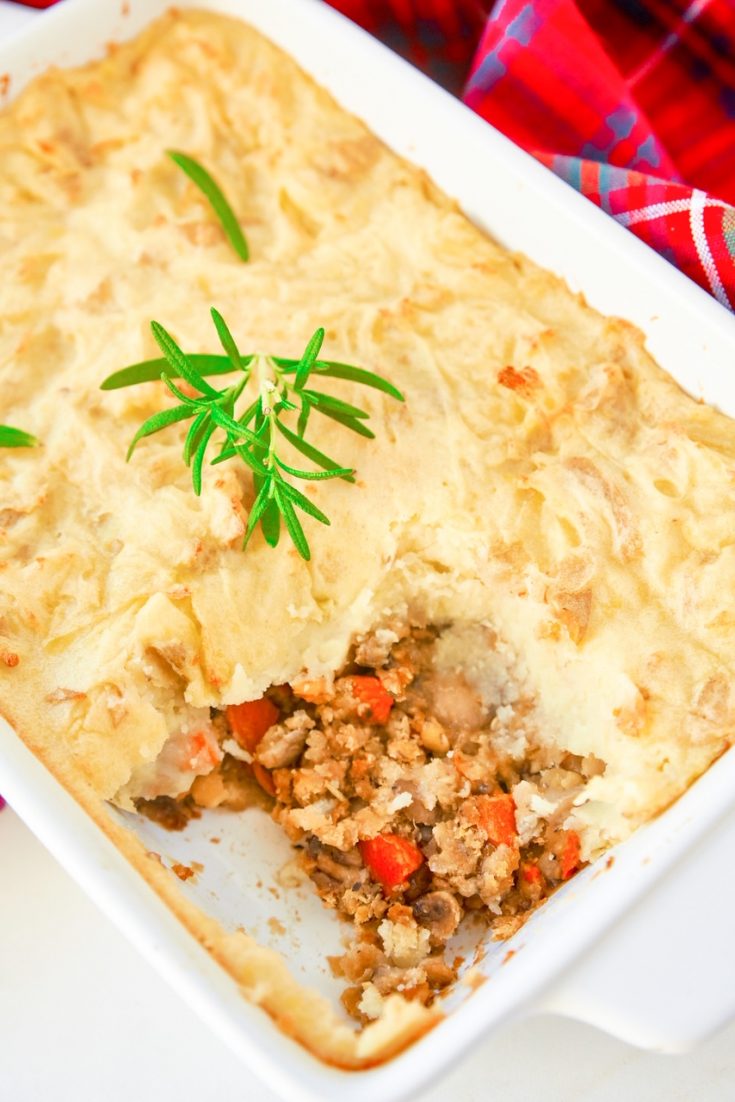 This vegan shepherd's pie is so warming and delicious! You can have lentil shepherd's pie on your table in about 40 minutes and even faster if you make some parts of this recipe ahead of time! This recipe is the ultimate vegan comfort food that you can eat any time of year.
Ingredients
5 medium potatoes
1 tsp salt
1/2 cup non-dairy milk
3 tablespoons vegan butter
3/4 cup dried lentils [or 2.5 cups cooked/canned lentils, any kind]
2 large carrots, chopped
4 green onions
1 cup frozen peas
1 stalk of celery, chopped
16 ounces of mushrooms, finely chopped
1/4 cup water
roux: 2 tablespoons arrowroot/cornstarch mixed with 2 tablespoons water
2 tablespoons soy sauce
1 tablespoon Vegan Worschetshire Sauce
1 tablespoon tomato paste
1 teaspoon rosemary
1 teaspoon basil
1 teaspoon thyme
Instructions
Preheat oven to 350F
Combine 2 tablespoons water with 2 tablespoons arrowroot or cornstarch and set aside to thicken and form a roux.
Make one recipe of my Vegan Mashed Potatoes. Essentially, boil and cube potatoes as listed in this recipe above. Once soft, drain the potatoes and use a potato masher to mash the potatoes with milk, Vegan Butter, salt and pepper until smooth and combined. Set aside.
Meanwhile, boil lentils. Add 3/4 cup dried lentils in about 1 1/2 cup of water and boil until soft and cooked. Alternatively, you can use canned lentils as long as you have about 2.5 cups of cooked lentils, any kind is fine.
Add oil to a pan and saute chopped green onions, carrots, and celery for a few minutes until aromatic. Add in your frozen peas and stir to combine.
Add in chopped mushrooms. Set a timer for 5 minutes and saute until they release their moisture. Mushrooms are very wet and will release liquid for a good 4 minutes and then the pan will become dry. Cook mushrooms until the pan becomes dry.
Add in soy sauce, vegan Worstechsire sauce, tomato paste, 1/4 cup of water, all of the spices, and the roux of 2 tablespoons arrowroot/cornstarch and water. Add in cooked lentils and stir until combined. The mixture will thicken greatly! Once it is thick, it is done!
Grease an 8x8 baking dish (or any medium-size casserole dish) with a little oil and add the vegan shepherd's pie filling. Then, take the cooked mashed potatoes and spread them over the top of the lentil filling until smooth.
Bake uncovered for 10-15 minutes until the top is golden brown. Let cool for 10 minutes before serving.
Notes
You can make either the filling, the mashed potatoes, or both ahead of time. Simply store in an air-tight container in the fridge and then combine the day you are serving.
Feel free to use drained canned lentils instead of making your own.
Nutrition Information
Yield
4
Serving Size
1
Amount Per Serving
Calories

257
Total Fat

6g
Saturated Fat

2g
Trans Fat

0g
Unsaturated Fat

4g
Cholesterol

10mg
Sodium

516mg
Carbohydrates

38g
Fiber

14g
Sugar

2g
Protein

12g