Vegan apple fritters are so easy and delicious to make! The flavors are beyond tasty, especially with a sticky and sweet glaze for the top!
If you have never had homemade apple fritters before, you are in for a real treat! They are the perfect blend of warm, sweet, and tart.
This recipe is basically dough mixed with apples and then lightly pan-fried in a little bit of oil.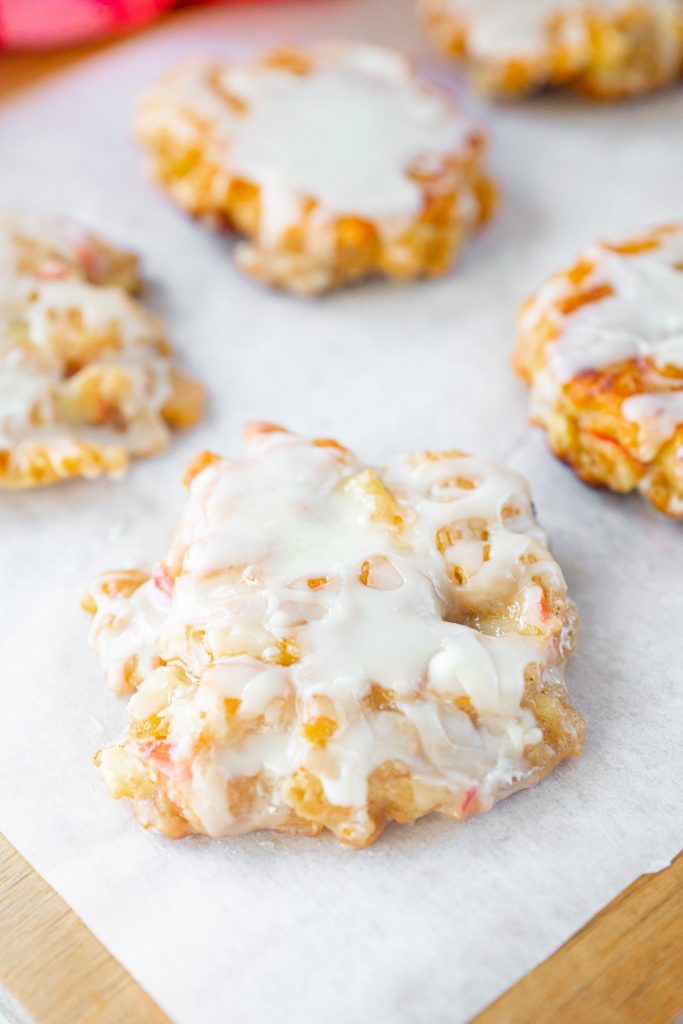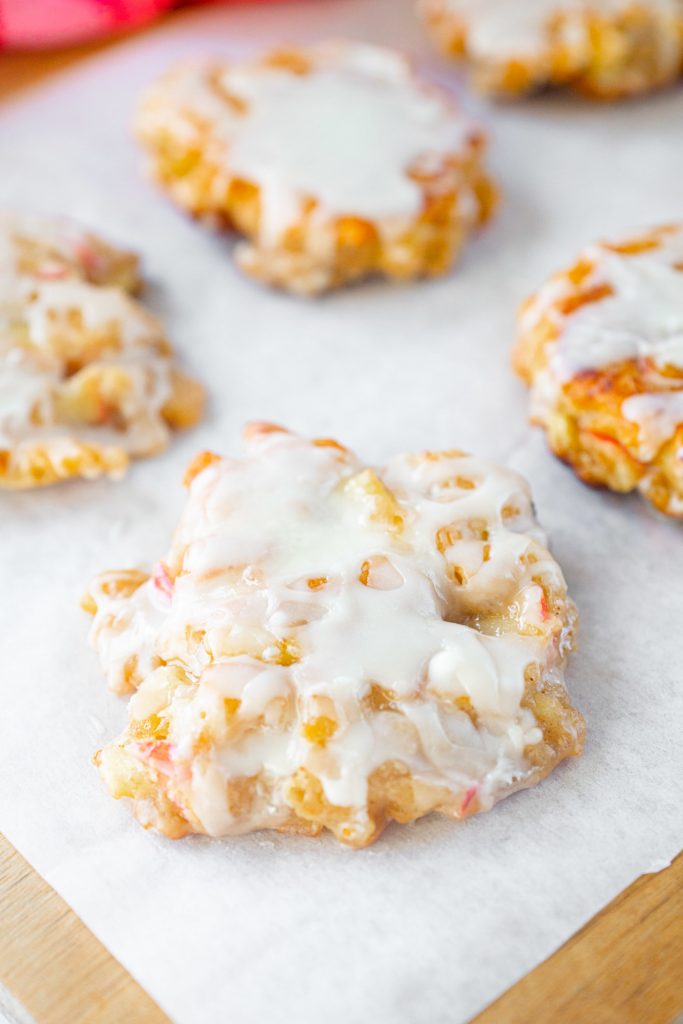 These are not baked apple fritters, they are fried in the traditional style.
That being said, I do NOT use a lot of oil. Most recipes suggest at least 1-3 inches of oil for frying the apple fritters.
My easy vegan apple fritters recipe requires just enough oil to coat the bottom of your pan and that is it! WAY less than 1-3 INCHES of oil and much healthier too!
These tasty vegan pastries don't use any yeast at all, yet blossom into some fluffy and delicious apple fritters.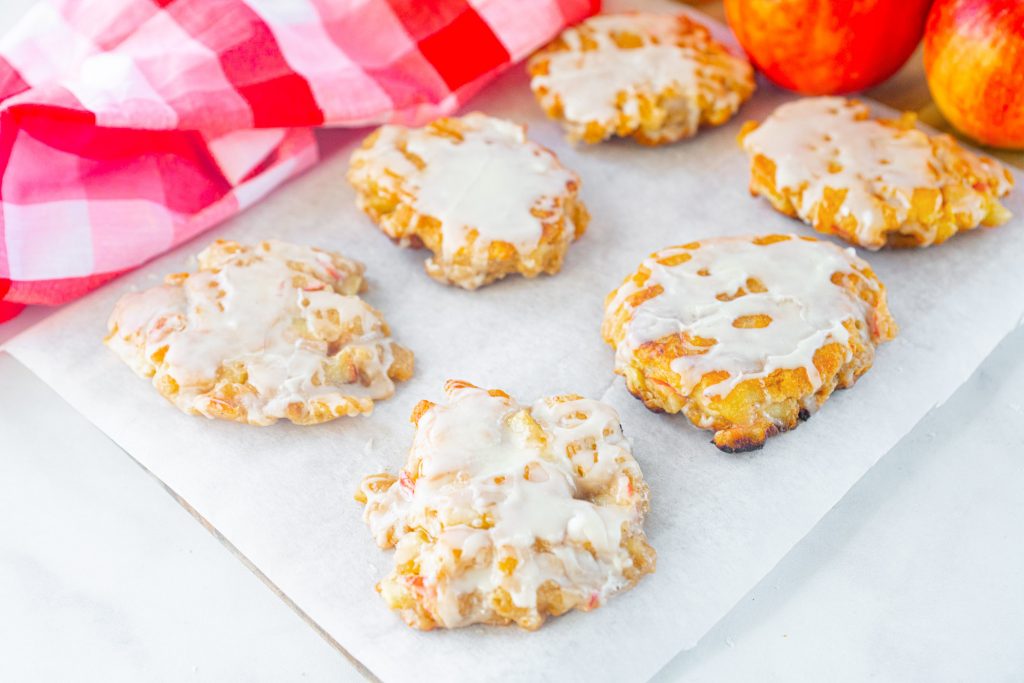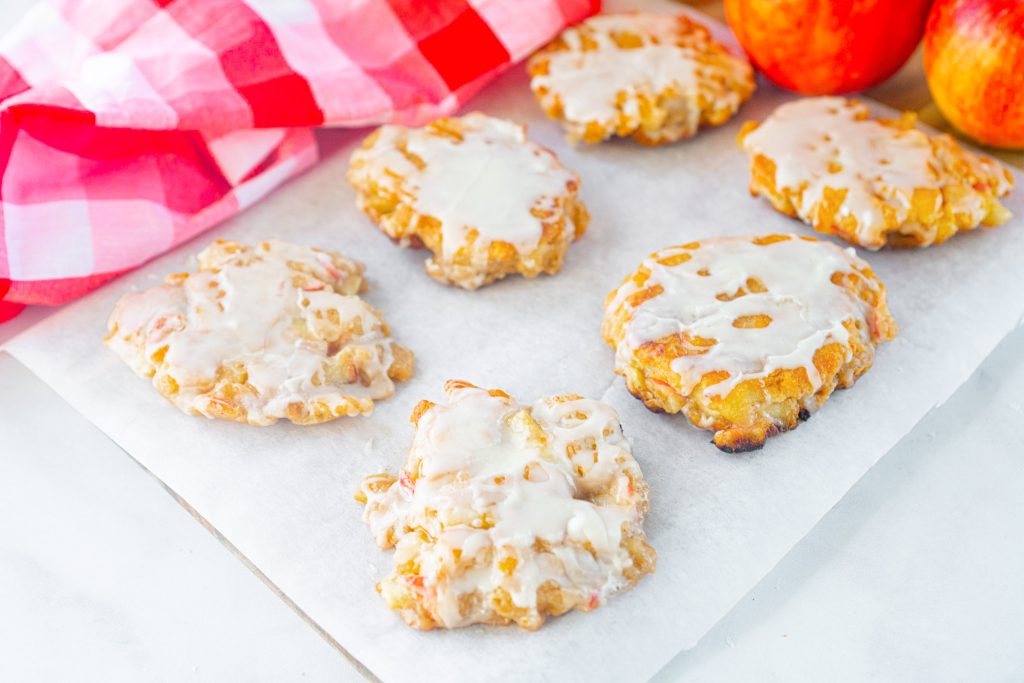 Using yeast when making recipes requires proofing and that takes a lot longer than 10-15 minutes.
Instead, we use baking powder with a nice, fluffy flour mixture that is flour and a little bit of cornstarch or arrowroot.
Unlike Vegan Apple Pie where the apples are cooked down, the apples in the fritters are nice and lightly cooked but not soggy and weighed down.
This is one of my favorite Vegan Fall Recipes, but I personally choose to make it all year since I can get apples at any time of the year where I live!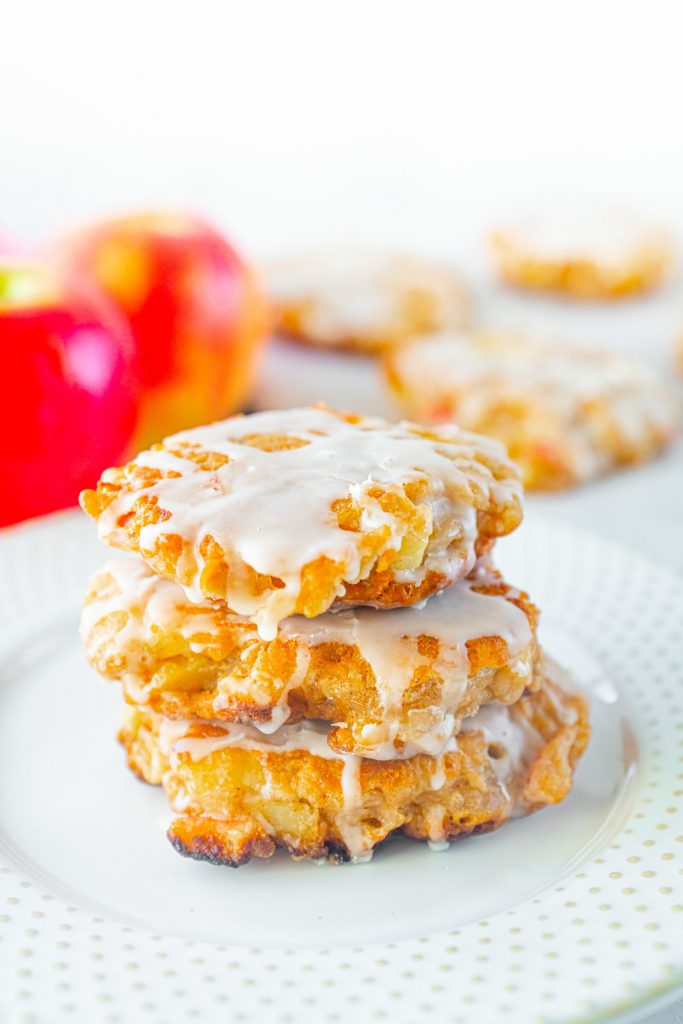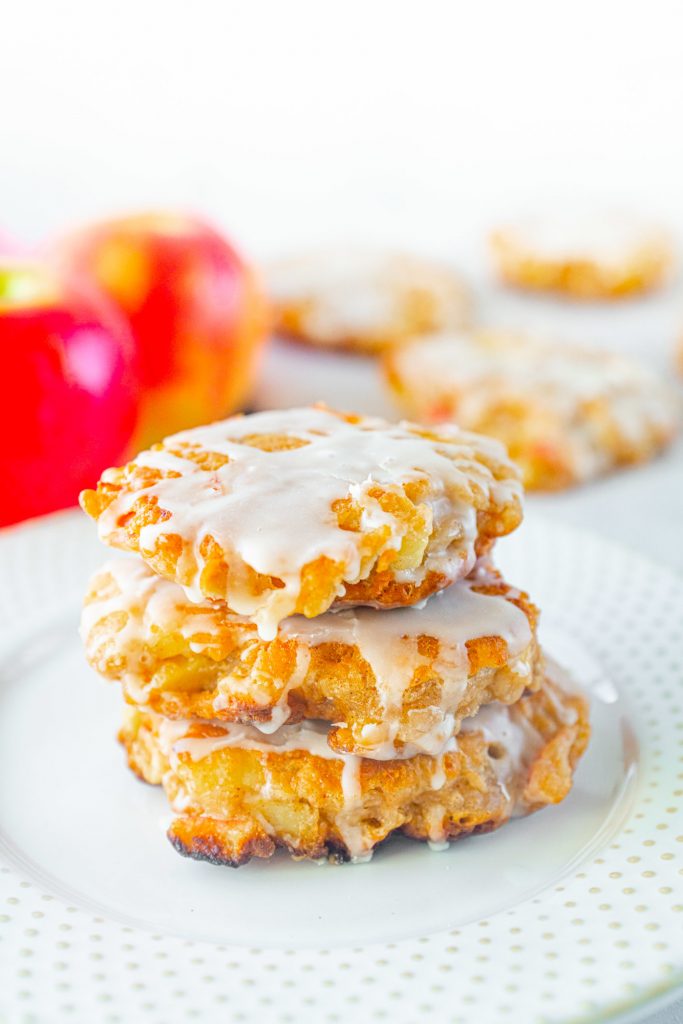 It is the perfect breakfast on the morning of your Vegan Thanksgiving Feast too!
When you make these apple fritters vegan, your entire kitchen is going to smell like the county fair. But I promise it will be much healthier and 100% vegan too!
I hope you enjoy this deliciously sweet and tart breakfast as much as I enjoyed creating it for you!
Keep reading to learn how to make this old-fashioned apple fritters recipe!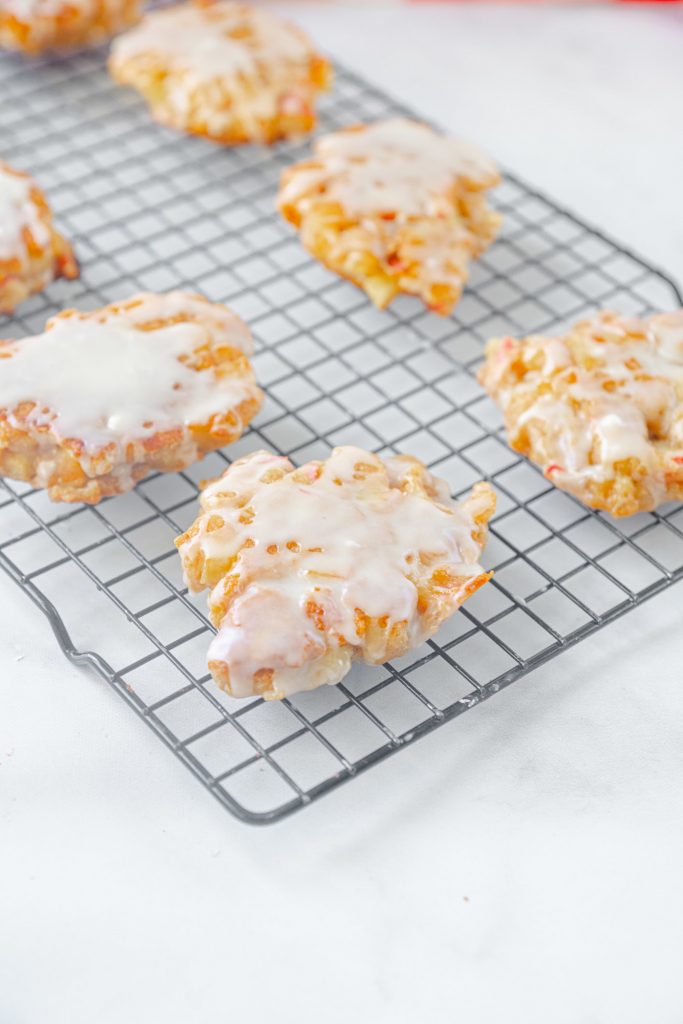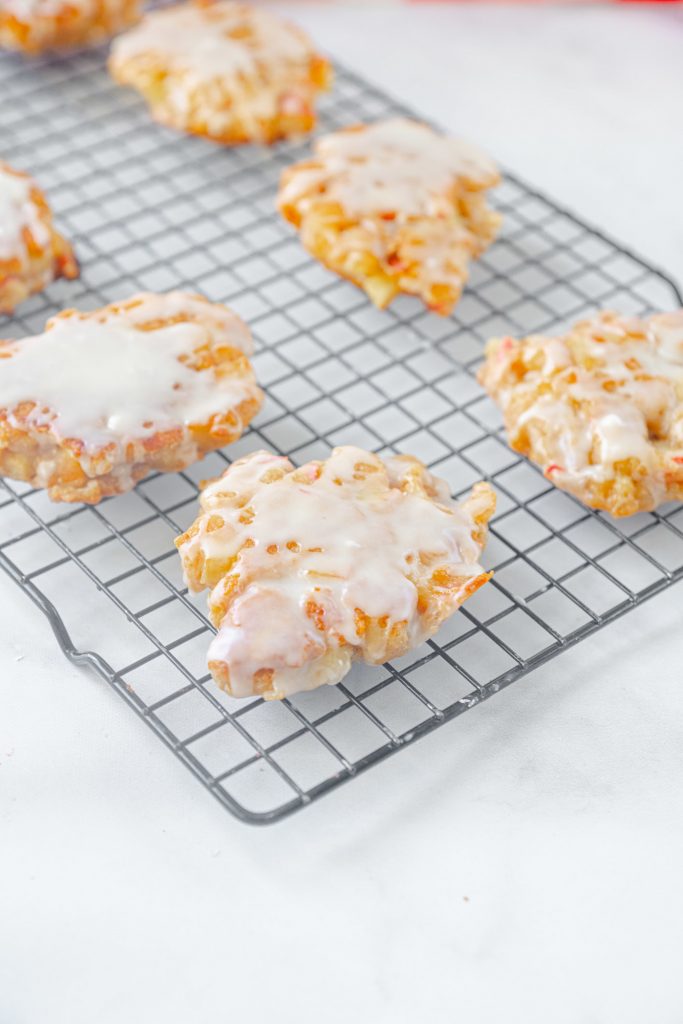 Why You Will Love This Vegan Apple Fritter Recipe
It is fast and easy! This recipe only takes 10 minutes from beginning to end so the fritters can be prepared at any time or on short notice. You do not have to deal with yeast and most of the ingredients you probably already have on hand.
It is healthier than other recipes. As mentioned, these are healthy apple fritters since they use a minimum amount of oil for frying.
It is perfect for holiday gatherings. These easy vegan fritters are bound to be a crowd favorite at any Thanksgiving, Christmas, or family gathering. They are stress-free and quick to make. These are apple fritters for kids and adults alike.
It tastes like fall and home cooking. If you are looking for a warm and inviting dish that will remind you of the flavors of fall and is spiced to perfection, this is it!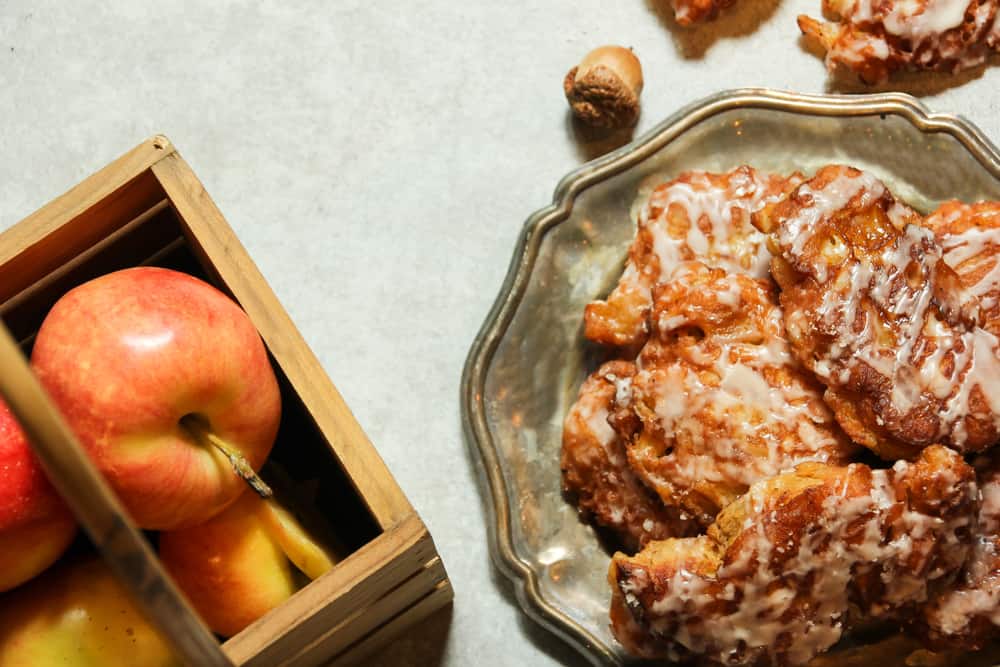 What Kind Of Apples To Use For Vegan Apple Fritters
Many recipes require a certain type of apple such as Granny Smith or Honeycrisp.
If you know me and follow my work, you know that I am a VERY CHILL cook.
As a result, you can use whatever apples you have on hand for the vegan apple fritters!
I have used a variety from gala to pink lady apples and have had every single recipe turn out perfectly fine.
Nobody who ate it complained or even noticed that there was a difference!
Also, I do not peel my apples! Apple peels give you lots of health benefits and look pretty too! Save yourself time and make healthy apple fritters by leaving the skins on!
Don't stress about it! If you have a bag of apples at home, use them! Don't go out and buy more for this recipe. It is supposed to be simple and easy!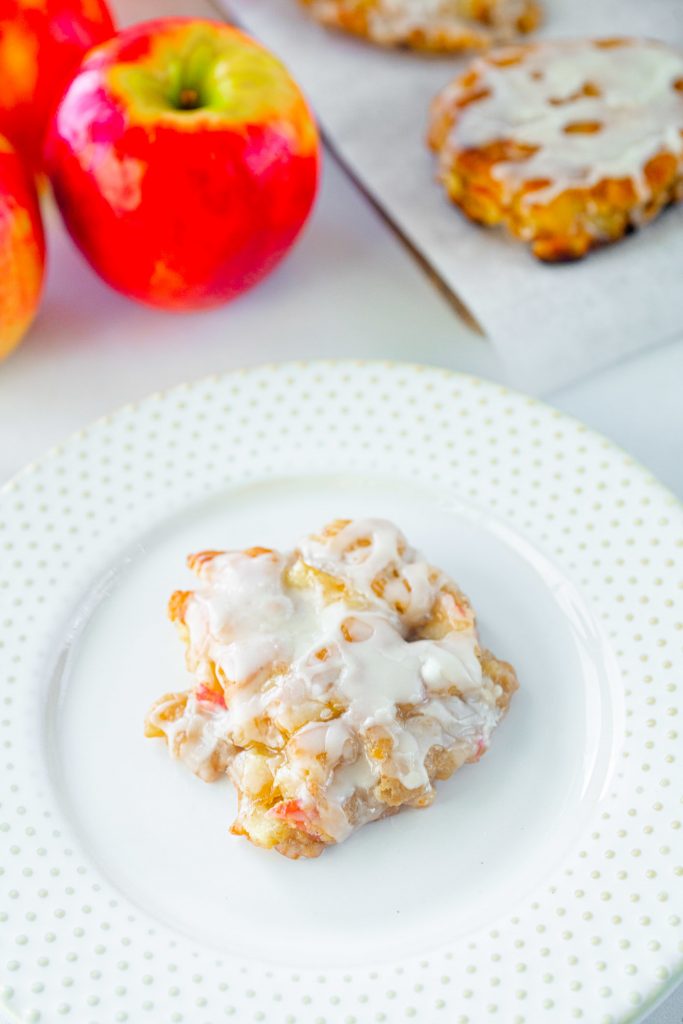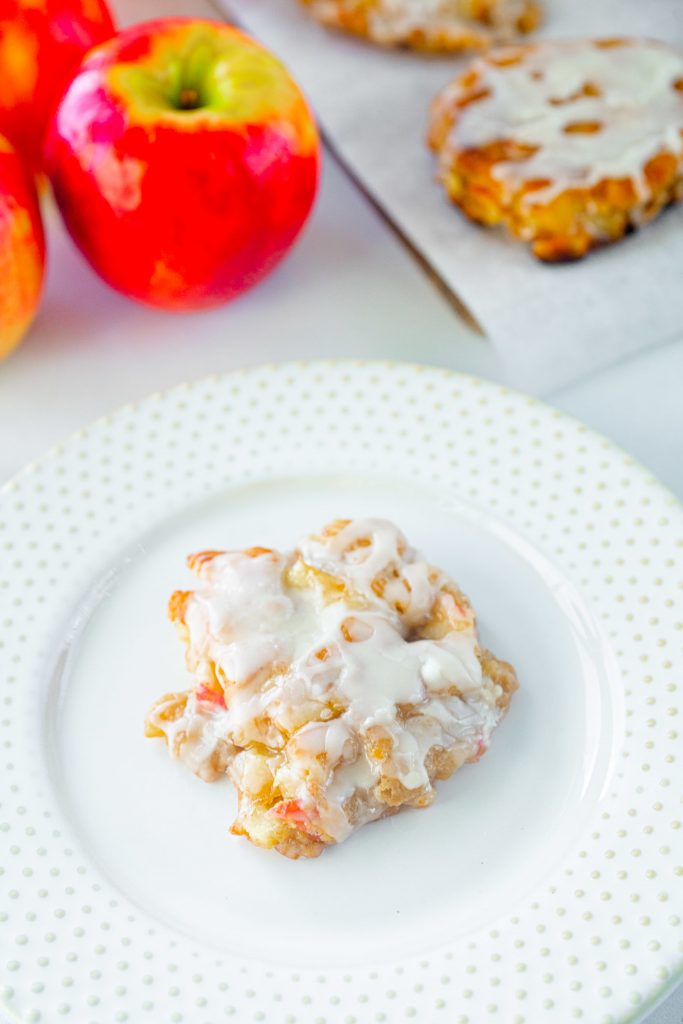 How To Make The Vegan Apple Fritters
Making these healthy apple fritters vegan is so simple and easy!
It takes about 5 minutes to make the dough and then 5 minutes to fry them up! Use a large frying pan and the whole recipe is done super quickly!
First, you are going to make what I call "imitation cake flour" which means you are going to put 2 tablespoons of cornstarch or arrowroot into the bottom of a measuring cup.
Then, you are going to fill the rest of the measuring cup with flour until it is full. Use a knife to scrape it off.
This will give you an imitation cake flour without having to actually go out and buy the cake flour.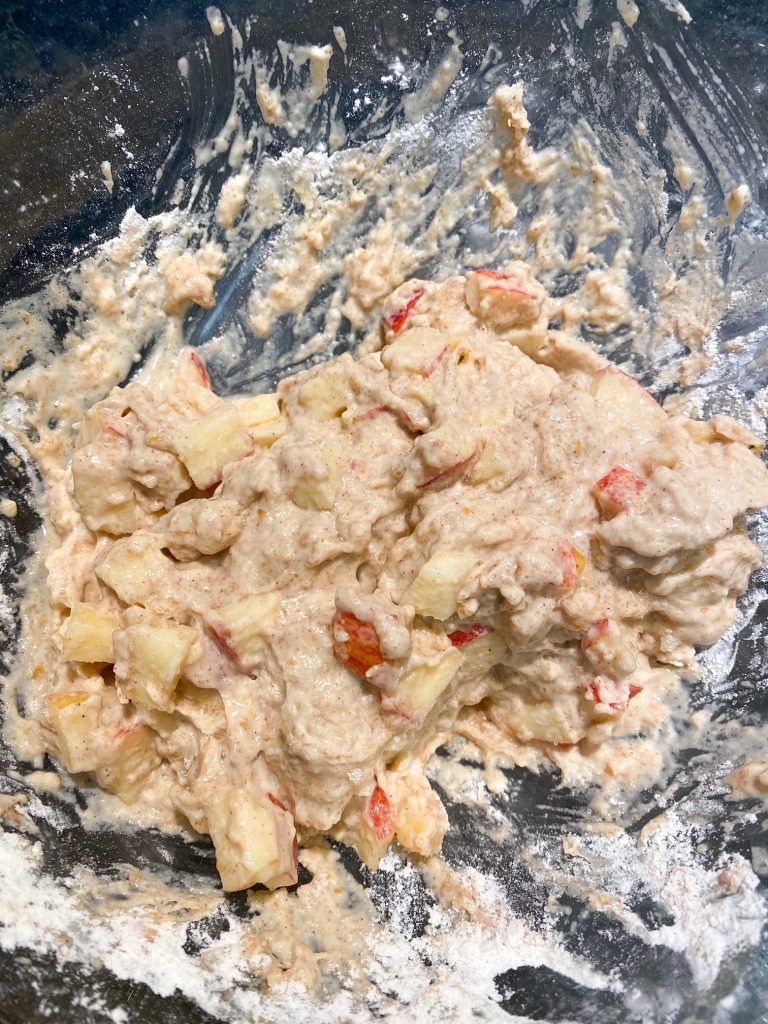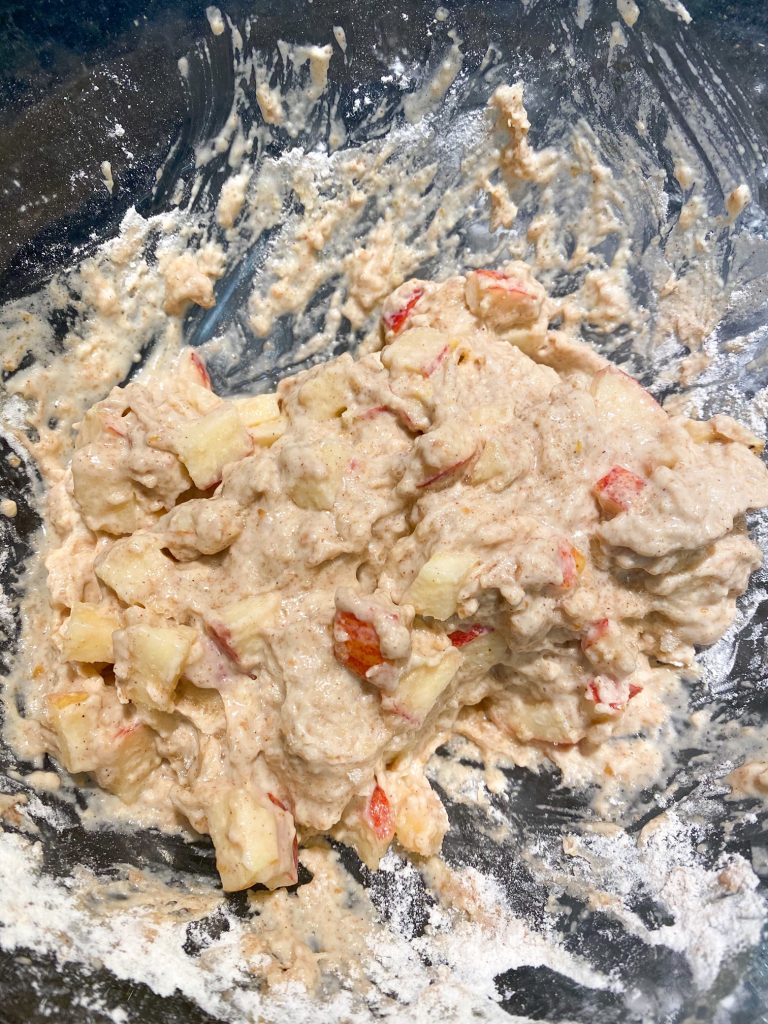 Just make sure to put the arrowroot and the flour in the same measuring cup!
Next, combine your flour/arrowroot mixture, sugar, baking powder, cinnamon, and salt in a large bowl. These are your dry ingredients.
In a medium bowl, combine ground flaxseeds, non-dairy milk, Vegan Butter and vanilla. These are your wet ingredients.
You will add your wet ingredients to your dry ingredients and then you will mix until barely combined.
Then, add in your chopped apples. I chop my apples fairly small so that they aren't huge chunks that take up most of the dough.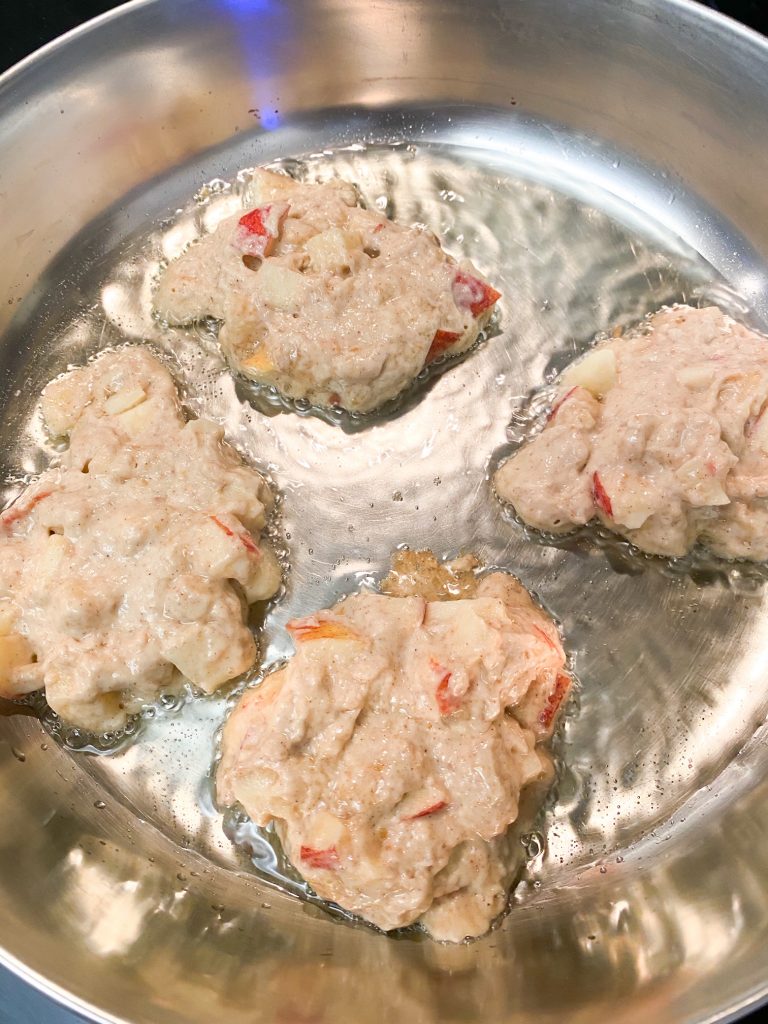 Stir in your apples but be careful not to overmix. As soon as the apples are evenly combined throughout the vegan apple fritter dough, that is when you stop and move to the stove!
Now, you will want to use your largest pan! I love apple fritters that are on the bigger side, kind of like the size of the palm of my hand.
You can make tiny bite-sized ones if you prefer by using smaller scoops!
First, heat oil on the pan. You need just enough to cover the bottom of the pan, certainly not 1-2 INCHES worth of oil.
You want to ensure that the stove is on medium heat. I have burnt my fair share of pan-fried apple fritters by putting them on high heat!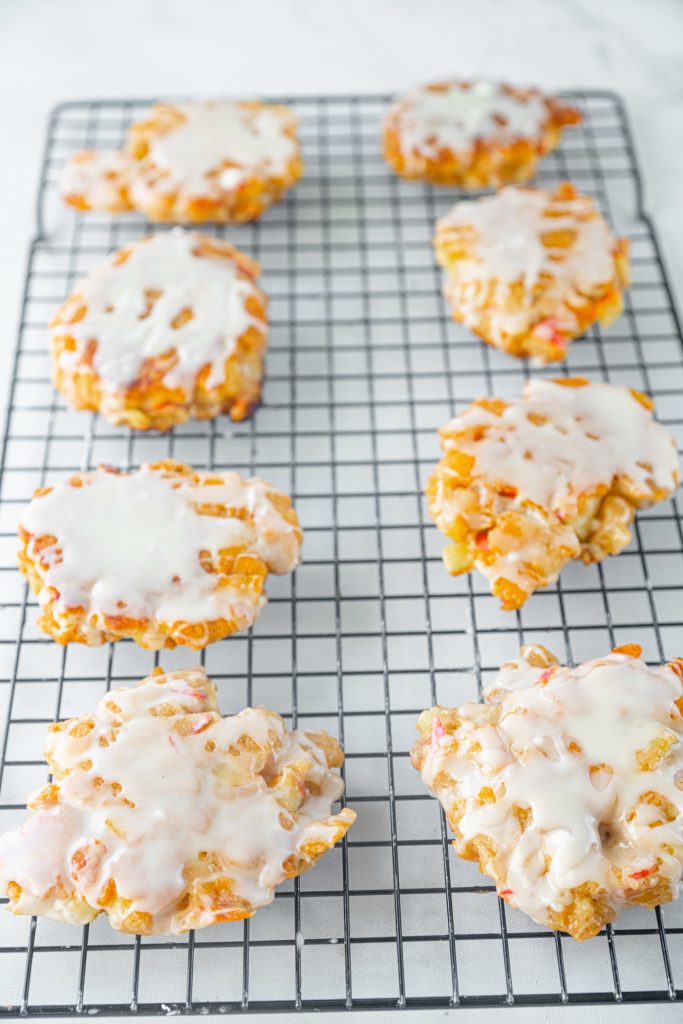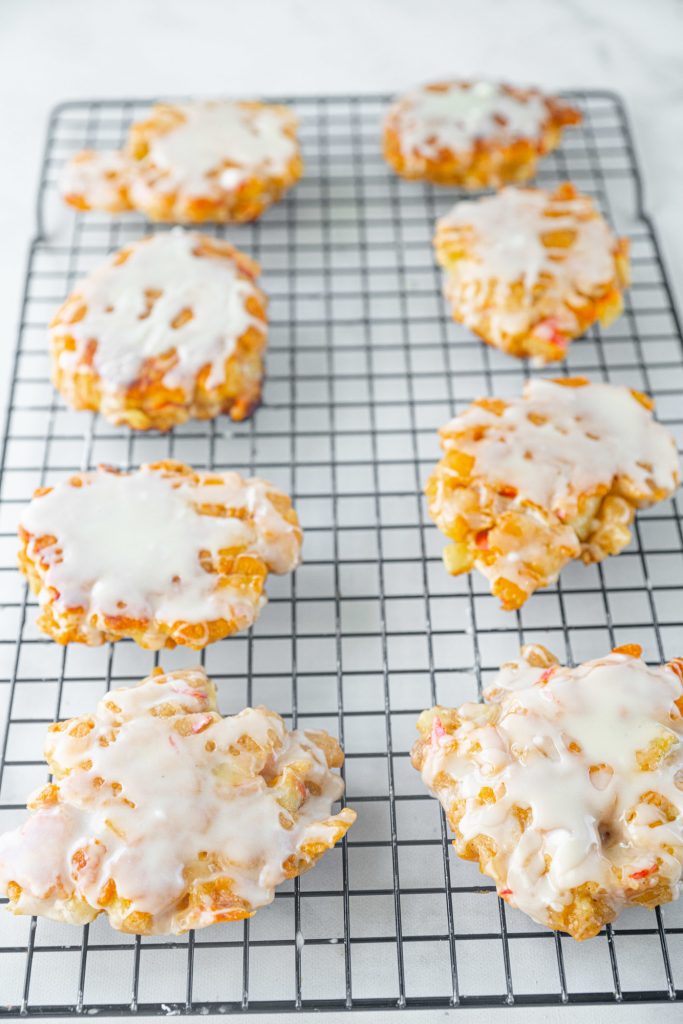 Carefully drop a LARGE tablespoon full of batter onto the oil. Make sure to form a flat circle-ish shape with the dough.
How your dough falls on the pan is how the vegan apple fritters are going to cook.
As a result, if you want them to look any specific way, you want to make sure to form them into the shape as soon as you drop them into the hot oil.
I suggest a heaping spoonful and then making sure it is spread out and flatter so that it resembles a disk.
Lightly fry the dairy-free apple fritters until they are golden brown on each side, about 4-5 minutes in total.
Be careful not to overcook or else they are going to burn! Let them dry on a paper towel!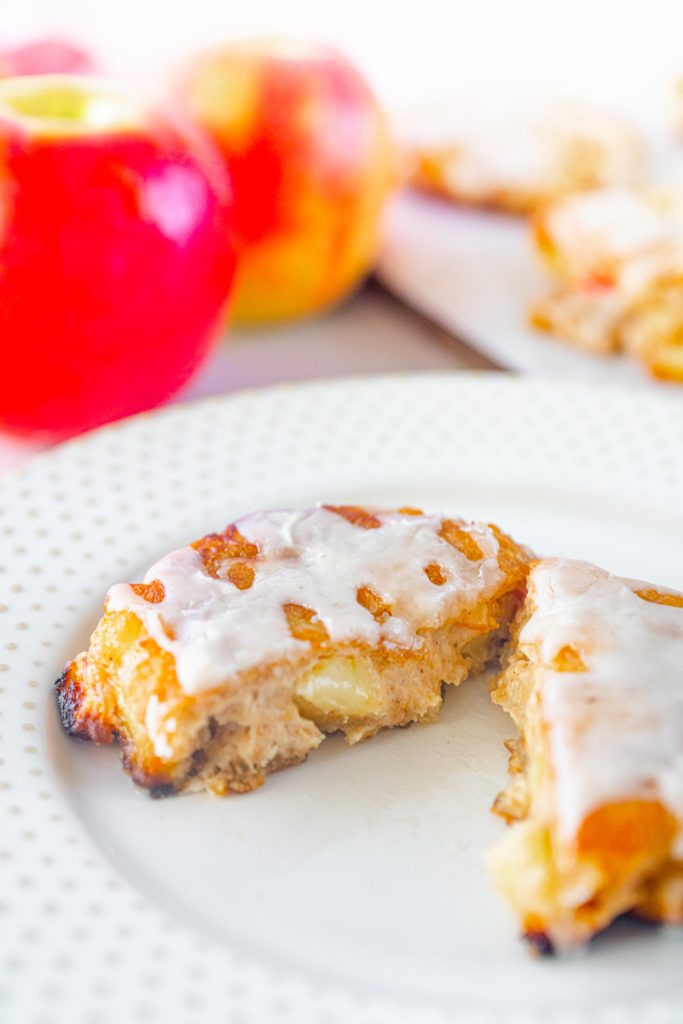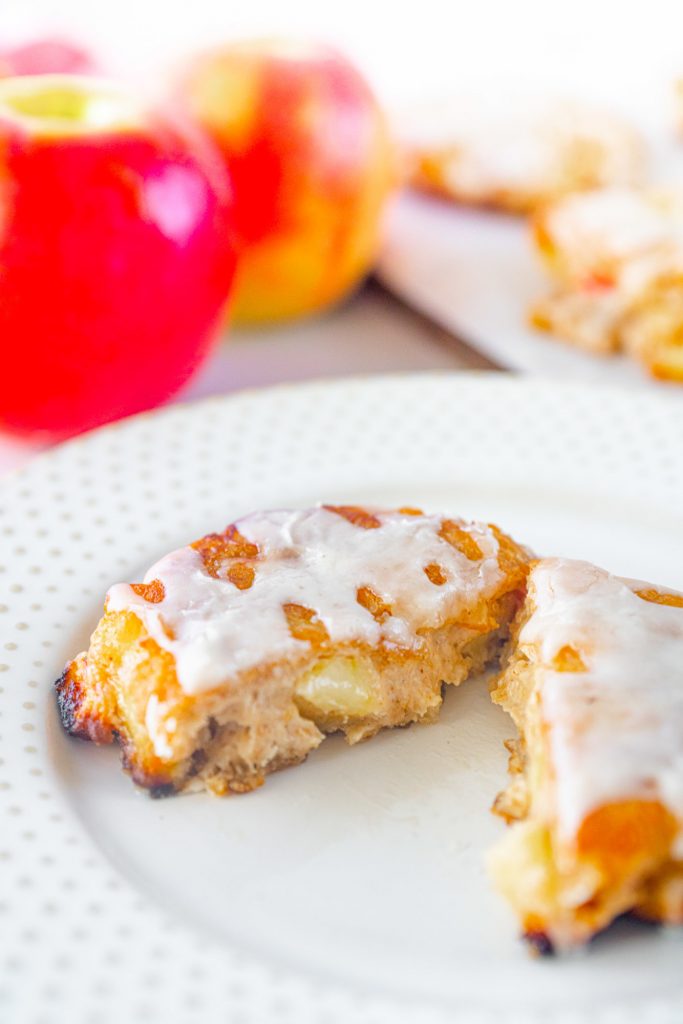 How To Make The Glaze
You can always just dust the vegan apple fritters with powdered sugar and call it a day.
There isn't much sugar in the dough, which is why I think a glaze is necessary for the best flavor!
I use the same glaze that I use for my Vegan Puff Pastry Cinnamon Rolls and it is super simple and easy!
All you do is mix powdered sugar with a tiny bit of non-dairy milk and vanilla and mix it together!
When glazing, it is important to wait until the vegan apple fritters cool down or else the glaze is going to melt straight in!
You don't have to wait until the fritters are completely cold, just don't glaze them right after they come off the stove!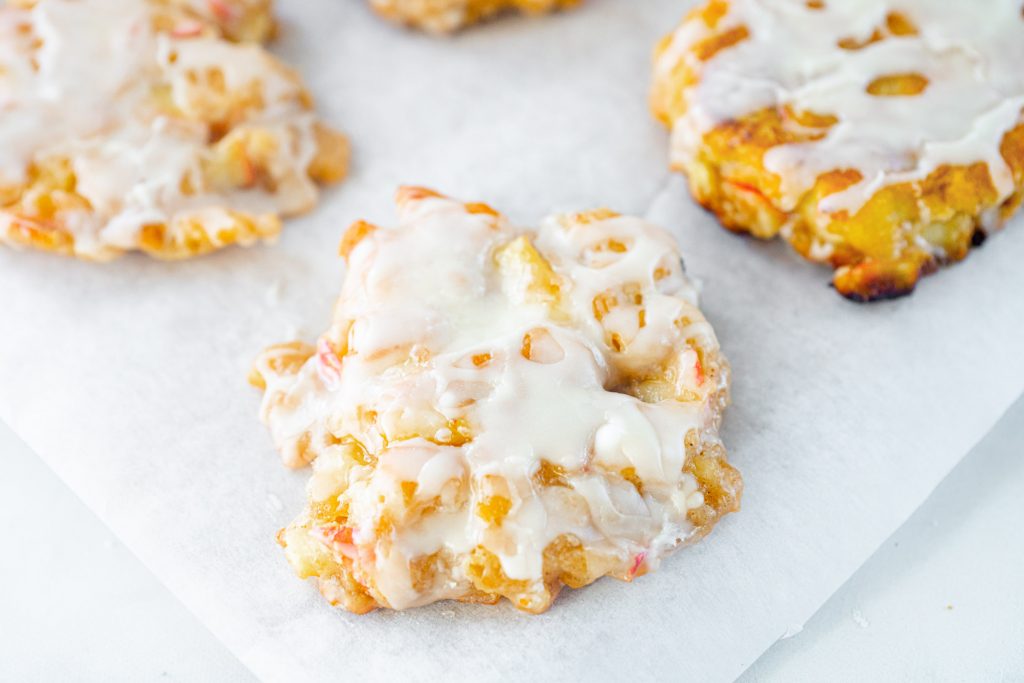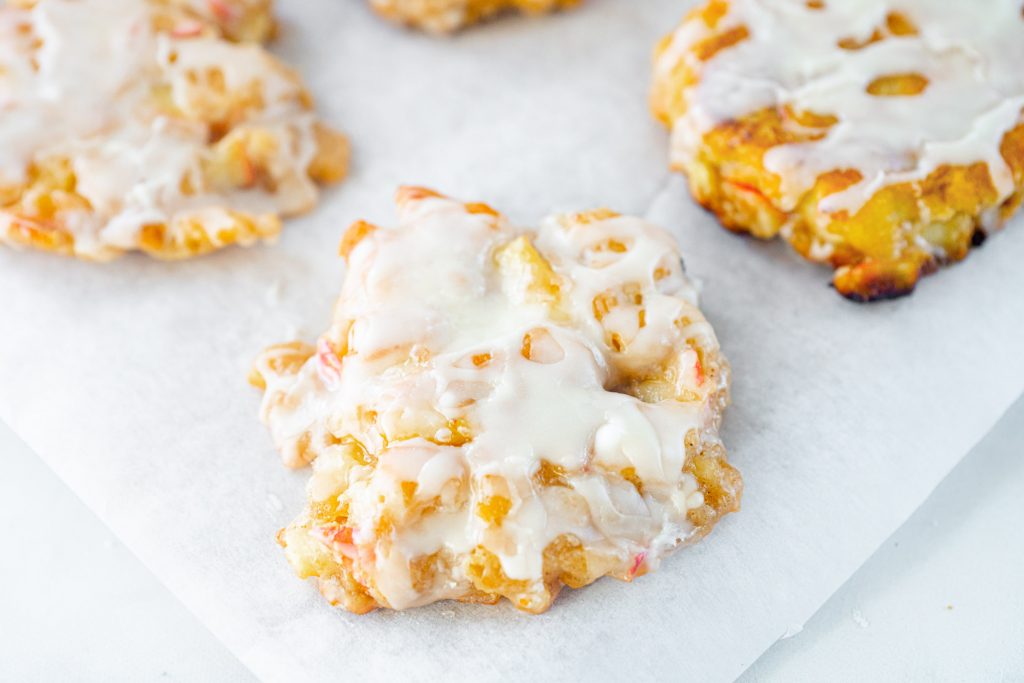 How To Store The Vegan Apple Fritters
These eggless apple fritters actually do not store well! They will get mushy and soggy and gross after just one day!
It is best to make a fresh batch and eat them all at one time.
If you must store them, they do well frozen so put them on a baking sheet and freeze them. Once they are frozen, combine them into a freezer-safe container and you are good to go.
Just don't store them overnight on the counter or else they will get soggy and weird and the texture is not pleasant at all!
If you loved this apple fritter recipe, you may love my Vegan Apple Turnovers too!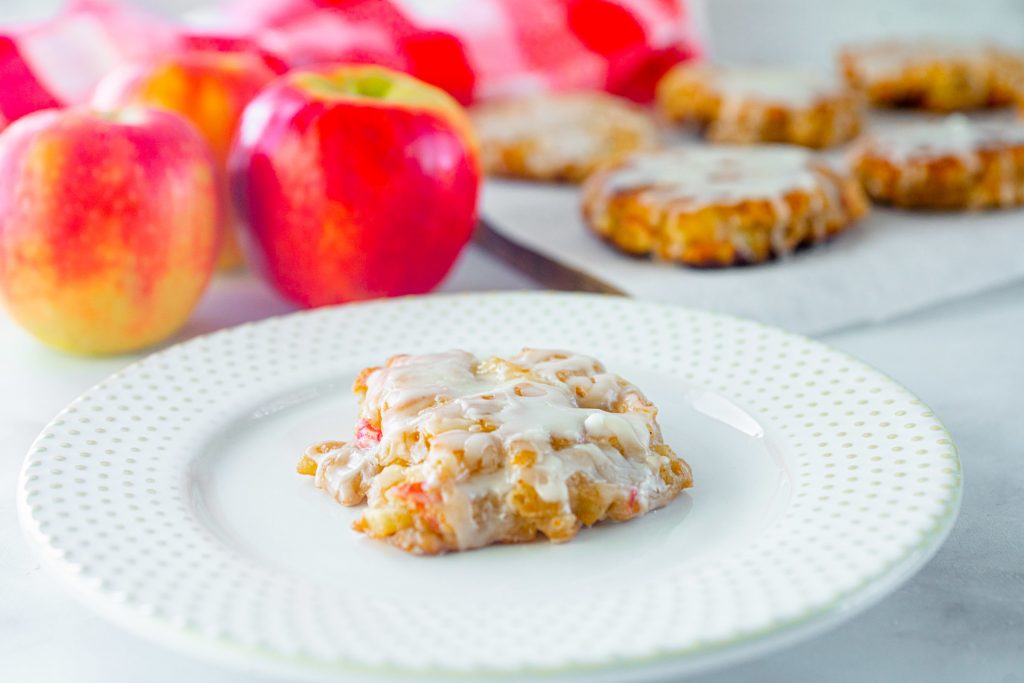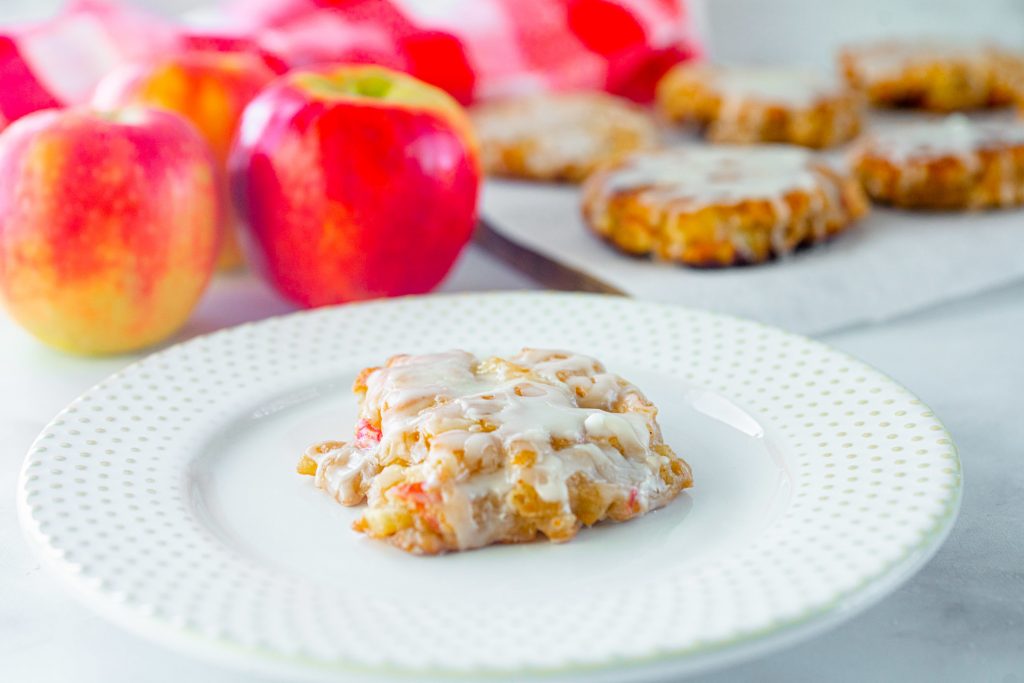 Did You Try This Recipe?
If so, I would love to keep in touch! I enjoy seeing photos and comments about the recipes that you make! You can follow me on Instagram and I will repost your goodies in my stories and comment on it too! Just tag me at @wowitsveggie and hashtag #wowitsveggie. I can't wait to see what you make!
Yield: 6 Large Fritters
10-Minute Vegan Apple Fritters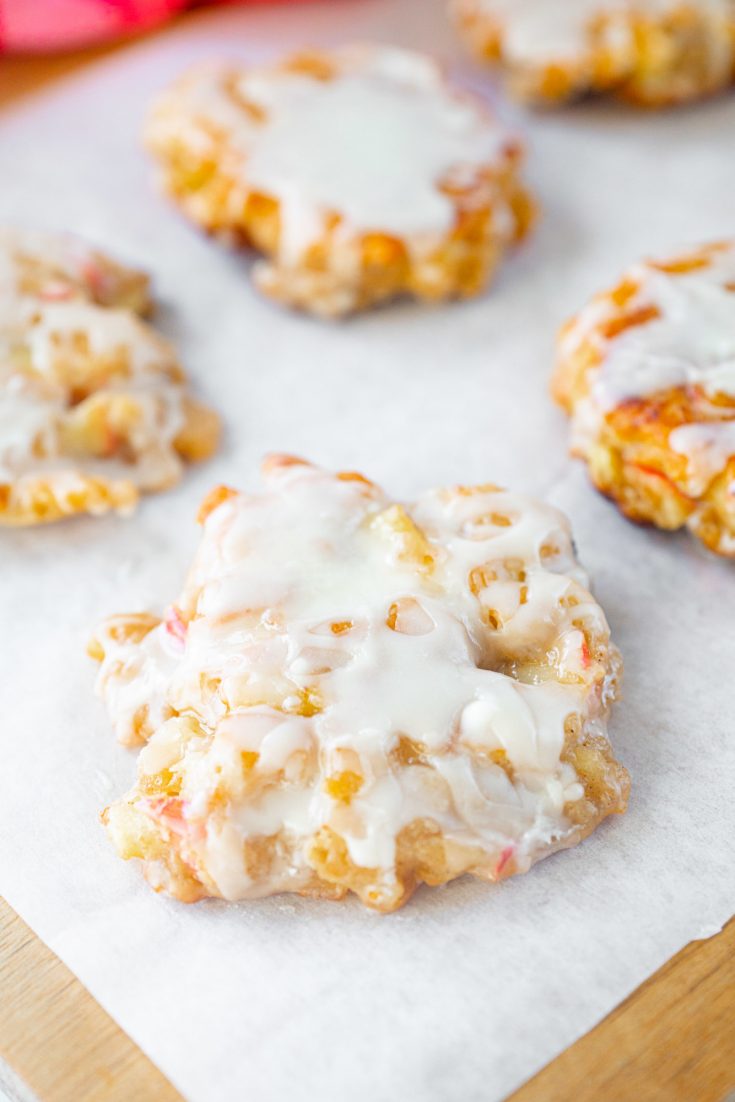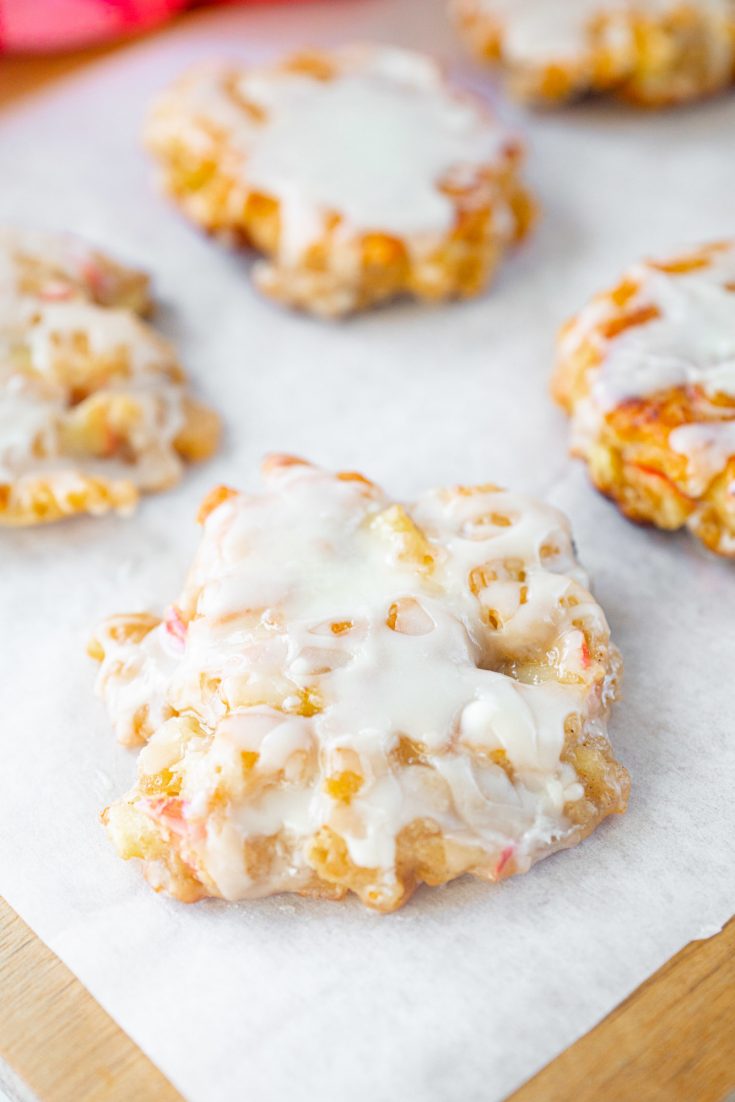 These vegan apple fritters are the perfect blend of warm, sweet, and tart! They are lightly fried in only a little bit of oil and then topped with a delicious glaze! They whip up in no time and are going to become your favorite indulgent vegan breakfast item!
Ingredients
2 tablespoons arrowroot/cornstarch
1 cup flour
1 tablespoon sugar
1 teaspoon cinnamon
1/2 teaspoon salt
1 teaspoon baking powder
1 tablespoon ground flaxseeds
1/2 cup non-dairy milk
1 1/2 tablespoons melted vegan butter
1 cup chopped apples [can be any kind]
For The Glaze:
1/2 cup powdered sugar
1/2 teaspoon vanilla extract
2 teaspoons non-dairy milk
Instructions
Measure 2 tablespoons of cornstarch/arrowroot in the bottom of a 1 cup measuring cup. Fill the rest of the measuring cup with your flour and use a knife to level it off. This is making imitation cake flour so that your vegan apple fritters are light and fluffy!
Combine the flour/arrowroot mixture, sugar, cinnamon, baking powder, and salt in a large bowl.
In another bowl, mix ground flaxseeds, non-dairy milk, melted Vegan Butter, and vanilla.
Stir flour mixture from step two with the flax and milk mixture from step 3 until just combined.
Add in chopped apples and fold until they are mixed into the batter. Do not overmix!
In a large pan, heat enough oil on medium heat to cover the bottom of the pan. You do not need 1-2 inches of oil, just enough to lightly cover the bottom of the pan!
Scoop up heaping spoonfuls of batter and carefully drop it in the oil. This recipe makes about 6 large vegan apple fritters. Make sure that as soon as you drop them onto the oil, they are flat and round like a disk. You can use your spoon to help shape them. They won't be perfect, but they should at least be slightly round and flat, not tall like a donut hole.
Fry until golden brown on both sides, about 4-5 minutes. Be careful not to burn them and be careful that your heat isn't on too high!
Drain the apple fritters on a paper towel and let them cool slightly before glazing or else the glaze will melt in!
To glaze, add powdered sugar, vanilla, and non-dairy milk to a bowl and mix together until a thick liquid is formed. You can make the glaze thicker by adding more powdered sugar or thinner by adding milk in 1 teaspoon increments. Be careful that your glaze isn't too thin that it is runny but not too thick so it won't spread! Use a spoon to drizzle the glaze all over the vegan apple fritters!
Enjoy while warm and freshly glazed! You can also skip the glaze and just sift powdered sugar over them for dusting if you prefer!
Notes
These vegan apple fritters DO NOT STORE WELL! They will get soggy and gross if you store them on the counter. If you want to store them, place them on a baking sheet and freeze them. Then put them into a freezer-safe container and take them out when you are ready to eat them!
I recommend just making enough for one day or making a fresh batch as they don't hold up all that well to storing, especially on the counter!
Nutrition Information
Yield
6
Serving Size
1
Amount Per Serving
Calories

152
Total Fat

4g
Saturated Fat

2g
Trans Fat

0g
Unsaturated Fat

1g
Cholesterol

9mg
Sodium

146mg
Carbohydrates

34g
Fiber

1g
Sugar

14g
Protein

3g