This is truly the best vegan chocolate frosting you will ever taste! Try it if you don't believe me and then let me know what you think.
This is the vegan chocolate icing recipe that we have used for pretty much my whole life and childhood growing up that my Mom made.
It is Mom's recipe that she has used for over 15 years and everyone always loves it and asks for more. Nobody ever knows that it is vegan and the flavor is so amazing!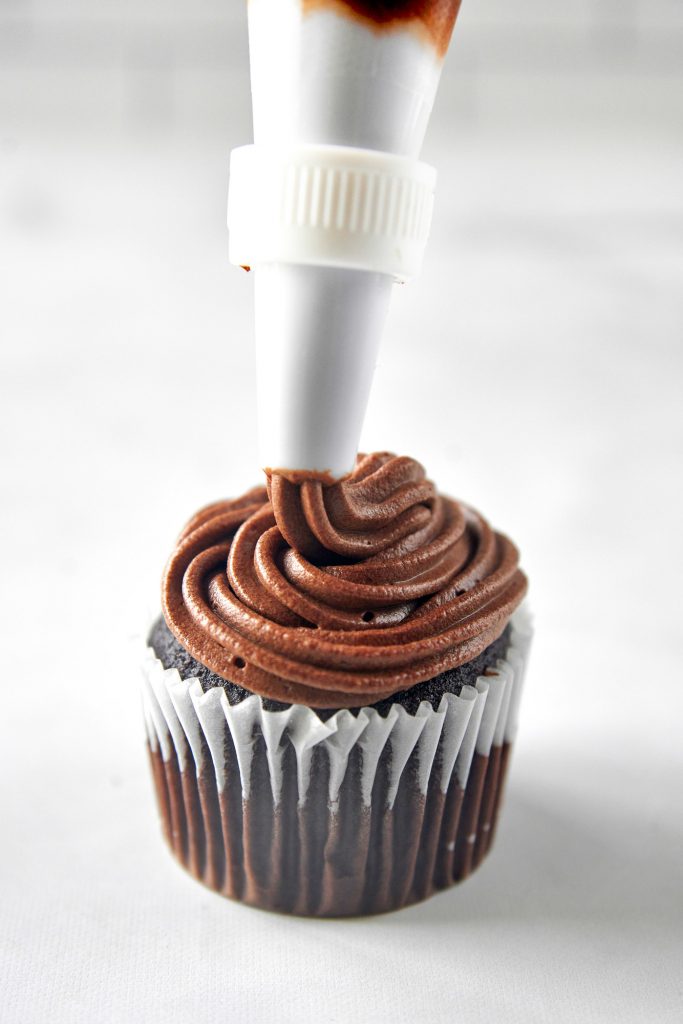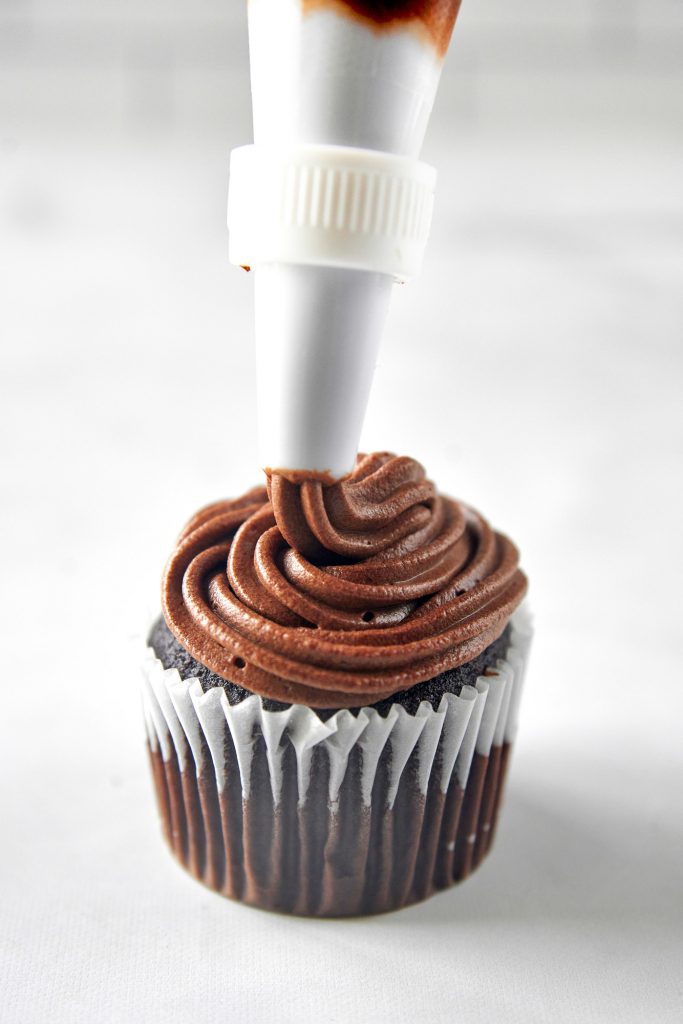 When making your own vegan chocolate frosting, you want the right balance of flavors and that is exactly what this recipe provides.
My favorite thing about making my own vegan chocolate icing is the fact that it is super easy and uses just 5 ingredients.
It whips up super quickly and really only takes a few minutes of your time to make.
We always make this right before we are ready to frost something delicious.
This frosting goes perfect over my Vegan Chocolate Cupcakes or my Vegan Vanilla Cupcakes, but you can use it to frost any cookies, cakes and more.
While regular chocolate frosting may be "accidentally" vegan, it is still filled with a bunch of bad ingredients to make it shelf stable and last weeks and weeks unrefrigerated on the shelves of the store.
I hope you enjoy making this delicious vegan chocolate frosting as much as we do.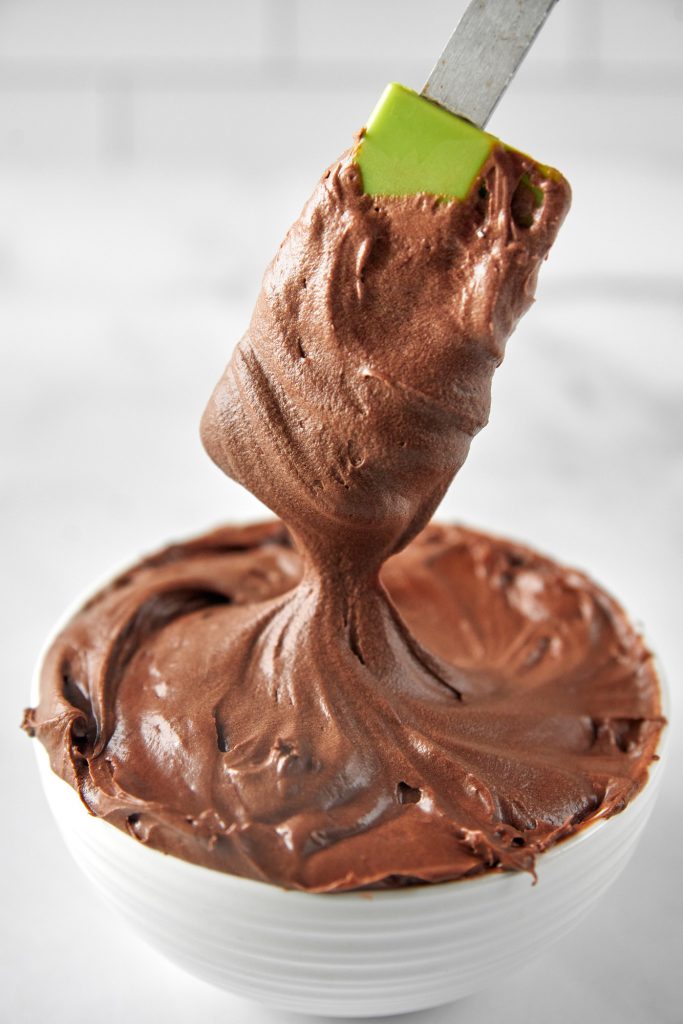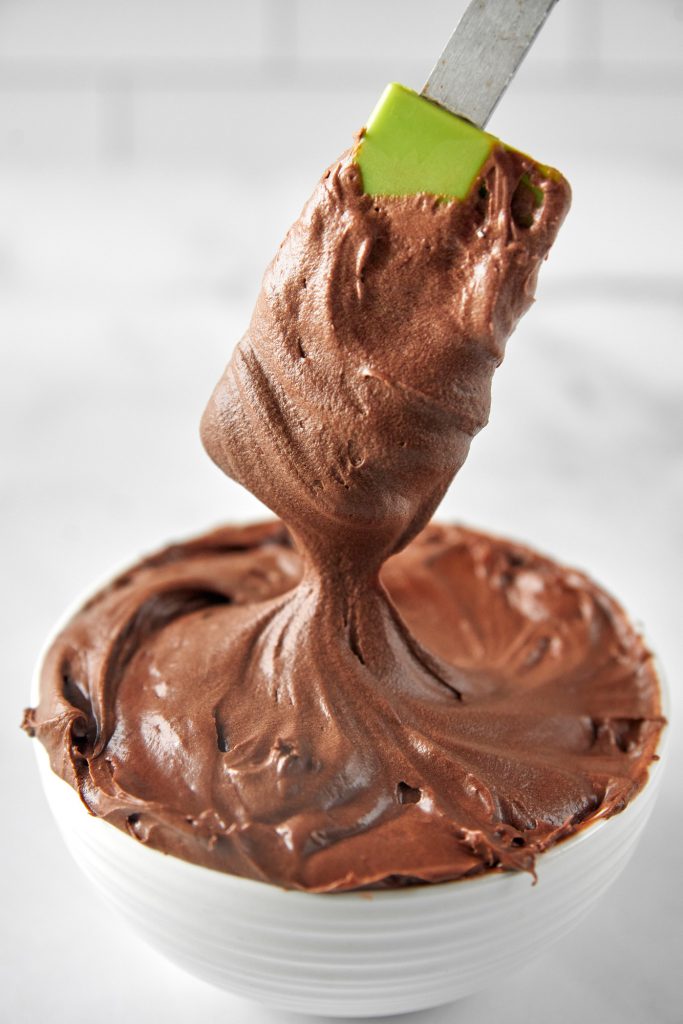 How To Make Vegan Chocolate Frosting
As I said above, making your own vegan chocolate frosting literally takes 5 minutes, maybe less if you can gather your ingredients ahead of time!
You are going to want to use an electric hand mixer for best results. You do not want to try to beat it by hand with a whisk or else it won't come out right.
First you want to cream the vegan butter until light and fluffy and smooth. You want your vegan butter to be soft, but not melted. Just take it out of the fridge a little in advance, don't try and microwave it!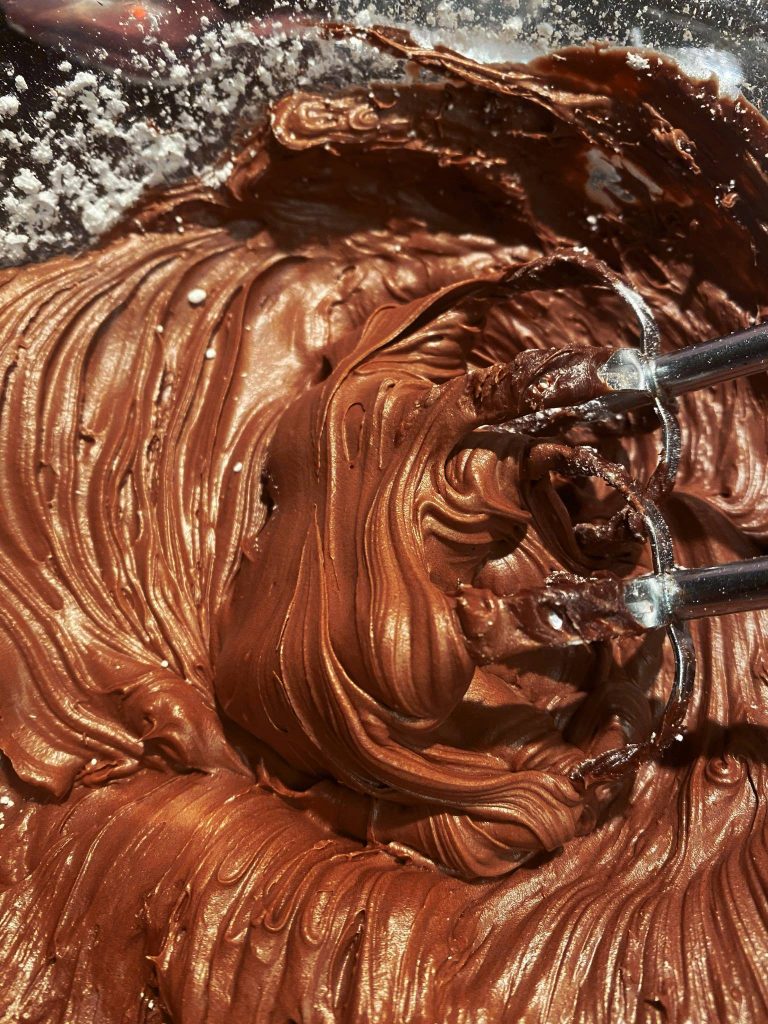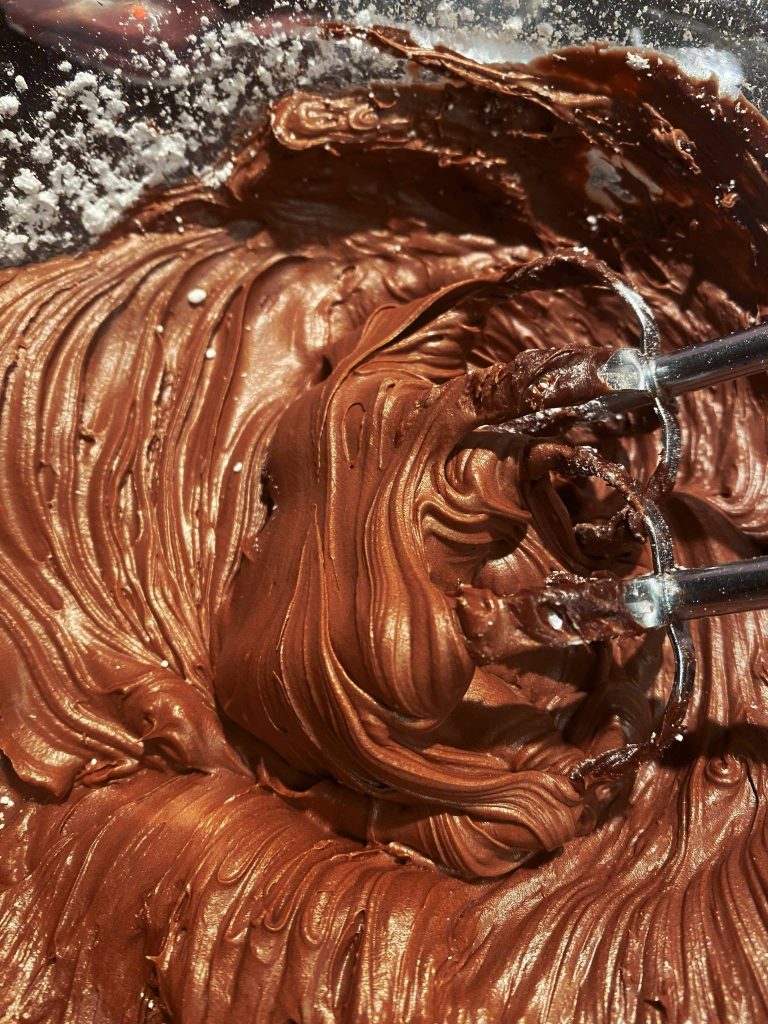 With the mixer on low speed, add your powdered sugar and cream together the sugar and vegan butter for 2 minutes until smooth.
Now, add the cocoa powder vanilla, and non-dairy milk and turn the mixer on high to combine the ingredients together.
You will want to whip the vegan chocolate frosting on high speed for about 3 minutes or until it is light and fluffy and stiff peaks form.
If you think the vegan chocolate frosting is too dry, add more non-dairy milk 1-2 tablespoons at a time. If it is too wet, add more powdered sugar 1/4 a cup at a time.
And that is it! Once stiff peaks form and the chocolate icing is all creamy and delicious, you are ready to ice your cake or whatever baked goods you desire!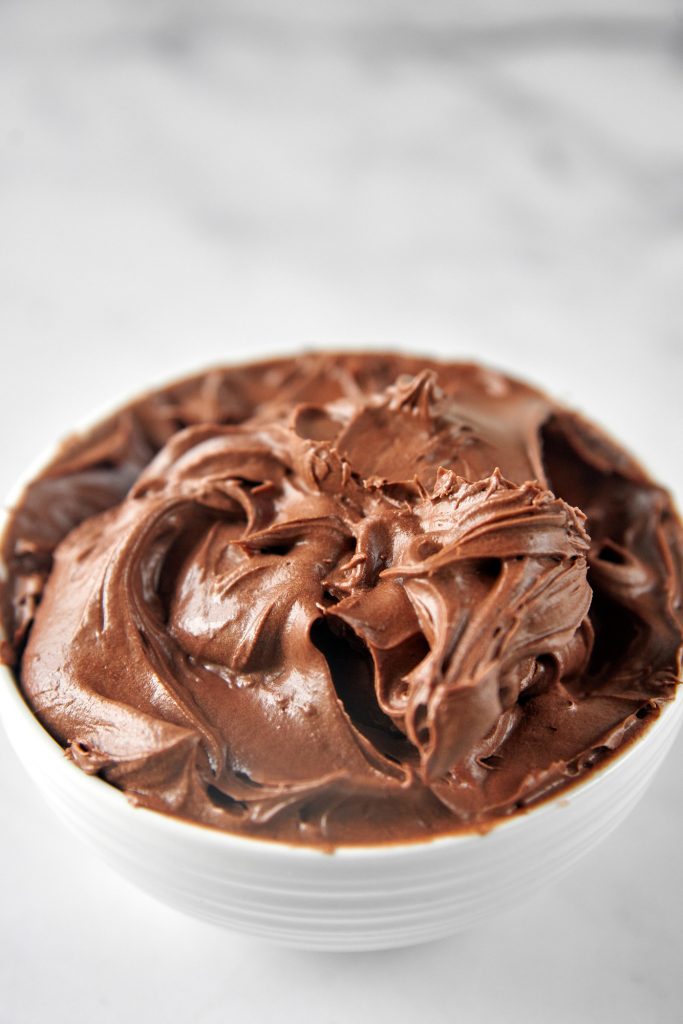 How To Modify The Vegan Chocolate Icing For Piping
If you are going to use a piping bag to ice your baked goods, you may need to modify this recipe!
It all depends on what shapes you are making and how well you want them to stand up!
This is a thicker vegan chocolate icing recipe, but you may need to add more powdered sugar if the icing isn't piping well.
In many cases, we just glop it onto a cake and eat it right away without trying to make it pretty, so if this is you, go for it and don't feel pressured to use any fancy decorating tips!
Sometimes, frostings will be too thin for use in a piping bag and if you find that the case with this recipe, simply add more powdered sugar 1/4 a cup at a time until it is thick and stiff.
You can also add more cocoa powder 1 tablespoon at a time, but adding the powdered sugar is really what makes the icing thicker and stiff for the piping bag!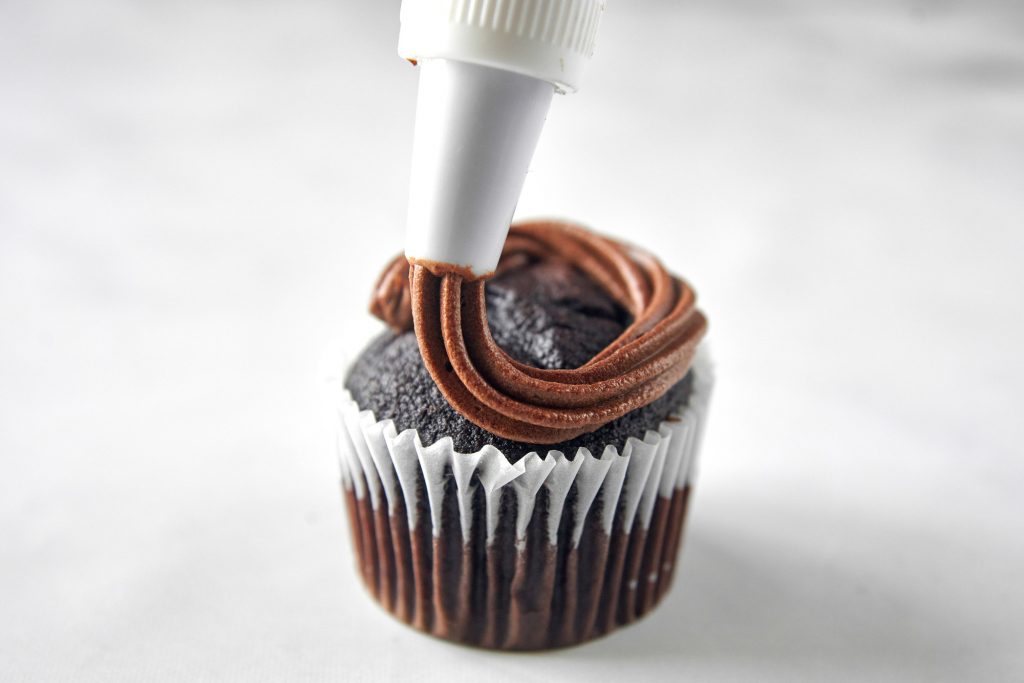 Chocolate Frosting Variations
While there may not be quite as many variations as my Vegan Vanilla Frosting recipe, there are still quite a few fun ways that you can change up the flavor for this icing!
Just by adding or taking away one ingredient can change the flavor of the whole thing! Here are some of my favorite vegan chocolate frosting variations:
Peppermint Frosting: Sub the vanilla extract with 1/2 teaspoon peppermint extract. Once you decorate your baked goods, top with crushed peppermint candy.
Salted Peanut Butter Frosting: Add in 1 teaspoon of salt and 3 tablespoons of peanut butter and cream together following the instructions for this recipe! This is the perfect marriage between chocolate, peanut butter, and salt and works for topping many baked goodies!
Sour Cream Frosting: Take out the non-dairy milk and add a few tablespoons of my Vegan Sour Cream recipe for a ganache-style chocolate icing.
As you can see, there are a few ways to play up this easy vegan chocolate frosting recipe so that you can have many flavors for all of your baking needs!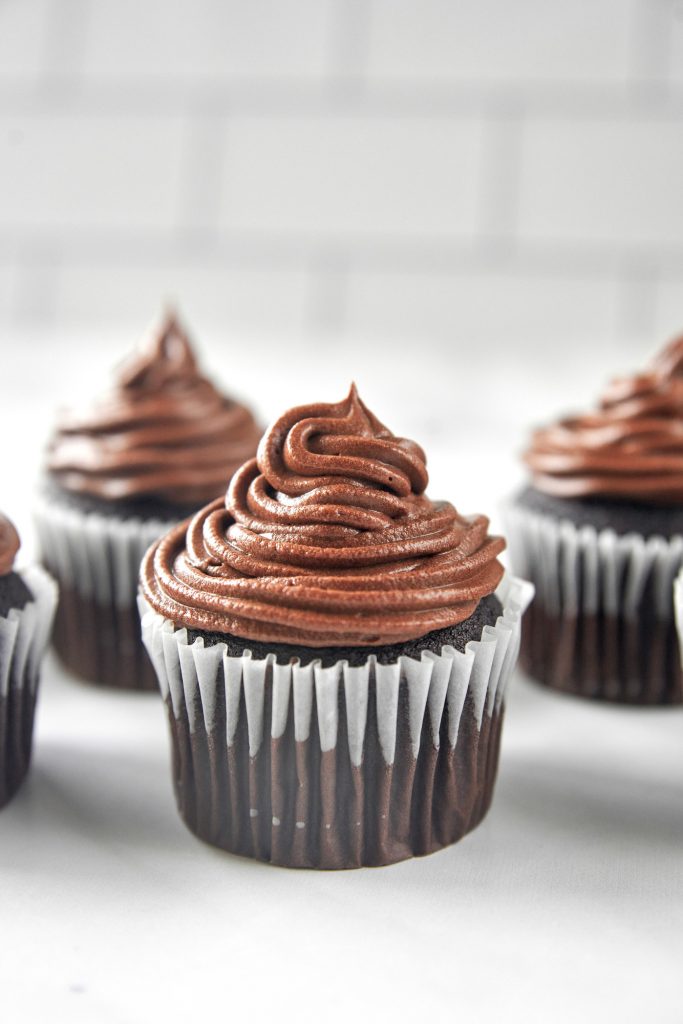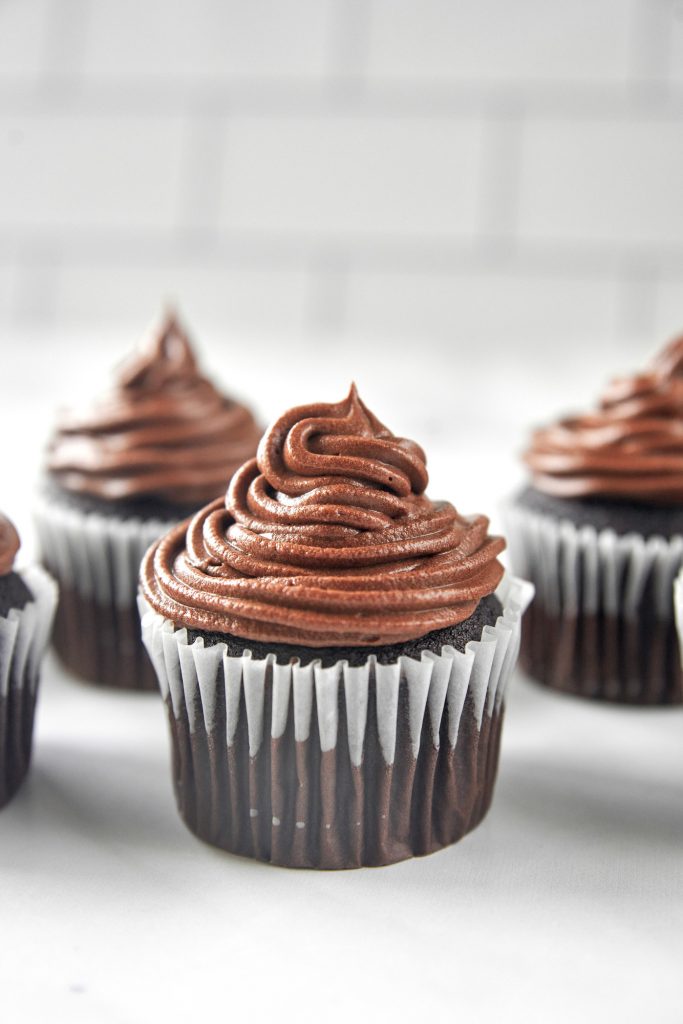 How To Store Vegan Chocolate Frosting
The one thing that I love about this vegan chocolate frosting recipe is that you can make a big batch and it stores super well!
It can store for up to 2 weeks in the fridge as long as you keep it in an air-tight container.
In order to use it, simply rewhip it using an electric hand mixer before using for best results!
It does store pretty well on an iced cake in the fridge and holds up for at least 3-5 days in the fridge on top of an iced baked good.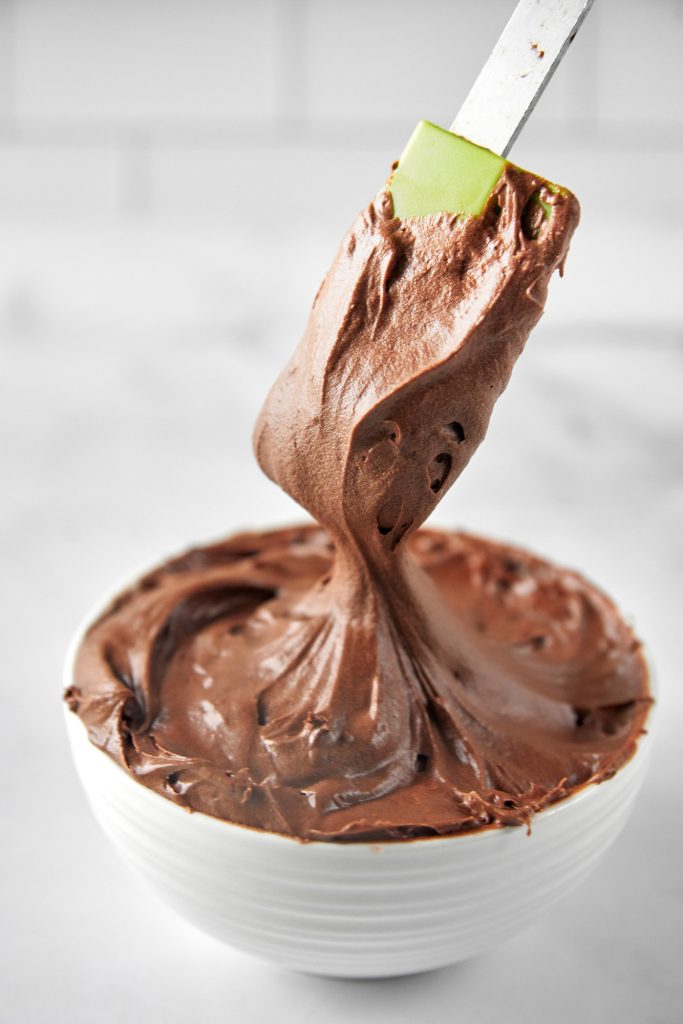 Did You Try This Recipe?
If so, I would love to keep in touch! I enjoy seeing photos and comments about the recipes that you make! You can follow me on Instagram and I will repost your goodies in my stories and comment on it too! Just tag me at @wowitsveggie and hashtag #wowitsveggie. I can't wait to see what you make!
Yield: Enough for one 9-inch cake or 8 cupcakes
5-Ingredient Vegan Chocolate Frosting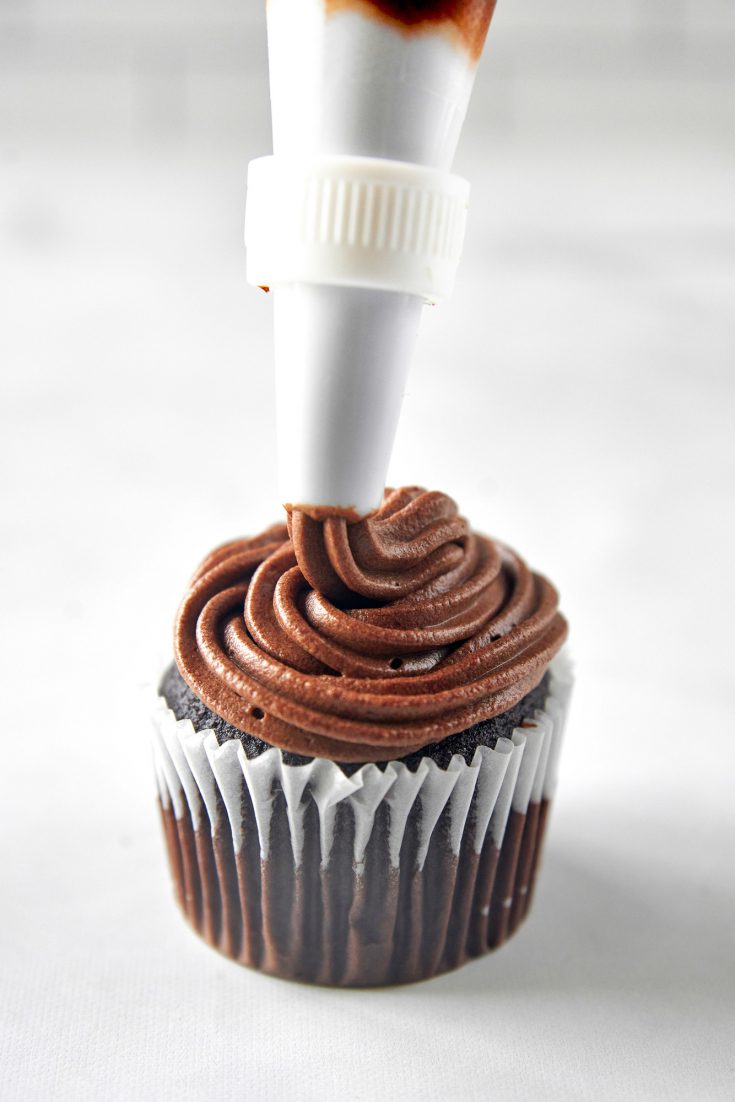 This is truly the best vegan chocolate frosting you will ever taste! This is the recipe we used for the last 15 years and through my childhood and teen years so rest assured, it is tried and true. It is a chocolate-lover's dream and uses only 5 ingredients and 5 minutes of y our time to make.
Ingredients
1/2 cup vegan butter, softened
3 cups powdered sugar
1/3 cup cocoa powder
1 teaspoon vanilla extract
3-4 tablespoons non-dairy milk [more if necessary]
Instructions
In a large bowl, use an electric hand mixer to cream your Vegan Butter until smooth. I do not suggest making this vegan chocolate icing using a whisk.
With the hand mixer on low speed, add the powdered sugar and cream for 2 minutes until smooth and well combined.
Add the cocoa powder, vanilla extract, and non-dairy milk and combine.
Turn the electric mixer to high and beat together until the vegan chocolate frosting is light and fluffy with stiff peaks. This usually takes about 2-3 minutes.
If you find that the icing is too thick, add more non-dairy milk 1-2 tablespoons at a time. If you find that the icing is too thin, add more powdered sugar, 1/4 cup at a time.
Use immediately or store in the fridge for up to 2 weeks.