This vegan Oreo milkshake is so creamy and delicious! It is actually pretty healthy too so you can drink it more like a smoothie than a dessert.
I know we all have different opinions of what "healthy" means, but for the sake of this vegan Oreo milkshake, I am defining healthy as no added sugar, no ice cream, nothing like that!
Of course, one could argue that a milkshake including Oreos is automatically not healthy, but there are only a few tossed in so we are just going to pretend like they aren't there and move this discussion elsewhere 😉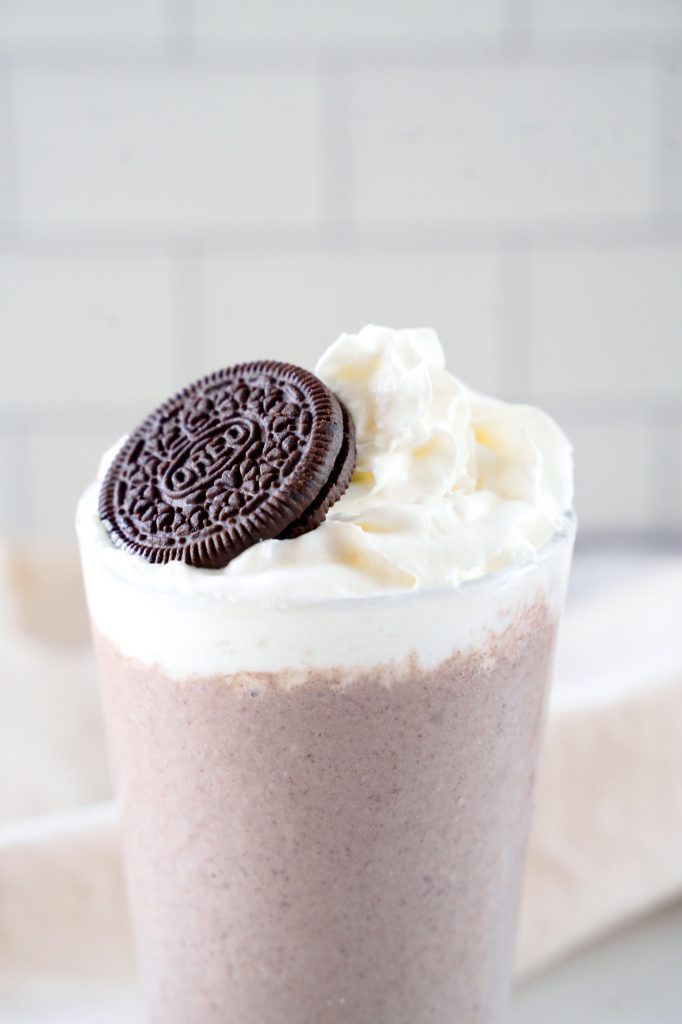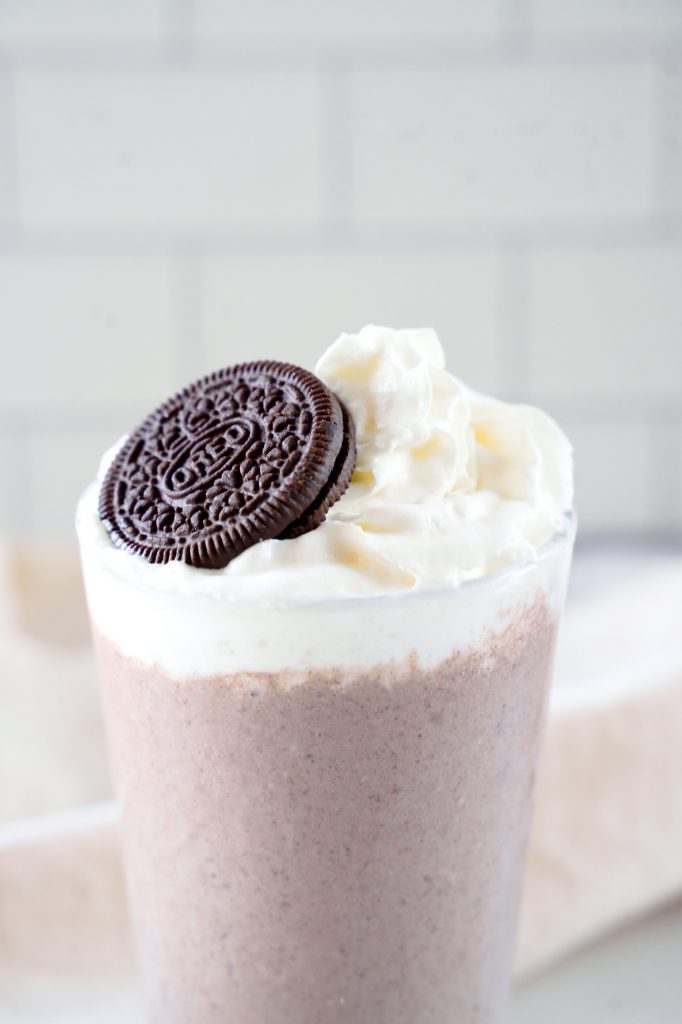 The best part about making this vegan Oreo milkshake is the fact that it takes just 4 ingredients to make and you will probably have most of them lying around your house already!
If you are like me, I usually have Oreos on hand as a vegan staple. You may have them already or you may want to buy them so you can make something amazing like my Vegan Oreo-Stuffed Chocolate Chip Cookies which are always a real winner!
This is a healthier alternative to make when you are craving a vegan milkshake but don't really want to eat all the bad stuff.
It is truly one of the best Vegan Recipes For Kids because two Oreos never hurt anyone and your kids will think they are getting a delicious treat when you show them that this is indeed a "milkshake" but you will know that it is much healthier than it could be!
Making your own vegan milkshake has never been easier or quicker, I am confident that you are going to enjoy this recipe!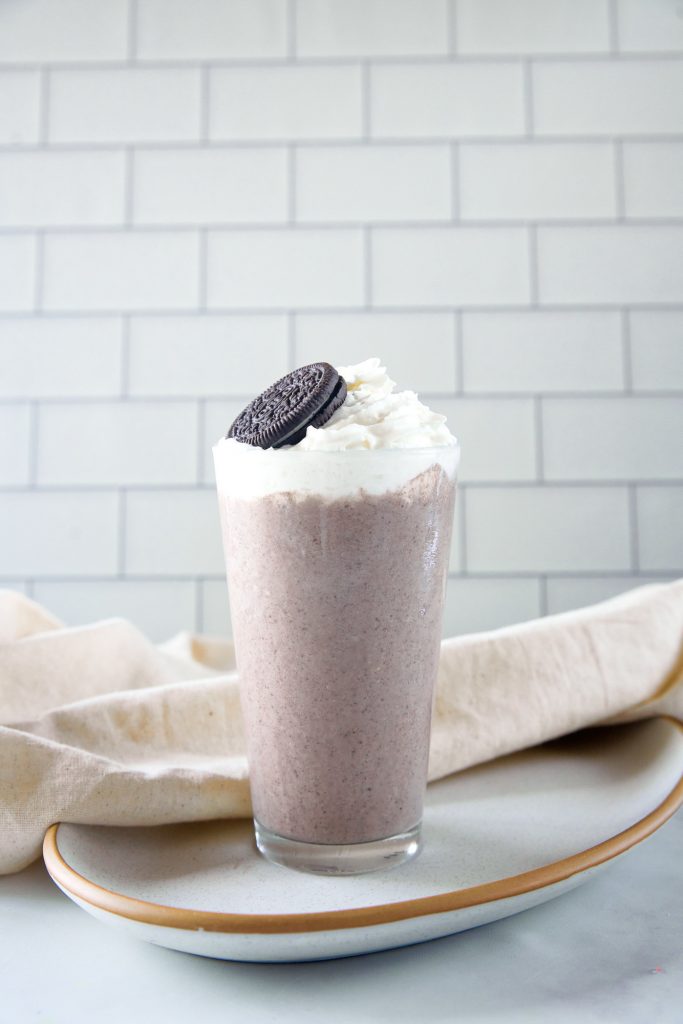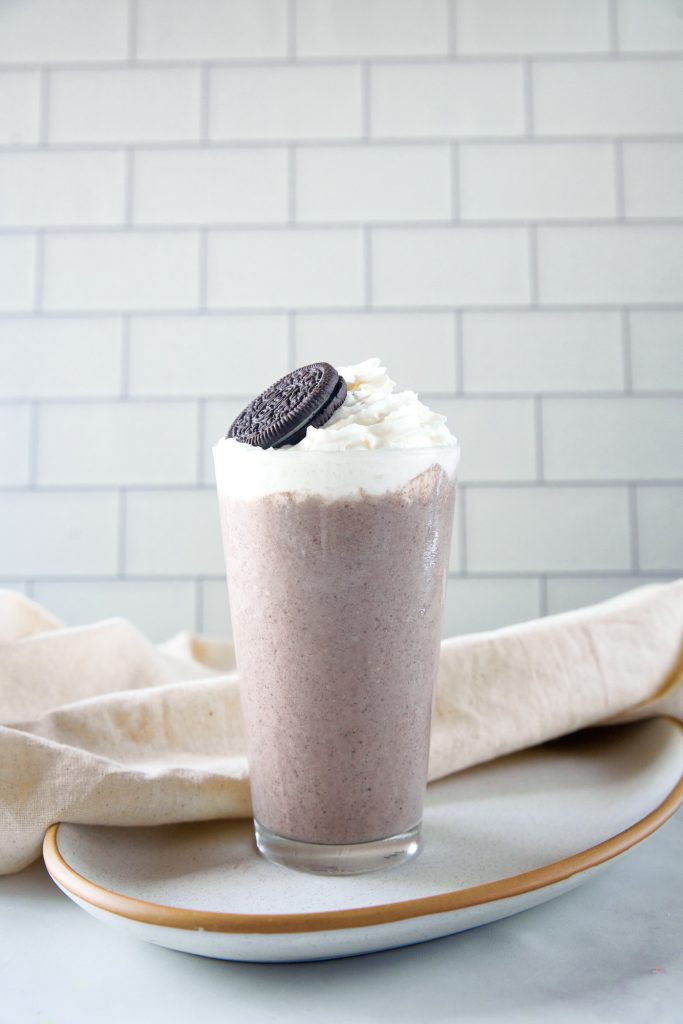 How To Make A Healthy Vegan Oreo Milkshake
Again, "healthy" is a buzzword I don't often like to use as everyone defines it differently.
That being said, for the sake of this vegan Oreo milkshake recipe, healthy means no added sugar or processed ingredients, aside from the Oreos as you can't really make a Oreo milkshake without it!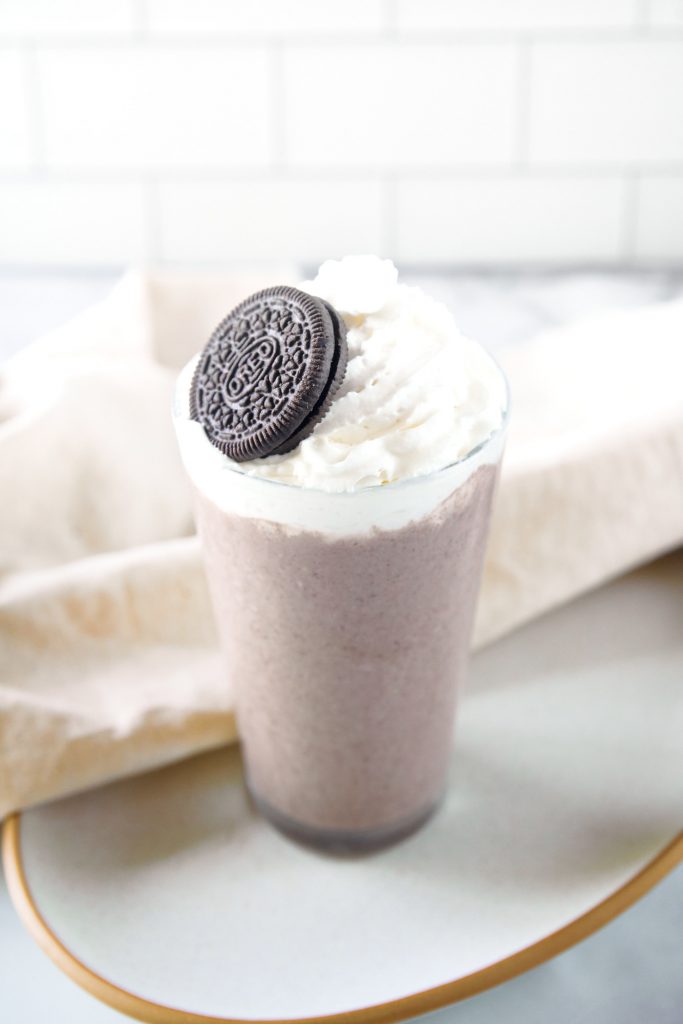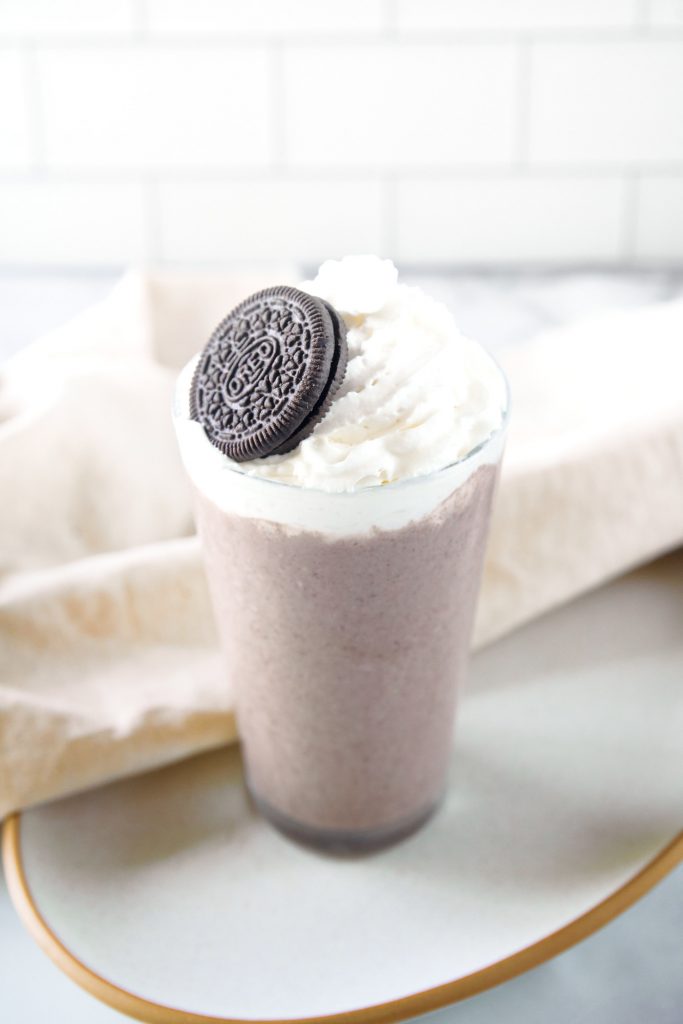 All you have to do is put your frozen banana, non-dairy milk, 1 tsp vanilla extract, and 2-3 Oreos in a high powdered blender.
The frozen banana makes the vegan milkshake super creamy.
That being said, the Oreo milkshake does tend to take on more of the banana flavor if you use a large banana.
If you want to make this healthy vegan milkshake recipe but you don't want it to taste as much like banana, I recommend using half a frozen banana and adding in 1/2 to 1 cup of ice.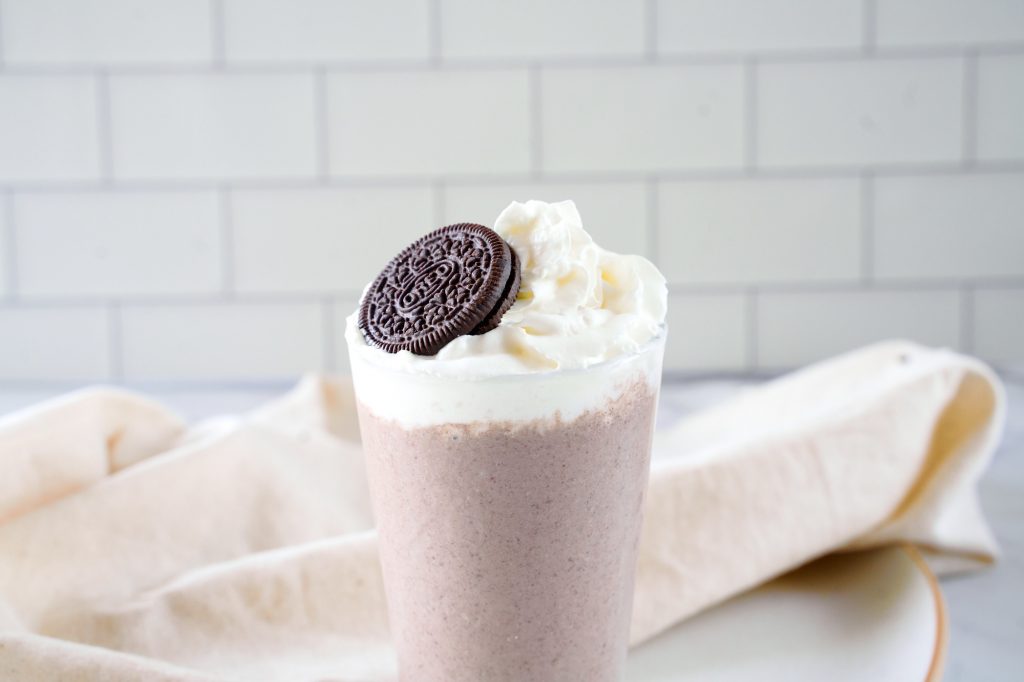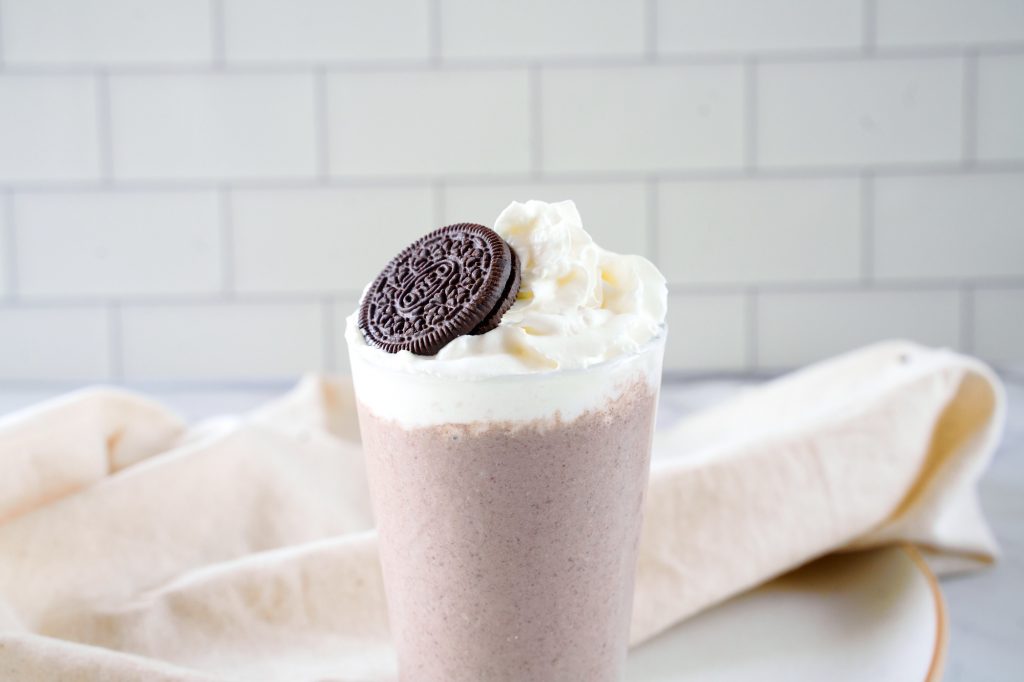 This will change the taste and make it less reliant on the banana while still giving you a super creamy flavor!
All you have to do is whir all of the ingredients together and your vegan milkshake is ready to drink!
I love topping my vegan Oreo milkshake with vegan whipped cream, but you will want to skip this if you are going for a truly healthy recipe.
Either way, you can play up the flavors and add or take out more depending on what your taste preferences are.
I would not use less than 1/2 a frozen banana or else your vegan milkshake won't be super creamy and delicious!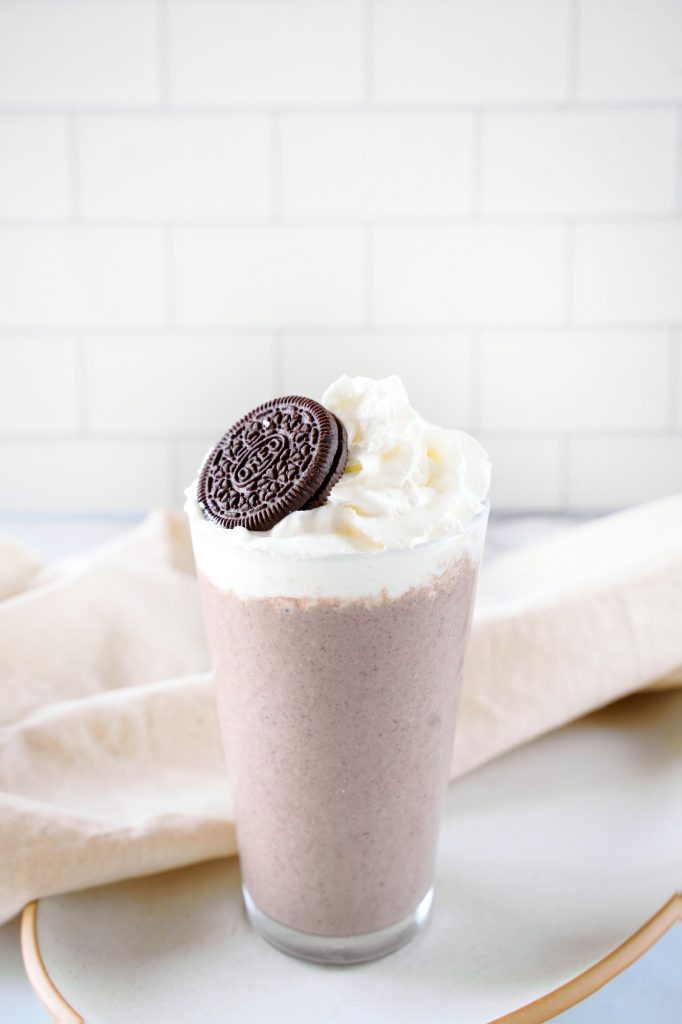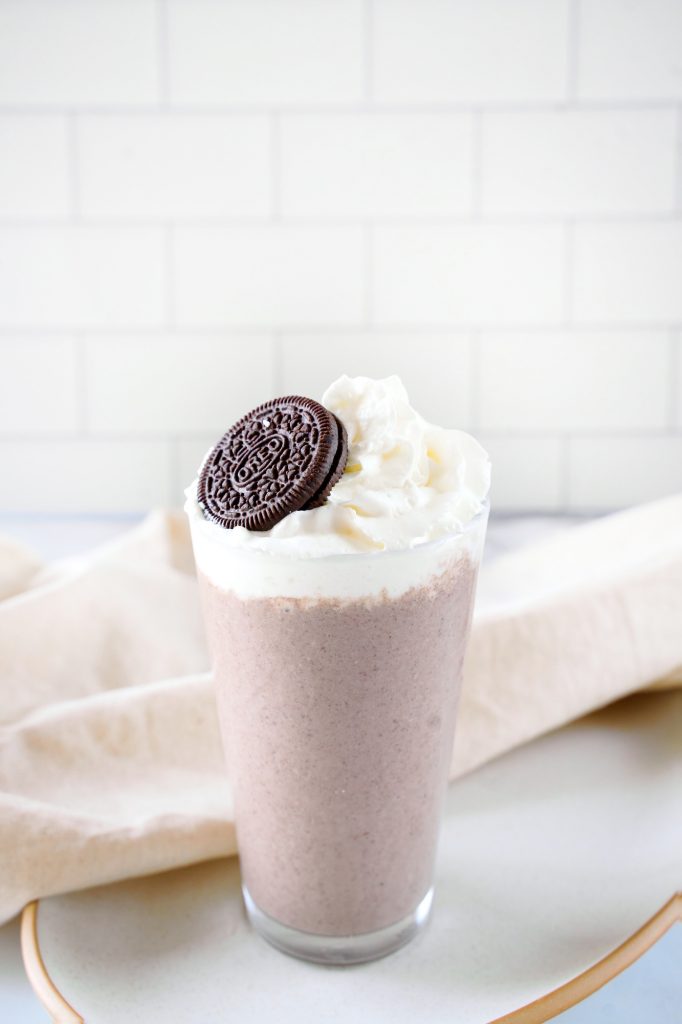 Vegan Milkshake Variations
If you have already made this vegan Oreo milkshake and like how healthy it is without using ice cream or any extra additives, you may want to make variations to it!
There are a few vegan milkshake variations we can do with this same exact recipe. This is why I love finding a good base recipe and then changing it up to fit other occasions.
All you have to do is either add or take away one ingredient and you have an entirely different vegan milkshake recipe ready to go!
Here are a few easy modifications I love for changing up this vegan Oreo milkshake recipe:
Vegan Peanut Butter Milkshake. If you are looking for a vegan peanut butter milkshake, this is an easy fix! You can also use any nut or seed butter you want for this easy sub! Simply remove the Oreos and add in 1/4 to 1/2 cup of the nut butter of your choice!
Vegan Strawberry Milkshake. If you want to do an easy variation for a strawberry milkshake, simply remove the Oreos and use 1/2 a frozen banana and 1 cup of frozen strawberries. The frozen strawberries will make this vegan milkshake super creamy!
Vegan Vanilla Milkshake. To make this recipe into a vegan vanilla milkshake, all you have to do is remove the Oreos, use 1/2 a frozen banana, and 1 cup of ice. Instead of plain non-dairy milk, use vanilla non-dairy milk for an intense flavor.
Vegan Banana Milkshake. If you want a simple vegan banana milkshake, this is the easiest variation of all! Simply use 1 1/2 frozen bananas, remove the Oreos, and keep all the rest of the ingredients the same! Super easy and delicious.
As you can see, there are so many vegan milkshake variations that you can use this same base recipe for other than Oreo. I hope you enjoy and have fun finding new ways to play up your milkshakes!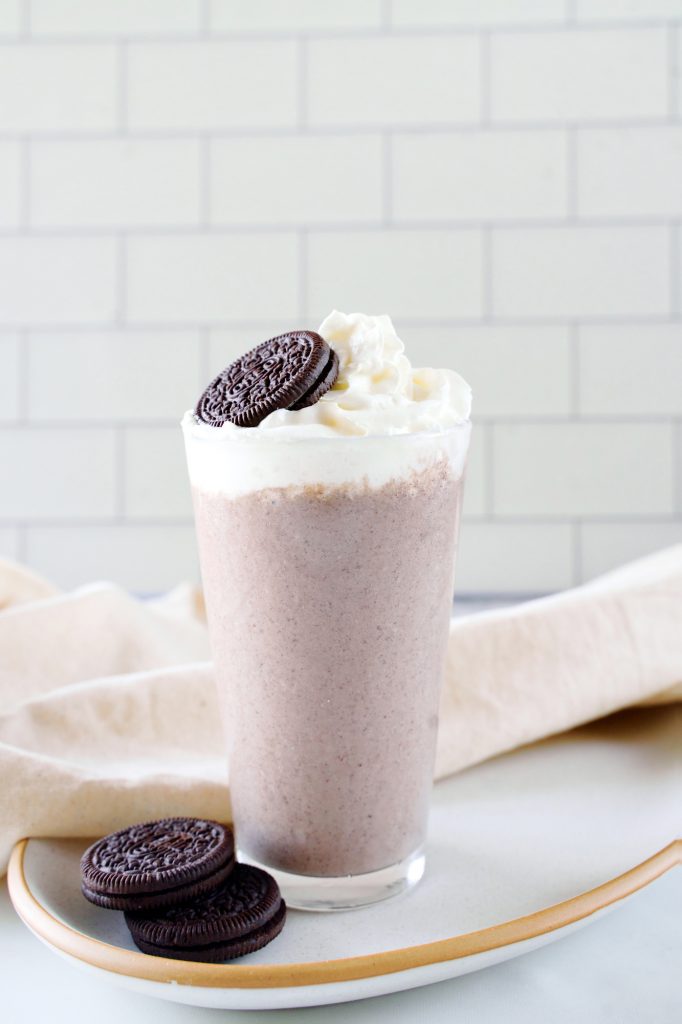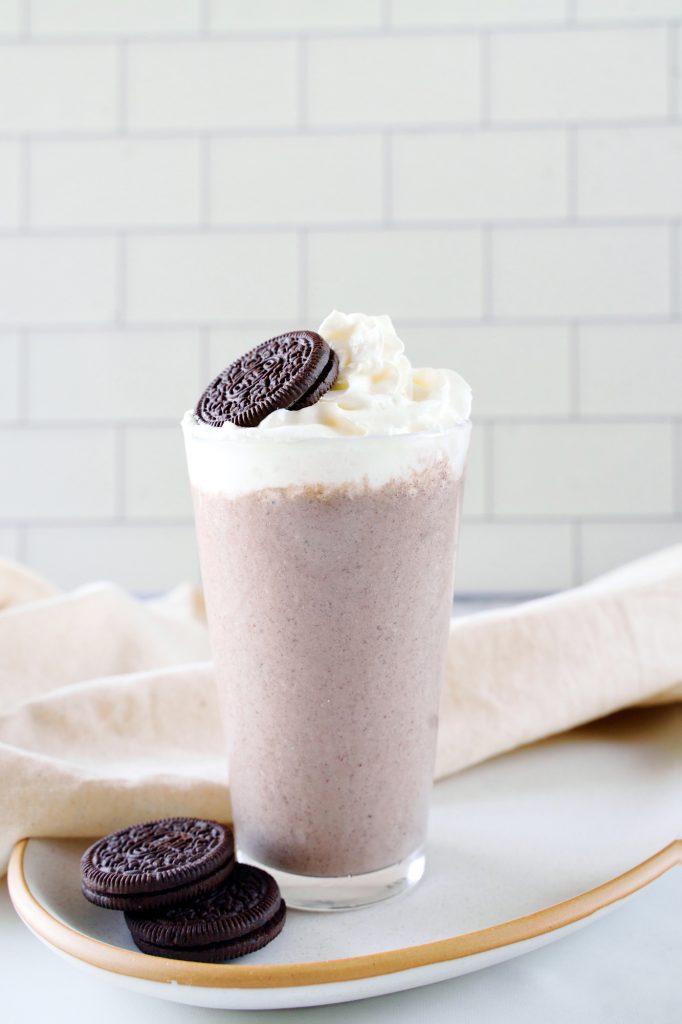 Did You Try This Recipe?
If so, I would love to keep in touch! I enjoy seeing photos and comments about the recipes that you make! You can follow me on Instagram and I will repost your goodies in my stories and comment on it too! Just tag me at @wowitsveggie and hashtag #wowitsveggie. I can't wait to see what you make!
Yield: 1 vegan milkshake
Healthy Vegan Oreo Milkshake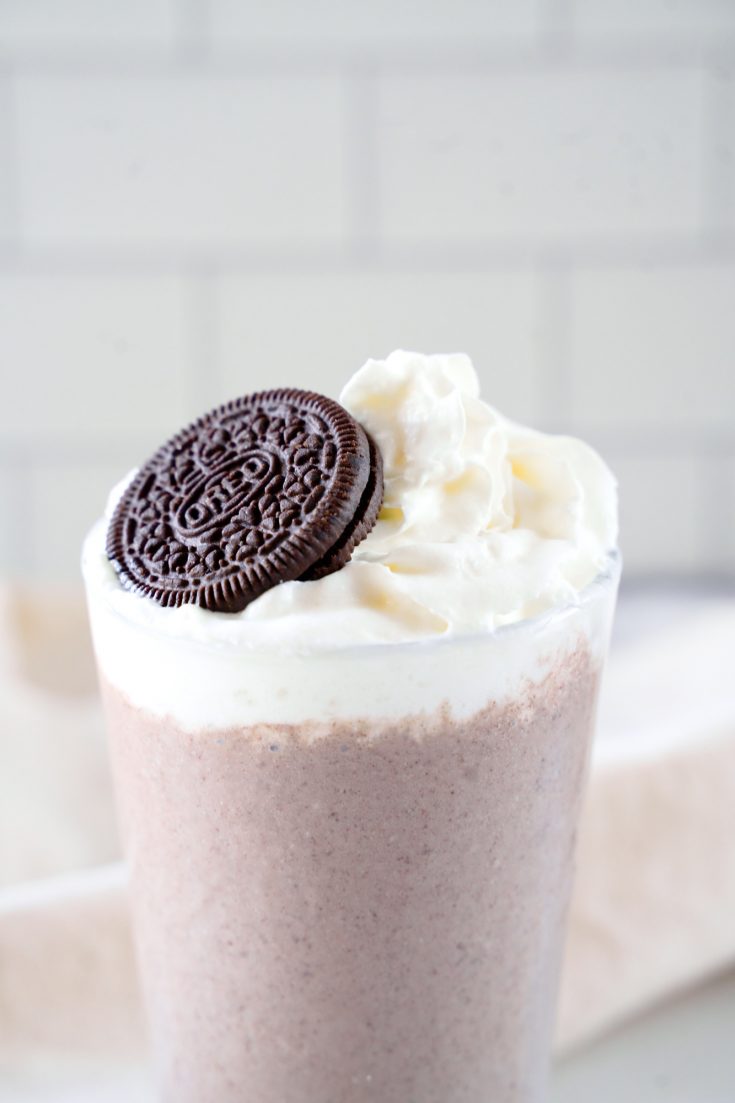 This vegan oreo milkshake is super easy to make and it is a much healthier alternative than you would usually see. When I say "healthy" I mean no added sugar, less processed ingredients [only the Oreos!] but still a delicious taste!
The best part about making your own vegan milkshake is that you can taste it while it is still in the blender and add flavors depending on your personal preference!
This is a delicious and kid-approved vegan Oreo milkshake that grown-ups love too! You can enjoy it guilt-free.
Ingredients
1 frozen banana [for less banana flavor, use 1/2 frozen banana and 1 cup of ice]
3/4 cup vegan milk
2-4 Oreos
1 tsp Vanilla extract
Instructions
In a high powdered blender, add all ingredients and blend on high until smooth and creamy. You may have to scrape down the sides and blend again.
Taste and adjust the flavor according to your preference.
Serve in a tall glass and garnish with vegan whipped cream and an Oreo if you aren't going for it to be too "healthy" and want to add something fun. Otherwise, enjoy the vegan milkshake as-is!
Nutrition Information
Yield
1
Serving Size
1
Amount Per Serving
Calories

318
Total Fat

9g
Saturated Fat

4g
Trans Fat

0g
Unsaturated Fat

1g
Cholesterol

15mg
Sodium

187mg
Carbohydrates

53g
Fiber

4g
Sugar

24g
Protein

8g