Making frozen yogurt bark is the perfect easy and healthy snack!
There is no dairy used at all in this frozen yogurt bark recipe, although you CAN use the yogurt of your choice, and if that is the dairy kind, then go right ahead!
There is no bad stuff in sight when you make healthy yogurt bark and it is the perfect guilt-free snack for any time of day or year.
It makes the perfect snack, the perfect dessert, and the perfect treat no matter what.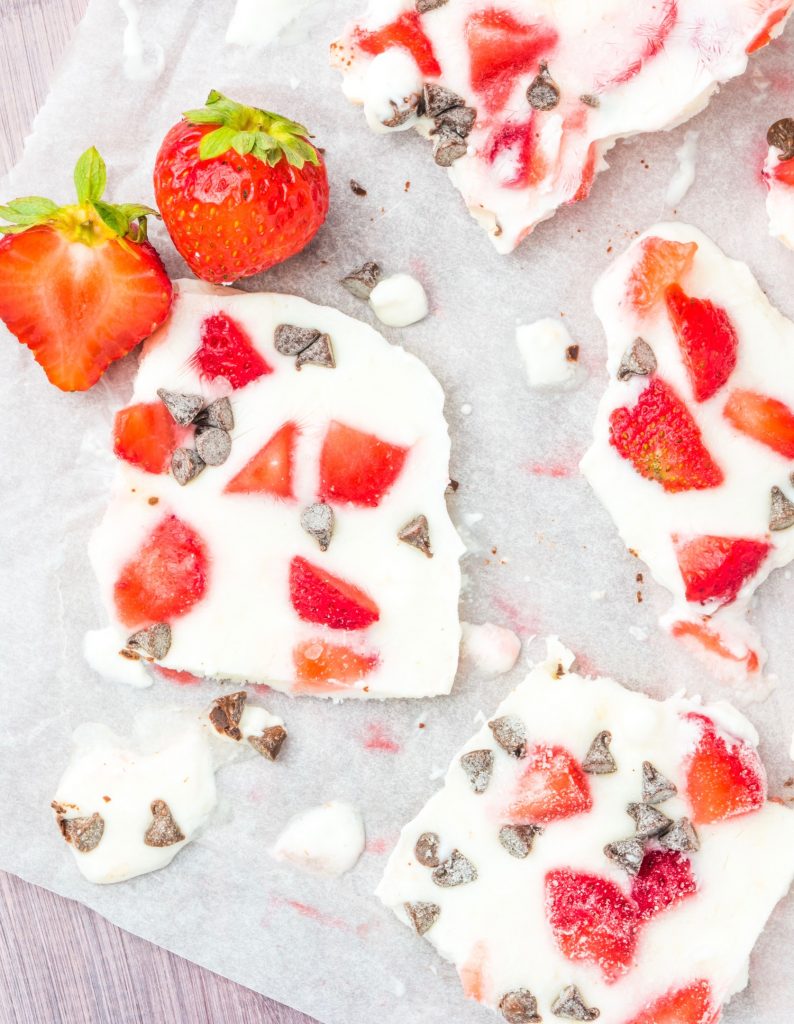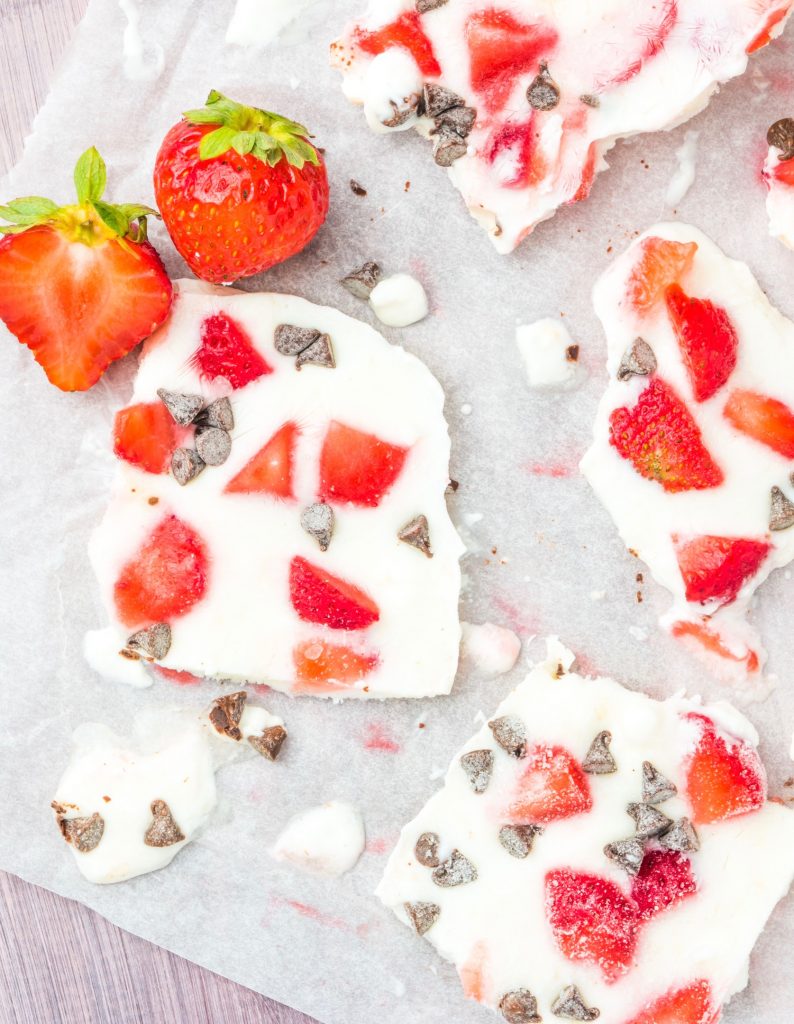 The thing that I love about making my own vegan yogurt bark is that it is one of the best Vegan Recipes For Kids.
Some kids are picky eaters, and you can customize your vegan yogurt bark to your taste!
Kids also love helping to make it and adding their own toppings and flavors, and it is healthy too so they can pretty much have as much as they want!
I also love that you can customize the sugar content of your frozen yogurt bark depending on what kind of sweetener you add and what kind of yogurt you decide to use.
If you are like my Mom, you may want to use unsweetened yogurt and then add a little stevia. You may want to use vanilla yogurt that is already on the sweeter side.
It is 100% up to you and that is what I enjoy about making vegan yogurt bark, everyone gets what they want.
I hope you love making and customizing your sweet treat as much as I do!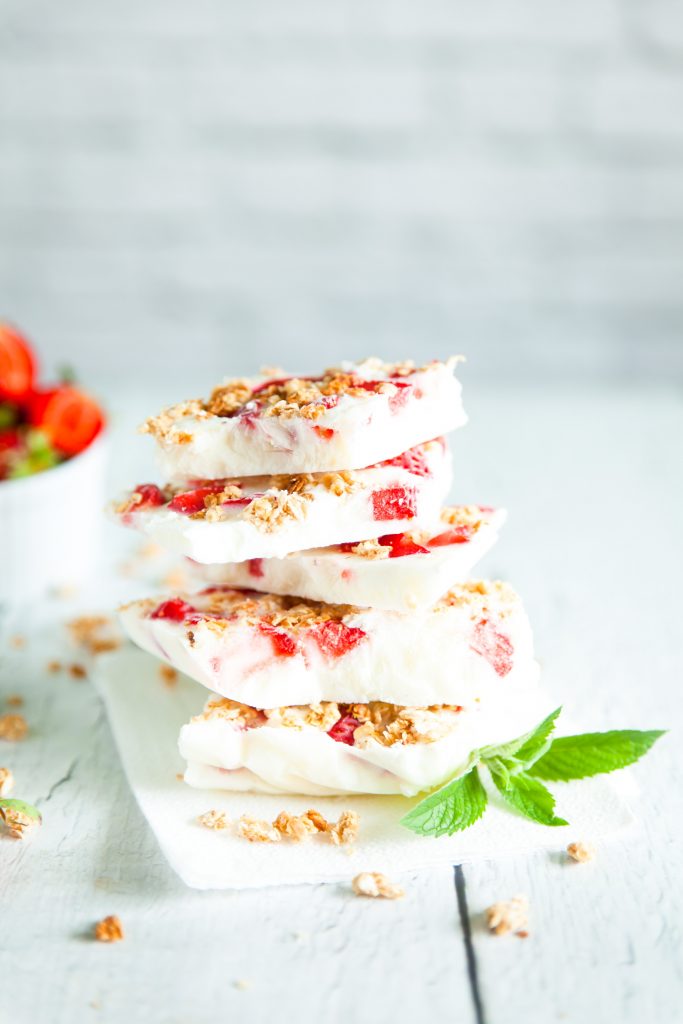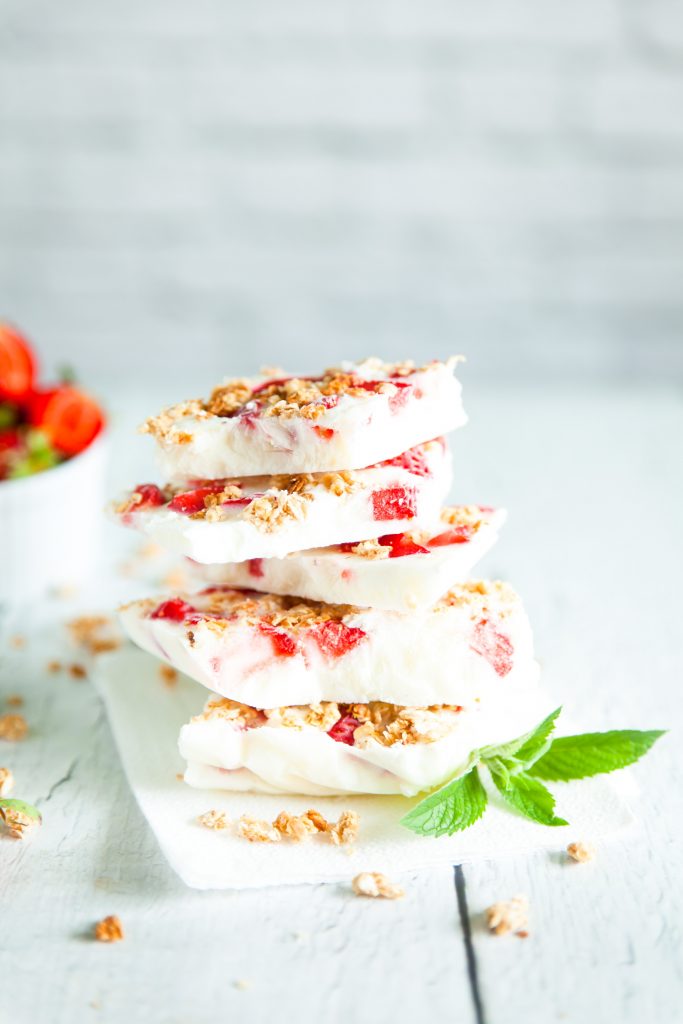 What Kind Of Yogurt Do I Need For Vegan Yogurt Bark?
When making your vegan yogurt bark, you can use any kind of yogurt you want!
As I said above, you can choose unsweetened yogurt, which my Mom prefers as she likes to add her own sweetener to her taste, or you can choose a vanilla yogurt or simply "plain."
You can also choose flavored vegan yogurt such as blueberry, strawberry, peach and more.
Then there is Greek yogurt vs regular yogurt. There are some really good Greek yogurt brands that are vegan, so the choice is up to you and your preferences.
I don't love Greek yogurt for the taste, so I don't usually use it, but a lot of people love it!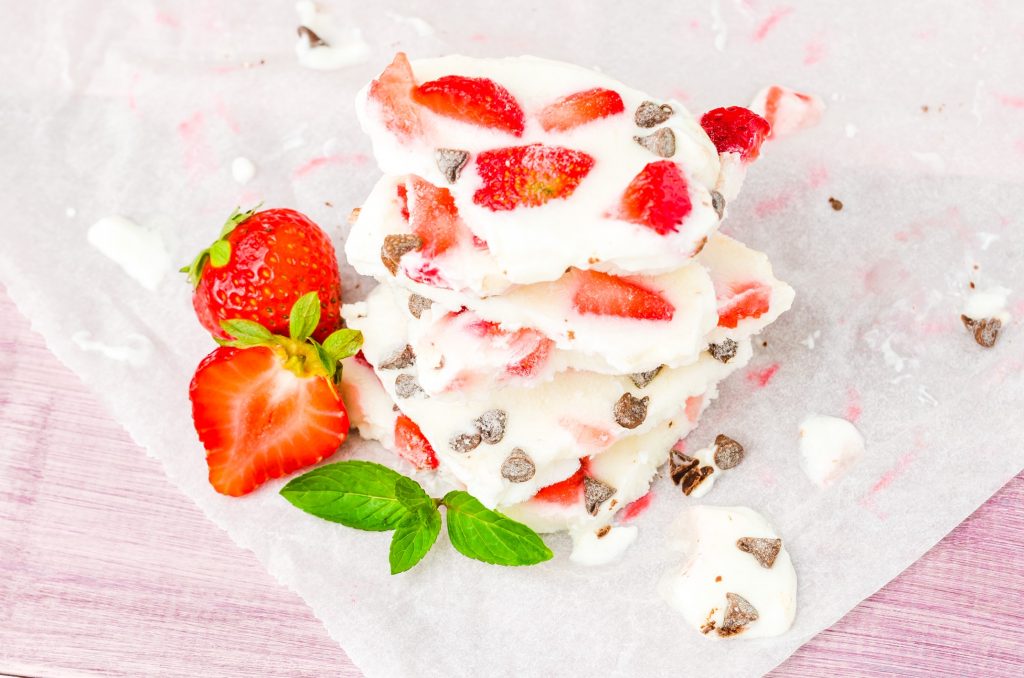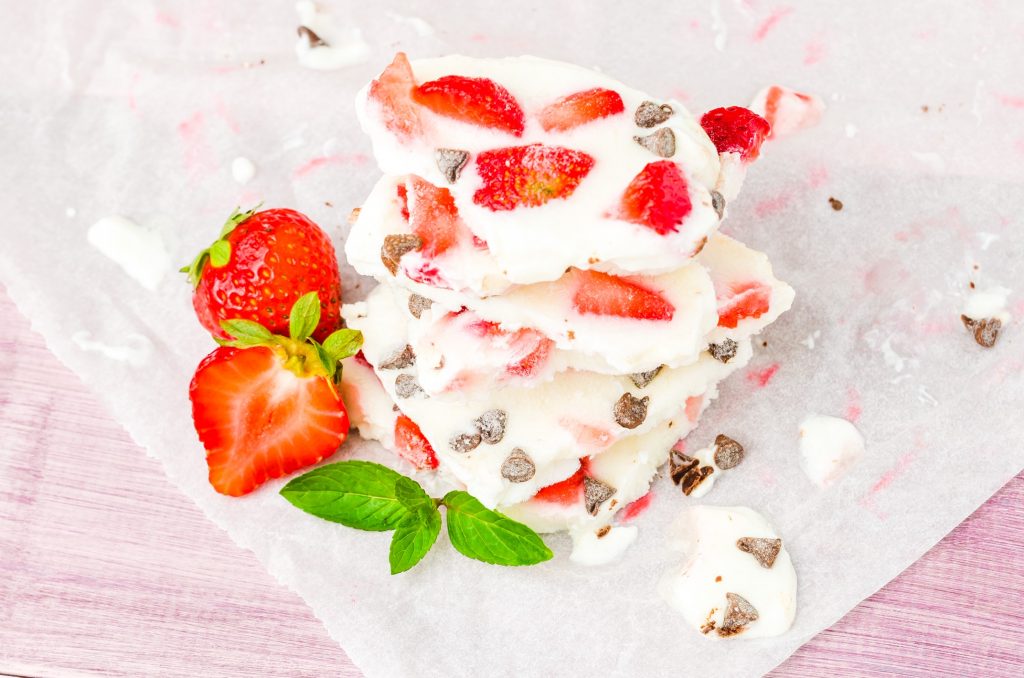 What Kind Of Sweetener To Add To Yogurt Bark
You can use any kind of sweetener or none at all!
If you are reading this and you aren't vegan, or you are the kind of vegan that uses honey, honey is a popular sweetening choice as it is on the healthier side.
The same goes with agave and stevia, which are two other popular choices!
You can also go for pure cane sugar or brown sugar.
My favorite is maple syrup as it lends a nice taste and it is healthier than white sugar, just a bit!
My advice is that a little goes a long way, especially if you are using vanilla yogurt as your base.
Put a little bit of sweetener in, as you can always add more! Then do a taste test of what you think the yogurt base tastes like before you chill it.
Then add more! You cannot take any sweetener out of your vegan frozen yogurt bark, so make sure you don't add too much. Less is more!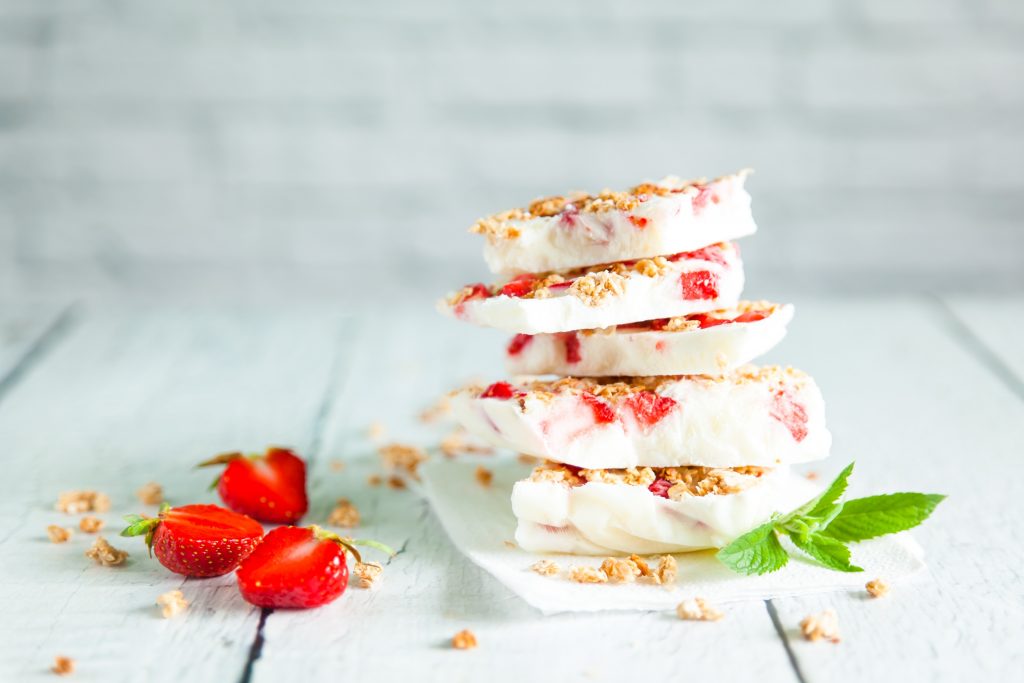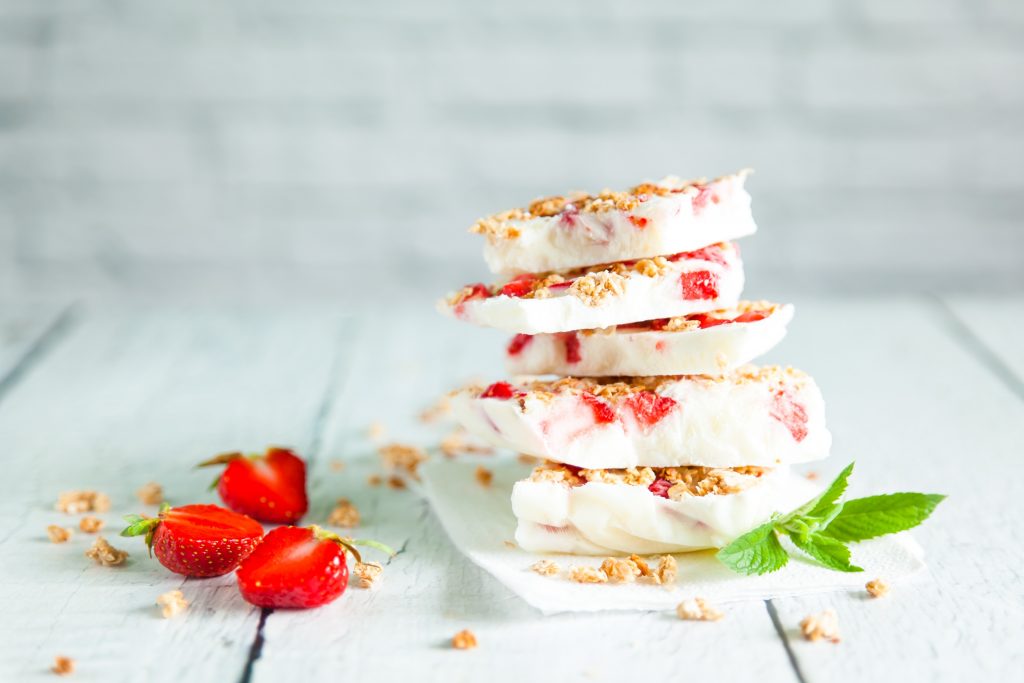 How To Make Frozen Yogurt Bark
Making frozen yogurt bark has never been easier!
First, you are going to want to line a baking sheet with parchment paper.
Then, get out the yogurt of your choice and pour it into a big bowl. This is when you add your sweetener and taste test to choice!
I also prefer to add in a dash of salt but that can be left up to you. Some people also prefer to add a squeeze of lemon or lime juice.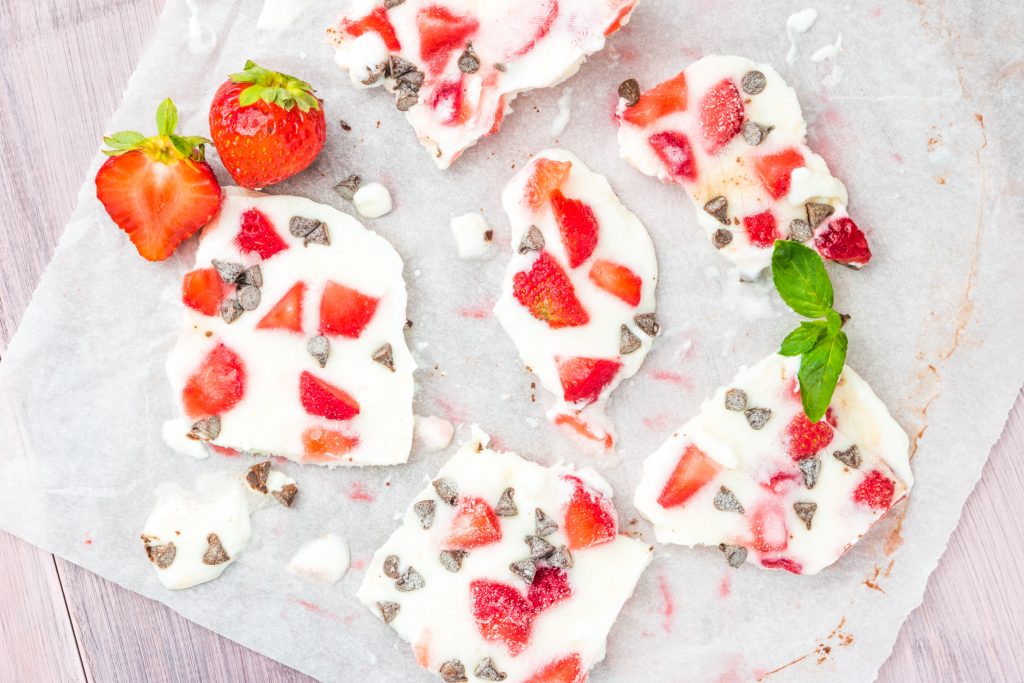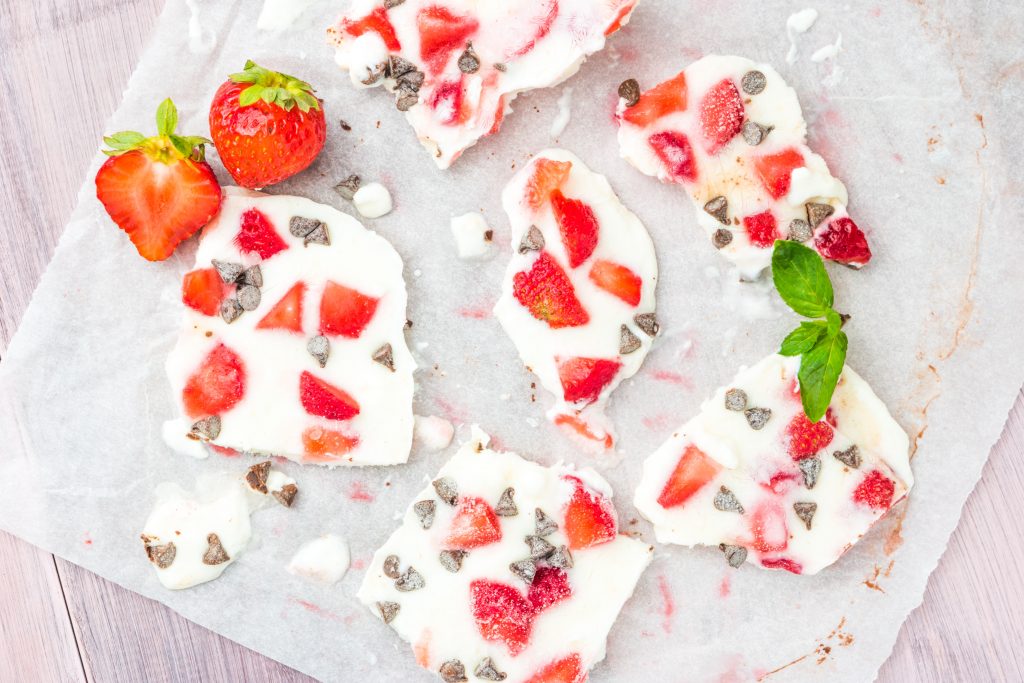 As you can see, making vegan yogurt bark is very much up to your taste preferences!
Once you mix your yogurt, spread it in a semi-thin layer over the bottom of the parchment-lined cookie sheet.
Now you can top it with whatever you want!
I prefer to top frozen yogurt bark with things such as granola [leave this off if you are going for 100% healthy as it is often sugary!], blueberries, strawberries, nuts, seeds, kiwi, raspberries and more!
I like to add in vegan chocolate chips, but only a few, so it still is a healthy snack and not a dessert!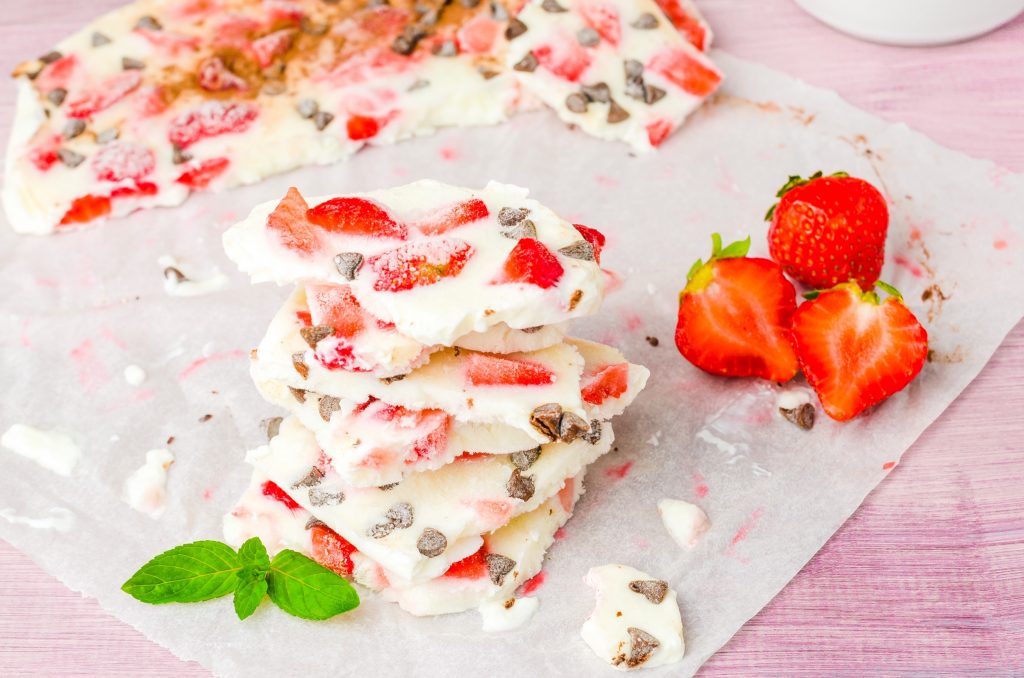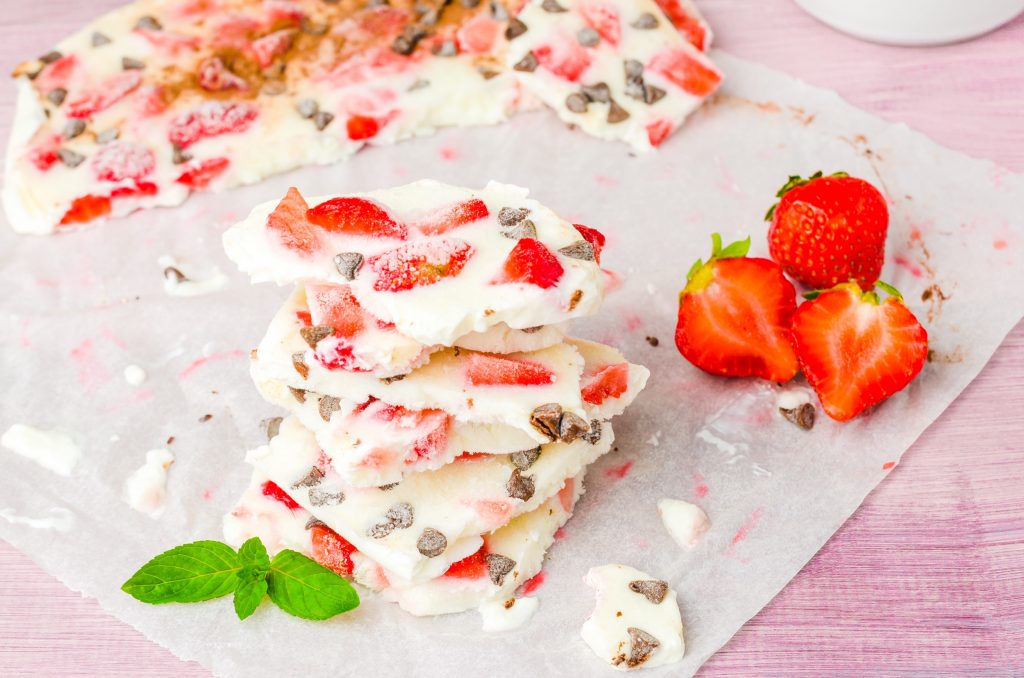 If you are using strawberries, make sure to cut them into thin slices! You can even use banana flavored yogurt and top with strawberries for a strawberry-banana flavor combo!
Once you top your frozen yogurt bark with whatever you want, pop it in the freezer until it is firm/solid.
This usually takes around 2-3 hours. You can also leave the vegan yogurt bar in the freezer overnight and make it the night before!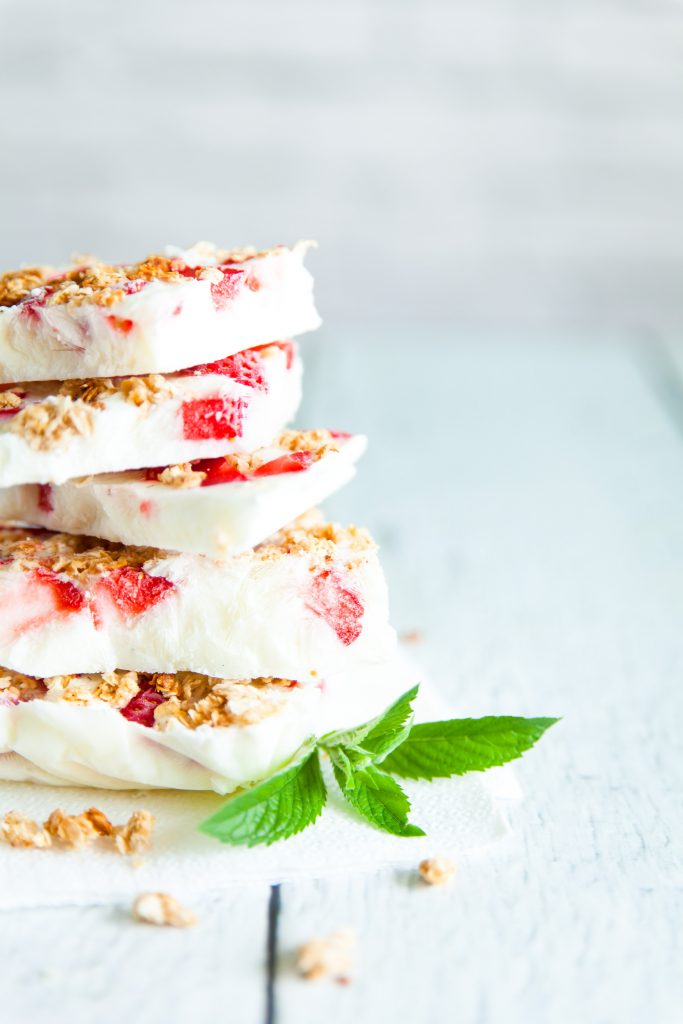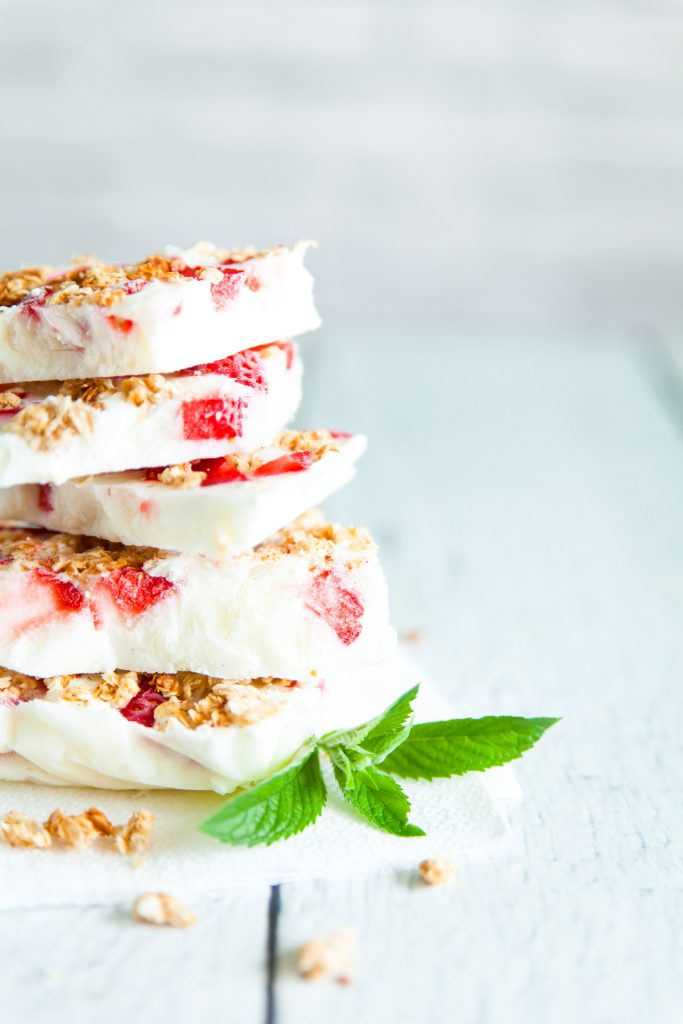 How To Store Vegan Yogurt Bark
You will want to store your frozen yogurt bark in the freezer!
You can remove it from the freezer, cut it into squares or use your hands to break it apart, and then store it in a freezer-safe container.
Alternatively, you can also store it on the cookie sheet where you made it and just come take a piece out whenever you are ready to eat one if it will only be 24-48 hours.
You can store frozen yogurt bark in a freezer safe container for 5-7 days. I wouldn't store it any longer than that or else it may be time for a new batch.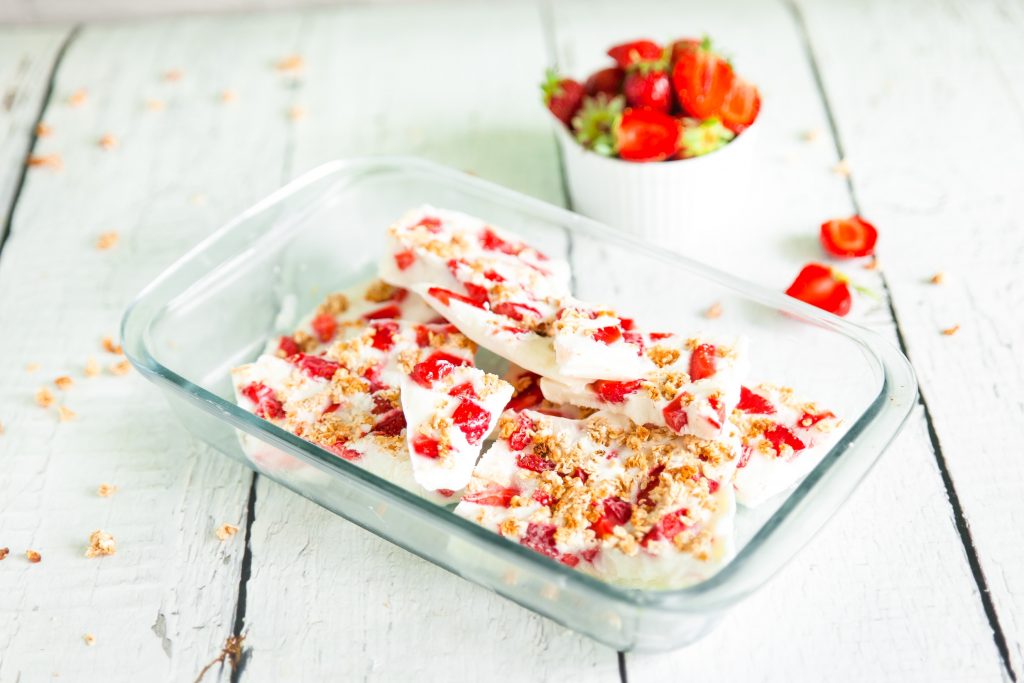 Did You Try This Recipe?
If so, I would love to keep in touch! I enjoy seeing photos and comments about the recipes that you make! You can follow me on Instagram and I will repost your goodies in my stories and comment on it too! Just tag me at @wowitsveggie and hashtag #wowitsveggie. I can't wait to see what you make!
Yield: 8 servings
Easy Frozen Yogurt Bark (Vegan & Healthy!)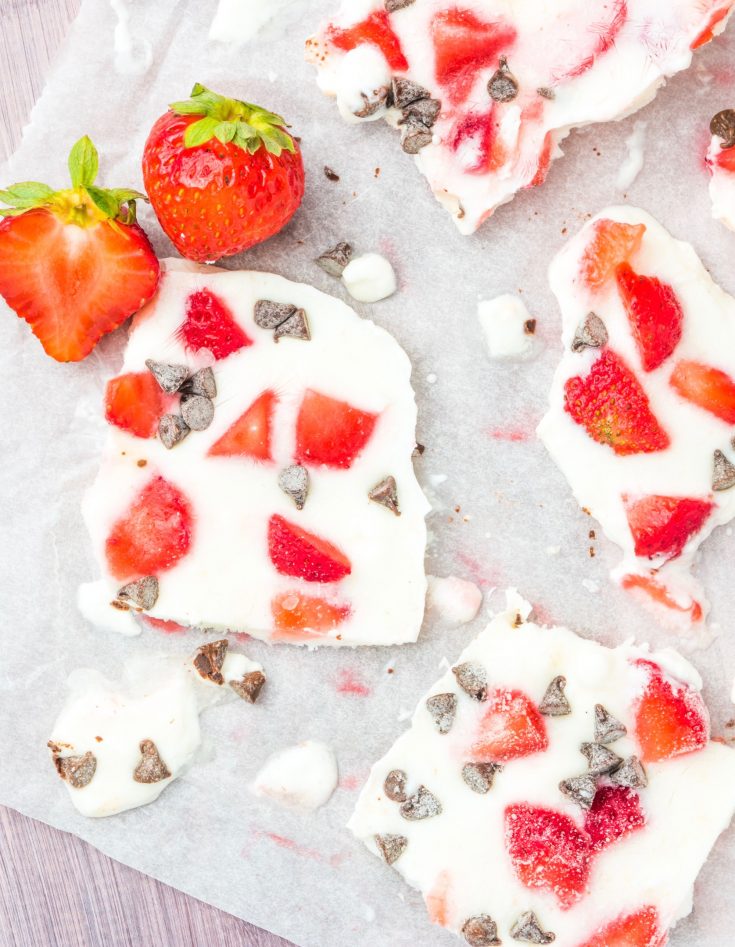 This easy frozen yogurt bark recipe is 100% vegan and delicious! It makes the perfect guilt-free snack or dessert and you can customize the sweetness and flavor to your taste.
Additional Time
3 hours
2 seconds
Total Time
3 hours
10 minutes
2 seconds
Ingredients
2 cups vegan yogurt (any kind!)
Optional: 1/8-1/4 cup sweetener of your choice (maple syrup/agave/cane sugar)
1/2 teaspoon vanilla extract
Optional: 1/4 teaspoon lemon juice
1/8 teaspoon salt
Toppings to taste: Strawberries, blueberries, nuts, seeds, granola, chocolate chips, raspberries, kiwi etc.
Instructions
Line a baking sheet with parchment paper and set aside.
In a large bowl, mix vegan yogurt, vanilla extract, salt and sweetener until fully combined. Taste and adjust the flavor to your preference. Be careful not to add too much sugar as you can always add more but you can never remove it!
Spread your yogurt mixture into an even thickness across the cookie sheet and add in all of your toppings! Have fun with it and add as many toppings as you enjoy!
Freeze the vegan yogurt bark for 2-3 hours until it is hard. Break it into pieces and serve!
Store the frozen yogurt bark in the freezer in an air-tight container for up to 1 week.
Nutrition Information
Yield
8
Serving Size
1
Amount Per Serving
Calories

106
Total Fat

5g
Saturated Fat

1g
Trans Fat

0g
Unsaturated Fat

3g
Cholesterol

3mg
Sodium

100mg
Carbohydrates

12g
Fiber

1g
Sugar

8g
Protein

4g