This is your classic recipe for vegan vanilla cupcakes!
It is the most versatile cupcake recipe ever and there are so many amazing ways you can modify or dress it up!
These vegan vanilla cupcakes are just like your Mom used to make for your childhood birthday party growingup!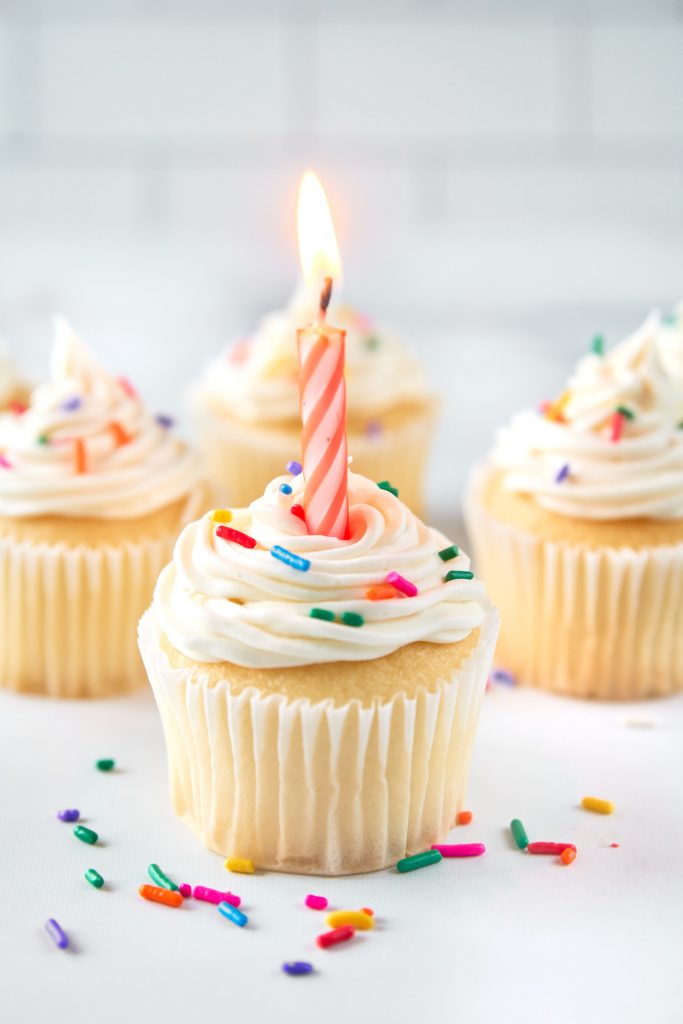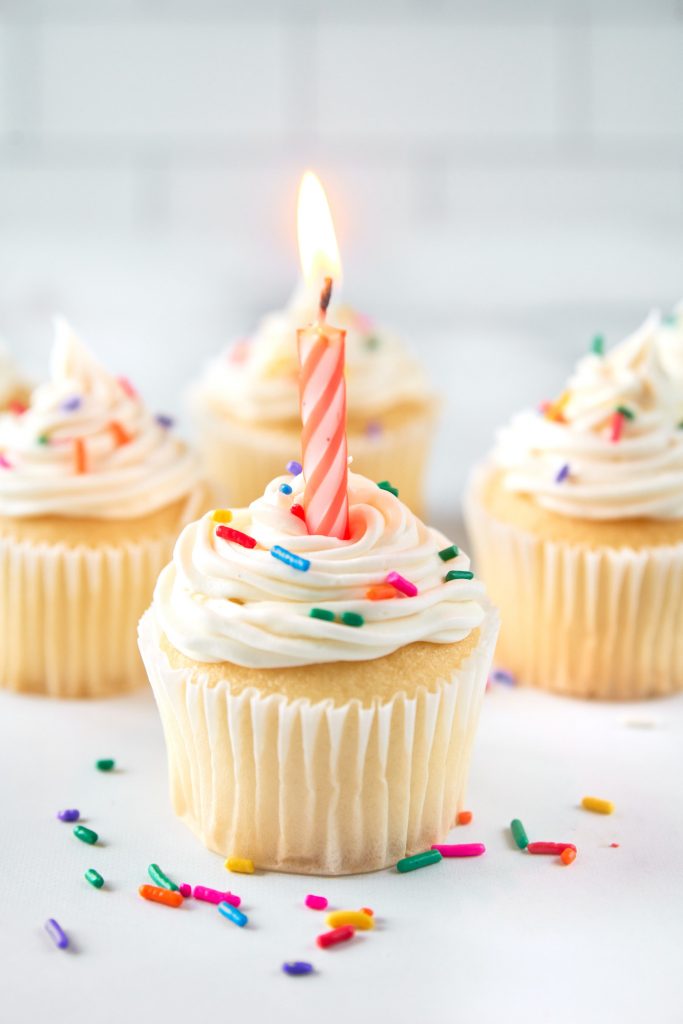 If you don't tell anyone that these vanilla cupcakes are vegan, nobody will ever know! In fact, you can keep it a secret from the whole party until after everyone enjoys and then tell them the truth and watch them be amazed!
The results of this recipe is a soft and pillowy vegan vanilla cupcake that is so delicious!
My favorite part about making these fluffy vegan cupcakes is how fast they cook up and bake!
They only have to bake for about 20 minutes which is way faster than some other recipes I have seen.
The prep time is also pretty short and it only takes as long as it will take you to combine all of the ingredients in a bowl and pour it into your muffin tins!
In my experience, you can have easy and delicious vegan vanilla cupcakes in about 30 minutes from start to finish.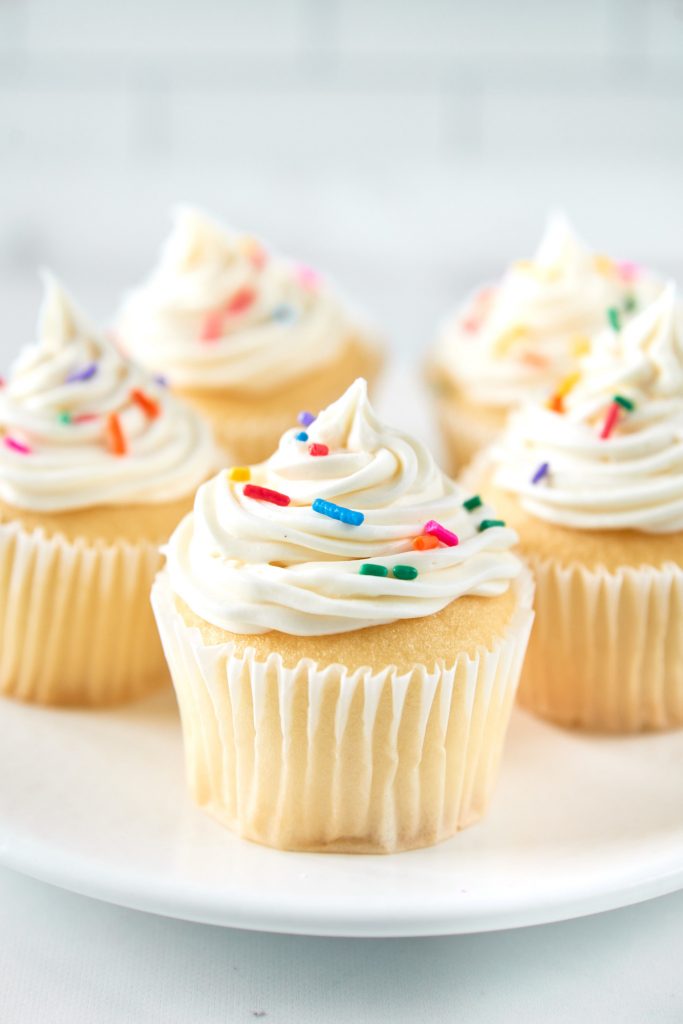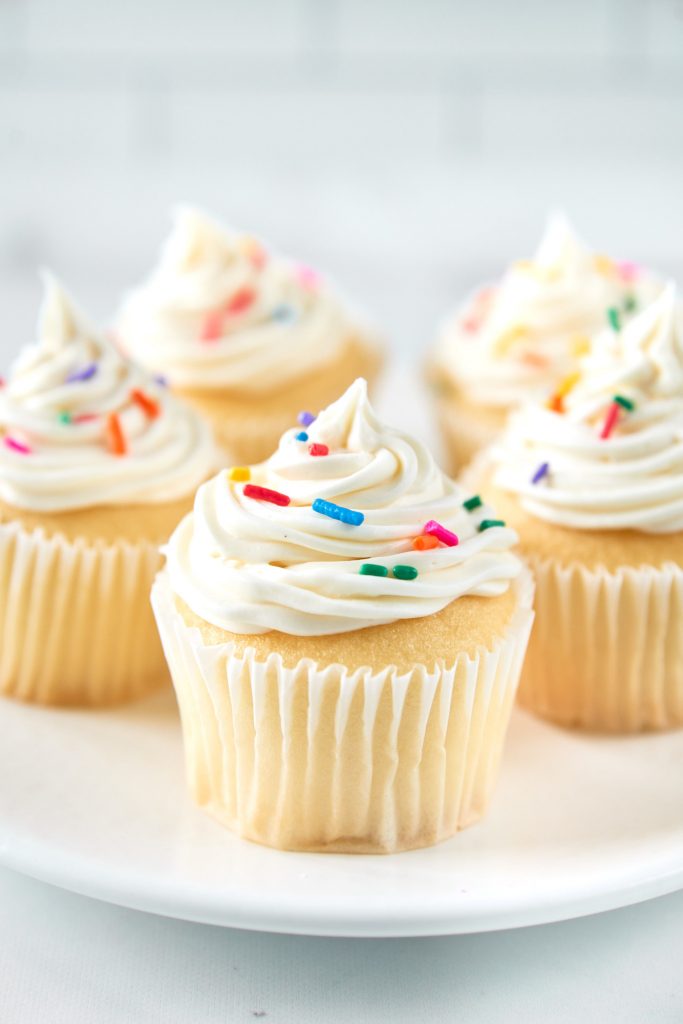 Of course, this is one of the best Vegan Recipes For Kids and it is perfect for birthday parties or whenever you are looking for a classic vanilla cupcake that you can use as a base to dress up!
These work particularly well using my Vegan Vanilla Frosting recipe to top them with. Of course, you can use any variation of frosting you like to go with these vanilla cupcakes.
They are truly the best and easiest vegan vanilla cupcakes that you will ever make and you will want to recreate them again and again!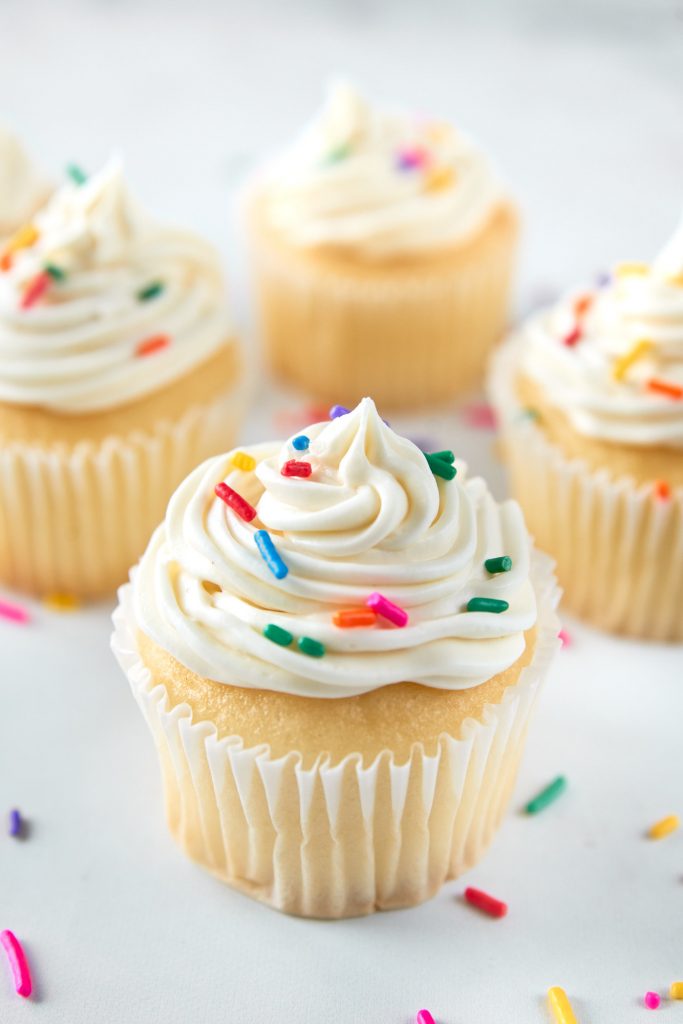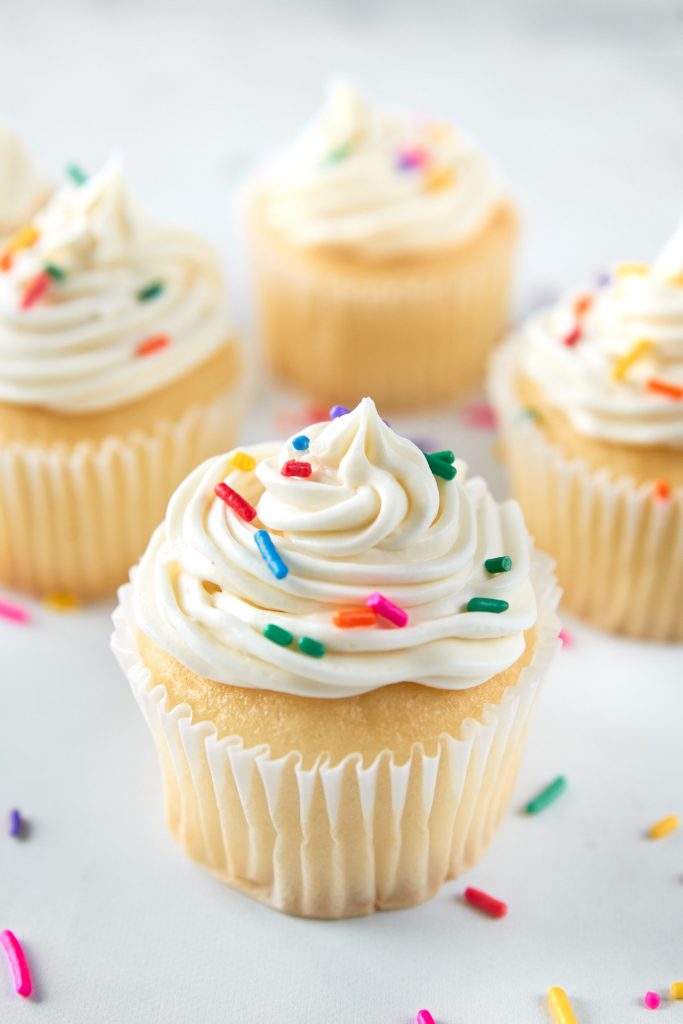 Can You Use This Recipe To Make A Cake Instead Of Cupcakes?
Believe it or not, you can use pretty much any single layer cake recipe to make cupcakes and vice versa!
That means that you can use this vegan vanilla cupcakes recipe to make a vanilla cake if you so choose!
It can fit in an 8-9 inch single layer cake pan. Try it out and if it fits, you are good to go!
If it seems a little too small or a little too big, go ahead and size up or down depending on your needs.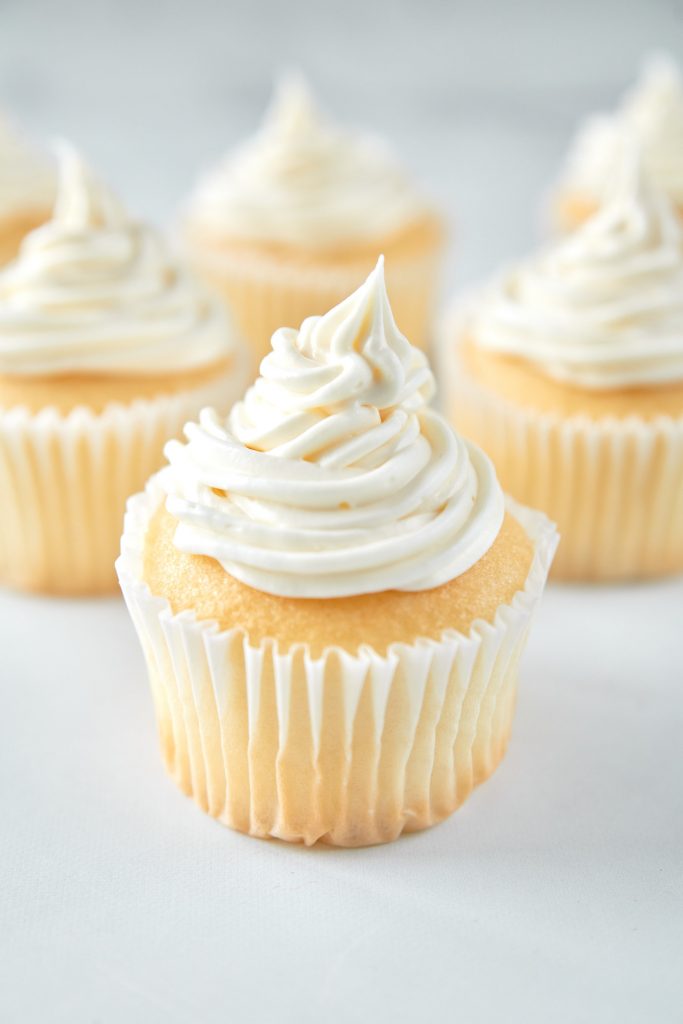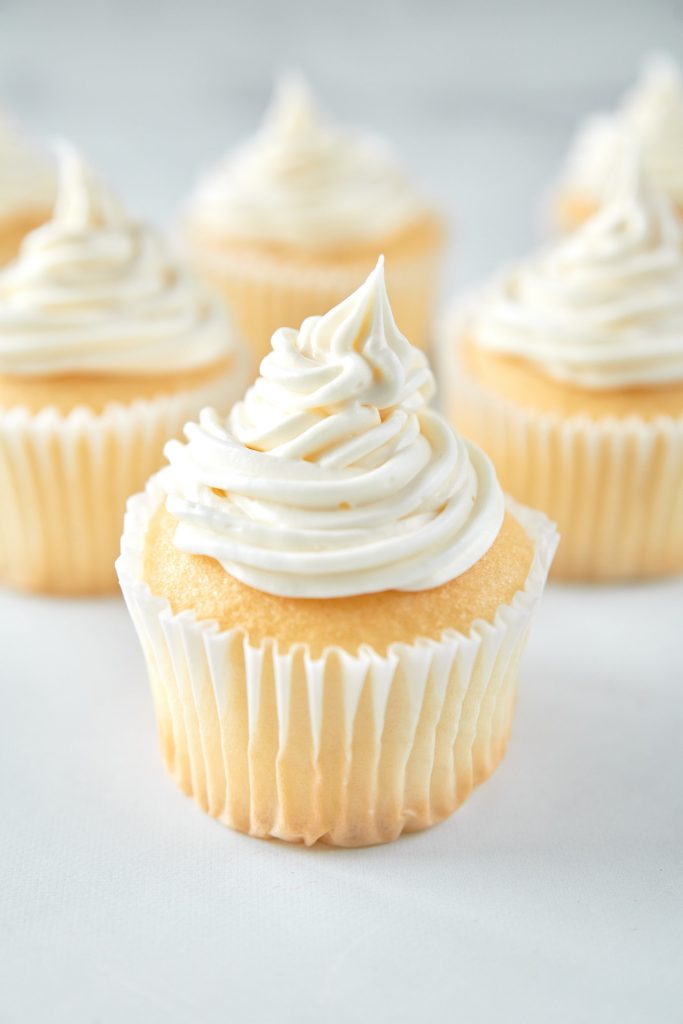 How To Make Vegan Vanilla Cupcakes
As I said above, making these vegan vanilla cupcakes is super easy and the results are delicious!
They make the perfect classic "birthday cake" recipe and there are so many variations such as vegan funfetti cupcakes you can do with this same exact recipe!
First you are going to want to preheat your oven to 350F and line a 12-cup muffin tin with cupcake liners.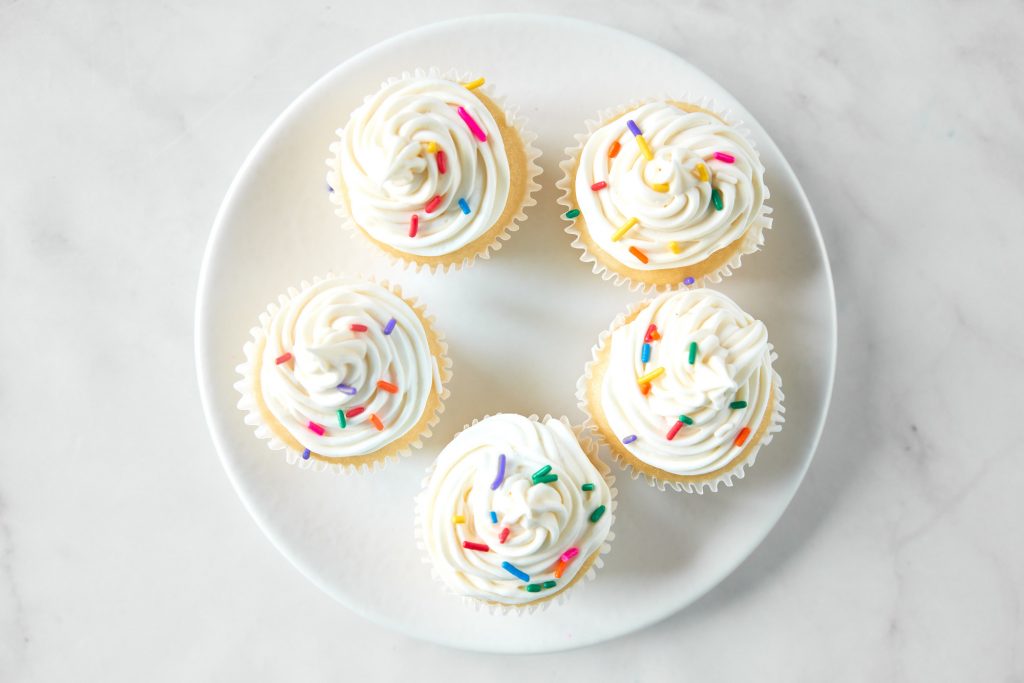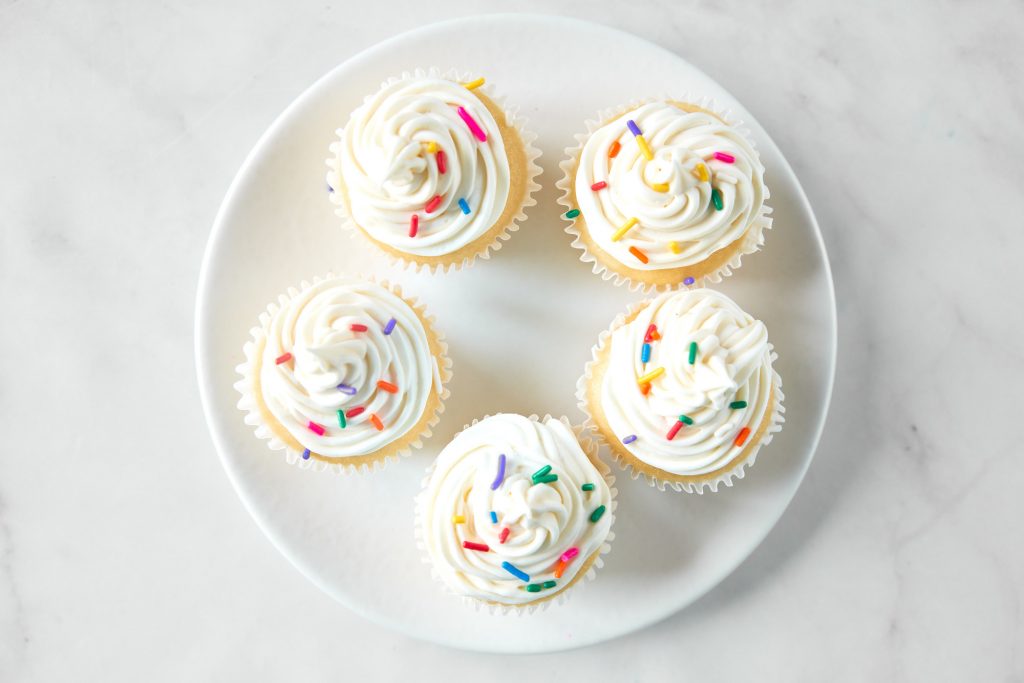 This is a small-batch recipe and only makes 12 vanilla cupcakes or 1 dozen, so if you are making them for a large crowd, you will want to double or triple the numbers that I have below for the ingredients!
In a small bowl, you want to combine non-dairy milk and apple cider vinegar and set it aside.
In a medium bowl, combine your dry ingredients for the vanilla cupcakes which are flour, baking powder, baking soda, and the salt. Use a fork to mix until combined.
Now, in a large bowl, combine the sugar, oil, and vanilla.
I know that this recipe uses 3 bowls and it isn't a simple 1-bowl recipe, but I find cleanup fast and it is easier to do it this way in my opinion just so the end result is fluffy and tasty!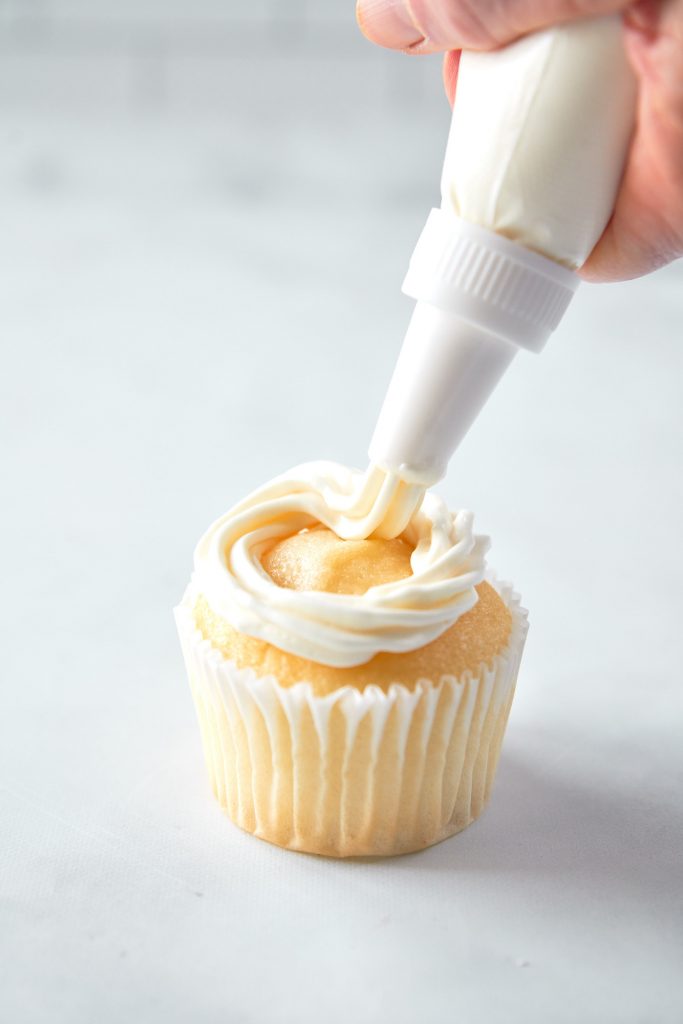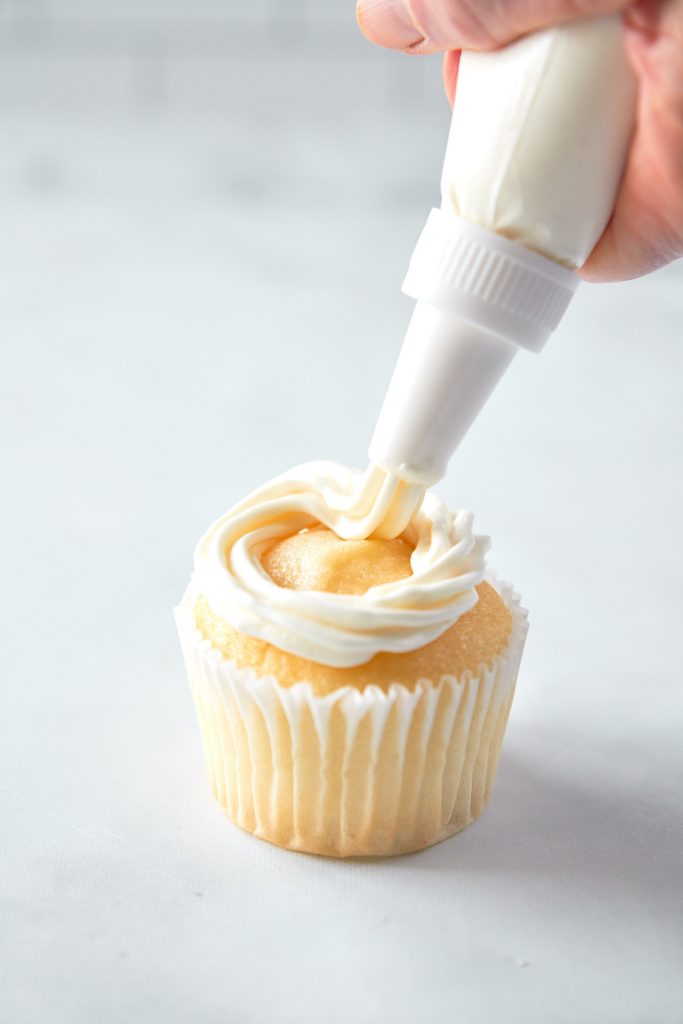 Stir in the non-dairy milk mixture and add the dry ingredients to the wet ingredients and stir until very smooth and no lumps are visible.
Now, you want to pour the vegan vanilla cupcake batter evenly into the prepared muffin tin.
You want to make sure that it is no more than 2/3 full or else the cupcakes are going to spill over the sides!
Bake for about 20 minutes or until a toothpick inserted into the center comes out clean!
You are going to want to let the vegan vanilla cupcakes cool completely before frosting with my Vegan Vanilla Frosting or else the frosting will just melt into a giant puddle and it won't be cute at all!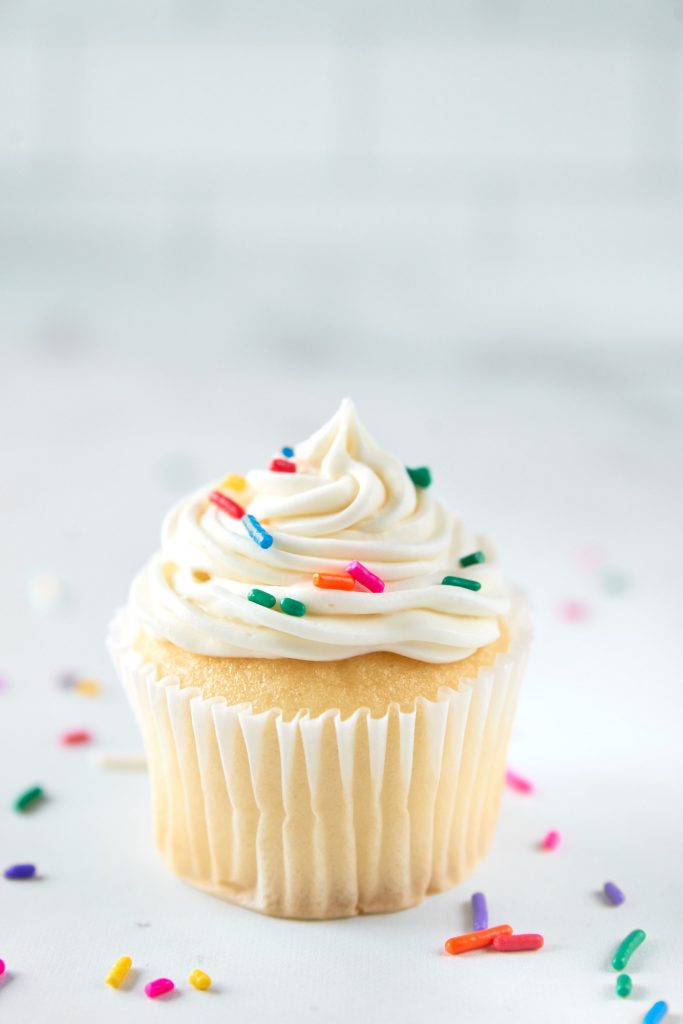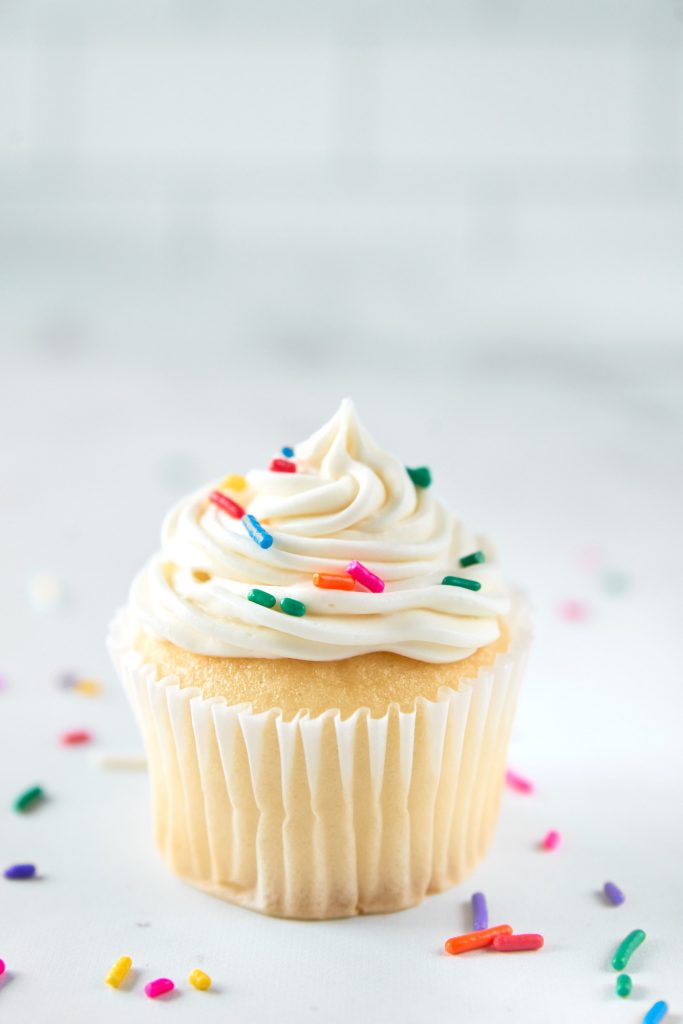 Vegan Vanilla Cupcake Variations
There are truly so many variations you can do with this simple base vegan cupcake recipe! From funfetti to different flavors, I am going to give you a few examples on how and what to do to play up this recipe!
The modifications for this vegan cupcake recipe are so simple and all you have to do is add one ingredient or take out another ingredient to make the flavor or look of it entirely different!
Try my variations below or give it a go yourself and let your imagination run wild!
As you can see, there are a variety of amazingly tasty ways to transform your simple vegan vanilla cupcakes into something flavorful with just a few modifications!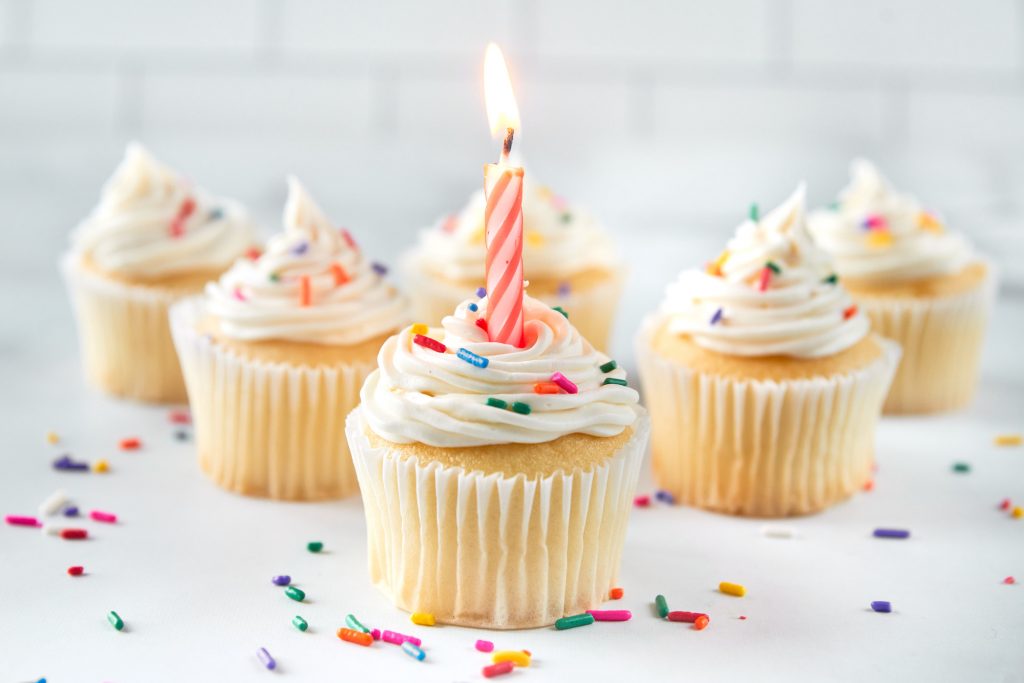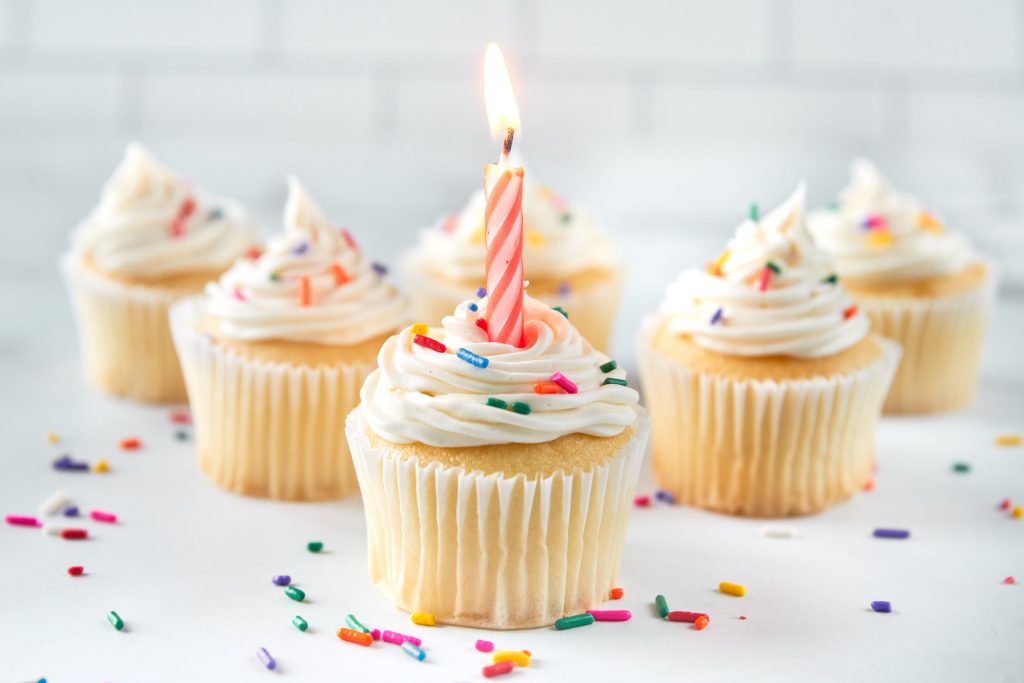 How To Store The Vegan Vanilla Cupcakes
You can store the vegan vanilla cupcakes with frosting for 2-3 days in the fridge. After that, the frosting will start to get a little funky and I don't recommend it!
You can store the vegan cupcakes in the fridge without any icing for up to 7 days in an air-tight container.
You can also freeze the un-iced cupcakes for up to 1 month in a freezer-safe container.
To ice, just let them defrost to room temperature before frosting them for best results.
Again, I do not suggest storing the frosted vegan cupcakes for a long time or any longer than 4 days in the fridge!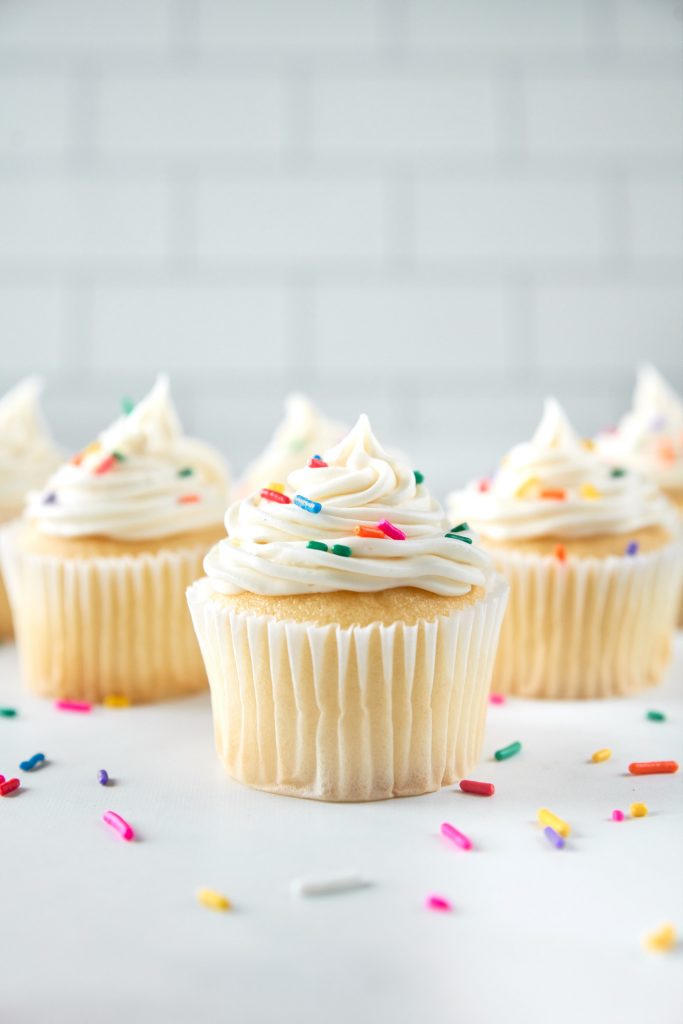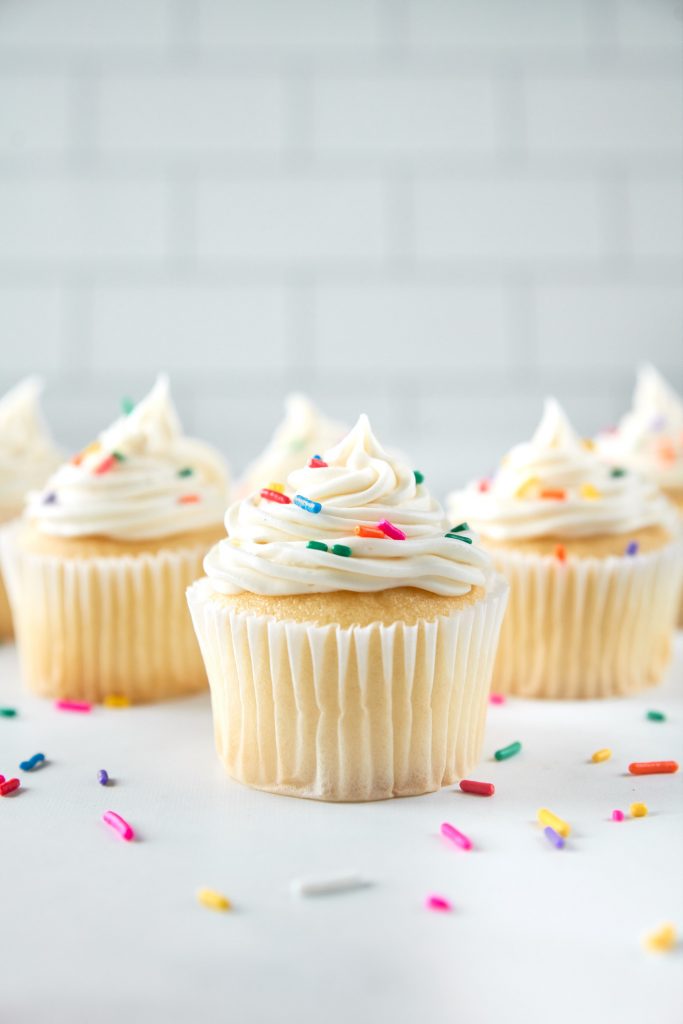 Did You Try This Recipe?
If so, I would love to keep in touch! I enjoy seeing photos and comments about the recipes that you make! You can follow me on Instagram and I will repost your goodies in my stories and comment on it too! Just tag me at @wowitsveggie and hashtag #wowitsveggie. I can't wait to see what you make!
Yield: 12 vegan cupcakes
Classic Vegan Vanilla Cupcakes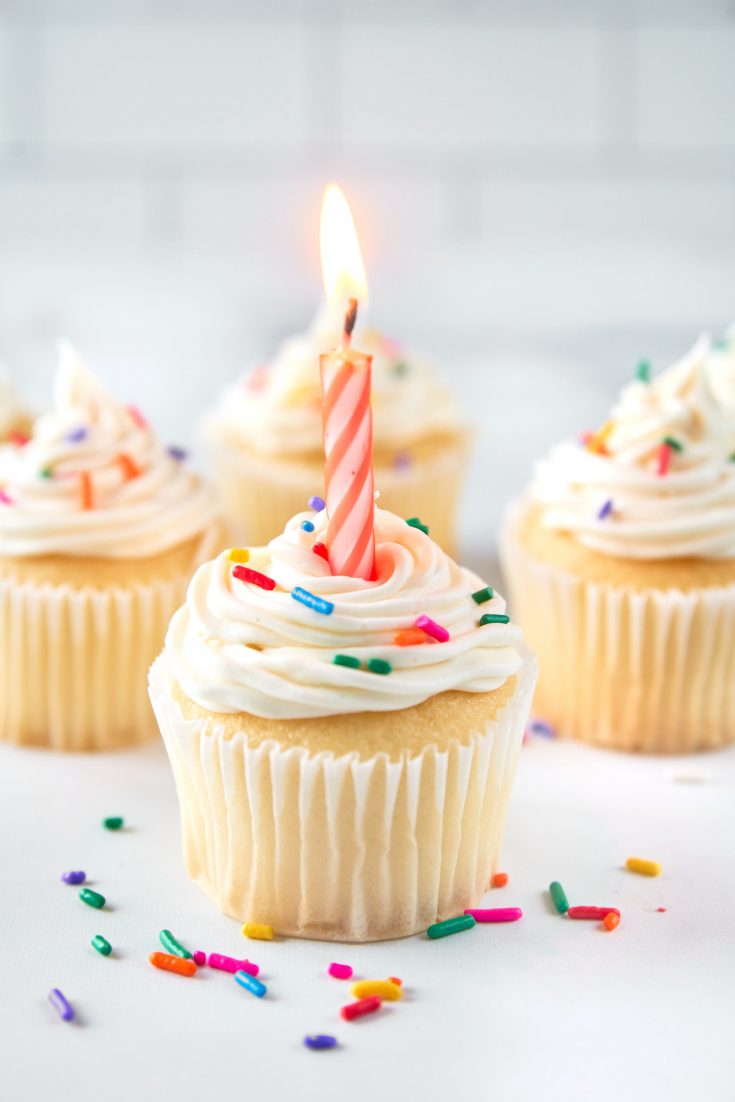 This classic recipe for vegan vanilla cupcakes is just like your Mom used to make for your birthday! It is so versatile and there are so many ways you can modify it. Lemon? Funfetti? Spice? Anything you want you can do with these vegan cupcakes as your base.
Ingredients
3/4 cup vanilla non-dairy milk [or plain]
1 1/2 tsp apple cider vinegar
1 1/4 cup flour
1 teaspoon baking powder
1/4 teaspoon baking soda
1/2 teaspoon salt
3/4 cup sugar
1/4 cup oil
2 tsp vanilla extract
1 recipe vegan vanilla frosting
Instructions
Preheat your oven to 350F and line 12 muffin tins with cupcake liners. Set aside.
In a small bowl, combine non-dairy milk and vinegar and set aside.
In a medium bowl, combine flour, baking powder, baking soda, and salt. Use a fork and mix to combine.
In a large bowl, combine sugar, oil, and vanilla extract. Add in your soy milk mixture and whisk until all of the wet ingredients are combined. Now, slowly combine the wet ingredients with the dry ingredients and stir until smooth and there are no lumps.
Pour the batter among the 12 lined muffin tins. Make sure that you only pour the batter about 2/3 full so the vegan cupcakes don't overflow.
Bake for about 20 minutes or until a toothpick comes out of the center of the cupcake clean.
Let the vegan vanilla cupcakes cool completely before frosting with Vegan Vanilla Frosting
Nutrition Information
Yield
12
Serving Size
1
Amount Per Serving
Calories

187
Total Fat

5g
Saturated Fat

1g
Trans Fat

0g
Unsaturated Fat

4g
Cholesterol

2mg
Sodium

166mg
Carbohydrates

25g
Fiber

0g
Sugar

15g
Protein

2g