If you are looking for the best Halloween cocktail recipe, this is the recipe for you!
The Purple People Eater Cocktail tastes great and is elegant and striking, just like you! 😉 And it is quick to throw together so you can spend more time drinking and less time mixing.
It really is one of the best easy cocktails to make at home!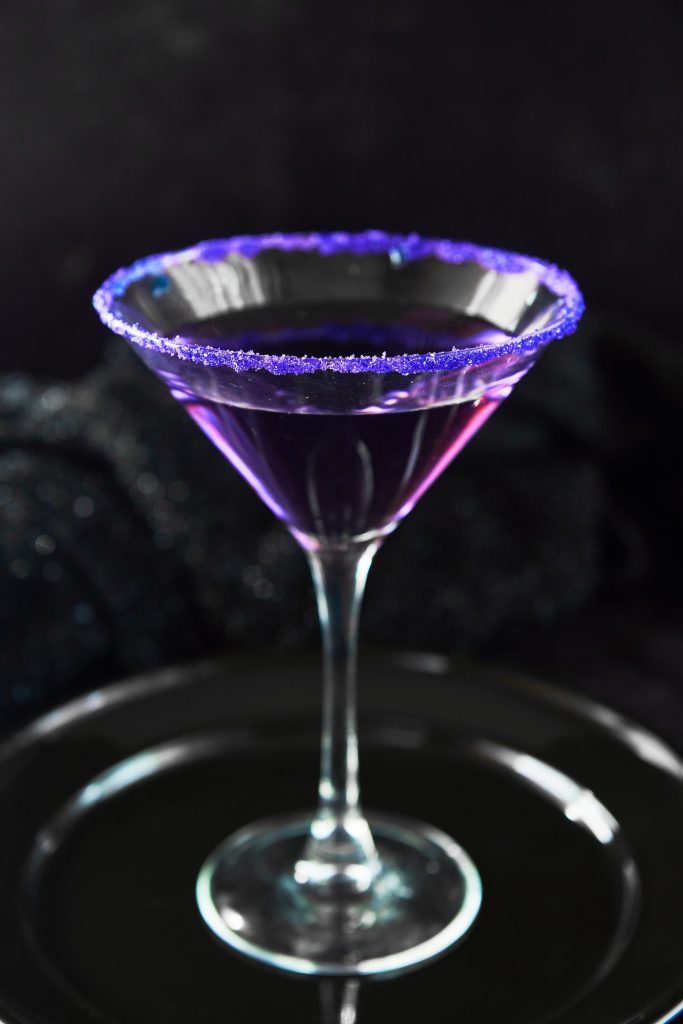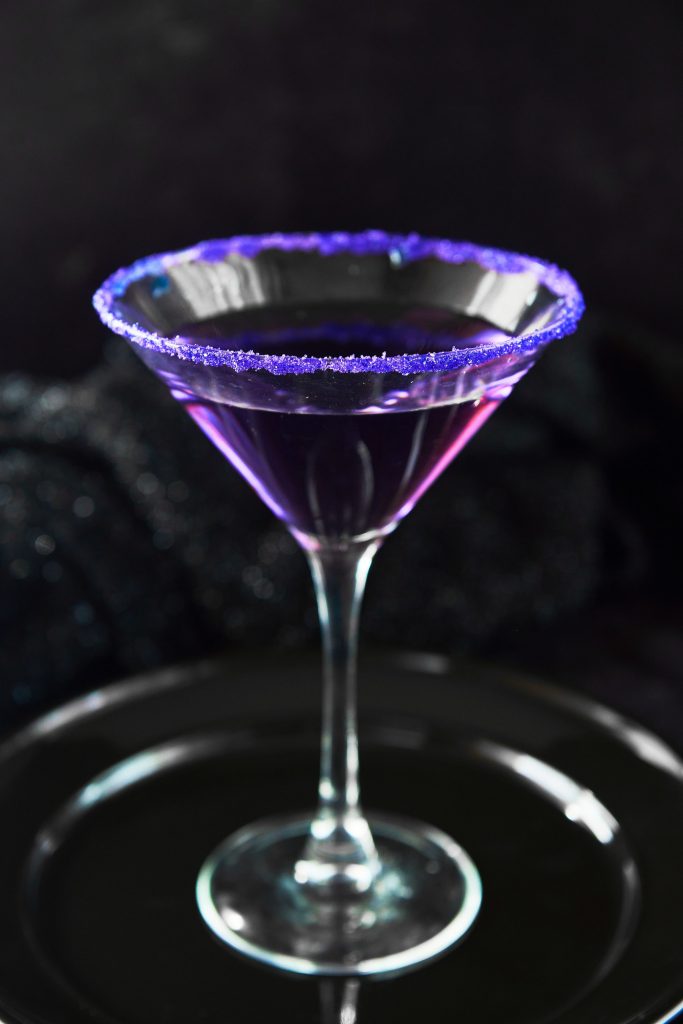 The flavors are fantastic and the purple color is so cool to see come alive in real life! If you are looking for amazing and easy purple cocktail recipes, this is one of the best!
This Halloween cocktail easily combines a few ingredients and flavorings to create this delicious and electric purple finished product!
The thing that I love about making this purple drink cocktail is that it is very easy to make and whips up quickly.
You can make a big batch for a lot of people, or just a single serving for yourself when you are in the mood for an adult beverage!
It is the perfect way to kick off your Halloween party or you can even make it any time of year you want a themed purple drink because purple doesn't have a time of year to enjoy!
This cocktail is a true show-stopper for any event so if you want to please a crowd, this is a great go-to option!
Keep reading to learn how to make one of the best purple mixed drinks!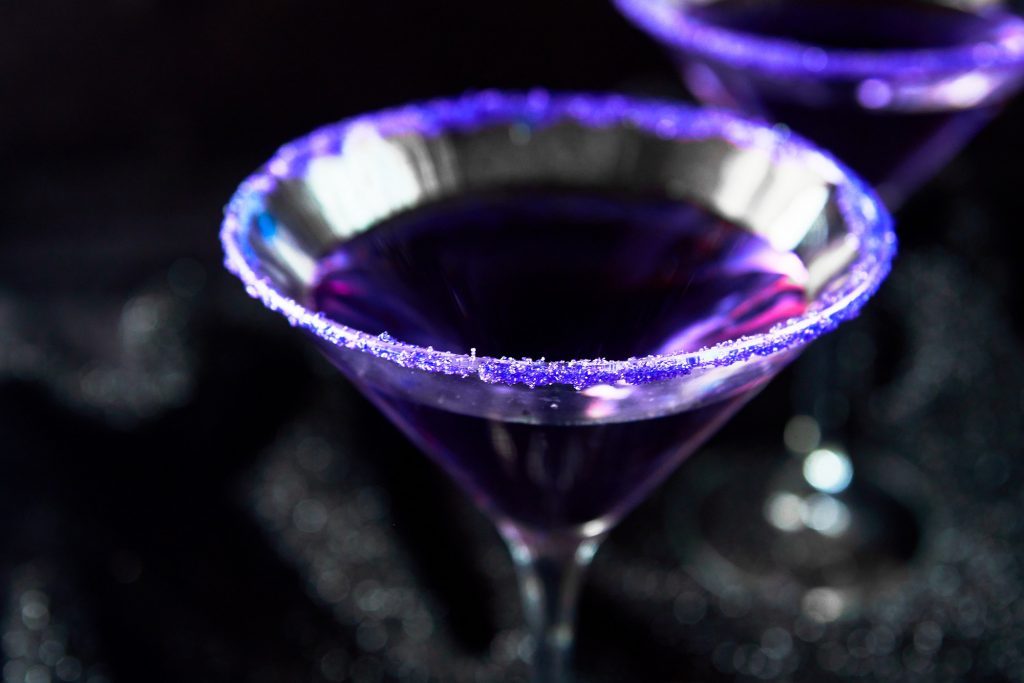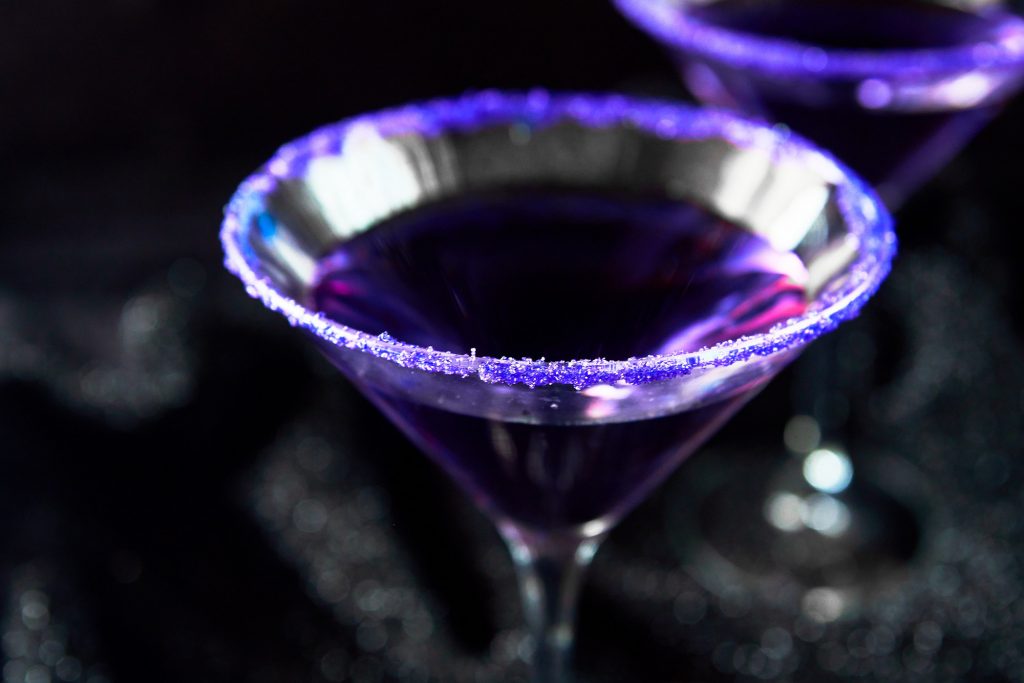 Why You Will Love This Recipe
It is easy and quick. You do not have to be a mixologist to make this tasty purple drink recipe! It is really simple and takes just a few minutes to create.
It is pretty and fun! This cocktail is truly picture-perfect with its bright purple color and sparkly, sugared rim. You will have just as much fun making it as drinking it!
It only uses a few ingredients. You only need 4 ingredients to make one of the best Halloween cocktails!
It is perfect for Halloween parties. This drink is a showstopper for any Halloween party. The vivid purple color will perfectly complement the spooky decor.
What Is In This Purple Cocktail?
When I was coming up with this recipe, I was trying to figure out how to make a Halloween cocktail purple.
As you may know, if you follow my website, I am about EASY recipes with a big payoff!
I don't want you to have to run around and buy 10 different ingredients to get a cool purple Halloween cocktail.
So what entered my mind? Purple sports drink! It made the perfect base and is great to fuel your body with electrolytes to help stave off a hangover!
You can use either Powerade or Gatorade, depending on your preference, both work and lend a cool purple look and yummy flavor.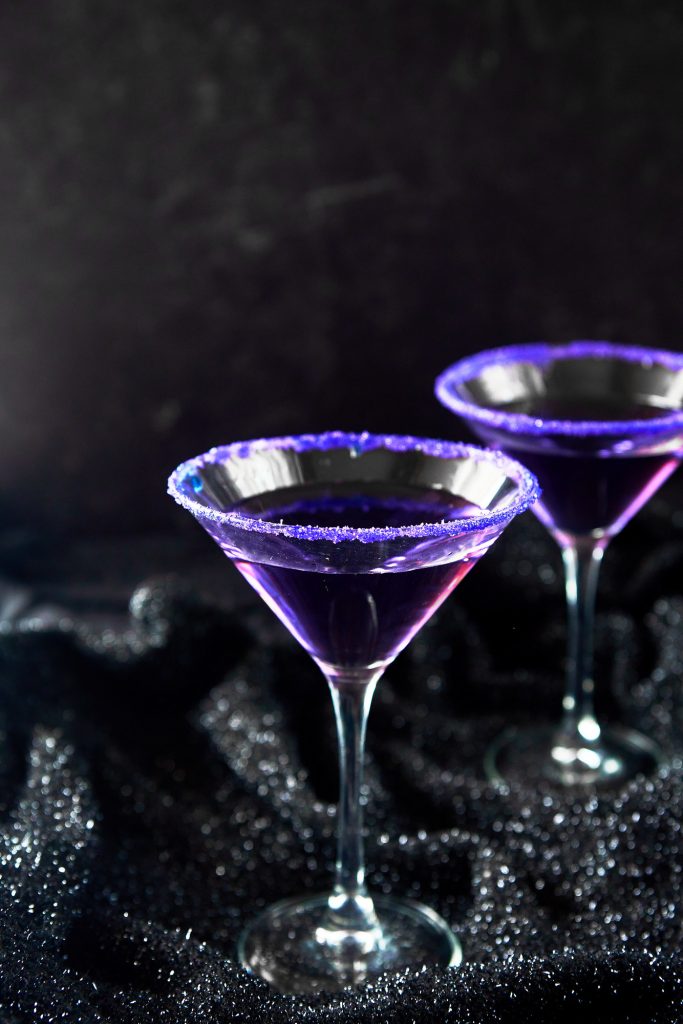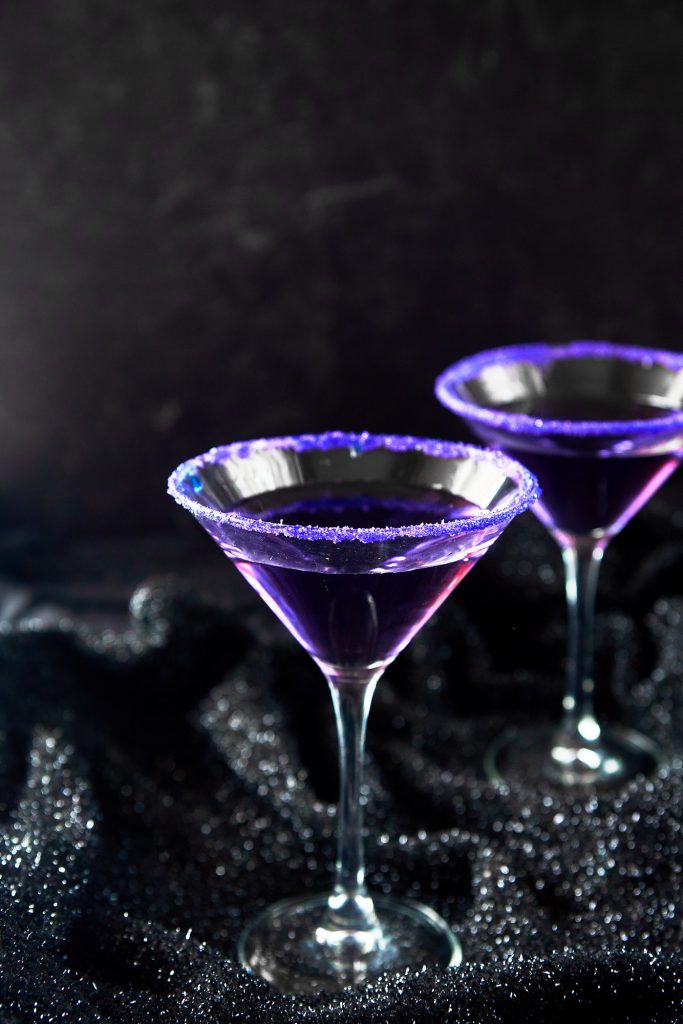 The other options were mixing a bunch of ingredients to make the drink purple which is a lot of money and time and something I didn't want to do, or adding purple food coloring which is not really the best either.
This Purple People Eater Cocktail has:
Purple Sports Drink. You can use Powerade or Gatorade. Both are grape flavors and are an electric purple! They also provide electrolytes so you won't get totally hung over. 😉
Vodka. Vodka is my favorite liquor to work with because it has an easily malleable flavor that pretty much works with everything! I think vodka works best for this Halloween cocktail. Try it my way first, and then switch it out for your favorite when you have tried this recipe first!
Orange Liqueur. Any orange liqueur works! I like Cointreau or Grand Marnier as these are the top brands in the business and the flavor is always great. Whatever you can find locally works perfectly fine!
This is one of the easiest recipes for purple drinks with vodka so you can do less mixing and more drinking!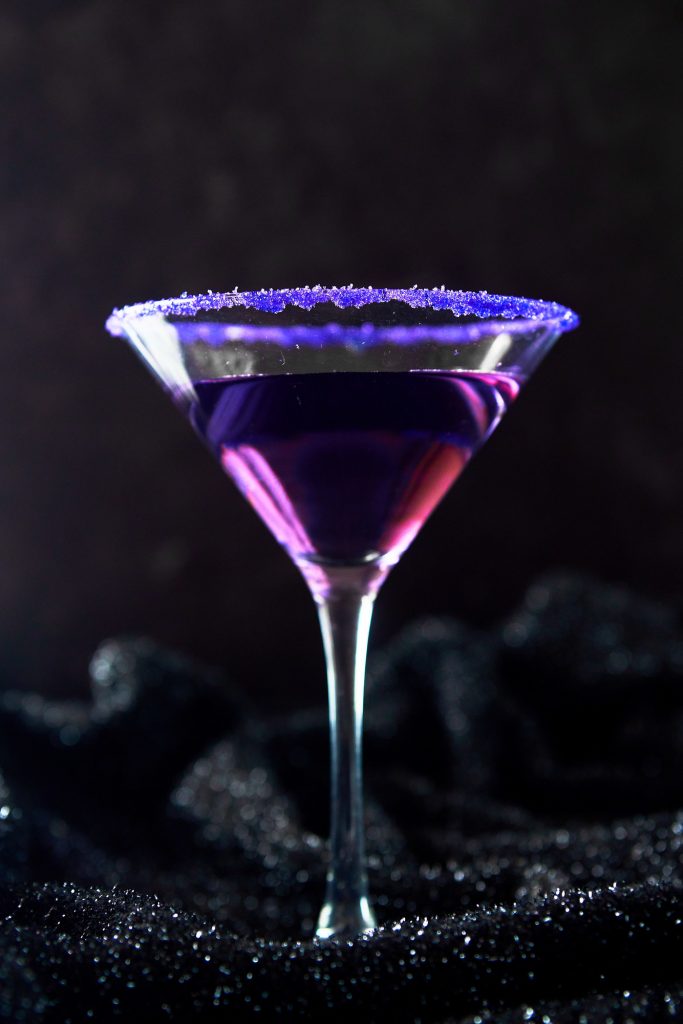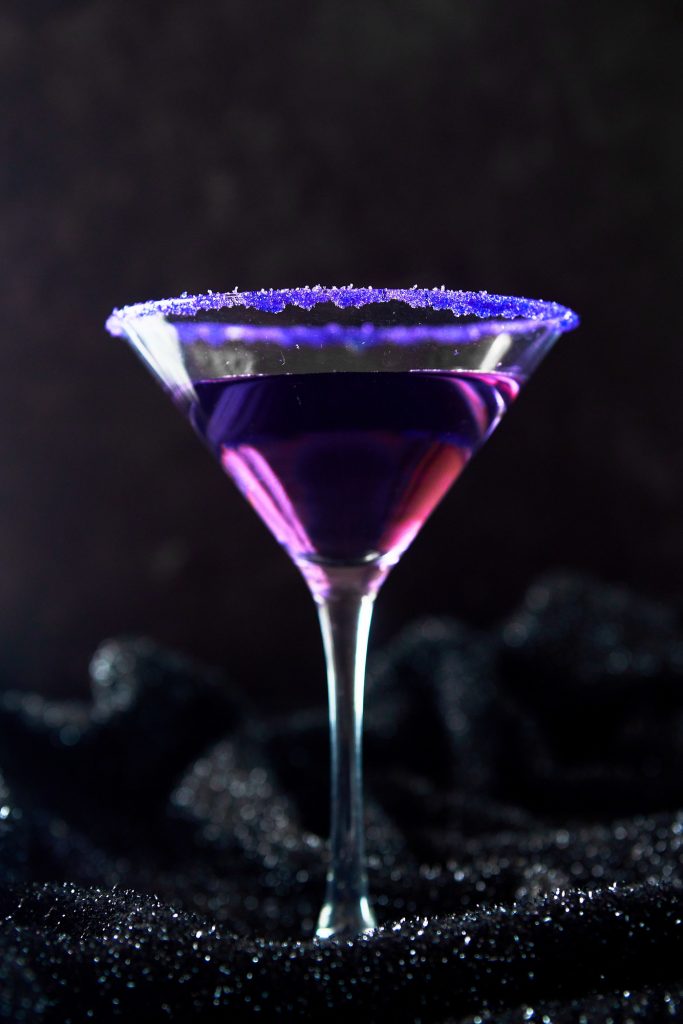 Can You Make This Purple Halloween Drink In Advance?
Yes, you totally can! It is a really fast cocktail to make so you may not even want to make it in advance as it is so quick!
But yes! If you want to make this purple cocktail in advance of your Halloween party, simply multiply the number of people you are having at the party by the ingredients listed below!
Then, store in an air-tight container or jar in the fridge until you are ready!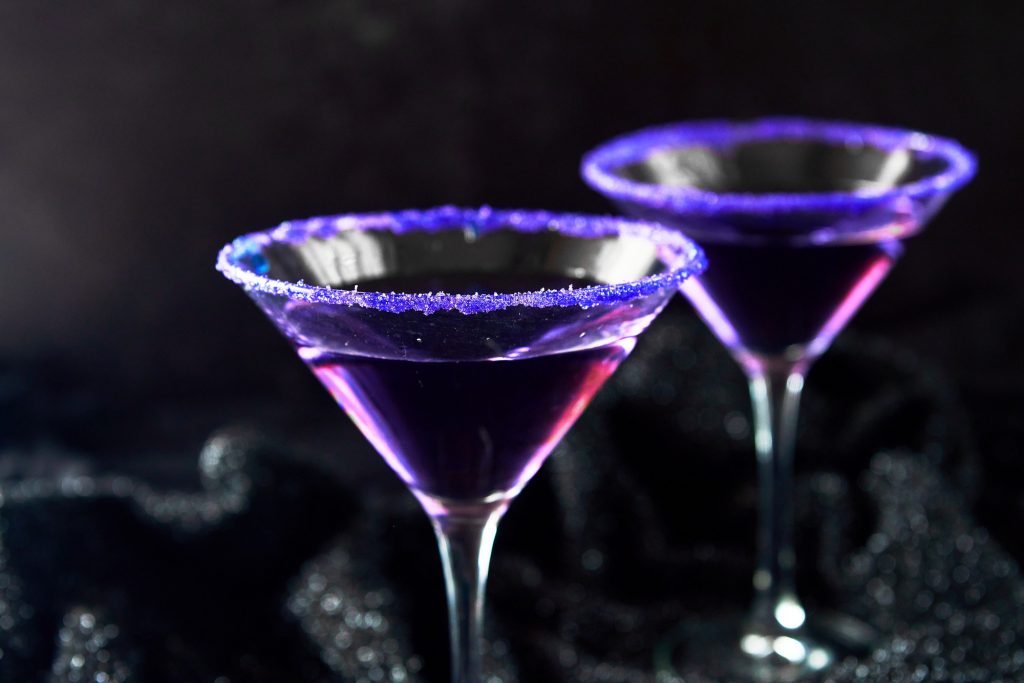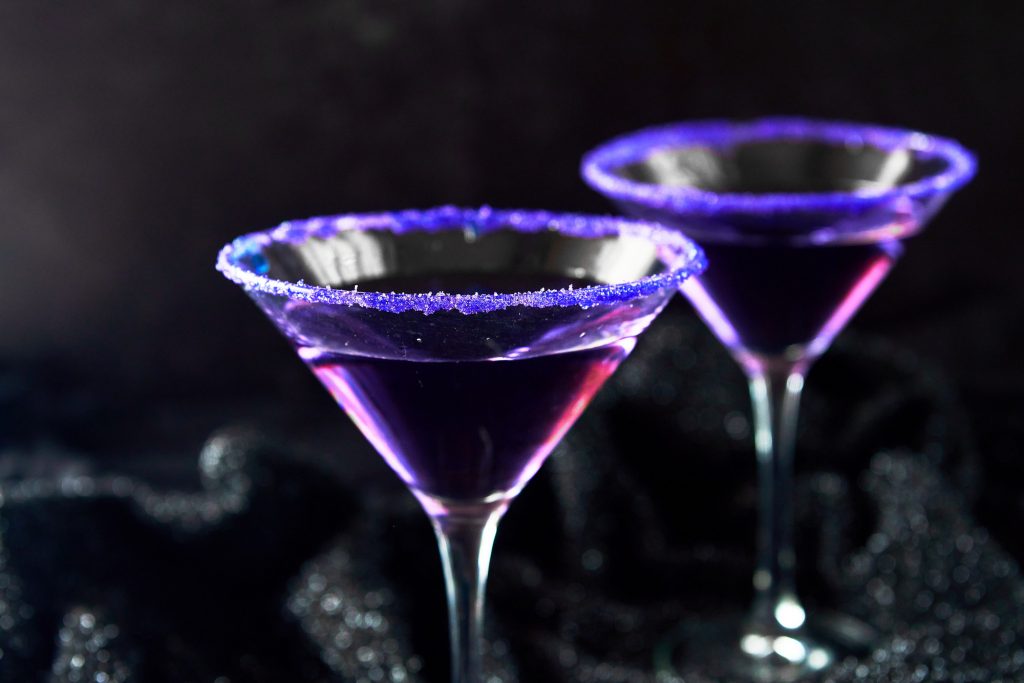 Can You Rim The Glasses In Advance?
I would recommend against it! You totally can, but the sanding sugar used to rim the glasses is pretty picky and it may fall off during storage or transport!
Rimming with sanding sugar/sprinkles is a lot easier than rimming with salt as the sugar is very fine and sticks easily to the rim of the glass.
So if you have to rim the glass the day you serve this purple cocktail, I promise that it doesn't take long at all to do!
Just make sure that the rims of the glass aren't too wet so the sugar doesn't slide off!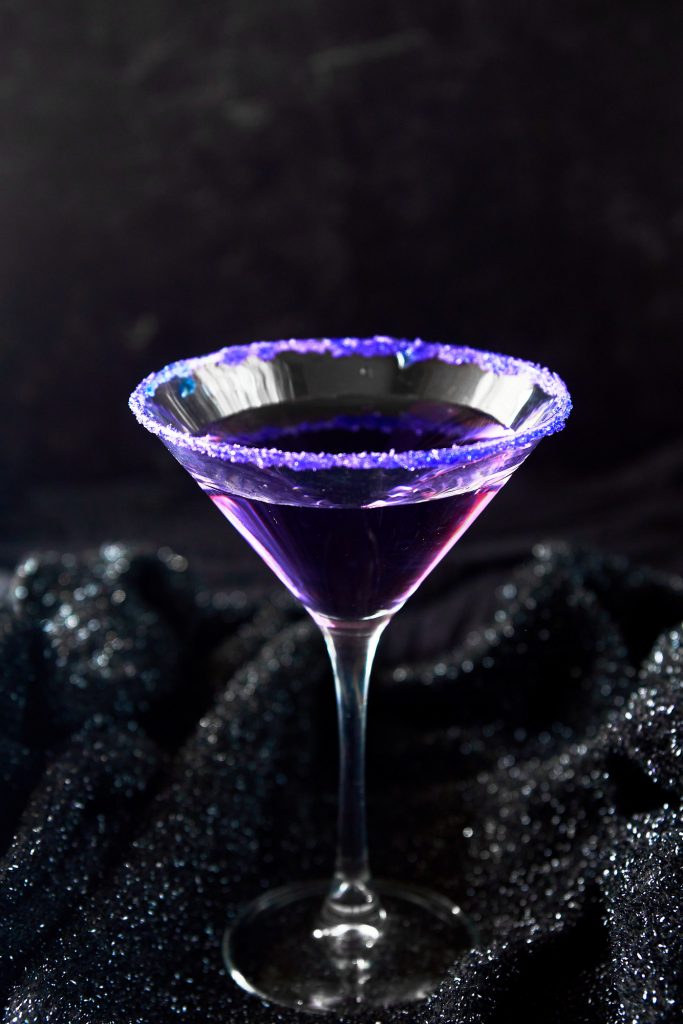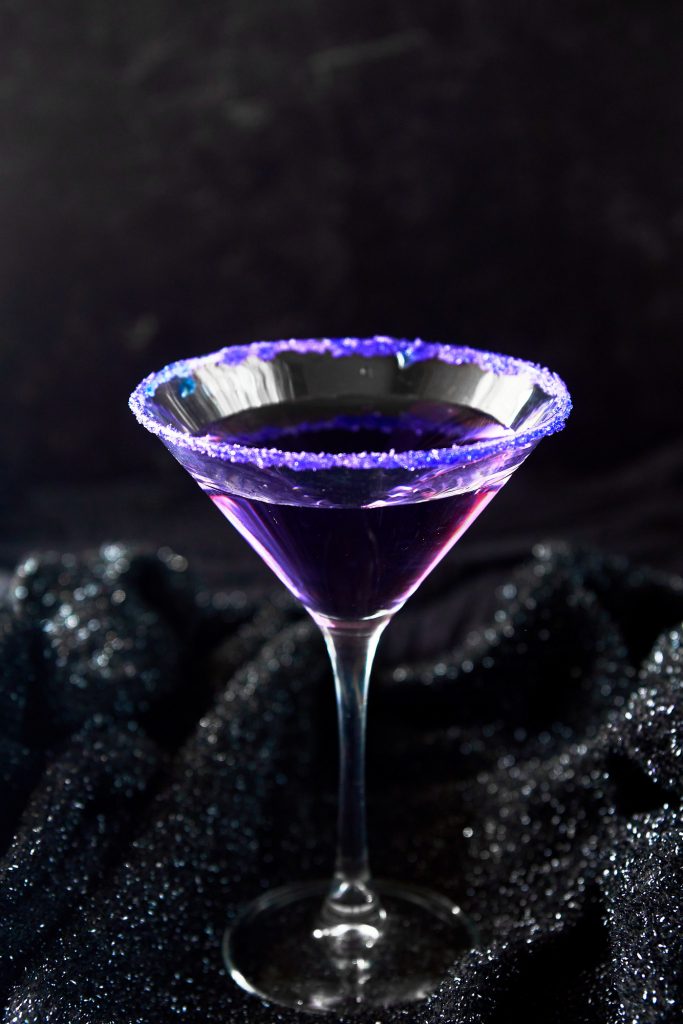 How To Make The Purple People Eater Cocktail
The Purple People Eater Cocktail is so pretty and easy to make using only a few ingredients!
All you have to do is pour your vodka, orange liqueur, and purple sports drink such as Gatorade or Powerade into a cocktail shaker over ice.
Cover and shake until the outside of the shaker has frosted.
If you do not have a cocktail shaker, that's okay! You can use a tall glass filled with ice as a cocktail shaker and cover it with plastic wrap, a lid, or a larger glass that you hold tightly against it.
Meanwhile, you will rim the glasses.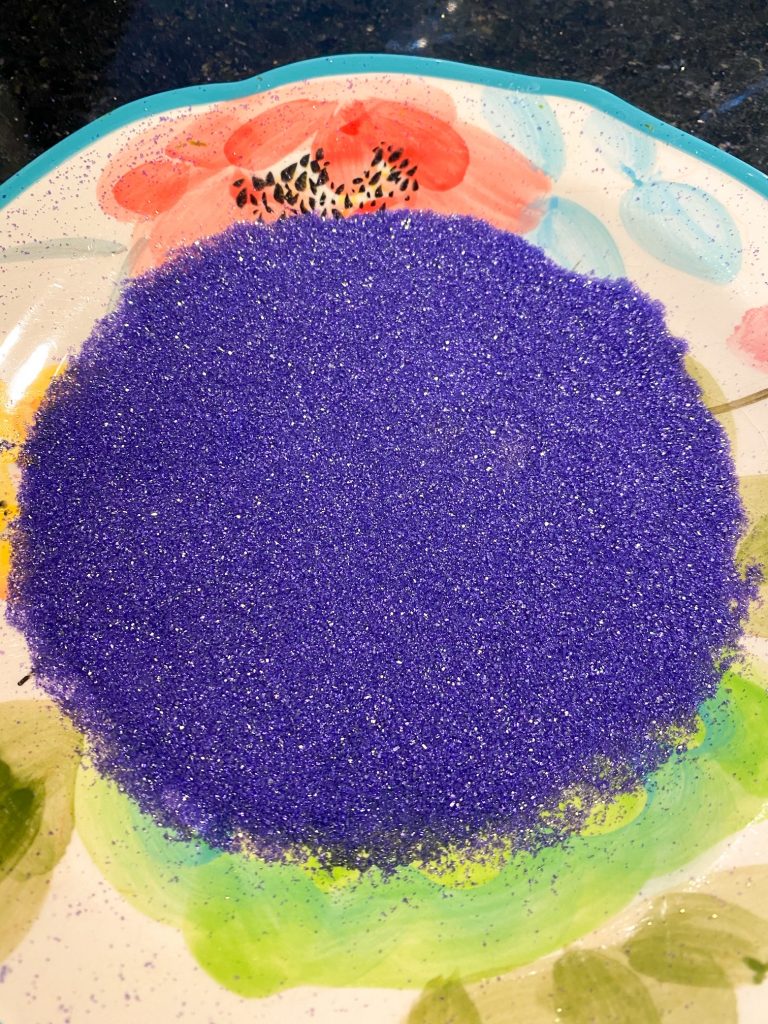 I used purple sanding sugar from the baking aisle of my grocery store. It is quite easy to find and the end result is SO cute!
The trick for rimming a glass with sanding sugar is to BARELY dip the rim into water.
You don't want to dip the rim of the glass too far into a dish of water or else the sanding sugar will start to run.
Put just enough water on a small plate to cover the tip of the glass you are using.
Dip it in the water and then in the sanding sugar. Make sure the glass isn't too wet!
Once you rim all of your glasses, strain the purple cocktail into the chilled martini glasses and enjoy!
This Purple People Eater drink serves so well with my Sparkly Hocus Pocus Chocolate Dipped Pretzels for a blend of salty and sweet with your cocktail.
You can also make a witches brew Halloween drink recipe to add to the drink table at your party.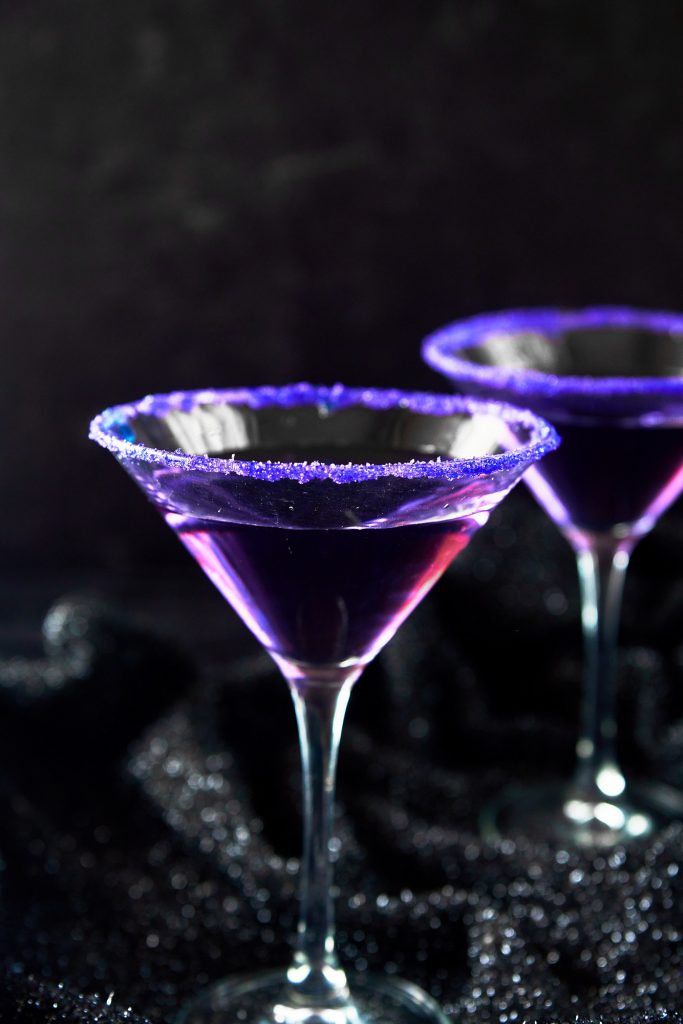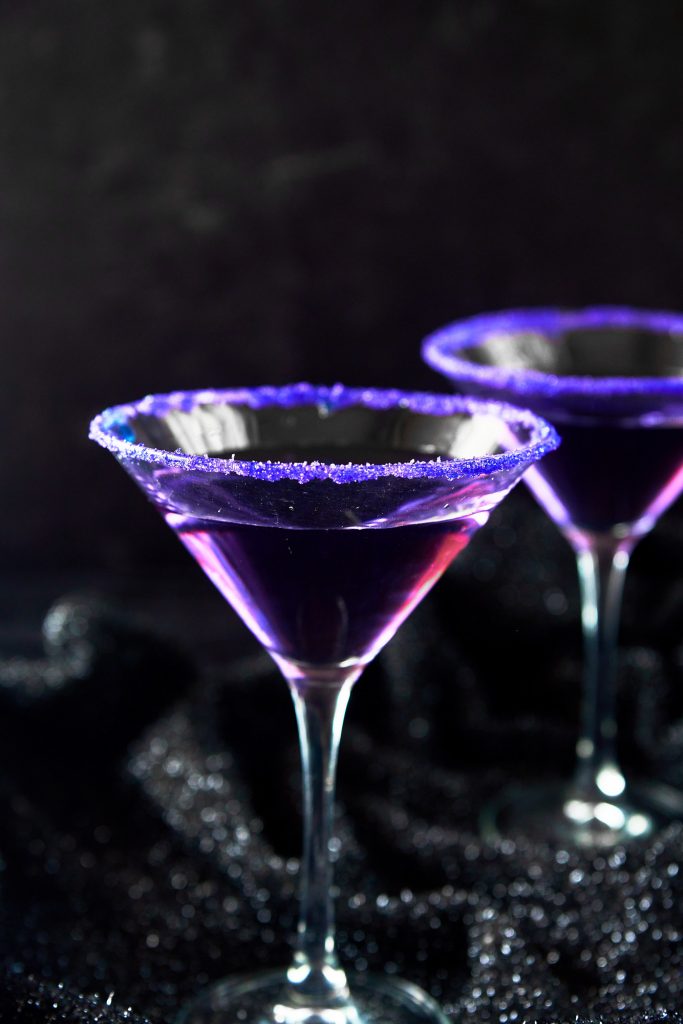 Did You Try This Recipe?
If so, I would love to keep in touch! I enjoy seeing photos and comments about the recipes that you make! You can follow me on Instagram and I will repost your goodies in my stories and comment on it too! Just tag me at @wowitsveggie and hashtag #wowitsveggie. I can't wait to see what you make!
Yield: 2 Purple Cocktails
Purple People Eater Halloween Cocktail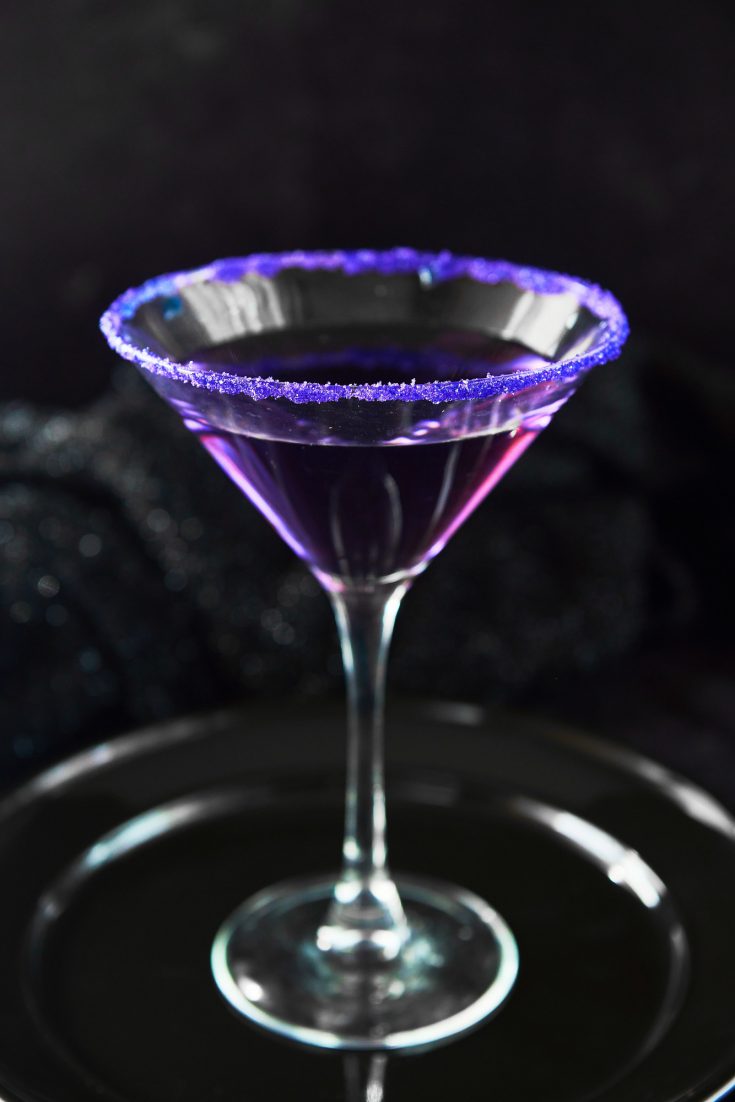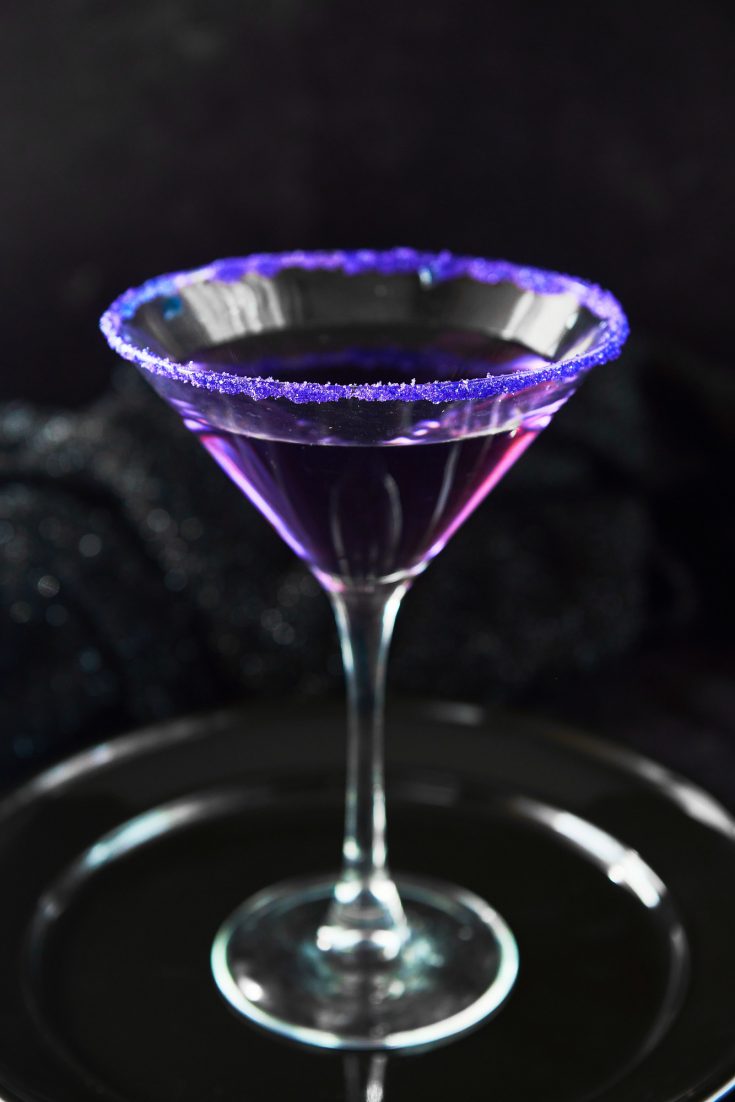 This Purple People Eater Cocktail is perfect for Halloween! It is super easy to make and blends tasty flavors for a striking result! Don't forget to rim the glass with purple sanding sugar/sprinkles for the coolest way to serve!
Ingredients
2 shots Vodka
1 shot orange liqueur such as Cointreau or Grand Marnier
4 shots purple sports drink such as Gatorade or Powerade
Purple sanding sugar for rimming the glass
Instructions
Pour vodka, orange liqueur, and purple sports drink such as Gatorade or Powerade in a cocktail shaker over ice. If you don't have a cocktail shaker, use a glass covered with plastic wrap or a large jar. Cover and shake until the outside of the shaker has frosted.
Meanwhile, rim the glasses with purple sanding sugar. Be careful not to wet the rim too much or the sugar will slide off. Pour just enough water to wet the tip of the rim on a plate and pour the sanding sugar in another plate. Dip the martini glass quickly in the water and then the sanding sugar.
Strain the purple cocktail into the martini glass and serve!