This vegan white bean soup is so comforting and delicious! It is one of my favorite Vegan Soup Recipes and you can make it at any time of year.
If you are feeling in the mood for "fall" flavors, this is the perfect recipe for you! Cozy up with a bowl, a fire, and your favorite book and enjoy.
My favorite part about this vegan white bean soup is that it uses only 5 main ingredients. If you eat vegan regularly, you may even have most of the ingredients already in your pantry.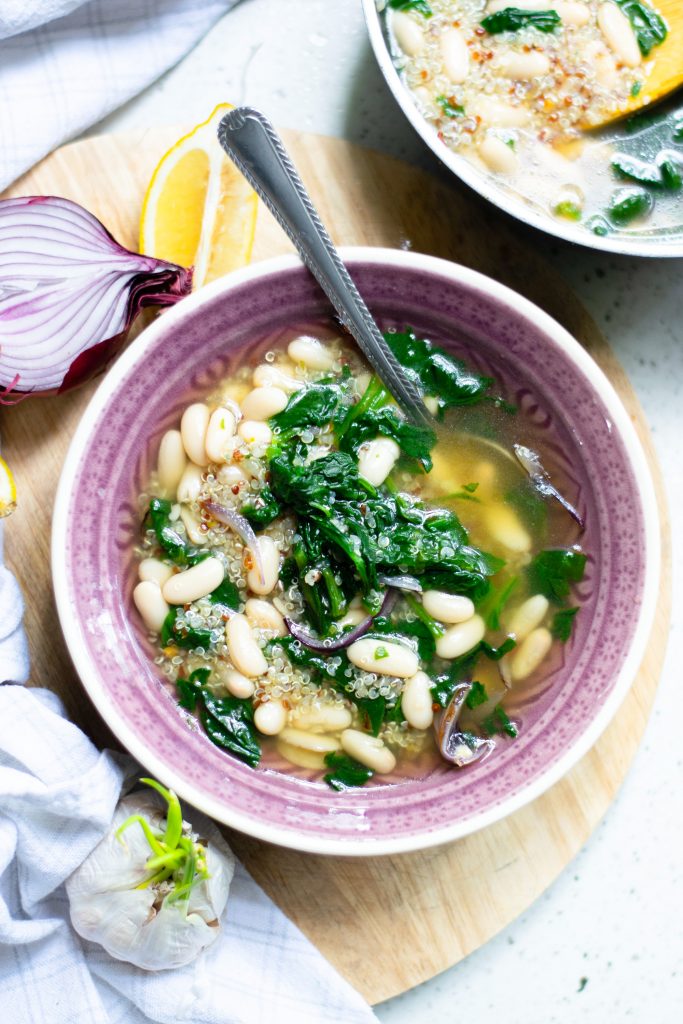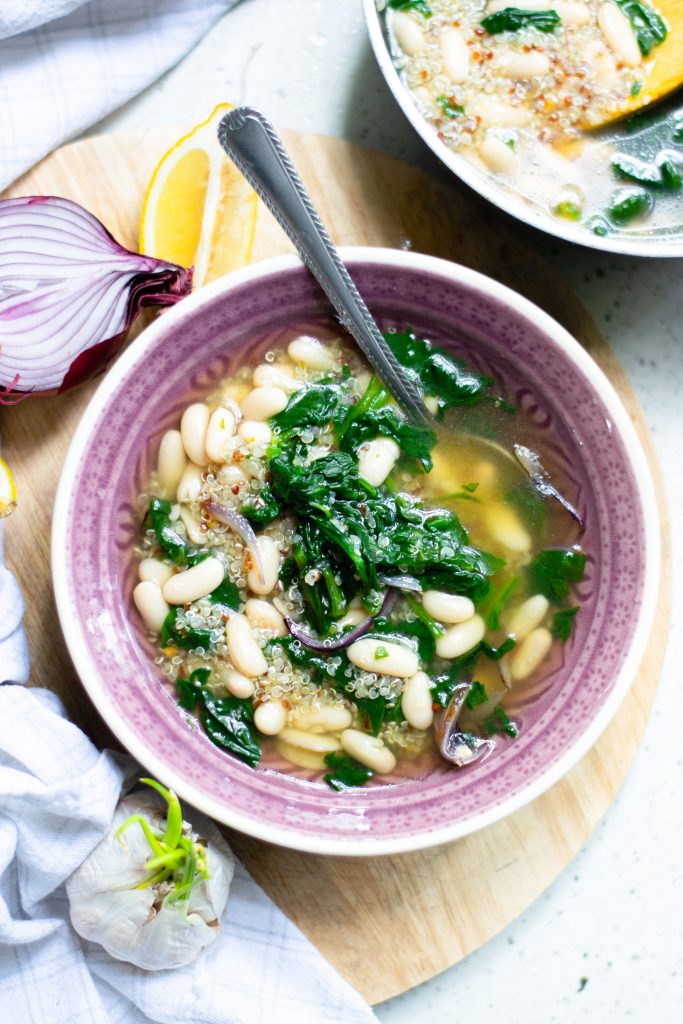 This white bean soup cooks up in just 30 minutes which makes it a great meal if you are in a rush or on the go!
In order to give this vegan soup some oomph, I added quinoa and spinach. You can use fresh spinach or frozen spinach, the choice is up to you.
Combined with the white beans, the quinoa and spinach blend together with the lemon, garlic, and onion to give this vegan white bean soup a unique and comforting flavor!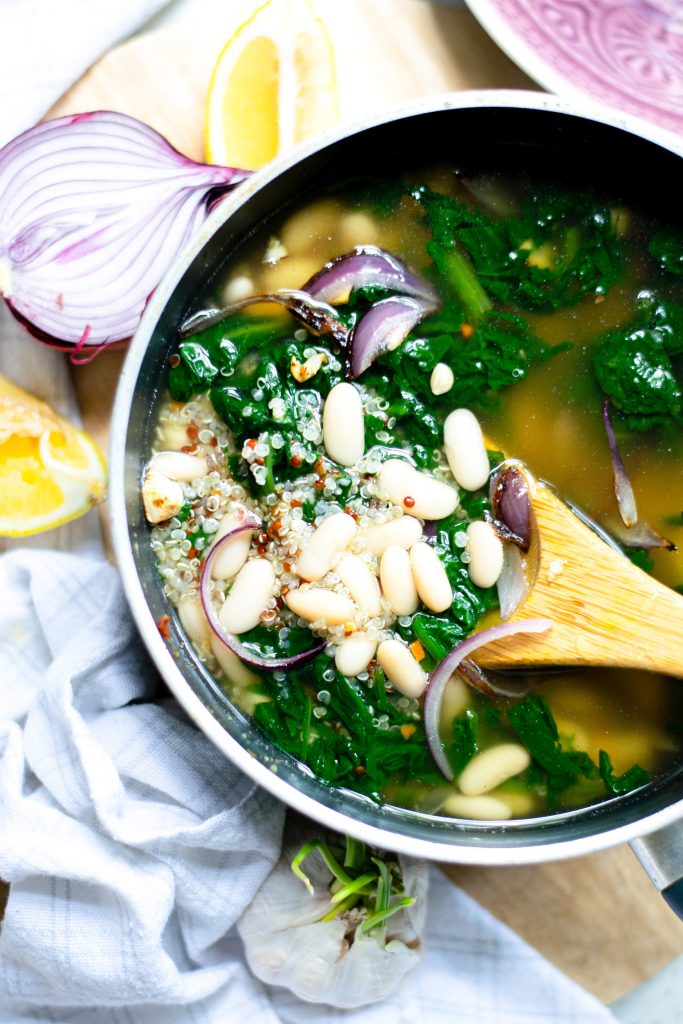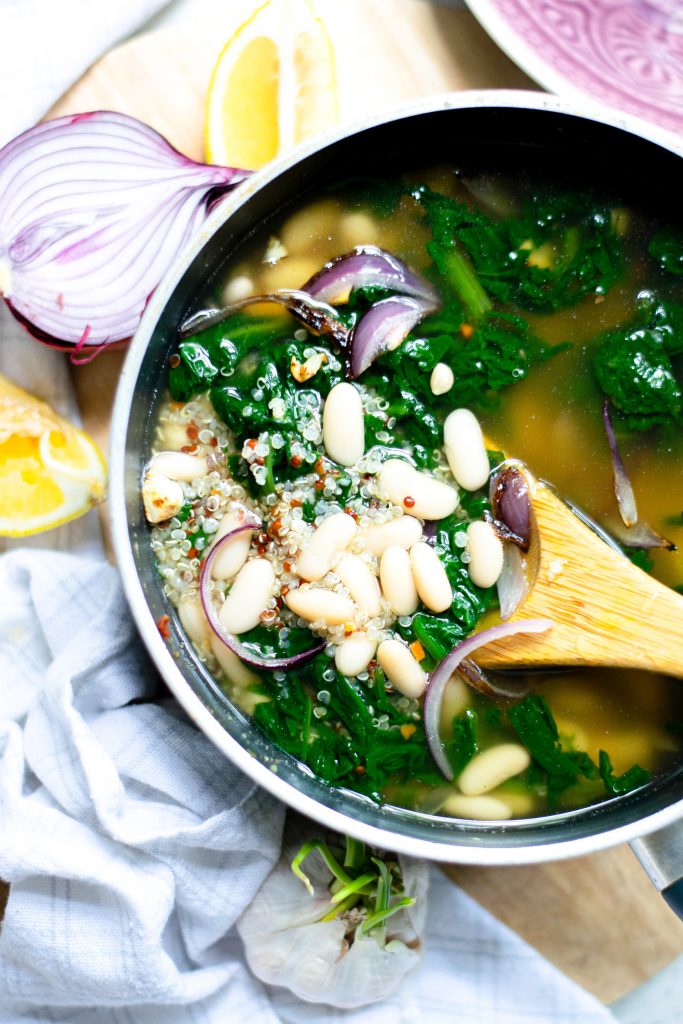 Ingredients For White Bean Soup
The main ingredients for vegan white bean soup are:
white beans
spinach
quinoa
onions
garlic
vegetable stock
lemon juice
These are all healthy whole foods that make this a great easy weeknight meal! You can choose to use either fresh or frozen spinach, both work great with this vegan white bean soup recipe.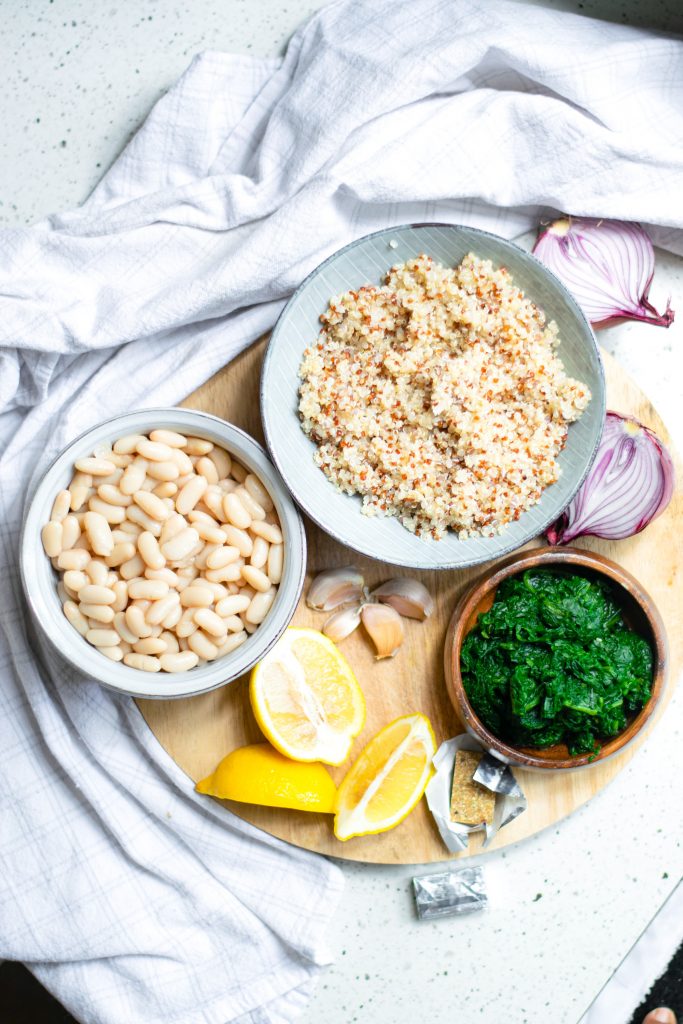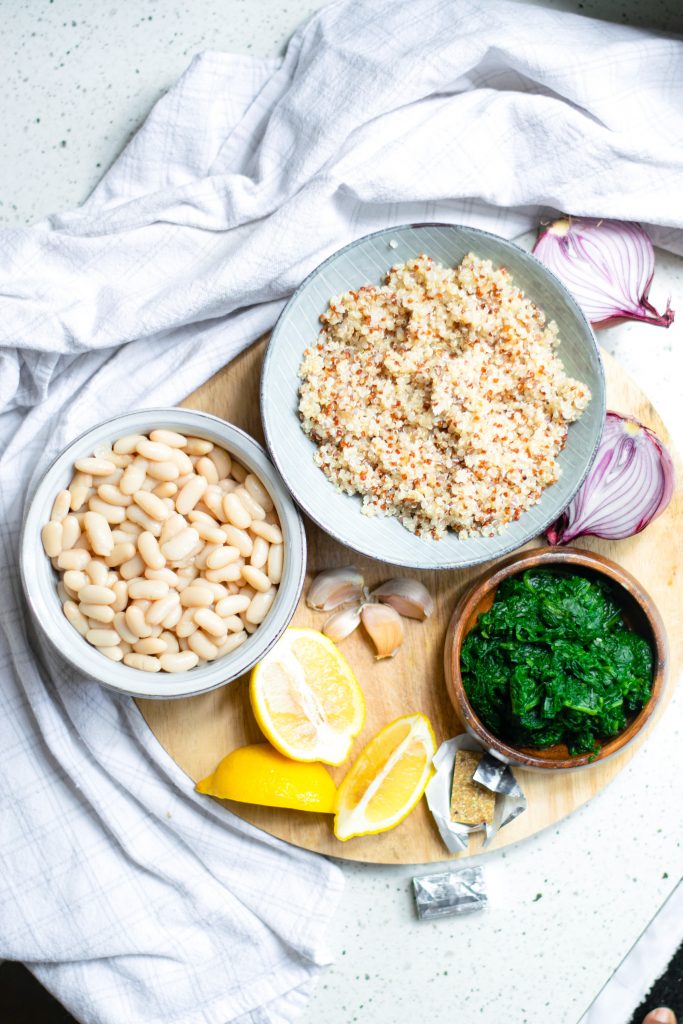 Do I Need To Use Vegetable Stock For Vegan White Bean Soup?
The answer is no. While vegetable stock does help with flavoring, it isn't necessary.
I am notorious for making my soup recipes without any stock at all like my Vegan Clam Chowder.
I know that you are supposed to use vegetable stock and I do recommend using it if you have it, but only if you have it!
Sometimes you don't have vegetable stock on hand and you don't have the time or ingredients to make your own. It is totally okay to make your vegan white bean soup without it!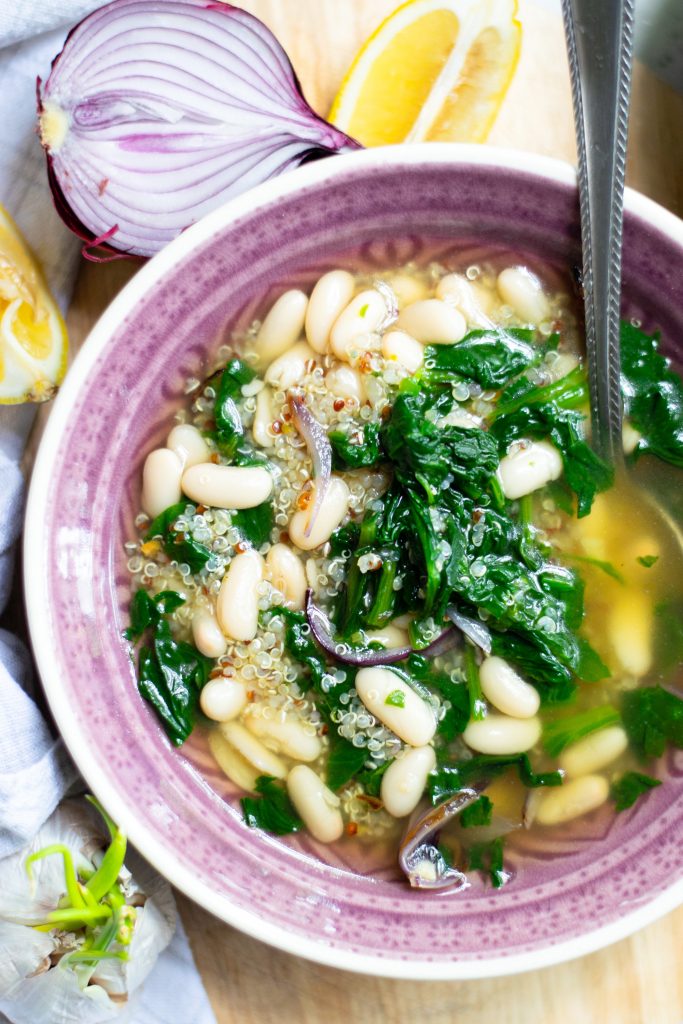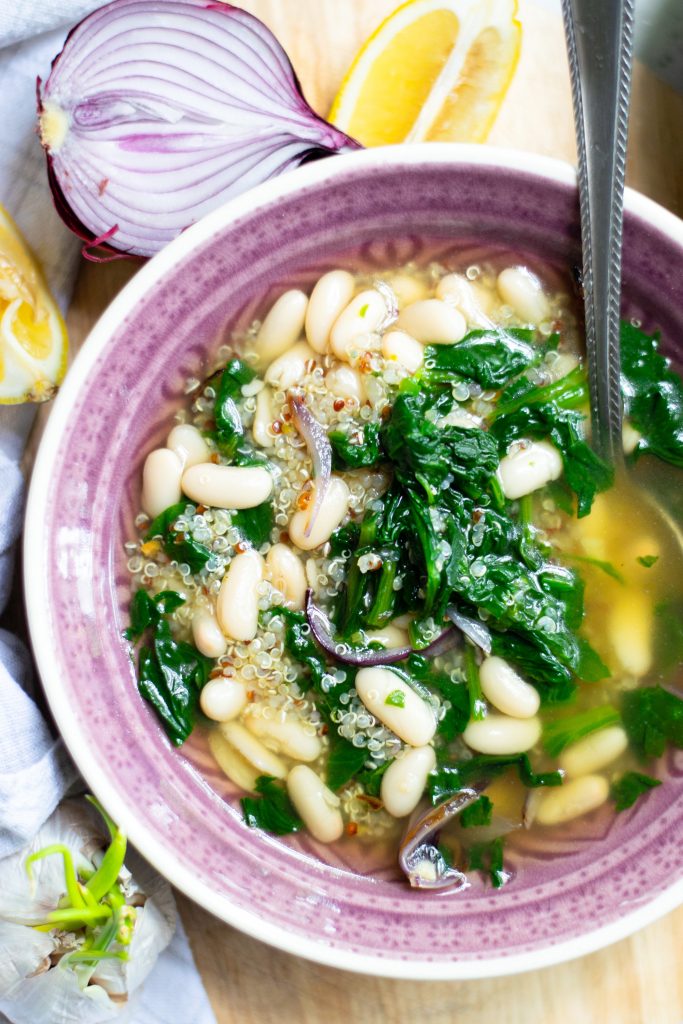 How To Make Vegan White Bean Soup
Making this white bean soup recipe is so simple! It takes just 15 minutes to prepare and 15 minutes to cook and let the flavors blend together.
First, you are going to fill a pot with water and cook your quinoa for 9 minutes. Once it is cooked, rinse it with cold water.
Rinsing it with cold water is essential to prepare it for cooking in the white bean soup so don't skip this step.
In the same pot that you used for the quinoa, add 2 tablespoons of water and saute onion and garlic. I use water so this recipe can be delightfully oil-free.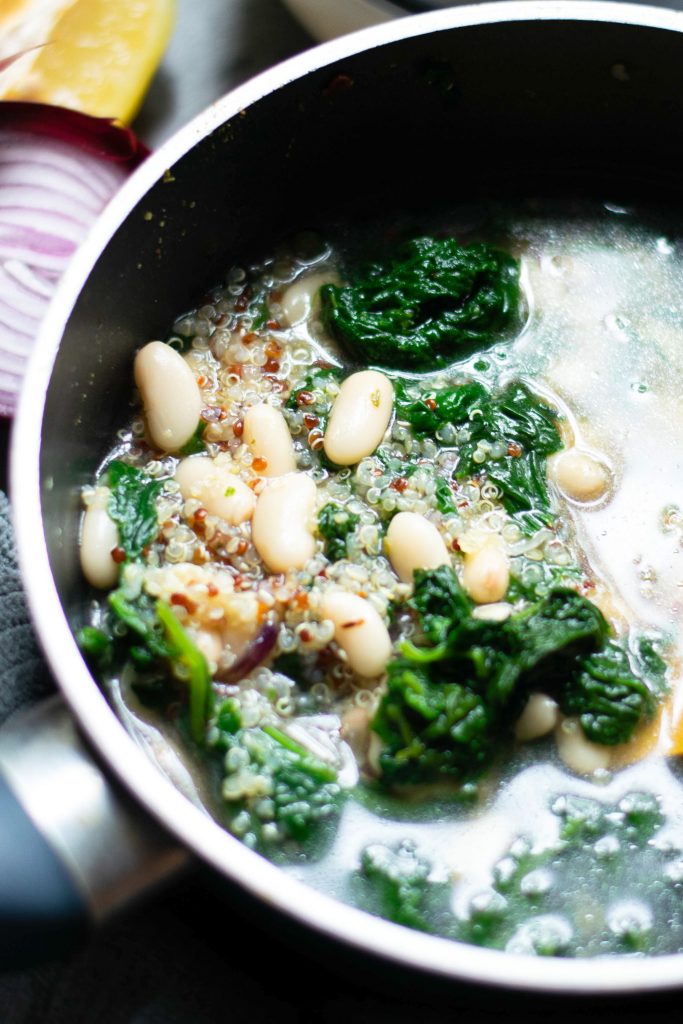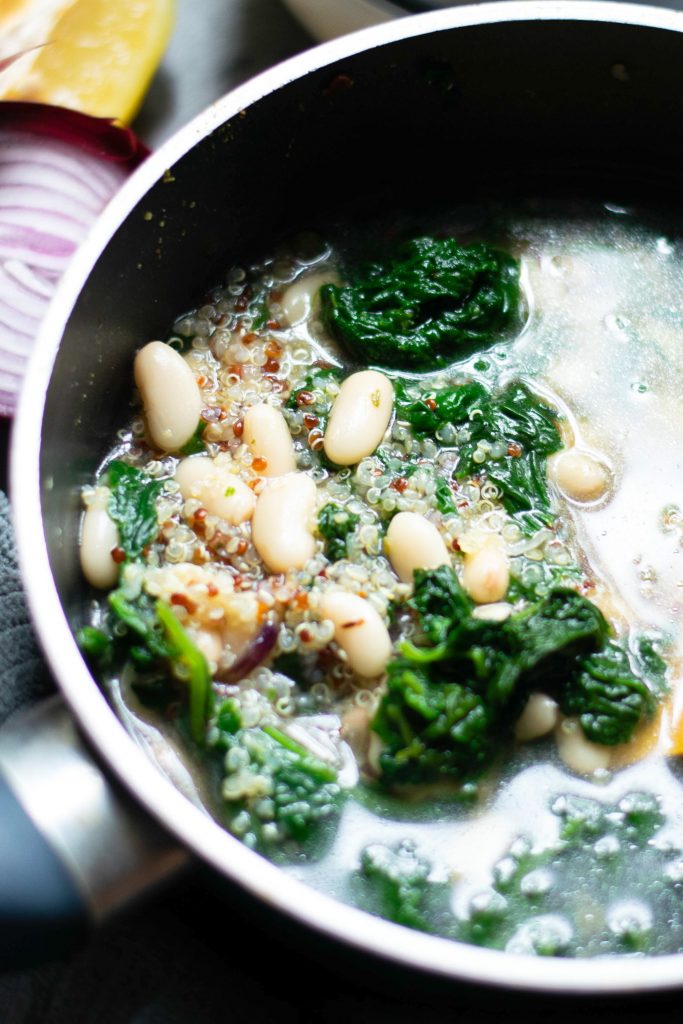 If you don't care about your recipe being oil-free feel free to saute in 2 tablespoons of oil!
Add spinach, 7-8 cups of water, lemon juice, and vegetable stock if you are using it. Let the mixture simmer for about 5 minutes.
Next, add the white beans and quinoa and cook for 5 more minutes.
You can add salt to taste, I always recommend about 1 teaspoon.
And that is it! You are done! It is so simple and easy to make vegan white bean soup you can probably do it in your sleep!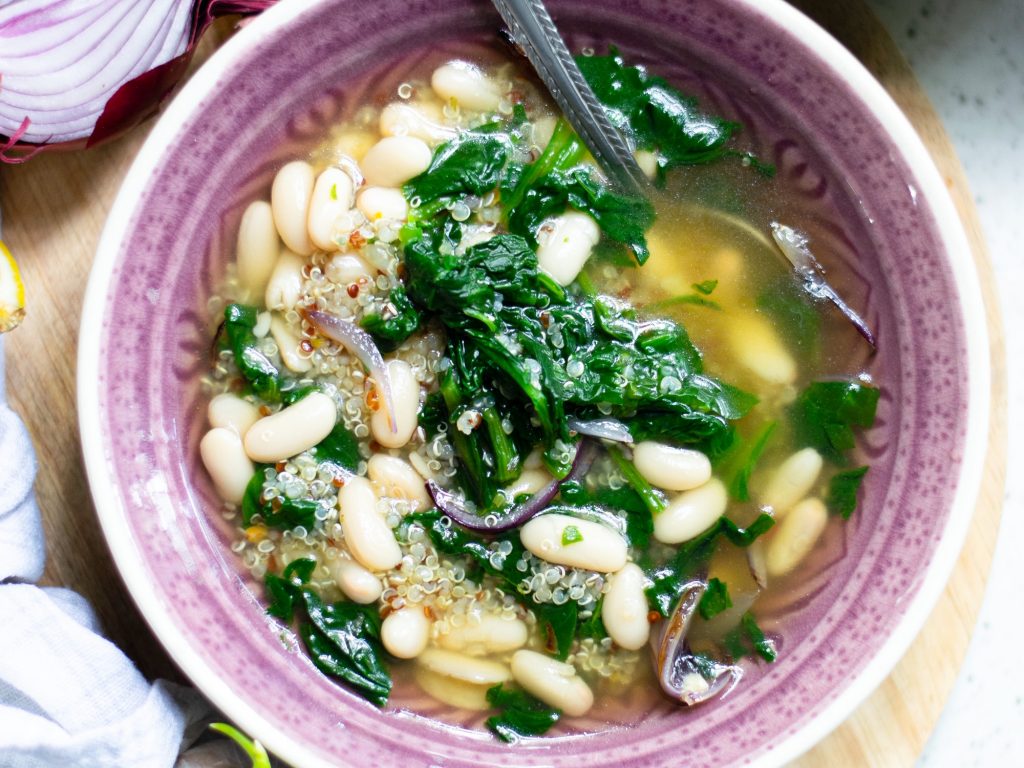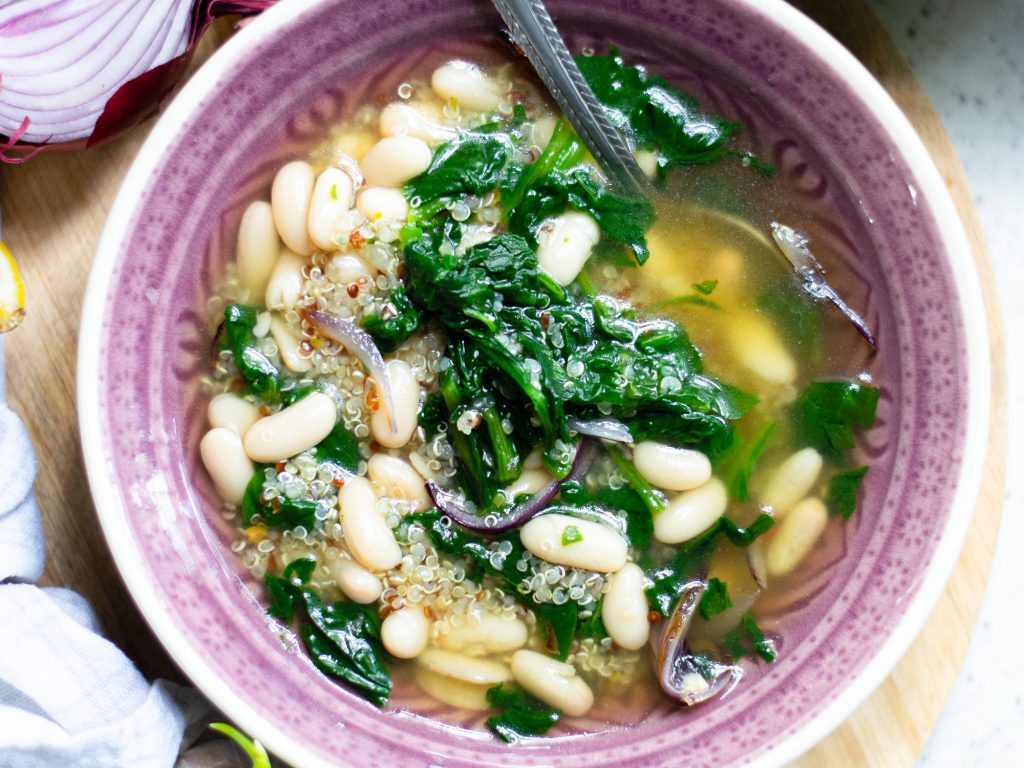 How To Store Vegan White Bean Soup
Vegan white bean soup stores very well! If you are meal prepping, simply divide it up into containers that are microwave safe!
The white bean soup recipe keeps in the fridge in an air-tight container for 4-5 days. This is enough for an entire workweek of meals.
If you want to make a large batch, you can store it in a freezer-safe container in the freezer for up to 1 month.
To cook, simply defrost and heat until warm in a large pot!
Yield: 4-6 Servings
Hearty Vegan White Bean Soup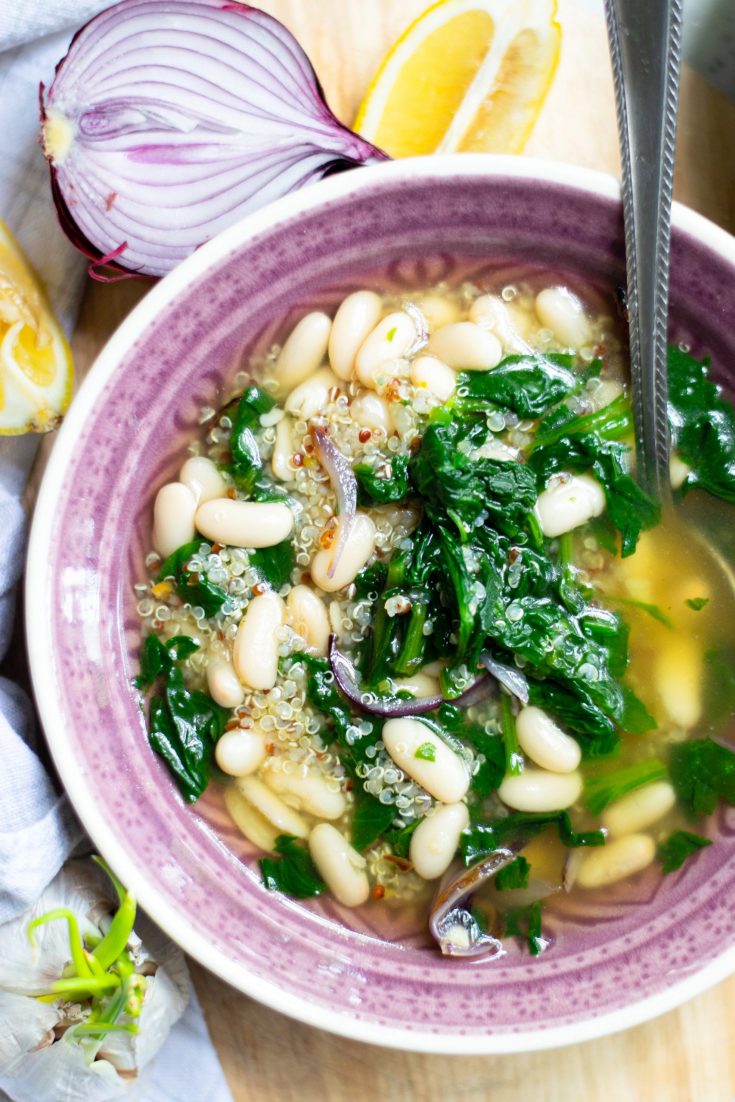 This vegan white bean soup is hearty and delicious! It whips up in just 30 minutes and uses 5 main ingredients! It is perfect for a day when you are looking for a comforting quick side or main dish. This recipe is also gluten-free and oil-free!
Ingredients
1 can white beans, drained and rinsed
1 cup spinach, defrosted
1/2 cup dried quinoa
1 small onion, diced
3 garlic cloves, minced
7 -8 cups + 2 tablespoons water
2 cubes vegetable stock
1 teaspoon of salt
Juice from half lemon
Instructions
1 . Fill in a large pot with water, cook quinoa for 9 minutes. Drain and rinsed with cold water.
2. In same pot, add 2 tablespoon water and sauté onion and garlic. Add spinach, 7 - 8 cups of water, lemon juice and vegetable stock. Let simmer for about 5 minutes.
3. Add bean and quinoa. Cook for about 5 minutes.
4. Adjust salt if needed. Serve as entrée or main dish.
Notes
This vegan white bean soup keeps in the refrigerator for 4-5 days and in the freezer for 1 month.
Nutrition Information
Yield
5
Serving Size
1
Amount Per Serving
Calories

152
Total Fat

1g
Saturated Fat

0g
Trans Fat

0g
Unsaturated Fat

0g
Cholesterol

0mg
Sodium

922mg
Carbohydrates

30g
Fiber

6g
Sugar

8g
Protein

8g