This chocolate raspberry cake is so decadent and delicious! As a fruit, raspberries are pretty indulgent and pair well with dark chocolate, giving this cake a unique flavor.
The chocolate and raspberry cake is really easy to put together and decorate, so if you are in a hurry, this is the perfect recipe for you.
There are a few secret ingredients that set this chocolate raspberry cake apart from other recipes you may have tried!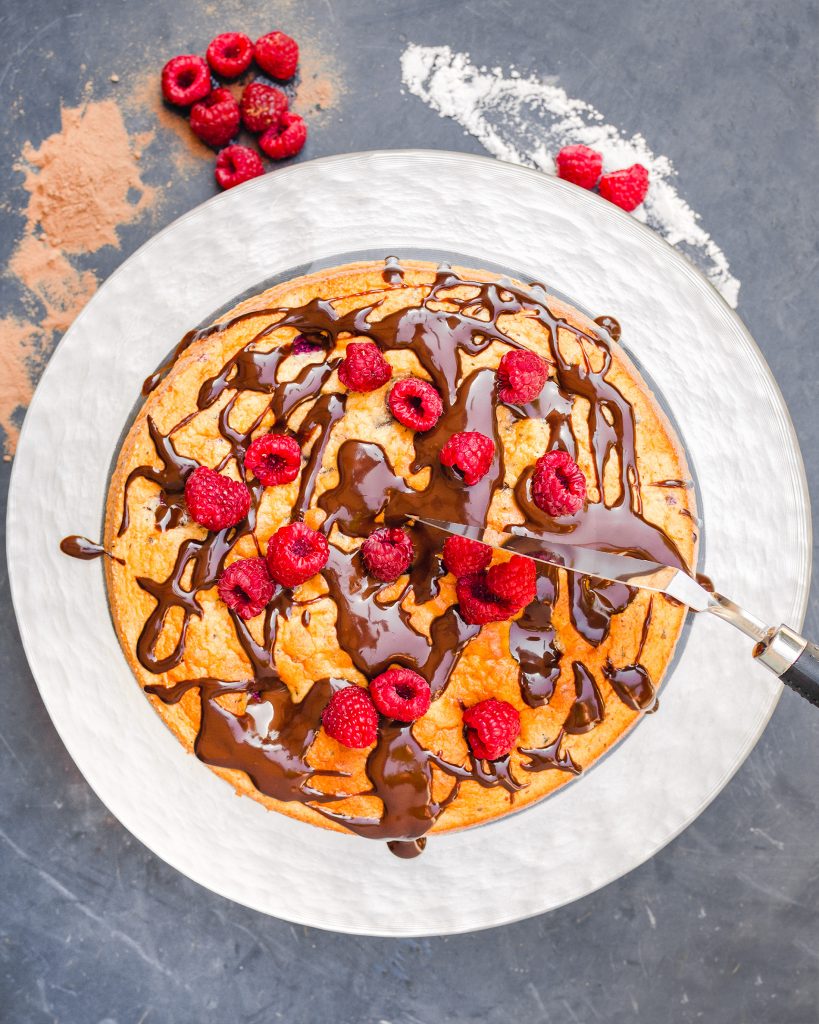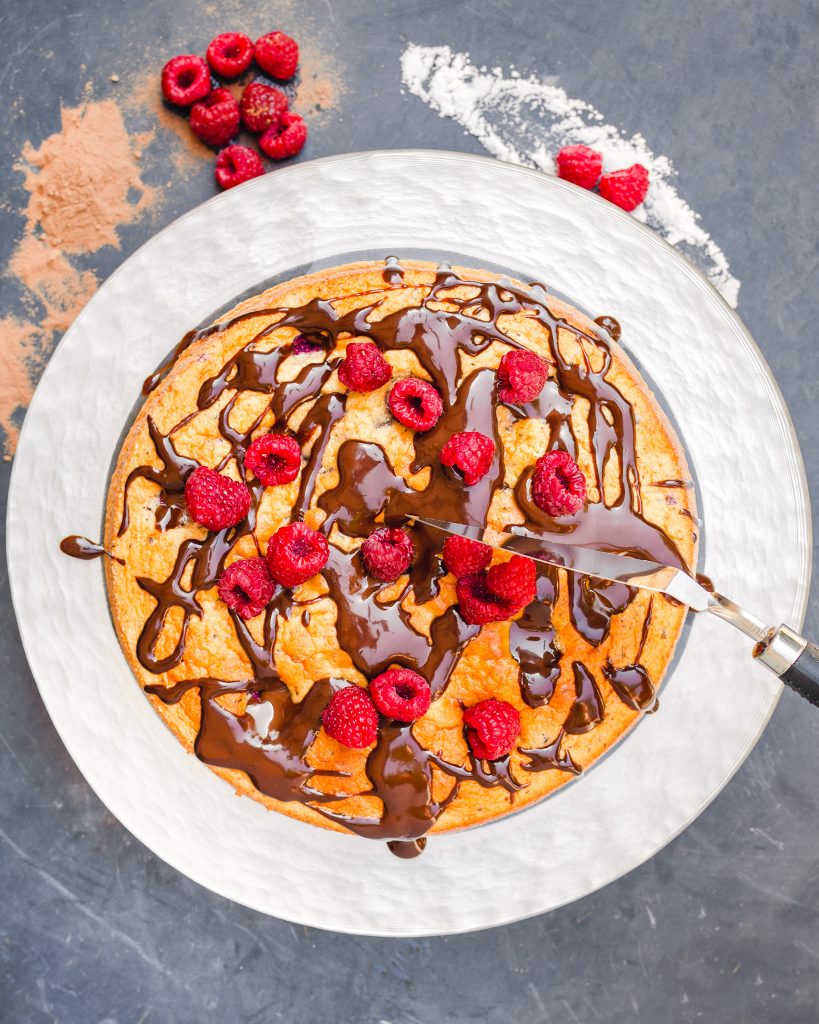 First, the cake isn't a chocolate cake, it is a white cake with pieces of chopped chocolate. What gives the cake the delightfully spongy texture is the secret ingredient of cottage cheese.
Yes! Cottage cheese is used in the base for the bake as well as chopped chocolate. This adds flavor to the base of the chocolate raspberry cake, without an overwhelming chocolate flavor to the recipe.
Next, there is no raspberry jam or anything of that sort in this recipe. It simply uses fresh raspberries both in the cake and for topping it.
You read that right, the cake will have fresh raspberries mixed into it! This really makes all the difference and makes for the perfect chocolate and raspberry cake.
If you love some chocolate in your dessert but aren't into chocolate on top of chocolate, then this is going to be the recipe for you! It is just enough chocolate without overpowering the raspberries and other flavors.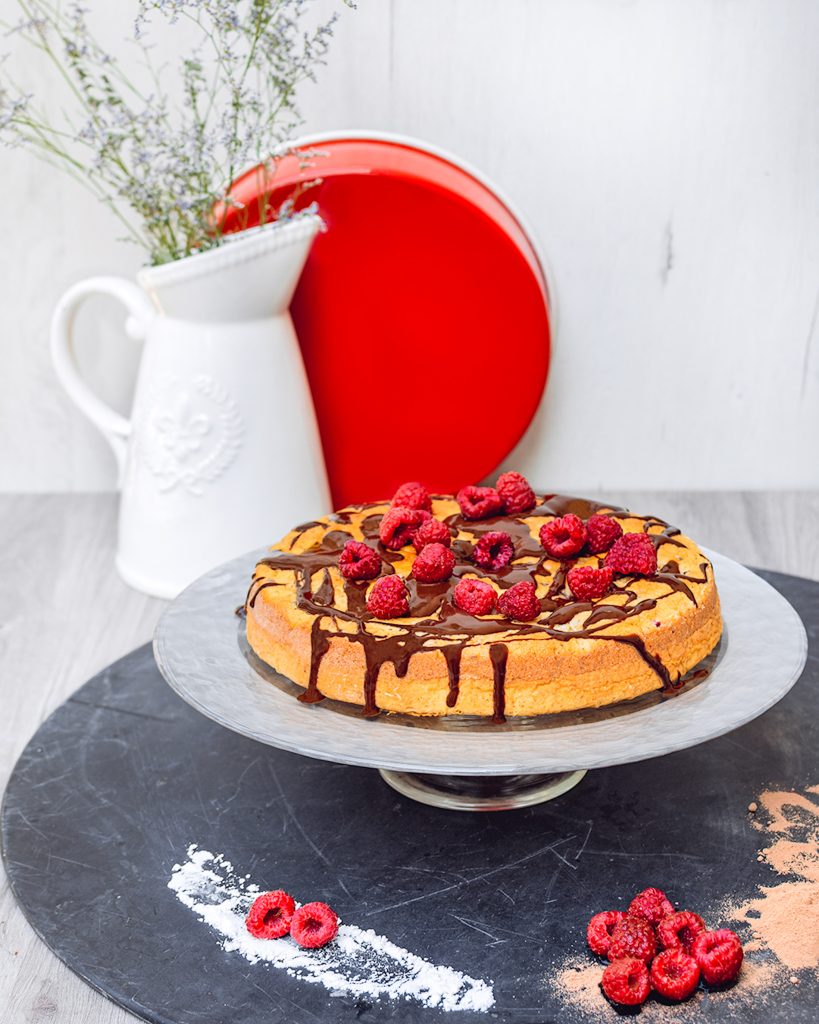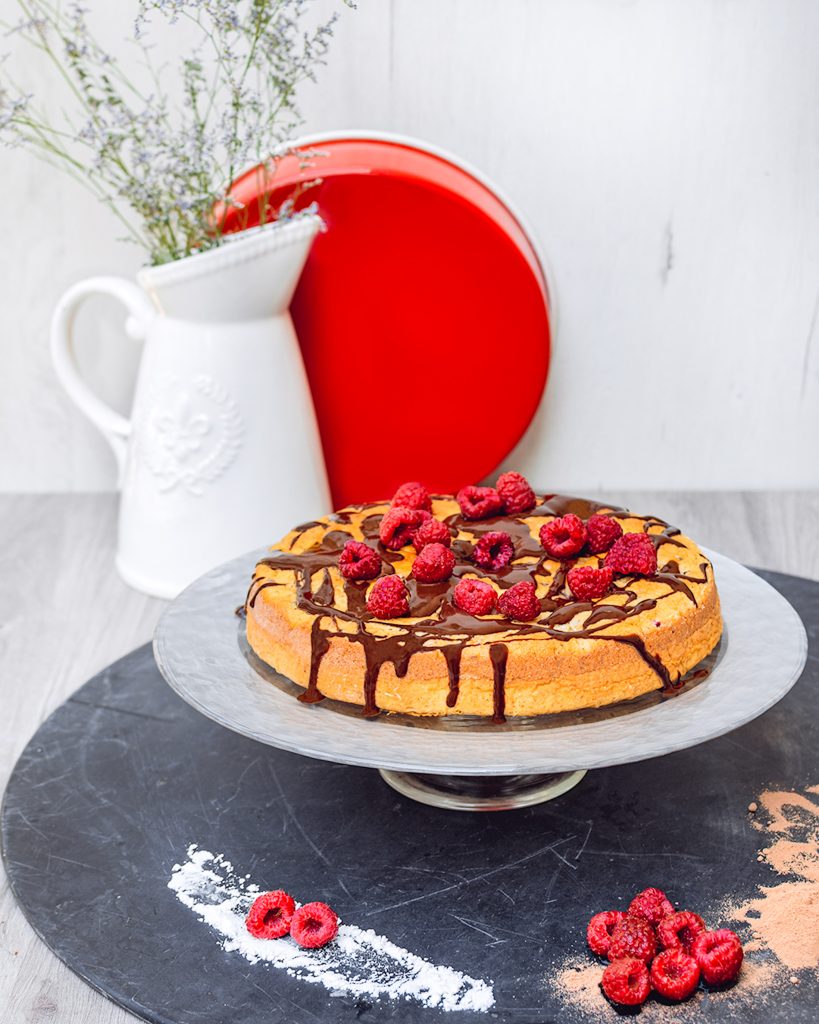 What Kind Of Pan To Use For The Chocolate Raspberry Cake
I use a 10-inch round cake pan for making the chocolate raspberry cake.
If you want two rounds for a double layer cake, go ahead and simply double this recipe and put the batter into two 10-inch rounds instead of one.
Some people choose to use a bundt pan or even a square sheet pan for making this chocolate and raspberry cake, but I have not tried that before!
If you are going to be making chocolate raspberry cupcakes, go ahead and reduce the baking time down to about 18-20 minutes or until a toothpick comes out clean!
If you are trying to deviate from the 10-inch round recipe, check your cake every 10 minutes during the baking process after about 20 minutes of baking. You just don't want to burn it!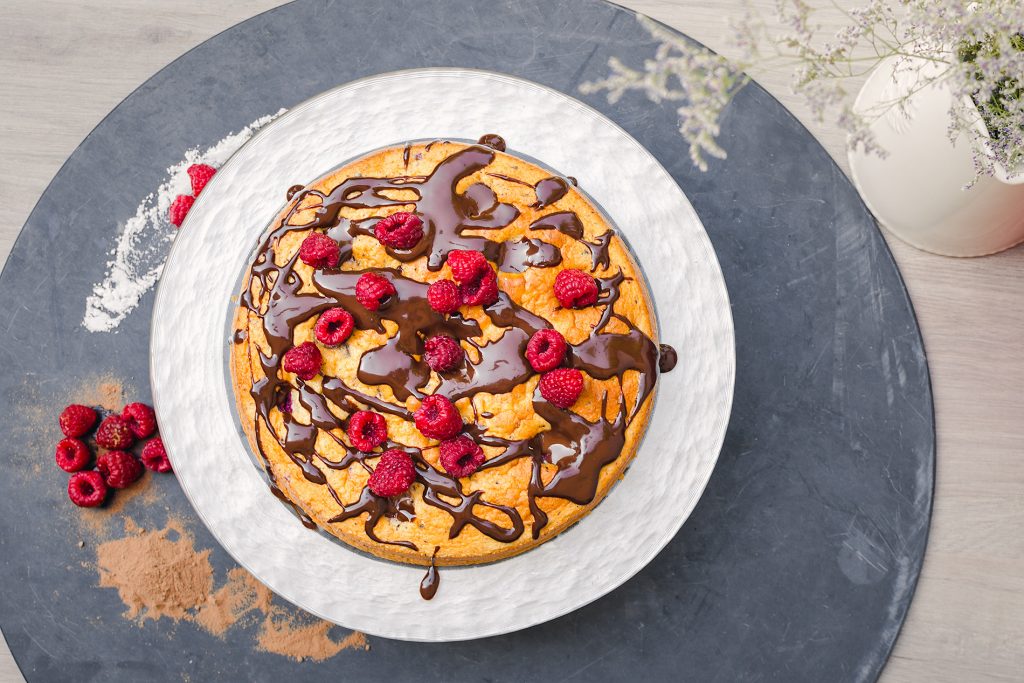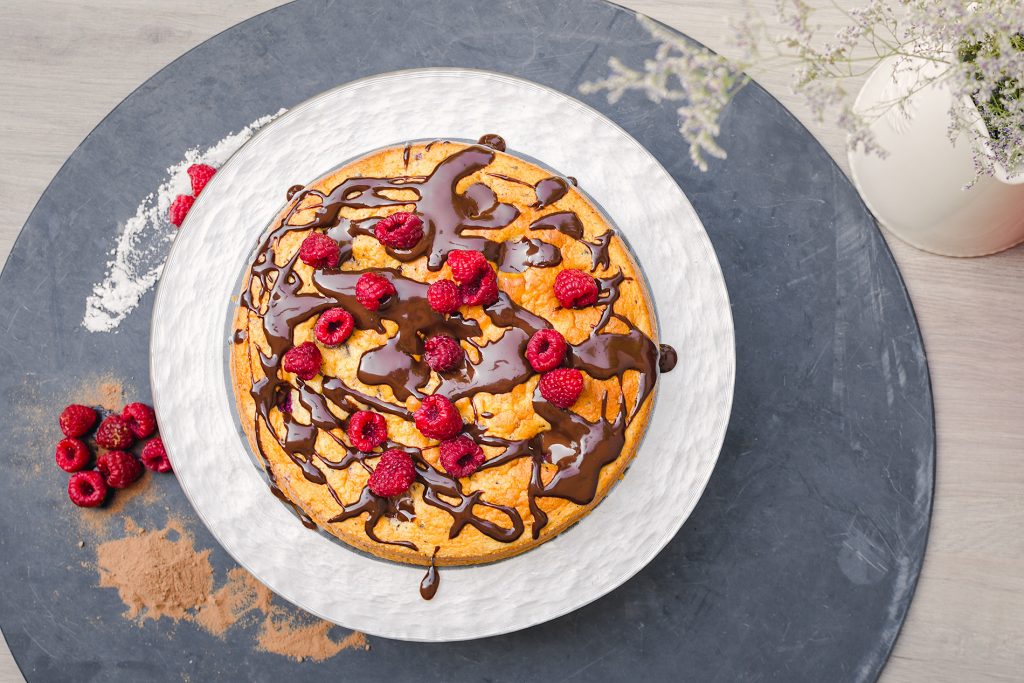 Can Frozen Raspberries Be Used For Making Chocolate Raspberry Cake?
Technically, yes you can use frozen raspberries for making this chocolate raspberry cake recipe.
That being said, I do recommend fresh raspberries as they stand up to baking much better than frozen ones and are much better for topping the recipe as well!
If you are going to use frozen raspberries, go ahead and let them thaw out completely before you start the recipe. Just put them on the counter in a bowl.
The raspberries should thaw for between 25-35 minutes which is usually as long as it takes for them to return to room temperature.
As I said above, I would really try to use fresh raspberries if at all possible! You want to choose fresh ingredients as the raspberries are the center of the show!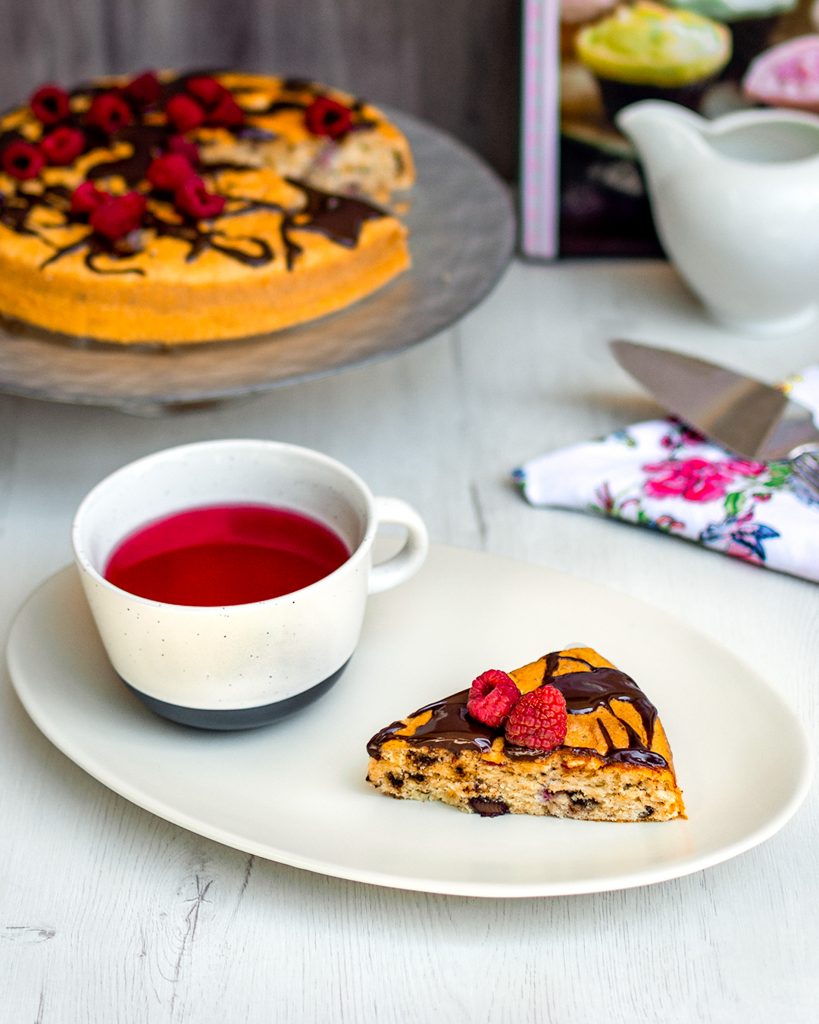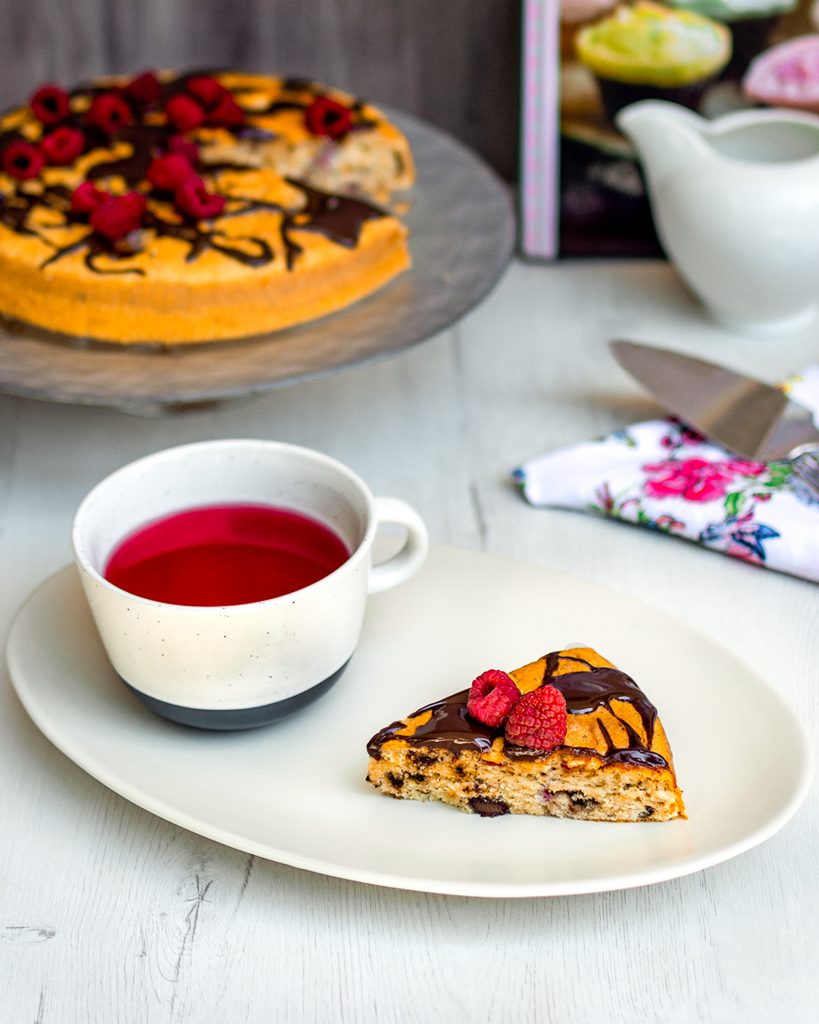 How To Make Chocolate Raspberry Cake
Making the chocolate raspberry cake recipe is actually quite easy! You are going to do two steps.
First, you will make the cake and second you will make the chocolate ganache. The ganache is so easy to make too so don't worry!
You will separate the egg from the yolk and then whip the egg white until stiff peaks form. Then, slowly sift in 1/3 a cup of sugar.
Next, you will add cottage cheese and 2/3 cup of sugar to the yolks that you separated in the previous step. Make sure that you mix this together well.
Add flour, baking powder, and chopped chocolate to the yolk mix and mix everything together well. Then, add the whipped egg whites and combine with the yolk mixture.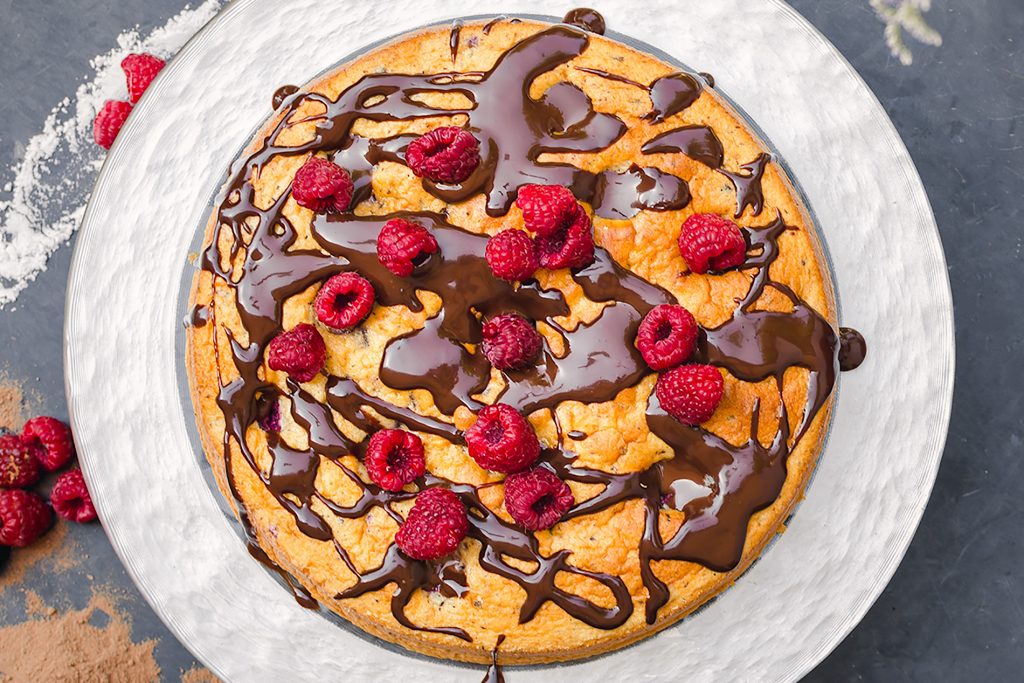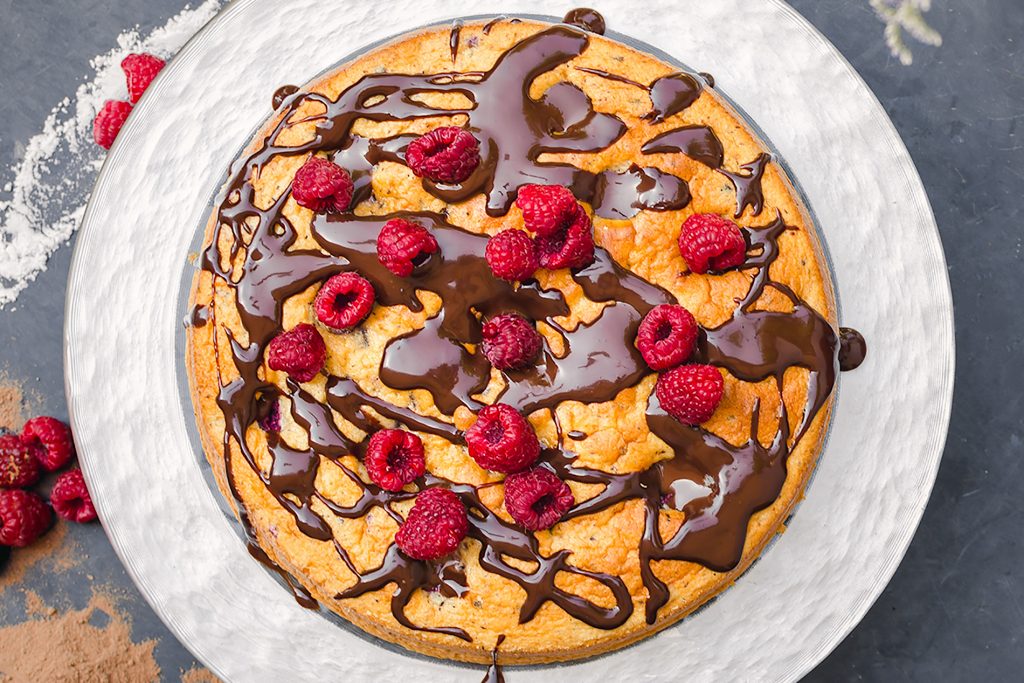 Finally, add in your fresh raspberries to the cake batter. That is all you have to do to make the base for this chocolate raspberry cake! So easy!
While cooking, you want to make sure that your cake is lightly golden. This is not a chocolate cake recipe per say, but a cake that has chocolate and raspberry inside of it. Your cake will not be a dark brown!
To make the chocolate topping, simply heat up heavy cream in a small saucepan on the stove and add in 1 cup of chocolate.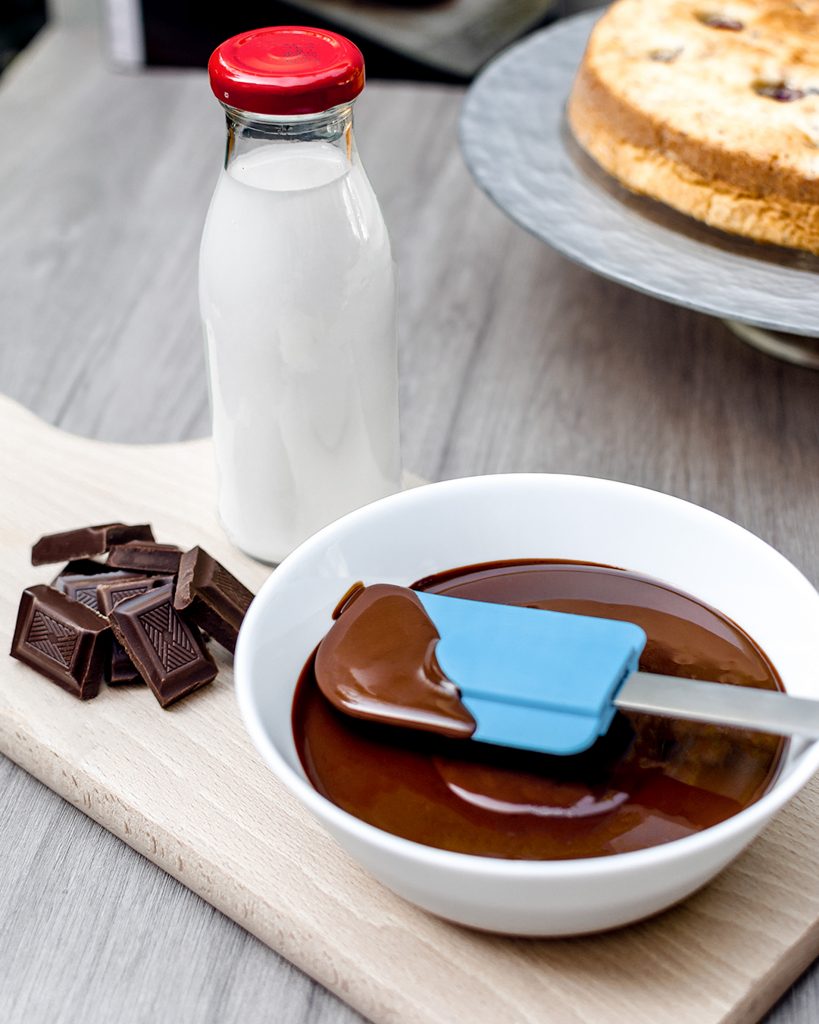 Drizzle over your cooled cake and top with fresh raspberries!
You can style this chocolate raspberry cake to your taste. You can choose dark chocolate or milk chocolate for the add-ins and you can drizzle as much or as little chocolate as you want!
Don't forget the fresh raspberries, they are what this chocolate and raspberry cake is all about!
Yield: 1 10-Inch Round
Easy And Delicious Chocolate Raspberry Cake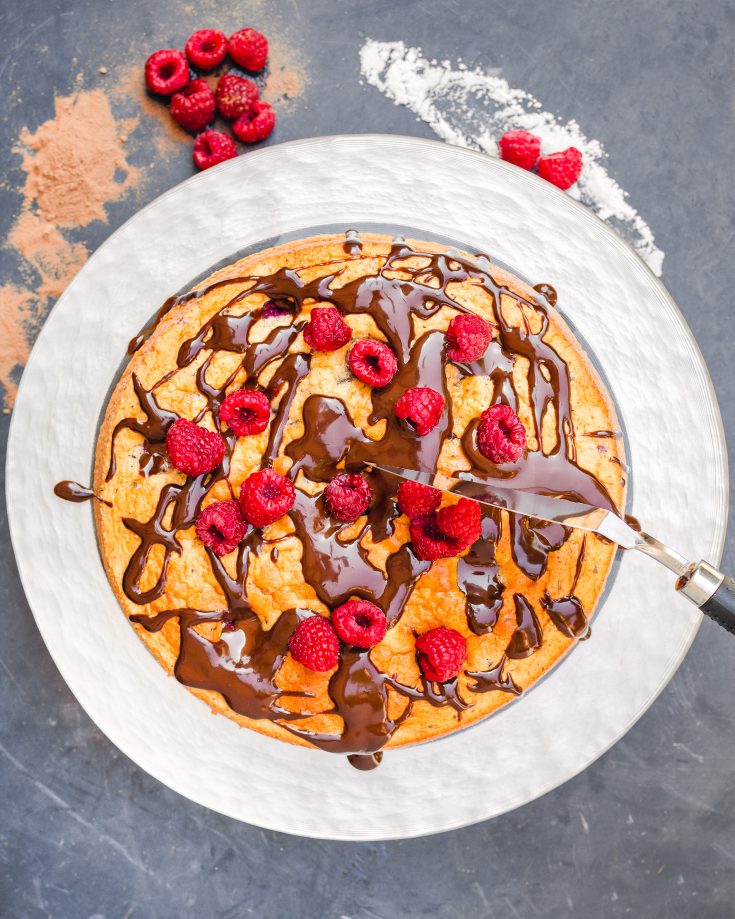 This chocolate raspberry cake is decadent and delicious! It is the perfect balance of chocolate and raspberries, without being overwhelming on the chocolate flavor. It is the perfect easy dessert any time of year!
Ingredients
FOR THE CAKE:
4 eggs
1 cup of sugar
2 cups of cottage cheese
1 1/4 cup of flour
3 teaspoons of baking powder
3/4 cup of chopped chocolate
1/3 of fresh raspberries
FOR THE GANACHE:
1 cup of chopped chocolate
1 cup of heavy cream
Fresh raspberries
Instructions
Preheat oven to 350 degrees.
Separate the egg whites from the yolks of 4 eggs. Keeps the yolks in one bowl.
In another, whip the egg whites until stiff peaks form. Slowly incorporate 1/3 cup of sugar into the egg whites.
Add cottage cheese and 2/3 cup of of sugar to the yolks, and mix well.
In the other bowl, add flour, baking powder, and chocolate to the yolk mix.
After mixing everything well, add the egg whites to the yolk mix. Finally, add in your fresh raspberries and stir until combined.
Grease and flour a round 10-inch cake pan.
Cook in the pre-heated oven on 350ºF for 30 minutes, until lightly golden. Be careful not to overcook!
FOR THE GANACHE:
Heat up 1 cup of heavy cream.
Add 1 cup of finely chopped chocolate. Mix everything well with a whisk until the chocolate melts and you get a smooth mixture.
Allow to chocolate raspberry cake to cool, and cover the cake with delicious chocolate ganache and fresh raspberries!
Nutrition Information
Yield
15
Serving Size
1
Amount Per Serving
Calories

296
Total Fat

14g
Saturated Fat

8g
Trans Fat

0g
Unsaturated Fat

4g
Cholesterol

77mg
Sodium

242mg
Carbohydrates

35g
Fiber

1g
Sugar

25g
Protein

8g