If you haven't already heard, pancake cereal is the next new trend and I CAN SEE WHY! While I didn't invent this trend, I haven't seen vegan pancake cereal yet, so here you are!
Not to be confused with cereal pancakes, which are pancakes that have cereal pieces in them like fruity pebbles, pancake cereal is "cereal" where the pancakes are the actual pieces of cereal themselves!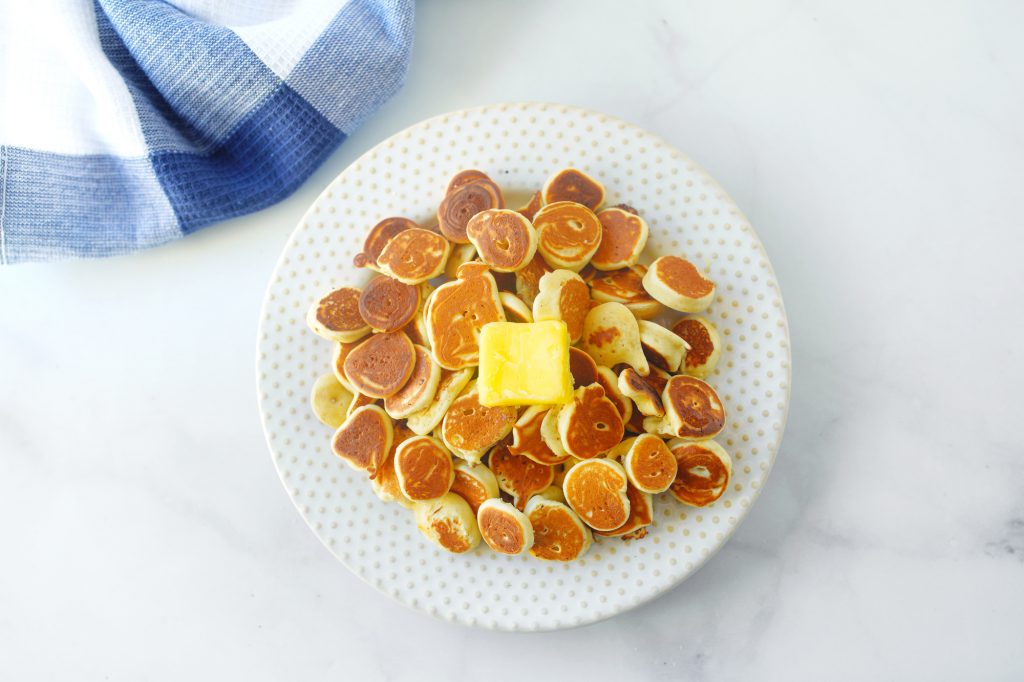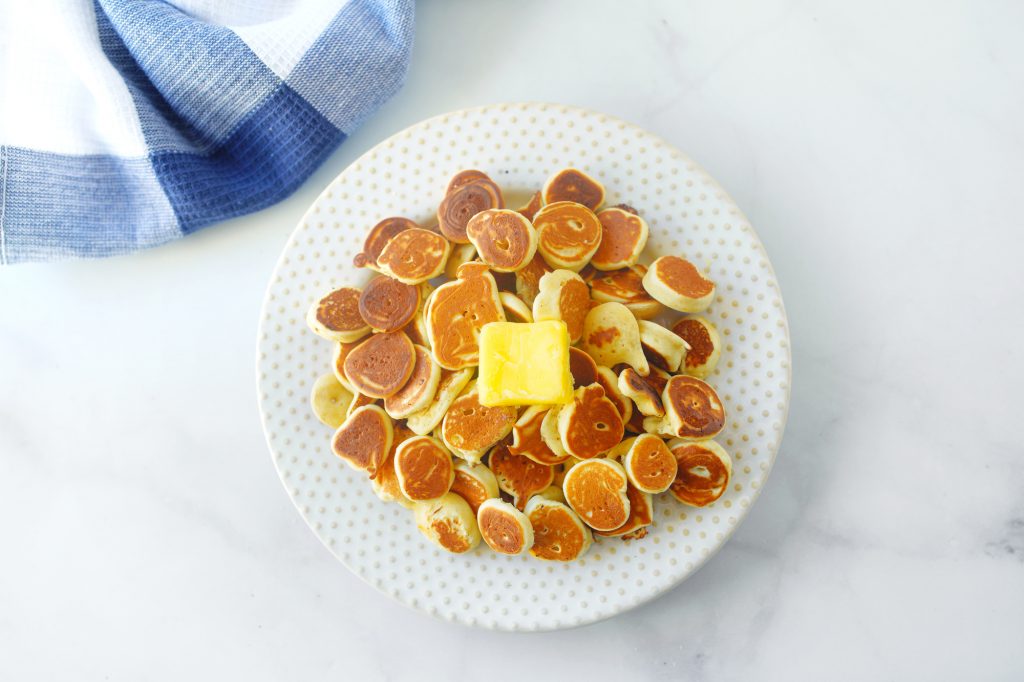 I love pancakes and pancake cereal is pretty much the best thing you will try. I always cut or tear my pancakes to eat them and this cuts out that step.
Each and every cereal pancake is perfectly crisp and cooked! Every bite is delicious, like you are a giant eating the tiny baby pancakes of your gnome neighbors. It is actually quite delightful in a way I can't describe.
Of course, I made this pancake cereal vegan! I used my Vegan Pancakes Recipe which I am also including below in this article. Of course, you can use whichever recipe you have on hand, but my version is easy, healthy, and delicious!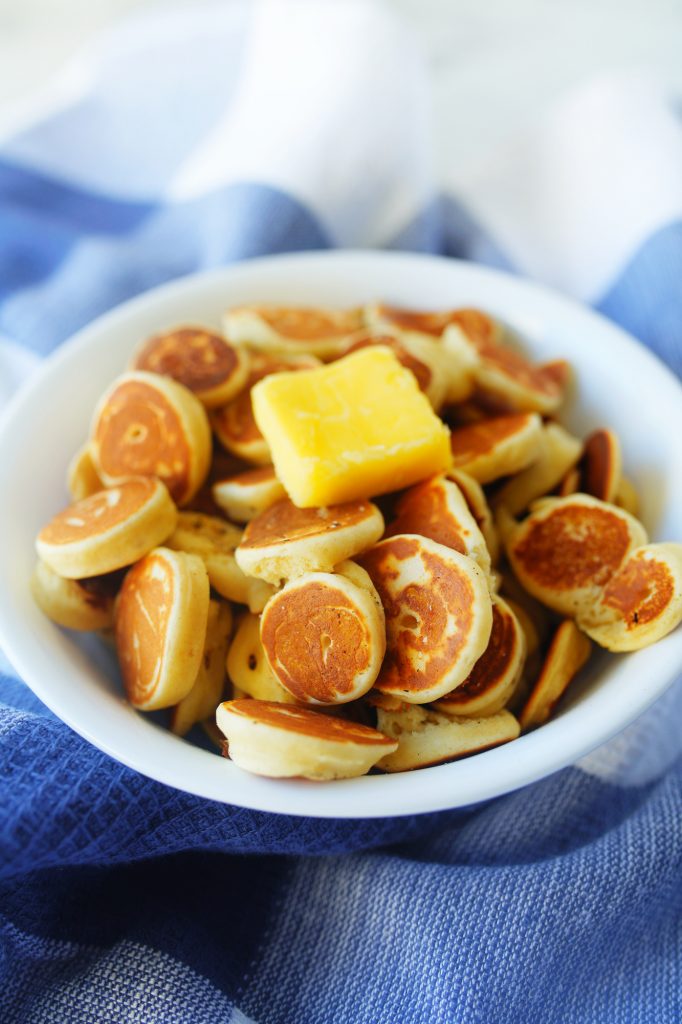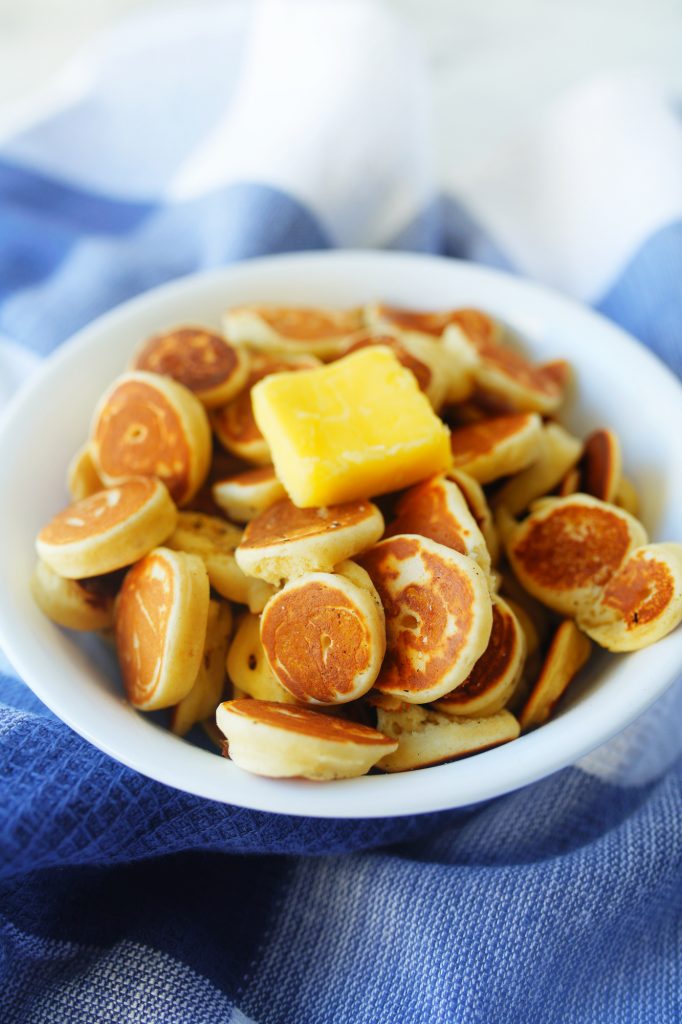 What Pancake Batter To Use For Pancake Cereal
As I said above, you can use whatever recipe you want to make pancake cereal. I recommend using my Vegan Pancake Recipe because it is healthy and you really don't need eggs and dairy with every single meal, do you?
The vegan pancake recipe linked above has banana which you can choose to leave or exclude, depending on how you are feeling.
Since the vegan cereal pancakes are so tiny, I do not recommend using pancake batter or a recipe like my Vegan Blueberry Pancakes or chocolate chips as the pancakes are so teeny tiny!
At the end of the day, it doesn't matter which batter you use, but since you are here, why not use mine in the recipe below? So simple, so easy, so tasty!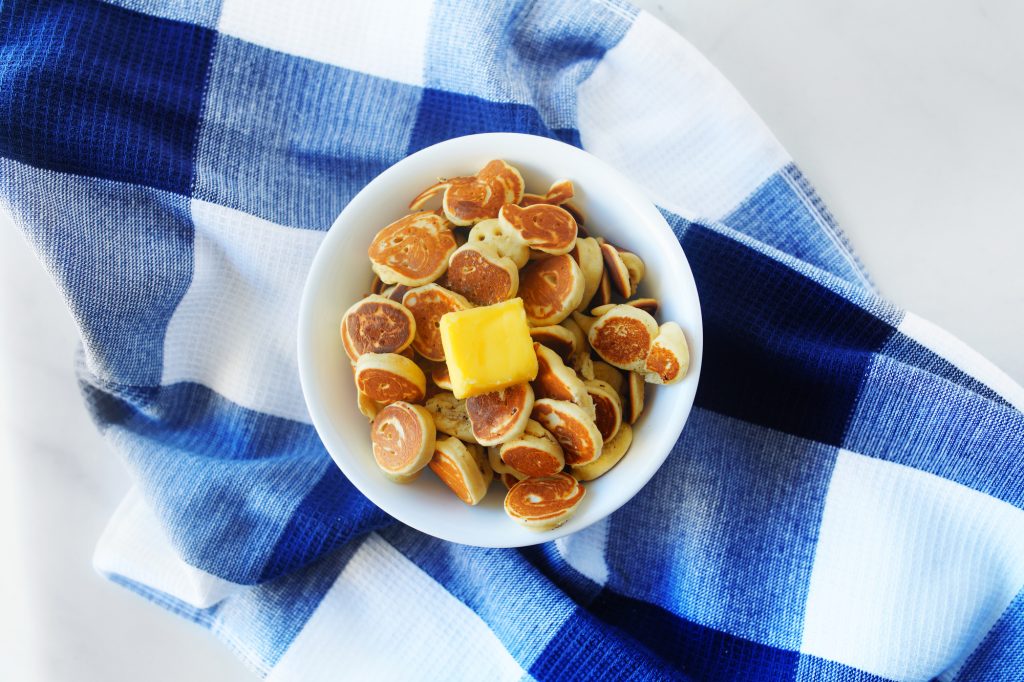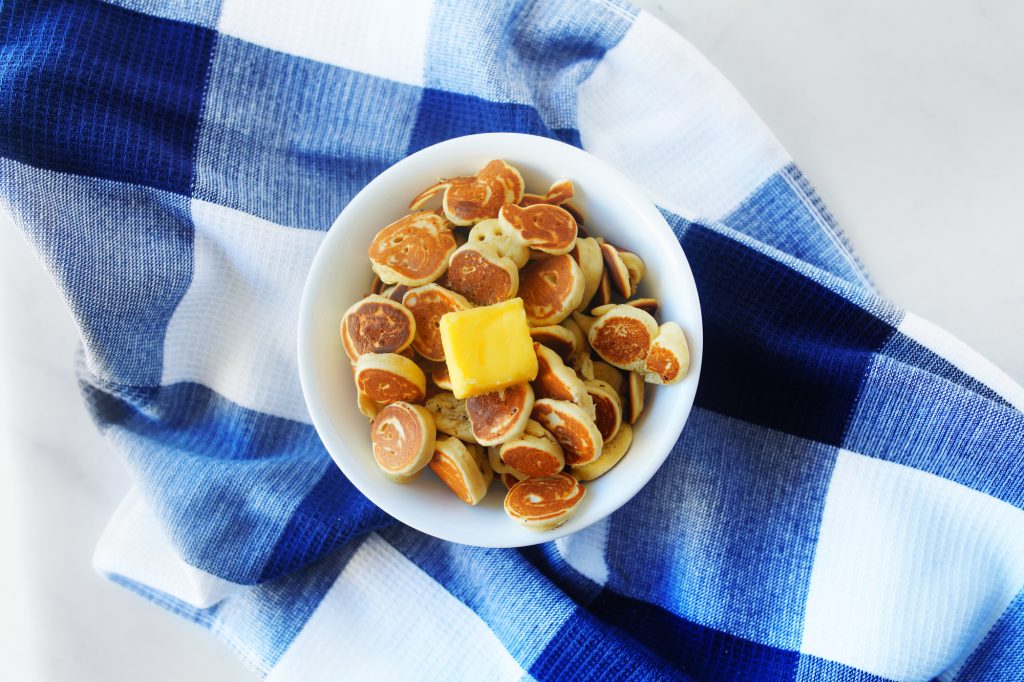 How To Prepare The Batter For Pancake Cereal
You are going to want to make your pancake batter as normal, and then once you combine the wet and dry ingredients, put it in a plastic bag.
I have seen people do many different ways. I have seen people put it in an old water bottle with a hole poked in the top.
I have seen people put the pancake cereal batter in a reusable water bottle and dab it out through the spout. I tried this with a little batter and it did not work for me!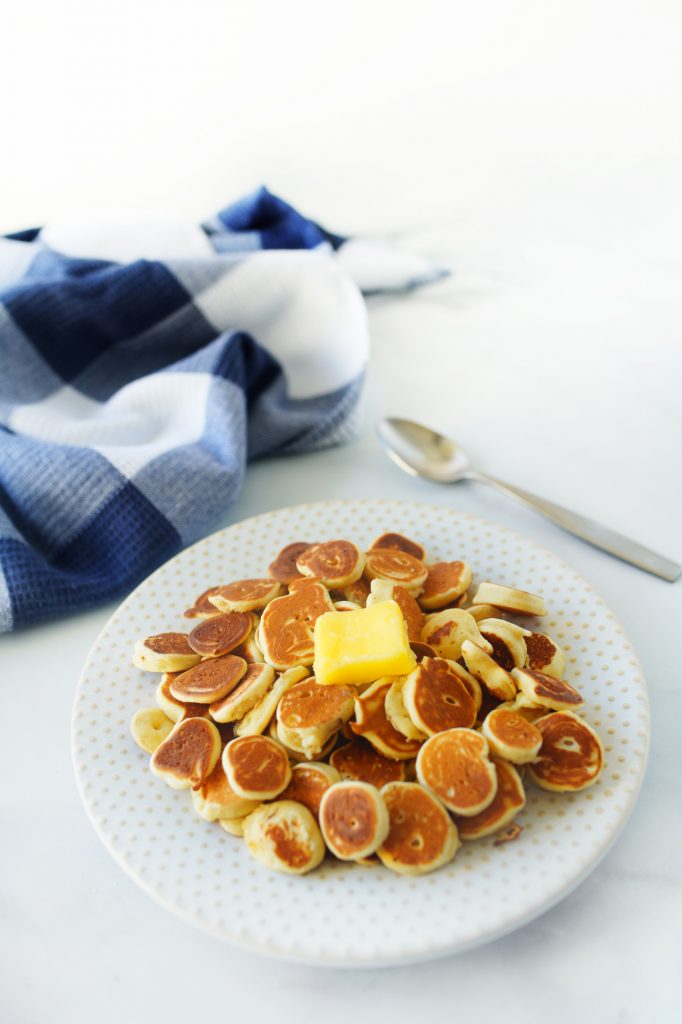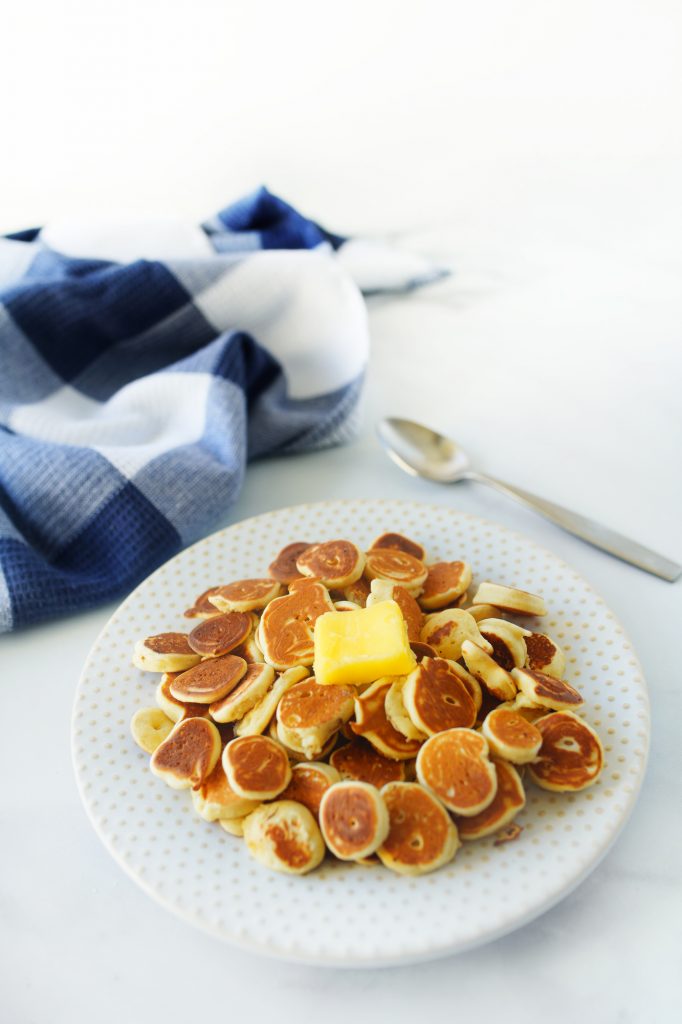 A plastic baggie is what worked! Now, and this is the most important step when making pancake cereal, you must cut a TEENY TINY HOLE in the bottom corner of the bag.
When you think you are cutting the hole too small, cut even smaller. Remember, you want to be able to squeeze out the pancake batter! The piece I snipped off the plastic bag was so small that I could barely see it.
Snipping off a teeny tiny piece ONLY is essential in ensuring that your plastic bag holds your pancake batter tight allowing you to easily make the pancake cereal with just the right amount of batter.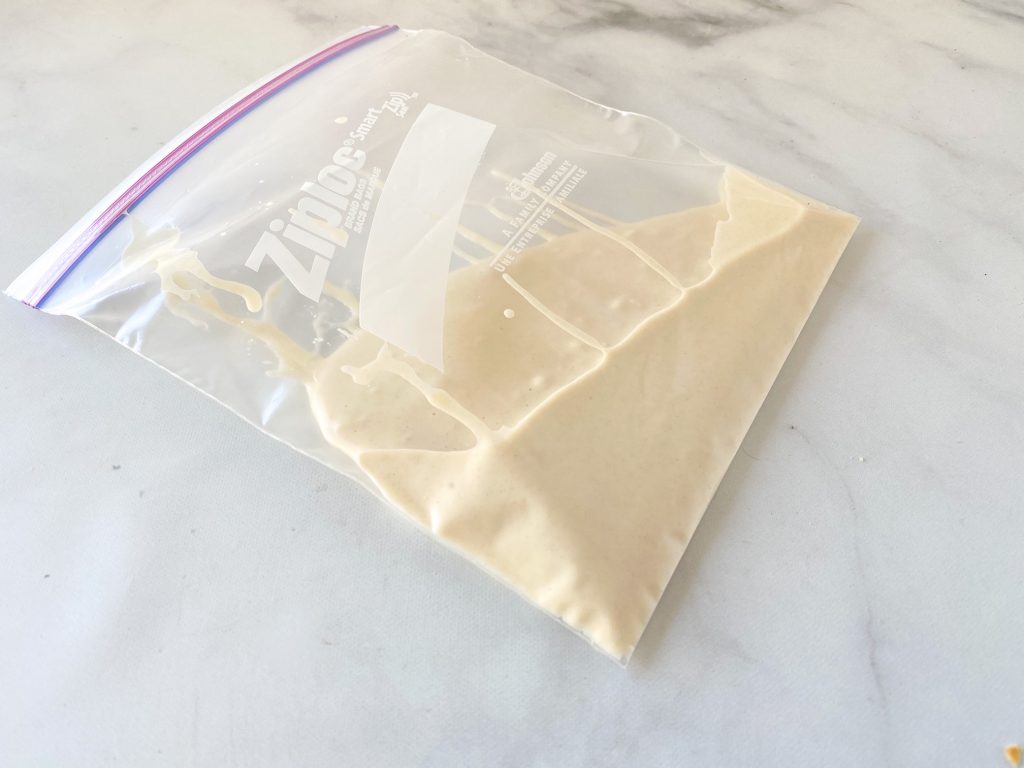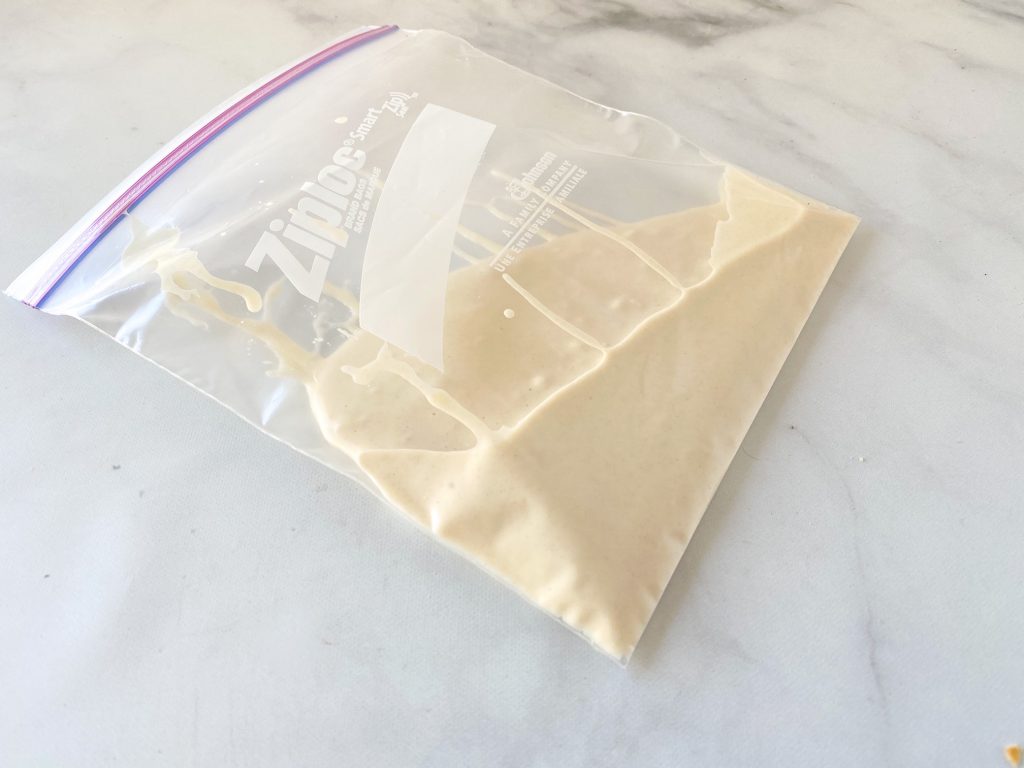 How To Make The Pancake Cereal
First, you are going to want to use a non-stick pan or griddle. I personally chose to use a non-stick griddle as I try to avoid non-stick pans for health reasons.
You do not need to use oil when making pancake cereal, as long as you are using a non-stick pan or griddle. I have not made pancake cereal using a pan or griddle that isn't non-stick, so I can't provide any helpful tips! So sorry!
Next, the pancake cereal cooks up QUICKLY. I mean, at lightning speed. Before you even finish squeezing out the last little pancake the first ones will be done.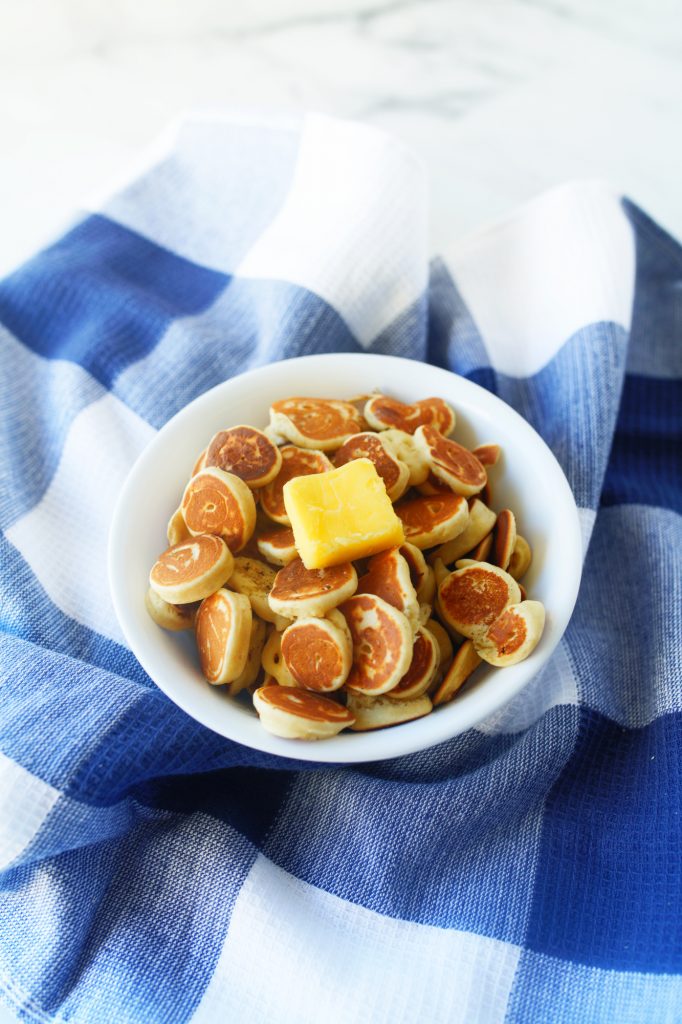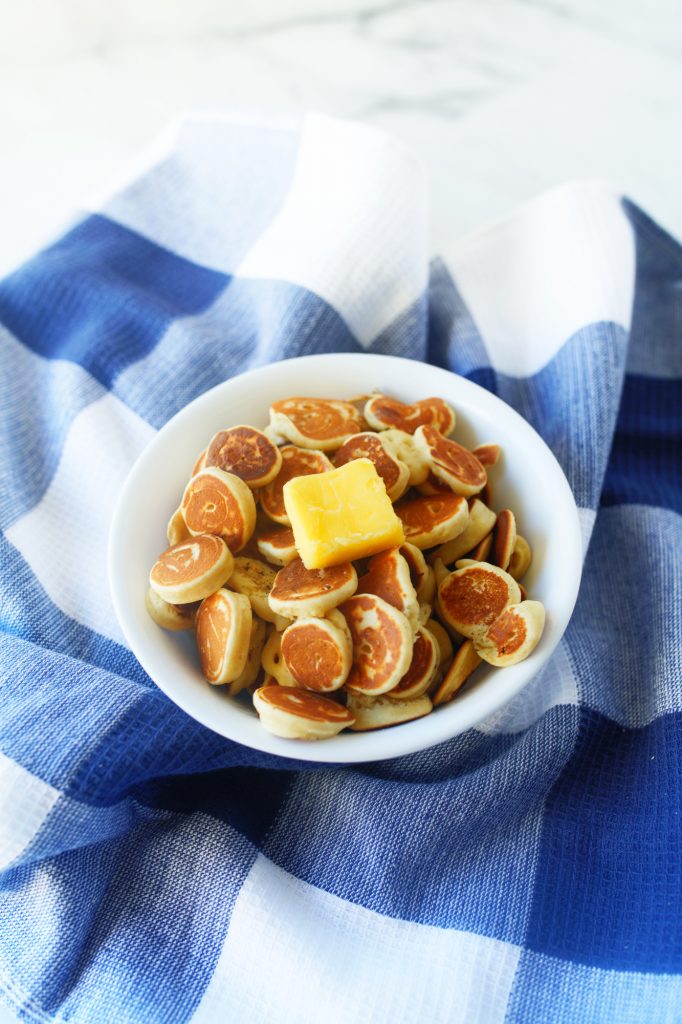 I completely burned the first batch I made because I tried to fill up my entire griddle with the pancake cereal. This was a HUGE HUGE mistake.
I know that it will take a little longer this way, but it will be worth it so your mini pancakes aren't burned!
I recommend ONLY dabbing between 6-10 tiny pancakes at a time and that is ALL! Otherwise, as you are concentrating on dabbing the pancakes on the first ones will burn.
THE TRICK FOR PERFECT CIRCLES is to move your hand/wrist in a tiny circular motion. You are going to want to make a swirl motion and that is how you get a perfect circle for the pancake cereal.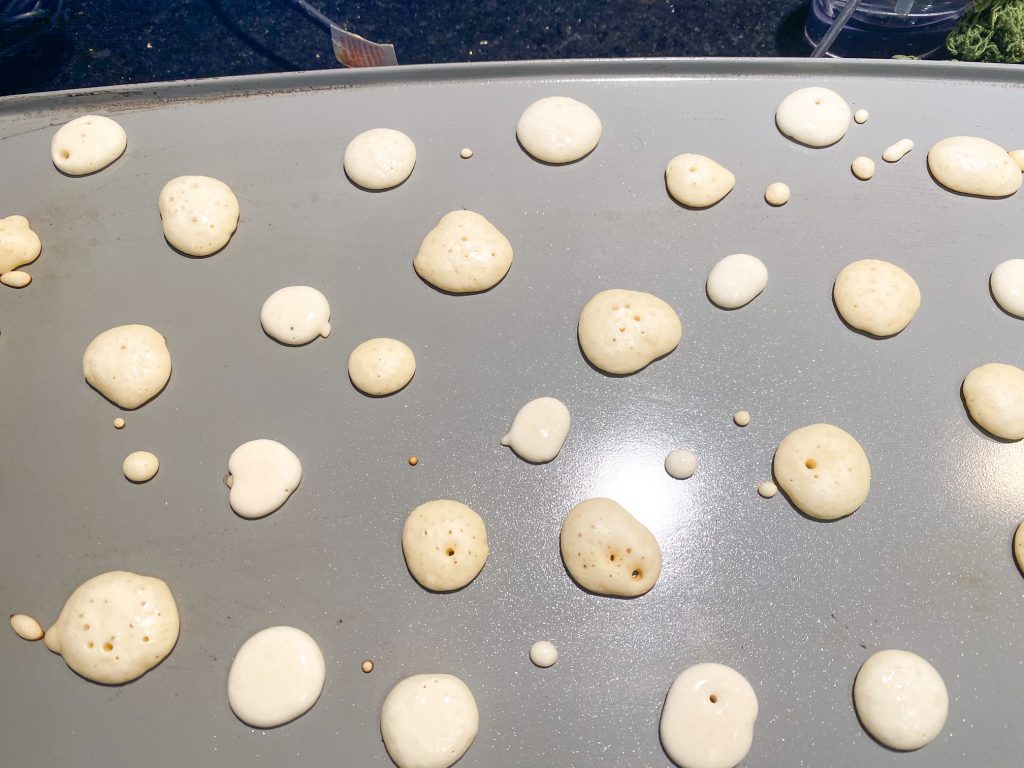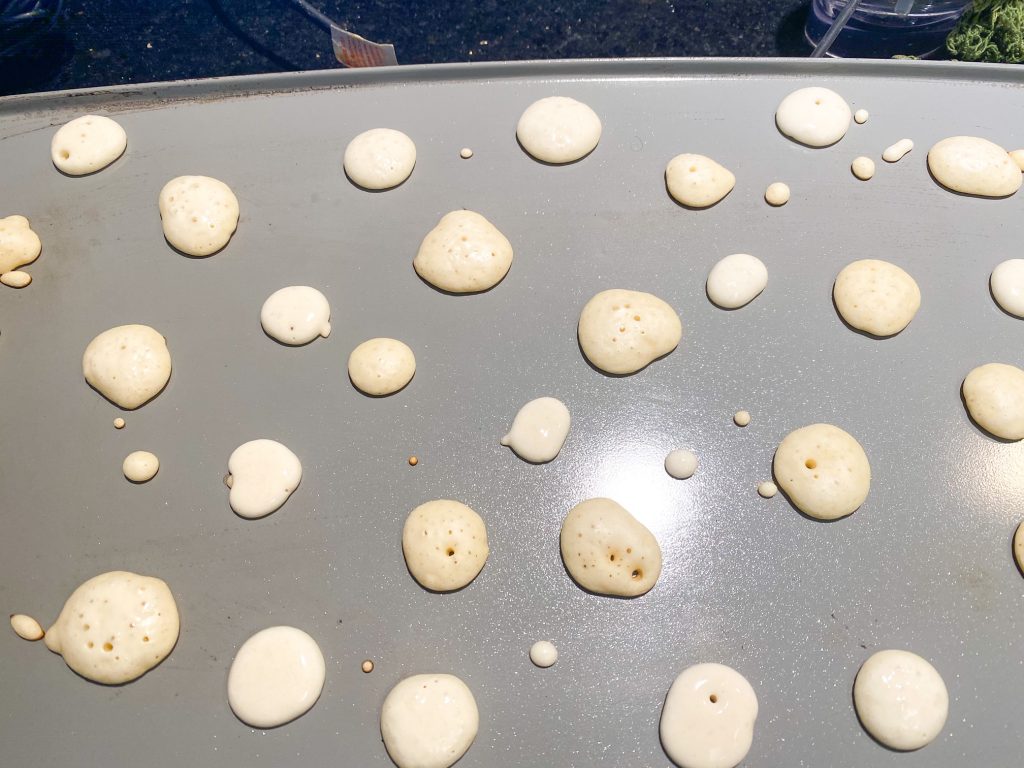 It is okay if the first few pancakes are ugly, that is why the batch is so large! So you can try again and again. Work in batches of just 6-10 tiny vegan pancake cereal pieces at a time.
Be careful to not burn yourself! I had my hand about 8 inches above the griddle and was so intent on my swirling and making the perfect shape and not burning the tiny pancakes that I actually burned my arm! It was BAD!
This is why I recommend working quickly and in small batches! It make take longer but the vegan pancake cereal is so worth it!
As soon as you start to see some bubbles form, as in the photo below, and the edges crisp up a tiny bit, you know that it is time to flip. You aren't going to flip and cook the other side.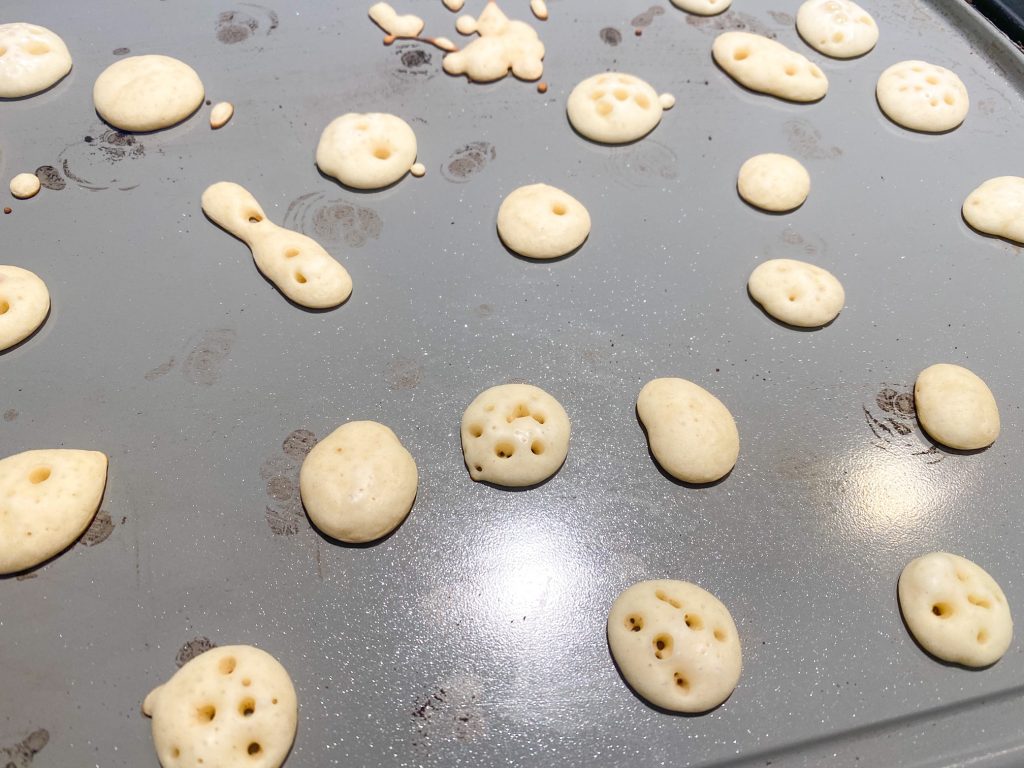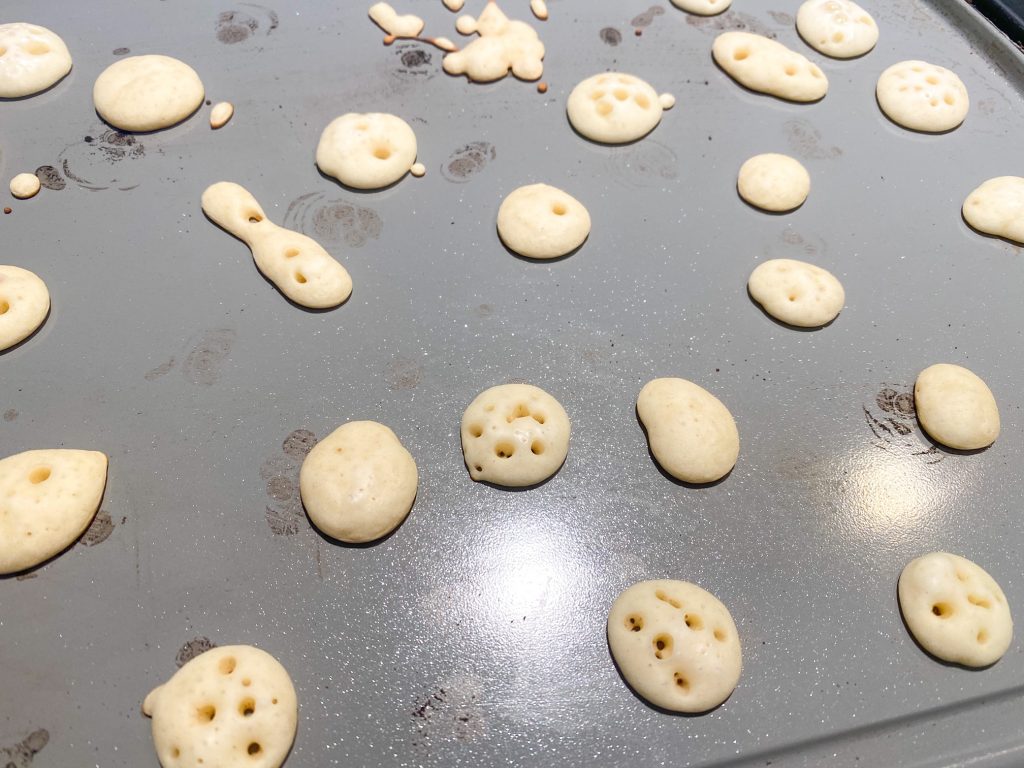 Since the pancake cereal is so thin, you are simply going to flip and after a few seconds, transfer the finished pancakes to your plate. You don't need to flip and cook the other side completely, it is already cooked almost through!
To flip the vegan pancake cereal, simply place your pancake flipper or spatula carefully underneath the first mini pancake and flip it.
You can continue sliding the spatula underneath all of the pancakes so you can flip them all quickly of you can do them one at a time.
I tried this the first way and some stuck to the pan. Doing them more carefully was better if you wanted a prettier presentation, but if you don't care about what it looks like, flip them all at one time!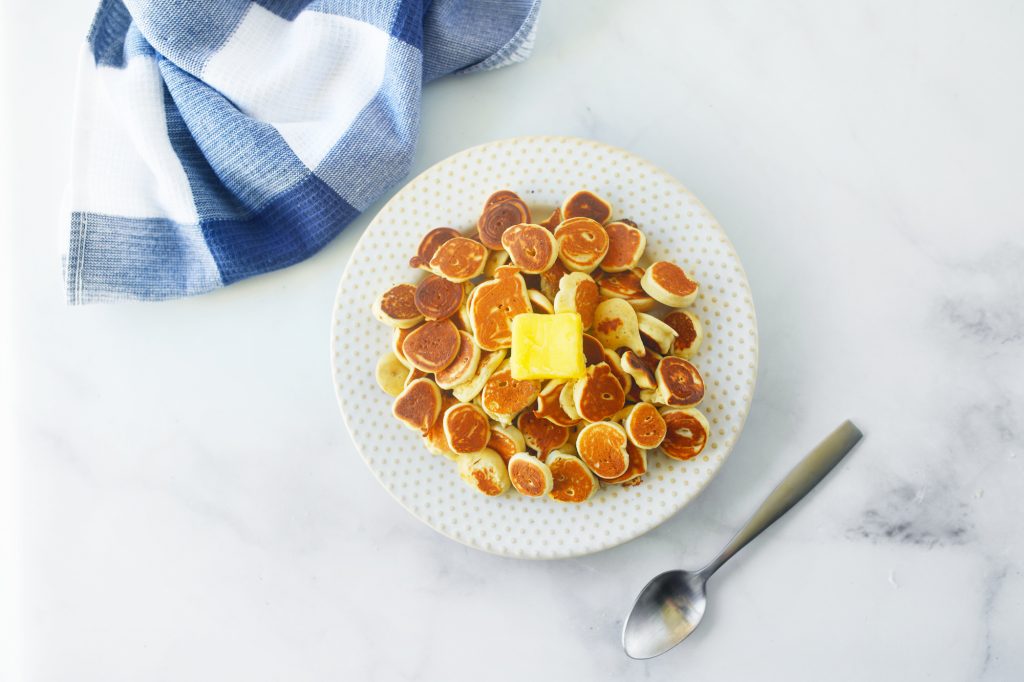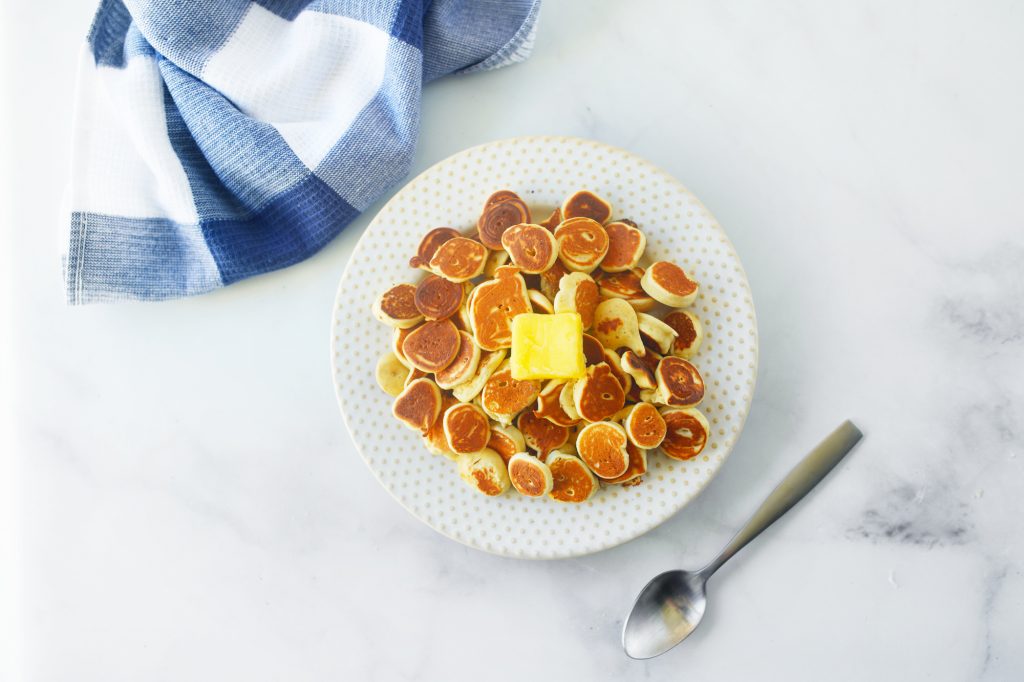 How To Eat Vegan Pancake Cereal
You are going to want to eat pancake cereal like cereal of course! In a bowl and with a spoon! I personally put vegan butter and maple syrup on mine and it was so delicious!
I made the mistake of first trying to eat the pancake cereal on a plate with a fork. I immediately became aware of how it got the "cereal" name when it took forever to eat with a fork and was hard to push around a plate.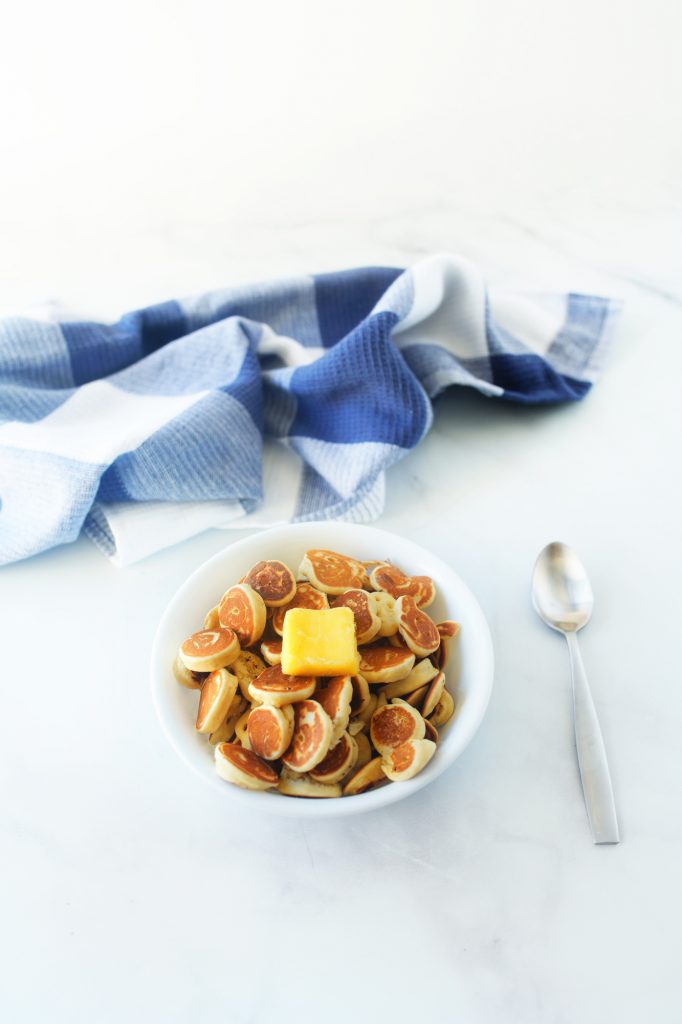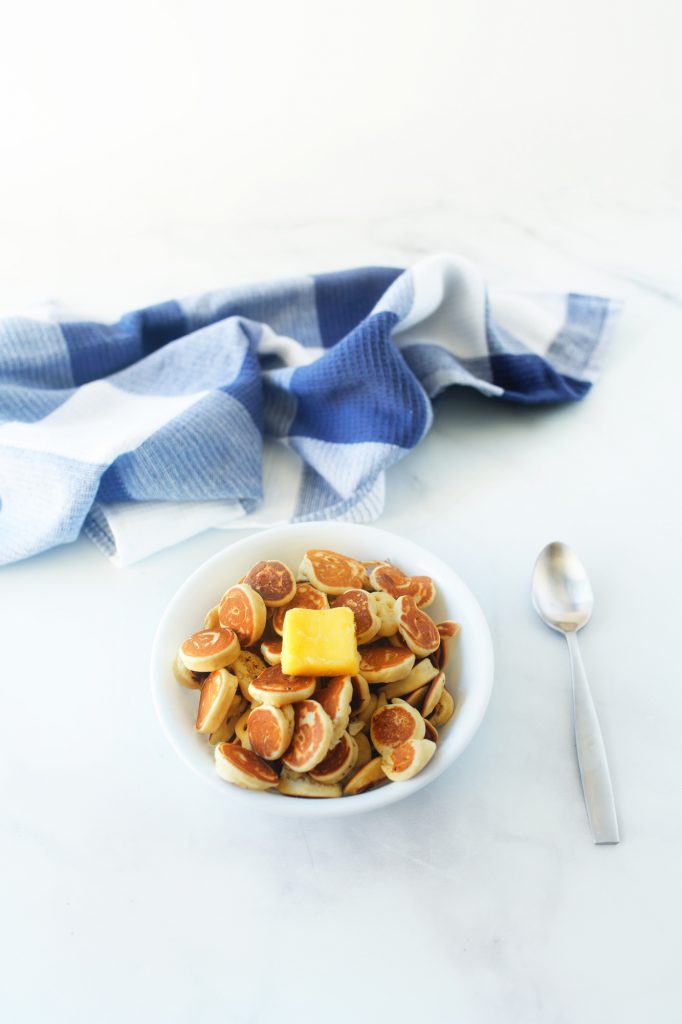 Trust me on this, eat the vegan pancake cereal with a large spoon and in a bowl. You will thank me later! If you are stubborn like me and still try a plate and fork, let me know how you fare in the comments!
I sprinkled mine with chocolate chips when I was done! If you want, you can sprinkle your pancake cereal with fresh fruit or whatever mix-ins you are interested in having!
If you make the vegan cereal pancakes, please be sure to tag me on #wowitsveggie on Instagram!
Yield: 3-4 Servings
4-Ingredient Vegan Pancake Cereal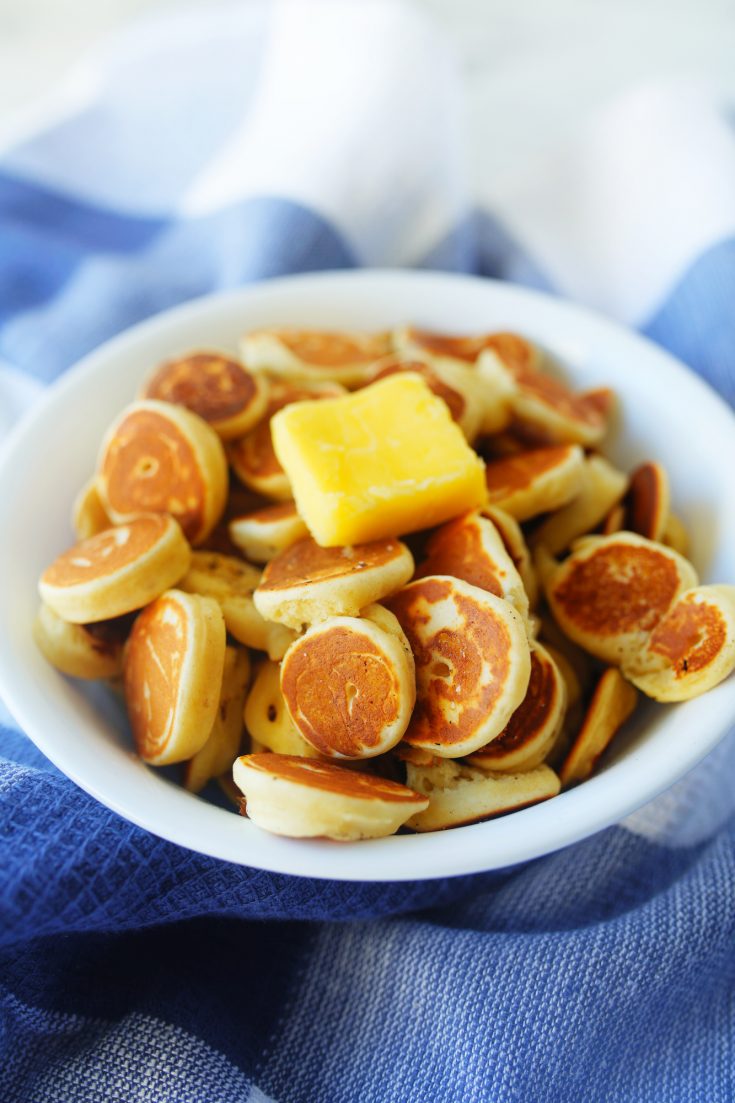 This vegan pancake cereal is so easy and fun to make! It is healthy yet delicious and an interesting take on traditional pancake recipes! Don't forget to top it with your favorite mix-ins. I like to top my pancake cereal with fresh fruit, chocolate chips, or maple syrup!
Ingredients
3 Cups Of Flour
1 1/2 Teaspoons Baking Soda
1 1/2 Teaspoons Baking Powder
3 Cups Of Non-Dairy Milk
1 Medium-Size Plastic Baggie
Toppings To Taste
Instructions
In a medium bowl, measure your flour, baking powder, and baking soda. Mix until combined.
Add dry ingredients to wet ingredients and slowly combine. Do not overmix or use a hand mixer. Visible lumps of flour are okay.
Pour pancake batter into a medium-size plastic baggie and carefully snip a tiny piece off the bottom corner of the bag. The smaller you snip the better the pancake cereal will come out!
Heat a non-stick frying pan or griddle on medium-high heat and using a swirling motion with your wrist, dab quarter sizes of batter onto the griddle.
Cook for less than 30-seconds until small bubbles start to form. Flip and after a few seconds, transfer pancake cereal to a plate or dish for serving.