If you are looking for the best and easiest vegan crumble topping, you have come to the right place. This recipe for oat crumble has been in my family for years and it is so good!
I mainly use it as a topping for my Vegan Apple Crisp or any fruit crumble you want to use it with! I have also used it to top my Vegan Apple Pie if you prefer a crumble topping over a regular Pie Crust!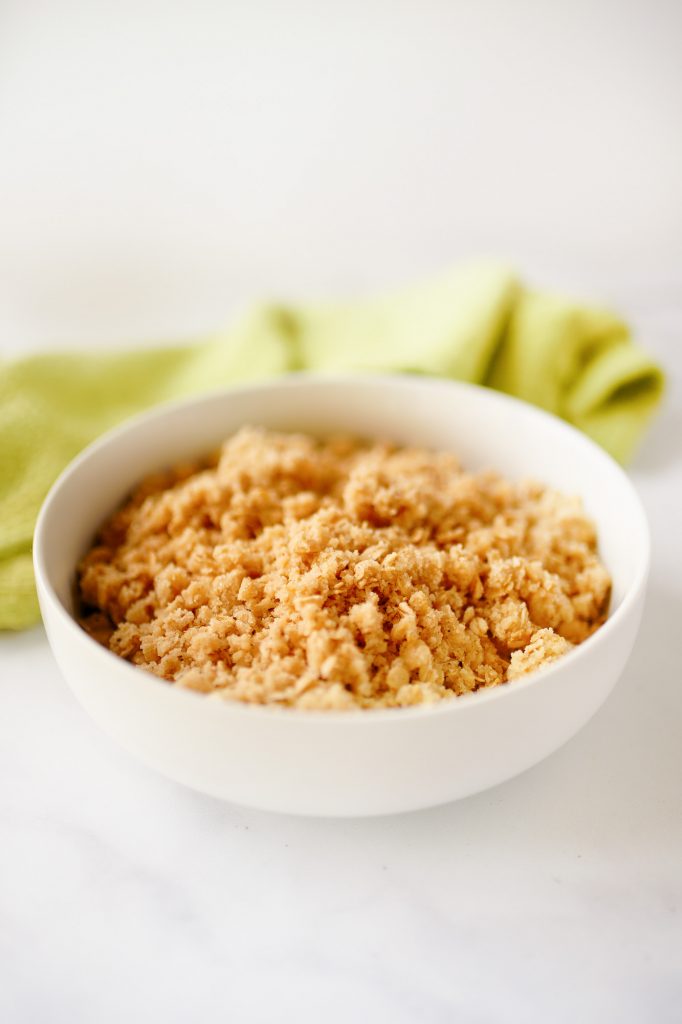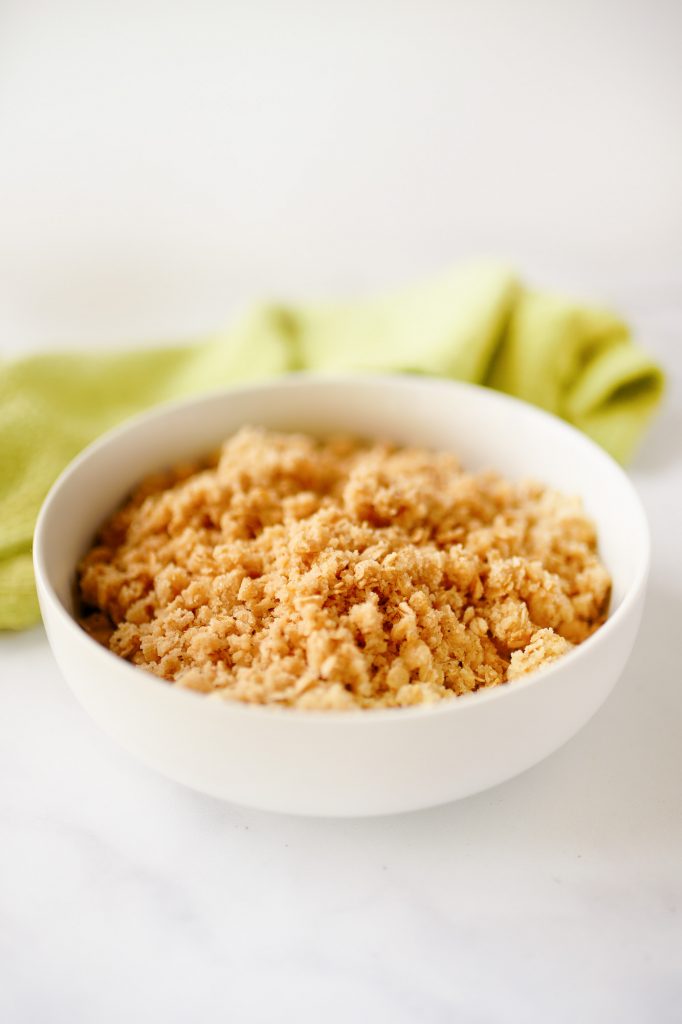 This vegan crumble topping recipe is really only vegan because I use margarine instead of butter. If you want to make it non-vegan you can use whatever butter you have on hand. I can attest that it is delicious with margarine!
This is not one of those healthy sugar-free vegan recipes. There is a ton of sugar and butter which is what makes this oat crumble topping so fabulous!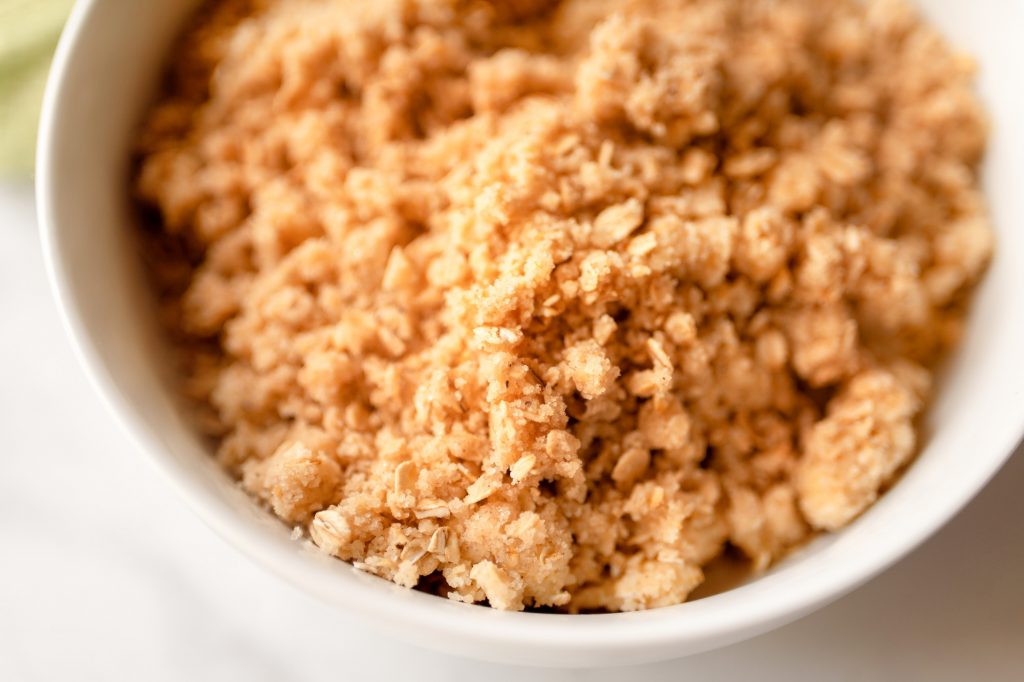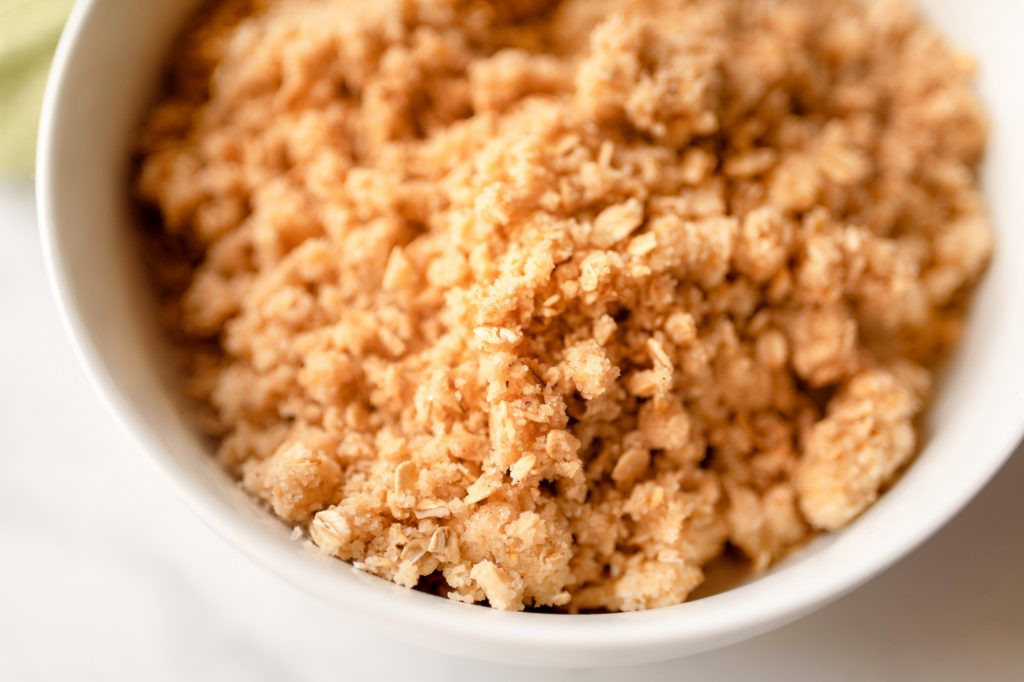 Can The Vegan Crumble Topping Be Gluten-Free?
Yes! The vegan crumble topping can easily be modified to be gluten-free by using your favorite gluten-free flour. Any flour works, which is why I don't call for anything specific in this recipe.
That being said, be careful to use gluten-free oats as well. Some oats are not gluten-free so be sure to check your container before making this recipe!
Otherwise, that is it! That is all you have to do to easily make this vegan crumble topping recipe gluten-free!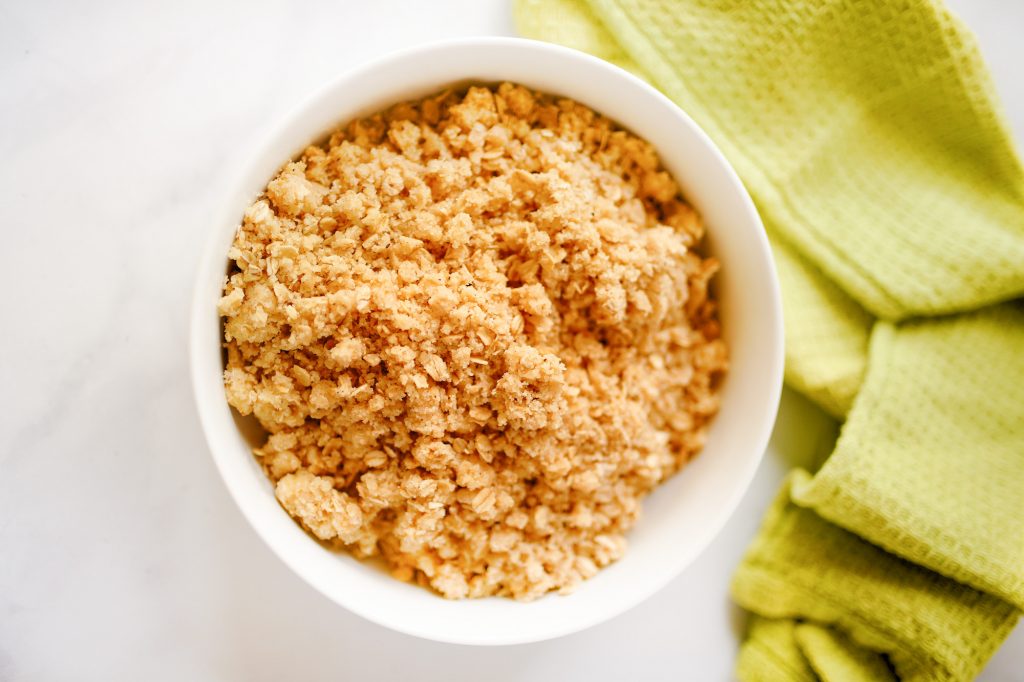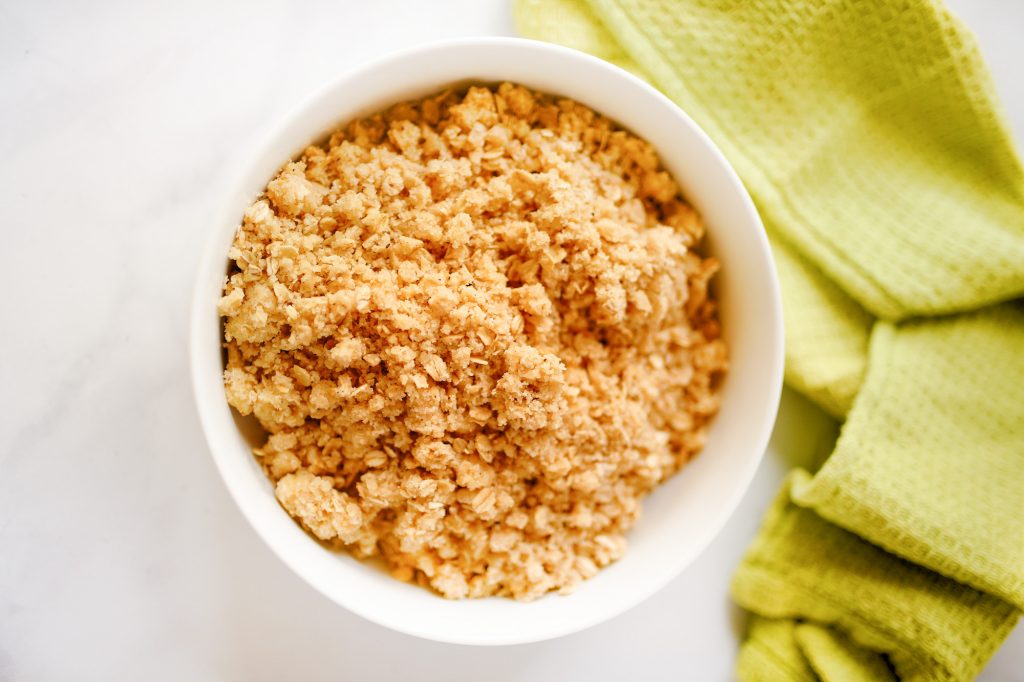 How To Make The Vegan Crumble Topping
Making the vegan crumble topping is so simple! You can get your kids involved to help as there are no hot implements!
Otherwise, it is quick and easy and whips up using just 4 main ingredients! You can choose to season with cinnamon and salt but that is up to you. I usually do choose to add them, but not everyone likes the flavor.
I do recommend adding salt, but if you don't want a cinnamon taste, leave it off. You can also add in nutmeg for a true "fall" taste!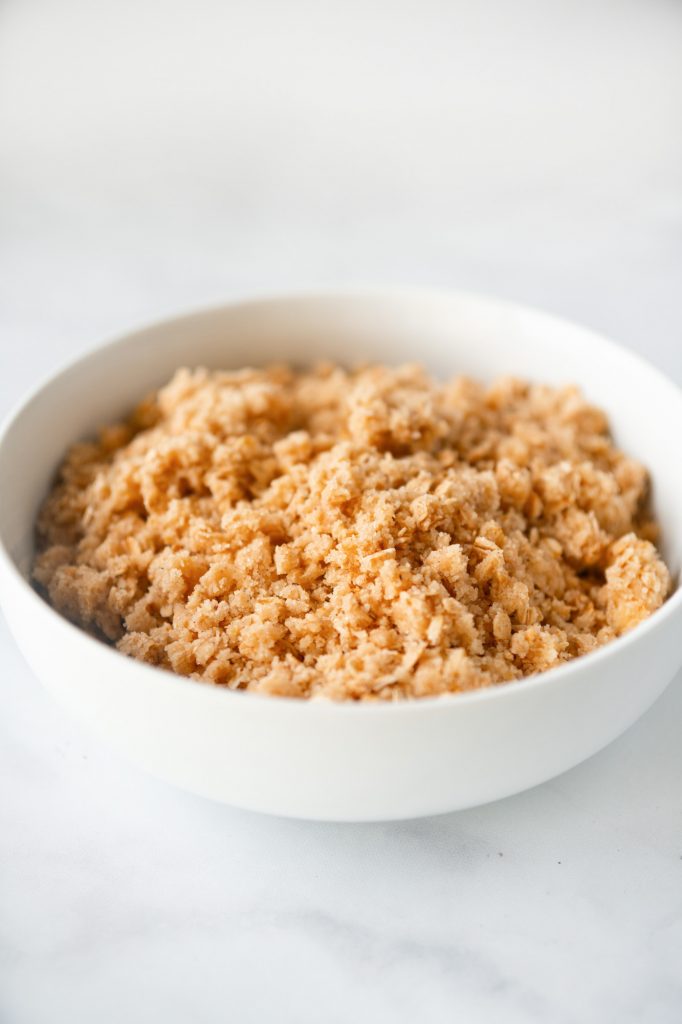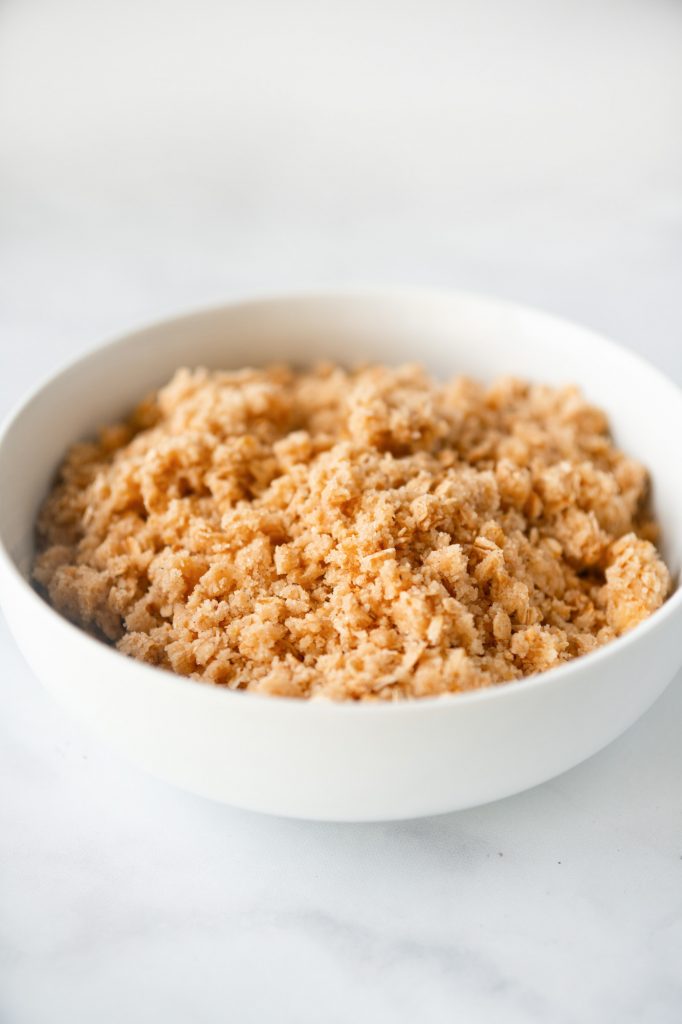 All you have to do is toss the flour, sugar, oats, and spices (if you want to use them) in a large bowl.
Then, you are going to "cut" the vegan butter. I have tried using a pastry or butter cutter which is designed for this purpose and I hated it! The butter got stuck all up in the tool!
You can even use my Homemade Vegan Butter recipe if you want to make your own! It is super quick and easy to do too!
I recommend cutting your butter using a fork! That is all you have to do. A fork works just fine.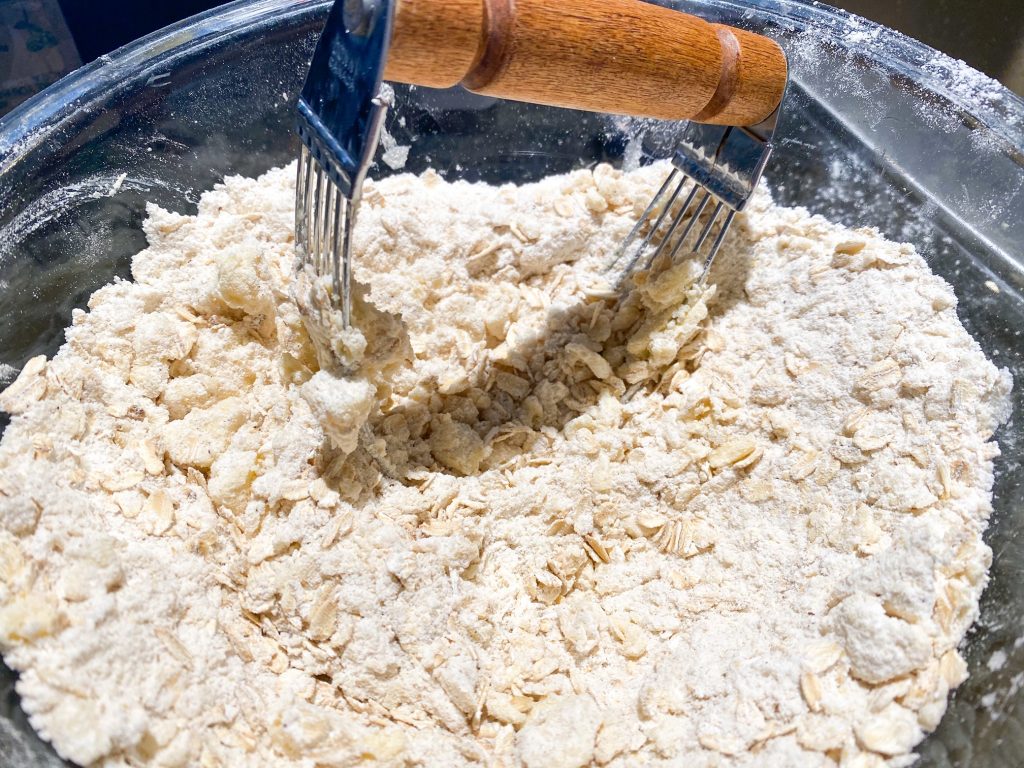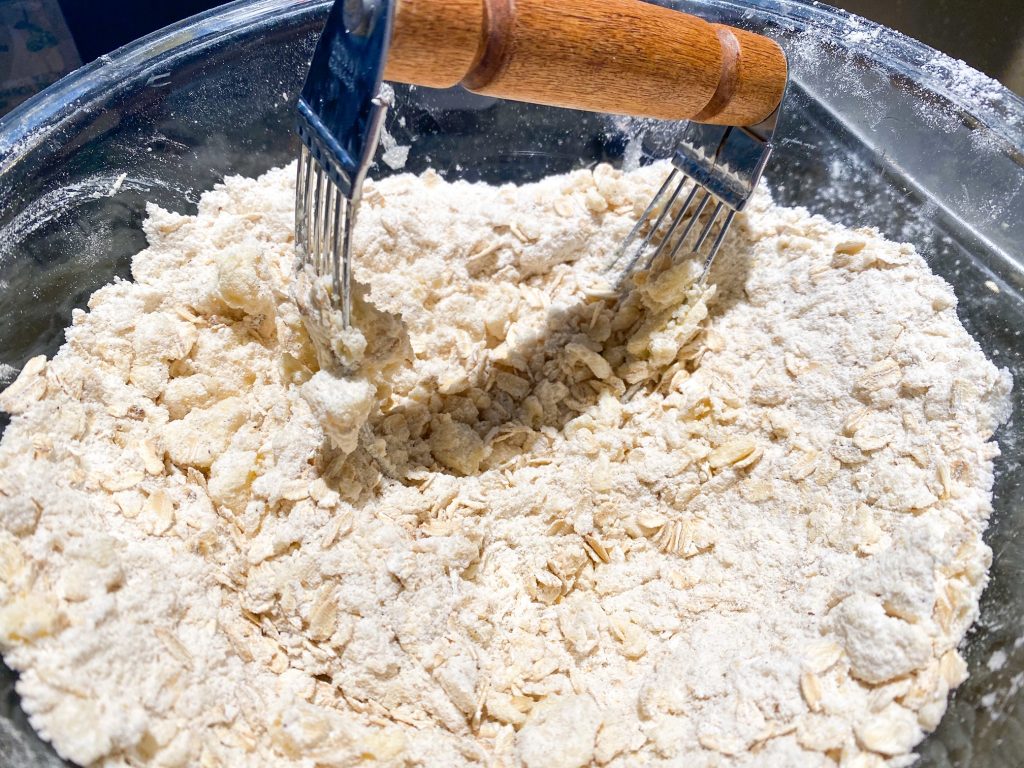 You will want to work with cold butter from the fridge so that it cuts into the flour mixture well. You do not want to use room temperature butter for the vegan oat crumble topping.
You will cut the butter until it clumps together and a gravelly texture forms. As soon as that happens and there are small clumps of butter, go ahead and stop.
That is it! Now you can add it to whatever recipe you want such as Vegan Apple Crumble!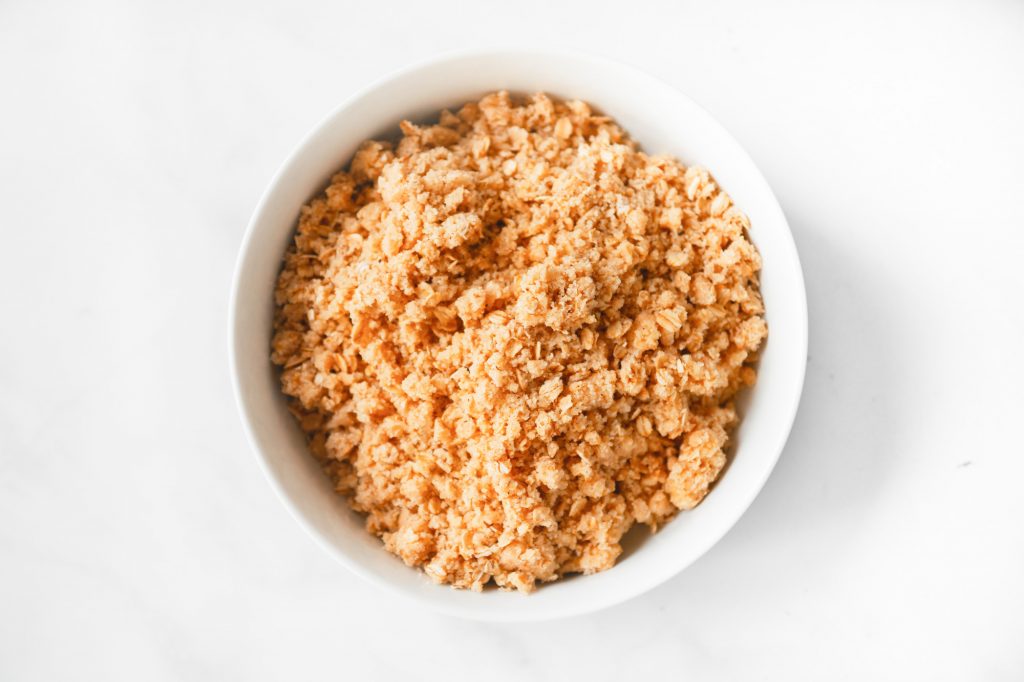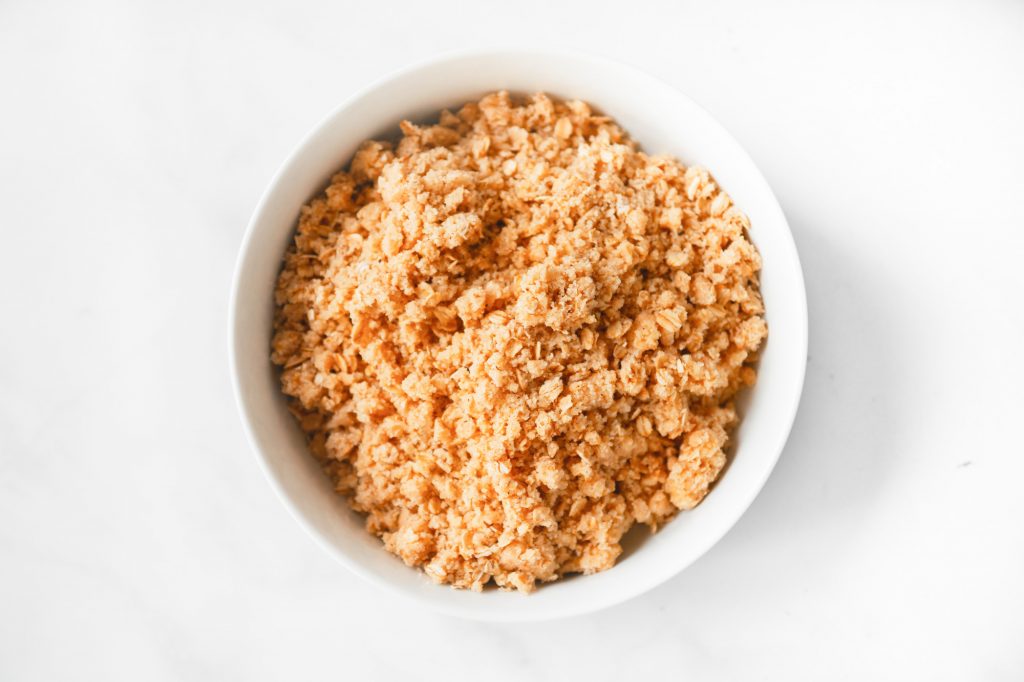 How To Store The Oat-Crumble Topping
Storing the vegan crumble topping is easy! As soon as you cut the butter into the flour, go ahead and store it in the fridge, covered in an airtight container.
If you are only storing for a recipe you are making, just cover it with a plate or plastic wrap. If you are storing for a recipe in a few days, store in an airtight container in the fridge.
You can also freeze the vegan crumble topping for longer storage! Just freeze in a freezer-safe container until you are ready to use. Let the crumble topping thaw on the counter until it cools and then use immediately!
Yield: 3 Cups
Best-Ever Vegan Crumble Topping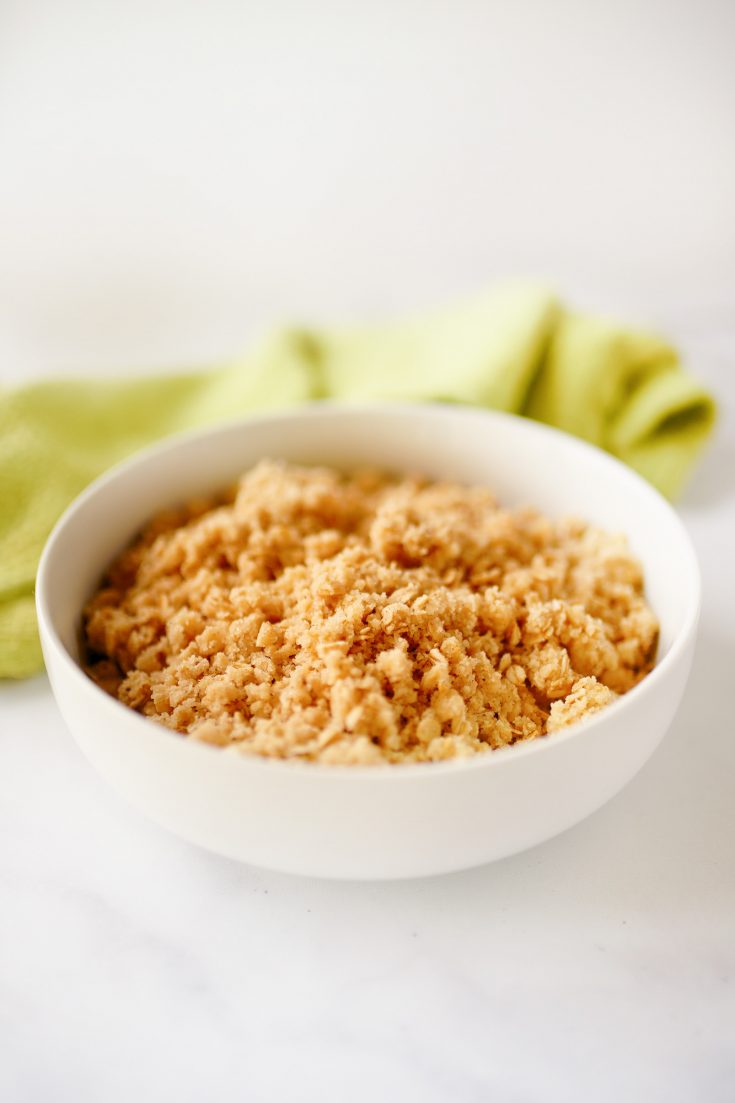 This vegan crumble topping is so easy and delicious! It can easily be made gluten-free too! Use it to top everything from fruit crisps and crumbles to pies and even ice cream! The options are endless!
Ingredients
1 Cup flour [gluten-free works]
1 cup sugar
1 cup old-fashioned oats
8 tablespoons cold vegan butter/margarine
Optional: salt and cinnamon to taste
Instructions
Toss flour, sugar, oats, salt and cinnamon in a large bowl until combined.
Cut butter into the flour mixture using a fork until the butter forms small gravelly clumps. You want the mixture to be clumpy!
Top whatever you are making with the vegan crumble topping and bake according to instructions for that recipe!