If you are looking for an easy chickpea burgers recipe, you have come to the right place! A chickpea veggie burger is such a versatile patty to make and great if you are new to making your own burgers!
If you have made your own veggie burgers before but they have fallen apart, never fear!
This chickpea patty recipe is very forgiving and the patties stay together during the cooking process better than many other types of beans I have tried over the years!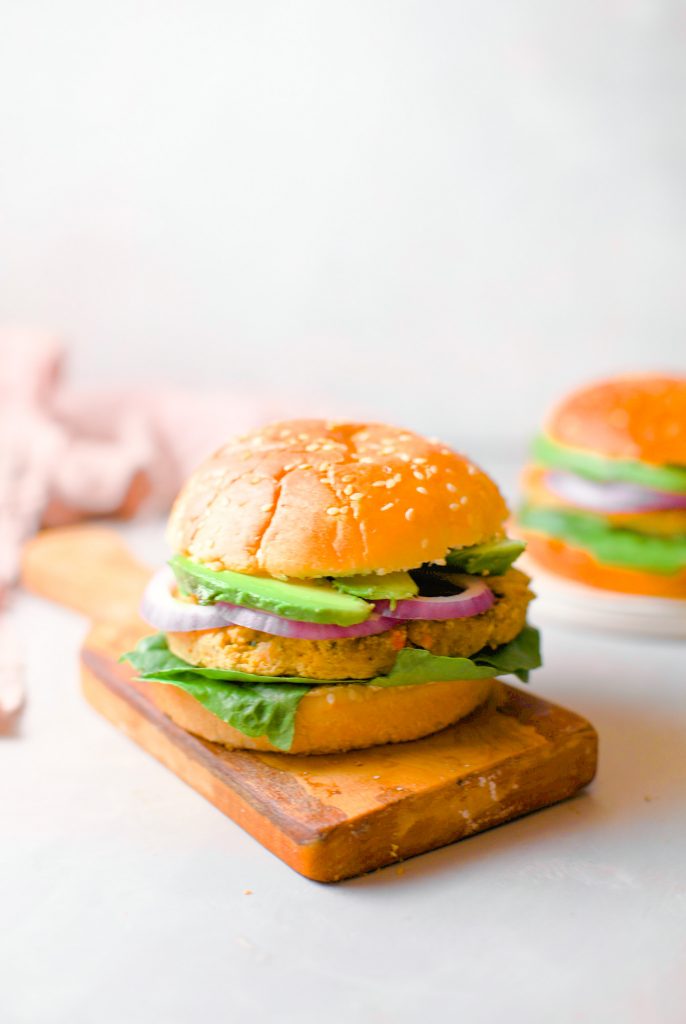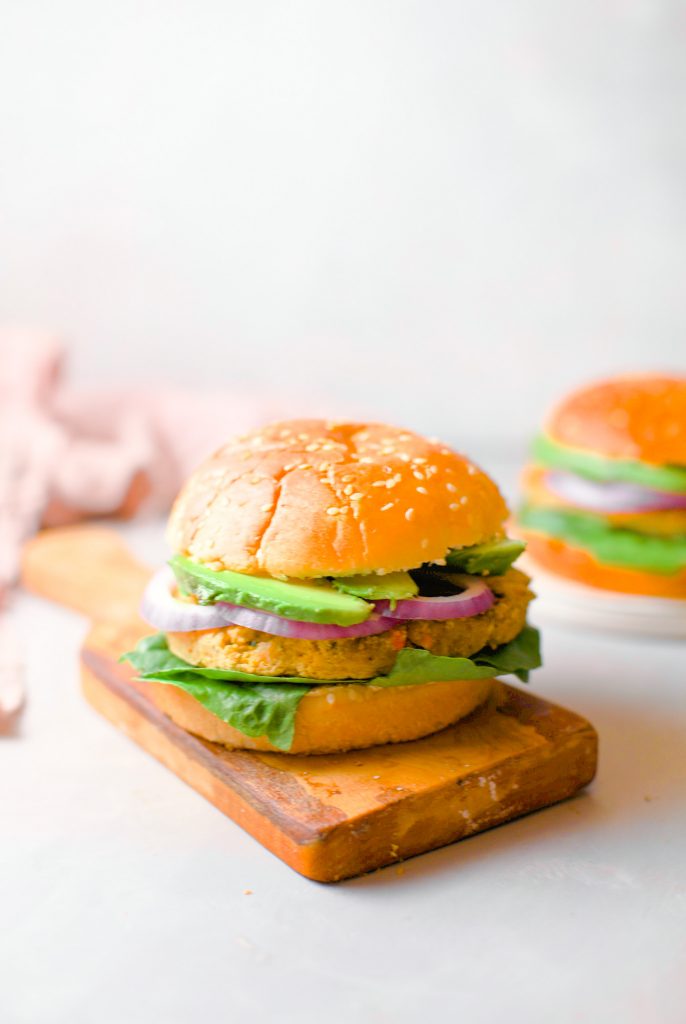 One thing that I really like about this chickpea burger recipe is how you can change it up depending on your mood. You can slather it in BBQ sauce for an "all-American" flavor, or add some curry powder for an Indian taste.
This chickpea veggie burger recipe is naturally vegan, but vegetarians love it and it makes the perfect Meatless Monday main! In addition, this recipe is also gluten-free when you use your favorite gluten-free flour!
Serve these chickpea burgers with a side of Rustic Paprika Roast Potatoes and Vegan Oreo Cake for dessert for an all-American 3-course meal!
The best part is that you can make these chickpea burgers in just 15-minutes! I often work late and need something I can cook up quickly, right as dinner approaches!
This chickpea burger recipe is that recipe! It is so simple and easy yet so filling and delicious! I know you are going to love it too!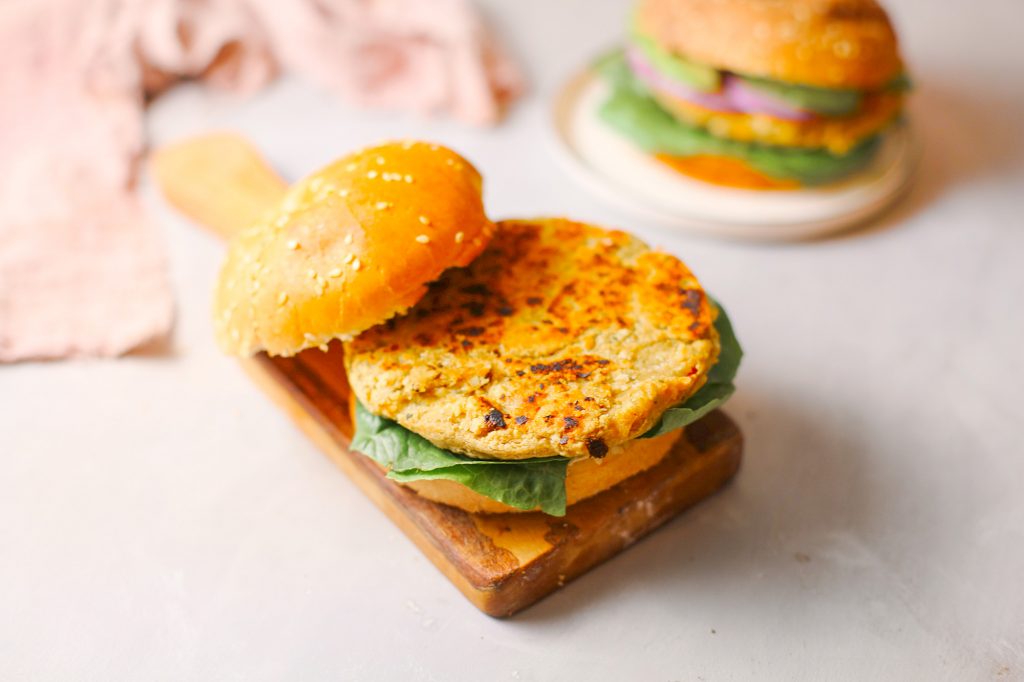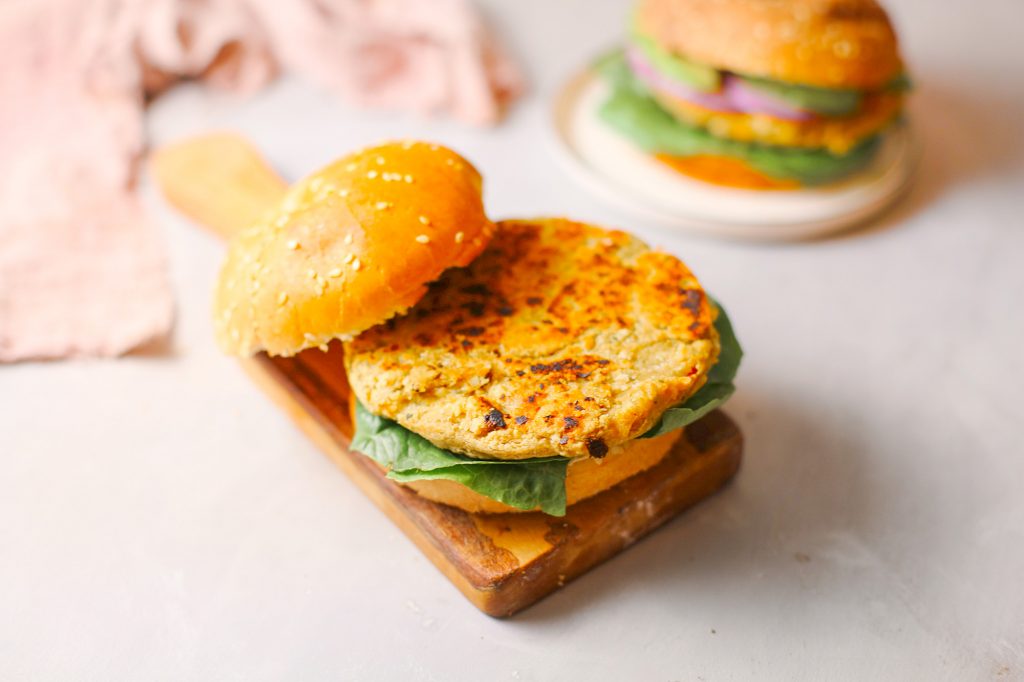 How To Blend The Ingredients For The Chickpea Burgers
While I do recommend using a food processor to blend the chickpeas and all of the spices, I understand that not everyone has one or has access to one.
My family has used food processors my entire life, so that is what I use when I am at home. That being said, I travel a lot and don't always have access to one!
If you do not have a food processor but you still want to make this vegan chickpea burger recipe, you have a few options at your disposal!
First, you can use a potato masher. This works well as the canned chickpeas are already quite soft! You can simply pour them into a large bowl and season them with the spices I suggest in the chickpea patty recipe.
This is the easiest method for mashing the chickpeas if you do not have a food processor. If you don't have a potato masher, that is okay too.
If all else fails, you can mash the chickpea veggie burger patty with a fork! Using a fork to mash isn't quite as easy as using a potato masher, but it works in a pinch.
If you are using a fork, just make sure that you do a good job mashing the chickpeas down so that they aren't super chunky! You want a reasonably smooth mash, if it all possible!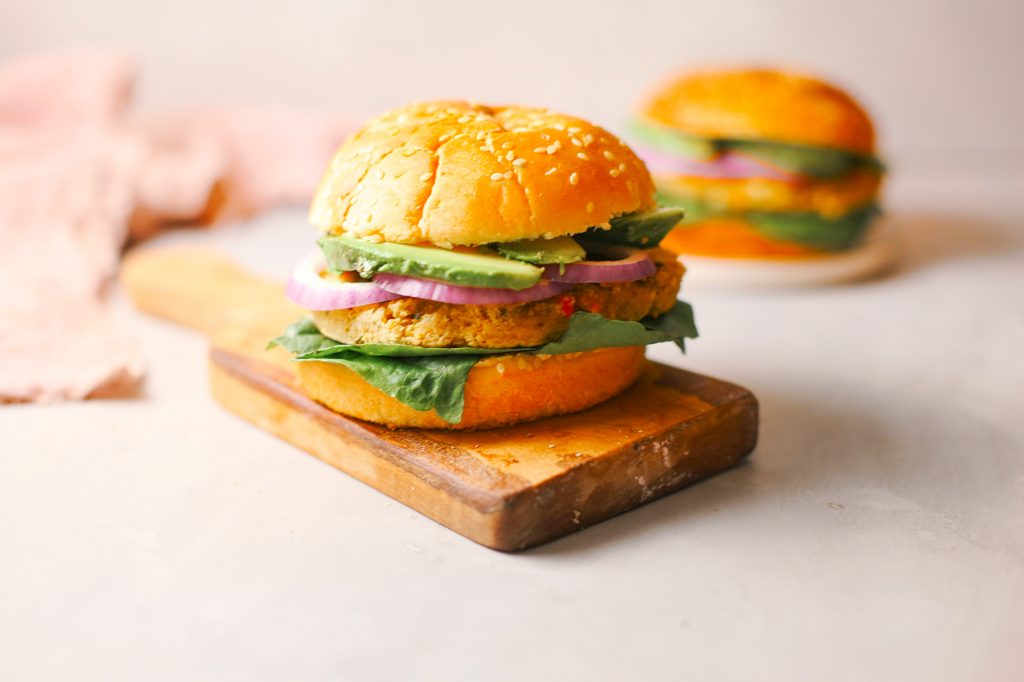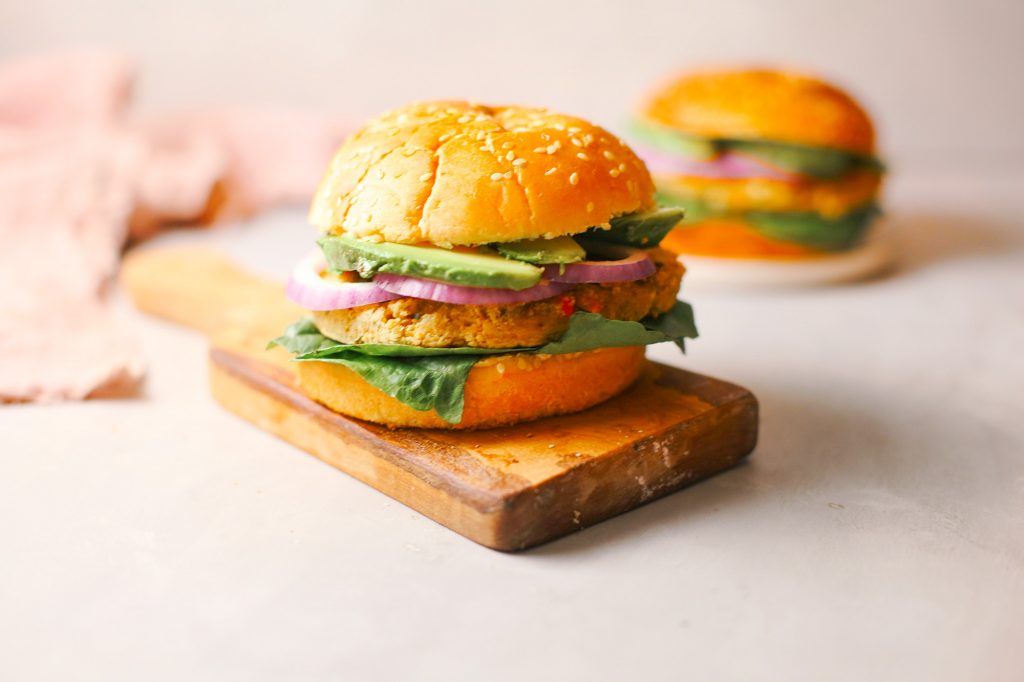 How To Make The Chickpea Patty Recipe Gluten-Free
It is so easy to make these chickpea patties gluten-free! All you have to do is use your favorite gluten-free flour for the suggested 3 TBS of flour!
Any gluten-free flour works perfectly fine when forming the chickpea patties and you can't notice a difference at all!
If you are making this chickpea burgers recipe, don't forget to use a gluten-free bun!
Do You Need To Use Onion And Garlic For The Chickpea Patties?
The answer is no, you do not have to use onion or garlic for the vegan chickpea burgers recipe if you don't want to.
If you eat low-FODMAP or have digestive issues, go ahead and leave the garlic and onion out of the vegan chickpea patties. It is entirely possible to modify without sacrificing too much flavor.
I have digestive issues and leave out onions and garlic all the time. Despite my mom not being a huge fan of leaving out such important flavors, she always admits that she can never tell the difference.
If you do leave out the onion and garlic when making this chickpea burgers recipe, you are going to want to add more spices to make up for the loss of the flavor.
Feel free to add more salt and pepper, cumin, paprika, and coriander! And I hope you enjoy these veggie burgers while your tummy gets a rest!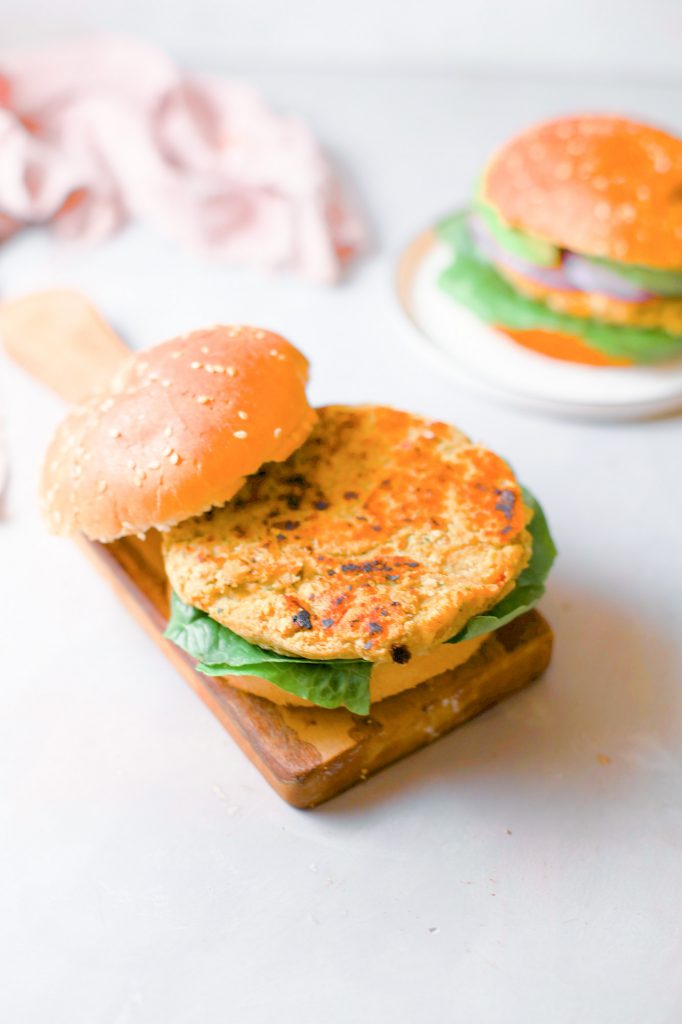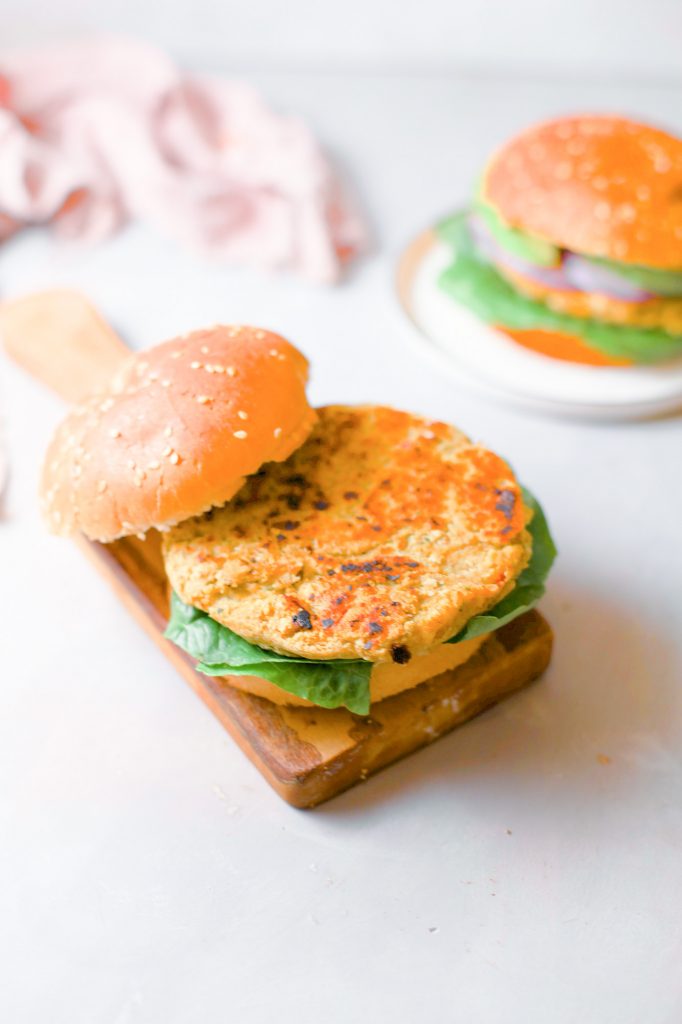 How To Make The Chickpea Burgers
Making this chickpea burgers recipe is so easy! As I said above, it takes just 15-minutes, sometimes less, depending on how fast you are at gathering your ingredients.
The secret to making a tasty chickpea veggie burger recipe is to make sure that you take the time to saute the onion for a little bit before mixing it with the rest of the ingredients.
You want the onion to saute until translucent, which on high heat takes about 4 minutes. This also allows the onion to caramelize a bit which makes it softer! Then go ahead and add your garlic.
Next, you are going to add your cooked garlic and onion to a food processor along with the chickpeas and all of the spices.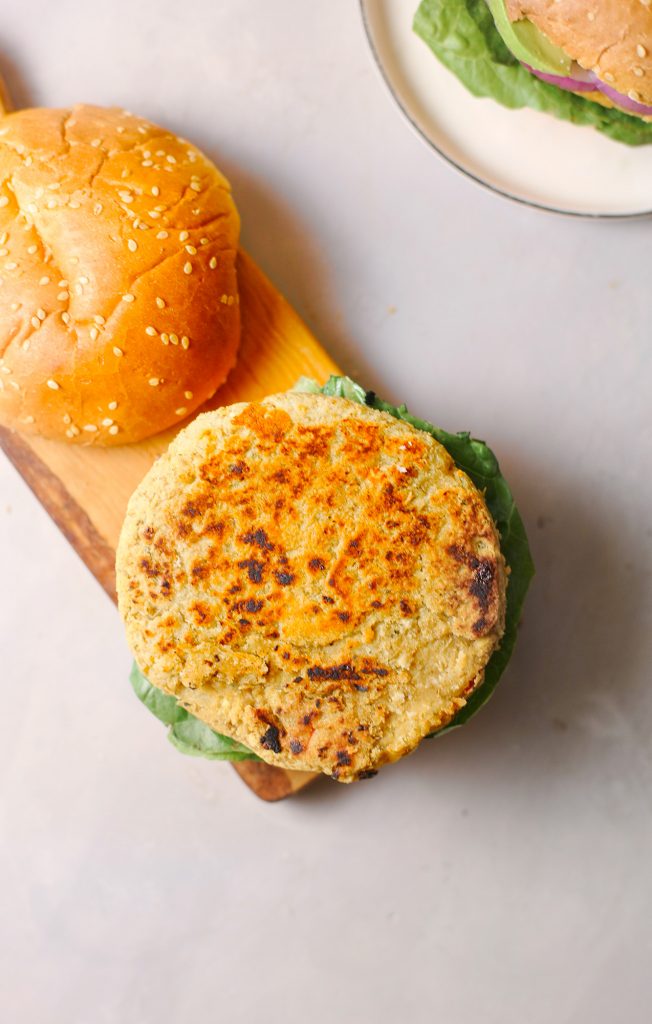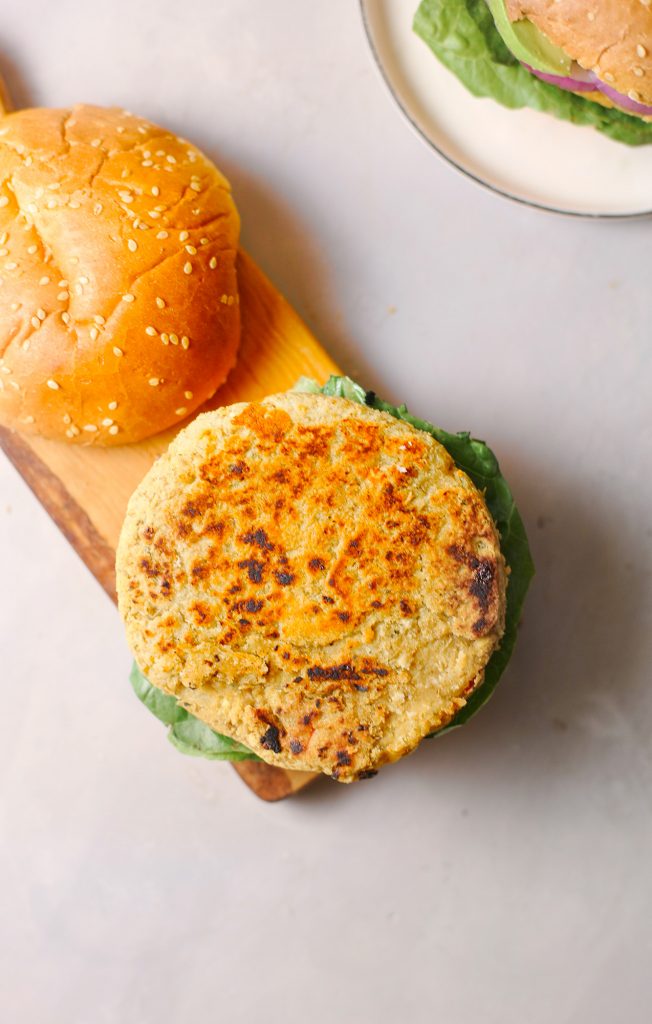 If you don't have a food processor, go ahead and use a fork or potato masher, as I explained above!
Pulse until you have a thick batter, then add flour and pulse until combined.
All you have to do now is use your hands to make 4 balls and transfer the balls to a floured surface.
Shape the vegan chickpea burgers into patties in the size that you want. If you want sliders, you can make 8 mini patties!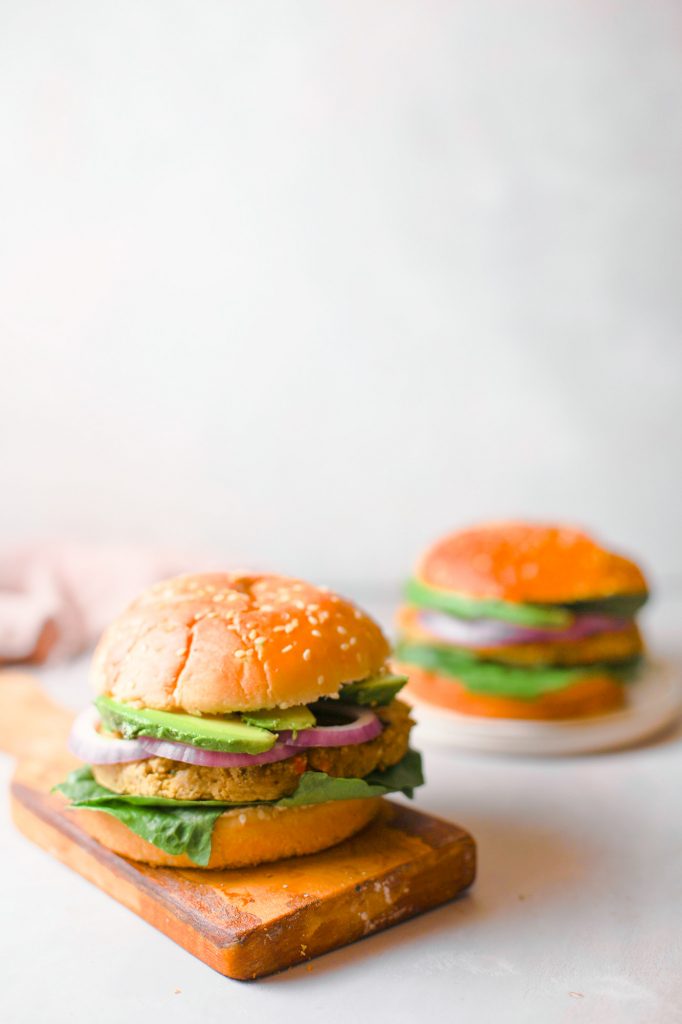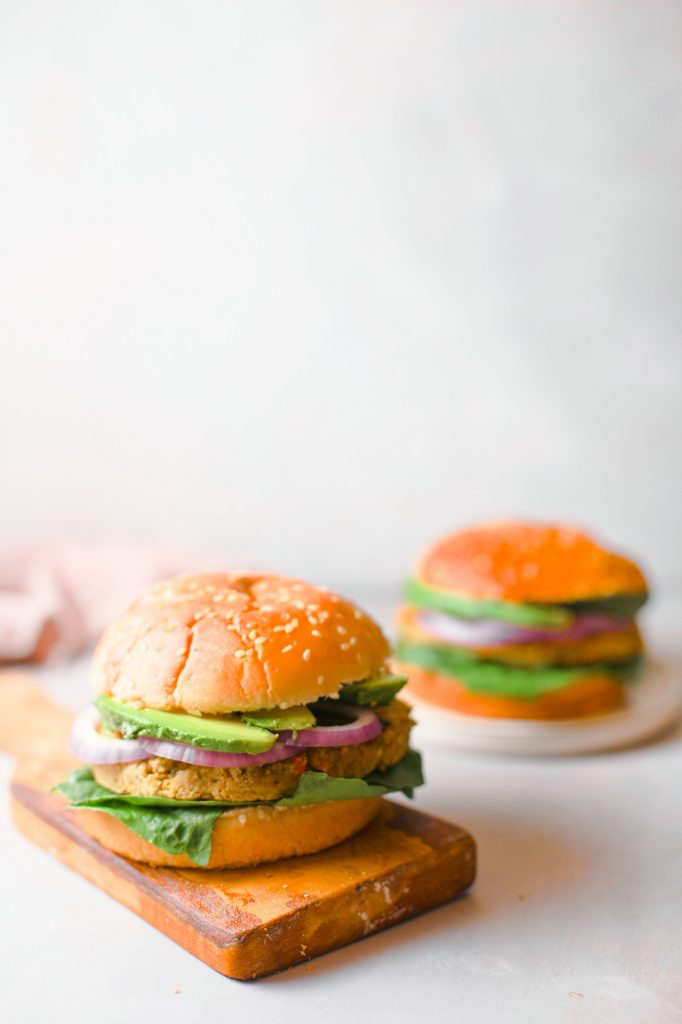 Finally, heat a greased skillet over medium heat and cook for 3 minutes per side.
When you are done, you can top the chickpea burgers recipe with anything you want!
I topped mine with lettuce, onion, and avocado. I always add ketchup while I eat as well. I recommend BBQ sauce, siracha if you want something spicy, or aioli!
If you aren't vegan, crack and fry and egg and top these chickpea burgers with a fried egg, some cheese, and avocado for an indulgent and tasty treat!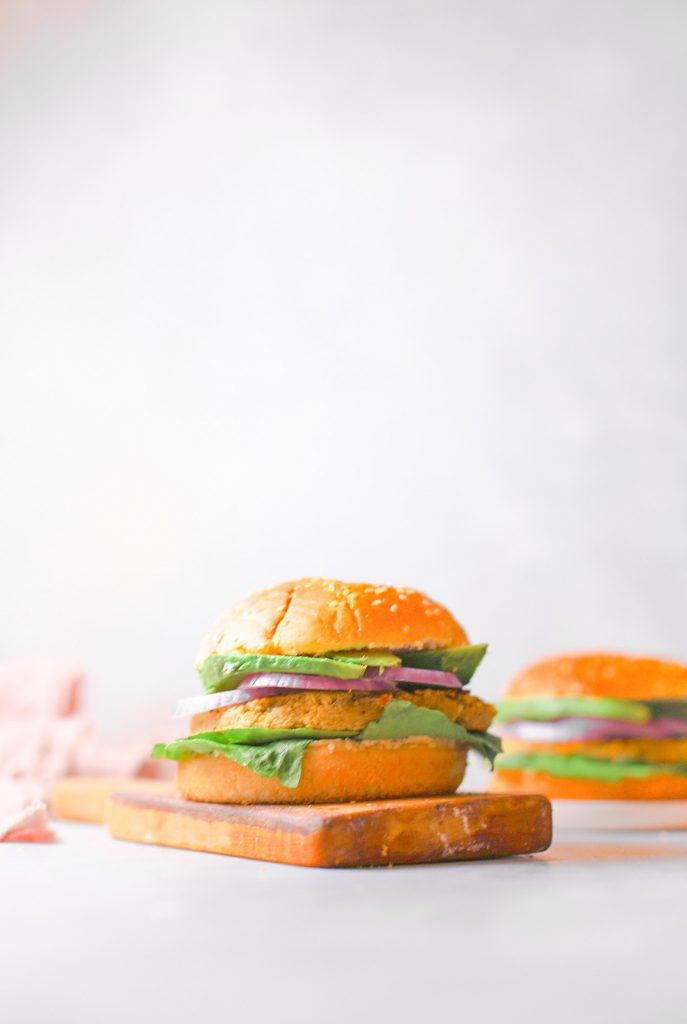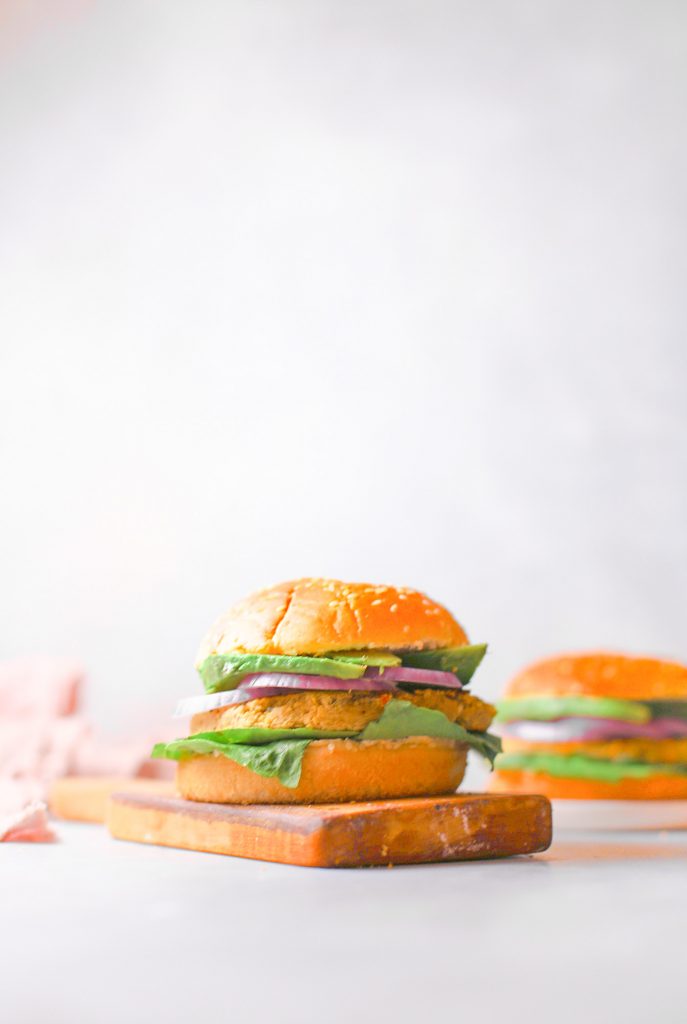 How To Store The Chickpea Patties
The chickpea veggie burgers store very well! Although they just take 15 minutes to make and you can easily make them quickly, you may want to make a big batch at one time and save some for later!
This vegan chickpea burgers recipe can store in an airtight container in the fridge for 3-5 days. Simply cook them and let cool completely before storing. You can even eat them cold!
You can store them in the freezer for 1-2 months. First, freeze them by laying the cooled chickpea burgers on a baking sheet so they aren't touching. Once they are frozen, go ahead and put them in an airtight container!
To reheat, let them thaw and then head them in the microwave or warm them in the oven on medium heat for 10 minutes.
Yield: 4 Large Patties Or 8 Sliders
15-Minute Chickpea Burgers Recipe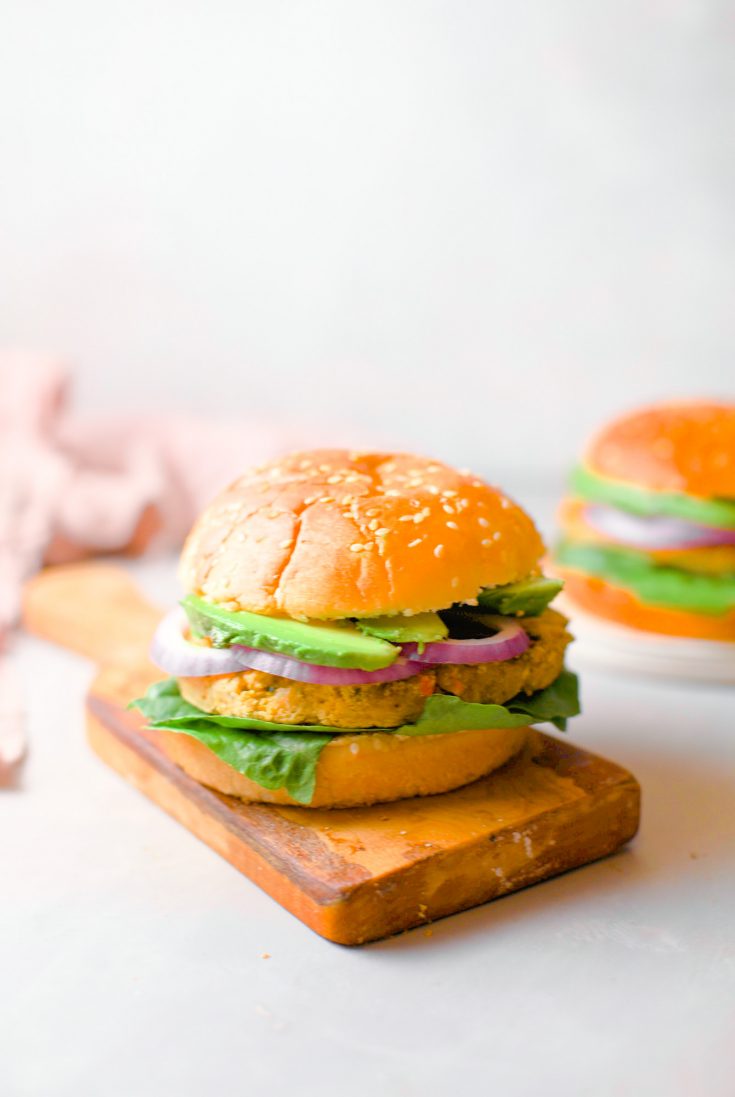 These chickpea burgers are so delicious! They are spiced to perfection and have a delicious texture (not gummy or gritty like some veggie burgers!)
They are easy to make and the chickpea patties cook up in under 15-minutes, making them the perfect weeknight dinner!
This chickpea burgers recipe is simple so that you can add your own flair to this base! Add BBQ sauce for an all-American flair or curry powder for Indian flavor.
Ingredients
1 Tbsp olive oil
1 Onion, chopped
1 Garlic clove, minced
1 Can chickpeas, drained and rinsed
1 Tsp paprika
1/2 Tsp cumin
1 Tsp onion powder
1/4 Tsp coriander
Salt and pepper to taste
3 Tbsp flour + more for rolling (can be gluten-free)
Instructions
Heat olive oil in a large saucepan over medium heat. Add onion and cook for 4 minutes, until translucent and caramelized. Add garlic and cook for 1 minute.
Remove from heat and let it cool. Transfer to a food processor. If you don't have a food processor, mash using a fork or potato masher.
Add the chickpeas, paprika, cumin, onion powder, coriander and salt and pepper. Pulse for 2 minutes or until you have a thick batter.
Add flour and pulse for 1 more minute.
Divide the batter in 4 balls for large chickpea burgers or 8 balls for chickpea sliders and transfer to a floured surface. Shape the patties.
Heat a greased skillet over medium heat. Add the chickpea patties and cook for 3 minutes per side.
Top with whatever burger toppings you like!
Notes
The chickpea burgers can keep in the fridge for 3-4 days or in the freezer for 1-2 months!
Nutrition Information
Yield
4
Serving Size
1
Amount Per Serving
Calories

185
Total Fat

5g
Saturated Fat

1g
Trans Fat

0g
Unsaturated Fat

4g
Cholesterol

0mg
Sodium

377mg
Carbohydrates

28g
Fiber

6g
Sugar

5g
Protein

8g